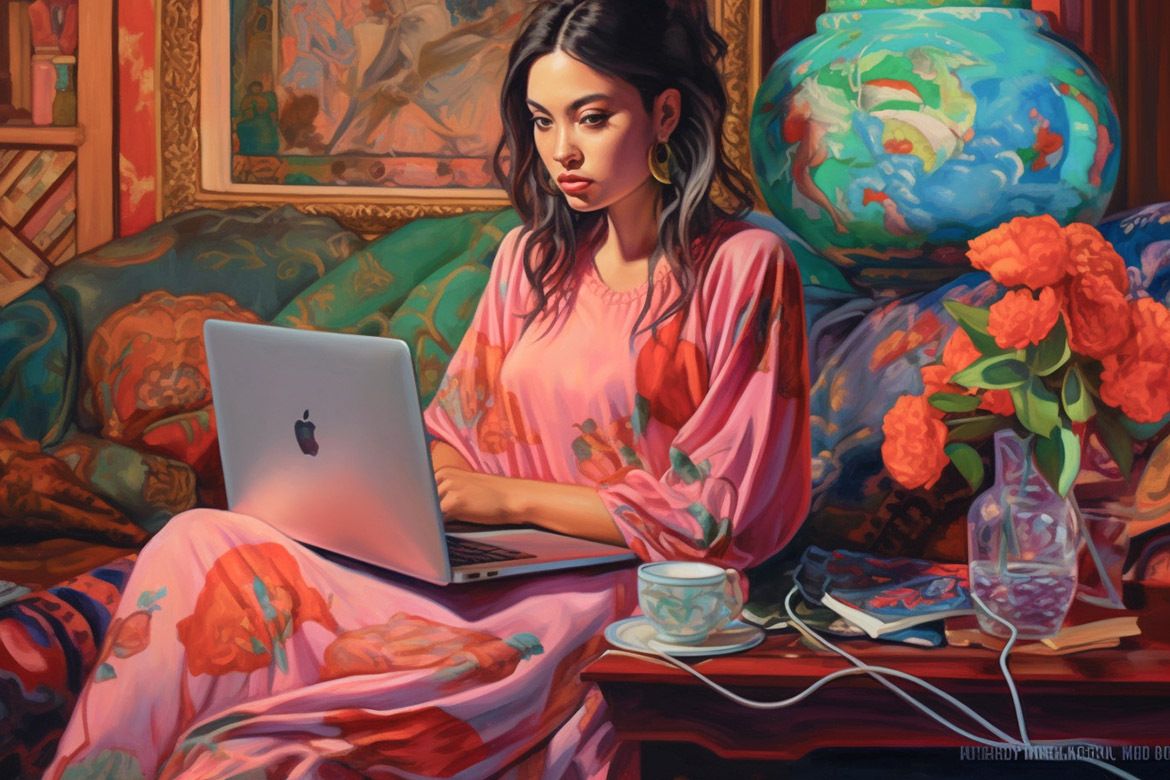 Find out the basic information needed to create a beginner-friendly online course template. This will give you a clear roadmap before creating your course.
Are you at that stage of your online course creation business where you need to hire more course creators to supplement your work?
Or you're looking at setting up your first online course but not sure where to start?
Well, whatever the case, working with an online course template will make your job easier. And that's because, a well-designed course template provides unity and cohesion in course delivery, especially when multiple course creators are involved.
For example, if you're running an online Internet marketing school where you have multiple instructors working with you on creating different courses, it's important that you all are working with a guideline.
This will ensure that there's an alignment in your course delivery.
On the other hand, if you're a new course creator, preparing a course template before creating your first course will save you from going back and forth. You have a clear roadmap to follow before hitting the "Record" button on your camera.
So, how do you create a beginner-friendly online course template?
A clear course template for your online courses should have the following information;
Course branding guidelines
Course overview
Overall course structure
Interaction and engagement techniques
Communication channels with students
Mode of accepting payment
Technical requirements for course delivery
A document with all this information has already given you a clear sight of how to create and manage your online course. And even if another course creator takes up in your absence, they already know what to do.
I'm going to explain these points in detail and how you can articulate them in your online course template. Now, without further ado, let's dive right in!
You can also check out all the free guides available at the Course Creators Academy.
So, how do you create a beginner-friendly online course template?
Course Branding Guidelines
One of the primary features that set you apart from other course creators is your branding. And this includes elements such as color palettes, font choices, and text formatting guidelines.
So, in creating your course template, make these clear. Decide on your primary and secondary colors and where to use them.
For example, if you look at OnlineCourseHost.com, you'll notice that the primary color for the website is "Blue" while the secondary colors are "White" and "Red."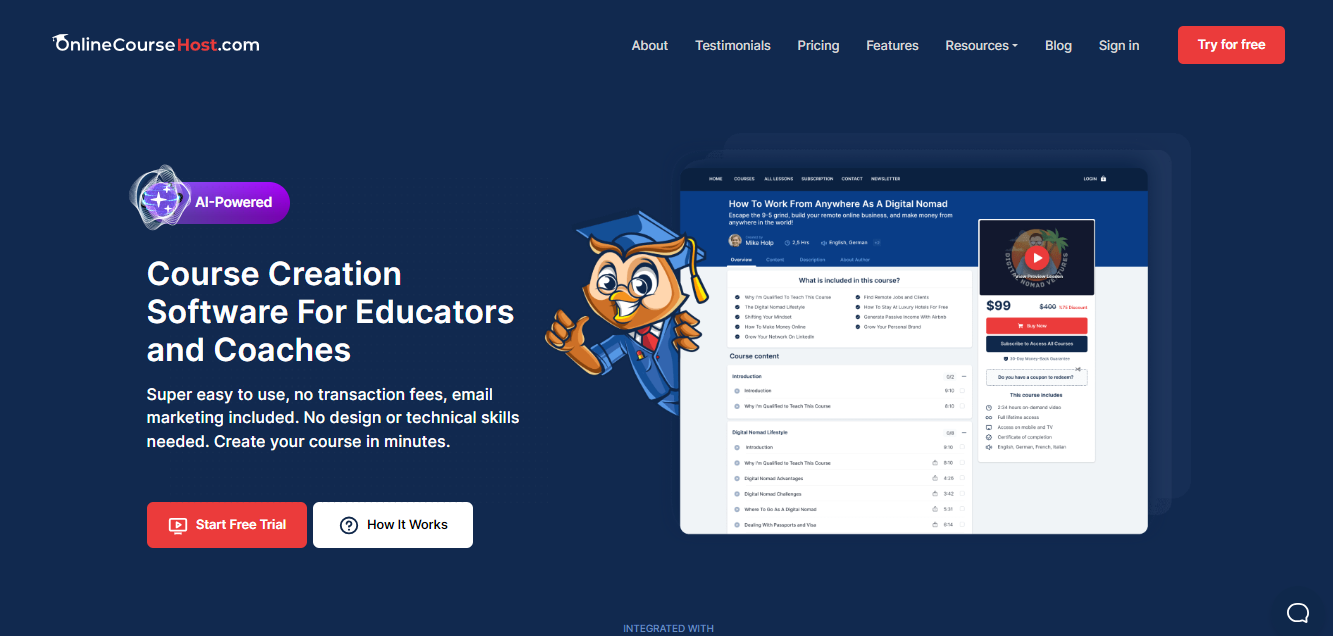 Your color pallet will inform your logo design. Be sure to specify how and where the logo will be placed on the website and course videos.
Typography is also important. You should be clear on which font to use for your headings, titles, and body text throughout your website, especially for blog posts.
Don't forget to include the font sizes, and style, whether bold, italic, or normal style.
You should also define the layout and composition of your course materials. For example, the placement of logos, headers, and footers. Are there any margins or alignment preferences? Specify all of these.
It's best to provide visual references in preparing these - with just a few texts.
Finally, consider specifying the course's voice and tone. Will it be friendly and conversational? Formal? Encouraging? Will your writing style (blog posts or emails) be in the first or third-person point of view?
You need to be clear on the overall tone of communication used throughout the course.
All of these will ensure a cohesive visual experience throughout the course. That is to say, everyone involved in developing the online courses will adhere to one visual style. This way, learners will not be confused while taking the course.
Personally, I think this saves me from speaking a lot whenever I hire a hand, maybe a graphics designer, copywriter, video editor, digital marketer, or guest instructor.
All I need to do is to hand them my course template and they completely understand my vision and how I aim to achieve it.
Course Overview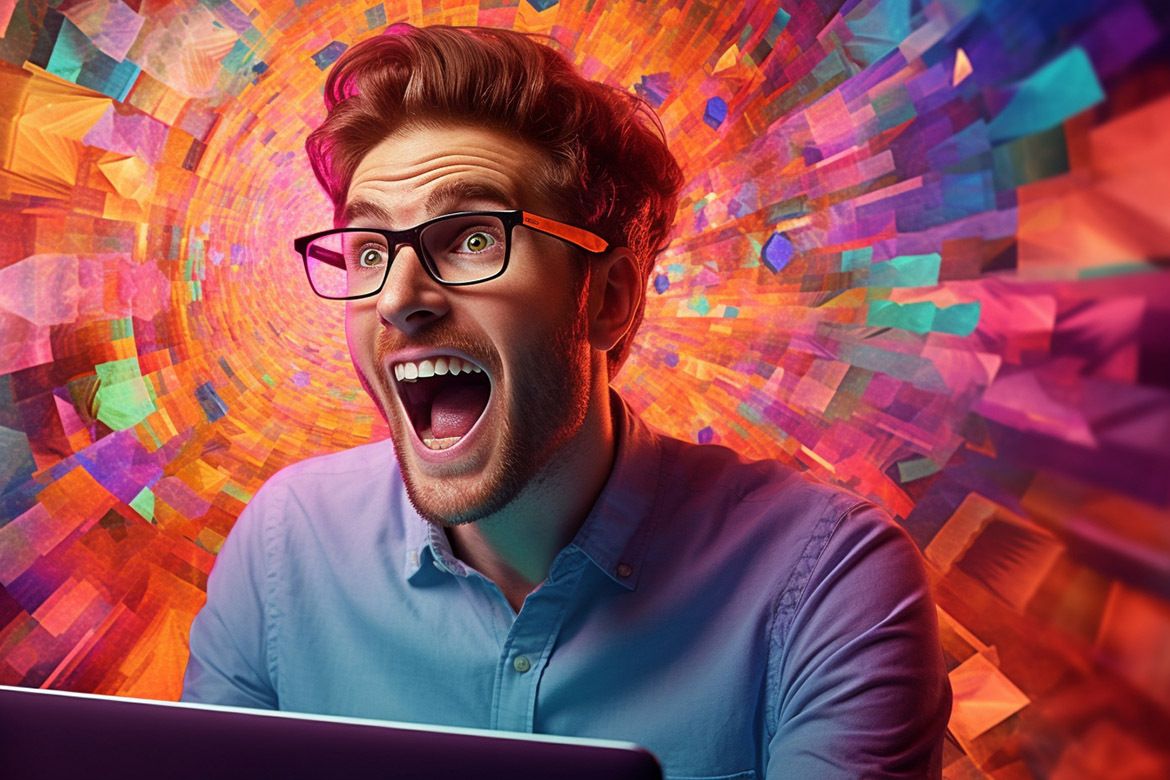 This is also an essential element when creating an online course template. A course overview is simply a description of the course or a summary of the key features of the course.
What are these key features?
The title of the course and industry niche.
Learning objectives of the course and the topics you'll cover. Bear in mind that you don't need to break down the topics here.
The intended audience for the courses, i.e., the target audience. Who are there and is there any prior knowledge or experience they need before they can take your course? Make that clear.
Duration of the entire course
Instructional or teaching methods to be used in the course. Will it be an interactive session? Will you include group discussions or give practical exercises?
Your preferred format to deliver your courses. Are you going for video lectures? If yes, is it going to be the screen recordings or you're going to record yourself in front of the camera? Are there going to be documents attached to each lesson?
Evaluation or assessment methods. Will you give quizzes or assignments at the end of each lesson? How will the students be evaluated? Any passing mark? Also, specify the guidelines for creating the quizzes and assignments.
Course certification. After your students are done with the course, will there be any completion certificate or accreditation? Also, mention the criteria for earning the certificate if there will be any.
Generally, here, you're just explaining what your online course is all about, the intended outcome, and how will achieve that.
Overall Course Structure
Every beginner online course template should define the overall structure of the course such as the number of modules or units for each lesson, their titles, and a brief description of each section.
Remember that in your course overview, you had already listed the title of the topics you will cover. Here, it's time to break down those topics from introduction to conclusion, keeping in mind the duration of the course.
Also, specify the number of modules, and units each video lesson will consist of. After that, outline the learning objectives for each lesson. That is, what the students will get after the lesson.  
Make sure that your learning outcomes are specific, measurable, and achievable. The duration of each module or lesson should also be specified. This can be a rough estimated time each student will need to complete each section.
And where will quizzes and assignments be prescribed? It's usually at the end of every lesson.
Your course structure should also indicate additional resources and materials that your students will have access to during the course. This includes textbooks, online articles, and other supplementary materials that will give more insight into the course topic.
Overall, all you need to do here is to give an overview of how your course will be structured. You can look at how other course creators in your niche structured their courses and pick one or two ideas.
Interaction and Engagement Techniques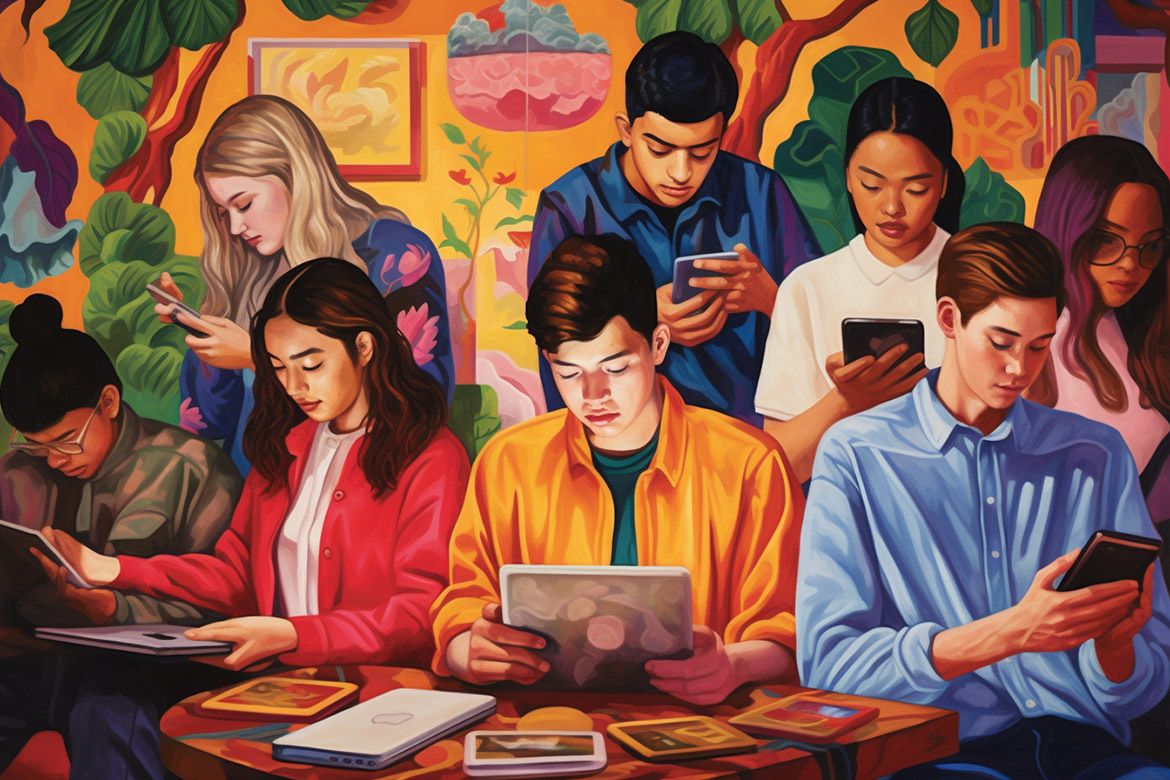 To make your online course engaging and intriguing to students, you must incorporate interactive elements such as discussion forums and group activities.
Some course creation platforms like OnlineCourseHost.com allow you to integrate this into your courses on the go, allowing students to leave comments and ask questions under each course video.
You can indicate in your course template the discussion prompts and various group activities that students will participate in.
Also, be clear on the purpose and expectations of each group, the number of students it will accommodate, and their roles and responsibilities. If you have any specific requirements or deliverables, you should state that as well.
For example, let's say you're creating a course on "Social Media Marketing," you can have something like this;
Group Activity: Social Media Campaign Planning
Group Name: Digital Mavericks
Group Size: 3-4 students
Purpose: In this activity, students will collaborate to plan a social media campaign for a fictional company. They will strategize, develop content ideas, and outline implementation steps to achieve the campaign objectives.
Roles and Responsibilities:
Content Creator: Will come up with relevant content ideas for all the social media channels.
Data Analyst: Will conducts market research, and identify the target audience based on their demographics and behaviors.
Designer: Creates visually appealing graphics for the campaign content.
Copywriter: Writes persuasive and compelling copy for social media posts and advertisements.
Expectations from this group activity:
Develop a comprehensive social media campaign plan, including content ideas, posting schedules, and promotional strategies.
Ensure consistency across different platforms, maintaining brand voice and visual identity.
Present the campaign plan to the class, explaining the rationale behind each decision and showcasing the proposed content and strategies.
You can include an activity like this at the end of your online course. This way, your students get to practice what they have learned in real time.
Finally, in this section, you should be clear on the kind of gamification elements you're including in the course if you're adding any. Are there going to be badges, points, or leaderboards? How will students earn them?  
You should be clear on all of these before moving to the next phase.
Communication Channels With Students
How are you going to be communicating with your students? This is another important question you need to answer when creating your online course template.
By communicating with your students, you're creating an avenue for them to connect with you beyond the video lessons you have created. It's also a chance to provide personalized feedback based on their progress in your online course.
Emails are major communication channels for every course creator. Hence, your course template should specify how you'll collect students' emails, and how often you will send announcements, reminders, and personalized feedback to all the students.
Will you want to organize a live Q&A session with your students where they can interact directly with you or a guest speaker? This should be clear on your template too.
If possible, draw up a communication timetable for proper guidance.
You can also utilize collaboration tools such as Slack and Trello, especially for students working on group projects or assignments. These tools will make communication faster as well as foster teamwork.
Don't forget to specify hours or time slots when students can book appointments and have one-on-one discussions with you.  
Finally, create social media groups or communities like Facebook and LinkedIn groups for students to connect with each other, ask questions and share resources amongst themselves.
Mode of Accepting Payment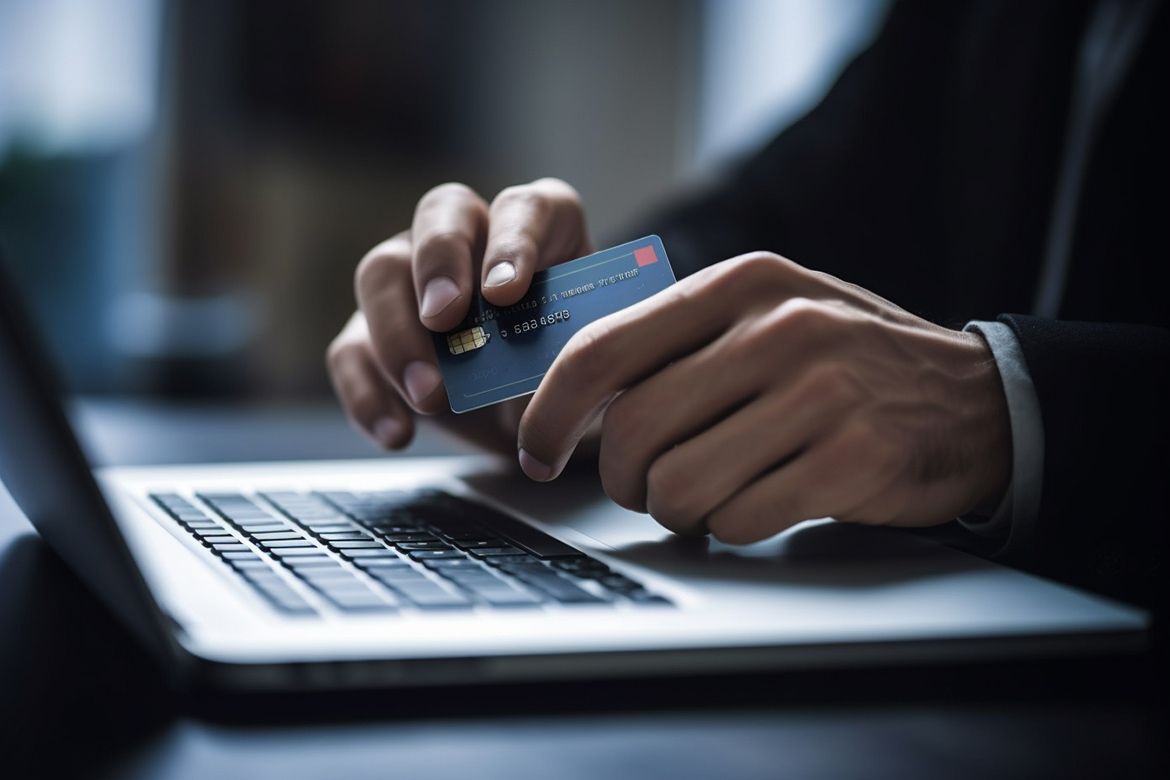 Don't miss out on including this information in your online course template. At least, it gives your students an idea of how they can enroll in your course and complete the payment process.
Of course, before now, you have already researched your target audience and figured out which payment gateway will favor them. It could be PayPal, Stripe or direct credit card payments.
Whichever method you pick, make sure that it is supported by your preferred course hosting platform.
You should indicate the currency in which your course fees will be charged. This information will come in handy when you're pricing your course.  
Additionally, give a step-by-step guideline on how students can make payments for the course and your refund policy if there are any.
Your refund policy should clearly communicate the terms and conditions including the timeframe that students can request for a refund.
Technical Requirements for Course Delivery
Finally, you should consider the technical requirements for your course delivery. This includes both the multimedia and course hosting platform requirements.
Everyone coming on board in the course creation process should be aware of the necessary tools, software, and media specifications needed to successfully deliver an online course.
For the media requirements, you should indicate the supported formats for your audio and video files. Are you going for an M4A, FLAC, MP3, MP4, WAV, WMA, or AAC audio file type?
And for the video, are you opting for an MP4, MOV, AVI, WMV, AVCHD, WebMD, or FLV video format?
Also, specify the recommended software applications for creating and editing the course videos. Most course creators use Screencast for recording their online courses, while others edit with Adobe Premier Pro.
And if you're recording yourself, which camera are you going for? What settings will you be working with? It's important that you provide visual references at this point.
Finally, you should include the requirements for your preferred course hosting platform. This should be the last task to tick off your list as it will all depend on what you've listed in your course overview, structure, and interaction technique.
For example, if you're incorporating quizzes and assignments in your course, your ideal platform should accommodate such engagement features.
Conclusion - What's Next?
I hope this post has answered your question on how to create an online course template. I know it's a lot of information and details to be included but don't let that discourage you.
You should take it one at a time and be detailed as possible. Almost every company or business has a template they work with, so why not you?
Having this template streamlines the course creation process as you already have a structured framework to work with. You wouldn't spend so much time and effort starting from scratch whenever you're designing a new course.
Plus you already have a document that you can always share with potential sponsors or collaborators.
When your course template is ready and you've successfully created your online course, you'll need a course hosting platform that houses everything you need to manage your courses.
In that case, you should try out OnlineCourseHost.com. One major feature that stands out with this platform is that it is AI-powered! This saves you a lot of time when setting up your course.
Aside from that, you're not charged for any transaction you make. You have access to all your funds at any time. Plus you'll be paid in your own national currency if you want.
If you need more information to grow your online course business successfully, you should check out the Course Creator Academy.
You will find everything you need to become a successful online course creator all in one place for free.
To get notified when new content is available here at the Academy, you can subscribe here to our weekly newsletter:
If you are looking to ask any questions on online course creation, you can reach me here on my Facebook group:
Join the Course Creator Academy Facebook Group
Ready to learn how to launch your first course on OnlineCourseHost.com? Here are the helpful guides for you to check out:
I hope you found this post helpful; let me know in the comments below what other topics you would like me to cover or any questions that you have.
Thanks for reading… and enjoy the course creation process! 😉
---
Course Creators Academy, a community by OnlineCourseHost.com
Founded by Vasco Cavalheiro
Online Course Creator