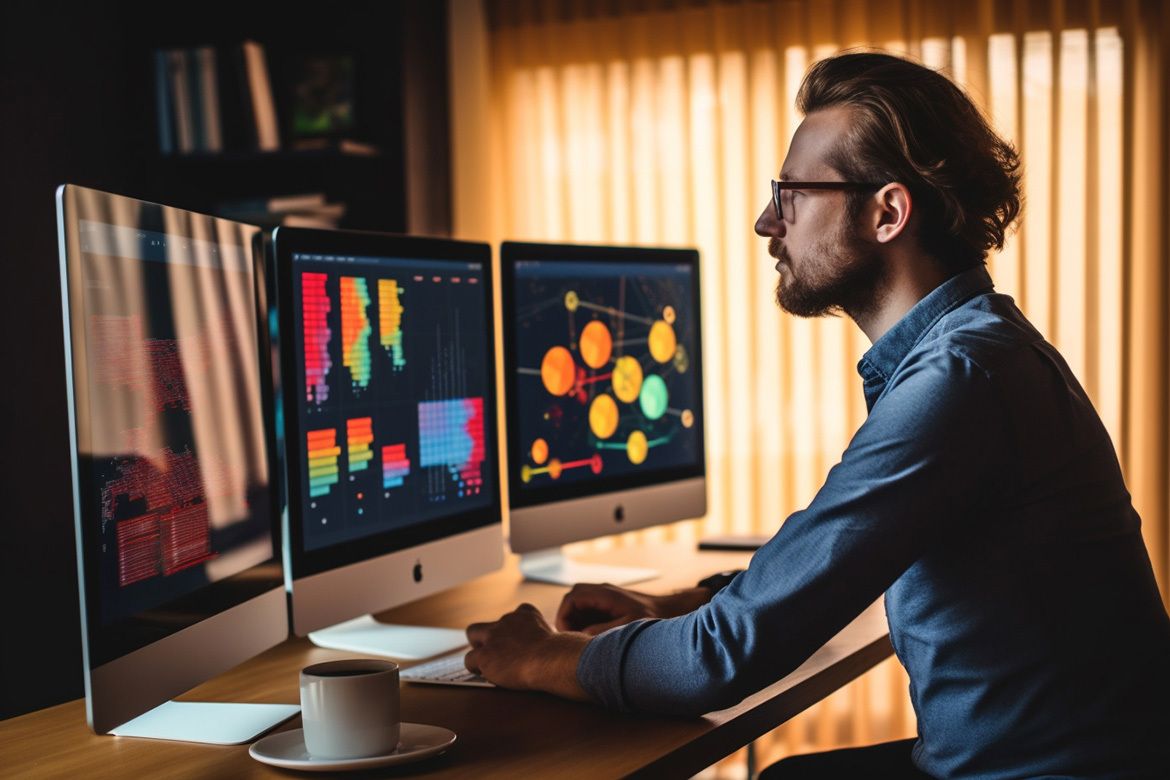 Discover the best LMS platforms for online course creation and take your teaching to new heights. Explore leading platforms like OnlineCourseHost.com, LearnWorlds, Talent LMS, etc. Find the perfect fit for your needs and unlock a world of engaging and transformative online learning experiences.
As an online course creator with years of experience in today's fast-paced digital world, I've used a variety of learning management systems (LMS), so I understand the importance of finding the right one for your online courses.
There's a sea of options to navigate through to find the perfect fit, and amidst this array of options, you have this crucial question constantly echoing in your mind: What is the best Learning Management System (LMS) platform for creating exceptional online courses?
That's why I've put together this blog post to share my insights and help you make an informed decision.
However, it's important to note that the best LMS platform for online courses can vary depending on specific needs and preferences.
In this blog post, I'll walk you through the process of choosing the best LMS platform by focusing on the most important factors. I'll also do a review of some popular LMS platforms, going over their features, benefits, and drawbacks, as well as my verdict on each one.
This evaluation will help you compare and contrast different platforms, enabling you to make an informed decision based on your needs.
So buckle up and get ready to discover the best LMS platform that will empower you to create courses that captivate, educate, and inspire.
You can also check out all the free guides available at the Course Creators Academy.
Let's get started!
Key Factors to Consider When Choosing an LMS Platform
When it comes to choosing the best LMS platform for your online courses, there are a few crucial factors to keep in mind. Here they are:
Identify Your Needs
First, you must understand what type of course you're offering and the specific needs. For instance, if you want to offer a video course, then you'll surely need an LMS platform with video capabilities.
Scalability
Also, you have to evaluate the scalability of the LMS platform to accommodate your course growth and increase student enrollment.
Your budget
LMS platforms can vary in price from free to thousands of dollars annually. It is important to choose a platform that fits your budget.
Assess the Features
Lastly, consider which features are most important to you and ensure that the platform you choose can deliver these features.
Some Important features you should look for in an LMS platform include:
A. User experience and interface
Choose an LMS platform with an easy-to-use interface to reduce the learning curve for both you and your students.
Make sure it allows for easy navigation, clear organization of course materials, and quick access to key features.
B. Course customization and flexibility
Check that the platform allows you to tailor your courses to your specific needs and teaching style.
Look for options for customizing your courses and creating a personalized learning experience.
To increase engagement, see if the platform supports multimedia content and interactive elements.
C. Collaboration and Communication
Assess the platform's communication features, such as discussion forums, live chat, or messaging systems, to see if they help students engage and interact.
Look for collaborative features that allow for group projects, peer feedback, and instructor-student communication channels.
D. Integration and Compatibility
Check to see if the LMS platform can integrate with other tools or systems you already use, such as video conferencing, content creation software, or analytics platforms.
Consider compatibility with existing systems to ensure a seamless workflow and data synchronization.
By carefully considering these key factors, you can choose the best LMS platform for your online courses, i.e., one that meets your needs and those of your learners, accommodates course growth, and also fits your budget.
You can learn more about these and other important LMS features in this blog post on the key features of an LMS for online course creation.
Review of Some Top LMS Platforms for Online Courses
Now that we've discussed the key factors to consider when selecting an LMS platform, let's take a closer look at some of the most popular platforms available today.
Here's a quick rundown of seven (7) notable contenders, along with their distinguishing features, benefits, and drawbacks. This will help you decide which LMS is best for your online courses.
OnlineCourseHost.com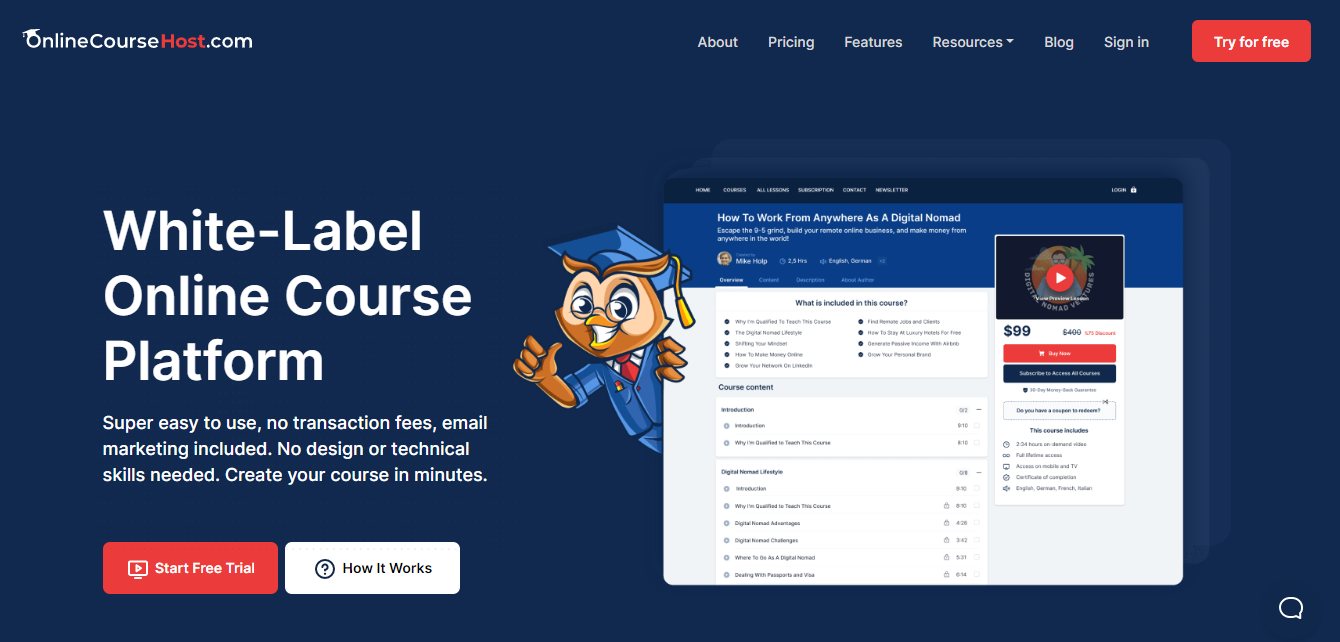 OnlineCourseHost.com is a cloud-based, easy-to-use, white-label learning management platform that offers extensive features for course creators, educational institutions, and organizations to create a truly remarkable learning experience.
With an incredibly user-friendly interface and a customizable branding option, you can create your course in minutes, even if you have no prior design or technical skills.
It includes a robust email marketing tool that allows you to sell your online courses, and there are no transaction fees.
Pros
Intuitive user interface with simple course creation and management tools.
Excellent customization and branding options for a seamless learning experience.
Third-party integrations with up to 5000 Apps and websites, including email marketing platforms to sell and promote online courses.
No transaction or hidden fees.
Outstanding customer support, with provision for additional training resources.
No design or technical skills needed; set up your course in minutes.
Cons
Pricing Model: OnlineCourseHost.com offers 3 pricing plans, including options for individual instructors, entrepreneurs, and businesses.
Basic plan at $21/month.
Pro plan at $49/month.
Enterprise plan at $107/month.
All plans are billed annually and are available for a 14-day free trial, with access to all features under each plan.
Verdict: OnlineCourseHost.com is a top recommendation for course creators, especially beginners with no prior experience who require an easy-to-use platform.
LearnWorlds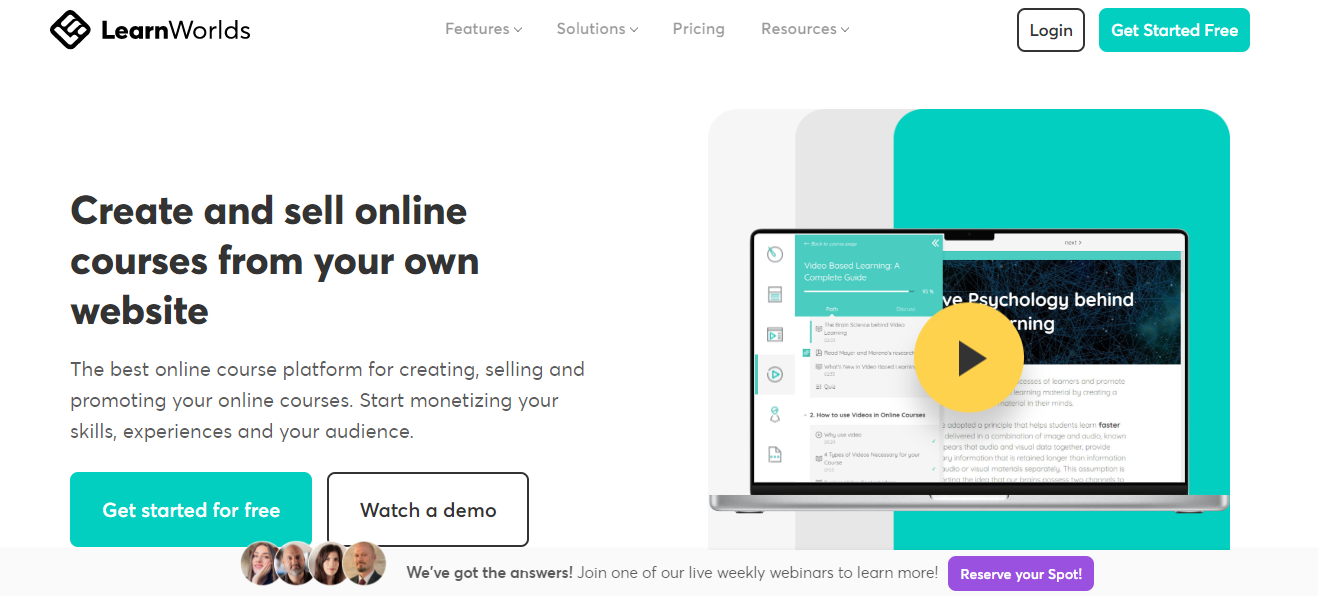 LearnWorlds is an all-in-one platform that combines powerful course creation tools with a focus on creating visually appealing and interactive learning experiences.
With its user-friendly interface, interactive learning features, built-in community, and e-commerce capabilities, LearnWorlds offers a powerful solution for creating and monetizing online courses, educating customers, or training employees.
However, it's important to consider your specific requirements and compare them with other platforms to make the best choice for your online course needs.
Pros
User-friendly course creation interface.
Detailed analytics and reporting for performance tracking.
Wide range of interactive learning elements.
Robust e-commerce capabilities for monetization.
Fully branded website and mobile app builder for your online academy
Rich marketing tools including branded affiliate programs
Cons
No free plan available.
Pricing plans are relatively higher compared to other platforms.
Pricing Model: LearnWorlds offers tiered pricing plans with various features, catering to different budget levels. It scales well for both individual course creators and organizations, accommodating growing course enrollments and expanding user bases.
The various plans include:
Starter plan at $24/month
Pro trainer at $ 79/month
Learning center at $249/month.
Custom corporate plan.
All plans are billed annually and may be enjoyed on a 30-day free trial.
Verdict: LearnWorlds is an excellent option, especially for coaching institutes or corporate training.
Talent LMS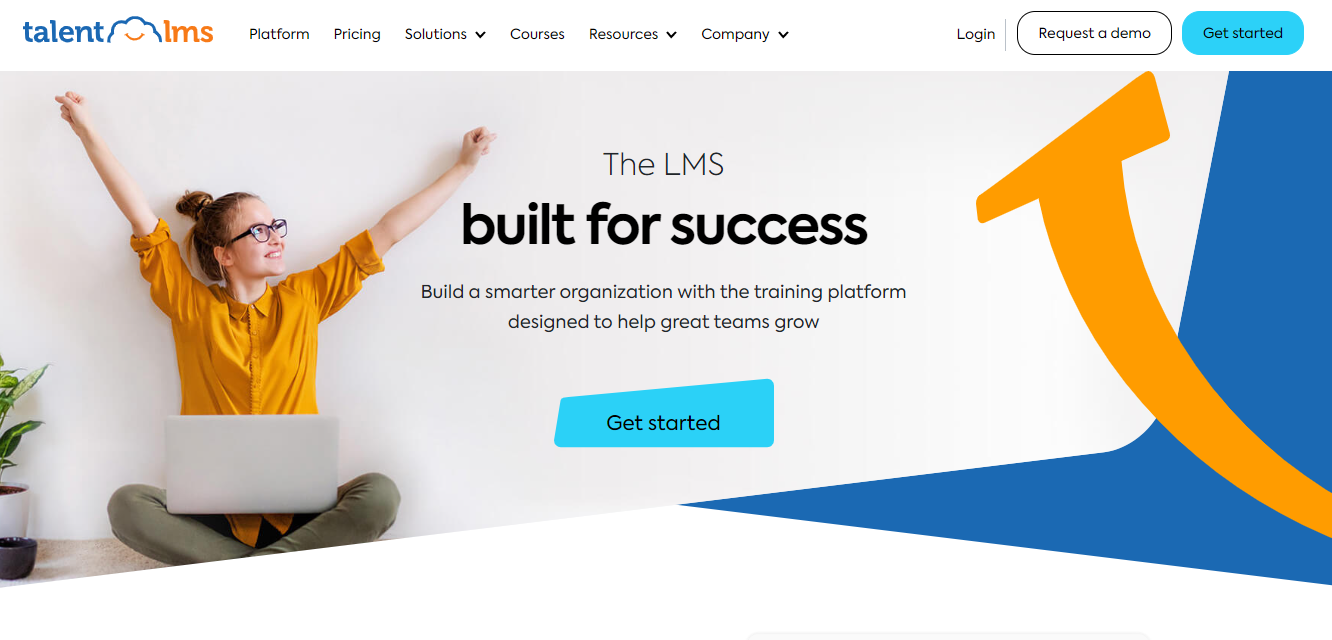 Talent LMS is a user-friendly and scalable LMS platform suitable for both small and large enterprises. It offers a comprehensive set of features designed to streamline course creation and delivery.
Its course management capabilities, mobile-friendly design, assessment tools, and gamification elements make it a compelling choice for course creators looking to build and manage their online courses efficiently.
Pros
Comprehensive course management system and organization
Boost learner adoption with gamification features, such as badges, points, levels, rewards, and leaderboards.
Mobile-friendly and responsive design.
Robust assessment and progress tracking features.
Offers flexible integrations and API access.
Unlimited course storage
Cons
Some users find the initial setup process slightly complex.
A bit pricier than some of its competitors, and it's missing some features like automated grading and exam scheduling.
Certification management and functionality need to be improved further.
Pricing Model: Talent LMS offers various pricing plans, including options for small businesses, mid-sized organizations, and enterprise-level solutions.
It has 5 pricing plans ranging from $0 to $459 per month when billed annually. It also comes with a free version for up to 5 users, 10 courses, and unlimited email support.
Verdict: Excellent choice for all forms of organization's training needs.
Moodle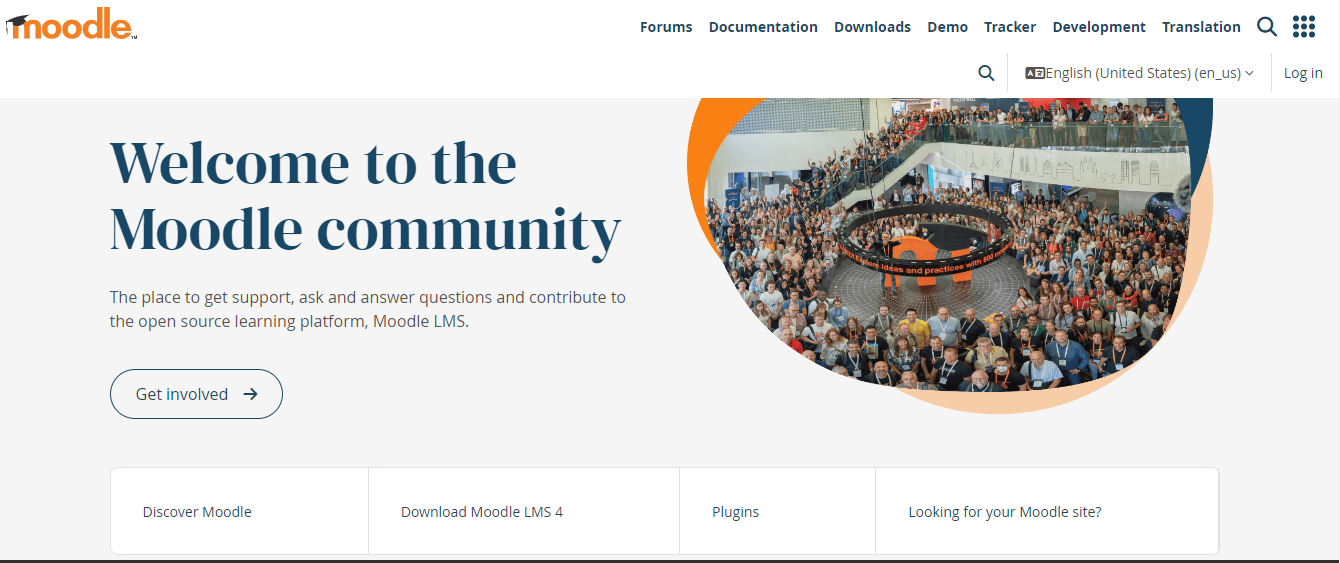 Moodle is a widely used open-source LMS platform that offers a wide range of features and customization options. Its robust course management system, collaboration tools, and assessment capabilities make it a popular choice for educational institutions, corporations, and online course creators.
However, it's important to consider the learning curve and visual design aspects while evaluating Moodle for your specific requirements.
Pros
It has a robust and flexible course management system.
Provides options for customization and plugin availability.
It has a strong focus on security and user management.
Provides features for extensive collaboration and communication.
It includes multilingual support, multimedia integration, and comprehensive tracking and reporting capabilities.
Cons
The learning curve can be quite steep for beginners.
To achieve a modern look, the user interface and visual design may require further customization.
It has no free plan available
Pricing Model: The pricing for Moodle starts at $110.0 per year. It has 5 different plans:
Starter at $110.00 per year.
Mini at $200.00 per year.
Small at $360.00 per year.
Medium at $840.00 per year.
Large at $1610.00 per year.
It also offers a custom plan based on the customer's request.
Verdict: Moodle is an ideal option for online course development, competency-based training and management, onboarding training, and workplace safety training
Canvas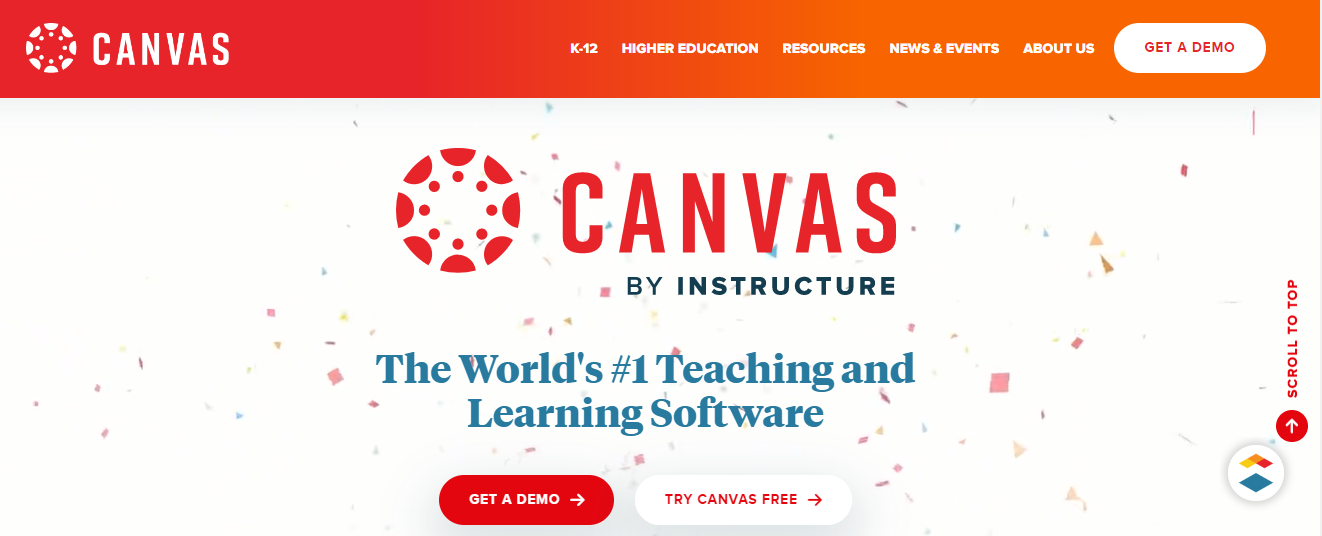 Canvas is a feature-rich and user-friendly LMS platform known for its intuitive interface and comprehensive assessment tools. It provides instructors with robust grading capabilities, advanced analytics, and seamless integration with a variety of educational tools.
Canvas prioritizes user experience and provides a modern and engaging interface for both instructors and learners.
Pros
It has robust collaboration and communication features
Intuitive course creation process and user-friendly interface
Diverse assessment options and customizable grading.
Mobile accessibility for learning on the go.
Comprehensive analytics and reporting capabilities.
Cons
User interface with limited customization options.
Some users do not find the design of the interface to be very appealing.
The e-portfolio section is difficult to navigate, and the reporting needs to be more precise.
Pricing: Pricing plans are not clearly stated on the platform, but they offer bespoke pricing based on use cases, volume of users, and integration requirements.
Verdict: Very suitable for educational institutions, such as schools, colleges, and universities.
Thinkific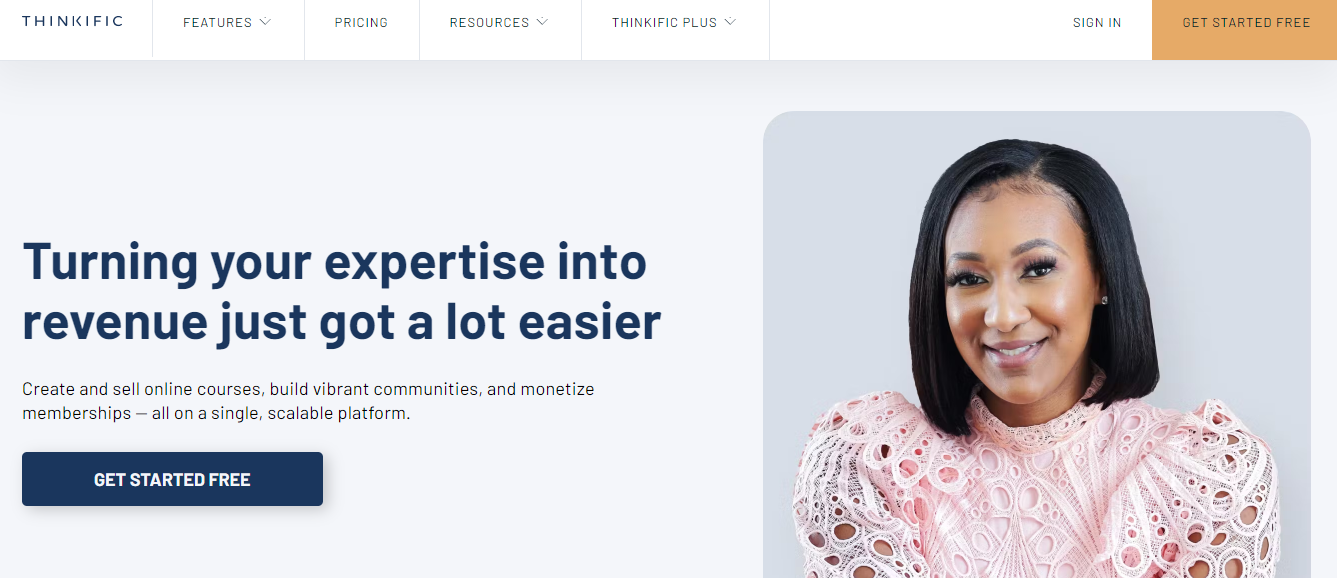 Thinkific is a robust and user-friendly LMS platform designed for course creators and entrepreneurs, offering a range of features for course creation, website building, sales and marketing, and analytics.
With its user-friendly course builder and comprehensive toolset, businesses will be able to create all sorts of digital learning products that cater to a broader audience base.
However, it's essential to consider the pricing plans and customization limitations while evaluating Thinkific for your specific requirements.
Pros
Intuitive course creation and customization options to match your brand.
Robust built-in sales and marketing tools.
Professional website and branding features with tons of pre-built templates.
Flexible payment processing and monetization options.
Comprehensive analytics and reporting.
Cons
Its best features are only available with the expensive premier plan.
Limited options for advanced customization and integrations.
Pricing: Thinkific offers various pricing plans, including a free plan with limited features and paid plans with more advanced functionality.
Paid Plans include; Basic Plan – $39/month, Pro – $70/month, and Premier – $399/month.
Verdict: Thinkific is an all-in-one learning solution that is ideal for creating and selling digital products including membership.
Blackboard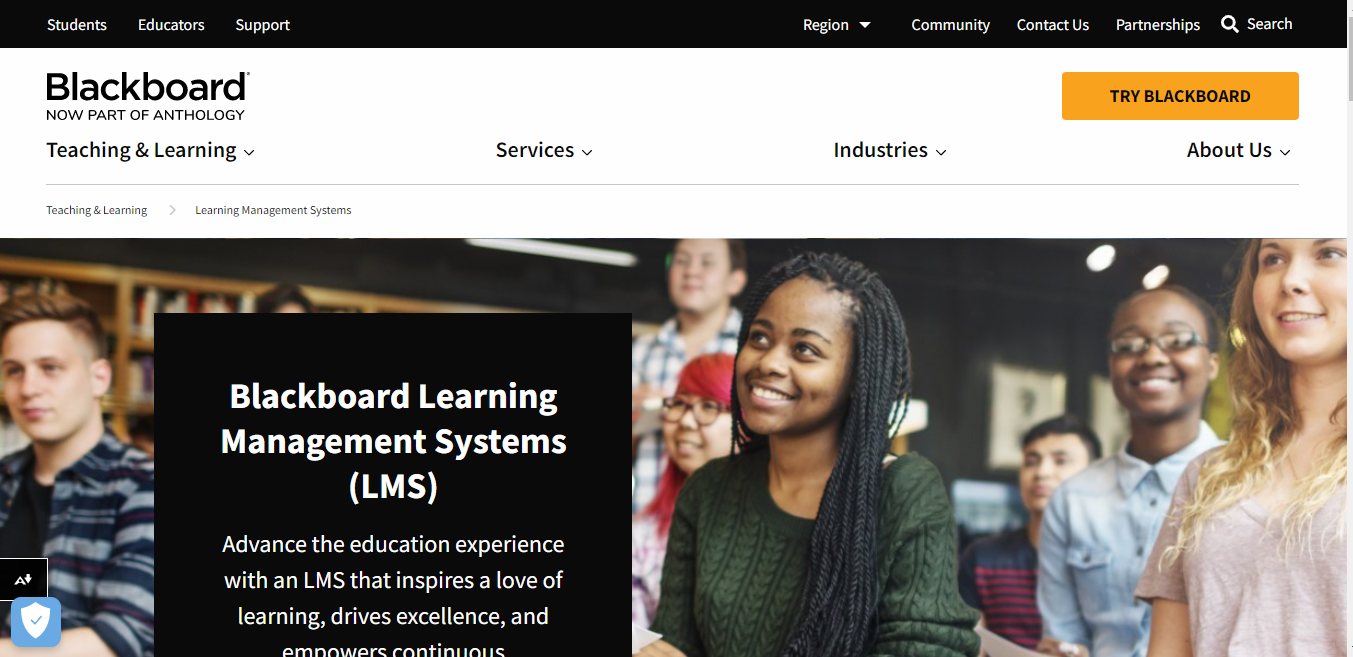 Blackboard is a widely-recognized LMS platform that has been utilized by educational institutions and businesses worldwide.
It has well-established capabilities for course management, communication, collaboration, and assessment.
Some users may initially find the user interface to be complicated, despite its extensive functionality. However, Blackboard remains the platform of choice for many educational institutions and organizations around the world, facilitating effective teaching and learning.
Pros
Robust course management and delivery capabilities.
Diverse assessment options and grading flexibility.
Extensive communication and collaboration features.
Mobile accessibility for on-the-go learning.
Comprehensive analytics and reporting functionalities.
Cons
Initially, some users find the user interface and navigation to be complex and overwhelming.
The user interface's customization options may be limited.
No free plan available.
Pricing: Pricing plans are not stated on the platform, but they provide a custom pricing based on customers' needs.
Verdict: Blackboard is an excellent choice for organizations that require a learning management system that can handle both academic and corporate use cases.
Conclusion
Choosing the best Learning Management System (LMS) platform for your online courses is a critical decision that can have a significant impact on the success of your teaching efforts.
In this post, we have explored a few popular LMS platforms, each with its own set of features and functionalities.
As a course creator, it's important to assess these platforms based on your specific needs and priorities. Consider factors like scalability, features, and pricing. Consider the pros and cons, as well as user reviews and ratings, to gain insight into real-world experiences.
Remember that no single LMS platform is perfect for everyone. It ultimately depends on your course content, target audience, business goals, etc. Take the time to research, examine demos, and even try out free trials before making a decision.
Lastly, for a hassle-free and profitable experience in creating and selling online courses, I highly recommend OnlineCourseHost.com.
It offers a super easy-to-use interface, charges no transaction fees, excellent customer support, and includes built-in email marketing tools. With no design or technical skills needed, you can create your course in minutes and focus on delivering quality content.
You can also sign up for our newsletter here to be notified when new content is available at our Course Creators Academy:
If you are looking to ask any questions on online course creation, you can reach me here on my Facebook group:
Join the Course Creators Academy Facebook Group
Ready to learn how to launch your first coaching program or course on OnlineCourseHost.com? Here are the helpful guides for you to check out:
I hope you found this post helpful. Let me know in the comments below what other topics you would like me to cover or any questions that you have.
Thanks for reading… and enjoy the course creation process! 😉
---
Course Creators Academy, a community by OnlineCourseHost.com
Founded by Vasco Cavalheiro
Online Course Creator