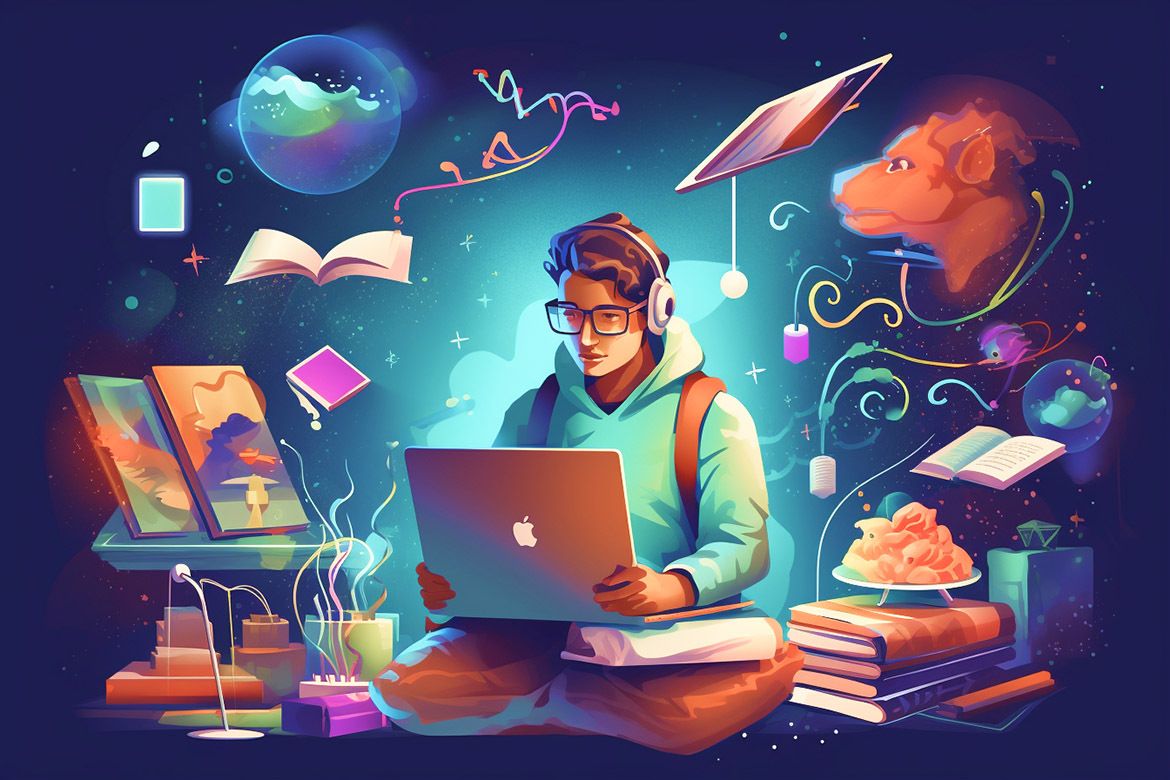 if you're just starting out on your online course creation journey, you are probably having some trouble finding out what is the best online course platform for you.
I think this is because there are a lot of course platforms with similar features but that serve different purposes, and most of all, are meant for different types of course creators.
While some online course platforms are ideal for beginner course creators, others are meant for big organizations.
Some platforms are more affordable while others have better marketing features or more engaging course players. It all depends on what you're looking for.
But don't worry, we will organize per category all the best online course platforms that you have available, and give you a clear category winner.
You really want to make sure that you pick the right platform for you from the very beginning, as switching course platforms, later on, is not easy at all.
You also don't want to spend above your budget when you aren't getting the value you hoped for, or even worst, spend for something you don't really need.
As a course creator who has been in this industry long enough to test out many of these different online training platforms, I have rounded up the best ones and reviewed their strengths and weaknesses.
Rest assured that at the end of this guide, you'll figure out the right course platform for you. 😉
So what are the best online course platforms available?
These are the best ones right now, per category:
OnlineCourseHost.com - Best for Beginners
Thinkific - Best Free Plan
Xperiencify - Best for students engagement
OnlineCourseHost.com - Most affordable course hosting platform
Kajabi - Best all in one
Talent LMS - Best for organizations
Podia - Best for marketing
LearnDash - Best WordPress learning management system
Udemy - Best Online Course marketplace
That's not to say that these are the only course platforms that fit each of these categories.
I also covered other options per category which you're free to check out before finally making your choice.
Let's get started!
You can also check out all the free guides that you have available here at the Course Creator Academy by clicking on the Academy link on the top menu bar.
In a Nutshell
Here is a quick visual summary of what we are about to cover, step by step.

Infographic Link
If you want to use this image and display it somewhere like in a blog, you can.
You can find the image here - course platforms comparison infographic.
And now, let's get into all the nitty gritty details! 😉
Best Online Course Platform for Beginners - The Winner Is OnlineCourseHost.com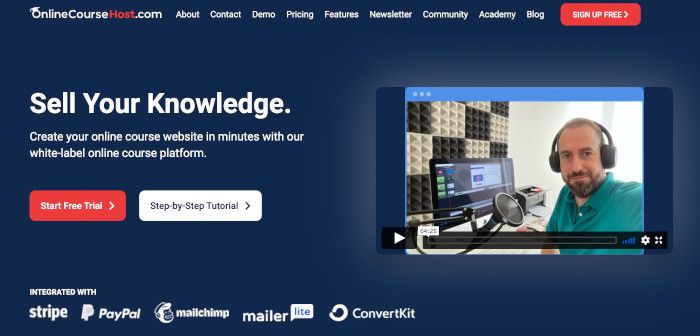 I think Onlinecoursehost.com is the best platform for online courses right now, and especially for beginners.
Here is why.
I'm a course creator myself and have been creating online courses since 2016.
And when I first started,  I noticed that most of the platforms were either too pricey for a beginner course creator to afford or they were quite complicated to navigate and they were really meant for other professionals, like internet marketers.
I thought to myself, "A beginner course creator like me is usually someone with few design or technical skills who just wants to quickly create and upload their courses, sell them and attract students.  The typical course creator just starting out would prefer a more affordable and easy-to-use online learning platform than what is out there".
I wish I had stumbled on such a platform when I first started.
Even today, I wouldn't be willing to spend hundreds of dollars per month to host my courses on my own website, even though I have a nice six-figure online course business going (see here for more details).
So, I went back to the drawing board and came up with OnlineCourseHost.com. 😉
OnlineCourseHost.com is the most easy-to-use online course platform you'll find on the market today.
The platform allows you to create, sell and host your online courses under your own domain name. The best part?
You don't need to be a web developer or designer to achieve all that.
The interface is highly intuitive and easy to use such that you'll have a professional-looking course website up and running within a few minutes.
When starting, you are entitled to a free web address and website name. Alternatively, you can input the domain name and address if you have already paid for one.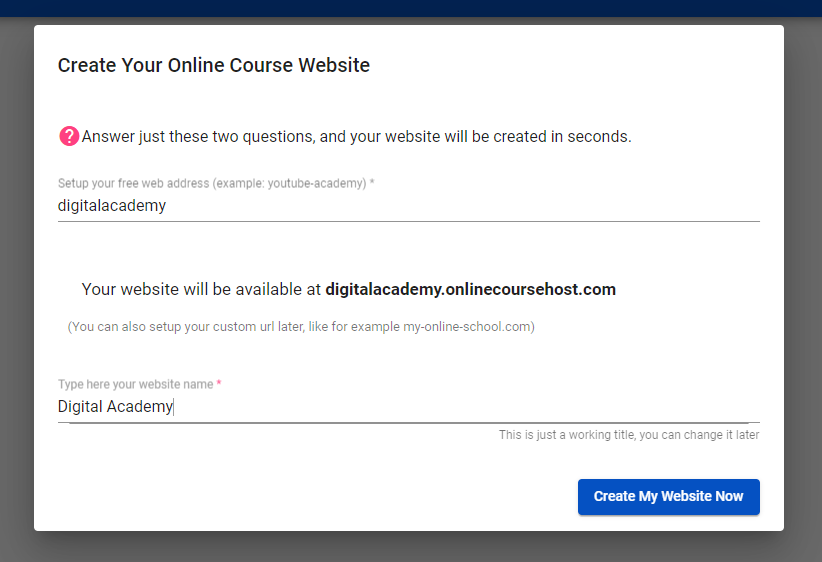 By default, the website layout is optimized for conversions. Student sign-ups and newsletter subscriptions have already been set up for you, so all you need to do to get your homepage running is to upload your brand logo and banner image, plus some marketing copy, and the page will be ready within minutes!
Next, start uploading your video or audio lessons including downloadable PDFs and assignments.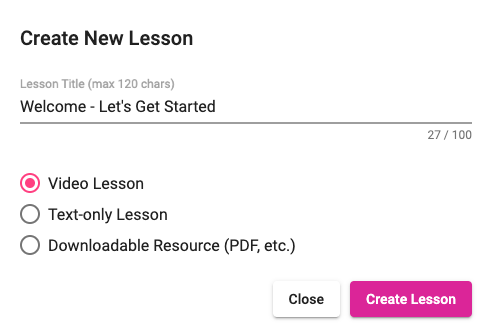 Your course landing page on the other hand requires you to only fill in your course title, description benefits, and FAQs and finally upload your thumbnail and you're good to go.

Finally, you set your course price and connect your website to either your Stripe or PayPal account to receive payments.
Here is what your online course landing page will look like at the end: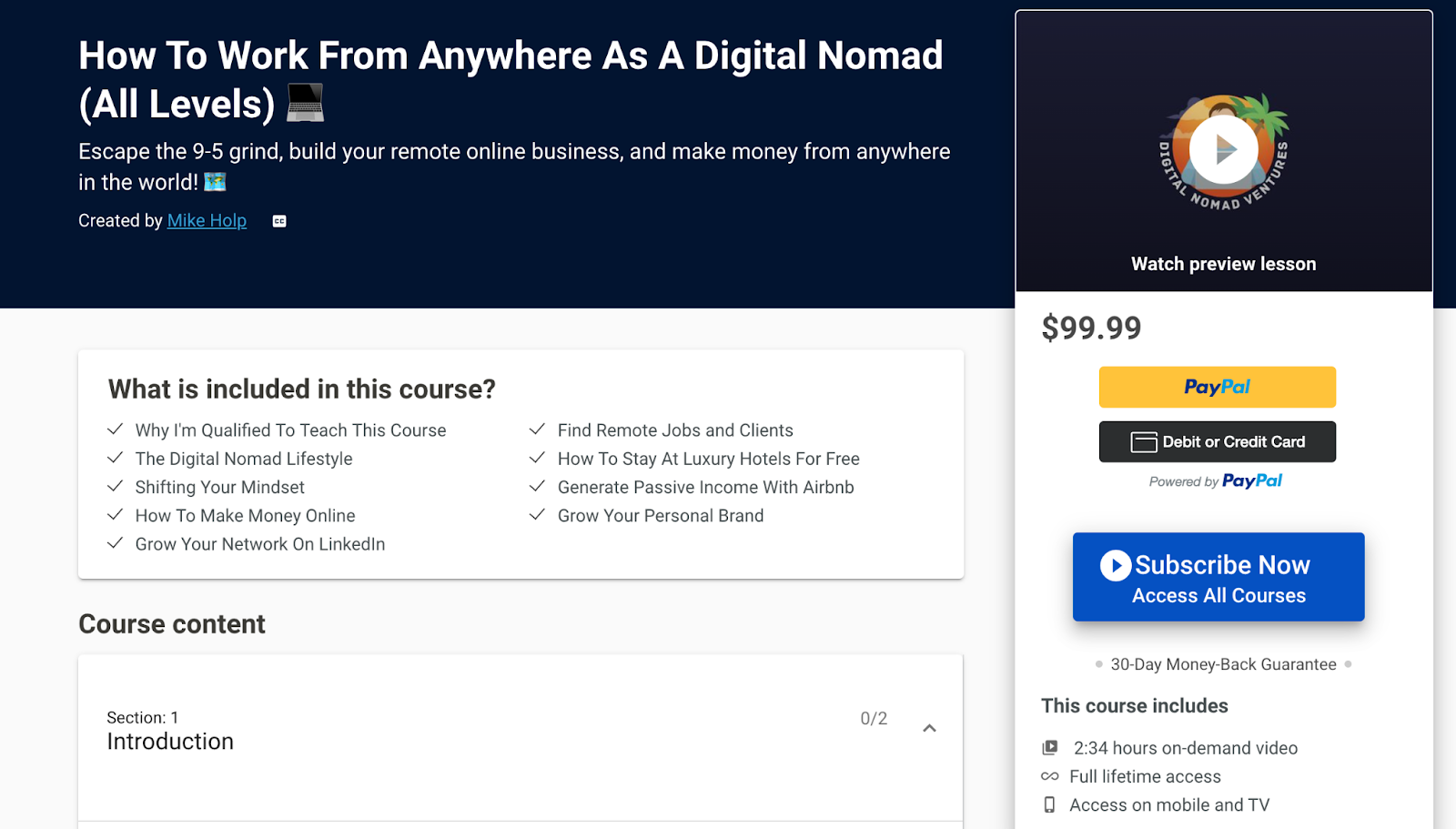 So you see, Onlinecoursehost.com is unarguably the best online course creation platform as it does not even charge any transaction fees. So, you'll receive your revenue in full.
Aside from this platform being easy to use, let's look at other key features and benefits you will enjoy:
Key features and Benefits
Unlimited students and courses: There are no limits to the courses you can upload on onlinecoursehost.com or the students you can have. That means, your website has all the required bandwidth to accommodate your growth as you go.
Best course experience: You can make your courses more engaging and interactive with assignments, quizzes, and students discussion. Also, you can add digital downloads such as support materials or complimentary lessons. Best of all, the course player is highly responsive and will ensure that your students get the best course experience.
Powerful email marketing features: Onlinecoursehost.com has a built-in lead capture form that collects your students' emails. You have full access to these emails and can send bulk newsletters as frequently as you want.
You can send bulk newsletters directly from the platform, meaning that you don't need separate email marketing software. You can target very specific student segments with an email. For example, you can send a discount coupon to the students that have your beginner's course, but not yet the advanced course.
Very affordable: The price of a paid plan is a fraction of what other platforms are charging for almost similar features.
Facebook Ads Integration: The online class platform is compatible with Facebook Ads. So, you can easily install your pixel on your website, and start running conversion campaigns straight to your course page. You don't need any technical skills.
Free Helpdesk Support: If you have any questions or need help at any point during your course creation journey, you have full support from the Helpdesk.
Freedom to choose any business model: You can sell your courses any way you want either with or without discount coupons or sell at a one-time charge or via subscriptions, bundles, enterprise, and life plans.
You can read more about the platform's features here.
Pricing
Onlinecoursehost.com pricing starts at $15 per month which is just a fraction of what you'll get on other platforms with almost the same features. Plus you can test the platform in-depth using the 14-day trial plan. Here is a breakdown of the plans:
Final Verdict
If you are starting your journey as a course creator and need an easy-to-use and affordable platform to host your lessons, OnlineCourseHost.com is your best choice.
Alternatively, you can check out Teachable and Thinkific. These platforms also have beginner-friendly features that will help you set up your course websites with zero coding or designing skills.
However, of all the online learning platforms, Onlinecoursehost.com is the most affordable of them all by far.
Also, Teachable charges a transaction fee for each course sale you make. While Thinkific's basic plan is almost 3 times Onlinecoursehost.com's basic.
Best Free Plan - The Winner Is Thinkific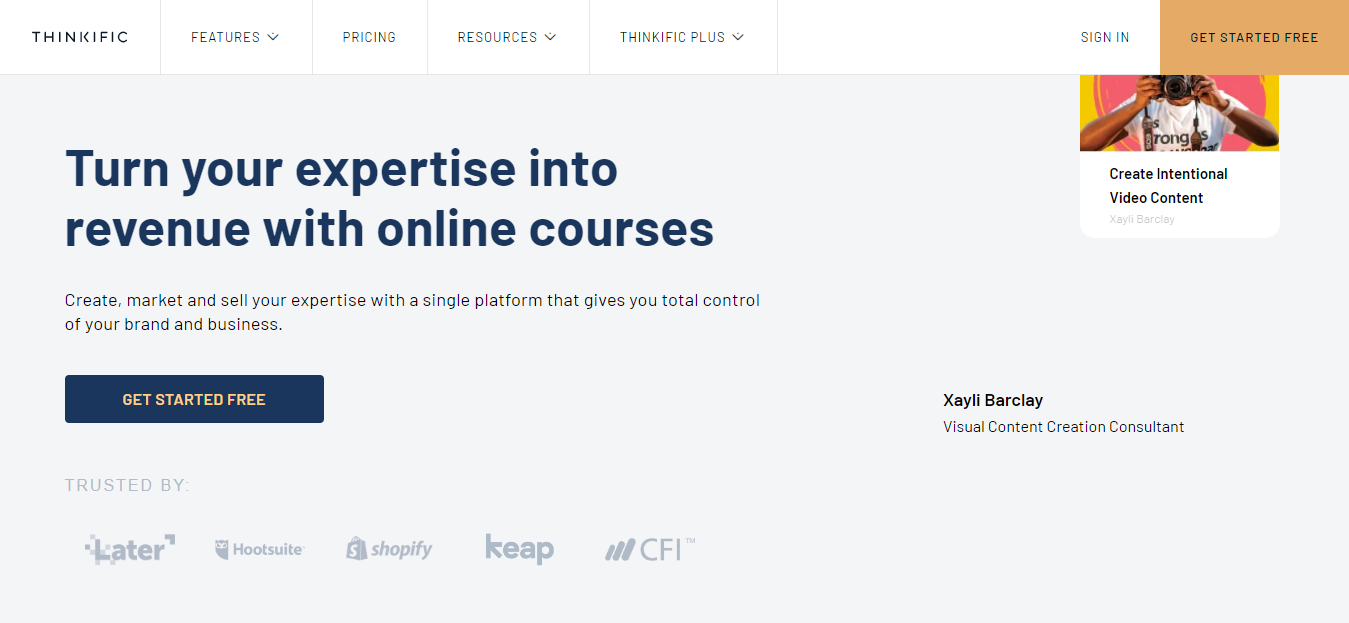 Thinkific is part of my list of the best online course platforms because of how incredible it's free plan is.
It could be that you don't have enough budget to pay for a subscription or you simply want to test-run a platform and see how it works before committing.
Unfortunately, not a lot of platforms offer free plans. The few that do usually attach limited features to the plan such that you can't create and sell your courses comfortably. You'll then be forced to subscribe to their paid plans.
However, I find Thinkific's free plan super-rich and helpful for creating, marketing, and selling your online courses. You'll get the following features:
Unlimited students
Unlimited file storage space
Easy to use website templates
Quizzes, assignments, student discussion, reviews, and surveys
Customizable course landing pages
Access to Thinkific App Store
Embed 3rd party tools and sites
24/7 Email and Phone Support
In addition, you don't need any design or technical experience to create your course website. Thanks to the built-in content creation tools. It takes just a few minutes to get everything up and running.
This online course creation platform allows you to create courses with any content type and even make them downloadable. Also, your courses can be free, paid, or time-limited.
Best of all, it's easy to engage with your students using interactive in-course discussion tools like Disqus. Thinkific also automates your students' purchases, receipts enrollment, password resets, notifications,  and more.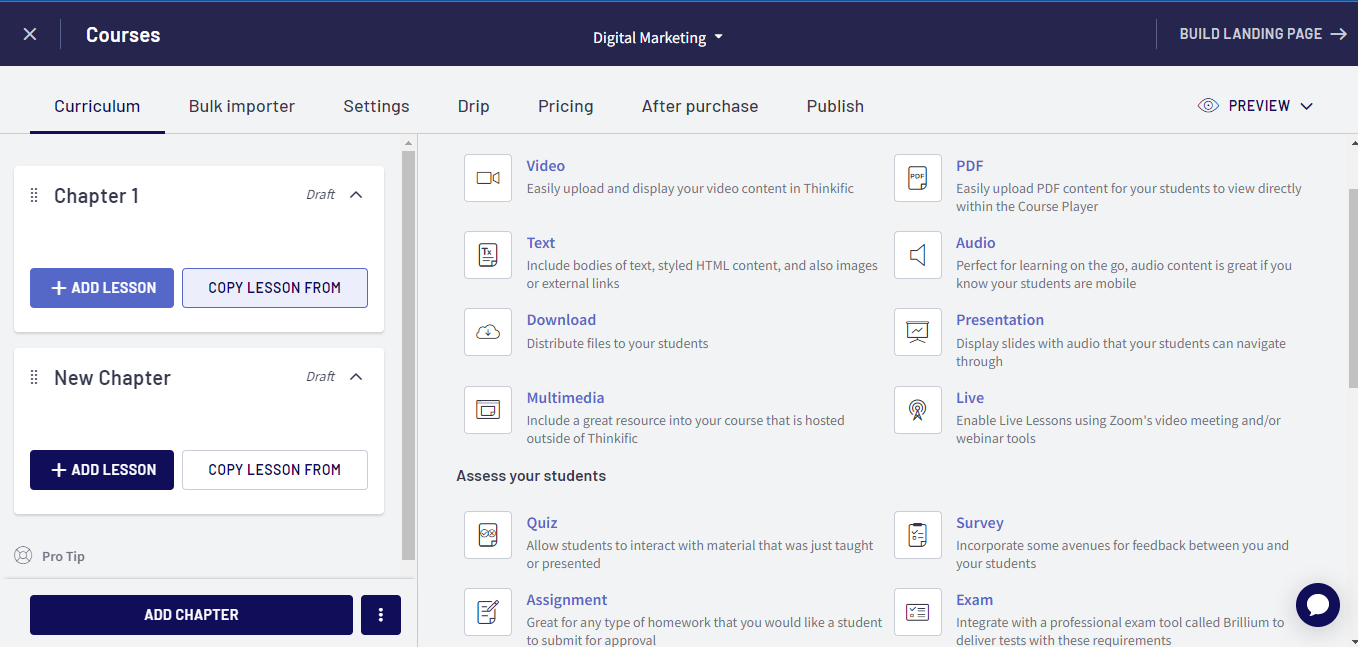 So, you see? Even though you can't afford a paid plan, Thinkific's Free Plan will keep you going until you can subscribe to the paid plans.
Aside from the comprehensive free plan, let's see other key features and benefits of Thinkific.
Key features and Benefits
All-in-one course hosting platform: Thinkific has all the tools you need to create, sell and market your online courses. The landing pages are customizable and compatible with existing websites like WordPress, Squarespace, Wix, etc.
Set up multiple payment methods and currencies: You can use Thinkific Payments, Stripe on Pro, Growth, or Plus Plan, and also PayPal to accept payment from your students all over the world.
Website creation: You can create your website using the available templates on the platform and the drop-and-drop editor.
Beginner-friendly and Intuitive interface: Users don't need to spend so much time trying to figure out the platform.  
Automated administration: Save time and energy by automating student welcome and completion emails. You will also get detailed reports and analytics on your courses.
No transaction fee: You are not charged any commission for any sale you make.  
Community Support: You'll get all the support and guidelines you need for running a successful course creation business from Thinkific's expert marketplace and Facebook community.
Thinkific's Free Plan: Drawbacks
Though Thinkific is one of the best platforms for online learning, it's free plan has a few drawbacks. First, the platform doesn't allow you to set up affiliate programs for your course which is essential for your promotion and marketing.
That's unlike Systeme's free plan which allows course creators to create, track and manage their affiliate commissions and payouts with ease.  
Other marketing features such as drip content, sale funnel, and coupon codes are not available on Thinkific's free plan. Again, all these are available on Systeme's free plan and you need these features to make enough sales for your business.
Thinkific's Pricing
Thinkific has one free plan and four paid plans. Here is a snapshot: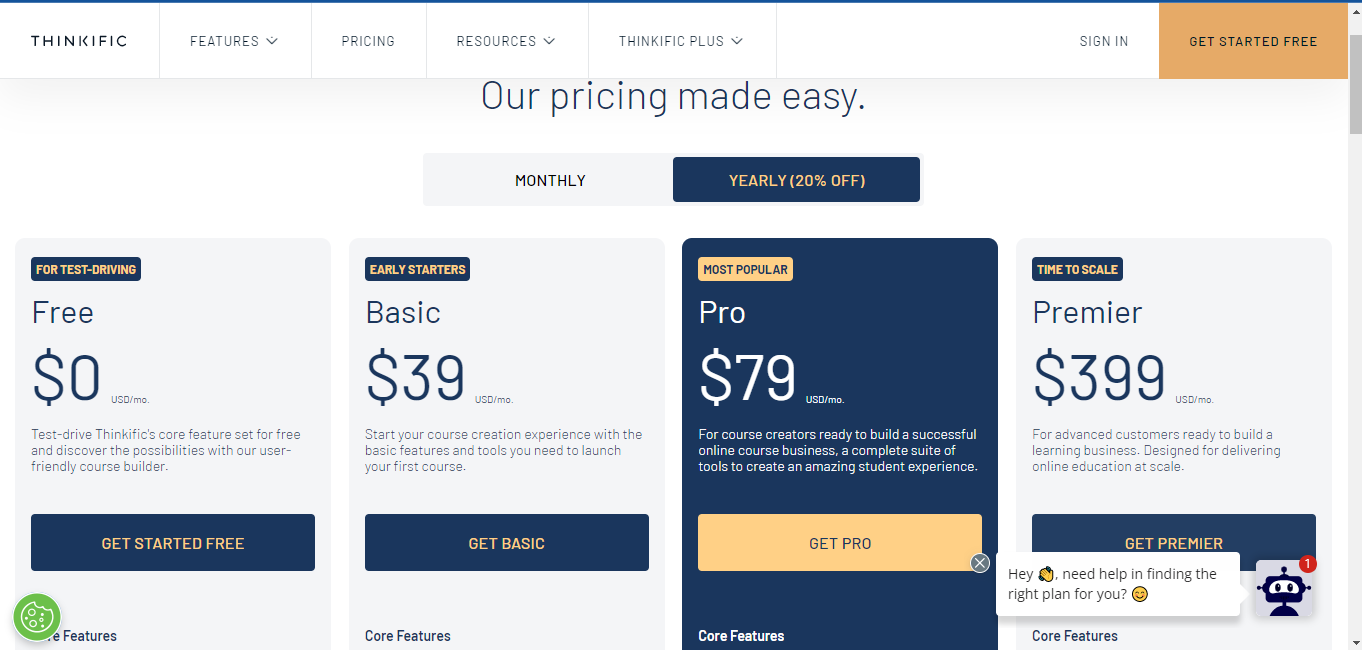 Final Verdict
Thinkific's free plan is comprehensive enough for you to create and sell your first online course. It has all the basic features to get you going. However, you might want to check out other platforms like Systeme and Teachable.
Systeme is an all-in-one platform for course creation and marketing. Though the interface isn't as intuitive as Thinkific's, you have all tools needed to market your courses like affiliate programs, coupons, drip content, automated email campaigns, and sales funnels.
Teachable's free plan is also quite rich like Thinkific but the platform charges 11% transaction fees for each course sale you make.
You can read more about Thinkific here: Thinkific Review.
Best Online Course Platform for Students Engagement - The Winner Is Xperiencify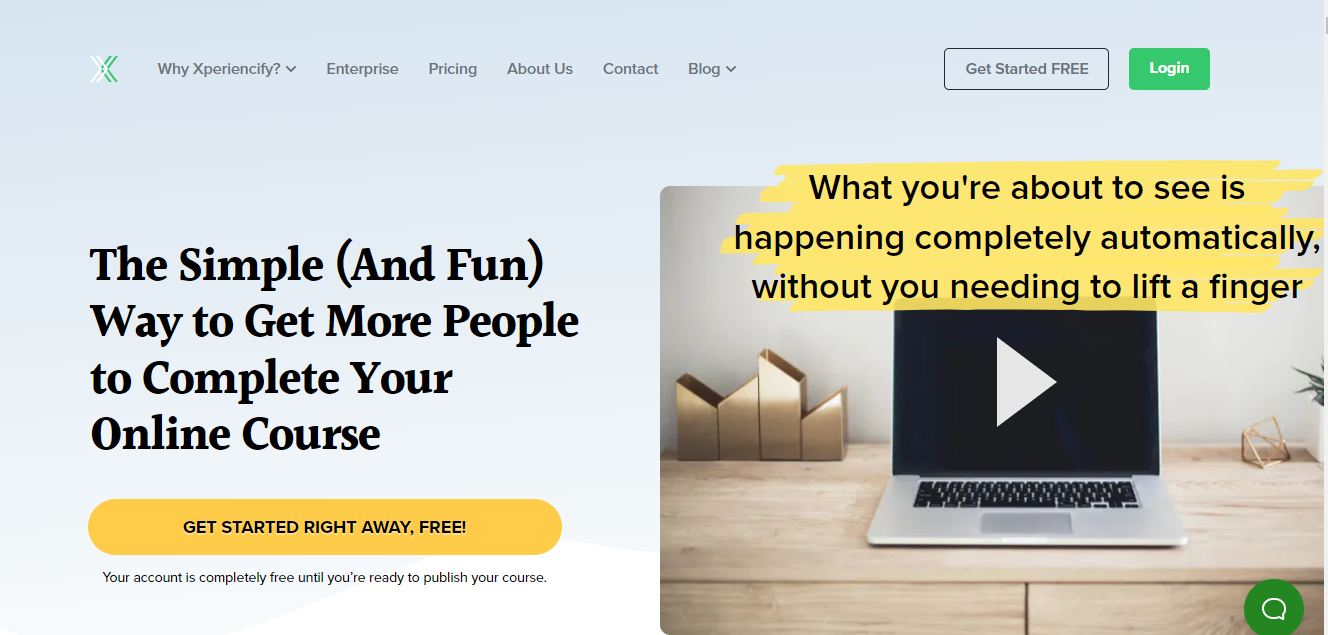 It's easy for students to get bored and feel lonely while taking online courses. Plus, a lot of times, they see it as hard work having to sit down for long hours watching videos.  They might give up along the way.
So, as the creator, you must spice it up for them. The more engaging your course is, the higher the completion rate and of course, sales.
Xperiencify is unarguably one of the best teaching platforms specifically designed to cater to creators looking to make their courses more interactive, engaging, and fun. The platform helps you do this through, "Gamification".
It introduces gaming features to make your courses so fun that your students won't realize that they are learning.
Here are some of the fun triggers you can include in your lessons:
Points: You can add points to your courses however you like, whether it's for watching lessons, document upload, commenting, quiz responses, or simply participating in the community. Your students will earn these points just like they would if they were playing games.
Content Tracks: You can segment your course by time, topic, skill level, and theme and either show or hide these tracks based on points earned.
Countdowns: Create and place custom countdowns anywhere on your course page. You can use multiple countdowns for different lesson phases or course modules.
Variable Rewards: Xperiencify allows you to place unexpected gifts and rewards in your course. You can create Easter Eggs, add random points and sounds, and surprise gifts to boost your students' curiosity.
Let's look at other key features and benefits of the platform.
Key Features and Benefits
Community-inclined: Xperiencify automatically creates a community for you when you create your course allowing you to welcome your new students, celebrate their milestones, and encourage them as they go through your course.
Engaging videos: The platform transcribes your lesson videos, adds closed captions, and allows students to search within the transcribed videos, and resume playback.  
Automated responses: You can automate responses to follow up with your students if they haven't taken your course in a while. It could be text messages or voicemails. Also, send out automated emails and Facebook posts for any occasion.
Unlimited courses and students: Host as many courses as your want and enroll unlimited students.
Easy school administration: The platform helps you to better manage your students. It updates their details and retrieves course magic login links. You can also remove or suspend any of them.
Xperiencify's Drawbacks
Though Xperiencify is an engaging online course platform, it isn't so beginner-friendly, especially in terms of affordability.
The platform doesn't have a free plan and even the cheapest plan doesn't unlock all the features you need to make your courses more engaging and intuitive.
Plus, the plan only gives you 500Gb space, and you are charged a 4.9% commission for each course sale you make.
Lastly, you can't issue completion certificates to your students. That feature isn't available on the platform yet. So, it could be a bit challenging to add credibility to your courses.
Xperiencify's Pricing
Xperiencify offers only 3 paid plans - Launch, Growth, and Enterprise. You can either pay monthly or annually. Below is a snapshot of their pricing: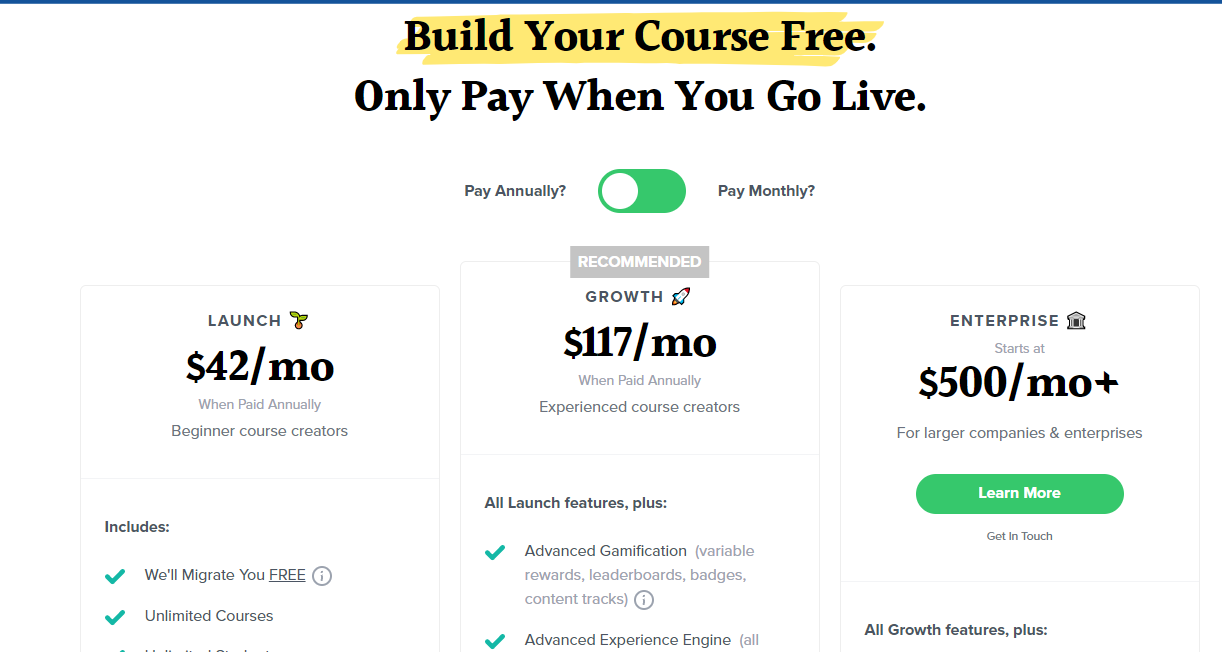 Final Verdict
Xperiencify undoubtedly gives you all the tools needed to get people to follow your online courses to the end. It's a good choice online class platform if you want your courses to be more engaging, interactive, and fun.
However, if your budget isn't enough for either of their plans, Learnworlds is another platform for creating engaging courses and it is more affordable. The platform has a built-in social network and community.
Learnworlds may not have all the gaming triggers like Xperiencify, but it still gives a very good video learning experience. You can effortlessly convert your videos by extracting transcripts, quizzes, and tables of content.  
Most Affordable Online Course Platform - The Winner Is OnlineCourseHost.com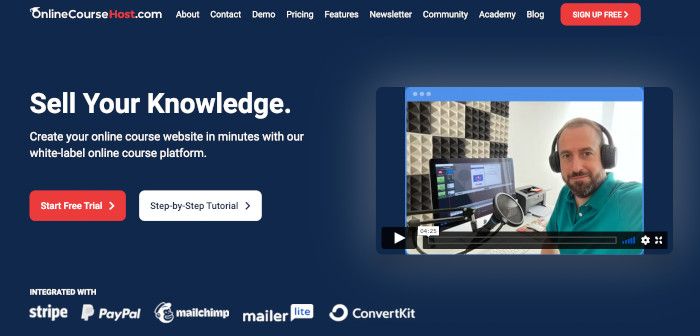 One major problem a lot of course creators face, especially those just starting out is that they have a limited budget to subscribe to hosting platforms, and some are quite expensive.
By the time you have purchased video equipment, set aside your marketing budget, plus other little expenses like paying freelancers (like graphics designer, video editor), you would be reluctant to pay hundreds of dollars per month for a hosting platform.
This might lead you to the path of publishing only in marketplaces and giving up on the idea of hosting your courses on your own website, which would be a huge long-term mistake in my opinion.
I think publishing on your own website under your own brand is essential to make your course business work in the long run, as I discuss in detail here: Where Should You Publish Your Online Course? (Self-Hosting vs Marketplaces).
As a beginner course creator, having the best online course platform that wouldn't cost you a lot is a huge addition to your business.
So, how do you create, sell, and market your online courses with a limited budget?
Onlinecoursehost.com is currently the most affordable online course hosting platform on the market.
This platform was created to help beginner and professional course creators start their course creation business without being crippled by large hosting expenses.
Here is a snapshot of the pricing plans: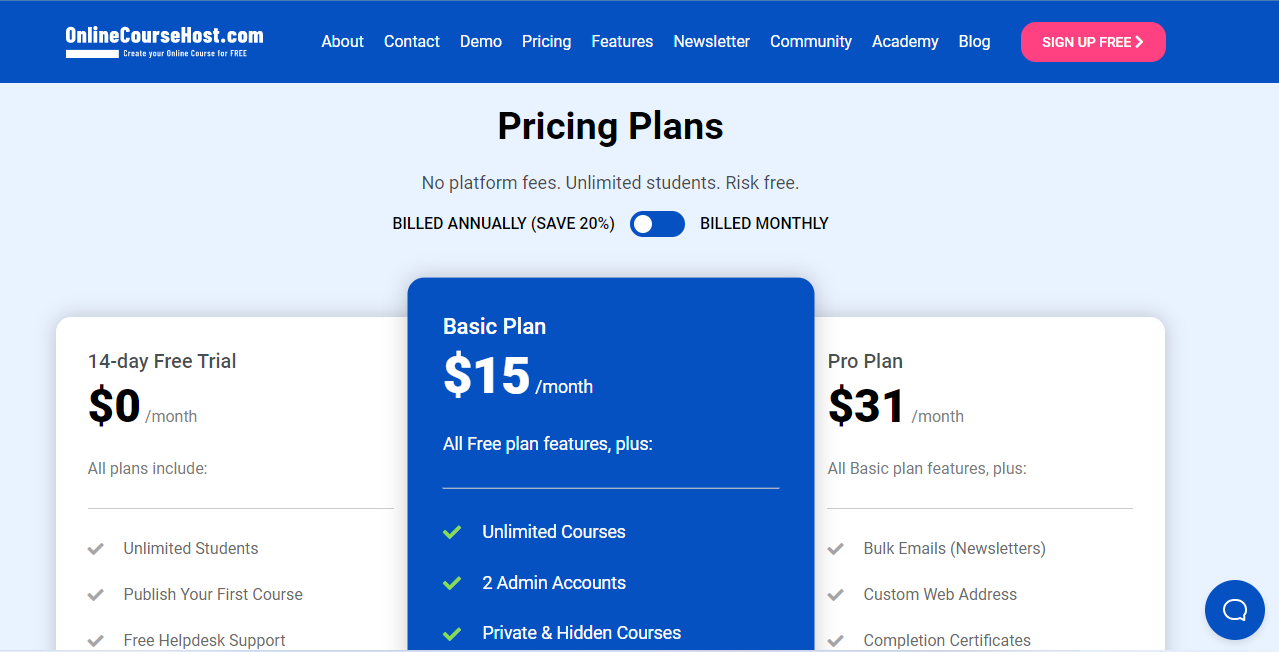 As you can see from the image above, the minimum plan for Onlinecoursehost.com costs $15 per month. What features do you get?
Unlimited Courses
Unlimited Students
Free Web Address
2 Admin Accounts
Private & Hidden Courses
Videos, Quizzes, Assignments, Digital Downloads, Text Lessons, Audio
Course Discount Coupons
Free Helpdesk Support
Student Discussions
Facebook Ads Integration
Email Marketing & Lead Generation
Third-party Tools Integration
Customizable Home Page
Custom Branding
Also, you're NOT charged any transaction fees. You're entitled to the full revenue that you can withdraw anytime you want. Again, all these features will cost you just $15 per month.
That's unlike other seemingly affordable online course platforms like Teachable, and Thinkific whose minimum plan cost is $29, and $39 respectively. Teachable's plan even comes with a 5% transaction fee.  
But don't make the mistake of choosing an online course platform based on the price of the basic tier!
While starting your online course creation business, the lower-paid tier plan will not serve in the long run.
These entry-level plans are usually just a way to continue using the platform after the free trial has expired, but these plans tend not to be commercially viable in the long run.
You'll need a higher plan with essential features that will help you better brand your business and sell your courses.
Examples of such features are bulk email marketing, custom web address, coupons, course bundles, bulk student import, subscriptions, course completion certificates, and unlimited admin accounts.
Onlinecoursehost.com unlocks these features in the Pro Plan which costs just $39 per month and it's viable for long-term business goals
Thinkific's Pro Plan goes for $99 per month but you'll end up needing to upgrade to the "Pro + Growth" plan to customize your website, send bulk emails, or even import and enroll bulk students.  
The "Pro + Growth" plan costs $149 per month which is almost five times the cost of OnlineCoursehost.com's Pro Plan. On top of it, you are still only allowed to have two admin accounts.  
Teachable's Pro Plan, on the other hand, costs $99 per month but you need the Business Plan which costs $299 monthly to customize your website, assign user roles, and import bulk students. With it, you will get 20 admin accounts.
From the above comparison, I think it's quite obvious that OnlineCourseHost.com has the most affordable plans for typical course creator like you and me.  
Best All-In-One Course Platform - The Winner Is Kajabi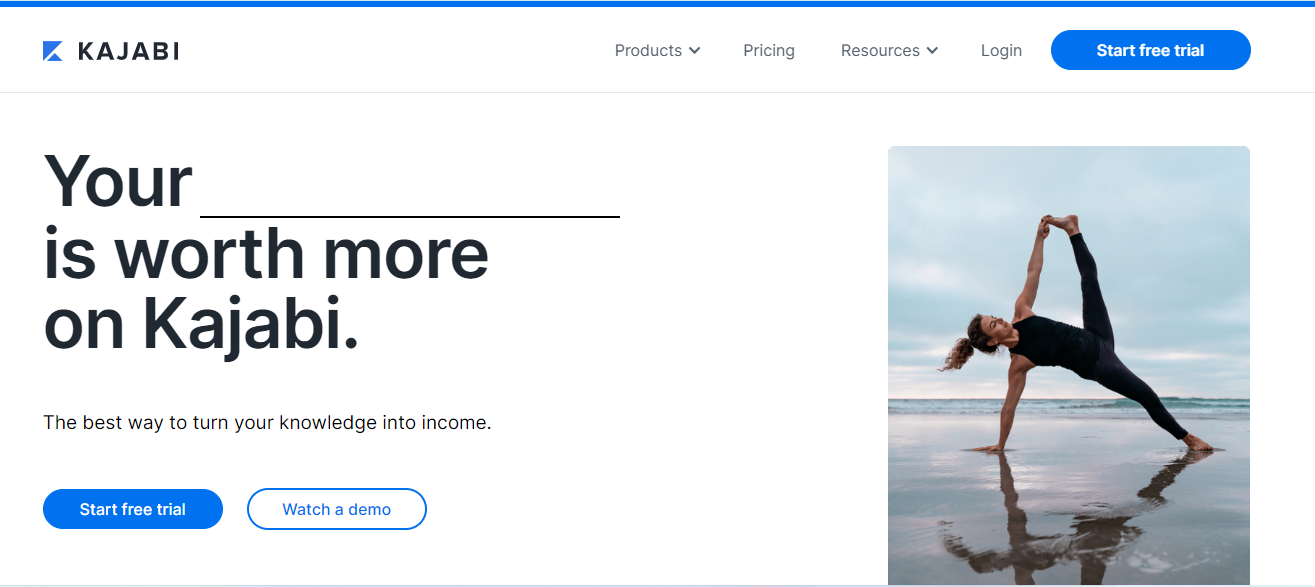 If you are looking for the best platform for online courses where you can create, manage and grow different kinds of digital products, Kajabi is an ideal choice.
Aside from selling your online courses, you can offer other products and services like podcasts, coaching and webinar sessions, and membership programs.
Kajabi helps you to organize, showcase and manage all these products from one place. The platform automatically integrates them under your website.
Everything can be accessed from the platform's dashboard plus you can set up automated email campaigns and funnels for your product launch and marketing.
Simply choose the template that works for you, customize it, create your content, and send it out within a few minutes.
You also get to analyze metrics on student progress, and revenue accumulated, as well as automate interactions with your students and affiliate marketers.
Let's look at many of the key features and benefits of the platform.
Key features and Benefits
Ready-made website templates: Kajabi has a full library of ready-made templates that you can customize to your taste with the website builder.
Fast and flexible page builder: Choose from available landing page templates and create any page your want.
Great coaching platform: You can schedule sessions with your clients, share resources, take notes and track progress from one dashboard.  
Ready-made mobile app: Your students can access your digital products from anywhere, with their mobile devices which gives them a better course experience.
Seamless payment integration: Easily integrate Stripe and Paypal to your website with just a few clicks for faster payments.
No transaction fees: Kajabi never takes a percentage cut from your revenue.
Kajabi's Drawbacks
Kajabi might be an all-in-one online learning platform but one of it's major drawback is that it is not so affordable for beginner course creators. In as much as the platform has comprehensive features, its pricing plans are quite expensive.
The minimum plan costs $119 per month plus there is no free plan to test-run the platform before committing.
In addition to that, you cannot offer completion certificates to your students, which is an essential feature as a lot of students ask for them.
You have to rely on 3rd party platforms like Accredible to create certificates for your students, and that comes with an extra cost.
Kajabi's Pricing
Kajabi offers only 3 paid plans - Basic, Growth, and Pro Plan. Each of the pricing plans comes with a 14-days free trial. Below is a snapshot: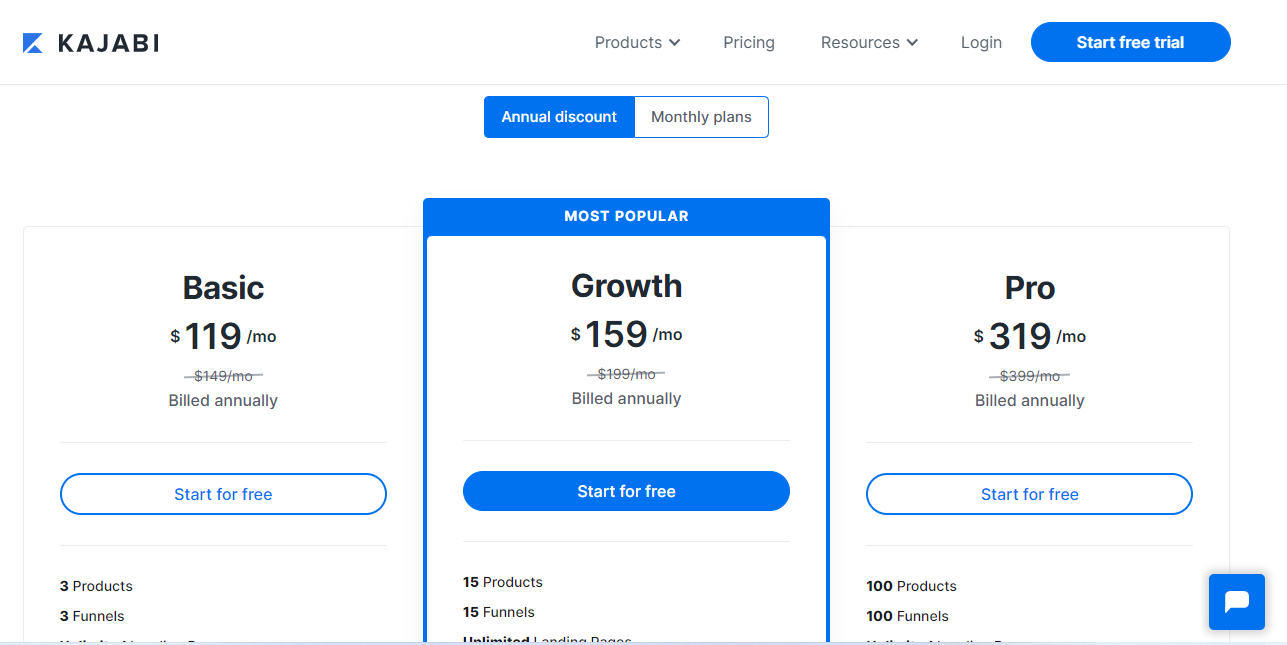 Final Verdict
No doubt, Kajabi has the most robust features for an essential that help you create, sell and manage different digital products.
However, it will be much more beneficial to established course creators who can afford it.
If you're a beginner course creator or you simply don't have enough funds to pay for Kajabi's plans, Podia is an affordable alternative.
Just like Kajabi, Podia is a platform for online learning that allows you to sell different kinds of digital products including online courses, podcasts, webinars, coaching sessions, and a lot more.
You can create a website to showcase all your products on one page and also automate email marketing, and campaigns.
However, you cannot create sales funnels plus the platform does not have a mobile app where students can easily access your online courses. But it's affordable and worth checking out.
You can read more about Kajabi Review here: Kajabi Review
Best Online Course Platform For Organizations - The Winner Is Talent LMS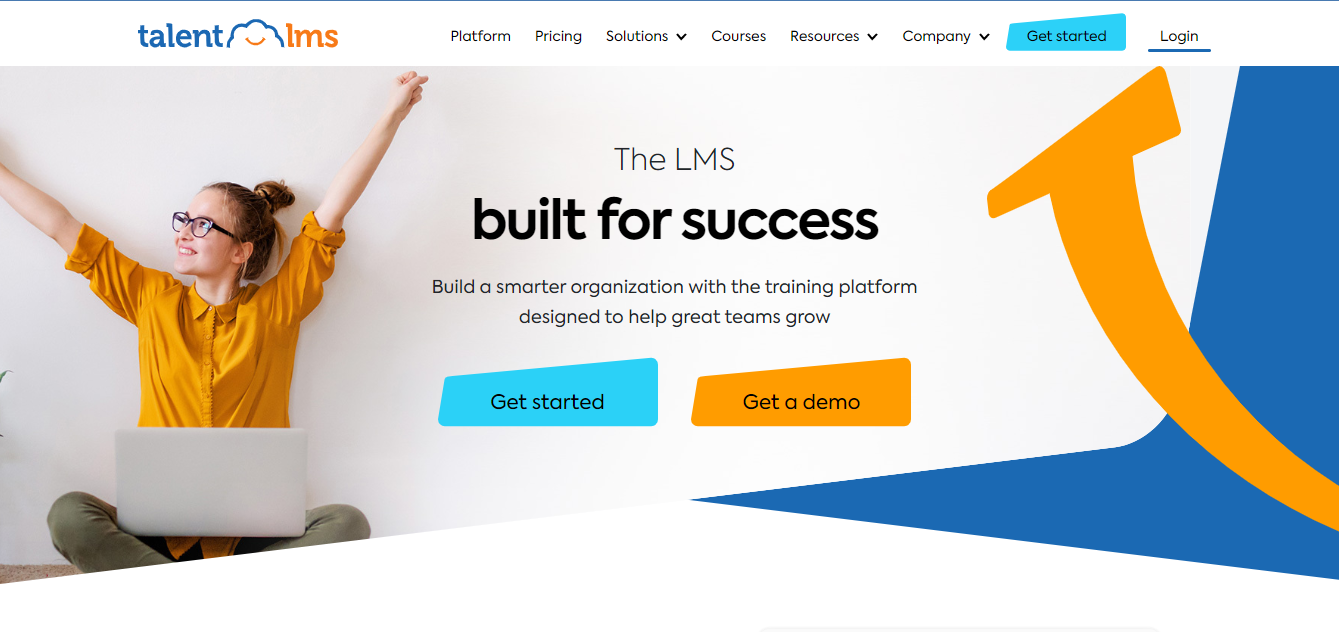 Talent LMS is the best online course platform if you're currently running an organization or a start-up and want to switch from classroom-based training to using a learning management system to deliver online training to your staff or employees.
An online employee training software not only helps your team to grow faster but also saves staff training time, and courses are created quickly and easily plus it reduces training costs like travel, venue, and instructor expenses.
Whether you're a small business or a large corporation, you can easily create, deliver and manage your staff training programs with TalentLMS.
You can also use it to deliver compliance training, partners, onboarding, and sales training. Suffice it to say that the platform caters to all types of corporate training.
The platform's features are intuitive and robust enough to accommodate unlimited courses and branches for your employees, partners, customers, and new hires.  
Best of all, you don't need any major technical or coding skills to create your training or set up your account.
Let us look at other key features and benefits of the platform.
Key Features and Benefits
Easy-to-Use: Its intuitive content builder enables you to create your courses and upload your different media like videos, presentations, docs, SCORM, xAPI, and even cmi5.
School branding: Aside from branding your online school with your logo, and brand colors, you also get to point your TalentLMS account to your company website.
Course engagement and interaction: TalentLMS has gamification features like points, discussion forums, badges, and leaderboards guaranteed to make learning exciting and fun.  
Certification: you can accredit your trainees or employees with customizable certificates.
Supports multiple languages: Employees and trainees can easily switch the platform to the language they are more comfortable in plus the platform's interface is inviting and easy to use.
Easy integration: You can integrate other applications like zoom, BambooHR, Salesforce, API, Zapier, GoToMeeting, and many more to make your training more seamless.
Fair-cost: TalentLMS is affordable for both small businesses and large companies.
Customer support: The platform offers unlimited email support for all the plans including the free trial. Plus, their customer service is responsive and helpful.
TalentLMS's Drawbacks
One of the major drawbacks of TalentLMS is that it doesn't present a comprehensive analytical report on your learner's progress.
Though you can see the videos completed and those that are not, you can't see how many hours or minutes that were spent watching the tutorials.
Also, the platform's built-in quiz maker only supports 5 types of questions, putting a limitation on the quizzes and assignments to offer to your trainees.
The questions include multiple-choice questions, fill the gap, drag and drop, free text, randomized, and drag and drop.
Above all, I think the platform's interface could be better. More time is needed to understand the features and where to find them.
TalentLMS's Pricing
TalentLMS's pricing plans are simple and affordable, each plan catering to your organization's size and the number of users.
There is also a free plan to get you started and allow you to check the platform before making financial commitments. Here is a screenshot of the pricing plans: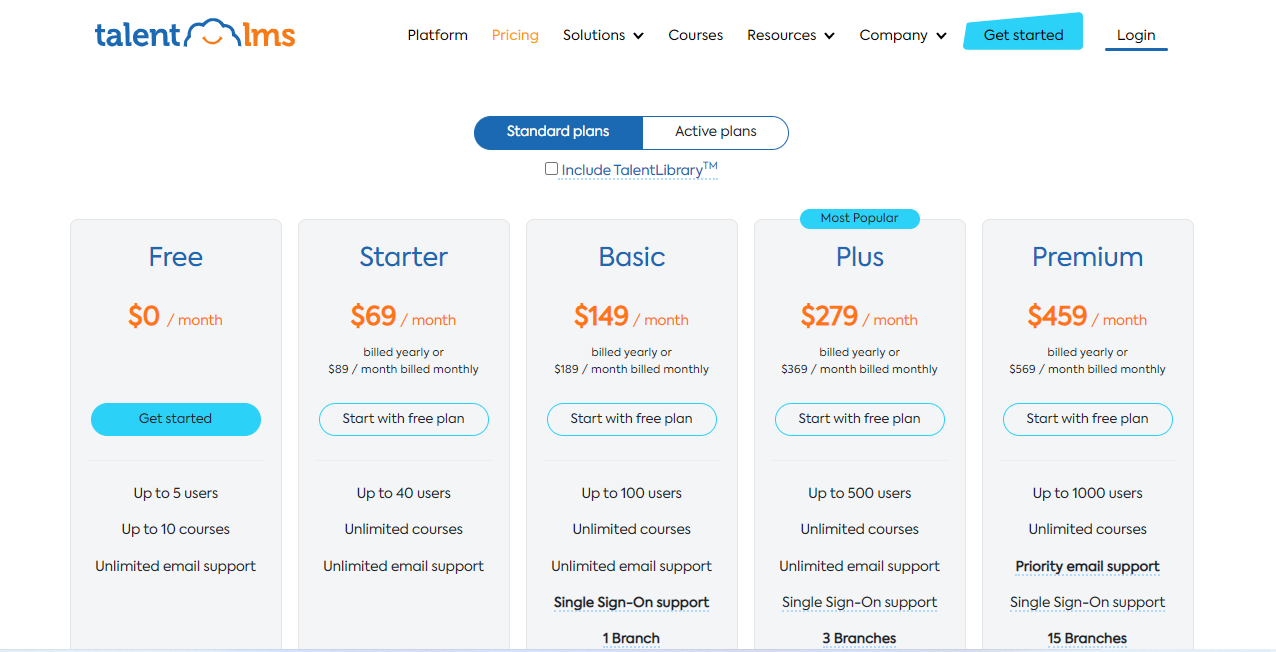 Final Verdict
With TalentLMS, creating, and delivering online professional training to your employees, partners, volunteers, and customers is super easy. And it's very much affordable.
However, another viable alternative platform worth checking out is Academy of Mine.
Just like TalentLMS, the platform is the best fit for organizations and companies looking to deliver professional training programs to their customers, partners, and users.
Due to the robust features, you'll get a better and more comprehensive report on your trainee's progress. The major drawback with the Academy of Mine is that the pricing plans are on the high side.
The minimum monthly plan starts from $599. And, there is no free plan.
While TalentLMS is an online course platform best suited for startups, small businesses, and large organizations working with limited funds, the Academy of Mine is specifically designed for high-end companies.
Best Online Course Platform For Marketing - The Winner Is Podia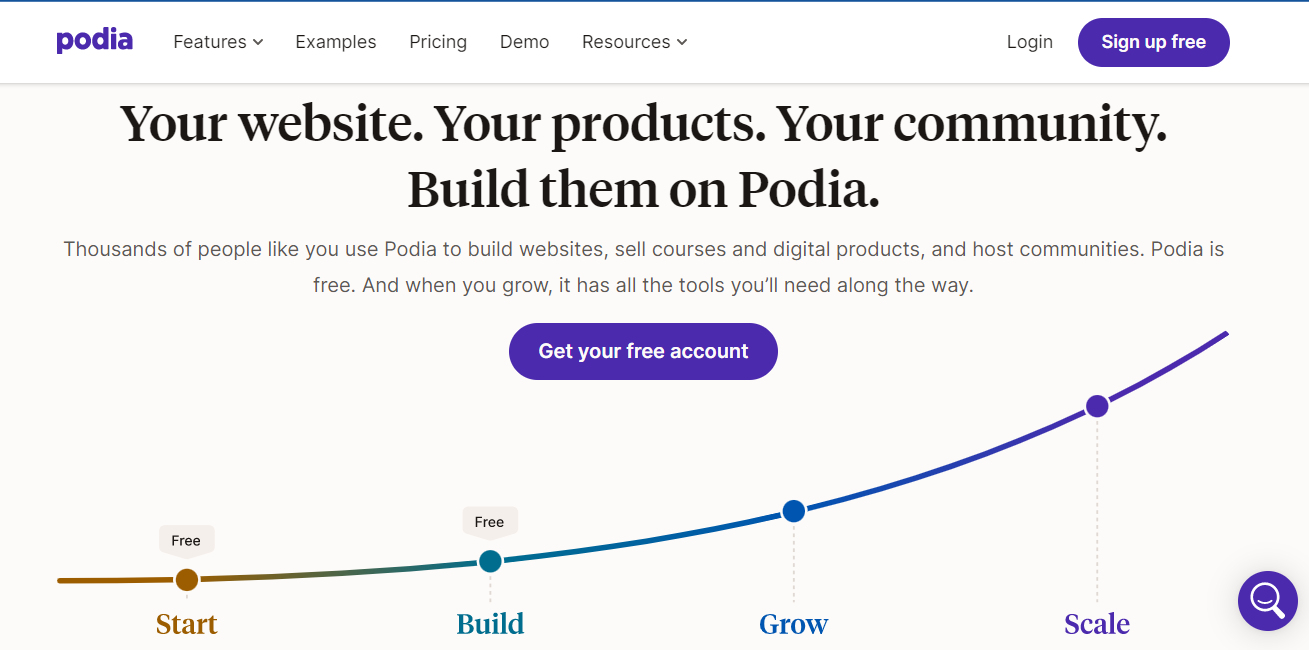 It's one thing to create and publish online courses, it's another to market your courses and make sales from them.
Both stages are important and will contribute hugely to your success as an online course creator.
However, if you're looking for the best online course platform with more robust course marketing features, Podia is an ideal choice.
The platform's marketing tools allow users to sell a variety of digital products like e-books, podcasts, webinars, and coaching sessions under one website.
That means you can have multiple streams of income and can even offer one product for free and use it as a lead magnet to collect email addresses and build your student base.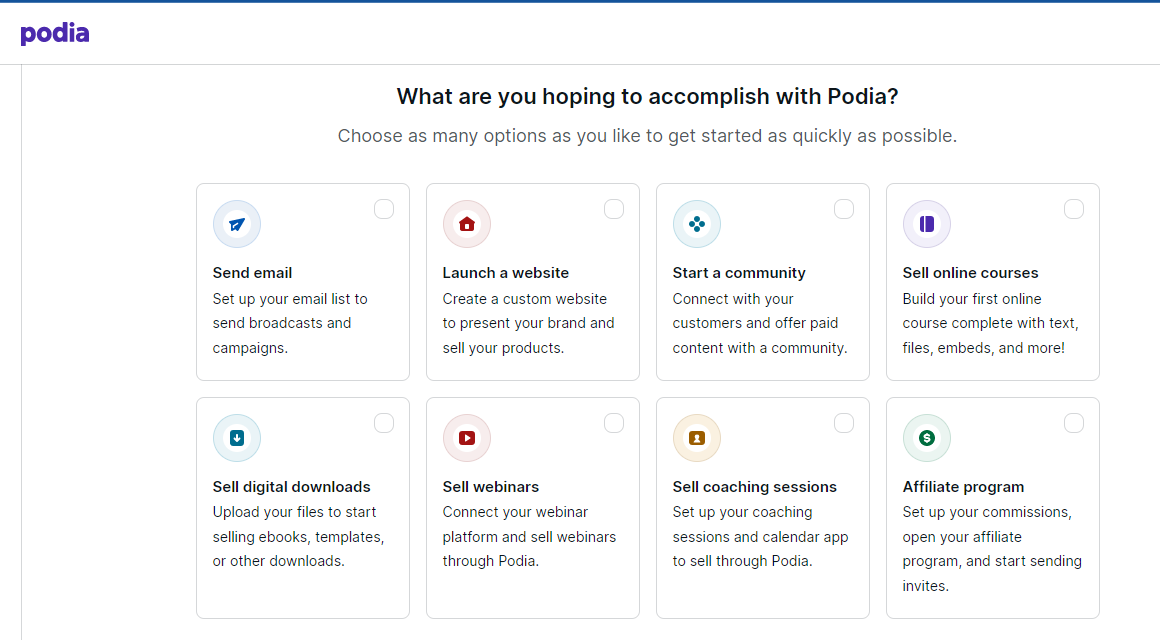 Upsells, drip courses, and coupons are good online course marketing strategies, and Podia allows you to access all of them. Plus, you can set up a crowdfunding campaign for your forthcoming course by pre-selling.
Rather than subscribe to another email platform, Podia has in-built email marketing tools that will help you build your email list, create automated drip email campaigns, and sales funnels, and share broadcast emails to your entire list on the go.
Everything is done from the same platform and you also get detailed email analytics that will help you with your course marketing.
Podia's affiliate marketing tools help you to set custom commission terms, invite affiliates, and even send one-off broadcasts to them.
Lastly, for easy checkouts, this online course platform allows you to create customized buttons, hyperlinks, and product cards to sell your online course or other digital products.
You can easily copy and paste the code or link into any sites like WordPress, Leadpages, Wix, Squarespace, and the rest so that your target students can purchase your product without having to leave the page.
The platform also comes with an on-page chat widget that presents a more reliable for your potential customers to reach out to you as quickly as possible.
There is no need to send emails back and forth, you simply customize the chat widget and interact with your students on the go.
Aside from these marketing features, let's look at other major benefits and features of Podia.
Key Features and Benefits
All-In-One Platform: Podia has all the tools needed to create your courses, and also manage and sell different digital products.
Easy website builder: You don't need coding or design skills to build, brand, and update your website.
Quiz integration: Easily integrate quizzes and assignments into your online courses to ensure that your students truly understand your lessons.
Easily track students' progress: Drop by once in a while to see where your students are in their lessons and also where they are dropping off. It will help you make adjustments if need be and also fire up your students with emails to keep up with their lessons.
Unlimited everything: All Podia's paid plans come with unlimited courses, students, downloads, coaching, and webinars.
Issuance of certificates: Issue customized certificates to students who complete your online course. Not only are you encouraging your students but also boosting your course's credibility.
Podia's Drawback
One disadvantage I noticed with Podia is that it has limited course engagement and interactive features.
It only allows for quiz integration. Other features like graded questionnaires, assignments, and surveys are absent.
Also, Podia's course builder isn't comprehensive enough. It has few customization features and doesn't support cloud imports, and CSS/HTML customizations.
Podia's Pricing
Podia's pricing plan is very much affordable. There is a free plan and 3 other paid plans which you can subscribe to monthly or yearly. Here is a screenshot: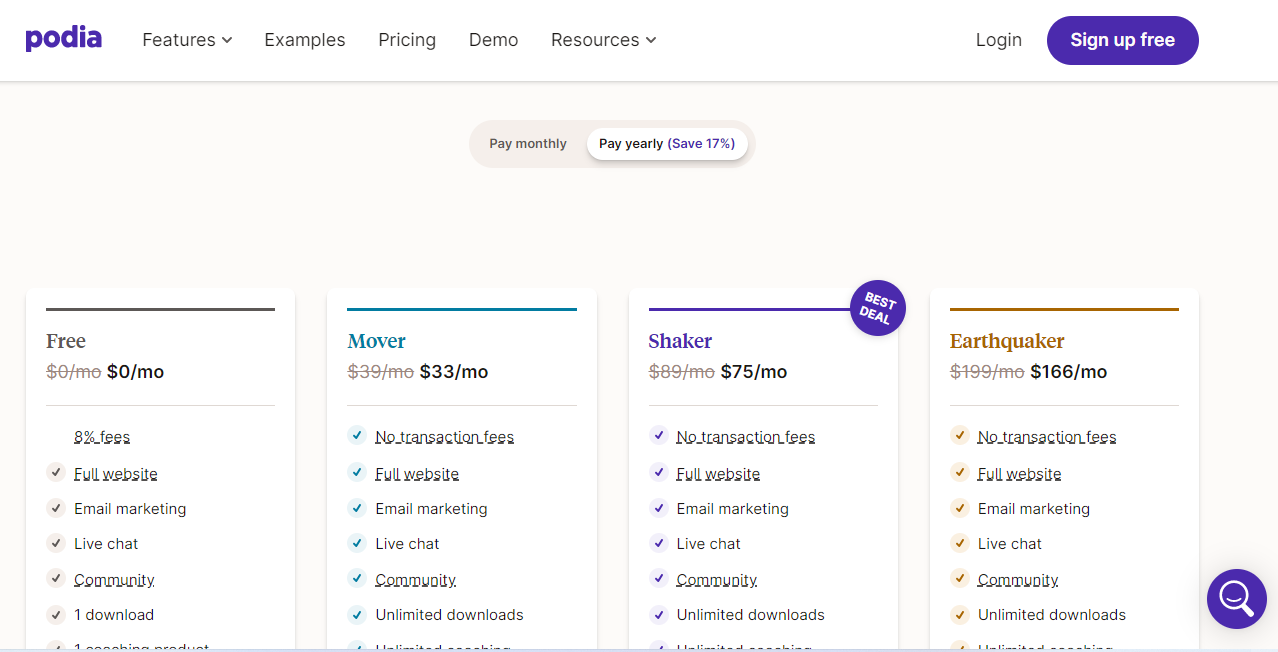 Final Verdict
No doubt, Podia has all the features needed to market your online courses and other digital products from the same place.
The plans are affordable though you stand a chance of not making your courses as interactive and engaging as they ought to be.
Kartra is a viable online class platform to check out. The platform has robust marketing features just like Podia except that the pricing is on the high side.
Plus it doesn't come with an on-page chat widget to facilitate interactions between you and your customers and you can't create customized buttons, hyperlinks, and product cards and embed the code on other sites for easy checkouts just like Podia.
Apart from that, the Kartra is a great option and allows you to create better surveys and quizzes for your students.
You can read more about Podia Review here: Podia In-depth Review
Best WordPress Learning Management System - The Winner Is LearnDash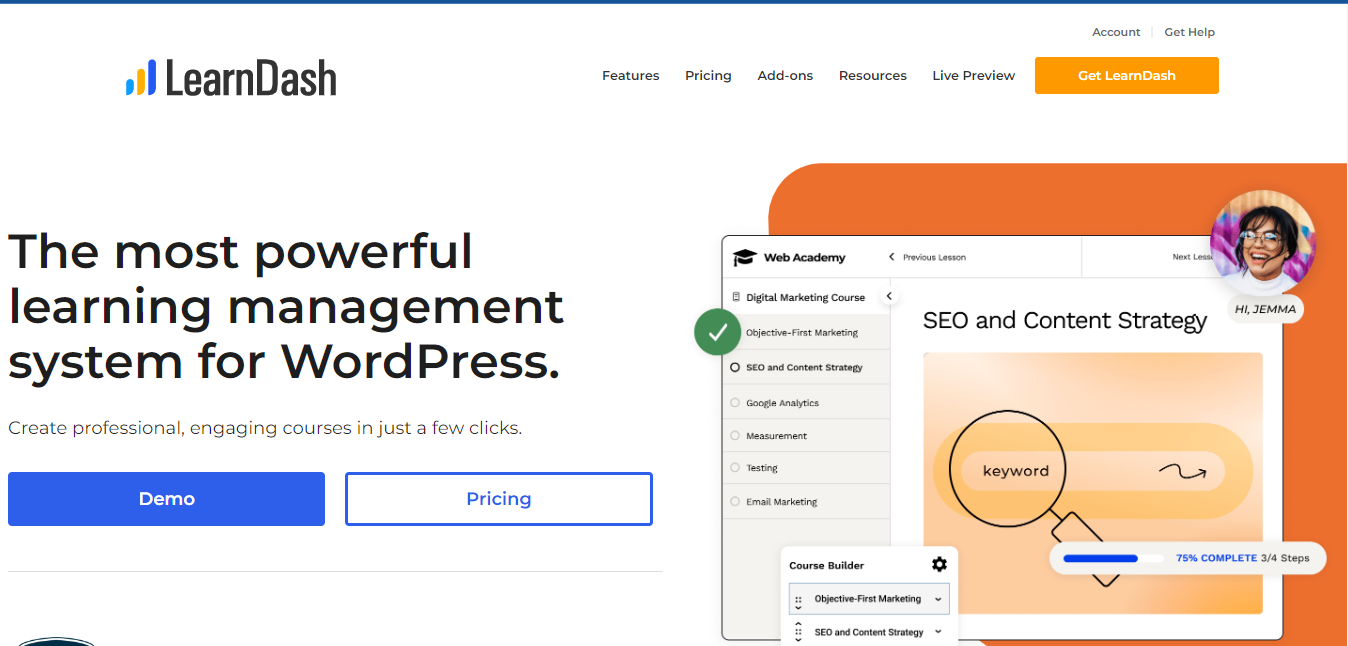 WordPress powers over 64.2% of all the websites on the internet and the reason are quite obvious.
The content management system is flexible, easy to use, and doesn't require plenty of technical knowledge to set up a functional website as you'll have access to thousands of plugins and themes.
However, to set up your online course website, you need to use a WordPress-supported learning management system and in this case, LearnDash tops our list.
First, the plugin comes with a drag-and-drop course builder that allows you to create and upload professional and engaging online courses with just a few clicks.
You can also integrate discussion forums into your courses, award course points to students as they complete the lessons, and also display those who scored highest on quizzes and assessments.
More so, you can award badges and certificates when students finish your course or simply when they do so well in an assessment.  All these are to ensure that your course is as engaging and interactive as possible.
Let's look at other key features and benefits of LearnDash.
Key Features and Benefits
Offers different course models: Offer your courses either as a one-time purchase, bundles, bulk access, or subscriptions.
Easy integrations with popular apps: LearnDash integrates with popular and useful apps like PayPal, Stripe, Convertkit, Slack, Zapier, Mailchimp, and a host of others to add more functionality to your online course.
Supports any theme: LearnDash works with almost any modern WordPress theme and no custom coding is needed.  
Freedom to upload any form of media: The platform supports various media types including images, videos, audio, HTML5, SCORM, xAPI, SWF files, and many more.
Affordable: Depending on your budget, you can either use LearnDash as a WordPress plugin or a full site.  
LearnDash's Drawbacks
One major drawback of this course creation platform is that there are no in-built marketing features to help you promote your online courses.
Features like email marketing, sales funnel and affiliate marketing are not present.
Also, you need to know how WordPress works before you can comfortably use the plugin.  Though this is a general problem with self-hosting your online courses. It's more technical than when you use hosting platforms.
WordPress might be great for website branding and customization but if you don't know how to tweak the themes, add necessary pages, or even other plugins to make your website more functional, you might be shooting yourself in the foot.
You have little support to go by and when everything comes crashing because of a little technical mistake, you might consider hiring a WordPress developer to fix it for you, incurring more charges.
LearnDash Pricing
There are two ways to use LearnDash - as a WordPress plugin or a full site. If you're using it as a plugin, here is a breakdown of the plans:
One site - $199 per year
10 sites - $399 per year
Unlimited sites - $799 per year
The pricing plan for the full site is $29 per month which I think is very much affordable considering that it gives you numerous beautiful templates and customizations tools to work with.
Final Verdict
As you can see, whether you're using LearnDash as a plugin or as a full site, you have all the tools you need to create and sell your online courses.
However, if you need a more affordable alternative, you can try Membership Press.
Though the core difference here is that this online teaching platform only comes as a WordPress plugin. That means, it has no drag-and-drop course builder to simplify your course creation.
You'll have to select from the available WordPress themes and customize them to your taste.
Aside from that, you also have to use third-party tools to add quizzes, assessments, and surveys to your online course. On top of that, you can't award certificates to students after the successful completion of your course.
However, the good side is that, unlike LearnDash, the Membership Press plugin has email and affiliate marketing tools.
Also, as the name implies, the plugin is great for community building.
You can read more on creating courses with WordPress here: Should You Use WordPress For Selling Online Courses?
Best Online Course Marketplace - The Winner Is Udemy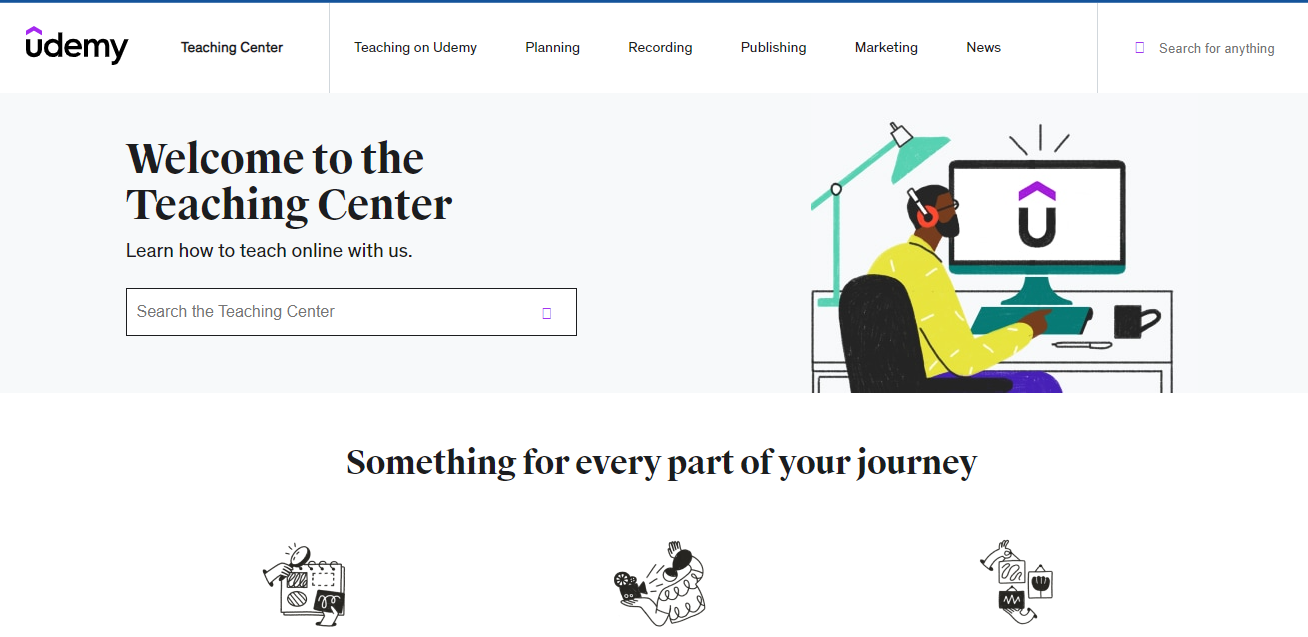 Maybe you're just starting out as an online course creator, and you don't have enough funds to subscribe to hosting platforms. In such a case, you can publish your courses on marketplaces and online learning platforms like Udemy.
Marketplaces have the advantage that it's free to publish there, and they come with a built-in audience.
That was how I started out and sure did record some successes. You can read up on some of my articles on Udemy below:
How to be Successful on Udemy (How I Made $436,335 on Udemy)
How Much Do Udemy Instructors Make? (See the Revenue of 13 Instructors)
Udemy is the best online marketplace on the web today, particularly because of its large audience base. The platform has more than 35 million registered users and you know what this means right?
Your courses are potentially available to lots of users at no extra marketing cost to you. That's one of the good sides to publishing courses on marketplaces. You take advantage of their pre-built audience to grow your online course business.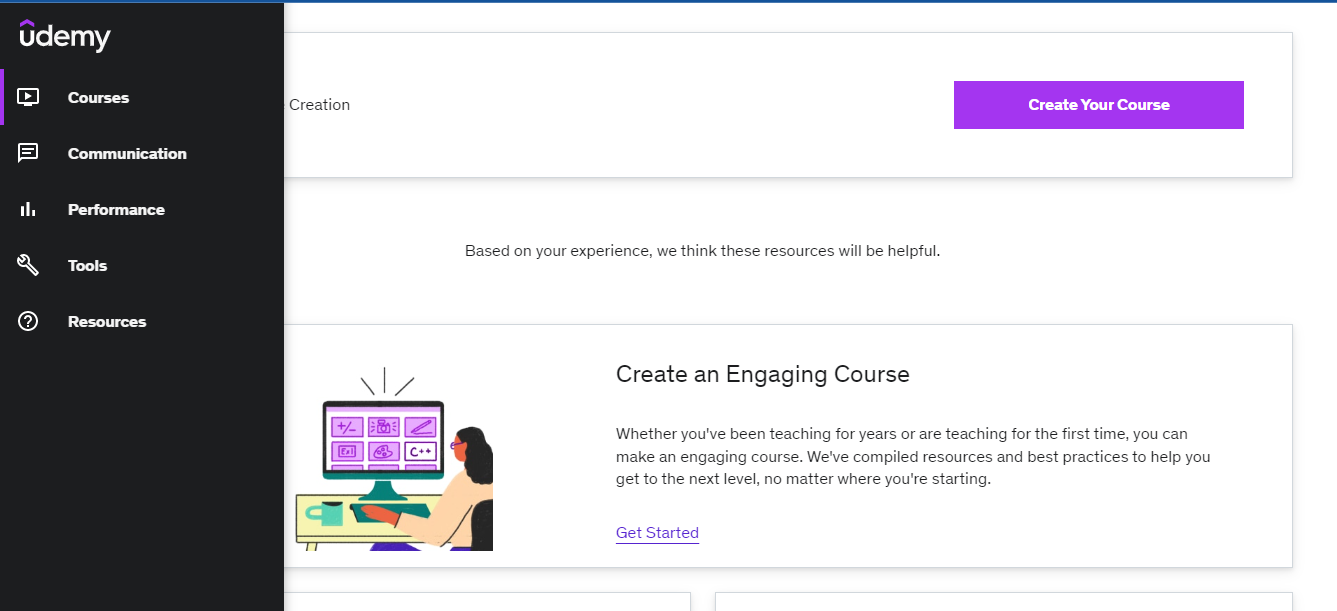 Also, this online learning platform supports a wide variety of course niches whether creative courses, business, health and fitness, technology, personal development more.
On top of that, the platform's rich teaching resources will help you greatly especially if you're a newbie course creator.
You can connect with experienced instructors for guidelines and also explore the teaching center to gain more insights on the best practices for teaching on Udemy.
Best of all, Udemy helps to provide an in-depth marketing insight into your proposed course.
You can explore the marketplace data to see what students are searching for, existing courses, and the potential revenue on your topic.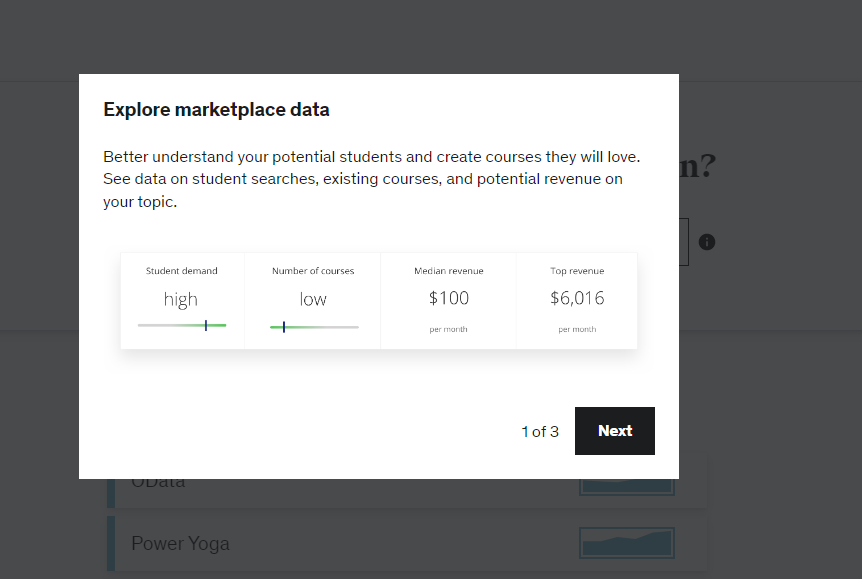 As much as online course marketplaces usually take a huge cut from your revenue, I still find Udemy's payment system is worth it, and I publish my courses on Udemy as well.
When a student purchases a course through your referral link, Udemy takes 3% of the course price and pays you 97%.
But if the student buys the course through Udemy's advertisement or from browsing through the platform, Udemy pays you 37% of your course price.
All in all, Udemy is a good marketplace to start with as a beginner course creator but highly competitive due to how large and popular the platform is.
Skillshare is also another viable option worth considering. However, the core difference between Udemy and Skillshare is that while Skillshare is selective of course niches, Udemy is all-encompassing.
Skillshare mostly supports artistic and creative courses like Photography, writing, videography, and the rest.
Aside from that, you'll be tapping from their pre-built millions of audience and have fewer marketing headaches to contend with.
You can read more about their similarities and differences here:  Udemy vs Skillshare for Online Course Creators
Drawbacks To Publishing Your Online Course On Udemy.
Publishing your online course on Udemy might help you build an audience and earn extra income, but there are some downsides to this.
First, this teaching platform gives you limited control over your branding. You don't have the freedom to choose brand colors or even a logo for your business.
Everything down to the certificates issued at the end of your course will have Udemy's logo at the forefront. So, it's a bit difficult to stand out on the platform.
On top of that, you don't get direct access to your students' emails, so you can't build an email list. But you can still use Udemy's built-in email marketing features to reach your students a few times a month.
Final Verdict
The best way to use marketplaces like Udemy is to use marketplaces as a complement to self-publishing.
And I will tell you why.
It will be very difficult to grow as an online course creator if you're only relying only on marketplaces. You don't only have full control over your business, including the ability to define prices and build an email list.
But if you publish your courses also on your own website, you can easily upload your online course, customize your school, set your own prices, and grow an email list.
So this is why I always recommend course creators to publish both in multiple marketplaces as well as on their own website so that they see what works best for them.
Final Recommendations
There you have it! The best online course platforms in the market today,  on each of the categories we discussed.
The best platforms are usually the ones with all the features needed to create, manage, market, and sell your online courses all in one place.
They should offer a great learning experience for your students, a friendly ad intuitive course builder, basic marketing features, external integrations, a responsive support team, and finally they should be affordable.
Onlinecoursehost.com has all these features and even more which makes it top of our list.
I created this platform to make it easy for course creators just starting out to be able to easily publish their courses on their own website, under their own brand.
It was also my intention to make the platform as affordable as possible. There are no transaction fees attached to any of the plans and you have enough tools to make your online course engaging and interactive.  
This platform also comes with built-in email marketing, meaning that you can send your bulk emails straight from inside the platform, without having to pay for extra email marketing software.
So go check out OnlineCourseHost.com, and let me know what you think.
But more than a platform, we want to give you all the information that you need to grow your online course business successfully.
That's why we have created the Course Creator Academy where you can find everything you need to become a successful online course creator all in one place for free.
To get notified when new content is available here at the Academy, you can subscribe here to our weekly newsletter:
If you are looking to ask any questions on online course creation, you can reach me here on my Facebook group:
Join the Course Creator Academy Facebook Group
Ready to learn how to launch your first course on OnlineCourseHost.com? Here are the helpful guides for you to check out:
I hope you found this post helpful, let me know in the comments below what other topics you would like me to cover, or any questions that you have?
Thanks for reading… and enjoy the course creation process! 😉
---
Vasco Cavalheiro
OnlineCourseHost.com Founder & Online Course Creator