14 Best Email Marketing Practices For Online Course Creators

Platform Review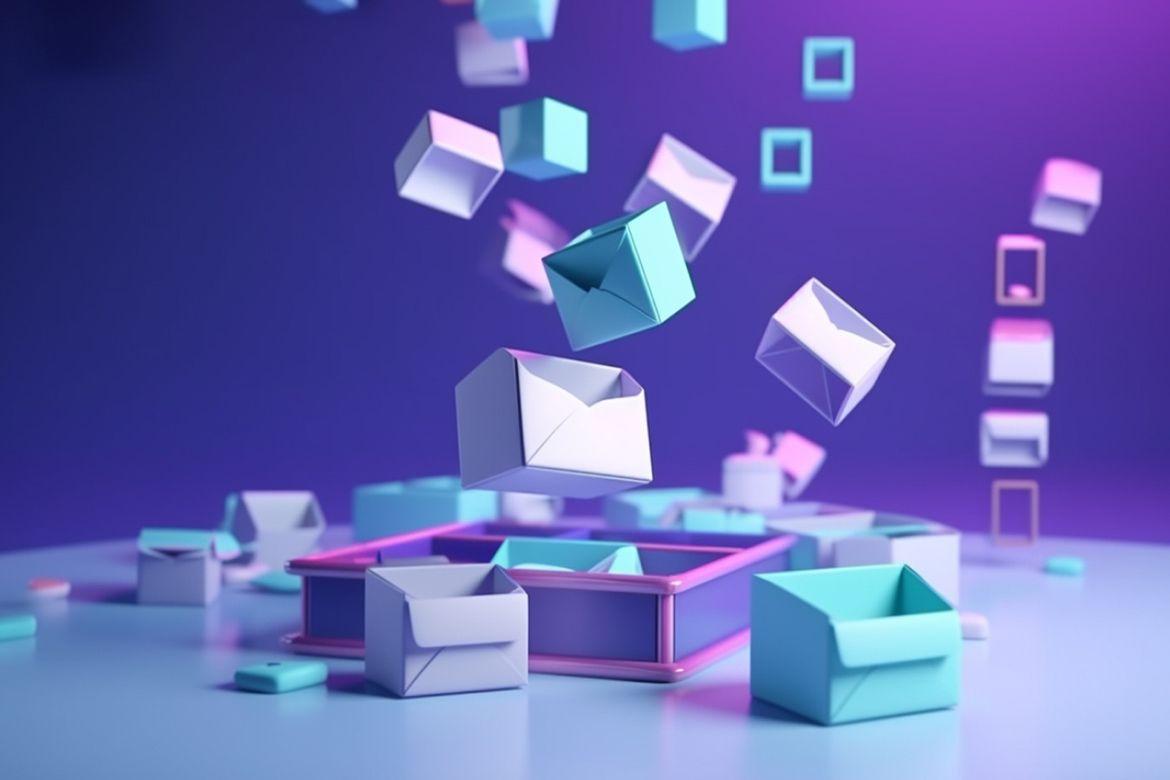 Learn how I've used email marketing over the years to help me sell my online courses.
Your email list is one of your most important and valuable assets as an online course creator.
You're not selling courses to random strangers when you have an email list; you're selling to people who have indicated an interest in what you have to offer and want to receive emails from you.
As much as this is a great marketing strategy, if it's not done right, it could backfire.
I know this because I have been creating online courses since 2016, and it took a bit of trial and error for me to find out the best email marketing tactics to build my brand and sell my courses.
And no, it didn't happen overnight. But if you follow the right tactics that I will highlight in this post, it can happen to you too.
So, how can course creators promote their courses through email marketing?
Create free short courses or PDFs as lead magnets to grow your audience
Create and send blog articles or YouTube videos around your course niche
Personalize your emails to your students
Write a compelling email subject that sells your niche or course
Encourage your students to respond to your emails
Give your subscribers breathing space
Include a Call-To-Action at the end of the email
Have an unsubscribe button
Divide your contacts into the necessary segments
Maintain your Online School Branding
Send simple and clear emails to your students
Leave your students with curiosity
Set up email automation for your online course purchase and website sign-ups
Always test the emails before sending them to your students
Now I'll go over each strategy in detail.
So without further ado, let's dive right in.
You can also check out all the free guides at the Course Creator Academy by clicking on the Academy link on the top menu bar.
If you are looking to learn how to sell online courses here is my most detailed guide on it: How to Sell Online Courses? The Ultimate Guide
Create Free Short Courses or PDFs as Lead Magnets To Grow Your Audience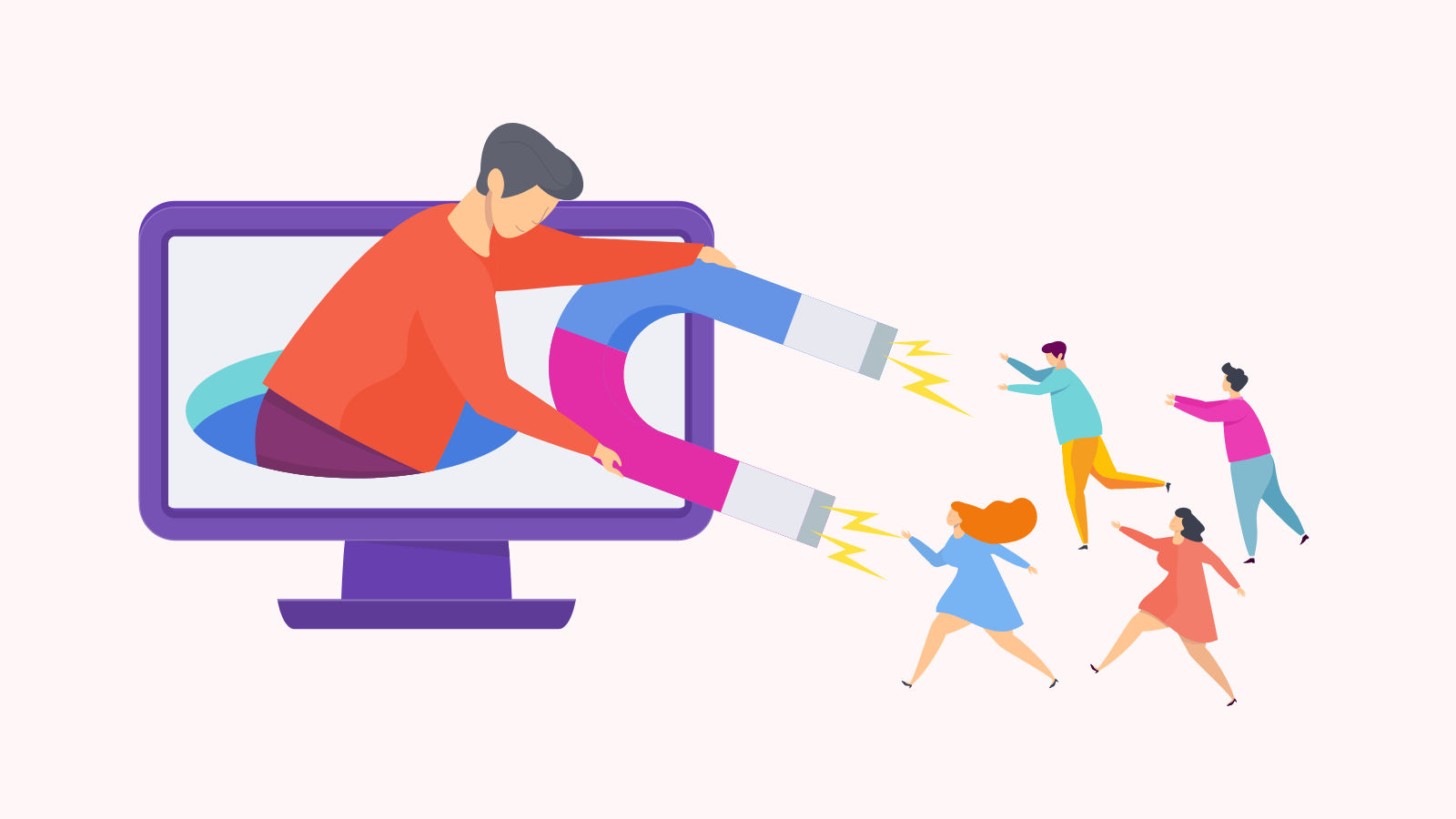 Email marketing is all about having direct communication with an audience who are already interested in what you have to offer or say.
But, how do you get your potential audience interested in your brand?
It's quite simple!
Create free short courses or PDFs and use them as lead magnets to grow your email list.
While the online course or PDF does not have to be in-depth, it must be interesting enough to entice your target students to exchange them for their personal information.
People appreciate freebies, especially when they are valuable.
That's still the most effective way to get someone to sign up for your email list.
So, how does this work?
You create your free short course or PDF and publish it on your course website. You also publish the pages across all your social media channels inviting your audience to download the course or PDF.
They click on the pop-up which takes them to your landing page where they find the free short course, and a form to submit their email.
After submitting the form, they will receive an email confirming their subscription and providing them access to the free course or e-book.
And it's that simple!
However, the journey does not end there.  
After they subscribe, you must still keep your audience engaged.
Create and Send Blog Articles or YouTube Videos Around Your Course Niche
Bear this in mind - Email marketing is only effective if your audience actually opens and reads your emails. So, you have to ensure you create an impactful email outreach.
Remember as an online course creator, people subscribed to your email list because of what they want to learn from you. They believe you're an expert in your industry and are looking to learn what you already know.
So, you can offer valuable insights around your course niche in the form of blog posts or YouTube videos and send them to your audience weekly.
The more you provide these helpful guides, the more excited your students will be to read from you.
It's also a great way to establish your expertise in your niche which in turn strengthens your students' confidence to purchase your course in the future.  
Furthermore, your students will become more familiar with your emails, increasing their deliverability and open rates. It's also a smart way to prepare the ground for when you start marketing your next online course.
However, the main goal of your email shouldn't be to promote your blog link or YouTube video; rather, it should be for the students to read it and learn something from the email text itself.
Your email body should always teach something while providing additional material if the student wants to learn more, under the form of a link.
All in all, the end goal here is to ensure your students get familiar with your brand and trust you enough to want to purchase an online course from you.
Personalize Your Emails To Your Students
It's one thing to get your students to open your email but it's also another to lure them to read through your email word by word.
But the question is, how do you get your target audience to read your message?
The quick and easiest way to achieve this is to personalize your emails. It should be clear that the email is from someone who's dedicated to their well-being and career success.
Depending on the email marketing software you're using, some of them (like Mailchimp) allow you to automate your emails to start with the subscriber's first or last name. This helps you create more connection and makes your message much more personal.
Also, you should put a face to your brand. To achieve this, you can include your brand signature and picture at the end of your emails.
Another brilliant way to personalize your emails is to include empathy in your message. You can begin by putting yourself in their shoes, telling them how much you can relate to their current problem, and then suggesting solutions.
Write a Compelling Email Subject That Sells Your Niche or Course
This is one of the most important email marketing tips every online course creator should bear in mind.
To understand how important this tip is, think about the times you've opened emails from the platforms you're subscribed to. What got you interested enough to want to open their emails?
My guess is right! The email subject compelled you to open it.
And that's exactly how it works. One of the primary factors that will affect your email open rate is your subject line.
When a student reads the subject line of an email, they are trying to determine if the email is worth opening and reading or not. So make it appealing to them!
To write a compelling subject line that sells your niche or online course, you should:
Keep it short and straight to the point. Your students should be able to read your subject line in the preview.
Stay clear from keywords that are considered spam. For example, using all caps or a lot of emojis.
Give your students a tip on what to expect from your email.
Use power words to create a sense of urgency.
Encourage Your Students To Respond To your Emails
This email marketing strategy has helped me greatly in my course creation business and I will tell you why...
Promoting your online courses through email marketing can attract positive results if you don't make the whole experience a one-way conversation between you and your students.
Your students should be part of your journey and the best way to achieve that is to engage and start a conversation with them.
A lot of times, your contacts may have lots of questions or inquiries after reading your email. You should give them an avenue to reach out to you.
Aside from that, when your emails are highly engaging, it increases the open rates and allows your students connect with you personally.
That way, you wouldn't look like just another course creator spamming them with countless emails about your online course.
Also, getting replies from them makes it easier for your next email to land in their mailbox rather than their spam box because it gives an indication to email providers that the student is interested in the content
The question is, how do you create engagement with your students in your emails?
First, you can make it a duty always to ask questions at the end of your emails. It would be best if you encouraged them to reach out to you and be clear about how they can do that.
You can also send in a survey form and ask them for feedback on the content they have been receiving so far or the recent online course they just purchased.
It's also important to highlight your call for replies. For example, I use "Please Hit Reply and let me know", and I highlight this in red. That way, it stands out from the rest of the email.  
Don't Bombard Your Students With Emails
One of the terrible mistakes a lot of online course creators make is that they fail to give their students breathing space.
The result is that you will eventually annoy your students and they wouldn't think twice to hit the unsubscribe button.
While you want to make sure your brand stays in the minds of your students, you also want to strike a balance.
From my experience, the open rate is higher when you send emails either once a week or two times a week. Alternatively, you can conduct an A/B test to determine the perfect frequency to send emails to your students.
However, that is for educational emails. For non-educational emails, that is, emails promoting your online course, it's best to strategically send them during your launch period, and a couple of times a year, usually around Black Friday, New Year, or other yearly events.
I suggest this strategy because following a different route will project you as a salesman rather than a teacher.
Include a Call-To-Action At The End Of The Email
Every email has an end goal, whether it's to direct students to a blog post or a YouTube video, or to purchase an online course.
To capture your students' attention and push them to take action and achieve the goal you've set out with your email, you need to include a call-to-action button.
So, you see, your email campaigns are not complete without a call-to-action button. They are the major focus of every campaign and essentially what tells your students what to do next after reading your email.  
Because of how important the CTA buttons are, you want to make sure they stand out from the email body. You can either present them in a different font and color.
I usually highlight mine and make it bold. That way, it's easy for my students to see and click the required links.
Have an Unsubscribe Button
You cannot record a successful email marketing campaign if you're merely forcing your content or courses down your students' throats. It's like watering a stone - which is a fruitless exercise.  
Yes, it's obvious the people on your contact list willingly subscribed to your email list because they believed you had a lot of value to offer.
However, you should also respect the fact that they may not want to receive emails from you again in the future, and that's okay.
I'm sure you want to have students who are happy and excited to be on your contact list, right?
So, ensure you have the unsubscribe button present in each email you send.
If you're running multiple campaigns, let your students know which of the campaign list they are unsubscribing from or if they want to unsubscribe from all the email campaigns.
Divide Your Students Into The Necessary Segments
As regular email users, we usually don't like it when people or brands bombard us with all sorts of content, right?. It can be really annoying.
And that's the same with your students. They don't want you blowing up their mailbox with content they didn't sign up for.
So, the best way to avoid this is to segment your contact, that is, divide them into different groups based on what they have in common.
The groups can be created based on information like their interests, age, demographic, purchase history, and course or email preference.
By so doing, it helps you to send more highly-targeted and personalized emails. You'll only send emails that are relevant to what each student wants to learn or content that resonate with them. This, in turn, increases your open rates and ultimately your online course sales.
Maintain Your Online School Branding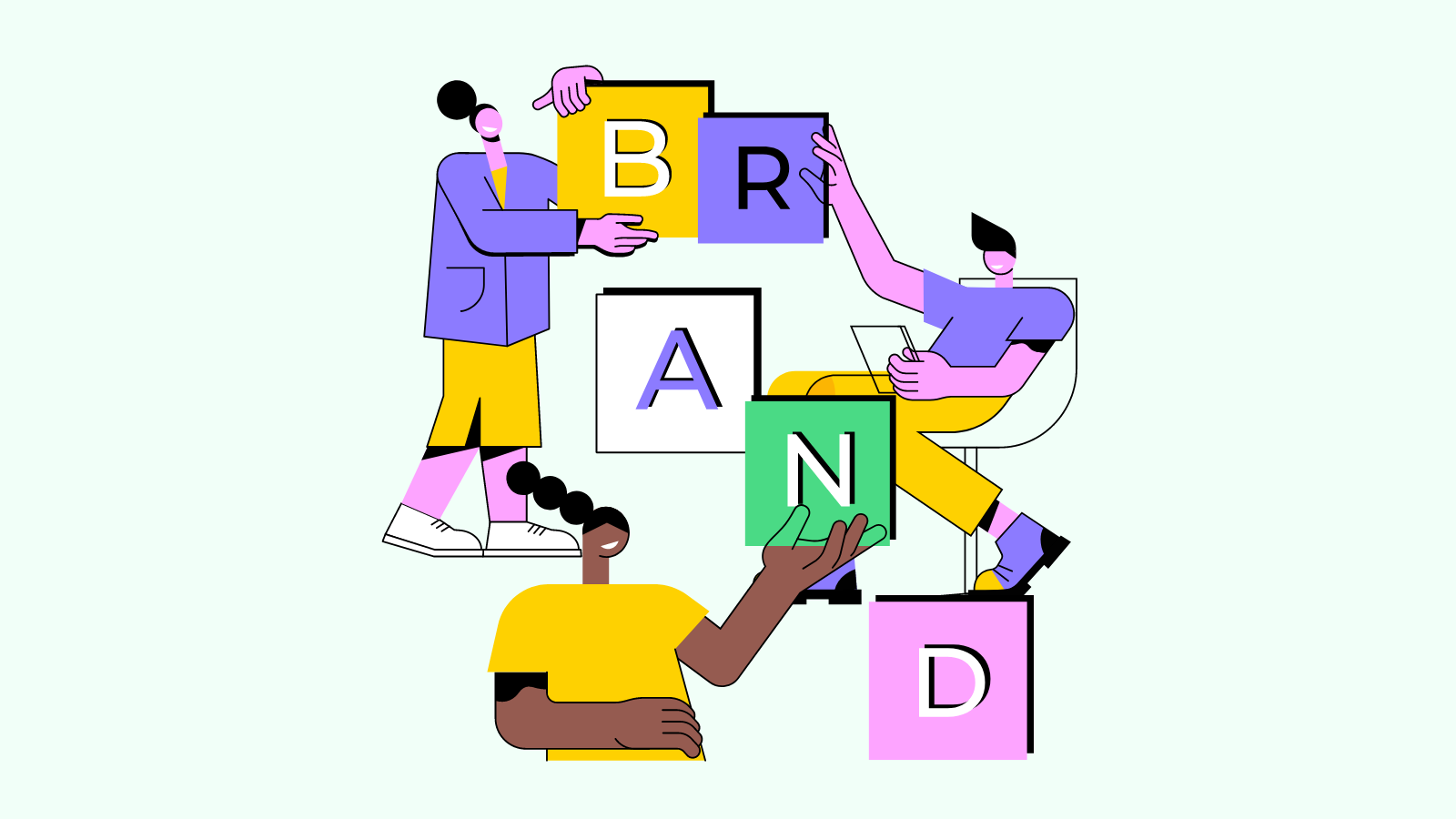 This is one of the best email marketing tactics a lot of online course creators hardly pay attention to.
As much as you're passionate about teaching and sharing your knowledge, you shouldn't forget that you're also a brand - a full business, and as such you should handle it as one.
One of the best ways to achieve this is to design your emails such that it stays consistent with your brand.
You should upload your brand logo or banner and use your brand color, font, and design in your emails, including your signature. It will make it easier for your students to recognize your email when they receive it.
Also, you should maintain your brand voice in your emails. For example, my brand voice is friendly and conversational and that's also how my emails are written.
Send Simple and Clear Emails To Your Students
I will tell you this for free - most of your students don't read your emails word by word. They usually just scan through. There is little or no patience to read emails word-for-word just like they do with books.
A lot of them might even go straight to the highlighted texts, colored CTAs, or parts of the email that they find interesting.
That means your students have less than one minute to decide whether your email is worth reading or not. So you have to capture their attention in split seconds to get a click-through.
To achieve that, don't bore them with lengthy emails. It's best to keep your text short and straight to the point.
You can split the text-heavy paragraphs into several short digestible paragraphs with simple vocabulary.
Don't forget to highlight the important parts of the email and also use bullet points to organize and pass your message.
All in all, your email should be easy to read and digest.
Leave Your Students With Curiosity
Sure, the goal of your email campaigns, especially if they are educational, is to teach your students something, but you also want them to visit your website and purchase your online courses.
It's easy to achieve this.
You simply need to tease your students with your emails.
If you have a new blog post, you can summarize it but leave out some of the vital information, and then encourage them to visit your website to learn more about the topic.
The sample below is one of the emails I sent to my target audience directing them to one of the blog posts I had published.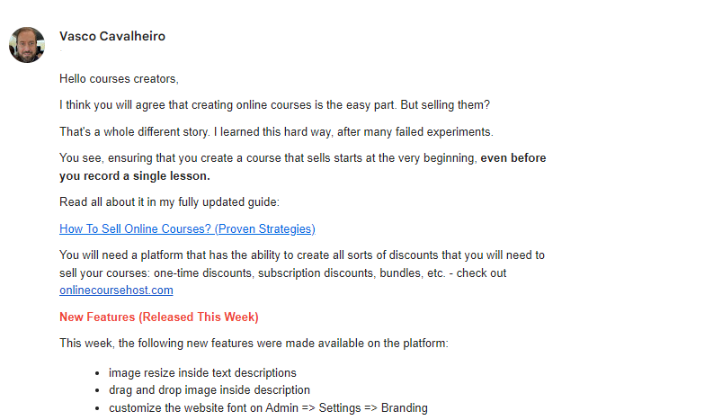 From the picture above, you'll notice how I started by stating a problem that, selling online courses is very challenging.
To pique my readers' interest more, I shared how I had my lessons the hard way and then encouraged them to read my full guide.
This email marketing strategy helps you not only share valuable content with your students but also improves your click-through rate.
Set Up Email Automation For Your Online Course Purchase and Website Sign-Ups
The benefits of setting up email automation as an online course creator cannot be over-emphasized.
Thing is, it's impossible for you to keep tabs and email each student that signs up on your website or purchases your course.
With email automation, you can easily stay in contact with your students at every point of their journey - from sending out welcome emails when they first subscribe, to thanking them when they purchase your online course and keeping them updated with your blog posts or YouTube videos.
The goal here is to drop a series of emails to your students' email inboxes to keep them engaged until they are ready to purchase your online course.
There are a lot of email marketing software that can help you easily automate these triggers. A good example is Mailchimp.
Always Test The Emails Before Sending To Your Students
This is the last email marketing practice for course creators and one that wraps up every other strategy and makes sure you're on the right track!
Before hitting the send button, it's essential that you test the email to ensure there are no mistakes and that the links are all functioning.
It's also at this point that you check how the email will appear on desktops and mobile devices.
You don't want to send emails to your students that are filled with grammatical errors or, worse still, your CTA links aren't functional.
It's little mistakes like these that water down your students' interest and forces them to click the "Unsubscribe" button.
In testing your emails, you can either send the test email to yourself or a friend and have them review it for you.
Conclusion
I hope this article answers all your questions if you have on how to leverage email marketing as a course creator.
Adhering to these strategies will not only drive more sales to your online course business but will also keep you miles ahead of your competitors.
However, for these tactics to work, you need the best online course hosting platform that embodies email marketing in its entirety.
That is to say, the platform must be one that allows you to integrate with powerful email marketing software.
OnlineCourseHost.com is the best option in this regard. The platform isn't only affordable and easy to navigate but also takes email marketing to another level.
The platform ensures that course creators can easily install their favorite email marketing providers including Mailchimp, Mailerlite, and ConvertKit.
Our built-in lead capture form features help you to collect the details and contact of your students.  
But more than a platform, we want to give you all the information that you need to grow your online course business successfully.
That's why we have created the Course Creator Academy where you can find everything you need to become a successful online course creator all in one place for free.
To get notified when new content is available here at the Academy, you can subscribe here to our weekly newsletter:
If you are looking to ask any questions on online course creation, you can reach me here on my Facebook group:
Join the Course Creator Academy Facebook Group
Ready to learn how to launch your first course on OnlineCourseHost.com? Here are the helpful guides for you to check out:
I hope you found this post helpful, let me know in the comments below what other topics you would like me to cover, or any questions that you have?
Thanks for reading… and enjoy the course creation process! 😉
---
Vasco Cavalheiro
OnlineCourseHost.com Founder & Online Course Creator