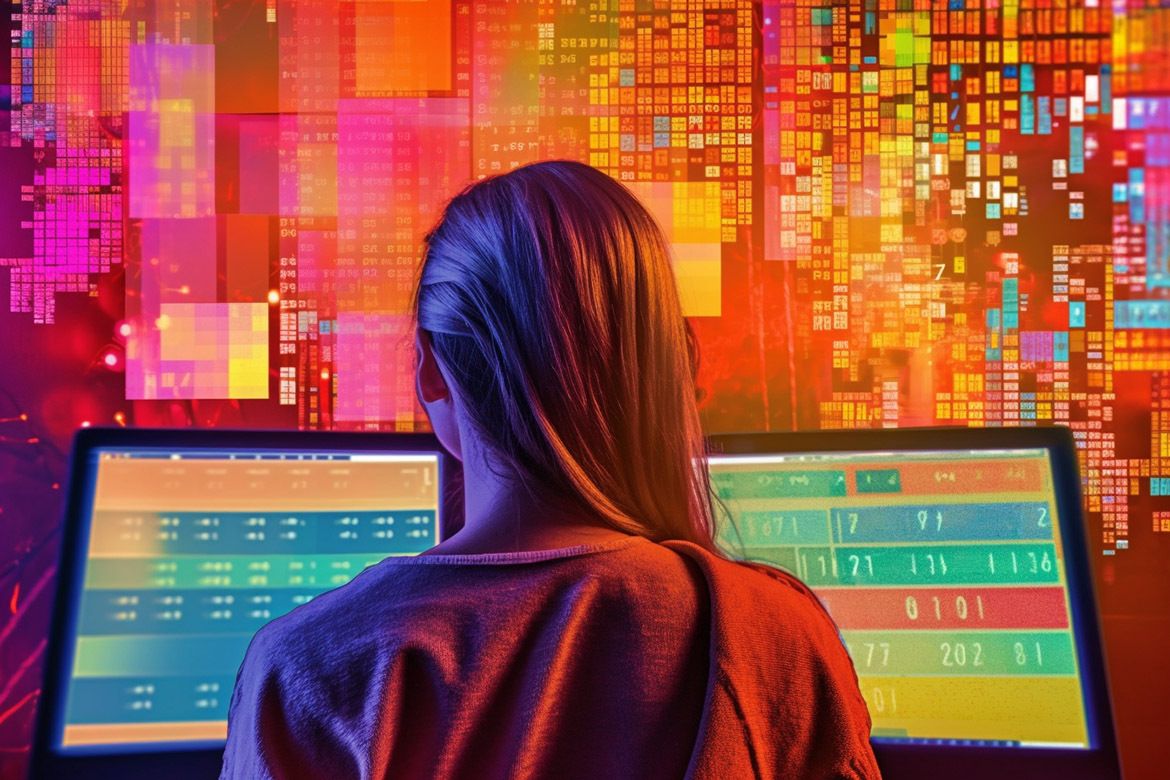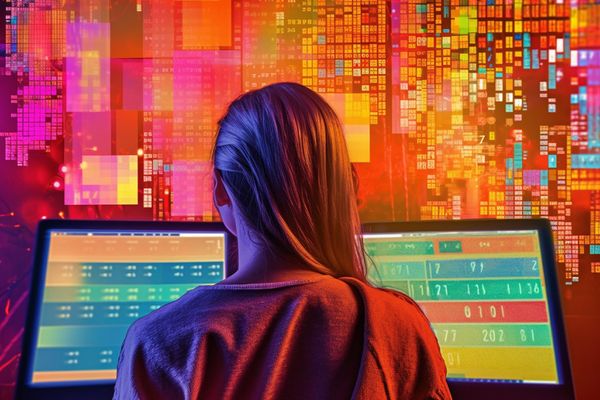 Explore factors, pricing models, and evaluation tips to find the perfect fit for your organization's learning goals and budget. Discover the real value behind the price tag and make an informed decision for effective online training.
Did you know that the global eLearning market is projected to reach a staggering $375 billion or more by 2026?
In today's fast-paced digital era, organizations and educational institutions are embracing technology to enhance learning experiences and streamline training processes.
As more organizations embrace the power of online education and training, the demand for robust learning management systems (LMS) will continue to skyrocket.
And with such an exponential increase in demand, it's only natural to wonder: How much does an LMS cost?
Unraveling this question is the first step towards embracing the transformative power of these digital learning environments.
Whether you're an instructor looking to digitize your curriculum or an organization seeking to upskill your workforce, understanding the true cost of an LMS is vital.
In this comprehensive guide, I'll draw upon my years of experience in the e-learning industry and uncover the ins and outs of LMS pricing, helping you navigate through the different options and make informed decisions for your learning needs.
So, buckle up as we embark on a fascinating journey that uncovers the hidden truths behind LMS pricing.
Let's dive in!
You can also check out all the free guides available at the Course Creators Academy.
Factors Influencing LMS Costs
When it comes to figuring out how much a learning management system (LMS) costs, there is no one-size-fits-all answer, since different users have different specific requirements.
However, several factors can influence how much you will pay for an LMS.
Understanding these factors is therefore essential, as it will not only help you evaluate the various options available, but will also ensure that you invest wisely in an LMS that aligns with your organization's needs and budget.
Now, let's look at these factors that influence LMS costs.
User Volume and Licensing
One of the primary factors influencing LMS costs is the number of users who will access the system.
LMS providers often offer different licensing models based on user volumes, such as per user or active user licenses (more on these below). The more users you have, the higher the licensing costs.
It's important to accurately estimate your user base to ensure you choose the right licensing model for your needs.
Take, for example, if you're a course creator and you're planning to roll out an online course to thousands of students, you'll need an LMS that can accommodate a large user base without breaking the bank.
Understanding the correlation between user volume and licensing costs will help you make a cost-effective decision.
Required Features and Functionality
The features and functionality required in an LMS is another factor that can significantly impact the cost.
While advanced features like interactive assessments, gamification elements, collaboration tools, and analytics tools will enhance the learning experience for your students or trainees, they may also come at an additional cost, increasing the overall price tag.
Carefully assess your organization's feature requirements and prioritize the ones that are essential for achieving your learning goals.
This will help you strike a balance between functionality and budget.
Hosting Options
LMS providers typically offer two deployment options: cloud-based or self-hosted.
If you use a self-hosted (on-premises) solution, for example, this will necessitate infrastructure setup, maintenance, and dedicated IT resources.
On the other hand, a cloud-based LMS platform will eliminate the need for infrastructure investment but involve recurring subscription fees.
While cloud-based solutions may be more cost-effective for small businesses or startups due to the elimination of infrastructure expenses, larger organizations with specific data security requirements may prefer self-hosted solutions for greater control.
In any case, it's crucial to assess your organization's IT capabilities, infrastructure, and long-term goals to determine the most cost-effective hosting option.
Customization and Integration Requirements
Customization and integration options can also affect the overall cost of an LMS.
At first, your business or organization may only require basic customization or integration features. However, as you grow, you may require more customization and integration options to ensure a better learning experience.
These frequently involve additional development work and may necessitate additional resources or licensing fees, raising the overall cost of your LMS.
But what can you do?
Strike a balance between customization needs and budget constraints to ensure the optimal fit for your organization.
Support and Maintenance Services
Reliable customer support and regular system updates are crucial for a smooth learning management system experience and may thus influence the cost.
While some providers include comprehensive support and maintenance services in their pricing packages, others may charge separately.
It's important to consider the level of support you need and factor it into your cost analysis. Remember, investing in good support can save you valuable time and effort in troubleshooting issues or implementing updates.
LMS Pricing Models: Choosing Your Best Fit
Understanding the pricing models and plans offered by vendors is crucial when attempting to calculate the costs of a learning management system (LMS), as this can have a significant impact on your overall costs and budgeting.
So that you can make an informed decision, let's look at 5 common LMS pricing models.
Per-User Pricing
Per-user pricing is a popular model where the cost of the LMS is based on the number of users who access the system.
For instance, if you're an online instructor with a certain number of students, per-user pricing allows you to pay for the LMS based on the actual number of students enrolled in your course.
So, if you have 100 students using the LMS and a per-user pricing model of $10/user/month, your monthly cost would be $1,000. And as your user base expands, so will the cost.
However, keep in mind that some providers may offer different pricing tiers based on user volumes, with volume discounts available for larger user bases.
Best Fit: This model is most suitable if your organization has a fixed number of users.
A prime example of a platform offering this model is Adobe Captivate Prime (though it also offers an active user model)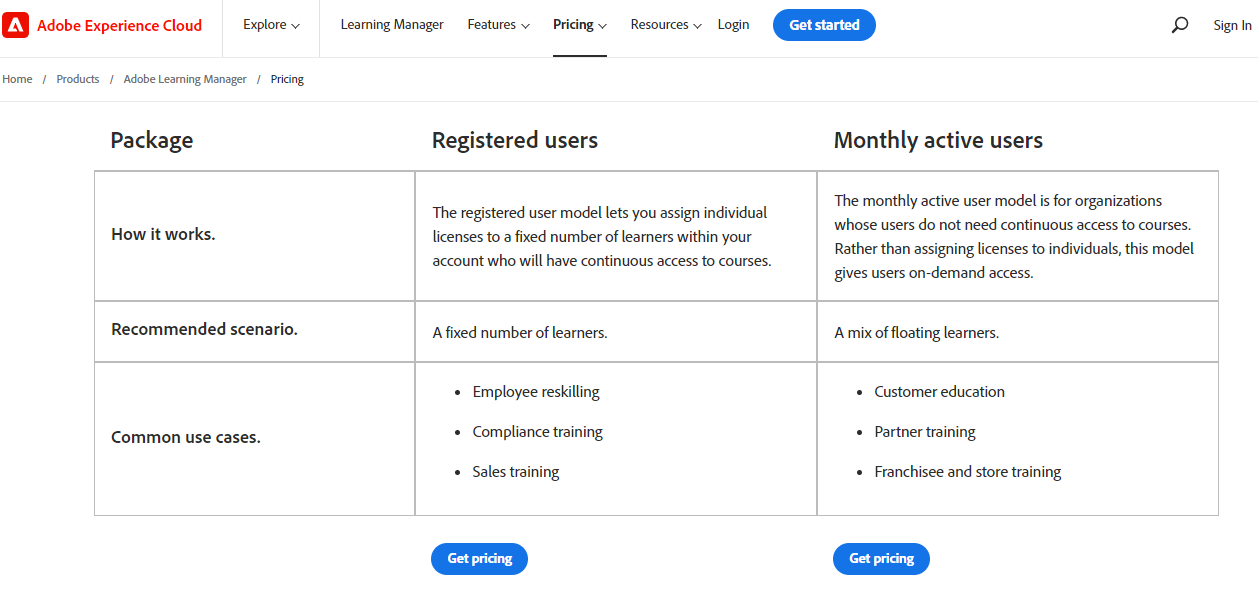 Active User Pricing
Active user pricing is a popular pricing model that is similar to per-user pricing but addresses the problem of the previous pricing model.
Unlike per-user pricing models, which charge based on the total number of registered users, active user pricing takes into account user usage and engagement within the LMS.
As a result, this model provides a more accurate representation of costs and can benefit organizations with varying levels of user activity.
For example, consider an organization with 500 employees. Under the traditional per-user pricing model, they would pay a fixed fee for all 500 users, regardless of how many actually used the LMS.
However, with per-active user pricing, they would only be charged for the subset of users who actively access the LMS and participate in learning activities.
This can result in significant cost savings, especially if a significant portion of the user base is not actively engaged in training or learning initiatives.
Best Fit: This model is particularly beneficial for organizations with a large user base but lower user activity levels.
Talent LMS is an example of a learning management system offering this pricing model: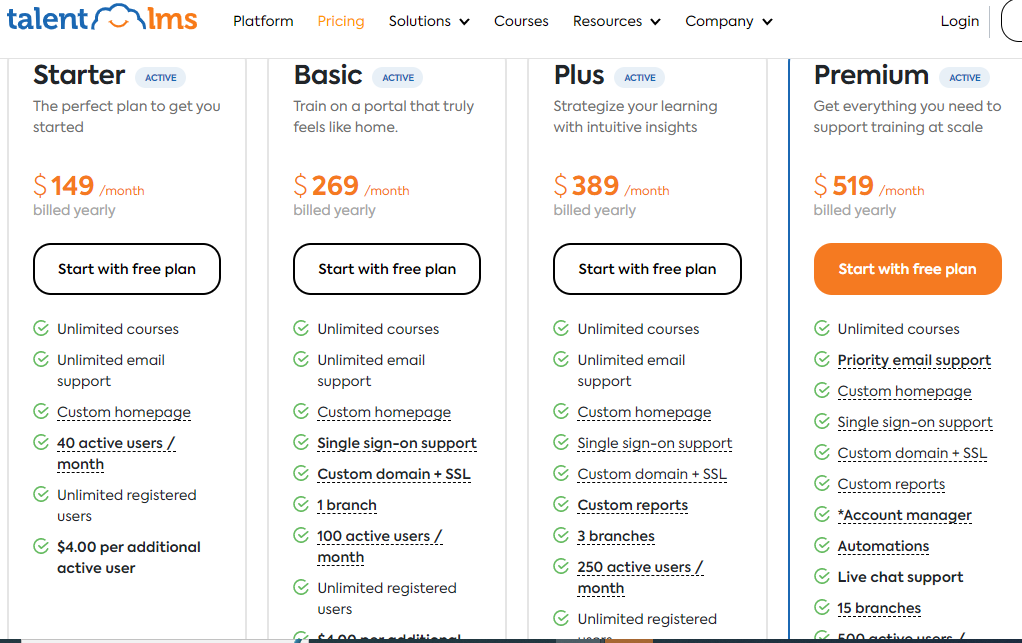 Subscription-Based Pricing
Subscription-based pricing is one of the most common and easiest models in the LMS market.
In this model, you pay a recurring fee based on the length of your subscription, which is usually monthly or annually.
It provides several benefits, including predictable costs, flexibility, and access to regular updates and new features.
If you're a small business looking to implement an LMS to train your employees, a subscription-based model allows you to pay for the LMS on a monthly basis. You can also upgrade your subscription levels from basic to advanced as your needs change.
While a basic level might include basic features like course creation and learner management, a higher-tier plan could offer advanced features such as gamification, analytics, or integrations with third-party systems.
This flexibility ensures that you can scale your training efforts without committing to long-term investment.
Best Fit: This pricing model is a suitable option for organizations with fluctuating user numbers or those seeking a simpler and more predictable pricing approach.

OnlineCourseHost.com is a typical example of an LMS with this pricing model: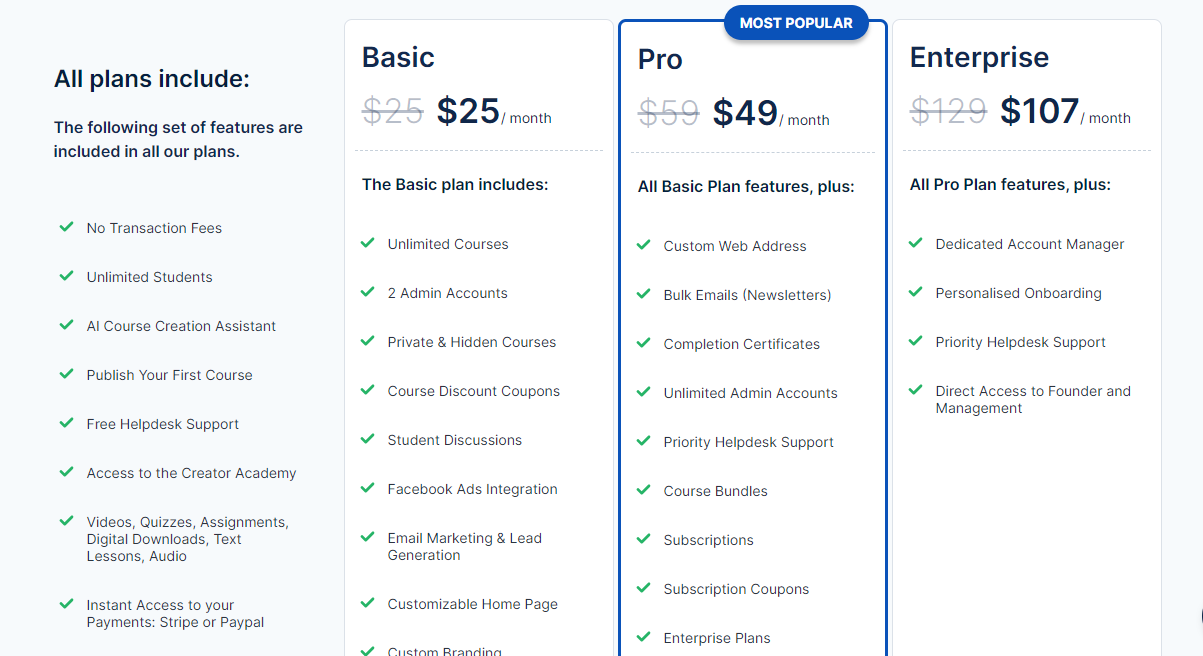 One-Time Licensing Fees
Some LMS providers offer a one-time licensing fee model, where you pay an upfront cost to purchase the software license.
This model grants you perpetual ownership of the LMS, and you may need to pay additional fees for support, maintenance, or updates.
It's important to note that while one-time licensing fees may have a higher initial investment, they can be more cost-effective in the long run, especially for organizations with long-term LMS usage plans.
Best Fit: This pricing model is mostly beneficial if you're an organization with specific customization requirements or stringent data security policies. It gives you control and a sense of ownership.
A prime example of a platform offering this model is Learndash.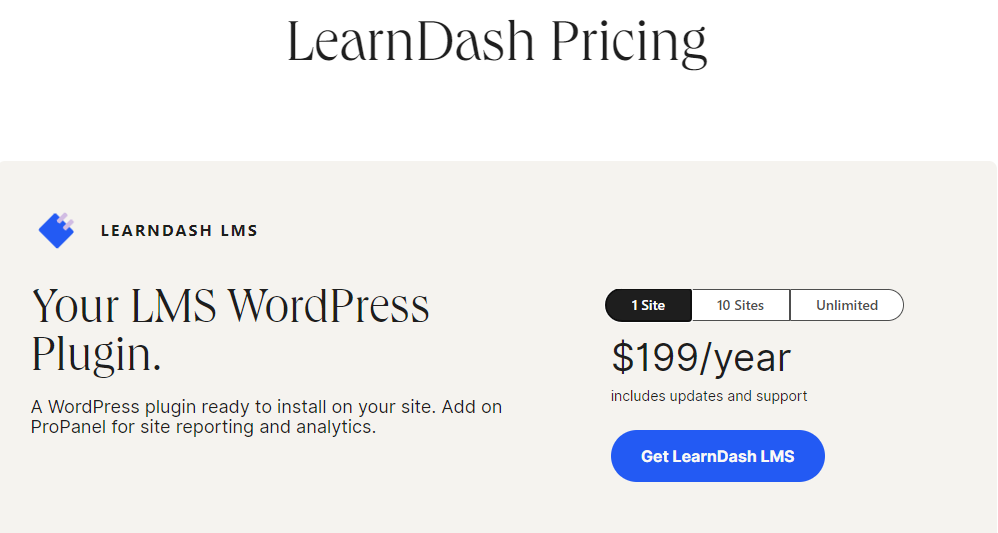 Open-Source Pricing
Open-source pricing is a unique model that sets LMS software freely available for use, modification, and distribution.
While the software itself is free, open-source LMS platforms often require technical expertise to set up, customize, and maintain.
Organizations opting for these solutions need to consider associated costs like hosting, development, support, and ongoing maintenance.
Best Fit: This model can be particularly appealing if you're an organization with in-house technical capabilities or you're seeking complete control over your LMS implementation.
It allows you to customize the system to meet your specific requirements without being tied to a vendor's pricing structure.
Moodle is a practical example of LMS with this pricing model: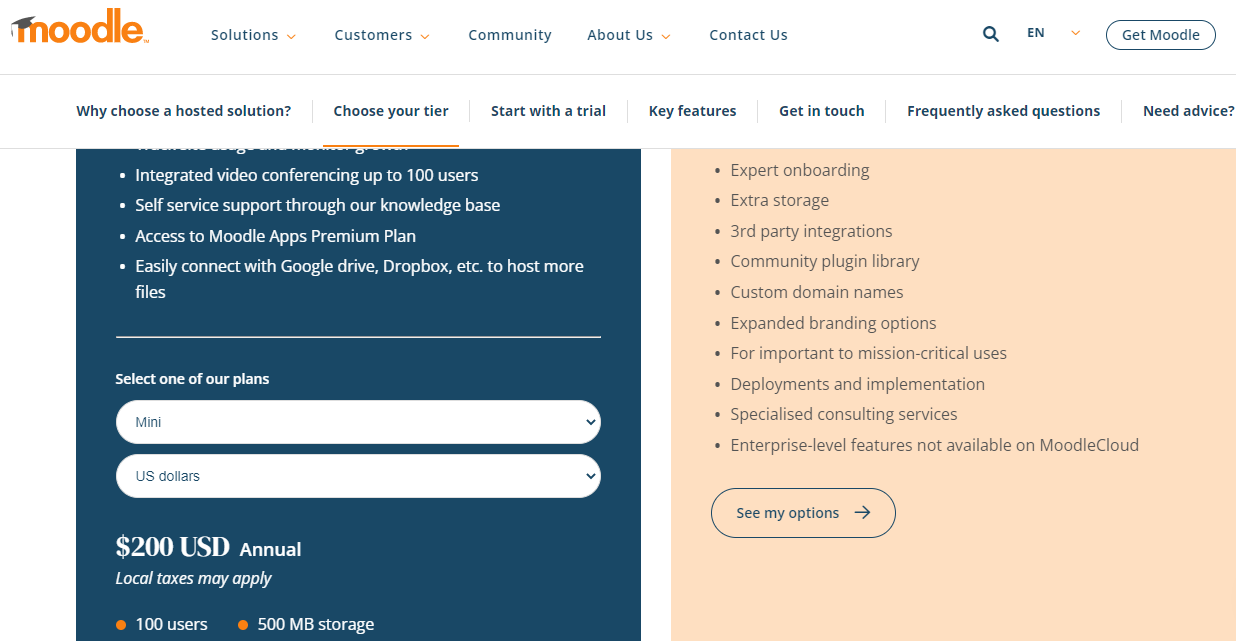 Navigating LMS Costs: Proven Tips for Evaluating and Comparing Pricing
Trying to figure out the costs of Learning Management Systems (LMS) can feel like a complex puzzle-solving mission at times, especially given the hidden costs and potential pitfalls associated with some.
But with some valuable tips and insights, you can effectively evaluate and compare LMS costs and make an informed decision that fits your budget and learning objectives.
Let's take a look at these proven tips and strategies:
#1. Assess Your Needs and Priorities
Start by clearly defining your organization's specific learning requirements and goals.
Consider factors such as the number of users, desired features, integration needs, and technical support expectations.
By understanding your needs, you can focus on LMS solutions that offer the right balance of functionality and cost-effectiveness.
#2. Request Detailed Pricing Proposals
Don't be afraid to reach out to multiple LMS providers and request detailed pricing proposals.
Ask for a breakdown of costs, including licensing fees, implementation, and setup expenses, customization charges, ongoing support and maintenance costs, and any potential hidden fees.
This way, you'll have a clear picture of what each provider offers and can make a fair comparison.
#3. Consider Long-Term Scalability and Growth
When evaluating LMS costs, it's essential to consider your organization's long-term scalability and growth plans.
Look for a solution that can accommodate your evolving needs without incurring exorbitant costs.
Scalability ensures that as your user base expands or your learning programs become more sophisticated, your LMS can adapt without requiring a complete overhaul or hefty financial investments.
Watch out for hidden or additional costs that may not be apparent at first glance.
These can include fees for data storage, bandwidth usage, software upgrades, or additional modules and plugins.
Thoroughly review the terms and conditions, and don't hesitate to ask the LMS provider about any potential hidden costs that could impact your budget down the line.
#5. Seek User Feedback and Reviews
Take advantage of user feedback and reviews to gain insights into the actual user experience with different LMS solutions.
Online forums, social media groups, and review platforms are valuable resources for gathering unbiased opinions and identifying any potential red flags or hidden costs that users have encountered.
This real-world feedback can provide invaluable guidance in your decision-making process.
#6. Leverage Free Trials and Demos
Many LMS providers offer free trials or demos of their platforms.
Take advantage of these opportunities to get hands-on experience and assess whether the LMS meets your specific needs.
Use this time to explore the user interface, test out key features, and gauge the level of user-friendliness and customization available.
This firsthand experience will enable you to make an informed decision based on your unique requirements.
By following these tips, you'll be equipped to evaluate and compare LMS costs effectively.
Remember, it's not just about finding the cheapest option; it's about finding the best value for your investment.
Take the time to consider the long-term benefits, scalability, and support offered by each LMS provider.
10 Popular LMS Platforms and Their Pricing Models
We have analyzed in detail 5 common pricing models that exist in the LMS market, as well as the tips for evaluating LMS costs.
Now, let's take a quick look at 10 popular LMS platforms and the pricing models they employ, as well as the costs associated with them.
This should help you get a head start on finding an LMS that meets your organization's goals and budget.
#1. OnlineCourseHost.com
OnlineCourseHost.com is a cloud-based LMS that provides everything you need to create, sell, and market your online courses. It offers a variety of features, including course creation tools, email marketing, mobile app, integration with other systems, Support, etc.
OnlineCourseHost.com adopts a subscription pricing model and offers 3 pricing plans with varying features and tools.
Basic Plan: $21/month, billed annually.
Pro Plan: $49/month, billed annually.
Enterprise Plan: 107/month, billed annually.
Each of these plans include an unlimited number of users (active or not) and courses.
#2. Moodle
Moodle is an open-source LMS known for its flexibility and customization options.
It offers a free, community-supported version. However, if you need additional features, cloud hosting, support, and customization, Moodle also has a MoodleCloud service and Moodle Workplace, which have subscription-based pricing plans. These include:
Starter $110/year (50 users)
Mini $200/year (100 users)
Small $360/year (200 users)
Medium $840/year (500 users)
Large $1,610/ year (1,000 users)
#3. Talent LMS
TalentLMS is a user-friendly LMS suitable for both corporate training and educational institutions. It offers 2 kinds of pricing models which are based on the number of registered and active users. Each model has up to 5 different plans, plus a free plan for up to 5 users.
For the registered users model:
Starter: $69/month (6-40 users)
Basic: $149/month (20-100 users)
Plus: $279/month (50-500 users)
premium: $459/month (400-1000 users)
Enterprise: Undisclosed (Flexible user limit)
For the active users model:
Starter: $149/month (40 active users)
Basic: $269/month (100 active users)
Plus: $389/month (250 active users)
premium: $519/month (500 active users)
Enterprise: Undisclosed (Flexible user limit)
#4. Adobe Learning Manager
Adobe Learning Manager (formerly Adobe Captivate Prime) is an intuitive LMS that focuses on e-learning content delivery.
Like Talent LMS, it offers two kinds of pricing models, which are typically based on registered and active users. For the registered user model, the cost is $4/month per user, with a 10-user minimum and discounts if your organization has more than 500 users. But for the active user model, the pricing is available by quote.
#5. Blackboard Learn
Blackboard Learn is a comprehensive LMS designed for educational institutions. Its pricing model is based on a license fee, which includes software access, support, and maintenance.
The cost starts from $9500/year but varies depending on factors such as the number of users and the specific modules and services required.
#6. iSpring Learn
iSpring Learn is an LMS known for its simplicity and focus on e-learning content creation.
It offers two types of subscription – Start (for individuals) and Business (for teams & organizations) – with Business providing more advanced features.
Both subscription types provide pricing plans for 50 to 1000+ active users, which means you can register an unlimited number of learners and pay only for those who log on to the system during a given month.
Start pricing plans:
$2.99 per user/month (50 users)
$2.87 per user/month (100 users)
$2.29 per user/month (300 users)
Business pricing plans:
$3.14 per user/month (300 users)
$2.83 per user/month (500 users)
$2.55 per user/month (1000 users)
#7. Canvas
Canvas is a widely used LMS in the education sector. It offers a cloud-based solution with a subscription-based pricing model.
The pricing is typically based on the number of users in your account and the level of support required. Canvas also offers special pricing for K-12 schools and higher education institutions.
#8. Absorb LMS
Absorb LMS is a scalable LMS designed for corporate training. Its pricing model is subscription-based, with costs determined by factors such as the number of users and desired features.
For 500 users, the cost is $14,500 per year, with other services like training and support available at additional charges. Absorb LMS offers different plans to cater to various organizational needs.
#9. LearnWorlds
LearnWorlds is an LMS designed for creating and selling online courses. Its pricing model is primarily subscription-based, with costs based on the number of active learners and the selected plan.
LearnWorlds offers different plans with varying features, customization options, and marketing tools.
Starter plan at $24/month
Pro trainer at $ 79/month
Learning center at $249/month.
High volume and corporate plan.
#10. LearnDash
LearnDash is a popular WordPress-based LMS plugin. Its pricing model is based on a one-year one-time licensing fee for the core plugin, and additional costs may apply for add-ons and extensions.
LearnDash provides flexibility for organizations using WordPress as their website platform.
The plans include:
1 site license — $199/year
10 site licenses — $399/year
Unlimited licenses — $799/year
All LearnDash LMS plugin plans include updates and customer support. The only difference is the number of sites that the plugin can be used on.
Conclusion
Now that I've unraveled the intricacies of LMS costs and given you a better understanding of the factors that influence them, pricing models, and evaluation tips, you can now make an informed decision that aligns with your organization's learning objectives and budget.
Remember to choose the pricing model that best suits your organization's needs and budget. Keep in mind that the true cost of an LMS goes beyond the price tag; it includes factors such as user volume, required features, customization, support, and so on.
In addition, take the time to assess your needs, request detailed pricing proposals, and consider long-term scalability. Factor in any hidden costs, seek user feedback and reviews, and leverage free trials or demos to gain firsthand experience.
By carefully considering these elements and weighing them against your organization's specific needs, you'll find the perfect LMS solution that provides the best return on investment.
Speaking of the perfect LMS solution, OnlineCourseHost.com stands out as an ideal choice.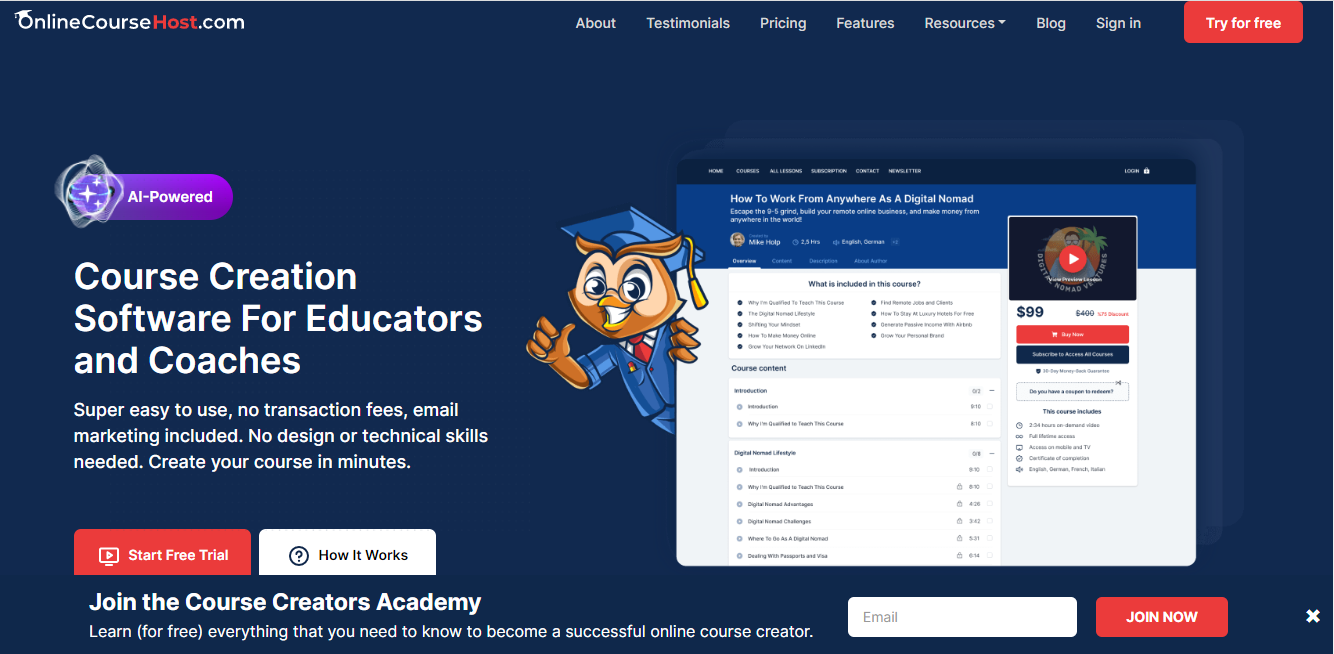 With its super easy-to-use interface, you can effortlessly create and manage your courses without the need for design or technical skills. Plus, there are no transaction fees, and email marketing is included, providing a comprehensive solution for your e-learning needs at an affordable rate.
If you need more information to grow your e-learning business successfully, you should check out the Course Creator Academy.
To get notified when new content is available here at the Academy, you can subscribe here to our weekly newsletter:
If you are looking to ask any questions on online course creation, you can reach me here on my Facebook group:
Join the Course Creator Academy Facebook Group
Ready to learn how to launch your first course on OnlineCourseHost.com? Here are the helpful guides for you to check out:
I hope you found this post helpful; let me know in the comments below what other topics you would like me to cover or any questions that you have.
Thanks for reading… and enjoy the course creation process! 😉
---
Course Creators Academy, a community by OnlineCourseHost.com
Founded by Vasco Cavalheiro
Online Course Creator