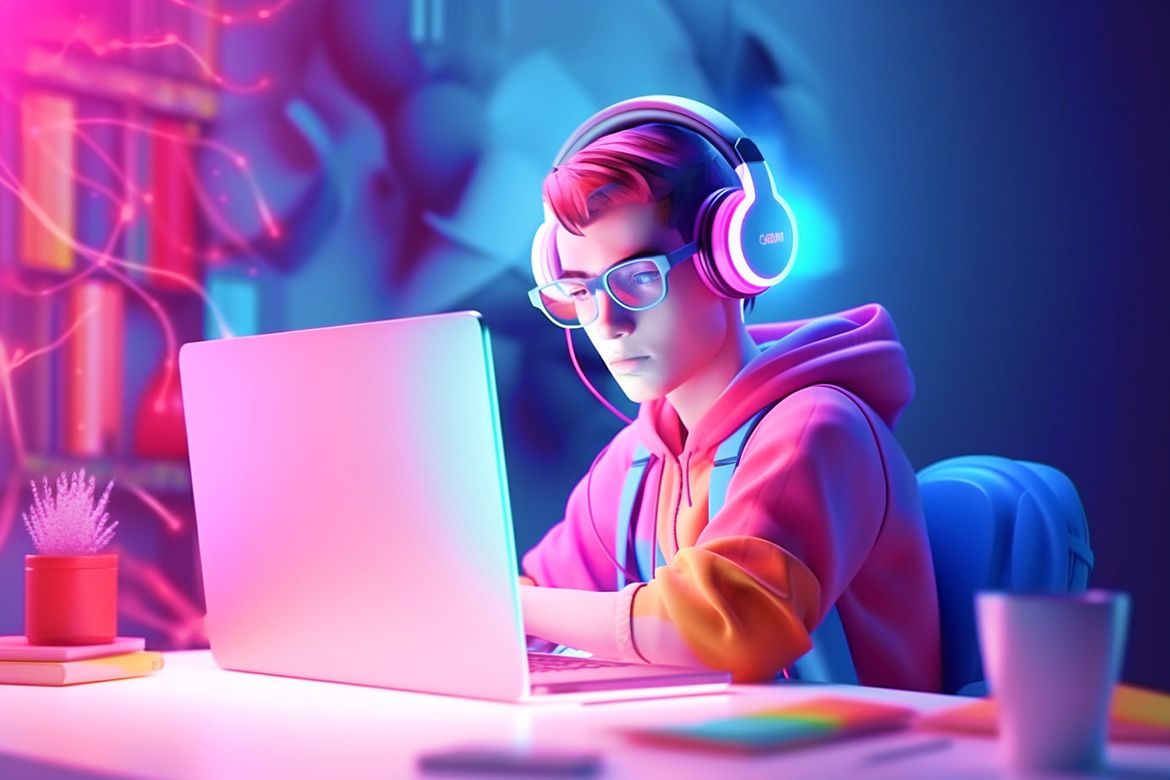 Learn (from a seasoned course creator) the 9 top ways that you can leverage to sell your online courses effectively.
Are you an online course creator just getting started, or struggling to sell your existing courses?
If so, don't fall into this typical mistake.
You see, many course creators focus fully on creating their courses and nothing more, paying little or no attention to the marketing aspect.
You know the saying, "Build it and they will come", right?
But in the case of online courses at least, not really. 😉
Unfortunately, this is something I see beginner course creators do almost all the time.
They just struggle to make their first sales.
The truth is that online course creation and marketing go hand-in-hand.
You are not just an online teacher, you are also an internet entrepreneur and marketer, whether you realize it or not.
As you're creating an online course, you really need to incorporate some tactics that will drive more sales when the course is finally released.
In this post, I am going to share with you how to make a course to sell.
These strategies have worked for me for years, as I have been making a living selling online courses since 2016.
So make sure you read till the end, as I will go through a bunch of useful tips.
So, how do you create a course to sell?
Here are 9 proven ways to create and sell online courses:
Pick a high-demand course topic with a catchy title
Target a specific sub-audience
Get a Pre-built Audience
Pre-sell your course
Word-of-mouth marketing
Shoot and edit your course perfectly
Use a course creation platform with full marketing tools
Proper online school branding
Sell your course in online communities
So, without further ado, let's dive in and explore these strategies.
You can also check out all the free guides at the Course Creator Academy by clicking on the Academy link on the top menu bar.
You might also be interested in these other posts, where I talk about how to market and sell online courses.
For example, this is my main guide on how to sell online courses, where I talk about in detail about all the strategies that have worked for me over the years:
How to Sell Online Courses? The Ultimate Guide
And here are other posts I wrote on other closely-related topics:
Pick a Popular Course Topic With a Catchy Title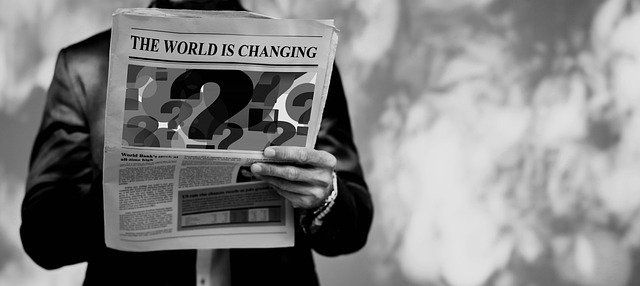 This is by far the best and first strategy for creating an online course that sells. You want to make sure that there is a high demand for the topic you're teaching.
Remember that creating a successful online course is about finding a problem you are interested in and people are trying to solve, then giving them a packaged solution.
To figure this out, the possible source of information you can find in Google. Look carefully, and Google will tell you straight up what you need to focus on.
Look through Google search results especially the "People also ask" and "Related searches" sections, and use keyword research tools like Google Trends, Ubbersuggest, and SEMRush.
You should also join public online communities like Reddit and Quora to find out if people are truly searching for your proposed online course topic and the questions they are asking.
Even as you have picked a high-demand course topic, you should also give it a catchy title to ensure that it sticks with your target audience once they come across it.
Aside from that, a compelling title sets your brand apart from your competitors while also presenting the learner's expectations and objectives in a concise way.
To make the course title catchy, you should ensure that it's
Short and memorable
Presents your students' expectations
Grammatically correct
Gives enough clues about the course benefit
Most of all, it should contain a powerful word that sticks to your audience and compels them to purchase your online course.
Target a specific sub-audience
From my experience, creating courses with a specific audience in mind makes it super easy to sell those courses online.
Failing to define your audience will make your message and lessons too bland and generic. You'll be unable to connect with your students and if that happens, your course won't be a memorable one.
So, to create a course that sells, spend enough time to map out the people you're trying to reach:
Stay-at-home moms?
Photographers?
Dancers?
Digital Nomads?
Also, map out their demographics, proposed budget, skill level, and experience with online courses. Find out what motivates them and if they will be taking your course to develop their career or for leisure.
When you know all this information, you're in a better position to make your online course as relevant and valuable as possible. You'll speak to them directly, cultivating loyalty and great course experience.
Defining your audience before creating your online course also helps you determine which platform to market your course the most.
For example, if your target is stay-at-home moms, you'll most likely see them on Facebook Groups and Instagram. If you go ahead and market the course on platforms like Linkedln, you may not make as many sales as you would if you were selling on Facebook groups.
Having a Pre-built Audience
Many course creators know how to create a course, but they many times make a course and can't get many sales, due to a lack of an existing audience.
There is just no one to sell the course to, and it takes thousands of page views a day to get a good amount of sales. And truly, it can be frustrating and might force you to give up.
To create online courses that will sell, you should first generate an audience either from your email list, or YouTube channel. If you're already running a blog, perfect!
Much isn't required to create an email list. The most common strategy is to create a lead magnet, preferably a short free course, or e-book around your niche or industry. Your target audience will gladly enter their details to access the free material.
Alternatively, you can publish your courses on platforms like Udemy, Coursera, and Skillshare.
Since these online course marketplaces already have a pre-built audience, it's easy to reach more audiences with little or no marketing efforts from your side.
You can read up on the Top 12 Online Course Marketplaces (To Sell Your Courses)
However, bear in mind that you won't have access to your student's data and so you won't be able to send personalized emails.
A way around this is to include your website link on your teacher profile on all the platforms you have published your courses if it's allowed. You can also add your social media handles to your profile or even self-promote in your videos.
Be sure to check the platform's terms and conditions to see what they allow and what they don't before publishing your online courses.
Pre-sell Your Online Course
On how to create a course to sell, you need to market the course months before it is released.
Pre-selling your course not only helps you validate your course idea but also helps you grow and nurture an early audience before your online course is released.
You'll also receive upfront revenue and instant feedback from your proposed audience, learning what they need before creating it.
There're three ways to pre-sell your online course:
Crowdfund
Beta Group
Pilot program
Crowdfunding requires you to present your idea on a site like Kickstarter and invite people to buy it before you build it.
With the beta group, you need to build at least some of the course and then validate it with a small group of people who will ultimately help you improve it as you go on.
Lastly, you can create and launch a pilot program, pre-selling it ahead of time then build your course as you go along while also sharing it with the little audience you've built along the way.
Word-of-mouth Marketing
If you really want your online course to sell effortlessly when you're done creating it, it's best to talk about it, and take your audience along with you as you are creating the course.
This strategy is a bit similar to pre-selling, but the difference here is that you are not selling the course upfront, you are merely marketing, calling on people's attention as you create the course.
For example, you can take behind the scene pictures while shooting your online course, or come up with a simple Canva design of your course outline, and share them on your private social media accounts with captions that make everyone expectant to see the course when it's done.
You can also tell your friends to repost your pictures or posts. You never can tell when such posts will go viral. With how powerful social media is these days, anything is possible.
Another strategy to adopt is sharing a personal inspiring story on how you arrived at the course idea. You can share this on your Linkedln or Facebook profile.
Make sure the story is captivating enough. It doesn't end there, put out a countdown as you create the course leading to the official launch date.
The idea is to let people into your course creation journey. Even though they may not be your target audience, they will definitely have people in their circle that they could refer to take the course when it's out.  
Shoot and Edit your Online Course Perfectly
Shooting and editing your online course perfectly is another important tactic to keep in mind when creating an online course to sell.
If your videos are not clear enough or your audio sound muffled, your students will have a bad course experience, and leave bad reviews on your website which will in the long run affect your course sales.
So, you want to make sure that the picture quality and audio are clear enough. This doesn't mean you MUST use high-end equipment to record your online course.
You can read this in-depth and complete guide on Affordable Online Course Equipment.
However, from experience, the most effective and simplest method to record and produce an online course is to film your desktop and record your voice with the microphone.
That's not to say that you won't show up on camera. At least, your students need to see who you're. So, it's best to show up in your intro and concluding videos. This option is best if you're not so natural in front of the camera like me.
However, if speaking in front of the camera is naturally your thing, then, by all means, set up your camera and shoot your course video.
But make sure that your space is well-lit and organized. And also, your lapel mic should be properly placed so that your video comes out nice after editing. The last thing you want is your students struggling to make out what you're saying.
You can read more on How to Record and Edit Your First Online Course.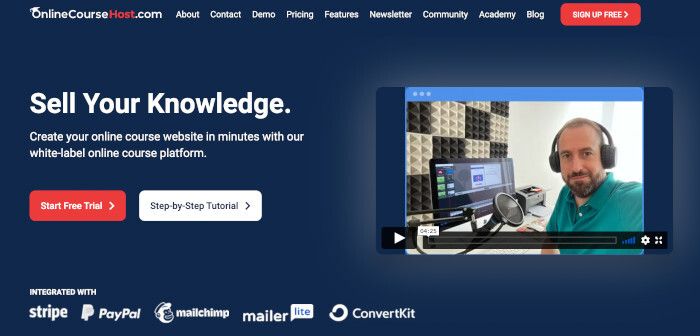 Pick a Platform with All The Marketing Tools You Need
When you're done creating your online course, the next step is to publish and launch it on a course creation platform.
But not just any platform, you need one that has all the powerful marketing tools needed to sell your courses effortlessly.
Don't overpay either for a platform that costs you hundreds of dollars per month, with a bunch of features that you don't really need, or will ever use.
OnlineCourseHost.Com is not just the easiest-to-use online course platform in the market, but it also contains full course marketing tools like discount coupons, email marketing, and Facebook ads integration.
In addition to that, there's also a built-in lead capture form that allows you to collect your students' data directly from your course website. You can download the bio whenever you want and have access to the emails and send bulk newsletters promoting your course.
That's one of the top benefits when you sell online courses from your own website.
Aside from that, you also get to keep all the profits generated from your course sales.
With the Facebook ads integration, you get to easily install Facebook pixel on your website without codes. That way, your ads will be optimized and targeted to the proper audience likely to purchase your online course.
Giving discounts is also another smart strategy to attract more sales, especially during the first few weeks after launching your online course.
Once you've got multiple courses, offer discounts on bundles of related courses. You can even do a build-your-own bundle if you have a variety of topics and let people choose the ones they're interested in.
Proper Online School Branding
Your online course creation doesn't just end at shooting, editing, and uploading the course on a website. You also need to brand your online school properly. That's what makes you a business owner!
The essence of branding is not just to stand out amongst your competitors but to also make your courses easily recognizable for your students even after seeing them for the first time. That way, they can return to your website and purchase your course when they are ready.
What does online school branding entail?
You first need a course platform with all the tools needed to build a fully branded website. Then choose a brand color based on the emotions that you want to communicate to your prospective students.
It's also important to create a background banner and logo that will stand out. If you're not financially buoyant enough to hire a professional designer to do that for you, then you can use free tools like Canva to create an attention-grabbing banner and logo for your online school.
Lastly, you should choose the right roman name. It should be simple and clear enough to remember at first glance. Aside from that, the domain name should also reflect your niche or industry.
Sell your Online Courses In Communities
In creating a course to sell online, you also need to join some question-answer online communities like Quora and Reddit. These platforms generate a large audience and are a perfect place to promote your courses.
Quora for example draws more than 30 million readers each month and that's just on the surface.
So, no matter your course topic, there are people asking super relevant questions on the platform. Find them and offer insightful answers with a link to your course page.
However, bear in mind that Quora is not a place for hard marketing. You should be subtle with sales.
In fact, your goal should be to provide helpful answers to questions related to your course. The more intriguing and beneficial your answers are, the more clicks you'll draw to your course website.
Alternatively, you can customize your bio and include a link to your course.  
Conclusion
I hope this guide has answered some of your questions and cleared some of your confusion on how to create an online course to sell.
You should primarily bear in mind that your course creation should always go hand-in-hand with your marketing strategies.
You don't create a course and then worry about how to promote it later on. It might get a bit overwhelming for you if you don't incorporate promotional tactics while creating the course.
Don't worry, these steps aren't as daunting as they may seem. You should just take it one step at a time. You'll learn on the job.
So, what's next?
If you're just getting started on this journey, I have an in-depth guide for you on How To Create an Online Course (Complete Guide, includes a Free PDF).
Also, because you're a beginner course creator, you'll likely struggle with finding an affordable online course platform with rich features to upload and sell your courses after creating them.
Seeing how pricey and complicated most online course platforms are, I created OnlineCourseHost.com, the easiest and most affordable course hosting platform you can find on the web today.
Your course creation journey should be as seamless as possible even with your limited budget. You also have powerful marketing tools at your disposal to promote and sell your courses after creating them.
You can read more about the platform's features here.
But more than a platform, we want to give you all the information that you need to grow your online course business successfully.
That's why we have created the Course Creator Academy where you can find everything you need to become a successful online course creator all in one place for free.
To get notified when new content is available here at the Academy, you can subscribe here to our weekly newsletter:
If you are looking to ask any questions on online course creation, you can reach me here on my Facebook group:
Join the Course Creator Academy Facebook Group
Ready to learn how to launch your first course on OnlineCourseHost.com? Here are the helpful guides for you to check out:
I hope you found this post helpful, let me know in the comments below what other topics you would like me to cover, or any questions that you have?
Thanks for reading… and enjoy the course creation process! 😉
---
Vasco Cavalheiro
OnlineCourseHost.com Founder & Online Course Creator