How to Hire an Online Course Team (Video Editor, Assistant, Designer)

Platform Review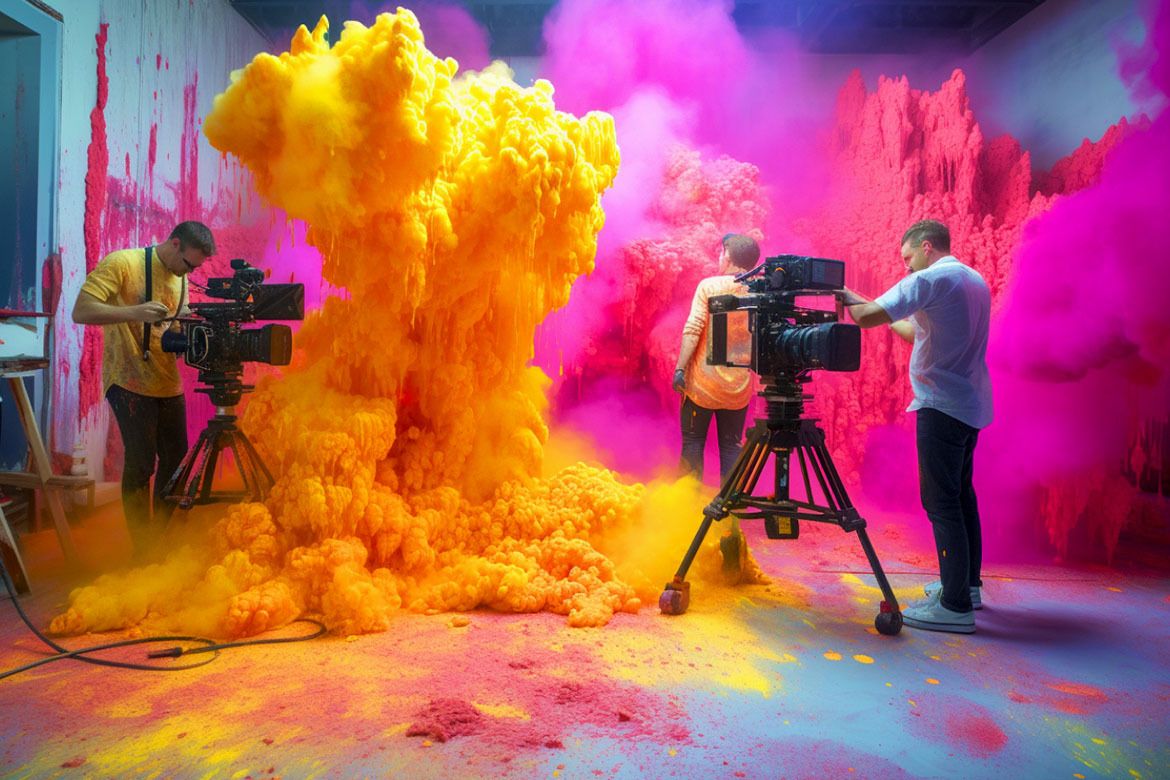 Everything that you need to know in order to grow your online course business by hiring an online course team (typically part-time).
At this point in your online course creation journey, you have already recorded your first course, created an online course website, and started an online course business.
You are now making some sales and you are well on your way to creating a viable business, so first of all congratulations! Your next question now is, how do you scale this, how do you take it to the next level?
In this guide, you are going to learn everything that you need to know to scale your online course business by assembling a team around you.
We are going to tell you where to find competent professionals that can help you at very affordable prices. Notice that these professionals will work for you on a part-time basis most of the time.
If you are looking to learn more about online teaching in general, you can find all of our guides on the Academy home page, in the recommended reading order.
The previous article in this series is: How to start an online course business (payments, accounting, taxes)
So without further ado, let's get started learning everything that you need to know to assemble your online course team, and take your company to the next level!
When to assemble an online course team?
We don't recommend assembling an online course team at the very beginning. And this is because when you are just getting started, you won't have a lot of customers if any, so the administrative overhead is very low.
So there is no need to hire a personal assistant yet, for example. We recommend that you first bootstrap your online course business by yourself, by creating your first course and edit it yourself completely, to get familiar with the video editing process.
Also, the process of growing an audience that will buy your courses is a slow one, so you will have time as you develop your blog or your YouTube channel to build your first course at the same time.
So when to start hiring people? In our case, we did it roughly 6 months into our business, when we already had an audience and were doing regular sales.
It's at this moment that we knew that the business was viable, and so we did our first hire.
What professional should I hire first?
But if you don't want to wait that long to hire someone and you want to speed up your business launch?
In that case, and if you can afford it at the beginning, the first professional that makes a huge difference in speeding up your course production time is a video editor.
The truth is that video editing is a very time-consuming process. Initially, it's quite fun, as you discover your video editing tools and learn all about the process for the first time.
But after a couple of weeks of editing your own videos, this process is going to become a little bit tedious, as there is not much creativity put into it anymore.
You will find yourself repeating the same steps again and again. And also, you will notice that you spend almost as much time editing the videos as you take to record them, or typically even more.
So if you can find a way to outsource this work to someone else in an affordable way, that's a no-brainer. In our case, hiring a video editor immediately freed up almost 50% of our working time.
We could then spend that valuable time either recording more video courses or promoting the ones that we already had and further growing our business.
How to Hire an Awesome Video Editor
So how do you hire a video editor? As you are probably working from home, you will want to hire someone to work remotely.
This way, you can choose someone that works almost anywhere in the world, and get a combination of competence and affordability that is going to be almost impossible to match any other way.
We hire all our remote workers via the Upwork platform, and we recommend that you do the same: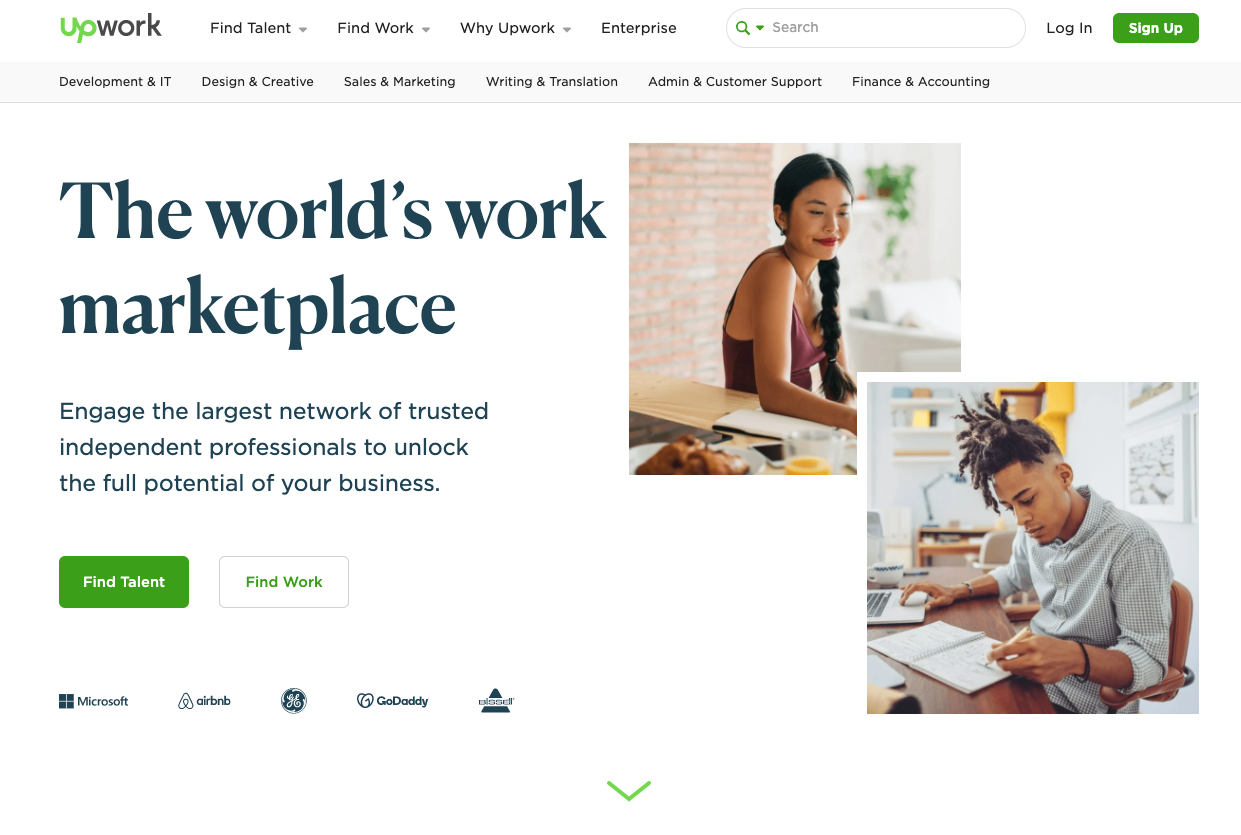 As usual, we don't have any commercial affiliation with this platform. We have simply been using it ourselves for years, and we know that it works great.
In order to find a video editor, simply login to the platform, and enter the following search criteria:
type "video editor" in the search box
Choose "Freelancers" only. We don't think you want to work with an agency as they will just charge more for the same work
Hourly rate: choose $10 or below
English level: choose Fluent, or you can search for other languages as well
And from there, you can already search and see what you get as results. You can also optionally add the following extra search criteria:
Job success: you can choose 80% and up to get proven freelancers
You might want to select for Top Rated or Rising Talent, but this might not be necessary
Earned amount: you might want to set this to $1 to make sure it's someone already experienced with the platform
Hours billed: you can set this to 1h billed, to get someone with at least some experience in Upwork
Once you find someone, you can text them and invite them to join your project, more on how to do that in a moment. First, let's talk a bit about how the platform works in general.
How does Upwork work, what are the rules?
Upwork is a freelancing platform, that matches freelancers across the world with employers.
Typically Upwork is for part-time jobs like video editing, as opposed to employing someone full time, although it seems that you can also do that in Upwork.
In your case, you probably want contracts that are billed on an hourly basis, as you will likely not need a person full-time.
The way that this works is, the freelancer declares their billed hours via the platform, which then charges the employer.
The platform will then take a commission fee, so that is their business model. When you hire someone through Upwork, they don't have a contract with you, but with the platform.
It is forbidden by the platform to take your relationship with the freelancer off the platform, by hiring them directly. This could get your account and the freelancer account banned from the platform.
The idea of the platform is that the freelance is guaranteed to get paid for every work worked, while the employer is guaranteed to get one hour of work per one hour of pay.
The way that they do this is by requiring the freelancer to install software in their machine that tracks what they are doing, which is something that we are not comfortable with, and we choose to turn it off for our freelancers.
Best Practices for Hiring People Remotely
There are a few gotchas that we have fallen into while hiring people remotely, and that you want to make sure you avoid.
One of the things that happened to us was to hire a person without realizing that they had a very hard time understanding English.
They were probably replying to us using Google Translate, and had a hard time understanding our written requests or even chat messages, so it was difficult to communicate.
In order to avoid this, you want to make sure that you search for a person that speaks fluently, but you also want to schedule a video call just for a 5-minute chat to get to know them a bit, and mostly check if they can speak the language correctly.
There is no need to do this straight away. First, you can ask them to perform an initial task, which in the case of a video editor would be to put together a 5 minute to 10 minutes video, based on one of your raw recordings.
Just send them your screenflow raw recording file or equivalent, and give detailed written instructions for how to edit them. Then ask for them to send you back the edited file and review the final work.
You can even do this for multiple freelancers at the same time, so that you can have a better idea of who would be a better fit.
If they send you back a file that is well edited, then you know that they have the competence to do the work, and you can then schedule a video call just to check that they understand well the language, and also just to say hi and start what will likely be a long-term work relationship.
You will be working with them via chat most of the time, so it's great to at least have that first video meeting together.
After that, you can ask the freelancer to install the Upwork mobile app on their phone, so that you can interact also via phone chat as well if needed.
Best practices for posting a remote job listing
If there aren't any freelancers currently available, which is unlikely, then you can post a job on Upwork, instead of contacting freelancers one by one.
The problem with this approach, when compared to contacting the freelancers directly, is that you will get a lot of semi-automated copy-paste replies.
There will be freelancers, or even agencies that will be systematically copy/pasting a generic job application text to every job that they can find, without even reading the job description.
This way, you can end up with literally tens of job candidates to go through, but most of them won't have the competencies or the experience that you need.
This is all very time-consuming and inefficient, so in order to streamline this we recommend using this very simple trick. In the middle of the job post, put in a sentence that says something like:
Due to the high number of automated replies, in order to make sure that you have read this job posting, please reply by adding the secret phrase "cat" to your reply. Thanks!
And with this simple trick, you will notice that from the 20 replies that you get, maybe only 3 or 4 have gone through the work of reading your job posting carefully all the way through, and see if they were a good match before applying.
If you apply these best practices, you should only take a couple of days to hire your video editor. You will have proof that they can both do the work and that they will understand your instructions.
How to work efficiently with your Video Editor
Once you hire your video editor, how do you work with him/her effectively in a remote way?
In the case of video editing, there will be a lot of large files going back and forth. In order to transfer these files effectively, we have been using for years Google Drive, but any equivalent product such as for example Dropbox will also work great.
With Google Drive, you have access to 10Gb for free, which is not a lot of space for video editing purposes. However, this might be just enough to start with.
But if you get a professional account, for around $9.99 a month you get access to something like a Terabyte (1024 Gb), which will be more than you will ever need.
You don't need to (and you shouldn't) give the freelancer full access to your whole working space. Instead, you just need to give write permissions to one working folder, that you will use to send the videos for editing.
There is software that you can install on your computer to automatically sync a folder with Google Drive. From our experience, we don't recommend that you do this, because it causes occasional synching problems that can corrupt and destroy files.
Instead, we recommend that you and your freelancer to use the Google Drive web interface directly, to download and upload the files manually, and avoid any syncing issues.
Avoid corrupting video files
If you do use a folder synching background software, we recommend to always copy the edited files from your working folder into another folder on your drive, instead of double-clicking the file directly on the shared working folder.
This is to be avoided because if the file is not fully synced yet, you might accidentally corrupt it.
Best practices for naming video files
We recommend requesting your video editor to always rename the files that he is finished working on, by adding the suffix "_done" to the file name.
Another best practice is to add a numeric prefix to every file, like for example "01-", "02-", etc. This way, if you sort the files by file name you and your video editor will see the files in the correct sequential order or recording.
Make sure to prefix your first few files with "01-", etc. instead of "1-", because the missing zero will mess up the sort order, and put your files out of sequence.
From there, everything should go pretty smoothly, and you have just gotten almost half of your time back again!
Let's now see what other hire you can make to help you grow your online course business.
How to Hire a Personal Assistant
Besides a video editor, another professional that makes a huge difference is a generic personal assistant.
Unlike the video editor which has a very specialized task, the personal assistant will be more of a generalist, ready to help out with almost anything concerning your business.
A personal assistant can be absolutely invaluable in offloading from you many of the small but important tasks that added all together take you easily at least an hour a day, if not more.
What tasks does a personal assistant do?
Here are some of the tasks that our personal assistant helps us with:
monitoring our helpdesk mailbox daily
sending invoices to enterprise customers upon request
sending email promotional coupons for certain types of users upon request. For example, we give a discount to students upon request via email
Helping people reset their password, and log in to their account again
gather and save all your invoice expenses for all the services that you use, organize them and send them to your accountant via Google drive
Answer simple questions on your helpdesk inbox, like when will a course be ready, is there any promo available, etc.
Help you with your quarter closure by producing certain reports
Besides all these small administrative tasks that can be quite time-consuming, most personal assistants also double as social media assistants.
How can an assistant help with social media?
Here are some of the social media tasks that your personal assistant can help you with:
schedule social media posts for all your social media accounts, using a content scheduler such as Buffer for example
monitor the social media accounts inboxes, and answer the same type of questions that you typically get on your helpdesk inbox, like requests to reset passwords, etc.
As you can see, all of this can be extremely time-consuming, and hiring a part-time personal assistant to help you with this is a no-brainer.
The only thing that you need to do is to make sure that they are fluent in your language of choice, and have some previous similar work experience if possible.
How to work efficiently with your Personal Assistant
In order to onboard a personal assistant, the first thing to do is to create a helpdesk mailbox for your business. You want to make sure that you create a professional-looking email.
You can get a custom email for your company by using Gmail and Google Workspace. With this, you can get a custom email that you can access using the familiar Gmail interface, at a reduced price.
Once you create your helpdesk mailbox, you can give your personal assistant access to it, so that he can start replying to student support requests.
What tools to use to help manage customer support tasks?
You will notice after a while that many of the requests that you get in your support mailbox are similar. For example, you will have requests for invoices, requests for coupons, requests to reset password, etc.
You can create templates on Gmail for each of these replies, so that your assistant doesn't have to type in everything each time.
Here is how to reach your Gmail Templates, after creating an email draft: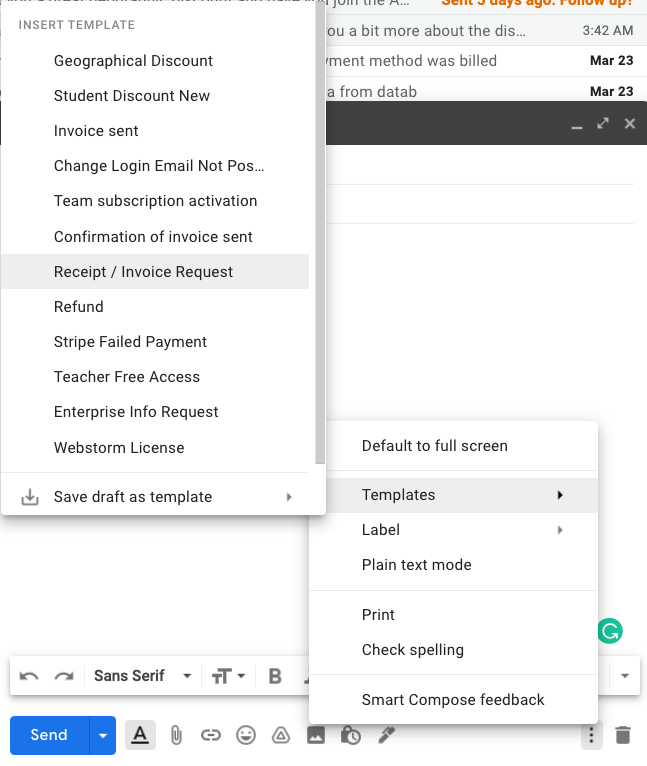 While answering support requests, besides having templates for full emails, it's also very useful to have templates for individual sentences as well.
This is currently not supported by Gmail, but you can install a browser plugin like for example Auto Text Expander for Google Chrome: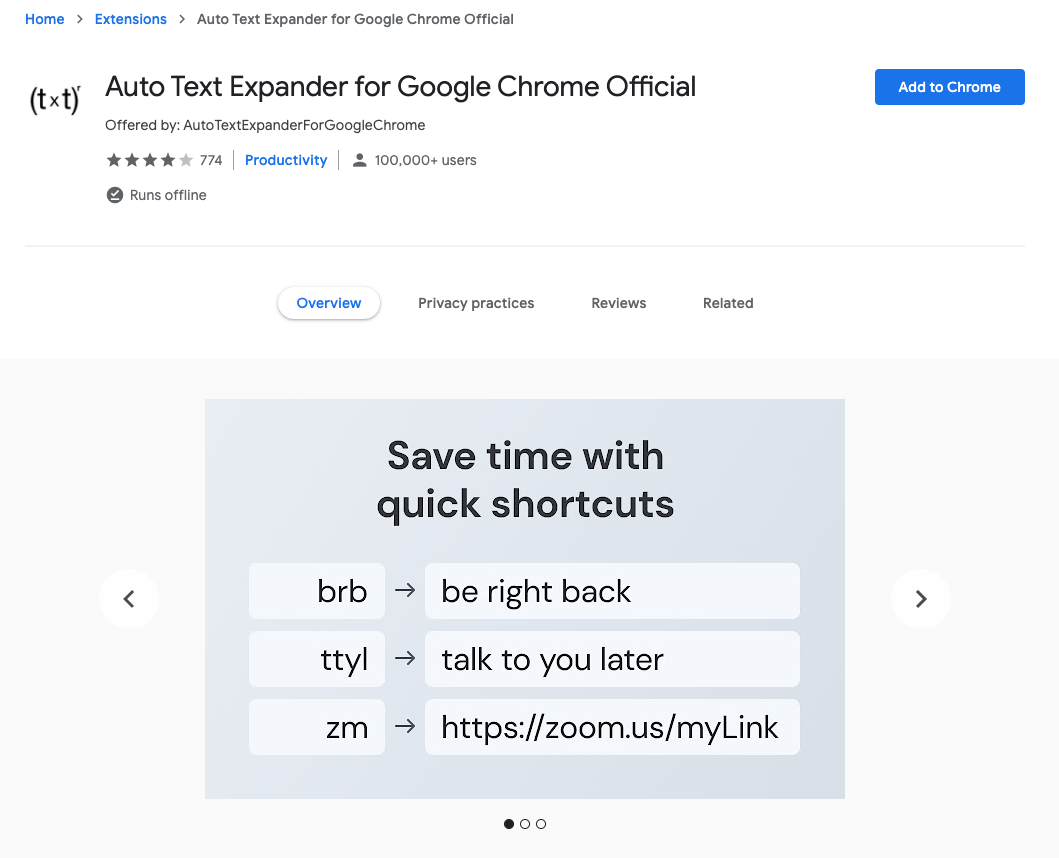 With this plugin, you or your assistant can type for example @enj, and this will be expanded to the full sentence "Let us know if you have questions, and please enjoy the courses & ebooks.".
This will allow you and your assistant to answer emails a lot faster and in a more consistent way.
How to give clear instructions to your assistant
Besides this, one final tip to help teach your personal assistant some task that you want to give them, without you being able to be in the same room together.
Remember, you are a content creator, so it's very easy for you to film a simple video of your desktop with audio, and show your assistant exactly what you need them to do, just like if they were sitting right next to you.
The video doesn't have to be as well edited as a video course lesson, it can be a very simple recording with minimal editing. You can then send the video with the task to your assistant, and ask them if they have any questions.
We have used this simple technique countless times to provide detailed instructions about all sorts of tasks, and we find that it works great.
This is because your assistant will be able to see exactly what you are doing, and will be able to play the video several times if needed and refer back to it later.
You can send the task instructions video via Google Drive, or upload it on Vimeo as a free private video and send your assistant the link.
A video editor and a personal assistant are your go-to professionals that you will need in any online course business, but what about other professionals?
Where to find great Graphic Designers?
Another type of professional that you will need less frequently is a graphics designer, for all your courses and website artwork, as well as social media artwork.
But a graphics designer, unlike a video editor or personal assistant will not have recurring work from you. You will only need graphic design on an occasional basis, so using a platform like Upwork is probably overkill for that.
We recommend using Upwork for your recurring hires, and a one-time project platform like Fiverr for your graphics design requests.
You can find exact instructions on how to hire a great graphic designer for one-time requests on this previous guide How to create an online course thumbnail (to boost conversions)
Summary
Let's quickly summarize everything that we have learned about how to hire an online course team.
The first lesson to keep in mind is that usually you only need a team after a few months of professional activity, when you already feel confident with the whole online course production process.
When you decide to hire a team, you want to hire freelancers that work on an hourly basis, as it's very likely that you won't need full-time employees.
After a few months of online course production, once you get used to the video editing process, you can then think of hiring a part-time video editor.
You can also consider hiring a video editor from the beginning, but we recommend that you first get familiar yourself with the video editing process.
Hiring a video editor is going to save you a ton of time, and you can find awesome video editors for example on Upwork.
From there, when you start selling courses you will need some help with common support requests, and you will also need some help with managing your social media.
For that, you will want to hire a personal assistant that can double as a social media assistant. The assistant will be responsible for handling your typical customer requests like invoice requests, lost accounts, discount requests, etc.
The assistant will also take care of scheduling new content to be posted regularly on your social media accounts, and monitor any direct messages that you might receive.
All in all, building a team around you is by far the single most important thing that you can do to take your online course business to the next level.
We hope that this guide will help you assemble your dream team!
If you want to learn more about online course creation, sales, and marketing in general, check out what else is available at the Academy Home Page.
To get notified when new content is available at the Course Creator Academy, you can subscribe here to our weekly newsletter:
Next recommended guide
To check out all our guides on  how to become an online course creator, you can check the course creator academy home page.
Any further questions?
If you have any other questions about online course creation in general or building a team in particular, please post them in the comment section below, or in our Course Creator Academy Facebook Group.
Either way, our team of course creation experts is happy to help you out.
---
Vasco Cavalheiro
OnlineCourseHost.com Founder & Online Course Creator
LinkedIn   Facebook Page   Facebook Group   Twitter
You are welcome to ask me any questions in the comments below: 👇👇👇👇