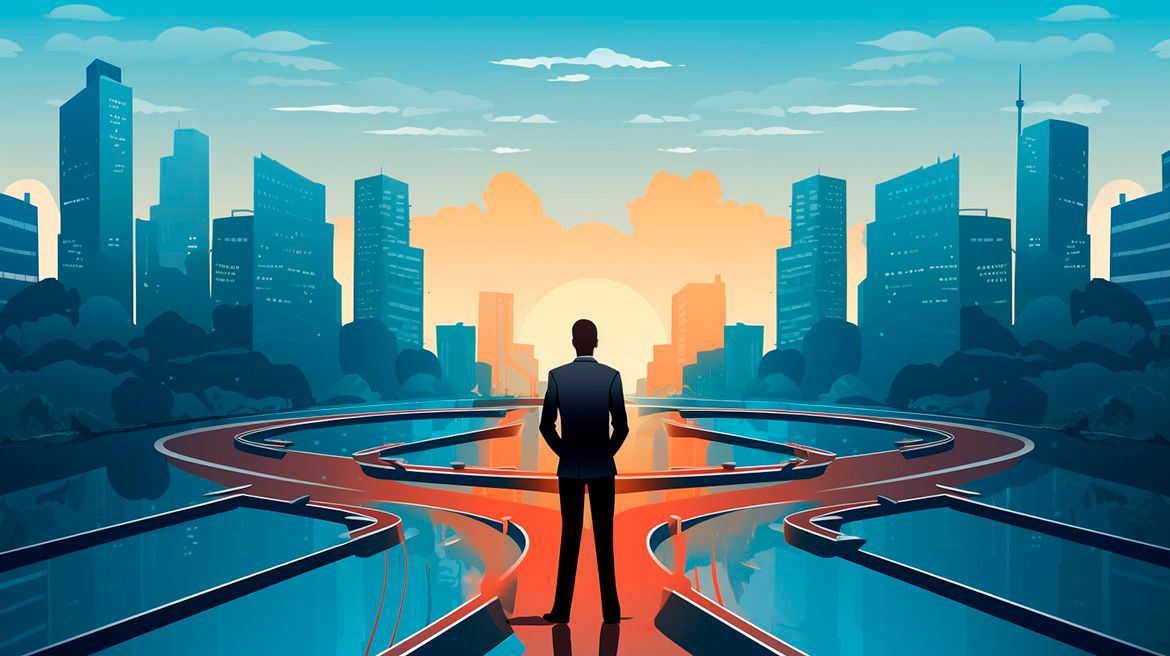 Launching a successful online coaching business requires careful planning and execution. In this guide, I share eight key steps on how to attract a dedicated clientele to your coaching services.
It's one thing to prepare the best coaching program, but it's also another to launch it so well that it captures the attention of your target audience and establishes you as an authority within your chosen niche
I have noticed that one of the mistakes a lot of online coaches make is failing to map out a strategy on how to launch their coaching business.  
You may have the best coaching programs, but you still need to proper strategy to attract and retain your target audience.
In this post, I will give you a step-by-step guide for how to prepare to launch your coaching business, what to do during the launch, and after your launch.
Basically, these strategies have worked for me as an online course creator, and some coaches in my circle have adopted them as well. Rest assured that it will work for you too.
So, how do you launch an online coaching business?
Here are the 8 steps to launch an online coaching business:
Build an audience
Define the pricing strategy for your coaching programs
Decide on a marketing and communications strategy
Brand and customize your coaching website
Design a high-converting sales page
Officially announce your business launch
Promote your coaching programs
Attend to inquiries and ask for feedback and review
I'll walk you through the steps, highlighting what each of them entails and in the end, recommend tools and platforms that will make your coaching launch as easy as pie.
So, make sure you read to the end.
And now, without further ado, let's dive right in! 😉
You can also check out all the free guides available at the Course Creators Academy.
If you are looking to learn how to start an online coaching business here is my most detailed guide on it: How to Create a Successful Online Coaching Program
I also covered in detail strategies to promote and sell your online coaching program. Check it out: How to Promote Your Coaching Business to Reach a Wider Audience
So how do you launch an online coaching business?
Step1: Build an audience
A lot of online coaches probably don't show this. You don't need to wait until you've created your coaching programs before building an audience for it.
I know you're probably wondering, how is that possible?
Don't worry, I will give you ideas on how to find the right potential clients and individuals that will be interested in your coaching program before you launch it.
You can start working on your audience growth the moment you decide on the program you want to create.
Let's say, you're a fitness coach and you want to create a 30-day workout routine for stay-at-home moms. You can first share the idea and the intended outcome within your network, especially on social media.
You can find Facebook Groups where you'll likely meet your target audience and ask about their expectations from the program.
You can even create a separate group for people who have indicated interest in the program.
Also, depending on your niche, you can create a lead magnet like an e-book or a short online course to attract your target audience before the main launch.
If you have a YouTube channel or a blog, it's another excellent starting point for building an audience for your online coaching business.
Also, make sure that you're consistent with putting out valuable content across your social media profiles. Try putting out infographics, reels, behind-the-scenes, and snippets of your coaching program.
The more engaging your posts are, the more followers you'll attract.
The goal here is to establish yourself as an authority in the field so that when your coaching programs are finally out, it wouldn't be such a big deal to gain their trust.
Step 2: Define the pricing strategy for your coaching programs
Pricing plays an important role in the successful launch of your online coaching business. That's why extra care and research is needed to make an informed decision.
There are also some questions you need to answer to get started.
First, are you offering a one-time payment for the entire coaching program or a subscription-based model where clients pay on a monthly or quarterly basis?
Also, what kind of program are you offering? Are you going for a self-paced program, group coaching sessions, or one-on-one coaching?
I will advise that you offer the three models, with different levels of access and support. It provides recurring revenue and potentially longer-term client engagement.
You should also consider offering a money-back guarantee. This makes your potential clients feel safe and increases their confidence in investing in your coaching program.
When you have decided on all of these, you can now conduct market research to see what other coaches in your niche are pricing similar programs.
Also, pay attention to your target audience's spending power and willingness to invest in personal development including their perception of value. It will help you decide how best to price your coaching program.
Another piece of advice I usually give online coaches, especially beginners is to start with a lower introductory price when launching their program.
You can always adjust it as time goes on but for now, you need to gather feedback, testimonials and also refine your program.
All in all, make sure that your pricing aligns with the value you offer and what your target audience is willing to pay.
Step 3: Decide on a marketing and communications strategy
Here, your primary goal is to create enough buzz around and get your audience all hyped up and eager for your big launch!
This is where the audience you have been building all along comes in handy. It's time to get them excited and expectant about your coaching programs.
So, what marketing and communications strategy should you adopt before launching your coaching business?
First, release an official statement on your website and across your social media handles announcing the date of the launch.
Then, create countdown flyers and post them across your social media handles. Also, have the countdown timer on your official website.
Create a video ad as well on your social handles including YouTube.
Set up email campaigns
Collaborate with other coaches in your niche and influencers and have them publish a series of blog posts about your upcoming coach program launch.
Host webinars and interviews where you answer any questions your audience may have concerning your coaching program.
Your overall aim is to ensure that your potential clients are as excited as you are about your program launch.
As all of these are going on, you must prepare your official website and make sure that it's all set to receive clients.
Step 4: Brand and customize your coaching website
This is the most crucial step when preparing to launch your online coaching business. And that's because your website houses your entire business.
So you need to invest time and effort into branding and customizing it such that it captures your clients' interest and solidifies their trust in you.
To brand and customize your coaching website, you first need a powerful and easy-to-use hosting platform like OnlineCourseHost.com.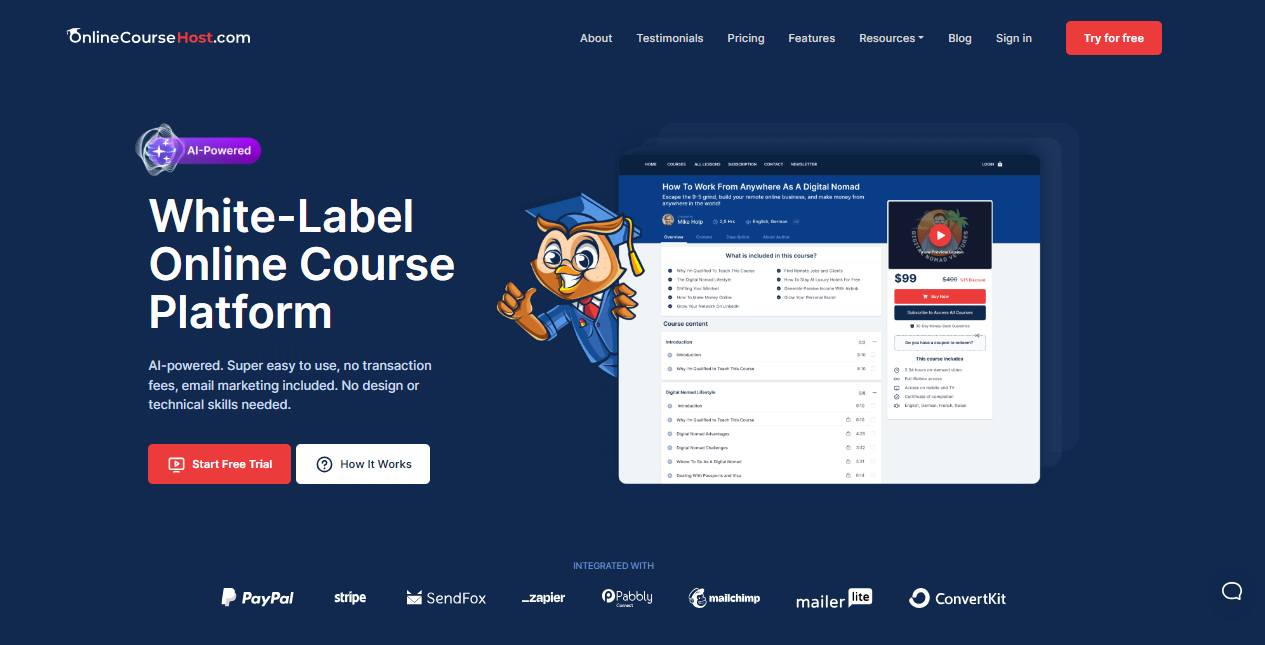 It doesn't matter whether you're a tech guru or not, you can easily set up your website. Plus the platform is AI-Powered which simplifies the whole process for you and saves you a lot of time.
While branding and customizing your coaching website here are the core things you should pay attention to:
The homepage including the course name and URL is properly customized with the needed info about your coaching business including your social media handles.
Your logo and banner are properly placed and linked to the right pages.
The text on all the website pages is eligible and free from grammatical errors.
There are no broken links on any of the pages.
The website's menu and content are organized in a logical and user-friendly manner, making it easy for visitors to find the information they need quickly.
Your color palette and typography are consistent across your website. It makes it much more visually appealing.
Links to social media are properly integrated with your website including your contact information.
Even as your website is properly branded and customized, you also need to work on your sales page.
Step 5: Design a high-converting sales page
Now this is where it gets juicy!
Your sales page is the first point of contact with your potential clients. This is where you convince them to part with their monies in exchange of your valuable coaching program.
How do you achieve this?
First, create a compelling introduction that speaks directly to your ideal client's pain points and aspirations.
Let them know that you've been in the same shoes as them.  That way, you're establishing an emotional connection and empathizing with them as well.
Next is to briefly outline the specific benefits and outcomes of your coaching program.
Then, share testimonials and success stories from satisfied clients to build trust and credibility. Have an "About Me" section that succinctly captures your personal story and background.
Don't forget to include an FAQ section that addresses additional questions your potential clients may have about your coaching program, the payment options, and the enrollment process.
Finally, make sure that CTAs are strategically positioned to convert visitors to paying clients.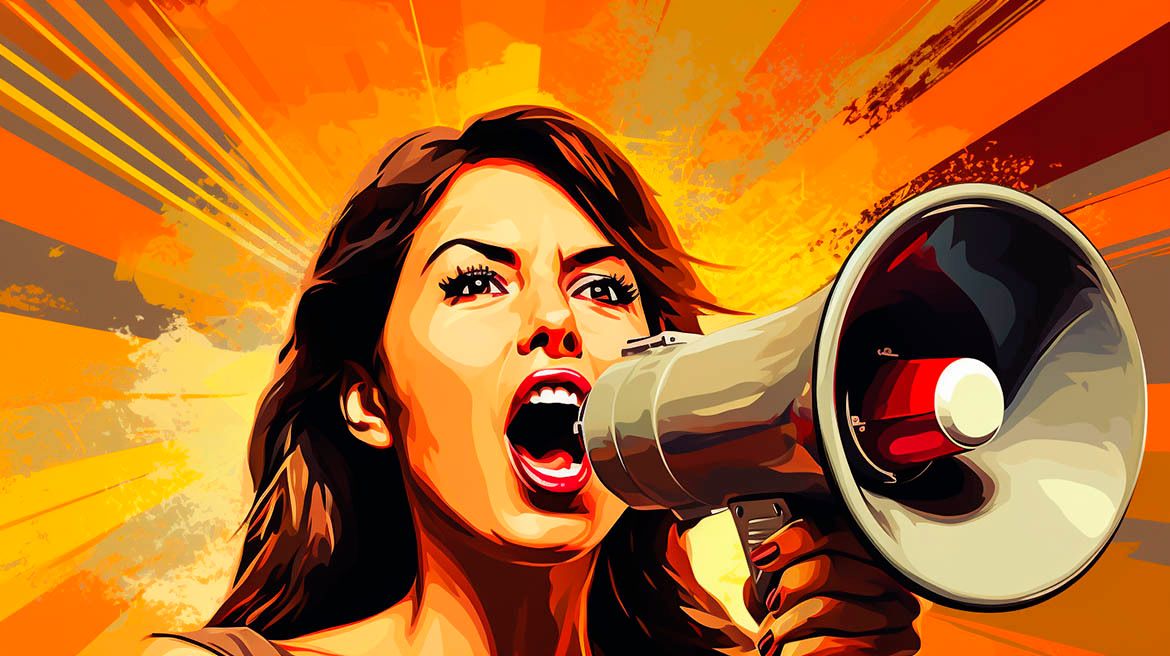 Step 6: Officially announce your business launch
Finally, D-day is here! You're sharing this piece of work that took weeks and months to prepare. Congratulations!
Your audiences are super excited to see what you have. How do you show them?
First, send out an official launch email announcing that your coaching programs are finally out and they should check them out and pay for any of the programs NOW!
If there's a discount for early birds, this is the best time to indicate that.
Also, publish on different blogs including yours, announcing the official launch. Ensure that you highlight the benefits and the value your potential clients will gain from your coaching programs.
You can also partner with other creators to publish your post on their websites.
The same announcement should go to your social media handles - Facebook, Twitter, Instagram, and LinkedIn. Ask your friends and colleagues to repost or share with their network as well.
It will also make sense to organize a live webinar where you connect with your potential clients and talk about the coaching programs and the value they will get.
In all of these, ensure that you're directing the audience to the sales page.
But, it's not over yet!
Step7: Promote your coaching programs
To ensure that your online coaching business is launched successfully, you need to keep promoting and marketing your programs as much as possible.
If you're hosting your coaching programs on OnlineCourseHost.com, promotion is even way easier for you as the platform allows for a seamless Facebook ads integration.
You can install Facebook Pixel on your website and optimize your ads for purchases and lead generation.
This means that whenever your ads are running and someone visits your website but doesn't make a purchase, your ad will keep popping up on their Facebook wall, reminding them to finish what they started.
I know how important that feature is in promoting coaching programs and even online courses and that's why we included it on the platform.
Also, ensure that you include a call to action button in the ad with a link to the sales page.
Another good strategy for promoting your online coaching business is to publish high-quality blog posts consistently on topics that your target audience will find valuable. Also, optimize it for search engines.
However, bear in mind that this strategy will take time to pull results but it's well worth it. And it doesn't cost you a dime.
Other ways you can promote your coaching programs are through your social media handles, influencer marketing, and advertising on Facebook and LinkedIn pages.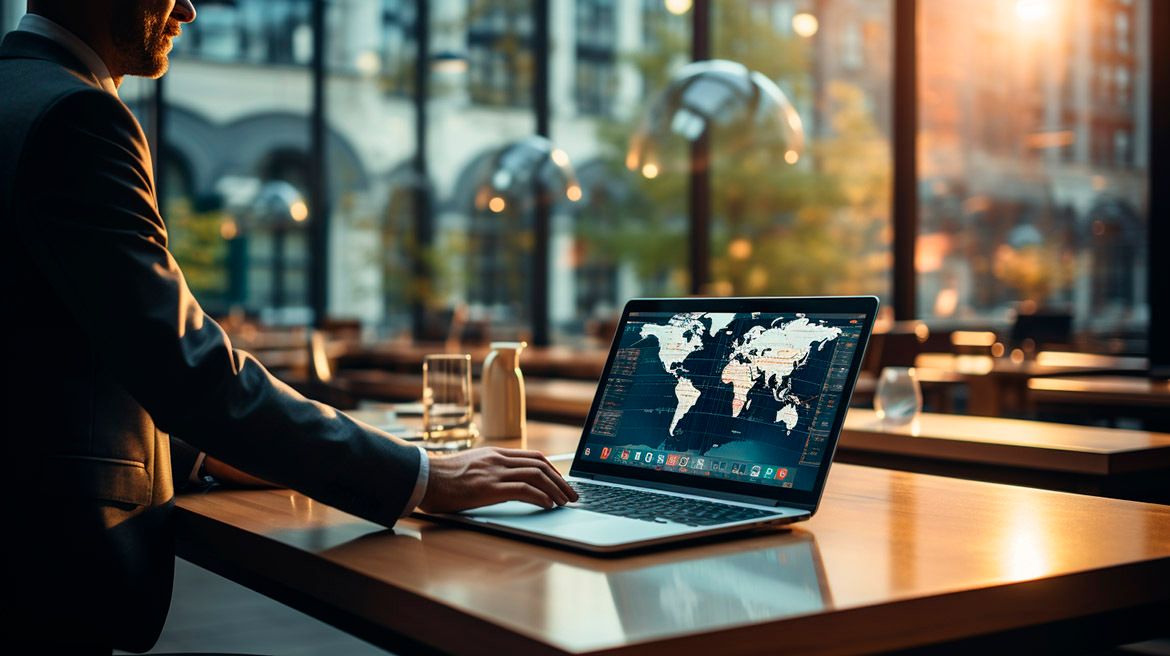 Step 8: Attend to inquiries and ask for feedback and review
Surely, this is your post-launch strategy.
I know how tempting it can be to pull back and relax after launching your course but this is the time to even push harder and deliver on all your promises to your clients.
How do you make this happen?
First, you should answer any questions your clients may have about your coaching programs. Make out time and attend to all of them.
If possible, create a Facebook group where you can easily reach out to them just in case many people have the same questions.
Don't forget to ask for their reviews and feedback. This will help you identify areas that are working, what's not working, and how you can fix that.
You also need these reviews to market and advertise your business subsequently. So, always ask for it.
Conclusion - What's Next?
I hope this article has answered any questions you had about launching an online coaching business.
Bear in mind that creating a valuable coaching program is usually the first step to launching a successful coaching business.
So, make sure that your programs are value-packed and will positively impact your client's life.
The tools and platforms needed to run a successful launch include:
Canva: This is a popular designing tool that will help you prepare social media graphics and even your logo and banners.
Sprout Social: This tool enables you to manage your social media handles from one dashboard.
Mailerlite: This is a powerful email marketing tool that helps you to generate leads and send emails to clients.
Zoom: Zoom is a video conferencing software and will come in handy when you're hosting your webinars and workshops.
Trello: You'll definitely have a lot on your plate and it's good that you keep track of all your tasks. Trello is the best fit for that.
Finally, you need a platform to host your business website. And this is where OnlineCourseHost.com comes in. The platform has the most powerful marketing features to ensure that you have a successful launch.
Aside from that, you can integrate more than 5,000 apps on your website to make your work more seamless.
And if you're not good at picking colors and themes for your coaching business, the platform already offers 38 in-built themes and colors for you to choose from.
If you need more information to grow your online coaching business successfully, you should check out the Course Creator Academy.
You will find everything you need to become a successful online coach all in one place for free.
To get notified when new content is available here at the Academy, you can subscribe here to our weekly newsletter:
If you are looking to ask any questions on online course creation, you can reach me here on my Facebook group:
Join the Course Creator Academy Facebook Group
Ready to learn how to launch your first course on OnlineCourseHost.com? Here are the helpful guides for you to check out:
I hope you found this post helpful; let me know in the comments below what other topics you would like me to cover or any questions that you have.
Thanks for reading… and enjoy the launch process! 😉
---
Course Creators Academy, a community by OnlineCourseHost.com
Founded by Vasco Cavalheiro
Online Course Creator