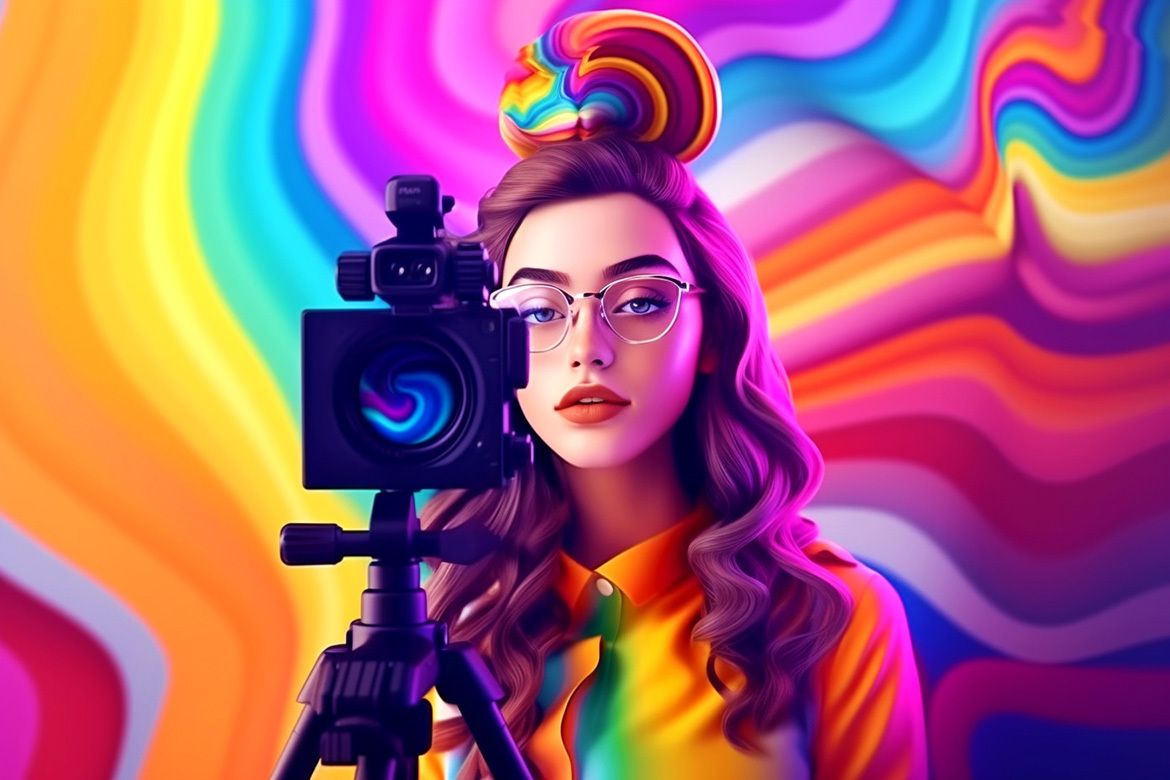 Learn how to create screencasts from a professional video course creator. A detailed step-by-step guide showing how to create a professional-looking educational screencast from A to Z.
One of the most popular formats for instructional videos or online courses is the screencast format, where video creators record their screen, their voice, and optionally also themselves with a webcam.
I've been creating video courses for a long time now, and I've tried different types of screencasting software, as well as different techniques, so I thought I would summarize everything that I have learned about how to record a screencast in this post.
I will walk you through all the steps involved in how to screencast, including planning and writing a script, choosing a microphone, preparing your room for recording, lowering background noise, compressing and editing your videos, and exporting your screencast.
So, how do you make a screencast?
This is how to make a screencast in 5 easy steps:
Write your script (or draft)
Install a screencast software
Set up your room, and prepare it for recording
Record your screencast
Edit and export your screencast video
Don't worry; I'll explain each stage in detail and provide you with a step-by-step plan to follow.
You can also check out all the free guides that you have available here at the Course Creator Academy by clicking on the Academy link on the top menu bar.
And here are some of my other posts related to how to record a screencast that you might want to check out as well:
What is a screencast?
A screencast is a specific type of video. It's  mostly a recording of your computer screen, that often also includes the audio of your voice, either recorded directly or as voice-over.
It is sometimes also called a screen capture or a screen recording.
Screencasting makes creating instructional videos super easy. You can do this by using software like Camtasia or Screencast-O-Matic.
Screencasts are recorded on the fly as you use your computer. The screencast is saved as a video file, which you can optionally edit before uploading it to the web.
Screencasting is a fantastic way to communicate ideas, and it's also a great way to teach a lot of things.
For example:
Recording a seminar
Creating instructional videos
Marketing videos
Classroom lessons
Let's go through the multiple steps involved in how to record a screencast.
Step 1 - Make a plan and write your script
If you want to make a video, it's best to start by writing a simple script.
If you don't think a full script is necessary, then I think it's important to at least outline the topics that you will cover in the video.
This is what I often do myself. I rarely script an entire video from start to finish, because I know well my topic so I can speak about it easily.
And any mistakes, pauses or repeated sentences can be easily removed during editing. As I don't show up on camera, there are no jump cuts, so the viewer can't tell that the video was edited at all.
So, what is a video script?
A script is an outline of what you will say in the video, but it can also have much more detail in it. You can go as far as writing down everything that you will say.
There are two ways of scripting your videos:
writing a quick bullet point outline only, and start recording without scripting every word - this is what I do
or script everything sentence by sentence, checking it with an app like Hemingway - a lot more work but it might be needed in certain videos
This approach of scripting every word can be time-consuming, so I personally use the simplified outline approach, and talk freely about the topic at hand.
This works great for me and for my type of videos (programming courses), but I'm sure it also works great for many other topics.
If you know your subject well, you should be able to talk about it fluently with just a little bit of practice.
But if you feel you need the full script, go ahead and do it - some types of videos need it.
Step 2 - Install screencasting software
There are many different types of screencasting software, and each one has its own advantages and disadvantages. Commonly used features include:
Recording your screen
Recording your voice (including pre-recorded interviews)
Recording yourself (with webcam)
If you need detailed help in choosing a screencasting tool, check out this guide I wrote -Best Screencasting Software - Top 10 Options (Paid and Free).
Here is a quick summary of the options that you have available:
| Features | Rating |
| --- | --- |
| Best all-in-one | Camtasia |
| Best all in-one for beginners | Screencast-O-Matic |
| Best for Mac users | Screenflow |
| Best lightweight with full video editing capabilities | Apowersoft |
| Best in the totally free category | SharedX |
Prepare the room for recording
Unwanted background noise and echo in your room are the two main issues you will have to deal with.
Noise is the most obvious issue, and often the hardest problem to fix.
When you first start recording, you might realize that your microphone picks up on everything, including the refrigerator, feet moving, air whooshing, and even passing cars.
And there is just no noise removal software that can compensate for that! 😉
If you use a directional microphone, most of the noise should be removed though, or sound very faint.
No amount of high-end sound recording equipment will be able to mask how noisy your recording room is.
In reality, it will make it even more clear.
To get the most out of your equipment, you must soundproof your space as much as possible. Close the windows, record when no one else is at home, and try to reduce the noise as much as possible.
How to avoid echo in your sound recordings?
Besides the noise, another problem is avoiding echo. If you hear an echo in your recordings, you need to address that.
Your viewers will usually be extremely forgiving when it comes to video quality.
But when it comes to sound, that is usually not negotiable for most people.
In that sense, even the smallest echo will cause a lot of people to stop watching your videos.
Here are a few practical ways to prevent echo in your recordings.
They all involve adding more barriers in your room to avoid sound propagation, and preventing large smooth flat surfaces from reflecting the sound:
add foam sound padding to the main wall in front of you
add more furniture to the room, if the room is still half empty
add a carpet to prevent sound reflection on the floor
close your curtains, to prevent sound reflection on the windows
adding house plants is a great way to absorb sound
Cover flat table-tops and surfaces with a cloth, to avoid sound reflection
The more obstacles and uneven surfaces your room has, the less echo you will hear, until you get to a point where you hear no echo at all.
In the case of my recording studio, here is what my sound padding looks like: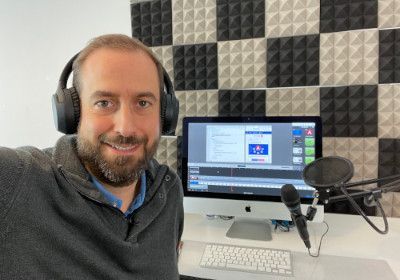 But this wall padding alone is not sufficient to eliminate echo completely while recording.
I really need to close my curtains fully, and even spread some extra foam padding on the floor to really kill all echo.
These measures to prevent noise and echo are the essentials of creating a good screencast, so make sure to focus on that first before investing a lot in equipment.
Choose a Professional-Sounding Microphone
Once you have both noise and echo under control, the audio quality of your recordings can be significantly improved by purchasing a high-quality microphone, which is the most important piece of equipment for your screencast recording.
Whatever you do, don't use the built-in microphone in your laptop or headset.
Those are tiny microphones meant to be used in phone calls only, and their quality cannot be compared to a proper external microphone.
If you are interested in learning what recording equipment I personally use, check out this post that I wrote: Affordable Online Course Equipment - Complete Guide
You can choose between a dynamic mic, XLR mic, USB mic and a condenser mic.
Condenser Mic
A condenser mic is good for a quiet environment, where you want to record the sound of your voice without any interference from outside noise.
Condenser mics are more expensive than dynamic mics, but they're also more sensitive to noise and less prone to breakage (which makes them better suited for professional use).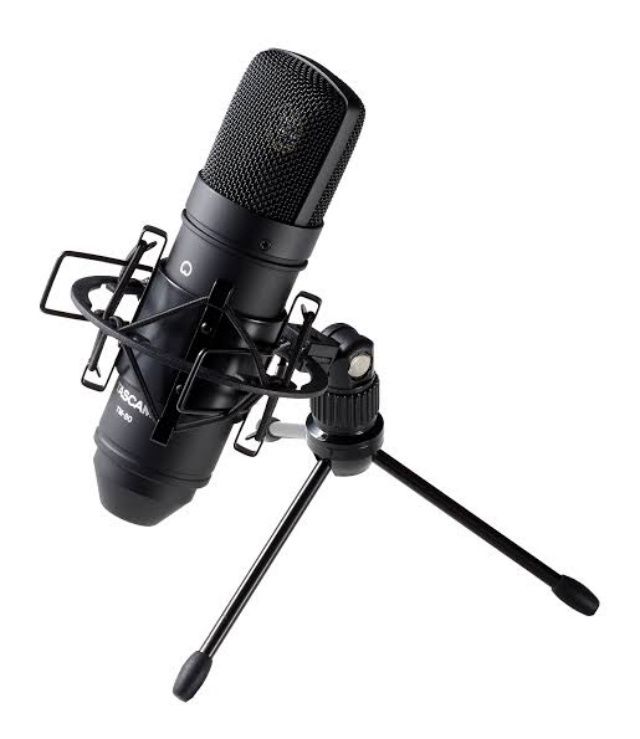 In general, almost any directional microphone that you can comfortably mount on your desk will do just great.
You may also need the following equipment alongside your condenser mic. This can make your recordings sound better and improve the quality of your sound overall:
Pop filter
A pop filter is a mesh screen that is placed in front of the microphone. It's designed to suppress loud noises, caused are sudden bursts of air.
For example, when you say "put," your mouth produces air that hits your vocal cords with enough force that it vibrates them and causes them to sound much <louder than they would otherwise.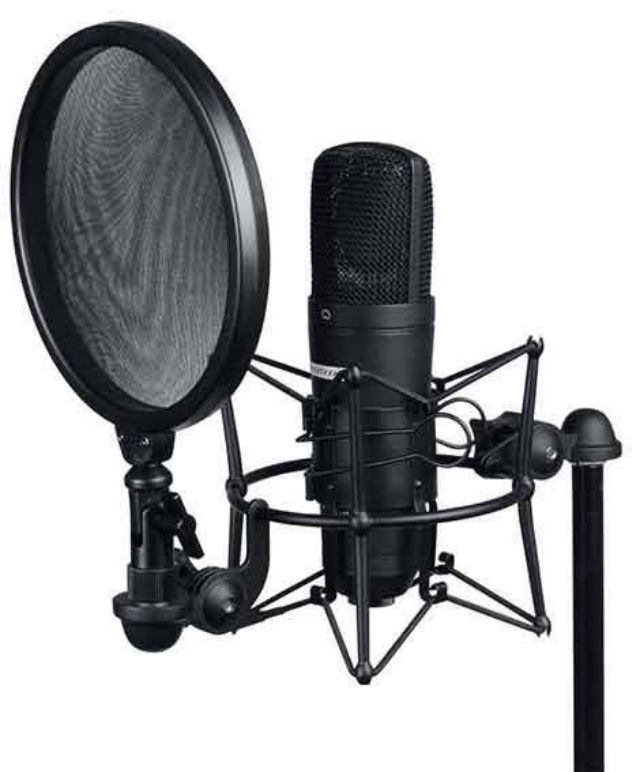 A pop filter prevents this from happening by placing a sheet of material between your  mouth and the microphone so that any loud "p" sounds become muffled before they reach the microphone.
How to record a screencast
Select the ideal screencasting program for your needs before starting to record your video.
Screencast-O-Matic and Camtasia are two softwares I suggest in this guide for Windows users, and ScreenFlow for Mac users.
How to screencast using Screencast-O-Matic
Screencast-O-Matic is an easy-to-use free screencasting software that allows you to record your screencasts and share them on the web.
You can either record using a webcam, or just your computer's built-in video capture.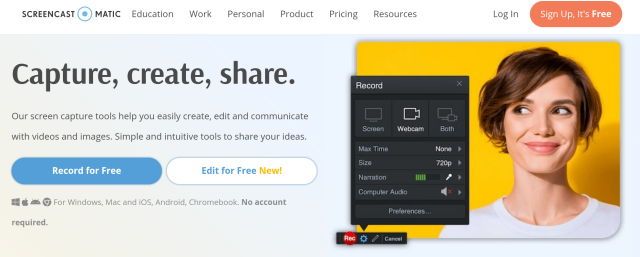 You can choose between HD or SD resolution when you're recording in 720p or 1080p resolution respectively.
1080p is the more frequent format nowadays, and it's the one I use.
There are a number of ways to launch the screen recorder.  You can head to its website and launch it directly from the screen recorder page.
You can also launch Screencast-O-Matic from your Windows taskbar or Mac menu bar.
Click on 'Launch Screen Recorder.'  A pop-up notification will appear indicating that the recorder is being launched.
Start Recording
Within seconds, you'll notice the screen recorder on your computer and you can start recording by clicking the "Record" button.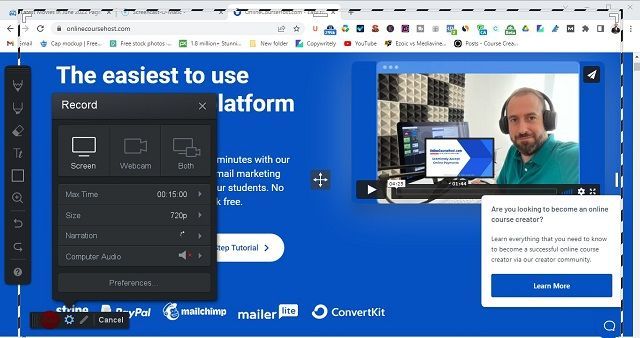 You can also use the free screen recorder with your Android and iOS iPhone iPad devices.  You can download those separately from the Google Play and Apple Store.  
How to screencast using Camtasia
Camtasia is one of the most powerful video editing software available for Windows and Mac computers. The program comes with a range of features to create, edit, and share videos online.

With this application, you can develop stunning visuals to create tutorials, guides, slideshows, presentations, and other multimedia content.
It's worth mentioning that the app lets you import audio tracks and video files, making it easier to include your existing projects in the creative process.
Launch Camtasia and click "Record the screen" option
The first thing you need to do is to launch Camtasia and click on the option "Record the screen" located in the top left corner of the video editor.
Then select the area of the screen you want to record.
With Camtasia, you can either record your full screen, or only a smaller area of your screen.
Decide whether to record with webcam or not
By default, Camtasia, records also using the web camera but you can easily turn off the recording of webcam under the panel "Recorded inputs". Simply click on the option "Camera" and turn it off.
Selecting the audio options
By default, both system audio and microphone audio are recorded when recording the screen.
However, if you do not want the default settings you can easily change them by clicking the "Audio" option.
Also, if you are looking to record any one of the audio (system audio or microphone audio), you can easily do that by expanding the "Audio" option.
Starting the Recording
Now, the final step. Hit the button Record and a countdown will appear. After the countdown, the video recording will begin.

For Windows users: To stop the recording after you have finished, just press the stop button or hit the F10 key.
For Mac users: To stop the recording after you have finished, just press the stop button or use the keys "Option+ Command+ 2".
After this, you will get a preview of the recording you made and here, you can either edit the video according to your needs or just save it.
How to screencast using ScreenFlow
ScreenFlow is a powerful screencasting tool for Mac users created by Telestream.
The interface is simple and intuitive, but the editing capabilities are very powerful. One of the coolest things it does is that it allows for the capture of multiple sources.

Select recording devices
With permissions granted, you may now begin recording. When you select New Recording, you will see any displays, cameras, and microphones that you have attached.
Choose which devices to capture by checking the box next to each one.
Start recording
After you've selected all of the devices you want to record, press the large red button to begin recording, or the rectangle icon to pick the region of the screen you want to record, and then press the red button.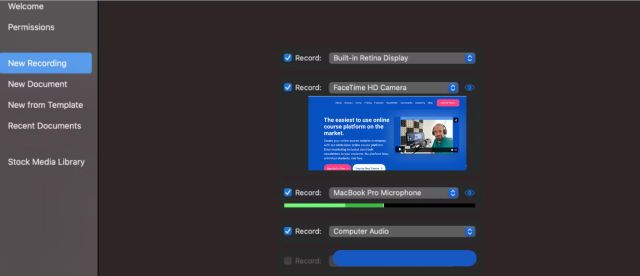 After then, there will be a five-second countdown before recording begins on all specified devices.
If you want to see a live preview of your camera, select Show Recording Monitor from the desktop menu bar, but keep in mind that it will be captured in your screen recording.
When you're ready to stop recording, press Shift + Cmd + 2. The recorded tracks will then appear in a new document in the ScreenFlow editor, already synced up in the timeline.
Edit Your Video
Screencasts are extremely easy to edit, especially if they are recorded without a webcam (desktop and voice only).
Make sure all unwanted parts of the video are removed, especially ones at the beginning and the end of your screencast when you click on the stop button.
You also want to remove any duplicate sentences or empty spaces between sentences.
If you are recording video courses, here is a detailed guide on how to do it. Most of this post also applies to other types of recordings: How to Record and Edit Your First Online Course.
Decide the format of your video
Most screencasting programs offer a variety of output formats such as MP4, AVI, GIF, and MOV.  
But in general, the most widely used format for the web that will cause the least problems is the MP4 format.
You can share your screencast via email, learning management systems, and open video platforms like YouTube and Vimeo.
Final Recommendations
So, these are the steps involved in how to make a screencast. If you keep to the instructs as show in the post, you sure will know how to screencast.
As you can see, the most important part of how to record a screencast is the initial preparation:
avoid noise and echo
choose a good microphone
choose a good screencasting software
prepare a good script
Once you have these in place, the screencast records itself! 😉
If you are new to the production of tutorial videos or video course creation, I'm sure you still have a ton of questions on how to screencast or course creation.
To help you out on your course creation journey, I created the Course Creator Academy.
Here you can find the information that you need to become a successful online course creator all in one place for free.
But more than a platform, we want to give you all the information that you need to grow your online course business successfully.
That's why we have created the Course Creator Academy where you can find everything you need to become a successful online course creator all in one place for free.
To get notified when new content is available here at the Academy, you can subscribe here to our weekly newsletter:
If you are looking to ask any questions on online course creation, you can reach me here on my Facebook group:
Join the Course Creator Academy Facebook Group
Ready to learn how to launch your first course on OnlineCourseHost.com? Here are the helpful guides for you to check out:
I hope you found this post on how to make a screencast helpful, let me know in the comments below what other topics you would like me to cover, or any questions that you have?
Thanks for reading… and enjoy the course creation process! 😉
---
Vasco Cavalheiro
OnlineCourseHost.com Founder & Online Course Creator