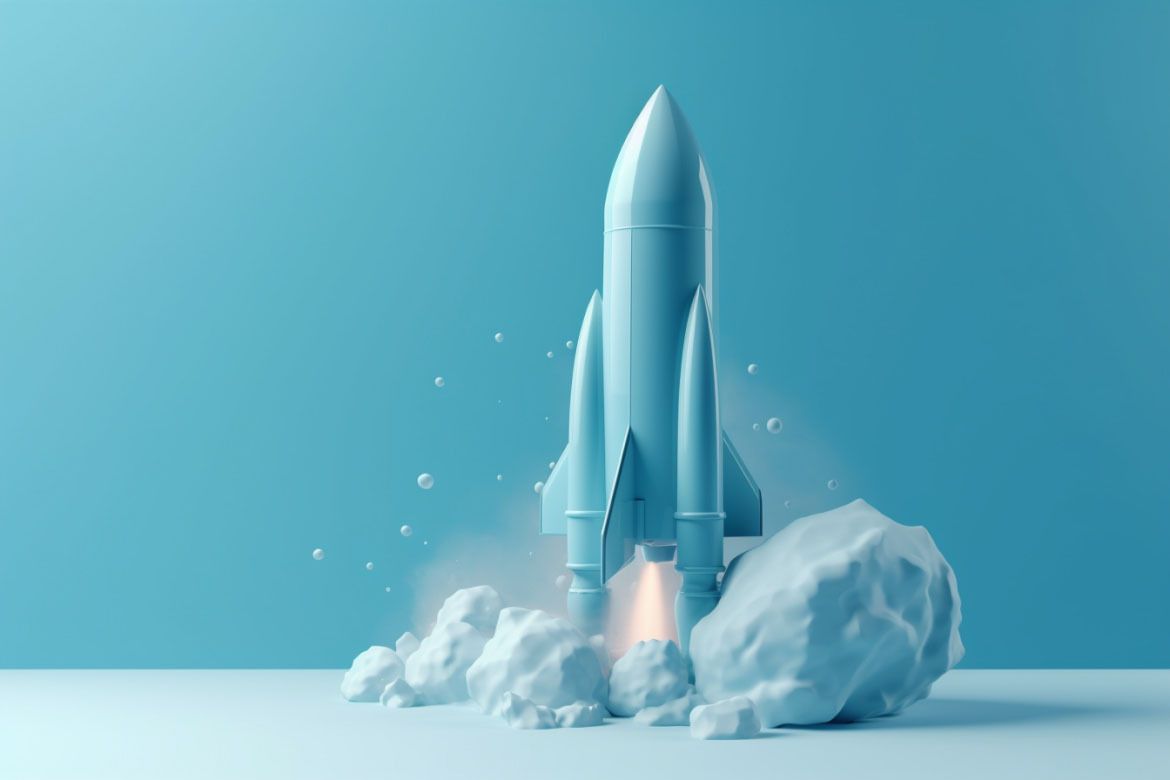 Learn what type of course enrolment model fits better your online course - single launch, or multiple launches.
So, you've worked really hard to create your online course and now it's time to launch the course.
Or you have launched the course but you notice that you're not getting enough sales as you expected and now you're wondering if the problem lies with your launch model.
I understand your predicament as I dealt with it when I started newly as a course creator. Thing is, as a rookie in this field, it takes a while to find the best launch strategy for your courses.
So, should you keep enrollment always open for your online course,  set a single launch date or keep scheduling new launches?
You can keep enrollment open as it creates a consistent flow of revenue. However, it will be harder to create a sense of urgency for students to enroll in your course if it's always available, which would be reflected on the conversion rate.  
Setting a single launch date makes it easier to create excitement for students, but you will only see this launch effect once.
Additionally, having multiple launches guarantees multiple waves of revenue and students but can also be time-consuming for course creators to manage.
Generally, if your course topic is life-changing enough or seasonal, the increased sense of urgency caused by not having it available all the time might well be worth it.  
If it's not a seasonal topic, a life-changing topic and is set at a low price, it's likely better to keep it open all the time, as you might get more sales this way.
Personally, I always keep enrolment open because I only use pre-recorded courses and no live sessions. So, you should also consider your business model, course type, and ultimately the goals you want to achieve in your business.  
But to clear up your confusion, I will shed more light on all the launch models, who they work best for, and also their advantages and disadvantages. In the end, you'll be better equipped to make the right choice.
Without much ado, let's dive right in!
You can also check out all the free guides at the Course Creator Academy by clicking on the Academy link on the top menu bar.
If you are looking to learn how to sell online courses here is my most detailed guide on it: How to Sell Online Courses? The Ultimate Guide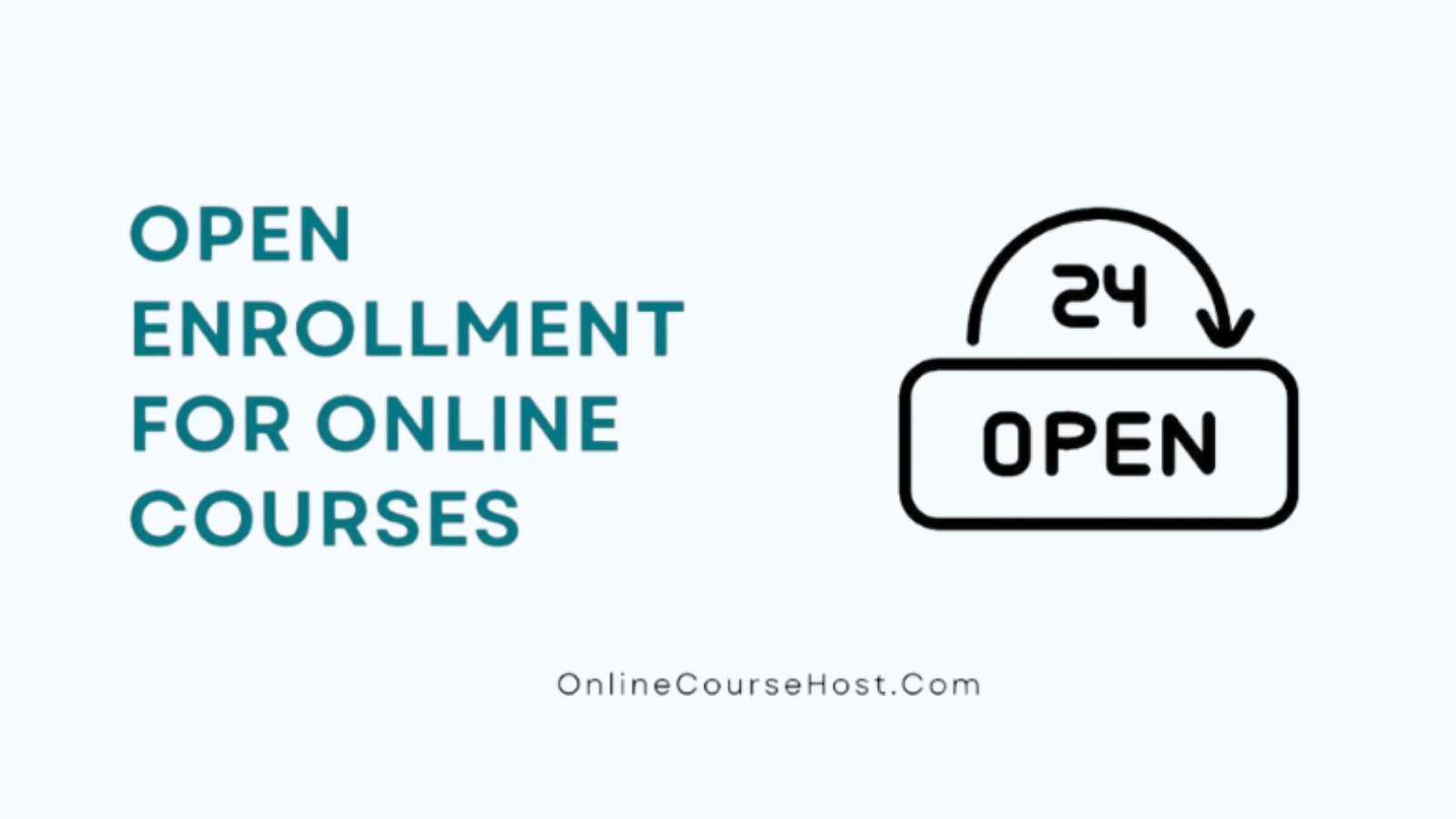 Open Enrollment for Online Courses
Otherwise known as the "Evergreen online course launch", this strategy requires you to launch your course once and from then on, it becomes available 24/7 for your prospective students. They can purchase it at any time.
This launch model is best suited for established course creators with a large audience base and lots of online courses.
You'll generate consistent leads without needing to launch your course repeatedly.
It's also a great launch strategy if online course creation is merely a side hustle and not your sole source of income. Again, if your course is pre-recorded and not live sessions, you might want to consider this strategy.
Advantages of Keeping Enrollment Open for Online Courses
This is the simplest online course launch model. You only need to publish and launch your course once and generate consistent leads without needing to launch the course again.
It's a great choice if you want to earn passive income with your online courses. You do the work once and then focus solely on adjusting your course content if need be and nurturing relationships with your students.
Your prospective students can access and purchase your online course immediately at any time without needing to join any waiting list.
You have a lot of chances to tweak and adjust your online course based on the feedback from past students and then "Relaunch" the course when it's ready.
This model makes it easy for students to buy on impulse. Someone can stumble on your website, and purchase a course immediately. If they have to join a waiting list, chances are that they may lose interest when the course is finally ready.
Disadvantages of Keeping Enrollment Open for Online Courses
As much as this launch model encourages impulse buying, you'll miss out on creating a sense of urgency for your online course. If your course doesn't give your audience that feeling that they could be missing out on something, it may affect your sales.
Open enrollment also makes it difficult for you to manage and support your students since they are joining at different times.
This launch enrollment increases the chances of your prospective students procrastinating in purchasing your course.
After your course launch, you need to spend more time promoting your online course from time to time to increase your revenue.
Your students might struggle with accountability and procrastination when taking the course.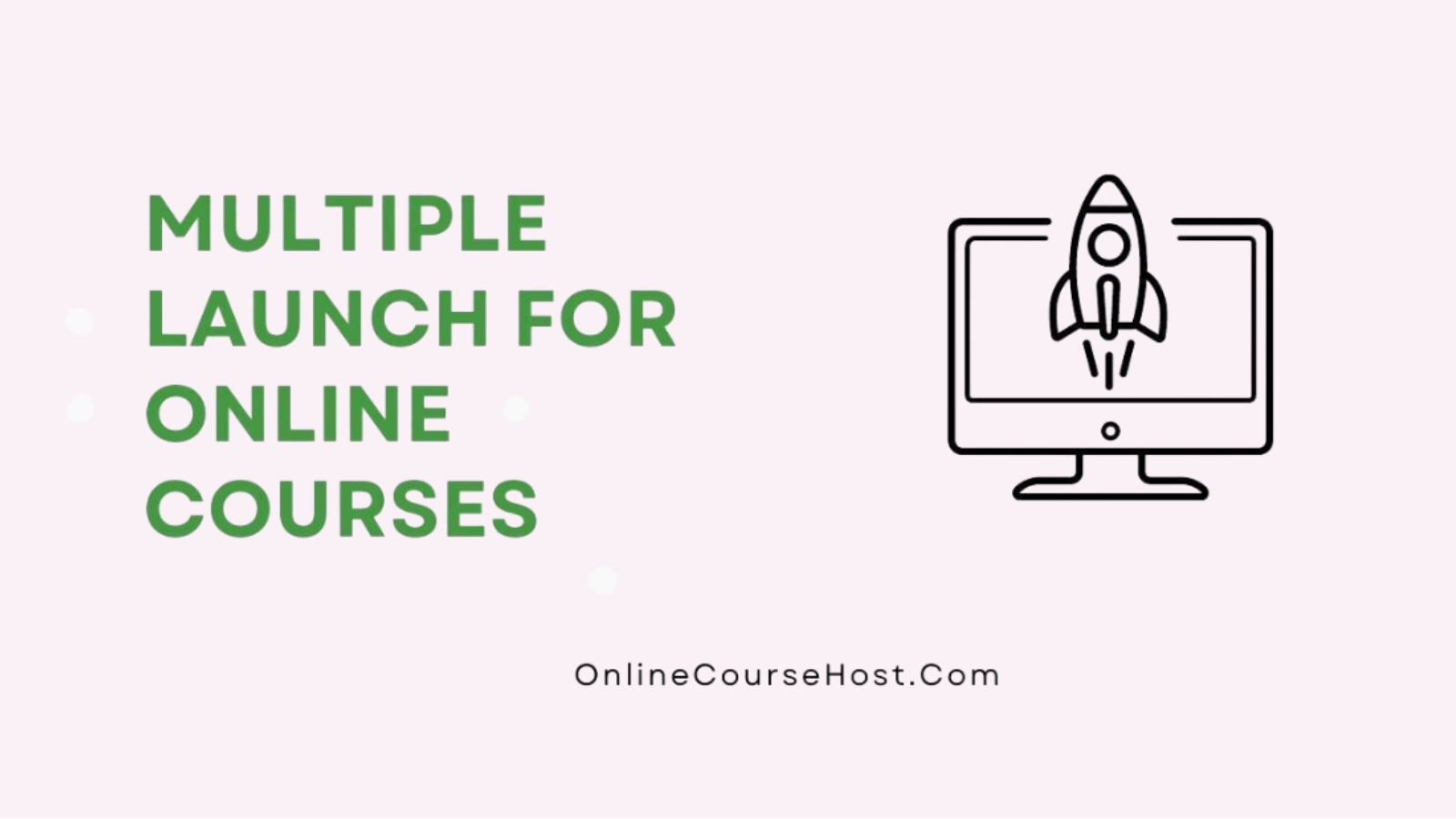 Multiple Launch for Online Courses
This strategy is also known as an "Open-close" launch and is one that requires you to create your course once and focus on securing multiple campaigns throughout the year.
Not only does this model instills urgency and excitement that plunges your prospective students to make purchases but also helps you give them the required support when they start taking your course.
You should opt for this model if you are a new course creator. At least it helps you to try out the different strategies and then see which one works best for you.
Because you are still starting out, it's a good way to stay on top of people's minds, and grow your audience.
This strategy is also great if you're a full-time course creator whose main source of income comes from selling courses. You'll have enough time to plan and carry out several course launches.  
Advantages of Scheduling Multiple Launch for Online Courses
This course launch strategy will yield more profitable months because you get to launch the same course over and over again.
It creates a sense of urgency and excitement among your prospective students, forcing them to purchase your course so they don't miss out.  
Because students join your online course in cohorts, it's easier to manage them and create a community.
You don't need to create fresh email campaigns for every launch. You can always reuse the first campaign. That way, you can focus your attention on other aspects of your business.
Disadvantages of Scheduling Multiple Launch for Online Courses
The major disadvantage of this launch model is that it is time-consuming as there is a lot of work to be done - from creating and running email campaigns every few months to managing and attending to students in batches, setting up webinar spaces, and a lot more!
There is a lot to keep up with and so it can get really overwhelming and you'll easily get worn out.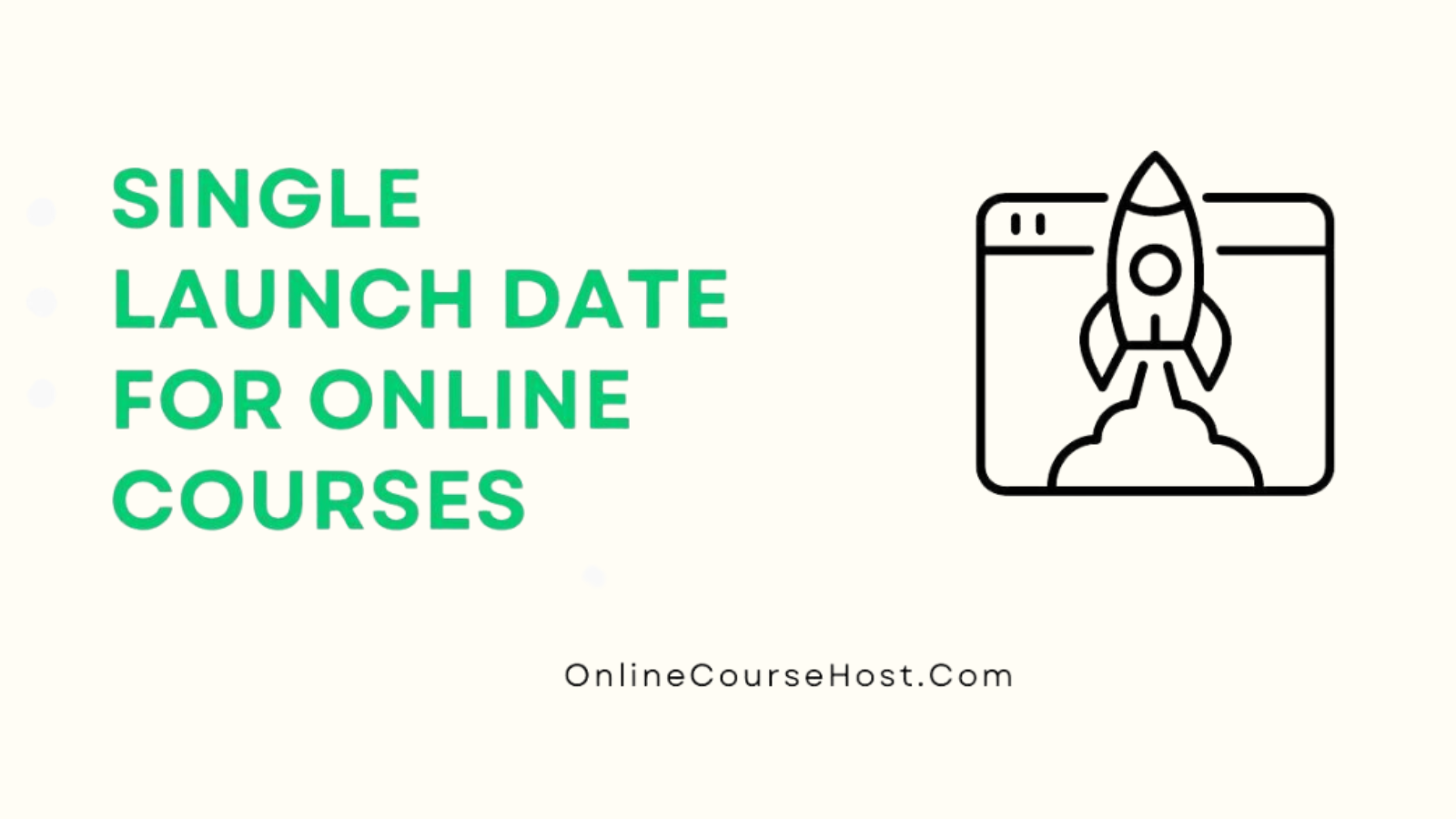 Single Launch Date for Online Courses
Setting a single launch date for your online course means having your prospective students join a waitlist by purchasing your course but can only get access to the course on the date set.
This strategy is best suited if you're not a full-time course creator. It can also be useful if you deliver your courses in real-time and not pre-recorded.  
That means, engaging with your students in a live session and recording it to distribute to students who were unable to join the live session.
Advantages of Scheduling Multiple Launch for Online Courses
Having a single launch date for your course helps a lot in pre-selling availing you the opportunity to validate your course topic.
Because you're basically pre-selling your online course, it helps you to tailor your course to what the students want. Some visitors might have questions regarding your course or even give feedback. You can lean on that to figure out their expectations and add them to your online course.
This launch model helps to create buzz and a sense of urgency around your online course.
It's very much easier to manage and stay in touch with your students at every step of their learning.
Since your students are starting out at the same time, this model helps you can also create a community for them where they can interact with each other.
Disadvantages of Setting Single Launch Date for Online Courses
You won't be able to make enough profitable returns from your course sales especially if you're a new creator still growing an audience.
You can also miss out on potential students who may not have been aware of the course sales or lack the required funds to purchase the course when the window was open.
Conclusion: What Is The Best Way To Launch An Online Course?
Ideally, if you're still starting out in the course creation business, it's best to experiment with the different course launch models to find the one that works best for your business.
For example, there are instances where keeping an open enrollment will deliver high results. That is especially if you have your courses pre-recorded.
Keeping enrollments open allows people can buy them and watch them anytime, which is one of the big advantages of online courses -  this freedom and instant access they give students.
Ultimately, you should consider your course field, your target students, and your business model - whether you're operating full-time or it's just a side hustle. You should also look into the goals you want to achieve in your course creation business.  
As much as choosing a launch strategy that works for your business model adds to your success as a course creator, you also need the best platform to host and sell your courses.
With OnlineCourseHost.Com, you can try out all the launch strategies and then choose the one that works for you. The platform is super easy to use and also affordable which makes it highly valuable for beginner course creators.
But more than a platform, we want to give you all the information that you need to grow your online course business successfully.
That's why we have created the Course Creator Academy where you can find everything you need to become a successful online course creator all in one place for free.
To get notified when new content is available here at the Academy, you can subscribe here to our weekly newsletter:
If you are looking to ask any questions on online course creation, you can reach me here on my Facebook group:
Join the Course Creator Academy Facebook Group
Ready to learn how to launch your first course on OnlineCourseHost.com? Here are the helpful guides for you to check out:
I hope you found this post helpful, let me know in the comments below what other topics you would like me to cover, or any questions that you have?
Thanks for reading… and enjoy the course creation process! 😉
---
Course Creators Academy, a community by OnlineCourseHost.com
Founded by Vasco Cavalheiro
Online Course Creator