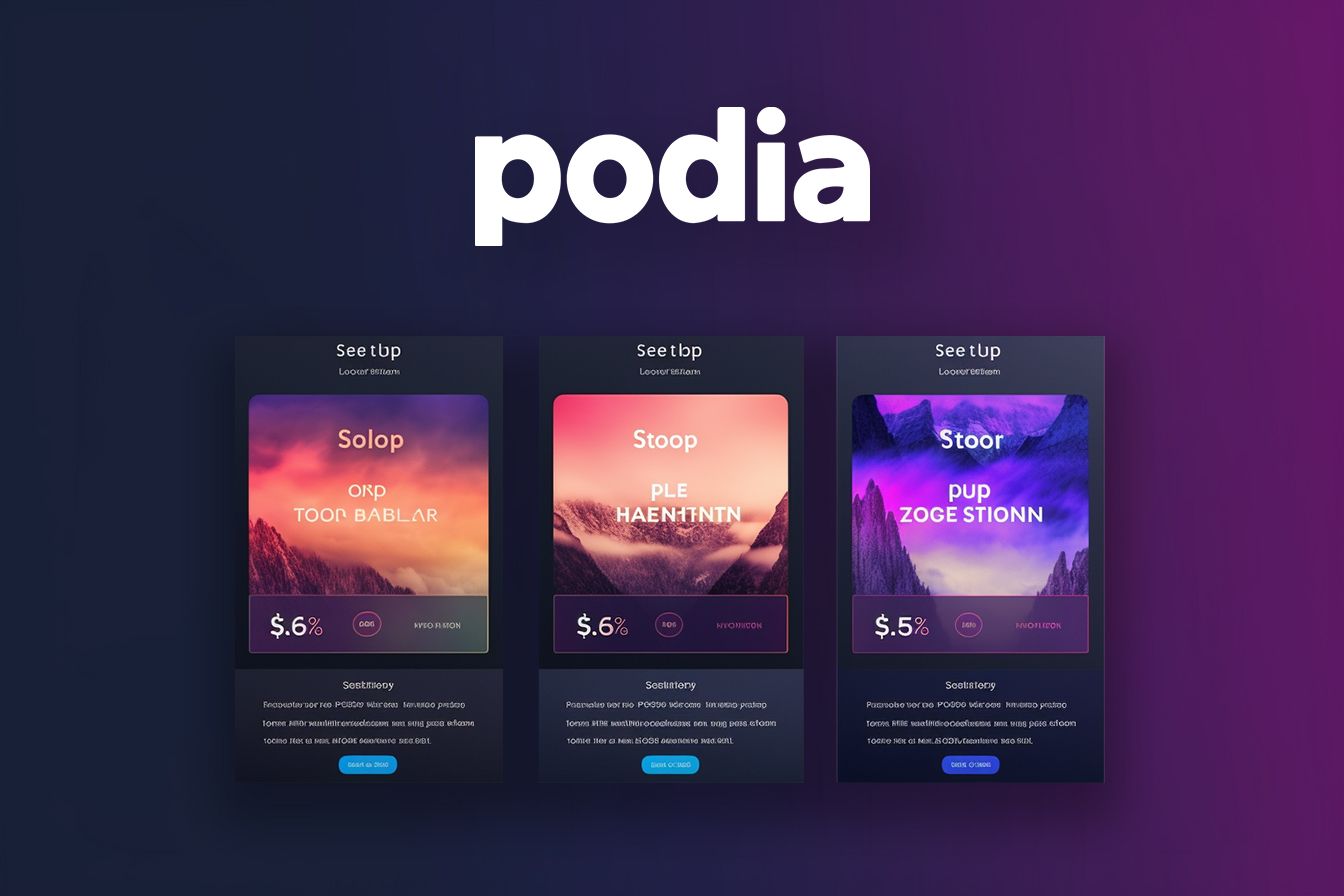 A complete in-depth guide to the Podia pricing plans, fully updated in 2023, from the point of view of an experienced course creator. I will help you choose what is the best pricing plan for you.
Podia is a great solution for those who want to quickly and easily sell knowledge products online (such as online courses), and their pricing structure reflects that.
The platform offers a suite of tools to help you build, manage and grow your membership business.  
If you're going to use Podia as a course creation platform, the first thing you need to do is conduct proper research on their different pricing plans, check the features of each, and make the most informed decision.
Otherwise, you may end up paying for what you don't need or choosing the wrong plan.
But don't worry, I'm a course creator too, and I have done all the research for you upfront, so you won't have to. 😉
I will give here my opinion on what is the best Podia pricing plan for you and why.
So, what pricing plans does Podia offer?
These are the pricing plans currently offered by Podia:
Mover Plan at $39 per month or $396 per year ($33/month)
2.  Shaker Plan at $89 per month or $900 per year ($75/month)
3.  EarthQuaker Plan at $199 per month or $1992 per year ($166/month)
Podia has a 14-day free trial so you can check if the platform matches your needs before investing in any paid plans.
When you choose the annual plans, you save a 17% charge for each of the plans.
All the plans don't charge extra fees on sales on top of the monthly subscription, except the standard payment processing fee of around 2.9% charged by Stripe or PayPal, which can vary depending on the user's location.
So without further ado, let's get started with our deep dive into the Podia pricing plans.
You can also check out all the free guides that we have available here at the Course Creator Academy by clicking on the Academy link on the top menu bar.
Here are other Podia articles that you might want to read as well:
What Is Podia?
Podia is an online course creation platform that allows you to create courses and sell them to your audience.
The platform can be used by anyone who wants to create a membership site or an online course. It's really easy to use, and it has a lot of great features that will help you build your online business quickly.
Besides creating online courses, you can use Podia to create membership sites, sales funnels, and more.
It's completely customizable to suit your needs. You can use it to build any kind of online business or course you like!
But Podia isn't just for creating e-learning courses — it also has capabilities for creating membership sites, online shops, and even membership communities.
Podia Pricing Overview
I'll go over exactly what you get with each plan so you can make an informed decision about which one is right for you.
All plans include unlimited memberships and content as well as advanced features that make it easy to sell products such as ebooks, audio or video recordings, or digital downloads directly through your website.
Podia Free 14-days Trial
Podia does not have a free plan for course creators. However, the platform has a 14-day free trial. Podia's free trial is the perfect way to get started on the platform.
All three plans—The Mover, Shaker, and Earthquaker—offer you the same free trial.  After your trial ends, if you decide Podia is right for you, you'll continue to get access to all of the features of your chosen plan after paying for your subscription.  
But if you decide Podia isn't right for you,  then you don't even have to cancel the ongoing trial.
No charges are made at the end of the trial, as no credit card was required to start the trial.
Podia Mover Plan
The Mover plan is an entry-level plan designed for those who want to create simple landing pages and issue invoices through Podia's platform.  
Users are only allowed one product per landing page (not including add-ons). You also get access to advanced analytics reporting and customer support from Podia's team of experts.
The Mover plan includes all of the features of the free trial plus more advanced marketing tools like landing pages, social media integrations, email marketing, and more. You can also choose from several website templates to customize your site.
Who should use the Mover plan?
The mover plan is the best choice for small businesses, solopreneurs, and freelancers who want to start selling courses but don't yet have a lot of traffic. It's also a good fit for people who are just getting started with their marketing campaigns and need time to build up their email lists, social media following, and other metrics that help you sell your products.
If you're just starting out, this is a great place to start. The mover plan offers all of the essential tools needed to get started selling online.
Pros of Podia's Mover Plan
Here are some pros of Podia's Mover Plan:
Custom website: You can create a fully customizable site that will reflect your brand and help you drive traffic and conversions.
Email marketing: You can reach thousands of customers with automated emails.
Customer messaging: Use messages to communicate directly with your customers and prospects through our built-in messaging system (available on desktop only).
Community: Create a community around your product or service by creating topics that allow people to share information about their experiences or expertise (available on desktop only).
Create and sell Unlimited courses: Create and sell courses that can be accessed by anyone who has access to the internet. These courses can be shared via links or embedded into external sites such as Facebook groups, blogs, etc.
Free migrations: If you want to move from another platform, Podia will do it for free (you only pay if they need additional help). Other platforms charge thousands of dollars for these types of integrations, so this is a major pro!
Zero transaction fees: Podia doesn't charge transaction fees on your sales, so you keep 100% of your profits. Other platforms take anywhere from 15% to 35% of your profits when someone buys something from your store through them (even if they don't actually handle any sales themselves), which can add up quickly.
Quality Support: The support team works 7 days per week. They are friendly, knowledgeable, and eager to help!
Unlimited Products: You can create as many products as you want! Create unlimited products or memberships and sell them on your website.
Cons of Podia's Mover Plan
The Mover plan is the cheapest plan, but it lacks the majority of Podia features. It also has some limitations when compared to the higher-priced plans.
For instance, Podia's mover plan has no coaching products, no webinars, no affiliates, no product bundles, and no course certificates. It also has a limit of 5,000 monthly email recipients and does not support embedded checkout or Zapier integration.
The mover plan does not include priority support or two onboarding calls with Podia's support staff, nor does it include monthly group creator calls with Podia's experts.
Additionally, the mover plan does not include third-party code either — if you want to use third-party code in your courses or charge students through external payment processors like PayPal or Stripe, you will need a more expensive plan than this one.
Podia Shaker Plan
The Shaker Plan includes all of the features of the previous plan plus much more.
The Shaker plan allows you to:
create courses with customizable tools
integrate with other apps via Zapier
use advanced analytics
create surveys & quizzes
collect payments
share courses via social media
The Shaker Plan allows up to 15k monthly email recipients.
You will get unlimited landing pages, along with access to premium training materials from Podia's team of experts.
Features of the Shaker Plan
The Shaker plan includes all of the Podia features found on the Mover plan, as well as the following:
Unlimited coaching products
Unlimited webinars
Affiliates
Product bundles
Course certificates
Affiliate marketing
Embedded checkout
15,000 Monthly email recipients
Zapier actions
Remove Podia branding
No Priority support
No Two onboarding calls
No Monthly group creator call
No Third-party code
Who should use the Shaker plan?
Podia's Shaker plan is a great option for anyone looking to create a fully functional online business around their brand and products.
The shaker plan also includes the Podia affiliates option, which will help you grow your business faster than ever before.
If you just want to start building your membership site without spending hundreds of dollars per month on tools that may or may not help your business succeed, then this is the right plan for you.
It offers all of the features that are standard with Podia membership sites — like payment processing, email marketing automation, event management, and more.
This plan comes with all the features of the Mover Plan, plus some additional features that'll help you get started right away, like unlimited coaching products, webinars, Zapier integration, embedded checkout, 15,000 monthly email recipients, and more.
Pros of Podia's Earthquaker Plan
Here are some pros of Podia's EarthQuaker Plan:
• Unlimited coaching products – Podia's Shaker plan offers unlimited courses and webinars for your team members.
• Unlimited webinars – The Shaker plan allows you to host unlimited live video webinars for your students. Webinars are great because they're highly engaging and easy for people to consume online; they are ideal for selling courses!
• Affiliates – The Shaker plan includes affiliate marketing tools so that you can share your course with others and earn commissions on their sales/ You can add affiliate marketing to your product or service with just a few clicks on Podia's website. You can give your affiliates a lifetime commission of, for example, 30% on all orders they send to your site. This is one of the best ways to build your email list as well as create an army of loyal customers.
• Product bundles: You can bundle multiple products together at a discounted price, which will make selling more profitable and easy. This increases your average cart value and gives your customers more options to choose from when purchasing products from you.
• Course certificates: With this feature, you can create courses that will teach people how to do something specific (e.g., how to lose weight). Once someone buys the course, they get access to it immediately after payment is completed, instead of having to wait for delivery like with physical products. This allows you to start making money right away.
•15 000 Monthly recipients
• It integrates with other applications: You can also use all of Podia's tools at no extra cost, such as Zapier integration, payment processing, email marketing automation, and much more. You can also send unlimited emails to your subscribers via MailChimp or Constant Contact using our Zapier integration. Podia integrates with multiple applications, so no matter what software you are already using, Podia will integrate seamlessly into it.
Cons of Podia's Shaker plan
And here are some potential cons of the Shaker plan:
• No monthly group creator call
• No third-party code (You'll have to write your own code if you want something more advanced than simple membership pages)
• No priority support
Podia EarthQuaker Plan
The Earth Quaker plan is designed for teams of up to 5 members and includes even more features than the Podia Shaker plan. It offers all of the features available in all three previous plans but also includes access to Podia's premium  priority customer service support team.
Earth Quaker allows you to create courses with customizable tools; integrate with other apps like Zapier; use advanced analytics; create surveys & quizzes; collect payments; and much more!
Features of the Earthquaker plan
The Earthquaker plan includes all of the Podia features found in the Mover and Shaker plans, as well as the following:
Priority Support
2 Onboarding Calls
5 Additional Paid Teammates & 5 Free Teammates Every Month
50,000 Monthly Email Recipients
Priority Support
Monthly Group Creator Call
Third-party code integration
Who should use the Earthquaker plan?
The Earthquaker plan is a more advanced version of the Mover and Shaker plan, with some additional features for selling digital products and physical goods.  
The Earthquaker plan is ideal for:
• Businesses that want to scale quickly
• Companies with multiple locations or employees
• Businesses that are just starting out but don't yet have the budget for a Podia Enterprise plan
• Entrepreneurs who want to add more value to their business by offering Podia as an additional service
• Entrepreneurs who are serious about growing their business and want to take their marketing strategy to the next level.
• A solopreneur or small business owner looking to grow your audience and sales, then this is the right plan for you! It is designed for those who have already launched their Podia site and are looking to take it to the next level.
Pros  of Podia's Earthquaker Plan
Here are the major pros of this plan:
• Priority support – The main benefit of this plan is priority support. If you have an urgent question that needs answering right away, you'll get an immediate response from the support team.
Another advantage of using Podia for free is that it allows you to build your email list and collect customer data easily at no cost! You can also integrate with other apps such as Mailchimp, Google Analytics, and Paypal without paying any fees.
In addition, it comes with all the same features as the other plans:
• Easy setup & integration with other apps like Mailchimp & Stripe (no IT needed)
• Automatic landing page builder & integrations with Stripe & Paypal (no IT needed)
• Cart abandonment emails & automated follow-up sequences (no IT needed)
Cons of Podia's Earthquaker plan
There aren't many cons to this plan, but if we had to choose one, it would be that the monthly fee isn't quite as low as some other Podia competitors' plans out there.
Final Verdict - Is Podia Worth It?
We've seen from this article that Podia pricing plans are relatively affordable, especially when compared to some of the more expensive options out there. Plus, it has a lot of great features and is easy to use.
However, there are some things that Podia doesn't do well. If you're trying to run a membership site with multiple levels of access, then Podia might not be right for you.
They only offer one level of access per user, so if you want them to have different levels of access or different types of memberships, then you'll need to use another platform like Kajabi or Thinkific (which both have much more robust membership options). You can learn more about this by reading "Podia vs. Kajabi" and "Podia vs. Thinkific." in the FAQs section below.
In conclusion, Podia is a great starting point for companies who want to launch a membership site.
Given the customizable nature of Podia and its pricing, we believe that it is priced competitively compared to other SaaS platforms on the market.
However, that being said, if you are a small business or a freelancer on a budget looking for an LMS solution that can do it all, other platforms may be a better fit for you.
I get that because I'm a course creator too, and I know what it's like in the beginning when you are still growing your audience.
But that is why I created OnlineCourseHost.com in the first place. To help out course creators by creating the easiest to use and most affordable online course platform on the market that comes with built-in email marketing capabilities like bulk emails.
But more than a platform, we want to give you all the information that you need to grow your online course business successfully.
That's why we have created the Course Creator Academy where you can find everything you need to become a successful online course creator all in one place for free.
To get notified when new content is available here at the Academy, you can subscribe here to our weekly newsletter:
If you are looking to ask any questions on online course creation, you can reach me here on my Facebook group:
Join the Course Creator Academy Facebook Group
Ready to learn how to launch your first course on OnlineCourseHost.com? Here are the helpful guides for you to check out:
I hope you have enjoyed this post on Podia pricing. Let me know in the comments below what other topics you would like me to cover or any questions that you have.
Thanks for reading… and enjoying the course creation process! 😉
---
Vasco Cavalheiro
OnlineCourseHost.com Founder & Online Course Creator
LinkedIn   Facebook Page   Facebook Group   Twitter

Frequently Asked Questions
Here are some frequently asked questions concerning the Podia pricing plans.
Podia Vs. Thinkific Pricing
If you are looking for a way to build an online course, Podia is a perfect choice. The platform offers many of the same features as Thinkific, including the ability to generate revenue from your courses and sell memberships. However, Podia has a few advantages over Thinkific. For example, Podia offers unlimited websites and unlimited bandwidth and storage. This means that you'll never have to worry about running out of space or bandwidth on your site.
Podia payment gateways are also more flexible than Thinkific's, giving you more options for accepting payments from your students. You can accept payments through PayPal and Stripe, as well as credit cards through a Stripe account.
Podia's pricing is based on the number of products you have on your site, while Thinkific's pricing is based on the number of students in your course. So, for example, if you had one product with 100 students and another product with 10 students, Podia would charge you more than Thinkific (if both products are paid).
The basic plans of Podia and Thinkific are $39 and $49 per month. Podia has 14 days free trial plan, whereas Thinkific has a free plan but with limited features. Podia allows free migrations for the basic plan, but Thinkific lacks that offer. Membership on Podia is free monthly, but on Thinkific, you pay 99 dollars for membership.
Podia offers free webinars, whereas Thinkfic lacks the feature. Podia offers unlimited products, whereas, Thinkific offers unlimited products at $49 monthly. The shaker plan of podia offers a built-in affiliate program, whereas, to get the same feature on Thinkific, you pay $49 monthly. At the basic rate, Podia offers Live chat support, but that offer is unavailable to Thinkific users at that price point.
Podia Vs. Kajabi Pricing
Kajabi's pricing is based on the number of pages on your website, while Podia's pricing is based on the number of products on your site. For example, if you had two pages with one product each and one page with two products each, Kajabi would charge you less than Podia (if all products are paid).
Kajabi is on the high side. While Podia's basic plan starts at $39 a month, Kajabi's basic plan starts at $149/per month. Podia offers free migration when you're on an annual plan, while Kajabi has no such offer even with its $149. Podia offers unlimited products with its basic plan, while Kajabi, at $149 monthly, doesn't offer such feature Podia offer teammates.
On Kajabi, to get teammates, you pay $199 monthly. You have a built-in Podia affiliates program when you're on the Shaker Plan, but on Kajabi, to get a similar feature, you need to pay $199 per month.
Podia's Pricing Vs. Teachable Pricing
Teachable and Podia pricing each starts at $39/month. Podia offers more features to its users compared to teachable.
For example, where Podia offers Unlimited membership plans, downloads, webinars, messages, a built-in affiliate marketing program, a buy button, live chat support, and memberships, Teachable doesn't offer any of those features at that price point. Also, while Podia doesn't charge a transaction fee, teachable charges a 5% transaction fee.
An essential factor to keep in mind is your company expansion plans. Podia's Mover plan and Teachable's Basic plan both offer an online course hosting system for $39/month and $29/month, correspondingly, if you're just getting started. Teachable's plan, on the other hand, will become more costly as you begin to make sales due to their 5% transaction fee.
You'll have to switch to their $119/month and $299/month plans if your company expands and you intend to use more features. However, with Podia's Shaker plan, which incorporates all the company's capabilities at $89 per month, you'll not need to migrate to a higher plan to reach the next level of your company's development.