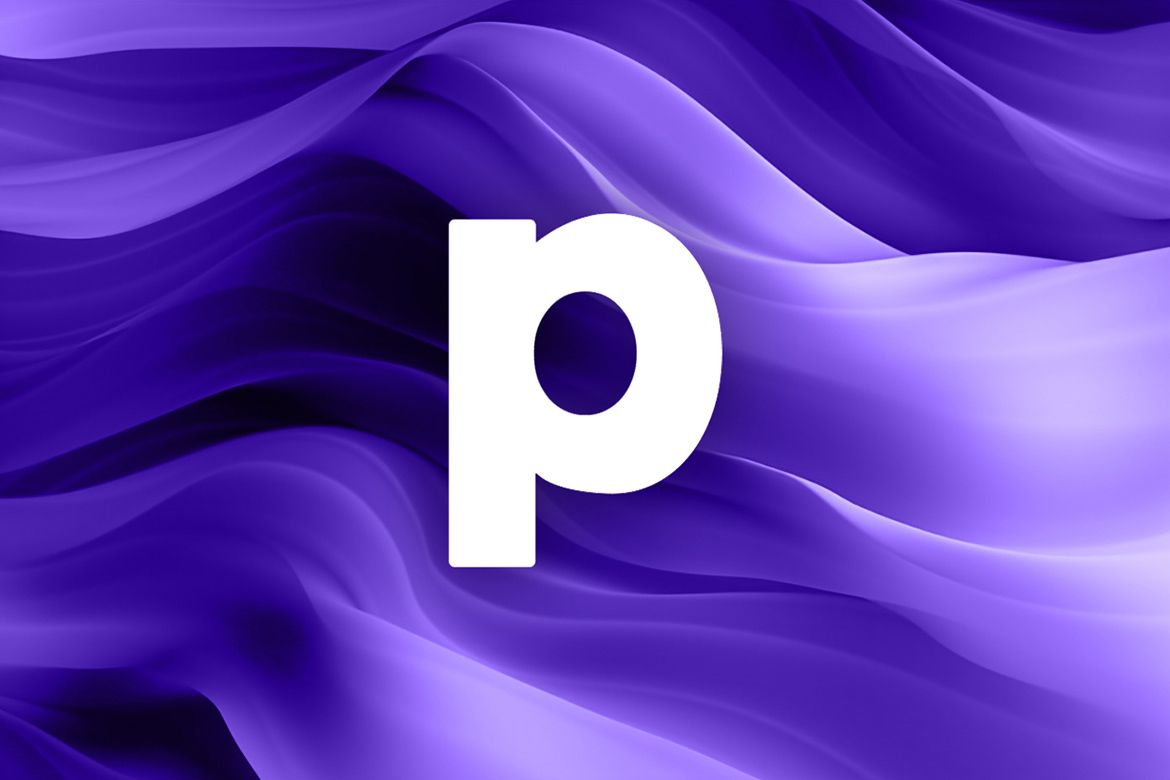 A full in-depth review of the Podia online course platform, from the point of view of an experienced course creator. I will cover in detail all its course creation tools, email marketing features, course creation and student experience, to help you decide if it's the right platform for you.
This guide is the most in-depth Podia review that you will find on the internet. 😉
This review walks you step by step through all the features of the Podia platform from the point of view of a course creator, with screenshots and a detailed review of each feature.
The thought of creating a course can be quite overwhelming. With so many services and choices, it can be pretty confusing.
One of the many options that you have available is the up-and-coming online course platform Podia, that you might have heard about.
But, is the Podia platform the right one for you as a course creator?
In this Podia review, I try out Podia and show you what you get on the Podia dashboard, and explain all of the main features to help you decide if it's right for you.
I will also cover Podia pros and cons and show you how it compares with other platforms.
If you're looking to start your own online course business and wondering if Podia is a great option, then this Podia review is for you!
You can also check out all the free guides that you have available here at the Course Creator Academy by clicking on the Academy link on the top menu bar.
Here are other articles related to Podia that you might want to read:
What is Podia?
Podia is a white-label online course platform. It's a website builder which is specialized in helping you create a website with online courses and coaching services.
Podia comes with all sorts of built-in sales and marketing services that course creators need to promote and sell their courses.
You can easily set up course sales pages and send out email campaigns to your contacts with Podia's email marketing tools.
It takes minutes to create your website on the platform and sell your digital products. Podia is a platform that allows you to create:
an online store
a membership site
webinars
and so much more!
They offer multiple ways to monetize your content, whether it be through selling digital downloads or selling access to a membership site. You don't need any coding knowledge to be able to use Podia.
Podia Company Overview
Podia is headquartered in New York City with additional offices in Austin, Texas.
It currently serves over 50,000 paying customers around the world.
The company was launched in 2014 by Spencer Fry. He wanted to make it easier for online creators to sell their products and connect with their audiences.
As a result, Podia is an intuitive, powerful, and user-friendly tool that has been designed from the ground up with the needs of course creators in mind.
Is Podia a good option for hosting  courses?
Podia is an all-in-one solution for online course creation and the sale of digital products. It comes with multiple premium benefits which make it stand out among competitors. Podia makes it super easy to:
Create a beautiful storefront with zero coding knowledge
Create and sell online courses
Create and sell digital products like ebooks, stock photos, digital downloads, webinars, and more.
Host your product on the platform or use your custom website
Create and grow a community around your product
Maintain your brand voice and keep 100% of your sales revenue
Drip your content over time.
Receive payment either through a one-time payment or payment plans
Create and sell an unlimited no of products for free
Market and sell your digital products with no transaction fees
Get a 14-day free trial of the platform
Easy to navigate, user-friendly, and clean interface
Podia Platform Overview
Before diving into each feature in detail, let's give you a quick overview of what the platform allows you to do.
The platform includes a drag-and-drop website builder, web hosting, content delivery, and custom checkout pages.
This is the Podia dashboard, that you will see once you sign in: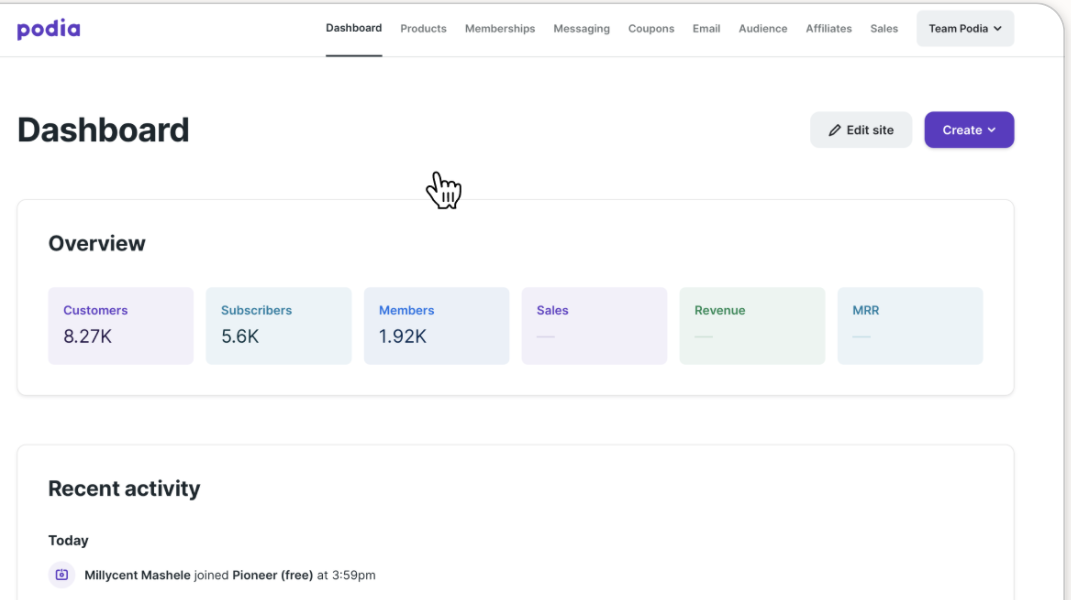 Podia has all of the features you need to create and start selling online courses, including templates for landing pages, marketing tools, and an integrated shopping cart.
Plus, there's no coding required to use these features - everything is drag-and-drop so you don't have to worry about getting stuck with code if something goes wrong.
If you're looking for more advanced features like recurring billing options, Podia also has you covered on that. The platform comes with the following useful features:
• Digital storefronts – instantly build an online store with no programming or design skills needed
• Course dashboard – upload video lessons, audio podcasts, PDF file downloads, ebooks, and more in just a few clicks using Podia's intuitive interface
• Drip content – set up your course's content to release on a specific schedule. This feature allows you to stagger out course content over time, so students don't get access to everything at once.
• Payment integrations – accept credit cards and PayPal payments from customers worldwide, with product payments processed in your currency of choice (see below for more details)
• Email marketing – email your students any time you want; send one-time announcements or automated emails using your email service provider (ESP) or Podia's email marketing integration solutions. Podia has email marketing built right into the platform so you can easily send newsletters to all of your customers. The best part is that they have a beautiful email editor where you can create custom emails and send them out or create automated sequences that get sent out depending on who the buyer is.
• Membership areas – charge a monthly or yearly fee for access to special content like exclusive courses and webinars, or give away free memberships for a basic reward tier for your audience (for example, $5/month gets them access to all of your courses plus some special weekly webinars).
• No transaction fees: One of the biggest benefits of selling through Podia is that there are no transaction fees for sales made through their platform, regardless of which plan you're on.
• Affiliate sales: You can set up an affiliate program for your products and pay affiliates commissions whenever they refer someone who purchases from you.
• Ease of Use: Podia's software is designed to be easy for users of all technical abilities.
Course Creation and Engagement
You can create unlimited courses on Podia, which is great because that means you don't have to pay more as your course library grows.
Podia also makes it easy for your students to guide themselves through your course, with automated emails and drip content. You can also set up quizzes and offer certificates of completion (both of which are optional).
Site Design and Customization
Podia offers templates for both their website builder and digital products so you can get started quickly. However, the customization options are limited compared to other platforms, but this seems to be by design.
It's a tradeoff between ease of use and flexibility. That said, you can add custom code to your site if you want to customize things even more.
Sales and Marketing
Podia offers multiple ways for you to promote your product and engage with your audience: emails, in-built analytics, affiliate programs, coupons and discounts, and integrations with external tools like ConvertKit, Mailchimp and more.
You have two payment options: Stripe or PayPal. And you can offer payment plan options to your students so that they can spread out the payments over time:

Finally, when it comes time to sell, Podia handles all the payments processing for you.
All credit card and payment information are securely stored by Stripe, which is a PCI-compliant payment processor.
There are no transaction fees in Podia, but you will still have to pay the Stripe and Paypal fees like in any platform. These fees are usually quite low though.
Podia Pros and Cons
For me, the primary benefit of using Podia is that I don't have to host content on my website.
The next advantage of Podia is that it's easy to use — especially for beginners who are new to the whole idea of building an online business from scratch. There's no steep learning curve involved.
You can simply sign up for an account, add your product and start selling it right away. You don't have to be a tech expert to use Podia either — its user interface is super easy so that anyone can start creating content and selling it in no time at all.
On top of that, Podia will help you promote your learning materials by helping you market them via email marketing automation. This way you won't have to worry about setting up external email software.
However, there are a few drawbacks. You can customize your landing page but you are a bit restricted when it comes to customizing your site as a whole or adding any third-party integrations.
Here is a quick summary of some of the major pros and cons of Podia:
Podia Pros
14-day free trial (no credit card required)
No transaction fees on any sales you make
Pre-built templates to build your website with no coding required
Affordable plans
Easy site creation
Membership functionality
It's easy to use even if you have no technical experience
Set the price of your course and keep the profit.
Build a community of learners around your course.
Share your knowledge with the world and build an audience.
Create a passive income stream from your courses, which can supplement or replace other forms of income.
Get paid upfront for your courses, rather than having to wait for affiliate commissions to roll in weeks after you've made a referral sale.
No need for fulfillment, taking orders, or processing payments since these are handled by the third-party platform when you host your course.
Podia provides everything you need to sell courses and memberships in one place
You can market your products with built-in email marketing tools
Podia Cons
While they have pre-built templates, they aren't as customizable as other platforms. This can make it difficult to create truly unique sites that stand out from the crowd.
You can't create assignments and have your students submit the solution for your review
You can't lock content and restrict it only to students that have passed a quiz or watched certain lessons, for example
If you have several freelancers that work with you or other creators, and you would like to give them admin access to your courses, you will have to pay an extra $20 per month per admin team member, which can quickly add up.
Podia Website Editor
With the Podia editor, you can create a custom website with the following features even with your 14 days trial account:
Homepage
Sales pages
Landing pages
Newsletter signup pages
Custom pages
Unlimited pages on all plans
Podia allows you to create and sell multiple digital products on the platform including online courses, digital downloads like eBooks, audiobooks, PDFs, cheat sheets, checklists, and more.
Your customers or subscribers must sign in the first time they visit your site to access your content. This allows you to capture their email for further email marketing purposes.
Setting up your Storefront on Podia
Selling your digital products on Podia is as easy as signing up and creating a product page. Once you have your store set up, adding products is as easy as uploading a file and setting a price.
Then, you can promote your products on social media or send an email to your list telling them your product is available!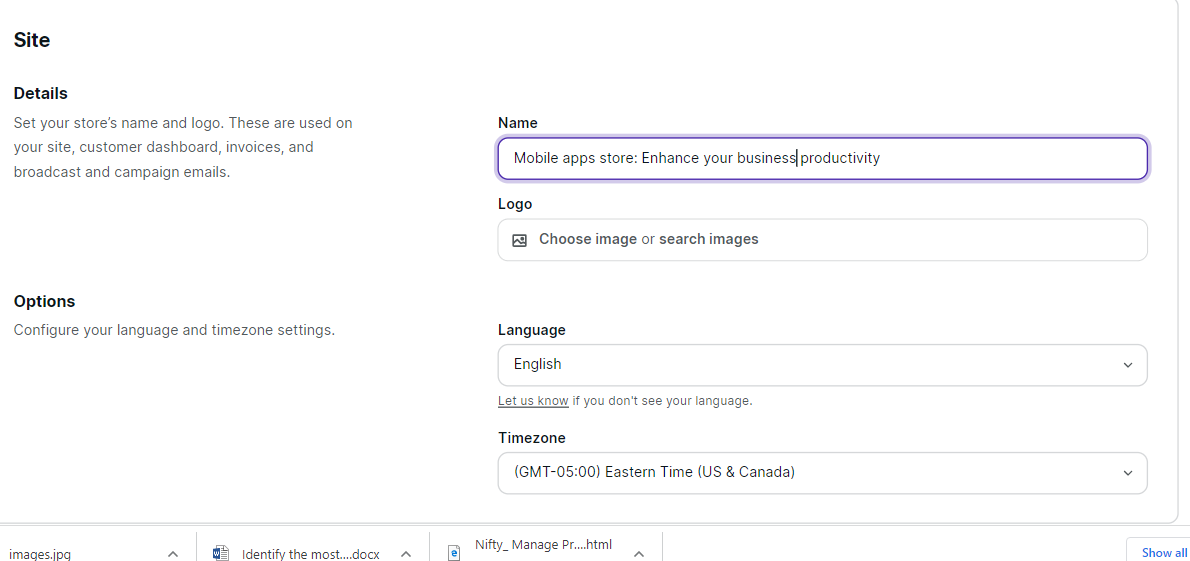 Podia equally provides its users with a lot of video and text resources that could boost their marketing and sales effort. Such resources include guides, courses, and ebooks.
It's not just the tools it provides but also the quality of these tools that make Podia stand out.
One example is how it gives you the choice of two different website templates to create an online store.
The templates are all mobile-friendly, so you don't have to worry about losing customers if they use mobile devices to access your products or content.
Once you choose a template and customize it to your preference, adding content is just as easy as well. Podia makes this as simple as possible by providing its editor where you can add text and images.
Podia Course Creation Experience
In this part of the review, I will look at how the Podia platform helps in the course creation process.
Course Creation Software
After you set up your online school, it's time to start adding content. Content on Podia is organized into products.
Each product has its landing page, where visitors have access to marketing materials and other information about what they'll get when they purchase the product. Podia makes it easy to create these pages and populate them with content.
When it comes to structuring content, you can organize everything into "pages," which act like chapters in an online course. You can also decide which items of content should be displayed on the menu and in what order they should appear.
Podia Course Player & Content Delivery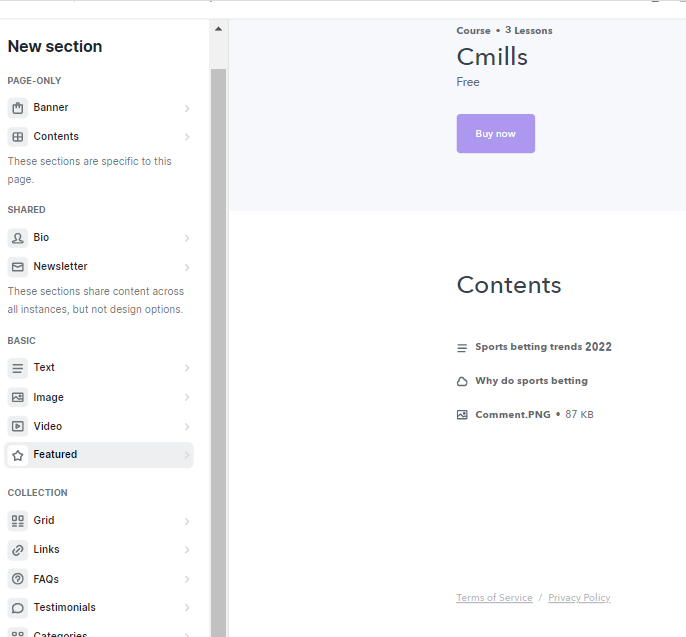 Podia's course player is a single, organized place for all of your content — lectures, text lessons, and downloadable materials. You can be sure your students are always viewing the right version of your content, and with engagement tools like notes, questions, and completion trackers, you'll know exactly how they're doing.
Lesson Builder and Course Creation Editor

Podia users can easily publish video, text, audio, PDF, and image-based content with the drag-and-drop lesson builder.
Podia was designed to make it easy for you to develop a digital product and build your business around the product.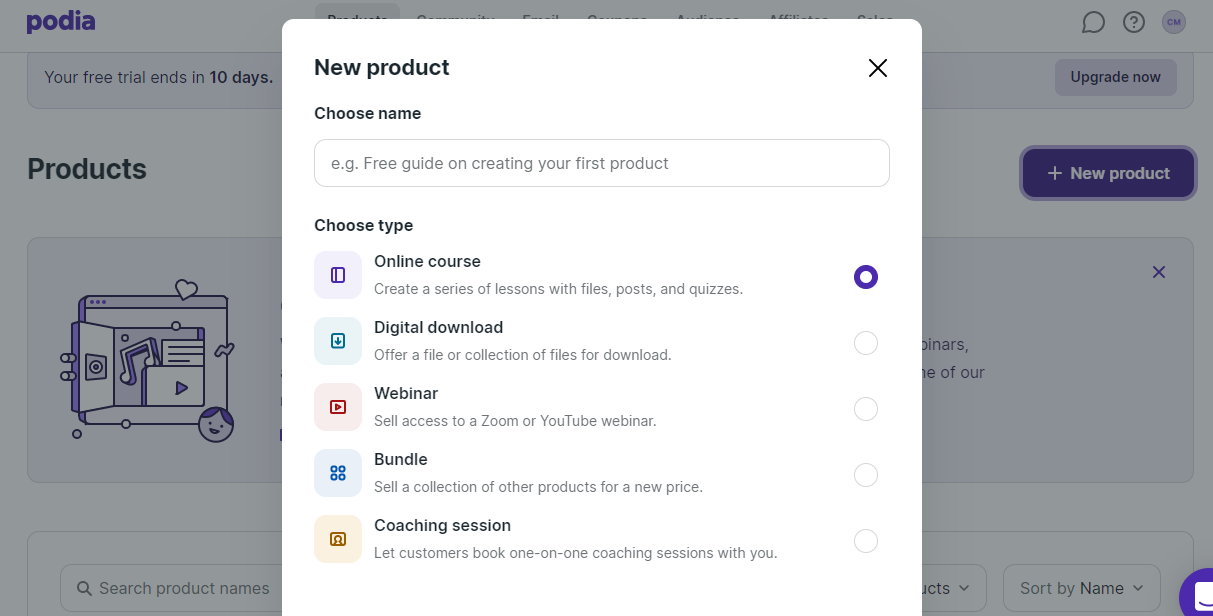 Podia's software is both powerful and flexible when it comes to building digital products. You can easily create an unlimited number of online courses, memberships, landing pages, ebooks, PDFs, audio files, and more. You also get access to a simple drag-and-drop editor that lets you design your product pages in a few clicks.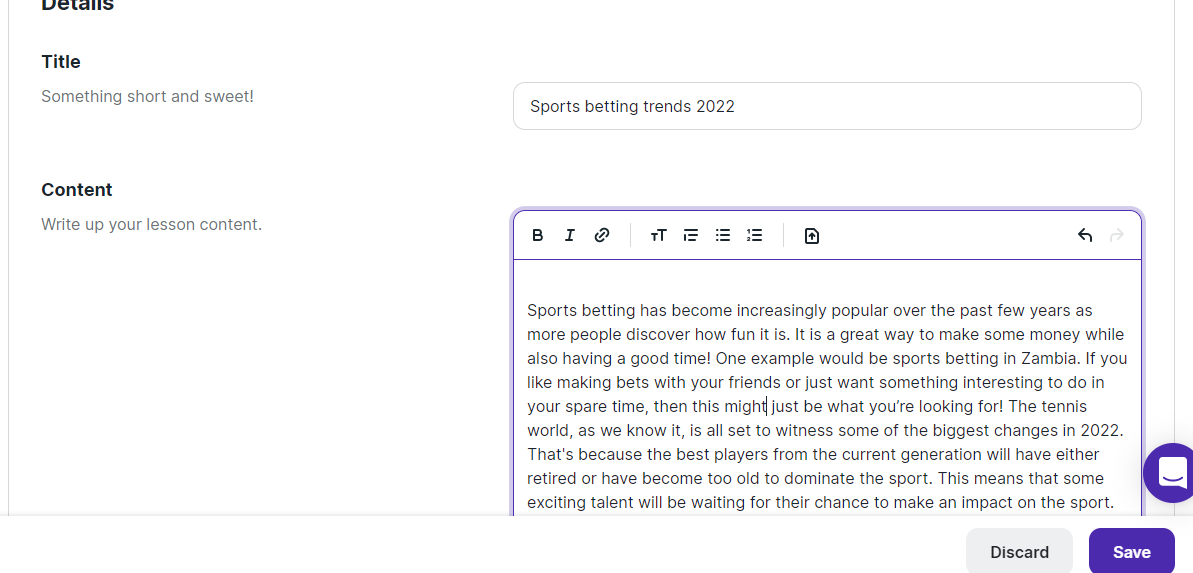 It comes with beautiful templates that you can use to design landing pages that convert your visitors into paying customers. You can also add content in any format, be it text, images, videos, audio files, and PDFs to your online course.
With the drag and drop interface, you can upload videos and images, add text and links, set up quizzes, apply pricing, discounts, bundles, and more.
When you are done with creating your course, you can select if you want to make your page visible or hidden.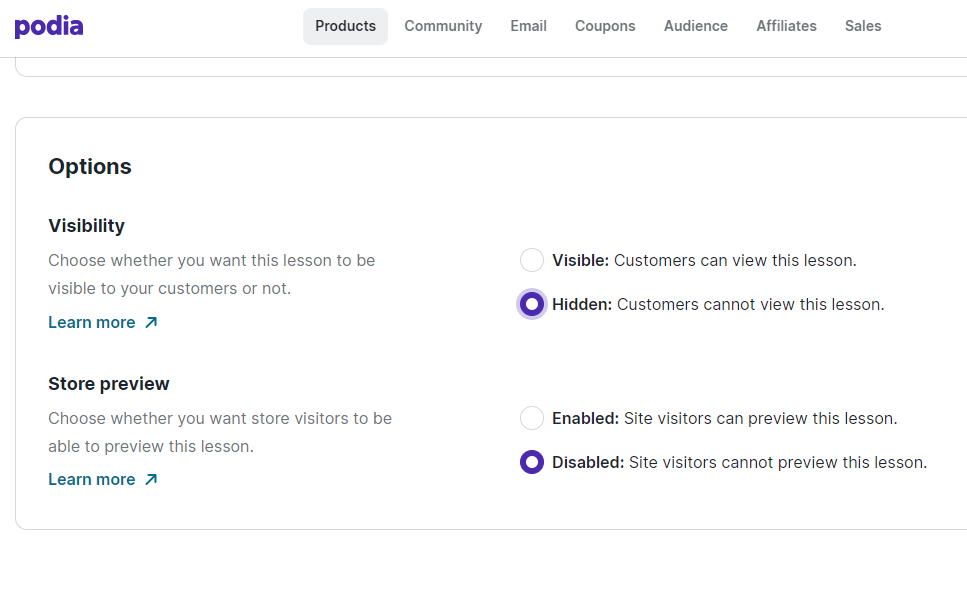 Quiz Integration

Additionally, Podia gives you the ability to add quizzes, surveys, give bonuses, and drip content to keep customers engaged with your courses
Engage students with quizzes, video streaming, and more. Get instant feedback through comments. No technical knowledge is required. Podia makes it easy to create engaging content that will keep students coming back for more.
Sales Pages

Podia allows you to create beautiful sales pages for your products using customizable templates. You can add custom content to your site, or simply use their pre-built templates. You also have complete control over what content goes into each product as well as how your customers can access the content.
Create Product Pages for Digital Downloads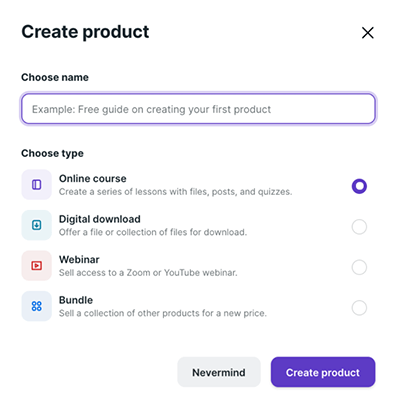 Create beautiful product pages for any digital download, including ebooks, templates, videos, music, and more. Easily set up a paywall or make your content available for free.
Create Product Pages for Online Courses
Create product pages that include a course curriculum with any number of lessons. You can sell courses individually or as part of a membership site.
Site Design and Customization Features
With Podia, you can build a beautiful website that fits your brand. You can add membership levels and drip content to keep students coming back for more.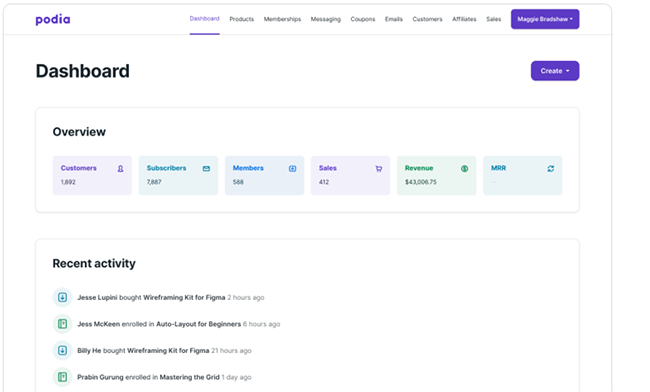 With Podia, you can easily customize the design of each site without writing a single line of code. You only need to drag elements on the page around until they look just right.
However, one thing I noticed with Podia compared to other course creation software is that Podia traded off customization for simplicity.
So, if you want to create a very unique site with a customized look and feel, you don't have a lot of options available.
This might be OK or not for you, depending on what you are looking for in a platform.
Let's go through some of the website customization options available.
Page Builder Elements in Podia
Just like most page builder plugins for WordPress (like Elementor), Podia lets you rearrange elements on the canvas using your mouse. There's also a live preview pane on the right-hand side of your screen so you can make sure that everything looks good before publishing it live to your visitors.
Theming
Podia has a very basic website editor. You can't customize the design by adding code or custom CSS. Instead, you choose from one of several themes (or start with a blank canvas) and then customize it by changing the colors and fonts. There are also premade pages that you can add to your site with just a few clicks.
Although the customization options are relatively limited, the themes are modern-looking and work well for selling courses, memberships, or digital downloads.
Images
You can upload an unlimited number of images on Podia Shops to help customers learn more about your products and services or make purchasing decisions. You can add alt text to those images to boost SEO.
Free hosting of all this image content is included with every plan.
Podia Custom Domains
One of the many nice things about Podia, is that you have a custom domain included in every plan.
Users can use their domain or opt to use a subdomain provided by Podia. You don't want to settle for a subdomain!
Your URL is important for branding purposes, search engine optimization (SEO), and conversion optimization (CO).
That's why it's included with every Podia plan: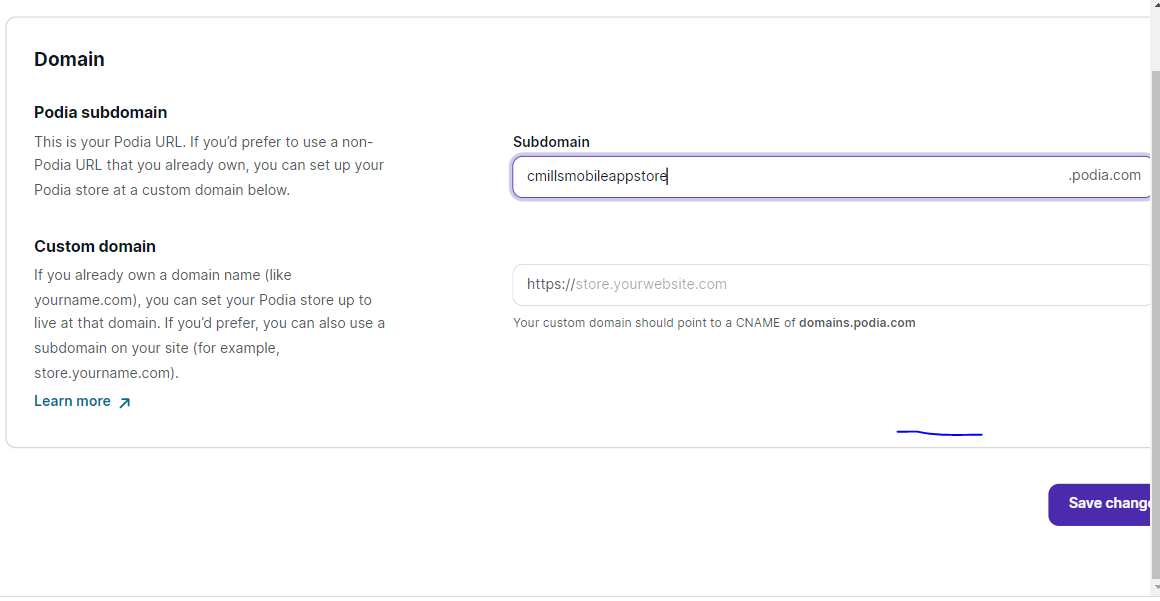 Choose your Custom Domain or Subdomain
When you first sign up for Podia, your account's custom domain is podia. co/your-account-name, so if your account name is "john smith", your Podia storefront would be podia.co/johnsmith.
But you can also choose instead a subdomain or custom domain.
For example, if you go with a subdomain, you would have something a little bit more branded, like johnsmith.podia.com.
But if you to take it one step further, you can also choose your own custom domain.
Setting up your Podia custom domain
Podia makes it easy to use a custom domain name for your store. Setting up your custom domain on Podia is simple!
Just enter your custom domain on your website settings page. For example, let's say this is the URL that customers use to go to your store - yourdomain.com.
After entering your custom domain, you will also be asked if you want to create redirects from http://www to https://www pages.
This is recommended as it will redirect visitors to the secure version of your site.
Now, you'll need to log in to the account where you manage your DNS records and make a couple of quick changes so that your domain name points customers to your Podia storefront instead of its current home.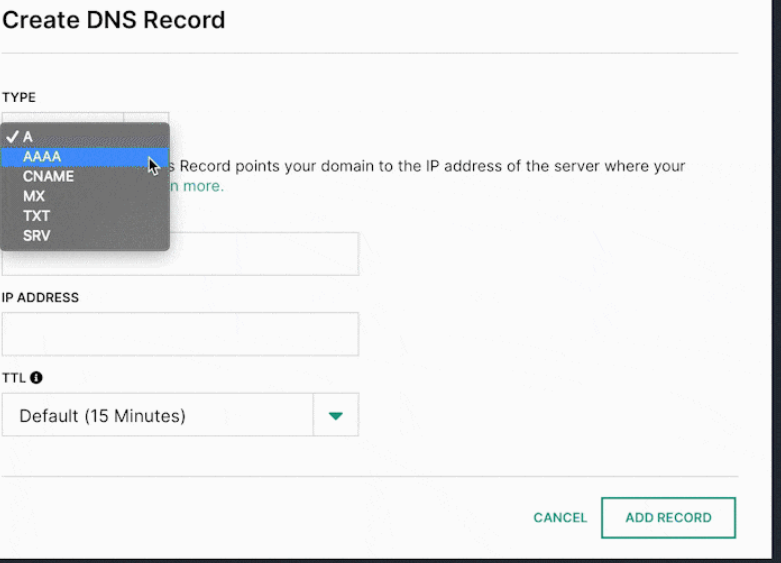 Podia Landing Pages

The landing page editor is incredibly easy to use and allows you to build beautiful, high-converting pages in minutes. You can build a landing page for anything: digital downloads, online courses, memberships, or events.
Each landing page features fully customizable content sections, so you can easily swap out the text and images to meet your needs.
Once a landing page is completed, simply add it to the navigation menu in your Podia storefront with a click of a button. You can also upload your content, add pricing and discounts, and promote your offerings using email marketing.
You can also customize the look of your landing pages with custom HTML and CSS or by using Podia's theme settings.
With this feature, you no longer need to spend your time trying to get the perfect landing page up.
The platform makes it easy to add opt-in forms, one-click upsells, payment buttons, and more. Your audience will love this!
Podia landing pages are designed to make your products look beautiful, and make it easy for your audience to find exactly what they're looking for.
The landing pages at Podia allow you to:
Customize your website to suit your brand colors and fonts
Use beautiful templates that get the job done fast
Showcase your products in an attractive gallery of images and videos
Include a full description of what the product is and what students will learn
Highlight your favorite testimonials and reviews
Introduce the instructors behind your product
Create beautiful opt-in forms to build your email list
Make it easy for customers to browse your entire catalog of products in one place
And so much more!
Podia Membership Sites
With Podia, you can create and launch a membership site that engages your audience and generates revenue.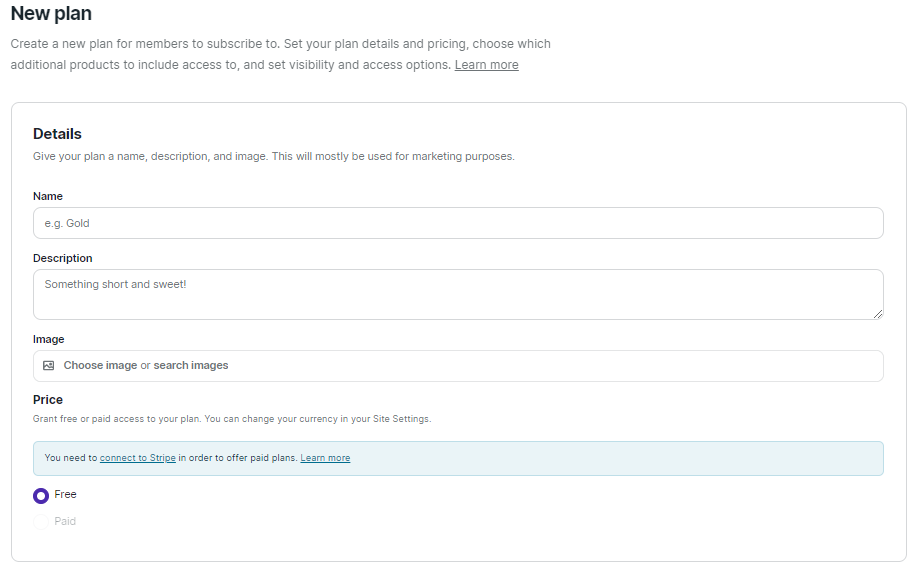 Podia lets you create stunning membership sites that allow you to build a loyal community around your brand.
You can set up your pricing model for membership by creating multiple membership levels so you can charge people differently based on what they want to access.
It also allows you to offer one-time or recurring subscriptions as well as free trials. Then you can easily add content such as videos, text, images, and more through an intuitive drag-and-drop editor.
Growing your Membership on Podia's platform is very easy. Podia's membership system is very secure, and it has a powerful and complete member management area.
Podia's membership system is fully customizable, you can design your pages for selling memberships and courses. It is a powerful tool that helps you get more out of your digital products by organizing your clients and email list, keeping track of their progress, and allowing you to create products that they can pay for online.
With the platform, you can easily create web pages for each of your digital products and allow your clients to sign up for them online.
Besides, it allows you to create unlimited products with an unlimited number of sessions. Membership sites are the most profitable way to grow your course creation business because people are more committed when they have paid for something in advance.
However, membership sites can be time-consuming to manage. Podia makes the work easier and saves you time to concentrate on helping your clients achieve their goals.
With Podia memberships, you can easily keep track of who has paid, who has not, and who needs to renew. You can also launch new programs immediately without having to update anything on your website.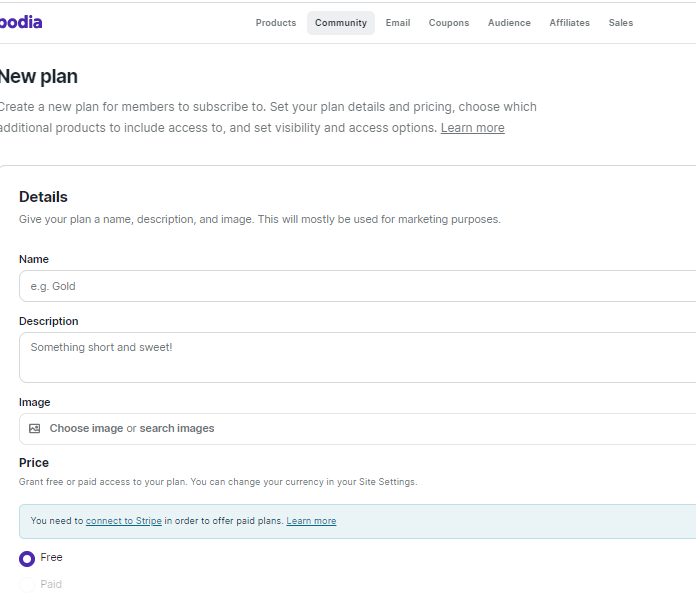 Podia Membership Pricing (including Payment Plans)

You can either set up a lump-sum payment or recurring payment through membership plans. It depends on what you want.
But using membership plans can be especially beneficial for courses that have longer study time. Payment plans are a great way to offer your customers support while they're making purchases, whether they're buying a one-time product or signing up for memberships.
Podia's payment plans option may be a very good way to allow people who don't have the cash upfront to purchase your product.
It can increase affordability and make it easier for your customers to afford your products by allowing payment in smaller installments instead of charging everything upfront. Customers also tend to value a product more once they've already paid for it.
Podia's payment plans are a great way to:
Give your customers more flexible options when making purchases.
Increase affordability and make it easier for your customers to afford your products.
Reduce cart abandonment by allowing your customers to pay over time instead of requiring everything upfront.
Podia membership payment option helps you to boost sales through recurring billing plans. You can use both PayPal and Stripe for one-time payments, but if you want to set up a recurring payment system, you will need to first connect your account to stripe.
you can create a membership plan, and select your preferred option for status, access, and visibility: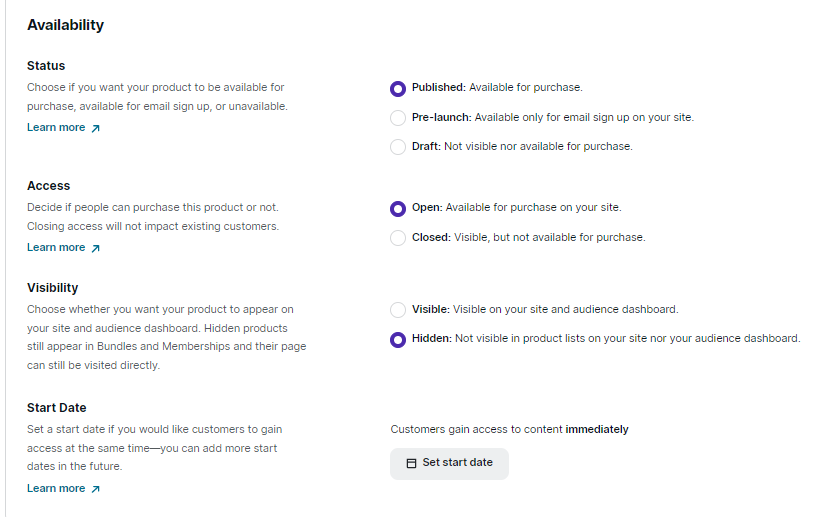 You can then select either a lump sum payment or monthly recurring payment as shown in the screenshot below: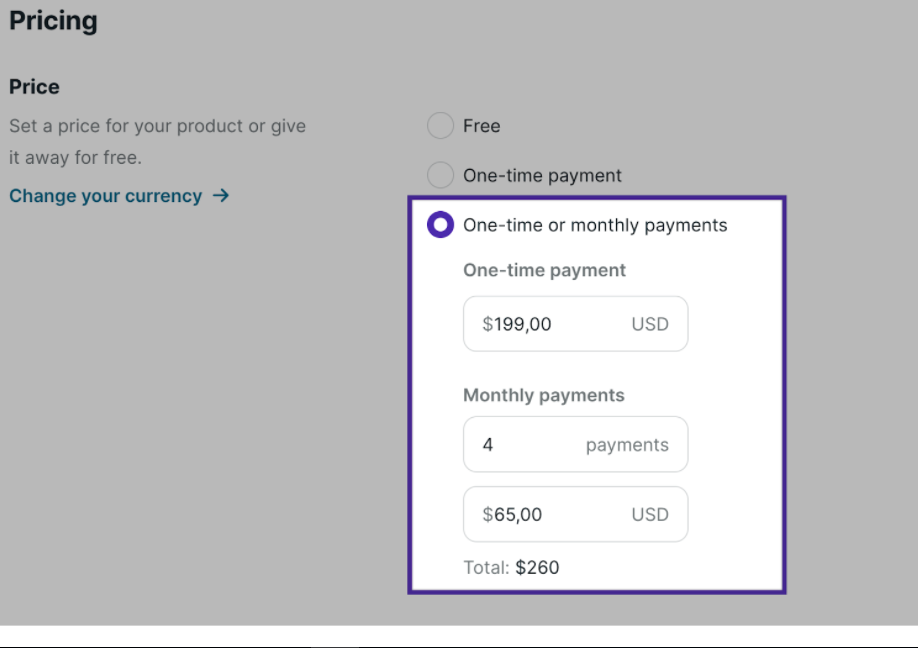 If on the other hand, you offered a free product, you equally have the upsell option that allows you to recommend another product for sale during customer checkout.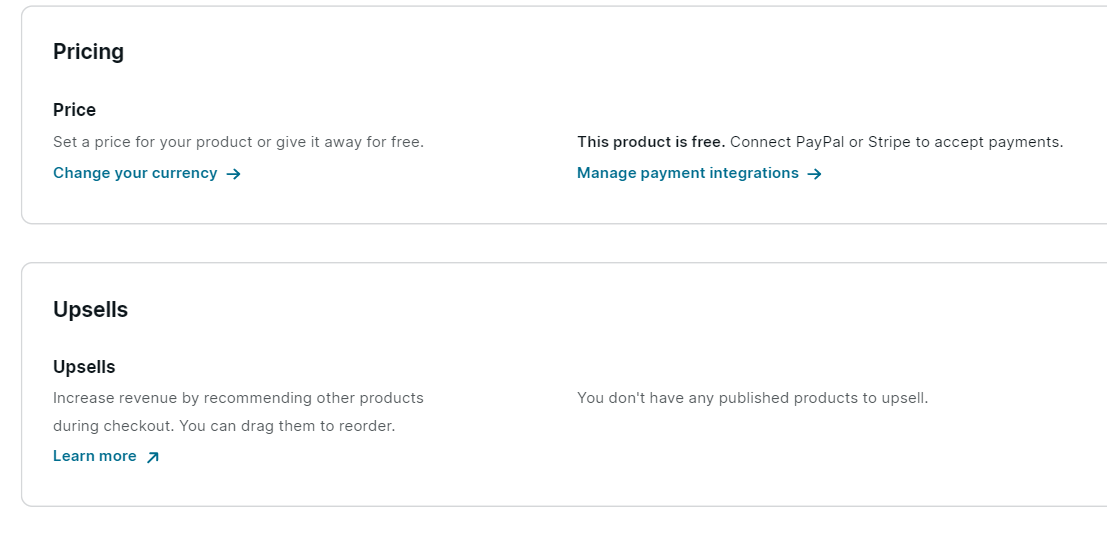 Podia Digital Downloads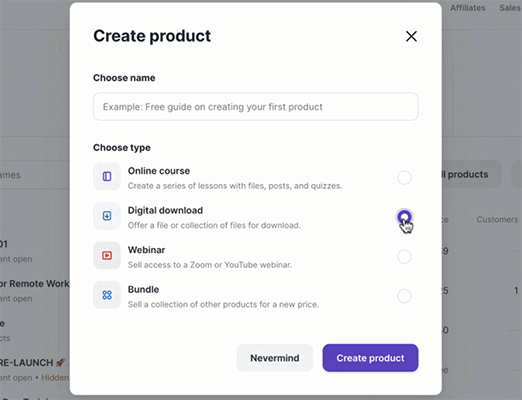 You can sell digital products like ebooks, music, videos, photography, software, or any other digital content on the Podia platform. Uploading and selling your Digital Downloads on podia is very easy, you can upload digital products like ebooks, video courses, PDFs, etc.
You can add a download button on your website or share it via email so that anyone with the link can download the file directly from Podia's servers.
Webinars
Creating content for your webinar is equally easy with the Podia platform. You can easily schedule a webinar, set a price to it, and limit the number of seats.
Notice that the webinar itself is not hosted in Podia. The webinar will instead be hosted on platforms like YouTube or Zoom. So essentially this is a way to sell access to a webinar link, hosted by a third party.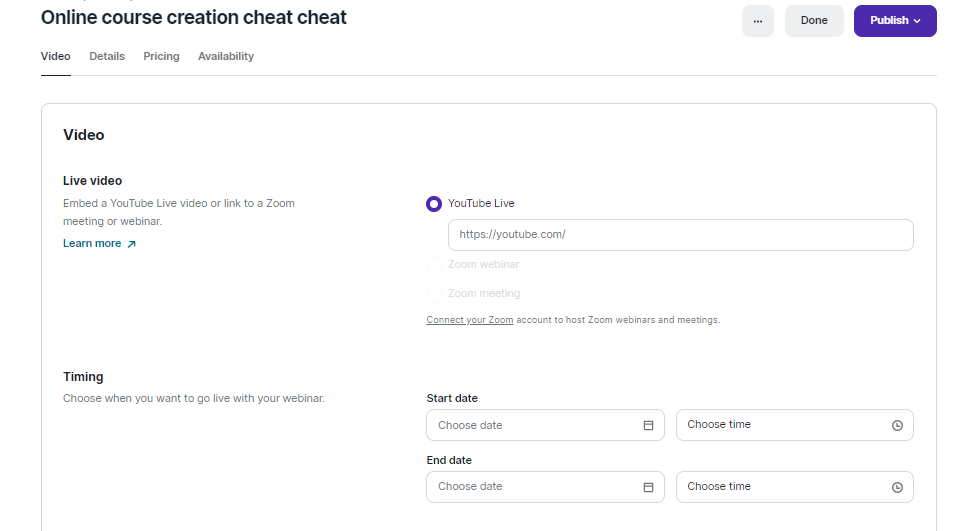 Sales and Marketing
Get paid faster with fewer hoops to jump through — accept credit card payments right out of the box. Podia wants to help you grow your customer base, so they've built-in tools and features to help you sell more than ever before.
You can integrate PayPal and stripe for easy reception of the payment.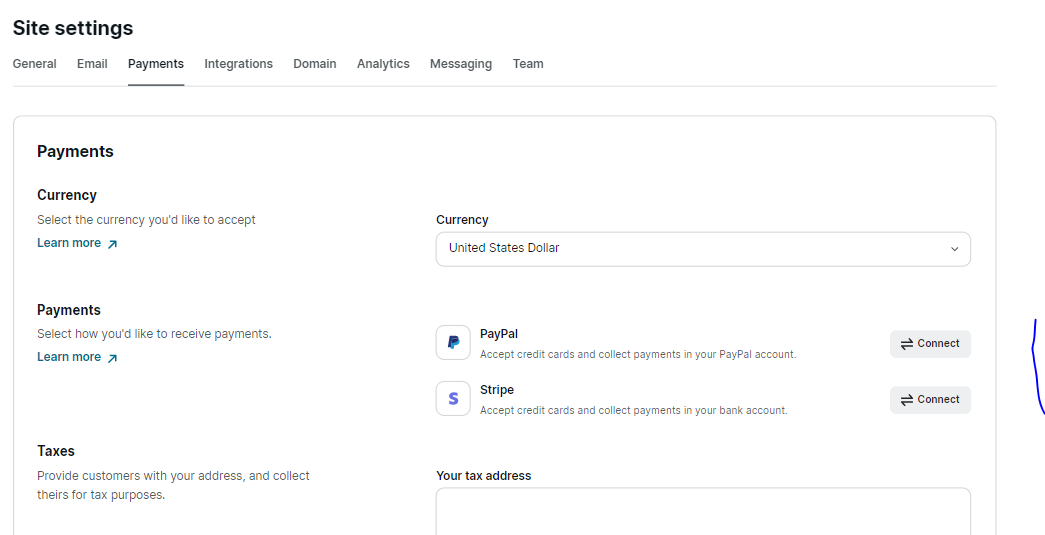 Stripe is a payment processor that allows you to accept payments directly through your Podia storefront. To accept payments through Stripe, you'll need to set up an account with them. Once your account is set up, you can connect your Stripe account to Podia by going to Sales > SetUp Payments and filling out the form for either Paypal or Stripe.
Next, click the Connect with Stripe button. You'll be taken to Stripe's website, where you'll be asked to log in (if you don't already have an existing Stripe account) or authorize access for Podia (if you do). Once your account is connected, go back to Settings > Payments, scroll down to the "Direct Deposit" section, and select Stripe as your payout method.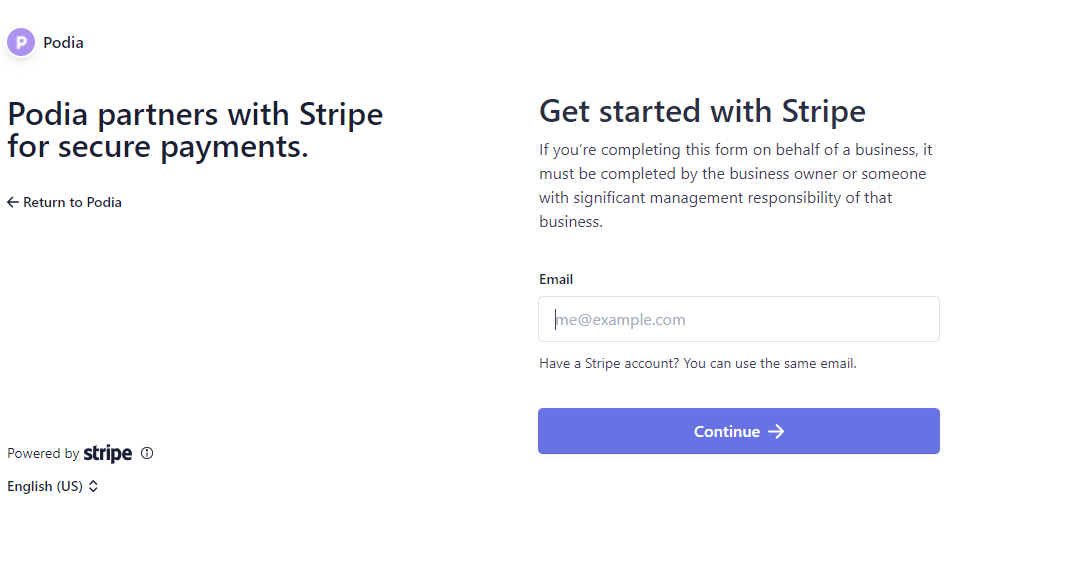 You can also connect your PayPal as a payout as shown in the screenshot below: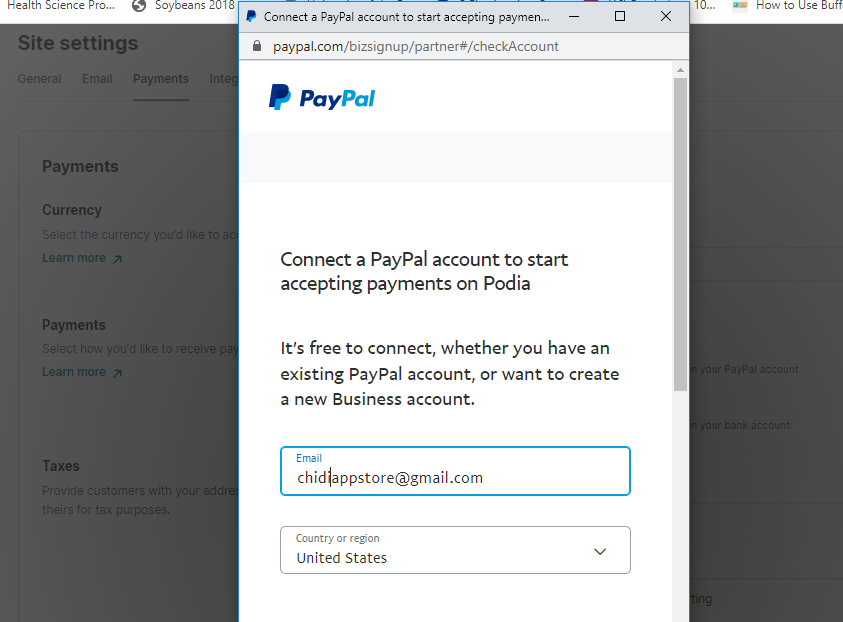 Email Marketing Features
You need an easy way to capture new leads, send broadcast emails and build automated campaigns. Podia is your complete email marketing solution.
When it comes to email marketing, Podia has everything from contact forms and autoresponders to full sales funnels, so you really can just build the whole thing on Podia. Plus, the best part about all of this is that it's included in every plan for free plus you can use customizable templates or you can even design your own emails from scratch without writing any code.
Let's dive into some of the best features of Podia's email marketing option.
Email Capture
When you're offering a freebie, you're going to have to capture those emails to get people registered for your course or event.
With Podia, you can create a landing page with customizable opt-in forms that allow you to connect with your visitors and grow your email list. You can also integrate them with Mailchimp, ConvertKit, and other top email marketing service providers.
Set up your messaging options
You can customize who can message you on Podia. You can choose between everyone or registered customers or disable the option. It is up to you.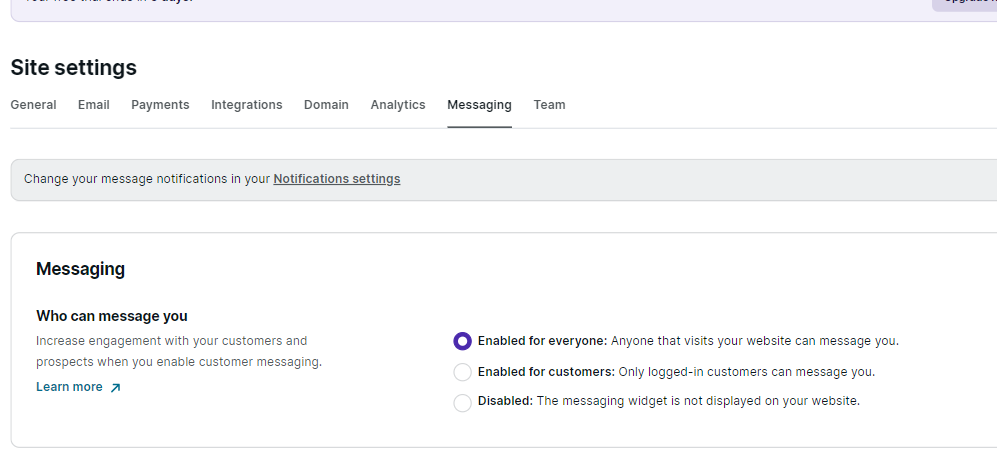 Send Broadcast emails
Podia lets you send broadcast emails directly from your dashboard as well as track the number of opens and clicks they get. This is useful if you want to share updates and announcements or even send out surveys and polls. You can also personalize your message by addressing the recipients by name, which is a great touch if you want to build relationships with your audience.
Build Automated campaigns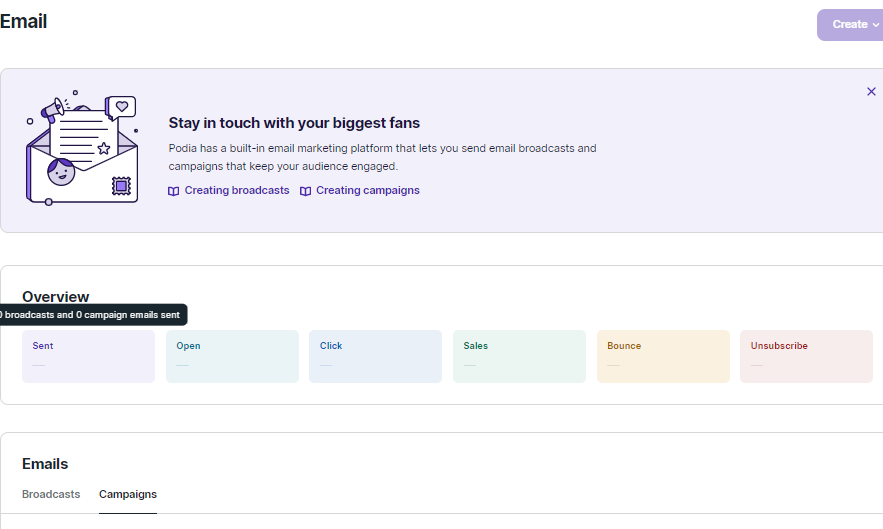 With Podia's automated campaigns tool, you can set up custom workflows for your customers based on what actions they took about your content like visiting a specific page or downloading an ebook. Whether you want to increase engagement or boost conversions, this feature will help take care of the heavy lifting for you.
Most email providers are either too basic or too complicated for creators. Podia's email marketing features are made just for creators. They're simple enough for beginners but powerful enough for experienced marketers.
When you sign up for an account, you'll be able to create an automated "Welcome" campaign that will send to subscribers whenever they join your list.
You can easily customize these emails with your content and completely control what goes out to your audience.
Full Sales Funnels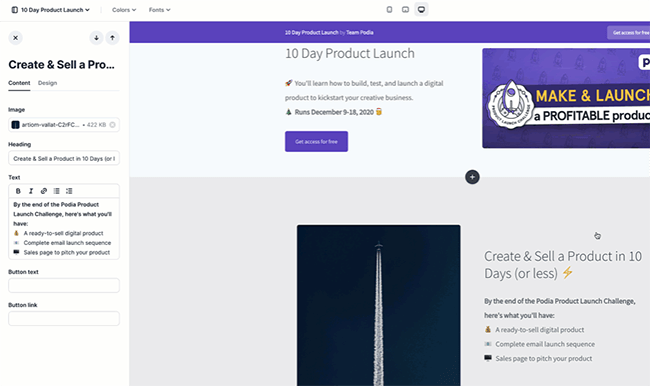 Send automated sales funnels with the campaign builder. These can be built using drag and drop blocks as well as using our visual editor with full HTML control if needed... You can even add blocks from other automations you've created.
Podia's automated email sequences can help you grow your business at every stage of the customer journey — from getting subscribers in your funnel, all the way to re-engaging existing customers and keeping them happy in the long run.
With just a few clicks, you can set up new emails to be sent automatically at key moments so that your audience is always feeling engaged, connected, and inspired by your content.
Embeddable Forms

Podia's embeddable forms are great for capturing leads and growing your audience. You can embed them on any of your product websites or landing page, so they're super easy to set up and grow your list!
The benefits of embeddable forms on the podia online course platform include:
• Easy sign-ups with just an email address (or name if you want) — no complicated form fields or CAPTCHA nonsense
• Customizable colors and styling — match it with your own site's template.
Rich email analytics with complete revenue metrics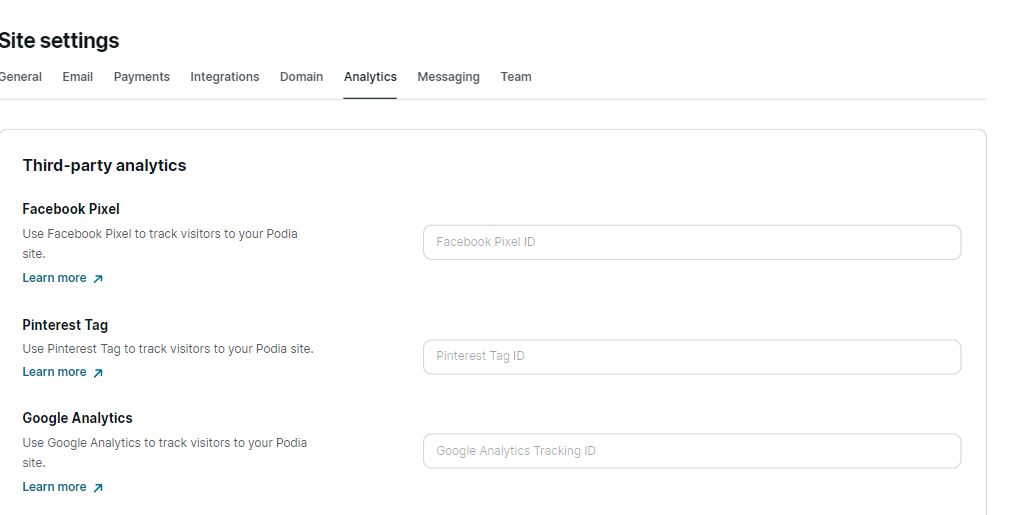 The advanced analytics dashboard and reporting in Podia let you dive deep into your email marketing data:
• See opens and clicks over time, dig into individual campaigns, and get a thorough breakdown of who is opening and clicking your emails
• Track revenue from each email campaign so you can see how much money specific marketing is bringing in
• Export reports to CSV and use your data however you want.
However, the only analytics option available to you as a new user are facebook pixel, Pinterest tag, and Google analytic. Podia has made it easy for you to integrate a third-party website tracking code or conversion tracking code, but you must have a paid account to use these options.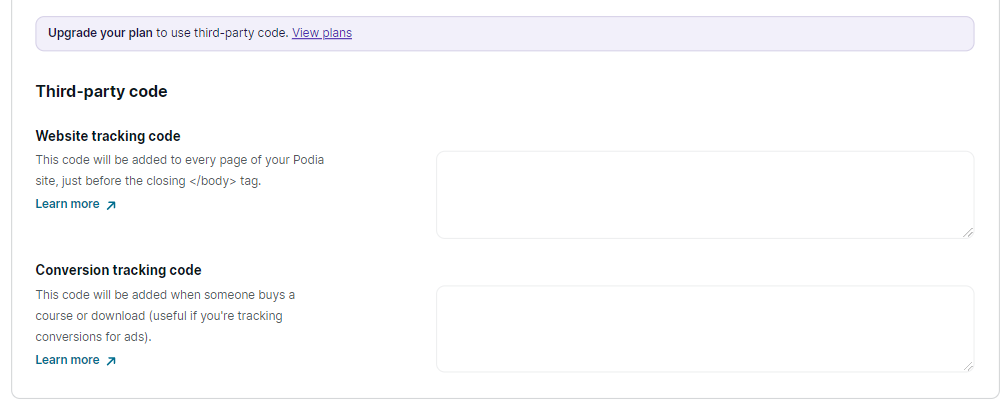 Live Chat Widget
With the on-page live chat for your online business, you can easily talk to your customers in real-time. Podia's live chat widget makes it easy for you to chat with your visitors and customers, without having to change tools. You can use it to:
Provide instant support to customers, leading to more purchases;
Answer questions from potential buyers;
Get feedback from users on your products.
Podia's messaging feature allows your customers to chat with you right from a sales page, course, or membership site.
You'll get notified when you have new messages so you can respond quickly and easily.
Here's how it works:
1. Customers send you a message on any page on your Podia site.
2. You get notified when you have a new message and respond from your inbox.
3. Your customers receive the message in their inbox and can reply directly to you.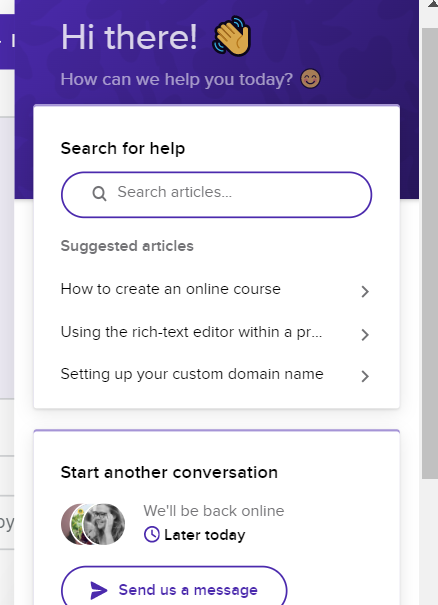 Email Marketing Third-party integrations
Podia offers email marketing tools integrations to help you build your list and promote your products. Send an email or chat support directly from Podia, or integrate with third-party apps like MailChimp and more.
Whether you're looking to nurture leads, generate sales, or simply stay in touch with your existing customers, email is by far the most efficient and cost-effective way to do so.
To help you achieve this Podia integrates with some of the best email marketing tools available:
ActiveCampaign offers solutions for everything from basic email campaigns to advanced automation and personalization. The company also has powerful tools for building your landing pages, sending text messages, and communicating via live chat.
GetResponse offers an all-in-one online marketing platform that includes everything you need to create, deliver and track professional-looking emails. The company's drag-and-drop editor makes it easy to customize prebuilt templates or build emails from scratch using its simple templates. You equally have access to the following premium email marketing tools:
MailChimp
ConvertKit
Drip
MailerLite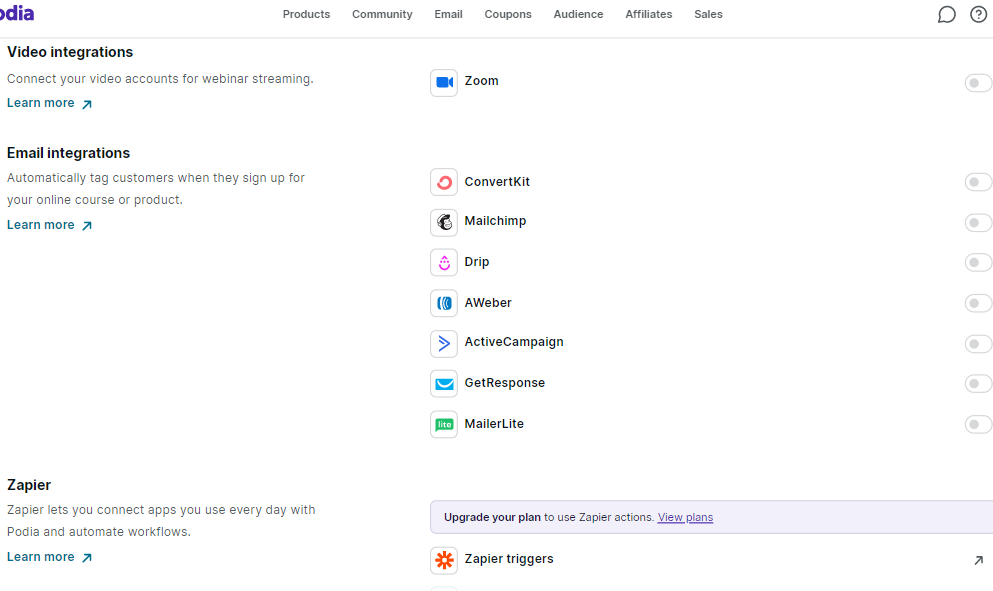 Other third-party app integrations on the site include:
Drip
Zapier
Stripe
Paypal
Google Analytics
HotJar
Facebook
Pinterest
Google Ads
Zapier
Sumo
Fomo
Deadline Funnel

Affiliate Marketing: Let others sell for you
Podia has an affiliate program built right in. Affiliate marketing is a big part of the online course landscape. It's a great way to make money off your digital products while building a community around them.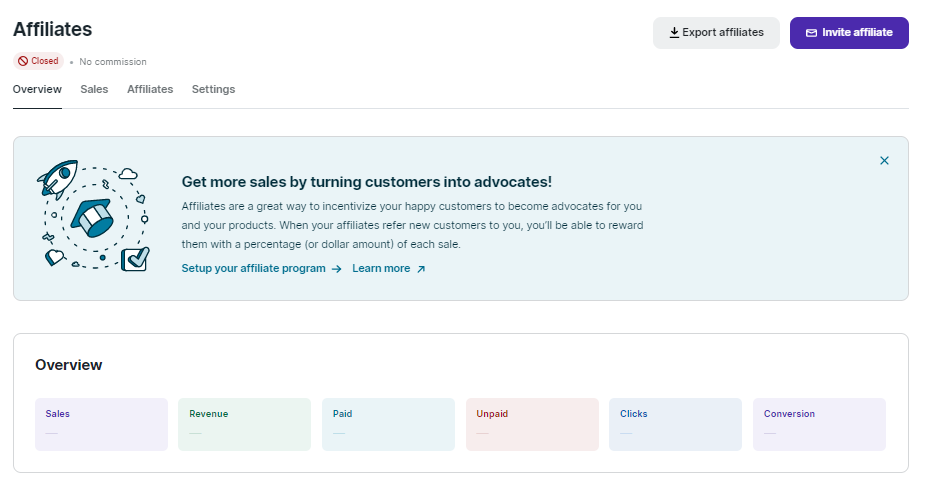 You can set up an affiliate program in minutes on the Podia platform, and watch as your affiliates start promoting your products as soon as they sign up. Podia's affiliate program is a great way to allow your affiliates to earn a little extra money. They'll get paid when someone buys your course or membership they recommend. All they have to do is sign up for Podia within 30 days of clicking the link, and your affiliates get paid a commission for the sale made.
You can set up an affiliate program for any of your digital products using the same membership and course tooling you're already using.
1) Set the commission rate and cookie duration that works best for you
2) Give affiliates their unique link to share — we recommend giving them a landing page or dedicated sales page to use
3) Sit back while they bring in new sales and earn money themselves!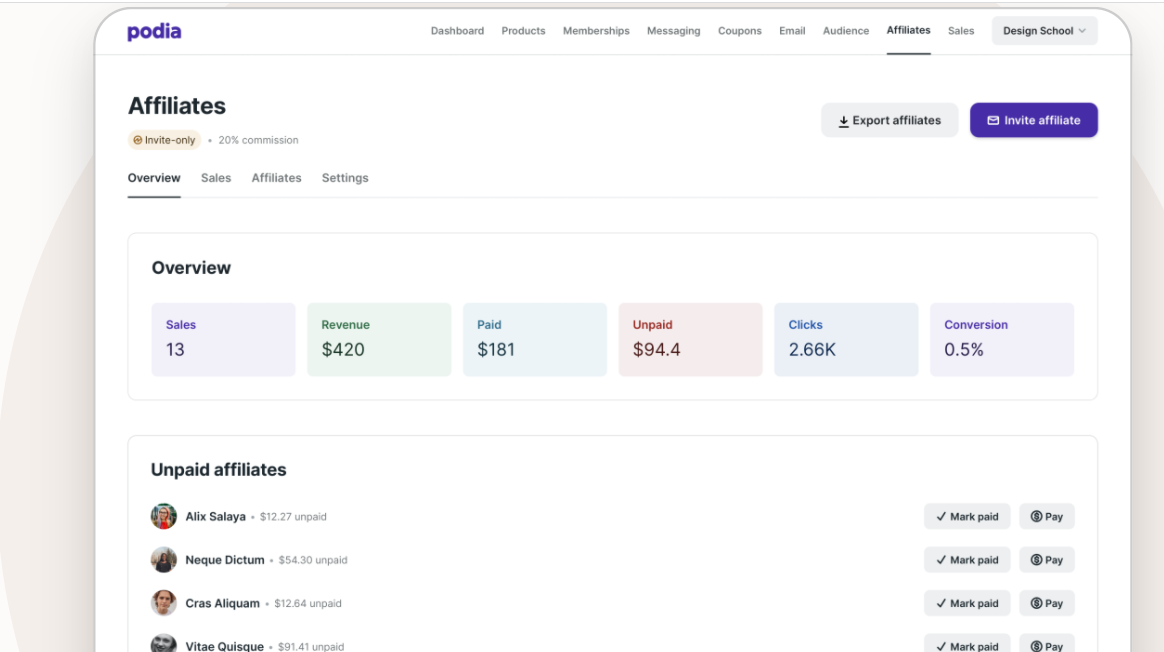 Podia Pricing Plans
Podia offers three pricing plans: Mover ($33/month), Shaker ($75/month), and earthquake ($166/month).
With any of these plans, you can offer unlimited products and unlimited student access (the main difference is the number of features).
You're also able to create a custom domain for your Podia storefront and add your logo to make it match up with your brand. You save 17% on any of the plans when you pay yearly instead of making monthly payments.
The Mover plan gives you all the basic tools you need to set up your store and start selling your content. It includes unlimited products, unlimited bandwidth, no transaction fees, and priority support. The Mover plan cannot sell coaching products, while the shaker and the Earthquaker plan allow you to sell your coaching services. You can get extra teammates on the Mover and Shaker plans if you pay $20 extra every month.
The Shaker plan builds on the Mover plan by giving you powerful marketing tools like affiliate marketing, coupons, and email marketing. The Mover plan is entitled to 1000 free community members, whereas the Shaker plan is entitled to up to 15, 000 community members, and the Earthquaker plan gives you 100, 000 community members.
The Mover plan entitles you to just 15 topics, whereas the Shaker and the Earthquaker plans entitle you to an unlimited number of community topics. Also, the Mover plan has no access to embedded checkout, affiliate marketing, and course certificate features but the Shaker and Earthquaker plans have these three features.
While all three plans have email marketing features, and an unlimited amount of email subscribers, the Mover plan is only entitled to 5000 email recipients, the Shaker plan comes with 15, 000 email recipients and the Earthquaker gives you 50,000 email recipients.
The Mover plan features Zapier triggers, but not Zappier actions, whereas the Shaker and the Earthquaker have both features. You can't remove the Podia Branding from your products with the Mover plan but with the Shaker and the Earthquaker plans, you can remove Podia branding.
The Mover and the Shaker plan have no priority support, whereas the Earthquaker plan has the benefit of a priority support feature. It equally has two onboarding calls benefit, monthly group course creator call and third-party code which are not available to users with the lower pricing plans.
Compared to some of Podia's competitors, Podia doesn't have a free plan.
For example, there are free plans available on Teachable and Thinkific, but not with Podia.
However, they do offer a 14-day free trial with no credit card required to let you try out their features before you begin paying.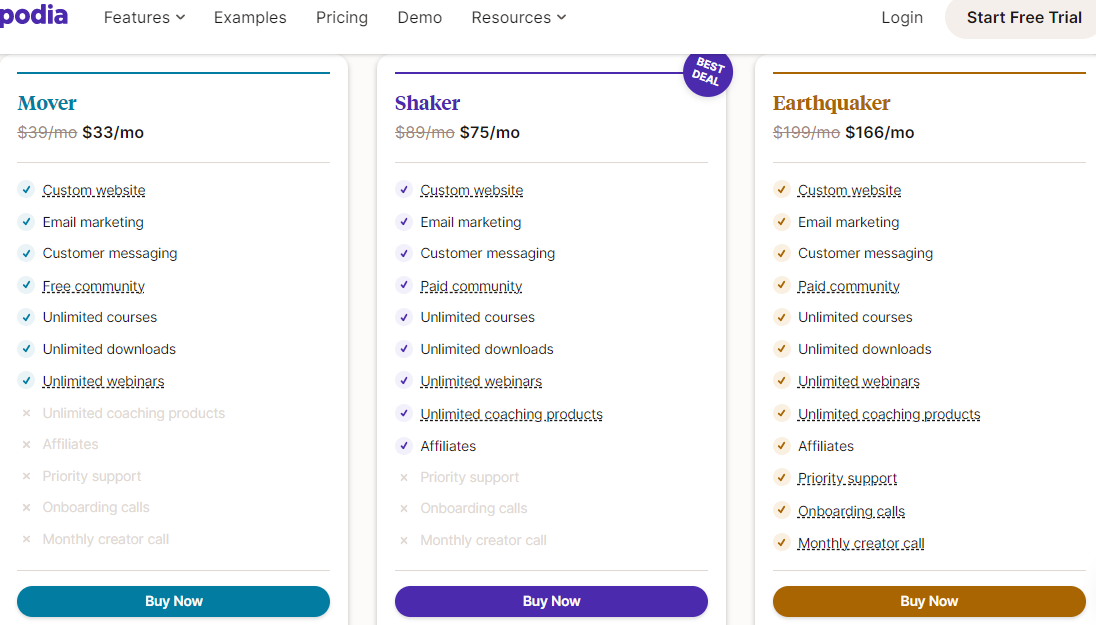 The Mover plan is best suited to beginners and budget-minded entrepreneurs who  want to start selling their digital products online. The Shaker plan will suit course creators and those who are already selling online and want more advanced features, like memberships, affiliate marketing, and webinars.
My Verdict on the Podia Pricing Plans
Podia has many great features that make building an online course easy, and its pricing might seem affordable compared to other course platforms that offer similar features.
But be careful because if you add a couple of admin team members at $20 a month, the price will quickly end up being almost the same as other platforms (but still a bit lower).
There is hardly any noticeable difference between the Shaker and Earthquaker plan, other than the volume of emails and community members.
The Mover plan might seem affordable, but without certificates and without removing the Podia branding, it's probably just an option for when you are still trying the platform after the 14-day free trial is over.
In practice, this means that you are going to want to upgrade to the Shaker plan when you start selling your courses.
If you want to pay monthly, Podia will come at $89 per month, plus a couple of $20 per month admin team members that you will probably have to add at some point.
In conclusion yes Podia seems more affordable than alternatives like Thinkific or Teachable, but it's still several times more expensive than more recent platforms like for example OnlineCourseHost.com.
For example, if you choose to stay your first year on the monthly Shaker plan before committing yearly, and you need an extra admin, that's going to cost you around $1300 for your first year.
So I hope this helps you get a better understanding of what to expect from the Podia pricing structure. Let's now talk about customer support, and then the final verdict.
Podia Customer Support
Podia's customer support is second to none. You can get in touch with a real, live human being via live chat or email. They're always happy to help and reply to every email they receive (even though it may take a little longer on the weekends).
There is also a comprehensive Knowledge Base that covers everything from how to set up your account to what payment processor you should use.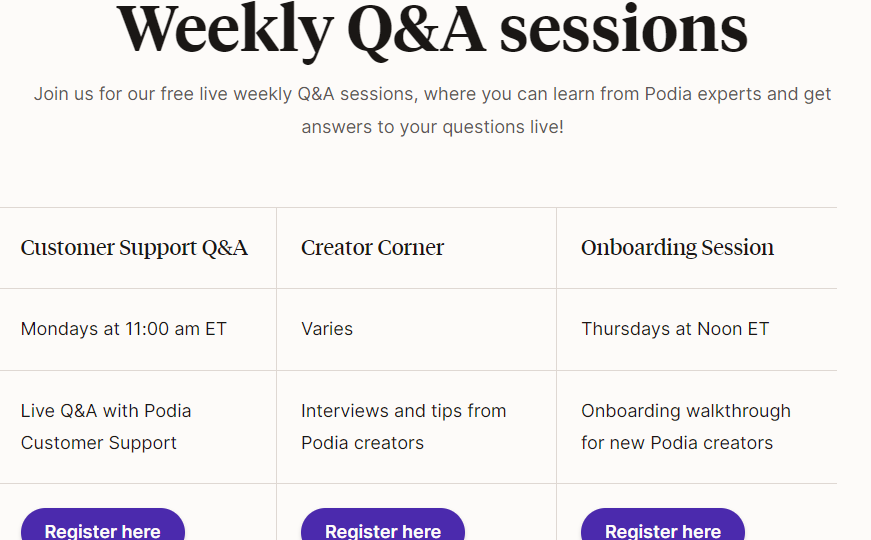 Additionally, there is a weekly question and answer forum with monthly webinar sessions where you can ask any questions about using Podia for your business. You'll learn about the newest features and get suggestions from other creators in the community.
Let's go over some of the key features of Podia customer support.
Email Support
Podia's email support team is available from Monday through Friday, 9 a.m. to 7 p.m. EST and 11 a.m. to 5 p.m. on Saturdays and Sundays.
If you need help outside of those hours, you can send an email and expect a response the next day at the earliest.
The knowledge base also notes that it can take up to 48 hours to receive an email response in some cases, depending on the complexity of your issue and whether Podia is experiencing high volumes of emails at that time.
Knowledge Base
Podia has a fairly extensive knowledge base that includes video tutorials, help articles, and demo courses for both memberships and digital downloads.
These are organized into categories that can be filtered by product or subject matter if you're not sure where something might be located. There are also quick links in the footer that take you directly to articles about getting started with Podia, billing and pricing plans, payments, marketing features, and more.
Communicate with your customers via email, support tickets, and live chat.
Support tickets
Allow customers to submit requests, and then respond to them via email (or directly in Podia). The ticketing system is built directly into Podia, so you don't need to sign up for a third-party service — though you can use one if you prefer.
Live chat
With Podia, you can add a live chat widget anywhere on your site. Customers can ask questions about your products or start any other conversation. You can respond right in the browser or pick up where things left off later on your phone.
Once you have integrated Podia with LiveChat on your website, you can view a list of all your LiveChat conversations within Podia. Customer information will be automatically pulled from your contacts. The conversations are available under "Customer Support" in the navigation menu. To respond to a customer just click on a conversation and write a message at the bottom of the page.

In-app messages
Send an announcement or message to all of your customers at once — like when you're releasing a new product. They'll see it the next time they log in: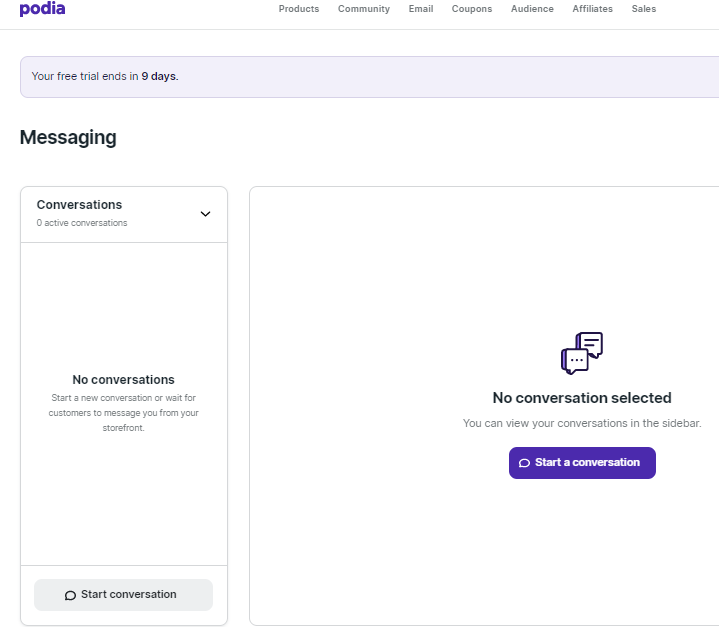 Weekly Question and Answer Forum
Their weekly question and answer which includes customer support question and answer, creator corner, and the onboarding session are equally a great asset and provide further answers to any question you might have.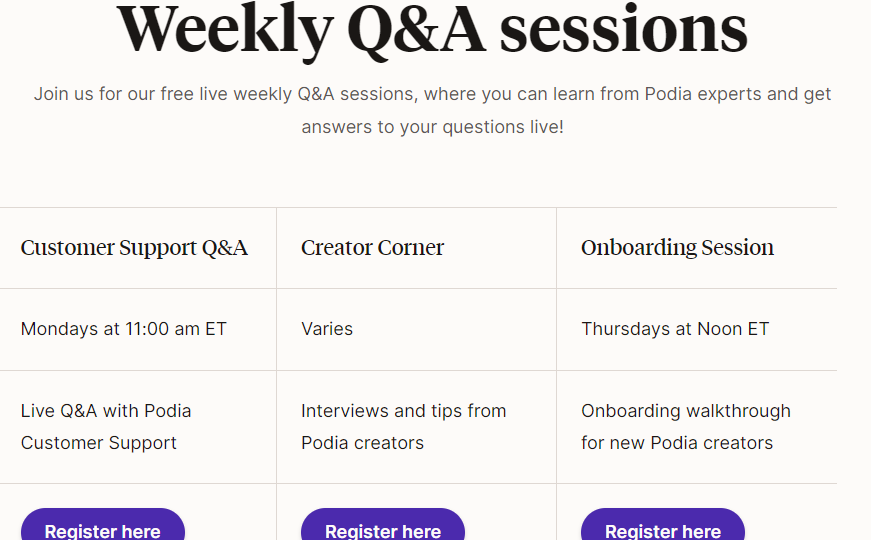 Podia Review: My Final Verdict
Podia is an all-in-one online course and digital download platform. It's user-friendly, easy to set up, and has a lot of great features for building your business.
Podia's product pages are pretty similar to those you might see on other platforms like Teachable or Thinkific: there's a little bit of text at the top followed by a video (or multiple videos) and a pricing table.
You have everything you need to build your business within one platform.
The Podia Platform is perfect for all kinds of course creators. From solo teachers who want to take their content online to bloggers looking for a way to sell their information, to businesses wanting to offer online courses, to creatives selling goods and looking to do so through an eCommerce store.
The best part about Podia is that there are no limits on what you can sell!
Compared to other platforms, Podia is more affordable and has more features included in the base price.
It's best for creators who have a loyal audience and want to offer a lot of different types of content. And because it has marketing tools built-in, Podia is also a good choice for those who don't have the time or budget to spend on additional marketing tools.
I love that you can customize your landing pages, host your webinars (and they look great!), and you can easily add in a payment plan option for your courses. The only major drawback for me is the limited customization options, but I think that is by design.
The integrations are all there too, which is great!
The customer service team is not outsourced either, which is a huge draw for me. They're based in New York City and will be there for you every step of the way to answer questions. The platform is constantly improving as well based on user feedback!
The best part? Podia doesn't charge transaction fees for subscription or course sales, so you keep everything you earn. Podia is super user-friendly. They have lots of tutorials on how to get started! It's all very intuitive!
I recommend this platform if you're looking to launch an online course or membership site.
If for some reason, Podia is not within your budget, and you are looking for something even easier to use that does not involve the use of drag and drop editors, you can also check out our platform OnlineCourseHost.com.
This is is the easiest to use and most affordable online course platform on the market, and it includes email marketing features.
I hope this review on Podia will help you decide if it is the right platform for you!
If you are looking to ask any questions you need on online course creation, you can reach me here on my Facebook group:
Join the Course Creator Academy Facebook Group
If you would like to get notified when other guides and useful content on online course creation is available at the Academy, then you can join us here:
You can find many other guides like this in our Free Course Creators Academy
Here are some of our other popular articles and guides:
I hope you found this Podia review helpful, let me know in the comments below what other topics you would like me to cover, or any questions that you have?
Thanks for reading… and enjoy the course creation process! 😉
---
Vasco Cavalheiro
OnlineCourseHost.com Founder & Online Course Creator
LinkedIn   Facebook Page   Facebook Group   Twitter
You are welcome to ask me any questions in the comments below: 👇👇👇👇
---
Frequently Asked Questions about Podia
What makes Podia Unique?
Podia has several features and benefits that set it apart from the competition. Many are immediately obvious from the moment you sign up. Others come in handy as you grow your business. Podia competes very well with other course builders like Teachable, Thinkific, Kajabi, and more. Here's how Podia stacks up against its competitors:
A clean, simple interface: Unlike many of Podia's competitors, you don't get bombarded with unnecessary options and settings. Instead, the aim is to make the dashboard as simple as possible for you, so you can focus on what matters: publishing your products and making sales.
Intuitive and User-Friendly Dashboard: The dashboard lets you see immediately how many people have visited your site, signed up for your mailing list, and purchased your products;
Sales & marketing widgets: This is where you'll spend most of your time — creating new products, adding content to them, customizing their pages, setting prices and discounts, and more
Built for creators: Podia didn't build a platform for users, but creators. The goal is to make it easier than ever to share your knowledge online — without technical headaches or design obstacles.
No confusing settings: There's no need to configure advanced settings to get started. If you want more control over your store (like custom code), it's there when you need it. But otherwise, it's hidden away so it doesn't get in the way.
Mobile friendly: Everything looks great on any device — from editing products on the go to making purchases from a smartphone
No transaction fees: Podia doesn't charge any transaction fees on purchases made on our platform. Instead, they charge a flat monthly fee (that goes down the more you sell) which means you can keep 100% of the revenue you earn selling courses and digital downloads.
Accept one-time payments, subscriptions, and memberships: On Podia, you can offer one-time payments, subscription-based plans, and memberships all in one place. No need to manage multiple platforms.
Email marketing built right in: Podia built email marketing right into the platform so you can easily communicate with your audience while they're on your site. Sell more by sending beautiful email campaigns straight from your dashboard.
Excellent Customer Support: While Podia is yet to integrate phone support into their platform, they have email and live chat support and their customer service agents are great at providing prompt support and help when you need it.
Simple integrations with 3rd party tools: You don't have to be locked into using Podia for everything — the simple integrations allow you to use tools like ConvertKit, MailChimp, and Facebook Pixel without any
I love being able to run my business from one place. It's also really nice to know that I don't have to worry about finding another solution for my needs down the road because Podia will grow with me as my business grows.
Who is Podia meant for?
Podia is great for creators who want a simple way of sharing their expertise, experience, or art with their audience.
You can use Podia to sell any type of digital product, with or without a course component. So, if you're a creative, maker, or blogger trying to monetize your content, then Podia is the best choice for you. If your business is growing more complex and you want complete control over how everything looks and functions, then Podia will still be a good choice for you.
Podia has a lot of functionality compared to other platforms out there but it stays easy to use.
Why Use Podia?
Podia is an all-in-one digital platform that allows you to create and sell online courses, memberships, digital downloads, and all kinds of digital products on the same website.
The best thing about Podia is that you don't need to be a programmer or designer to get it up and running.
The beauty of Podia is that you have everything in one place without having to juggle different service providers to build your online course.
Podia is an affordable solution for anyone looking to launch an online course or digital product on their website and eliminate confusion due to multiple tools.
As it stands, Podia is the only platform that offers these features in a single package, making it the most cost-effective solution out there.
If you want to create your website, share your products with the world and keep 100% of your revenue, then Podia is the right choice for you!