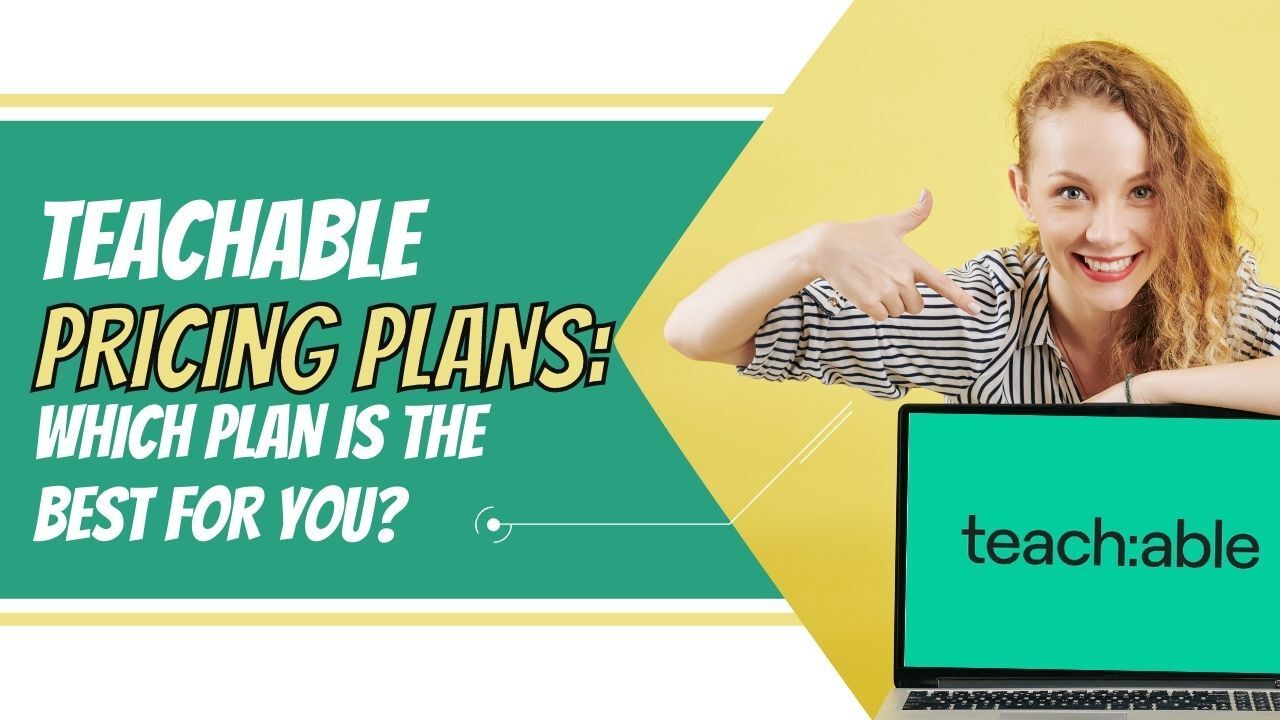 How much does it cost to use Teachable?
If you are looking to learn more about the Teachable pricing plans, and need some help in choosing the right plan for you, then you have come to the right place.
Because this article is the most in-depth review of the Teachable pricing plans available out there on the Internet. 😉
If you are a creative entrepreneur, teacher, or own a corporate business, Teachable handles all aspects of your online course creation – from setting up your account, uploading your videos, and integrating social media handles to payment processing.
Also, if you are just starting as a course creator, there are course creator training and group coaching calls available to help you create, upload and start selling your online courses.
Though Teachable is a notable platform to build your online learning empire, a lot of its features depend on the plan you subscribe to.
For example, if you are using the free or basic plan, you will not have access to the group coaching calls or training available for course creators. You have to upgrade to either the Basic, Pro, or Business plan to unlock this feature.
To help you further understand how the platforms works, I have broken down all the available Teachable Pricing Plans including the features attached to each while also explaining factors to consider before making your choice.
So what pricing plans does Teachable offer?
Here are the pricing plans currently offered by Teachable:
A Free Plan (with 10% transaction fees)
A Basic Plan priced at $39 per month or $348 per year ($29/month)
A Pro Plan priced at $119 per month or $1188 per year ($99/month)
A Business Plan priced at $299 per month or $2988 per year (249/monthly)
But which plan includes which features, and which one is right for you?
That's what we are about to find out. 😉
You can also check out all the free guides that you have available here at the Course Creator Academy by clicking on the Academy link on the top menu bar.
Related Articles
What is Teachable?
Teachable is an online course creation platform founded by Ankur Nagpul in 2013. Previously known as Fedora, the platform has continually helped course creators to share their knowledge online and make a living while at it. It currently houses over 100,000 creators.
Teachable comes with easy-to-use features such that even if you are a tech newbie, you can easily navigate and create your course. Safe to say that you do not need any coding knowledge to use Teachable.
You can easily upload and customize your courses, set up your payment method, track sales, and student insights, and even bring in more team members.
All of these take a few minutes to set up and if you ever encounter any problem, their support team is available 24/7 to help you.
Teachable Platform Overview
Before diving into the pricing plans available on Teachable, let me give you a quick overview of the features available on the platform.
Before the creation of Teachable, Nagpal was a regular course creator who leveraged other platforms to sell his courses.
However, he became frustrated at a point due to the numerous limitations he encountered on these platforms. He then decided to create an improved LMS - Learning Management System.
Now creators enjoy unlimited courses, videos, students, and hosting on all Teachable pricing plans.
The platform offers the following features;
Simple course builder – Teachable has an intuitive drag-and-drop builder that makes it easy for course creators to build their courses.
Quiz creation – You can monitor your students' learning process, and get feedback to know areas that need improvement.
Host Live classes – Teachable allows you have one-on-one interaction with your students. This is a great way to make the learning environment more engaging. Though you will need a third-party platform like YouTube, Live stream, and Twitch.
Issue certificates – Issuing certificates to your students is a good way to strengthen your reputation and attract more sales. Also, students will be motivated to complete the course.
Build a strong team – Teachable gives you the option of bringing on more authors, contributors, and team members. You can always customize their permission and roles from the dashboard.
Receive feedback – You can use third-party forms and survey to get feedback from your students. This helps you to know course areas that need to be improved on and steps to take.
Effective marketing strategies – After creating your courses, you can offer coupons, create course bundles and sell them at a discounted price. You can also make your course open to affiliate partners and pay them after each successful sale. This feature allows you to attract more sales.
Accept international payments – Set up and accept credit card and PayPal payments in more than 130 currencies.
As helpful as these features are, their availability depends on the Teachable Pricing Plan you are subscribed to.
However, there are core features available in all the plans including the free plan. These essential features include unlimited coaching, hosting, and video bandwidth. You also get to have as many students as you want and give basic quizzes.  
Other features include integrated payment processing, email support, lecture comments, course design templates, and student management.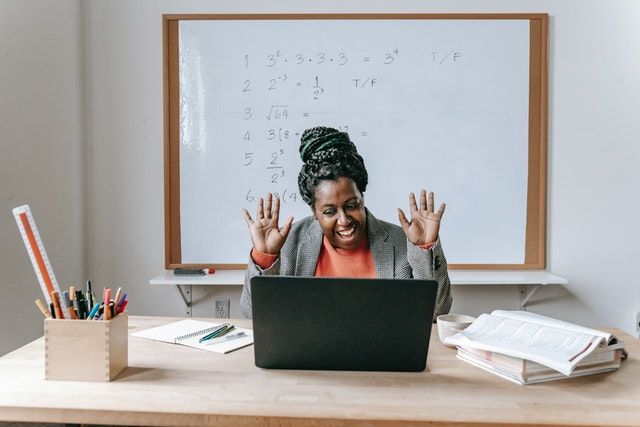 The Teachable Free Plan
Teachable pricing plans come in four models – a Free plan, Basic plan, Pro Plan, Business plan, Business Pro, and Enterprise Plan.
The free plan is a great way to familiarize yourself with the platform before deciding on the plan to subscribe to.
The plan is also useful if you are a new course creator with limited financial resources. You can stay on the plan until you have built a strong customer and audience base.
Thankfully, Teachable's free plan offers the basic features to get you started. They include;
Unlimited students
Instant payouts
Unlimited coaching service
Unlimited video bandwidth
Third-party integrations
Course design templates
Basic quizzes.
The free does come with generous offerings, but be careful and make sure you control all the implicit costs that come with it. You are charged $1 + 10% every time a student pays for your course.  It's a huge cut and you will end up not making enough profits from your course sales.
Let's say you are selling a course for $200. Every time someone pays for it, 10% + $1 goes to Teachable.
10% of $200 = $20
$20 + $1 = $21
So, at the end of the day, Teachable is taking $21 out of every sale and that is without the credit card processing fees.
If the payment was made through a U.S credit or debit card, you are losing an additional 2.9% of your sales plus 30 cents.
Payments made via U.S PayPal accounts incur 3.39% + 49 cents and if it is from a non-U.S PayPal account, 4.99% and 49 cents are charged as the processing fee. Though, these fees are applicable to all the plans.
So make sure you calculate your costs taking into account all these factors, and check if it wouldn't be better for you to simply upgrade your account.
Who is the Teachable free plan for?
The Teachable Free Plan is best suited for new online course creators. Because you are new to the field, you will have lots of doubts and "What ifs".
What if I don't make a profit from selling this course? What if I fail?
It's normal to have these fears but Teachable is telling you, "Hey, it's okay. You can create and sell your course on our platform without paying a dime. We are giving you the freedom to have as many students as you want, and enjoy unlimited hosting and coaching sessions".
So you can launch your course with no costs upfront, and start accumulating students.
As soon as your business grows, you can then upgrade to any of the paid plans and unlock more features if needed.
Advantages of The Teachable Free Plan
The Teachable Free plan comes with lots of features that give you firsthand experience in online course creation and management. They take care of the technical aspects, while you concentrate on developing your course content.
The platform offers you unlimited video bandwidth, unlimited students, email support, coaching services, live coaching services, course design templates, and integration with multiple payment platforms.
It also provides you with flexible pricing plans for your courses. You can sell in multiple currencies, with multiple pricing plans, or even create subscriptions and payment plans.
Teachable understands the importance of student evaluation and feedback. That is why course creators on their free plan have access to create quizzes and surveys.
Also, if you are based in the United States or any of the countries under the European Union, you don't have to worry about paying taxes. Teachable automatically handles all US sales tax and EU value-added tax.
Disadvantages of The Teachable Free Plan
The Teachable Free Plan presents some limitations, especially for course creators who have successfully established a thriving business.  So you will want to upgrade away from this plan as soon as possible.
The free plan is only meant as a practical way to test-drive the platform, as it's normally the case with online course platforms.
Aside from the platform taking $1 + 10% from each sale you make, you cannot give coupons or have affiliate partners. These are good marketing strategies but unfortunately, you cannot explore them in the free plan.
Also, the free plan only allows one admin user. You are also limited to using only the Teachable subdomain.
This means that you will have teachable.com at the end of your domain. That is, yourschool.teachable.com. Domains like this don't look professional and that might affect your business growth.
Also, you cannot offer lecture upsells. That means, if you have more than one course on the platform, you cannot present related courses to your students, to lure them to make another purchase.
Though the Teachable free plan allows you to give basic quizzes to your students, you cannot grade them.
Graded quizzes help your students identify their strengths and weaknesses. This will motivate them to work harder and pay more attention to your course.
The Teachable Free Plan does not allow drip course content. It means that you cannot schedule your lectures and deliver them gradually which might affect student engagement.
Also, you cannot issue certificates to your students which can take away some of the credibility of your online course.
With these limitations in mind, I suggest that you should upgrade to a paid plan when you can afford to.
The features that come with paid plans are helpful to your growth as an online course creator.
Teachable Paid Plans - An Overview
Two options are available for Teachable paid plans - An annual subscription and a monthly subscription. Here is a summary of the Teachable pricing plans;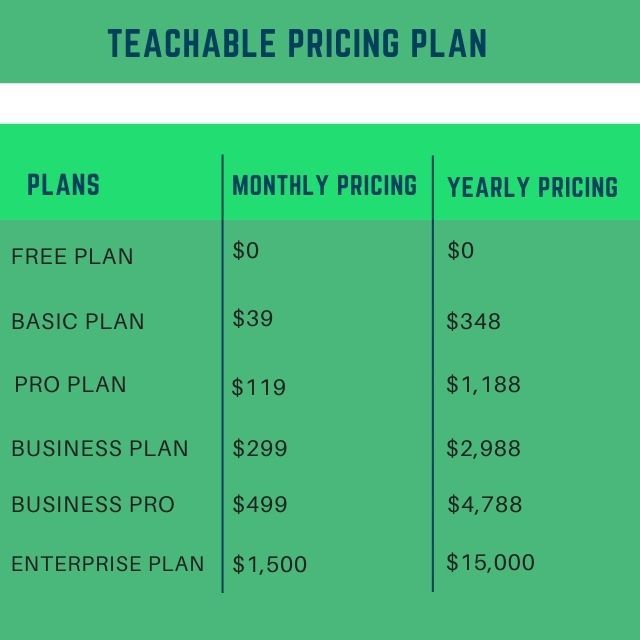 You will notice from the table above that you get a good discount if you are billed annually. That means you will save more.
Let us look at how these savings accumulate in one year: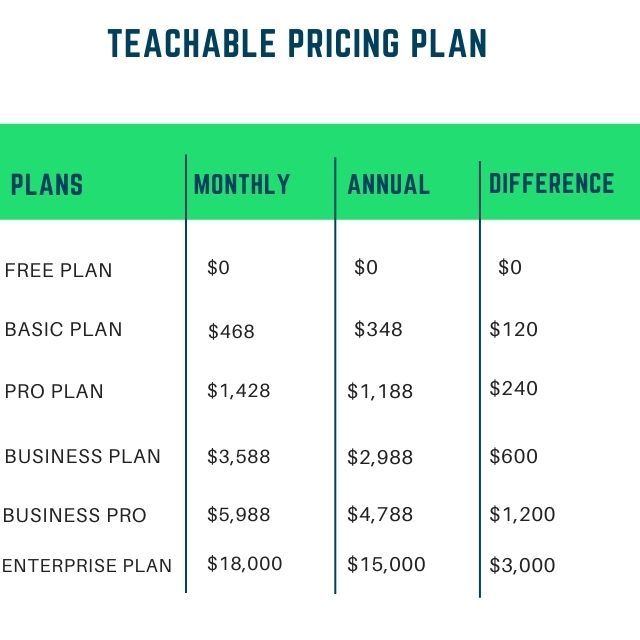 From the table above, it's evident that you will be saving a lot more if you opt into the Annual Billing.
Monthly subscriptions are great if you don't want to commit too much upfront.
Now, let us look at the basic plan, and the features that come with it.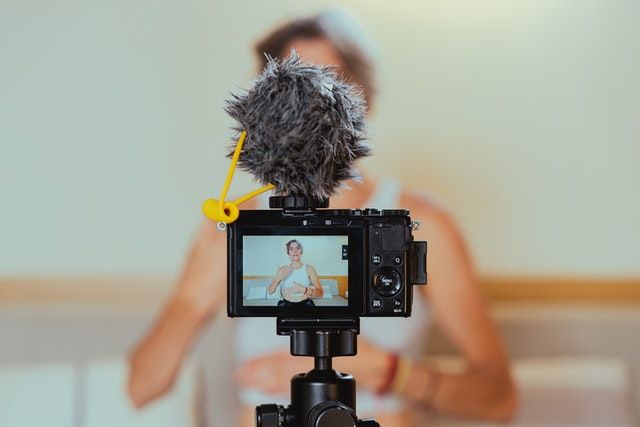 The Teachable Basic Plan
The Teachable Basic Plan is an extension of the free plan. It comes with additional features that are not present on the free plans. These features include:
Freedom to use a custom domain
Drip course content
2 admin users
Integrated email marketing
Third-party integrations
Course creator training.
5% transaction fees
The Teachable Basic Plan goes for $29 if you are billed annually and $39 if you are billed monthly.
Who is the Teachable Basic Plan meant for?
The Teachable Basic Plan is an ideal option if you want to graduate from the Free plan and cannot afford a higher plan just yet.
It is also a perfect fit if online course creation is your hobby or side hustle, as opposed to a full-time profession.
You have access to core features that will give your business professional backing.
However, the platform does take a 5% commission for every sale you make.
Let's say, you are selling a course for $200.
5% of $200 = $10
From the analysis above, Teachable takes $10 from every purchase instead of $21 if you were on a Free Plan. At first glance, it might look like a sound deal.
But if you are not making enough sales every month, it might not be worth it.
Still on our $ 200-course price, let's say you make 10 sales every month. You will end up paying $100 as transaction fees.
Whereas the Pro Plan which goes for $99 per month does not take any commission from your sales. Put aside the processing fee, you are entitled to your full revenue.
So you see, in reality, you may be losing by remaining on the Basic Plan. However, if you are making less than a few sales every month, then it's best to retain the Basic Plan as you will be saving more.
All in all, before opting into this plan, monitor your sales for a month and see if your total transaction fee is higher than the Pro Plan monthly subscription.
Advantages of The Teachable Basic Plan
A teachable Basic Plan is an affordable option for new course creators. With just $39 per month or $29, if you are paying annually, you are allowed to upload unlimited courses, access to unlimited students, video bandwidth, and hosting.
Unlike the free plan where your domain has "teachable.com" attached to it, the Basic Plan lets you use a customized domain name. This makes your course look more professional and credible.
The option to drip your course content is also available on Teachable Basic Plan. Instead of publishing the lectures at once, you can schedule and drop them bit by bit, making your student yearn and highly expectant of your lectures.
Coupon codes, community, and third-party integrations are still available under the Basic Plan. As a newbie in the course creation industry, this plan offers course creator training.
The training opens your eyes to the rudiments of online course creation and how to use the Teachable platform to create and sell your courses.
Disadvantages of The Teachable Basic Plan
For starters who want to fully go into online course creation, this plan is not a viable option. It lacks the core features required to run an effective business.
Aside from taking 5% off every sale you make, the plan does not unlock important features like an integrated affiliate program, upsells, Zapier actions, compliance certificates, custom user roles, and bulk students' import.
The absence of affiliate programs and course upsells limits your marketing strategies. Just like the Free Plan, you cannot grade your students or even issue them certificates at the end of your course.
Zapier is a marketing tool that allows you to integrate the most popular apps like Google Sheets, Mailchimp, CovertKit, and many more into your Teachable account.
It automates your workflow and gives you time to focus on important aspects of your online course creation.
Unfortunately, the Teachable Basic Plan does not allow such integration.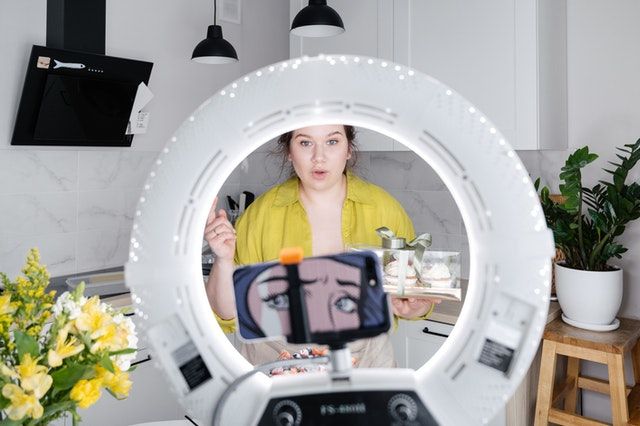 The Teachable Pro Plan
The Teachable Pro Plan is the most popular pricing plan on the platform. It comes highly recommended mainly because of the advanced features it comes with.
With $119 per month or $99 per month when billed yearly, you will have access to all the features in the Basic Plans including;
Live chat
Integrated affiliate program
Zapier actions
Graded quizzes
Course completion certificates
Course compliance
Upsells
Advanced reports
Unbranded website
Group coaching calls
Unlike the Free and Basic Teachable pricing plans, the Pro Plan does not charge any commission or transaction fee for any course purchase. All the revenue you are making goes to you. That is, as usual, minus the credit card processing fees.
Who is Teachable Pro Plan For?
If you have mastered the art of online course creation, built a web presence, and are ready to move what was once a side hustle to a full business, then, Teachable Pro Plan is your best bet.
The plan is reserved for people serious about making a good income from their online courses.
Not only are you getting a custom domain name, but you are also not paying any commissions and transaction fees.
Again, if you intend to have more than two administrators in your school, you can give this plan a shot. Teachable Pro Plan allows for 5 admin users.
However, the platform still doesn't allow you to assign roles to your team members but at least everyone is permitted to have access to the school's backend.
On a face level, the Pro Plan might look expensive. But, comparing the cost with the advanced features it unlocks, the plan is worth the investment.
Advantages of The Teachable Pro Plan
The Teachable Pro Plan is designed to help you fully kick start your journey as a full-time online course creator.
The plan comes with all the benefits available on the free plan and Basic Plan – unlimited students, courses, video bandwidth, hosting, drip course content, course design templates, integrated email marketing, third-party integrations, and course creator training.
However, unlike the free and basic plan, the pro plan does not take any commission from your course sales. You are entitled to all the revenue, minus the processing fee, of course.
This plan is highly recommended because the features are designed to boost student engagement:
Now, you can grade quizzes and issue certificates to your students after they complete your courses. This encourages your students and gives them a sense of accomplishment.
Course upsells are also available on the Pro Plan. It's a good way to drive traffic to similar courses you have on Teachable.
Unlike the Basic Plan which offers only email support, Teachable Pro Plan gives you access to live chat which is more effective chat support.
Moreover, you can use Zapier to integrate a lot of third-party apps into your school. This automates your marketing tasks and gives you more time to focus on other areas of your business.
For example, you can connect your school with tools like MailChimp, Zandesk, Olark, Google sheets, Covertkit, etc.
The Teachable Pro Plan unlocking the advanced reporting feature is a big plus to users in this plan.
As a course creator, it is pertinent to monitor your sales – Who is buying? Did they complete the course? Where did they stop?
The data gathered helps you identify the areas in your online courses that you need to pay close attention to and improve on.
Usually, Teachable adds platform branding to schools created under the platform. A custom domain name still has branding if you are on a Basic Plan.
However, the Pro Plan allows you to remove all the platform branding, making your website appear way more professional.
Group coaching calls are also available on the plan and are hosted 3 times every week. Teachable in-house experts will be available to answer all the questions you have about the platform.
And lastly, you can decide to integrate an affiliate program into your school. You don't have to shoulder all the marketing responsibilities. Delegate them to third parties and give them a cut anytime they make a sale.
Disadvantages of The Teachable Pro Plan
Using the Pro Plan, you can choose your website appearance from a series of pre-defined templates. But if you need to code your own templates and do something a bit more unique, that won't be possible in this plan.
Also, the Teachable Pro Plan does not allow you to create custom admin roles. So you need to make sure that the built-in roles of the Website Owner and Course Author are enough for your needs.
Also, if you already own another website, it's normal for online course creators to collect students' data like names and email addresses for effective and direct communication.
However, if you are migrating from a different online course creation platform to Teachable, you cannot import your users in the previous platform using the Pro plan.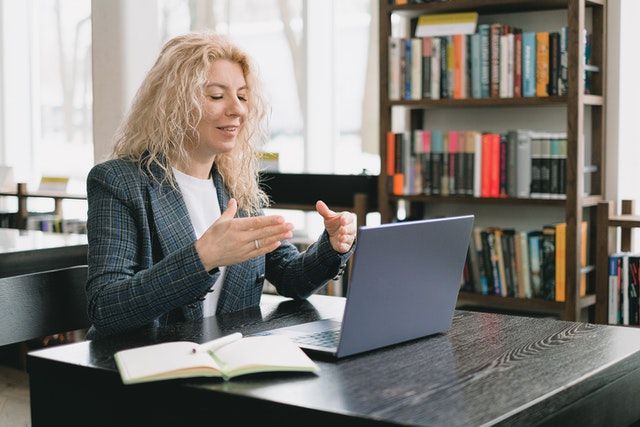 The Teachable Business Plan
The Teachable Business Plan is the most expensive plan currently available on the Teachable website. It goes for $249 per month if you are billed annually or $299 per month if you subscribe monthly.
You can access all the features present in the free, basic, and pro plans. But it also includes advanced features like:
Custom user roles
Bulk import students
20 admin-level users
Advanced developer customization
Just like the Pro Plan, there are no transaction fees. You are entitled to your entire course revenue.
Who is Teachable Business Plan for?
The Teachable Business plan is best suited for large organizations or companies looking for an efficient way to train their staff.
The plan is also good if you are an established online course creator and you need help to run your school. You can employ other course creators to support you in the business while you pay them monthly.
Advantages of Teachable Business Plan
The Teachable Business Plan is comprehensive as it gives you access to all the features available on the platform. You can have unlimited courses, students, hosting, and video bandwidth.
You have also access to features like:
drip course content
integrated email marketing
live chat and email support
graded quizzes
certificates
third-party integrations
custom domains
coupon codes
affiliate marketing
course creator training
As the primary owner of the school, you can create up to 20 custom users and allocate different administrative permission to them. Some of the user roles you can delegate are:
Creating and managing courses
Publish and delete courses
Managing users
Site customization
Modify school settings
Comment moderation
Send emails
View course reports and financial information
Unlike the Pro Plan where you are only entitled to one custom design, the Business plan allows you to modify your school's appearance. However, to use the advanced developer customization, you might need the services of a developer or at least have some coding skills.
Also, if you are switching from a different platform to Teachable, you can import students' data to your new school.
What more? You are not charged any transaction fee anytime a student makes a purchase.
Disadvantages of Teachable Business Plan
The only problem with Teachable Business Plan is that it's a bit expensive for most course creators. You are spending close to $3,000 or $3,600 on a subscription alone.
This price point is meant more for companies than individual course creators, but many of the features of the Business plan are needed by smaller course creators too, that might not have the budget to be able to afford the business plan.
Also, Teachable Business Plan allows only 20 admin users. This should be usually enough, but the users who opt into this pricing plan are usually corporations who might desire to have more than 20 admin users.
Thankfully for them, there is a solution.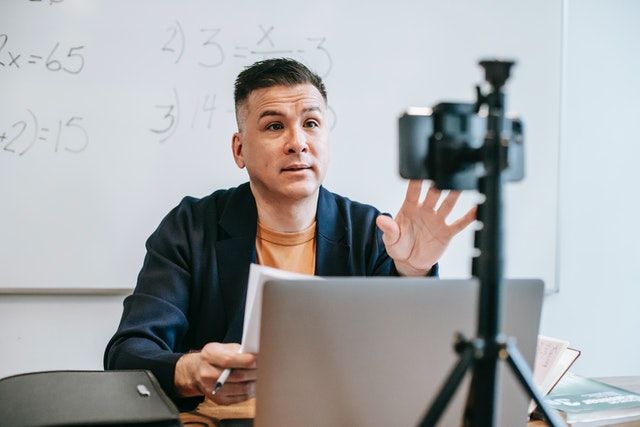 What is the Teachable Business Pro Plan?
The Business Pro Plan is another Teachable Pricing Plan that offers users all the basic and advanced features available on the platform plus an extra 100 user admins.
You also have permission to assign different roles to each of the admins.
The Business Pro Plan goes for $499 if you are paying monthly and $4,788 if you are billed monthly.
Can I get unlimited admin users on Teachable?
The Teachable Enterprise Plan allows you to have unlimited admin users. That is inclusive of all the features available on the platform.
In addition to that, you can have 10 different accounts, with customized domain names, under one school.
For example, if you create online courses in 10 different niches, you can have a separate account for each niche. It's a good way to diversify and boost your revenue as an online course creator. But that's not all.
You are also allowed to have separate custom domain names for each of the accounts hosted under your school.
The Enterprise Plan also offers unlimited admin users to all the accounts. It's a good option for bigger corporations that can afford it.
The plan goes for $1,500 per month and $15,000 if you are paying yearly.
Final Verdict on The Teachable Pricing Plans
Teachable is an awesome platform with basic and advanced features essential to launching your online course creation business. Their pricing plans serve a large range of course creators.
Even though Teachable is an awesome platform, I do think that for a large range of course creators the plans might be a bit on the expensive side, but that is for you to decide.
Whether you are a self-starter, hobbyist, established online course creator, or a large corporation, there is a plan meant for you.
The Free Plan allows you to use the platform for free and in return, you are charged $1 + 10% as a transaction fee. The Basic Plan costs, the Pro Plan goes for while the Business Plan costs.
You can also opt into the Business Pro Plan if you are going to have more than 20 admin users or simply go for the Enterprise Plan which allows you have unlimited admin users and 10 different accounts. These plans are obviously for large online schools.
But maybe you are still just getting started in online course creation and you are looking for a platform with rich features to set up your website.
Maybe you are working on a very tight budget and you don't want to lose either $1 + 10% or 5% from each course you sell.
Opting for the Pro Plan might be a better option but paying $99 per month when you don't have a big enough audience will drain your funds quickly, depending on your budget.
But how about course creators who are on a budget? How do we set up our website, create courses and make sales?
I understand this dilemma because I've been there too. I'm a course creator myself, and I understand what it's like to have to grow an audience from scratch, and that in the beginning there is not a lot of revenue to go by.
It's for this reason that I created an online course platform that both aspiring and established course creators can afford - OnlineCourseHost.com.
Aside from the affordability, the platform is very easy to use and provides an awesome user experience for both you and your students.
The platform gives you built-in email marketing, a custom domain name, free customer support, and Facebook Ads Integration.
You can read more about the platform's features here.
I hope this article helps you decide what is the right pricing plan for you!
Besides helping you choose a platform, we want to give you all the information that you need to grow your online course business successfully.
That's why we have created the Course Creator Academy where you can find everything you need to become a successful online course creator all in one place for free.
To get notified when new content is available here at the Academy, you can subscribe here to our weekly newsletter:
If you are looking to ask any questions on online course creation, you can reach me here on my Facebook group:
Join the Course Creator Academy Facebook Group
Ready to learn how to launch your first course on OnlineCourseHost.com? Here are the helpful guides for you to check out:
I hope this Teachable pricing comparison helped you better understand which plan to use.
Let me know in the comments below what other topics you would like me to cover, or any questions that you have.
Thanks for reading… and enjoying the course creation process! 😉
---
Vasco Cavalheiro
OnlineCourseHost.com Founder & Online Course Creator
LinkedIn   Facebook Page   Facebook Group   Twitter


Frequently Asked Questions
Now, let us compare Teachable Pricing Plans with other course creation platforms. Are they similar? What are the differences?
Thinkific vs. Teachable pricing plans
Thinkific and Teachable have similar pricing plans. Both of them have monthly and annual billing options, as well as free plans.
However, Thinkific's free plan has more limited features. For example, you can only upload a handful of courses. Though you can have unlimited students and enjoy other benefits such as access to quizzes and surveys, hosting email, live support, and course design templates.
Teachable's Free Plan on the other hand features unlimited courses and video bandwidth.  The downside is that you are charged $1 + 10% for every sale you make.
Thinkific does not give such a condition. Whether you are on a free plan or not, you are entitled to all the revenue generated.
Here is a breakdown of Thinkific paid plans;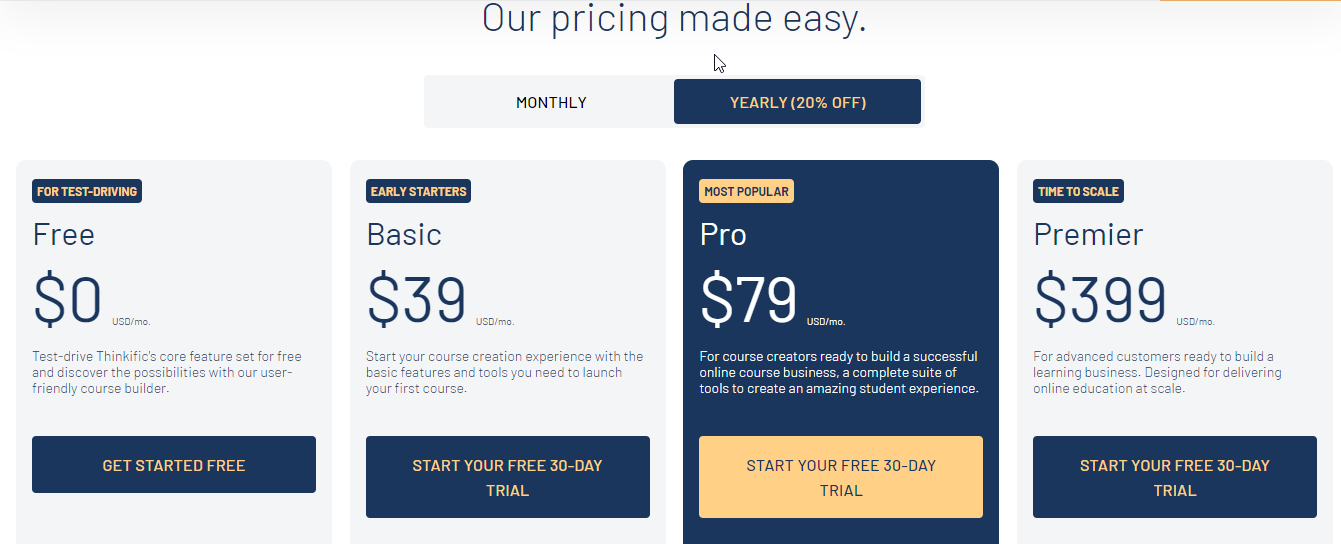 Thinkific's Basic Plan is more expensive than Teachable. Both plans offer the same features. The only difference is that while Thinkfic allows only one admin user and affiliate programs, Teachable allows 2 admin users and has no affiliate program.
However, unlike Teachable Basic Plan that 5% off every sale, Thinkific does not charge any transaction fee.
While Teachable's Business plan allows 20 admin users, Thinkific's Premier Plan which is its equivalent allows just 5 admin users. This factor is worth considering if you are planning on building a large-scale business.
Also, all the plans available on Thinkific have a 30-days free trial period which gives you ample time to decide if you want to stay on the platform or not before making any financial commitment.
Teachable on the other hand does not have such an option.
All in all, both platforms offer a wide array of features that will help you build a profitable online course business.
Kajabi vs. Teachable pricing plans
Teachable has a free plan and five paid plans – three of them are available on the website while the other two can be accessed when you contact the sales team. The plans are Basic, Pro, Business, Business Pro, and Enterprise Plan.
All the plans are affordable and allow for unlimited courses, students, hosting, and video bandwidth. This is the edge Teachable has over Kajabi.
The platform has only 3 pricing plans - Basic, Growth, and Pro Plans. Here is a snapshot;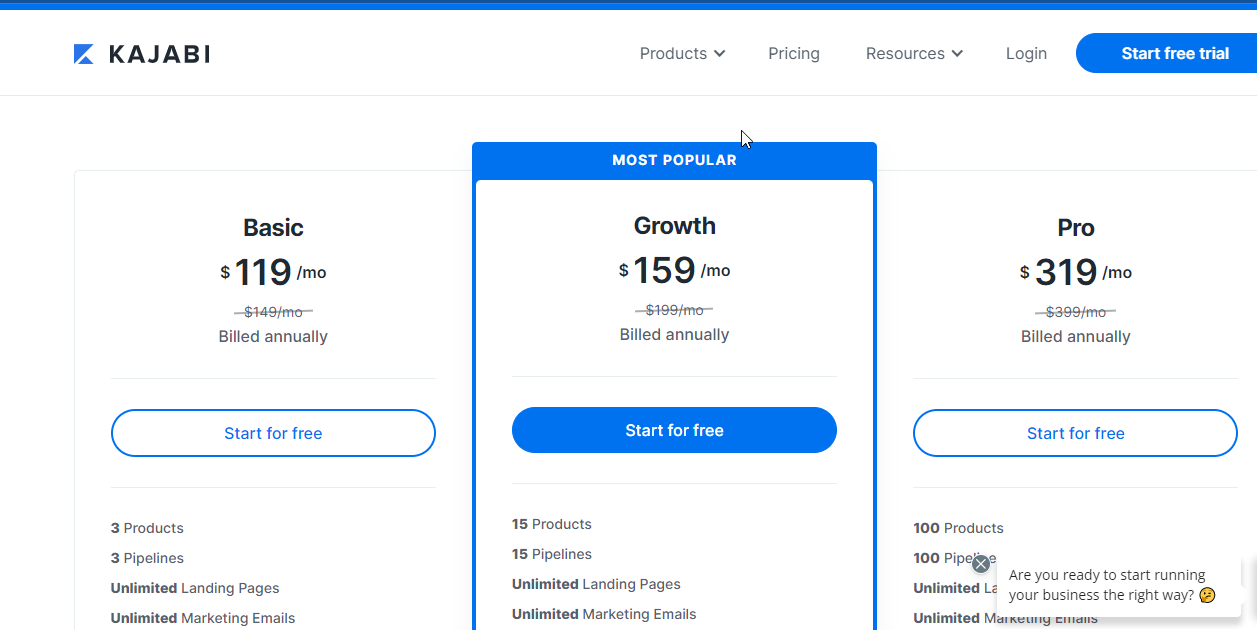 Kajabi's pricing is on the high side. Their basic plan alone costs $119 per month. Though there is no transaction fee attached to each course sale. However, the features to explore are quite limited.
For example, you can only have 3 live products, 3 pipelines, 10,000 contacts, and 1,000 active members.
However, Kajabi is more than a course creation platform. It also serves as a website builder, email marketing software and sales funnel software. The platform has a mobile app for both Android and iPhone users.
Looking at the functions Kajabi performs alongside course creation, the high price can be justified.
Podia vs. Teachable pricing plans
Podia has three paid plans – Mover, Shaker, and Earthquaker. Here is a snapshot of the plans;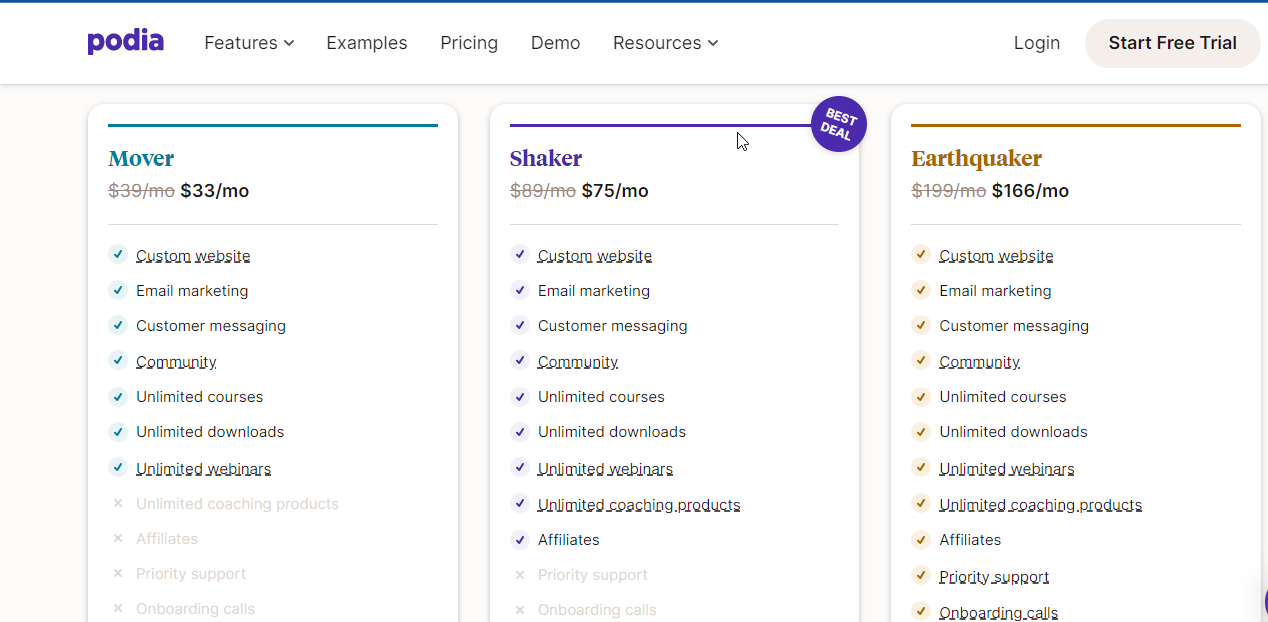 Just like Teachable, the platform has two billing methods. You can either pay monthly or annually. Though, you save 17% of the subscription fee if you pay annually.
All the plans give you access to essential tools required to get your online course business rolling including unlimited courses, downloads, and webinars.
However, you are only entitled to have one admin user. Additional teammates cost $20 per month.
Unfortunately, there is no free plan available on Podia. Teachable gives you a free plan with unlimited courses, students, and hosting. Though the transaction fee for each course sale is outrageous yet it's still a viable option if you are just starting your online course creation journey.
Podia gives you 14 days to try out that platform and decide if the features they provide are worth investing in. The trial period applies to all the plans, unlike Teachable which does not give any.
You can read more about Podia here.