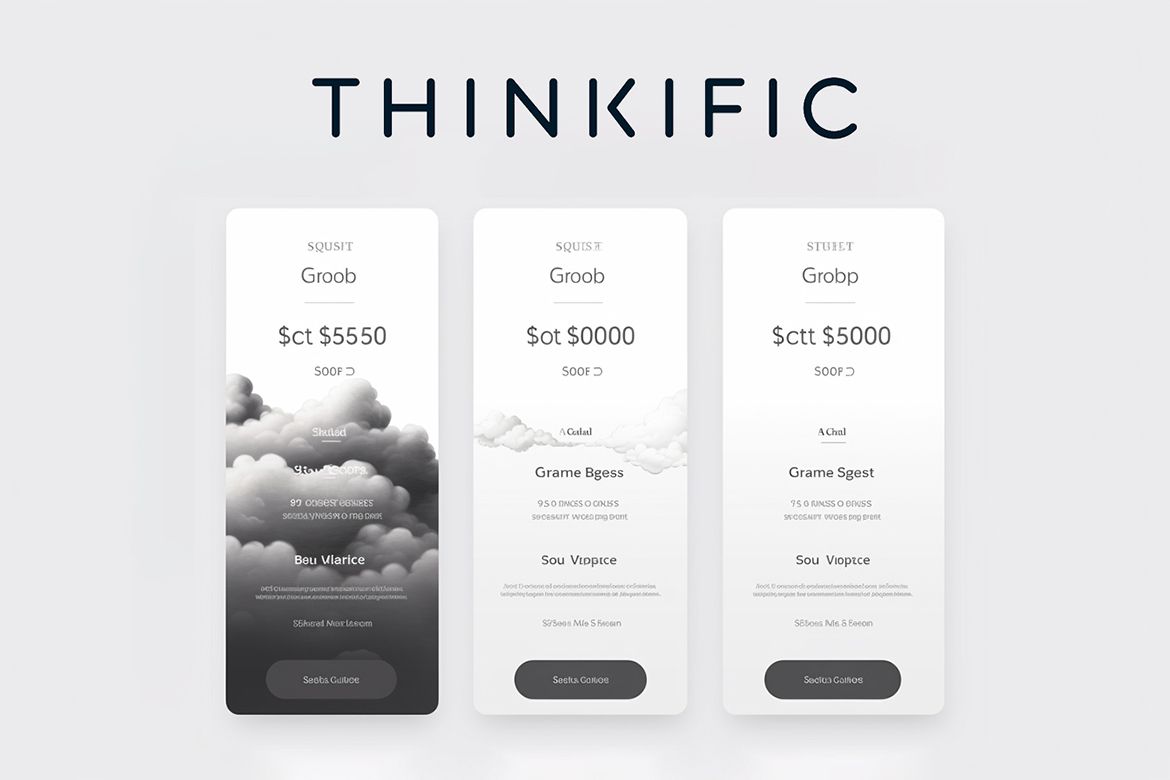 A complete in-depth guide to the Thinkific pricing plans, fully updated in 2023, from the point of view of an experienced course creator. I will help you choose what is the best pricing plan for you.
Thinkific pricing plans are designed for online course businesses of all sizes.
But with so many options to choose from, it can be tough to figure out which plan is best for you.
In this post, I give you a detailed view of both specific Thinkific pricing plans and features, so you can determine the one that suits your needs. It's like having a salesperson at your side when designing your account, so you can get up and running quickly with only the features you need.
Choosing the right online course platform and the right plan is critical for you as a course creator.
If you are a course creator like me, you have probably wondered at some point if the Thinkific online course platform is a good fit for you.
Before selecting a pricing plan on the Thinkific Platform, I recommend that you do some extensive research.
Because if you don't, there is a good chance you will overspend, or miss out on critical features that you need to make your online courses successful.
After all, the last thing that you want to do is to have to migrate all your courses and students to another platform after just a few months, right?
First of all, that would break all your links, which is awful for SEO. And I don't think your students would be happy, and neither would you. It's just something that you want to avoid at all costs.
Regarding Thinkific subscriptions, I have done all the research in this pricing review so you won't have to. 😉
Thinkific Monthly Plans

Thinkific Annual Plans
The platform appears to have only four plans at a first glance, however, there are actually six.
The six plans are:
Free Plan
Basic Plan
Pro Plan
Pro Plan + Growth Package
Premiere Plan and
Thinkific Plus

I'll compare each plan's fundamental features such as:
course building features
sales and marketing tools
support
exam design and certification
integrations
As well as other tools that you'll undoubtedly need to create a viable online course.
All pricing plans will be compared based on different options and specific requirements. This way, you can figure out what works best for you and your budget.
All prices are in US dollars and are exclusive of tax.
So what pricing plans does Thinkific offer?
Here are the pricing plans currently offered by Thinkific:
A Free Plan ( with no transaction fees)
A Basic Plan priced at $49 per month or $468 per year ($39/month)
A Pro plan priced at $99 per month or $948 per year ($79/month)
A Pro + Growth plan at $149 per month or $1,428 per year ($119/month)
A Premier plan at $499 per month or $4,788 per year ($399/month)
There is also a Plus plan that is priced depending on your choice of integrations and requires you to call support
As you can see, there is a huge difference between the multiple plans.
But which plan includes which features, and which one is right for you?
That's what we are about to find out. 😉
You can also check out all the free guides that you have available here at the Course Creator Academy by clicking on the Academy link on the top menu bar.
Here are other posts related to Thinkific: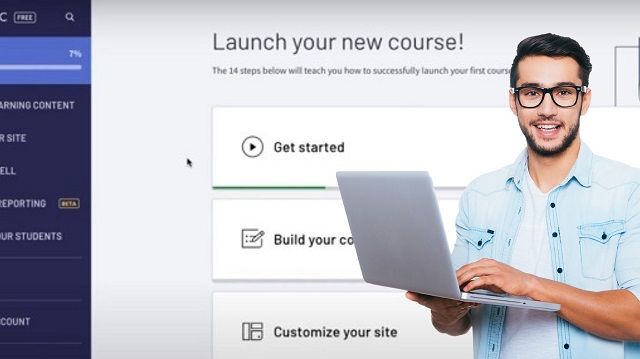 Thinkific, What it is?
Thinkific is a standalone online course platform that allows course creators to effortlessly create, advertise, and sell online courses, getting value based on pricing.
You pay for what you need and you can choose from multiple plan tiers, especially as your online course business grows.
Thinkific is simple to use and comes with several useful tools for:‌
creating content for your online course
Organizing your online course in a professional manner ‌
Making sure the right people know about your online course
Thinkific Pricing Comparison Overview
The Thinkific Free Plan allows you to host up to 3 courses with an unlimited number of students, but the Basic, Pro, Premium, Growth, and Plus packages do not come with a free trial; you must sign up to access them.
You can try out a handful of Thinkific competitor's plans for free, but not Thinkific (though it offers a 30 days money guarantee for all paid plans) and it's important you pay attention to the monthly and annual payment tiers:
| Thinkific Pricing Plans | Free | Basic | Pro | Premier |
| --- | --- | --- | --- | --- |
| Monthly | $0 | $39 | $79 | $399 |
| Yearly | $0 | $49 | $99 | $499 |
Paying monthly means you'll pay more over time, but it also means you can opt-out of the plan or platform if you don't like it easily.
While the one-time annual plan gives a 20% discount which means you'll pay less, but it ties you to the platform for a year even if you decide to quit it.
Depending on your needs, each of these plans includes a different collection of features for you to use.
Also be aware that if you're located in the USA and Canada, Thinkific collects sales taxes in the United States and Canada where it is required by law. These taxes are not included in the costs above. They are charged to your card.
Though there is a free plan, which is not viable for an online course business, the Basic subscription is the most affordable option and includes all of the basic features for creating a course, including unlimited courses and students, access to coupons and promotions, and integrations with other tools such as Zapier and MailChimp, which of course requires a different subscription plan from each of those other platforms.
It also offers drip content, which allows you to add new content to your course after students have finished earlier tasks but also missing some key features that make an online course business viable.
The Pro plan gives you additional features that help make your marketing more efficient (such as bulk coupons, prerequisites for courses, and A/B testing) as well as some administrative benefits (like giving admins access to only specific courses).
If premier-level features sound attractive but are outside of your budget range, consider upgrading from Basic to Pro or the Pro+ Growth Plan.
‌Thinkific Free Plan: An Introduction Plan to Test Things Out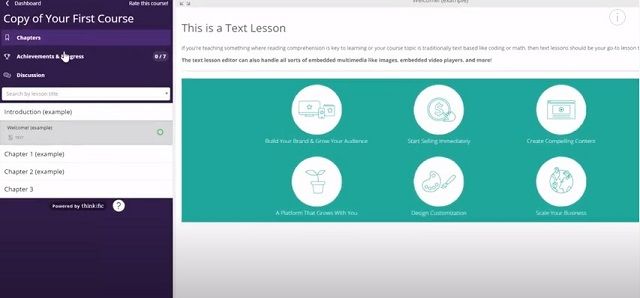 ‌‌Thinkific's Free Plan ($0) allows you to create 3 distinct courses and enroll an unlimited number of students, which is rather impressive when compared to competitors.
It's actually pretty nice that you can enroll in as many students as you want. ‌‌‌‌
You can't accomplish much with the Thinkific Free Plan, and it's not one you should stick with if you're serious about expanding your online course business.
The Free Plan is just meant as a test drive, and nothing more. ‌‌‌‌
Actually, all you can do here is create a course and enroll students; most of the features require upgrading before you can use them, despite the fact that they appear to be available on the dashboard when you register.
If you want more features, such as marketing, you can simply subscribe to either the Basic or the Pro plan. ‌‌‌‌
Who is the Target of the Thinkific Free Plan?
If you're new to online course design and aren't sure if it'll work for you, the Thinkific Free plan is perfect for you.
If you're simply trying out the waters to see if you can create a course, but don't have a lot of funds to spare for the moment.
If you don't want to spend a lot of money upfront
If you're only interested in seeing how the online course authoring platform works.
Pros and Cons of the Free Plan
Here are some Pros and Cons of the Free plan:
Pros
It's a lot easier to establish your own online business because of this plan.
Courses are available indefinitely.
You will have immediate access to your funds.
You can include PDF, audio, and video files in your submission.
Quizzes can be given to your students.
Website layouts that are simple to use
Instant access to your funds
‌‌Cons
Using the free plan, it's not possible to host it on your own domain.
Thinkific Basic or Pro is your only option for a domain.
You can only create three courses at most.
You can only have only one site admin
No content locking or dripping
You'll only be able to provide PayPal and Stripe as payment choices for your customers in this plan, you cannot leverage the Thinkific Payments option
Integrations with other platforms are limited. You won't be able to add the Google Analytics or Zapier integrations for example, unless you upgrade (although these capabilities aren't required for all customers)
No sales or marketing funnel integration
With free accounts, the level of support is relatively low. There isn't a dedicated crew to assist you, and there isn't a live chat if something goes wrong.
The Thinkific Basic Plan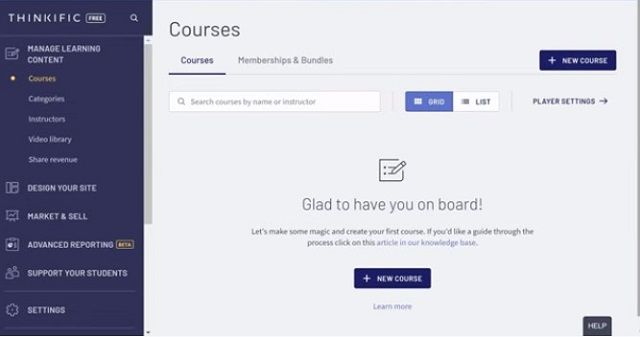 If you want to start offering courses and making money without investing in a custom domain, the Thinkific Basic plan is ideal.
This is the most cost-effective plan.
I said it in the introduction, but it bears repeating: The monthly fee for the Thinkific Basic plan is $49 per month, which is a little bit more expensive than a few other platforms.
With the Basic Plan, you get all the features included in the Free Plan and can:
create unlimited content
create coupons
add one site admin
Get support
When you pay for 12 months (with payment made at the beginning of each month) you have:
$49 x 12 months = $588
But you get a discount of $20 off if you pay annually, bringing it to:
$39 x 12 months = $468, so you get to save $120
Even with the Basic Plan, you won't have access to all of the capabilities you'll need to run a profitable online course.
An example, Thinkific does not have its own sales or marketing funnel platform but relies on its users to integrate platforms like InfusionSoft, Zapier, and Active Campaign.
Sales or marketing funnel platforms like InfusionSoft will cost you additional money. The same can be said about any other third-party software you decide to integrate into your plan. These should also be factored into your budget.
I also think getting a certificate at the end of a course even for the Basic Plan is very important, but the Basic Plan does not allow that, which I think is not cool.
All the more reasons to upgrade to the Pro Plan, which clearly shows the Free and Basic Plans, are just ways to push course creators to the main package, the Thinkific Pro Package.
Who is the target of the Thinkific Basic Plan?
Individuals and businesses who are just getting started with selling online courses
People who want to develop a course without investing a lot of money upfront
Those who want to try out their course concept before committing to a premium plan.
Pros and Cons of the Thinkific Basic Plan
Here are some pros and cons of the Basic plan:
Pros
Unlimited courses
Schedule content
Offer promotional coupons
Manual student enrolments and export
Instant access to your funds
Share student information with third-party carts and click funnels like Thrivecart and Clickfunnels.
Cons
Email one student at a time (no bulk emailing)
Incur more cost if you integrate third-party software like Aweber, MailChimp, etc.
No priority support unlike the Pro plan
You can't get students to automatically subscribe to your email list
No certificate is issued to students after course completion
No integrated sales funnel
No chat support
No live lessons
No advanced quiz feature and assignments
You can create subscriptions and payment plans
You can't create bundles or membership plans
Thinkific Pro Plan: The Most Popular Plan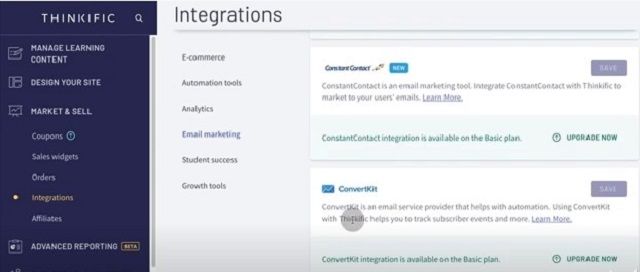 Though higher than the Basic plan, the Pro plan gives you access to Thinkific's premium features that are good for you as a course creator. You get to access some of Thinkific's most powerful tools, as well as priority support.
If you are a Solopreneur and you are really serious about building a viable online course business, then you should start with this plan. This is the least of Thinkific's plans that will help you automate, scale, and share your expertise with the world.
When you pay for 12 months (with payment made at the beginning of each month) you have:
$99 x 12 months = $1,188
But you get a discount of $20 off if you pay annually, bringing it to:
$79 x 12 months = $948, so you get to save $240
Even with all these, the Pro Plan, which is higher than competitors, still lacks some very powerful key features that are essential for your success as an online course creator. Such key features include:
InfusionSoft Integration: This automated end-to-end sales and marketing system will help you increase course sales.
Advanced segmentation - For managing student communications, reporting, and progress monitoring
Bulk Email: Using your Thinkific dashboard, send emails to several students at the same time.
Zapier Actions - Use for improving students' enrolment
ActiveCampaign integration - An email marketing and CRM solution that aids in the management of sales and marketing contacts
Bulk enroll students - In a single mass action, add or delete students from courses or bundles.
Brillium exams integration - A service that allows you to create more customized exams with time constraints and attempt limits
Import Student information: Using XLSX or CSV files, you can easily import students from another platform or database
Groups - Sell your courses to groups or companies with ease – and delegate reporting to analysts.
To get additional features such as Zapier Actions, Brilium Examination, and Active Campaign you will have to upgrade your Pro Plan to Pro + Growth Package Plan, which means an additional cost of $50. Also, integrating them requires you to pay for another type of subscription service either yearly or monthly with the platform you're integrating, because Thinkific does not have these features built in-house.
For example, Active Campaign can cost you an additional cost between $149 and $549 monthly for their Professional Plan, while Zapier can cost between $9.99 to $599 monthly depending on the type of plan you choose. You need to factor all these costs into your budget once you decide to go for the Pro Plan.
Who is the Target of Thinkific's Pro Plan?
The Thinkific's Pro Plan is for you if you:
want to create a viable online course business
want to create your own payment schedule (for example, charging a monthly fee or creating a payment plan)
are hoping to build a large community around your course
have many courses and wish to have complete control over the appearance, branding, and content.
Pros and Cons of The Thinkific Pro Plan
Here are some pros and cons of the Pro plan:
Pros
create subscription pricing and bundles, which are essential for a membership site
make changes to the website theme's HTML/CSS.
award certificate to your students at the completion of a course
create assignments and randomized question banks
add two admins
add up to five courses
get a 30-day free trial to determine if you are at home with the plan or not
create a community (if you don't want to use a platform like Facebook that offers more Community resources)
Unlimited courses and students
5-course admins or authors
create advanced course pricing options
create private and hidden courses
host Storyline, Captivate & more
get priority support section
have live lessons with Zoom
Set up an Affiliate program for other instructors or influencers who promote courses on your site, paying them a percentage of sales and allowing them to track their earnings directly from the affiliate portal.
Cons
Live lessons with Zoom may incur other charges
This plan has no sale and marketing platform of its own, so you still get to integrate them. Integration with third-party platforms like Convert kit, ActiveCampaign, Mailchimp( between $0 and $299), or Aweber (between $0 to $146.15) may incur additional charges
Send an email to a student at a time
You can't remove Thinkific branding unless you add the Growth Package
No bulk email sending. You can only send one email per student at a time
Growth Package (An Add-on To The Pro Plan)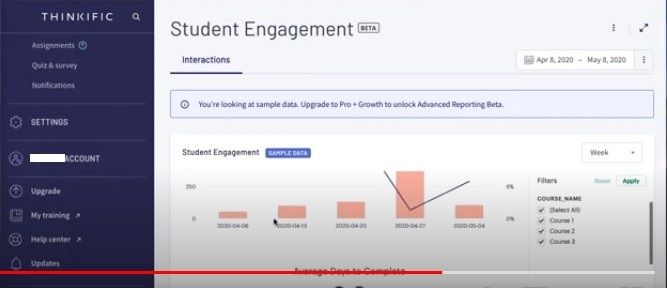 If you are already on the  Thinkific Pro plan, then you can purchase the Growth Package as an add-on.
It contains everything in the Pro plan, as well as additional features like bulk email marketing to help you market your online course.
The Growth Package can be added for $50 to the Pro Plan instead of charging based on the total number of active students.
This means you'll be paying
($99 x 12 months = $1,188) + ($50 x 12 months= $600)
These give a total of $1,788 Annually.
Who is the target of the Thinkific Growth Package?
This bundle is designed for course designers who:
wish to boost their revenue by increasing sales
already sell courses on their website and wish to expand your offerings
want to sell more courses through sponsored advertising
want to sell more courses via an affiliate scheme
want to add Advanced Marketing Automation like Zapier, Brilium Examination, Active Campaign.
are moving from a different platform, as it allows them bulk import students' information using XLSX or CSV.
Pros and Cons of the Thinkific Growth Package
Here are some pros and cons of the Growth package:
Pros
Bulk email is added so you don't need to integrate mass email software
The "powered by Thinkific" logo is eliminated from landing pages, resulting in a fully customized and professional appearance for your online course
You get more sales and marketing connectors, such as ActiveCampaign and Infusionsoft, and your student segmentation is more complex, with search filters and bookmarks for reporting and progress tracking
Ability to filter and follow the development of your students based on their interests or career
Able to upsell and downsell
Able to apply coupons, discounts, and bulk discounts
Drip content (courses with a schedule)
Cons
Can't add more than 2 site admins
The cost seems to be on the high side compared to other platforms
Thinkific Premier Plan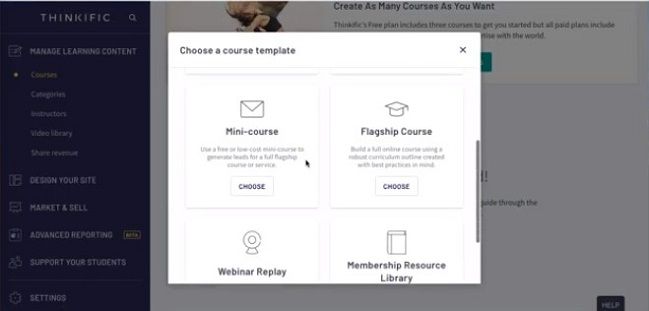 Thinkific's premium plan is a wonderful option to consider for firms that are rapidly growing. This subscription includes unlimited users and bandwidth, allowing you to easily scale your online course as additional students enroll.
Furthermore, complex tools such as the custom CSS editor, which allows you to alter your course's design with a higher level of customization, are useful for large-scale businesses.
When you pay for 12 months (with payment made at the beginning of each month) you have:
$499 x 12 months = $5,988
But you get a discount of $20 off if you pay annually, bringing it to:
$399 x 12 months = $4,788, so you get to save $1,200
However, be aware that this is one of their more expensive plans, and it may not be worth it for small enterprises or those just getting started with generating online courses.
In case you didn't notice, the price is about 5 times that of the Pro Plan. If you're a current customer and your sales have plateaued or your needs have changed, you might consider switching to the Premier plan.
The Premier Plan has several features that address these issues, as well as more complex marketing tools for generating leads and building email lists.
This plan includes everything in the Basic, Pro Plan plus, and Growth Plans alongside:
An account manager who is dedicated to you
Priority assistance
You can also personalize your registration page with a custom domain and branding if you choose the Premiere Plan.
Who is the target of the Premier Plan?
Entrepreneurs and established businesses who want to entrust their online courses to experienced professionals
The Premier Plan is for existing Thinkific customers who require more advanced tools for selling their courses
Pros and Cons of the Premier Plan
Here are some Pros and Cons of the Premier Plan:
Pros
Content Review — Thinkific's Premier Support team goes over your content to make sure it's suitable for the platform. They will also assist you in getting started and provide feedback on areas where you can improve.
Professional Hosting - Your course is hosted in a safe environment with daily backups to ensure you never lose access to your data.
Custom Domain — A custom domain name is provided to you, making it simple for students to find your online course.
Dedicated Support - The Premier Support Team provides you with access to qualified instructors who can assist you with any queries you may have about producing an online course.
You get all the features of the Basic, Pro, and Growth Plan
An account manager who is dedicated to you.
You'll be allocated a top customer success manager who will provide you with proactive advice on how to get the most out of Thinkific.
Your success manager will also show you how to use the Premier capabilities accessible to you, such as our sophisticated Zapier and Webhooks connectors.
Product experts are available 24 hours a day, 7 days a week via live chat, email, and phone.
A professional onboarding team will work with you to have your account (and courses) ready to go live.
5 site admins
Cons
The cost of $499 seems to be on the huge side, compared to other platforms. The price will be a deal-breaker for some folks. If you're not sure if you'll be able to recoup your investment and more through course sales, you shouldn't spend too much money upfront.
On top of your monthly payment, you'll have to pay transaction costs. You'll be charged transaction fees in addition to the monthly payment every time you make a sale (2 percent of each sale). If you aren't making enough sales, this can also be a deterrent to adopting Thinkific Premier.
Apart from being able to create unlimited communities (which I honestly think the Facebook community has more functions and is better), having up to 5 admins and 15 group analysts, there is no difference between the Pro Plan + Growth Package and the Premier plan features, and the difference between the cost seems huge ($499 - $149 = $350).
I'm not saying it's not worthwhile; I'm just saying you should be aware of what you're getting yourself into if you choose this pricing tier. Just because other people are doing something doesn't imply you should follow suit. You should think about this carefully and only proceed if you believe the Thinkific Premier Plan features will help your business enough to justify investing $499 per month.
Now, let's quickly go over Thinkific plus pricing.
The Thinkific Plus Plan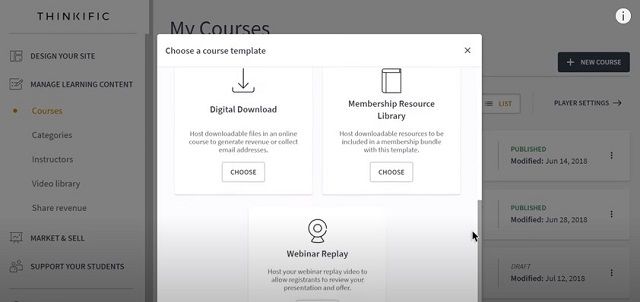 Thinkific Plus is a premium tool that allows you to design your course exactly the way you want it, which will help you develop your brand. There are also infinite courses, students, and affiliate marketing tools included. To signup for this plan, you need to contact Thinkific's support team.
Who is the target of the Plus Plan?
Freelancers and consultants with a customer base that wishes to use their skills to provide engaging training materials.
Instructors who already have a following and want to expand their business
Larger companies with more complicated products and customer service requirements.
Schools, small enterprises, and entrepreneurs interested in developing an online self-paced training program.
Pros and Cons of the Thinkific Plus Plan
Here are some Pros and cons of Thinkific plus:
Pros
There are no limits to the number of courses, students, administrators, or partners
Single Sign-On
Dedicated Customer Success Manager (SSO)
Access to enterprise APIs
Advanced Security Features
Cons
Expensive compared to other competitors
Conclusion - Is Thinkific Worth It?
Without a doubt, Thinkific is a fantastic platform for online course creators, and it is one of the best available.
But first and foremost, you must understand that to run a viable and profitable online course business, what you really need is at least the Pro Plan + Growth Package (Cost = $149/Month).
You can start with the Pro Plan after your initial trial, but you will soon need bulk emailing capabilities. And you really want to send your emails from inside Thinkific, as it's much easier to target specific segments of students.
For example, using the bulk email feature you can easily send a discount coupon to students who took a free course but haven't yet taken an advanced course.
You really want these market capabilities and it's hard to do that using an external email marketing provider like Mailchimp.
The Free Plan is not viable if you are serious about running an online course business, because you can't create course coupons, certificates, or private or hidden courses, among other features that most course creators usually need.
If you want to go big, the Basic Plan is likewise not a good choice. There are a number of things that are fundamental to running a successful online course business but are absent from the Basic package.
The Free Plan and Basic Plan are all ways to push you slowly towards the main viable plan which is the Pro Plan (Cost =$99/Month).
However, if you are planning to market your courses, send bulk emails to your students, and deliver the best student engagement and online experience possible, then the Pro+ Growth Plan (Cost =$149/Month) is really what you need.
Schools, small businesses, and entrepreneurs that want to create an online self-paced training program must choose the Premier Plan (Cost =$499).
Pricing for the most viable plans, Pro + Growth, and Premier, appears to be a bit on the high side, even though the platform offers a ton of features.
But how about course creators who are on a budget? How do we set up our website, create courses and make sales?
I understand this dilemma because I've been there too. I'm a course creator myself, and I understand what it's like to have to grow an audience from scratch.
I know that in the beginning there is not a lot of revenue to go by.
It's for this reason that I created an online course platform that both aspiring and established course creators can afford - OnlineCourseHost.com.
Aside from the affordability, the platform is very easy to use and provides an awesome user experience for both you and your students.
The platform gives you built-in email marketing with precise student targeting, a custom domain name, free customer support, and Facebook Ads Integration.
You can read more about the platform's features here.
I hope this article helps you decide what is the right pricing plan for you!
Besides helping you choose a platform, we also want to give you all the information that you need to grow your online course business successfully.
That's why we have created the Course Creator Academy where you can find everything you need to become a successful online course creator all in one place for free.
To get notified when new content is available here at the Academy, you can subscribe here to our weekly newsletter:
If you are looking to ask any questions on online course creation, you can reach me here on my Facebook group:
Join the Course Creator Academy Facebook Group
Ready to learn how to launch your first course on OnlineCourseHost.com? Here are the helpful guides for you to check out:
I hope this post helped you better understand the Thinkific pricing plans, let me know in the comments below what other topics you would like me to cover, or any questions that you have.
Thanks for reading… and enjoying the course creation process! 😉
---
Vasco Cavalheiro
OnlineCourseHost.com Founder & Online Course Creator
LinkedIn   Facebook Page   Facebook Group   Twitter
FAQ Section
Here are some commonly asked questions regarding the Thinkific Pricing plans:
Teachable Vs Thinkific Pricing
Plans
Teachable
Thinkific
Free
$1 + 10% per transaction
No transaction fees
Basic
$39 per month or $29 (billed annually), 5% transaction fee
$49 per month or $39 per month billed annually
Pro
No transaction, $119 per month or $99 per month billed annually
$99 per month or $79 per month billed annually
Pro+Growth
-
$149 per month or $129 per month billed annually
Business/Premier/td>
$299 per month or $249 per month billed annually
$499 per month or $399 per month billed annually,
Plus
-
Price is based on your requirements
Note that Stripe or PayPal charges 2.9 percent + 30c transaction fee
Kajabi Vs Thinking Pricing
Plans
Kajabi
Thinkific
Free
-
No transaction fees
Basic
$149 per month or $119
$49 per month or $39 per month billed annually
Pro
$399 per month or $319 per month billed annually
$99 per month or $79 per month billed annually
Pro+Growth
-
$149 per month or $129 per month billed annually
Growth
$199 per month or $159 per month billed annually
$50 per month or $40 per month billed annually. Not a standalone plan, works with the Pro plan (Pro + Growth)
Plus
-
Price is based on your requirements
Note that Stripe or PayPal charges 2.9 percent + 30c transaction fee
Plans
WordPress LMS (Learndash)
Thinkific
Free
-
No transaction fees
Pricing (Annually)
$199
$499
Web Hosting
$350
Included in the pricing
Video Hosting
Free (YouTube)
Included in the pricing
Platform
A WordPress plugin
A standalone platform
Note that Stripe or PayPal charges 2.9 percent + 30c transaction fee