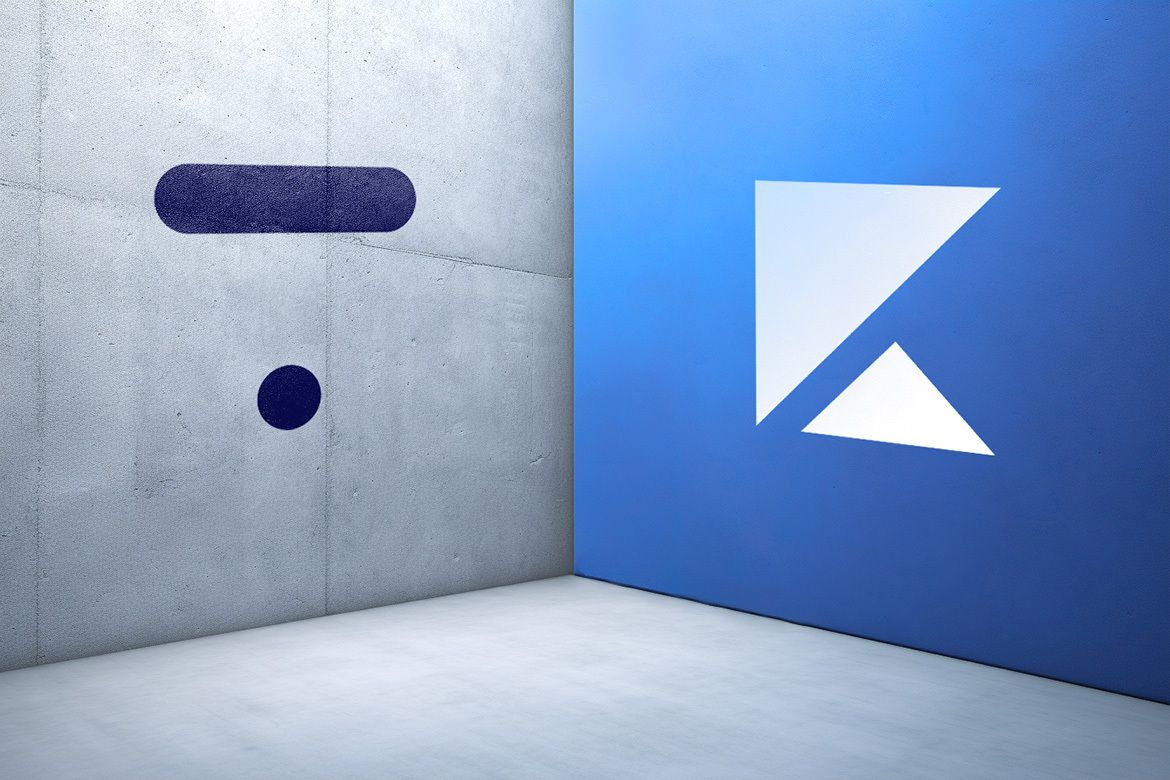 This is a fully up-to-date comparison of the two online course platforms Thinkific and Kajabi. We are going to compare them in terms of their core features like course creation, sales tools, pricing, marketing features and more.
Thinkific vs Kajabi … as a course creator, which one should you go with?
These are two of the most popular online course platforms available. And although they share a lot of similarities, they are also very different!
In fact, these platforms target slightly different audiences.
So which one is best suited for your particular case, and why? That's exactly what you will find out in this post.
This Kajabi vs Thinkific comparison is a no-fluff, fully objective, and unbiased comparison of the two platforms so you can decide which one is best for you.
I'm going to go super in-depth in this review, and review every feature in detail.  I have included a ton of screenshots so that you can better understand exactly what to expect from each feature.
This is not yet another one of those reviews that is just a summary of their home pages and a little more.
So without further ado, here's the plan...
You can also check out all the free guides that you have available here at the Course Creator Academy by clicking on the Academy link on the top menu bar.
Here are other posts related to Thinkific or Kajabi:
What are the different types of online course platforms?
As I discuss in this article Best Online Course Platforms of 2022 (Ultimate Guide), there are a few different types of online course platforms:
Standalone Online Course Platforms: This option is the most common, giving you access to all the tools you need as a course creator to create, publish, sell and promote your course.
All-in-One Online Course Platforms: This option includes all the tools needed to create your online course, but also an array of other website-building tools.
Self-Hosted Online Course Platforms: This option offers a completely blank slate to create the online course you desire. You get more freedom, but a lot less support.
This is the first major difference when comparing Thinkific vs Kajabi.
Thinkific is a standalone platform that gives you access to all the tools you need to create and publish your course.
While Kajabi is an all-in-one platform that also offers you an array of other sales, marketing, website, and funnel-building tools.
Based on this simple overview, you could be led to believe that Kajabi has got to be better, right?
It's not that simple, because Thinkific also has a lot of the same features available in all-in-one platforms, and there is a lot of overlap.
To help you decide, we are going to be comparing the two platforms in terms of:
Course Creator Experience
Student Experience
Pricing
Customer Support
Pros vs Cons
Introduction to Thinkific and Kajabi
Before we dive into the details of each platform, let's get to know these two platforms a little better, starting with Thinkific.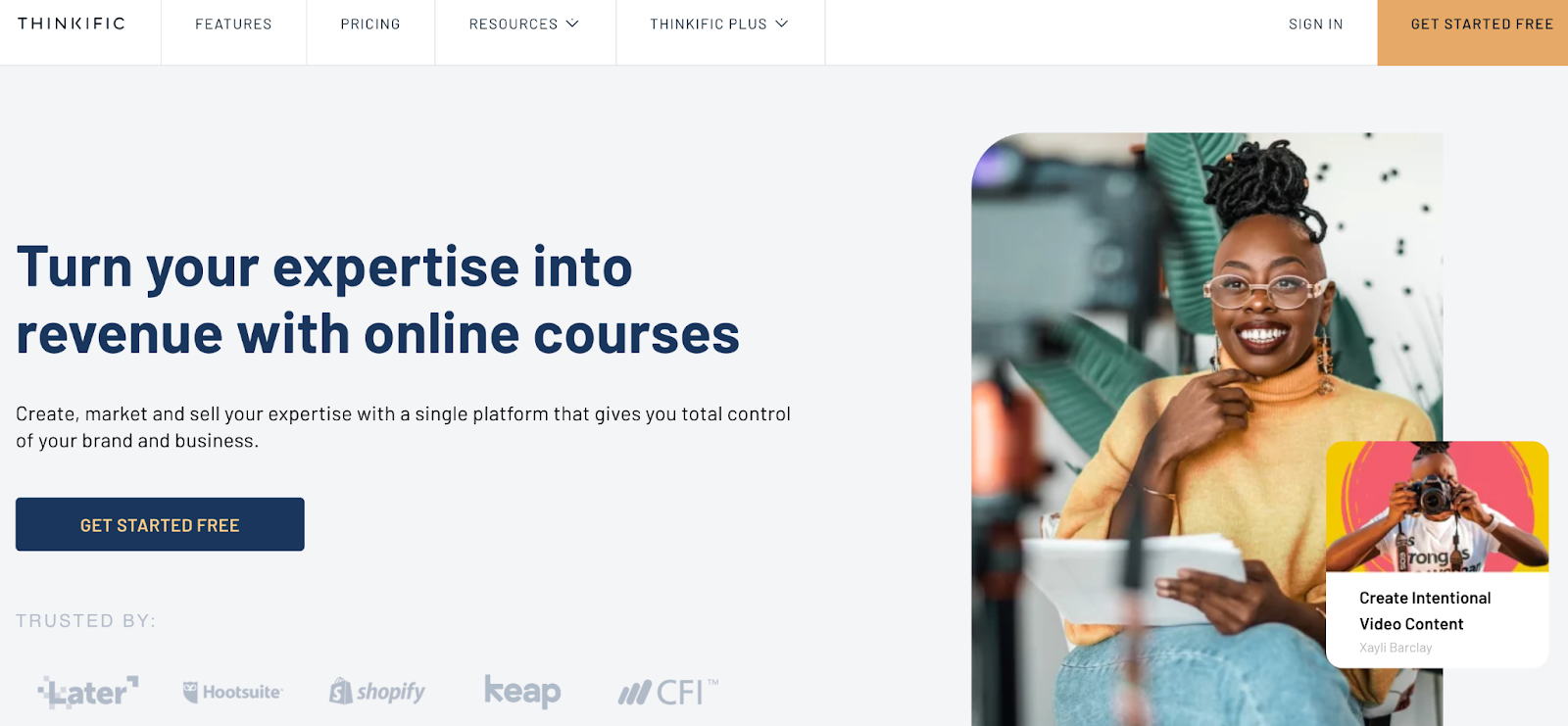 As one of the more popular standalone online course platforms, Thinkific has well over 50,000 customers, including the likes of John Lee Dumas, Jason Yee, and Latrina Walden.
Through Thinkific, you can plan, build, publish, and sell your online courses. Most of this takes place inside the platform itself, but you can also integrate dozens of external tools.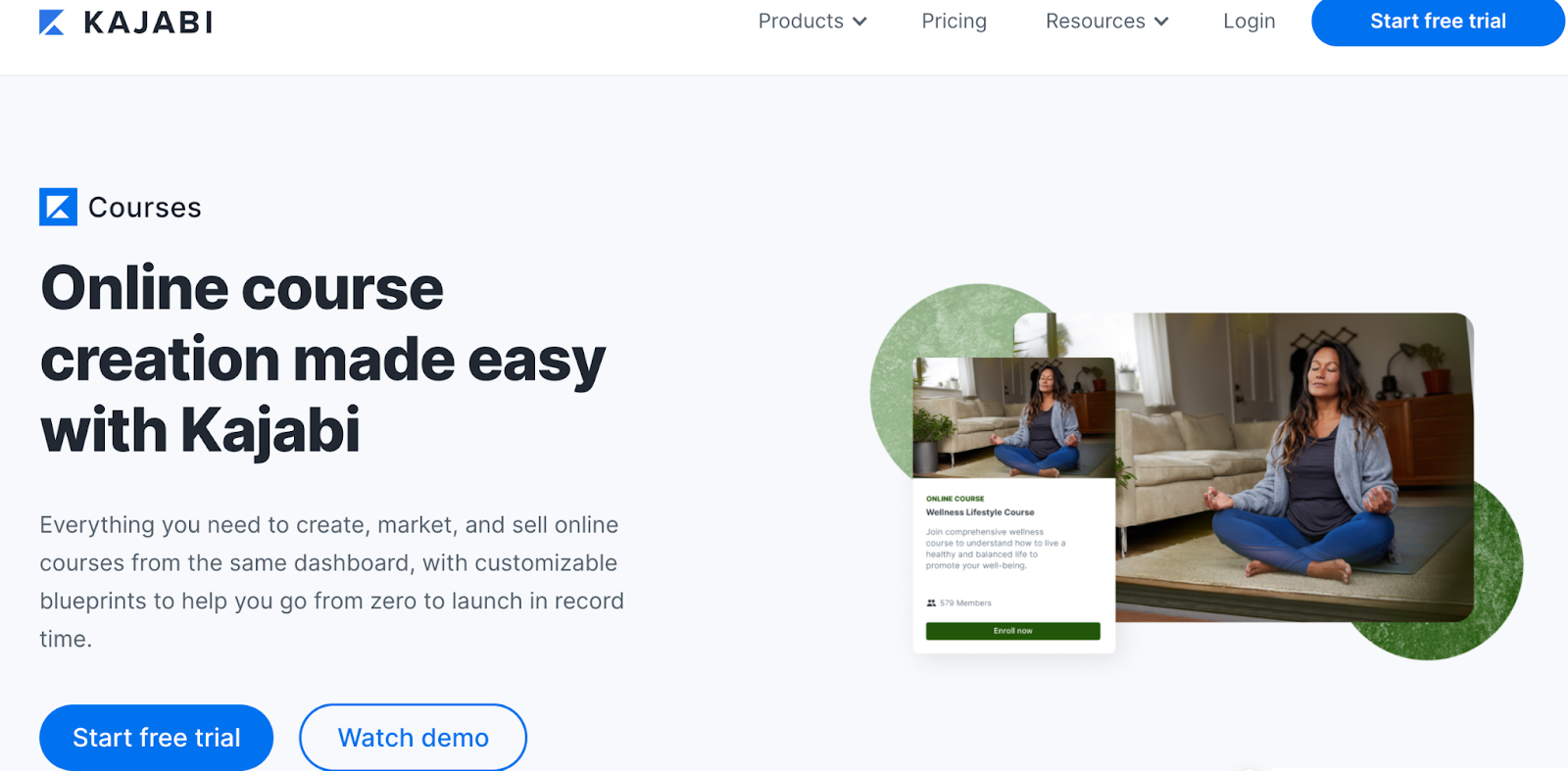 In comparison, Kajabi's one of the most popular all-in-one solutions, not only providing tools to build, create, and publish your online courses, but the ability to craft sophisticated funnels, websites, and membership communities.
Kajabi's helped its 50,000+ customers serve over 60 million students (and generate more than $3 billion in sales), with the likes of Amy Porterfield, Brendon Burchard, and Mel Abraham using the platform.
It's clear both offer a great service to course creators like yourself. But which one is best for you?
We'll now dive into this, not only comparing features, price, and the various pros and cons… but also trial both platforms with a course of our own.
Buckle in and prepare to take notes, the fun is about to begin. 😎
Overview of the Thinkific Dashboard
Let's go over the main features that you have available in the main Thinkific dashboard, and review them one by one.
Getting started with Thinkific is simple. There's no free trial involved. Instead, you start with an account with the Free plan and can upgrade at any stage you need.
Once you complete your initial details, you find yourself inside your main dashboard…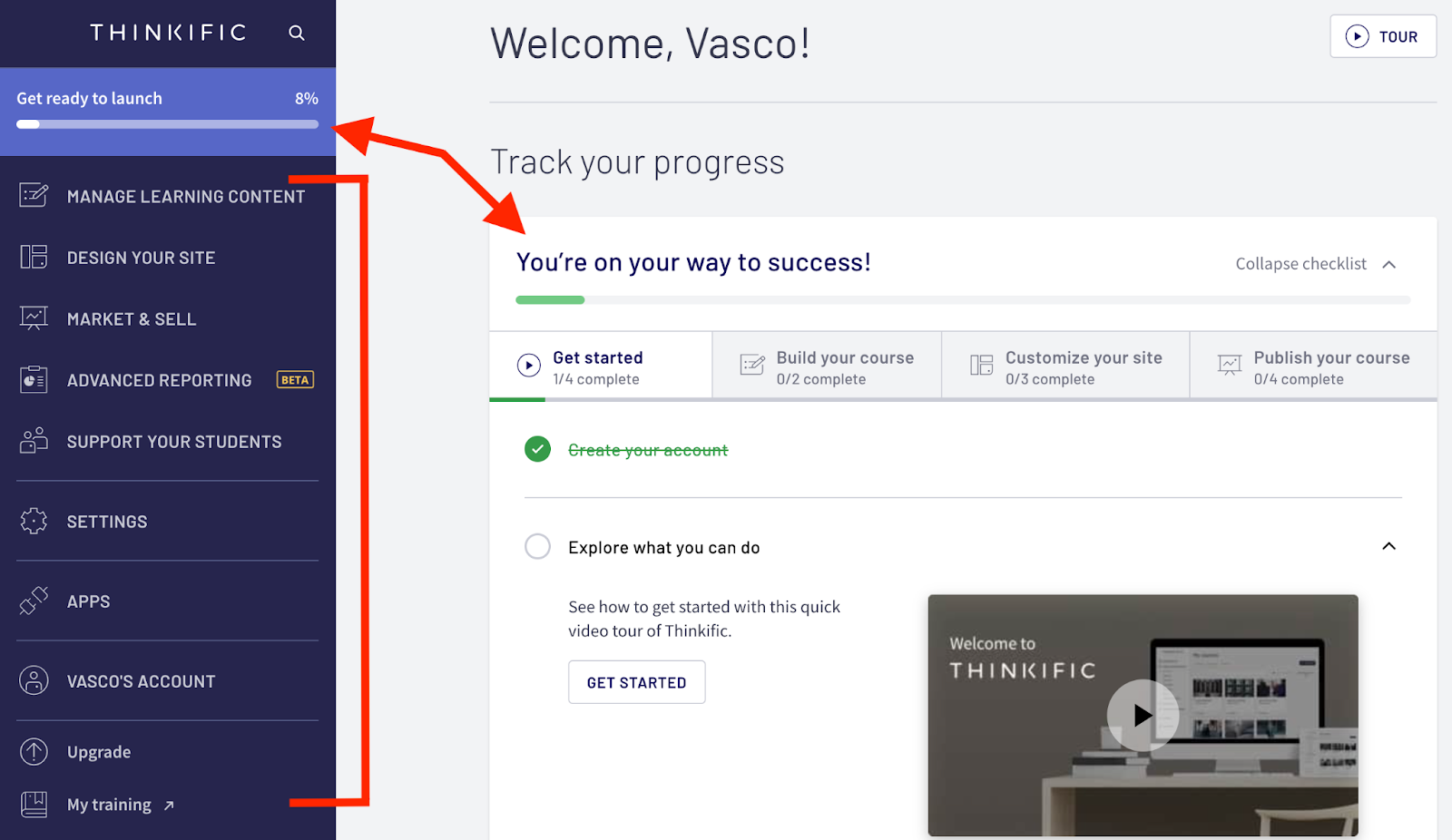 Thinkific provides you with a series of initial steps you can complete, ticking the checklist as you go on.
As you can see from the screenshot above, you can get access to everything via the left-hand menu.
Each subsection has a series of separate categories, one of the most important being the "Manage Learning Content" one…
Thinkific Video Hosting
This is where you create new courses—we'll explore this further soon—as well as where you manage your other content and material…

One of these tabs includes your video library, which is a handy feature as you can upload videos in bulk and then assign them to individual lessons and modules later.
Overall, Thinkific does video well!
Not only do you get access to lightning-fast video hosting via their third-party Wistia provider, but you can also (to an extent) customize the video player.
Because it uses an external provider, there are some limitations inherent to that though, that affect the student experience.  
Students can't set the video playing speed once and then reuse that setting across multiple videos in the same watching session.
Also, if they are watching in full-screen mode, they have to minimize the video, select the next lesson, and maximize the video again.
It's not a deal-breaker by any means, just the natural consequence of using an external video provider. But this does make the videos slightly less user-friendly to watch on mobile.
Thinkific Page Builder
Just below the "Manage Learning Content" section is the "Design Your Site" area…

This is another important part of your dashboard as it's where you create new landing pages.
So Thinkific allows you not only to create pages for your courses, but it also has some features of a generic website builder, where you can build any pages that you like.
It's of course not as powerful or flexible as something like a full-blown content management system like WordPress, with its huge ecosystem of plugins.
Still, it's a useful page builder with a lot of features that will be enough for you to build a lot of your pages.
There's also the ability to use existing themes from Thinkific's ever-growing library:
Creating a new page is simple, just click the button "New Custom Page", and you will get to their drag-and-drop page editor: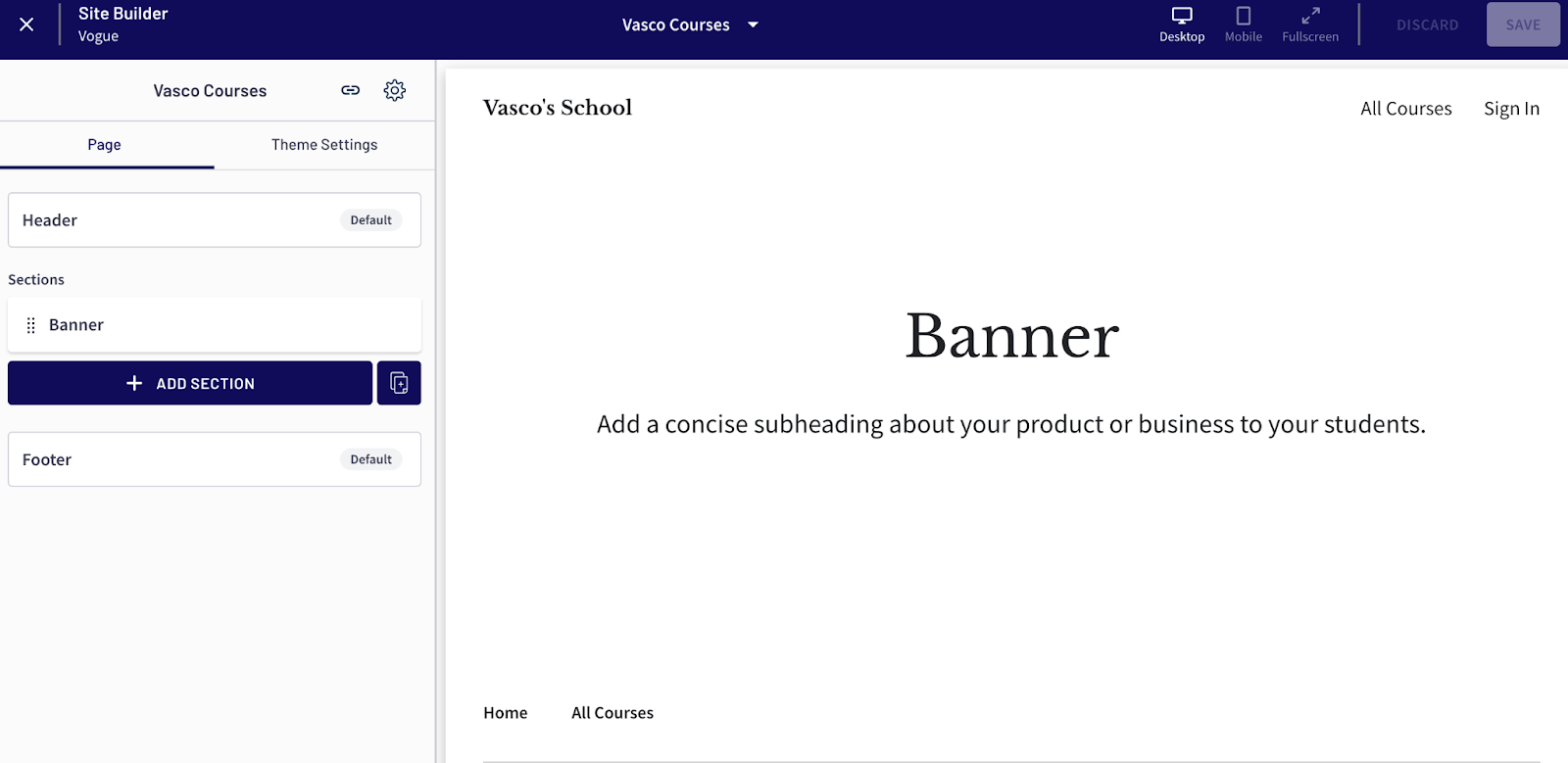 Although the Thinkific drag-and-drop builder is modern and provides great flexibility, you need to be aware that it does take some design skills to be able to use it properly.
If you don't have some design notions while building a page with such a flexible tool, there is a good chance that the page will not look professional.
This can happen for several reasons, without you even noticing it:
the page is too simplistic
the fonts chosen don't work well together
the colors chosen don't work well together
the layout doesn't flow properly and does not highlight the right elements
Remember that with this tool, you are designing a web page from scratch, so if you are a non-designer, I think it's easy to misuse it.
So you want to be careful with all your design decisions, less is more if you are a non-designer.
Even though this editor is powerful and flexible, you may find it a bit complex if you are not used to designing web pages yourself: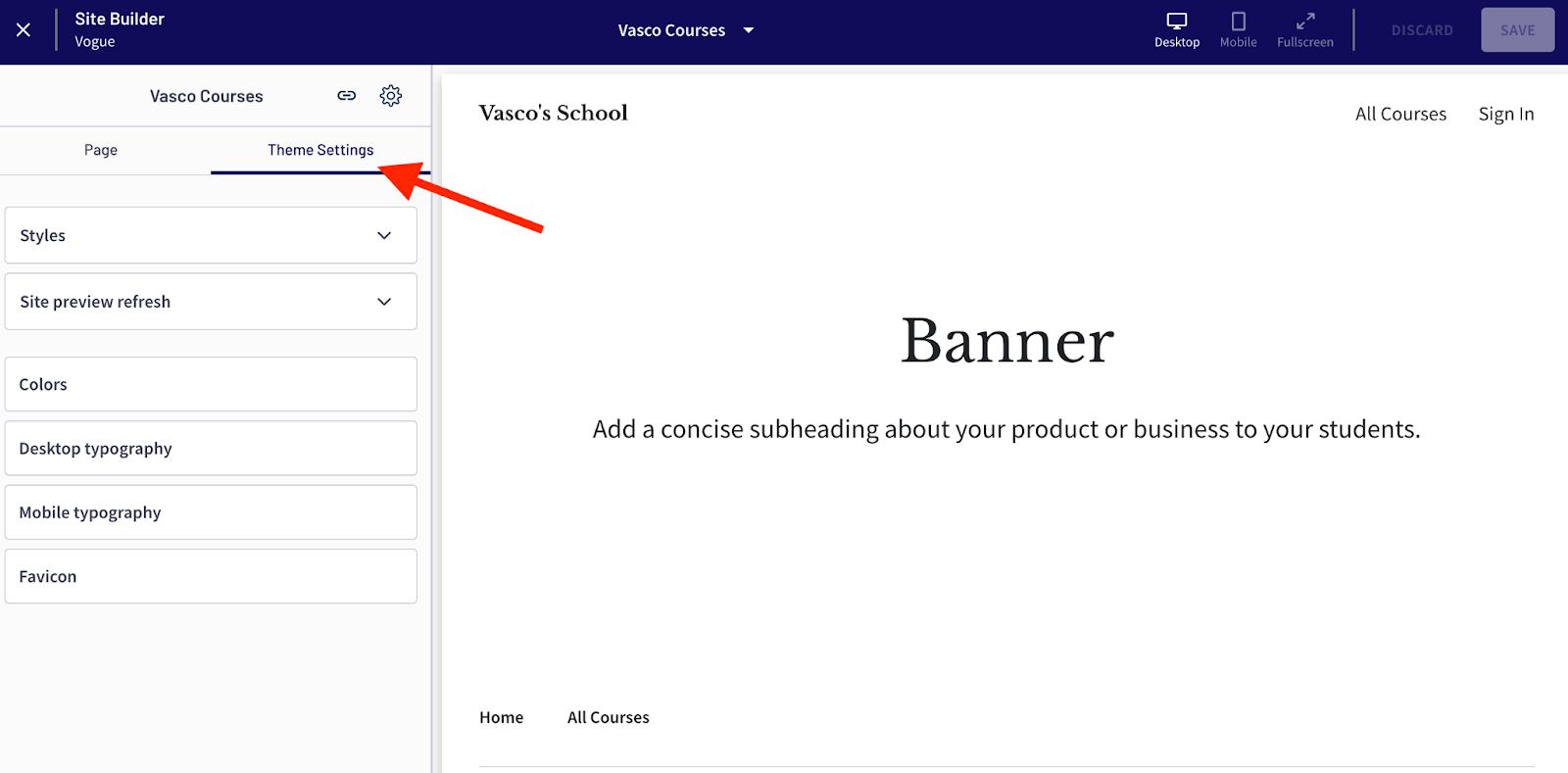 What you can do, is to take an existing template of a page, and try to modify it as least as possible, just by changing the text and the images.
You need to try it out and see what you can come up with. Some people just naturally have some design skills and it's very possible that you might come up with a satisfactory result that looks professional.
If you don't want to hire a designer, and still want to design a page from scratch, you can always go for a very simple and minimal design. That can work very well too.
But if you don't like the end result though, then don't hesitate to ask a professional designer to design the pages for you, as you can't afford to have your course pages look unprofessional.
If the pages don't look professionally designed, they will convert very poorly and affect your sales.
Thinkific Marketing Features
The next section you'll find is the "Market & Sell" one…

This is basically where you can track your orders, create coupons, and add affiliate partners.
Note that many of these features require you to upgrade to a paid plan.
Here is an overview of each of these features.
Coupons
This is a paid feature, that would be great to have for your course launch. With it, you can create discount coupons for your courses, subscriptions, bundles, and any other product.
You can create percentage discounts or fixed amount discounts, and you also set the duration of a coupon.
For example, you can create a discount coupon for your monthly subscription, that gives a 50% discount only for the first 3 months.  And then in the 4th month and onwards, the charge will be at full price.
Sales Widgets
Sales Widgets allow you to create an embeddable widget that you can add for example to a blog post or any other third-party website that you own.
This could be for example a button, that allows the reader of a blog post to directly purchase a course.
You can customize the look and feel of the widget and the product that the widget is linked to. You can then download the widget code and apply it to your website.
Orders
This screen allows you to have a single consolidated view of all the orders made in all the payment processors that you use: Stripe, Paypal, etc.
Affiliates
This screen allows you to set up your own affiliate program. You can set up the payment conditions for your affiliates.
For example, you can specify that your affiliates will receive a 30% commission with a 60-day attribution window, but only for certain products.
For example, you can exclude certain courses from the affiliate program, and include other products like certain courses or subscriptions.
Thinkific Student Management
Next… You find yourself in the "Support Your Students" Section…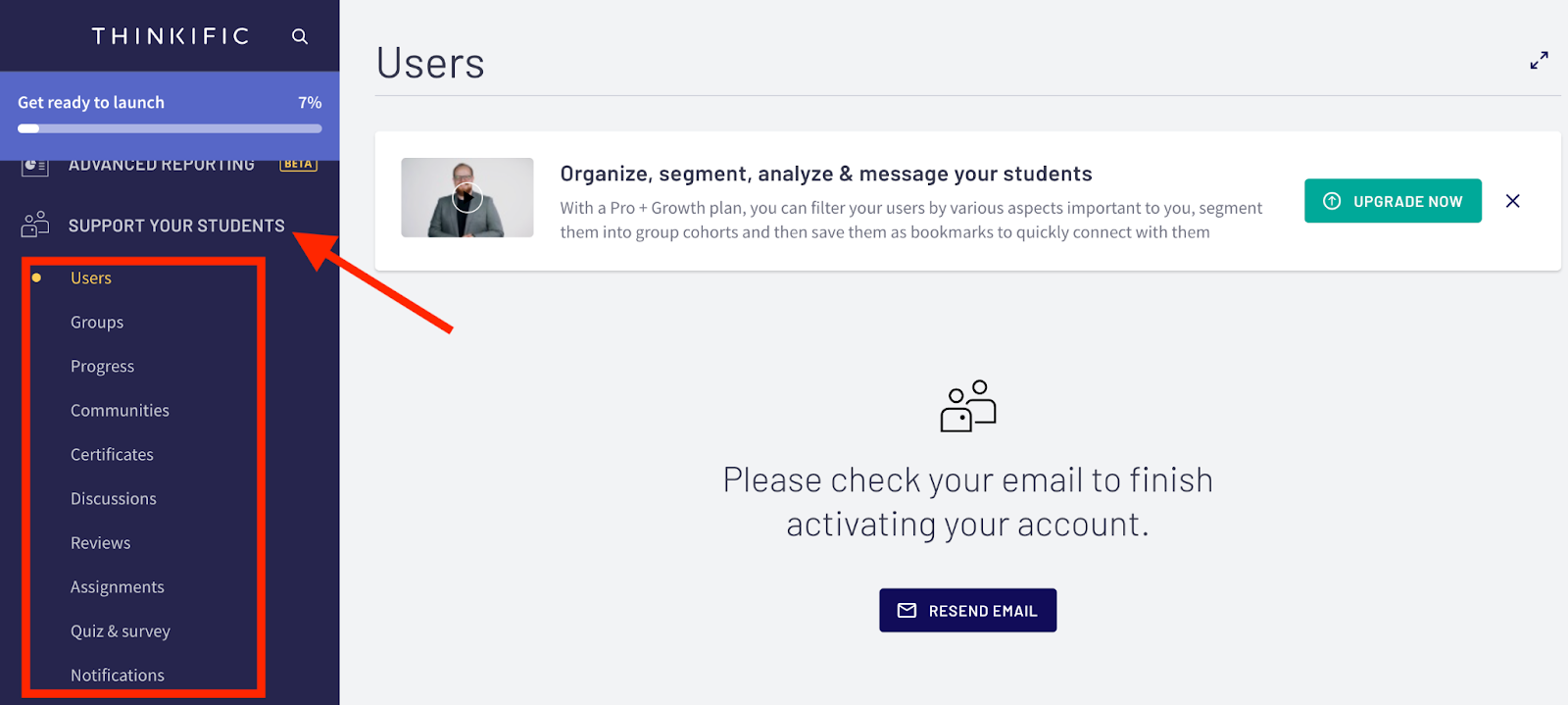 This is another important section of the dashboard as it's where you create groups, communities, quizzes, surveys, and certificates to name a few.
Again, you can create these ahead of time and then add them to different lessons and modules later.
This is handy as it really does help you stay organized.
Notice that many of these features are only available on paid plans.
Website Settings
Just below, you find yourself in the "Settings" section, which is where you can set your account details, site URL, and other important site-wide details.
Yet as you can see in the upper menu, you also get access to other important information…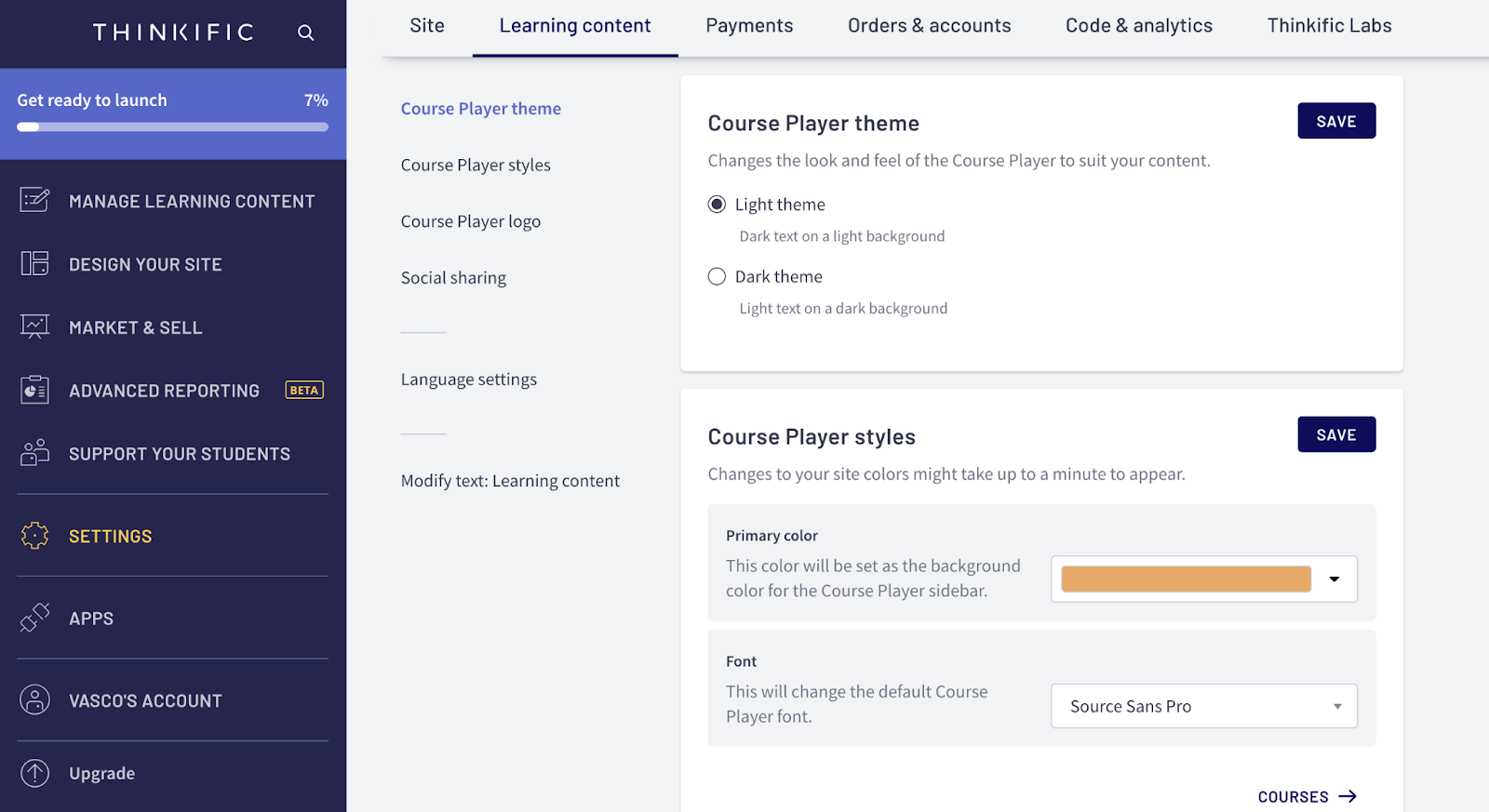 One of these is your video player branding and settings, as well as your page design.
This is useful as it allows you to set primary brand colors and other high-level design features. This then filters across all your site/pages, saving you a lot of time later.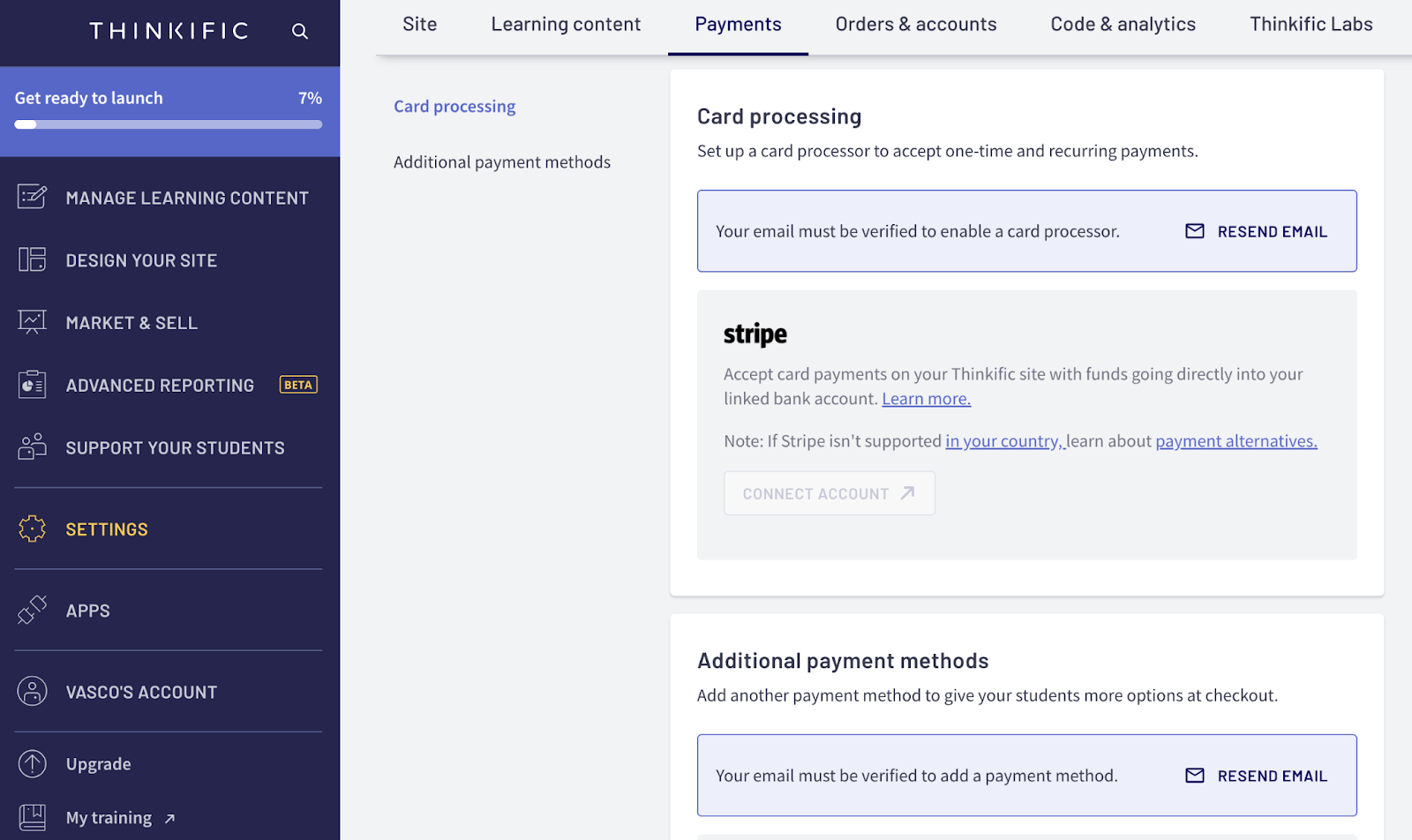 Payment Gateways
This is also the section you set up your payments and connect Thinkific to payment gateways like Stripe or Paypal: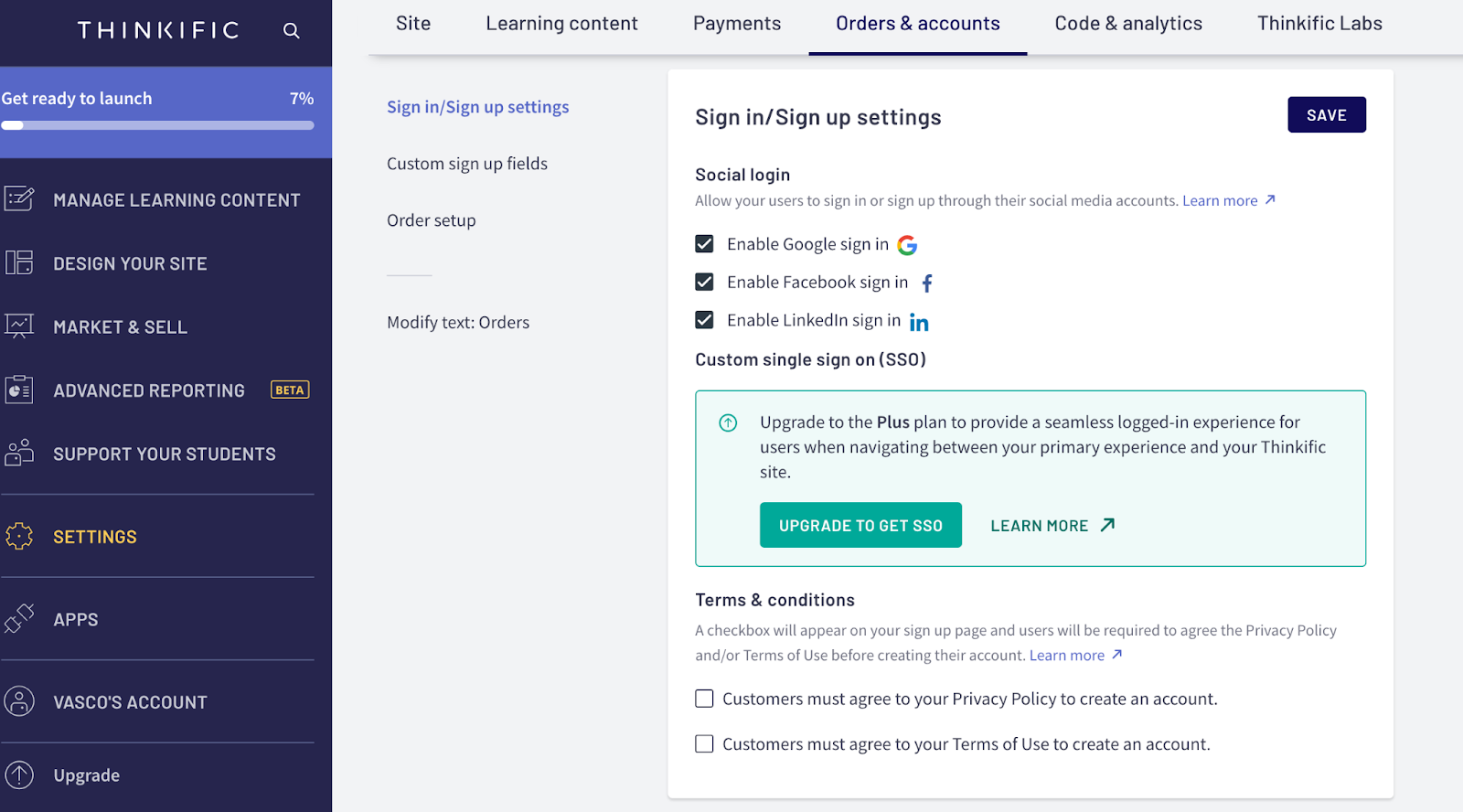 Finally, you get to tweak a few other details, such as:
how your students sign in to their accounts (see above)
where you can add Google and Facebook tracking codes (see below)
how you can run ads, retarget leads, and improve your analytics.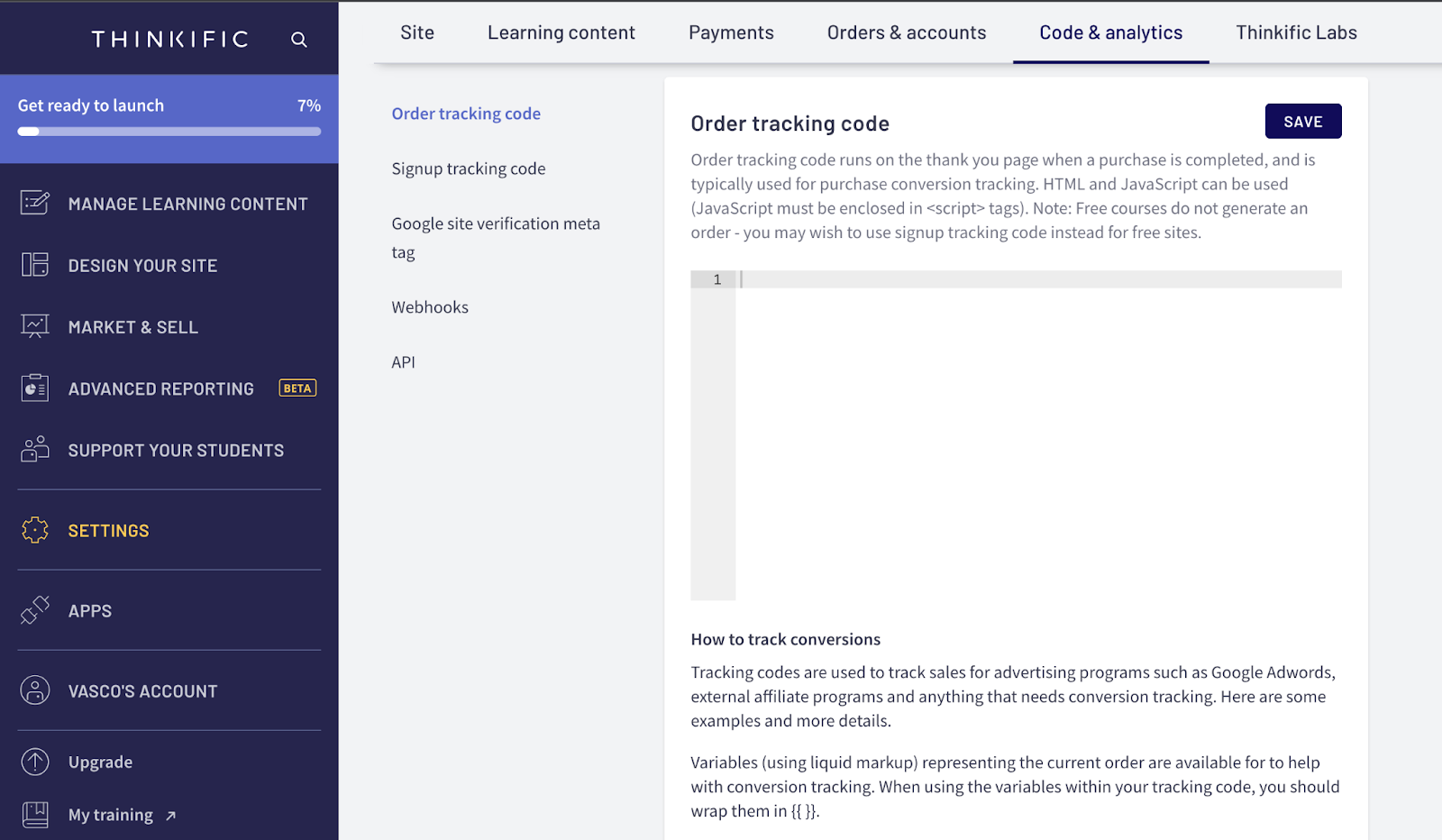 Thinkific App Store
The final section gives you access to Thinkific's App Store…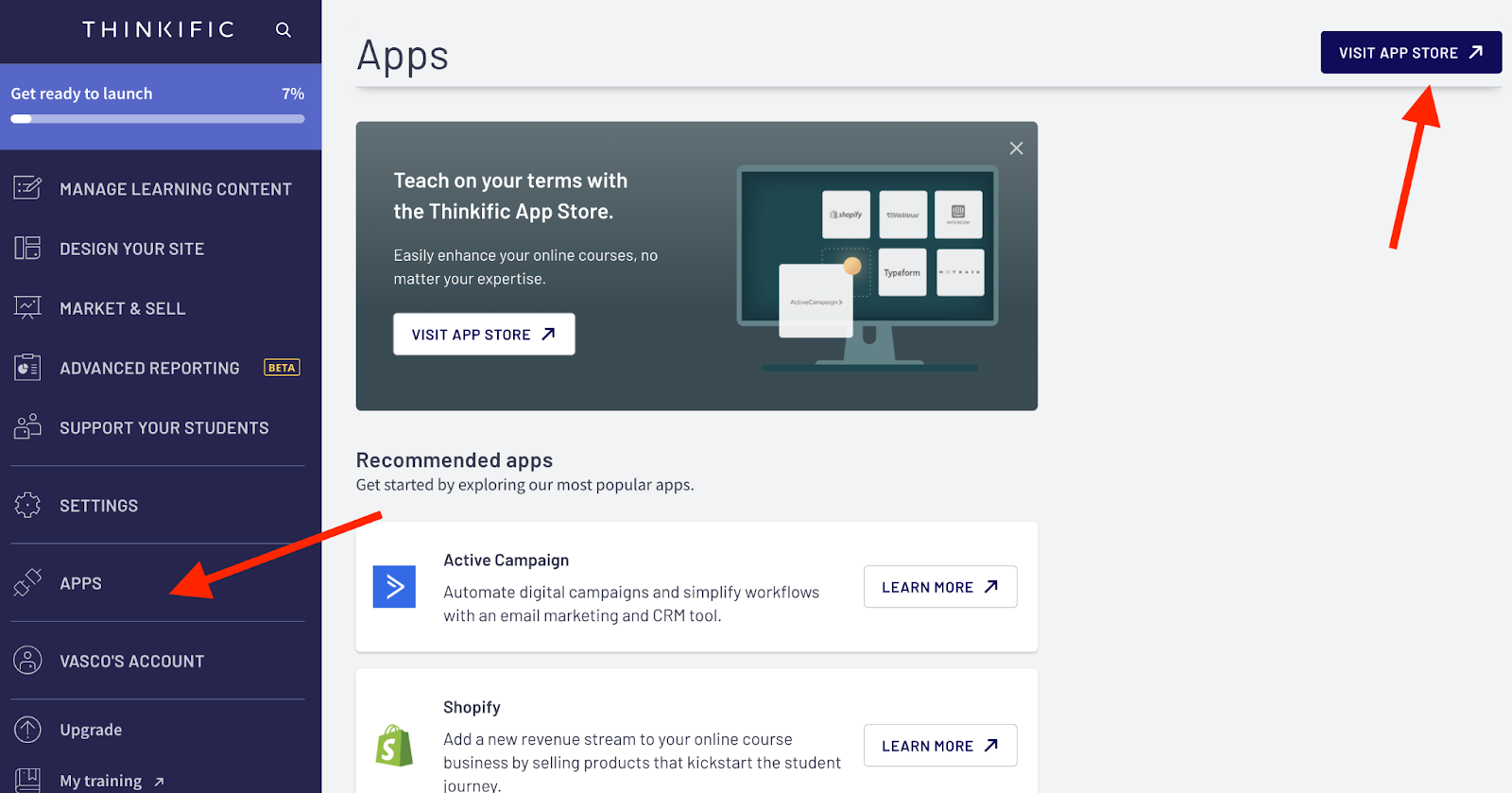 This is where you can connect and integrate other tools you use, such as email marketing, analytical tools, landing page designers, and almost anything else you can imagine.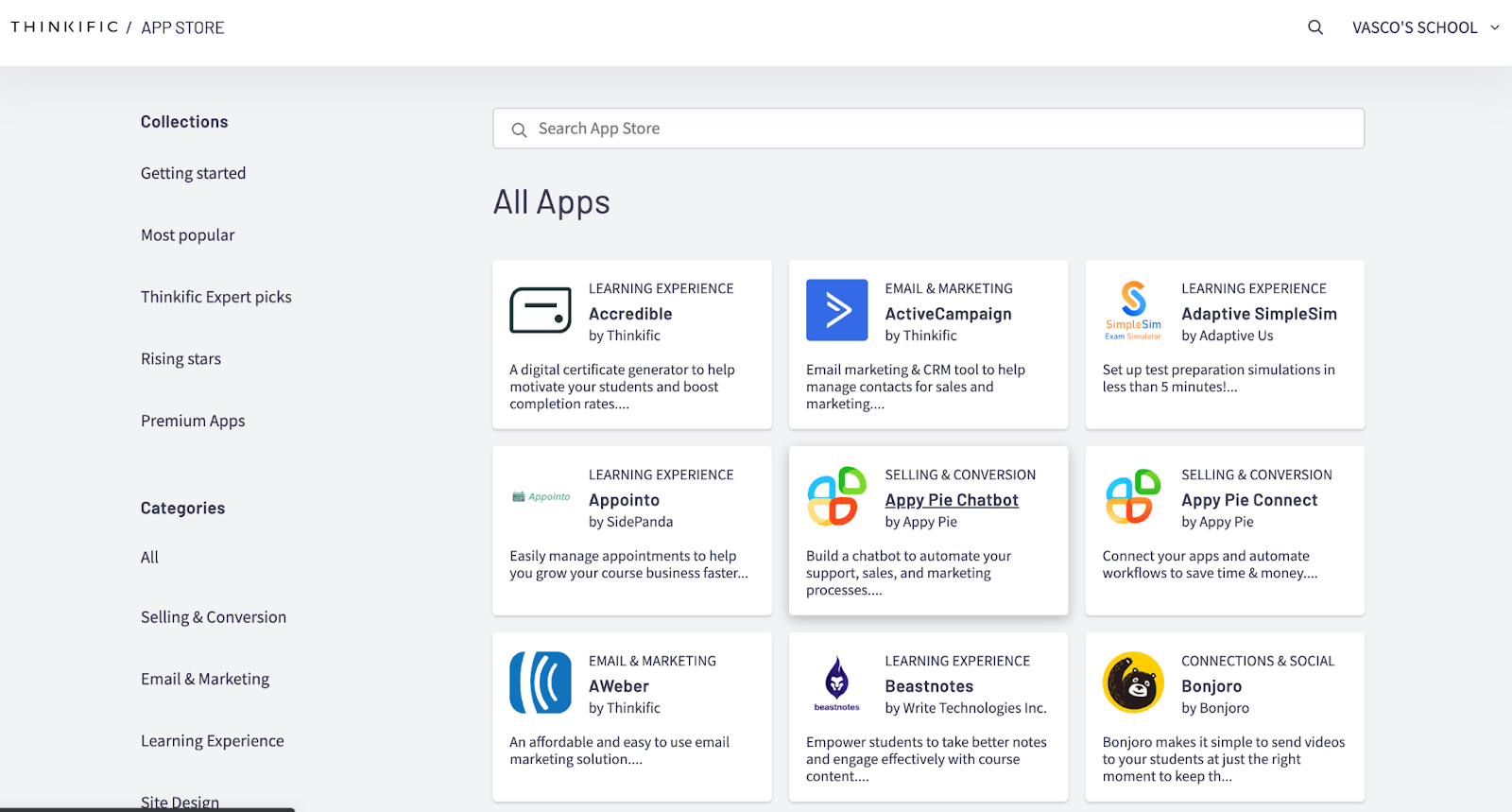 This is certainly one of the big benefits of using a platform like Thinkific, as they directly integrate with the most popular online tools.
This may or may not be a big deal to you. It depends on how many tools you already use and what sort of customer experience you wish to develop.
The option is there, though, and used properly it can make your life a lot easier.
Thinkific Course Creation Experience
Let's now dive into the area where you create your online courses.
Once you click that [+New Course] button, you find yourself in a new dashboard.
This is where you create all your course material, from uploading videos and audio files, to lesson plans, downloads, surveys, quizzes, and much more.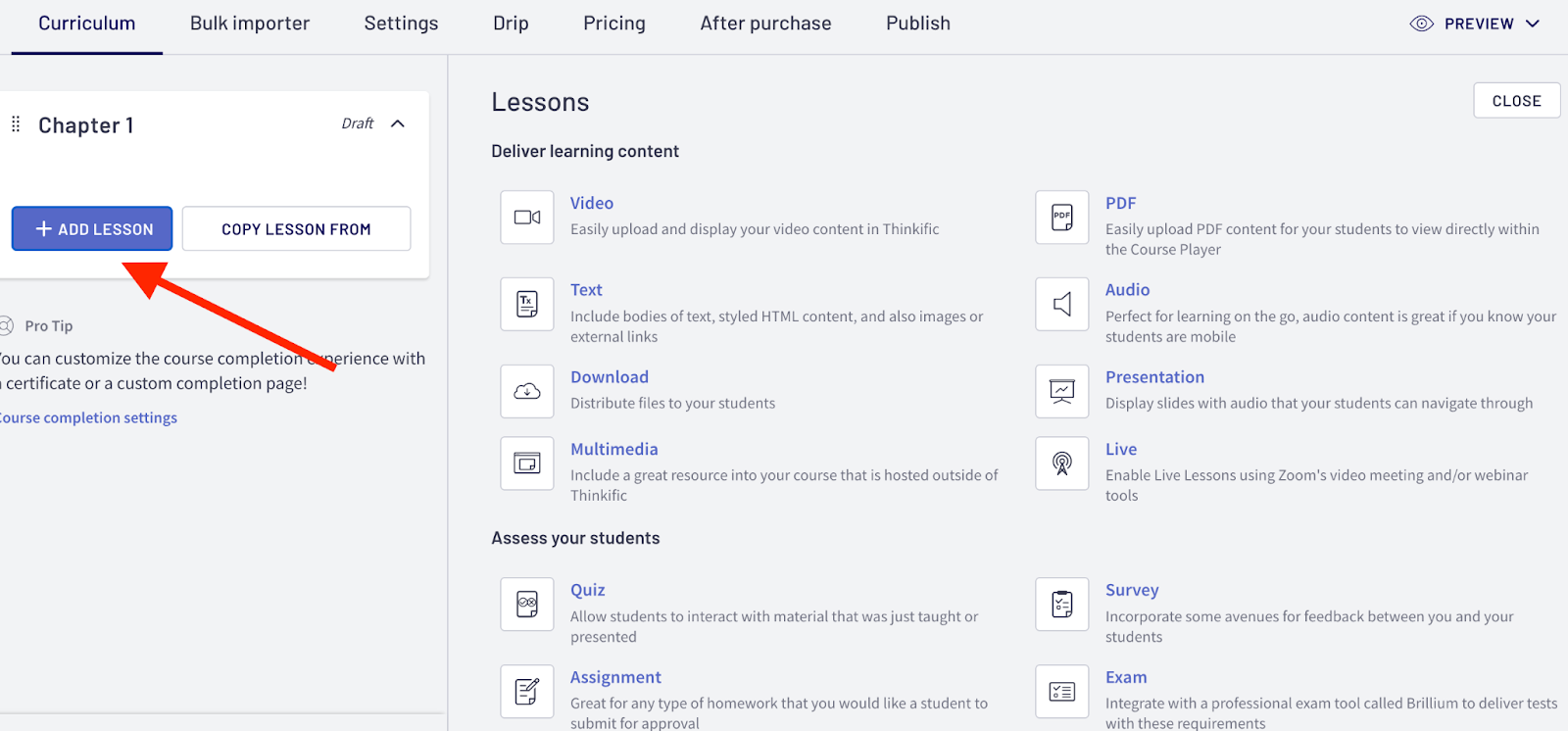 The left-hand column is where you can add new lessons and modules (more on this soon), while the right hand of the screen is where you choose the type of content you wish to share/upload, and then edit, tweak, and prepare…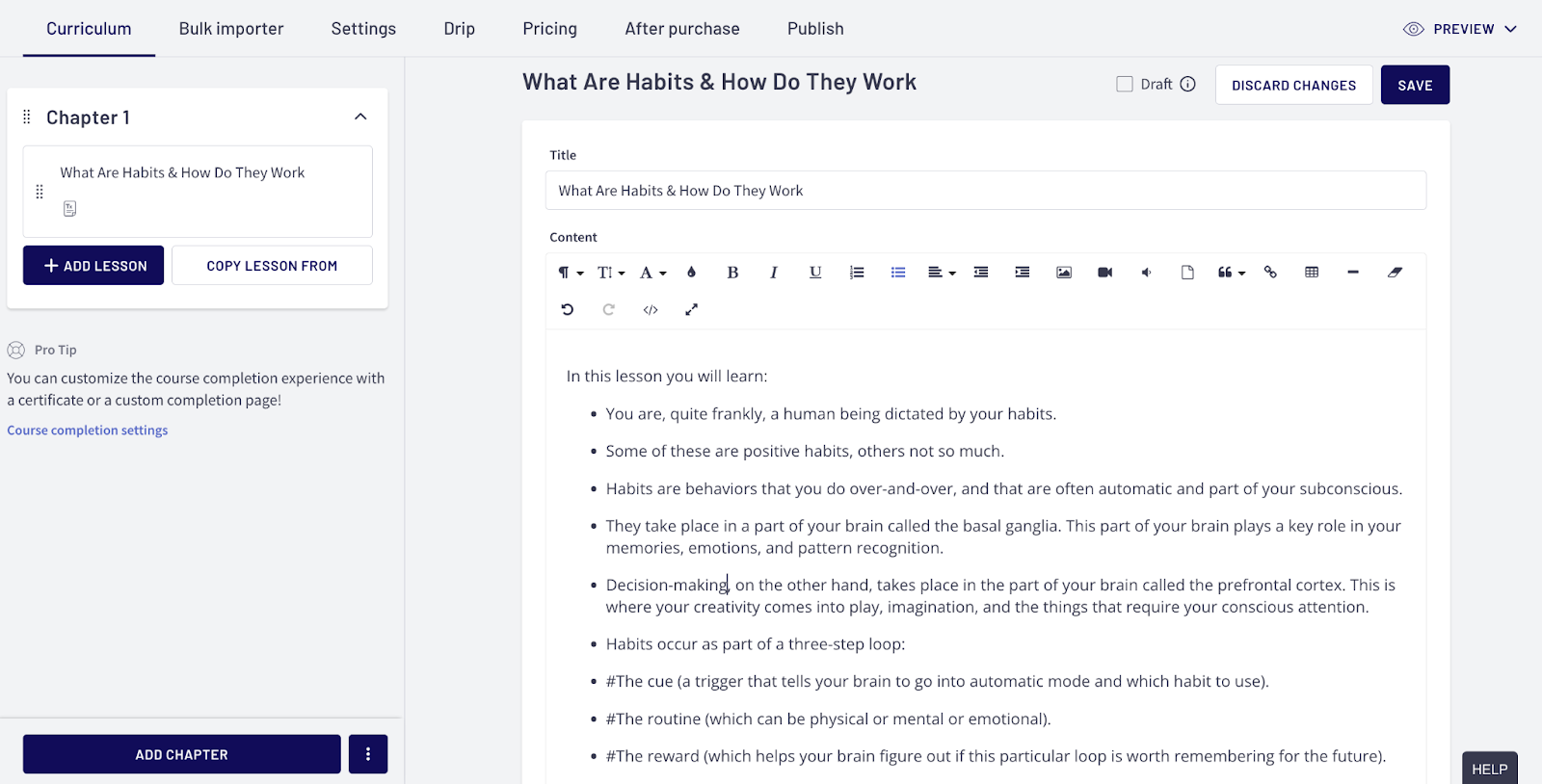 As you can see here with this "Text Lesson", you can edit your page like you would with a blog post on a platform like WordPress. You can add images, change text styles, and fonts, and even add certain coding.
Similar windows open when you click a "Video Lesson" for example or a "Survey", "Quiz", or "Audio File". All are similar but slightly different in terms of what you can edit and customize.
Beyond creating new lessons, you can also add separate chapters/modules throughout your course.
You can add new lessons and even move them between chapters (via a simple drag-and-drop), which allows you to update your course as time goes on.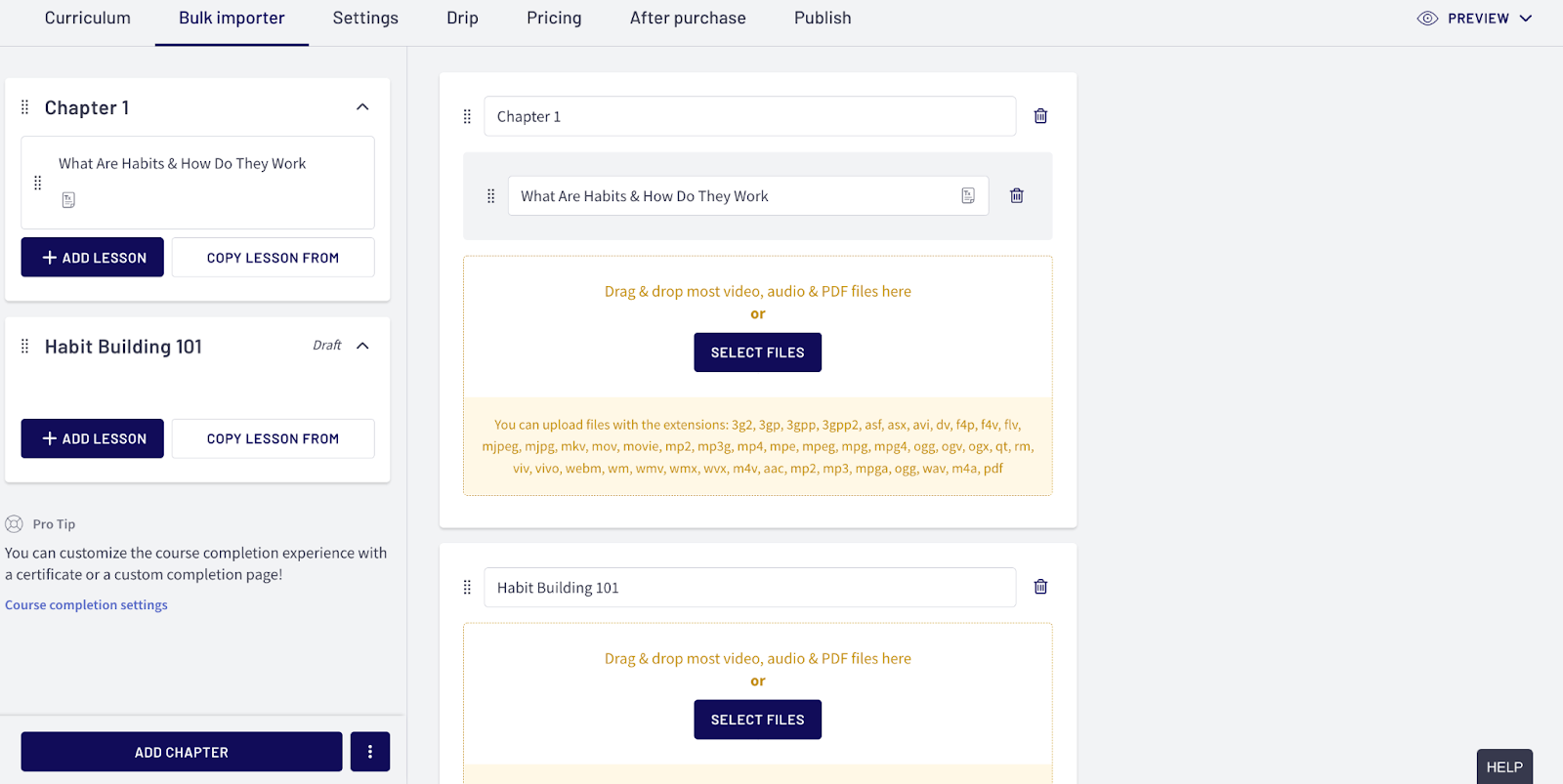 As you can imagine, the "Curriculum" tab is where you spend much of your time—at least in the beginning. But here are other tabs to explore, including the "settings" one, which plays an important role…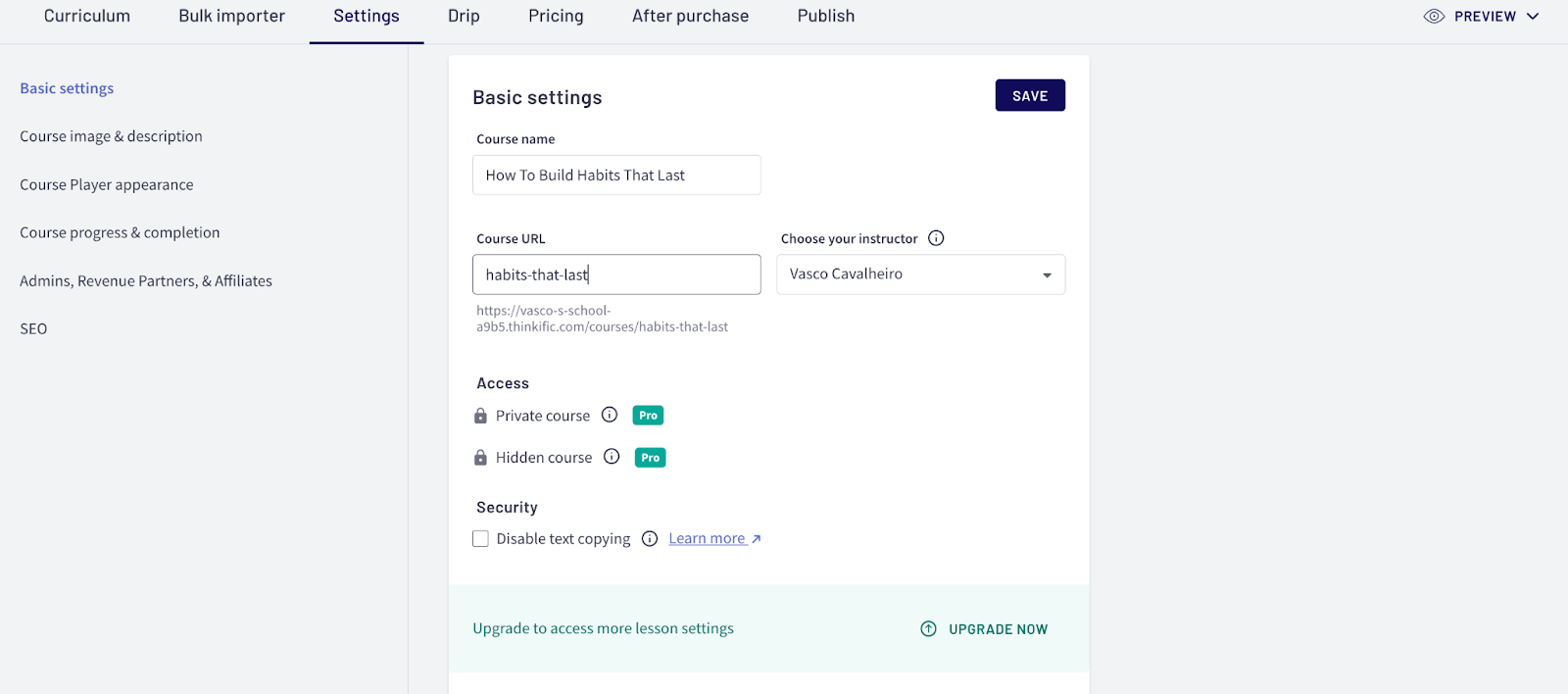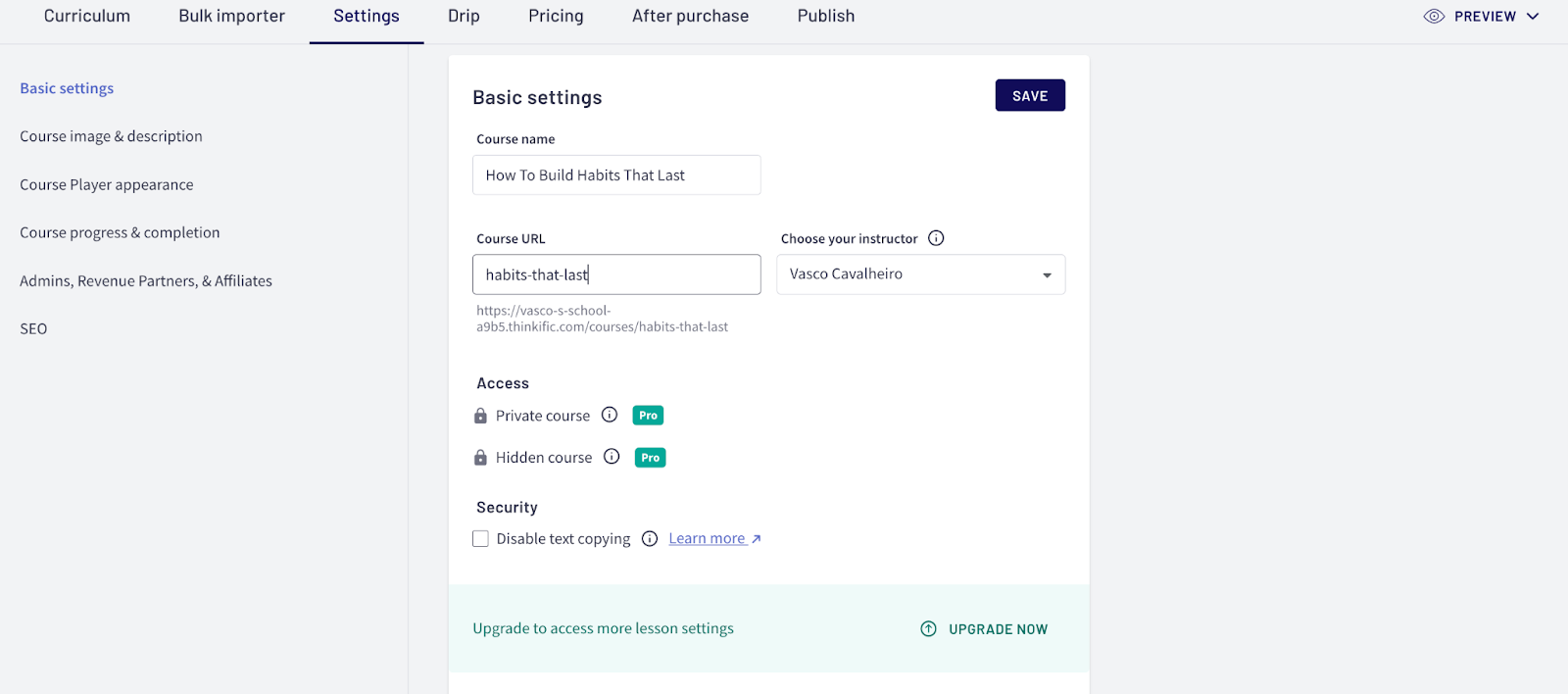 This is where you can change the title of your course, set a specific URL, make it private or hidden (if you have a Pro Plan), and even assign different course creators/instructors.
There's also a sub-section where you can add a course description and thumbnail, and  a section to edit your video player style and appearance: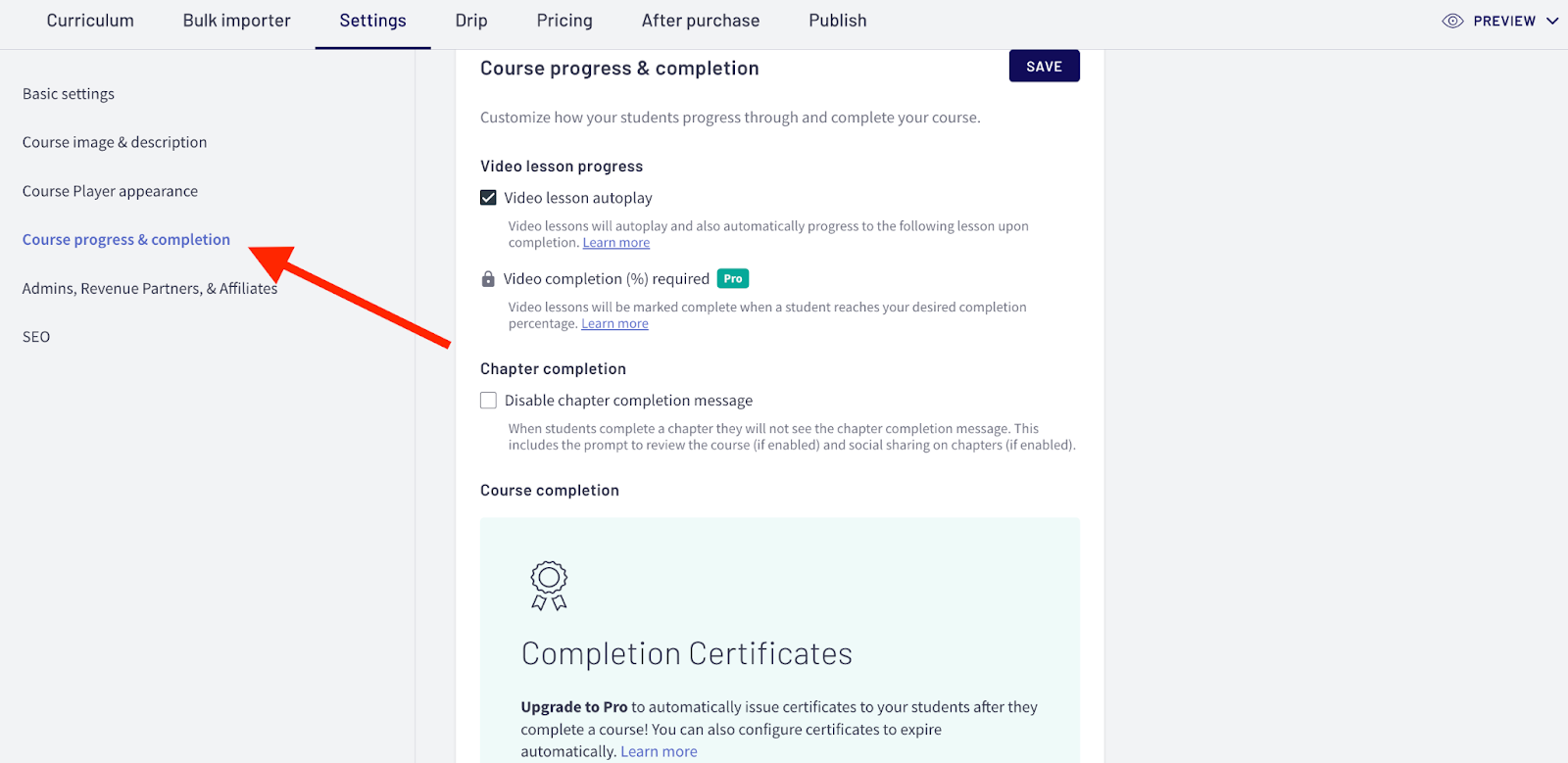 Thinkific Certificates
You can add completion certificates (if on Pro Plan) and set certain progress markers/milestones…

Course Admins
You can also add different course admins, partners, or affiliates—so they have specific access to the course: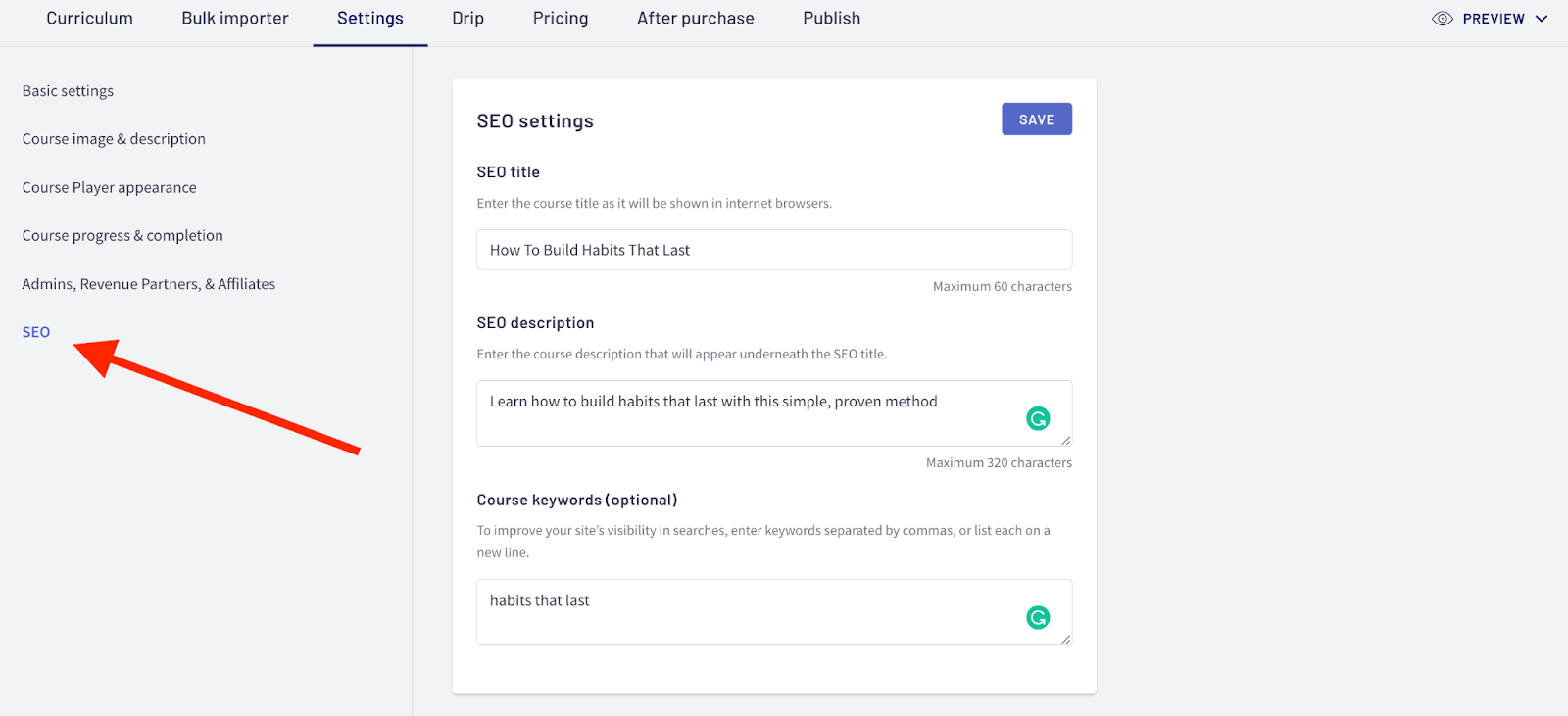 Thinkific Content Drip
Beyond the "Settings" tab, you can also drip content out to your students so they only have certain access to certain material at any given time.
This is a handy feature that can improve engagement, note that you have to upgrade to the Pro Plan to have access to this.
Pricing a Course
The next tab focuses on "Pricing":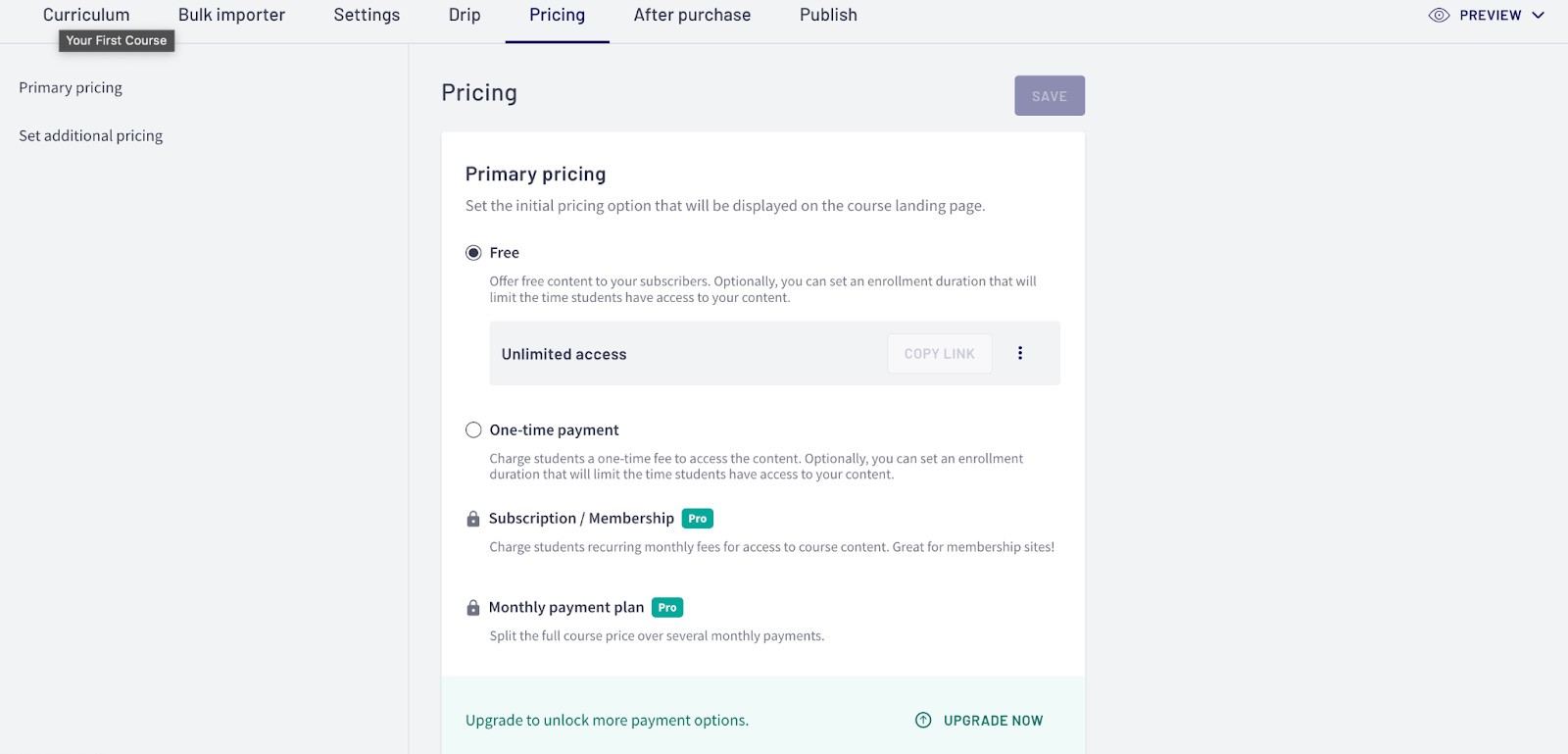 You get a lot of different options when you use Thinkific, but again, some are only available on higher-tiered plans.
This trend continues with potential access to providing your students with upsells and post-course email sequences (this is a paid feature).
Publishing a Course In Thinkific
Finally, you land on the "Publish" tab. Before you publish, you'll want to create your landing page first.
You do this via the top-right-hand corner, which takes you to a dashboard like this: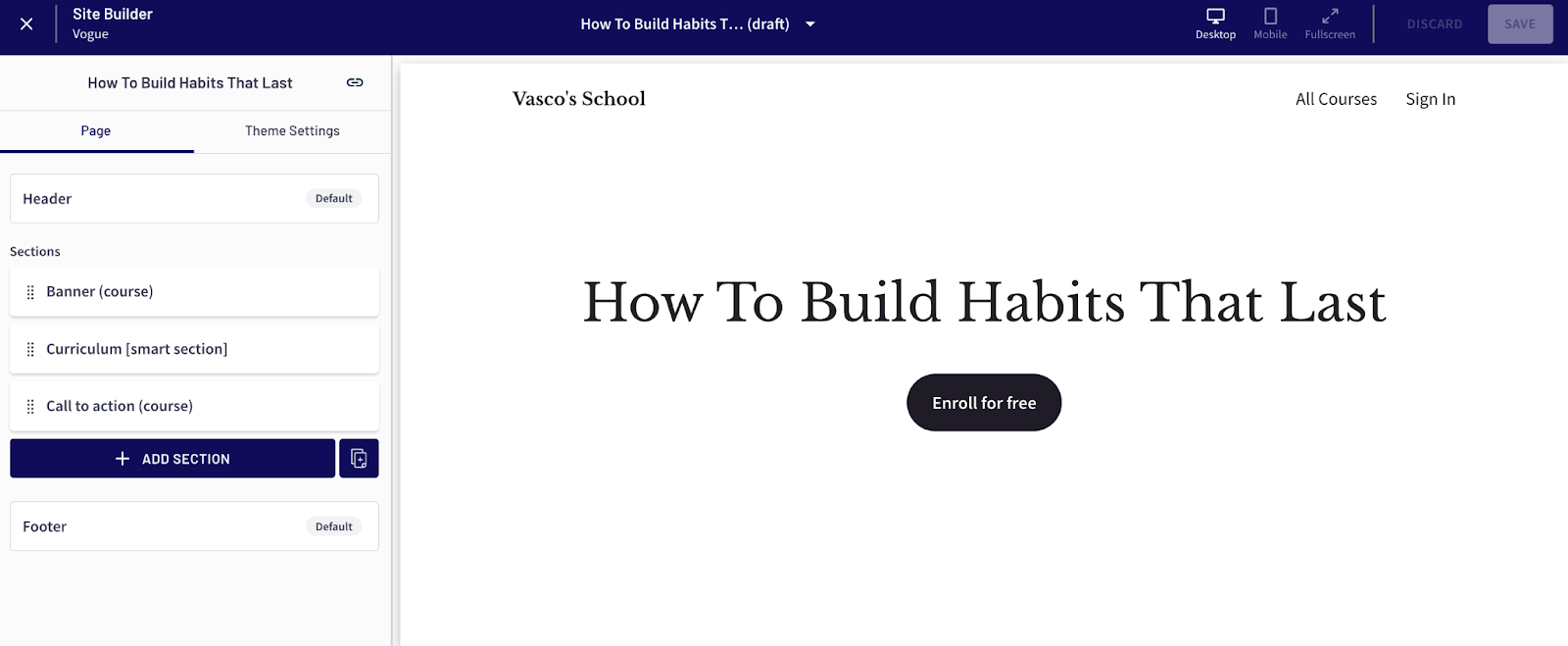 You will notice that this is the same as the page builder from earlier. Once again using a drag-and-drop experience that allows you to build the page yourself.
As you can see, there are a lot of options: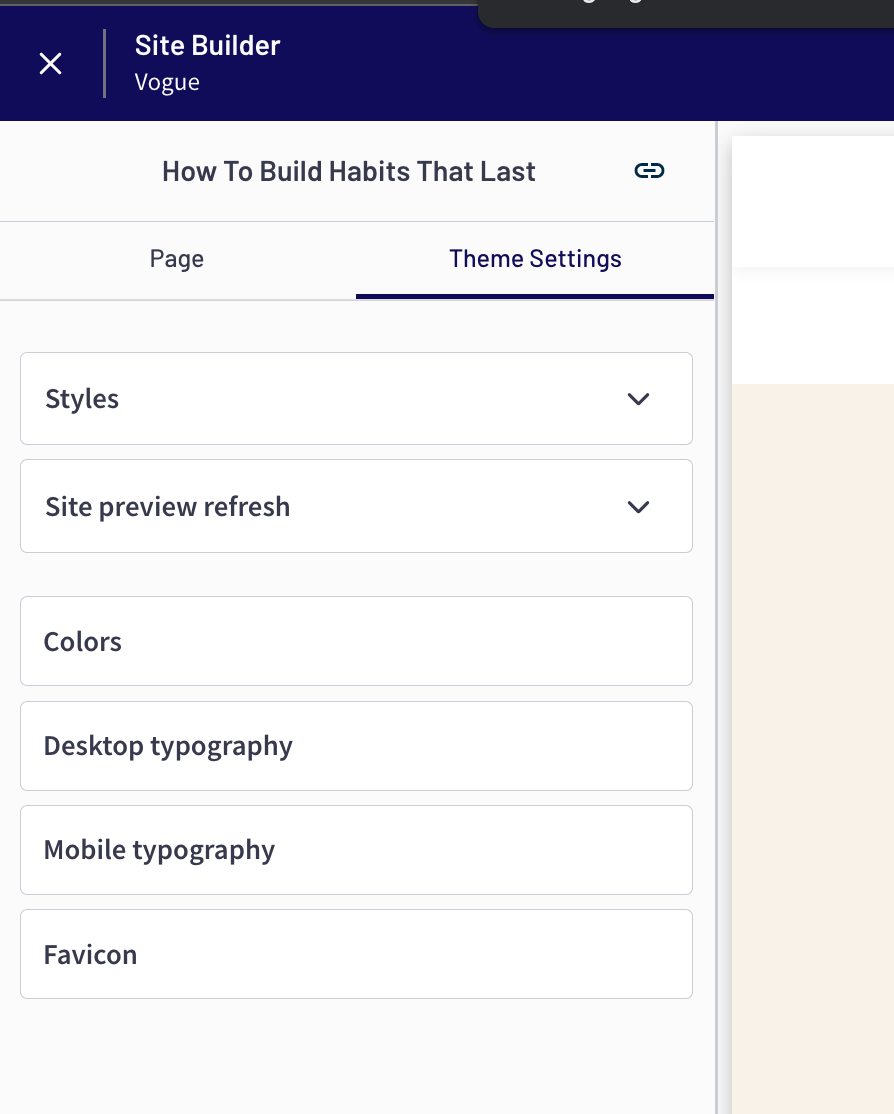 Finally, you can adjust and tweak your page settings: font styles, colors, logos, etc…
At this point, you're ready to publish your course and make edits as needed as time goes by.
For the most part, this is what you'll experience on Thinkific as a course creator.
You have a nice dashboard with a lot of features, tons of marketing options, and a nice website page builder tool with a lot of features.
But what about Kajabi?
Overview of the Kajabi Dashboard
As with Thinkific, creating a new account with Kajabi is easy enough. Just visit this page and sign up for a free trial (a credit card is needed).
After answering a few questions, you're ready to go.
Important: If you don't want to continue after your trial, you need to explicitly cancel.
Otherwise, you might accidentally get charged $199 if you chose the monthly plan.
Once you're set-up, you'll find yourself on a dashboard like this…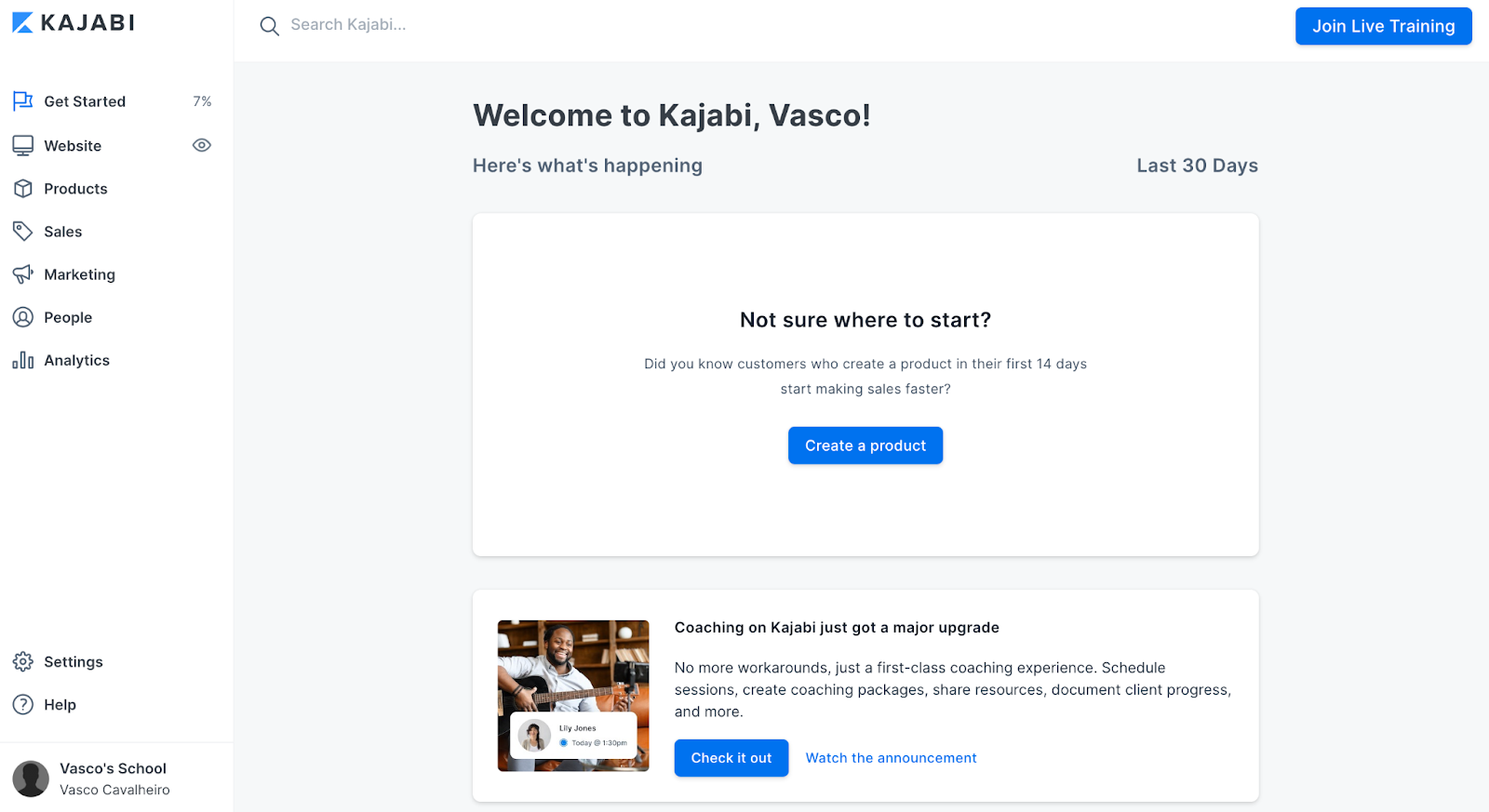 As you can see, you get access to all the main areas within Kajabi via the left-hand column.
This has more options compared to Thinkific, as this all-in-one solution has more moving pieces.
The main part of the page gives you access to training material, as well as other important notifications—and of course, a call to action to upgrade 😏
The first section to visit is the "Website" area, which allows you to create new pages as well as specific navigation menus and blogs.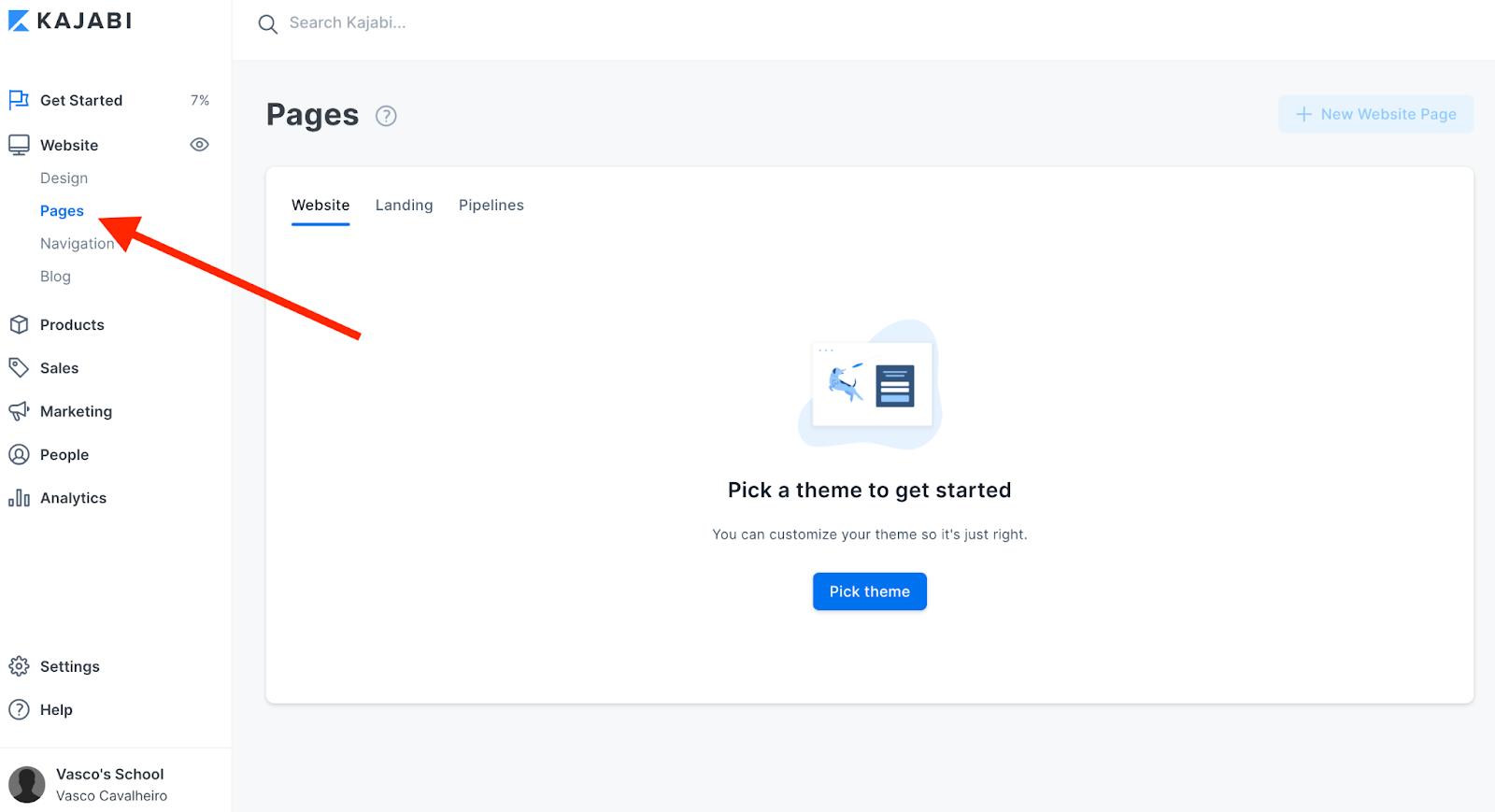 The Kajabi Website Builder
Initially, it's the website builder you'll be most interested in. This directs you to a Theme Store, so you can choose a template for your site/pages: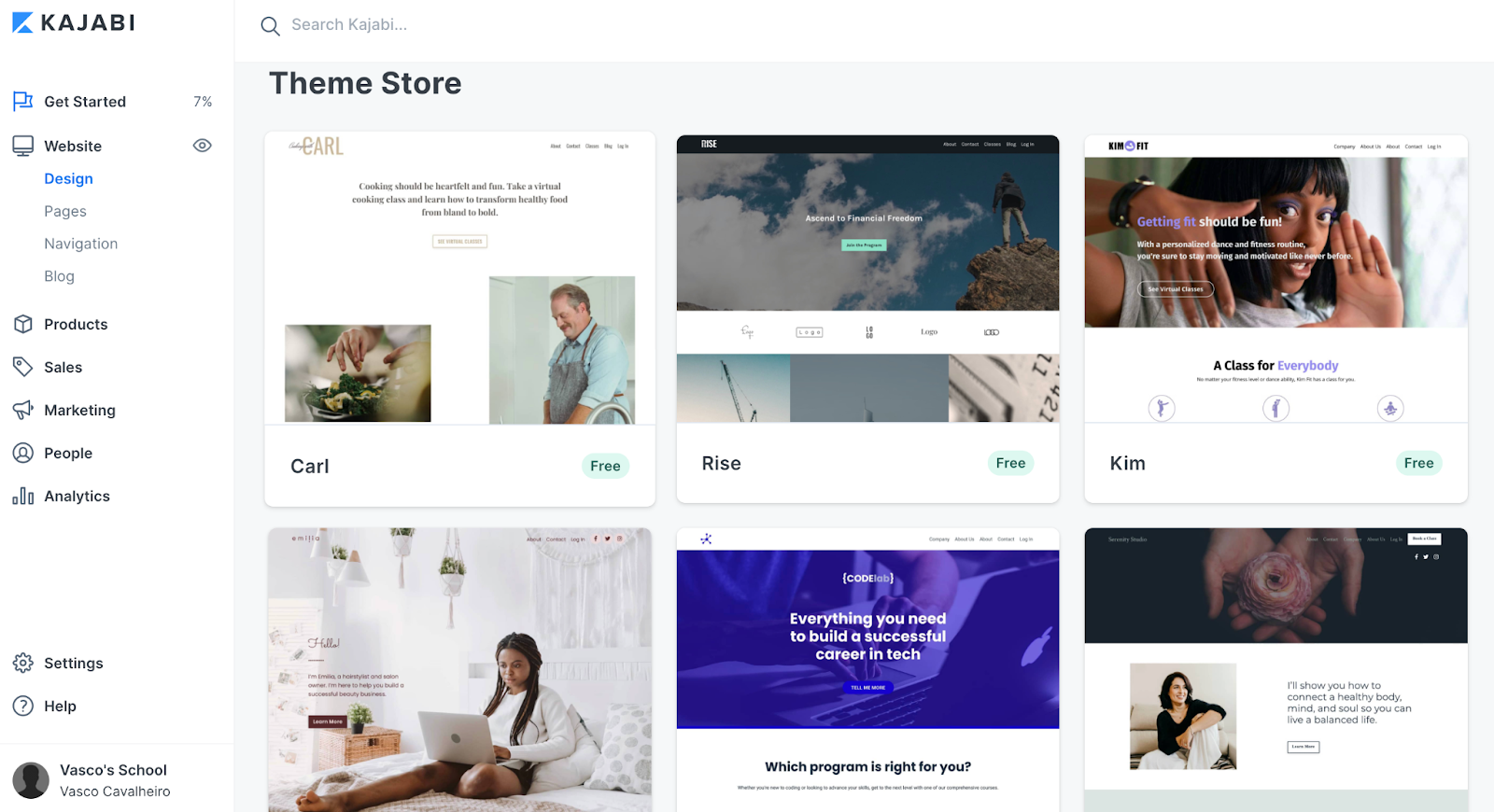 Some of these are free, but many of them are not.
This is a good feature, as creating a page from scratch isn't easy (more on this next).
The fact you may have to pay for a theme you like isn't ideal, given the already high price of the subscription, but this is a one-time purchase.
When you do find a theme you like, it opens up the page builder, which is even  more advanced than Thinkific's: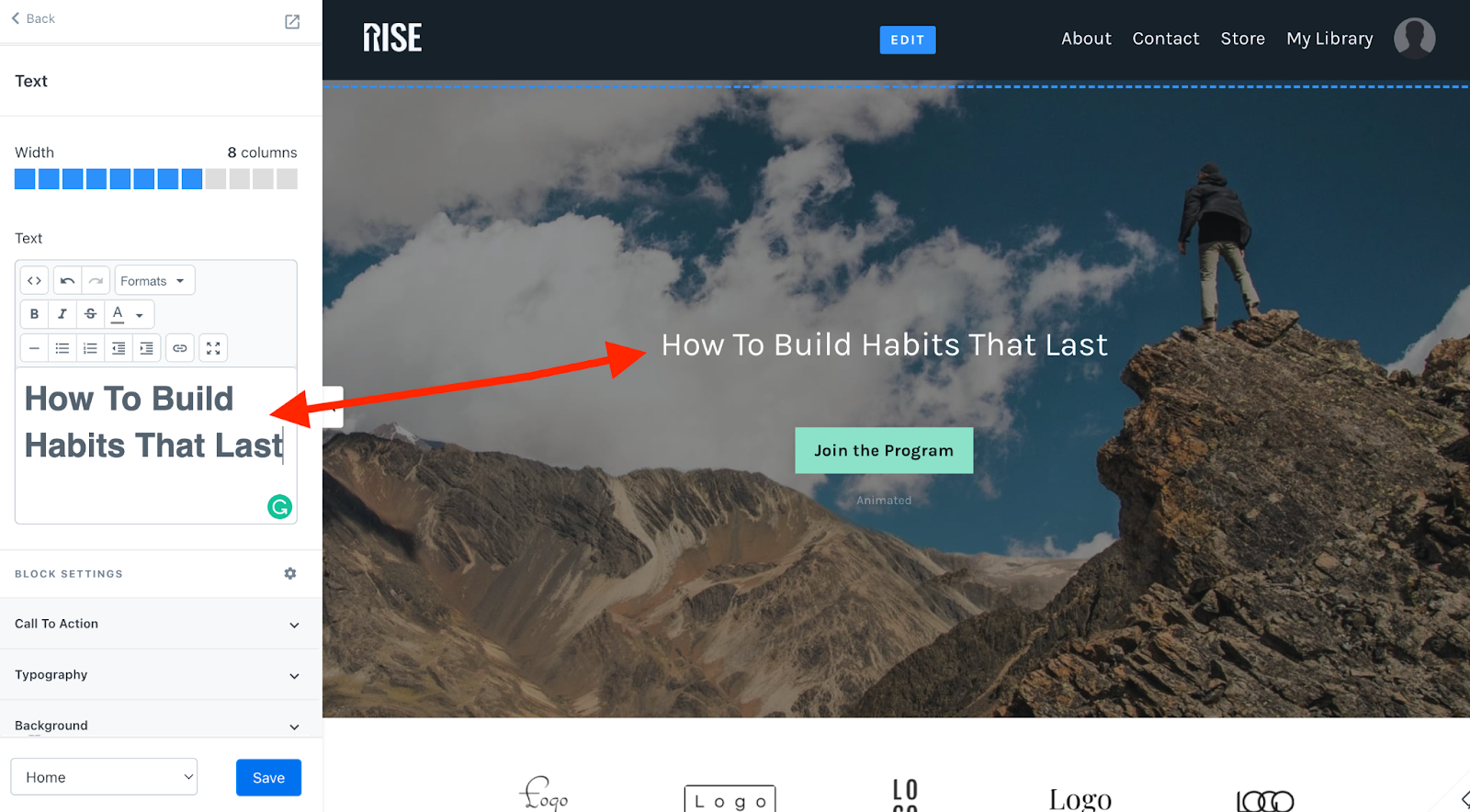 Kajabi also provides a drag-and-drop builder, and it does have many more moving parts.
You can customize almost anything, and see your changes in real-time in the main window.
It is good, and it does provide everything you need to build a website for your courses.
But let's be clear… this is not super easy to use for a non-designer.
If you don't have design skills, you have a couple of options available:
try to choose an existing template, and modify it as least as possible, just by changing the text, the images, and little else
if you build a design from scratch, go for the simplest design possible
consider hiring a designer that will build the pages for you
Products Section
The next section to explore is the "Products" one…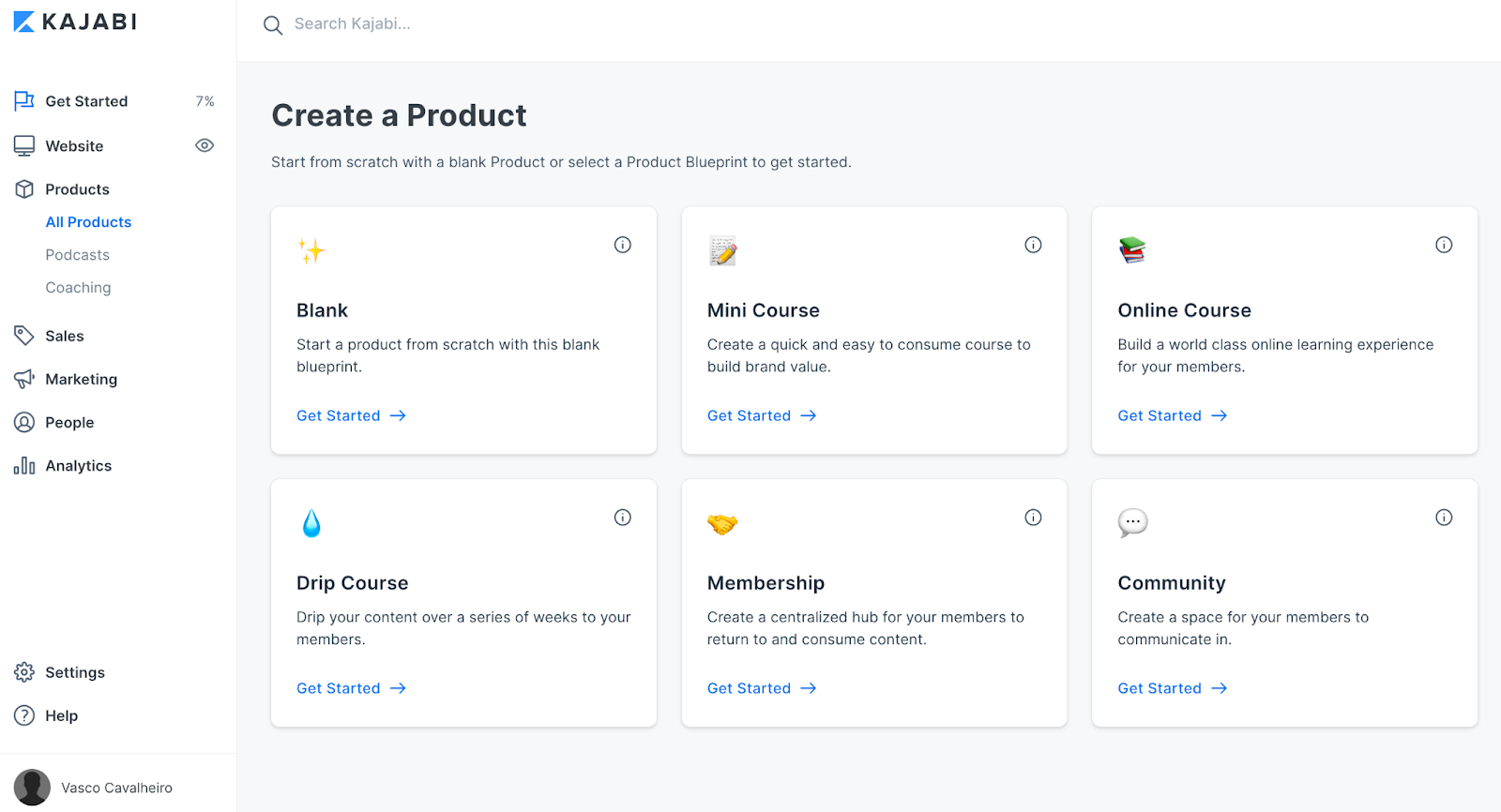 This is where you create your online course, as well as other products such as membership sites, communities, and even drip sequences.
Kajabi Course Creation Experience
As an example, this is what you'll see when you create a new course: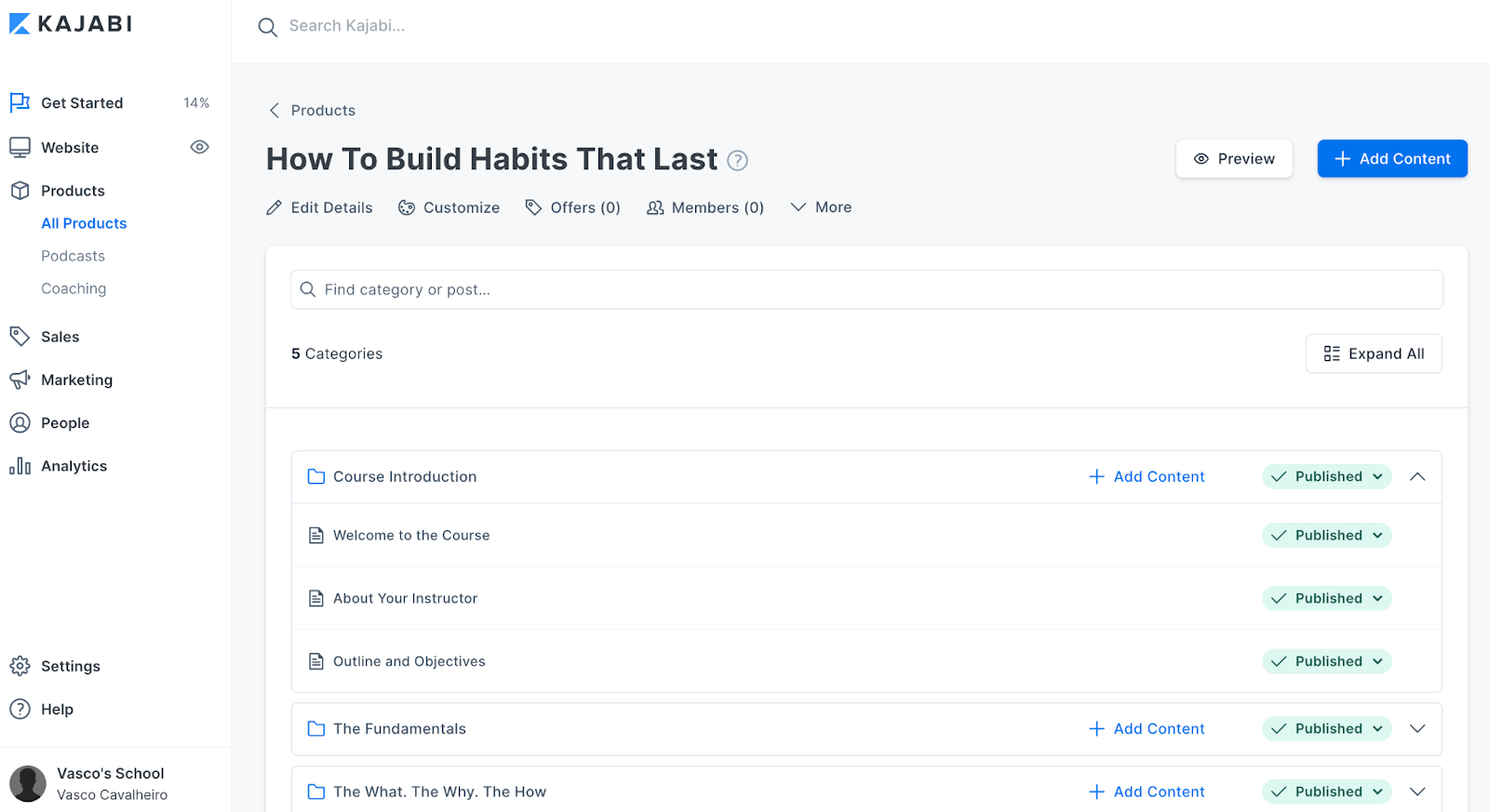 This section is similar to many course builders, allowing you to create new lessons (and sections), and then swap them around via drag and drop functionality.
Here is what the lesson editor looks like: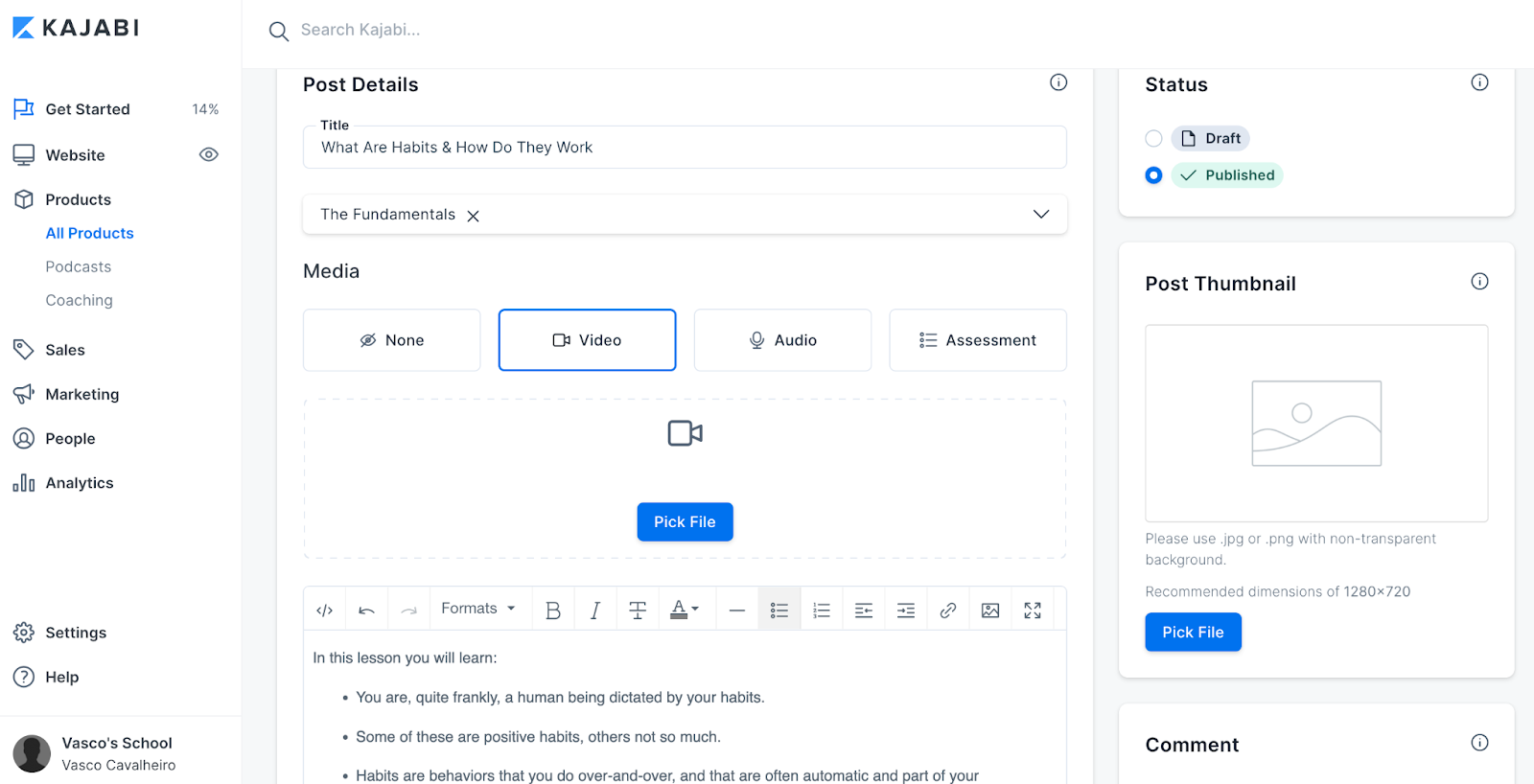 In many ways, this is as good as everything you need is on one page. You can create a video lesson, audio, and assessment, and customize your lesson notes—with images, formatting, and other content.
There are other sections at the top of the page, which allow you to edit the course's main details, customize its look/branding, and even explore your different offers—as well as your enrolled members.

Under the "more" dropdown you can also manage comments, make announcements to enrolled students, access certain analytics, and even clone your course—which saves a lot of time if you want to create a similar course in the future.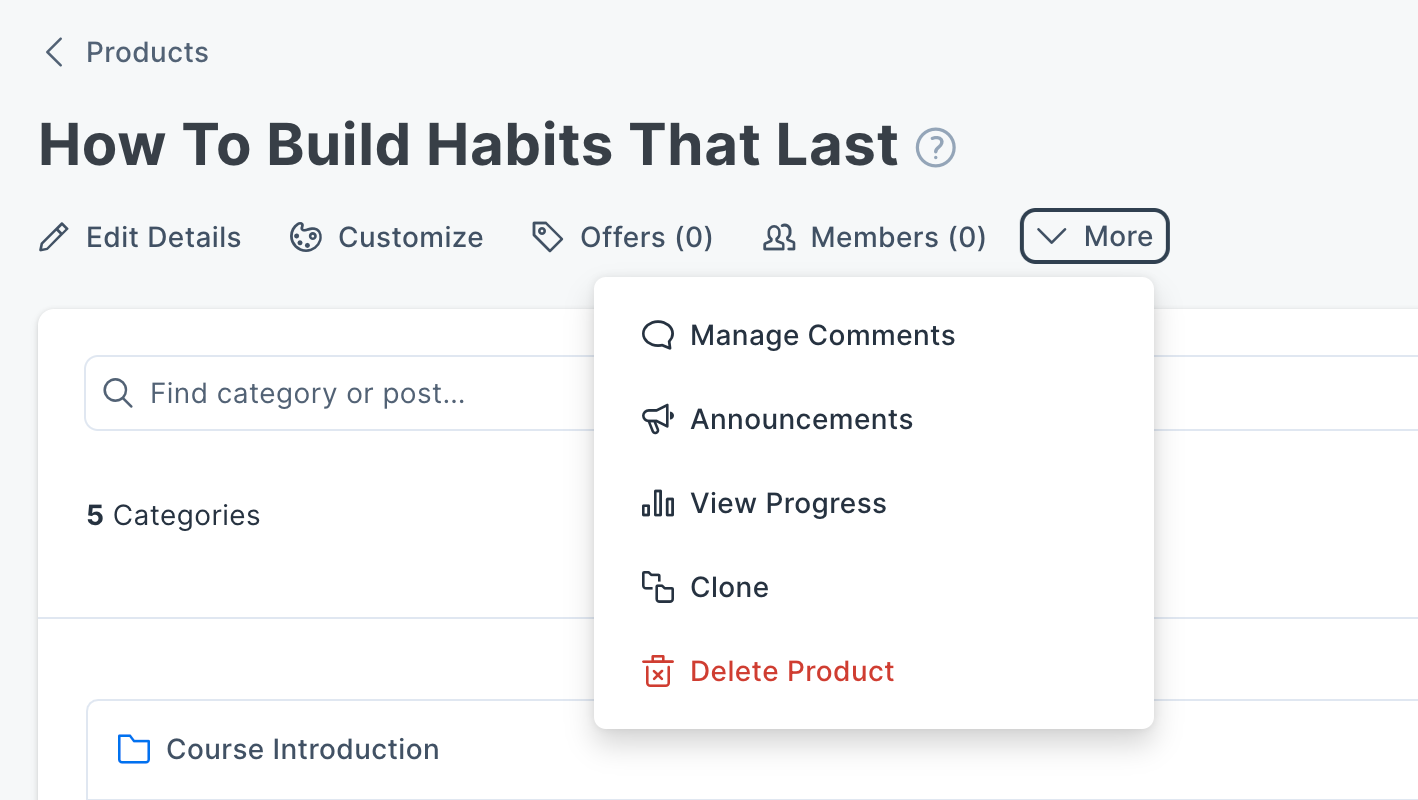 Let's continue to explore the course builder,  and move on to the Offers section.
Kajabi Offers Section
This is where you can create new offers, coupons, payments, and even manage your affiliates.
You're also prompted at this stage to set up some payment details so you can get paid either via Stripe or Paypal: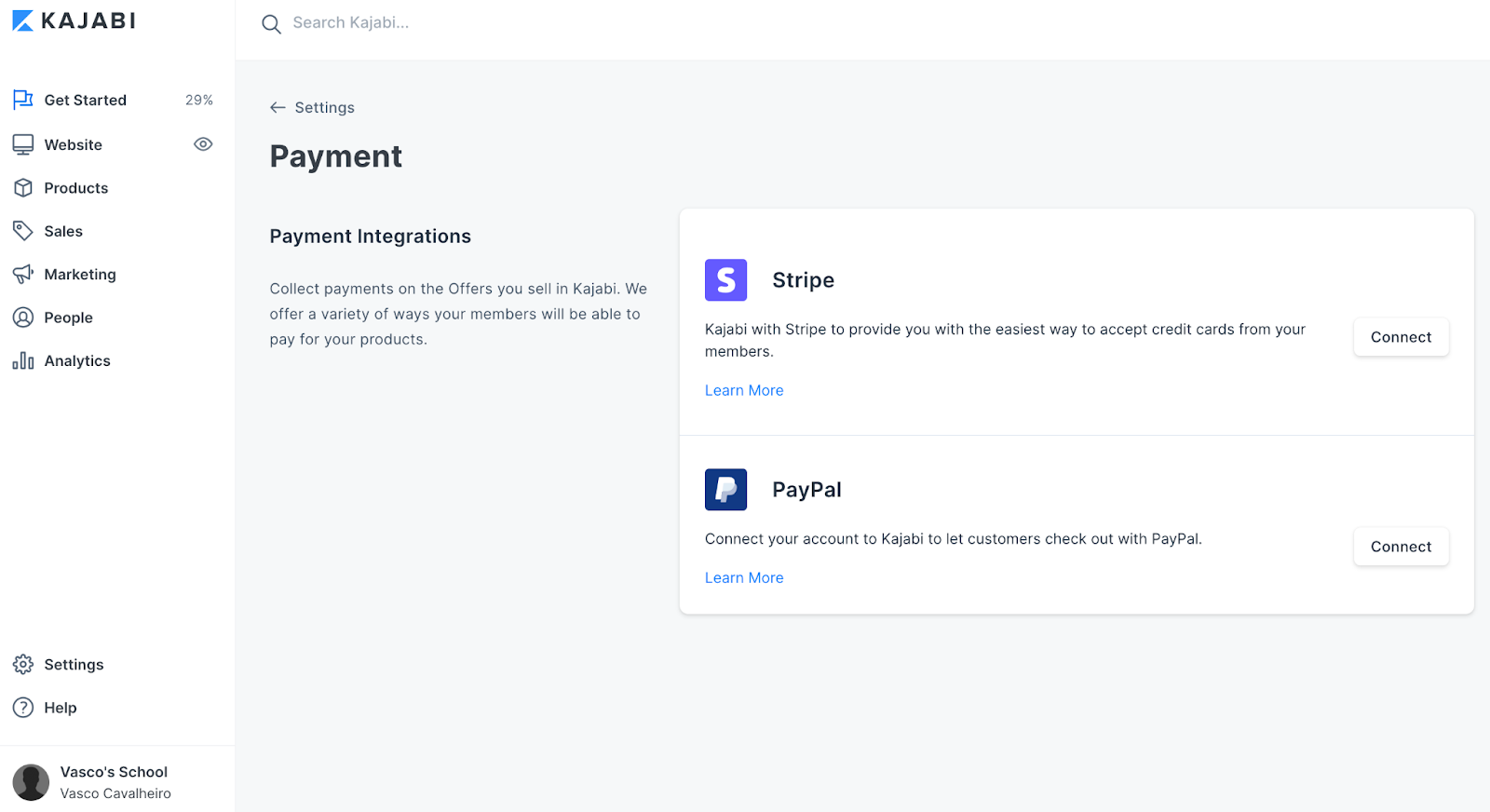 Overall, this part of the platform is easy to use, giving you the chance to create new coupons/offers in minutes: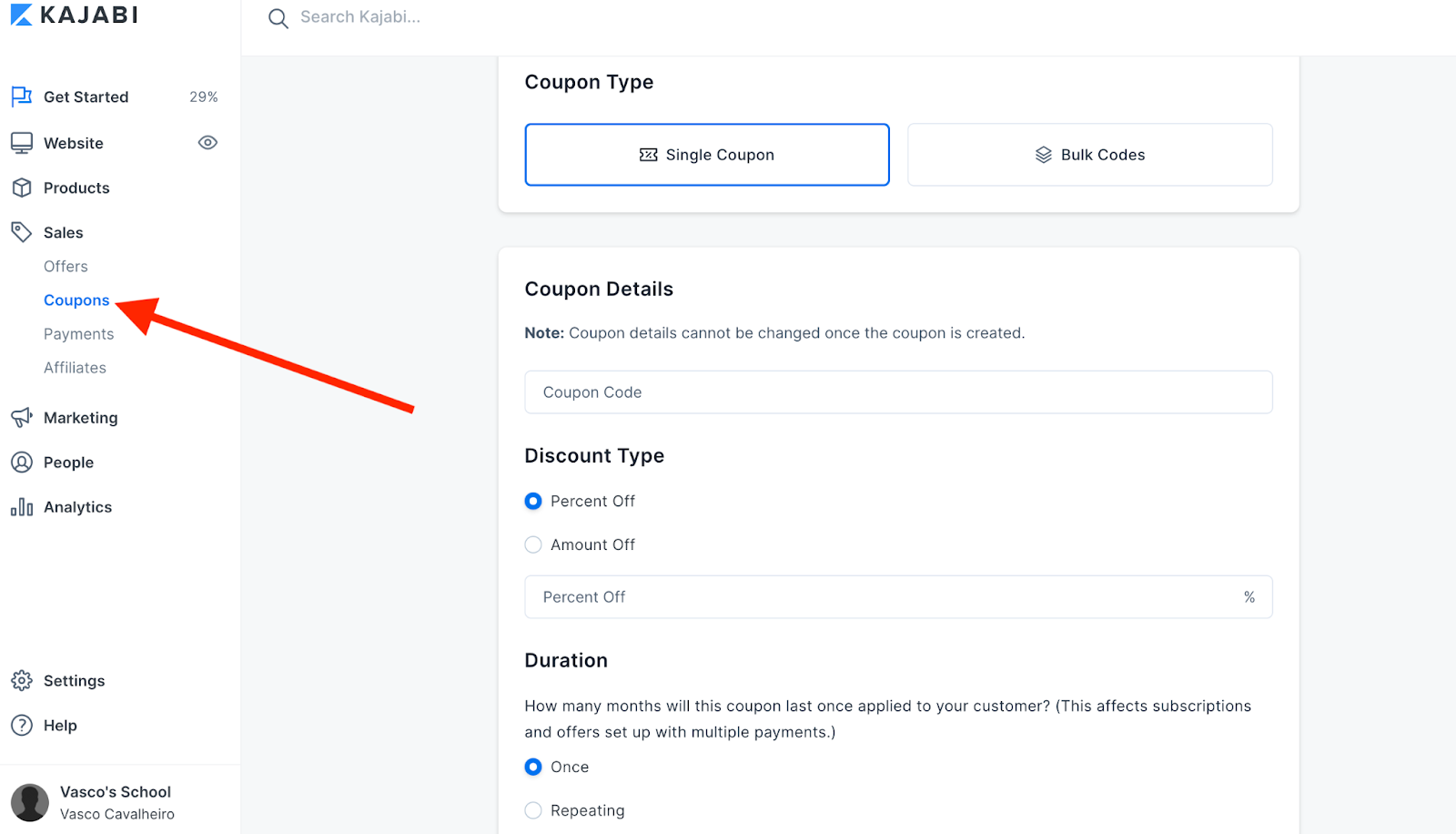 The affiliate section is also good, giving you detailed information on each affiliate/partner you set up.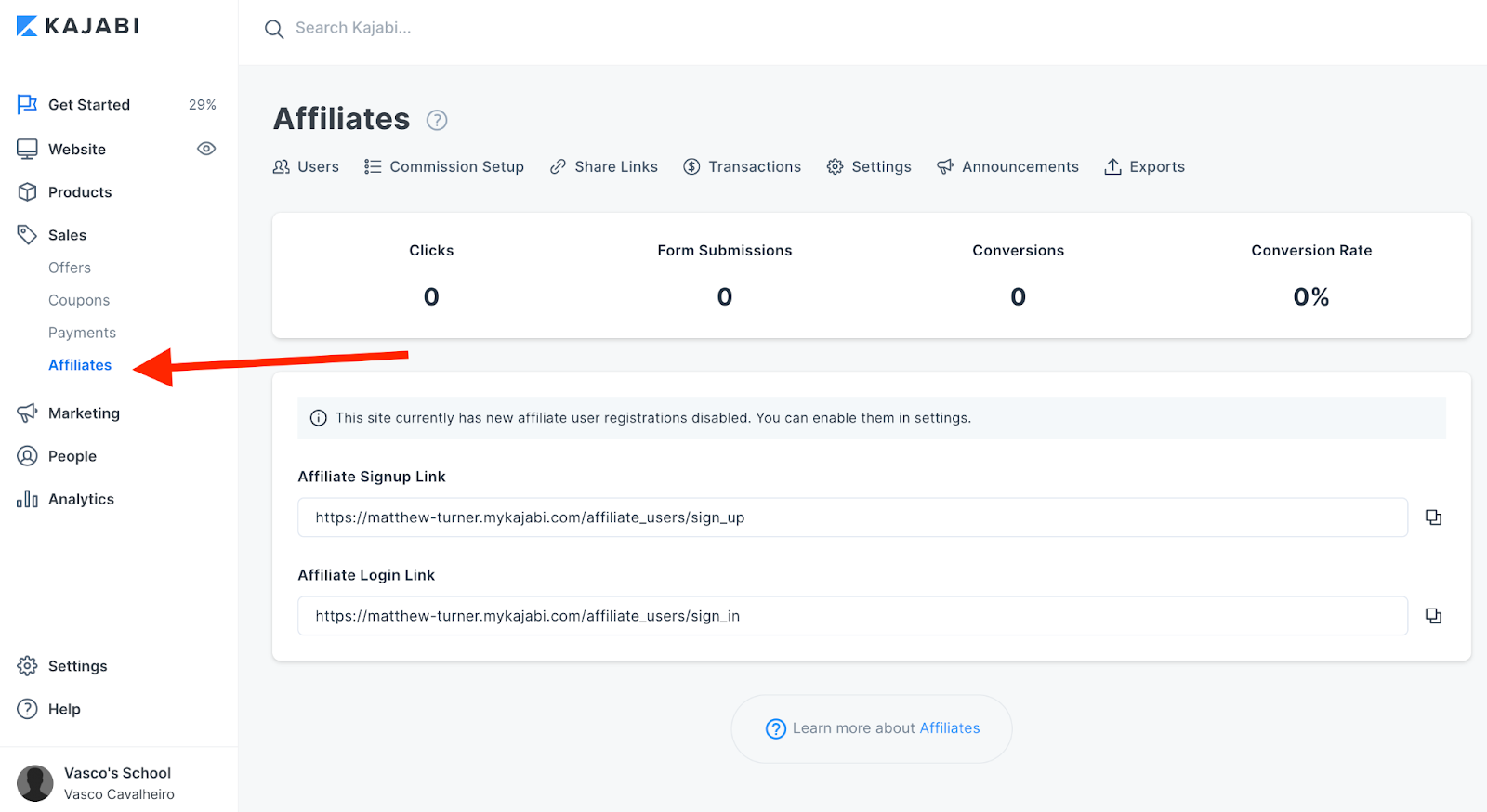 This is good as it means you don't have to set up any other third-party affiliate tools.
Kajabi Student Management
The next main section to explore is the "People" one, which allows you to create new contacts, as well as import them in bulk—and manage them as they join your list/enroll in your courses.
And then there's the "Analytics" section, which offers a deep dive into everything you need. This is a great section, and something Kajabi does well.
You get to not only track money and enrollments, but access in-depth information surrounding your website/pages, different offers, and subscribers: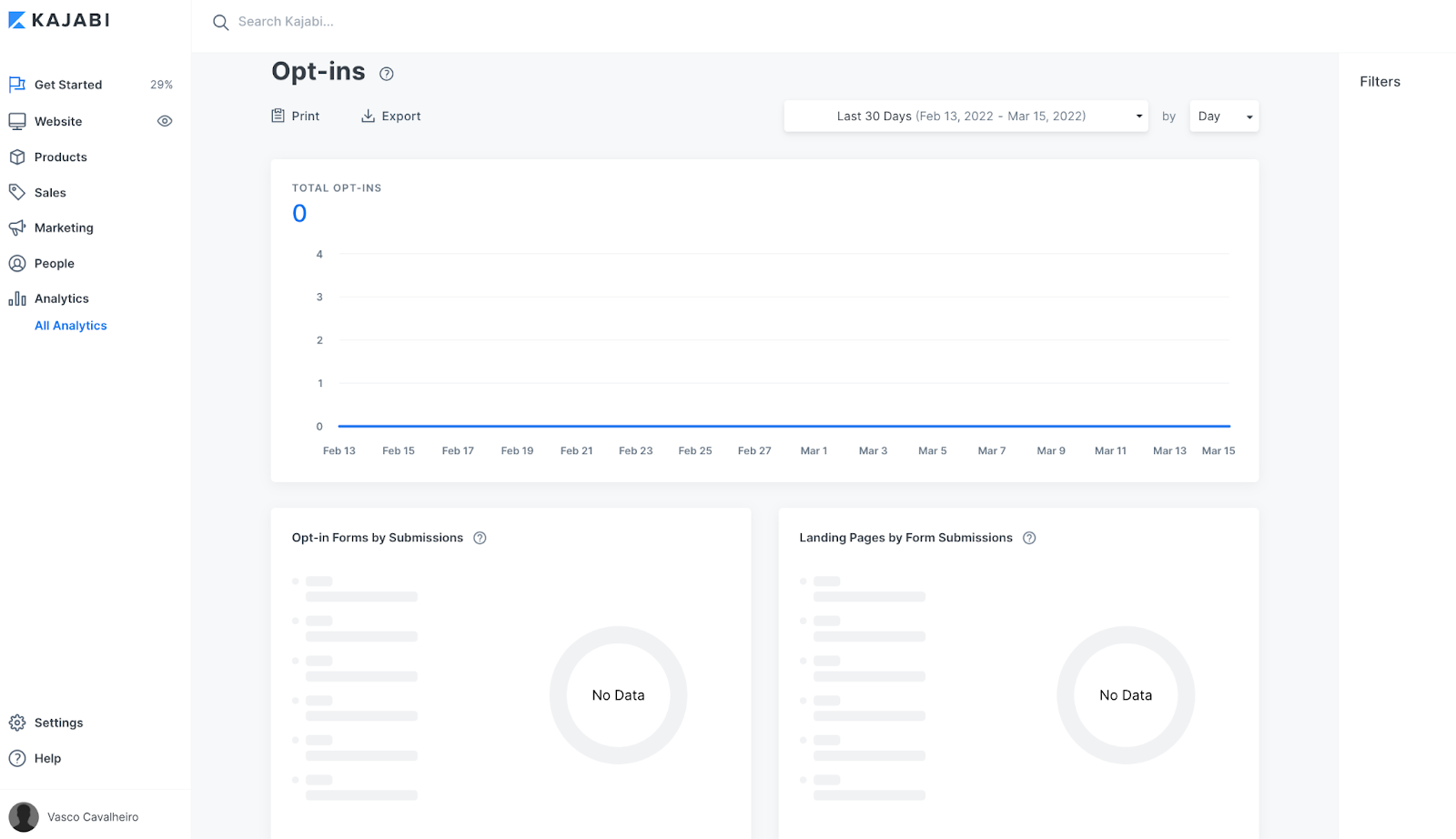 Each analytical dashboard then provides a lot of depth, ranging from raw data to more visual graphs.
As I say, this is a good feature that Kajabi knocks out of the park. Compared to many other platforms, they go above and beyond.
Not just regarding your course, but everything that goes into it: marketing, sales, etc…
That covers most of the main sections within Kajabi, although we cannot overlook the "Settings" area!
Kajabi Third-Party Integrations
One of the main areas inside this section is the Third-Party Integrations…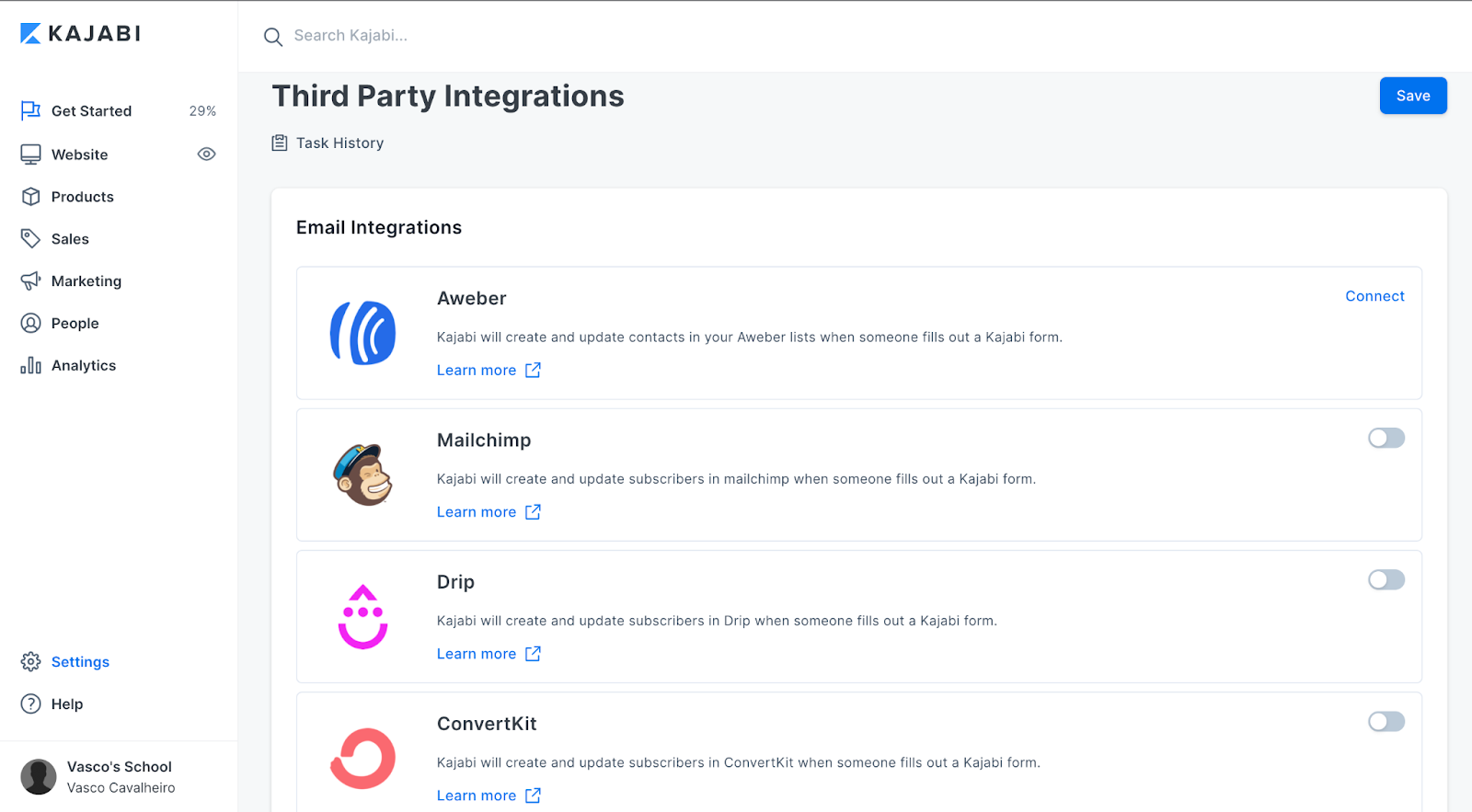 One of the main benefits of using Kajabi is that you don't need to use as many external tools.
Yet chances are, you will want to connect some, such as email marketing and the like…
The good news is that Kajabi directly connects to most of them. 😎
Of course, this only presents a few pieces of the puzzle. The entire Kajabi ecosystem is vast, and it's one you'll want to explore during your free 14-day trial period.
Thinkific vs Kajabi Student Experience
We've seen what you experience as a course creator in both Thinkific and Kajabi.
But what does your student experience look like?
This is important because, although your experience matters, you could argue your student's experience is even more important.
After all, if they have a good experience, chances are they will buy another course from you. 😉
Let's see how the two platforms compare, starting with Thinkific.
What Your Students See: Thinkific
Once enrolled, your students get access to a clean, easy-to-use platform: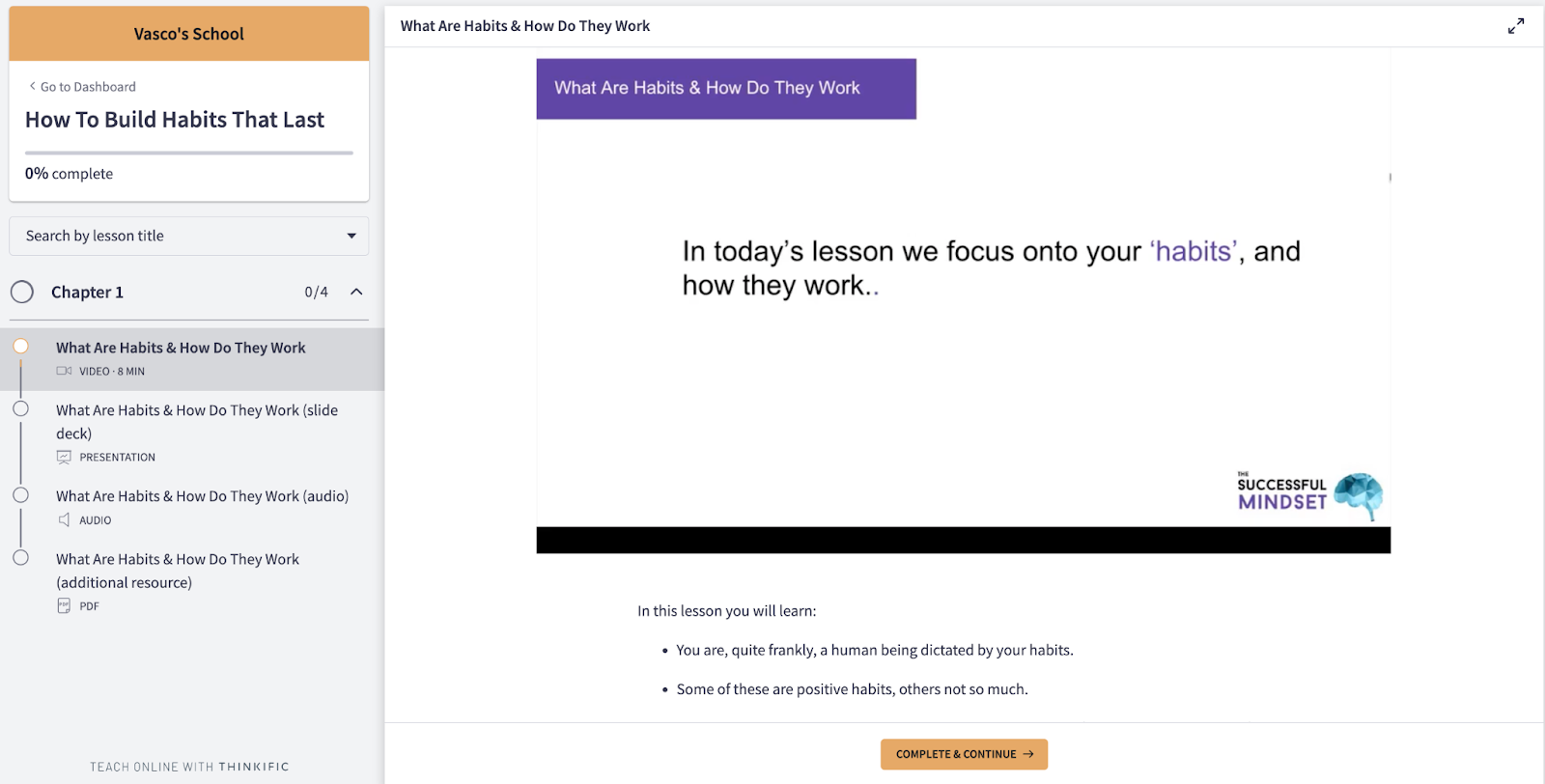 In the left-hand column, they can access all the various lessons, modules, and chapters.
And then on the right hand of the screen (that takes up most of it), they see the individual lesson.
On this occasion, it's a video with a lesson plan beneath it.
Different types of lessons from the point of view of the student
It's similar to other types of course material, although each one differs slightly…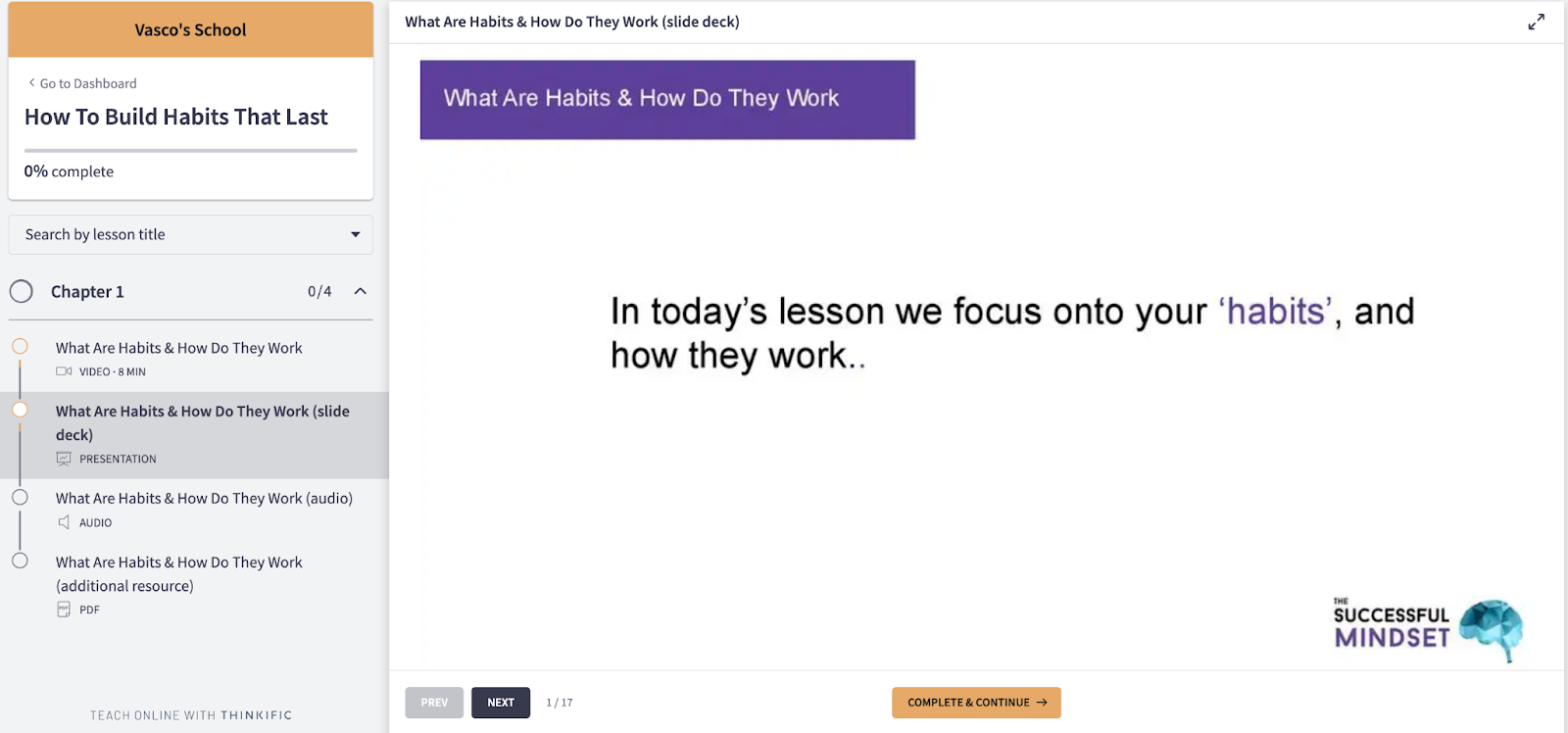 This is what they see when looking at a slide deck/presentation 👆 👆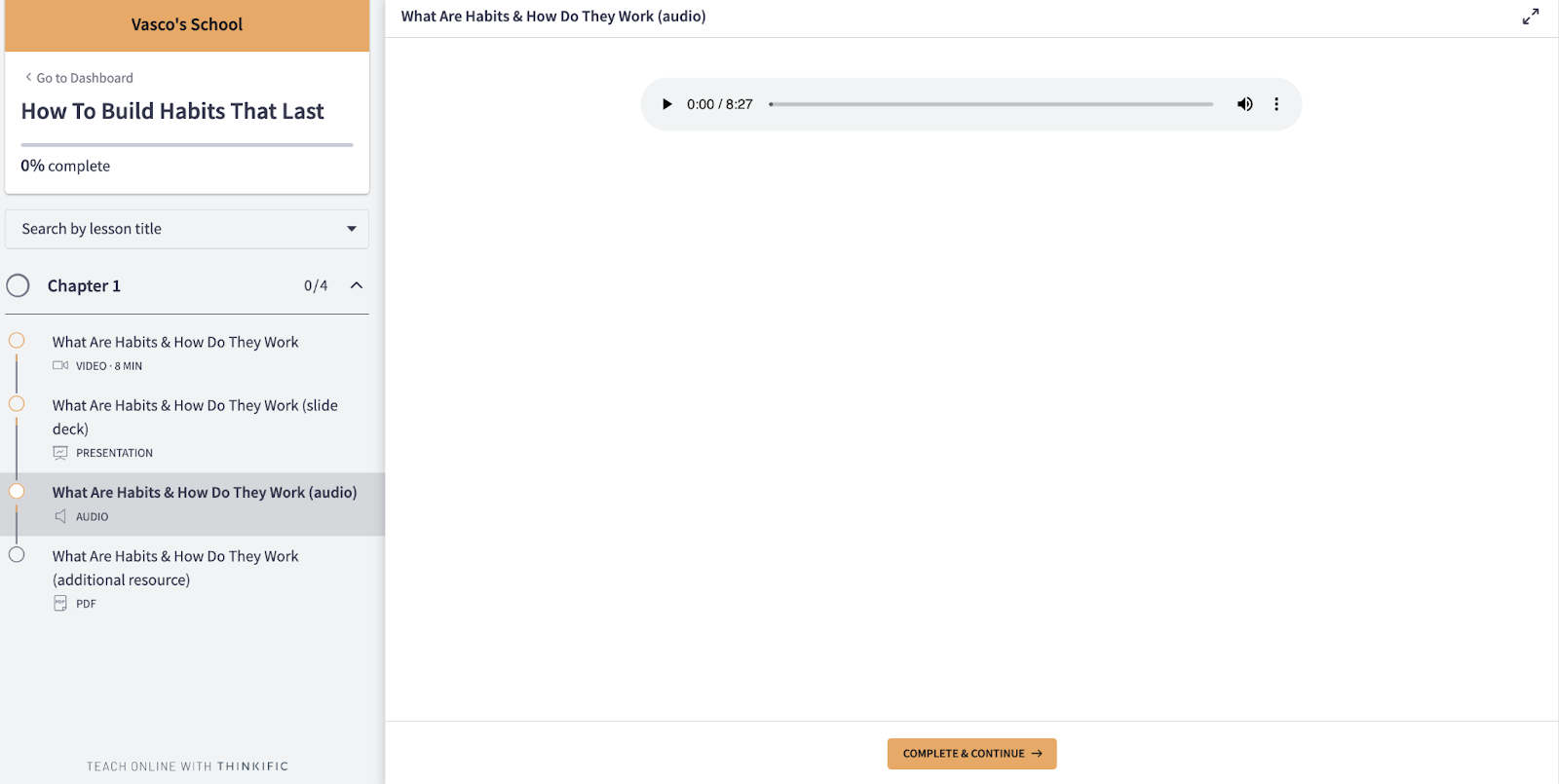 … and this is what they see when there's an audio file 👆 👆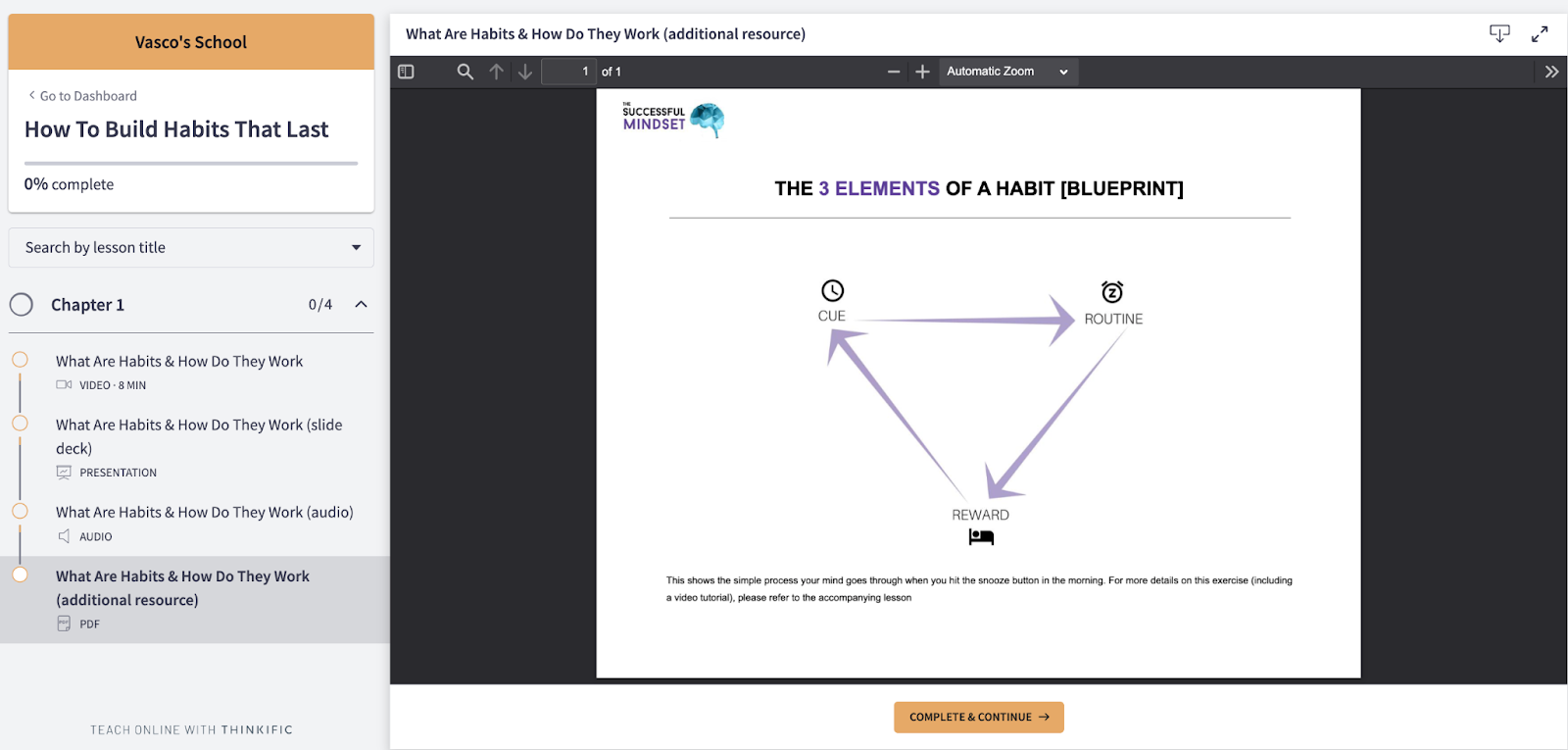 … and this is what they see when they get access to a downloadable PDF 👆 👆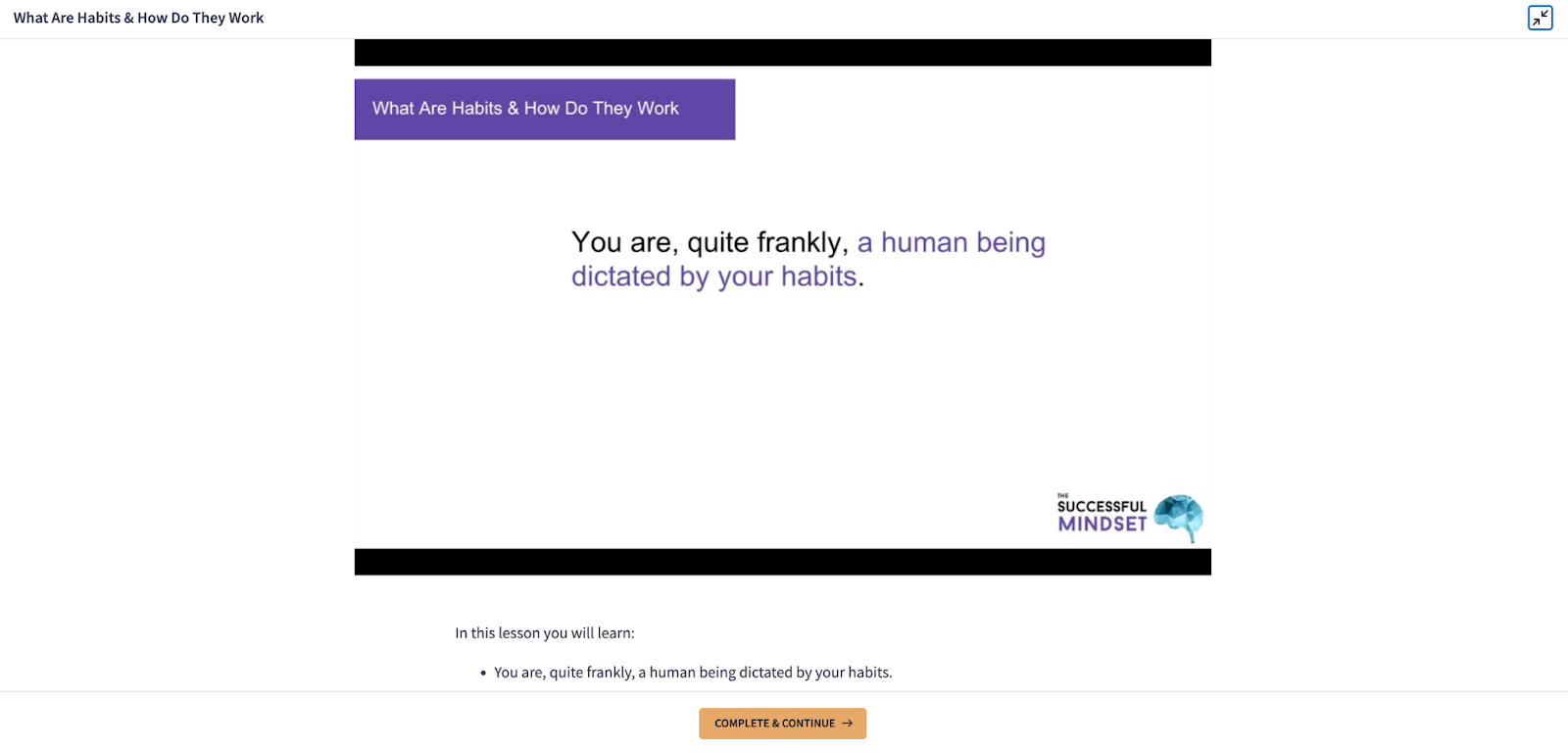 And for those that like to work in "full-screen mode", they get access to just the lesson—without the left-hand column in the view.
This is basically it.
Thinkific provides a clean, easy-to-use platform that gives your students what they need.
This is similar to Kajabi, although with a few slight differences…
What Your Students See: Kajabi
Once a student enrolls in your course, they'll find themselves on the main page like this…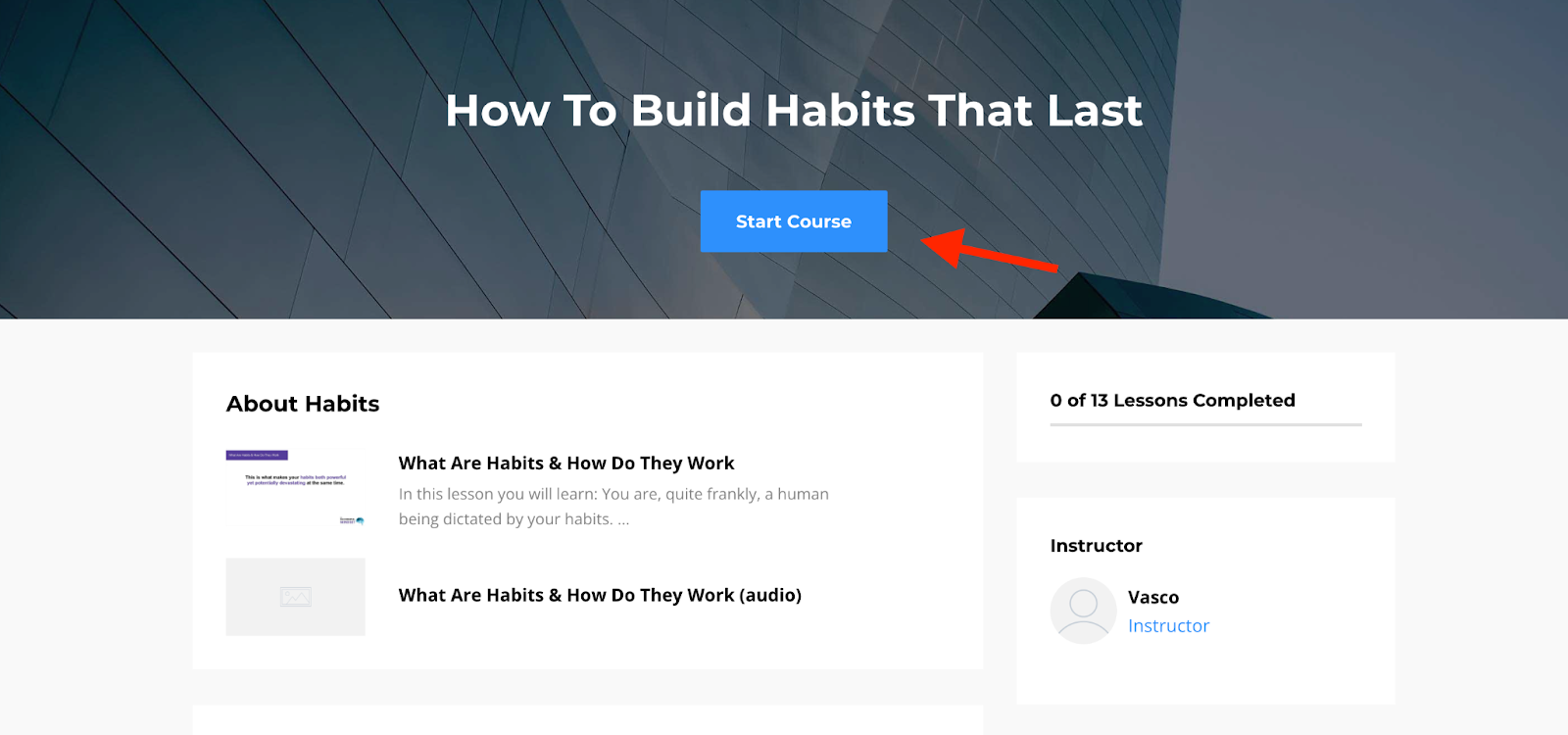 Instead of instant access to all your material (like you get with Thinkific), your student lands on a landing page that provides an overview of the course—as well as a breakdown of the lessons.
You can customize this page so it fits your brand.
Once they click the "start course" button, they're directed to the main learning platform…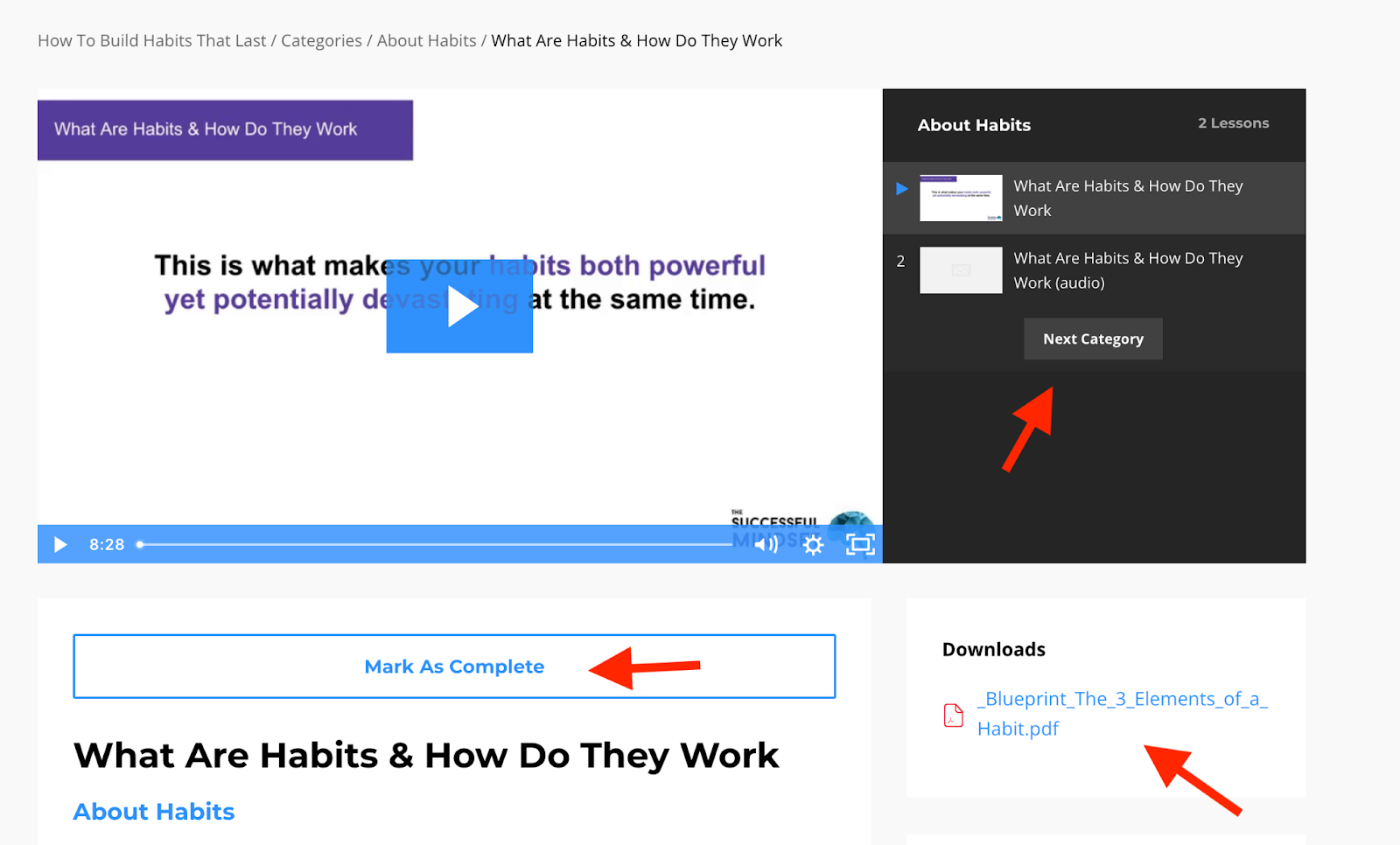 As expected, the video (or whatever the lesson's main feature is) sits center stage, with access to other lessons in the category just to the right. The overall feel here is different from Thinkific and other course platforms—more similar to YouTube, with access to other lessons on the right-hand side.
It's an interesting look. Below is an area for all downloads/resources, and further down the page, your lesson plan.
Compared to Thinkific, you get a lot more freedom to customize the student experience.
Thinkific vs Kajabi Pricing
Let's face it, much of your decision will come down to price, and to your particular budget.
You need to feel sure that the platform you use is the one you need. It may come with a bunch of eye-catching features, but you need to get a return on your investment.
You can't risk as a course creator to be paying a premium price for features that you simply don't use.
Let's explore how these two platforms price things, starting with Thinkific:
Thinkific Pricing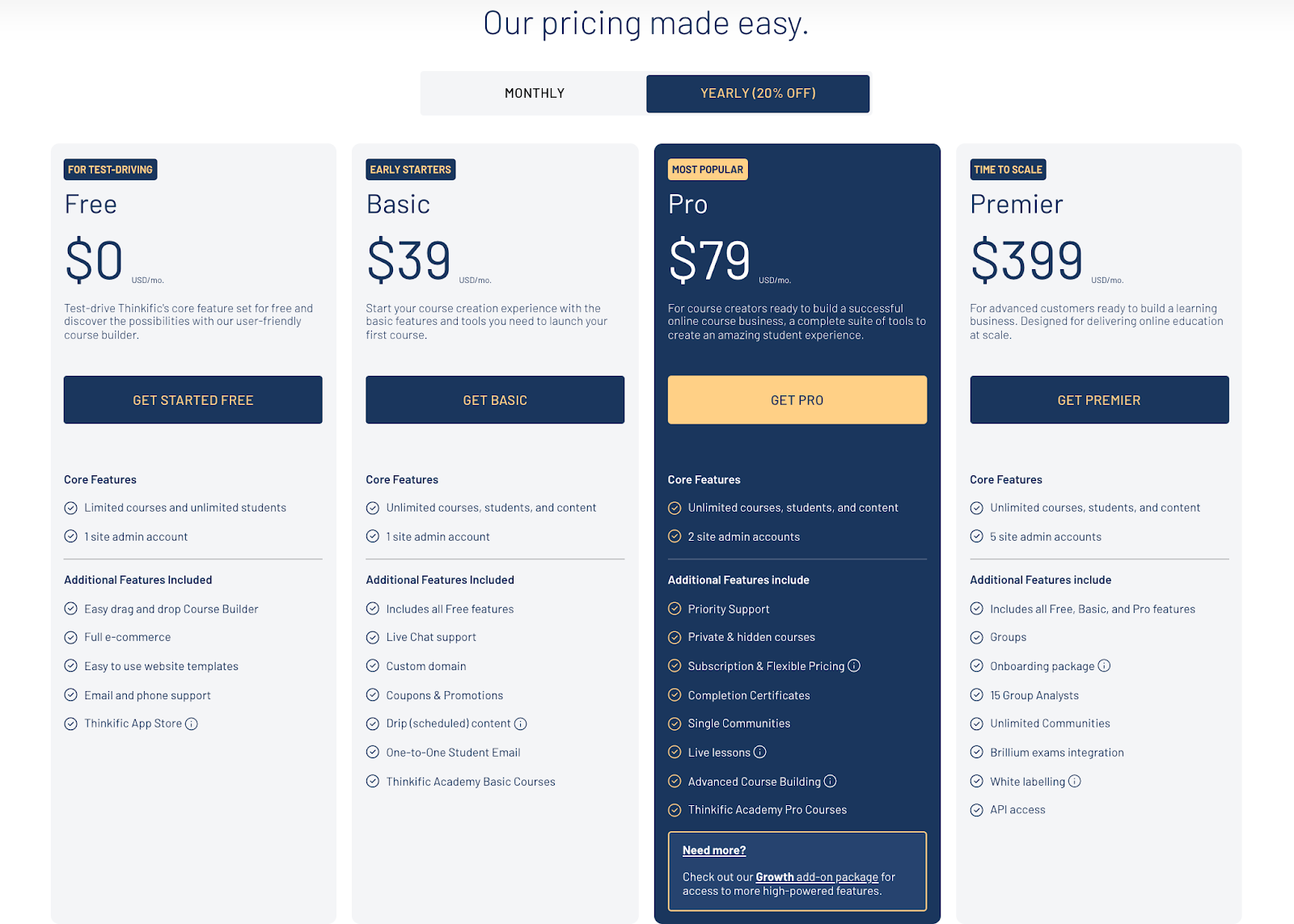 Thinkific comes with a great free plan. However, it offers limited access to its features.
It's designed to let you explore and experiment with your first course.
If you want the freedom to create the course you want and effectively sell it, in most cases I think in practice you will need to upgrade.
For example, the free plan does not include the ability to create promotional coupons, so you won't be able to launch your course at a discount if just use the free plan.
But it's still possible to use the free plan to sell courses.
You can for example temporarily lower the price and add a warning on the page saying that the price will expire soon. So it's not like you can't launch your course on the free plan.
You can launch it and sell it, it's just that you won't be able to use many of the features or get help from the helpdesk, which is normal on a free plan.
For most course creators starting out, the Basic plan is what you will need sooner rather than later.
But as you develop new courses and scale your business, you'll almost certainly need the Pro plan (at least).
But here's what you need to be aware of…
Because although Thinkific promotes their basic plan at $39 per month and pro plan at $79, this is the annual offer—meaning you're charged a year's subscription in one go.
So this is what you will actually be charged if you opt for those prices $39 and $79 prices:
Basic Plan = $39 x 12 = $468
Pro Plan = $79 x 12 = $948
If you instead want to pay on a month-to-month basis, you actually pay $49 and $99 respectively.

When exploring the multiple plans, you may find one or two of the features you desire are only available in the Pro Plan.
For example, if you want to offer a subscription price to your students, you need to upgrade to pro.
Likewise, if you want to run live classes, you'll need the pro plan!
Plus, something Thinkific doesn't promote as much but could become important down the road is their Growth Add-Ons, which is something you pay extra on top of the Pro plan.
For instance, if you want the ability to import existing students or send bulk emails, you need to add a Growth package add-on on top of the Pro plan—this is another $50 a month on top of the Pro plan, for a total of $149 a month!!
And if you subscribe to their email list, they'll upsell you a  training plan to learn how to become a course creator for $300 (this training is completely optional).
In short, it all adds up. On the surface, Thinkific may seem more affordable—at least compared to some other platforms.
Yet once you dig deeper, you will soon become aware that the platform can quickly become expensive as well.
Kajabi Pricing
Here are the current plans available on Kajabi: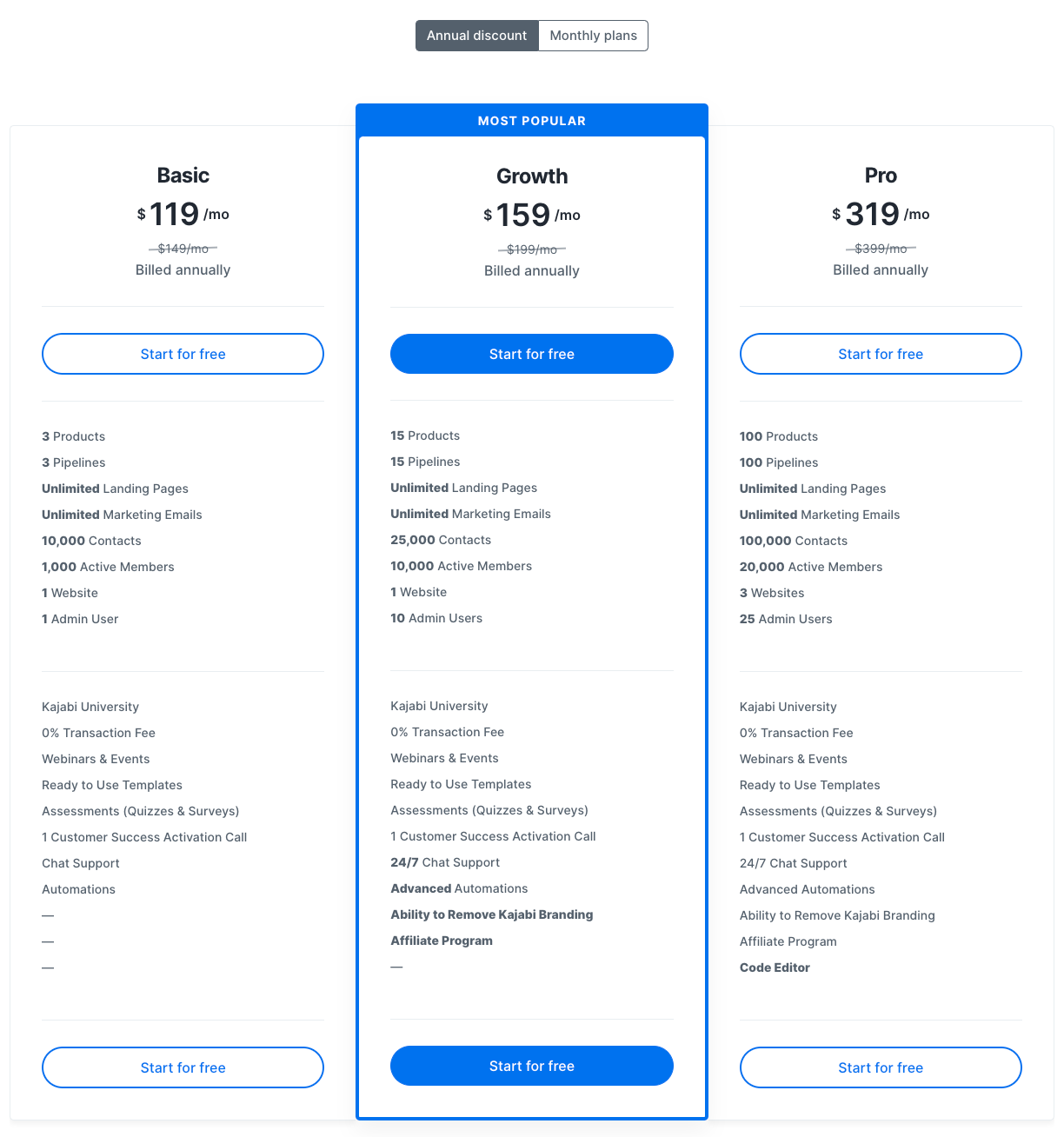 As you can imagine, the array of features Kajabi offers comes at a higher price in general than Thinkific.
It's understandable as this is much more than a course-building platform.
Like Thinkific, Kajabi promotes their price per month but charges you on an annual basis if you go for the default prices.
If you choose their default prices, you will actually be charged for a full year in the following way:
Basic Plan = $119 x 12 = $1,428
Growth Plan = $159 x 12 = $1,908
Pro Plan = $319 x 12 = $3,828
If instead, you want to pay per month, you'll have to pay either $149, $199, or $399:

And as with Thinkific, they also have different features available per plan.
For example, if you want to access their affiliate plan, you need to be on the Growth Plan.
And if you want to create more than one website, you need the Pro Plan.
So once more, make sure you think about the big picture here. This is not a cheap platform, and although you get access to many great features, you need to ensure you'll use most of them, to justify the price paid.
Thinkific vs Kajabi Customer Support
This is something many course creators overlook when choosing a platform, but I encourage you not to.
In the same way, you need to offer your students support, you need your platform to do the same:
Technical issues come up…
You need to learn how to use features…
You need to answer student questions, but you may need to find the answer first…
So before we go further, let's explore the type of customer service you'll get on each platform.
Thinkific Support
As you'll see by exploring this page, Thinkific provides great training and support.
Through articles, demos, video training, and a training site—that lets you join free courses from the likes of Neil Patel—Thinkific offers a lot of resources. This is good because you need to learn how to use their various features, tools, and integrations.
However, training only goes so far.
Sometimes you need to email, call, or chat with someone to troubleshoot a problem.
On those occasions, you need to submit a support ticket (click here for more).
This isn't always ideal, as sometimes you need to speak to someone straight away.
For those cases, you also call or do a live chat and talk to a Thinkific expert. These features are available to paid plans - contact support.
Kajabi Support
Kajabi offers another good training platform, as you'll find here…
Kajabi University is where much of this takes place, although they complement this with a series of articles, webinars, demos, and FAQs to help you navigate the platform.
This is important because learning how to use Kajabi isn't simple!
For those times you need to speak to someone, Kajabi offers a little more (click here to learn more).
You can submit a ticket, but also access their Live Chat tool—but no number you can call as of yet.
One thing to be aware of… on the Basic Plan, you only get access to the Live Chat during certain hours.
If you want 24/7 access, you need either the Growth or Pro plans!
So, overall, Kajabi does provide great access to a series of valuable training resources.
Thinkific vs Kajabi Pros vs Cons
As you can clearly see, both Thinkific and Kajabi provide you and your students with a lot of valuable features.
I imagine you're beginning to hone in on which platform is best for you at this stage.
Let's then summarize these two competing platforms with a few high-level pros and cons…
Thinkific Pros
Access to a genuine free plan you can test and experiment with
Good engagement tools, such as quizzes and assessments
Multiple payment options/plans for your students
A clean, easy-to-use student experience
Lots of integration options with other third-party tools
Kajabi Pros
The ability to build an entire brand/ecosystem in one tool
Great drip-content features, for both courses and email sequences
Lots of analytical tools and reporting
Powerful website/page builder
A slightly different and unique student-facing course player

Thinkific Cons
Many of the features you need require you to upgrade from the free plan
Relatively limited website page builder (for pages and courses alike)
Relatively few marketing/promotional features compared to an all-in-one platform
Commonly needed features like bulk emails or bulk import students require the Pro + Growth package, which can be quite expensive
Kajabi Cons
No free plan
Very expensive if you only need a small subset of their features

A More Affordable Alternative To Thinkific and Kajabi
After reading through this Kajabi vs Thinkific review you may conclude that one of the two is exactly the right one for you.
But maybe you are looking for an easier-to-use and much more convenient solution, that allows you to set up an online course website in a few minutes with minimum hassle and a super-simplified experience.
As we have seen, both Thinkific and Kajabi are very advanced and feature-rich platforms, and they are both great, but they can quickly become expensive.
And this is especially true if you are just getting started, and you are still growing your online course business.
Growing an audience online takes a lot of time, and getting a $200 monthly bill from the start when you don't have a lot of students yet is going to wear on your budget.
Also, if you are a non-designer like me, using their powerful and very flexible drag-and-drop editors might be harder than you think.
And you can't afford to have poorly designed pages, that's just not an option for you as a course creator, as that would kill your conversion rate.
It's true that you can always pay a professional to help you set up your website and design your pages, but if you are like me, that's something you would rather avoid.
If you are looking for an online course platform that is far more straightforward and easy to use, and also way more affordable, I've got a potential alternative for you to consider that might be a better fit for you.
As someone who's created online courses for a while now, I felt most platforms were extremely expensive and aimed mostly at other types of professionals like internet marketers. But not to the typical online course creator like myself on a budget that just wants to quickly set up a course website.
So that is why I went ahead and created the platform that I knew course creators really needed but didn't have yet - OnlineCourseHost.com.
OnlineCourseHost.com is a standalone online course platform that gives you access to all the tools you need to create and sell your own online courses and host them on your own website under your own domain, with no marketplace middleman.
This platform is disrupting the online course platform market in the sense that it's by far the most affordable on the market (with an incomparable quality-to-price ratio), while still providing an amazing user experience for both you and your students.
Here are some of the main features:
Top-Notch User Experience: Both you and your students will have the best course-taking user experiences available. Your students will be able to watch your courses in a beautiful responsive course player, on both desktop and mobile. This user experience is at the level of the best online course marketplaces out there, but it's hosted right there on your own website.
Ease of use: The platform is designed to be super easy to use so that literally anyone regardless of their technical skills can create a course.
Free Helpdesk: Independent of your plan, you have full support from the Helpdesk throughout your whole online course journey.
Affordability: The price of a paid plan is a fraction of the price of other platforms, for a comparable set of features.
Community: the students can engage with each other in the student discussions section right below each lesson, and have powerful full search capabilities for looking for questions and answers from other students in the whole course. These search capabilities are essential to having an active discussion among students, and they are often missing on other platforms.
Fast Video Hosting: The video hosting service is super reliable and fast
Engagement Tools: Keep your students engaged in your course by creating quiz lessons or assignment lessons that they need to submit for your review.
Sales & Marketing Tools: Sell your courses in all sorts of ways, including one-time charges, via discount coupons, subscriptions, Lifetime plans, Team plans, course bundles, subscription discounts, and more.
Facebook Ads Integration: The platform is fully compatible with Facebook Ads. Just drop your pixel Id and start running conversion campaigns straight to your course page (no technical skills needed).
For a full list of features, visit here →
Thinkific and Kajabi are both awesome platforms, but I want you to know that there are other options that might be better suited for you.
I think OnlineCourseHost.com is just so much more affordable and easier to use. It's perfect for course creators just starting to grow an online course business.
With this platform, literally, anyone can create an online course.
Thinkific vs Kajabi: Conclusions
So Thinkific or Kajabi, which platform is best for you?
If you are looking to host your website fully on only one platform, then Kajabi is a better choice because its page editor is more powerful and flexible.
Also, you have the possibility to create whole sales funnels of multiple landing pages, with all sorts of upsells, and downsells,  and you can connect multiple domains to the same account.
You even have blogging features in Kajabi, so Kajabi is indeed a more complete solution for building a complete online business from A to Z.
But Kajabi is quite expensive, so if you are already running a WordPress website for your blog and other content management needs and only need a place to host your courses, then Thinkific is likely a better choice for you.
With Thinkific, you can't really build complex sales funnels and the website building tool is not as powerful (although still very flexible).
In Thinkific you also have support for multiple domains, but you will need the Thinkific Plus plan, on top of the Pro plan.  
The main difference in terms of features between the two platforms is the extra marketing tools that Kajabi provides.
The key thing to understand about these two platforms is that even though they provide website-building features via their page builders, they are not comparable to a full content management system like WordPress.
They just can't be as powerful or flexible as WordPress as a content management system or have the rich ecosystems of both free and premium plugins that come with it.
You can't as easily find professionals specialized in these platforms that could help you out either. And this is unlike for example WordPress, where you have many affordable professionals that are specialized in it.
So if you have a blog or a website and are planning on using WordPress or something similar, then you will get a much better website builder at a fraction of the price.
We are talking less than $5 a month!  
This means that often you really only need an online course platform for its online course-specific features, and not for the content management part.
These key features that you need in a course platform include hosting your courses, taking payments, managing students, and hosting a community.
If your sales funnel is simple and made up of a weekly newsletter with informational content, with the occasional inclusion of a discount coupon then all those advanced sales funnel tools won't be of any practical use to you, but you will still have to pay for them.
So both Thinkific and Kajabi are great platforms and they offer very complete solutions.
But if you are looking for a much more straightforward, affordable, and easy-to-use solution to host your online courses, check out also OnlineCourseHost.com, because it might just be a better fit for your needs as a course creator.
Besides the platform itself, we also want to help you out by giving you all the information that you need to become a successful course creator, for free.
This is why we have created the Free Course Creators Academy, offering you access to numerous free guides such as:
And if you are looking to ask any questions you need on online course creation, you can reach me here on my Facebook group:
Join the Course Creator Academy Facebook Group
If you would like to get notified when other guides and useful content on online course creation is available at the Academy, then you can join us here:
I hope you found this Kajabi vs Thinkifc review helpful, let me know in the comments below what other topics you would like me to cover, or any questions that you have.
Thanks for reading… and enjoy the course creation process! 😉
---
Vasco Cavalheiro
OnlineCourseHost.com Founder & Online Course Creator
LinkedIn   Facebook Page   Facebook Group   Twitter
You are welcome to ask me any questions in the comments below: 👇👇👇👇