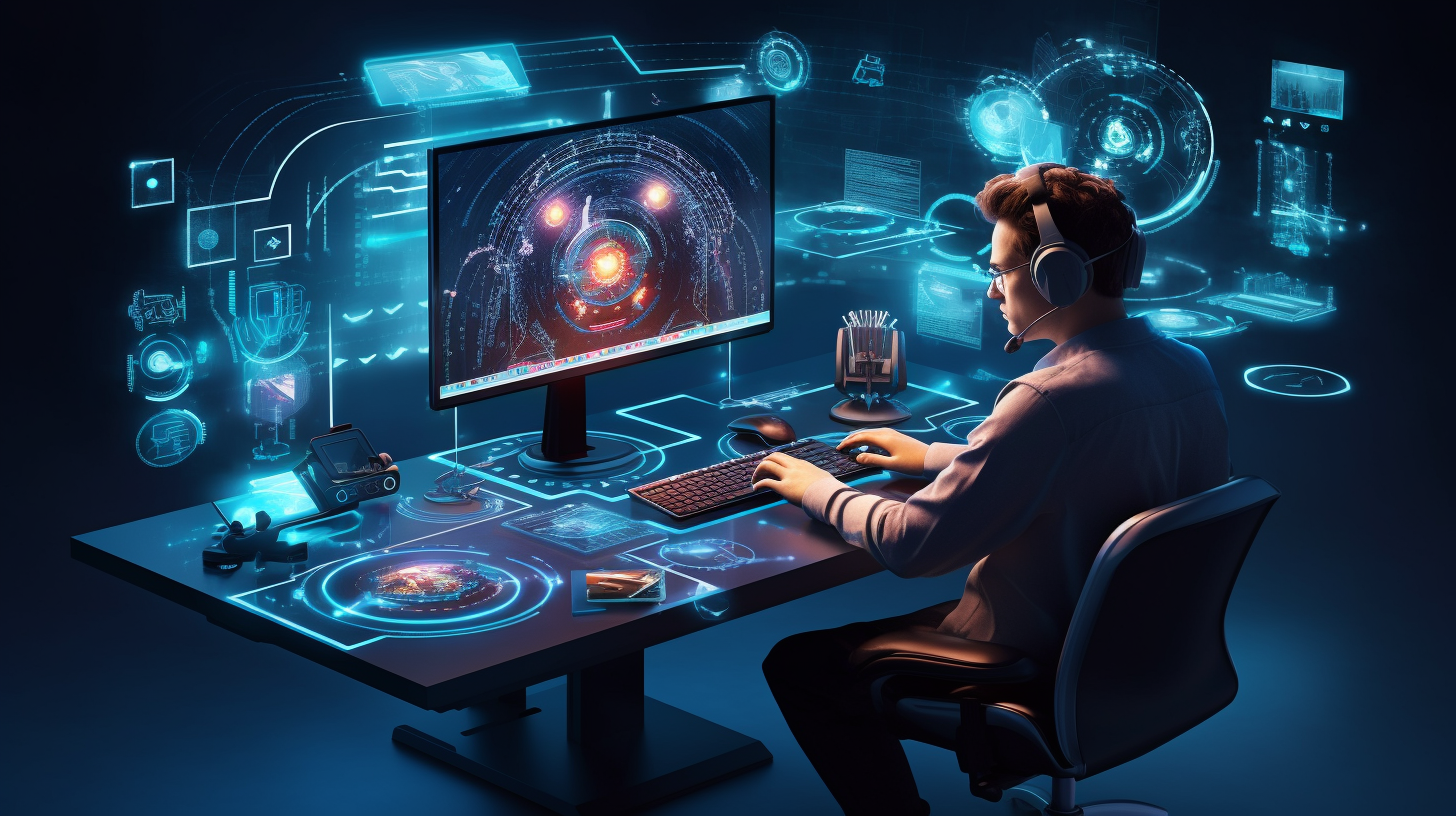 Discover the key components of an LMS and how they all work together to ensure the smooth delivery of your online corporate training.
As a business owner with employees and partners under your belt, your first obligation is to make sure that they have the right training and knowledge to deliver in their jobs.
Aside from that, you also need to make sure that your customers or clients understand your product.
That's where corporate training in the form of online courses comes in handy. And to deliver them, you need the right Learning Management System (LMS).
However, an LMS has different parts that ensure that you deliver the best online training. If this is your first time preparing a training like this, you need to first understand the key components of an LMS before choosing one for your course.
So, what are the key components of an LMS?
The essential components of a great Learning Management System (LMS) include:
Course management and delivery
Built-in analytics and reporting
Assessment and grading tools
Mobile compatibility
Easy integration capabilities
Branding and Customization
Personalized learning experience
Security and Regular updates
Support and Help Resources
I will explain each of these components and how they contribute to ensuring the smooth delivery of your online corporate training.  
The aim is to help you make an informed decision on which LMS to invest your resources. So, make sure that you read to the end.
Without much ado, let's dive right in!
You can also check out all the free guides available at the Course Creators Academy.
Course Management and Delivery
A Learning Management System without course management and delivery feature is almost like a car without wheels. You certainly can't do without it.
What does this component entail?
It simply means the ability to create, organize and manage your online course effectively.
Also, people learn differently. So, an LMS must allow you to upload diverse multimedia lesson material to boost your students' learning experience.
For example, OnlineCourseHost.com allows you to upload various types of course materials such as videos, audio files, and PDF downloadable documents including quizzes and assignments.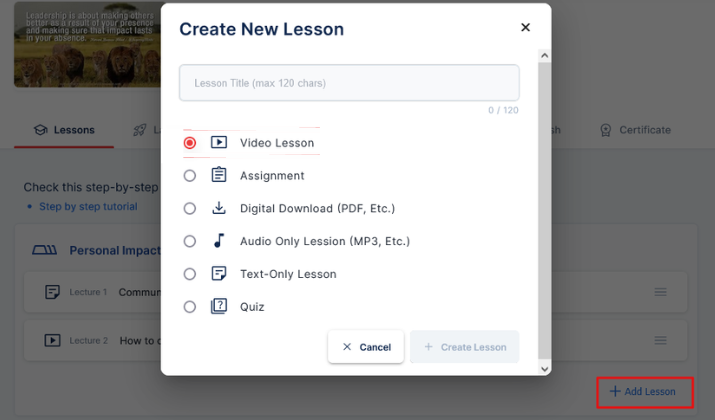 Your ideal LMS should have a user-friendly interface allowing you to create and set up your courses. There's already a lot on your table, so you don't want to deal with any technical headaches.
The ease of use isn't just for the administrators alone but for the students as well. Accessing, saving, and downloading any course material should be a piece of cake for them.
This is to ensure that they don't spend the majority of their time battling technical problems rather than partaking in online training. It also adds to the flexibility of your course.
In organizing your course content, you should be able to arrange them into modules, lessons, and topics. This creates a logical flow and ensures that the learners follow through with the training.
All in all, the course management and content delivery components ensure that you create a well-structured online course while also enabling your learners to navigate and engage with the course materials with ease.
Built-in Analytics and Reporting
Let's be honest, not all learners will understand the online training at first watch. And if the training is mandatory for employees, chances are that some of them might take the shortcut by skipping lessons.
So, how do you monitor their progress, performance, and the overall effectiveness of your online training?
That's where the built-in analytics and reporting tools of an LMS come in.  It's one of the major features of an LMS.
These tools enable you to track the individual performance of each learner, monitor their completion rates, figure out areas where they are struggling, and provide the required support and guidance.
That is to say, you'll see their login frequency, the time spent on each lesson, and the lessons completed.
With metrics like this, you can gauge learner engagement and participation within the course as well as optimize the course design and delivery based on their needs and preferences.
Assessment and Grading Tools
Having successful online training does not stop at creating and uploading video lessons for your learners. You also need to make sure they understand and retain the knowledge you're sharing.
That's why assessment and grading tools are undoubtedly key components of LMS. They help you to evaluate the student's progress and knowledge retention.
Aside from that, it helps to establish criteria and standards that ensure that all learners are assessed with the same benchmarks.
How do you achieve this?
It's simple. By creating and administering quizzes, tests, and assignments. Through these assessments, you can identify where the learners are excelling and where they need more help or guidance.
Take, for example, OnlineCourseHost.com allows instructors to include quizzes and assignments in their online training.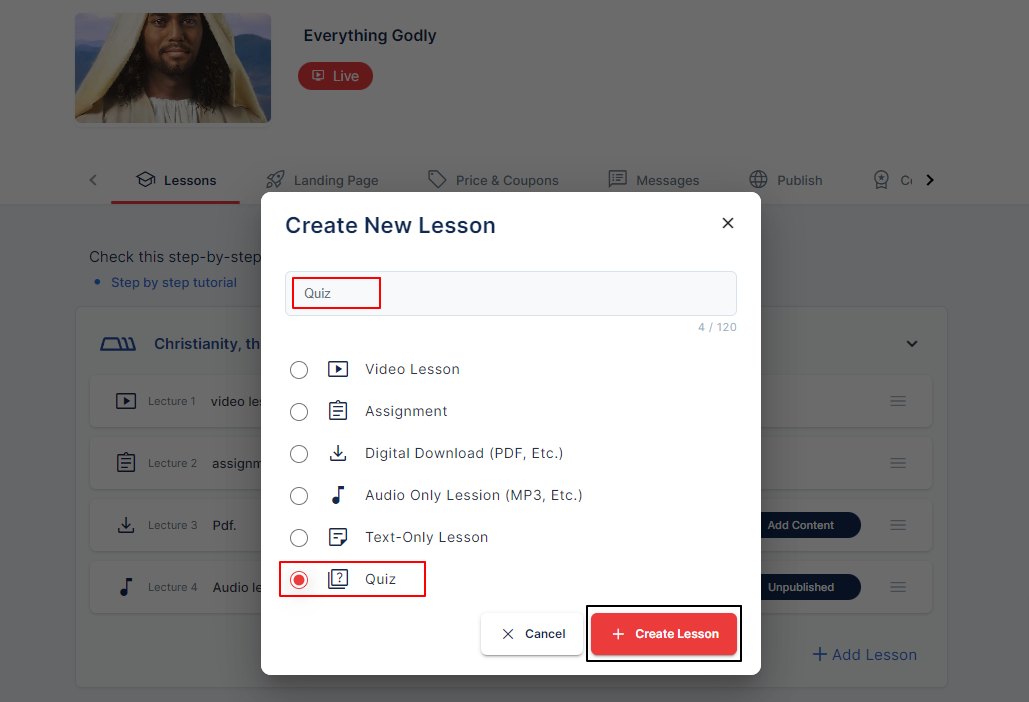 But it does not end there.
You can also choose to make the quiz a prerequisite. This means that the learner cannot move on to the next lesson without taking the quiz or assignment.
Finally, you can set the minimum passing grade for the grade.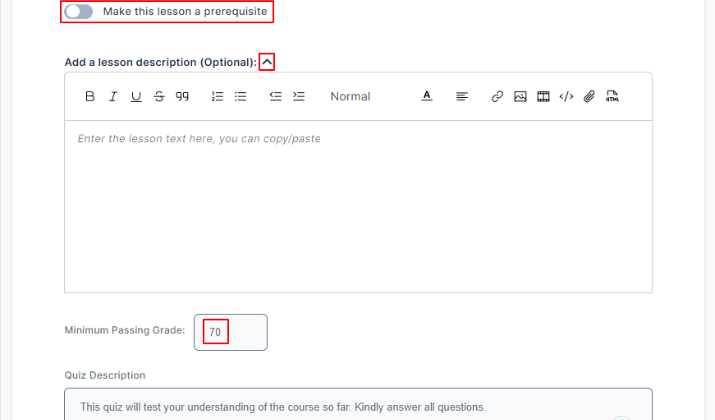 These assessment and grading components of LMS help you to provide constructive feedback to your students. You're able to offer specific recommendations and resources to support their learning progress.
Also, the fact that the grading feature is automated, reduces the stress of manual grading workload so that you can focus more on providing more personalized feedback to your learners.
Mobile Compatibility
Another important component of an LMS is mobile compatibility. And that's because of the increasing prevalence of mobile devices and the flexibility it brings to online training.
Wouldn't you prefer watching an online video on your smartphone to your desktop computer? The answer is a definite "Yes" and that's how it is for other people.
Your students will have a better course experience if they can access your course materials from their smartphones, or tablets. It's much more flexible because they can partake in your online training from wherever they are and anytime they want.
Whether they are commuting to work, traveling, or taking breaks, they can conveniently access your course content, participate in student discussions, and complete assignments and quizzes from their mobile devices.
Mobile compatibility also ensures that students can easily navigate and interact with the course materials.  They will also receive notifications, reminders, announcements, and important updates straight on their smartphone.
Overall, a mobile-compatible LMS  allows learners to download the course materials for offline viewing. This is especially useful for students in areas with limited internet connection.
To check if an LMS is compatible with mobile devices, simply test it with your smartphone or tablet. Create a sample course and log in with your phone.
Don't forget to pay attention to the user experience, ease of navigation, and how legible course content is on a smaller screen.  
Easy Integration Capabilities
This is another key feature of an LMS. In fact, a learning management system (LMS) is not complete without this component.
And it does not matter how comprehensive and exhaustive the features are - the platform must be able to accommodate other third-party tools or services.
These external tools ensure that you're able to deliver and manage online training without complex technical configurations.
For example, integration with video conferencing platforms like Zoom and Google Meet helps you to organize live training or workshop for your learners.
Similarly, you can integrate email marketing apps like MailerLite, and MailChimp to help you create and maintain a personal relationship with the students, follow up with their activities, as well as notify them of any updates on the course.
With Payment Gateways like Stripe or PayPal, you can easily accept payment for the online training. The list is endless.  
Most LMS in the market currently has this component. A good example is OnlineCourseHost.com. The platform allows for integration with more than 5,000 apps and websites.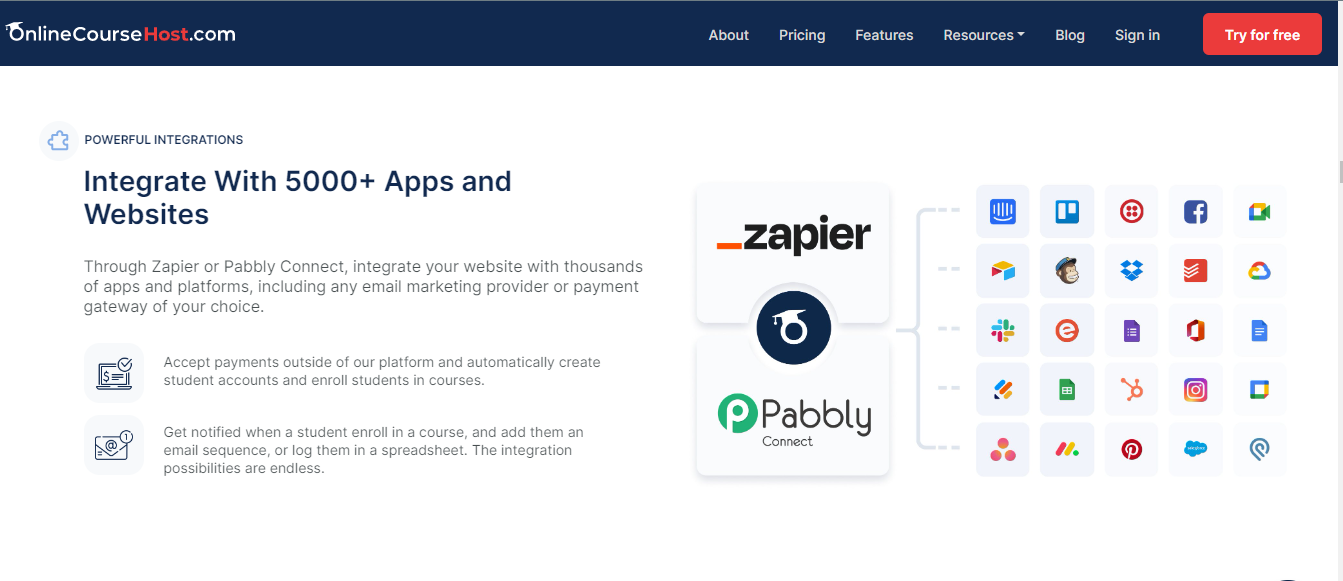 Branding and Customization
A great Learning Management System should enable you to customize your course website such that it reflects your values and mission.
Remember that there are thousands of companies and organizations already offering similar training as yours.
So, without the branding and customization component, there's no way to distinguish your online training from those of your competitors. It also helps to establish consistency across all courses.
Using OnlineCourseHost.com as our example. The platform enables you to have an exclusive domain name for your website including the brand color.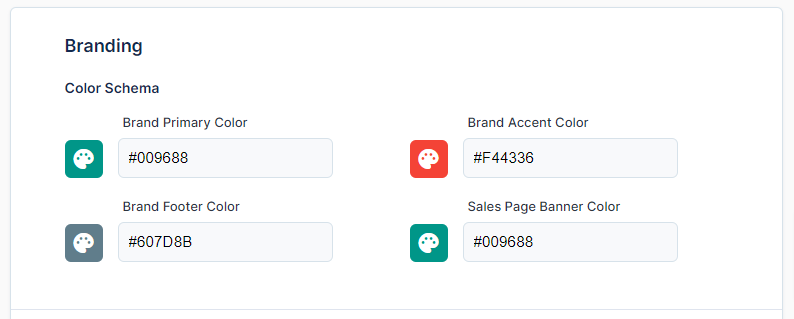 You can also choose and upload your business logo and change your website's font. The best part is that you can customize the completion certificates awarded to learners.
All these will reinforce your company or organization's image and create a consistent and recognizable learning environment for your students.
Additionally, an ideal LMS should also offer language localization capabilities. That is to say, you can translate the website and course content into multiple languages.
This way, learners from diverse linguistic backgrounds can partake in your online training in their preferred language.
Overall, a great Learning Management System does not restrict instructors in designing their course website. It's now left for you to get creative in customizing the site to align with your company brand.
Personalized Learning Experience
It's very important that your learners feel at home while taking online courses. They should feel at ease knowing that the course topics have been tailored to align with their learning capabilities.
How do you create this personalized learning experience with an LMS?
First, an exceptional LMS should allow instructors to create and upload different course content ranging from videos, audio, written documents, assignments, and quizzes.
You can have the same lesson delivered in these formats. While visual learners watch the video lessons, auditory learners can listen to the same lesson as podcasts.
Another interesting way to personalize the online learning experience with LMS is to provide feedback to your students. Features such as discussion forums, chats, and even video calls will help you connect personally with the learners.
You can follow up with them on the training and also give constructive feedback on their progress and performance.
Also, bearing in mind that different departments often require unique training requirements that are relevant to their specific roles, an effective LMS should be able to assign the required training courses to each department.
For example, the HR department may require courses related to employment regulations, and workplace safety while the sales department may need training on product knowledge, and customer relationship management.
You can manually enroll the learners into these courses once you have created them.
With OnlineCourseHost.com, you first need to create a user profile with your employee's details.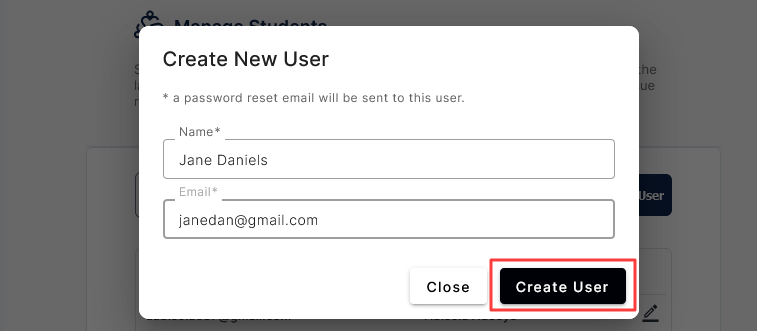 After that, you can assign them their desired courses which appear on their dashboard when they log in.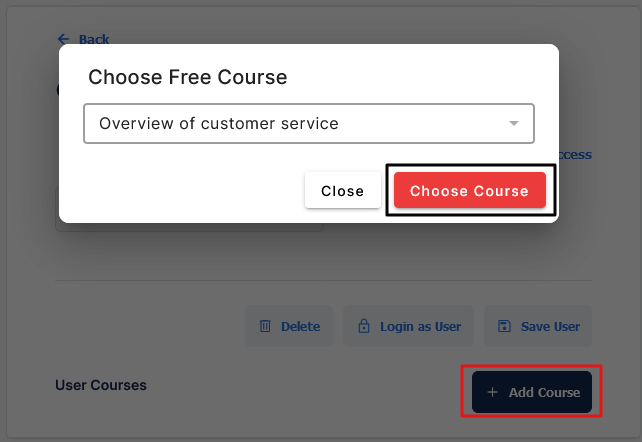 Security and Regular Updates
Security and regular system updates are important components of an LMS. Remember that you're dealing with crucial information about your learners.
They sign up for the online course with their details and the LMS stores this information. Aside from that, the platform also stores course content and other student data.
How do you protect these sensitive information from unauthorized access?
This is where the security feature of an LMS comes into play. This feature ensures that only authorized people have access to certain features and information on the website.
It's also important that you upload the required legal documents that comply with your organization's rules such as privacy policy, terms of service, and legal disclosure.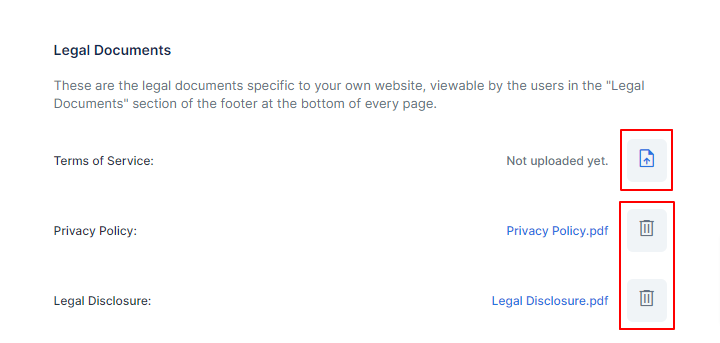 Furthermore, an ideal LMS should be updated regularly to fix any weaknesses or problems in the system.
A good way to check the frequency of updates is to contact the LMS support team and inquire how often they release updates and if they have a regular update cycle.
The overall aim of this component is to ensure that learners are greeted with a secure and trustworthy learning environment and there are no security breaches.
Support and Help Resources
It's impossible for an LMS not to have support and help resources to help instructors navigate the platform whenever they need technical assistance or have inquiries.
This feature encompasses documentation, user manuals, video tutorials, and FAQs that will help you understand the tools and processes of the LMS.
Here's an example of the OnlineCourseHost.com Help Center.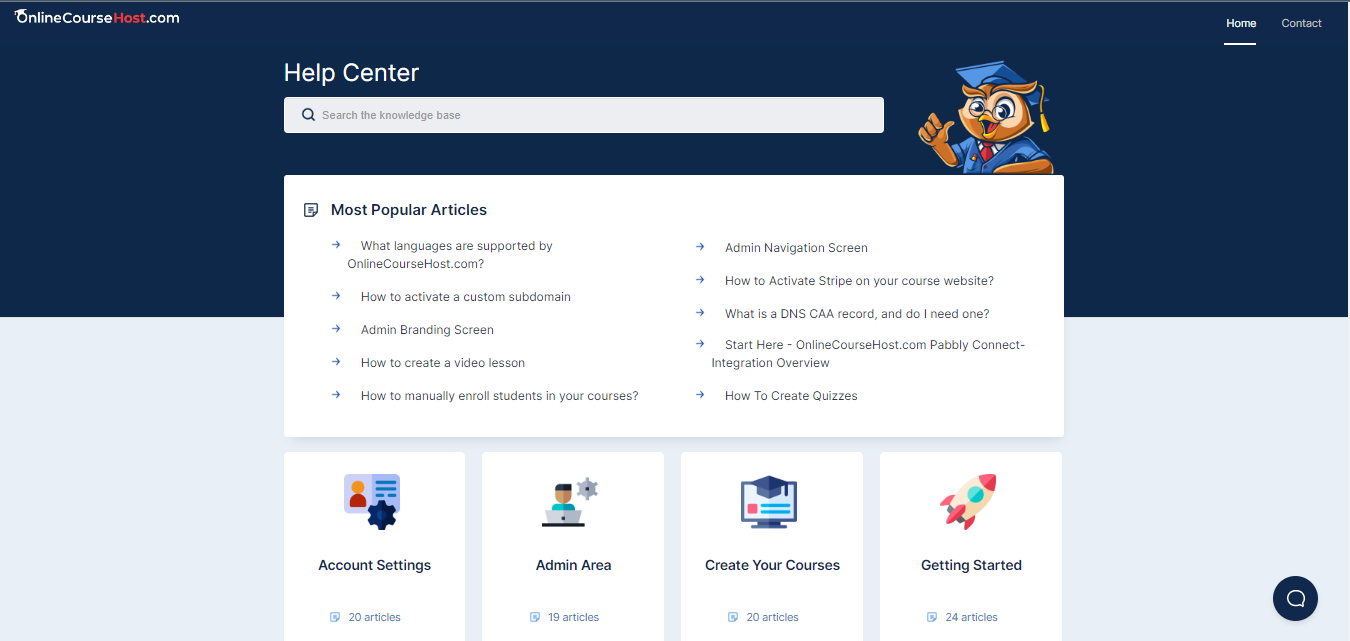 As you can see, the page is divided into sections addressing specific questions or concerns instructors might encounter while creating and managing their online training.
It does not stop there!
An effective LMS also features an online community of the platform's users where they interact, share experiences, exchange ideas and seek advice from other instructors.
Creating and managing online training is not a solo task. You need all the help and insights you can get to deliver a comprehensive course, especially if it's your first time using the LMS.
Aside from the "Help Center", the contact page of the LMS should be super active. It can be a chat box, an email, or a phone number to reach out to.
Conclusion - What's Next?
As you have seen, several components come together to form an effective Learning Management System (LMS).
From the course management and delivery features to the built-in analytics and reporting components, assessment and grading tools including easy integration capabilities and mobile compatibility.
Like car parts, all these components work together to ensure that you deliver and manage your online courses effectively.
So, before investing in any LMS, make sure that these features are available. You can always contact the platform's support team for more inquiries.
Finally, having an easy-to-use LMS platform will not only facilitate your course creation process but will also make it easier for your students to access the courses, and participate in discussions and quizzes without feeling overwhelmed or confused.
OnlineCourseHost.com is one of the easiest LMS on the market. It embodies all the components reviewed above and best of all, charges zero transaction fees.
If you need more information to grow your online course business successfully, you should check out the Course Creator Academy.
You will find everything you need to become a successful online course creator all in one place for free.
To get notified when new content is available here at the Academy, you can subscribe here to our weekly newsletter:
If you are looking to ask any questions on online course creation, you can reach me here on my Facebook group:
Join the Course Creator Academy Facebook Group
Ready to learn how to launch your first course on OnlineCourseHost.com? Here are the helpful guides for you to check out:
I hope you found this post helpful; let me know in the comments below what other topics you would like me to cover or any questions that you have.
Thanks for reading… and enjoy the course creation process! 😉
---
Course Creators Academy, a community by OnlineCourseHost.com
Founded by Vasco Cavalheiro
Online Course Creator