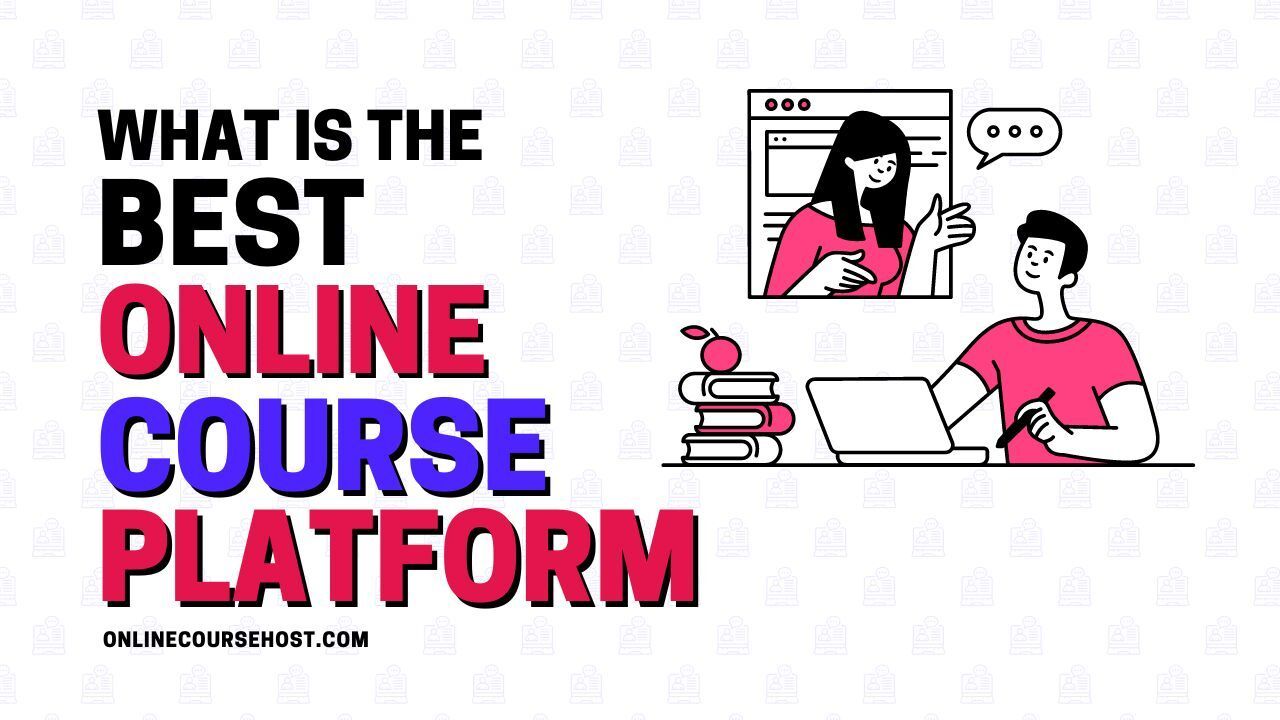 So you're a course creator or intend to become one, and you're trying to figure out which online course platform is best for you, right?
Well, you're not the only one.
I'm also a course creator like you, and I've been creating courses since 2016. I also run the Course Creators Academy, so I have heard this question many times.
I understand that trying to find the best platform can be difficult at times, especially with so many options out there.
It's easy to become overwhelmed by having to choose between all the options available and fall into analysis paralysis.
But, you see, it's not a question of which online course platform is the best. Instead, you should ask yourself, which course platform is best for you?
Which one best meets your needs at this point in your course creation journey, whether you're a beginner or an experienced course creator?
I think we can both agree that the best platform for you is the one that gives you the features that you actually need, at a price that you can afford.
So, what is the best online course platform?
The best online course platform for most course creators is OnlineCourseHost.com, because it offers the best balance of key course creation and marketing features for running your online course business, while still giving you the most affordable price.
I believe that OnlineCourseHost.com is the platform that best fits the actual needs of both beginners or even established course creators.
The platform was founded by course creators, so it really understands their needs.
Let me take you on a quick tour to show you why that is true! 😉
You can also check out all the free guides that you have available here at the Course Creator Academy by clicking on the Academy link on the top menu bar.
Here are the two main guides that I've written for course creators, make sure not to miss them out:
Why OnlineCourseHost.com is the Best Online Course Platform for Many Course Creators Right Now?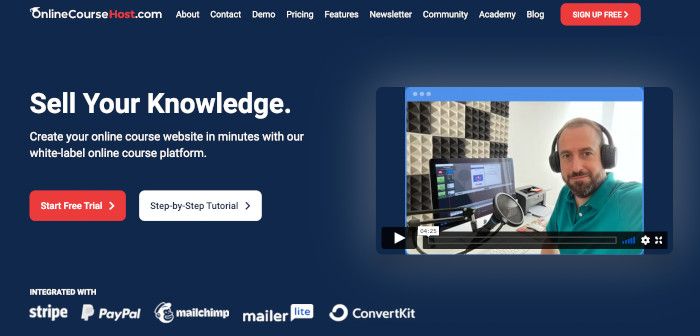 Onlinecoursehost.com is currently the most affordable and the easiest-to-use online course hosting platform on the market.
This platform was created by course creators to help other beginner and professional course creators start their course creation business with all the essential tools needed without being crippled by high hosting costs.
Now, let's look at the essential features that Onlinecoursehost.com provides that you will need.
Excellent Learning Experience For Students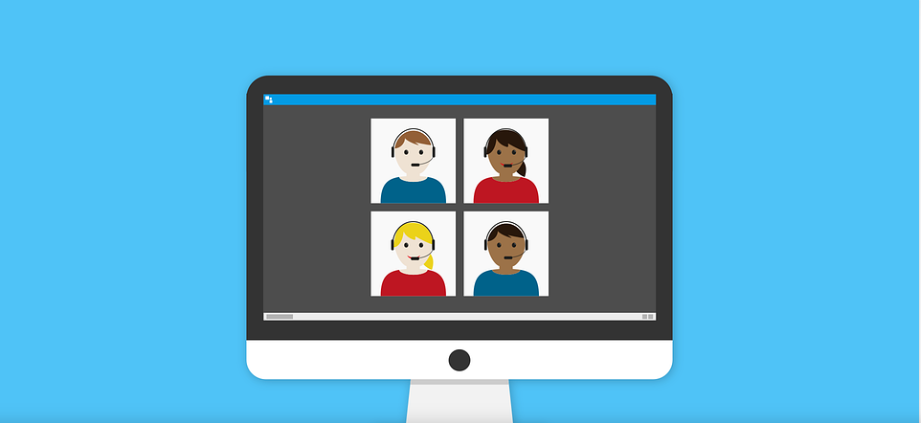 Every online course platform is created around one central principle: providing your audience with a great learning experience.
This is one of the most important features for any course platform and something every course creator desires. You want your students to rave about how much they enjoyed your course, right?
But how do you make that happen?
The solution is simple...
Choose a course platform that has all the right engagement and interactive tools!
This is the first and most crucial step.
You need a platform that lets you organize your course into different types of content, such as videos, audio, or text-only content.
Not only that, but you'll need a platform that allows you to incorporate quizzes, assignments, student discussions, and other learning tools into your course lessons.
These are some of the most effective ways to increase online course engagement, simplify the learning process, and provide a positive course experience for your students.
This is the major focus of OnlinecourseHost.com. It is designed to help provide your students with a rich learning experience.
But that's not all...
The platform allows you to include digital downloads such as support materials, complimentary lessons, and certificates of completion for your students.
OnlineCourseHost.com includes these and several other engagement features to provide your students with a rich learning experience.
You can check out our guide on online course engagements to learn more about this in detail.
Essential Marketing Tools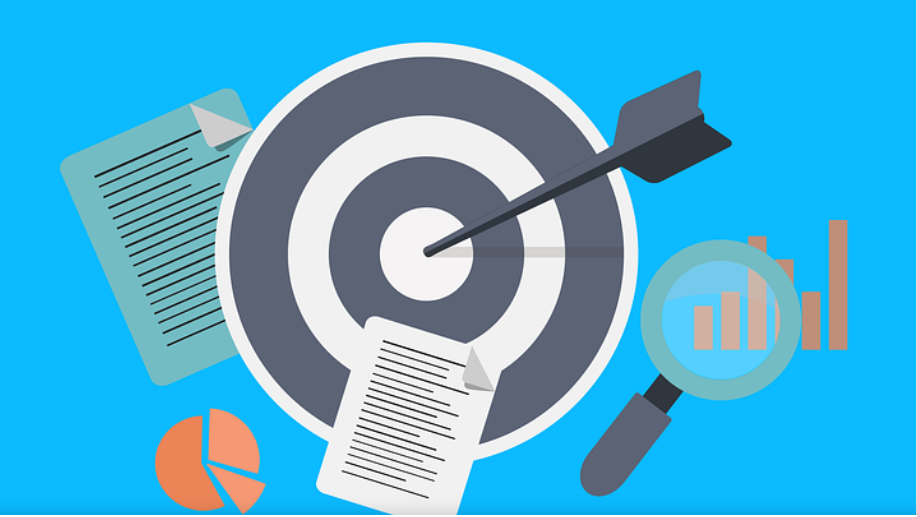 Your job as a course creator does not end when you create and launch your online course.
To make sales, you'll need to promote it and get it in front of the right people.
After all, you don't want all of your hard work on your course to go to waste.
Which is why you need a hosting platform that provides you with the essential marketing tools and makes selling your course to your target audience super easy.
You don't need a platform with super-advanced marketing tools to make this happen. And my case is proof of that.
I've been running my course business for years with just simple email marketing techniques, and the results have been incredible so far.
You can check out my article on how much I made selling online courses to learn how I did this.
When choosing a course platform, you need to find one that allows you to publish your courses on your own custom domain, build and customize your course landing pages, and track your progress.
Another requirement is a platform with email marketing capabilities, such as capable of collecting your students' data and sending targeted bulk emails to all of them or specific sub-segments.
For example, you should be able to send a discount to the students that have purchased your beginners course, but not yet your advanced course, and this platform allows to do this type of targeting.
What's more?
You must also be able to send links to discount coupons for special offers, and the platform must support flexible payments and various business models such as:
one-time course sales
course bundles
subscriptions with access to the entire catalogue
lifetime plans, etc.
This gives your students the freedom to select a pricing model that works for them.
There are a ton of course platforms out there with all sorts of super advanced marketing features that, most of the time, the course creator will never really need, but most certainly will have to overpay for, and a lot.
So, if you can find one that provides you with the necessary marketing tools that you really need and will use at the lowest possible cost, that's perfect.
Fortunately, OnlineCourseHost.com is that platform!
It allows you to save money while still getting the important marketing tools you need to maximize your results.
Easy to use Interface and Course Builder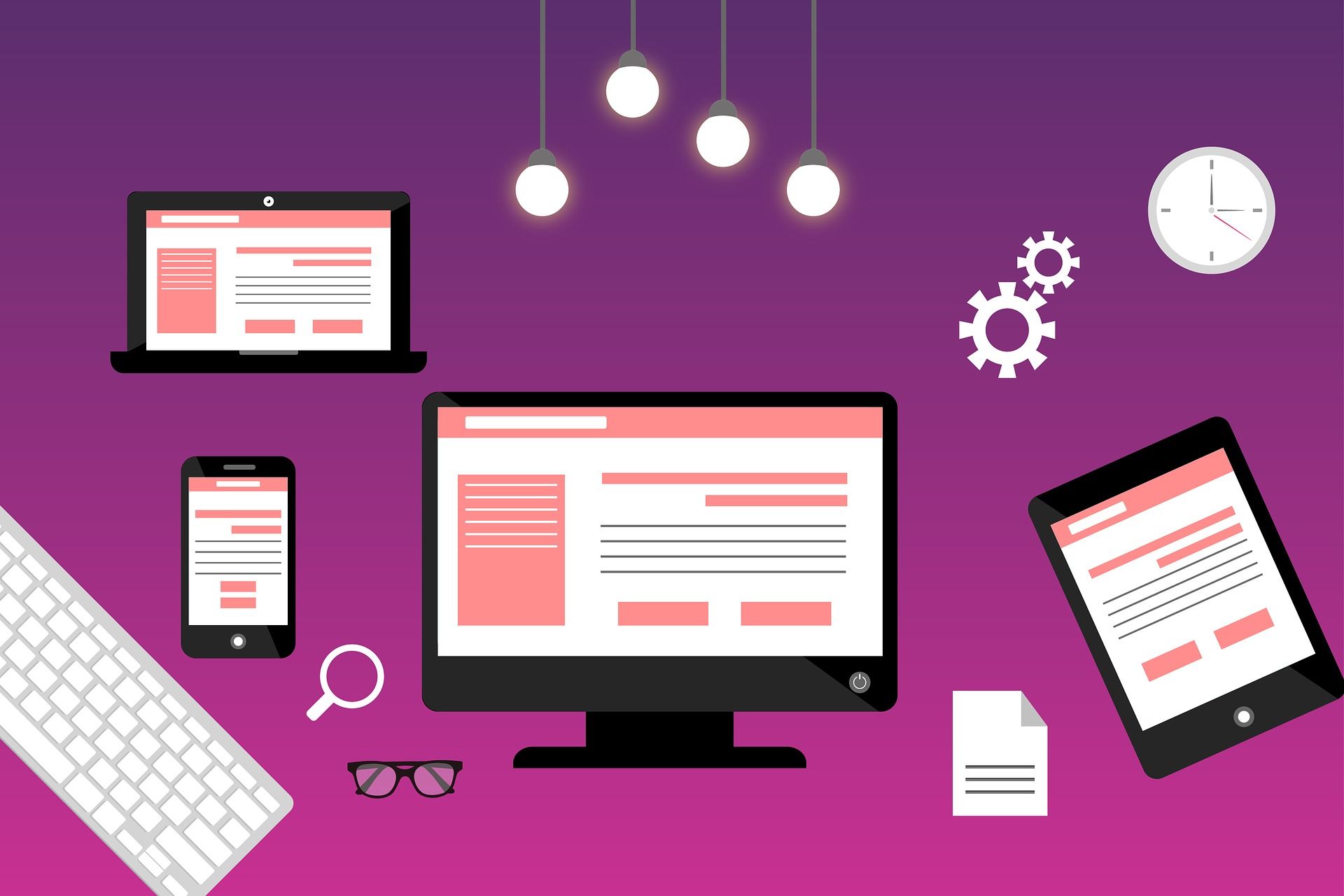 When deciding whether to buy software, I follow a simple rule: If it's not easy to use, then it's probably not worth spending on.
And the same applies to online course platforms.
The best online course platforms are typically those that make it super easy to build your courses, as easy as abc.
Let's face it: no one wants to pay hundreds of dollars per month for a platform that is complicated, difficult to use, and that requires you to hire a web designer to use their advanced website design tools.
What you need is a platform that simplifies as much as possible the entire process for you, from creating your course to uploading your content and collecting payments from your students.
You're a course creator, not a developer or a designer. You know a lot about the subject you teach, but that usually is completely unrelated to those other skills.
So you shouldn't have to deal with all of that complicated stuff.
This is the whole point of creating OnlineCourseHost.com: to simplify the course creation process as much as possible.
It is a super easy-to-use course platform with simple  course-building tools that allow you to get your course up and running on your own website in minutes.
And the best part...
You can have a customizable home page, landing page, and custom branding for your website easily. You don't need any design or technical skills for this. With OnlineCourseHost.com, the course creation process is as simple as pie!
Clear and Affordable Pricing Plans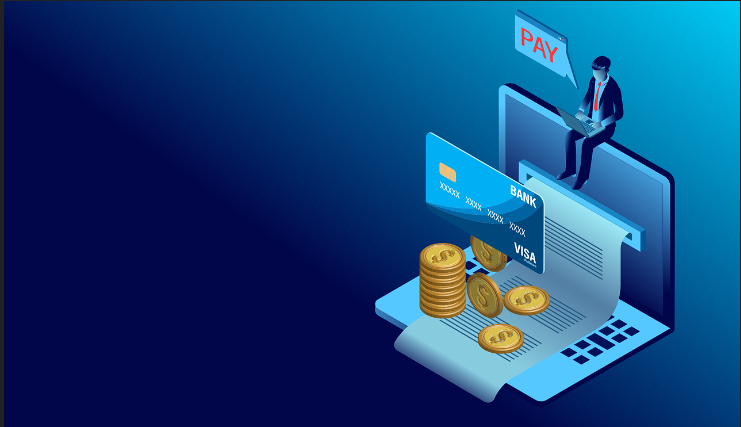 If you're a course creator on a limited budget, especially a beginner, one of the most important things you want to look out for in a course platform is pricing.
Apart from having all the rich features, it's also essential that the platform is super affordable, so you can launch your business without having to spend hundreds of dollars each month without seeing any returns.
Another thing to keep an eye out for is hidden fees.
Several platforms appear to be affordable on the surface, but when you dig deeper, you'll discover that there are hidden charges that have the potential to accumulate over time.
Like being charged by extra admin users, or having to purchase separate add-ons to gain access to certain features.
That's not what you want.
Instead, you want a platform that provides you with all the necessary features and tools to launch your online course at the lowest possible cost and with no hidden fees.
Yes, such a platform does exist.😉
This is what OnlineCourseHost.com is all about.
Our paid plans cost only a fraction of what other platforms charge for similar features.
You can get a 14-day trial plan to thoroughly test everything out for free: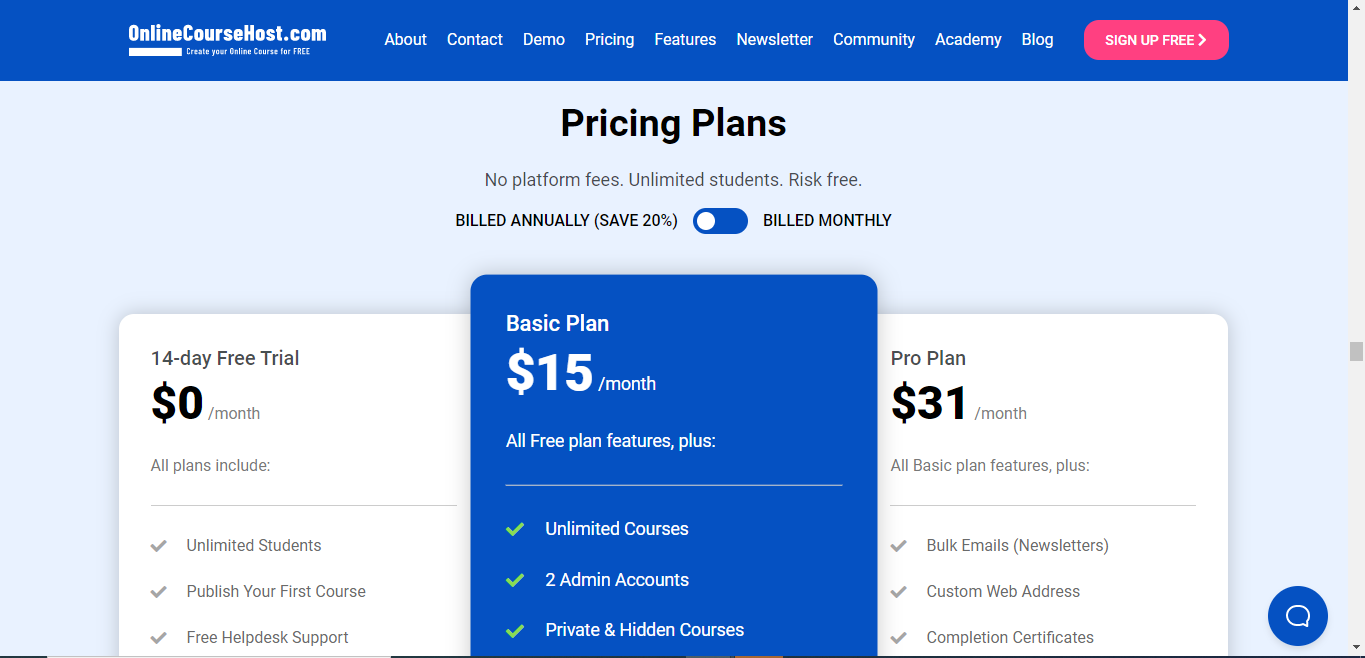 You can also have as many courses and students enrolled as you want.
You can get a free web address, unlimited site admins, and other outstanding features for the lowest price you'll probably find on the market.
Community Building and Students' Engagement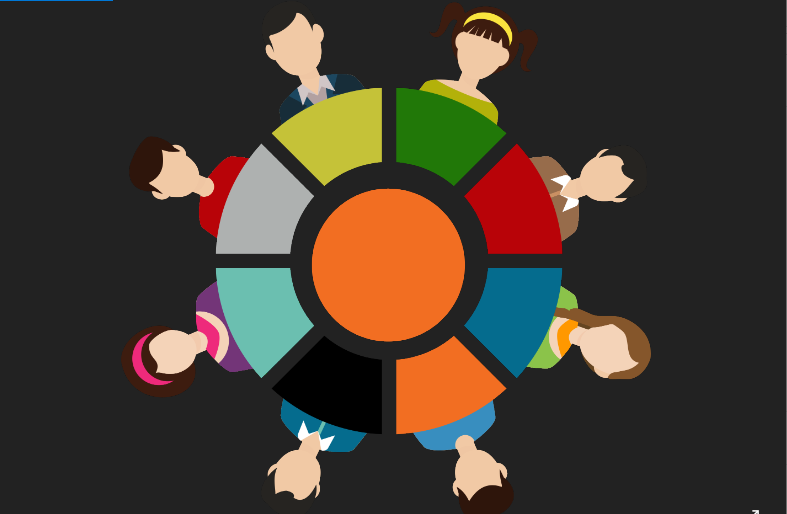 Beyond creating your online course, uploading it to a hosting platform, and marketing it, you must also create a community for your students to learn from one another, share ideas, and grow together.
And this isn't just for students. It also applies to you as a creator.
Course creation can be lonely and overwhelming at times. To stay motivated and inspired, you need a vibrant community where you can connect and interact with other course creators. Everyone needs a community of like-minded people where they can be loved and identified.
This is precisely what OnlineCourseHost.com provides. It includes a feature for student discussions, as well as search capabilities that allow your students to easily search for an answer in the lesson or even the entire course.
There is also a support group for both beginners and advanced course creators. The Facebook Group has many members who are constantly sharing their experiences, asking questions and receiving feedback.
With OnlineCourseHost.com, the engagement possibilities with having your own community are limitless. And for many students, being able to join a private community is one of the main reasons they would purchase your course in the first place.
Conclusion
There are a lot of different online course platforms out there, each with their unique set of tools and features.
But when it comes to deciding which one is best for you, it's crucial to consider the most important things you actually need, as I've shown you in this article, and decide which platforms best meet those needs.
Given the balance of what you have to pay, the ease of use, and marketing features you need, the platform that best fits your budget and actual needs as a course creator is Onlinecoursehost.com.
Created by course creators, this is a platform that actually understands your needs from firsthand experience and includes all of the marketing tools that you really need, such as the ability to send targeted bulk emails directly from the platform, eliminating the need for a third-party email provider just for that.
Also, there are no hidden platform commissions, and you receive 100% of your sale value in your bank account (except for the inevitable Paypal or Stripe fees).
OnlineCourseHost.com is the ideal platform to consider for many course creators, especially if you're just getting started.
But, more than just a platform, we want to provide you with all of the information you need to successfully grow your online course business.
That is why we created the Course Creator Academy, where you can find everything you need to become a successful online course creator all in one place for free.
To get notified when new content is available here at the Academy, you can subscribe here to our weekly newsletter:
Course Creator Academy
Learn (for free) everything that you need to know in order to become a successful online course creator. Join Now!
If you are looking to ask any questions on online course creation, you can reach me here on my Facebook group:
Join the Course Creator Academy Facebook Group
Ready to learn how to launch your first course on OnlineCourseHost.com? Here are the helpful guides for you to check out:
I hope you found this post helpful, let me know in the comments below what other topics you would like me to cover, or any questions that you have?
Thanks for reading… and enjoy the course creation process! 😉
---
Vasco Cavalheiro
OnlineCourseHost.com Founder & Online Course Creator
LinkedIn   Facebook Page   Facebook Group   Twitter