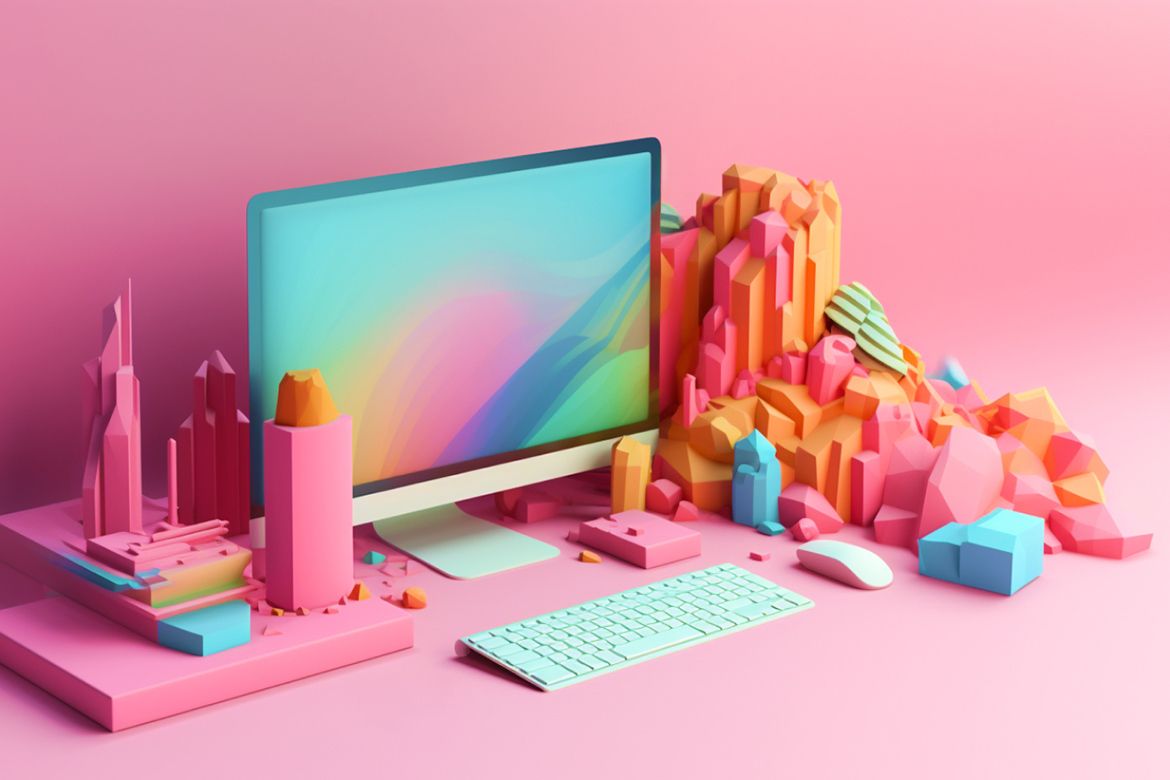 Learn how to create your own online course website from scratch, and set up your courses using a personalized custom domain.
If you are an online course creator or thinking of becoming one, you must know that one of the best things that you could ever do is to start your own branded online course website.
I am a course creator (since 2016) and I run all my courses on my own domain, and I will tell you all about how to do it, and why.
If you are wondering if it's worth it to have your own domain:
It definitively is!
Having your own domain works way better than relying only on marketplaces to sell your courses.
You see, there is nothing like having your own brand.
With your own domain and brand you can set your prices the way you like, build your email list, and sell higher ticket offers like subscriptions, lifetime plans, team plans, course bundles, or even coaching services.
Even if you only do only one-time sales, you can still sell your courses at a higher price like $99 based only on the value that the course brings to your students - this is known as value-based pricing.
And it's something you can't really do if you don't have your own domain.
In a marketplace, there is no chance of doing this because you would have a $10 course right next to your $99 course.
Plus, on your own website you don't have to pay 50 to 75% in commissions.
Instead, the full value of each sale will land in your Stripe or Paypal account. 😉
So I guess your main question is:
Can I have a custom domain with online courses?
Yes, you can definitely use a custom domain for your online courses, and the simplest way is to use an online course hosting platform.
When you set up a custom domain, it's like you're creating your own personal website. You can add your course content, and any other information you want to share with your students, ask for their email, sell higher-ticket products, and much more.
There are a few different ways to set up a custom domain.
You can use a third-party provider, or you can set it up through your course platform provider.
The process of creating your own course website with a custom domain is pretty simple, as you will learn in this post.
You can also check out all the free guides that you have available here at the Course Creator Academy by clicking on the Academy link on the top menu bar.
If you are looking to learn more about the course creation and sales process, here are the two main guides that I've written for course creators, make sure not to miss them out:
In this post however, I will focus only on showing how to publish your courses in your own custom domain.
You can start with a subdomain first
If you didn't purchase a domain yet, you can start by hosting your courses in a subdomain first.
A course platform will usually allow you to publish on their own subdomain without any extra costs.
For example, if you host your course on OnlineCourseHost.com, you automatically receive a free subdomain for hosting your course website when you sign up.
For example, Let's say that you are teaching yoga classes.
You could use the subdomain yoga-classes.onlinecoursehost.com.
The name "yoga-classes" is the subdomain.
It's called like that because it's a subsection of the top-level domain onlinecoursehost.com.
You can publish your courses and sell them directly using your subdomain, and nothing more.
This is a great option if you don't want to buy your own domain, like yoga-academy.com.
But I recommend that you sooner or later switch to a custom domain instead.
OnlineCourseHost.com is a fully white-label platform, meaning that you can use it to publish your courses also on your own domain, for example yoga-academy.com.
You are not forced to use a subdomain, if you don't want to.
What Is a Custom Domain?
Just to clarify, a custom domain is a website address that's unique to you and your business.
For example, if you want your online course to be at yourcoursebrandname.com, you would need to buy that specific custom domain, using a domain provider like Namecheap.com.
Note that we have no affiliation with this service, it's  just something that a lot of our customers use, and we find easy to give support to them in case they need it.
A custom domain is a great way to make your business look more way professional and establish yourself as an authority in your field.
Plus, it's really easy to set up, you just need to buy the domain name from a registrar and do some initial technical set up.
This process will vary depending on which platform you're using.
To see how easy it is, I'm going to show you how you can easily set up a custom domain using OnlineCourseHost.com.
But for that, you will need to create a couple of DNS records, which is something you might not yet be familiar with.
What is DNS?
DNS stands for Domain Name System, and you will need it to set up any website, in any platform.
So this is not something specific to OnlineCourseHost.com.
If you want to set up a website anywhere, you will need to deal with DNS one way or the other, there is no other way. It's just how the internet works.
But don't worry, we will make it super easy for you and give you support along the way.
Without getting into the technical weeds, here is how this all works.
When you're looking for a website, the first thing you need is a domain name, like for example  yoga-academy.com.
But that is just a name, it's not a network address!
DNS is what links your domain name to the network address of the servers where your website is hosted.
DNS is like the phone book for the internet, and it's how browsers know where to find your website.
When you enter a domain name into your web browser, the Domain Name System converts it into a network address so that your computer can find the website.
So that is DNS in a nutshell.
It's super easy to use, as you will see.
How to choose a domain name for your online courses?
Let's now talk about how to choose the right domain name for your courses.
Choosing the right domain name is essential for two reasons:
first, it's how people will find you online.
second, it's an important part of establishing your brand identity.
It's the first thing people will see when they search for your online course, so you want to make sure it's something that represents your business accurately and looks professional.
To choose a domain name, follow these tips.
Keep it short
When it comes to domain names, shorter is better.
Your domain name is your website's address, so you want to choose something that's easy to remember and type in.
The longer the name, the more likely it is that people will forget it or make a mistake when entering it into their browser.
Make sure it's relevant
You also want to make sure your domain name is relevant to your online course.
For example, if your course is called "How to create an ebook," then you might want to choose a domain name like www.createebooks.com or www.howtocreateebooks.com.
Use common spellings
This will make it easier for people to find your website online.
Use keywords
Think about the keywords that are associated with your online course and use them in your domain name. It's a great way to attract more traffic to your site.
That way, when people are searching for information about online courses, they're more likely to come across your website.
Avoid Hyphens and Numbers
They are hard to remember and can be confusing for potential students. Your URL should be simple and straightforward, something that people can easily type into their browsers.
So when you're selecting a domain name, make sure to avoid anything that's too complicated or difficult to remember.
Stick to words and phrases that are relevant to your business and easy to say aloud.
Keep these things in mind when choosing a domain name for your online course website!
Check for Availability
When you're choosing a domain name for your online course website, it's important to check for availability first.
You want to be sure that the name isn't already taken by another website.
To check this, just type in the name in the address bar, and see if the domain is already used.
Now, let's learn how to set up a custom domain using OnlineCourseHost.com.
The first step, is to choose a free subdomain.
How to Set up a Free Subdomain on OnlineCourseHost.Com?
First, you need to create an account on OnlineCourseHost.com.
For that, click on this link.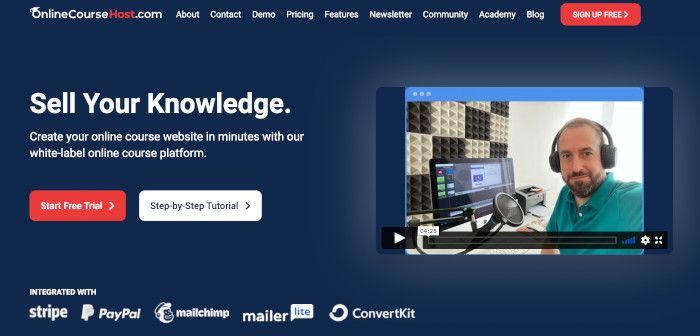 Now click on the "Sign up for free" button to create an account. You can sign up with either Google or use a separate email.
After signing in, you can set up your free subdomain associated with OnlineCourseHost.com and name your website.
Just add a subdomain of your choice to create your website address.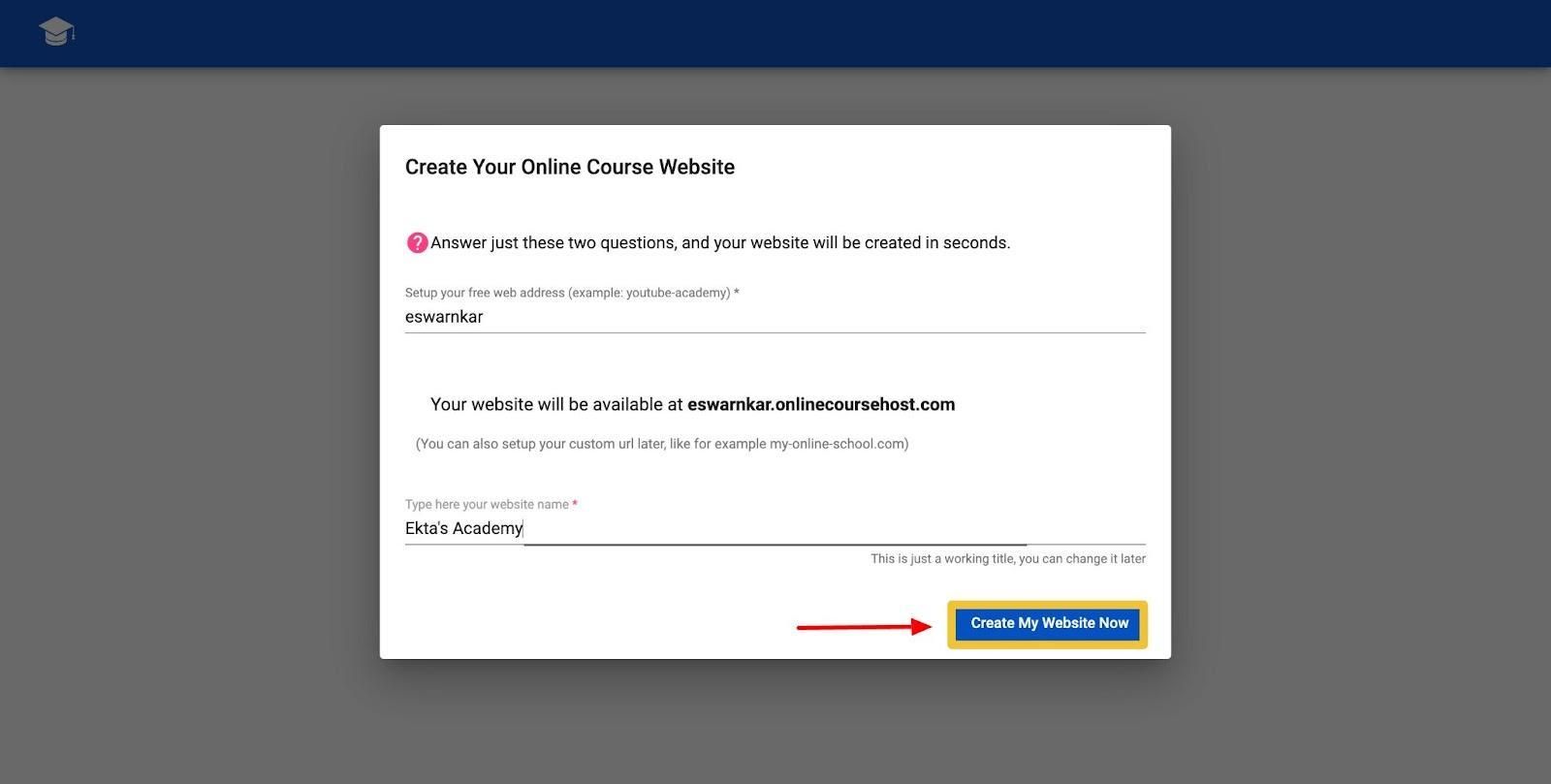 As you can see, this test subdomain is eswarnkar.onlinecoursehost.com.
Now, click on the "Create my website now" button.
And that's it!
That's how easy it is to create a free subdomain website using OnlineCourseHost.com.
But what if you want to use a custom domain instead?
Then you follow this step-by-step process to associate your custom domain with OnlineCourseHost.Com.
How to Set up a Custom Domain on OnlineCourseHost.Com?
On your dashboard, go to the "Admin Settings" option.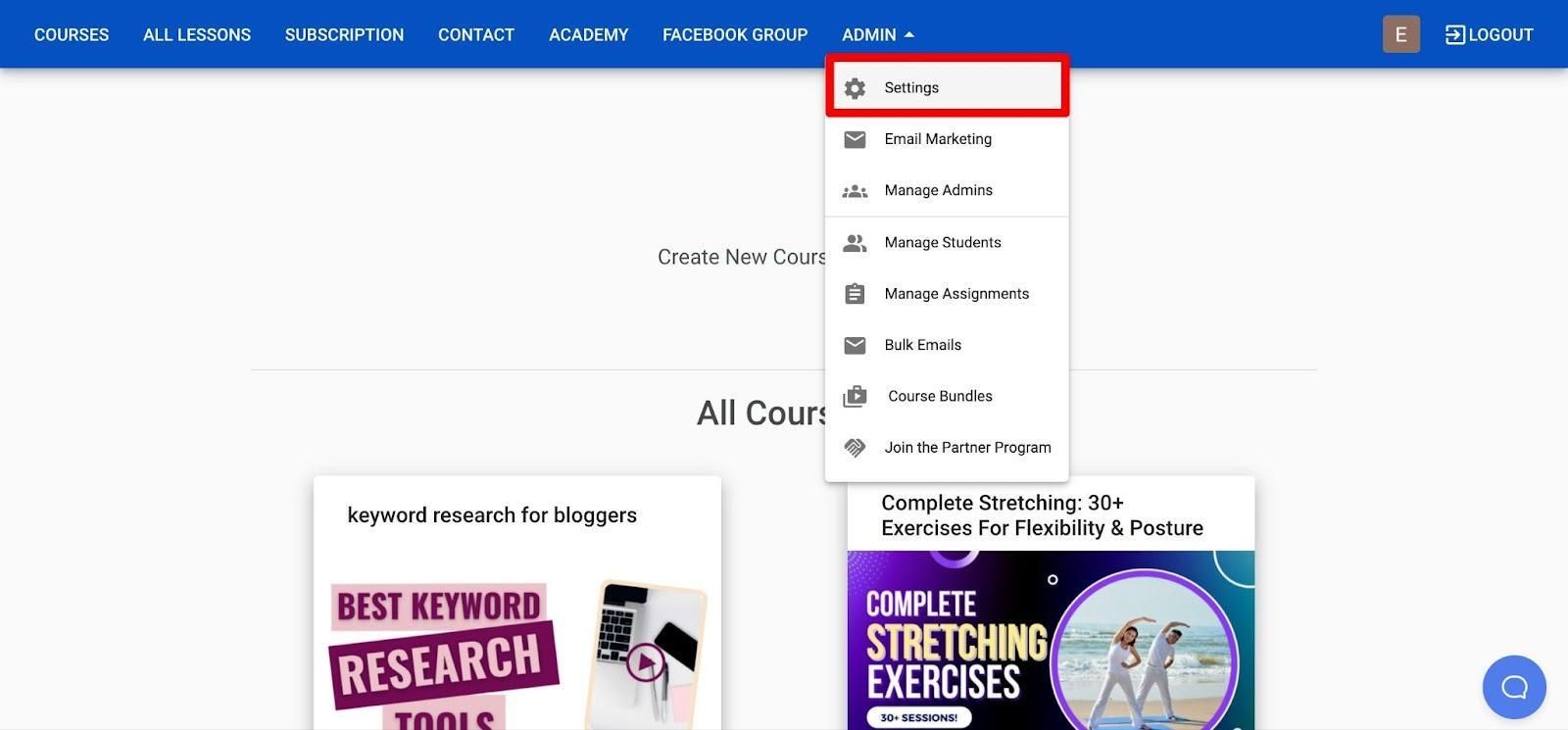 Move to the "Domain Name" tab and click on the "Request Custom Domain" button.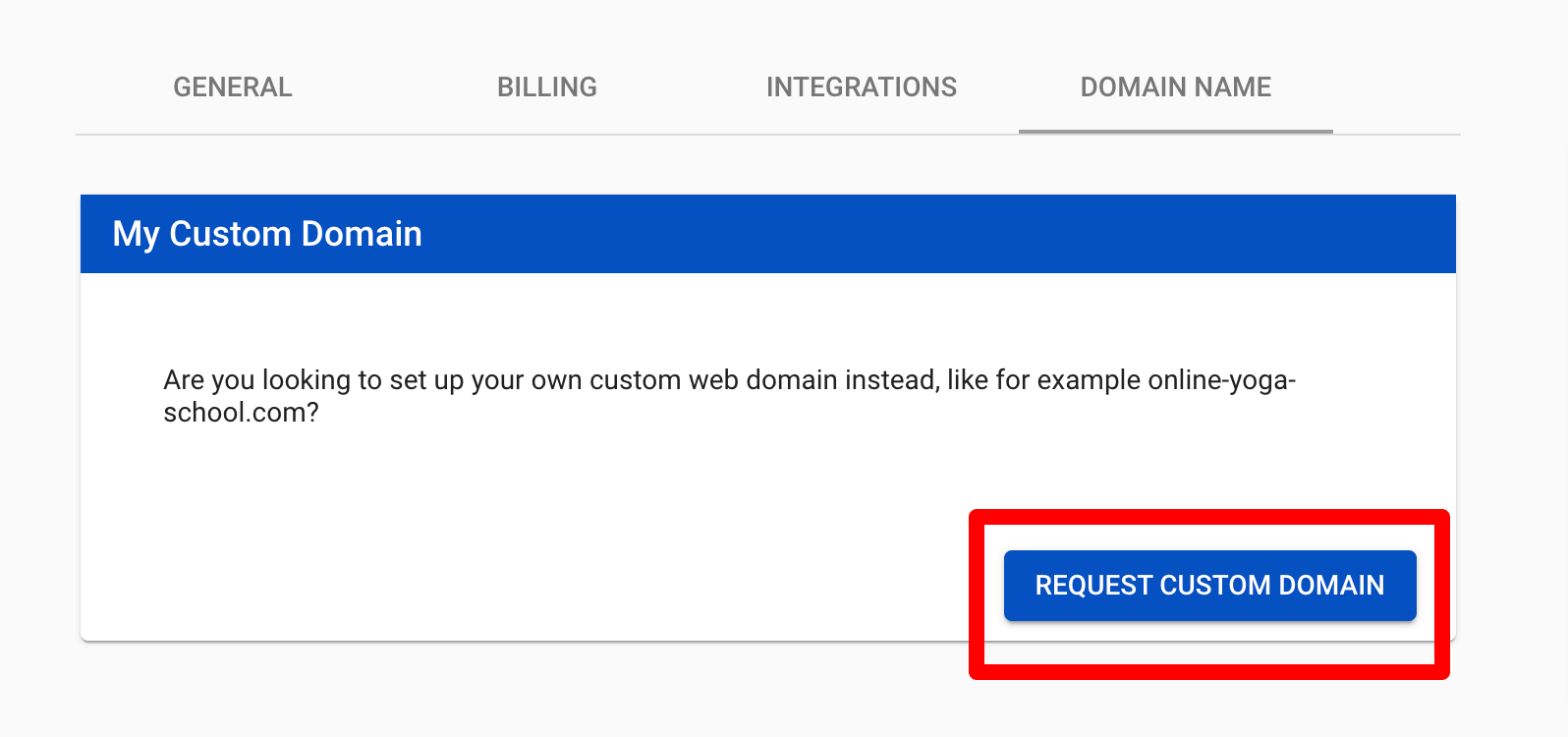 Now you have to complete three steps:
Choose Domain
Activate SSL
Activate website
Let's cover each step one by one.
Step 1- Choose Domain
First, enter your custom domain in the space and click on the "Start Activation" button.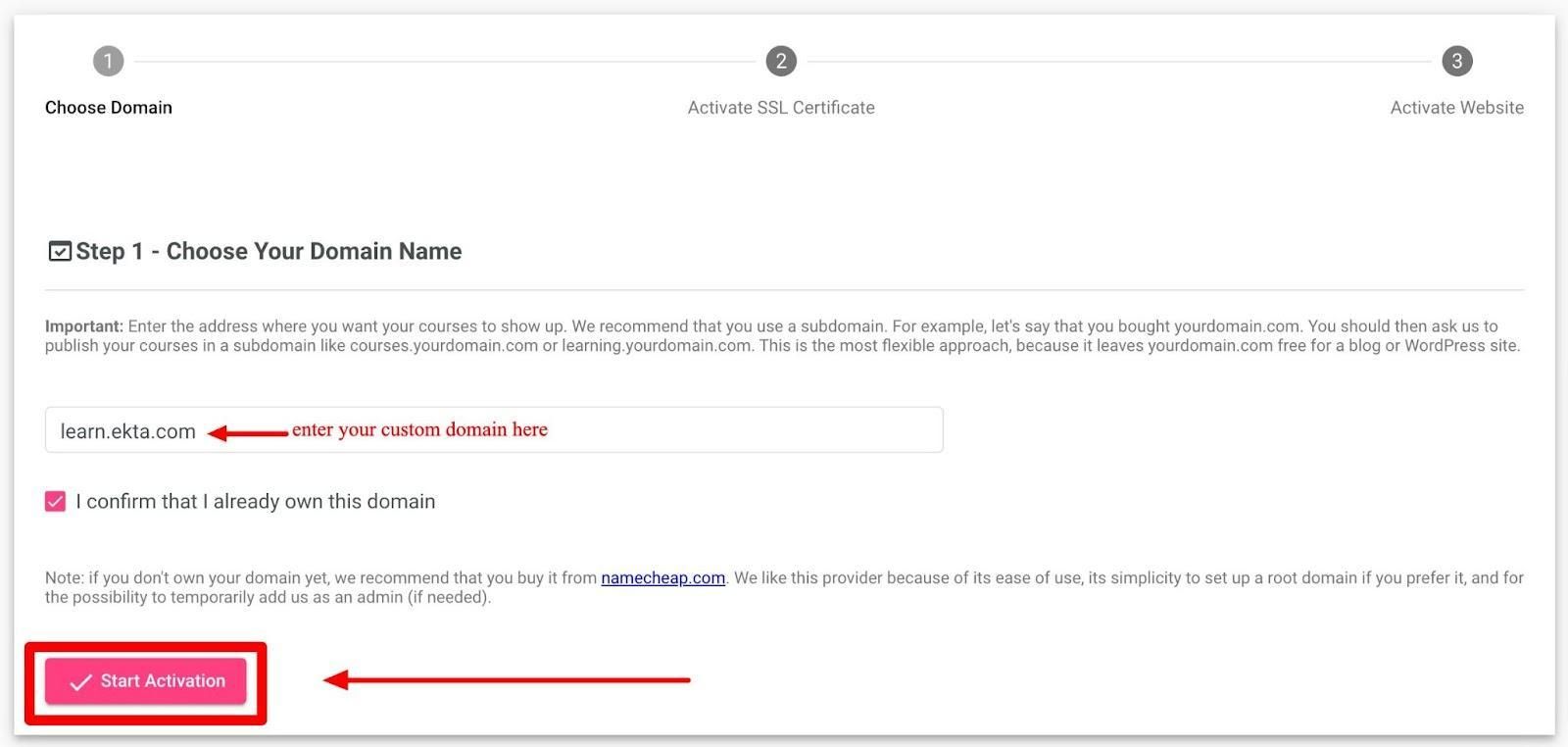 Step 2 - Activate Free SSL Certificate
In order to secure your website, the OnlineCourseHost.com platform provides you with a free SSL certificate that is auto-renewable.
But to activate it, you need to prove that you own the domain, by configuring a special DNS record.
This will be a CNAME record.
A CNAME record has two fields you need to fill in, in your DNS provider:
The Host or Sudomain field
The value field
The activation wizard will give you the exact values to fill in: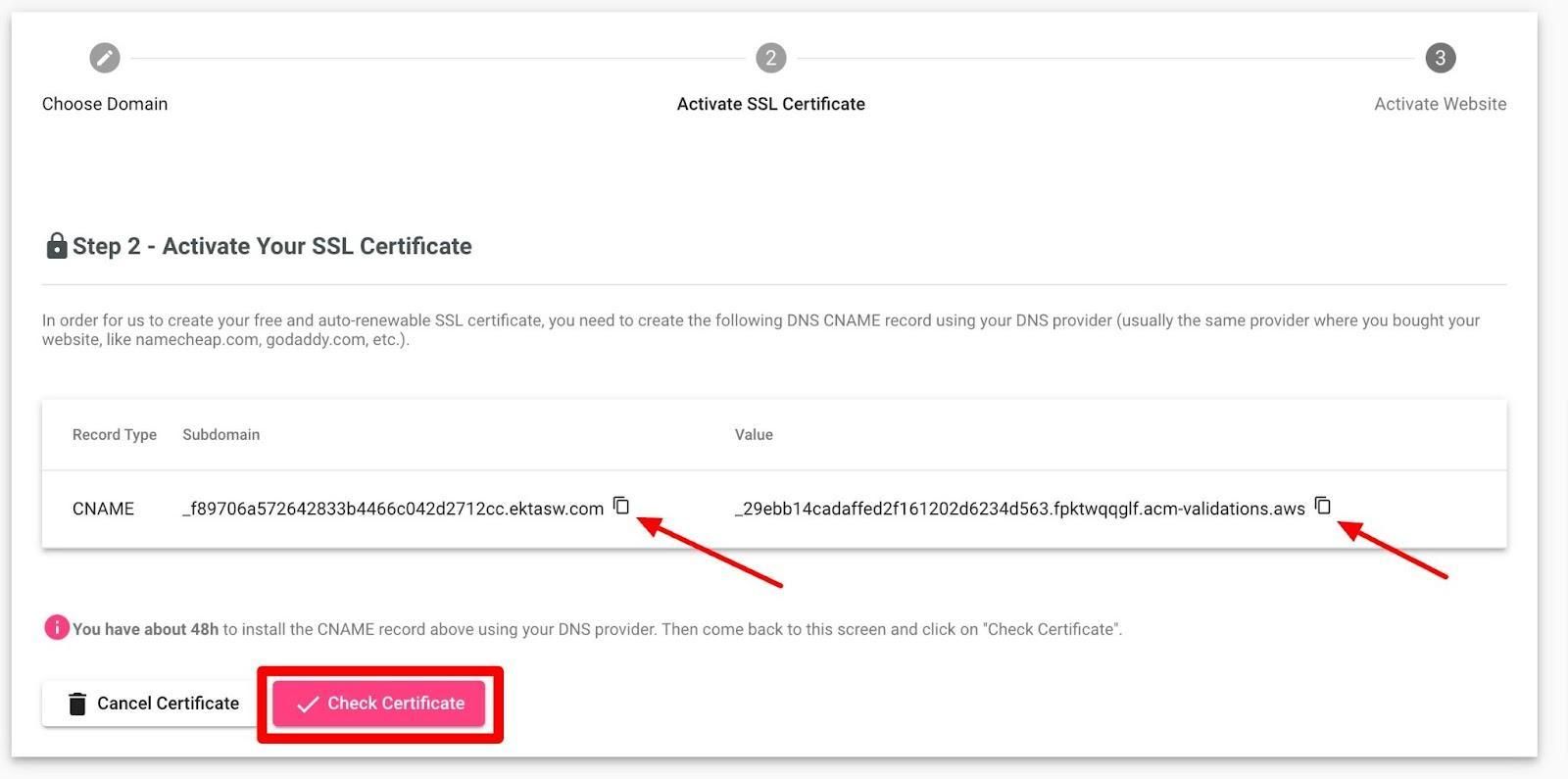 If you bought your domain name from namecheap.com, then follow this tutorial to paste the values.
If you've used any other DNS provider, then check out its documentation on how to set CNAME records.
When activating the CNAME, you want to choose a low time to live, in case that you want to switch the value quickly.
After the CNAME record is in place and active, go back to the OnlineCoursehost.com dashboard and click on Check Certificate.
Step 3 -Activate Website
Now that the SSL certificate is ready, the final step is to activate the website itself.
Go back to the activation wizard and put in place one last CNAME.
Sometimes, this can instead be an ALIAS record, if you have chosen to activate a top domain.
The wizard will provide you specific instructions, and you can always contact support using the chat window on the bottom right of your screen.
And that is it, your custom domain is now ready, and you have a fully branded online course website!
You can now upload your courses, connect to Stripe or Paypal and start selling courses.
Conclusion
You can absolutely have a custom domain with your online course.
In fact, this is a great way to further personalize your courses and make it feel more like your own.
But much more than that, having your own domain opens you to a world of possibilities in terms of what you can sell, and for how much you can sell it.
You don't have to pay huge commissions to a third-party provider, and you can grow your email list and establish a direct relationship with your students.
Onlinecoursehost.com is a great platform for beginners to set up a website and add your custom domain.
I hope you have enjoyed this post, check out also the may other guides that I've written for you in the Course Creators Academy.
To get notified when a new post goes live, subscribe to our newsletter:
Frequently Asked Questions
Do I have to use a custom web domain on OnlineCourseHost.com?
No, this is completely optional, you can also host your courses directly on our domain as well. For example, let's say that you are a yoga instructor. You can start your online school and it will be hosted for you.
For example at yoga-school.onlinecoursehost.com. Later on, if you want to use your own custom domain you can request an activation of the yoga-school.com domain and it will be taken care of.
Will OnlineCourseHost.com take care of website security for the custom domain?
Yes, a secure SSL connection will be set up for your website for free. If you already have your own certificate, you can send it as well and it will be installed.
Thanks for reading and enjoy the course creation process! 😉
---
Vasco Cavalheiro
OnlineCourseHost.com Founder & Online Course Creator