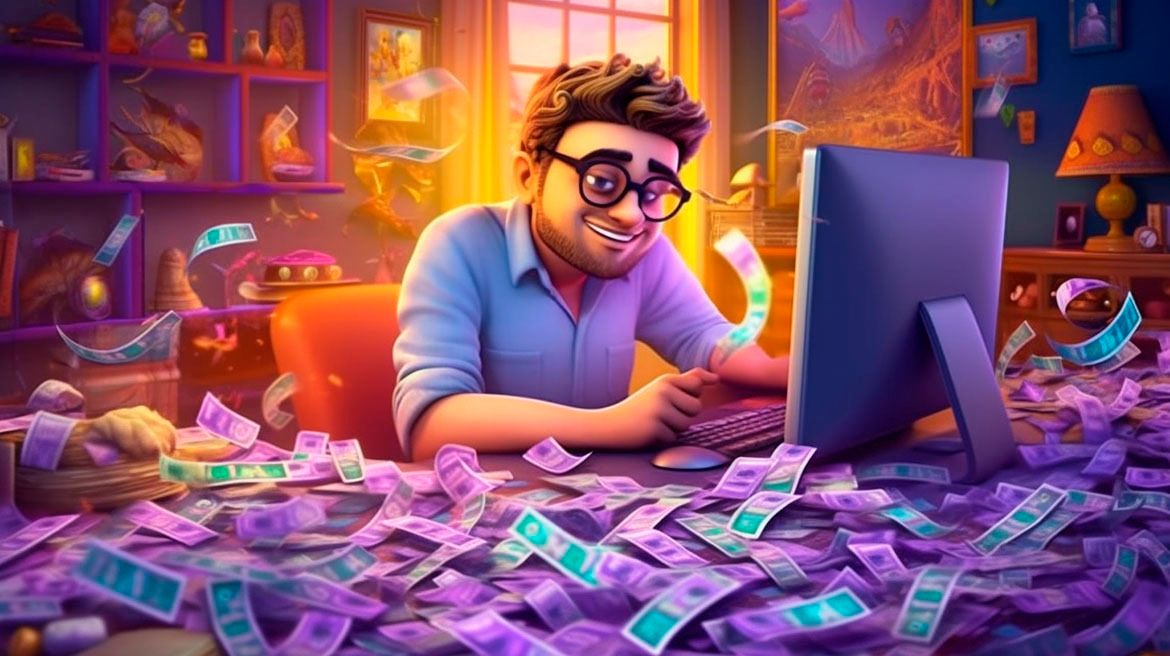 Learn how much I made as an online course creator in the full year of 2021, with all sources of income included. Learn what worked for me and what it didn't (lessons learned).
Are you wondering how much can you make selling online courses?
Then you have come to the right place, because I'm going to tell you my personal revenue numbers as a course creator.
Here at the Course Creator Academy, we have course creators of all audience sizes. And that includes a lot of creators just starting out, that are taking the very first steps in their online course creation journey.
And one of the things that I get asked the most, especially by beginners, is if it's even possible and realistic to make a full-time revenue teaching online courses today.
And the answer is yes, it's definitely still possible if you take the right approach. 😉
In order to help you dispel that doubt and convince you that it's possible, I'm going to share with you in this post how much I made as a course creator for the full year of 2021.
As usual in these revenue report posts, the goal here is not at all to brag or anything like that. Instead, I'm hoping to inspire you and convince you that yes it's possible and that you can do it too. 👍
Besides the revenue part, I will also do a quick review of what I did during the year, and I will share with you what worked and what didn't and what lessons I've learned along the way.
If you are curious and want to learn more about my story of how I became an online course creator, you can check it out in this post where I tell you all about it:
And if you are looking for some other similar revenue reports that I've written, you can find them here as well:
You can check out all the free guides available in the Course Creator Academy by clicking on the Academy link on the top menu bar.
In this post, I'm going to focus only on the year 2021: revenue and lessons learned.
And now without further ado, let's dive deep into this revenue report, and talk about what worked and what didn't in this last year.
My Revenue as an Online Course Creator in 2021 on My Self-Publishing Website
Like in all previous years, my main source of revenue was by far my own website (you can check it out here).
In this year that just ended, and with all the economic crisis going on in the world due to the current situation, my online course business somehow managed to put out a healthy growth: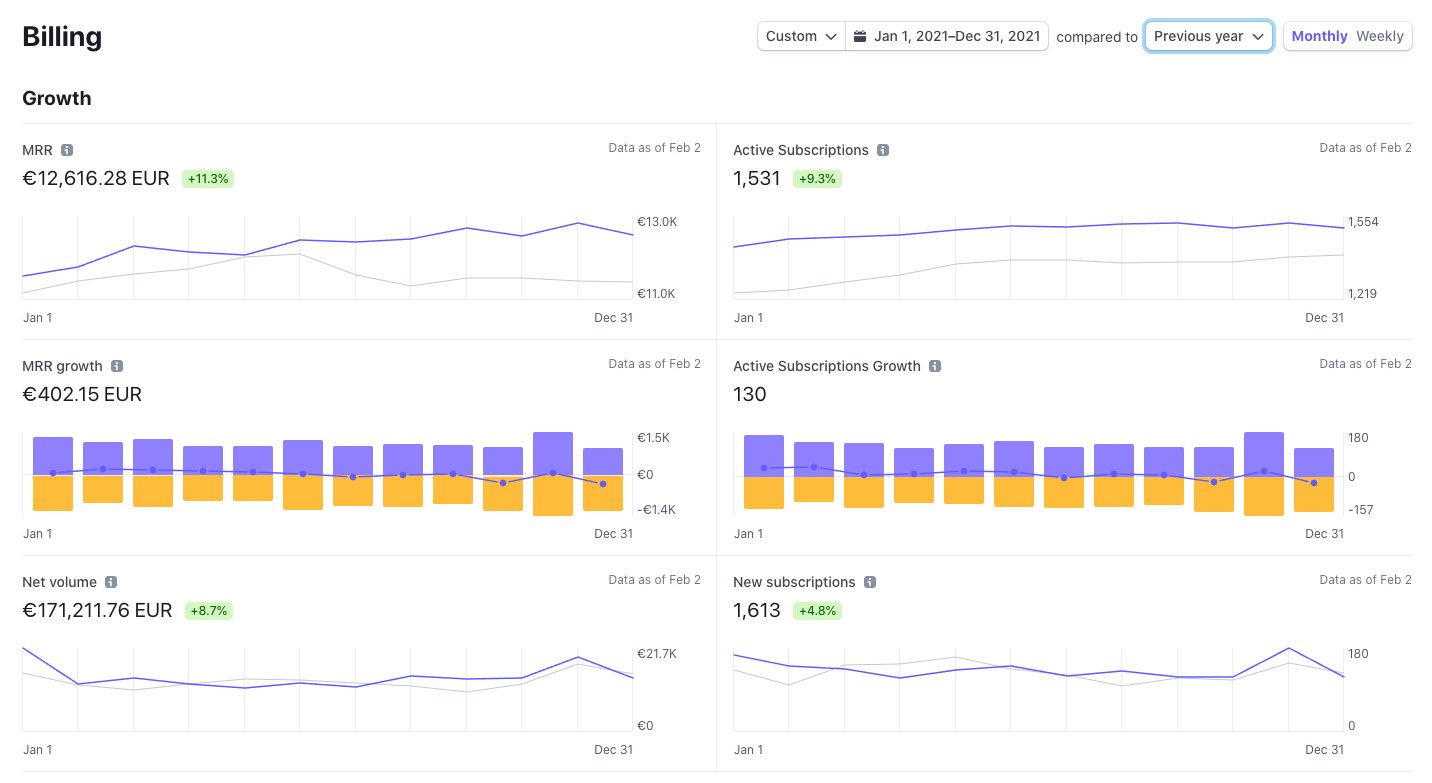 This screenshot is taken from my Stripe dashboard, which I use to collect all the payments on my website.
Note that if you use my platform onlinecoursehost.com to host your courses and choose Stripe for payments, you can get access to this exact dashboard for your website as well.
The dashboard is in euros, so I will convert the amounts to USD. The conversions are calculated at the time of writing this post. To summarize the charts above, here are some key numbers:
11% growth compared to the previous year, very nice. 😉
€12,616 EUR as monthly recurring revenue (MRR), that's roughly $14,246 USD/month (this is subscriptions only).
a total volume of sales of €171,211 EUR, that's around $193,325 for the whole year, just from the website alone.
I'm really happy with these results, and super thankful to anyone that has purchased my courses or subscriptions shared my blog posts, or helped support my online course business in any way.
Looking back on these results, let's try to see what I might have done that could have resulted in this nice growth.
What worked well last year?
In an online business like mine, the results that we get today are usually the sum of what we have been doing for the past couple of years or so, and there is a significant delay between the actions that we take and the results.
I think this is true in any business, but it really is even more so in an online course business. Most of the actions that we take, we do so mostly by instinct and without having a ton of open feedback from our users.
And we rarely see immediate results, so it's a constant game of guessing what we should be doing, trying multiple things out, learning from our mistakes, and constantly adapting to new circumstances.
So what could have worked well this year?
For one, the topic that I teach has remained stable, as there are not a lot of ups and downs in terms of the overall trend of this space and it's still a very popular technology used by a lot of companies.
I did spend some time last year improving my blog, by reviewing and updating existing posts and by creating a few new ones, and the results really paid out.
I got several new posts to rank on page one of Google, which generated some nice additional traffic to the website.
I also spent some time improving the website itself, making the course offers more clear and improving the user experience.
I also did a full review of my email welcome sequence at the beginning of the year, updated some of the emails, removed others, and added new emails that had performed well in my newsletter.
So I never write an email sequence from scratch, I always repurpose emails from my newsletter based on their performance, make them ever-green and add them to the email sequence sent to new subscribers.
I improved the design of my lead magnet (a free 2h beginner course) and revisited the way that my popups and email lead forms are shown to the users, to make it more user-friendly and increase the conversion rate.  
To learn more about how I do email marketing, check out this post that I wrote: Effective Email Marketing For Online Course Creators.
Why did the revenue increase?
I think like any other online course business, mine is completely dependent on the amount of traffic that I get to my course pages.
The same formula always applies: revenue = traffic * conversion rate * price.
The first thing to notice is that the interest in the topic remained more or less the same, so the baseline traffic remained the same.
Because I created a few more blog posts and updated existing ones, I managed to increase the traffic.
Updating the email welcome sequence and reviewing the lead magnet also helped my email list to grow, which meant more traffic to my website as well.
The improvements on the website increased a little bit the conversion rate, and as the price remained the same the overall result was a nice yearly growth, due to the increased traffic and improved conversion rate. 😊
Regarding the revenue on the website, it's split between one-time sales and recurring sales. Let's have a look at the subscription model in more detail.
Recurring Subscription Model - Does it Work Well For Online Course Creators?
One of the questions that I get a lot is, do subscriptions really work well for online courses when compared to one-time sales?
If you create content on a continuous basis on your topic, then a subscription model makes a lot of sense for both you and your students.
Your students get weekly access to the new content you produce, and you get a more stable income month over month.
When people subscribe, they tend to stay subscribed for a while. For example, this graph shows the retention rates on my website:

So how to read this graph? For example, for the 166 people that subscribed in January, 43% of them were still subscribed almost one year later! 😊
As you can see, subscriptions can work great as long as you continuously deliver new content, keeping people wanting more and eager to know what's next.
You can try to sell courses first at a one-time price if you have only a couple of them. But if you are planning on building a whole catalog of courses on your topic, then tell your audience about it.
In fact, on my website I had since the beginning the subscription option active at the start, when I only had 3 mini-courses. I created the thumbnails for all the other courses and listed them as "coming soon", with just the thumbnail and the title.
I thought it would take me a year to create all those courses, but actually, it took me almost two. 😂
I did not commit to any dates, because it was very hard to anticipate how long each course would take to produce, but it all worked out in the end.
So the subscription model can work very well even in the beginning when you only have a couple of courses, as long as you tell your students what you are planning to do next.
This is actually a form of pre-selling, which is specific to subscriptions. If you want to learn more about how to pre-sell your online courses, check out this post: How To Pre-Sell Your Online Course (Ultimate Guide)
But maybe one-time sales are the right choice for you as a course creator.
To help you decide how to choose the best business model, have a look at this other post that I wrote: How to sell online courses.
My Revenue as an Online Course Creator in 2021 on the Udemy Marketplace
Besides my website, I also publish my courses on the Udemy marketplace, which is the biggest online course marketplace on the Internet.
Here is my online course revenue for most of the months of 2021: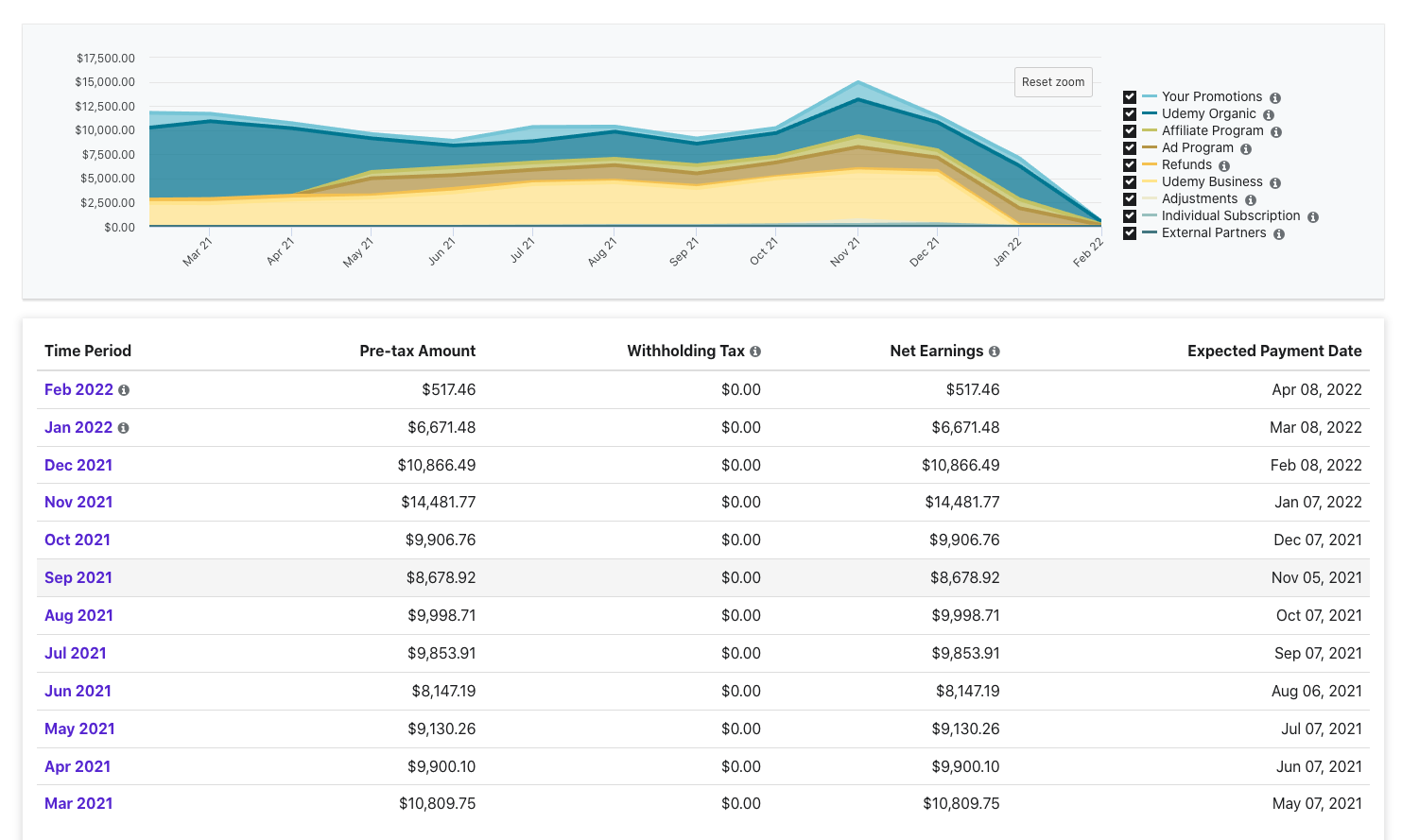 Notice the lower revenue on January 2022, this is because the total for the month is still not complete, as it does not include yet its biggest component which is Udemy for Business.
And here are the two missing months of the 2021 year:

So if we count everything, we get around $97k of revenue on Udemy.
Not bad at all, but slightly down from the previous year.
My courses still rank well for my course category and I have currently several courses on the first page, but on Udemy in general the revenue from marketplace sales seems to be down in 2021, at least for my topic.
I think this was due a lot to the changes in the commission system, that decreased instructor revenue from 50% to 37%.
Previously I had opted out of the affiliate program of Udemy, and I was receiving 50% commissions in all organic sales, but on the flip side, my courses weren't being promoted by the advertisement program.
With the new 37% rate, now it's the same for everyone independently of whether you joined the affiliate program or not, so in that sense, the rate is uniform for everyone, and my courses are now part of the advertisement program.
But I did notice a hit in my marketplace organic sales, which was compensated a lot by a higher number of students and by the increase in revenue in Udemy for Business.
In fact, let's take a typical month of revenue like October, that does not include a huge promotion like New Year or Black Friday: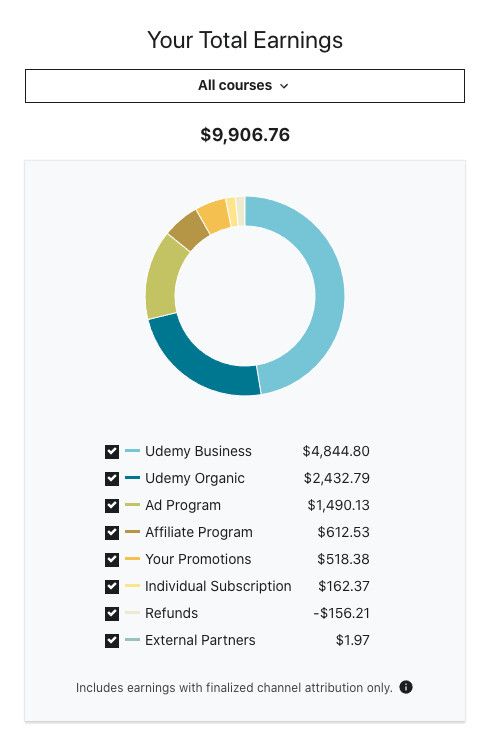 As you can see, in a typical month, almost 50% of my Udemy income now comes from Udemy For Business, which is huge.
And Udemy is planning on further expanding its subscription business with a new subscription system called the Udemy Personal Plan.
I have the hope that with the development of the subscription models for both companies and private students, the revenue on Udemy will increase in the coming year, but right now, the end result is a small decrease in revenue for me.
To learn more about how Udemy works, I did an in-depth review of it here: Udemy vs Skillshare for Online Course Creators: Where To Publish Your Courses?
Summary and Conclusions (Lessons Learned)
So to summarize, my total online course revenue in 2021 was:
$193,325 from my website
$97,000 from Udemy
For a total of $290,325 for the whole year, not bad 😊
So what I did learn this year? Looking back, I confirmed once again that by far the best decision that ever I made since I started teaching online was focusing on developing my own website.
The Udemy revenue is great to have and I'm super thankful for it, but with the policy changes my revenue diminished slightly there, and the Udemy for Business is an invitation-only program so I have no control over which of my courses get added there or not.
Also, having my own website allowed me to spend more time creating more organic traffic for it via new blog posts, plus it allowed me to optimize my lead magnet and increase the growth of my mailing list.
Because I own the website, I can influence a lot more traffic and the user experience, and I can optimize things and improve them in a way that I can't do in any marketplace.
I wouldn't have been able to do any of the optimizations that I did in 2021 that led to increased revenue without owning the website.
Also, I can easily run conversion ads for example on Facebook, Google, or YouTube ads if I want to, I also have that flexibility.
Another thing that I noticed is that as usual, the rewards for the actions that I took early in the year like revisiting my email sequence and writing new blog posts only gave their fruits several months later.
So it really pays off to really think through the things that you should and shouldn't do, to avoid spending time on things that don't move a lot of the needle.
Again, this leads me back to thinking that creating my own website was by far the best business decision I ever took.
I did this almost accidentally, mostly by a mix of luck and instinct, and took this decision at the beginning of my course creation journey back in 2016 and never looked back. 😊
This is why I encourage you, as a course creator, to make sure that you create your own website with your own branded online courses from the very beginning.
You can publish on marketplaces, but keep developing your website and your brand, and you will do so much better in the long run.
To help you create your online course website, I've created onlinecoursehost.com, which is the easiest-to-use online course platform on the market, designed specifically for course creators without design or technical skills.
You can get your course sales page up and running in minutes, so go check it out.
And if you are looking to ask any questions you need on online course creation, you can reach me here on my Facebook group:
Join the Course Creator Academy Facebook Group
If you would like to get notified when other guides and useful content on online course creation is available at the Academy, then you can join us here:
I hope you found this post helpful and that it inspires you to go create your own online course business. Yes, it's possible and with the right information, you can do it too. 👍
Let me know in the comments below what other topics you would like me to cover, or any questions that you have?
Thanks for reading… and enjoy the course creation process! 😉
---
Vasco Cavalheiro
OnlineCourseHost.com Founder & Online Course Creator
LinkedIn   Facebook Page   Facebook Group   Twitter
You are welcome to ask me any questions in the comments below:
👇👇👇👇