The Proven Formula For Creating a Best-Selling Online Course (in 12 Steps)

Platform Review
Learn from an experienced course creator the practical steps involved in creating a best-selling online course. I will guide through all the steps involved and tell you exactly what worked for me and what didn't, and save you months of trial and error.
With the e-learning industry at its peak, everyone is launching online courses these days.
However, not all of these launches are success stories. In fact, if you search any course marketplace, you'll find many courses with poor ratings and negative reviews.
I've been creating and selling online courses since 2016, and I can tell you that it takes a lot of trial and error to learn how to create successful courses.
I've also seen how many seasoned course creators do it over the years,  and I've seen many of the pitfalls that beginner course creators make.
If I had to identify only one thing that usually goes wrong when first creating a course, it's this:
Beginner course creators tend to create a course first, maybe during months. And only after the course is created, will they think about how to sell it.
But that is the catch: if you want to make it work, you must think about sales from the beginning of the course creation process.
This way of approaching things will influence everything: the choice of your topic, your main message, the content of the course itself, what goes in it and what doesn't, your landing page, etc.
To avoid running into this pitfall, in this post I'm going to go over the whole process of creating a course from A to Z, with an emphasis on how to take each step to ensure that the course will sell in the end.
So, how to create an online course that sells?
To create a high-quality online course, you need to follow these 12 steps:  
Choose a niche and target audience
Come up with a profitable course idea
Validate your course idea
Create compelling course goals (USP)
Create an effective course outline
Structure your course modules
Film, record, and edit the course lessons
Choose a reliable course hosting platform
Choose an effective course pricing
Create a landing page that drives sales
Market your course to drive traffic
Collect feedback and improve your course
Below I'll show you why each step is essential and how to go about it. So, by the end of the post, you'll have a detailed plan to create your first successful course.
You can also check out all the free guides available at the Course Creator Academy by clicking on the Academy link on the top menu.
Let's dive in.
STEP #1: Choose a niche and target audience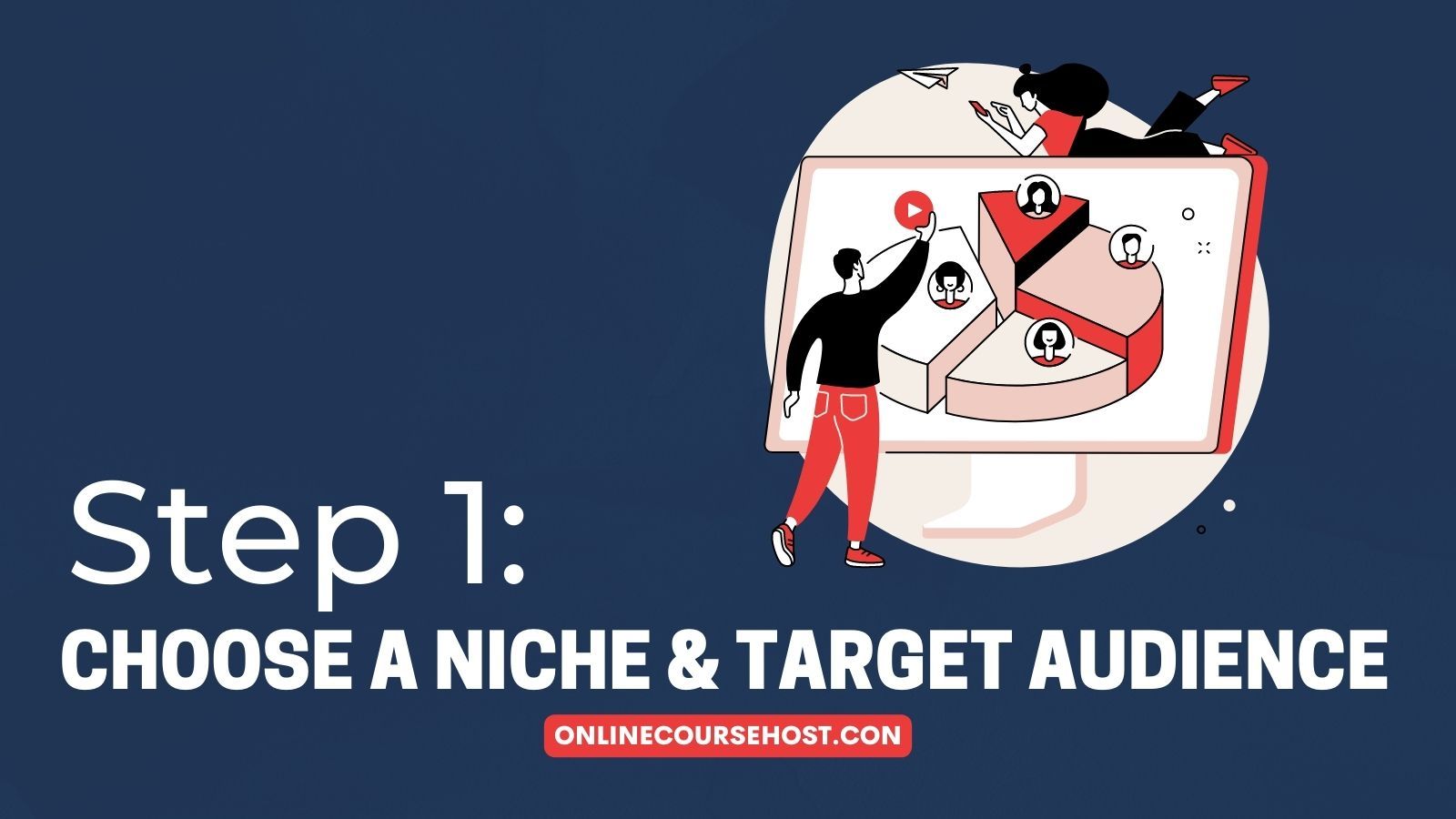 Creating a successful course requires proper research and clarity. You must pick the right niche and have a clear picture of a target audience who are ready to buy your course.
First, let's talk about choosing a profitable niche. You should pick a popular niche among students, something they're willing to pay for courses to learn skills.
For example, Python is an in-demand programming language, and many students regularly invest in Python courses to master the skill. While knitting is fun, it might have only a few interested students.
So, pick a niche with huge potential and many interested students such that you can launch multiple courses on various topics.
You can use Udemy Marketplace Insights to find popular topics. For example, there's a high demand for Python courses on Udemy, the largest online course marketplace.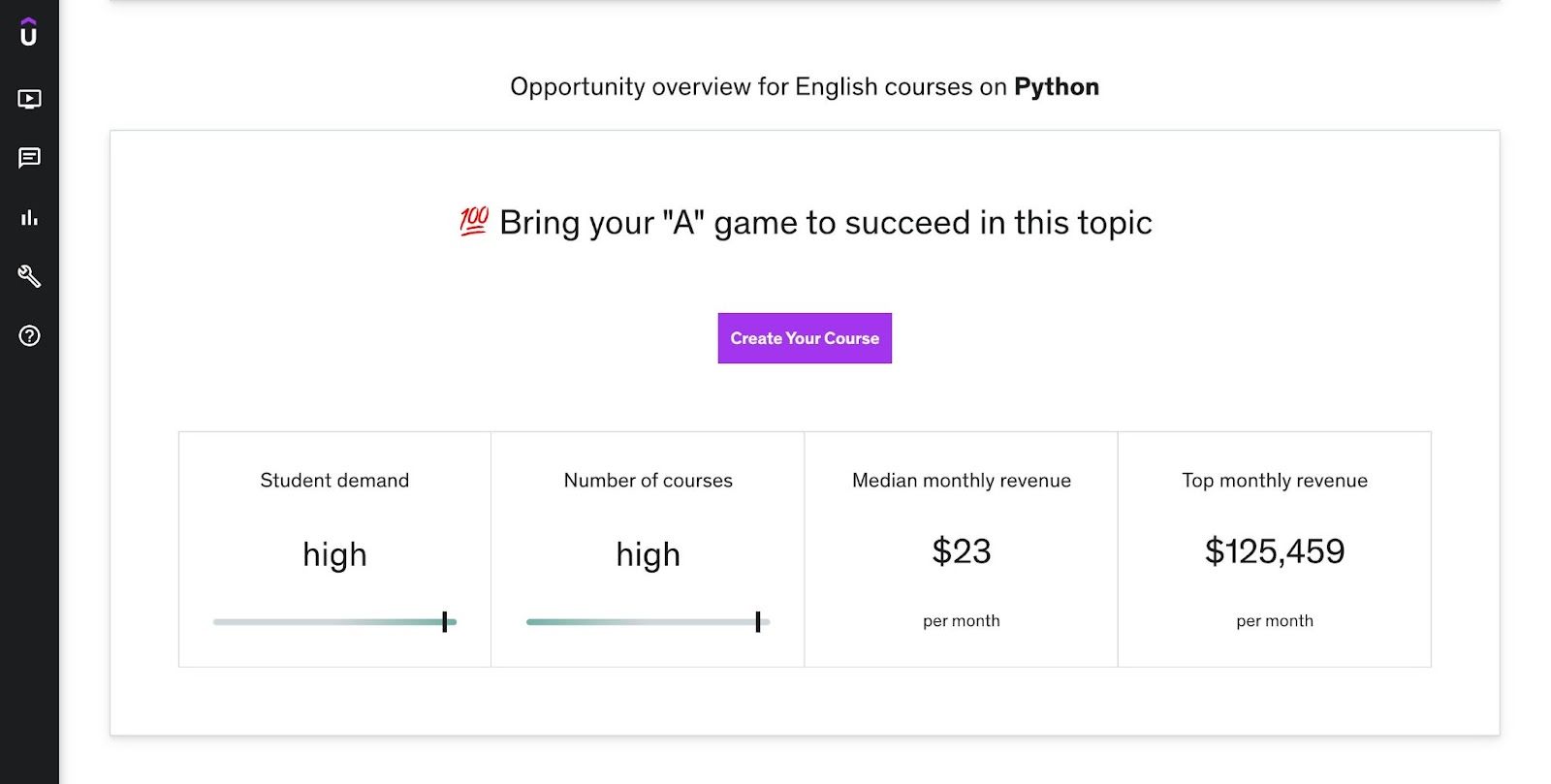 Use the Marketplace insights to test your current niche or find a profitable one.
Once you're clear about your niche, the next step is to create your ideal student persona. Because you can't target everyone, you should develop a target audience profile of a student who is ready to buy your course once you show it to him.
You want to make it as specific as possible because different people have varied interests and requirements. For example, the diet plan for male bodybuilders is very different from that for female bodybuilders. And not all females will be interested in going on a diet.
So, target a smaller audience but make it explicit. For example, if you train women, target a specific age group, such as "30-day workout training for busy moms" or "90-day muscle building plan for men over 40."
STEP #2: Come up with a profitable course idea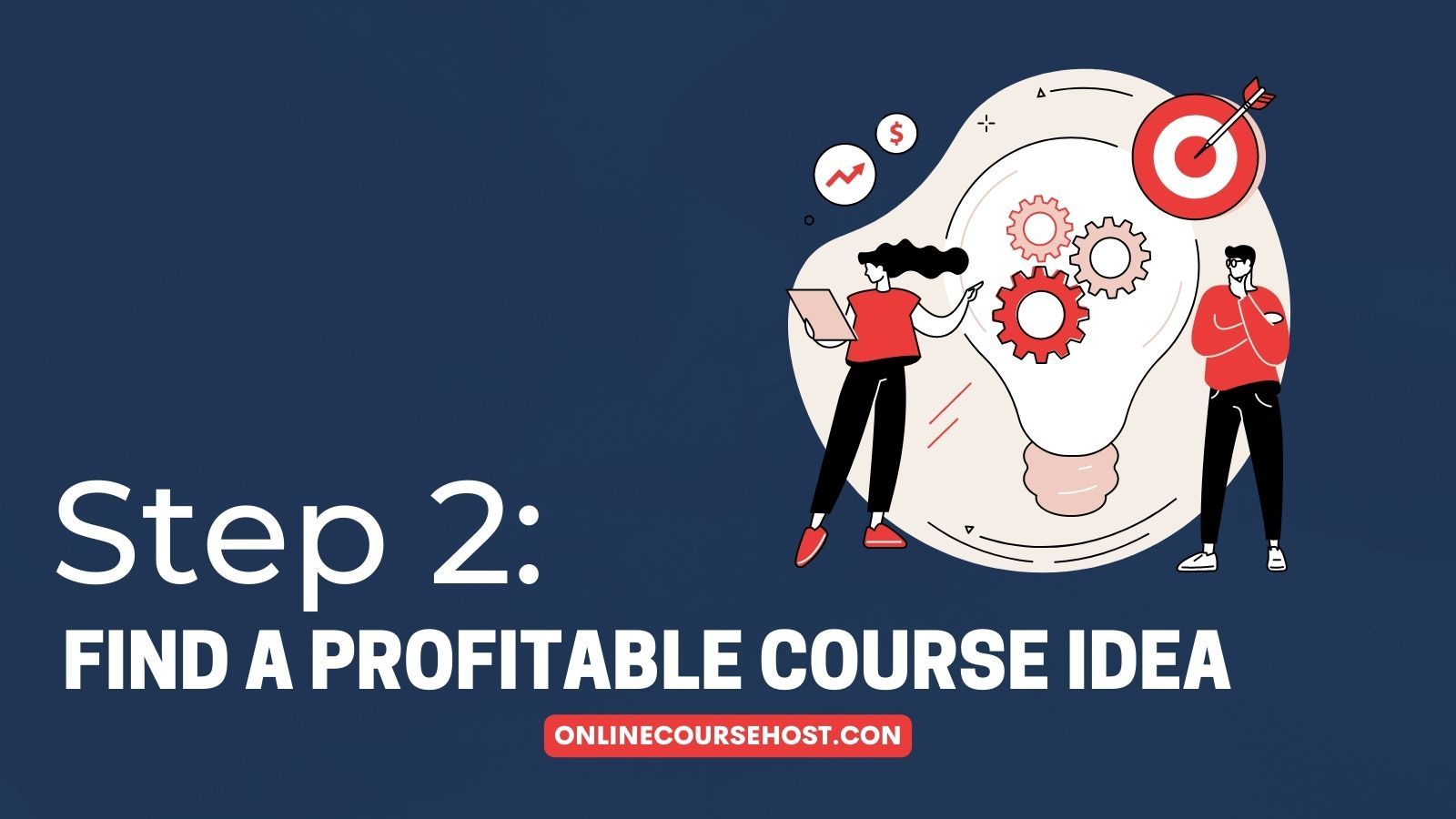 Once you're clear on a niche and have defined a group of people who are your future students, it's time to figure out what problems they have.
You can't launch "yet another course" on a topic nobody cares about and expect to make sales. Instead, you want to find real things that these students are struggling with because a course will only sell if it's an in-demand problem.
So, listen to your students, figure out their problems, and then come up with a course idea. Find subreddits, Quora groups, online forums, Facebook groups, etc., where your ideal audience hangs out. Read their conversations and try to learn what they're struggling with.
You can also ask them directly if you have a course idea. Once you have a few ideas, you can validate your research using keyword tools like SEMrush.
If you see a high monthly search volume, it's a good sign that many students are interested in it. For example, the keyword "Python programming" has a monthly global volume of nearly 300k, which means it's a great keyword.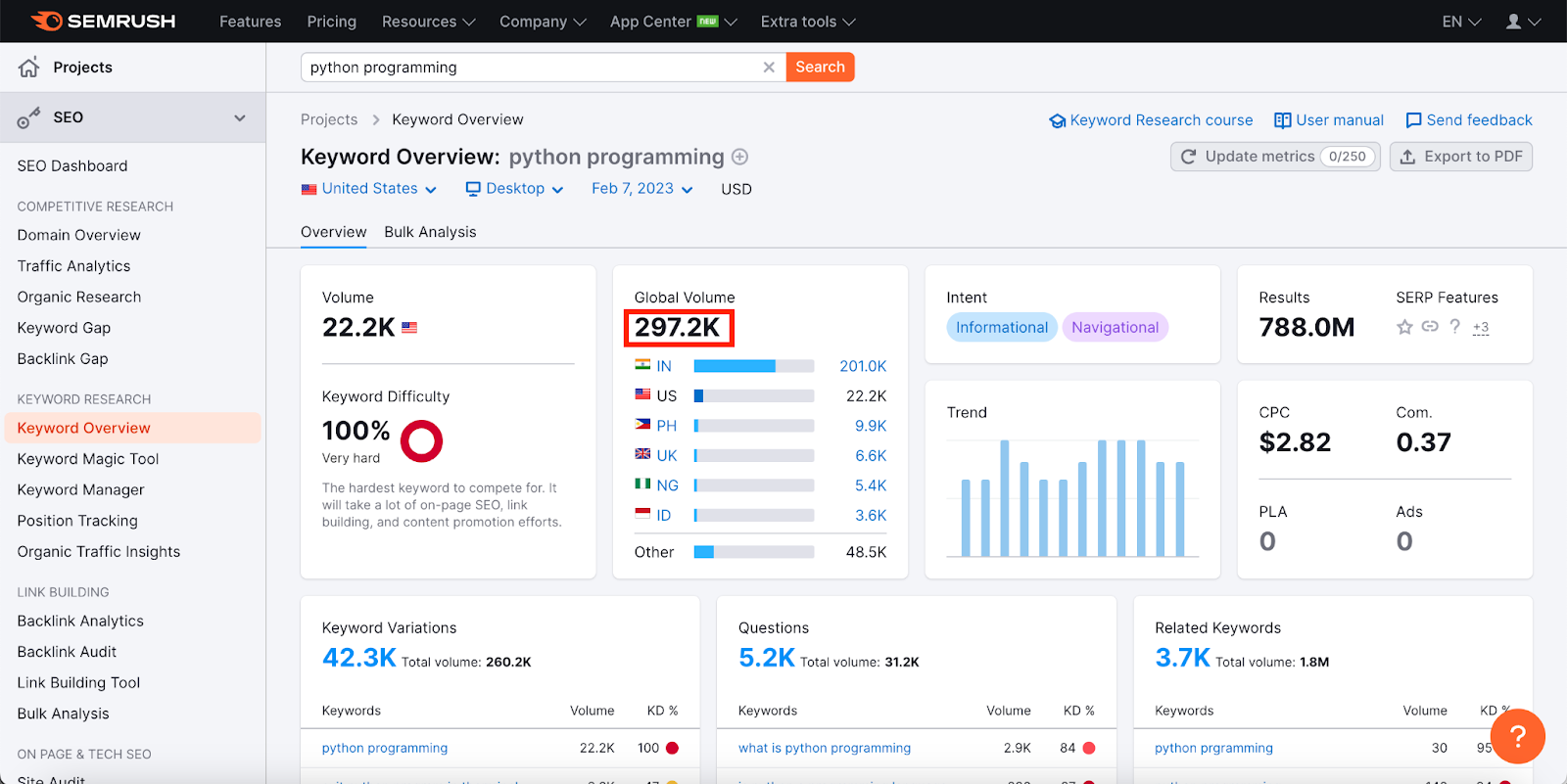 Similarly, you can determine if your course idea is worth pursuing. Follow the steps explained in this guide on choosing the most profitable online course idea.
STEP #3: Validate your course idea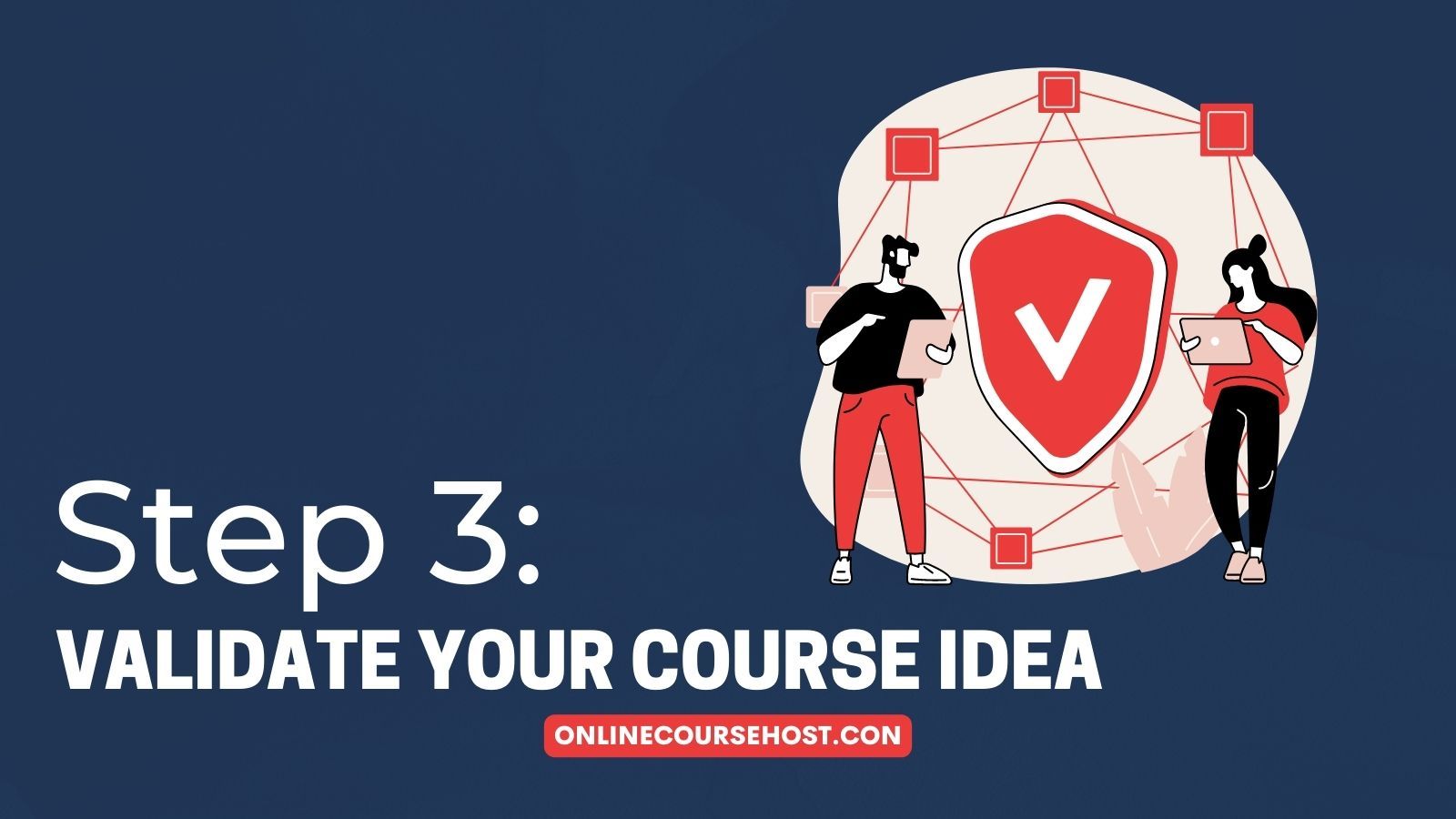 But keyword research tools don't show you the complete picture. Because having a high search volume doesn't necessarily mean students will purchase a course.
And before investing time and effort into a course idea, you should be absolutely sure that your target audience will buy your course. That's why, just to be sure you won't regret it, you must validate your course idea.
The best way to validate your course idea is to pre-sell it to some students. I'm talking about selling the idea before creating the course content.
Prepare a high-converting landing page, list all the features of your course, and offer a unique discount to anyone who enrolls first.
Now, drive traffic to your landing page and motivate students to join the waitlist. If you add a few students, it's a good signal that the topic is worth pursuing.
And if nobody enrolls even after you've tried every marketing strategy, you should stop creating a course on the topic.
STEP #4: Create compelling course goals (USP)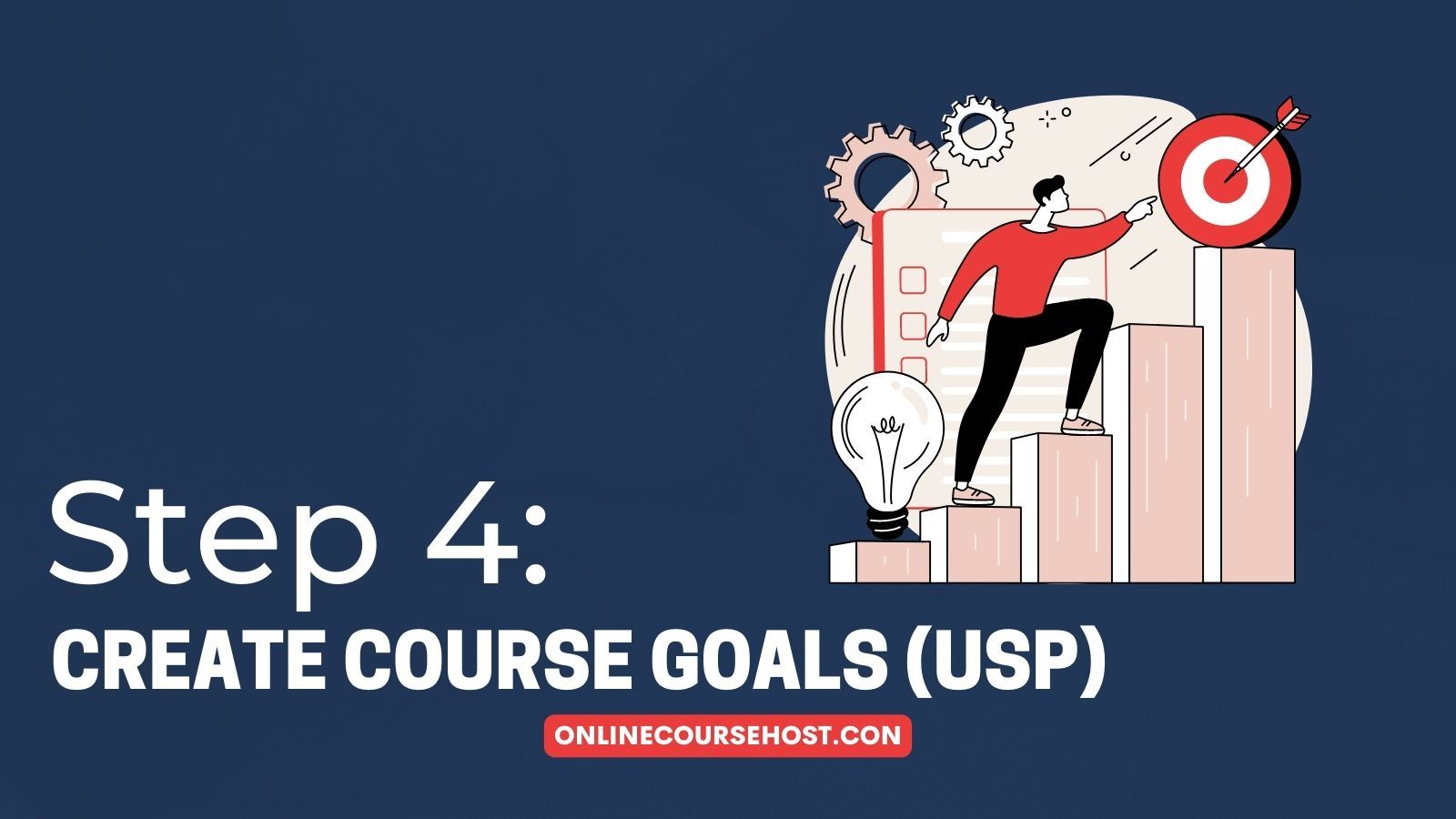 If you've validated the idea and have enrolled a few students, then let's create a valuable course.
But before creating the course content, develop actionable goals that your course will help students achieve. Don't set vague goals; make them practically possible and push students to want to pursue them.
An example of an actionable goal is "After completing this course, you will be able to build a complete website with Python."
It's clear from this goal that after taking the course, students can build a website from scratch using Python programming language.
Your course goals will also help you craft a unique selling point. A unique selling point (USP) is one thing that helps your online course look different (and better) than your competitors.
With many competitors, you want your online course to stand out. You do realize that many have already launched a course on the same topic, so if you want your students to choose you over others - your course needs to deliver a unique value that others don't.
Think about what your unique selling point is. Are you giving a bonus ebook? Are you also teaching an additional skill?  
It can be anything that gives you an edge over your competitors. Come up with something interesting and unique.
STEP #5: Create an effective course outline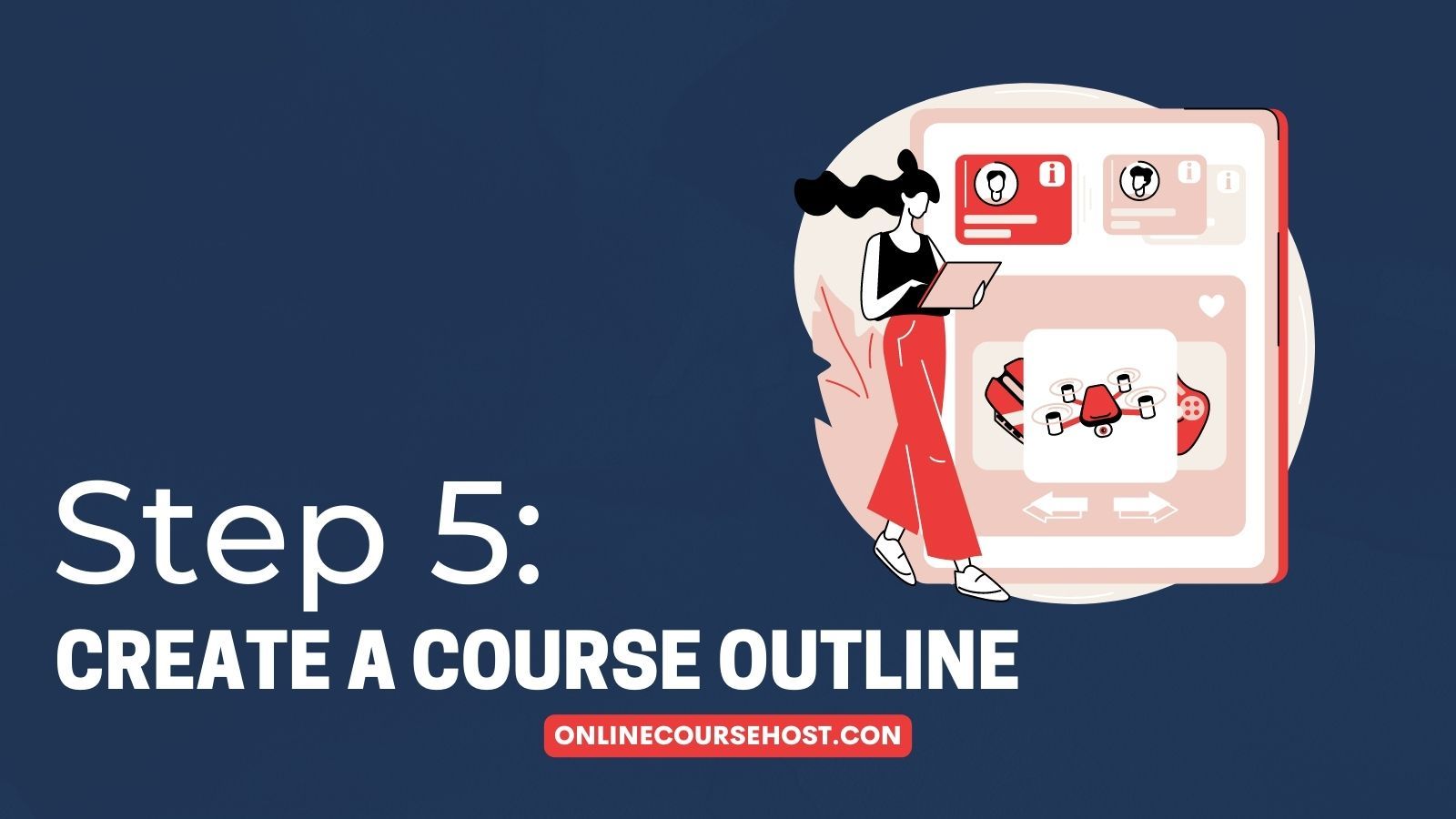 There are many courses on the same topic, and if you want to become your student's top choice, you need to give them something better than others.
The first step to creating a better version is to analyze what's currently out there. Go through the outlines of courses on the same topic and create your version.
You can find such courses on Udemy. For example, there are 10,000+ courses on the topic "Python."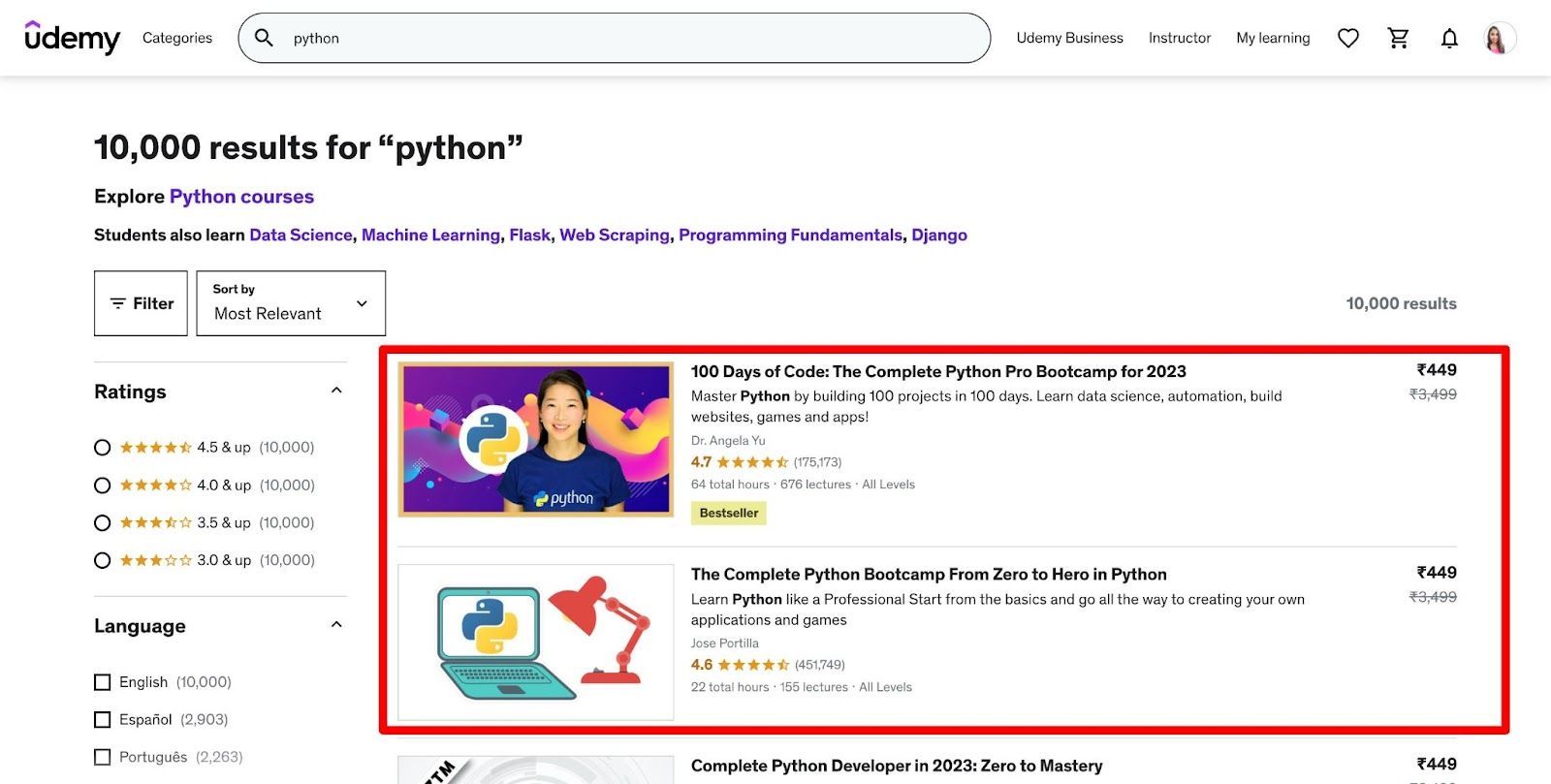 Pick 5-10 good courses and go through their outlines. These outlines will give you a good idea of what to include in your course.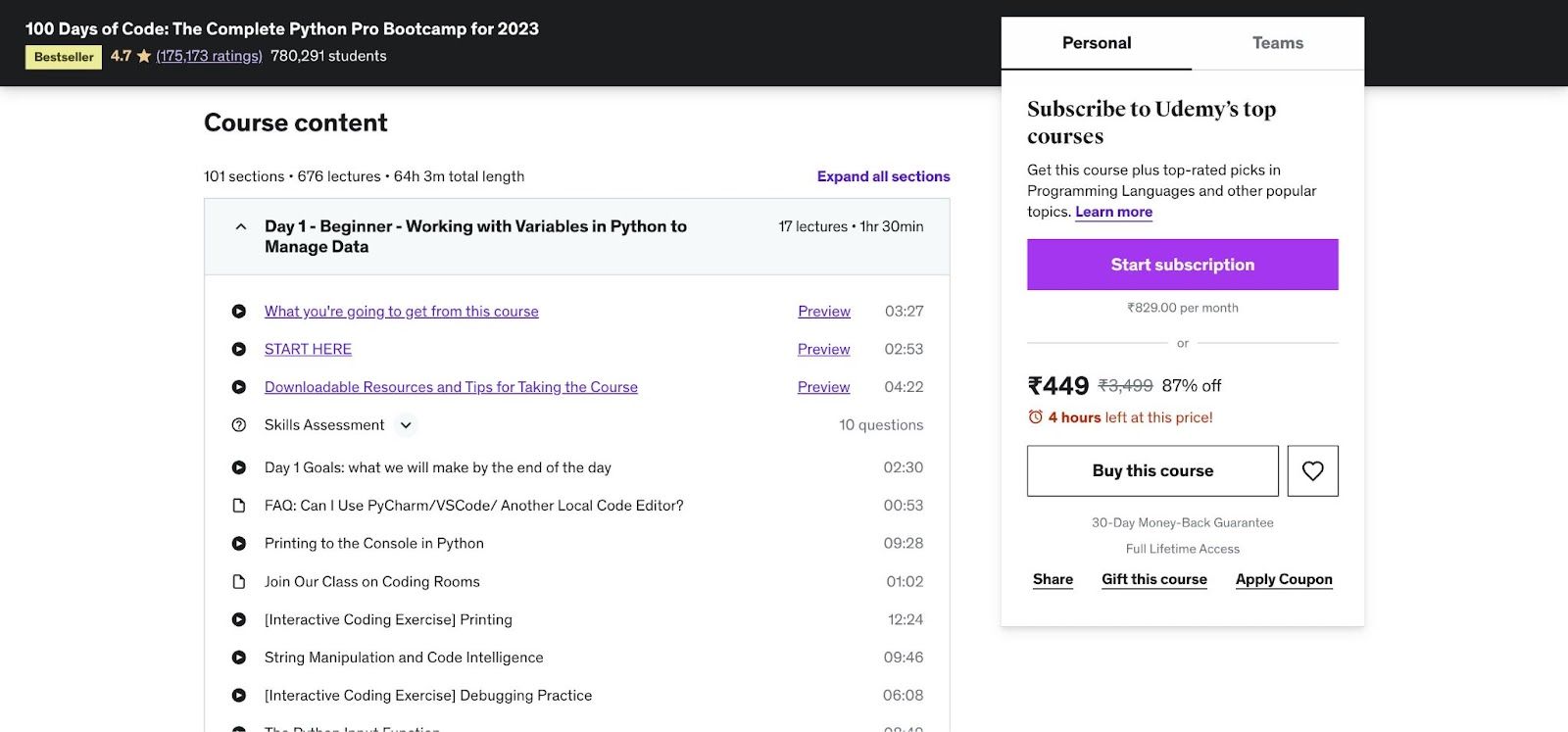 To create a better version, you should find gaps in these courses. One good way is to read student reviews. First, check out negative reviews to determine what you can do in your course to improve it.
For example, this review says the course isn't designed for beginners, and the difficult concepts aren't explained well. There we have a way to improve our course: create it for beginners by explaining every topic in detail.

Similarly, go through as many reviews as possible and come up with a few points to add to your course. Or you can also use the Answer the Public tool to find people's questions about a topic.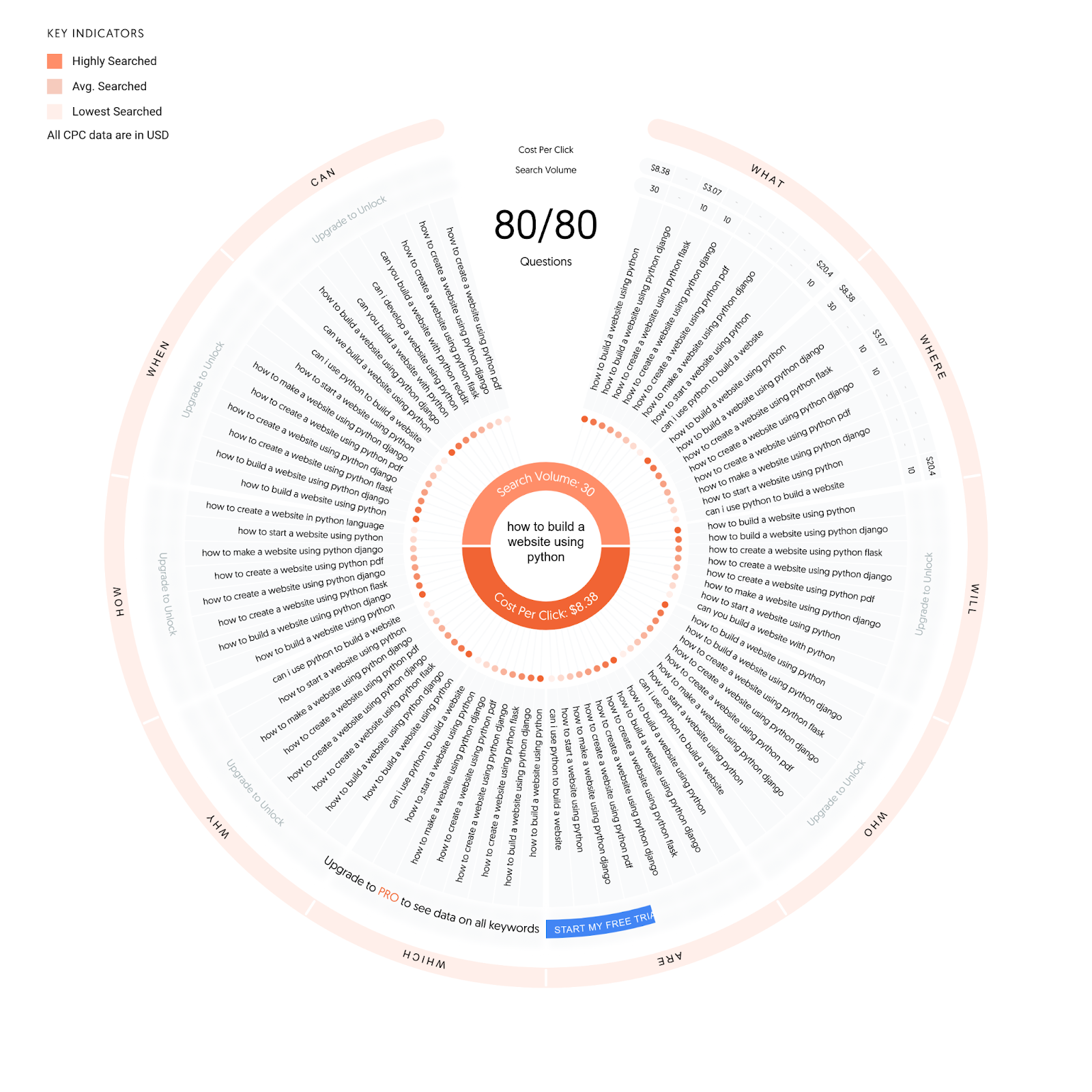 This tool lists all popular questions. Review them and add the most relevant to your course outline.
Get a free online course template to create outlines for your courses.
STEP #6: Structure your course modules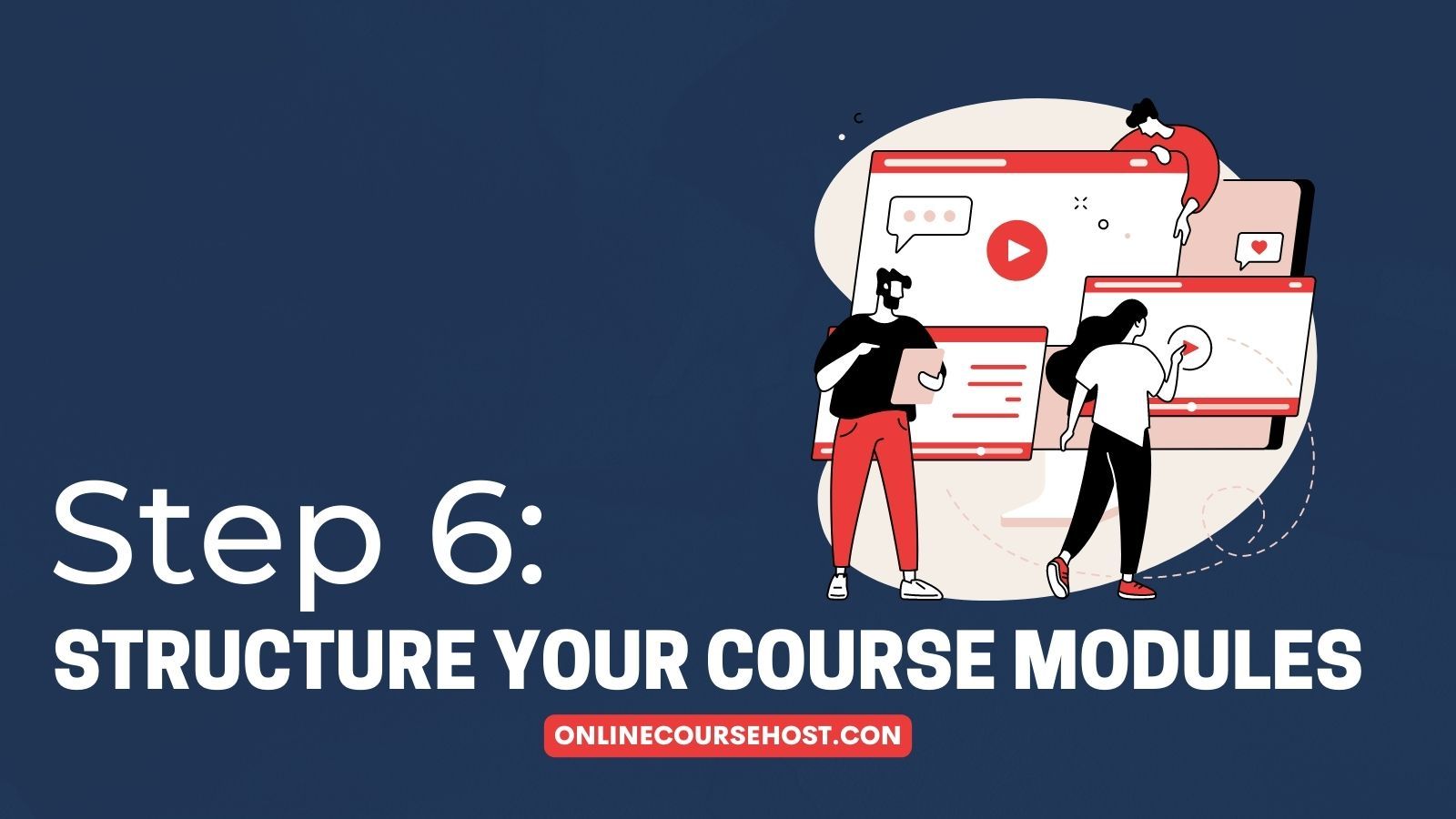 Most students enroll in courses but never finish because they find the course boring. So, if you want your students to finish your course, ensure it's interesting.
Uninteresting courses include one content format only. To create an engaging course, you want to add assignments, quizzes, downloadable PDFs, stats, many examples, and images.
Of course, videos are a significant part of your course, but you should focus equally on creating a content mix.
Take some time to collect the relevant information, create extra material like PDFs, quizzes, assignments, etc., and prepare video scripts.
Once collected, arrange all the material in a logical sequence. This is also the right time to structure your course modules.
STEP #7: Film, record, and edit the course lessons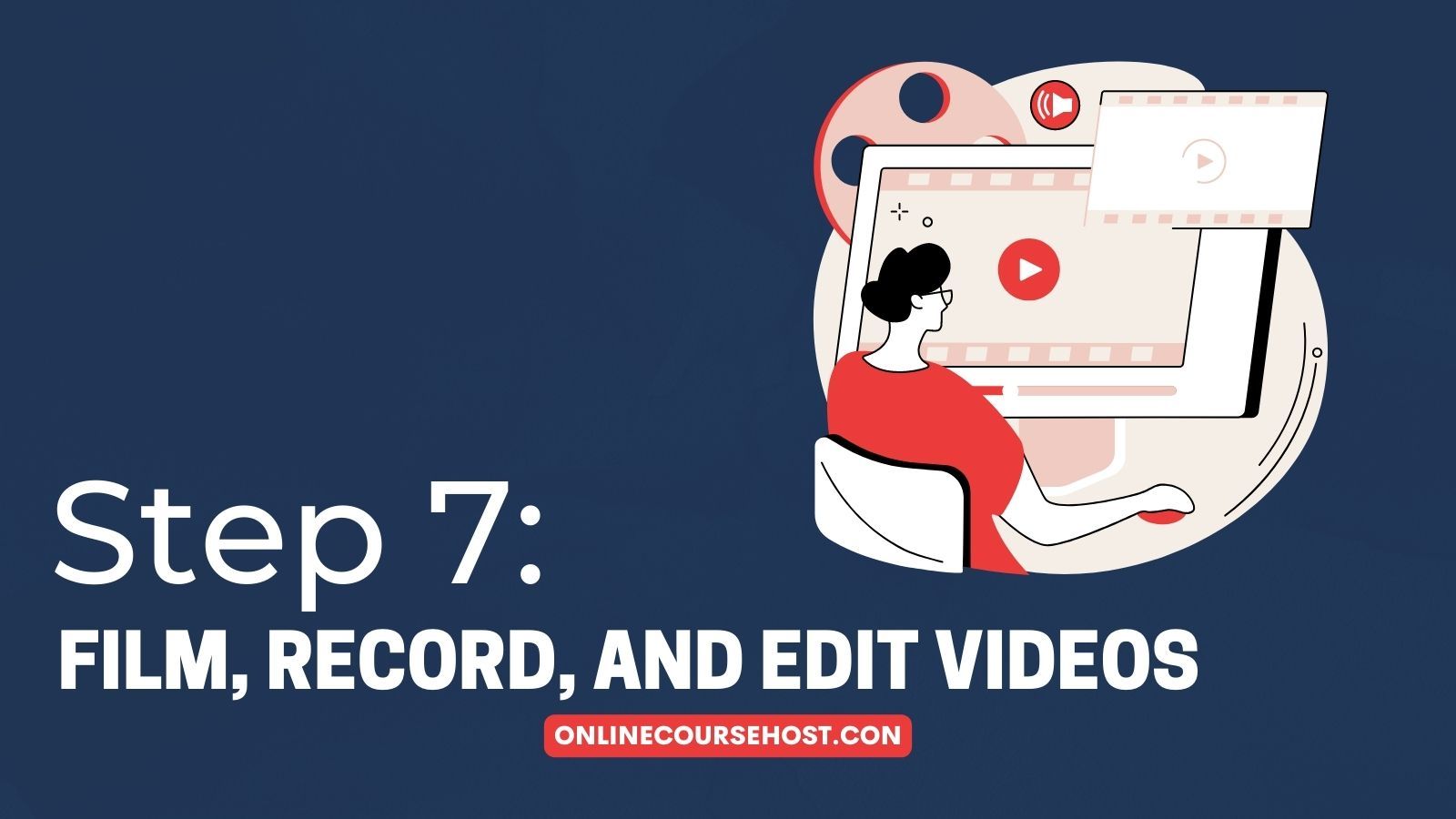 Videos will be the most important part of your course. Record HD-quality, audible, and visible videos because if they're lacking in any way, your course content quality doesn't matter.
First things first, get high-quality equipment to record your videos.
You need an excellent camera to record HD videos. A great option is Canon EOS 800D; it's affordable and records good quality videos.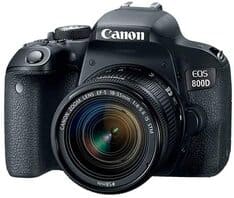 Then, you want to be audible without any annoying background noise. That's why look for a good microphone that records noise-free audio. You can use a Rode SmartLav+ microphone that can be attached to your collar so you can move freely.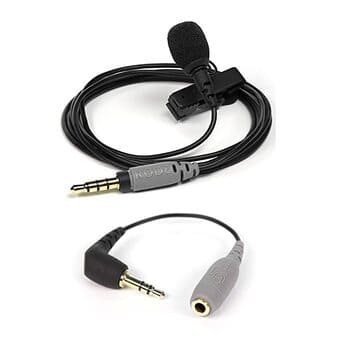 Here, you can check out the other equipment I use for recording my online courses.
Go ahead and record all your video lessons. Remember that you can always reshoot, so you're allowed to make mistakes. But to avoid unnecessary retakes, here are some tips to speed up the process:
Start every video with a quick introduction and discuss how this lesson is a follow-up to previous lessons. It'll remind your students of what they learned and set up the stage for what's next.
Give proper instructions on what you're teaching, and explain everything in detail.
Make eye contact with the camera so that viewers can feel you're talking to them when they watch it.
Practice in front of a mirror before shooting the video. Do it until you get comfortable.
Smile to maintain a friendly environment.
Once you have filmed your videos, hire a professional video editor from Fiverr to get them edited. This way, you'll have high-quality videos without any fluff.
STEP #8: Choose a reliable course hosting platform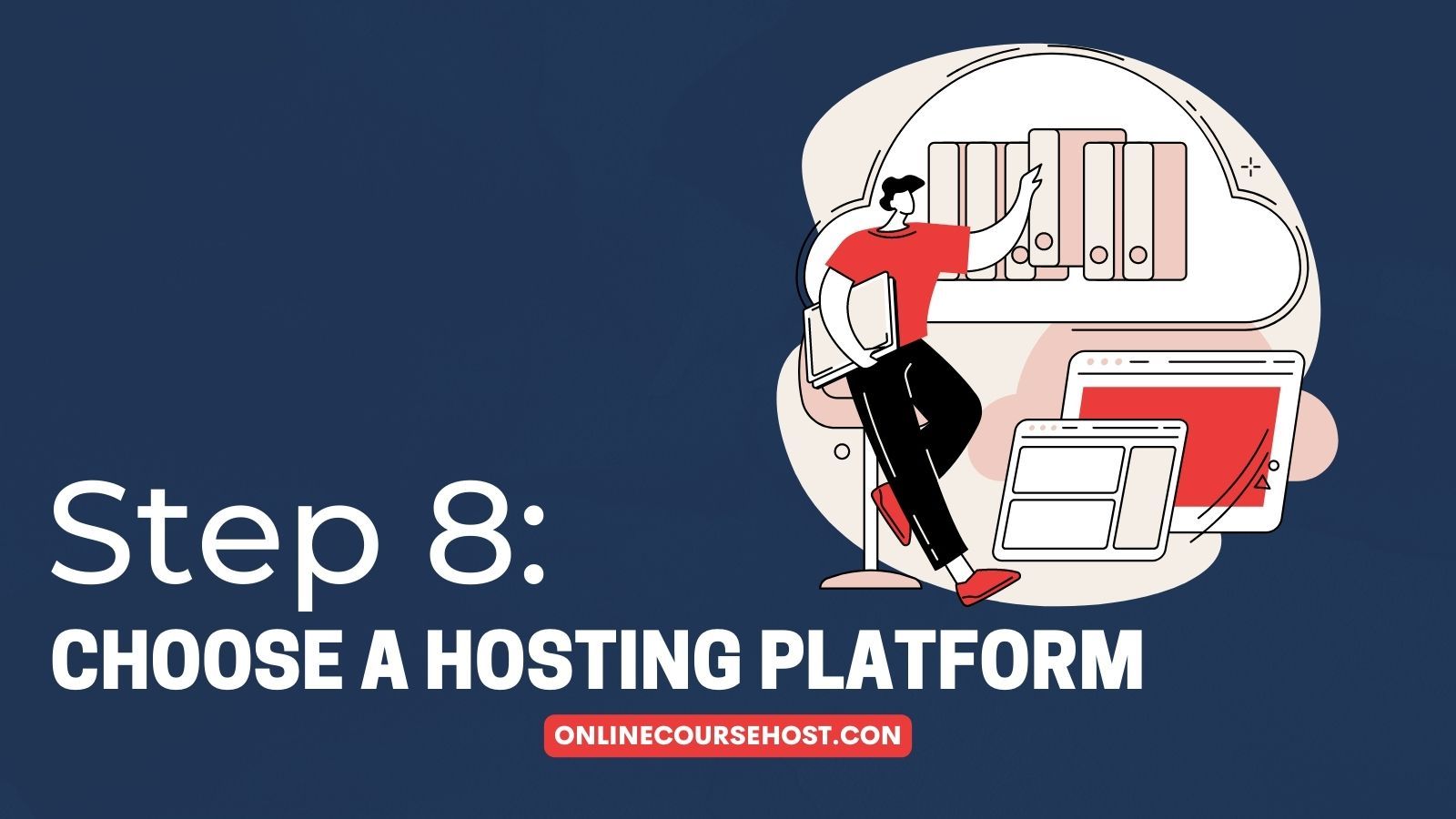 After compiling all the course content, your task is to find a reliable course hosting platform. You need an option with these two benefits:
Provides a beautiful learning experience for students
Easy to use for beginner course creators
Look out for a course hosting platform that allows you to quickly upload your course content and give you tools to market it well.
At the same time, it should be reliable that won't freeze when many students are taking the course simultaneously.
OnlineCourseHost.Com is the perfect platform for your needs. It's designed for beginners so they can set up an online school quickly and focus on growing their business. And it works wonderfully even when multiple students are using the site.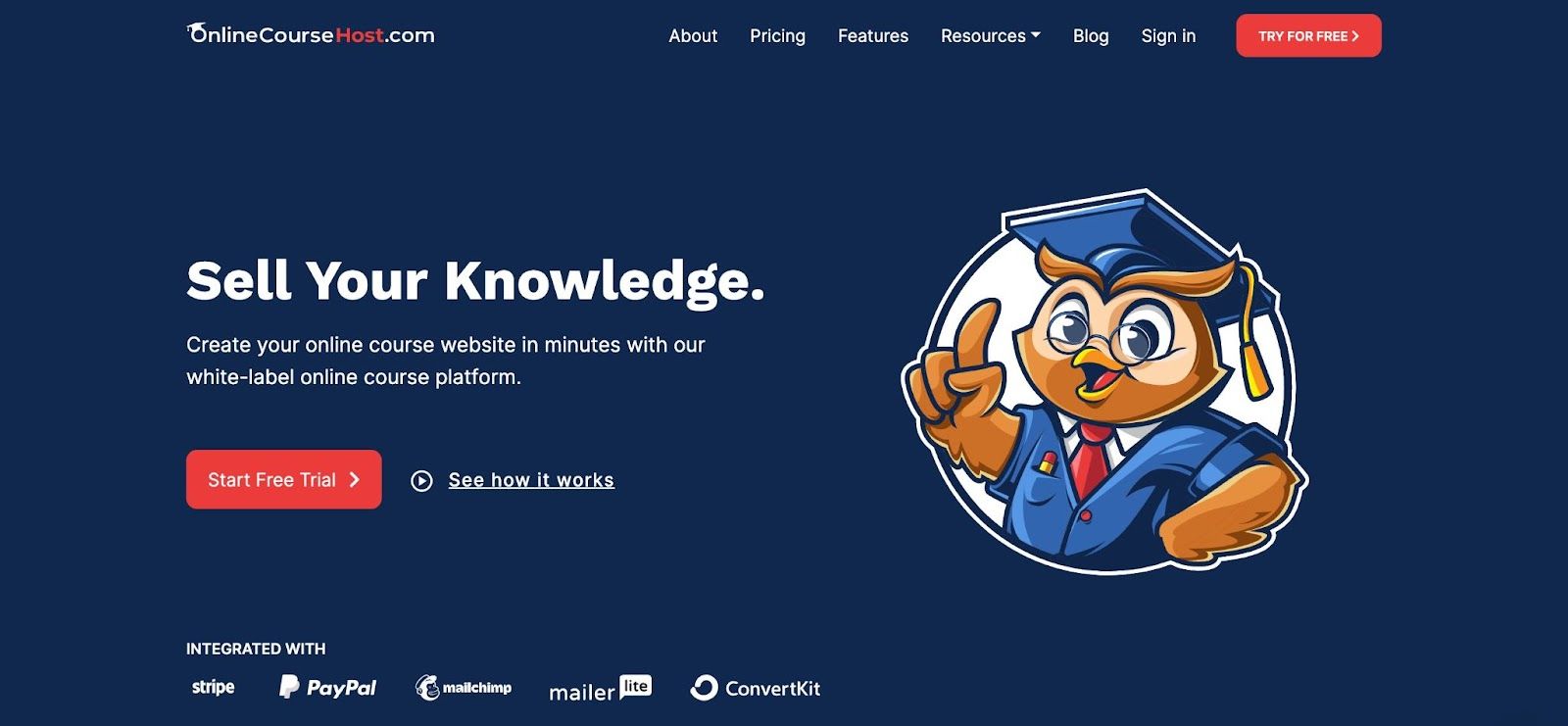 You can follow this step-by-step tutorial to upload your course material on OnlineCourseHost.Com.
STEP #9: Choose an effective course pricing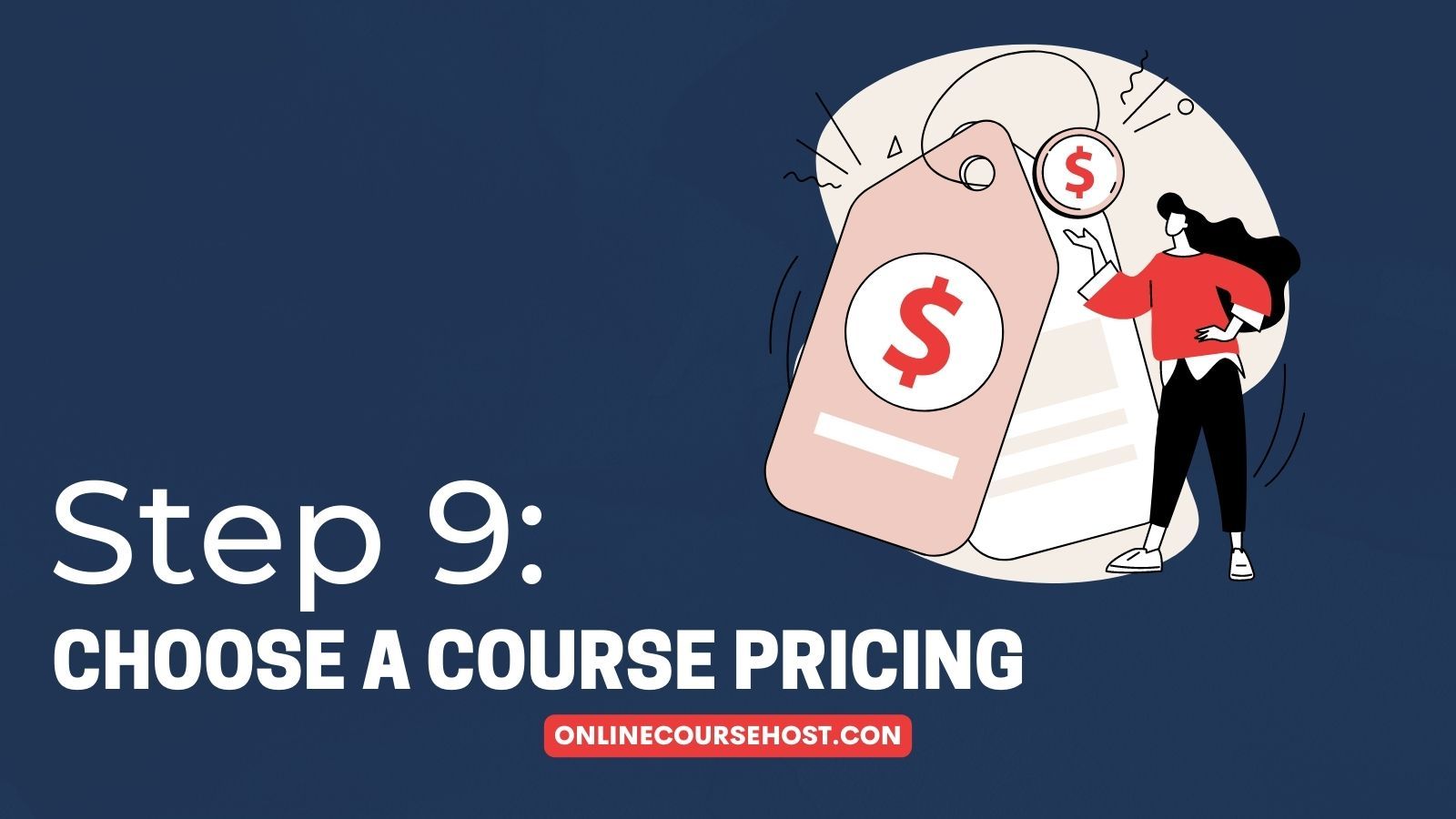 Students will buy your course only if the pricing makes sense, no matter how enticing the goals are or how captivating the landing page is.
So, while pricing your course, you have two goals:
Ensure it's not too high such that students can't afford it.
Ensure it's not too low such that students doubt its quality.
The first step is to find out the standard market rate. Look for the pricing of similar courses and come up with a pricing that makes sense.
While pricing your course, you also want to consider your efforts, the extra material you're providing, and the commission you want to make per sale. To help you out, here are some scientific pricing strategies that work well while pricing online courses.
STEP #10: Create a landing page that drives sales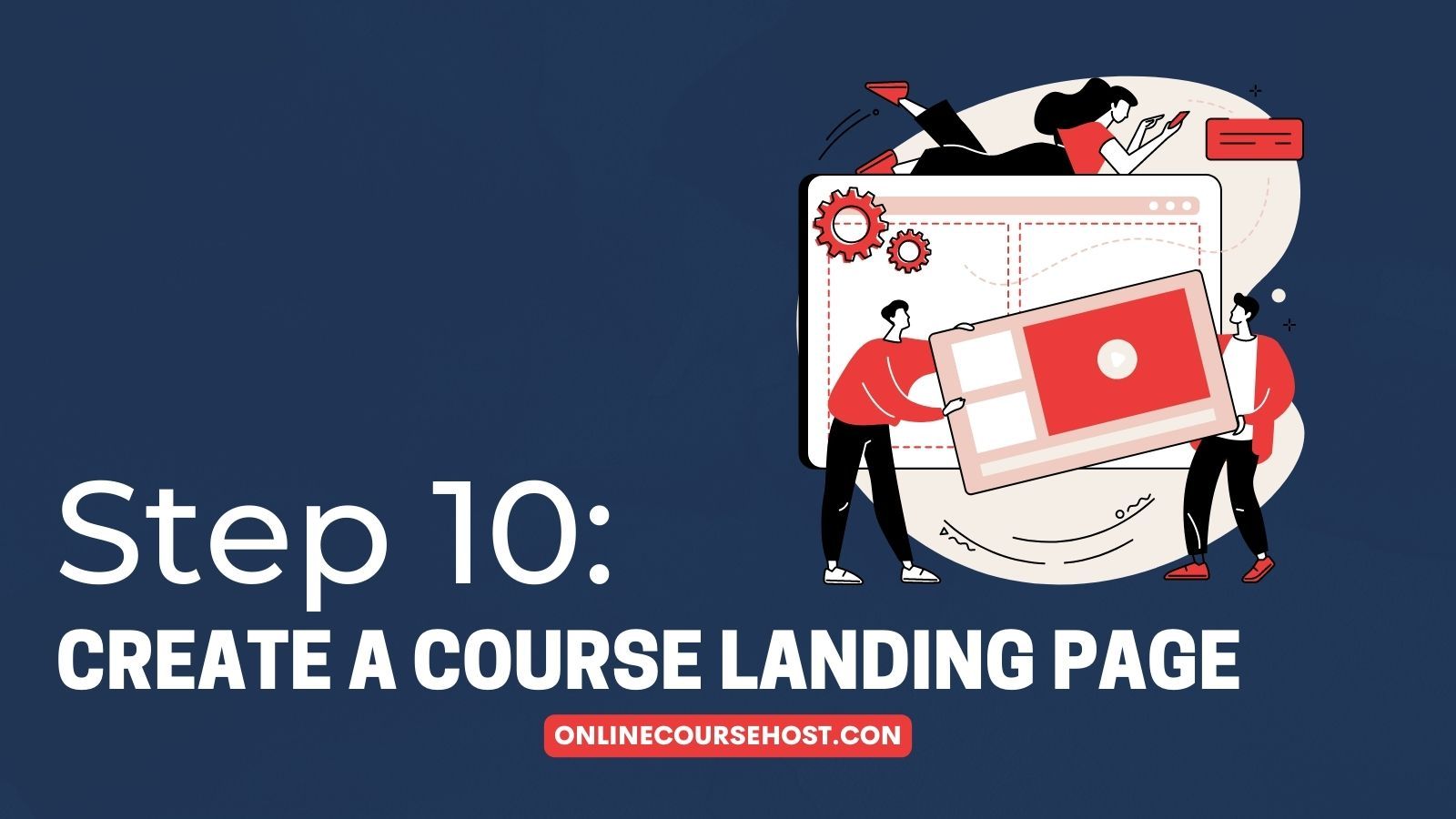 You have a course, but you don't have a way to showcase it to your students. So, it's time to create an enticing landing page where you'll send all your students.
The goal of a landing page is to clear any doubts the students might have. Plus, it's a great place to convince non-interested students.
A great landing page should have the following elements:
OnlineCourseHost.Com offers a beautiful premade landing page template. All you need to do is fill out essential details, and you'll get a landing page like this: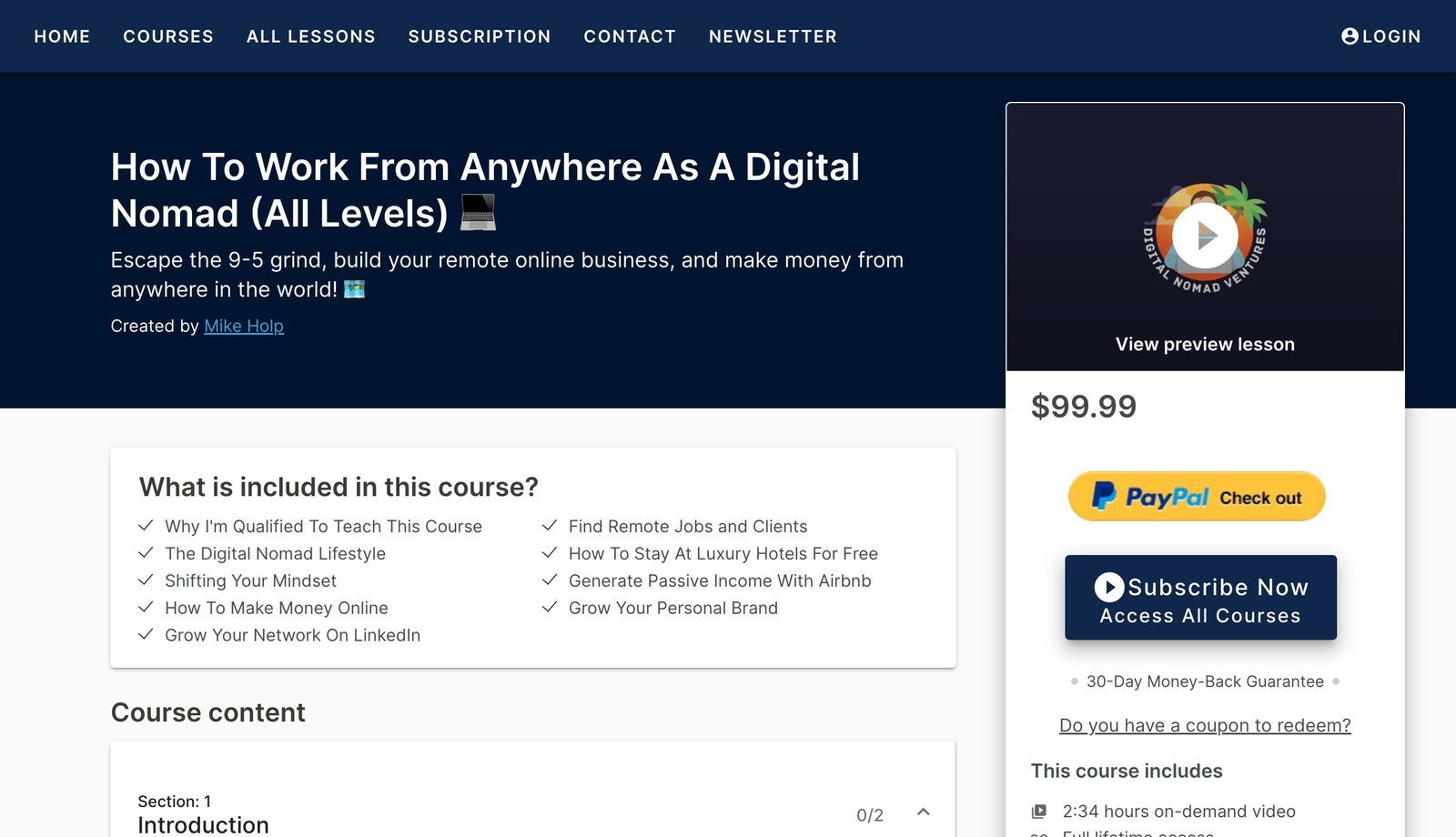 Once you've got a high-converting sales page ready - you're officially ready to market it online and drive sales.
STEP #11: Market your course to drive traffic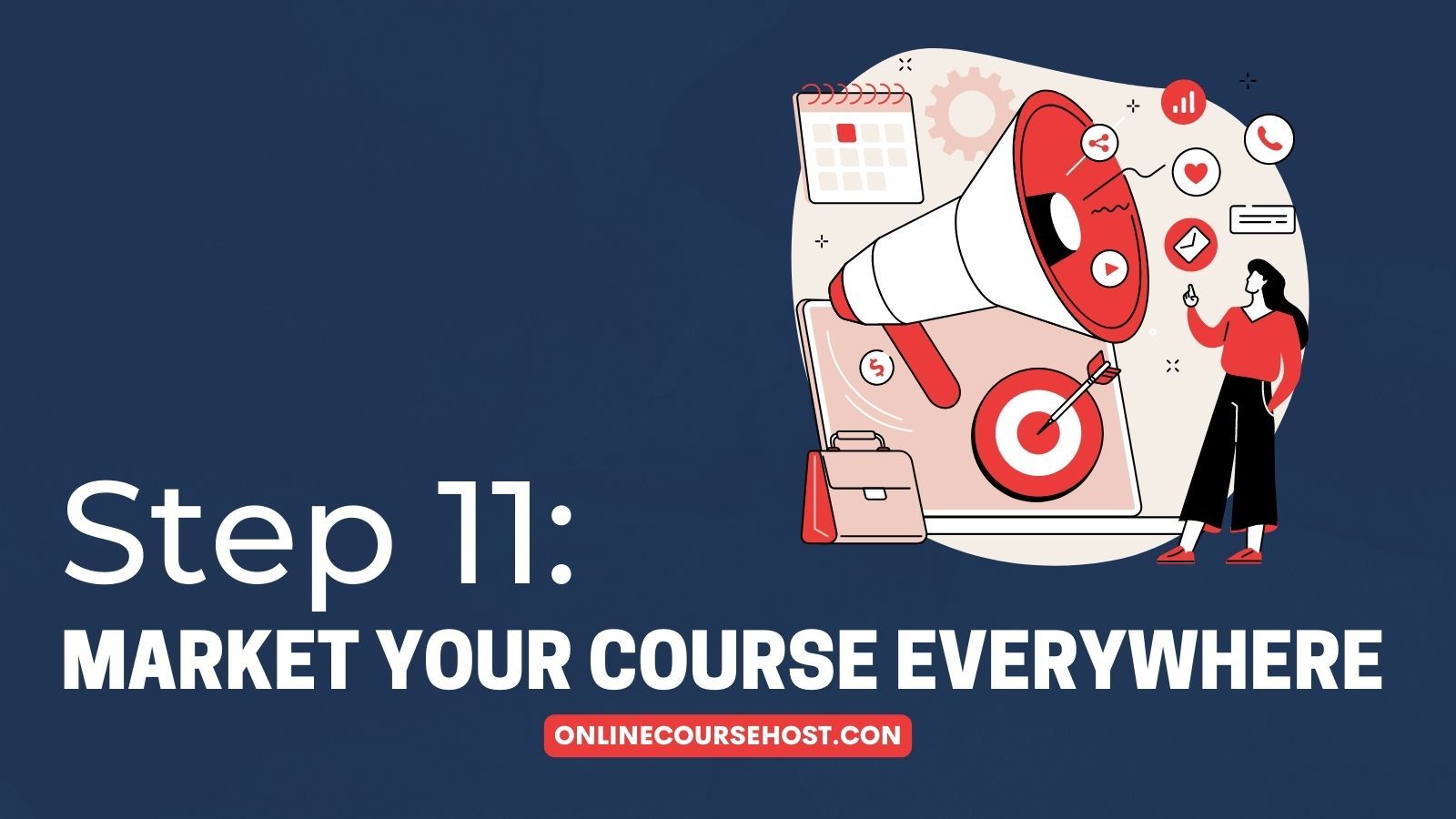 Unfortunately, your course won't automatically sell, no matter how perfect it is. To drive sales, you must put your course in front of your target audience.
You need to market your course, so more people know about it. This way, interested students will check it out and enroll in your course.
Create a marketing action plan using various strategies. We have helpful guides with proven marketing techniques to help you craft your marketing plan.
Prepare a plan that works with your schedule and follow it consistently for three to six months. You'll start getting student enrollments in no time.
STEP #12: Collect feedback and improve your course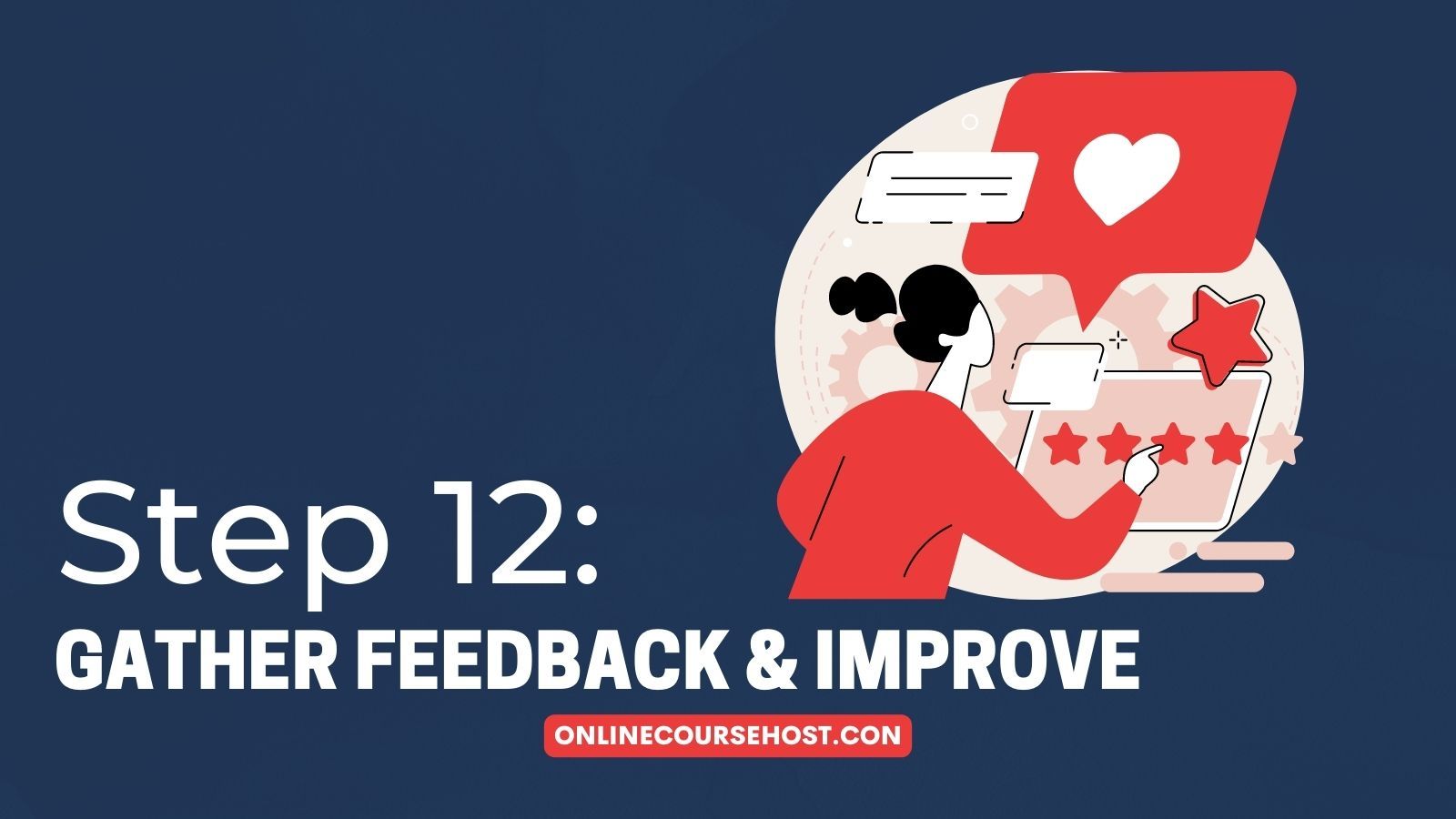 You can't launch a perfect course on the first attempt. Great courses are made after constant improvements.
So, just like you tested the course idea first to see if people are buying it, you should test the course content with a real audience to find and fix flaws.
After students take your course, reach out to them and ask for honest feedback. This feedback will help you understand their viewpoint of your course's learning experience.
Take both positive and negative feedback and work on it, keep improving your course, and that's how you create a successful business.
Beginner Mistakes to Avoid While Creating your First Course
Creating a course the first time can be tempting. Are you worried you'd make a mistake and ruin your efforts? Here are the most common mistakes beginners make when creating their first course.
#1: Not validating the idea first
Most beginners spend time, money, and effort creating a course that nobody wants to buy. Unable to sell, they're disheartened and doubt if they should continue.
To avoid this situation, you should always validate your course idea before investing in anything. Realize that not every idea is helpful to your students, and it's always better to ask for approval.
#2: Not setting clear goals for your course
Many courses on marketplaces have poor ratings and negative reviews. It's not because the content isn't valuable; the real reason is that these courses don't clarify the goals. Students who took the course don't know what they learned, so they feel it was not worth it.
Setting clear expectations upfront will help them feel they learned something valuable after taking your course and increase your positive reviews.
#3: Creating lengthy videos
People don't want to watch two-hour-long videos; they'll be bored and stop before finishing the course. So, make sure your videos are 15 to 20 minutes long with exciting content.
#4: Not choosing the right course hosting platform
Many course creators quit because their course hosting platform gives them a hard time. They get student complaints like the system froze, or the content isn't loading.
Choose a reliable course hosting provider like OnlineCourseHost.Com that makes work easier for you. It should work 24*7, even when thousands of students view it together.
#5: Not building a community from the start
Successful course creators have one thing in common. They have an existing audience they can sell to whenever they launch a new course. Many beginner course creators don't collect their students.
You should create a community from day one. Even if they're not your students, you should add members interested in your content - so they can become students in the future.
Some FAQs on How to Create an Online Course
#1: How long does it take to create an online course?
The time taken to create an online course depends on many factors, like the type of program you're creating, the length of your course, and the content itself. However, designing a high-quality course can take two to six months.
#2: Should you publish your course on online course marketplaces?
You should publish your course on online course marketplaces and on your website. Course marketplaces have a massive student size with high conversion intent. So, you should leverage it to start building your audience.
#3: How long will it take you to get your first few students?
Getting your first few students depends on your marketing efforts. If you're a newcomer with no pre-built audience, you should consistently promote your course for three to six months to start getting student enrollments.
#4: What is the best platform for beginners to publish online courses?
OnlineCourseHost.Com is the perfect course hosting platform for beginners. It's affordable, easy to use, and gives you all necessary tools to build a successful online course business.
#5: How much does it cost to launch an online course?
The costs of creating an online course depend on factors like equipment, research, and content. It would cost between zero to a thousand dollars, depending on where you want to invest.
Conclusion: How to create an online course?
So this is how you should create an online course to build a long-term growth business. I hope this step-by-step process helped you create an action plan for your business.
But of course, if you're a beginner, it's okay to realize that you're a human and are allowed to make mistakes. So, go ahead and launch your first course, gather feedback, and learn from it.
With all said, remember that your first launch might not be successful. But that's okay because you can always find and fix what went wrong.
You'll be successful with constant learning. And that's the key - learn and improve.
But, naturally, you will have questions. We publish helpful guides and tutorials on our blog to ensure we're helping new course creators. Join us to become the first to know when a new post goes out.
If you are looking to ask questions on online course creation, you can reach me on my Facebook group:
Join the Course Creator Academy Facebook Group
I hope you found this post helpful. Let me know in the comments below what other topics you would like me to cover.
Have any questions about how to create an online course? Leave your questions below!
Thanks for reading… and enjoy the course creation process! 😉
---
Course Creator Academy, a community by OnlineCourseHost.com
Founded by Vasco Cavalheiro
Online Course Creator