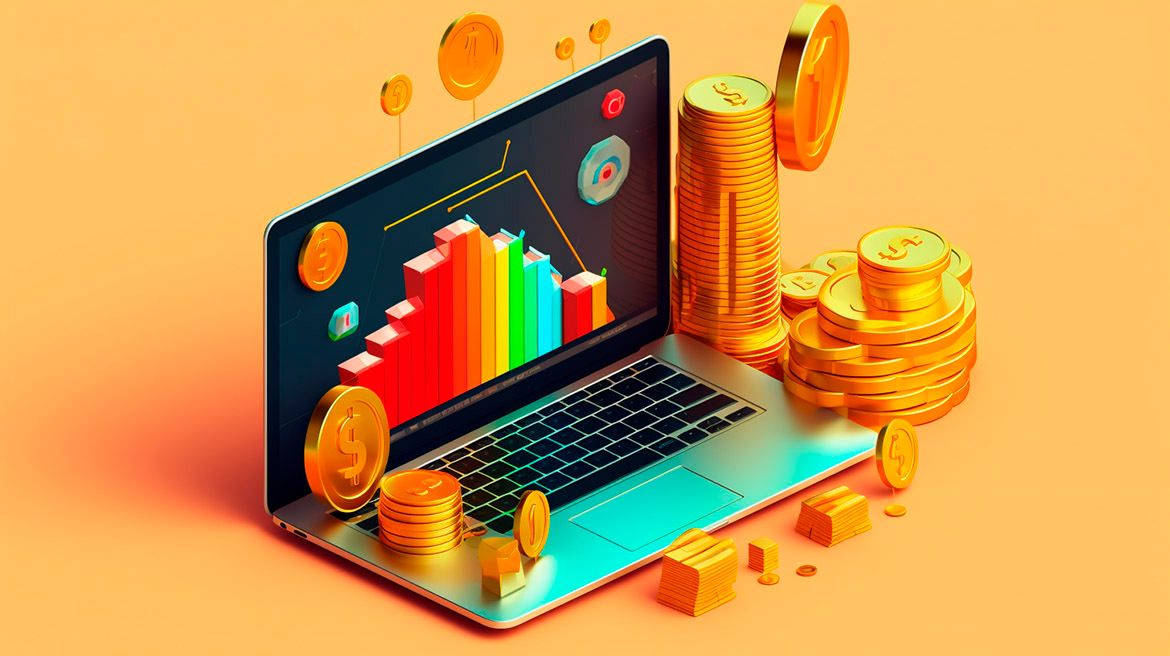 Learn how to sell online courses from your own website. Learn from real examples and first-hand knowledge straight from an experienced course creator that has learned how to do it the hard way.
It's one thing to know how to create online courses. Let me tell you a secret, almost anyone can do it...
I think anyone that can use well a computer can figure out the course creation part. Yes, there is a lot to it, but that is not the hard part.
But knowing how to sell your courses once they're ready?
That's a whole different story. 😉
I'm sure that you will agree that those are two completely different skills, right?
I learned this myself the hard way, because I've been selling online courses since 2016.  And so far, I've earned over 1.6 million dollars, just to give you an idea of how well it can work for you as well.
I did figure out the course creation pretty fast in the beginning.
But for the sales part, it took me years and a lot of failed experiments to figure out what works.
The key thing to understand is that you can't just record a course and then figure out the sales part later. That doesn't work.
Believe it or not, the sales process starts even before you have recorded a single video.
I see course creators just starting out going straight for the proverbial approach:
Build it and they will come!
But when it comes to online courses, nothing could be further from the truth.
If you just create a course thinking that you can wing the sales part later, most likely it's not going to end well for you.
So, how do you create and sell online courses?
Follow these steps if you want to make sure your courses will sell:
Pick a course niche that sells
Research and plan your online course
Pre-sell your online course
Create your course content
Choose your course hosting platform
Pick your course price and choose a pricing model
Brand your online school
Create a high-converting sales page
Setup your course marketing tools
Promote and sell your online courses
This post will go over all my proven strategies for selling courses that I have learned and refined over the years, and I'm sure they will work for you too. 😉
So without further ado, let's dive right in.
You can also check out all the free guides at the Course Creator Academy by clicking on the Academy link on the top menu bar.
This post is all about how to create and market online courses. We are going to go over the whole process from a sales point of view.
If you are looking for an in-depth guide more focused on the content creation part, check out also my other major guide:
How To Create an Online Course? (Complete Guide, includes Free PDF)
A Few Practical Tips For Selling Courses
Here is a quick visual summary of some of the techniques that we will cover:

If you want to use this image and display it somewhere like in a blog, you can. You can find the image link here - how to sell courses infographic.
Step #1: Pick a Course Niche that Sells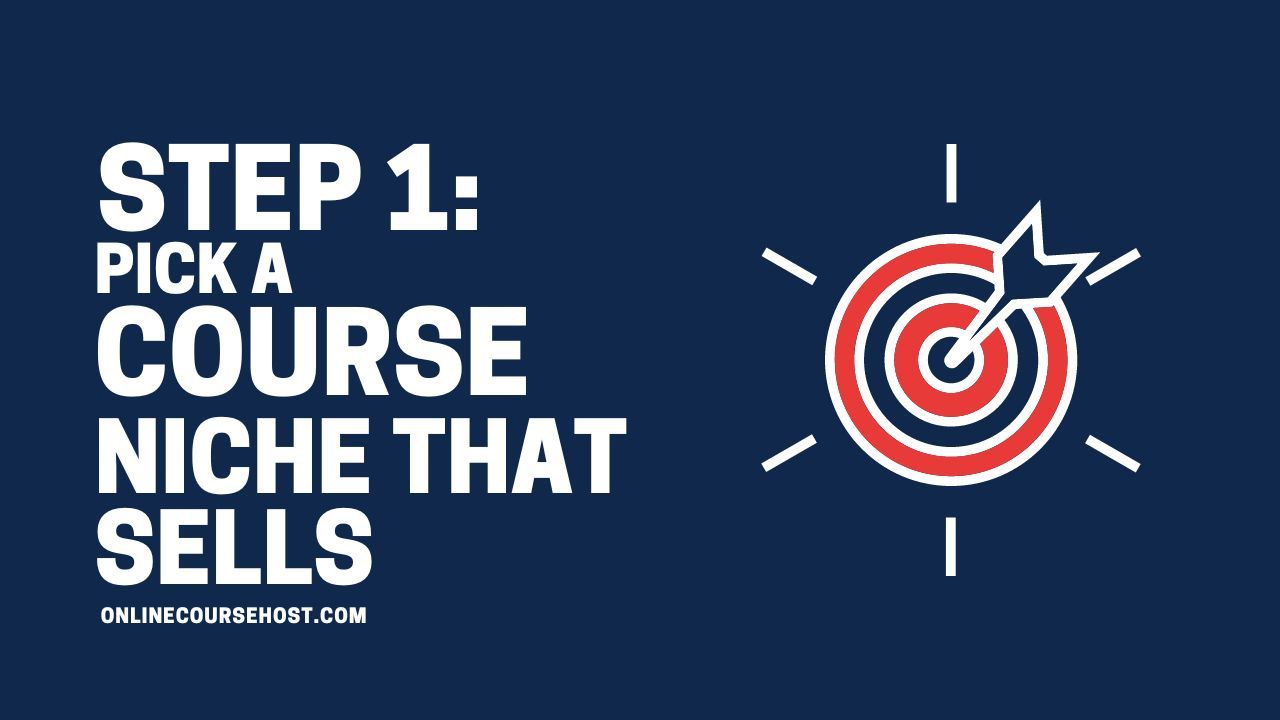 As I said at the beginning of this article, selling your online course starts even before the course is created.
And everything starts with the choice of your topic.
You want to launch a course that people want for sure to pay for, right?
There are several reasons people would want to pay for your course. It could be either to scale up their careers, or to learn a new hobby skill.
People are used to paying significant amounts to improve their skills, so buying the right online course for them is a no-brainer.
But the question now is, how do you find a good online course niche that is profitable?
One easy way is to leverage free marketplace data. Don't rely on gut feeling only.
Udemy for example, is the biggest online course marketplace, with over 49 million students. You can use their free analytics to pick a good topic.
Create an instructor account on Udemy and access their Marketplace insights tool, and search for a few topics.
Here is what this could look like: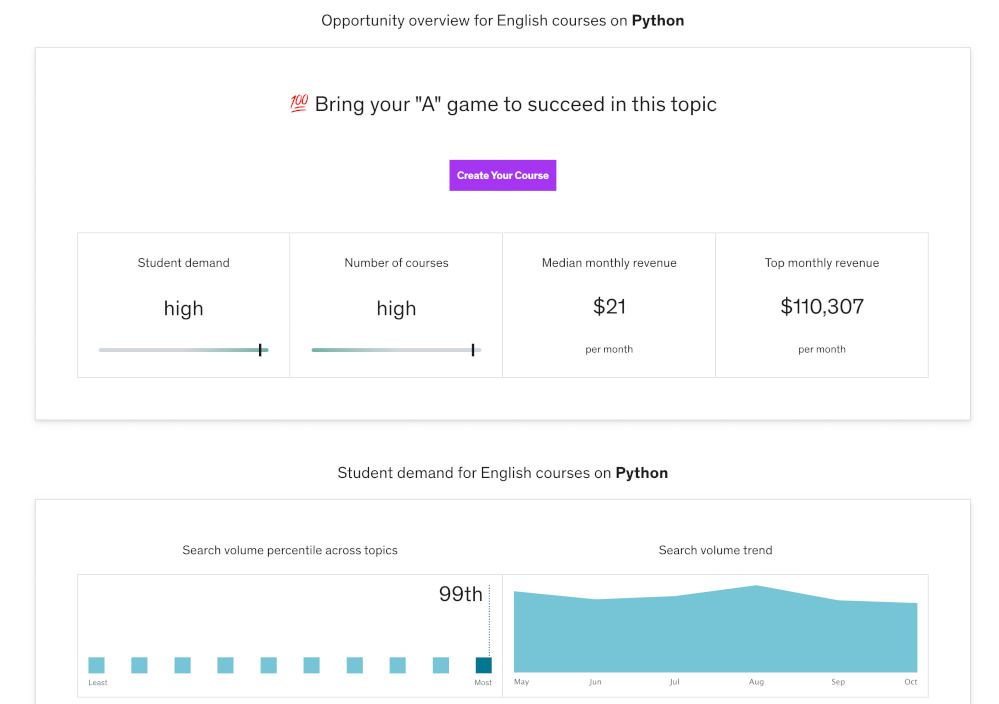 This data will help you decide what topics to focus on. Remember, this data is specific to Udemy only.
Besides this, you can also do some search engine analysis, using free tools like Google Trends or UbberSuggest, and find traffic estimates for the main keywords in your course topic.
You can also research online communities like Quora and Reddit, find your topic and see the number of subscribers in your niche.
You can also use choose one of the ideas from our curated list of profitable online course ideas.
But know this.
As much as it's important to choose a niche that sells, you need to make sure that it's a topic that you're passionate about or at least very interested in.
You will be spending months or years working on this, so you better like it a lot.
You need to find something that is somewhere in the intersection of what you know and are eager to teach, with what people are actually looking for.
Step #2: Research and Plan Your Online Course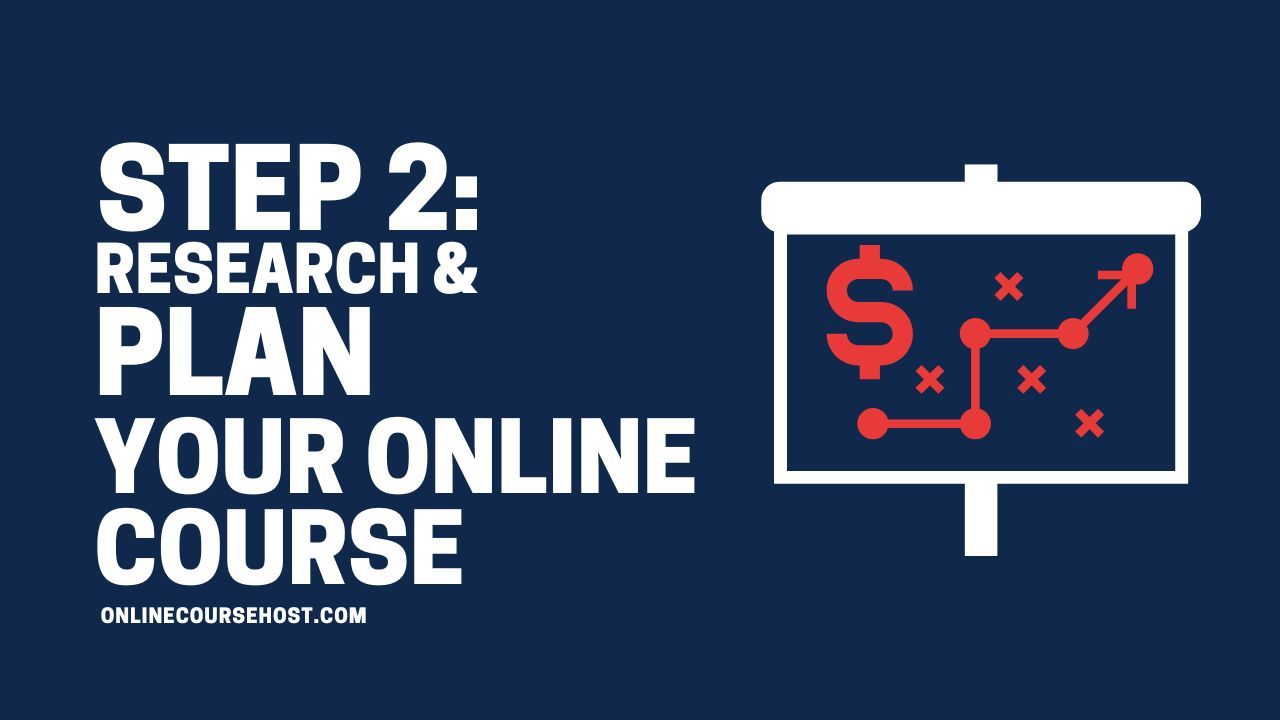 To ensure that you create an online course that sells, you need to dedicate enough time to researching and planning your course.
What does this entail?
First, you need to study your target audience.
Who are you creating this online course for?
What level are they currently at?
What do they want?
What skills do they have?
What is the gap between the skills that they have now, and what they want to learn?
You need to research and find out which social media platform a large percentage of your target audience spends their time on.
When you've figured this out, move on and find out what unique value your course is offering and present it in such a way that your student will have no other choice than to pay for your course.
This could be something like:
"I will help you nail that job interview"
"I will help you pass that exam"
"I will help you build your own web application from scratch"
"I will help overweight men over 40 to lose weight fast"
"I will teach you Javascript from beginner to advanced"
Be as specific as possible in your unique value proposition.
Why define this so early, before recording a single video, and why is this important for sales?
Because your unique value proposition is the main aspect that will sell your course, and it will define most of its content.
Next, draft your course outline around your value proposition.
How would your students move from the point they are now, to the point you want them to be?
Research and find other online courses with the same topic as yours and dedicate extra time and effort to coming up with an outline that covers things those courses missed.
You can also check out:
Positive reviews of those courses to find what they did better
Negative reviews to find things that you can provide in your course
Then, plan out an outline for your course that is way better than the competition.
The actual content of your course will end up being almost entirely driven by your unique value proposition, so that is why it's essential to define it so early.
Step #3: Pre-sell your Online Course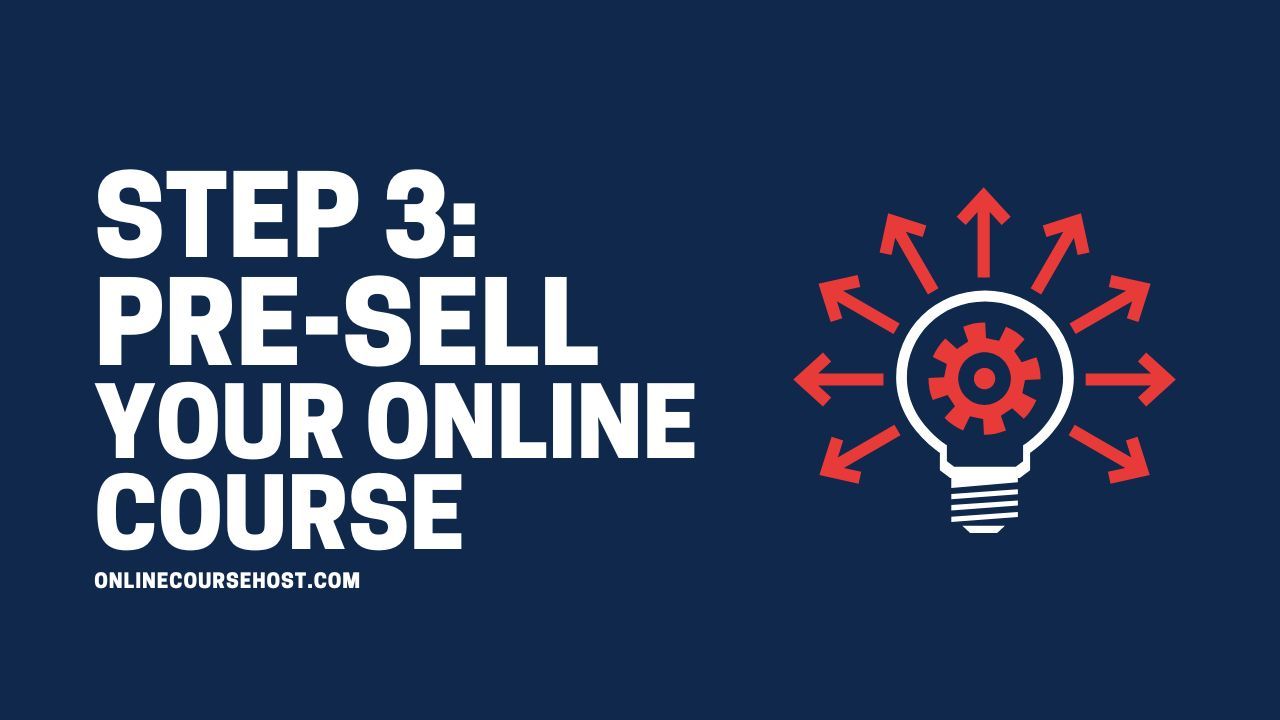 This step is one of the crucial steps on how to sell an online course but unfortunately, a lot of course creators overlook it.
Don't get so excited and hyped about your course idea that you don't take a moment to confirm if the idea is indeed commercially viable.
Remember, at this point there is no guarantee that the unique value proposition that you found in step 2 actually works.
You need more than that!
And this is where pre-selling your course comes in. It simply means selling the course idea (not the course itself) to a live audience before creating the course.
It's just an experiment and if you get positive results, then you can move to the next step.
If you get some pre-sales at all even just a few, you will know that you are on the right path.
But if you don't, you will save yourself from wasting time and money on an unsuccessful course.
You can then go back to the drawing board. and find a new topic, or another value proposition.
Aside from that, by pre-selling your online course, you are generating upfront revenue for your business.
For pre-selling your course, all you need is a high-converting course sales page.
Here, I wrote an in-depth guide on How To Pre-Sell Your Online Course (3 Effective Options)
Next up, let's talk about how to create the actual content, and how the content can help you with sales.
Step #4: Create your Course Content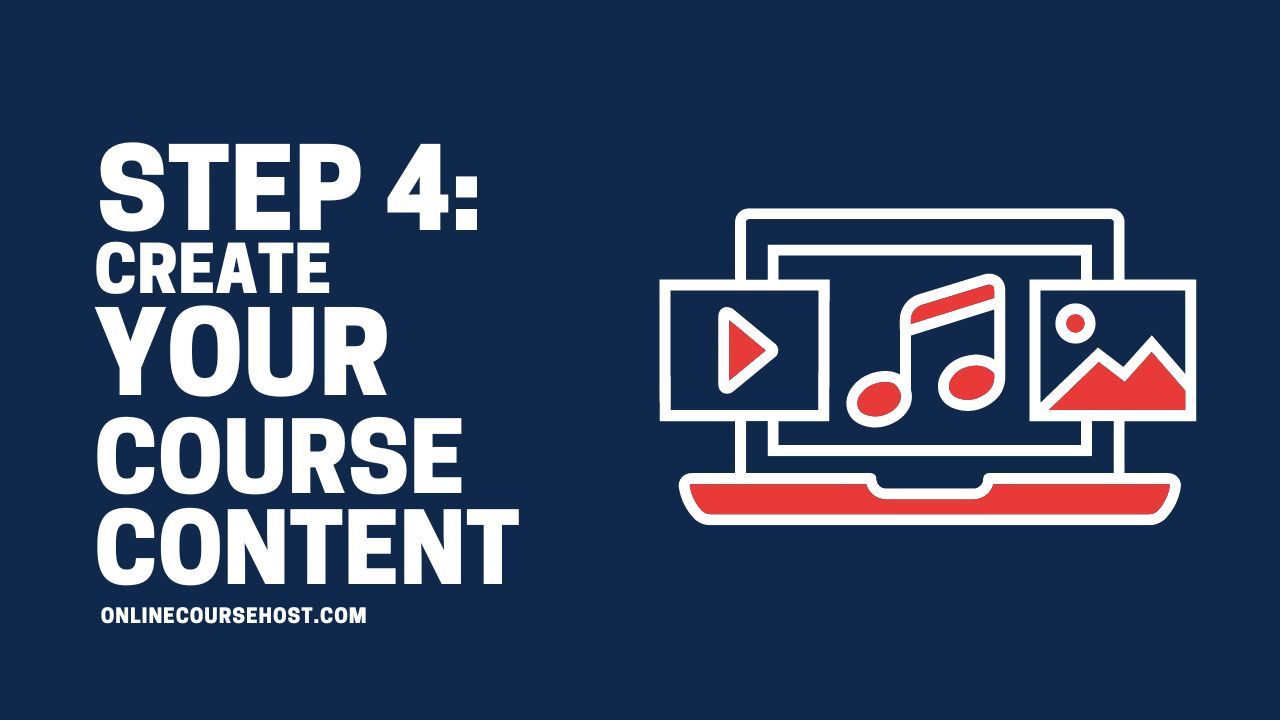 Now comes the fun part! 😉
You need to dedicate your time and attention to creating excellent and high-quality course content.
Ensure that your lessons move in a logical sequential order such that each moves the students closer to the end goal of the course, your value proposition.
Each lesson should make sense and should relate to the previous lesson. But if you can make the lessons as standalone as possible, that helps too.
Because you can upload them directly as standalone videos to YouTube, and get some nice organic traffic that way.
I do that all the time myself, I upload my free sample lessons as standalone videos to YouTube and that helps generate some nice sales.
Also, ensure that you record great video, and flawless audio. People can tolerate very easily lower video production values, if they are really interested in the content.
But good audio is non-negotiable for most people, so do make sure that you get a decent microphone.
And no, you don't need expensive equipment to record your lessons.
If you're worried about the production costs of showing up on camera or you simply don't have the natural ability to speak in front of the camera, you can simply present your course in slides and desktop recordings.
This will of course work better for some courses than others.
Here are a couple of guides that I wrote recently to help you choose the best equipment:
What Is The Best Microphone For Online Courses?
What Is The Best Camera For Online Courses?
Once you have the course ready, another critical factor that determines your course sales is: where do you publish it?
Step #5: Choose Your Course Hosting Platform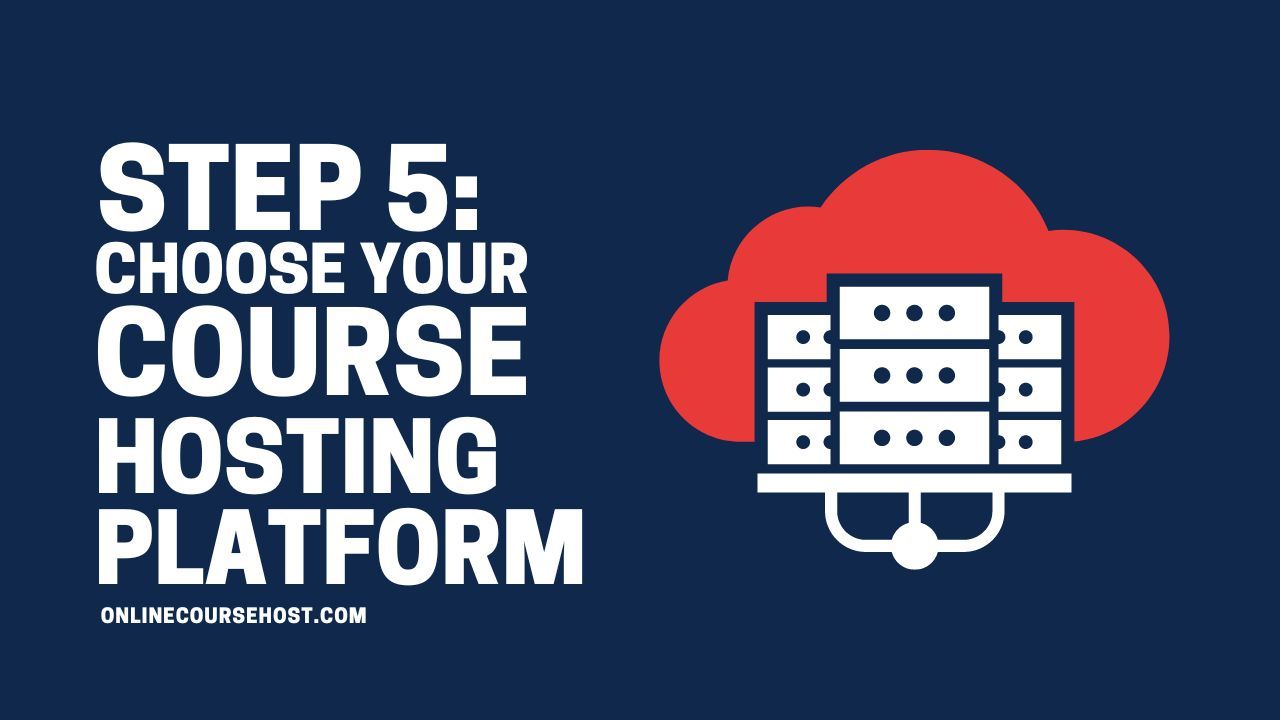 Your choice of a course hosting platform affects a lot your course sales.
A course creation platform should not only be responsible for hosting your course videos, but it should also help to make it extremely easy and stress-free to sell your online courses.
Ideally, the platform should have all the marketing features needed to promote and sell your courses to your students like email marketing, Facebook ad integration, and the rest.
OnlineCourseHost.Com is one of the best platforms in the market that has everything you need to sell your courses.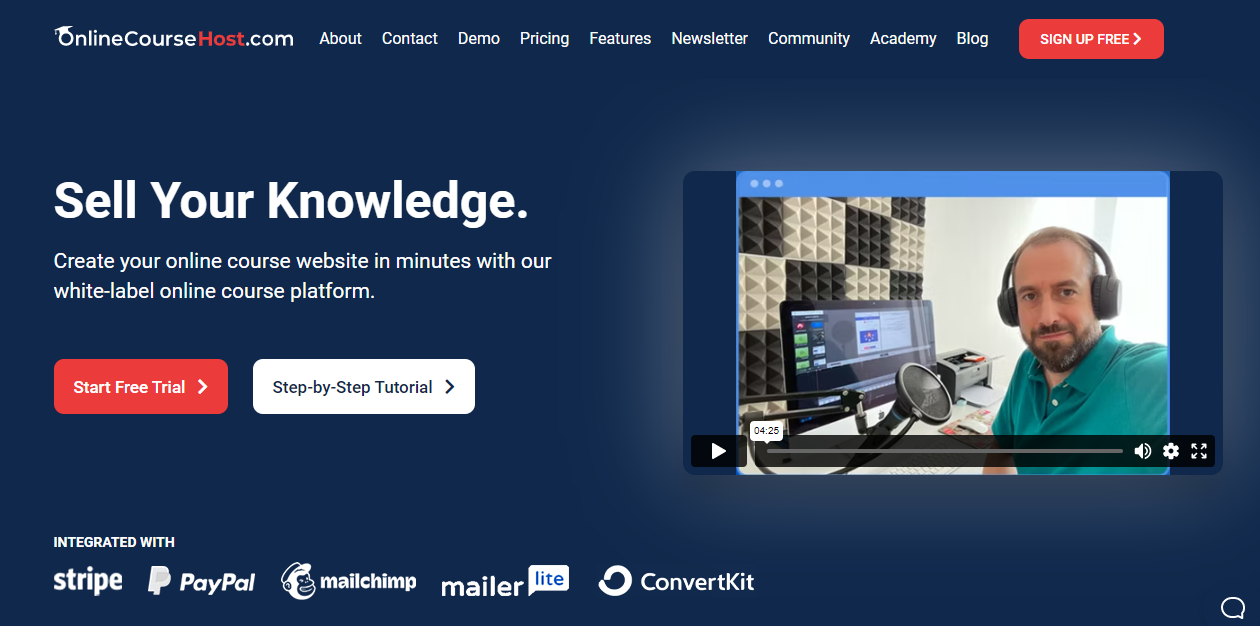 The platform is so easy to navigate that in no time you'll have an attractive and professional sales page that will attract your students to your online school.
I founded this platform with beginner course creators in mind, and that's why you don't necessarily need tech or design skills to navigate it.
You're able to publish your course in a simplified way, and you have all the marketing tools that you need, email marketing included.
Besides the choice of the platform, you also should pay close attention to how you price your course.
Step #6: Pick your Course Price and Choose a Pricing Model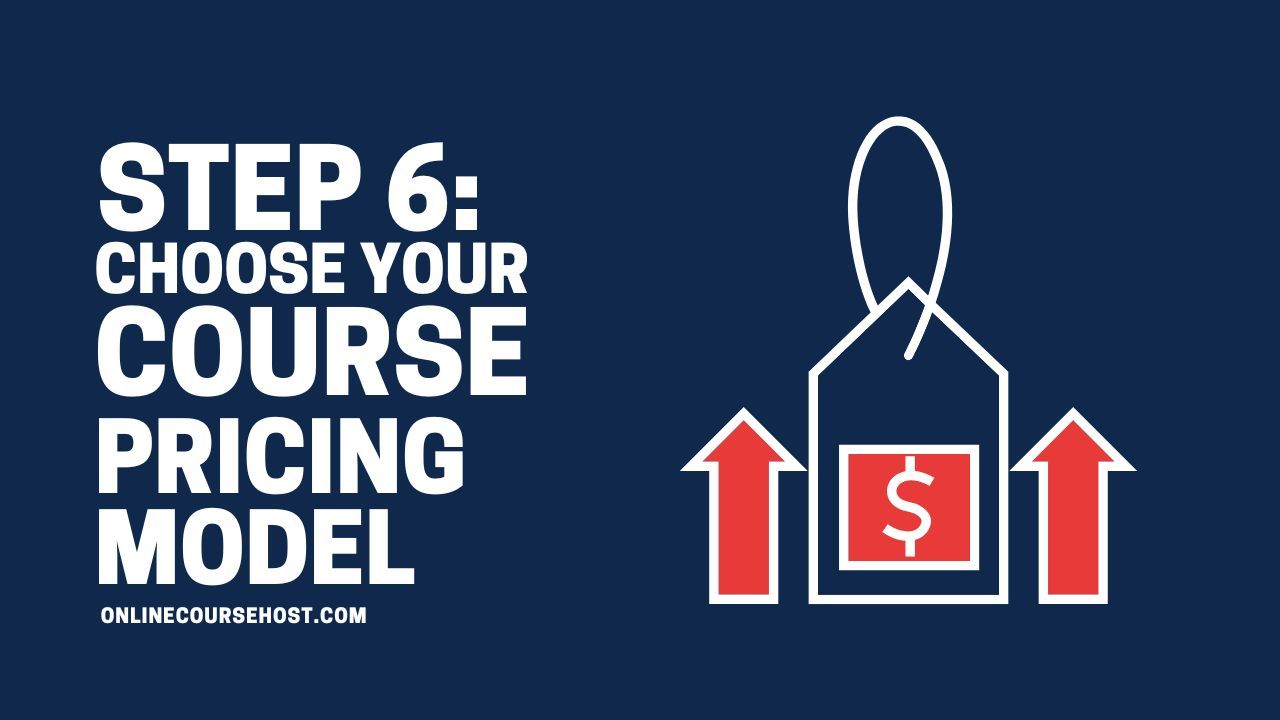 Now for one of the most important decisions in the whole sales process.
It's time to tag a price to your online course and choose a pricing model.
No matter how captivating, and promising your course objectives are, your students will buy a course only if the price makes sense to them.  
If the course is too expensive - the student will not buy it.
If it is too cheap - the student will doubt its quality.
Therefore, you need to pick the right price that s is somewhere in between.
Find courses of other course creators in your industry to get an idea of their pricing.
After that, it's time to decide how you want to price your courses.
There are three types of pricing models used frequently:
One-time pricing: This pricing strategy is the most straightforward. You price your course at a fixed amount, and the students pay and get lifetime access to your course. This model is very simple to execute and converts well. But the revenue fluctuates a lot from month to month.  
Membership pricing: Here, you only need to charge a monthly recurring fee to give your students access to all of your courses. They'll get access to everything you've created for a small recurring fee. You will maintain a much more consistent income, but it doesn't convert as well as one-time purchases. You also need to have a whole course catalog to activate this pricing strategy, or at least the promise that you will deliver it.
Bundle pricing: This means bundling several of your courses to sell them at a discounted amount. This option gives your students lifetime access to all your courses. This model converts very well, because it's a one-time sale, and the sales value is way higher than one single course.
As you can see each pricing model has its good and bad sides and I guess you're a bit confused about which to go for.
Well, the good news is that you can use them all. 😉
For example, I do use all of these methods myself.
What do I mean?
I'm talking about using one-time sales and subscription plans to complement each other.
Price each course individually and then give your students also a subscription option.  The subscription should be way lower than the price of any single course.
Then students will be tempted by the subscription, because it offers them access to all courses, not just one.
Also, different payment options work better for different people.
Some students just want a single course, and that's it
Some students want everything but they don't want to pay for all courses separately
Some students would never buy a subscription with fear of recurring charges. So they just buy the courses they need one by one, even if it's more expensive.
And regarding the choice of the exact price, you might want to check out this in-depth guide on How To Price an Online Course (7 Science-Based Tips)
In a nutshell, prices like $49, $89 and $99 tend to convert very well for online one-time purchases of digital products like online courses, while values like $9.99, $12 and $19 tend to work very well for content subscriptions.
Step #7: Brand Your Online School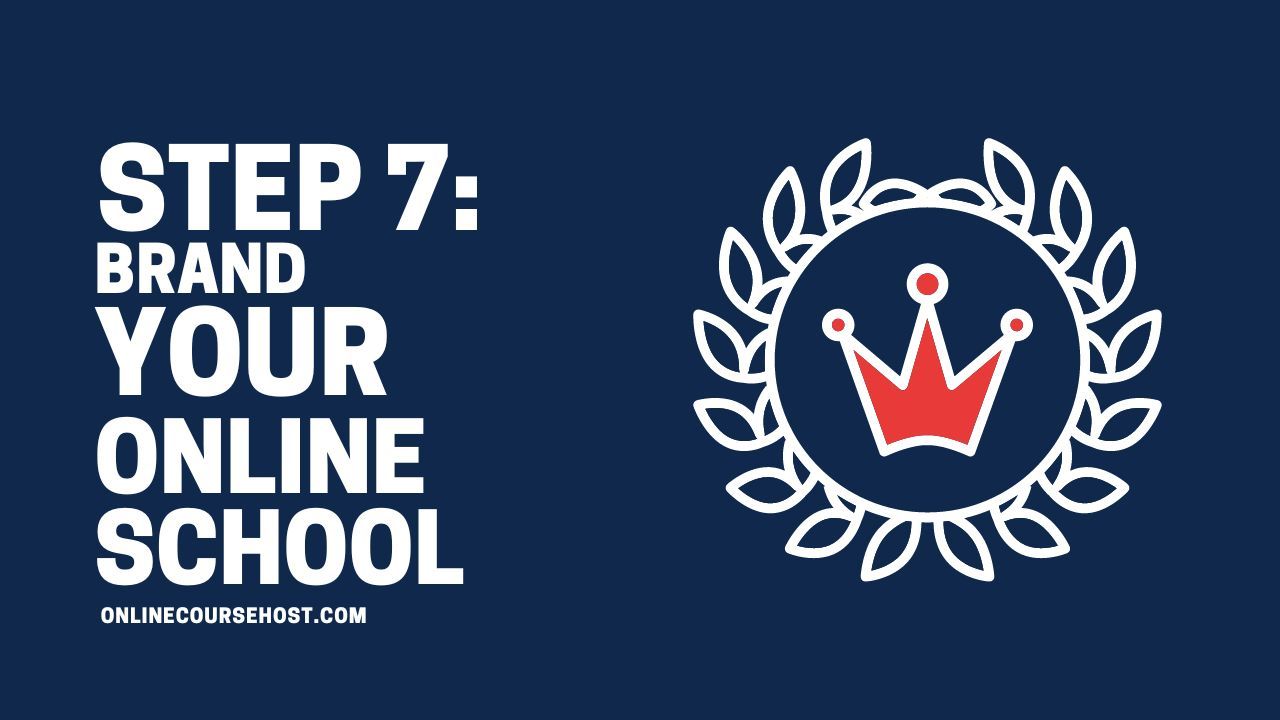 Now you have your online course ready, added a price to it and now it's time to design and set up your online school.
According to some studies, presenting a consistent brand across all platforms can increase revenue by up to 23%. So, it's better to take some time and choose some great branding.
To create excellent branding for your online school, you need to first choose a name that captures your niche and is also memorable.
The name will also form your web domain name, so you should be careful to pick a name that will be super easy for your students to remember.
You also need a primary and accent color that will drive home the emotions you want your students to feel whenever they visit your online school.
For example, if you want to convey hope, energy, and optimism, blue, orange, white, and orange are some of the colors that convey these emotions.
The colors will also form your logo and banner. Bear in mind also not to have complicated logos. They should be simple yet standard.
Bottom line is to make your online school stand out from your competitors.
For more details on branding, you can check out these in-depth guides that I wrote:
Step #8: Create a High-Converting Sales Page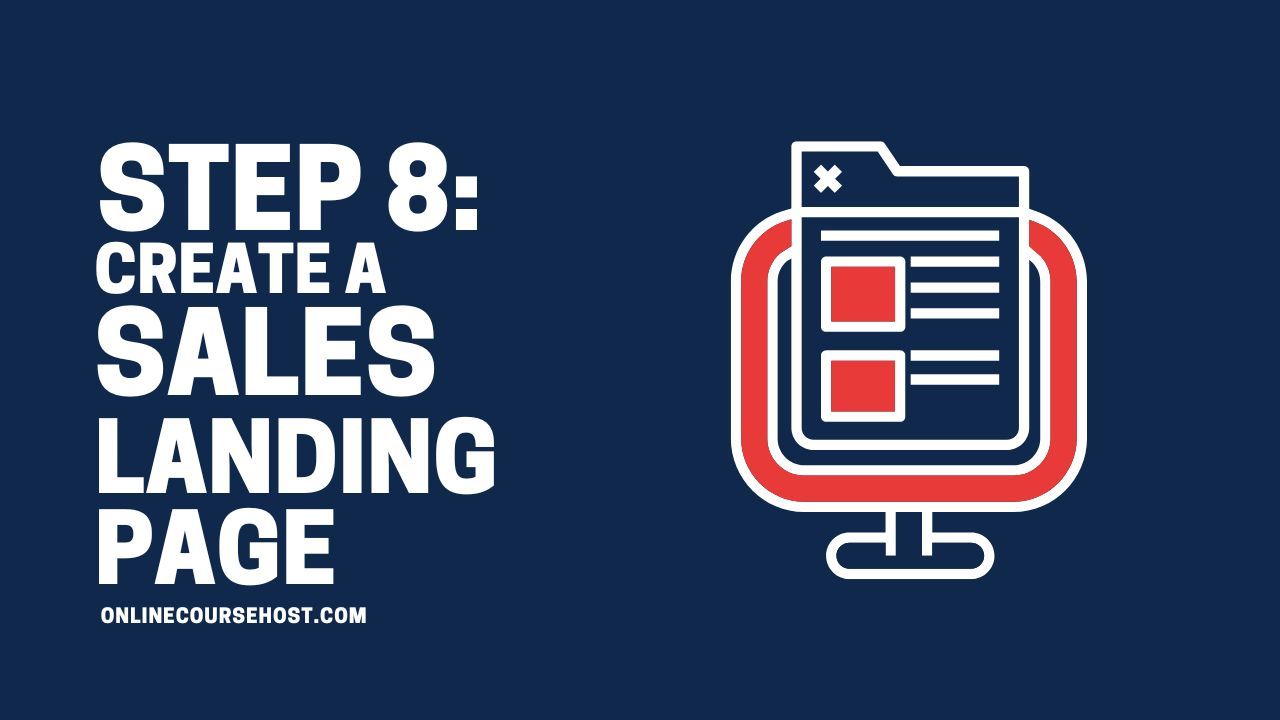 Another essential step to allow your course to sell well is your ability to create an effective sales page.
To sell your online courses like a pro, you should ensure that your sales page is as convincing as possible.
Just think about the following.
Before reading your sales page, your students were thinking about purchasing a course, maybe yours, or not. But they have some doubts and want to clear them after reading the sales page.
One of the two things will happen from here:
They will find all answers they need, and purchase the course
They won't find answers, hesitate and then bounce off.
To avoid this, you need to create a sales page that answers all your students' questions.
To create a high-converting sales page, make sure to include the following elements:
A captivating headline to catch the audience's attention
A professionally designed thumbnail
Compelling copy that draws your students in
Core features and benefits outlining the solution provided by your course
Trust indicators such as reviews and testimonials
An irresistible offer
A strong call to action
Frequently asked questions to handle objections
Ideally, your course hosting platform should provide you with a nice sales page template. With OnlineCourseHost.com; you get a pretty neat one that is super easy to use.
And when you have your sales page ready, your course videos well shot, edited, and published, and your course price and pricing model sorted, it's now finally time to set up your marketing tools!
Step #9: Setup your Course Marketing Tools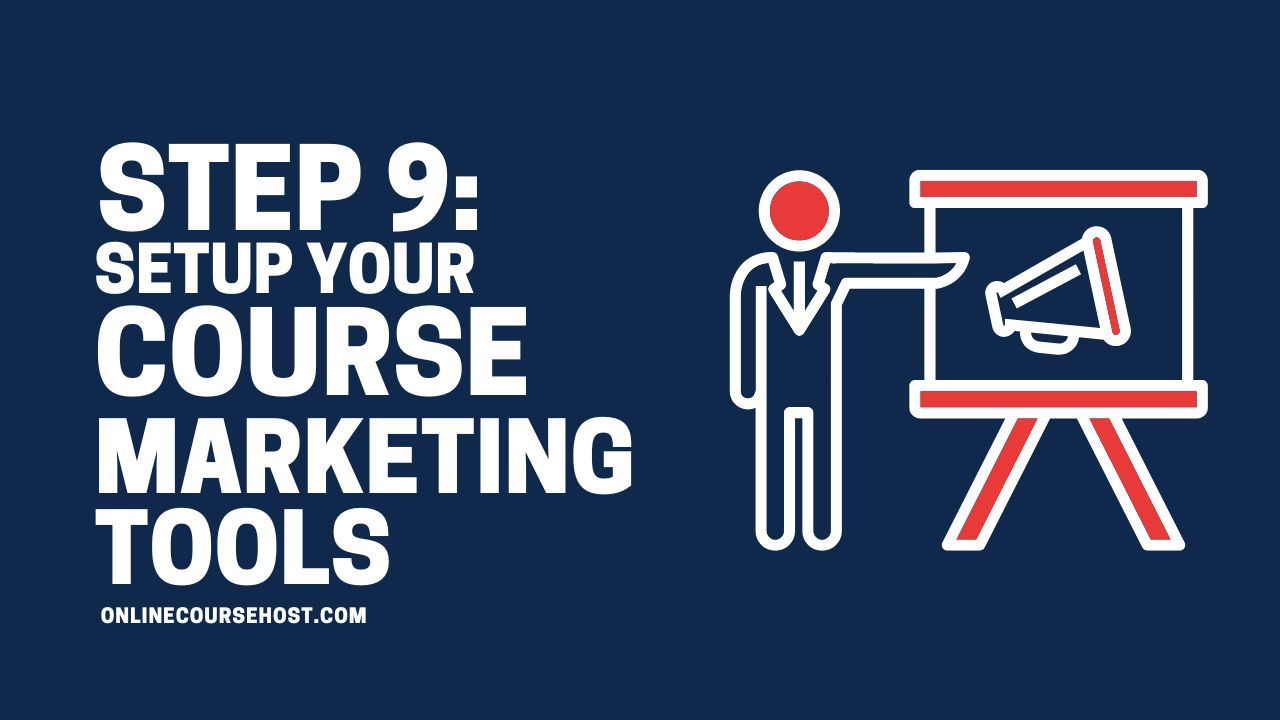 These are simply websites or online tools that you'll be using to market and sell your courses.
Examples include Facebook Ad Integration, tools for email marketing like Mailchimp, and most especially your social media profiles.
For the Facebook Ad Integration, you should be able to integrate a Facebook pixel into your online course website and use it to serve ads to your customers.
If you already have email contacts, you can also import them on Mailchimp.
Your social media pages are sure going to be one of your main marketing platforms.
You may not need to create accounts with all the social media platforms, you just choose the ones where your target audience mostly spends their time.
Another great way to promote and sell your courses is to upload them in online course marketplaces like Udemy or Skillshare. These platforms have huge pre-built audiences, and they can help you a lot to sell your courses.
Again, if you plan to market your courses on Facebook or LinkedIn groups, you should use this time to join the necessary groups especially the ones in your niche, and familiarize yourself with their rules and members.
All in all, just make sure that every tool you'll be needing to market your online courses is ready at this point!
Step #10: Promote your Online Course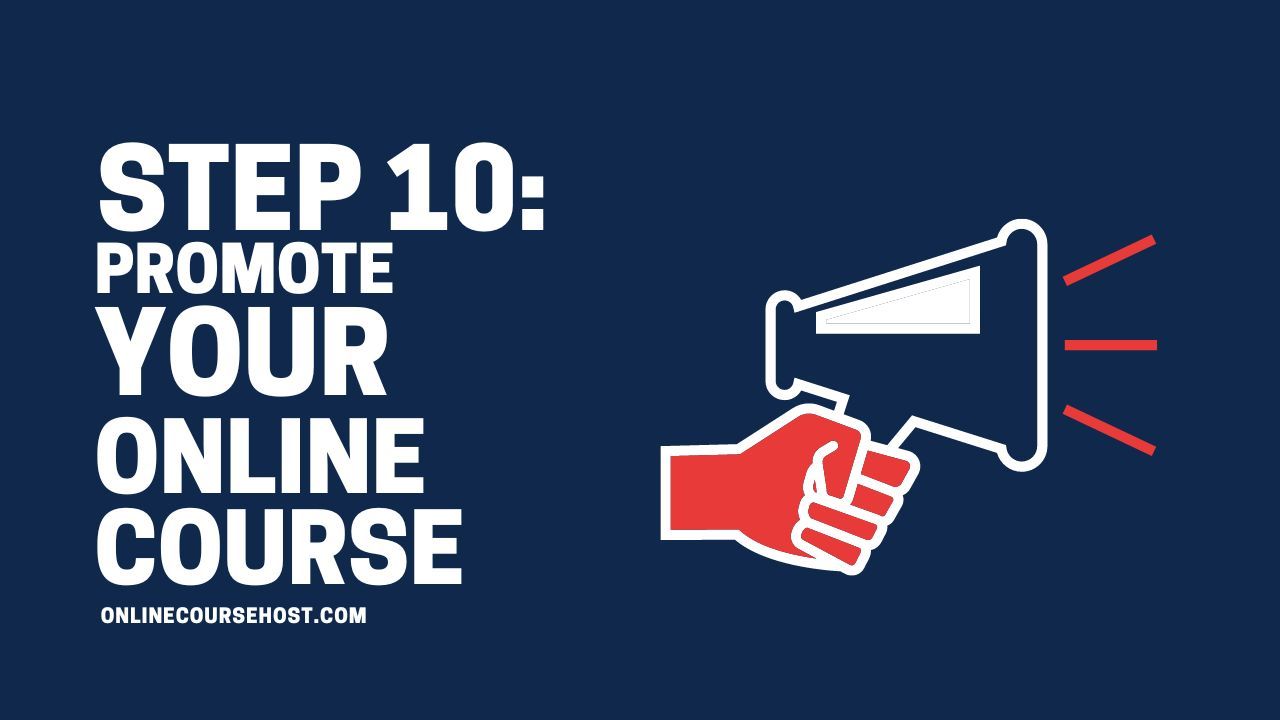 This is where it all begins. 😉
You should be ready to do all the work to ensure that you get as many sales as possible to compensate for all the hard work and dedication you've poured into this course creation and sales journey.
For new course creators, marketing is critical as it's likely that only a few people know about you at this point.
So, to spread the word, you need to promote your course to your audience.
That's what will get you the first few sales.
So, where do you start?
Marketing Strategies to Sell Your Online Courses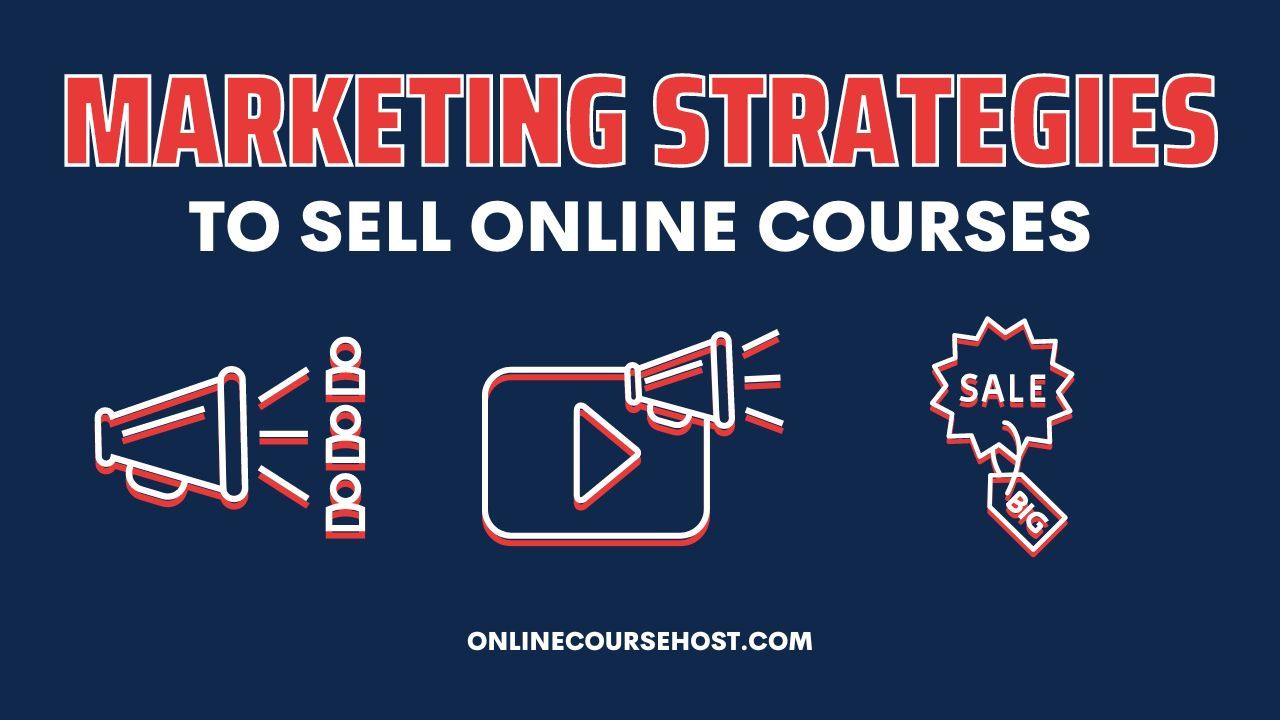 This section will give you some proven marketing strategies that helped me to sell my courses over the years. You can follow the same methods to get the first sales for your online courses.
#1: Drive Free Organic Traffic Through SEO
SEO is the best way to drive high-quality students for free who will buy your courses consistently. It's my favorite method of driving thousands of new students to my course landing pages.
All you have to do is publish high-quality SEO-optimized blog posts.
As they start ranking on Google, your students will click and land on your blog. You can use this opportunity to promote your courses.
To learn how to write SEO-friendly blog posts, check out this post.
#2: Promote on YouTube
YouTube is another excellent place to market your course for free. It's not just the most populated search engine after Google but also a video-based platform and so a perfect place to market and sell your online courses.
Simply publish one of your course videos or create a trailer video and invite subscribers to check out the entire course. Also, use a catchy YouTube thumbnail and optimize the title and description for SEO while uploading.
#3: Use Promotions Strategically
You can launch a coupon code or a discount and do these promotions only 2 to 3 times per year when your students are in a spending mood like during New Year and Black Friday or a special occasion like your company anniversary or birthday.
Another time perfect for a discount is an early bird offer of a new course launch. Limited promotion creates the fear of missing out. More than that, your customers will stop paying attention.
#4: Publish on Online Course Marketplaces
One of the most effective ways for new course creators with no audience to get started is to launch courses on online course marketplaces.
These marketplaces already have millions of targeted students signing up for new courses every month; all you have to do is publish your courses there and start building your audience that way.
Notice that you can't drive people to your website, but you can build a brand and audience on the marketplace itself.
#5: Sell to Your Existing Network
Selling to people who know you and your expertise is much easier and faster than selling to brand-new people who don't know you because there's an existing trust.
You simply need to create a buzz by pre-announcing the course launch. So when you're ready to launch the course, you already have a few students willing to sign up for it.
#6: Promote on Social Media
You can also promote your online courses on social media platforms like Facebook, Twitter, Instagram, Linkedin, etc, and generate sales that way. Just pick one or two platforms and promote your courses there consistently.
You also need to know how promotion works on each platform and where your audience spends their time and what type of promotion will bring the maximum benefits.
#7: Build an Email List
As you're driving traffic and generating sales from your course website, ensure that you are collecting the emails of your customers so that when you launch your next course, you simply need to email your previous subscribers and announce the launch.
You can offer your prospects freebies in exchange for their details, like names and email addresses. This way, you can build a relationship with them through follow-up emails and convert them into long-lasting clients.
#8: Promote Student Reviews
This is also a smart strategy to sell your online course. Testimonies from past clients solidify your credibility and naturally draw new prospects to you.
You simply need to take a positive review from an existing student and promote it on your social network. It will help doubtful students make the final decision.
#9: Promote your Courses Online Communities
Online communities and forums are places where people of similar interests come together to discuss their concerns.
So, if your course solves a problem, you must find groups within your niche and promote your online course there. Examples of these communities are Quora, Facebook, Linkedin groups, Reddit, etc...
#10: Sell on Webinars
A live one-to-one discussion is the most effective way to sell to someone. Getting an audience to your live webinar confirms that you have gotten their attention.
You have to show your expertise and tell them that your course is the answer to their problem. You can also show proof or reviews from past students to add more credibility to your offer.
#11: Guest blog on Big Websites
Another way to promote your course and make sales is to write guest posts for big websites in your industry (showing your expertise) for free.  Then, you can invite their audience to check out your website.
With guest blogging, you can get a backlink from a high authority site and the post will bring you new audiences as long as the post is live.
#12: Promote on Podcasts
Because of the growing popularity surrounding podcasts, guest podcasting is an excellent way to find more students and sell your online courses.
All you have to do is, talk about your niche or expertise in some popular podcasts, and you will be able to drive traffic. Alternatively, you can start up your podcast and promote your courses there.
#13: Collaborate with Other Course Creators
You can collaborate with other course creators in your industry to launch a course.
This strategy is mutually beneficial as both of you will gain access to each other's audience. But it's crucial to find someone with an equal or high audience count than you.
#14: Create an Affiliate Program
This method is for course creators with enough audience to have crossed the beginner years. When you have reached this stage, it's time to convert these students into your affiliates.
Affiliate marketing is the best way to earn passive money. Your affiliates will promote your courses, and you will make a commission whenever someone buys through their referral.
#15: Sell on Offline Events
If you have a friendly offline network, you can leverage this network to sell your courses. And it's very simple as you don't have to sell hard.
During a conversation, you can mention that you just created an online course to help others learn your methods. People who admire you or like what you do will want to check out your courses.
#16: Promote Using Paid Ads
Paid ads are guaranteed to get your courses in front of your target audience. And if you get the ad copy right, you can expect a higher conversion rate.
Paid ads work so well because you get many options to customize your target audience. You can add filters to create an ideal student profile like age, area, interests, etc.
#17: Write Compelling Marketing Copy
A big reason why your traffic will convert is your sales page copy. You can drive a million people to your page every month, but if the message isn't clear, don't expect to get sales.
So when writing your course marketing copy, ensure that you're clear about who your course is for, the big problem your course will solve for them, and the benefits they will reap.
#18: Use an Irresistible Call to Action
A call to action makes a copy successful. Even after reading the entire page, your audience might still need clarification on whether they should take the course or not.
A clear call to action can help them make the final decision. A CTA should stand out, and be clear and irresistible. And it's often better to pair it with a great offer like a free bonus or discount.
#19: Upsell Higher Ticket Programs
There will be a time when you will outsell your current students. You can't keep asking them to buy more. They would have already bought enough courses from you.
That's precisely the time when you upsell these students for higher ticket programs. You can sell one-to-one consultation calls, access to a mastermind group, or coaching sessions.
#20: Word of Mouth Marketing
As a beginner course creator, your most sales will come from your past students and you only achieve this by providing a wonderful learning experience for them. When your past students are happy with your course, they will discuss and refer to other students.  
#21: Get Feedback & Improve
The harsh truth is, no matter how fantastic a course creator you are, you will get negative feedback.
However, it's not the time to feel bad about it and quit online teaching altogether. It's an opportunity to find and fix flaws in your course. You should read the feedback, find the problem and fix it and improve your course.
You can also learn how to handle negative feedback here.
Conclusion: How To Sell Online Courses
The most important idea that I want to pass on to you is that selling your courses starts at the beginning, and not the end of your course creation process.
The way that you:
identify your audience
create a value proposition  
validate it
how you build your course around your value proposition
All of that is fundamental for creating a course that sells well.
Your content should be built around your main sales message, and not the other way around.
Although there are many things to look out for, it all comes down to three fundamental things:
Finding a course niche that sells
A course hosting platform rich in marketing features
Your commitment to promoting your courses consistently
If you get these right, you will be able to build a successful online course business.
Some initial research and planning will help you a lot to pick a niche that sells.
However, even after you've created your online course, you still need a hosting platform that houses all the marketing features that will enable you to sell your online courses with so much ease.
I created OnlineCourseHost.com to become the go-to platform for every beginner course creator looking for a stress-free and affordable hosting platform for their courses.
The platform has all the email marketing features, Facebook Ad integration, branding tools, and most especially tools to enable you to accept payment from anywhere in the world.
With your constant promotion coupled with using the best online course hosting platform, your course sales will go very smoothly.  
But more than a platform, we want to give you all the information that you need to grow your online course business successfully.
That's why we have created the Course Creator Academy where you can find everything you need to become a successful online course creator all in one place for free.
To get notified when new content is available here at the Academy, you can subscribe here to our weekly newsletter:
If you are looking to ask any questions on online course creation, you can reach me here on my Facebook group:
Join the Course Creator Academy Facebook Group
Ready to learn how to launch your first course on OnlineCourseHost.com? Here are the helpful guides for you to check out:
I hope you found this post helpful, let me know in the comments below what other topics you would like me to cover, or any questions that you have?
Thanks for reading… and enjoy the course creation process! 😉
---
Vasco Cavalheiro
OnlineCourseHost.com Founder & Online Course Creator