1000+ Apps at Your Fingertips: OnlineCourseHost.com and Pabbly Connect Integration

Platform Review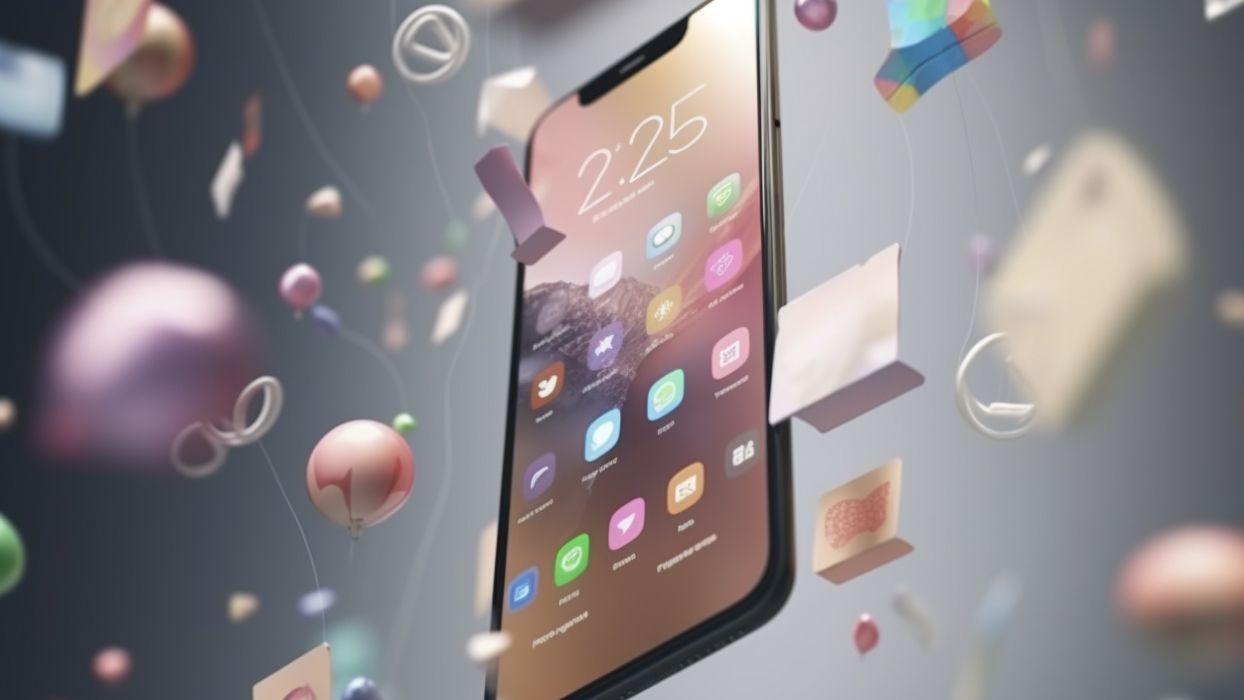 Now it's easier to connect over 1000 amazing apps and websites to your online course website using our Pabbly integration. Create amazing workflows and scale your online course business to growth.
We know the importance of having powerful integration options that help you grow your online course business; that's why we have exciting news to share with you!
Pabbly is now available on OnlineCourseHost.Com.
With Pabbly, you can now connect 1000+ tools, apps, and services to your course website and integrate your website with many powerful tools.
If you don't know Pabbly Connect, it's a drag-and-drop integration workflow tool very similar to Zapier.
It's also based on the notions of Triggers and Actions.
Let's quickly learn how to integrate Pabbly into your OCH dashboard.
You can also check out all the free guides available at the Course Creator Academy by clicking the Academy link on the top menu.
( Skip the first two sections if you already know what Pabbly is and why it's important for your business.)
What is Pabbly Connect?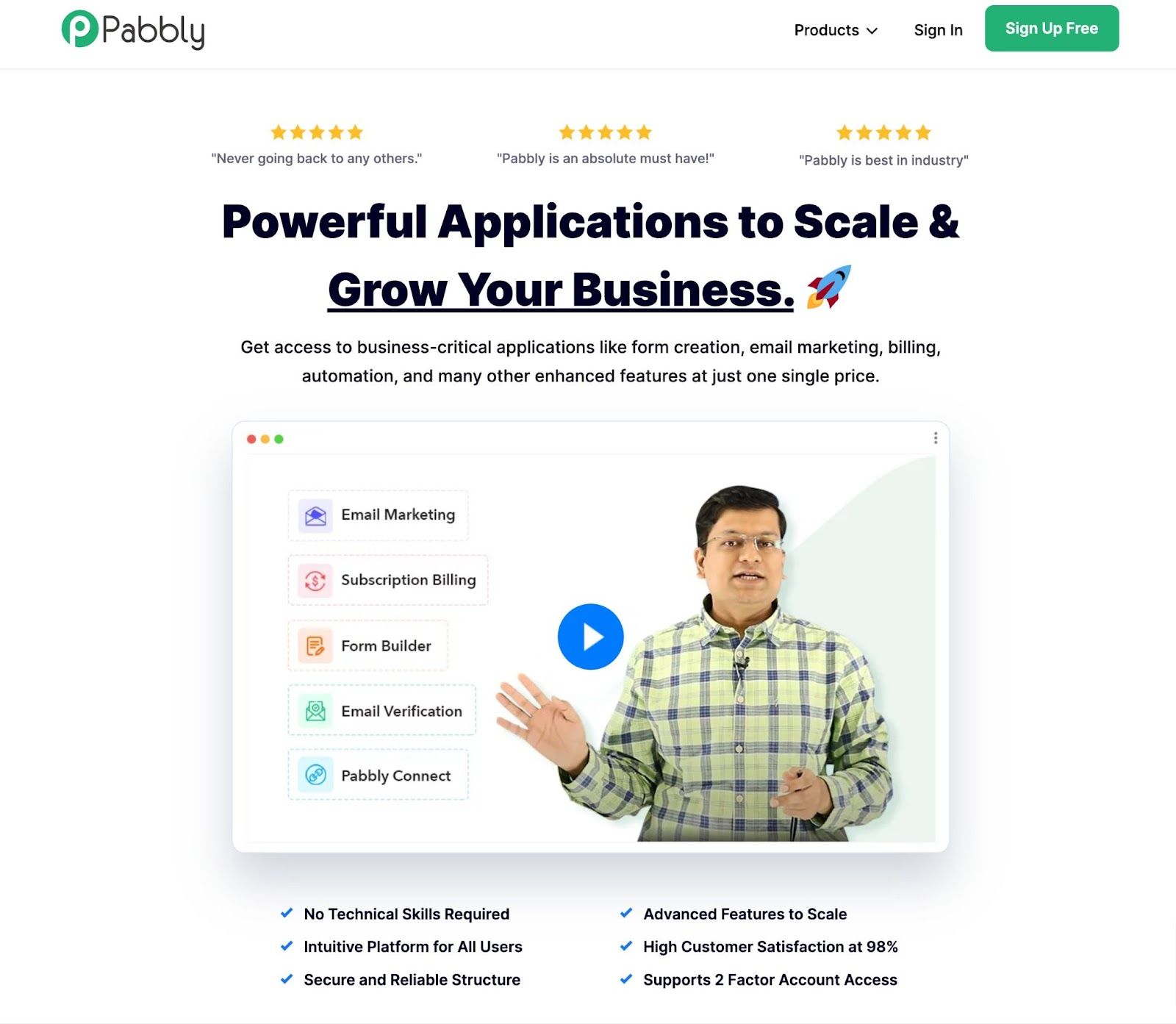 Pabbly Connect is an online marketing and sales automation software that allows you to integrate your website with other tools, websites, and apps.
Using Pabbly Connect, you can create multistep automated workflows by combining different apps and their functions that will be performed automatically and triggered by specific actions.
That is, it does your work, so you don't have to do it manually.
By connecting Pabbly to your website, you can:
Create forms to collect student feedback.
Set up third-party payment integrations.
Connect your favorite email marketing software to collect email subscribers.
Create a subscription payment model website.
And more.
Why Can Pabbly Help You Run your Business?
One of the most significant setbacks in any business is when you have to do repetitive tasks manually, which takes a lot of your time. Pabbly solves this problem by doing the most obsolete tasks, so you have plenty of time to focus on scaling your business.
Pabbly bridges the gap by automating most recurring tasks and creating multistep workflows to perform them automatically every time a trigger action is performed.
You might still be wondering how (practically) Pabbly is helpful for an online course creator. That's why we've collected some real case situations when Pabbly will help automate your online course business.
1. Adding students to email lists.
Adding many email addresses to different email lists manually is a complicated process. It's also time-consuming because you have to ensure the students are added to the correct email list.  
If you've launched multiple courses, you have to hand-pick each email and add it to a separate list each time a new student enrolls.
With Pabbly, you can connect your email marketing software with the course payment page so that once the students enroll in a course, their email addresses are automatically added to a welcome sequence of a particular email list. Pabbly allows you to integrate your favorite email marketing software with your online course website.
You can also automatically add new students to an online course community, like a Facebook group or to a Google sheet, to create a list of leads for higher ticket sales in the future.
2. Provide external payment methods.
Many online course creators don't realize this but lose crucial sales because they don't offer multiple payment options.
The thing is, not all of your students will be able to pay even when they can afford it because their preferred payment method isn't there.
Let me explain this with an example.
Suppose your course landing page has two payment methods: PayPal and Stripe. And an interested student is ready to purchase. But he doesn't have a PayPal account or a credit card, so he can't use either method.
There, you lost a sale. But it's more significant than you can imagine. How? Because not only you lost a sale but a potential lead that could turn into a higher-ticket sale.
Pabbly allows you to integrate all major third-party payment systems like Razorpay, Instamojo, WooCommerce, Shopify, and more.
You can integrate your audience's preferred payment methods; as a result, you will never lose a sale or a lead to your growing business.
3. Getting notified when a new student enrolls.
Keeping track of your students is crucial when your business depends on upselling higher tickets.
You must add new student details in a Google sheet for future sales. It's easier when there are one or two, or even ten, daily sales, but the task becomes practically impossible when you get hundreds of sales every day.  
And some of your courses might actually be bookings for coaching calls, so you want to be notified by email, Slack message, SMS, or all of those channels that a new student enrolled in your program.
Pabbly will make your job easier. It'll help you connect your course payment confirmation pages to a Google Sheet so as soon a payment is completed, the details are automatically added to a Google Sheet.
4. Conduct surveys to understand your audience better.
Improving your courses based on student responses, feedback, and reviews is one of the fastest ways to grow your online course business.
Pabbly allows you to connect survey tools with your course website to collect student responses and develop better online courses.
Now that you know how beneficial Pabbly is for your course website, let's quickly learn how to integrate them.
How to Integrate your Website with Pabbly?
Integrating Pabbly into your OCH dashboard takes less than 2 minutes. First, log in to your OCH dashboard. Then, go to "Admin" and click on "Settings."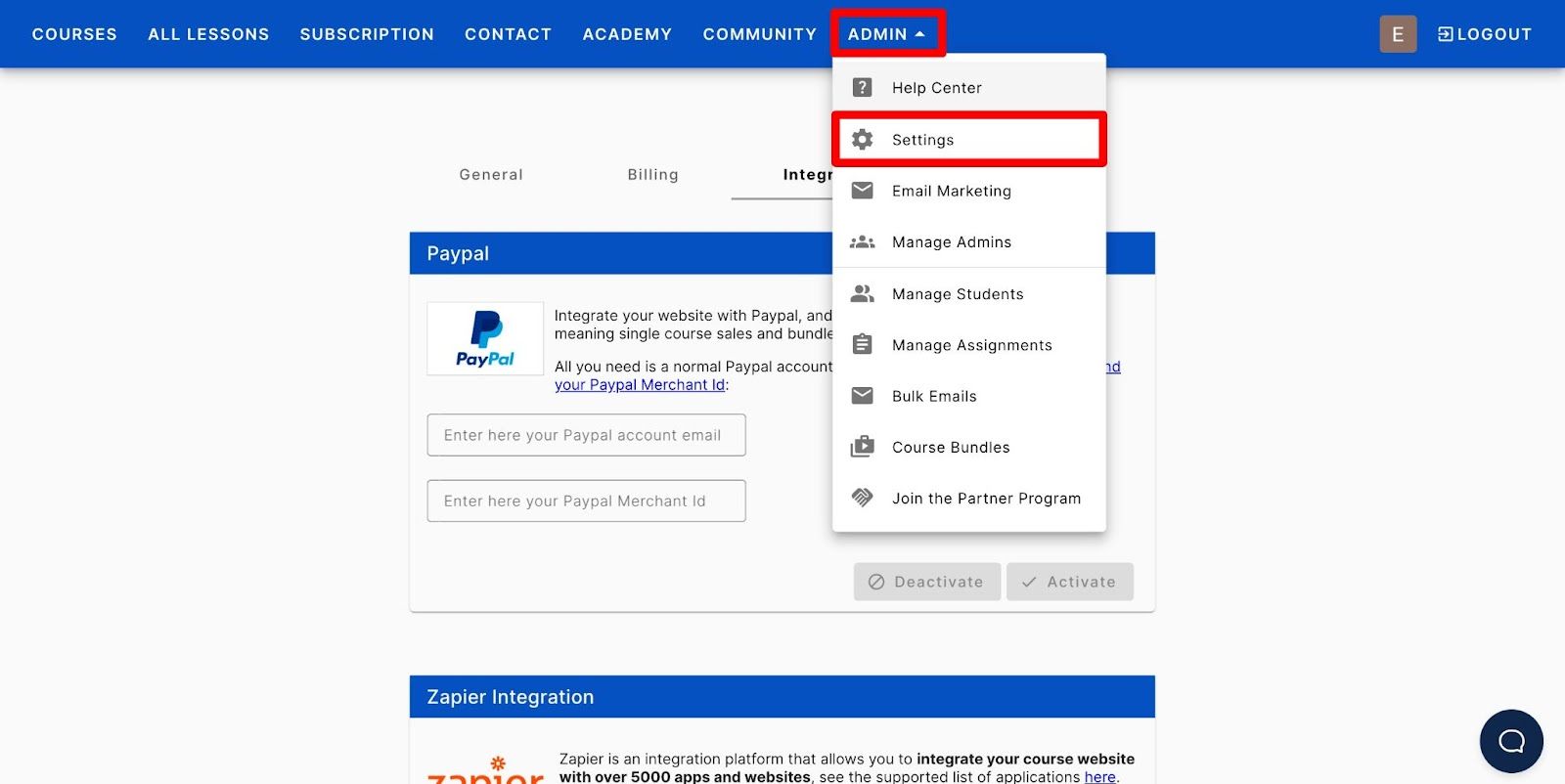 Now navigate to the Integrations tab, and scroll down to find the Pabbly integration option.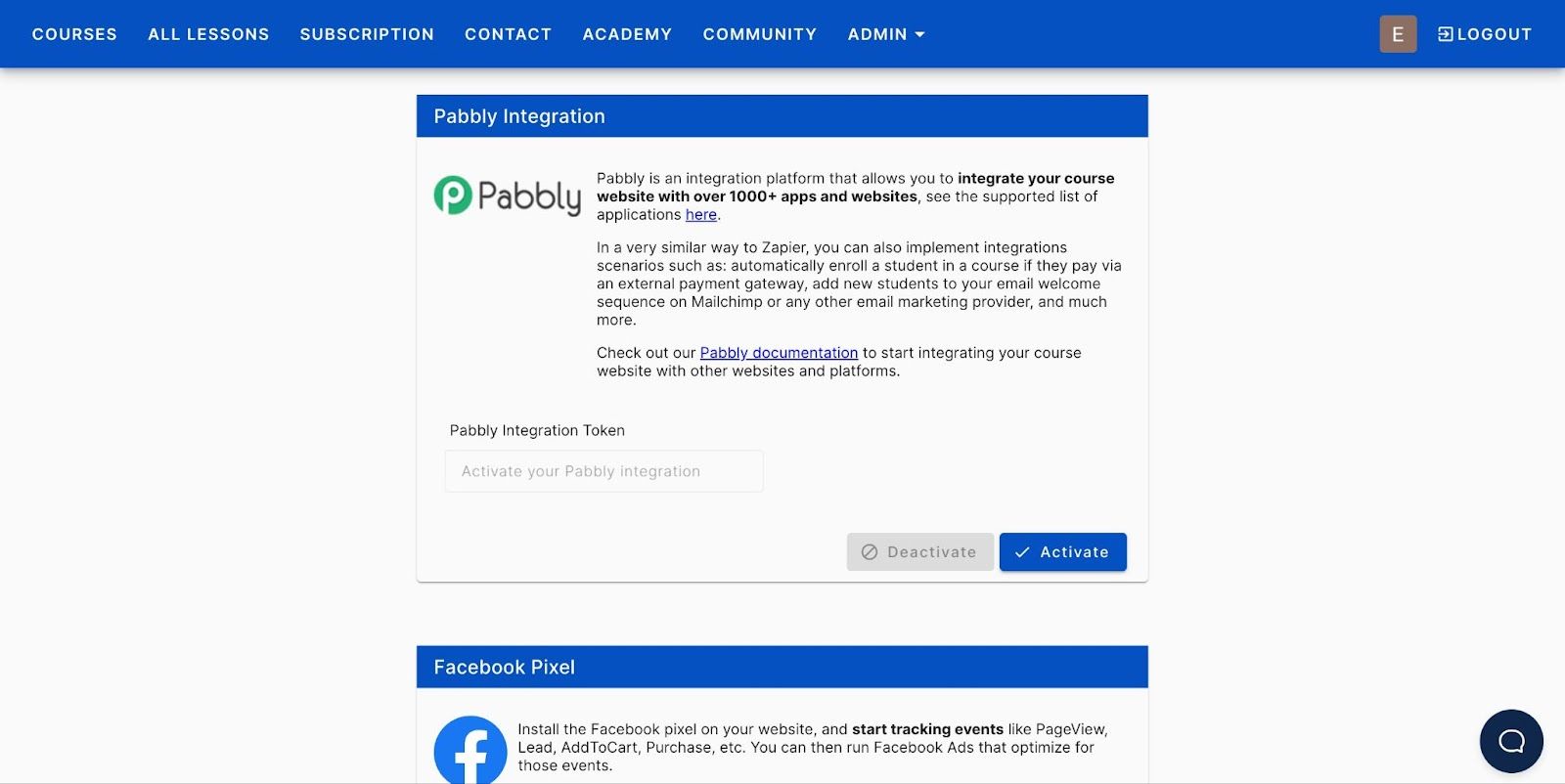 Click the "Activate" button, and an API key will appear. You must copy and paste the API key on your Pabbly account once to integrate it with your website.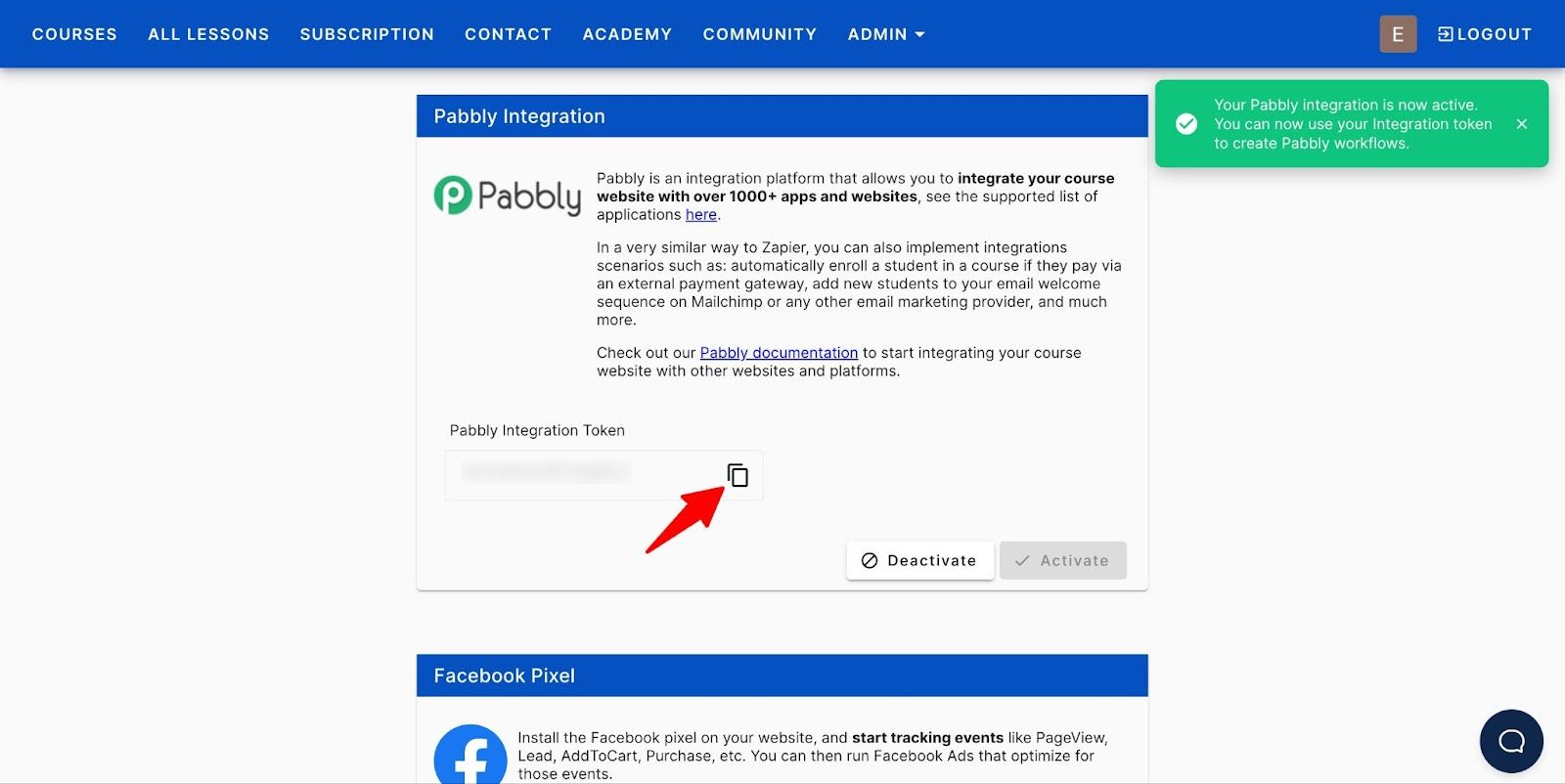 To paste the API key, create a free Pabbly account. Now, start creating a new workflow.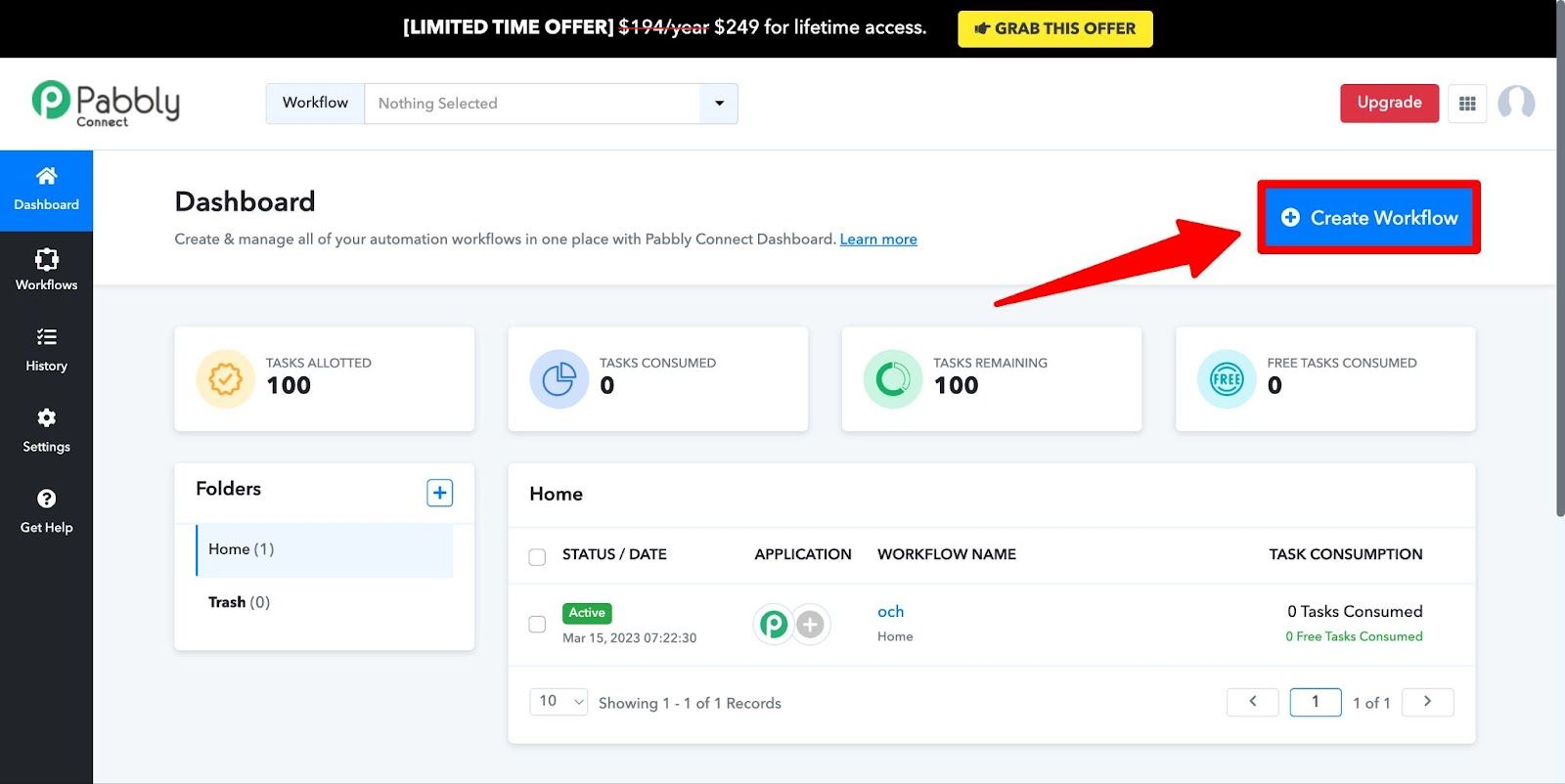 Find and choose the OnlineCourseHost.Com app. Choose a trigger event and then click the "Connect" button.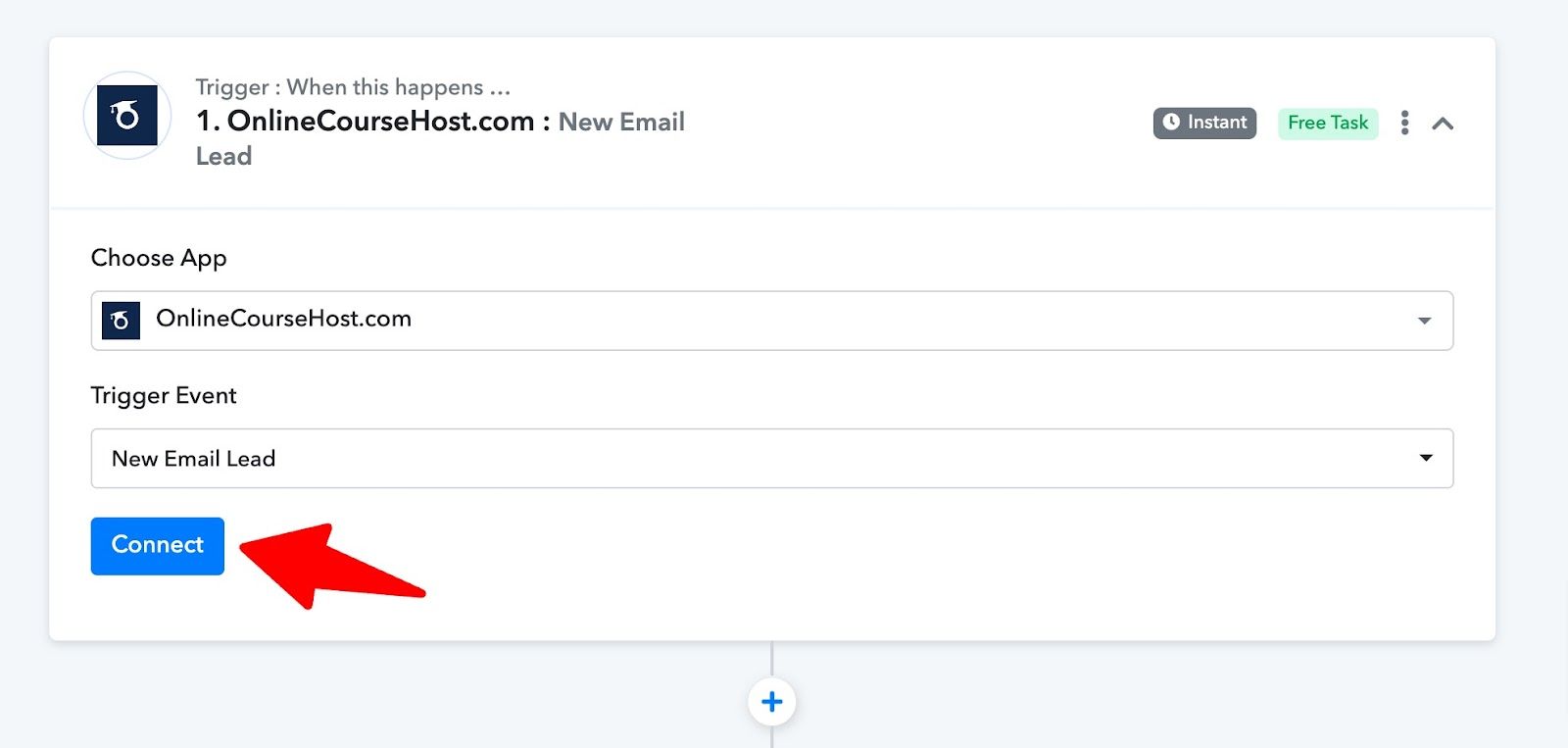 Simply paste the API key on the authentication screen and click the "Save button."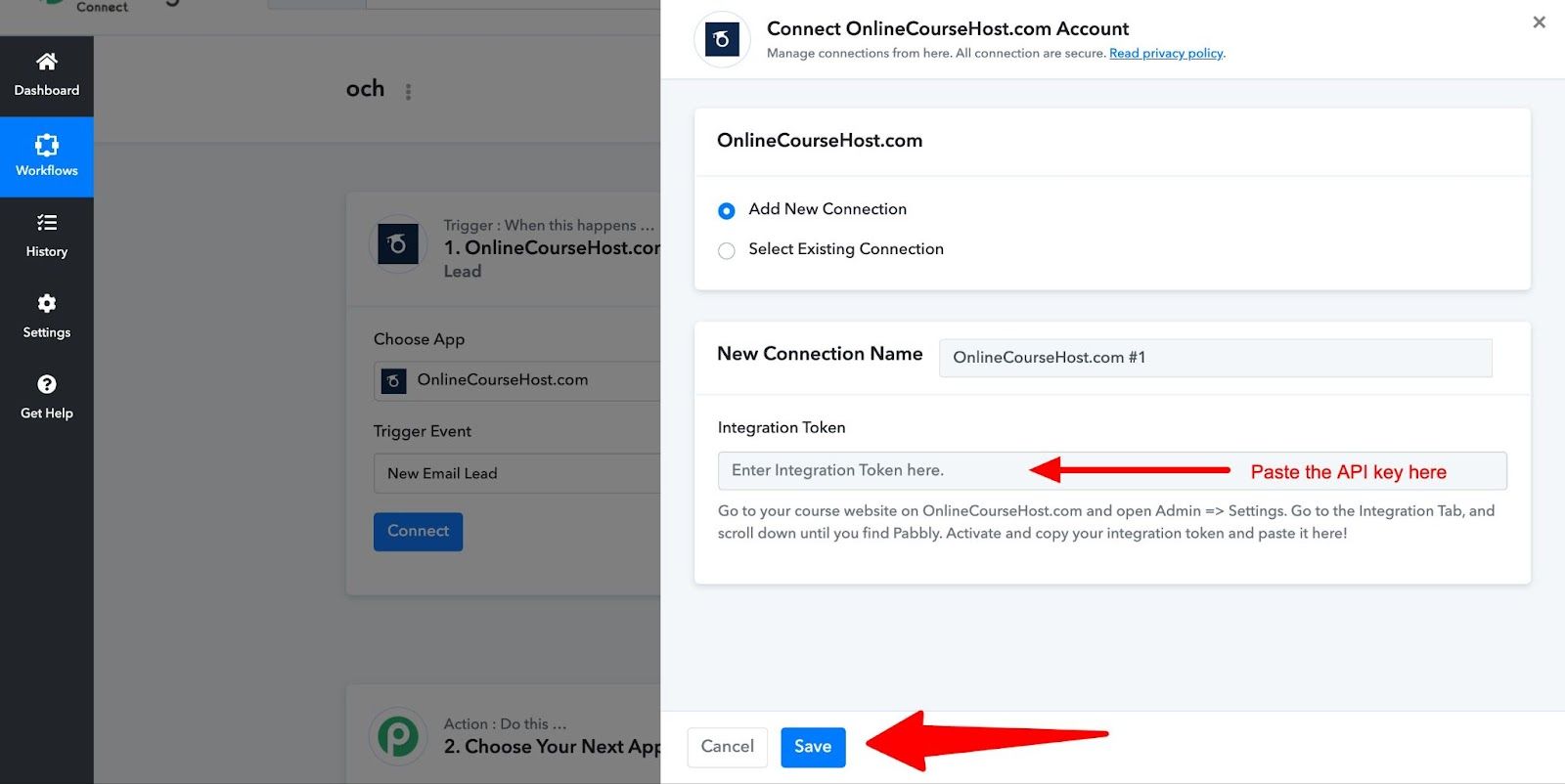 And that's it! You've successfully integrated Pabbly with your course website. Now you can create as many workflows as you want to automate recurring tasks.
I hope you have integrated Pabbly into your website; if you're struggling, check out the Pabbly integration documentation, or contact our helpdesk - we're always there to help.
Conclusion: OnlineCourseHost.Com and Pabbly Integration
Pabbly is a gateway to 1000+ apps and websites, and works very similarly to Zapier.
Now that you can integrate Pabbly and your course website, automating your workflow and scaling your business is much easier.  
Go ahead and start creating multistep workflows with your favorite apps and add more functionalities to your site.
If you need help growing your online course business, check out our Academy page for helpful guides.
We also consistently publish helpful guides and tutorials on our blog to ensure we're helping new course creators. Join us to become the first to know when a new post goes out.
If you want to ask any questions on online course creation, you can reach us on our Facebook group:
Join the Course Creator Academy Facebook Group
I hope you found this post helpful. Let me know in the comments below what other topics you want me to cover.
Have any questions about integrating Pabbly with your website? Leave your questions below.
Thanks for reading… and enjoy the course creation process! 😉
---
Course Creators Academy, a community by OnlineCourseHost.com
Founded by Vasco Cavalheiro
Online Course Creator