5000+ Apps at Your Fingertips: OnlineCourseHost.com and Zapier Integration

Platform Review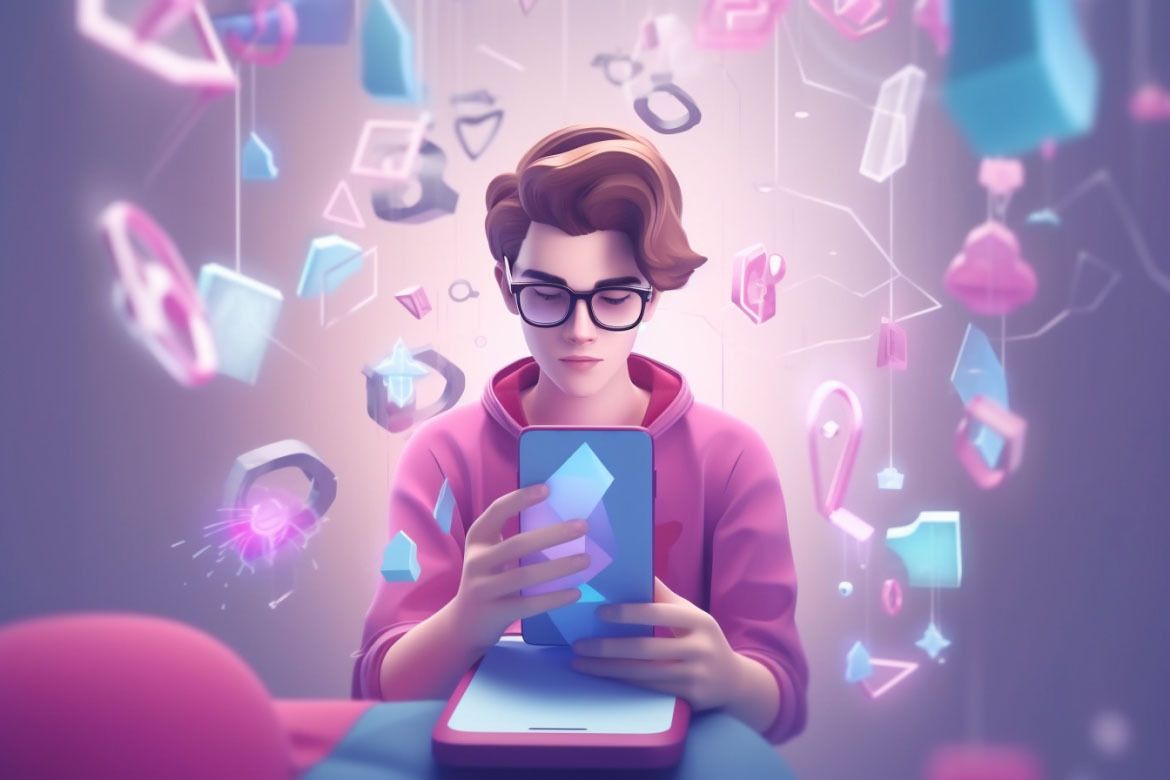 Now it's easier to connect over 5000 amazing apps and websites to your online course website using our Zapier integration, without even having to leave your OnlineCourseHost.com dashboard.
Wouldn't it be amazing if you could connect all your favorite apps to your course website and automate the course-selling process?
Good news, now you can!
Because Zapier is now available on OnlineCourseHost.com, and this time around it's also embedded directly in our dashboard.
Earlier, you had to log in to Zapier, create zaps separately, and then return to your OnlineCourseHost.Com dashboard.
That still works as usual, but but now you can create Zaps to connect different apps straight from your OnlineCourseHost.com dashboard.
Very cool, right? 😊
Let's quickly learn how to integrate Zapier into your OCH dashboard.
You can also check out all the free guides available at the Course Creator Academy by clicking the Academy link on the top menu.
( Skip the first two sections if you already know what Zapier is and why it's important for your business.)
What is Zapier?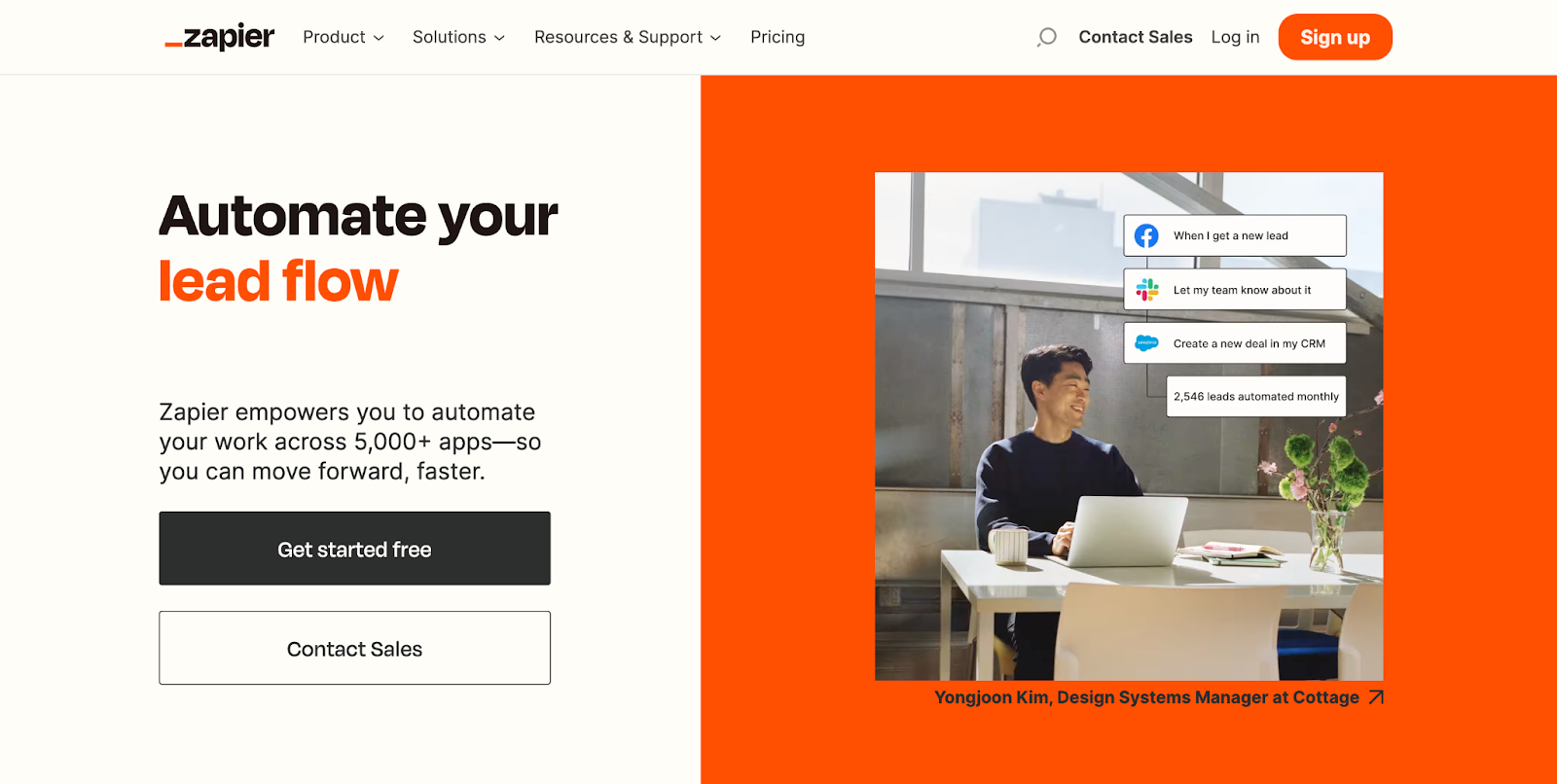 Zapier is a tool that allows you to integrate your website with other tools, websites, and apps. You can create automated workflows by combining different apps and their functions that will be performed automatically based on triggers without having to perform all the steps in the sequence manually.
For example, suppose one of your blogging workflows involves sending custom tweets right after publishing a new post, which you must manually do each time.
But using Zapier, you can create an automated workflow that will send a tweet automatically. Such that every time you publish a post, you don't have to worry about Twitter; Zapier will take care of it.    
Or, if you want to add enrolled students to a course community, you could create an automated zap.
Recurring tasks like adding students to an online course community take time but are essential. You can save this time by incorporating Zapier to automate your regular workflows.
Why do you Need Zapier to Run your Business?
You can only think about scaling your business when it is running independently.
That is because you don't want your time to be spent on repetitive tasks of less importance, like marketing your courses; instead, you would want to invest time in adding a new income source, such as recording a new course.
Zapier bridges the gap by automating most recurring tasks, so your time is spent on productive things.
You might still be wondering how, other than this, Zapier is helpful for an online course creator. That's why we've collected some typical scenarios when Zapier will help automate your online course business.
1. Adding students to email lists.
It can be a hassle to manually add email addresses to lists. And the process is even more complicated when offering multiple courses in different niches.
In that case, you had to hand-pick each email and add it to a separate list each time a new student enrolls - which is crucial (of course!) but time-consuming.
Using Zapier, you can create zaps to automatically add the email addresses of newly registered students to a welcome sequence of a particular email list. You can integrate your favorite email marketing software with your online course website.
You can also create a zap to add new students to an online course community automatically. Or to a Google sheet to create a list of leads for higher ticket sales.
2. Provide external payment methods.
Most sales are lost because students can't find their preferred payment method. For example, suppose your course landing page has two payment methods: PayPal and Stripe. And an interested student is ready to purchase but can't use any of the methods, disappointed he closed the portal.
There, you just lost a sale. But it's a more significant loss than you can imagine. How? Because not only you lost a sale but also a potential lead that could have turned into a higher-ticket sale in the future.
Zapier allows you to integrate all major third-party payment systems like Razorpay, Instamojo, WooCommerce, Shopify, and more. You can check the complete list here.
You can integrate your audience's preferred payment methods; as a result, you will never lose a sale or a lead to your growing business.
3. Getting notified when a new student enrolls.
You should track your student orders in a Google sheet as new payments are received. But it's practically impossible to keep tracking your course sales constantly when you get hundreds of new enrollments daily.
And some of your courses might actually be bookings for coaching calls, so you want to be notified by email, Slack message, SMS, or all of those channels that a new student enrolled in your program.
You can create zaps on Zapier by creating triggers for specific cases and getting notified of any significant activity.
4. Conduct surveys to understand your audience better.
Online course business can sustain only if your courses are solutions to the audience's problems. That is, you can sell courses only if your audience wants to buy them.
You need to research what they want to learn to find those course ideas. And while reading Quora answers, online forums, community chats, etc., are great ways to find them, the best one is conducting surveys.
Through surveys, you get answers directly from the students. Don't you think it's much easier to know than predict what they're struggling with?
Using Zapier, you can connect a survey-conducting app, like Typeform, directly to a Google sheet and collect responses. You can ask relevant questions and add the answers to a Google sheet. Later when you analyze the results, it'll be easy to find answers because you won't have to organize the data into meaningful insights.
Now that you know how beneficial Zapier is for your course website, let's quickly learn how to integrate them.
How to Integrate your Website with Zapier?
Integrating Zapier into your OCH dashboard takes less than 2 minutes. First, log in to your OCH dashboard. Then, go to "Admin" and click on "Settings."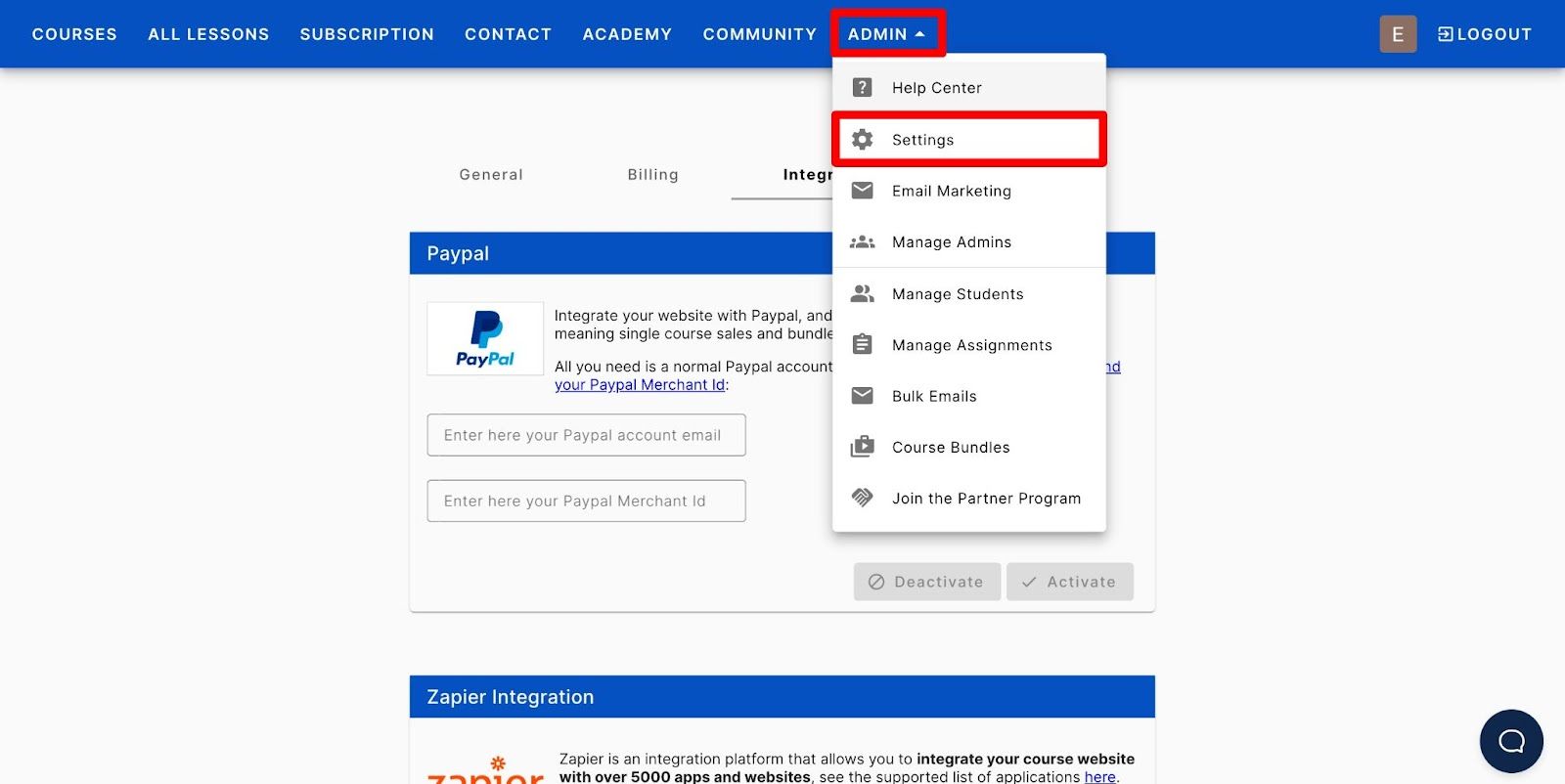 Now navigate to the Integrations tab, and scroll down to find the Zapier integration option.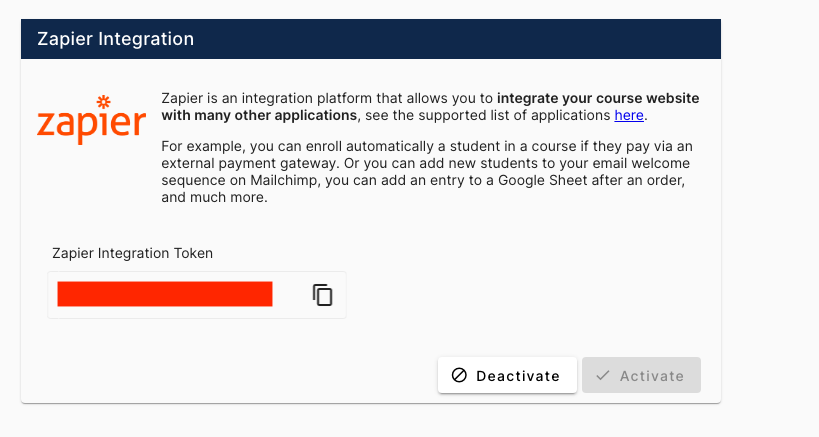 Click on the "Activate" button and then copy the API key. You need to paste this API key on your Zapier account once to integrate it with your website.
To paste the API key, create a free Zapier account.
On your Zapier dashboard, start creating a new zap and choose the OnlineCourseHost.Com app. Then, you need to click on the "Sign in" button to connect them.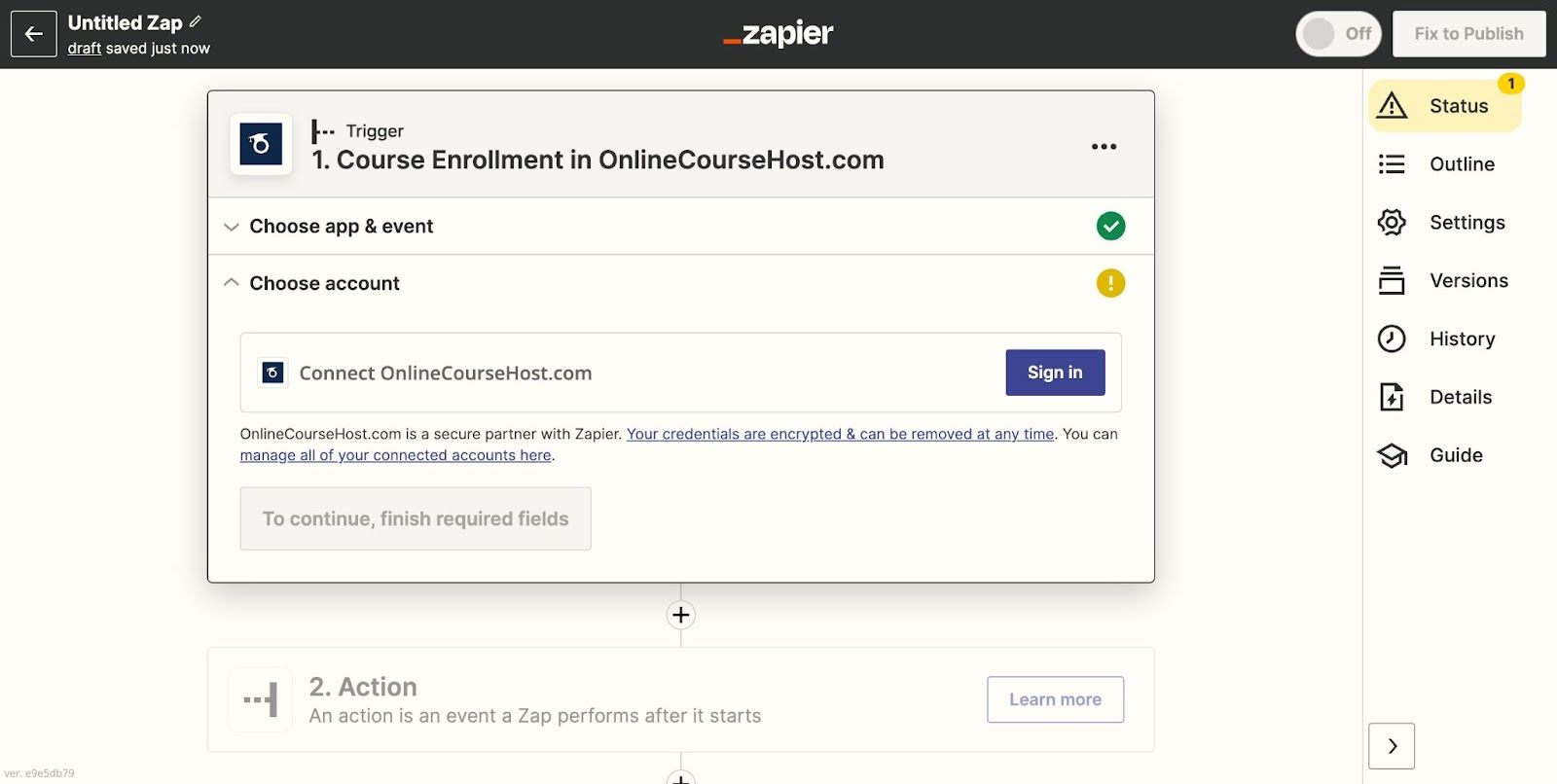 A new window will open. Simply paste the API on the authentication screen and click the "Yes, continue" button.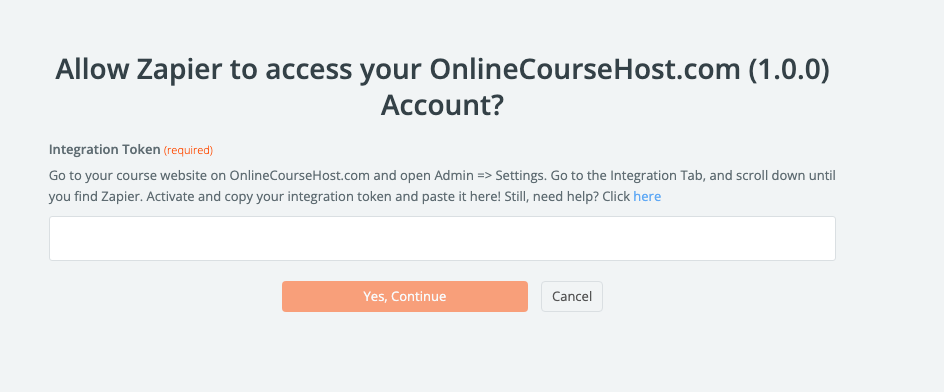 And that's it! You've successfully integrated Zapier with your course website. Now you can create up to five free zaps directly from your OCH dashboard (which is enough for most course creators.)
To create a new zap straight from your OCH dashboard, go back to the Integrations section on the Admin settings, scroll to Zapier integration, and click on "create a zap."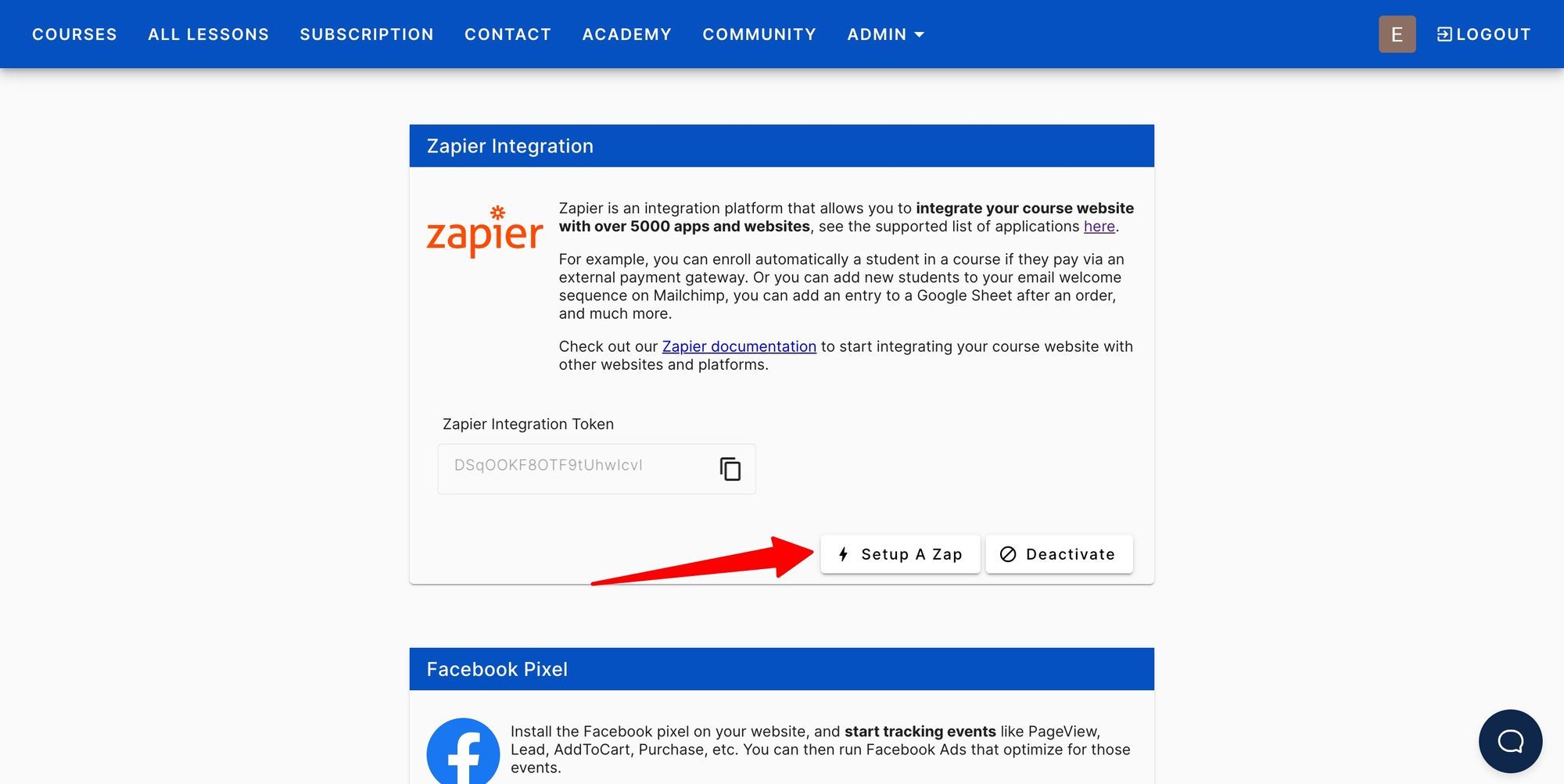 Then you'll get all the options here, choose your favorite apps you'd like to integrate. If you're unsure, it also gives you a few recommendations below.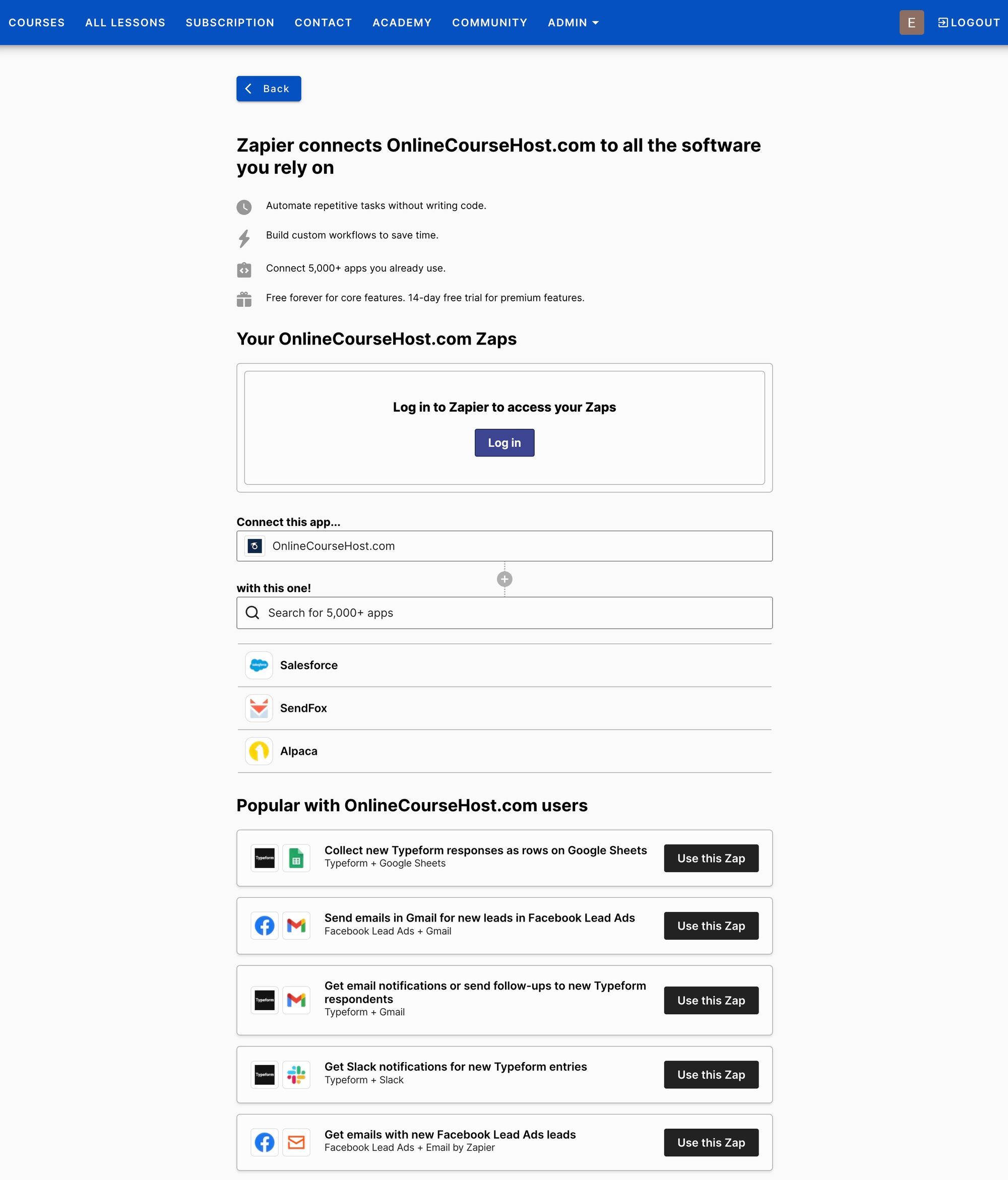 I hope you have integrated Zapier into your website; if you're struggling, check out the Zapier integration documentation, or contact our helpdesk - we're always there to help.
Conclusion: OnlineCourseHost.Com and Zapier Integration
Zapier is a gateway to integrating with 5000+ apps and websites.
Now that you can integrate Zapier and your course website, automating your workflow and scaling your business is much easier.  
Go ahead and start creating zap workflows with your favorite apps and add more functionalities to your site.
If you need help growing your online course business, check out our Academy page for helpful guides.
We also consistently publish helpful guides and tutorials on our blog to ensure we're helping new course creators. Join us to become the first to know when a new post goes out.
If you want to ask any questions on online course creation, you can reach us on our Facebook group:
Join the Course Creator Academy Facebook Group
I hope you found this post helpful. Let me know in the comments below what other topics you want me to cover.
Have any questions about integrating Zapier with your website? Leave your questions below!
Thanks for reading… and enjoy the course creation process! 😉
---
Course Creators Academy, a community by OnlineCourseHost.com
Founded by Vasco Cavalheiro
Online Course Creator