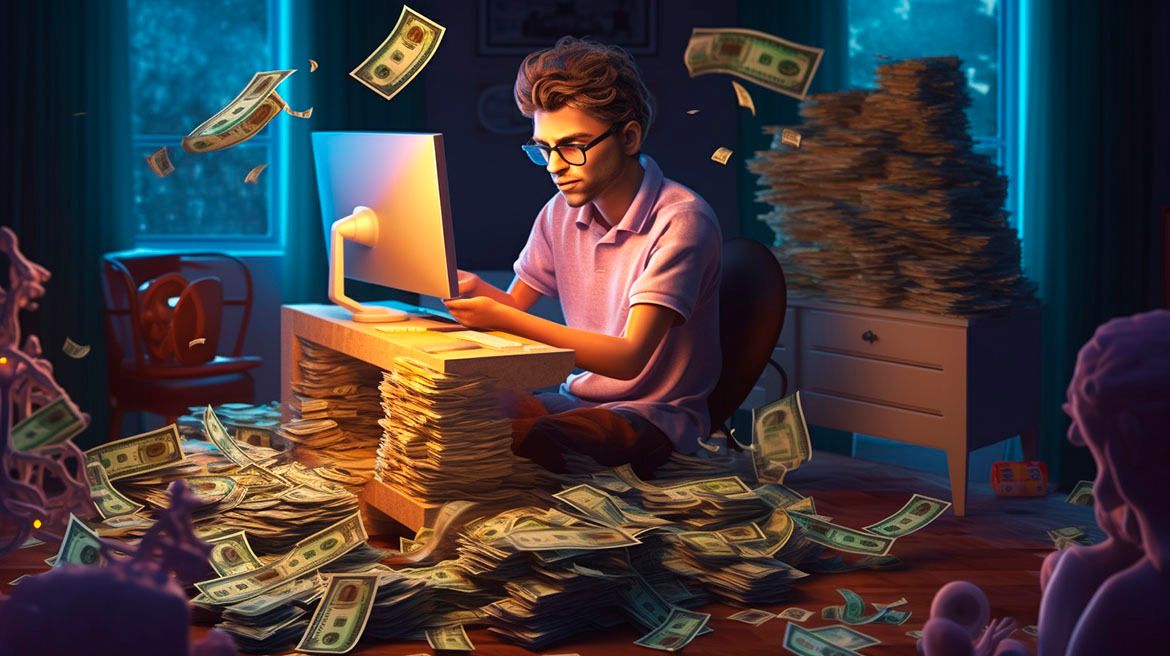 Learn how much does a typical online course creator make per year, with all sources of income included.
Some of the questions that I most often see in course creator forums are about how much money an online course creator makes, or how much can you make selling online courses.
These are very common questions, usually asked by course creators just getting started, as they are trying to understand if this online course creation activity is a viable professional option for them or not.
I'm a course creator myself and I've been creating and selling online courses since 2016, and I will share with you my whole revenue for one full year, so that you get a better idea of what is possible.
So, if you're asking, can you make money selling online courses? The answer is a resounding YES!
But of course, the online course creator salary varies wildly depending on many factors, and it can go anywhere from pocket money, to a nice complement to your income, to a full living salary, to a six-figure business, and even to way more than that, sometimes it's as high as 7 figures.
But as the answer "it depends" is not very useful 😃, I'm going to give a concrete example, which is my own revenue as an online course creator for the full year of 2020.
So this post is about my online course revenue for 2020. If you would like to learn about my overall career total revenue, I've blogged about it here as well - How I Made $1.615.000 Selling Online Courses (So Far)
I've also made a similar report for the year 2021, you can find it here: My Revenue as an Online Course Creator (Full 2021 Report)
Why talk about my course creator revenue so openly?
Now, I understand that talking about my own income can come across in the wrong way, for example as bragging, or even worse. So I just want to take a moment to let you know that it's not at all the case!
I'm going to assume that if you are reading this post, then you are already either an online course creator or you are thinking of becoming one in the near future, and you just want to know if this is a viable career at all or not.
So I write this post to give you an idea of what is possible, and to try to encourage you to go as far as you can in your own online course creation journey.
I know that when we are a course creator, things can be a bit demotivating especially in the beginning when we are just getting started, and still have little results to show for it.
Due to this, a lot of aspiring course creators end up abandoning their journey very early on, without giving themselves enough time to grow an audience and start making enough sales.
So the goal of this post is to try to show you that yes it's possible and that yes you can do it too, but it's not an overnight success, it's more of a long-term grind.
My Revenue as an Online Course Creator in 2020 on My Self-Hosted Website
So without further ado, here is my revenue as an online course creator for the whole year of 2020.
These screenshots are taken from my Stripe dashboard and are for the revenue made on my website only, as direct sales to customers in the form of one-time charges for an individual course, bundles, and recurring subscriptions.
This does not include my Udemy revenue, which I will talk about later in this post. Notice also that this revenue is in euros, and not in USD, but I will convert the amounts throughout the post: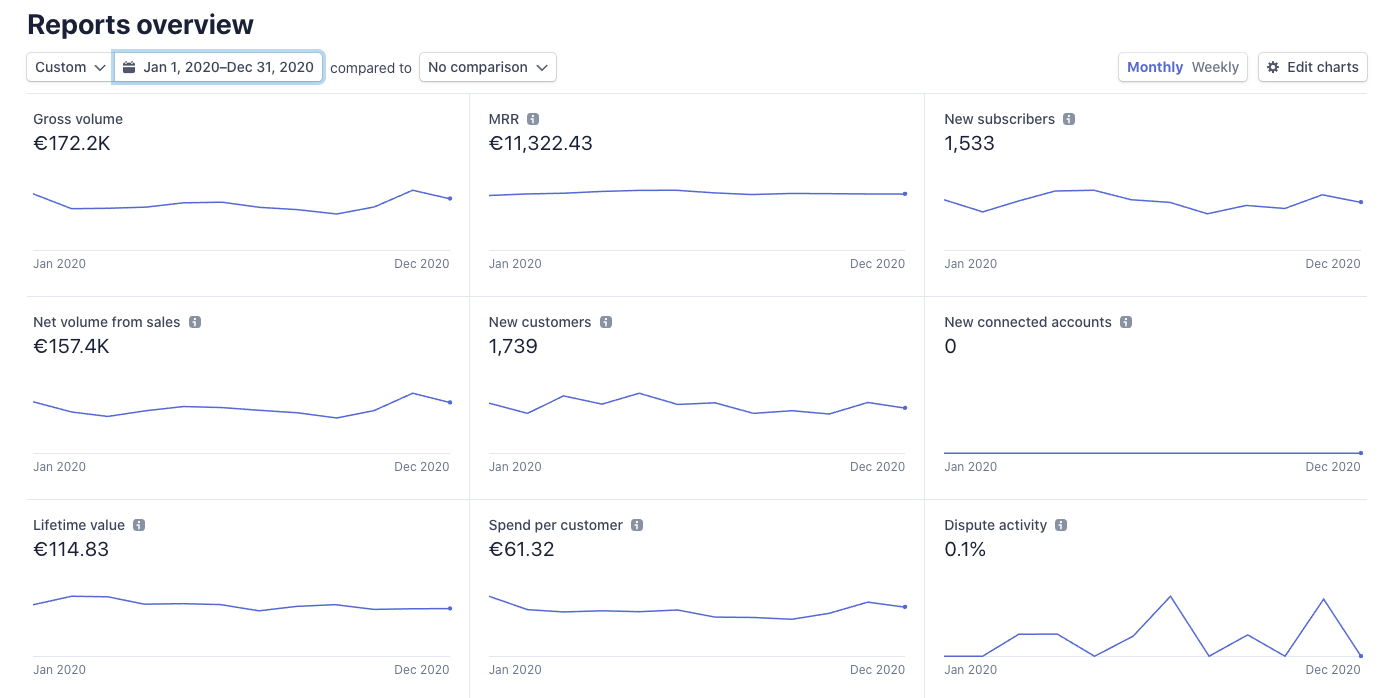 As you can see, I did a total of 172 thousand euros of sales on my website for the whole year of 2020, which roughly corresponds to 210 thousand USD (the conversion rates that I'm using are at the time of the writing of this post).
My website brought me as monthly recurring revenue (MRR) somewhere around 11322 euros per month, which roughly corresponds to 13840 USD per month.
I had 1739 new customers, of which, 1533 were recurring subscribers. Not bad for a pandemic year I think 😊!
The average customer lifetime value on my website is 114 euros, which is roughly 140 USD. That is awesome, and much higher than the typical customer lifetime value in any marketplace I believe.
This is because, on my website, I can propose things like yearly subscriptions, lifetime plans, team plans, and bundles. These are all higher value sales that make the average customer lifetime value rise.
Also, the use of subscriptions more or less ensures that the revenue that I get from one month to another does not vary that much, which is another bonus of the subscription model.
If you want to learn in detail how to set up a similar sales model in your own online course website, I recommend reading this guide that I wrote - How to sell online courses? A complete marketing strategy
Recurring Subscription Model - Does it Work Well For Online Course Creators?
Since we are going through all the stats, let's have a deeper look at the subscription model, and see how it works: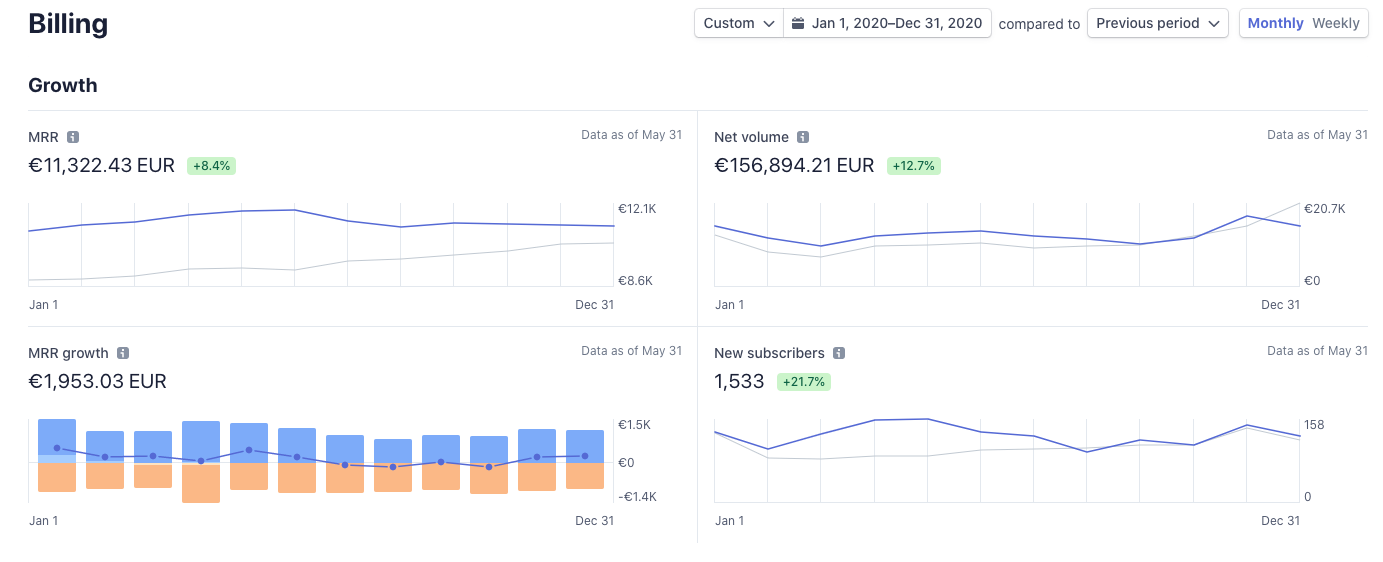 As you can see in the MRR growth chart, this has grown quite a bit in the last year, despite the economic conditions. If one thing is not going away in the next few years, it is the move towards learning and professional training becoming more and more online-based.
For most months, I was in the blue part of the chart meaning that the recurring revenue grew for that month, while during a couple of months in the summer I was in the yellow, meaning that the revenue shrank slightly.
But in general, this approach of creating new content weekly and publishing it as soon as it's ready has been working well for me and my subscribers.
My subscribers support me with a subscription, and they get immediate access to new content that they can use to continuously work on their professional skills.
If you are an online course creator, and you are systematically creating new content on the same topic, then it makes a lot of sense for you and for your subscribers to go for a subscription model.
Again, you can find all the details on how to implement this here.
My Revenue as an Online Course Creator in 2020 on the Udemy Marketplace
This revenue that you saw here in these charts is my direct sales revenue only, done via my website.
But, as I usually recommend, I also publish my online courses on any marketplace platforms that make sense, where I can generate some complementary revenue.
In my case, I'm a web development instructor, so I publish also on Udemy, which I think is by far the largest marketplace for development courses, with a huge developer audience.
So I take the same courses from my website and I publish them there as well. Before I used to publish in a couple of other places, like Skillshare and other smaller marketplaces.
But I found out over time that this was not worth it, at least not in my case. The revenue there was very small because the audience size for web development online courses was extremely small as well.
I also had some bad experiences with a marketplace that would systematically overwrite any course price that I set with the value of $7, nice 😊.
So over time, and after trying to see if it worked, I exited most other marketplaces including Skillshare and I focused on Udemy only.
Notice that Udemy is not only for development courses, lots of other course categories do great there as well.
Regarding Skillshare, I know it does great for everything related to art courses and also creative skills courses, but for other categories like development courses, it's just not the place to be.
But don't let my particular case discourage you from publishing your courses in multiple places, in fact, I recommend it. Your audience will be different than mine, and they will hang out at different places on the Internet.
When in doubt, always try to publish at least one course to a marketplace, wait a couple of months, and see how it does, to see if it's worth your time.
I talk about this strategy of combining self-hosting and multiple marketplaces at length in this guide - Online course self-hosting vs marketplaces: pros and cons.
Anyway, I have been focusing on Udemy for a while, and this is my online course revenue for 2020:


The months are out of order as it's not possible to filter by date in the earnings dashboard, but if you add everything up, that will give you a total of 103 thousand USD of sales made on Udemy.
So that's my revenue from Udemy. Besides that, I also had a little bit of YouTube ads revenue, but we are talking about between $600 and $1000 USD for the whole year.
Revenue Summary for 2020
So if you add my Udemy revenue with the 210k USD of sales from my website, you get around 313 thousand USD of sales for the whole year of 2020!
Not bad, right 😀? This is not the super high seven-figure income that you might have heard about before, but it's still a nice solid income (at least in this part of the world), that allows me to sustainably keep teaching my audience and make a living doing so.
I'm really proud of my work, it's awesome to be able to teach so many people from all over the world online and still manage to make a living out of it.
I'm very thankful to all my subscribers and anyone who has purchased some of my courses.
Anyway, my main point in sharing this with you, assuming that you are thinking of becoming an online course creator, is to show you that this is indeed possible.
That you can become an online course creator yourself, teach tons of people all over the world, and still make it all sustainable if you do it the right way.
To make this work, you will need to learn 3 different but complementary roles, and learn how to wear all these hats at the same time: you need to become a mix between an online teacher, a content creator, and an internet entrepreneur in order for it to work. At least that was my experience.
To help you get started on the right foot in your online course creation journey, I've written here a series of in-depth guides on how to do it.
The goal is to give you all the information that you need to become a successful online course creator all in one place, for free, under the form of a series of in-depth guides plus a community: Welcome to the Course Creator Academy
And if you need a place to host your online courses for free, check out our platform OnlineCourseHost.com.
I hope this helped! If you want to get notified when I release new content here in the Academy, including new revenue reports, you can subscribe to my weekly newsletter:
And if you have any questions about any of this, post them in the comment section below and I'll get back to you, you can also post them in our Course Creator Facebook Group if you prefer.
Check out also any other posts that you might be interested in the blog home page.
That's all I got for today, see you soon and meanwhile, I wish you Happy Teaching!
---
Vasco Cavalheiro
OnlineCourseHost.com Founder & Online Course Creator
LinkedIn   Facebook Page   Facebook Group   Twitter
You are welcome to ask me any questions in the comments below: 👇👇👇👇