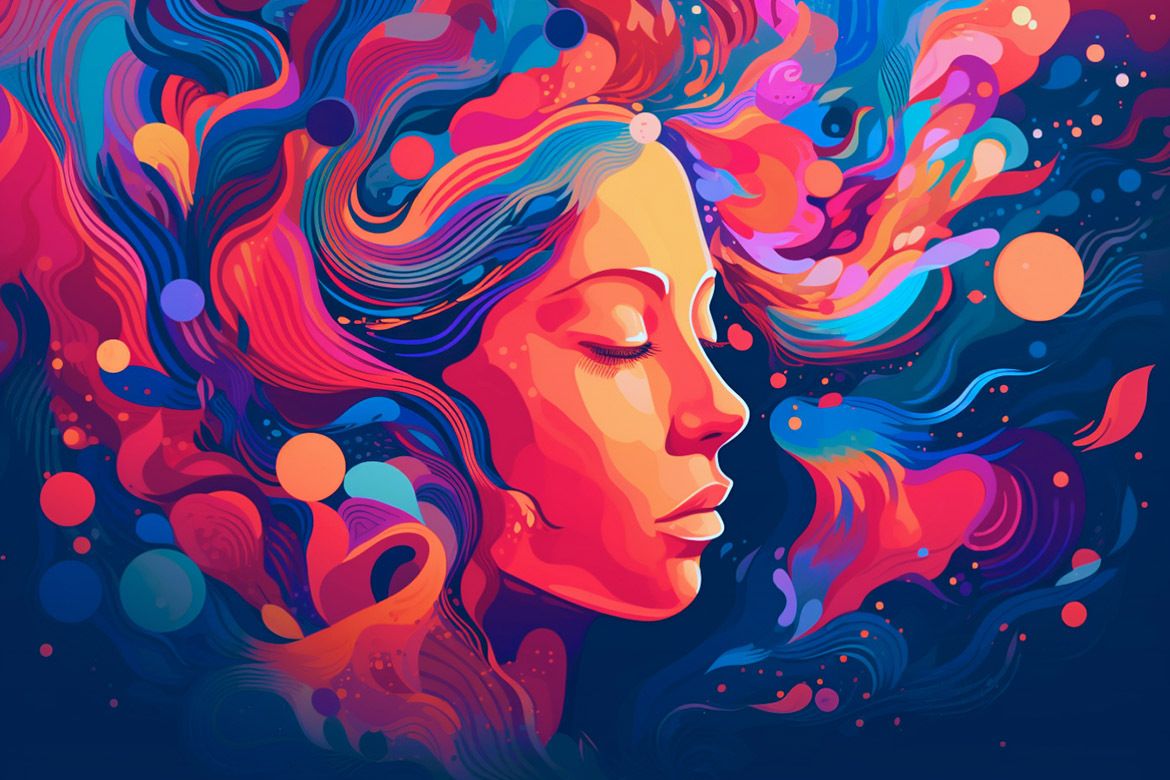 Learn why graphic design is a great topic to choose if you are thinking of creating online courses.
Are you an online course creator, looking for a good course topic for creating courses on?
If so, know that one of the best topics for creating online courses is graphic design, and other closely-related creative disciplines.
Some of the most popular online course marketplaces like Udemy or Skillshare are well known for their design courses.
Skillshare for example, is the second biggest marketplace in the world, and is mostly specialized in creative topics.
So if you have some design or creative skills, consider creating an online course in that area, and monetize your knowledge.
To show you that this is indeed a good topic to create courses on, I'm going to present in this post some of the most popular graphic design course creators.
The goal is to see that it's indeed possible to make a living creating graphic design courses, and show you some good examples of course creators that have done it before.
Let's then have a look at the top 10 successful graphic design course creators, and their courses.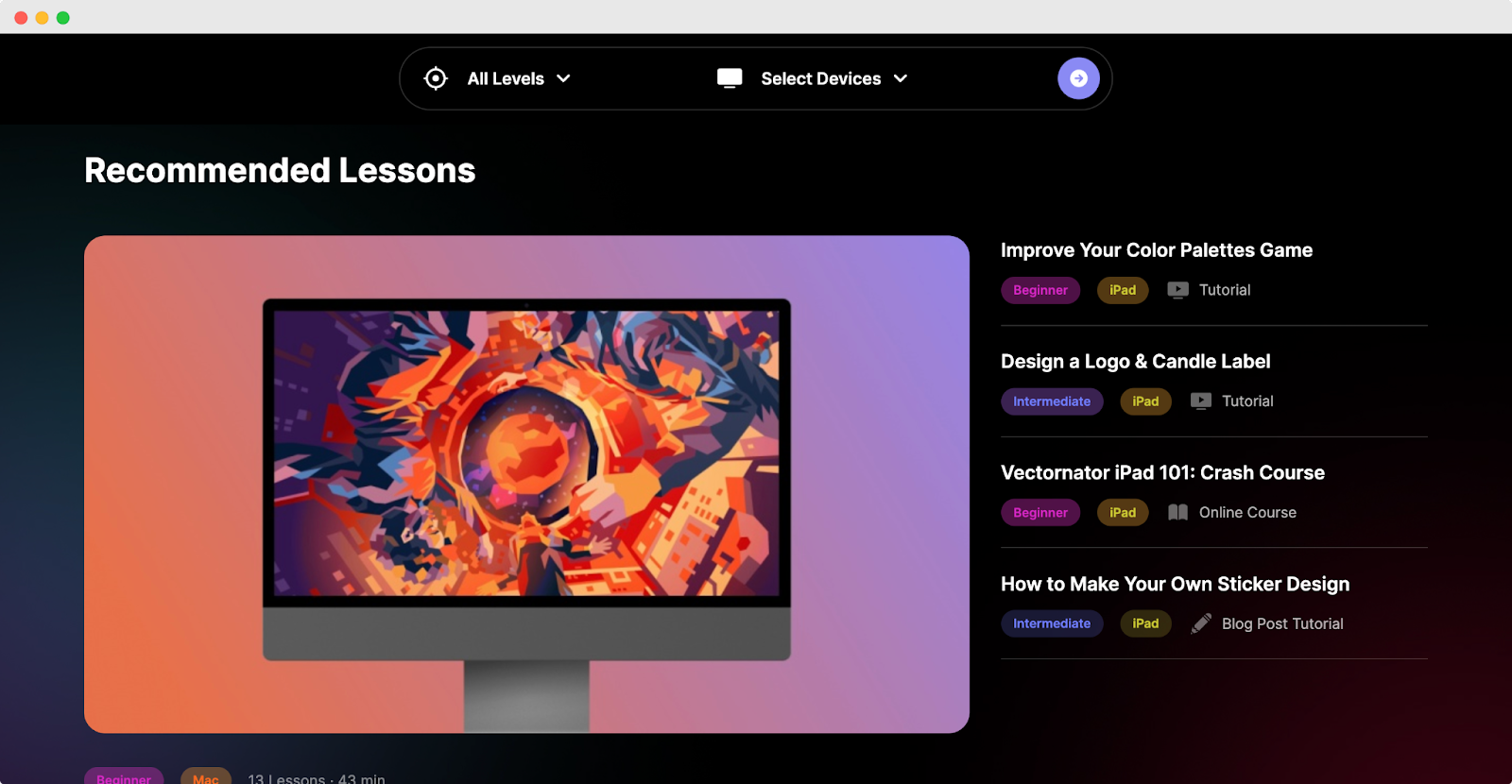 Image source: Vectornator Academy
Vectornator is one of the leading graphic design software's on the market (it rivals Adobe Illustrator). Indeed, the company is behind the careers of numerous successful graphic designers.
Their main strength is their ability to deliver innovative and compelling content that inspires their students to achieve without fail.
The top course is "Get Started with Vectonator", which has 12 lessons and lets you learn how to use the software on your iPad. This course has intuitive gestures, interfaces, and tools that enable you to create your own illustrations and designs.
In addition, the platform offers Vectonator Mac 101 Crash Course and Vectonator iPad 101 Crash Course with 13 and 26 lessons, respectively.
In 2017, Vladimir Danila, the then 17-year-old founder, set out to provide a solution to the frustrating experience of digital designing leading to the birth of Vectonator. Vectonator Academy aspires to build accessible, intuitive, powerful tools that enable people to generate their own graphic design creativity anywhere in the world.
What makes this Vectornator as a course creator so successful? The fact that their team is full of graphic designers, and they speak from experience throughout the tutorials and on their YouTube channel.
The platform has the backing of numerous investors, such as enterprises like HV Capital, EQT Ventures, and individuals such as Bradley Horowitz and Jonathan Rochelle, that ensure the courses' sustainability.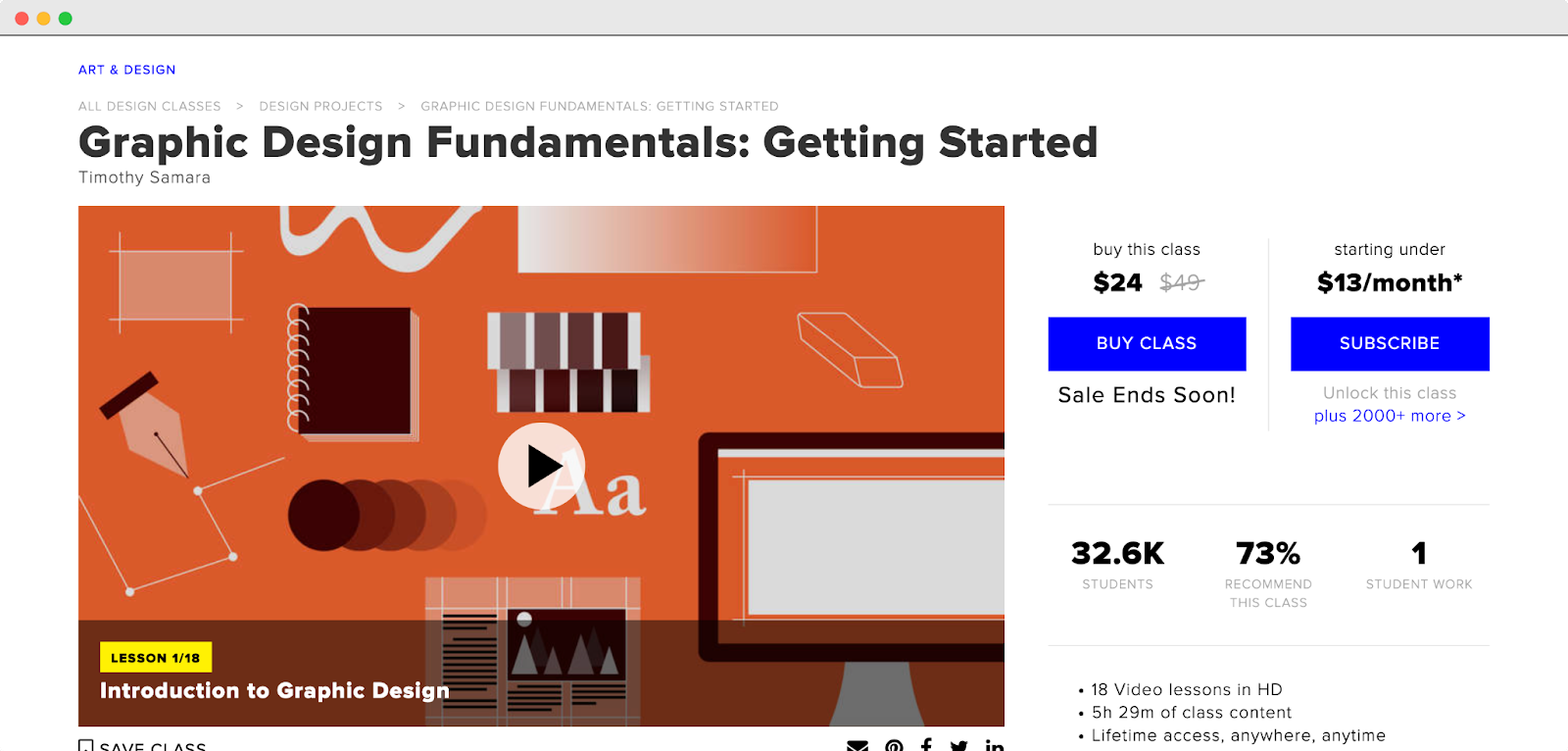 Image source: Creativelive
Graphic Design Fundamentals: Getting Started is an 18-lesson graphic design course with 5.29 hours of class content. Design Projects and Graphic Design are the topics covered in the graphic design classes. The lessons have streaming access on desktop and mobile browsers, and you can download them for offline study with class purchases.
Timothy Samara, a New York-based graphic designer and educator (no wonder his course is so successful), is the creator, and also lectures for his company.
Since 2000, Timothy Samara has split his time between professional practice and academics, building a reputation as a highly-respected instructor at the School of Visual Arts, The University of the Arts, and more. He is a significant contributor to design publications in the U.S and abroad and has eight books covering graphic design used by students worldwide.
The platform has a four out of five-star rating from 45 ratings. In addition, it has attracted positive reviews, with 73% of students recommending the class.
Related graphic design courses by Timothy Samara include Graphic Design Fundamentals: Layout and Graphic Design Fundamentals: Color.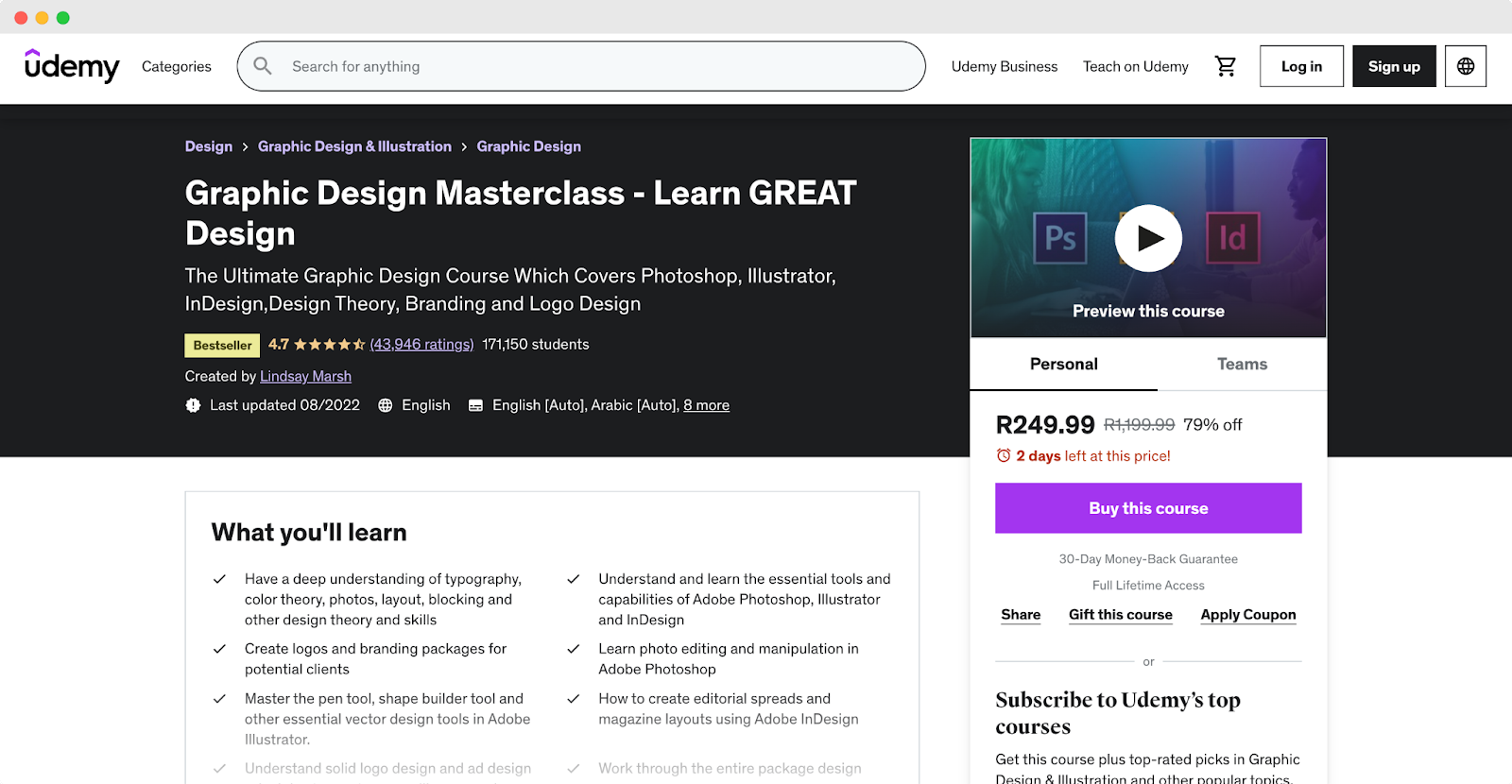 Image source: Udemy
Graphic Design Masterclass is a premium course on the market teaching the graphic design process with 34 sections and 28.5 hours of content. The design course covers Covers Photoshop, Illustrator, InDesign, Design Theory, Branding, and Logo Design.
You'll need access to Adobe Photoshop, Illustrator, and InDesign. Alternatively, you can use Affinity Designer, Affinity Photo, and Affinity Publisher.
With a course rating of 4.7 out of five, Graphic Design Masterclass is a well-regarded course creator platform. The developer is Lindsay Marsh, a freelance designer who has taught more than 300,000 students globally. That's a lot of experience.
Marsh has more than a decade's worth of experience delivering client expectations.
The instructor has above 75,000 reviews from satisfied clients, which boosts the credibility of the course. You can easily access the coursework on Udemy, a global marketplace for online courses.
More courses by Marsh include The Complete Graphic Design Theory for Beginners Course and Graphic Design Masterclass Intermediate: The NEXT Level.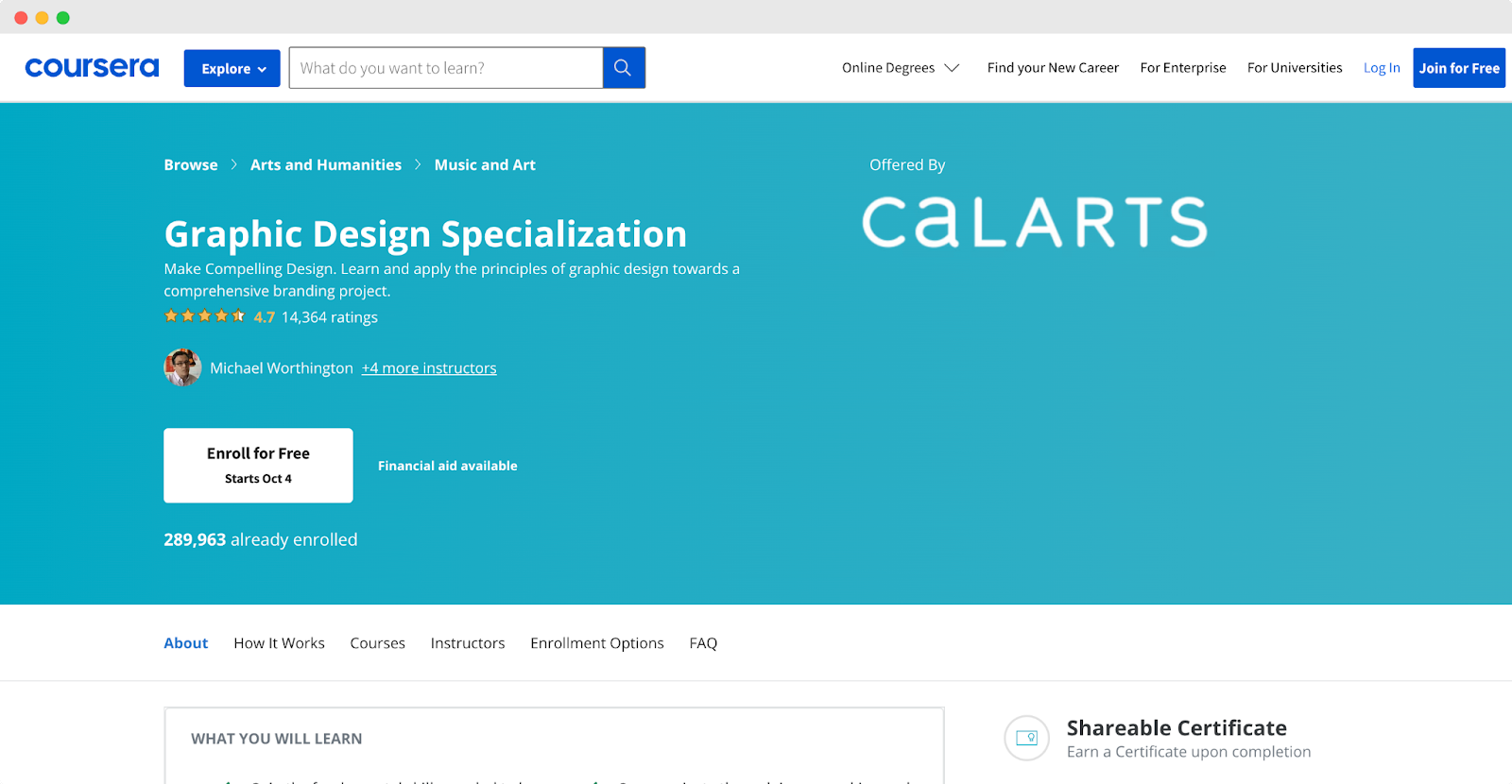 Image source: Coursera
Graphic Design Specialization is an online graphic design course by the California Institute of the Arts on Coursera. It lets you earn a shareable certificate upon completion.
You can apply for financial aid if the enrollment fee is too steep. The program does not require prior experience and takes approximately six months to complete at a suggested pace of three hours per week.
Some instructors at the California Institute of the Arts that guide students through Graphic Design Specialization include Michael Worthington, Anther Kiley, and Lorraine Wild.
All of whom are lecturers in graphic design at the university. It should come as no surprise that this course made by these graphic design powerhouses is rated 4.7 out of 5 stars and has over 14000 ratings.
Michael Worthington is the creator of Graphic Design Specialization. He is also the founding partner of Counterspace in Los Angeles, a graphic design studio specializing in editorial and identity work for clients. His work has been published widely and exhibited in countries like Belgium, Italy, and Britain. Besides his creative work, Michael Worthington has also lectured in many countries.
The broad reach has made the graphic designer's work prosper. Michael Worthington runs additional courses, including UX Design Fundamentals, Fundamentals of Graphic Design, and Brand New Brand.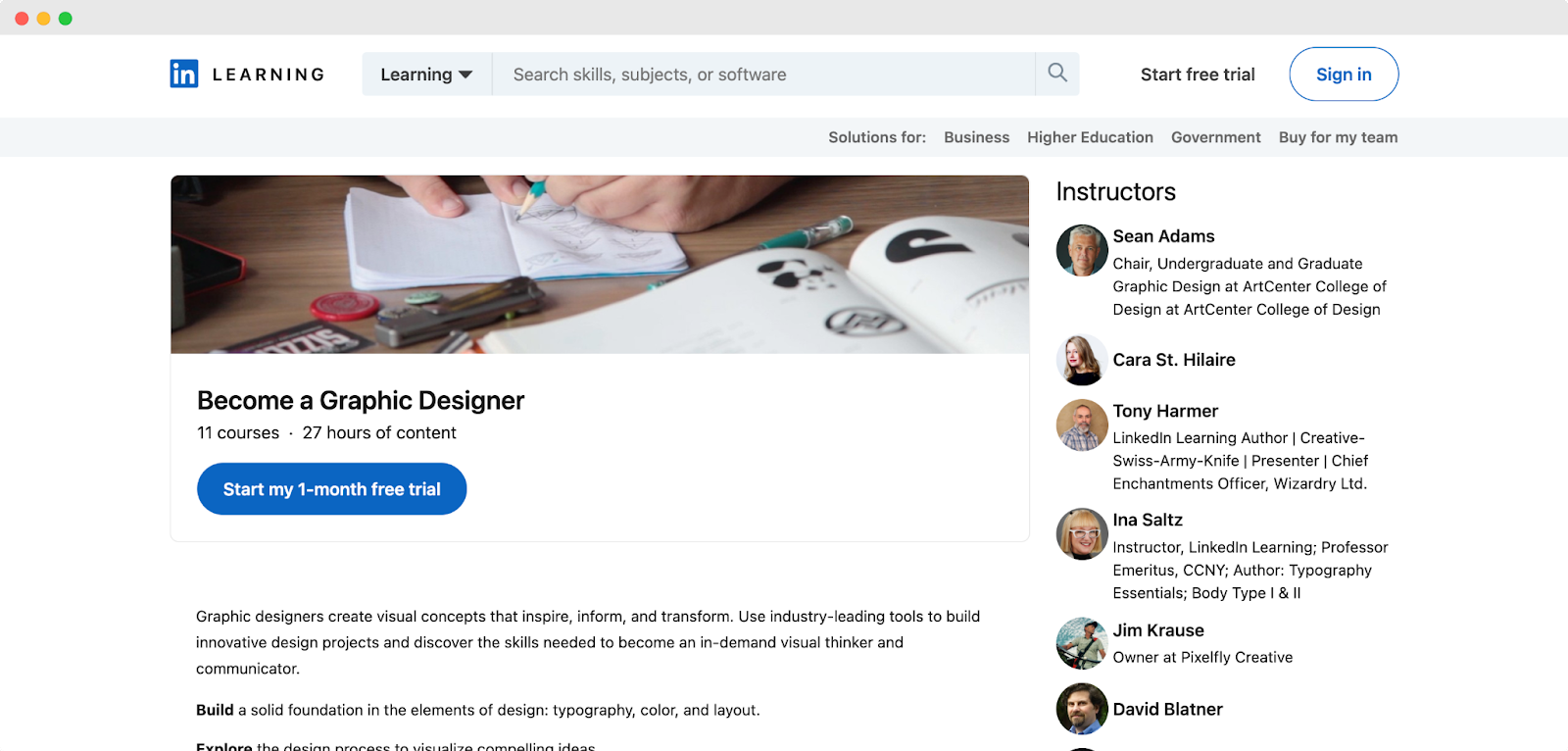 Image source: LinkedIn Learning
Become a Graphic Designer is a graphic design program with 11 courses with 27 hours of content. The learning platform enables you to build a solid foundation with design elements such as typography, explore graphic design to visualize compelling ideas, and practice exercises in Adobe platforms.
The program has various courses, including Color for Design and Art, InDesign 2021 Essential Training, and Creative Collaboration. Additionally, the program hosts several professional designers, such as Sean Adams, Ina Saltz, and Cara St. Hilaire. These industry experts have extensive experience in various graphic design types.
So you can rest assured that the information you're getting comes from a place of experience and passion.
What makes these course creators so successful is the platform they've chosen to host their course on. LinkedIn is very popular for working individuals and doing a course through them allows you to add a recognized skill badge and a course completion certificate to your profile.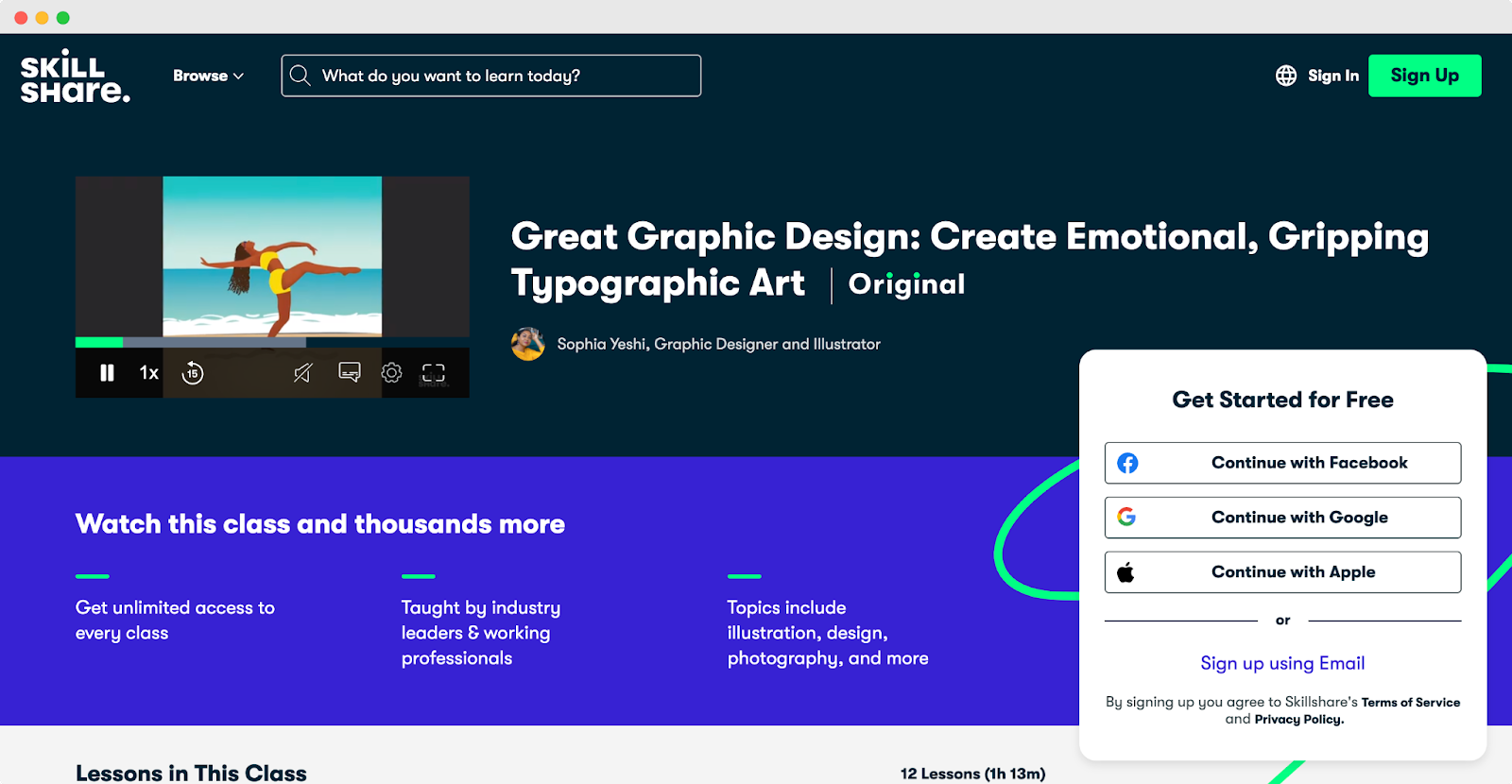 Image source: Skillshare
Great Graphic Design: Create Emotional, Gripping, Typographic Artwork is a course created to teach people how to make a visually stunning but practical graphic design. These graphic design course creators explore how to connect with the audience through a creative process.
Topics covered in the class include illustration, design theory, and photography. What makes this course creator so successful is the make that she speaks from her own knowledge and touches base on multiple graphic design elements instead of just focusing on one.
The course has 1.13 minutes of class content and 12 lessons.
Sophia Yeshi, the creator of Great Graphic Design: Create Emotional, Gripping, Typographic Artwork, is an illustrator and graphic designer in Brooklyn that discovered Photoshop as a child while growing up in the USA. The digital native has spent several years designing collateral for corporate brands.
88% of Yeshi's students affirm that her lessons met their expectations or exceeded them. Considering she's had over 13000 students enrolled in her course, that's a lot of happy customers.
Her other courses are Adobe Illustrator Deep Dive: Color Tools and Techniques, Advanced Techniques in Adobe Illustrator: Adding Texture in, and Live Encore: Bold Designs Using Adobe Illustrator on the iPad.
Sophia Yeshi features her classes on Skillshare, an education platform where users can share, gift, and rent their favorite courses. You can access the platform via desktop or mobile browser. Alternatively, you can download the Skillshare app on your mobile device to access online education programs anywhere, anytime.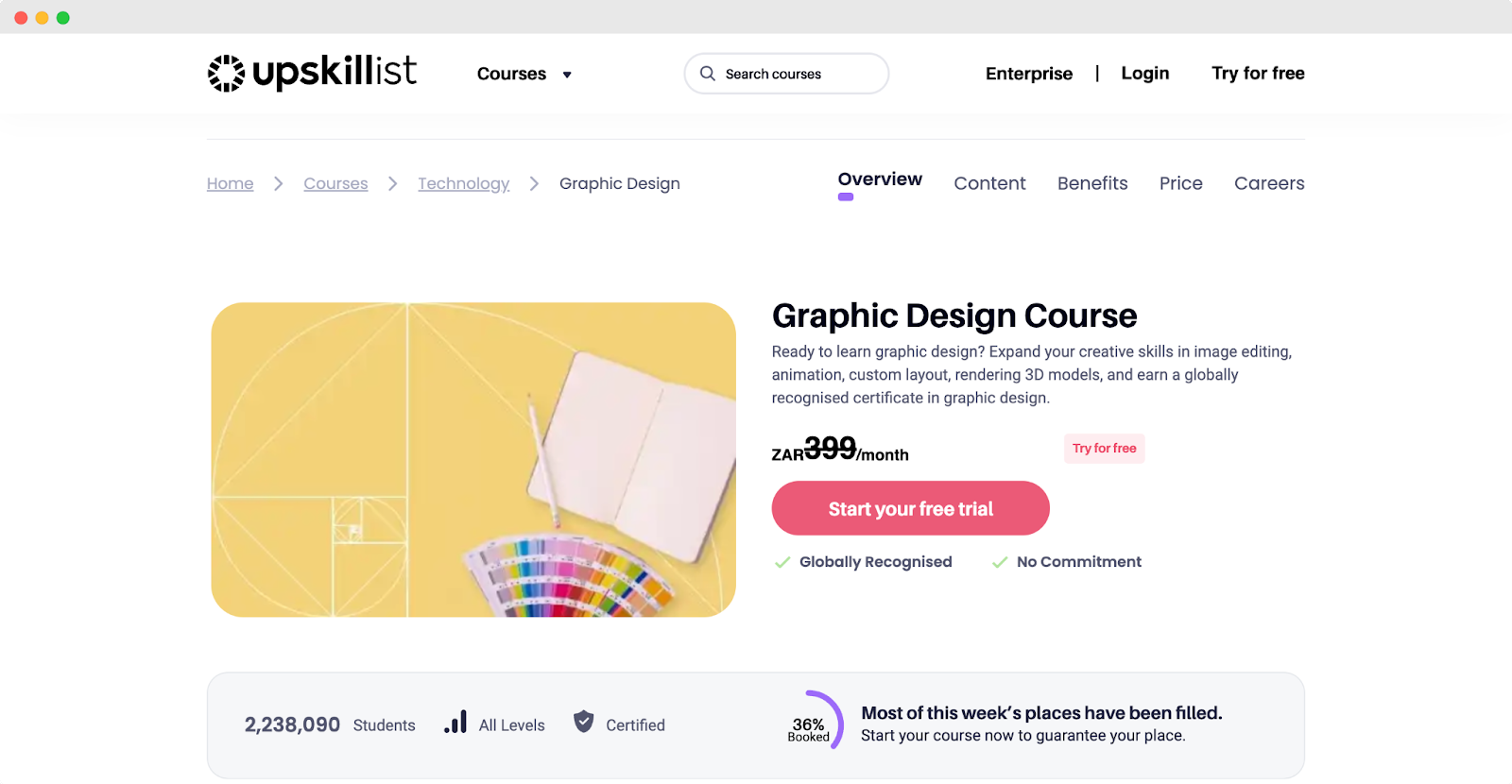 Image source: Upskillist
Graphic Design Course is an online graphic design course that works on mobile devices, computers, and tablets. The course teaches you the art of visual communication through graphic design and typography.
How do you know Upskillist has been successful in creating this course? They've had over 2 million students enroll.
While learning the program, you gain practical skills in Adobe Illustrator, Photoshop, and InDesign. You can apply the collected knowledge to your job or create a graphic design portfolio for your freelance business.
Graphic Design Course has four online modules with 32 lessons done in 16 weeks: Diploma, Intermediate, Advanced, and Proficient in Graphic Design.
You earn a recognizable certificate at the end of the graphic design projects. Prospective students can enroll in the Graphic Design Course through Upskillist Group Limited. The site is a marketplace where trainers and experts provide educational services to train others in fundamental skills.
Your membership will provide you with additional learning resources, including access to educational videos and tutorials.
Related courses include UX Design and Budget Graphic Design. The platform offers a free trial for its enterprise plan, which lets you choose from more than 70 courses.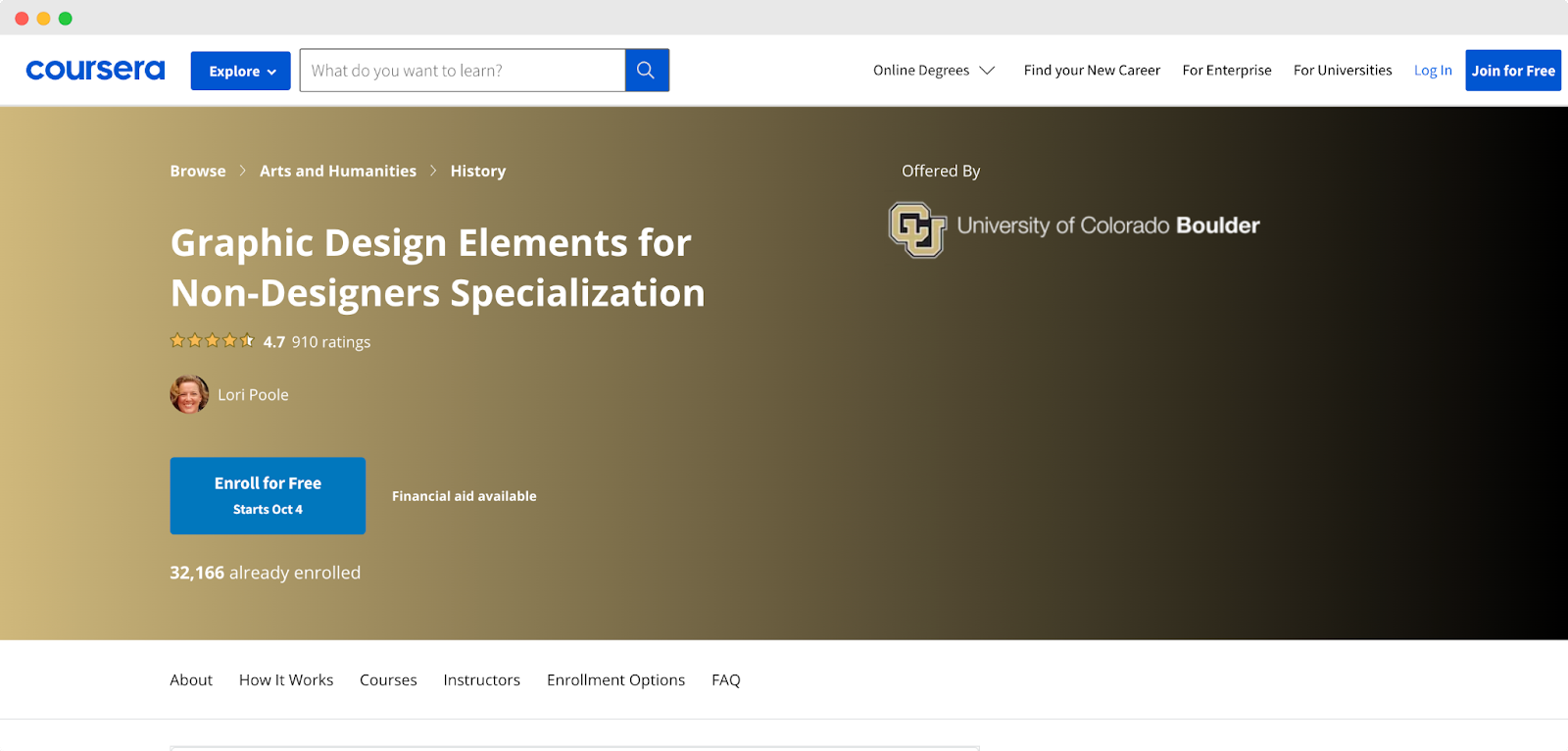 Image source: Coursera
Graphic Design Elements for Non-Designers Specialization is an online course that teaches how to create, design, and develop graphics to grow your graphic design talent. You explore visual design elements, color theory, images, publication design, and techniques for creating effective layouts. Moreover, you'll learn about typography and how to discuss and critique design in a professional setting.
Students are able to create a flexible schedule to handle the coursework, which takes four months to complete at a suggested pace of four hours per week. After completing the hands-on project, you earn a certificate that is shareable with your prospective network.
Its creator is Lori Poole, an instructor with a bachelor's degree in public relations and journalism from Auburn University, where she also obtained a master's degree focusing on organizational communication with a focus on graphic design.
Poole has four courses within Graphic Design Elements for Non-Designers Specialization. The courses are Basic Elements of Design, Graphical Elements of Design, Textual Elements of Design, and Print and Digital Elements of Design.
What makes her so successful as a course creator is the fact that she designs content for people of all skill levels. And, that graphic design degree and work experience doesn't hurt.
Each course holds a 4.7 out of 5-star rating from hundreds of reviews. The excellent ratings attest to how effective it is at exploring the graphic design process.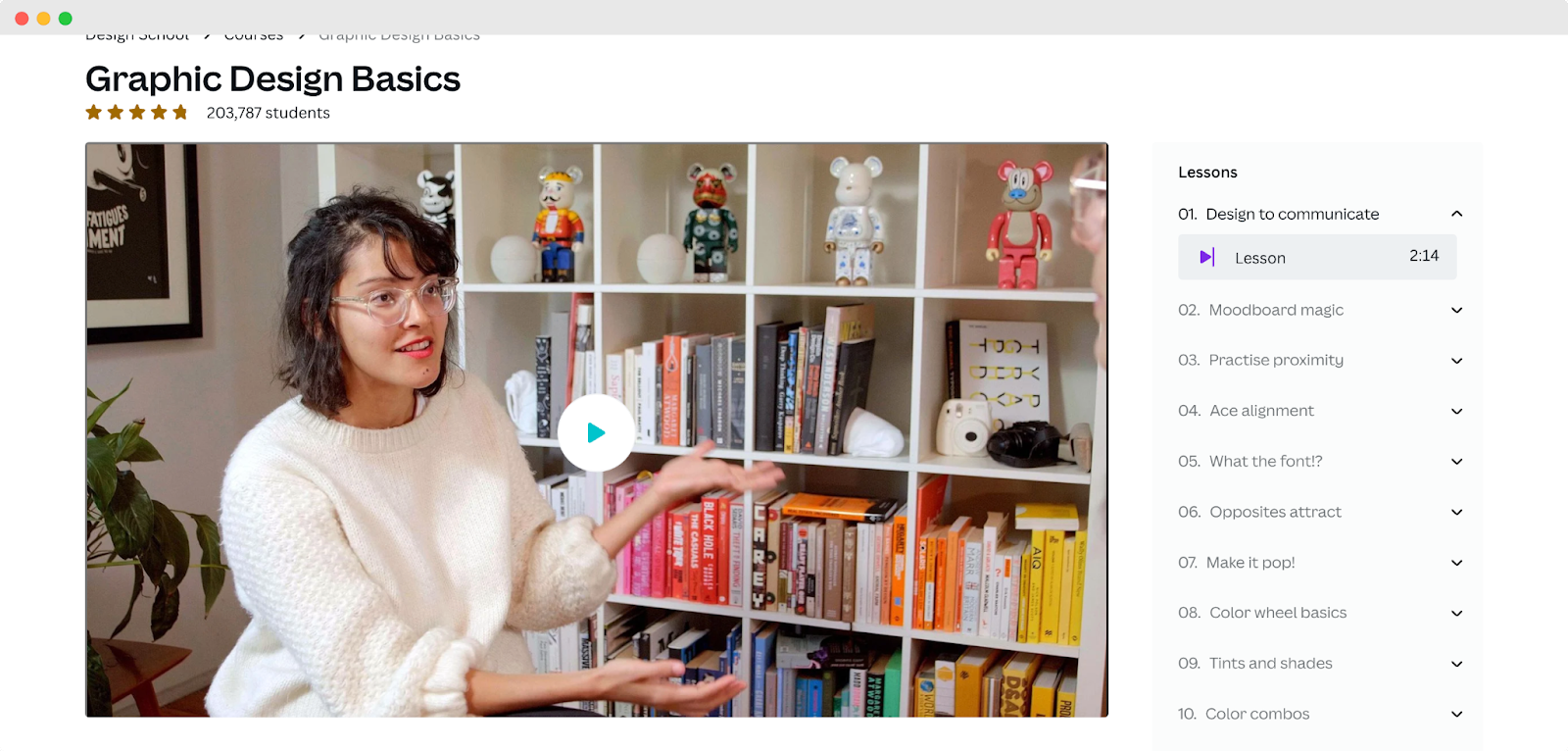 Image source: Canva
Graphic Design Basics is a 12-lesson video tutorial series that shows how to make a great graphic design program. You apply design principles and discover the fundamental skills needed to create your designs.
This series has a 4.7-star rating and has hosted more than 200,000 students.
The experts behind the program are Jason Little, Joe "Mulga" Moore, Lynneal Santos, and Johanna Roca. They are graphic design illustrators at Canva and For The People.
Having not one but four course creators is what makes them so successful. Ever heard of the saying "three heads are better than one"? Well, here you have four! And each one brings their own unique perspective and insights into graphic design and more.
More courses at the company include Canva for Beginners and Canva Design Skills for Students. Oh, and did we mention that they're free?
Canva supports IOS, Android, Windows, and Mac devices, allowing for a broad audience reach.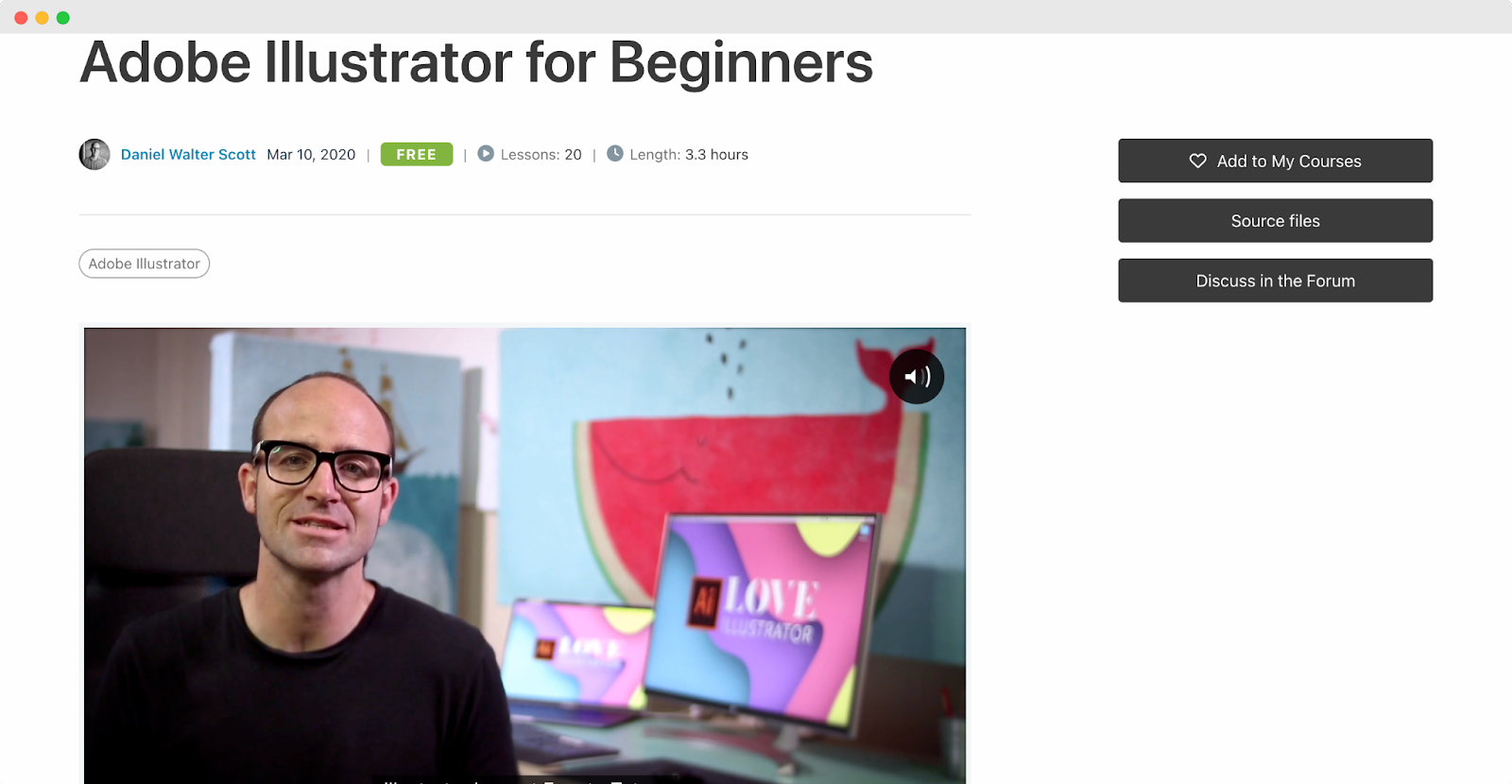 Image source: Envato Tuts
Adobe Illustrator For Beginners is an online course that shows people how to grasp the fundamentals of Adobe Illustrator.
The program covers Adobe Illustrator basics, such as how to draw an illustrator, color, effects and patterns in Illustrator, and more. Adobe Illustrator for Beginners features seven sections that contain 20 lessons with a length of 3.3 hours overall.
Daniel Walter Scott is the creator of Adobe Illustrator for Beginners. He is a digital designer and certified Adobe instructor who has won multiple Adobe teaching awards at the annual MAX conference.
The numerous awards and his Adobe certification illustrate exactly what makes him such a successful course creator. Best of all, access to the course videos is free.
Wrapping Up
Learning new skills or expanding existing knowledge is the best way to get along with freelance graphic design degree programs in the constantly evolving sector. Above are some of the best online graphic design course creators you can take to thrive in graphic design.
Apply the knowledge gained from these programs to your business or graphic design careers today.