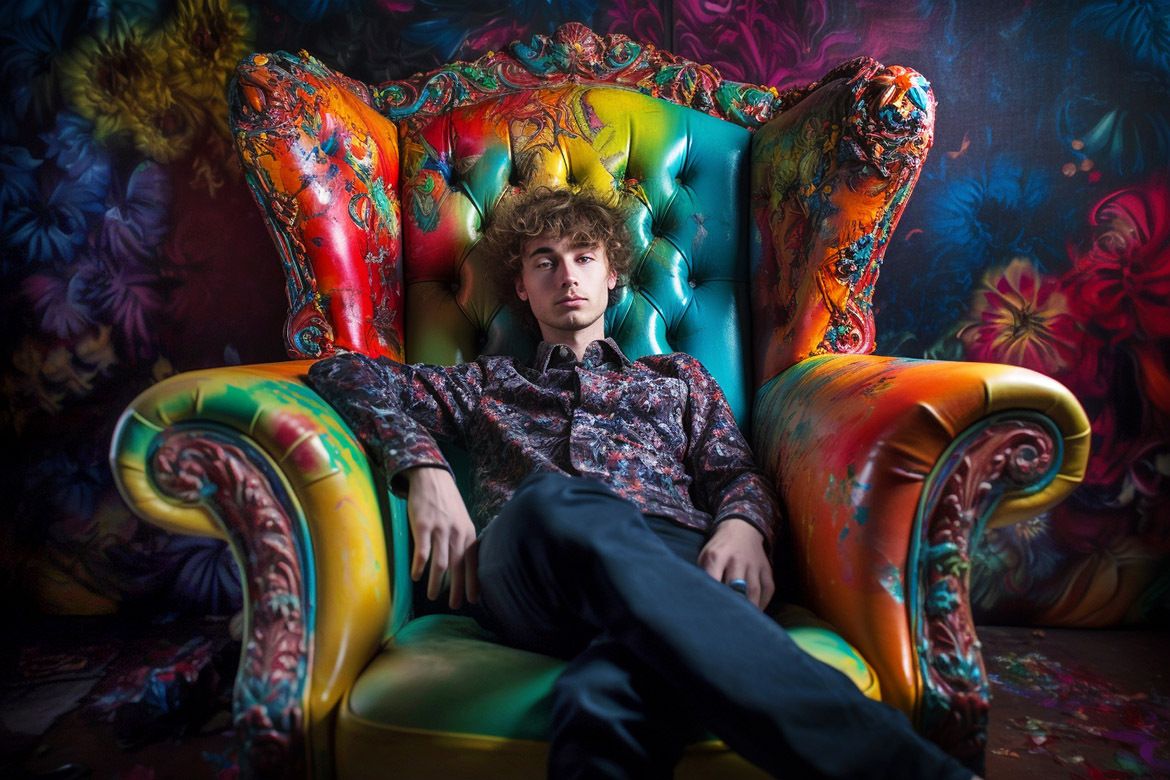 Learn what is currently the easiest to use online course platform, and why. Learn how to easily create an online course website without having design or technical skills.
A question that I get a lot here at the Course Creators Academy is: what is the easiest to use online course platform?
I get this a lot because most course creators are just looking for a simple way to publish their courses on their own website, especially if they are just getting started.
They just want to be able to publish on their own website and not have to rely exclusively on marketplaces, but they don't want to spend hundreds of dollars per month on software.
Most aspiring or even established course creators are not experts in digital marketing or website hosting, and they just want a way to publish their courses quickly and with minimum hassle, so that they can focus on what matters the most to them - creating new content.
Course creators just want a course website that looks great, and that can be set up quickly and easily.
For example, I've been creating online courses since 2016, and I know well that the priority is on creating new courses, and not on dealing with the hosting technology.
If you are like me, most of the time you won't have the web design skills to design and build a website yourself.
And you are also not necessarily comfortable with gluing together 10 different online services and plugins in order to create a custom-made website.
So the question is understandable. The truth is, there are many factors to consider when choosing an online course platform that meets your needs as a course creator, and I'm going to break them down for you.
But if what you want is to:
quickly create your course website with minimum hassle
get access to all the engagement and marketing tools that you need
while not spending hundreds of dollars per month on hosting costs
Then in that case, I think I have just the thing for you. 😉
So, what is the easiest-to-use online course platform?
The easiest-to-use online course platform is OnlineCourseHost.com. You can easily create your own online courses and websites in just a few minutes using its course website builder. No design or technical skills are needed.
You can easily promote your courses with its powerful marketing features. Send newsletters, grow your email list, and  optimize your ads.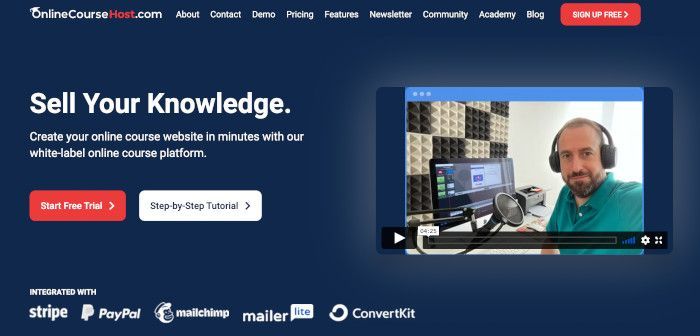 In the rest of this post, I will explain why this platform is the easiest to use by course creators that just want to quickly get their courses up and running on their own website.
A nice way to start your personal tour of the platform is to read my post on:
How to Create an Online Course for Free (Complete Guide).
You can also check out all the free guides that you have available here at the Course Creator Academy by clicking on the Academy link on the top menu bar.
Here are the two main guides of the Academy, make sure not to miss those:
Why OnlineCourseHost.com is the easiest to use online course platform?
Simply because it was designed from the start to guide you through the whole course creation process, just one step at a time.
The ease of use of the user interface is complemented by content available here at the Course Creators Academy, in order to guide you through your whole course creation journey.
With OnlineCourseHost.com, you can easily upload your course lessons in minutes. There are different types of lessons supported:
Video
audio(mp3)
rich-text with images
PDF download or other digital downloads
Quizzes
Assignments
Besides the course creation features, the platform also has a cool Bulk Emails feature, that you can use to contact either all your students in one go (newsletter-style), or reach specific segments of them.
And it's super convenient to do marketing with this feature.
For example, you can create a course coupon with a discount, and then send it to a target segment of your audience, or even to everyone.
You can do things like for example, send a discount coupon to all the students that have already purchased your beginner's course, but that didn't buy your advanced course yet.
And these are just some of the marketing features included!
Let's look at some of the features that make OnlineCourseHost.com so easy to use.
Easily set up your website
You don't need to be a designer to get a website up and running in minutes.
You can quickly choose a few brand colors, upload a logo, set up a landing page,  and have a website up and running in no time.
The platform allows you to create, sell, and host your online courses under your own domain name, and you don't need to be a web developer or designer to achieve all that.
The interface is highly intuitive and easy to use. The user experience is designed not to overwhelm you, and the multiple tools will be presented to you as you build your first course.
When starting, you are entitled to a free web address and website name. The free address is a platform subdomain, for example:
yoursubdomain.onlinecoursehost.com
You can pick any subdomain that is still available on the platform.  Or alternatively, you can plug in your own custom domain (like yourcustomdomain.com), if you have already paid for one.  
You just have to point your domain to the platform servers, and the platform will host your courses for you in a transparent way.
By default, the website layout is optimized for conversions. Student sign-ups and newsletter subscriptions have already been set up for you.
Easily setup your course landing page
Setting up your course landing page is as easy as ABC!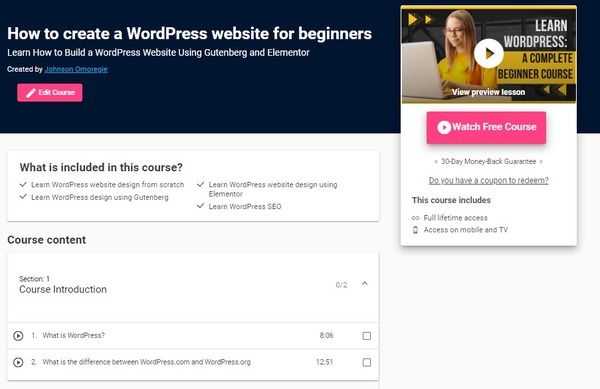 Your course landing page requires you to only fill in your course title, description, benefits, and FAQs and finally upload your thumbnail, and you're good to go.
Improve the engagement of your course with quizzes
A very powerful feature for helping to boost the engagement of your courses is quizzes.
With quiz lessons you can add multiple answers questions to your course, and give hints when students choose the wrong answer: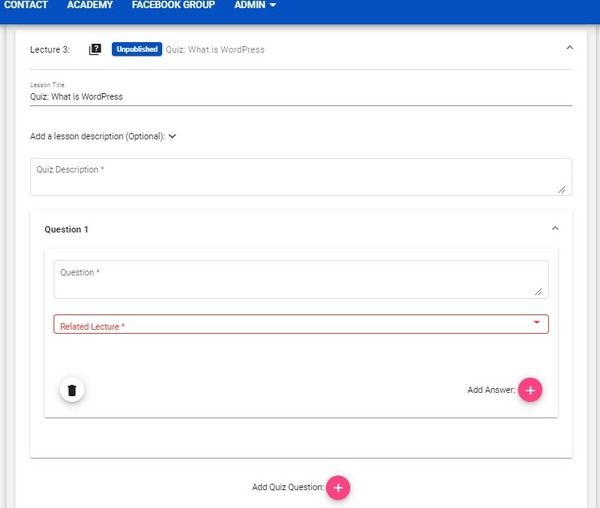 Easily add course sections and lessons
Right from when you sign up to create and publish course, the process is effortless.
Here is what the editor of a rich-text lesson will look like, for example: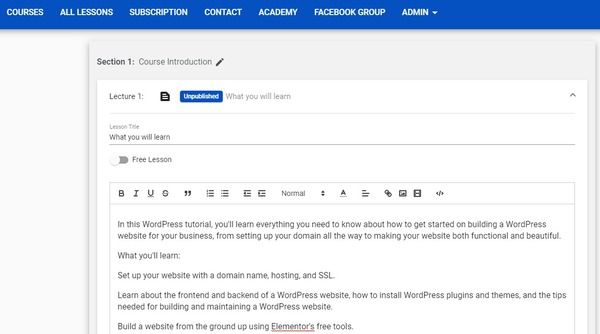 Upload multiple video lessons at once
You can easily upload multiple video lessons, and keep working on the rest of the course while you wait for your uploads to complete.
Depending on your network, you can even upload up to 3 videos at the same time: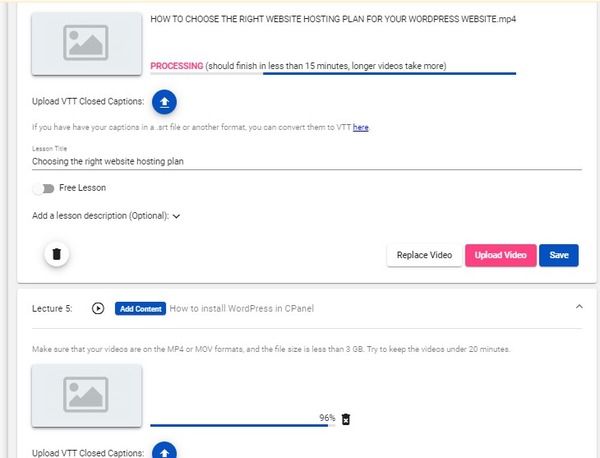 Responsive on any device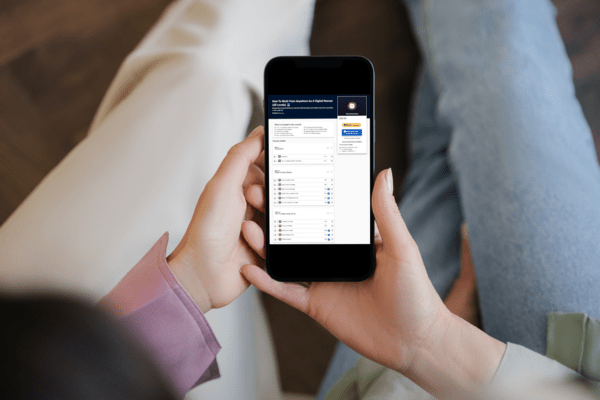 OnlineCourseHost.com has a responsive design that ensures your content looks great no matter what device someone uses to access the material, whether it's their phone, tablet, or desktop computer.
You can be sure that your content will always look professional, no matter what.
Conclusion
If you're looking for an easy and affordable way to create and sell online courses, OnlineCourseHost.com is the best place to start.
I founded this platform, because as a course creator myself I felt that the existing platforms were not a good fit for my needs.
I wanted to make available to course creators a much more simplified course creation experience, and make online teaching accessible to a much wider audience that does not necessarily have design or technical skills, but still have a lot to teach in their own domain of expertise.
I also wanted to create a more affordable option for course creators that allowed them to have their own course website and not rely exclusively on marketplaces, without having to spend hundreds of dollars per month on hosting costs.
If you are curious, go ahead and try it, there is a free 14-day trial.
You won't find an easier to use course platform on the market! 😉
I hope this post helped you choose the right course platform for you.
And if you are a course creator, or thinking about creating online courses, have a look at the rest of the content here at the Academy.
For example, this is my most complete guide on how to create an online course from A to Z.
It's completely free, like all the content here at the Academy:
How To Create an Online Course (Complete Guide, includes Free PDF).
Let me know if you have any questions, and enjoy the course creation process.
---
Vasco Cavalheiro
OnlineCourseHost.com Founder & Online Course Creator