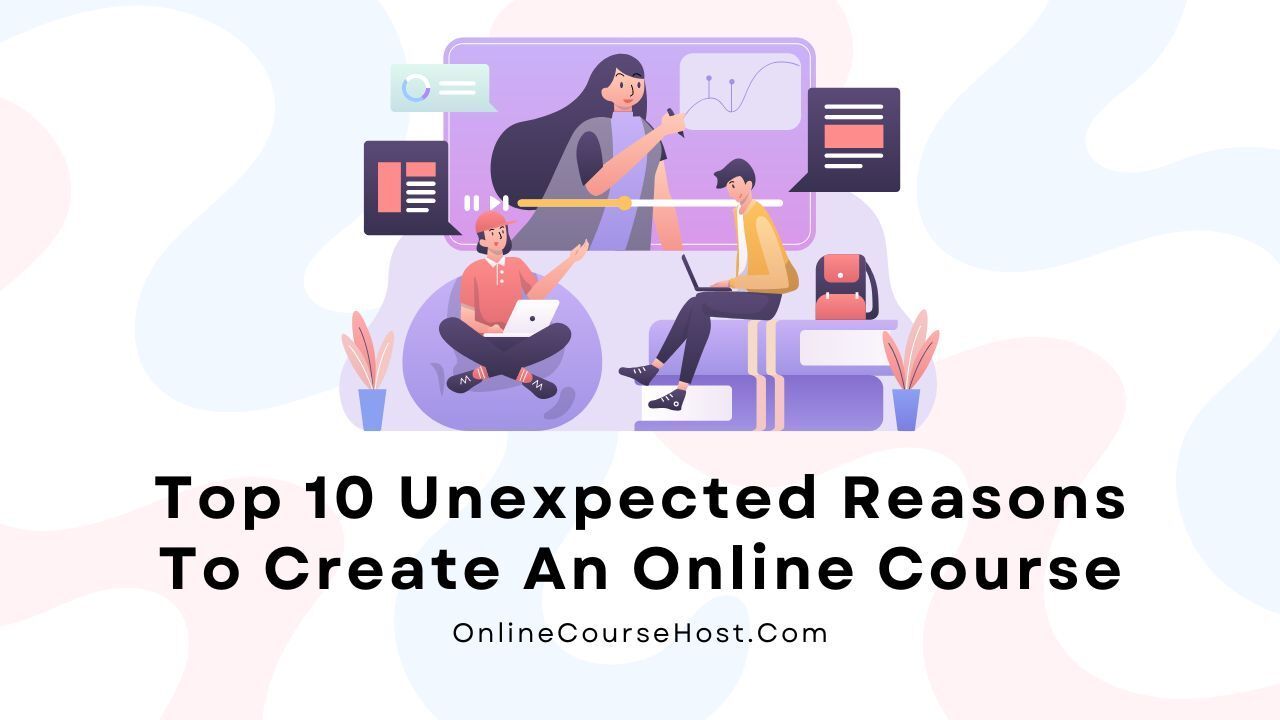 It seems like everyone has an online course these days, which may have left you wondering… Do I really need to create an online course, why would I want to create one?
Most people do online courses to make a living teaching online, and that's pretty much it, right?
Is there any other added value or advantage for you as an author, that would justify that you spend your time creating courses, other than the direct revenue that they generate?
There are actually a ton of reasons for creating a course,  and I bet that if you are new to the online course business (or even if you are an experienced course creator), that you didn't think about most of these reasons.
In reality, there are a lot of course creators that actually don't make a full-time income directly from their courses (although that's possible), but instead make their revenue from everything else that they manage to leverage by simply being a course author!
So without further ado, let's dive into this list of unexpected reasons and hidden benefits to creating an online course, that you might not have thought about before.
Reason 1: Drive Lead Generation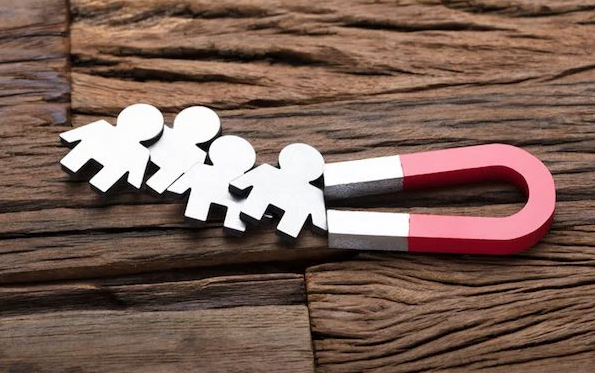 Something every business has in common is the need for new leads. Lead generation is the lifeblood of your online course business, and there's never a point when bringing new leads in isn't important.
Although an online course generates potentially life-changing revenue in its own right, it also acts as a lead generation machine that:
Cross-sells and down-sells other parts of your business like coaching services or other higher-ticket services
Up-sells and drives new, higher ticket clients, customers, and partnerships
Builds your email list, social media growth, and audience overall
AND… helps you fine-tune who your ideal customer is!
Whether you create an online course for free specifically to drive lead generation or a fully paid course to increase sales, the end result is the same: new, relevant, and ready-to-used leads for your business 😉.
The best part is, once you build your course this continues to work on auto-pilot (so long as you approach it the "right" way). This not only generates new income  but saves you so much time that you can then focus on other parts of your business.
or more time to simply spend with your family, travel, and, you know… enjoy your life! ☺️
I've tried a whole lot of different lead generation methods over the years, and nothing really compares to an online course.
It helps you reach your ideal customer, bring them into your sales funnel and ecosystem, nurture them, and prepare them for what comes next -- even if you haven't quite figured out what that is yet 😃.
Lead generation is what makes your business tick, and your online course helps fuel it.
Reason 2: Build Your Brand and Become The "Go-To" Authority in Your Industry!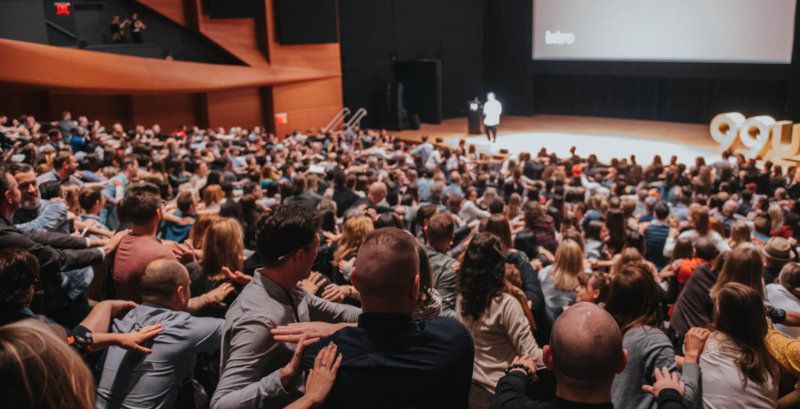 It used to be that people wrote a book to prove their authority, become a thought-leader, and establish their brand. This is still a popular method, but writing a book is a huge commitment that takes time and money.
Today, more and more entrepreneurs, coaches, executives, consultants, influencers, and even famous celebrities turn to online courses to build their brand and become the "go-to" authority in their space.
It makes sense when you see how the e-learning industry is set to boom (more on this in a bit…), and it makes even more sense when you consider how accessible an online course is compared to something like a book.
For starters, it's more practical than a book. Your course teaches your students and shows them directly what to do, not simply sharing stories or talking about how to do it.
They also don't need to read several chapters that aren't relevant to them. With your course, they can focus on what they need to learn when they need to learn it.
And because an online course includes video, audio, text, workbooks, quizzes, surveys, and much more… it's more relevant and helpful to a lot more people, who prefer to learn in all sorts of different ways other than reading.
That's the key here: relevance! 😉
This is how you build a brand and this is how you become a "go-to" authority in your industry.
The more relevant you are to those you serve, the more trust you build. You stay top of mind and become the person they want to work with now and in the future.
This has always been very hard (let alone expensive) to achieve, but with an online course, it's now simpler than ever!
Reason 3: Create True Freedom So You Can Live Your Dream Life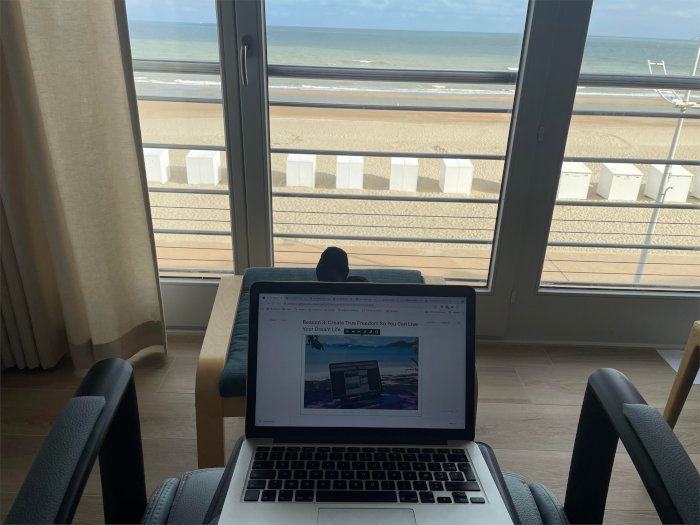 Talking about freedom, here I am at the Belgium coast at 8h30 AM writing this blog post, while the kids are till asleep ☺️
It's not exactly the Caribbean, but for me and my family it's the next best thing, we come here every year and we love it, and we manage to do it several weeks at a time thanks to my online course activity 😉.
Whatever your current situation is, it's likely you want a bit more freedom:
To work when you want, where you want…
To work on the projects that inspire you the most…
To work with the people you want to; those you can best help…
To have more time to spend with your family and simply live your life!
Even if you own your own business, it's easy to slip into the trap where it owns you.
If you want to create an online course, it still requires hard work and effort. But, approached correctly, you can do it in a way that fuels your freedom instead of stealing it.
Imagine how it would feel to make money while you sleep? To make thousands each month, only having to spend a couple of hours answering questions each week, at least for a while if you need to?
To be able to create a new module (or an entire course) while on travel? To not have to work for several weeks, but still have money rolling in each day?
This is the power of earning passive income through online courses.
I know this because I've experienced many of these things myself first-hand, and I know you can too ☺️.
Freedom is different for everyone, but I bet that like most of us,  you want more of it, and creating online courses is one of the best ways that you can find to create a ton of freedom for yourself and your family 👍.
4: Teach What You Love, When You Love, Where You Love...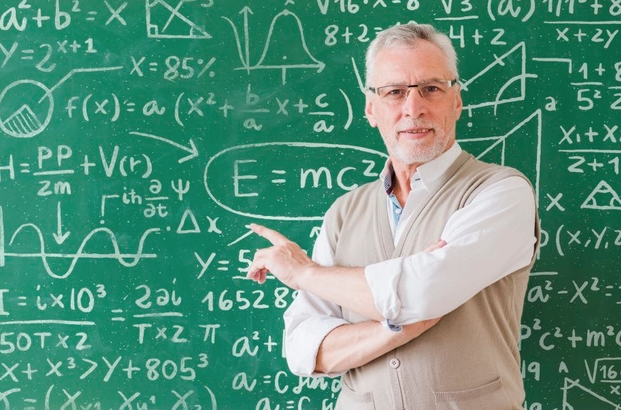 Following on from your pursuit of freedom, an online course brings you closer to your passion.
If you have a skill, you can teach it!
If you have unique expertise or insight, you can share it!
If you have a hobby or interest, you can build upon it!
Some people get so caught up in the type of course they could create that they lose focus on the one they'd like to. You can, if you like, focus your course around your business so it brings in a new, relevant income stream.
BUT, you can, if you like, create an online course that has nothing to do with your career, but instead with some other skill that you have acquired in your life.
You can teach what you love. So long as it has a positive impact on your students, you can and will make a living doing it 👍.
It's hard to find this sort of freedom in life. To teach what you love… to teach it when you want to… where you would like to… with whom you would like to…
What's the price of that for you? 😉
5: Leverage Your Existing Content (and Expertise)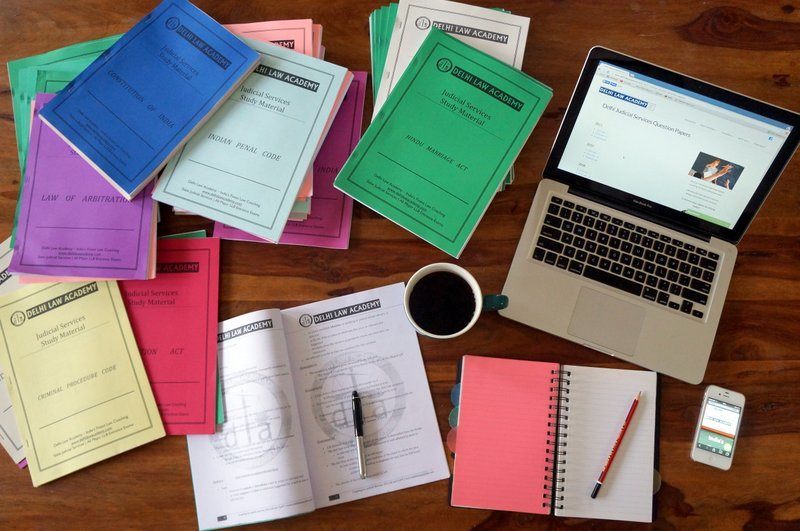 One of the biggest objections I see when it comes to online courses is that people (and maybe you are one of them) worry that it's a lot of work, which it can be.
But the reality for a lot of course creators is that a lot of your material already exists!
You've recorded videos and audios and done interviews…
You have created resources, workbooks, and training for clients…
You have endless notes from client sessions and past projects!
You likely have a backlog of content that's just screaming for you to repurpose it into course material that not only teaches your students but provides them with a practical roadmap.
So, sure… creating an online course does require work. It will take you some time.
It'll push you outside of your comfort zone, but probably just not as far as you might imagine ☺️.
A lot of the work you need to do has already been done. You've racked up years of experience, and now is the time to share this with other people so they can learn on their own time.
Wherever they are in the world… which leads us to the next point.
6: Reach a Global Audience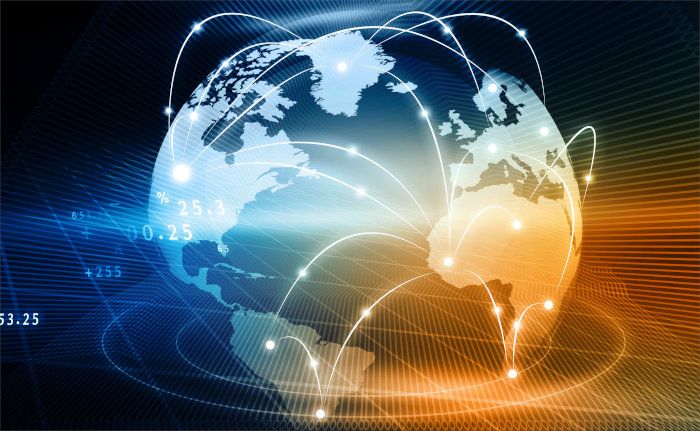 Over the next few years, the e-learning industry as a whole is set to boom (I will talk about this in detail soon). This makes sense when you think about how large the planet is and how much untapped potential exists.
Many of us live in well-developed countries that have had access to the internet for decades. Social media is part of our lives. The ability to learn anything we need with a simple Google search feels natural. It's at our fingertips all the time (literally!).
But this just isn't true (yet) for all parts of the world.
There are many countries where this is only starting to come of age.
As more countries gain reliable and faster access to the internet, the greater your reach. You don't only have to create courses for people in America, Canada, the UK, and parts of Europe. This is where most people focus their attention, but it's only the tip of the iceberg.
The whole rest of the world is out there, just waiting for you to tap into it 😉!
More so, the world of education continues to change at a rapid pace. As more young and old people alike turn to online education instead of traditional institutions, the popularity of online courses isn't set to simply increase, but it will become a fundamental part of learning.
Not a great deal of good came out of the global pandemic in 2020, but one positive was how it showed the world just how powerful and efficient online learning is.
All this is great news for today's course creator that has the potential to reach billions.
No matter what you teach, there's a large and relevant audience that awaits you!
7: Stake Your Claim in a Booming Industry!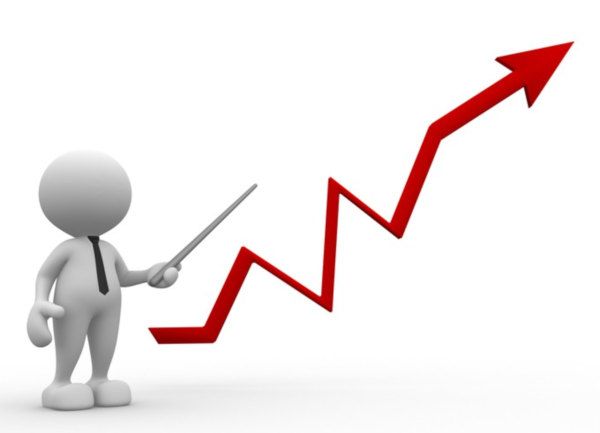 I've hinted at this a few times already…
The e-Learning industry is just booming and it's set to continue 😉.
By how much, exactly?
Are you ready for this? It may surprise you!
Studies suggest it will grow to $325 billion by 2025!
These studies were pre-pandemic, too, so I imagine these projections are already outdated because countries around the world turned to online learning just to keep their education systems above water.
This isn't a trend.
This is the future!
It provides a massive opportunity for you as you can stake your claim in this booming market. But the time to act is now because this virtual gold rush is soon to come. In fact, you could already argue it's underway.
Celebrities, renowned investors, famous business owners, artists, athletes… more and more of them turn to online courses to further establish their own brand.
At the moment, having these kinds of people involved helps you because it shines a light on e-learning as a whole.
But soon, it will be very hard to stand out, just like it is now harder to start a new podcast or YouTube Channel when compared to several years ago.
The tipping point will come sometime soon, so make sure you stake your claim  in this industry before it's too late.
The best time to have joined this party was a few years ago. But the next best time is now 😉.
8: Market Research On Steroids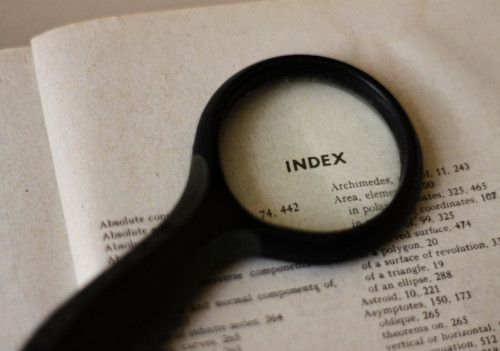 An often forgotten and under-appreciated benefit of creating an online course is that it breeds fresh ideas and leads to new opportunities via a much better understanding of your target audience.
We touched upon this already, but an online course frees up your time so you have more of it to think, strategize, and plan your next big idea.
As I'm sure you're already aware, this is easier said than done when running a business.
Yet regaining time is only part of the power behind an online course…
The very nature of it involves you working (directly) with students who provide you with feedback, ask you questions, and guide you toward what they need.
If you listen and observe, you'll likely find your online course leads to new, exciting projects/products/services:
Coaching
Consulting
Membership Sites
Masterminds
Virtual Summits
Real-World Events
and other courses and programs…
Few course creators create a single course and leave it at that. Most of them create more courses (or other related services) because their students guide them toward what they need.
So, as amazing as an online course can be to your bottom line, it's also one of the best forms of market research.
9: Make Passive Income (even when you sleep!)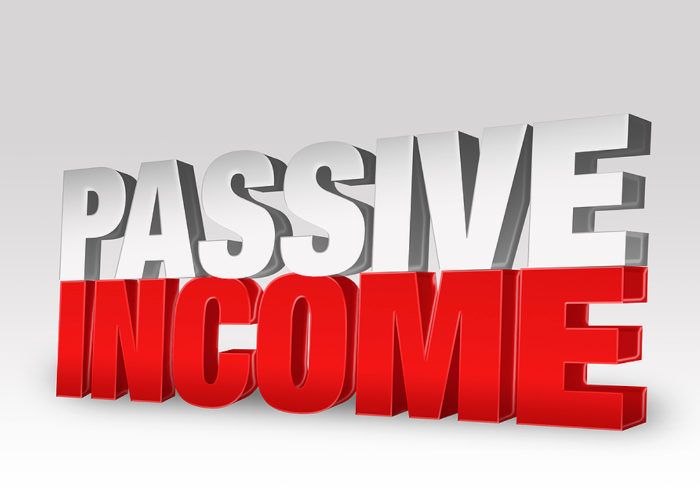 Once you create and publish your course, it starts working for you.
As you build more momentum, it soon takes on a life of its own. Sure, you have to keep fuelling the fire and driving traffic and opportunities toward it (through ads, content marketing, social media, etc…).
Yet once the wave begins, it continues to do its thing while you sleep, spend time with your family, work on other projects,  and however else you'd like to spend your time 😉.
Passive income is literally the Holy Grail of business. To some extent, everyone needs it!
You only have so much time and energy. You need certain parts of your business to just work.
Approached correctly, your online course does this for you.
It continues to work even when you don't, leaving you more time to live your life and spend more of your time the way you want to it.
10: The Best Part of All… It's Easier To Create an Online Course Than You Think!
This last reason may be the most important of all… creating an online course doesn't have to be hard.
It can if you try to do everything yourself, but if you use the right course-building platform that not only gives you the tools you need but specific training and resources for how to use them…
You can create an online course in a simple and easy to understand way, and sell it to your students successfully without much trial and error at all.
It's also true, despite the many myths… that creating an online course is NOT expensive at all (or requires a lot of tools and technical know-how).
The truth is that almost anyone that has something to teach and that knows how to use well a computer can learn how to create online courses.
Again, so long as you use a reliable and robust online course platform like OnlineCourseHost, much of the hard work is taken care of for you.
You don't have to worry about landing page design, video hosting, or anything like that.
It's all taken care of for you, saving you both time and money.
All you need is a reliable microphone and (maybe) a solid camera.
Beyond that, your success comes down to the type of course you create and the impact it has. I'm not saying it's easy or doesn't require a solid work ethic, but with the right guidance, it doesn't have to be hard at all, and most of all it's super fun. 😉
That's our mission here at OnlineCourseHost.com, not only providing you with a robust and super easy to use online course platform, but also with the knowledge  that you need to become a course creator, including:
This begins with our ever-growing Course Creator Academy, which features dozens of articles, guides, and practical resources to help you build, promote, and grow your online course.
As part of the academy, if you have any questions or doubts about course creation, you can ask anything you need at the Course Creator Facebook Community.
Just request to join and we will approve it, you don't even have to be using my platform. All it takes is that you are an aspiring or experienced course creator, with a willingness to learn 👍.
And if you're ready to start work on your online course, we'd love to help you build it from start to finish.
And if you are looking for a platform to host your online courses, create an account at OnlineCourseHost.com and start creating your courses using our Free Plan. 😉
I hope this helped, to get notified when I release new content here in the Academy, you can subscribe to my weekly newsletter:
Check out also any other posts that you might be interested in the blog home page.
That's all I got for today, see you soon, and until next time I wish you Happy Teaching!
---
Vasco Cavalheiro
OnlineCourseHost.com Founder & Online Course Creator
LinkedIn   Facebook Page   Facebook Group   Twitter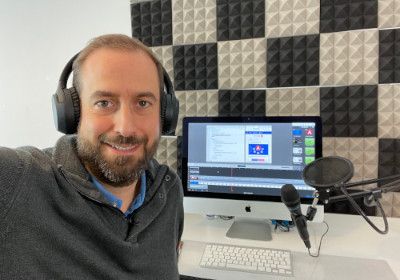 You are welcome to ask me any questions in the comments below: 👇👇👇👇
---