9 Effective Strategies for Validating Your Online Course Idea

Platform Review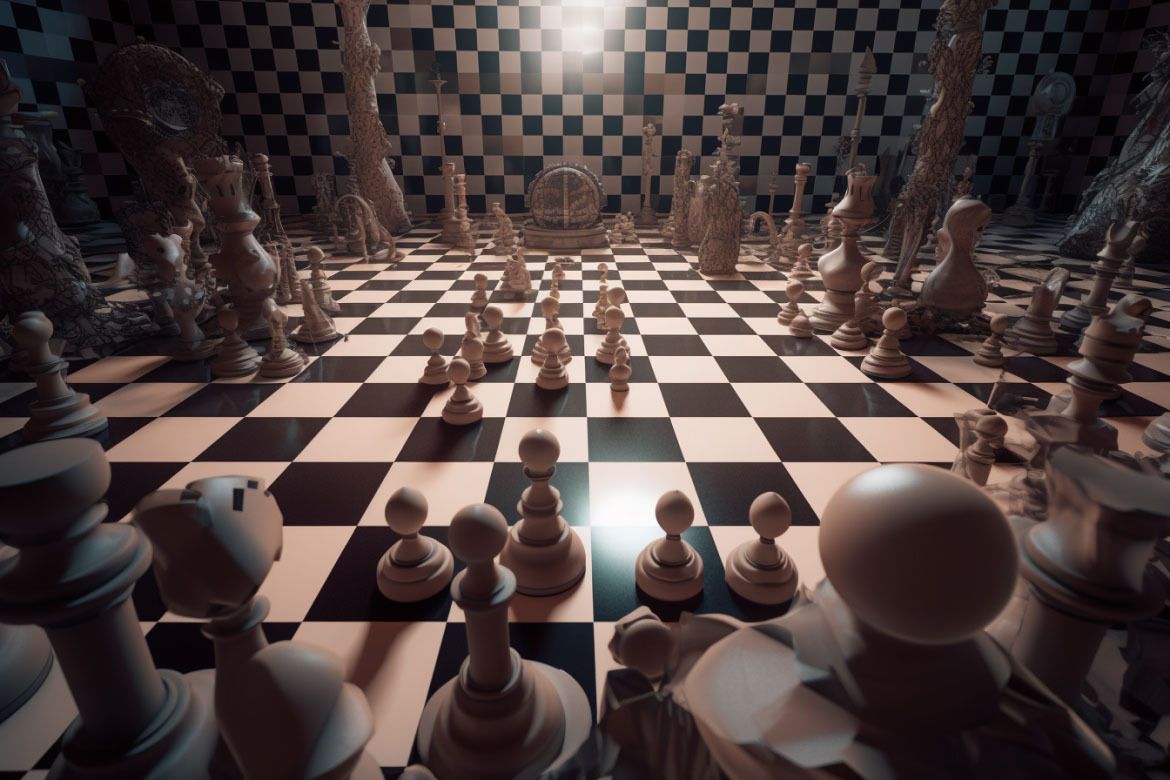 Are your online courses not selling as you expected? Are you validating the idea for profitability first? Incorporate these proven ways to validate your online course idea to increase sales!
Have this fantastic online course idea you're passionate about but unsure if your audience feels the same way? You want to create this course but are worried that people won't buy it.
If you find yourself in this situation often - you're missing out on a crucial step of the course creation process. You're doubtful of your course idea because you're not validating it first.
You must always validate the course idea before investing time, money, and effort into building it. Why? Because you wouldn't want your efforts to go in vain.
So, how to validate an online course idea?
Here are the various steps you can take to validate your online course idea:
Pre-sell your online course idea
Read Quora answers, Subreddits, and Online Discussions
Use Udemy MarketPlace Insights & Search Bar
Use Keyword Research tools
Use Google & YouTube AutoSuggest
Leverage Social Listening
Conduct Surveys & Polls
Ask your Target Audience
Test as a Lead Magnet idea
Below I'll show you how to carry out each step in detail. So by the time you're done reading the post, you'll have multiple ways to test your online course idea.
You can also check out all the free guides available at the Course Creator Academy.
Let's begin.
#1: Pre-sell your Online Course Idea
Pre-selling your online course idea is a surefire way to test its profitability.
If you can sell the idea to a few students before creating the course, it's a positive signal that it will sell well.
What if nobody enrolls for the program even after you've promoted it well? It's still a good sign because you saved yourself from wasting time and resources on creating a course nobody was interested in.  
To pre-sell a course idea, you need three things:
A highly-converting landing page: Design a landing page to sell your online course idea like you would for the actual course.
Features & Benefits of course idea: List all the features and benefits of your course. Your job is to make it as convincing as possible.
A Countdown Timer: Place a countdown timer to create urgency. By adding a limit, your offer would appear more appealing.
You can also create a waitlist discount offer to get more enrollments. Once the landing page is done, promote it using various marketing strategies and try to get some enrollments.
Even if you get a few, take it as a signal to move forward. You can also try other ways to pre-sell an online course, like beta-testing.
#2: Read Quora answers, Subreddits, and Online Discussions
Your target audience always discusses their problems and struggles on question-answer sites like Quora and Reddit. This allows you to verify whether people are discussing your course idea.
You only need to search for your online course idea on Quora or Reddit. If you find many discussions, it shows that it's a big concern for many people.  
For example, my online course idea is "how to create an online course," I'll search for it on Quora.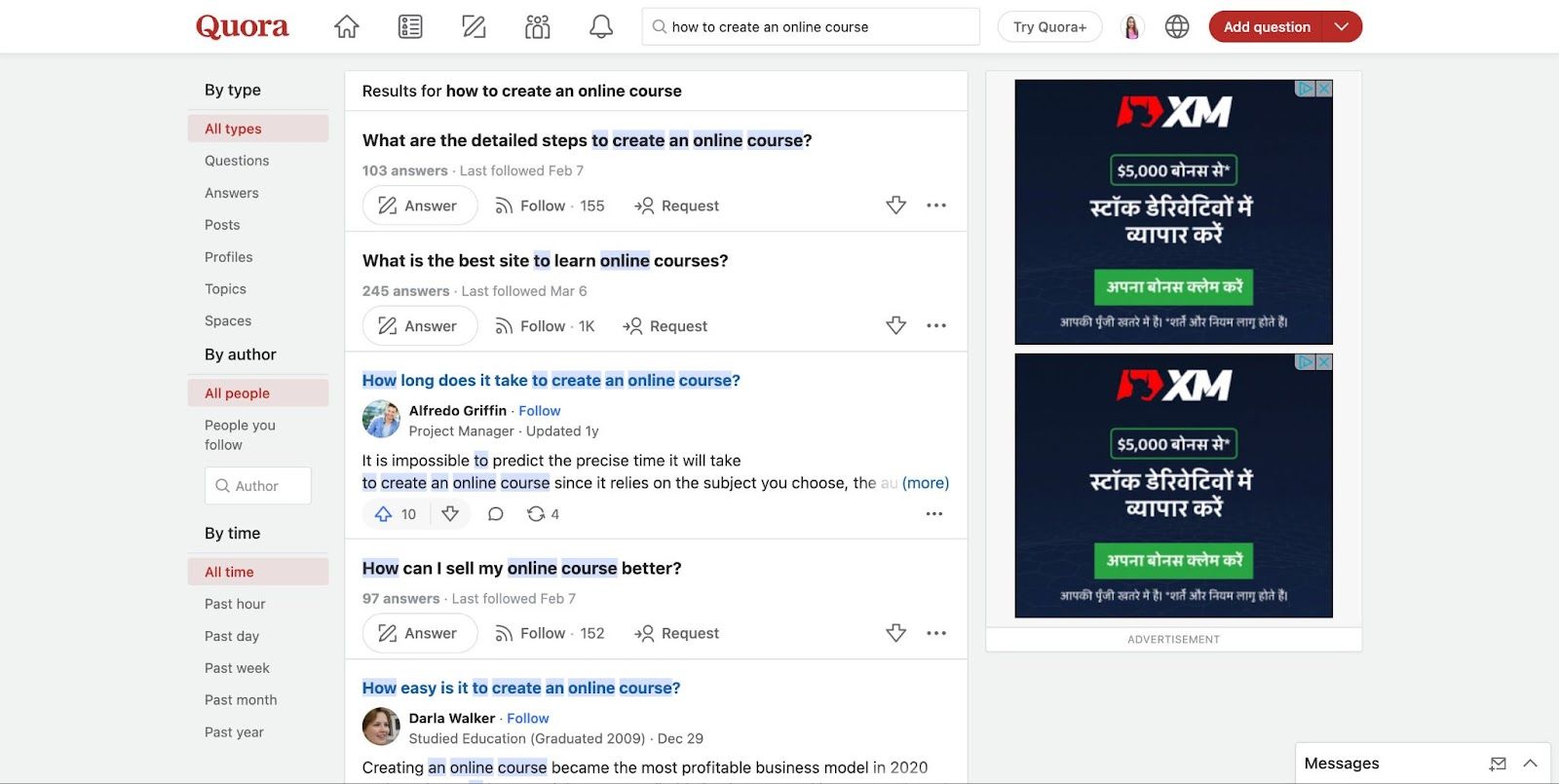 As you can see, there are many discussions, and more keep appearing as I scroll, which means it's an in-demand topic. Similarly, you can search for your course idea to see if something comes up.
You can read through each of these discussions to dig deeper. It'll give you ideas to improve your course - and many new online course ideas.
Similarly, you can join online forums, Facebook groups, and communities where your target audience hangs out. Keep an ear out to find common concerns they discuss and see if your idea comes up.
If not, you can start discussing your topic and see if people chime in. Consistent time spent on these platforms will help you understand your target audience better, give you many course ideas, and validate them.
#3: Use Udemy Market Place Insights & Search Bar
Udemy is one of the biggest online course marketplaces, with courses in 200+ categories and more than 40 million target audiences, so it's a perfect platform to gather insights.
First, you can use the Udemy search bar to validate your course idea. Simply type your idea in the search bar to see if courses appear. If they do, it means the topic has a demand on Udemy.
For example, my online course idea, "How to create an online course," shows 10,000+ results, which means it's a popular topic on Udemy.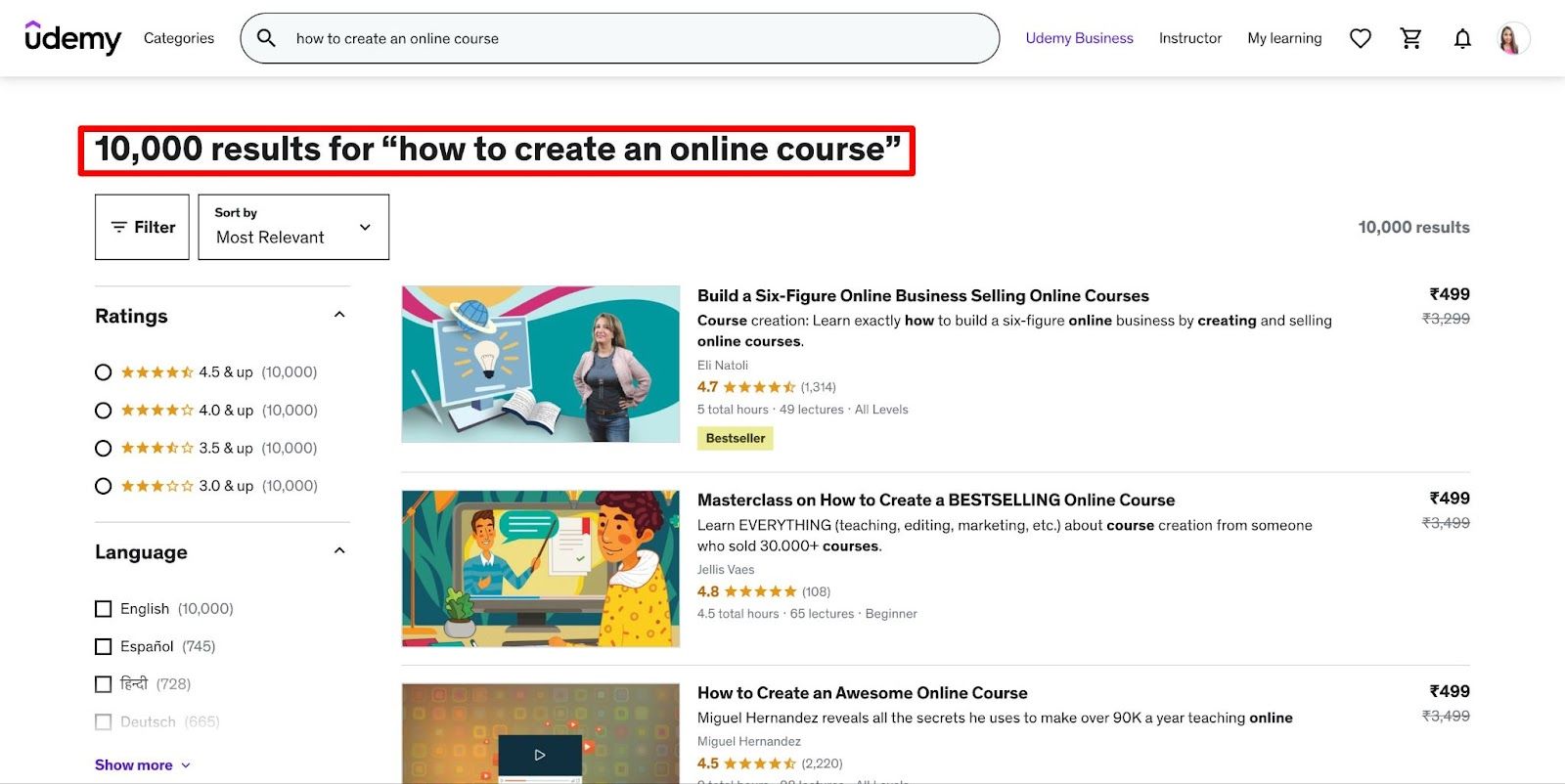 You can use Udemy's Marketplace Insights - a goldmine for course creators to explore things more deeply. Simply type the idea in the search bar, and you'll get a detailed analysis based on Udemy's massive audience behavior.
Here's the report for my course idea, "how to create an online course."
It shows the high and consistently growing student demand, which means this is a popular topic on Udemy. Similarly, create a detailed report on your course idea and read it carefully - you'll uncover many hidden secrets.
#4: Use Keyword Research tools
Another way to collect concrete data is by using a keyword research tool. Keyword research tools show a keyword's monthly search volume, which is the numerical value of how many times the term was searched on search engines.
The more the search volume, the higher the demand. For example, my idea of "how to create an online course" shows a monthly search volume of 3.8K worldwide.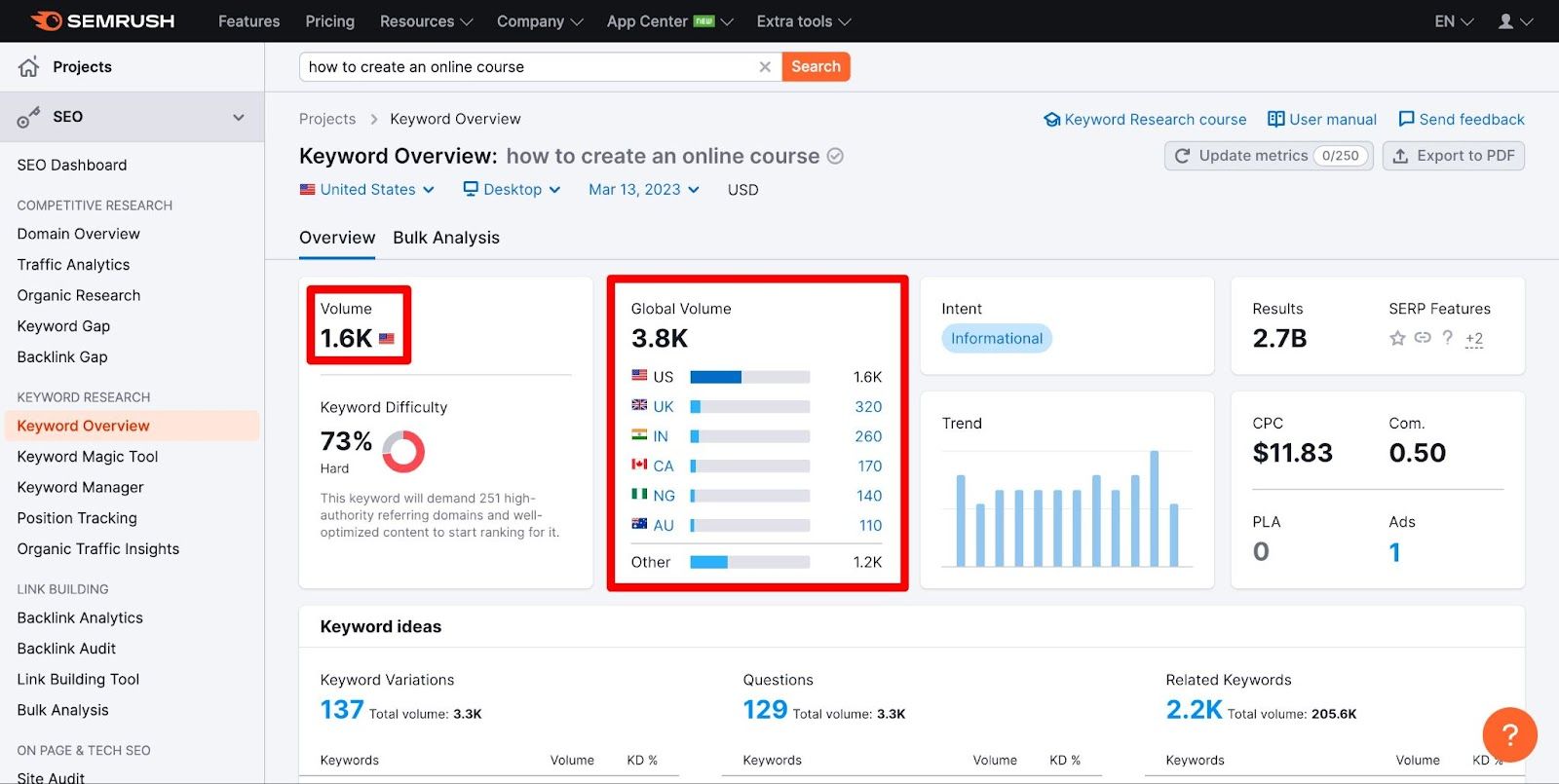 Again, it shows the course idea is consistently searched by 3.8K people globally - showing it's a popular topic. Similarly, you can use any keyword research tool, like Semrush, Ahrefs, UberSuggest, etc., to find the monthly search volume of your online course idea.
#5: Use Google & YouTube AutoSuggest
You can also leverage Google and YouTube, as these are the world's first and second most popular search engines, with 93% market share.
Luckily, Google and YouTube's autosuggest tools are excellent for determining whether your course idea is searched. All you need to do is type half of the phrase and press the spacebar to see if your idea appears.
For example, I used Google's autosuggest on my course idea, and here's the result: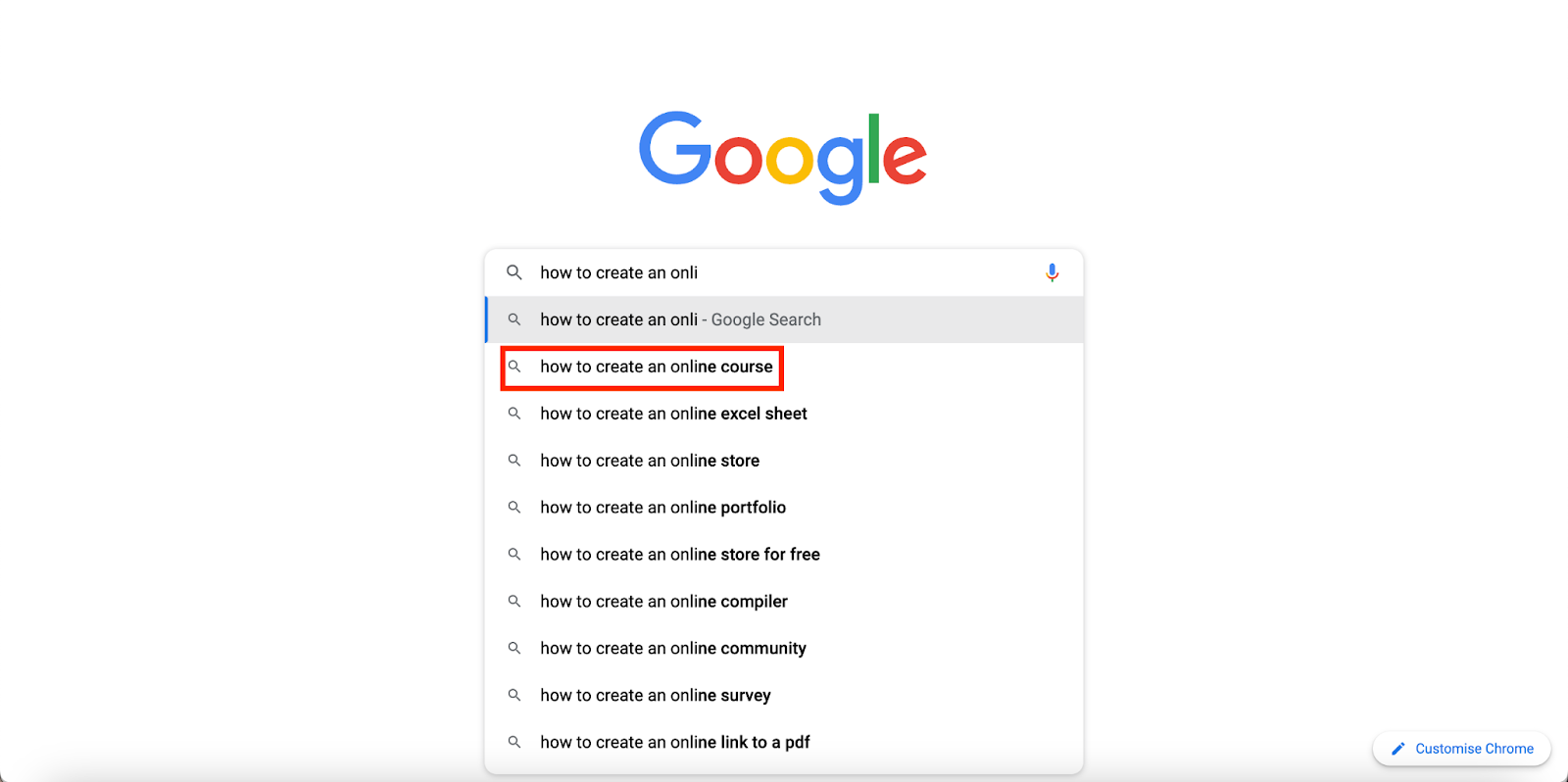 Notice that my idea popped up in the first place, showing it's one of the most search queries. Similarly, YouTube shows more autosuggest terms, such as this search shows four terms related to online courses.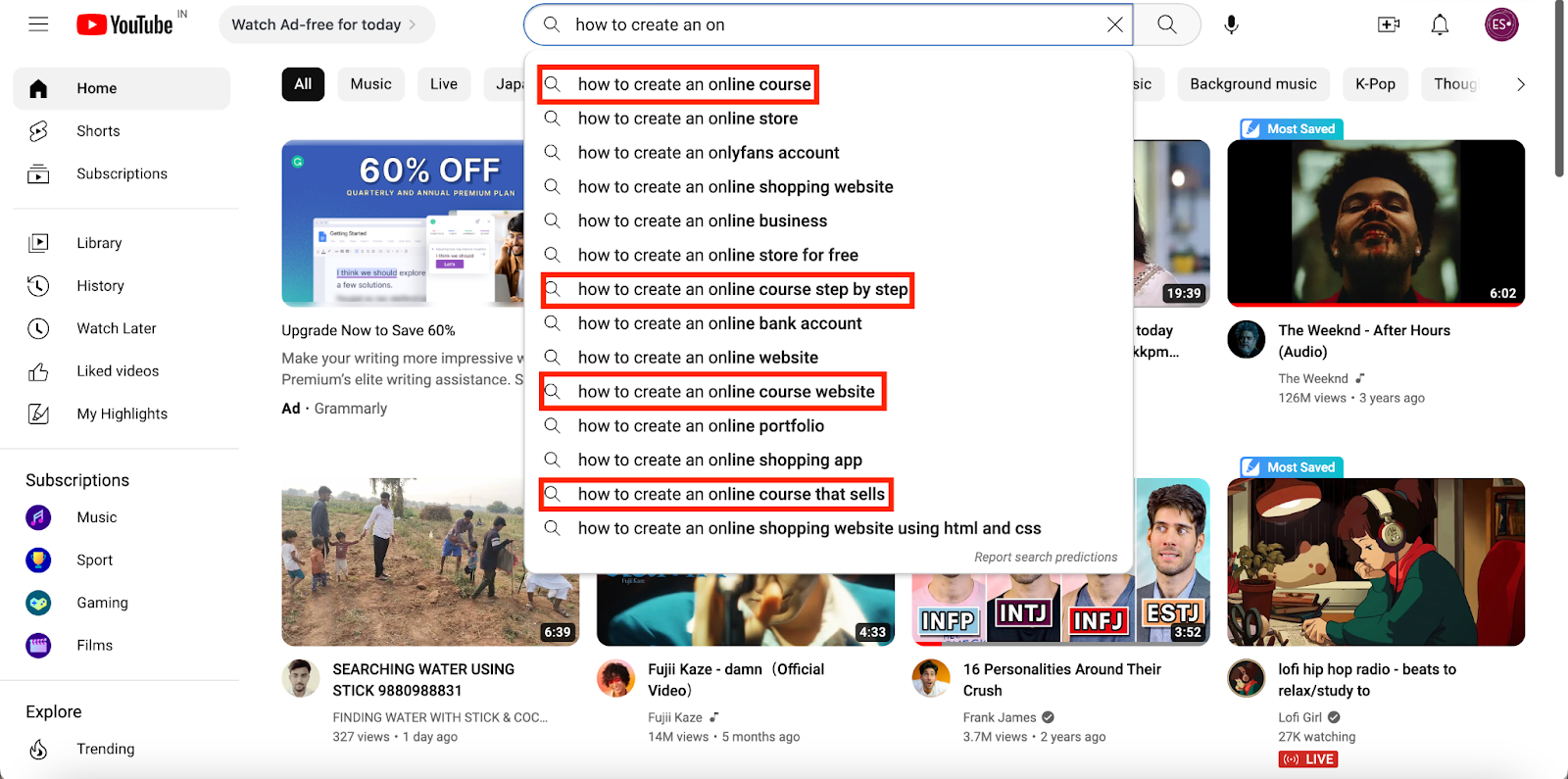 Put your online course idea on Google and YouTube and see if your idea appears as one of the auto-suggested terms.
#6: Leverage Social Listening
In the present world, almost everyone, including your target audience, is on social media to share their day-to-day lives, problems, and struggles.
You can be present on these platforms to listen to their conversations (ethically, such as comments on public posts) and understand them better.
Twitter, Instagram, Facebook, Pinterest, and LinkedIn are all major social media platforms with unique filter options to fine-tune your search. You can use hashtags to search if people are talking about your topic.
For example, here are the results from Twitter using a customized hashtag for my course idea: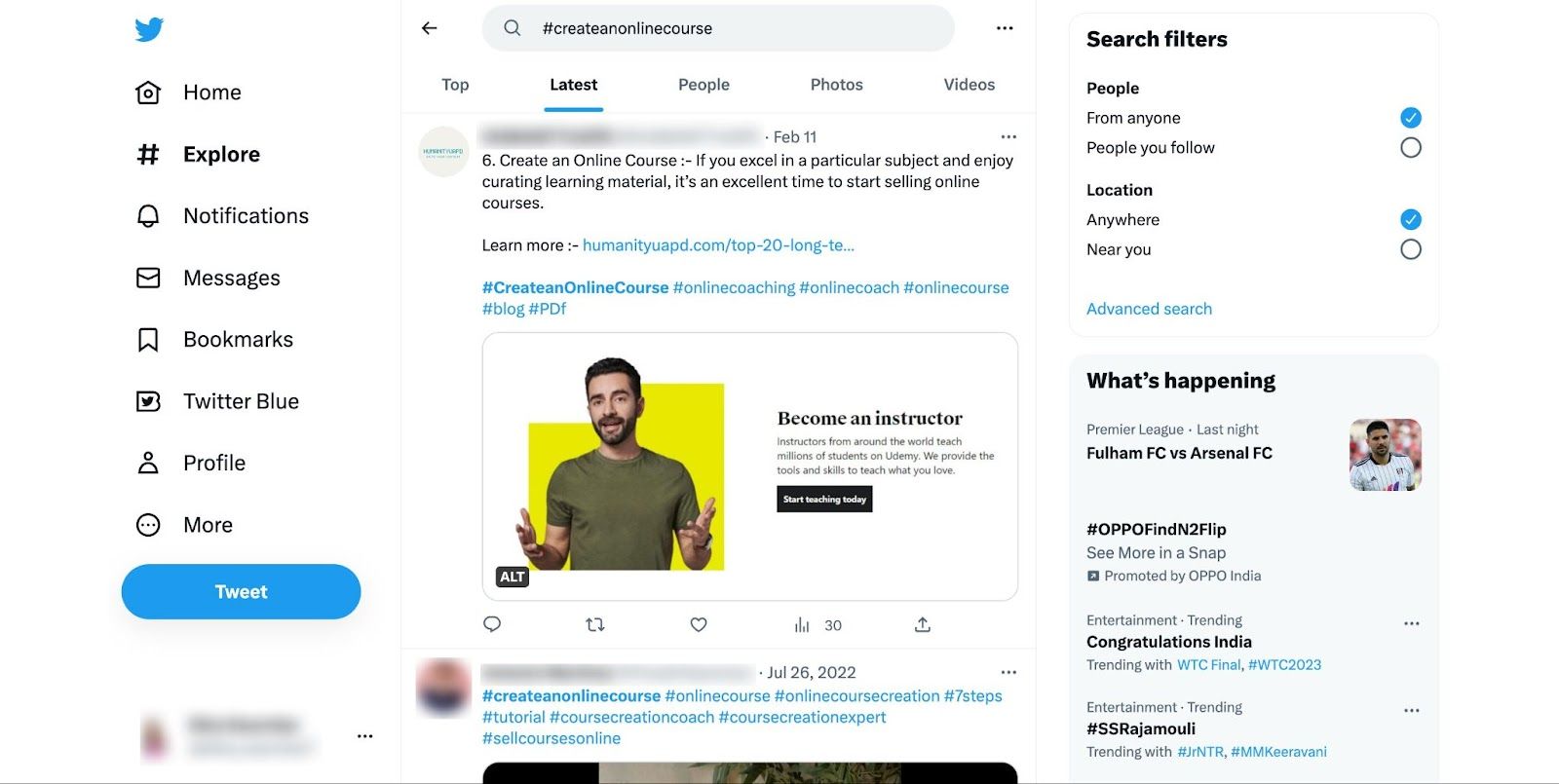 Similarly, you can search for your idea on platforms where your target audience engages and see if people are interested. If you find posts on your topic, read the comments to learn more about the concern.
#7: Conduct Surveys & Polls
To take your research a step further, you can also conduct surveys or create polls on these social media platforms to ask your audience if they'll be interested in taking your course.
Asking people directly is the most effective way because you're not guessing but listening straight from the people about their pain points.
All you have to do is choose a survey-creating tool like TypeForm, and create a survey putting the most concerning questions. Once you have a survey, share it on social media and ask people to fill it out.
If you don't have a pre-existing audience on social media platforms, you can share your survey link on Facebook groups and online communities or drive paid traffic.
#8: Ask your Target Audience
Another effective way to confirm if your course idea is something your target audience will be interested in is to ask them directly by getting on a 1-1 call.
If you've sold a few courses in the past and have an existing audience, then you just need to ask them to get on a call with you.
If they agree, ask them if they'd be willing to enroll in your course. If they show no interest, you can leverage this opportunity to build a buzz around your new course idea by telling them how the course will help them.  
Of course, you shouldn't just be asking, so to thank them for their time, give them a freebie, a discount, or anything of value.
If this is your first course and you don't have an existing audience, you should promote your offer on social media and try to get some of your followers on a call.
#9: Test as a Lead Magnet idea
For course creators with an existing audience, you can also test your course idea by creating a free lead magnet and asking if they want it.
If you get a high response from your audience, it's a good sign that your student will also invest in a premium course.
However, because people are generally more inclined to say yes to free things, you can't completely trust this method as it can be misleading.  
What else you can do is try the course idea as an MVP. MVP stands for minimum viable product, which is a cheap version (costs $2 to $5), such as an ebook on "how to create an online course" instead of a full-fledged course.
The benefit of using a tripwire is it takes less effort to create. So, even if no one buys your MVP, you won't be disappointed.
Conclusion: Validating your Online Course Idea
So these were some of the practical ways to validate an online course idea. You must always verify your online course idea before creating the course content. It saves you time, effort, and money - which can be used in creating another profitable online course.
So, before creating your course content - choose one of these methods to validate your idea first. And check out our Course Creator Academy for step-by-step tutorials on course creation processes.
But, naturally, you will have questions. We publish helpful guides and tutorials on our blog to ensure we're helping new course creators. Join us to become the first to know when a new post goes out.
If you want to ask any questions on online course creation, you can reach us on our Facebook group:
Join the Course Creator Academy Facebook Group
I hope you found this post helpful. Let me know in the comments below what other topics you want me to cover.
Have any questions about validating your online course idea? Leave your questions below!
Thanks for reading… and enjoy the course creation process! 😉
---
Course Creators Academy, a community by OnlineCourseHost.com
Founded by Vasco Cavalheiro
Online Course Creator