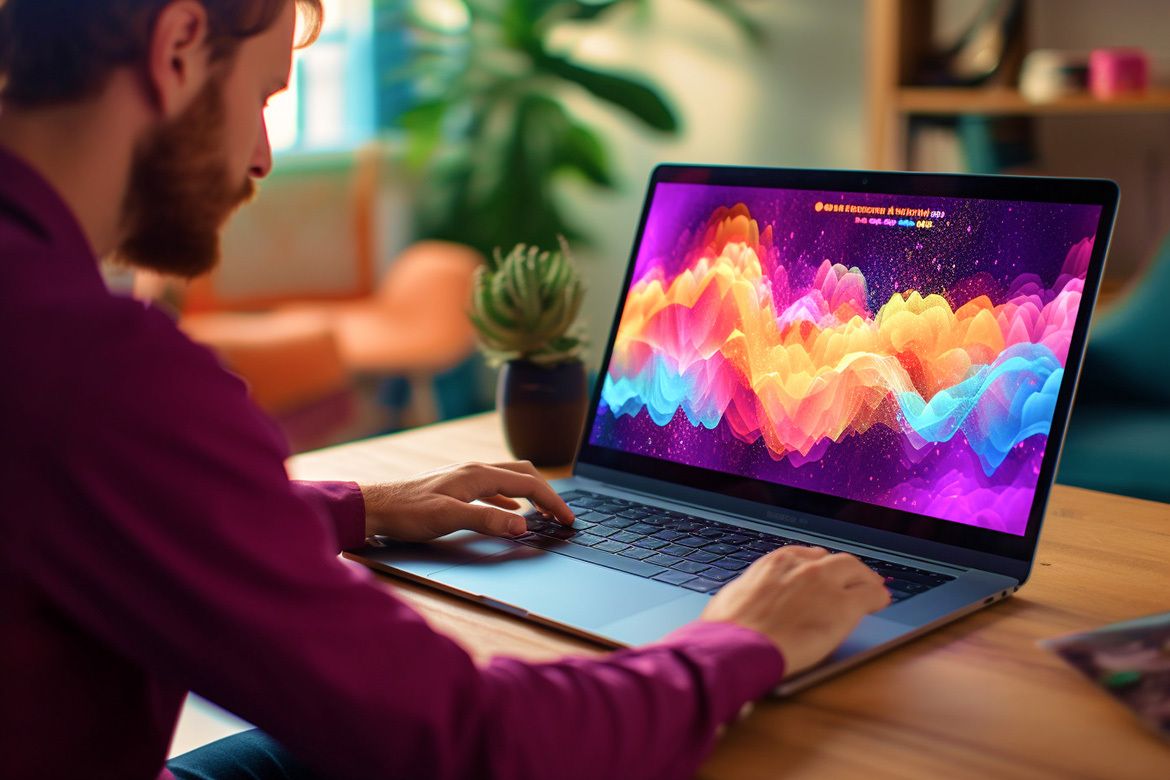 Everything that you need to know to create a great-looking and high-converting course sales page using a free and easy-to-use page editor (no design or technical skills are needed).
Finally, that special moment arrives as a course creator when you press publish!
All that planning, writing, recording, and careful attention to detail is about to pay off. You're very proud of the course you've created and you know it will have a huge impact on your students! 😃
But besides having a great course, it's also equally important to have a great-looking and well designed course sales page, and so many creators overlook this.
They spend so many hours creating their course, running webinars, spending their hard-earned money on ads, promotions, and collaborations… and send all this traffic they generate to an average, poorly designed sales page...
And the courses simply don't sell, no matter the amount of traffic 😨
No idea how to structure the perfect sales page for online courses?
We are going in this post to learn how to dedicate as much care and attention to the sales page for your online course as you did to all the lessons in your course.
We will create a great-looking and most of all high-converting course sales page using a free and easy-to-use page editor, that does not require any design or technical skills.
In order for the landing page to be effective, it needs to be written with a specific set of copywriting techniques that we are going to explain in detail in this post, with practical examples.
So how to create a high-converting sales page for your online course?
Follow these steps to create an effective online course sales page:
choose an easy-to-use online course platform
Create an eye-catching course thumbnail
Write an attention-grabbing title
Learn the AIDA copywriting model
Write a compelling course title applying AIDA principles
List your core features
Craft a high-converting course description
Overcome objections with a detailed FAQ section
Establish authority with the author section
Set The price of your course
Publish your course page and promote it
This is the high-level process that we will cover in this guide, but now let's learn about the details of every single one of these steps.
What Your Sales Page Could Look Like!
When you create a new course sales page using OnlineCourseHost.com, your page will look like this: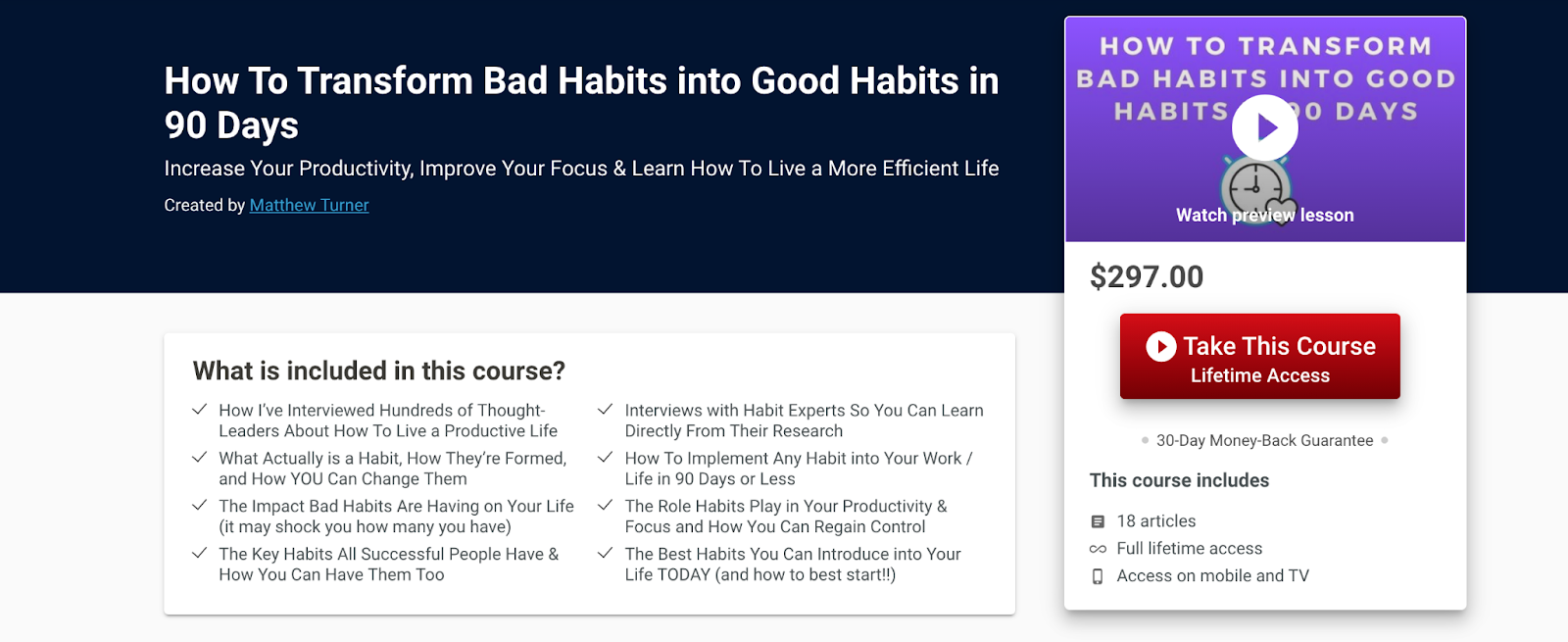 And here is another example: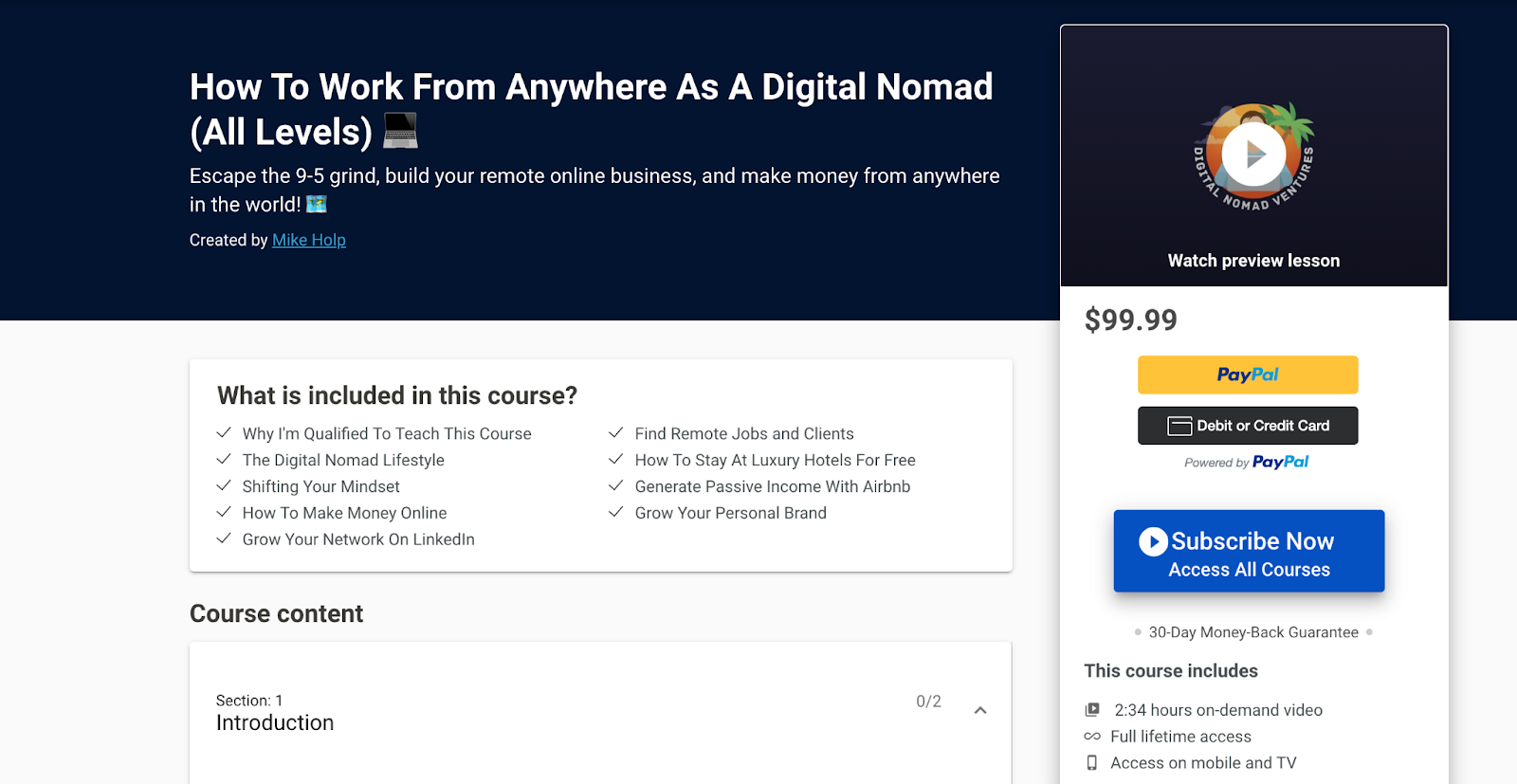 Build a Course Page with An Easy To Use Course Editor
When you create your course, here is what your course editor looks like: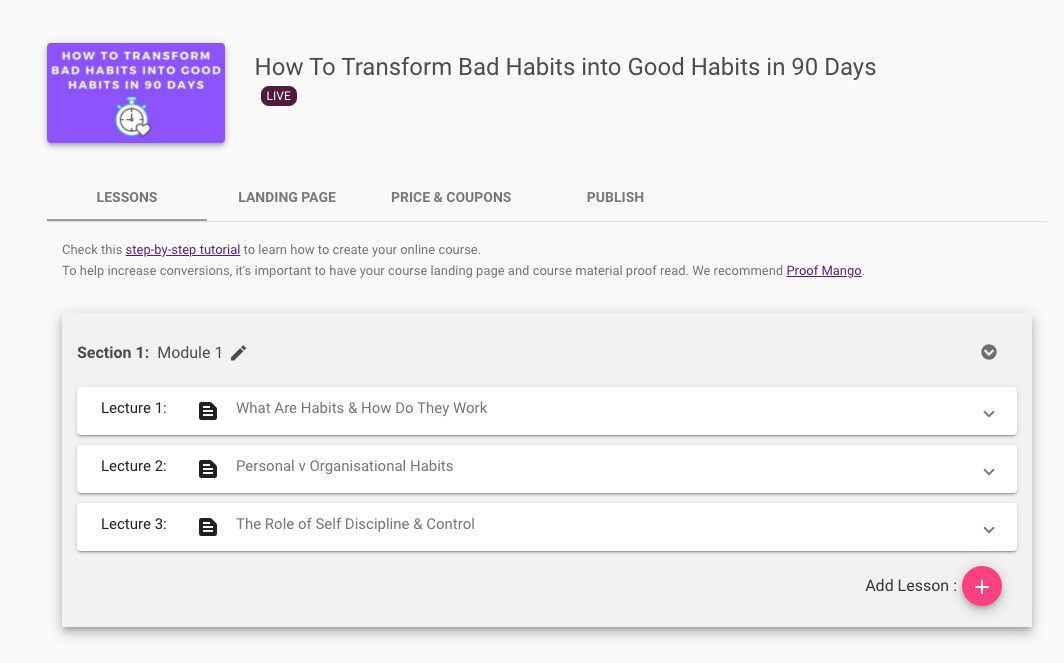 When you are creating your course, your first step is to create your course lessons, upload your videos, and bring your course to life. For most course creators, this is the exciting part. 👍
Once you complete this bit of the process, you're excited to press publish and share it with the world.
But hold on a second because unless you craft an eye-catching, compelling, and immersive course sales page nobody will buy your course.
This is why we place that all-important "Landing Page" button just to the right of your lessons.
This is where the real magic happens. It doesn't matter how amazing your course is, unless this page captures your student's attention and triggers them to purchase the course, they won't become your students.
And because we live in such a fast-paced world full of distractions, the visuals you create for your page really matter.
In this guide, we'll show you how to create a good-looking and high-converting course sales page by following a simple process.
Step 1: Create an Eye-Catching Course Thumbnail
When someone visits your website, this is their first impression: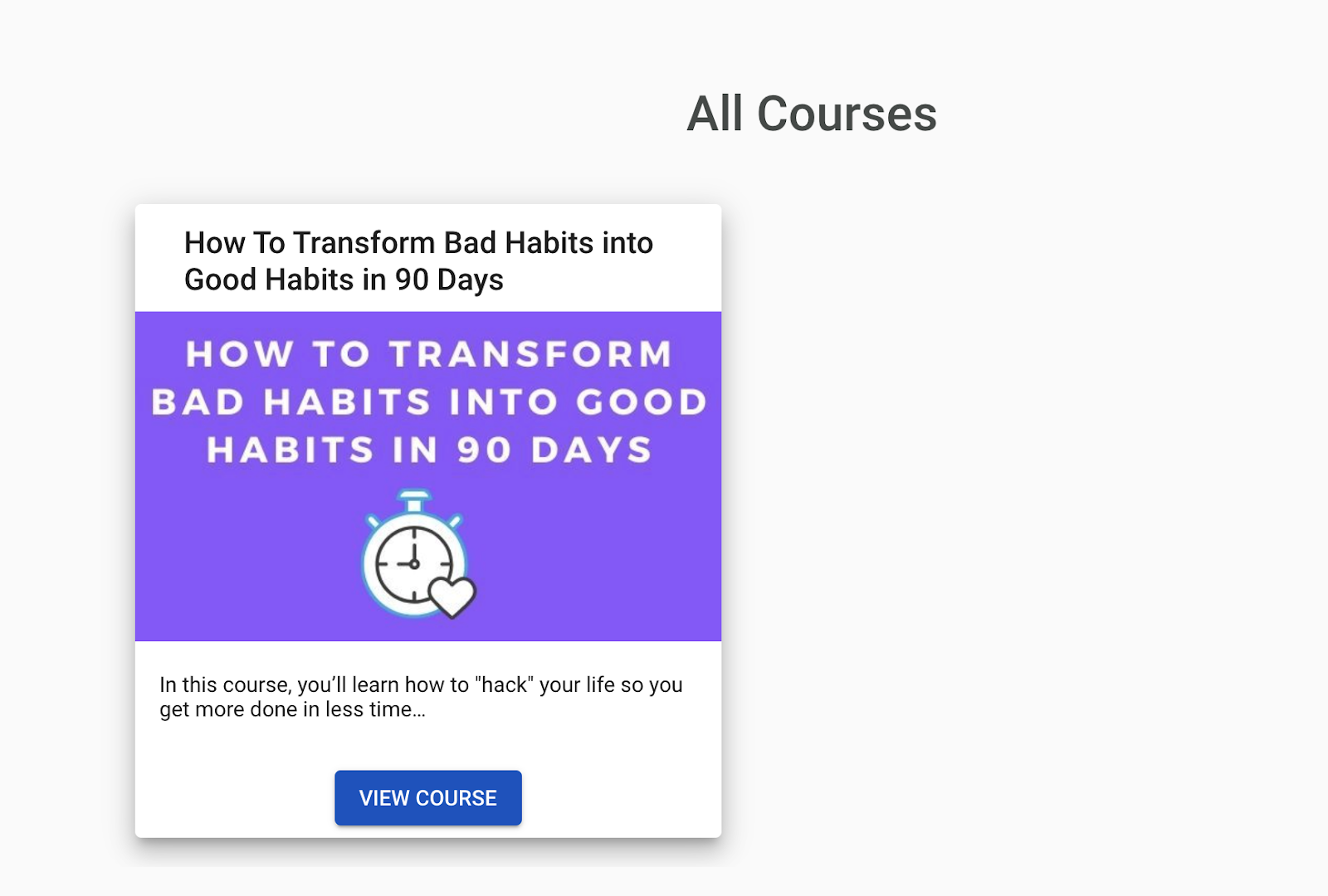 The title and the text do stand out, but what captures your attention is the Thumbnail, right?
So many course creators overlook this.
Big mistake. 😉
Because the thumbnail literally acts as the first impression between you and your audience. All of the best online course sales pages have a captivating thumbnail image.
We've written about this in greater detail here: How To Create an Online Course Thumbnail (to boost conversion), and I encourage you to read this in-depth guide in full.
To summarize, your course thumbnail matters because:
It's often the first thing your students see
It's what you share on social media and via email
When your students share your course, this is what other people see as well
And the most important of all, god design helps to establish credibility
How to Create a High-Converting Thumbnail
When it comes to a successful thumbnail, simpler is better.
You don't want your image to be too "busy", which is why we  recommend that you hire a graphic designer because they know the rules behind capturing a person's attention.
As we discuss in our in-depth guide, outsourcing your thumbnail is more affordable than you may think (often less than $10)…
But if you choose to create your own thumbnail, you can still get a great end result by using a free tool like Canva.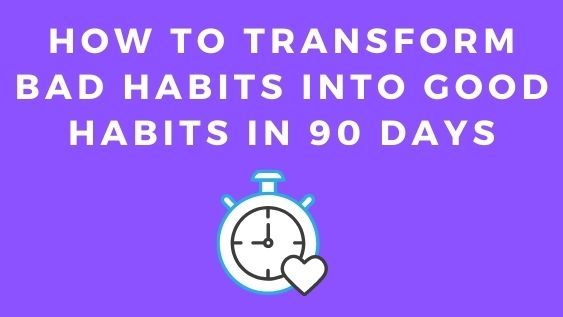 The key elements here are:
Your Title (more on this next)
The Image, Icon, or Graphic
The Colour Scheme
Less is more. Keep it simple. The sole purpose of this thumbnail is to capture your audience's attention, which a "busy" graphic will not do.
Once you have your thumbnail it's easy to upload it to your sales page:

Step 2: Write an Attention-Grabbing Title
I've written here a separate guide on how to create a great title, if you need more ideas on how to do it - How To Write a Killer Online Course Title.
Here in this guide I will give you an overall idea of how to do it.
After getting a great thumbnail, you can now start working on the main titles of your course, namely:
the course title
the subtitle
a short description
When entering your titles, you'll see a page like this:

Your titles should be the right length, too short isn't good, but too long is definitely not good either.
But the question is now: how to write compelling titles?
Introduction to the AIDA Copywriting Model
A good approach to take is to use the AIDA Model to craft compelling copy:
Attention
Interest
Desire
Action
The AIDA model not only helps you craft effective titles, it also helps you to write high-converting copy in general.
When crafting your Title, Subtitle, and Short Description ask yourself:
Does this capture attention?
Does this spark curiosity to learn more?
Does this trigger some kind of emotional response?
Does this entice your students to take some kind of next step?
Awareness ⇒ Interest ⇒ Desire ⇒ Action …
This is how you craft enticing and effective copy, by triggering these emotions, in this specific order, and the final step Action means buying your course. 😉
There are tools to help you achieve this, but yet no tool will give you the answer you need.
This requires you to step back and think about the headline your students want to read. Let's see some practical examples.
Writing a Course Title Applying AIDA Principles
Let's apply the AIDA Model to create a course title, in order to start understanding how it works.

Matthew (the course creator in our example) used the AIDA Model to come up with this Title.
The title is the place in the AIDA Model where you start to capture the student's Attention and Interest.
Here is how Matthew used AIDA to craft a compelling title:
Starting a headline with "How To" is a great way to capture attention because it hints that you will show your students how to overcome a problem.
The focus of this headline centers around the idea of transforming bad habits into good ones. This creates curiosity and a desire to know exactly how you can do this.
Turning bad habits into good habits also triggers an emotional response. We all have bad habits, and we'd all like to get rid of them and replace them with something better.
Finally, this course promises to deliver a result in the next 90 days.
We can see here in action several aspects of the AIDA model: the title grabs the Attention and Interest of the student by giving an actual timeline for getting positive results, which works on the Desire part as well.
We see the same approach for the subtitle…

Your Subtitle needs to expand upon your Title, providing a clear insight into what will happen and how it will happen.
The Title of this course promises to transform your bad habits into good habits over the next 90 days, which will lead to an increase in productivity, focus, and a more efficient lifestyle.
Again, awareness, interest, and desire are all at play here.
This title is designed to make you lean in further and commit to learning more!
This is reinforced further with the Short Description…

Through this Short Description, your aim is to briefly sum up what they'll achieve by taking your course. In this instance, you'll learn how to hack your life so you can get more done in less time.
Something you may notice is that at no point are any features discussed in this section.
This section is all about triggering emotions and making your students feel something.
Hint at what their problem is…
Help them relate to this problem and associate it with their current situation…
Provide insight into what the solution is and what life "could look like"...
Alleviate worry and stress and assure them help is at hand -- that you can help them!
Do this and you'll soon have a page title section that looks like this…

And this is basically how you can capture the student's Attention and Interest, and start creating some Desire to get the course.
Notice that this was all based only on a few sentences (title and subtitle) and an image, nothing more! 😃
Without seeing first a good title, subtitle and thumbnail, your students won't go any further with you.
It's crucial that you get your title and thumbnail right, as most purchasing decisions are made based on these elements and the price, and nothing more.
So you need to get these right first, before anything else.
Once you get their Attention and Interest, it's now the time to start focusing on the Desire part of the AIDA model.
Step 3: List Your Core Features (create Desire)
When you complete your sales page, you'll end up with a section like this just below your Title and Subtitle:

After capturing their attention and interest in the title, the benefits section is where you will create most of the Desire to buy the course.
Many of the rules that applied for your Title and Subtitle apply here, so using the AIDA Model to gather more attention, interest, and desire is a good approach.
This means that the benefits section should be all about the results that the student will get by taking the course.
The goal is not to create a table of contents, but to list all the tangible ways that the course will be useful for the student.
That last point is the most important part of this section. Yes, you need to showcase your own expertise and hint at what your course offers and how it helps… but, most important of all, you need to demonstrate how it will personally impact them in a positive way. 👍
When building your sales page, you'll see an area like this: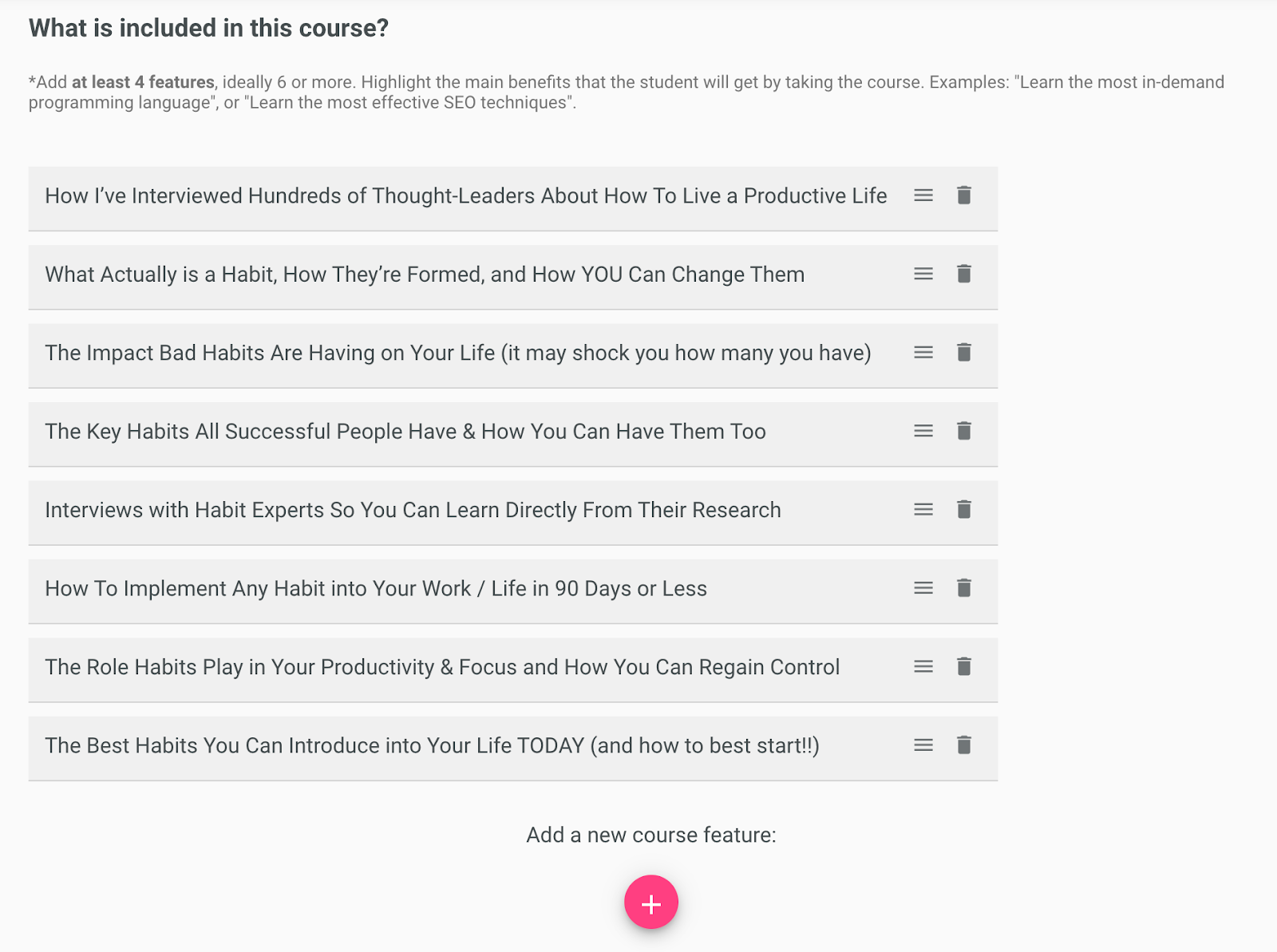 You'll need to complete at least four, although we suggest a minimum of six core features/benefits.
There's no limit on how many you can have, although it's important to be very selective about the ones you choose.
There's a fine balance between too little and too much, so don't go overboard.
How To Write Compelling Student Benefits
As you can see, Matthew provides a mix of techniques to capture attention, generate curiosity, showcase his expertise/experience, AND show the benefits on offer.
How I've Interviewed Hundreds of Thought-Leaders About How To Live a Productive Life -- this showcases his expertise and experience, showing how he's interviewed hundreds of thought leaders about their productivity and habits.
What Actually is a Habit, How They're Formed, and How YOU Can Change Them -- here he explains that you won't only learn what a habit is and how they work, but also show you how to change them so you can personally transform your life.
The Key Habits All Successful People Have & How You Can Have Them Too -- this hints that he's learned the secret of success from successful people, that he'll share these with you, and walk you through how to specifically implement them into your life.
The Best Habits You Can Introduce into Your Life TODAY (and how to best start!!) -- with this one he provides a clear starting point for his students, letting them know that he has access to the best habits and that he'll show you how to immediately implement them.
Remember, the main goal of the benefits section of your page is to create Desire for buying the course, and further build up Attention and Interest wherever possible.
Step 4: Craft a High-Converting Course Description
Up until this point, your main aim has centered around capturing and keeping your audience's attention and creating some desire.
At this point, after reading the title, subtitle and benefits section, and after checking the price, many people will just be ready to buy the course.
But not every person will decide so fast, a lot of people will now want to learn more about the course, and only then they will be ready to make the purchase.
And this is where your long-form course description comes in!
This is what it will look like when you're finished: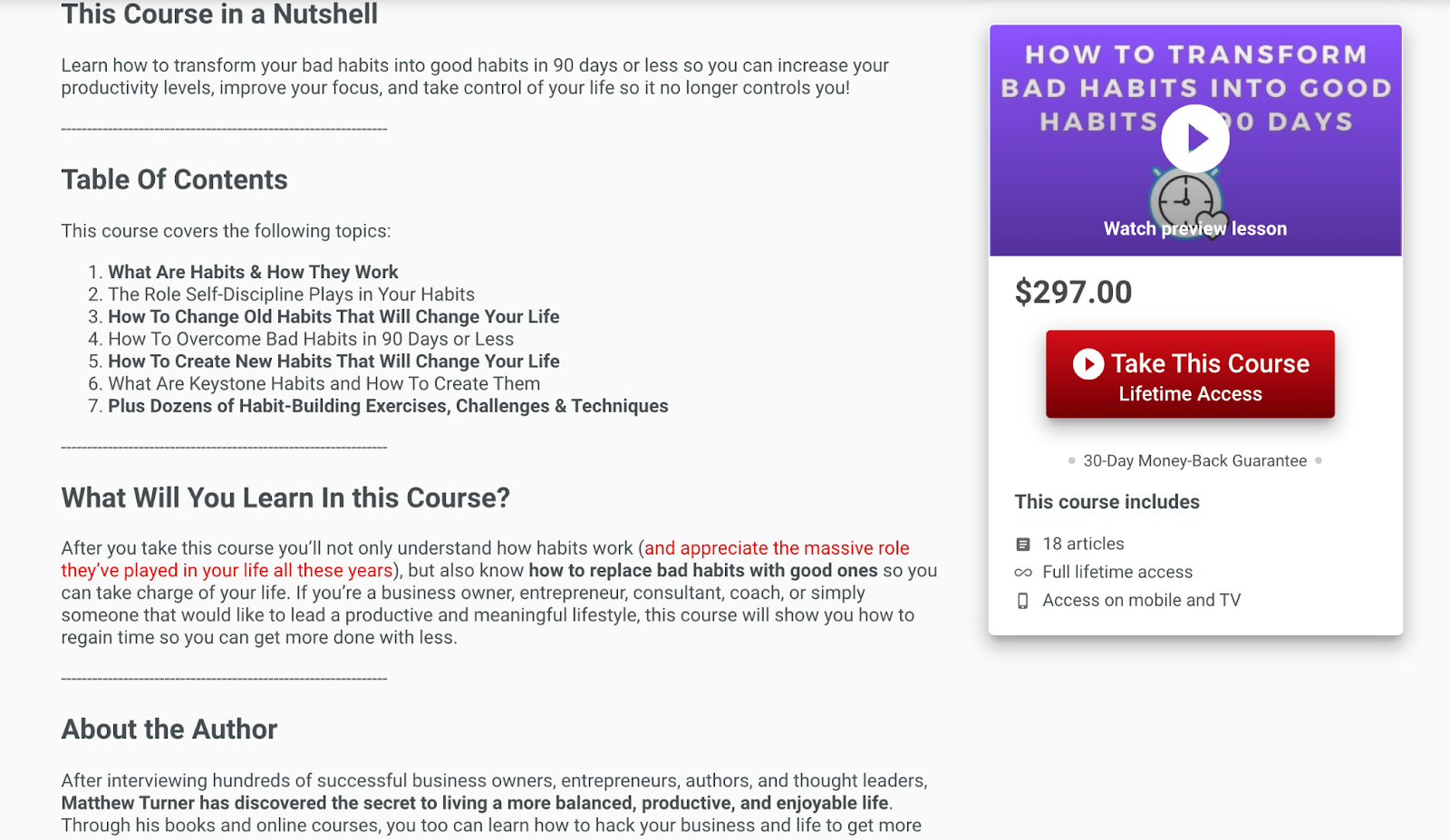 How to Write a Compelling Course Description
You can structure your description in any way you prefer, but we suggest to structure it into a few different sections, to make it more readable.
There are 4 key sections to this:
Course Overview: This is your course's elevator pitch and takes on a similar form to your Short Description from Step 1. In one or two sentences, explain what your course is about, who it helps, and how it helps them.
Table of Contents: The fine balance between too little and too much returns, as this isn't a time to list ALL your lessons (unless you have a short course), but you do need to highlight some of your most transformational ones. This list provides a peek into what they'll soon access, expanding on the curiosity you've built.
What You Will Learn: This section is all about them. Your job is to paint a clear picture of what life will look like after they complete your course. Make sure you highlight what their current pain is and how you can help transform this by taking them through a specific process. Once more, this is a time to focus on benefits instead of list a bunch of features.
Call to Action: At the end of the text, make a clear call to action for the student, inviting them to purchase the course.
Here is what your landing page will look like when you are editing: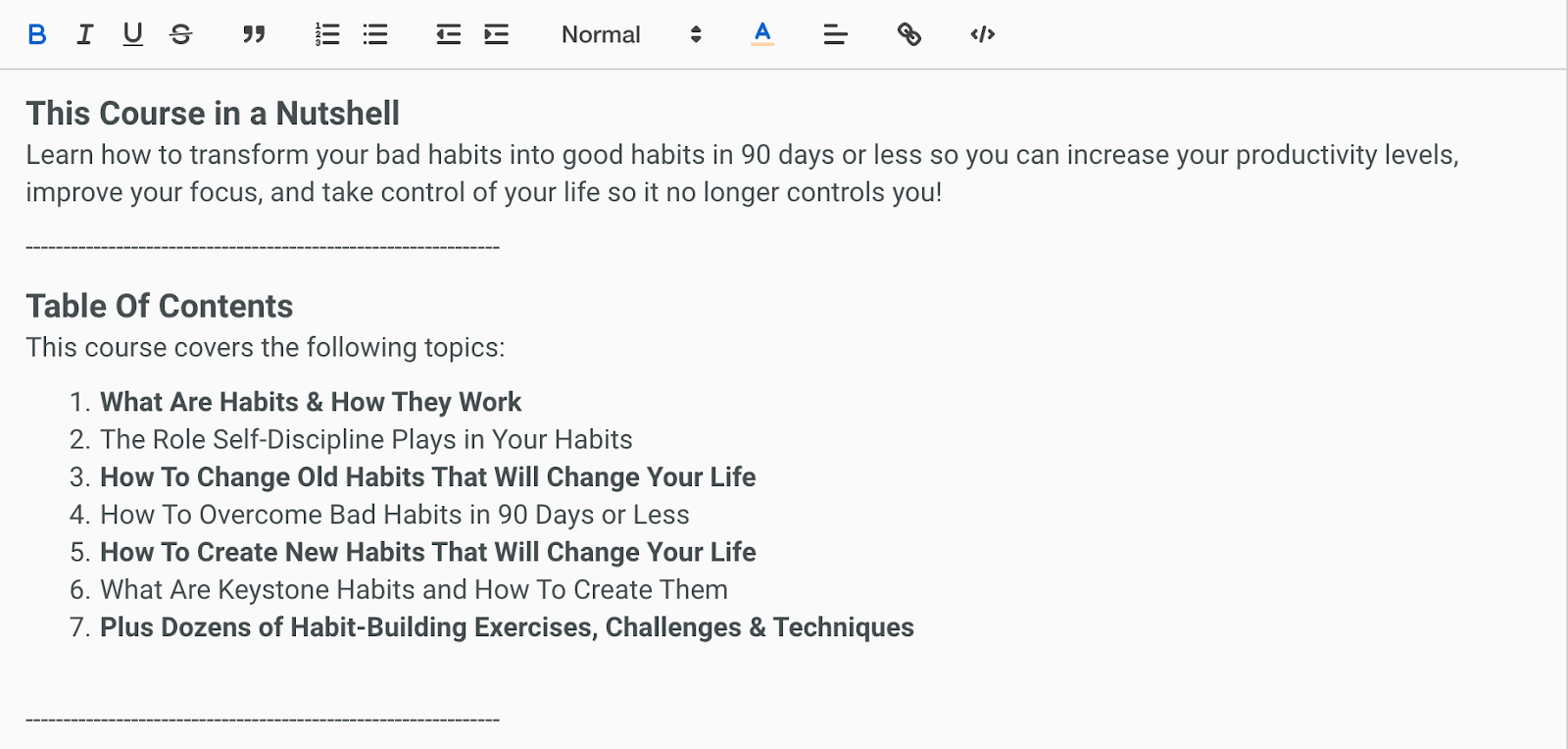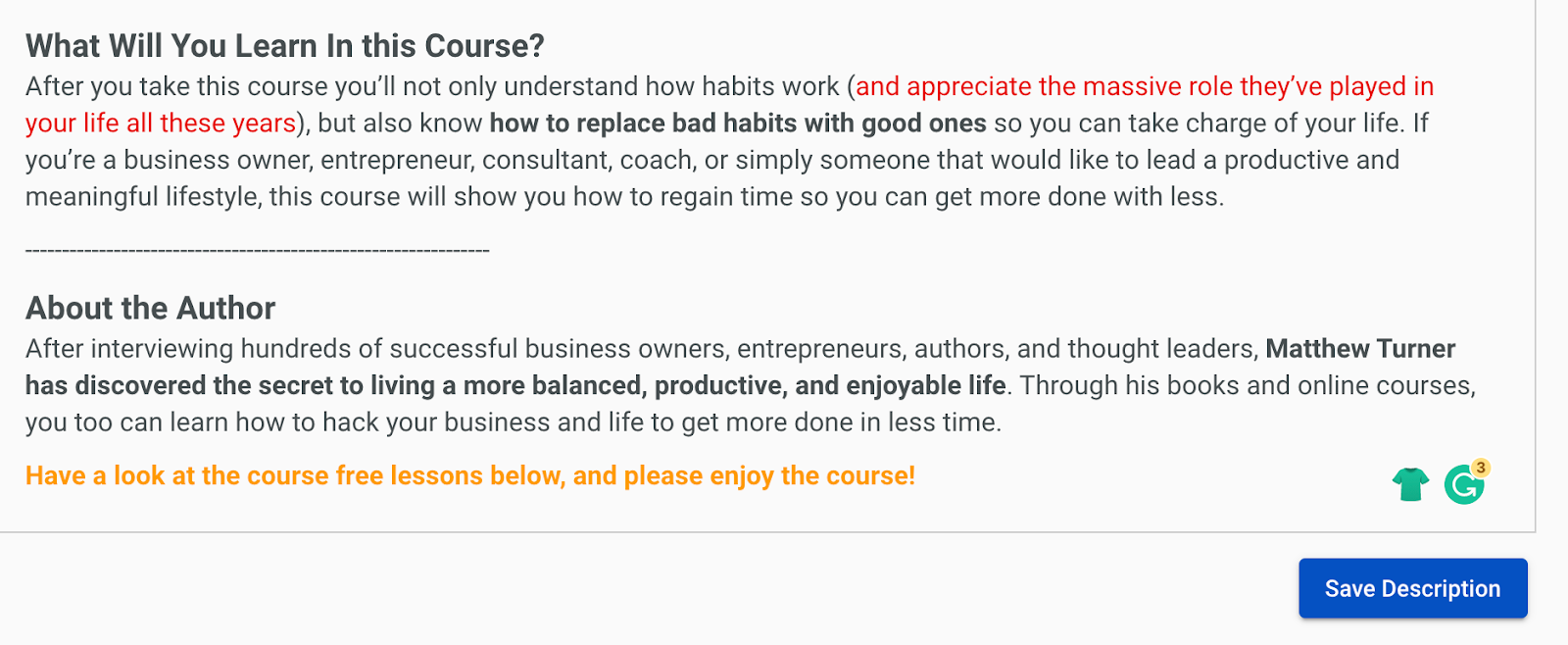 We encourage you to use the rich text personalization tools to further grab the students attention.
Most people get lost and lose focus if there are large walls of unformatted text.
To avoid this, break up your page, add color, add titles and even images (you can copy/paste them directly into the description).
Provide an experience that's easy on the eye as well as on the mind! 😉
Even after reading the full description, there will be some students that still can't decide if they will buy the course or not, because they might still have a common objection that wasn't addressed anywhere else on the page.
And this is where the FAQ section comes in.
Step 5: Overcome Objections with a Powerful FAQ Section
No course sales page is complete without an FAQ section!
Although the reason you need one may surprise you…
The point isn't so much to answer common questions, but rather preempt and shine a light on core objections that keep people on the fence.
Much of this comes down to understanding who your audience is, but before we get to that here's what your completed FAQ section looks like: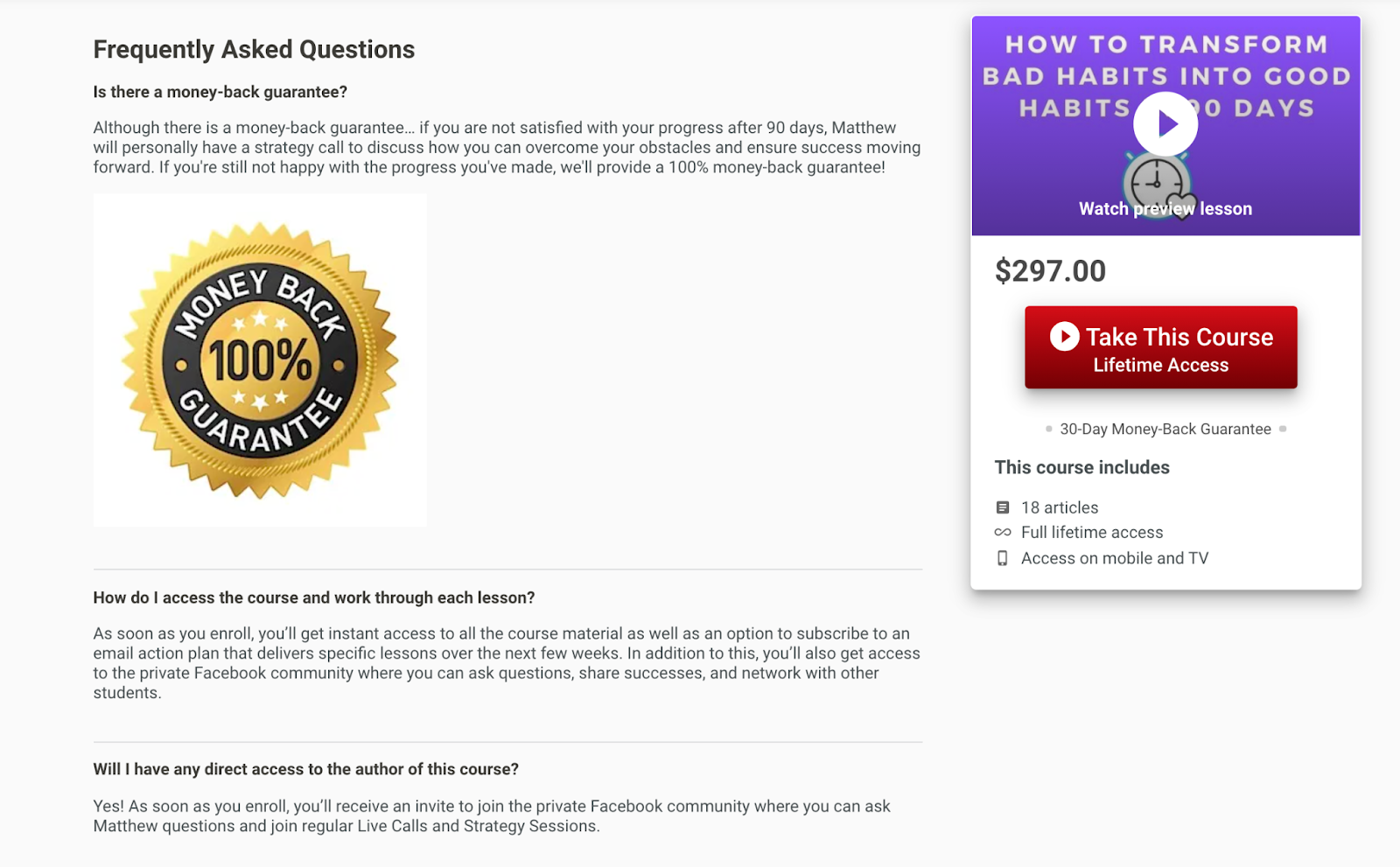 How to Create an Effective FAQ Section for Your Course Page
There's no right or wrong number of FAQs you should cover. You don't want to list too many, but you do need to shine a light on all core objections.
As such, you may find this part of your page evolves over time as you get to know your audience better.
That's the key here… knowing who they are. There are the things that will help you write a better FAQ section, and a better course page in general:
What's their big pain/problem?
What's their current situation and what holds them back?
What are they afraid of… what prevents them from taking the next step?
What's the big question/worry lingering in their mind?
What are they still unsure of?
What are they skeptical about, and what's the root cause of this skepticism?
The better you understand these, the more effective your copy will be. These objections are what stand in the way of you working with your potential students.
Once again, the key here isn't to focus on features and logic, but rather benefits and emotion.
Whether they're conscious of their objections or not, they won't buy your course unless you help them step around these final obstacles.
Step 6: Establish Authority with the Author Section
A very common objection or question that people want to have answered before deciding to buy the course, is to know who the course author is.
Here is what your Author section will look like on the landing page:

As we mentioned earlier, the author area in your Main Course Description is designed to provide a brief overview that establishes your authority and credibility as a course author.
This separate author/instructor feature allows you to provide details such as:
Awards
Qualifications
An Origin Story
Links to Articles, Interviews & Talks
and much more…
This is another opportunity to build a rapport with your audience.
Step 7: Set The Price Of Your Course, Trigger an Action
There's one final step to take and that's to finalize the course sales page, we need to set the price.

You can charge for your course any price that you like, this price comes down to you and your audience, as well as the industry you're in.
We won't get into the art and dynamics of pricing here as it's a guide in itself, that we will write soon.
The main goal of the price, together with the Purchase course button or the Subscription button is to invite the student to take the course, that is the Action part of the AIDA model.
How to Trigger A Purchase Action Using a Discounted Price
The effect of the price in the action-taking process can be further enhanced by comparing the sale price with a discounted price, and one way to do it is to create a discounted coupon.
You can create as many coupons as you like and update these over time: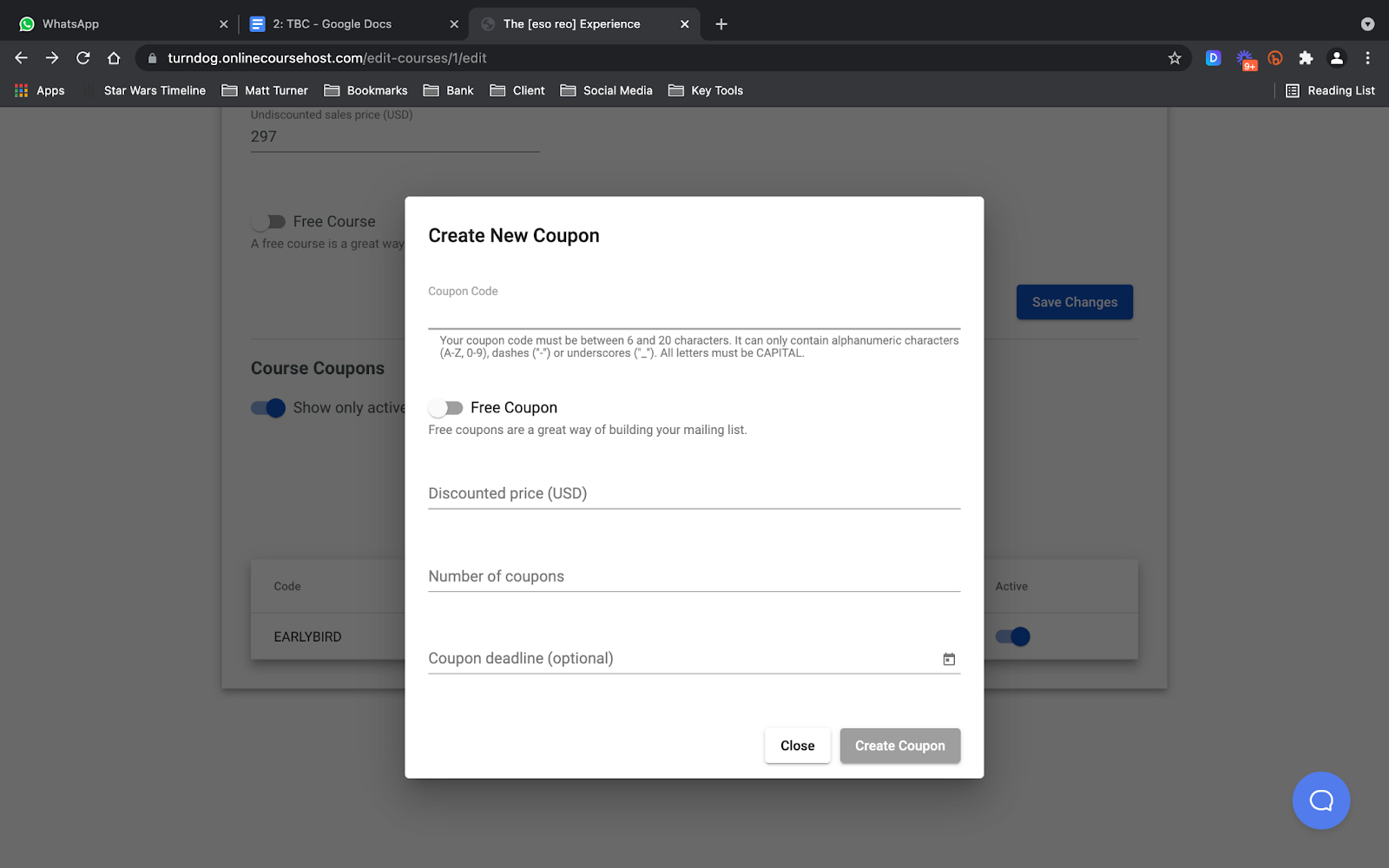 When you create a new Coupon it asks you to:
Provide a Name/Code (ex: EarlyBird)
Choose Whether it's a Free or Paid Coupon
Set The Discounted Price (if it's paid)
Produce a Total Number of Coupons Available
Create a Deadline For This Coupon (if you wish for it to have one)
Once you publish this, you'll see a list of all your present and past coupons:

This brings you to the finish line and the time to press the "Publish Course" button.
Once you publish your course, here is what the final course page looks like.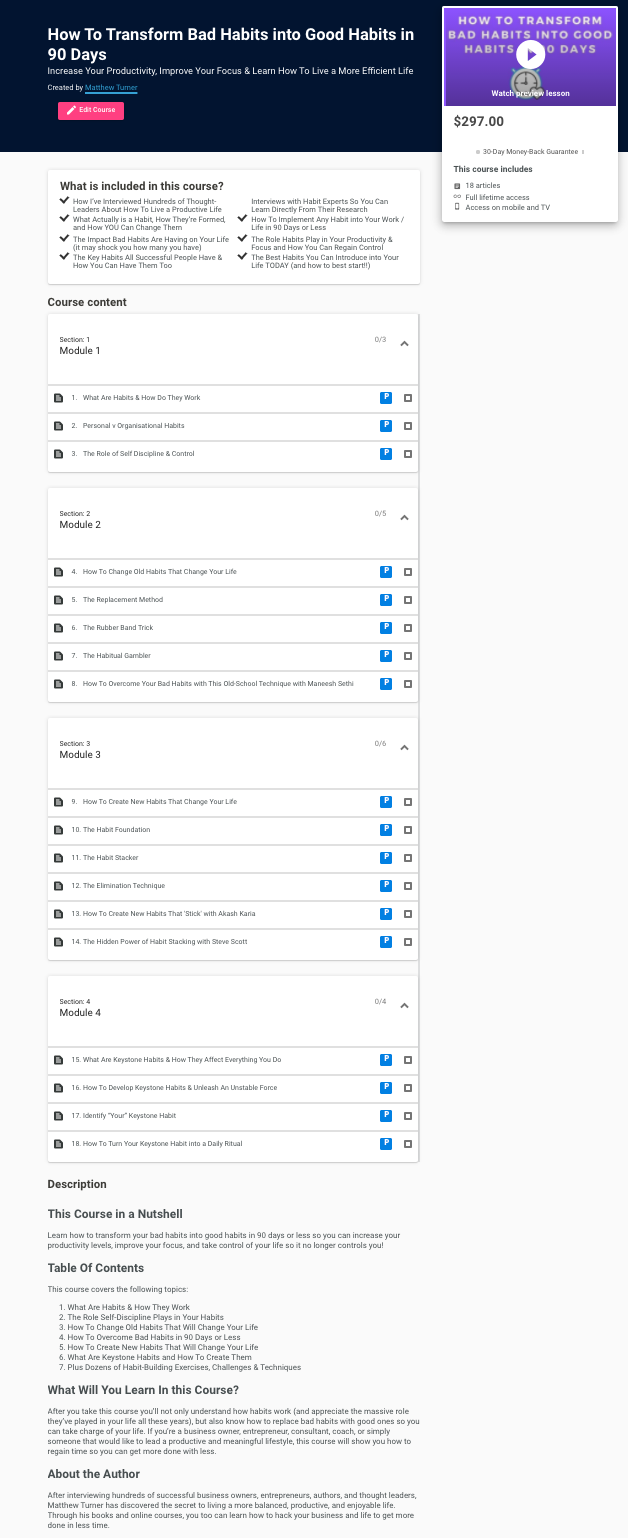 Your course is now live and your sales page is ready to sell your online course to your future students 😉.
So, are you ready to create your own high-converting course sales page?
Conclusion: How to Create a High Converting Sales Page?
You too can create a great-looking course sales page, without needing any design or technical skills at all.
You can do so by Creating a Free Account Now on OnlineCourseHost.com and start creating your courses using our Free Plan.
I hope this guide helped you to create that perfect course sales page that you are looking for. 😉
To get notified when I release new content here in the Academy, you can subscribe to my weekly newsletter:
Here at the Course Creator Academy, we are committed to giving you the all the training that you need to become a successful online course creator.
Here are some of the topics that you can learn about with our series of free guides:
Finally, you may also like to join our Course Creator Facebook Community where you can ask us questions, meet fellow course creators, and get direct help from our team.
Just request to join and we'll approve it. You don't even have to be using our platform. All it takes is that you are an aspiring or experienced course creator, with a willingness to learn 👍.
Thank you for reading, and until next time, I wish you Happy Teaching 😃.
---
Vasco Cavalheiro
OnlineCourseHost.com Founder & Online Course Creator
LinkedIn   Facebook Page   Facebook Group   Twitter
You are welcome to ask me any questions in the comments below: 👇👇👇👇