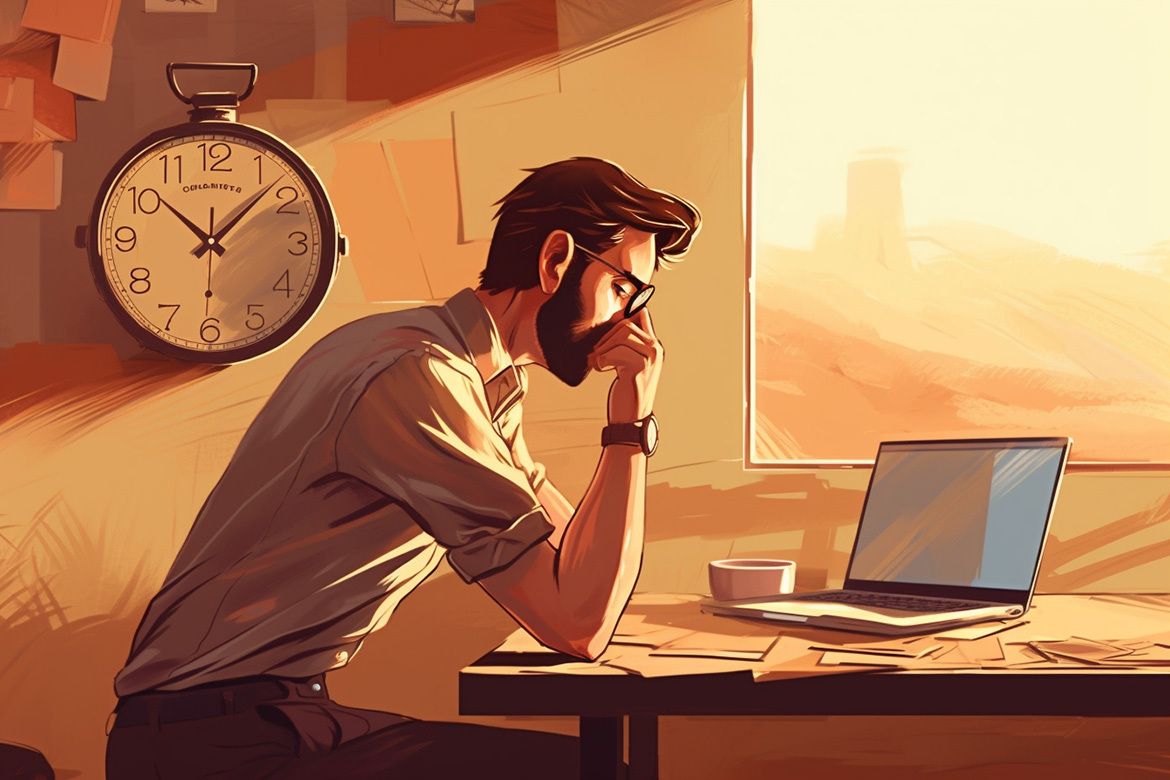 Learn exactly how long it takes to produce an online course, what factors influence the course production time, and what techniques allow you to create your course faster.
You just know that you can create a great online course, if you set your mind to it. Yet that question nags in the back of your mind… how long does it take to build an online course?
Do I have the time?
Will it take weeks… months... more than that?!
what production techniques reduce the most the production time?
Is there any way to speed up the process?
The good news… Yes, there is! 😉
It's not to say I can make it easy for you.
But I can make it a bit easier by sharing a simple process you can follow no matter what industry you're in (or the course you create).
So how long does it take to create an online course?
It can take anywhere between 3 days to 2 months to create an online course, assuming that you are working on it full time. A mini-course covering a very narrow topic can be produced in only 3 days or less, while a complete in-depth 20h masterclass covering all levels can take several months to produce. The time it takes to create a course depends on the topic, your availability to work on it full time, the level of depth of the course, the target audience of the course (aimed at beginners only or covers all levels), your familiarity with the course creation process (is this your first course), as well as other factors.
As you know, online course creation is an industry set to explode 🚀 ($325 billion by 2025!!).
So let's learn in this post:
what time investment you would need to join this booming industry
how to break down the creative process into steps, and how long they take
what factors influence the time it takes to create a course
tips on production techniques that help reduce the course production time
which tasks to outsource to reduce the production time
At the end of the post, I'll give you a time estimate for producing:
A Free Course (lead magnet)
A Niche Course
A Masterclass Course
So How Long Does It Take To Develop An Online Course?
Well, it depends. 😉  Nooooooo I'm just kidding. 😂  
I'm going to give you right now a very concrete answer to how long it takes to create a course.
If course creation is your sole focus, and your course can be filmed using mostly screen capture and audio, then you may be able to create your course in well under a week, a couple of days might even be enough.
While if your course needs other types of recordings, like filming yourself, and also if you only have limited time to spare, it could take you months.  
Most courses will fall somewhere in between, in the range of a few full-time weeks, and rarely more than a month.
But if your course is over 20 hours and you need a lot of preparation for your lessons, it could take a bit more than a month.
You will rarely take more than two months to create a course, if you dedicate yourself to it full time.
If it takes more than that, you might be creating a course that is too long and no one will watch till the end, and you want to break that up into two courses or more.
Courses that only record desktop videos and audio are especially fast to record, especially if they are based around slides.
In that case, if your course does not cover a ton of material, you could even record it in a single day. 😉
Let's break down each step of the creation process, and give you an idea of how long each takes.
At the end we will add everything up and give you some reasonable time estimates for how long it takes to record different types of courses.
What Factors Influence The Time It Takes To Create An Online Course?
Here are some of the factors that influence the production duration of a course:
your previous experience as a course creator: meaning that the first time you record a course is always going to take slightly longer (but don't let that deter you)
the type of course you want to create: Is it a beginner's course, an advanced course, or a complete Masterclass meant for all levels?
the type of videos that the course needs: for example, a Yoga or cooking course might take more time to film than a SEO course, where you simply record your desktop and audio.
the amount of supporting material that the course needs: some courses almost don't need any extra material, while for others it's essential.
the amount of help you get: are you outsourcing video editing, or are you editing everything yourself?
Let's now break down the different phases of course creation, and give you a high-level estimate for how long each phase takes.
At the end of the post, we will give you some final estimates for the full production timeline.
1: How Long Does It Take To Do Research & Planning?
Your first step on this journey is to give yourself the time to research and plan your idea, and this shouldn't take long.
A bit of upfront planning will actually save you time, and more importantly, some early competitor analysis will highlight potential gaps in the market.
Researching involves getting clear on your:
Topic/Theme
Goals/Objectives
Overall Timeline
Who Your Competitors Are
… and then validate your idea and make sure it's one worth committing to!
This begins by getting clear on your topic, theme, goals, and objectives.
Block off some time, and answer these essential questions:
What's your ideal student's biggest pain/problem?
Based on your skill set, how can you best solve this pain/problem?
What do you do better than anyone else?
From your students' perspective, what does success look like?
How Long Does This Take? 1 Day.
The final aspect to consider is your competition. Not just existing courses, but bloggers, vloggers, podcasters, and anyone else that solves the same problem as you.
The point is to highlight 5-10 of your competitors and consider:
The type of content they create…
The size and reach of their audience…
How they communicate and engage with their people…
The type of products they sell…
The questions people ask them (and how they answer these)…
It's unlikely you'll have your niche to yourself. Taking some time now to hone in on your competitors helps you see what you're up against, and what market gaps you can easily fill.
How Long Does This Take? 4 Hours.
2: How Long Does It Take To Create Your Course Outline?
Too many course creators skip this step and dive straight into creating their content, because they assume it will save them time.
BIG MISTAKE! 😉
Skipping this step can cost you a ton of time and money.
The point here is to take some time to get clear on your course material:
What are the modules that make up your course?
What are the different lessons that go into each module?
What's the order of all this?
At this stage, it's all ideas in your head. It's time to get these on paper and organize them.
Doing so WILL save you a lot of time in the next step!
How Long Does This Take? 6 Hours.
Once you have your course outline, you're ready to create it.
3: How Long Does It Take To Create Your Online Course Written Material?
With your outline in hand, you're ready to create your course.
As you can imagine, this is the part of the process that takes the longest.
There are three levels to this:
Creating Your Course Material
Recording Your Videos (and any audio)
Editing Your Videos (and other course material)
This starts with your course material, which includes:
Writing video scripts if needed
Creating and designing presentations
Preparing tutorials, workbooks, and other additional resources
Crafting lesson notes and other copy that goes inside your course.
My advice is to keep things simple at this stage.
Think about what each lesson needs! 😉 If it doesn't need written material to support the videos, then there is no need to create it.
Don't repeat the content of the videos, the supporting material needs to be complementary to the videos.
How Long Does This Take? 5-20 Hours.
4: How Long Does It Take To Create Your Online Course Video Material?
Your next step is to record your videos. You now have your notes, scripts, and presentations.
Yet assuming you'll build your course around engaging videos… you now have to record yourself.
For a separate guide on the essential tools and resources you need, click here ⇒
How long this takes depends on the size of your course and the type of videos you shoot.
If you're a yoga teacher, for instance, you'll likely record long, high-quality videos where you perform various exercises.
But if you create a course on SEO, most of your videos simply capture your screen, and that type of video is much simpler to produce.
For your first course, if you want to keep things simple, go with desktop videos only if it applies to your industry, and you can always add other recordings later.
You can show up on camera for the intro and the outro, but other than that, if it's not needed you don't have to show up in every video.
This is the production phase that varies the most.
How Long Does This Take? anywhere from 1 week to 1.5 months
5: How Long Does It Take To Edit Your Course Videos?
You'll find that a lot of your time goes into video editing, and it's why I advise you to outsource at least some of this process.
How Long Does This Take? Editing the videos takes more or less the same time that it took you to record them.
Because video editing takes so long, you might want to outsource it from the beginning, and cut your production time in almost half. 😉
6: How Long Does It Take To Publish An Online Course?
The first thing you need to do is decide on the type of platform you'll use to host your course:
Self-Hosted
Marketplace
Hybrid
I've covered how these differ so you can hone in on the right method for you in this article, this one, and this… It's one of the most important decisions you'll make as a course creator. Take it seriously 🙏🙏
In most cases, a hybrid approach makes the most sense.
There are many online course platforms to choose from.
The problem with many of these is:
they're usually quite expensive
they usually give you just a very basic user experience (and to your students as well)
But this is why I built OnlineCourseHost.com 😎 🚀
Regardless of the platform that you choose, this step involves:
Uploading your videos…
Copying your lessons notes and other resources over…
Re-ordering your course and restricting access where necessary…
Adding PDFs, audio files, and anything else inside your course…
How Long Does This Take? 2-6 Hours.
Of course, adding your various course material isn't the only thing to think about here…
You also have to:
Price your course
Create discounts, coupons, and bundles
Complete your sales page
Integrate with your email marketing and onboarding sequences...
If you choose to self-host your course in WordPress, all this takes a long time and expertise (and requires different plugins, widgets, and software).
But with a proper platform like OnlineCourseHost.com, you get to navigate all this very easily. 👍
Summary: How Long Does it Take To Create an Online Course?
Let's summarize all this and give you some total estimates per course type:
Free Course
These courses are about 2 to 3 hours long, at most. For example, my free course is around 2h only, and it's a beginner's course.
Usually you want to make your free course by reusing material from an existing course, and maybe add an intro and an outro, and invite your free students to take the full course in the outro.
Meanwhile, as they take the course for 2 or 3 hours, you have their attention and they get to know you, so they are now ready to move on to the next step - a premium course.
Assuming that you are reusing an existing course to build your free course, here is how long it would take to come up with this type of lead magnet free course:
Research & Planning: 0 (as we are reusing material)
Course Outline: 0
Preparing Material: 0
Recording: 3 hours (for a new intro and outro)
Video Editing: 3 hours
Publishing: 1-2 Hours
TOTAL TIME: about 1 day
As you can see, you can create a free course based on existing material very quickly, and the free course will work as a very effective lead magnet to help you grow your email list, and bring traffic to your premium courses.
But what if you don't have the material ready?
Niche Course
In general, I don't recommend creating courses that are too long. Many of my courses are 4 to 7 hours only, while others go are just above the 10-hour mark.
But I don't have 20h long courses, because I niche down on only one topic.
And so instead of building an all-included 50h course, I split things up into more manageable parts that people can purchase separately, according to their own needs.
By creating a full catalog of courses on a given sub-topic, not only that is more convenient for most students, but you can also bundle the courses together and sell them for a higher-ticket price of for example $89 or more.
Here is what a course catalog could look like in the Excel niche:
Excel For Beginners
Excel Charts In Depth
Excel Pivot Tables In Depth
etc.
As you can imagine, some students will really want to go straight into Charts, but they know they don't need Pivot Tables, and so on.
Here is how long one of my typical 5h to 8h long niche course takes me to record:
Research & Planning: 1 day
Course Outline: 1 hour
Preparing Material: 2 or 3 days
Recording: 1 to 2 weeks (not full time)
Video Editing: I outsource this fully
Publishing: 4 h
TOTAL TIME: I'll estimate around 3 weeks to maximum a month if I'm doing it full time.
Masterclass Course
This is the type of course that goes "all in", meaning that you are not going for a niche approach.
Instead, you go for an all-encompassing mega course of 20h to 30h or more, that you want to sell for a higher price of well over $100.
This course is meant to be a complete reference on your topic, such as for example The Complete Excel Masterclass, where you start with the beginner topics, and then cover all the niches one by one.
This type of course is not ideal for a subscription website, because it makes it harder to sell multiple courses if you teach everything in your masterclass already. 😉
But a masterclass is ideal for one-time sales that convert better than subscriptions, so both strategies can work.
Here is how long a Masterclass could take you to produce:
Research & Planning: 1 week
Course Outline: 1 day
Preparing Material: 1 week
Recording: 1 to 2 months
Video Editing: it could take you several weeks depending on the editing needed
Publishing: 1 day
TOTAL TIME: 1 to 3 months, depending on your experience, and if you are editing the course yourself or not.
As you can, creating an online course does take some time. Is there anything that we can do to speed up the process?
5 Powerful Tips To Speed Up  The Online Course Creation Process
Here are the best ways to speed up your course production process as much as possible:
Record simpler videos: If desktop videos are sufficient to teach something, there is no need to record yourself as well. Recording the desktop only makes it a lot easier to edit the videos and it simplifies a lot the recording process, because it's so easy to remove empty spaces or repeated sentences due to errors.
Outsource all your video editing: This will nearly double your course production overnight, and I highly recommend it. 😉
Go for conciseness as much as you can. The course will be better, your students will appreciate it and thank you for it, and it takes less time to record.
Do it full-time. Nothing beats being able to dedicate yourself fully to only one task, because you make progress so much quicker that way. And you can dedicate your best hours of the day to course production, when you are still fresh and energized.
Do it in batches, one section at a time. Instead of outlining and preparing upfront your whole course, start recording as soon as you have at least a couple of sections ready to record. Trying to prepare everything upfront is counterproductive, as you will change your mind a lot during the creation process.
Conclusion: How long does it take to create an online course?
As you can see, how long a course takes to create depends on a lot of factors, including the type of course you want to create, and your previous experience.
It can go anywhere from:
a day or two if it's a 3-hour slide-based course on a topic that you know inside out and can easily speak about
or it can take 3 months of full-time work to record a giant 30h Masterclass
but the typical 5h to 8h course will usually take you a couple of weeks
A big factor to help you reduce your course creation time is your upfront knowledge, so if you know as much as possible about the creation process.
This will save you a lot of trial and error, and the time loss that comes with it.
This is why we have created the Course Creator Academy, so that you can learn all these course creation skills completely for free.
If you want to interact with other course creators, and get answers to all your questions from our course creation experts, then sign up to the Academy:
The Academy is also present on Facebook, so come and join our community:
Join our Course Creator Facebook Group
If you've found this guide valuable, you may like to explore other Course Creator Academy Guides:
Thanks for reading… and enjoy the course creation process! 😉
---
Vasco Cavalheiro
OnlineCourseHost.com Founder & Online Course Creator
LinkedIn   Facebook Page   Facebook Group   Twitter
You are welcome to ask me any questions in the comments below: 👇👇👇👇