How Much Money Do Skillshare Teachers Make? (See the Revenue of 11 Teachers)

Platform Review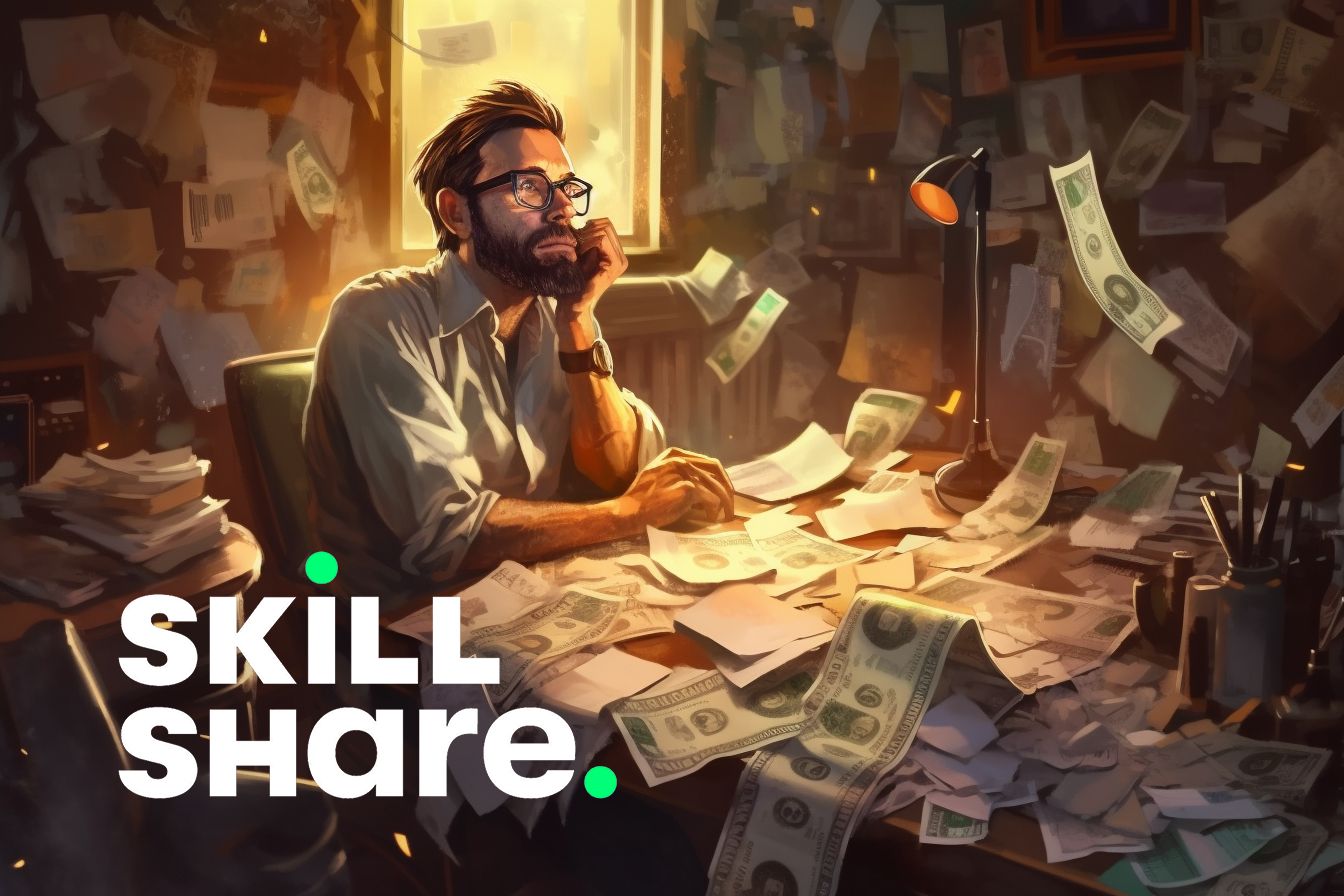 Learn the exact revenue of several Skillshare teachers, spanning across different course topics. Learn tips and tricks from successful teachers about what works and what doesn't work in the platform.
If you are thinking about becoming an online course creator, you've probably heard about Skillshare before - one of the largest online course marketplaces on the Internet.
As a course creator, you are probably wondering: can you make money on Skillshare?
To help you answer this question, we are going to present you with the public earnings of several Skillshare teachers that have been kind enough to share their  revenue with us.
So how much money do Skillshare teachers make?
According to Skillshare, on average, teachers earn between $200 per month, with longer-term teachers earning upwards of $3000 per month. There is also a good potential for teachers to earn more.‌‌ In fact, Skillshare claims that top-earning teachers earn more than $100,000 per year on the platform. So, in reality, earning a full-time living from Skillshare is definitively possible if you can build an audience there and find the right niche for you.
As you can see, there is a wide range of revenues that you can make on the Skillshare platform.
So if you are just starting to teach on Skillshare, what can you expect?
That's what you are going to find out in the rest of this post.
If you are looking to learn more about how to create and sell online courses, both on Udemy and outside of it, here are two main guides that I wrote on the topic:
‌  You can also check out all the free guides that we have available here at the Course Creator Academy by clicking on the Academy link on the top menu bar.
How Do Instructor Earnings Work on Skillshare?
Before going through the teacher list and talking about their revenues, let's talk about how teachers get paid on Skillshare.
There are two main ways instructors make their earnings on Skillshare:
royalties
referral revenue
Royalties
Earning royalties is how you're paid for your content as an instructor on Skillshare. Royalties are calculated based on how much time a premium student spends on your courses.
Here's how it works:
Each month, 30% of Skillshare's total membership revenue is directed to a royalty pool. Instructors are then paid from the royalty pool based on their share of the paid minutes watched by students across the platform each month.
For example, if a teacher's classes receive 5% of the minutes watched by members, that teacher receives 5% of the royalty pool.
In essence, the amount of royalties you earn each month is determined by how much time students spent on your course during that month as compared to other courses.
So it is not true that you are paid the same percentage per minute, hour, or course.
It all comes down to how many people are watching on the platform. As a result, it's difficult to predict how much you'll earn each month.
Referrals
Aside from getting paid for your course content on Skillshare, you can also earn through their premium referral system.
With each new class you create, you'll receive a unique referral link that you can share with your followers outside of the platform.
Furthermore, when you become a teacher, you are automatically provided with a channel referral link, which allows you to promote all of your classes at once through your profile page. And every time someone signs up through your referral link, you will earn a referral bonus.
Not just any kind of bonus, you will receive a whooping 60% of that student's first subscription payment for a Skillshare membership.
People who sign up through your referral links will also receive a free one-month trial of Skillshare.
Now that you know how you can earn from Skillshare, it's time to answer our main question: How much do teachers make on Skillshare?
Revenue of 11 Skillshare Teachers
Let's then go through a concrete list of teachers and see how much each one makes!
Note that the instructors are NOT ordered by revenue or anything.
I recommend reading them all as each case provides some unique insights and lessons to learn from, such as:
what worked for each teacher on Skillshare
how they promoted the courses
other marketplaces they published on
etc.
Let's start with Josiah Brooks.
Josiah Brooks (Jazza) Skillshare Earnings
This video by Josiah, also known as Jazza, is a typical example of what success looks like on Skillshare, and he shares it in the hopes of empowering and encouraging other creatives to monetize their skills on Skillshare.‌‌
Josiah, who is also a professional YouTuber, begins by comparing the monetary benefits of teaching on Skillshare to starting a YouTube channel. In his opinion, monetizing your content on Skillshare is much easier than on YouTube, and he explains why.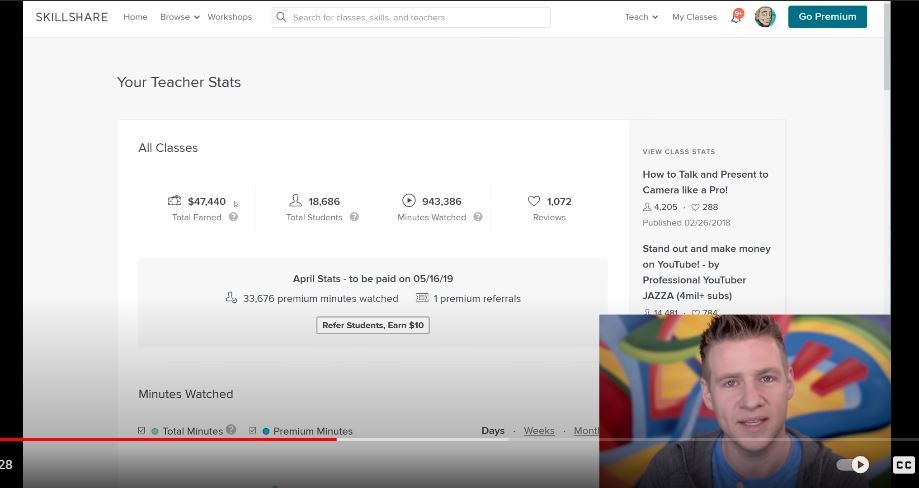 He then shares a report of his total earnings to mark his two-year anniversary as a Skillshare teacher. During this time, Josiah earned a total of $47,440, averaging nearly $2000 per month, a truly impressive figure.
What's more interesting about this statistic is that it's all based on royalties. None came from referrals. Can you believe that?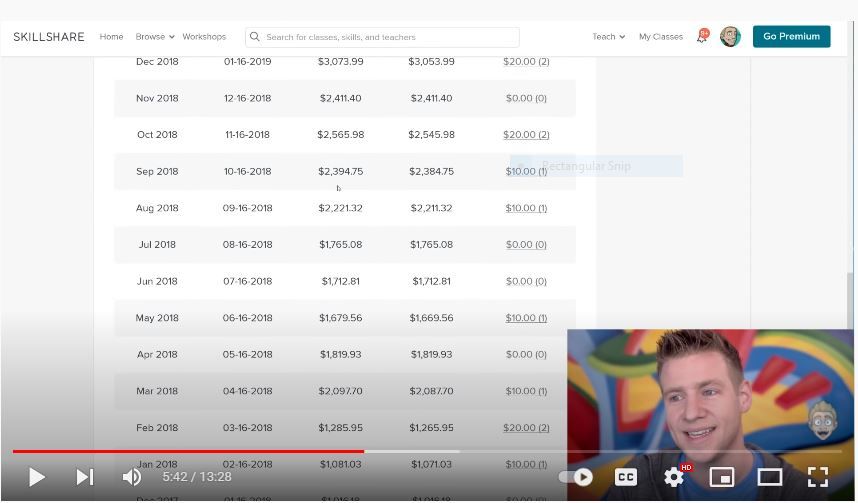 This is a great supplement for running his business, he adds. His most popular course, "How to Stand Out and Make Money on YouTube," has 14,500 students enrolled at the time of filming this video.
He also suggests a few things to consider if you want to give your course more attention on Skillshare, one of which is filling a niche that isn't overly saturated. In other words, filling a void in a market that does not yet offer what you believe you can offer. This, he claims, was a major deciding factor for his top-performing courses.
He concludes by sharing some steps on how to get started as a teacher on Skillshare, which I believe you'd find extremely useful if you're looking to start as an instructor too.
One key takeaway from Josiah is the importance he places on diversifying your income as an artist or creative. Much more than having a large social media following, you can build a really nice income ecosystem to help you achieve your goals by diversifying yourself, thinking and working wisely as well as hard.
Benji Wilson Skillshare Earnings
Benji is an interesting example to consider if you are already an instructor on other platforms such as Udemy and want to explore Skillshare, as he shares his experience from his first year on Skillshare.‌‌
After beginning as a Udemy instructor in 2013, Benji began experimenting with Skillshare in late 2019.‌‌ He begins by expressing his thoughts on Skillshare's user experience and atmosphere. "Skillshare is a really welcoming platform and a good place to start as an instructor," he says, "especially if you're nervous on camera."
He then shares his earnings from his first 16 months as an instructor.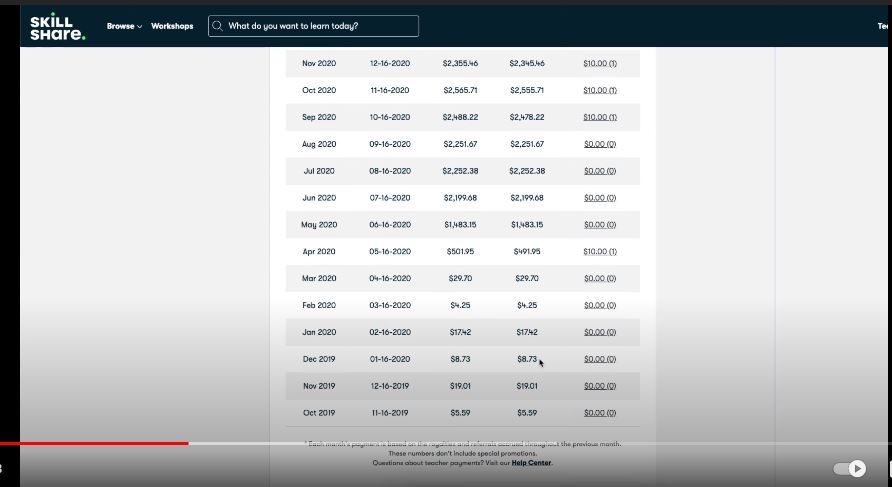 As you can see, the first six months were not ideal in terms of his earnings. It took him about 6 months to get up and running.
That, however, did not happen by chance. What made the difference, according to him, was adding more courses, which is a key takeaway here.‌‌
And, according to Benji, these courses were not designed specifically for Skillshare, but were slightly modified to fit the Skillshare model.
From there, his royalties increased to $491 the seventh month, and $1483 the next month, and over $2000 consistently in subsequent months.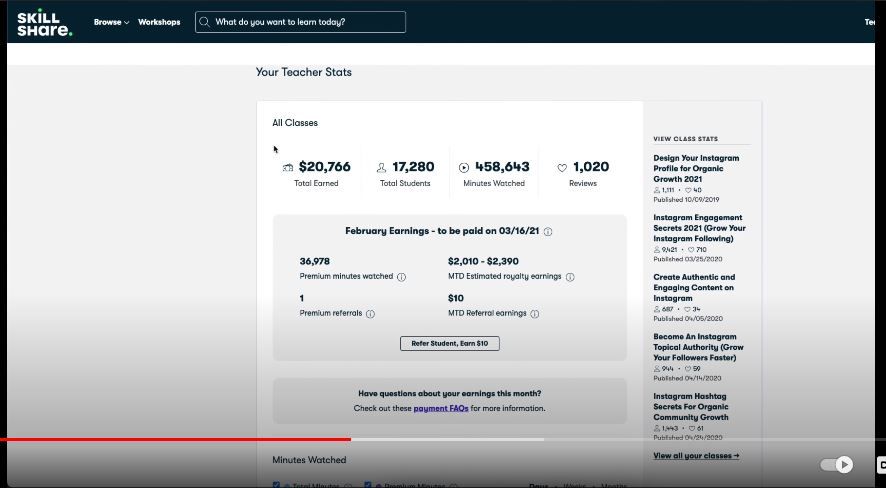 ‌As can be seen, he earned a total of $20,766 with 17,280 students enrolled and 458,643 minutes watched during that time period.
Without a doubt, this is a very impressive figure, and it just goes to show what can be achieved as an instructor on this platform. It also shows that one can benefit from both Skillshare and Udemy, as you don't have to limit yourself to just one platform.
What's more encouraging about Benji's results is that even after he stopped publishing for months, he was still earning a regular income, demonstrating the power of Skillshare, especially if you have multiple courses.‌‌
Benji concludes by sharing his top 3 tips for teachers to sell as much content as possible on Skillshare:
The first one is to pick something you're passionate about or something you enjoy teaching. It is easy to grow an audience this way.
Secondly, he suggests checking out the Skillshare trending courses to see what courses or niches are doing particularly well. You want to make sure you are modeling success and not reinventing the wheel. He also emphasized the importance of striking a balance between courses you are passionate about and what people actually want.
Finally, Skillshare thrives on momentum. As an instructor, you want to give your course some momentum by doing some promotion. This makes Skillshare see your course as popular, and they will promote it more. This increases the number of people who watch the course, resulting in increased earnings.
Marouane Bembli Skillshare Earnings
Marouane Bembli is yet another example of a teacher who has done exceptionally well on Skillshare, as he shares his total earnings of $43,086 from his first five years as an instructor. ‌‌During that time, he created 30 classes on a variety of topics, including business, painting, sketching, and lifestyle.‌‌
Here's how much he made overall: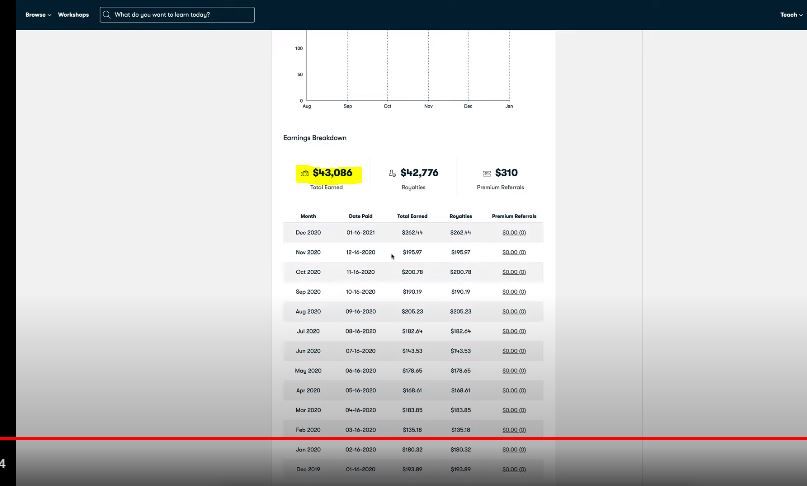 According to Bembli, the most interesting aspect of this is that he wasn't doing anything active in the platform after he published the courses.
He hadn't published a course in over 2 years at the time of recording this video, but he was still getting paid, implying that his previous works continued to generate revenue month after month even when he didn't do anything.
Benji also explains how he was able to create 30 classes in a very simple manner simply by compiling his previous teachings into simple short courses and publishing them.‌‌ He goes on to discuss how to easily create classes and what kind of content to teach on Skillshare to earn extra income.
If you're looking to get started as an instructor, You might want to take a look at his video above to get the full scoop.
Daniel Mor Skillshare Earnings
Daniel is a great example of how almost anyone can make a living from Skillshare.‌‌ In this video, Daniel explains how he used Skillshare to earn income after only being a teacher for just over 3 months and with no prior experience.‌‌
He earned $114 with 104 students enrolled and 2151 minutes of watch time by uploading just one 38-minute video that took only a couple of hours to create.‌‌
According to Daniel, he hasn't done anything since uploading the course 3 months ago. No further edits, No additional courses or promotion.
What is clear from Daniel's experience is how possible it is to generate some extra income on Skillshare without investing a lot of time in it.‌‌I can only imagine how much more he could earn if he put in more time into it.
Sam Harrison Skillshare Earnings
Sam Harrison's three-month journey on Skillshare sheds more light on how feasible it is to earn a decent income on the platform.
In this video, Sam explains how he made $1348 in his first three months on Skillshare with just one course and no promotions.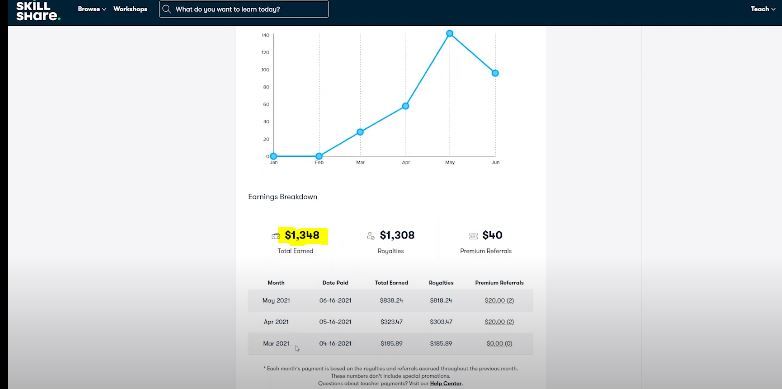 From making just $185 in his first month, which was just shy of the Skillshare average claim of $200 monthly, to making a little bit more ($323) the following month, and from there, recording a significant increase of $838, which is pretty amazing!‌‌ And when you consider that this amount was earned from just one course, it becomes clear that he could be earning a lot more by uploading more courses.
Another interesting aspect of Sam's result is that it is entirely organic, as he claims he did not promote the course on any social media platform.‌‌ And I believe this is another important factor to consider if you want to get started with Skillshare. Unlike Udemy, which requires you to promote your courses on your own, Skillshare does it for you.
Jacob Obling Nygaard Skillshare Earnings
Jacob is another success story on Skillshare, as he shares his journey as an instructor.‌‌ Jacob discusses how he earned $3831 in a few months in this video.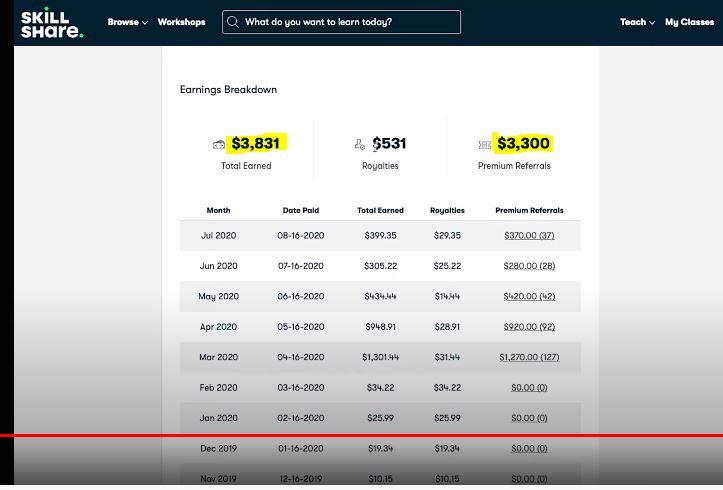 Unlike most other earnings, a large portion of this amount came from referrals, which is very interesting if you think about it.
It gets even more interesting when you consider that he only began referring people in March, and within 5 months, he had earned $3300 in referral earnings.‌‌ This simply illustrates what is possible in terms of both royalties and referrals.
My takeaway from this is that referrals can also be a good way to earn a consistent income on Skillshare, especially if you have a large following.
And, thanks to the new referral bonus structure, you could earn hundreds of dollars in referral bonuses each month.
Art by Louise Skillshare Earnings
This video by Louise is interesting because it provides an overview of her first six months of earnings on Skillshare.‌‌ What I like best about this is her honesty.
Louise is an artist and a Skillshare art instructor. After releasing her first class in September 2021, she has released three more classes since then, the most recent of which was in February 2022.
Louise earned only $45 in her first three months from two classes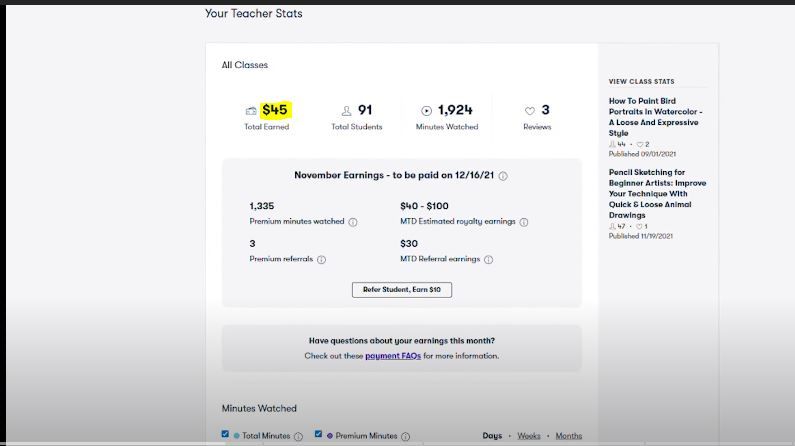 ‌‌This, I believe, is an important example to study because it provides a realistic insight into how things can be a little rough, especially in the first few months before they improve.
Her earnings increased significantly over the next three months, particularly after she published her most recent course. And as of March 21, 2022, she had earned a total of $1190.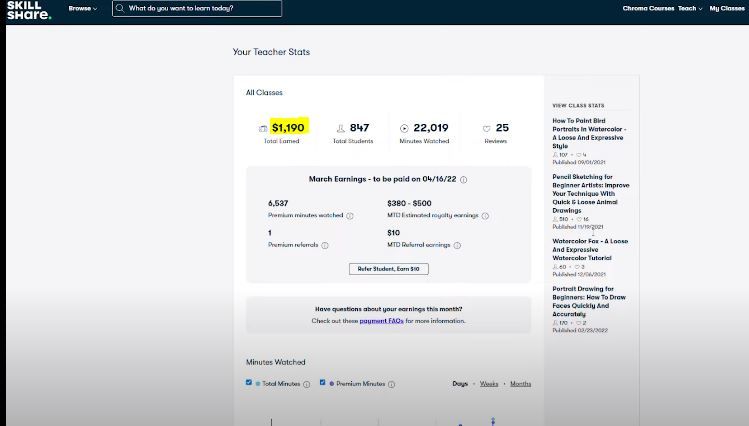 ‌‌She describes how she averaged 10 new students per day after this, with the majority of her earnings coming from her most recent course, which was published in February.‌‌ With only YouTube to promote herself, the majority of her earnings were entirely organic.
Meg Hollis Skillshare Earnings
In this video, Meg Hollis shares her journey on Skillshare from how she started creating courses in the platform.
With 8 of her courses live on Skillshare, all of which are about social media marketing, she has 4400 students enrolled and 115,000 minutes of watch time.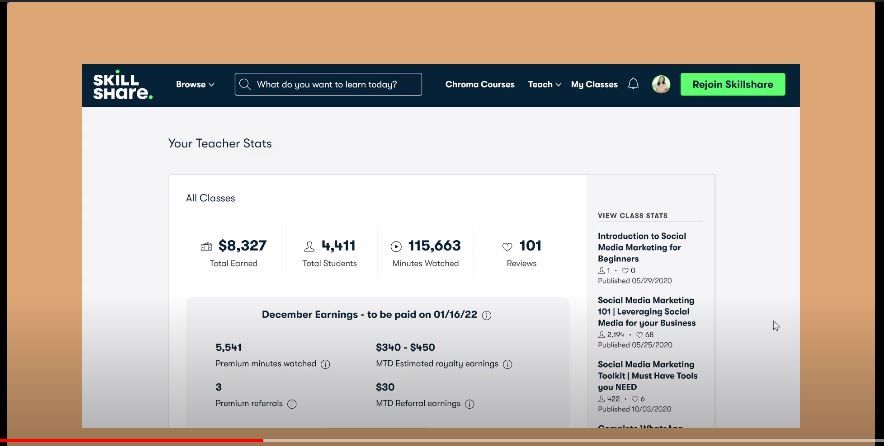 ‌‌Meg earned an average of $326 per month in 2020, for a total earnings of $2612 over the course of eight months. The year after she started, that increased by 58 percent, earning an average of $516 per month for a total of $6194 for the year, which is quite exciting.
As someone whose shortest class lasts only 12 minutes and her longest class lasts approximately 3 hours, she recommends taking shorter, more engaging classes.
In her words, while it may be tempting to film longer courses in order to earn more money, longer classes can be less engaging and thus receive fewer minutes of watch time. So, most of the time, keep it short and engaging.
One important takeaway from this is that courses outside of the creative niche can also do well on Skillshare. So, if you want to get started in a field other than the creative, this is great news!
Elizabeth Morrell Skillshare Earnings
Liz, a 19-year-old from Melbourne, shares her 9-month experience since publishing her first course on Skillshare.
She describes how she began making videos on Skillshare after being inspired by Natasha Robertson, a Skillshare instructor in the same niche whom she followed on Instagram.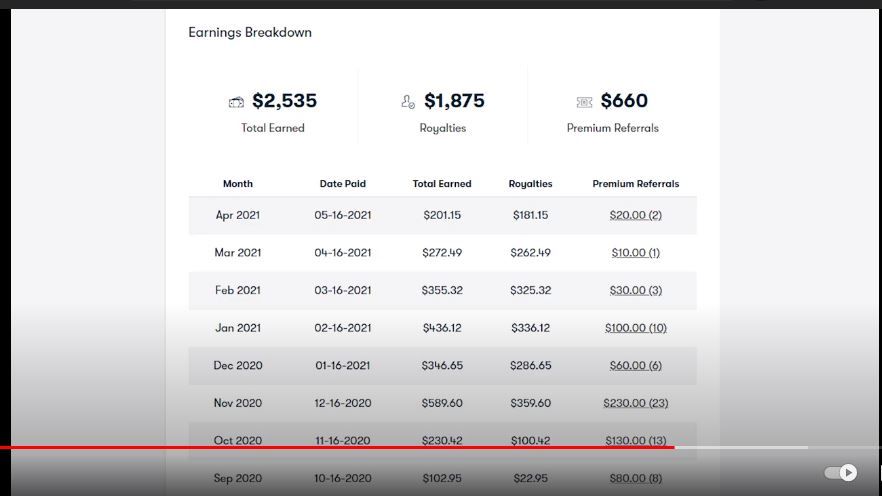 With $2535 earned in 9 months and $660 earned through referrals, that's just under $300 per month on average, which is still quite impressive.
During this time, Elizabeth published five courses with varying numbers of students from various courses. Her first course had 62 students enrolled, her second course had 89 students, and her most popular course "creating custom portraits in procreate" had 506 students enrolled.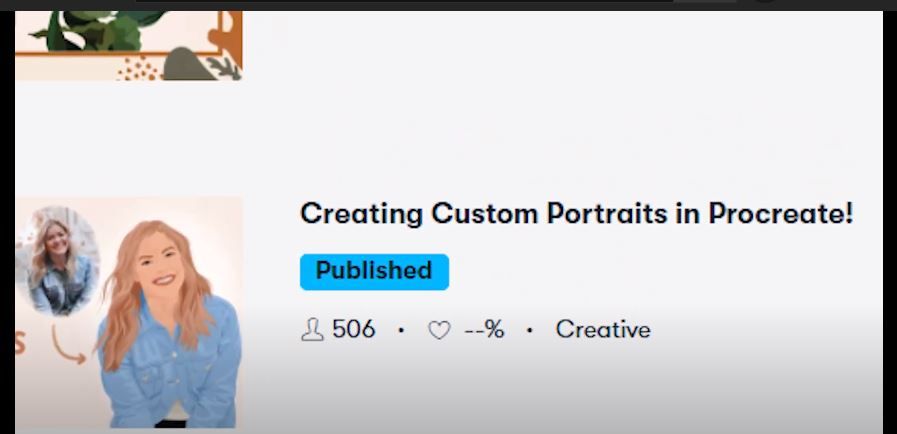 Alexander Monica Cote Skillshare Earnings
Alex is another teacher who has tried both Udemy and Skillshare.
In this video, she discusses her experience as an instructor on both platforms and why she prefers Skillshare despite earning nearly $2000 in less than a year on Udemy which is more than her earnings on Skillshare ($849).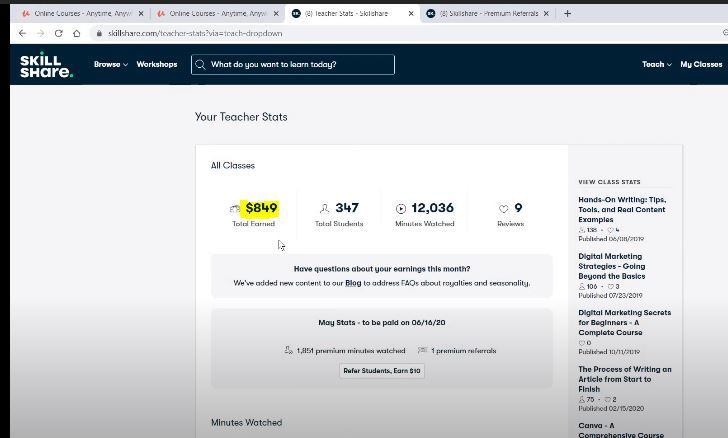 She prefers Skillshare due to the number-of-minutes-watched mode of earning, which she believes is a better reflection of the quality of your course.
According to her, with this structure, every dollar you get is earned. As a result, the number of people watching your course and your revenue increasing indicate the quality of your course.
She also suggests having courses on both platforms. In comparison to Udemy, she does highlight Skillshare as a more friendly and welcoming platform for new teachers.
Despite not earning anything in the first few months, she still prefers Skillshare due to the earning potential from referrals.
Natasha Robertson Skillshare Earnings
Natasha's video is yet another interesting and encouraging example if you want to earn passive income as a Skillshare instructor. While having multiple courses on Skillshare is always preferable, Natasha has demonstrated that earning $300 monthly from Skillshare with just one course is still possible!‌‌
She provides an overview of her experience, including her earnings.‌‌ I should also mention that she earned a significant portion of these earnings through referrals.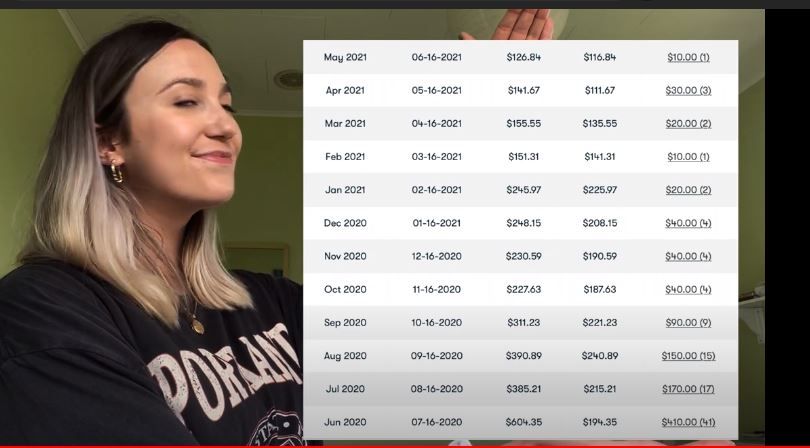 As you can see, she earned $1030 in premium referrals and $2189 in royalties for a total of $3219 in a year if you add up the figures.
And when you break this down, you get a total of $268 per month on average, which I think is pretty good considering this is only from one class.‌‌ The class is called Digital illustration, modern portraits, and procreate, which is a very suitable subject for a platform like Skillshare.
Lastly, she emphasizes the significance of putting forth a significant amount of effort in your classes, as this can make a huge difference in your results as a teacher.
So this brings us back to the main question of this post:
Is It Worth Teaching on Skillshare? My Verdict
Based on these examples, you now know exactly how much do Skillshare teachers make, and the main sources of their income.
From these examples given, it is clear to see that teaching on Skillshare is an excellent way to monetize your knowledge, especially if you specialize in the creative or business niches.
But other niches are beginning to gain recognition on this platform too.‌‌
Skillshare offers a great user experience, an easy way to upload video courses, and various ways to earn money from your classes.‌‌ What's even more interesting about Skillshare is that:
You can leverage its audience to earn money even without any promotion.
The atmosphere is warm and friendly.
It provides a sense of community which is very important for learning success.
It's cheaper and classes are organized into short-engaging content.
However, with all of these amazing features, I believe it's also important to consider some of the drawbacks so you can get a more realistic picture of things before diving in.
This is because, at the end of the day, Skillshare is still a third-party platform over which you have only limited control.‌‌
For example, you must wait until the 16th of each month to be paid for the previous month's earnings, and you must have at least 75 minutes of watch time on your classes from paid subscribers to qualify.
Also, growing on Skillshare will require some promotional effort on your part, which I believe could be directed toward building your own brand.
So, as a beginner teacher, don't expect to make a lot of money right away, and think of it as a longer-term project. However, if you're willing to put in a lot of time and effort into your classes, Skillshare could be a great fit for you.‌‌
It is also important to note that Skillshare has very strict rules and policies, which means that your courses can be removed for almost any reason.
Diversifying your income as a teacher is probably the best decision to make. And one of the best ways to achieve this is, I believe, owning your own website.
On your own website, you can implement value-based pricing and charge your students based on the value that the course provides them.
You can also sell higher-ticket items such as course bundles, subscriptions, Lifetime plans, Enterprise plans, or coaching packages.‌‌
In addition, you can request the student's email address and gradually build your mailing list. This will allow you to keep your student audience and keep them returning to your website.
I believe that for the majority of course creators, this mixed publication model (marketplaces plus self-hosting) is ideal, and I discuss it in depth here - Where Should You Publish Your Online Course? (Self-Hosting vs Marketplaces).
But the problem is that often having your own online course website is expensive, especially for new course creators just starting out.
I get that because I'm a course creator too, and I know what it's like.
But that is why I have created OnlineCourseHost.com in the first place. To help out course creators by creating the easiest to use and most affordable online course platform on the market, that comes with built-in email marketing capabilities like bulk emails.
More than a platform, we also want to give you all the information that you need to grow your online course business successfully.
That's why we have created the Course Creator Academy where you can find everything you need to become a successful online course creator all in one place, for free.
‌‌If you would like to get notified when other guides and useful content on online course creation is available at the Academy, then you can join us here:
If you are looking to ask any questions on online course creation, you can reach me here on my Facebook group:
Join the Course Creator Academy Facebook Group
Here are some of our other popular articles and guides:
I hope you found this post helpful, let me know in the comments below what other topics you would like me to cover, or any questions that you have?
Thanks for reading… enjoy the course creation process! 😉
---
Vasco Cavalheiro
OnlineCourseHost.com Founder & Online Course Creator
LinkedIn   Facebook Page   Facebook Group   Twitter
You are welcome to ask me any questions in the comments below: 👇👇👇👇