How to be Successful on Udemy (How I Made $701,775 on Udemy)

Platform Review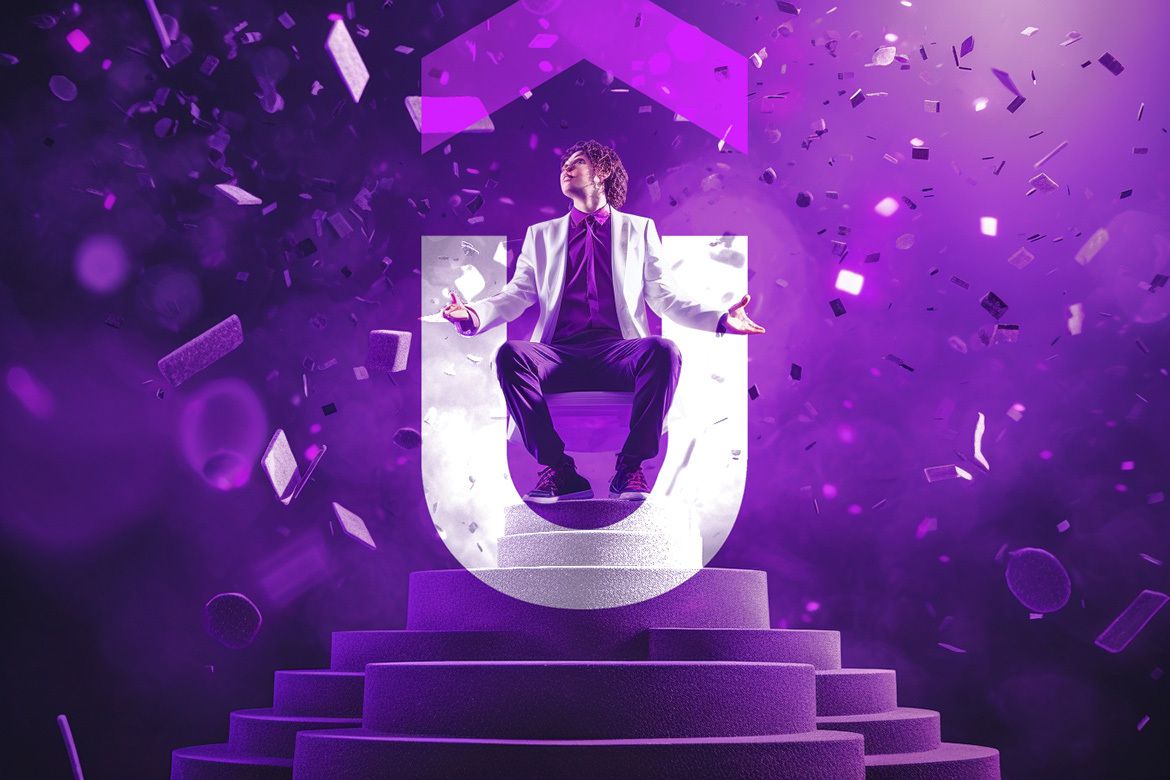 This is my personal story as an online course creator on Udemy (since 2016). I talk about what worked for me, what didn't, and my revenue.
Welcome! This is my personal story as an online course creator on Udemy since I started teaching there in 2016. In this post, I am going to share strategies on how to be successful on Udemy.
Most especially, this post is meant for online course creators looking to know more about the Udemy platform from someone that has been selling courses there for several years.
The goal of this post is not to brag or anything, but to inspire you and convince you that yes it's possible to make a living teaching online and specifically on Udemy and that yes you can do it too 😊 👍.
I will talk about how I started selling my courses there, what worked, what didn't, and why I recommend Udemy as a course creator, and I also talk a bit about my revenue on Udemy over the years.
If you want to see examples of the revenues of other instructors on Udemy, you can also check this article: How Much Do Udemy Instructors Make? (See the Revenue of 13 Instructors).
Here are other Udemy-related posts that you might be interested in:
So Without further ado, let's get started learning everything about how to be a successful course creator on Udemy!
What is Udemy?
If you are an online course creator or thinking of becoming one, I'm sure that you must have heard of Udemy by now!
Udemy is by far the biggest online course marketplace on the internet, and it's not even close. Some of the numbers that the company has announced are mind-blowing:
40 million students
56k instructors
155k courses
480 million enrollments
115 million minutes watched
More than 65 languages
Over 7000 enterprise customers
If you are in the online education space, then Udemy is the place to be. It's a very large platform with a huge built-in audience and a lot of revenue potential for online course creators.
How Does Udemy Work?
Udemy is an online course marketplace, it's just like Amazon but for online courses.  
You can find here an in-depth review that I wrote comparing Udemy with another major online marketplace called Skillshare: Udemy vs Skillshare for Online Course Creators: Where To Publish Your Courses?
You find all sorts of online courses there, from cooking courses to programming courses, chess or excel courses, yoga courses, you name it, it's probably on Udemy.
Anyone can sign up to take any courses that they want, but also anyone can sign up to become an instructor as well, and start teaching online.
You don't have to pay anything to sign up as an instructor, it's free. You just have to create your online course, upload it to the platform, and publish it.
The platform has a very simple course creation process, in the sense that you don't have to be a web designer to create a great-looking landing page.
You just need to set the title of the course, the subtitle, and the description, and provide a topic and an image thumbnail, and you will have a great-looking landing page, optimized for conversions in no time!
They will also help you with the thumbnail and provide you with a free design if you don't have one.
But if you want a higher quality thumbnail that stands out, I recommend getting one on Fiverr, it's very affordable and well worth it, just make sure to give your designer the Udemy thumbnail quality standards.
Once your course is published, it will be available to be purchased by one of the platform's many students.
How do Course Sales Work on Udemy?
When it comes to selling online courses on Udemy, the marketplace got some huge success with discounted course sales, where most courses show up at the price of $10.
This discounted price shows up next to the undiscounted price set by the instructor, so it looks like a very good deal for the student, in comparison to the full undiscounted price.
These site-wide sales are frequent and tend to happen every month or so, so the students always have a good reason to come back to the platform.
You can also make undiscounted sales on the platform, and I do make some of those sales from time to time, but most of my sales are at a discounted price, that is just how the platform works currently.
Udemy is experimenting with increasing the sales price to $11, $12, and even $15 or more, so they are constantly experimenting with new ways to get higher sales prices.
Udemy has also put in place a geographic pricing system, where students will see a course price that is adjusted to the country they live in, and this also helps increase sales.
This does not mean that the course will always necessarily be lower than $10, for example in Europe the course might be sold for 10 or 11 euros, so it's effectively sold at a higher price than the equivalent of $10.
How Does the Udemy Instructor Revenue Share System Work?
If you're currently wondering, "How much do Udemy instructors make?" It depends on where your sales is coming from. On Udemy, you can create promotional coupons that bring students to your course landing page.
If the students purchase your course after clicking on one of their coupon links, then you get almost the full price of the sale, meaning 97% of the sale price!
But if the sale is done through one of the large organic channels, like search or suggested courses, the instructor will currently receive 37% of the sale, here are the latest conditions.
Like most platforms, Udemy also has an Affiliate program, so it's possible that your sale was brought in by an affiliate link.
This means that in that scenario, the sale price will be split into 3 parties: Udemy, the affiliate, and yourself. The current affiliate commission is 15% from what I could gather, so there is that to keep in mind too.
How I Started Selling Courses on Udemy and Became Successful
I've talked about this in more detail in this other post How I Made $1.615.000 Selling Online Courses (So Far), but I started thinking about teaching on Udemy back in 2014.
Back then, the platform was still quite young but it already had a lot of students. I was a student (and still am) on Udemy and took many courses there over the years to learn all sorts of skills, so I knew about the power of online courses and self-education.
With Udemy, I managed to train myself in a lot of software development topics and other skills that I could apply directly to my job, in a very practical and fun way.
Back then, I remember taking some of the courses on certain topics of software development, and thinking that I could do something better, more in-depth, and explain things in more detail.
I was looking for more advanced courses on software development, and most of the things that I came across were more aimed at the beginner level. Which is a great type of student to target as an online course creator, as beginners are the most likely to need help.
But I felt I needed much more in-depth knowledge to be able to apply these skills directly to my job. I felt that there was a gap between what people like myself needed, and what I could find.
And so, as I was growing very tired and burned out of my job as a corporate software developer, I decided to quit my job in February 2016 and try a new career as an online course creator.
I have blogged in detail about that experience here, it was sort of a leap in the void as I had no previous experience creating online courses.
The main reason why I thought that I could sell the courses was that I had a blog on software development with a lot of traffic, so I thought that I would manage to bring some traffic to my upcoming courses.
After I quit my job I spent a few months building my website from scratch as I wanted to do that as a learning experience, but after a few months, I started recording courses.
As I didn't know what to expect, I recorded a mini-course of a couple of hours and about 20 to 30 lessons, and I published it on Udemy.
My First Sales on Udemy
As an online course creator, aside from creating high-quality courses, you need the right strategy to become successful on Udemy.
In my case, I started by sending some of the traffic that I had to my course landing page, and to my huge surprise, I did get some meaningful sales.
I launched my first course on Udemy by mid-June of 2016, and at the end of the month, I sold almost $300, not bad at all!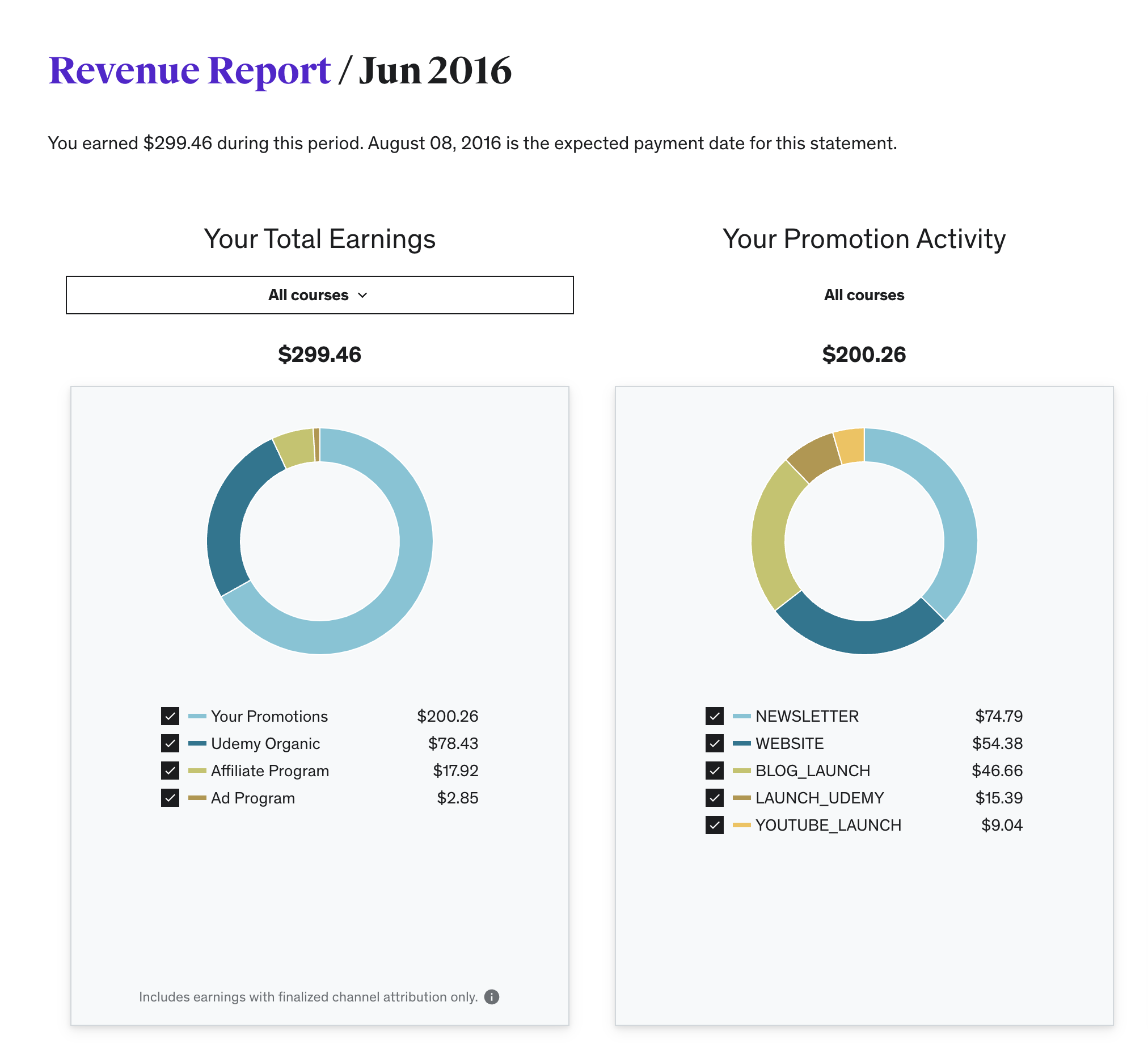 This was of course not enough for me to make a living, as the country I live in (Belgium) is relatively expensive when compared to the rest of the world.
But still, I was very excited about these first few sales, because they motivated me, helped me to keep going, and showed me that it was possible to make some revenue teaching online.
This first course that I made was not good at all, I filmed myself all the time and this made the course unnecessarily hard to edit, besides I had my headphones on all the time so I looked like a disk-jockey 🤣
The course needed to be fully re-recorded, but that was much easier to do with the initial feedback that I got from that first mini-course.
After that first course, I continued recording and publishing more courses on Udemy, and I still publish courses there to this day.
So how did I do in the long run, after this very small but encouraging start?
My Revenue On My First Year on Udemy
After a year or so on Udemy, I had made a total of around $30.793, which was a very good complement to my overall online course revenue.
Here are the sales that I did in my first 12 months on Udemy:

I made this revenue mostly with organic sales, but there were a few months when promotions did very well.
Also, notice that revenue of almost $4000 that I made in November 2016 - that was my first Udemy Black Friday experience 😊.
As you can see, my revenue kept growing from month to month, as I found more students organically through the platform search engine and the multiple course suggestion features.
Other than answering a couple of questions a few times a week, this revenue is mostly passive. I do the initial work of putting together a course, and then after I deploy it, each course becomes a new stream of (mostly) passive income.
$30k is a good complement for anyone's revenue, but where I live this is still quite a low salary. Then again, in a lot of parts of the world, this is already more than a full-time income.
So how did I do in the long run after this promising start, did I manage to turn this into a full-time income?
My Total Revenue (Until Today) On Udemy
Fast-forward a few years on Udemy, and as the platform grew and I kept putting out more courses and improving existing ones, my revenue grew as well over time.
I wish to reinstate here that a lot of how to make money on Udemy depends on your consistency as well.
If we check my total revenue made on Udemy up until today (April 2023), here is how much I made in total on the platform: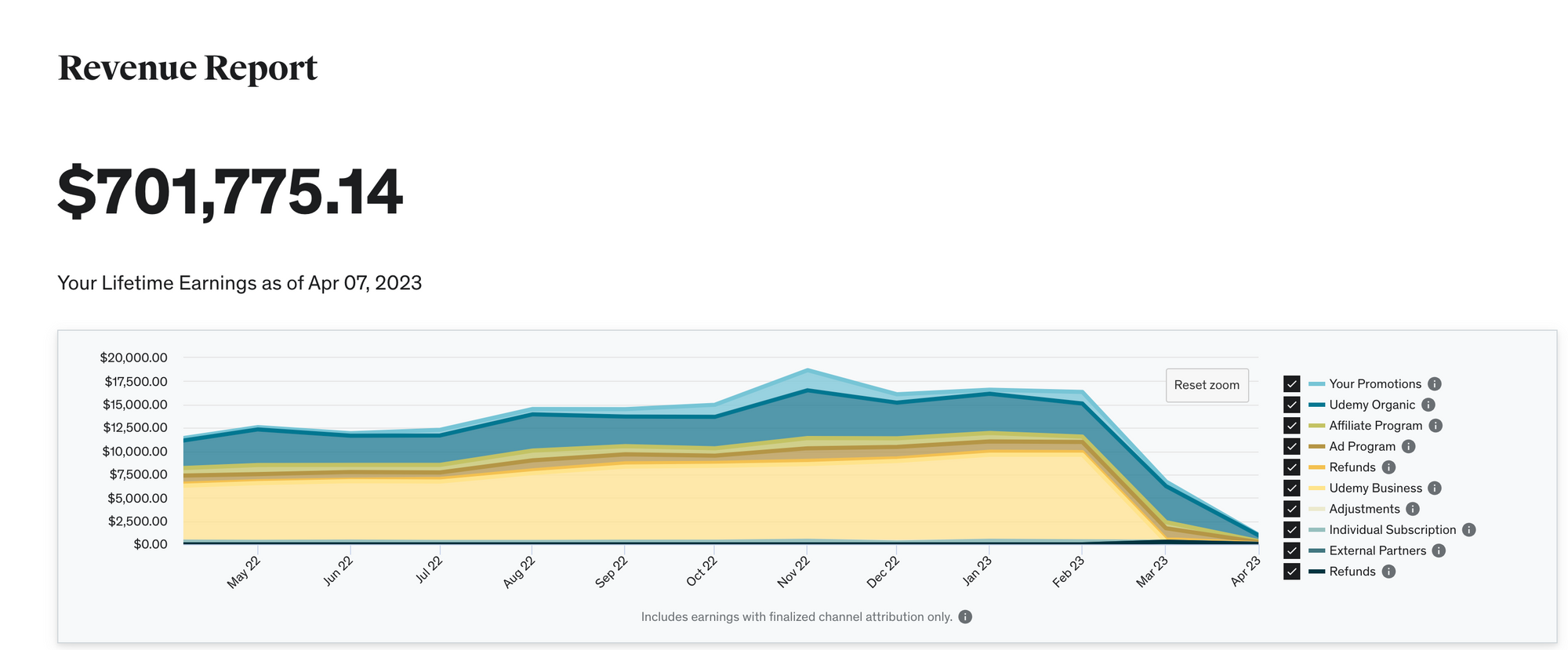 So that's a total of $701k made on Udemy so far 😊 👍!
I'm extremely thankful to anyone who has ever purchased one of my Udemy courses, without you guys this wouldn't be possible.
So this revenue is not bad at all, right? Last year, for example, I made 103k on the platform, so that's a full income right there from teaching online.
Udemy is only one of my sources of income, but it's an important one. So given the results I had over time, the question is now, how did I do this?
What were the strategies that allowed me to grow my revenue on Udemy from a very modest start to a full six-figure yearly income?
What Is My Overall Udemy Strategy for Selling Courses On Udemy?
So here is how I managed to grow my revenue over the years and became successful on Udemy. My course category is in the software development space. I teach a technology called Angular if you are curious.
When I started teaching on Udemy, I noticed that there were already several established courses with huge social proof that had been started almost a year before me.
Due to the nature of how the platform works, most of the social proof tends to concentrate on a few courses per category, and this creates a snowball effect that adds even more social proof, etc.
Of course, the courses that gather the top places are excellent, but still, I thought that I could bring my unique perspective and offer to the space.
So here is what I did, because it was impossible to create one mega course to try to compete with the top courses, I decided to niche down and make instead a lot of smaller but more in-depth courses covering specific subtopics of my niche, and sell them separately.
I thought that many people like myself might already be familiar with the topic, and they might want to just pick up one particular subtopic that they wanted to learn much more in-depth.
For this type of student, a smaller but more focused course is what they prefer. These students don't want to go through 30h of content without the guarantee that they will even find what they are looking for, in the depth that they need.
Going more in-depth in my courses was something that I wanted to do anyway and I had planned to do so already. I wanted to create a whole series of very detailed, in-depth courses revolving around only a couple of topics, and not branch out a lot.
By really drilling down into a topic in detail and creating practical courses that teach a developer to create an application from A to Z, I created these smaller courses of 4 to 10 hours long but not more that are super in-depth.
I film myself building a program and I explain everything that I'm doing, leaving no stone unturned and really getting into the details and the decisions that I'm constantly taking as I code: why did I do this, why did I not do that instead, etc.
It turns out that this strategy of niching down worked for me over time, and allowed me to make a living teaching the topics that I love.
To date, it's still one of the most essential steps for online course creators desirous of becoming successful on Udemy.
By providing a whole series of in-depth courses in a subtopic of a broader niche, I've created an offer that is unique in my space, no one else has (as far as I know) such in-depth coverage of the topic.
Why The Niching Down Strategy Increased Online Course Sales On Udemy?
I think this niching-down strategy (that is uncommon on Udemy) has worked for several different reasons and has helped a lot of course creators like me become successful on the platform.
First, many beginner students might prefer a more in-depth explanation, to get into the topic, and get a beginner-only course.
They also might prefer to build something practical, like a small application, rather than going through technological features one by one. Students want to see how it all fits together.
Besides that, by having a whole series of courses, I just ended up having more courses to sell at the same discounted price of $10 to $15 (currently).
And this means that some people if they like my teaching style, will just end up buying all of my courses!
I currently have 17 courses active on Udemy, and a lot of my students buy 10 courses or more!
And because many of my students buy several of my courses, I end up showing up on organic search a lot on the "Frequently Bought Together" results, displayed prominently on the search results by the Udemy algorithm: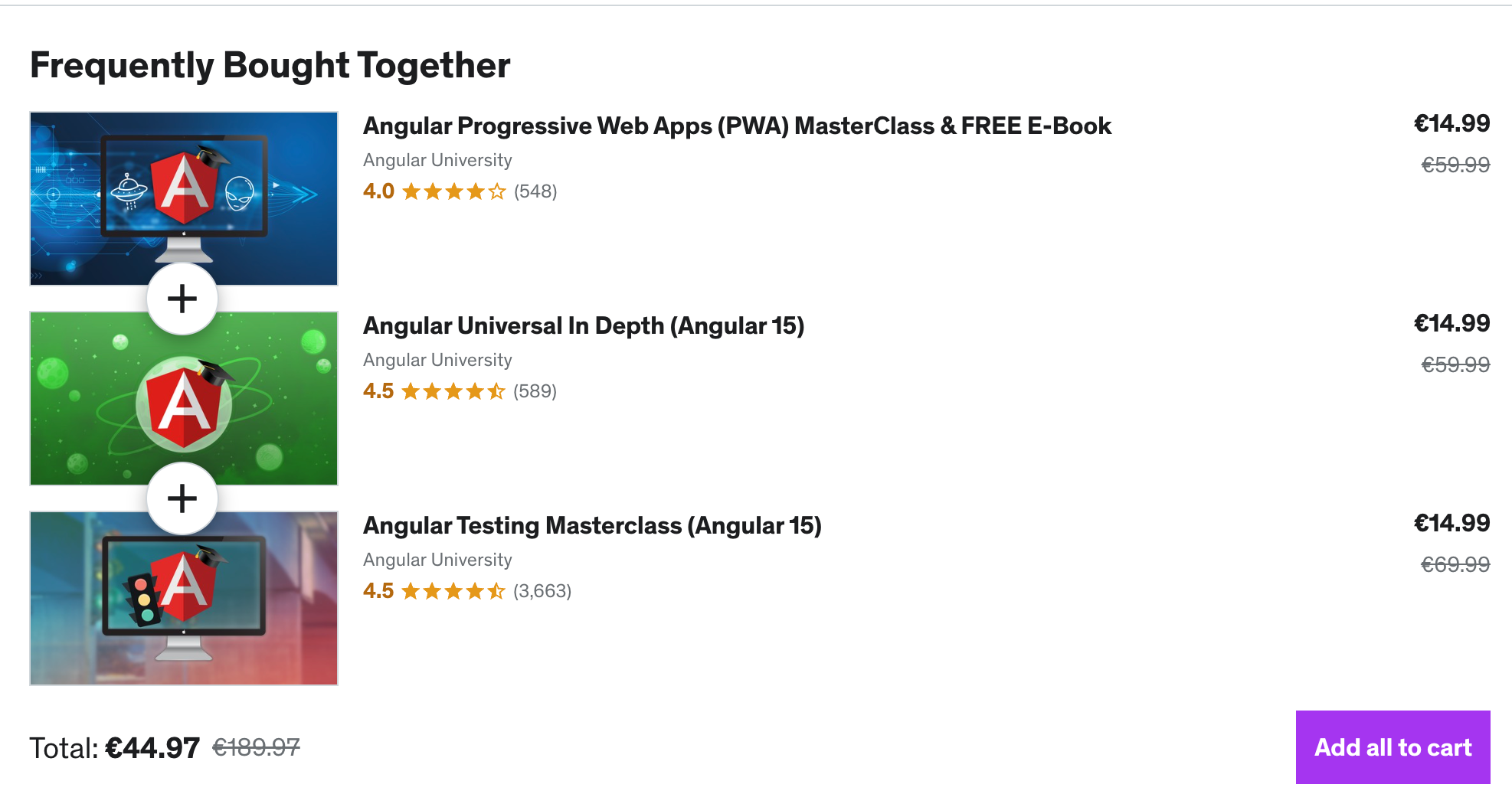 Notice the "Add All to Cart" button, this helps a lot with sales.
As you can see, instead of having one large course of 20h or more on one given topic, having many smaller more specific courses focusing on one given subtopic also works well on Udemy, and fewer instructors are doing that at the moment.
This approach to selling online courses on Udemy also aligned with my interests and goals, I just wanted to niche down as much as possible in this technology that I'm to this day super interested in.
And so I continued to record more courses of 5 to 10 hours on the same topic, instead of diversifying to other areas. I did a couple of mini-courses on closely related areas to see how they did but went back to my main area of interest as the results weren't as good, and also, the topics just weren't as interesting to me.  
And this last factor counts a lot too. If you are going to record a bunch of courses on one topic for years in a row, you better really enjoy it! 😊
So besides doing niche courses, do I do anything special in the platform to sell them, other than the organic sales?
How Do I Do Email Marketing on Udemy?
As you might know, on Udemy you have the possibility as an instructor to send email announcements to your students.
You have two different types of emails possible:
Educational announcements: these are non-promotional emails, meant to send educational material to your students. These emails cannot include coupons for your courses. Instead, the emails are meant to send free educational resources to the student.
Promotional announcements: In this type of email, you can and should send a promotional coupon to one or more of your Udemy courses.
You can send 4 educational announcements per month, but only 2 promotional announcements per month.
This is quite a lot of emails, as it's not advised to email your audience much more than once a week or so. More than that, people will just start unsubscribing and it's going to be hard to keep your list growing over time.
So what I do is, as I'm building my next course, every week I use an educational announcement to keep in touch with my students and I send them a free sample lesson from the course.
I publish the video lesson as an unlisted video on YouTube, with no advertising at all, and no links to external resources. It's just a way of sending a free video to my students in an exclusive way.
I could also do this on Vimeo, but people are more used to using YouTube, so it's just easier to send my students to an interface that they are already familiar with.
I keep sending these educational emails while I'm recording my course, and I include the logo of the upcoming course on each email so that the students get familiar with the branding of the course.
After a few months of recording, I then send a promotional email with a launch coupon, valid for 3 days only.
I then usually do between $600 to $1200 overnight on the day that I launch the course, which gives me a nice little revenue boost for the month.
Besides sending promotional emails at the launch of a single course, I also send promotional emails at certain moments during the year, like Black Friday and New Year.
At those specific times, I send coupons for all of my courses in a single promotional email, and I put all my courses on sale temporarily for that specific holiday period.
And those coupons, together with the course launches tend to do quite well. Here is for example my promotional revenue for the last Black Friday month: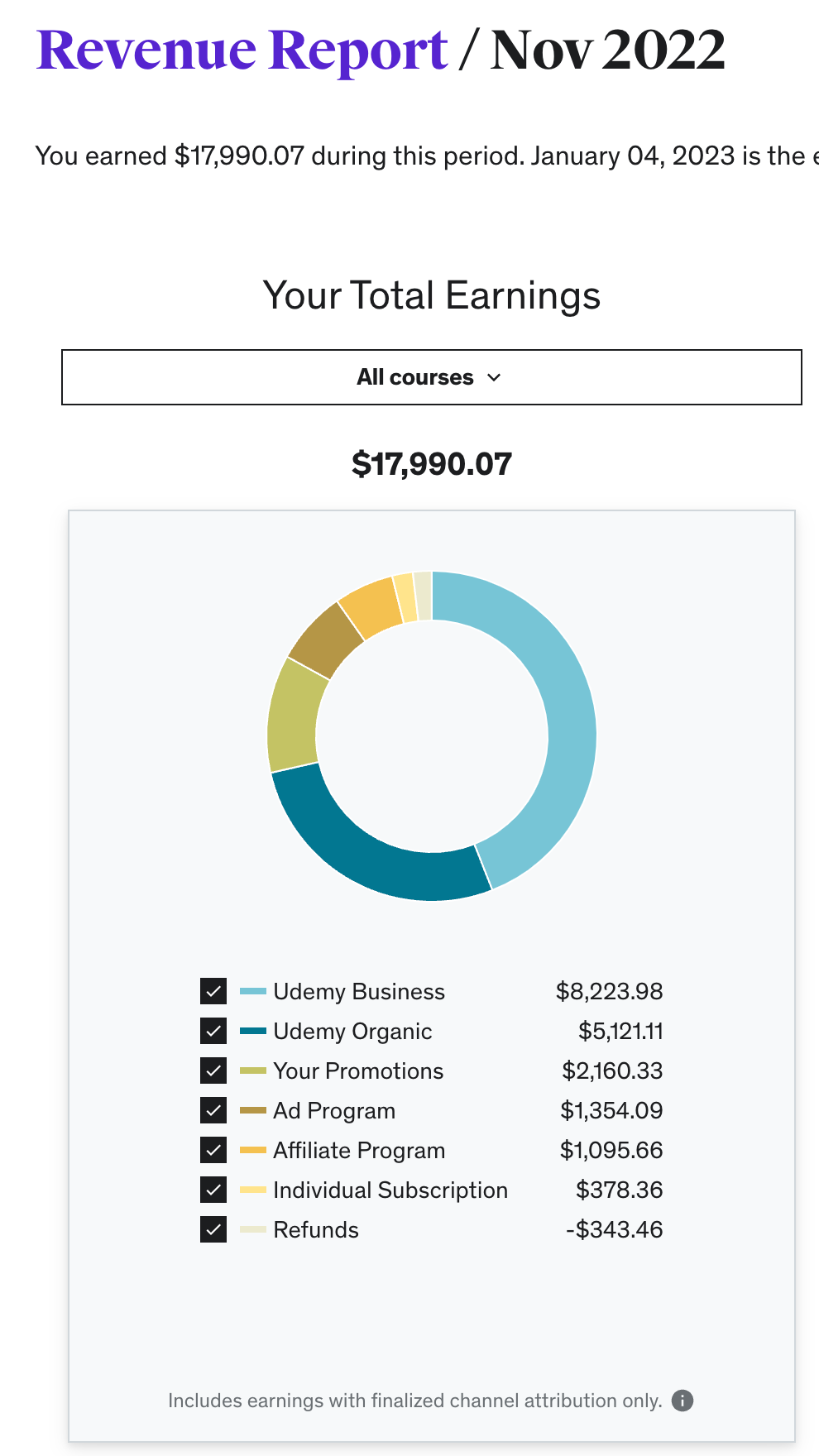 As you can see on the chart on the right, I made $2160 from my promotional email on Black Friday, containing coupons for all my courses. Some of the revenue also came from coupons on Bonus lectures.
How does the Udemy Bonus Lecture work?
The bonus lecture is present at the end of each course and provides an opportunity for instructors to promote their other courses to the students.
I have a bonus lecture at the end of all of my courses, and I always make sure that I have a coupon active for every course. I currently have to renew these coupons every month, as they expire after 30 days, but it's well worth the effort.
What I don't do in terms of promoting my courses on Udemy, is to send promotional emails outside of launches on special occasions only.
As a student, I do get a lot of those emails from instructors that continuously send two promotional emails per month with coupons for all of their courses, but I find as a student that those emails are repetitive and ineffective.
I do remember trying to send this type of email a couple of times to see if it worked, and the results were very underwhelming.  
The truth is that if the discount coupon does not come on a special occasion, like a one-time launch or a yearly event where people are willing to spend a bit more than usual, then the results of the promotion are not going to be that great.
So based on my experience, I can't recommend systematically promoting your courses every month using promotional emails but instead do that much less frequently, to ensure that your promotions remain effective.
How Do I Launch My Courses on Udemy?
After typically a few months of recording, I launch my courses via one single promotional email, with a coupon to the course valid for 3 days, at the lowest available platform price, which tends to be $9.99.
About a week after that I also send a reminder coupon to the same course, letting the students know that this is still available.
It's important to use a new coupon for this second email because the first coupon only lasted for 3 days, so don't just copy/paste 😊.
Based on my experience with launches, I typically do about 80% of the launch revenue on my first email, and 20% on the second, so it's well worth sending two emails.
This brings us to an interesting question: do I recommend that you do what I did on Udemy, or should you try another strategy?
What Are the Best Udemy Courses To Make Money?
On Udemy the courses that generate more revenue are typically large masterclass courses of 15h to 30h or more.
These courses tend to bring the most social proof over time and attract more students, more reviews, and consequently more revenue.
So if in your course category there isn't such a course available, you should aim to create that masterclass course yourself, as soon as possible.
This is usually possible only for brand new course categories that don't have a lot of courses yet.
So if your topic is brand new, and there aren't any masterclass courses yet, I think you should go for that instead of trying my strategy of publishing a lot of smaller courses. That's the best way to be successful on Udemy.
Though a drawback to keep in mind is that new topics with large enough audiences are few and far between. Even in such a fast-moving area like software development, large enough new topics that attract a large audience are rare.
An example of that type of topic was the launch by Apple of the new Swift language, which they announced overnight at a conference, and no one outside of Apple saw it coming.
This meant that from one day to the other, there were millions of developers all over the world looking for a Swift course, and there just weren't any 😊.
But more often than not, your topic will already have at least one masterclass-level course. If that is the case, then I would check to see how many of those courses are already present in your category.
If there are already 3 to 5 or more masterclasses on your course topic, then it's probably not worth it for you to create a new one, as you will likely not be able to rank it properly in the search results.
In that case, it's probably better to go for something closer to my strategy and focus on more in-depth courses on sub-topics of your main course category.
This will make your offer stand out and make it much more unique in your course category, as there aren't many instructors doing that (yet) on Udemy.
Summary: How to be Successful On Udemy
So let's summarize everything that we have learned in this post, based on my personal story.
Here is what has worked for me:
Building an audience via a blog was crucial to be able to launch my Udemy courses, and get some traffic on my first-course landing page from day one
Your first course is probably going to be thrown away, so don't invest a lot in it. Instead, record 20 to 30 lessons and create a mini-course, see how that does, and based on the feedback you get, create a second version
If your topic is already full of Masterclass-level content, consider creating a full series of more in-depth smaller courses instead, focusing on smaller subtopics
Promote your course as you are recording it using educational announcements
Launch your course using your two promotional announcements for the month, one main announcement and one reminder
Be in it for the long run and choose a topic that you like a lot, as you are going to spend the next few years producing content on that subject, so you need to enjoy it
Always be on the lookout for brand new topics, and record a Masterclass on the topic as soon as you can, timing is crucial!
And here is what did not work as well for me:
I quit my job a bit too late before starting to teach online, I should have done so 6 months earlier. Timing is crucial, so if you see an opportunity on a new topic, go for it immediately, and don't make the same mistake as I did!
Recurring promotional emails don't work well on Udemy. So I stopped sending promotions every month, and instead, I started sending them only on special occasions
Is it worth putting your course on Udemy?
Absolutely yes! I highly recommend Udemy to all course creators, it's a great way to get started teaching online.
In my particular case, I did have to complement my Udemy revenue with my website to make it sustainable in the long term, due to my course category being saturated with Masterclasses, and the high cost of living in the country, I live in.
I hope this convinces you that Udemy is one of the best places to teach online and you can make good money on the platform!
If you want to get a better picture of my full story as an online course creator, you can read all about it here.
I hope that this helped, if you have any questions about online course creation, please post them on our Course Creator Facebook Group, you have a guaranteed reply there from me to all your questions.
You can also use the comments below if you prefer. To get notified when I write new posts, you can subscribe to my weekly newsletter:
And if you are looking for a platform to host your online courses, create an account at OnlineCourseHost.com and start creating your courses using our Free Plan.
OK so that's all I've got for today, I hope this helped, and until next time I wish you Happy Teaching 😃!
---
Vasco Cavalheiro
OnlineCourseHost.com Founder & Online Course Creator
LinkedIn   Facebook Page   Facebook Group   Twitter
You are welcome to ask me any questions in the comments below: 👇👇👇👇