How Much Do Udemy Instructors Make? (See the Revenue of 13 Instructors)

Platform Review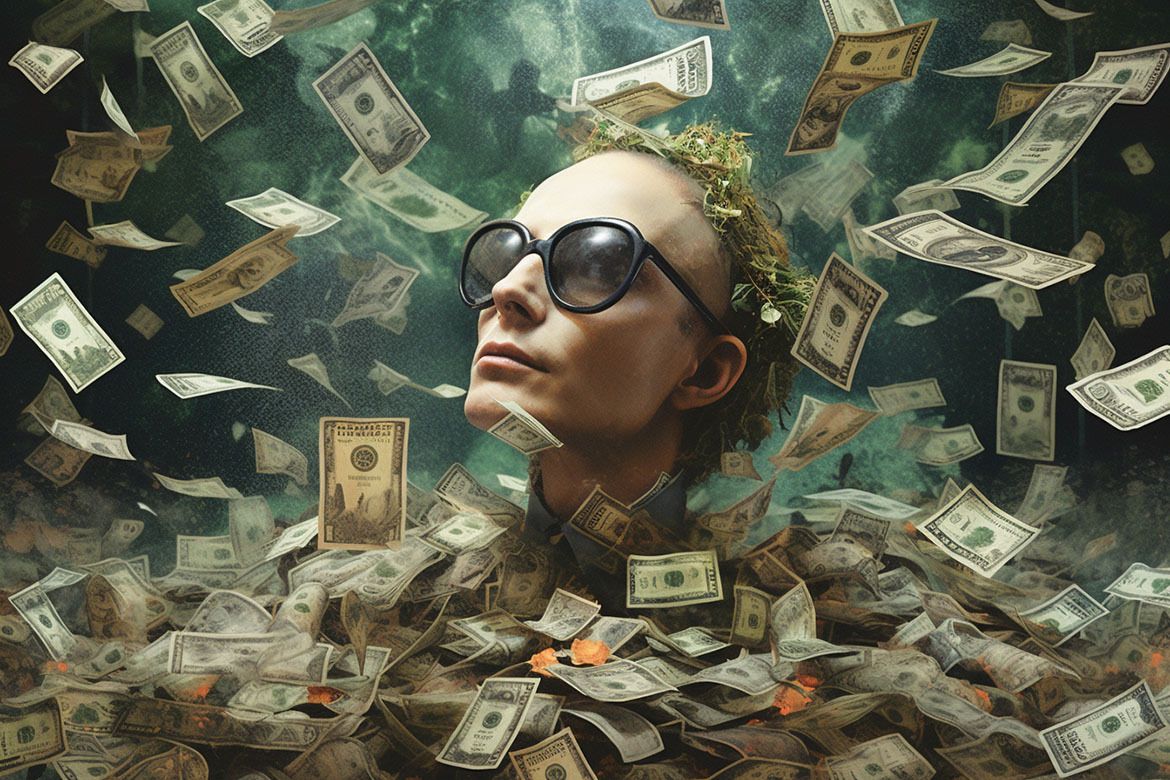 Learn the exact revenue of several Udemy instructors in different course topics. Learn how to find the potential revenue for your topic on Udemy.
If you are thinking about becoming an online course creator, you've no doubt come across Udemy - the largest online course marketplace in the world.
You are probably wondering if teaching on Udemy would be a good place to start your online teaching career.
To help you answer these questions, we are going to present you with the Udemy earnings of several online instructors who have been kind enough to share their revenue with the public.
Besides presenting the Udemy instructor revenue of some well-known instructors, we are also going to show you some internal Udemy tools that will help you have a better idea of what revenue you can expect for your course category.
So, how much do Udemy instructors make?
An Udemy instructor can make anywhere between $1000 and $3,000,000 in lifetime earnings, depending on the number of courses they produce, the size of their audience, the quality of their courses, and how long they've been on the platform. Depending on these factors some instructors make hundreds of thousands of dollars or more per year, while others just make some extra pocket money.
As you can see, there is a wide range of revenues on the platform. So if you start teaching on Udemy, what can you expect?
That's what you are going to find out in the rest of this post.
If you are looking to learn more about how to create and sell online courses, both on Udemy and outside of it, here are two main guides that I wrote on the topic:
You can also check out all the free guides available here at the Course Creator Academy by clicking on the Academy link on the top menu bar.
Here are other Udemy-related posts that you might be interested in:
How Does Udemy Work?
As the largest online course marketplace on the planet, Udemy has a few standout statistics:
49+ million learners
64,000+ instructors
185,000+ courses
680+ million course enrollments
10,500+ enterprise customers
And courses shared in 75 languages and across 180+ countries
Founded in 2010 by Eren Bali, Gagan Biyani, and Oktay Caglar, Udemy has gone on to become one of the most recognizable names in the eLearning space. Each year, it pours millions of dollars into marketing, reaching new students and course creators from around the globe.
It's a platform that I found several years ago and have had some success in it since, as I will talk about later on.
For many course creators, it's a platform worth considering—as I explore further in this separate review: Udemy vs Skillshare for Online Course Creators.
If you want to learn if Udemy is the right platform for you, then check out this article - Is Udemy Worth It For Instructors? (Instructor Opinion).
How Do Instructor Earnings Work on Udemy?
There are currently a couple of ways of selling courses on Udemy:
Become a Premium Instructor and sell courses via one-time sales
Get invited to join Udemy For Business
Udemy For Business is still relatively new and it's invitation-only, so let's focus on that in a second. First, let's explore the more traditional way to earn money on Udemy, as a premium instructor.
Becoming a premium instructor is both free and simple (usually taking just a few days—click here to learn more). Once accepted, you can create, publish, and sell your courses via the Udemy Marketplace.
How you then get paid is simple enough:
Any sales via your referral link/code = 97% of the sale value
Any sales that don't come from your referral link/code = 37% of the sale value.
As an Udemy instructor, you're given a unique referral code/link that you can share with your audience via your website, email, social media, etc… This means if you have a $100 course and someone purchases it through your referral code/link, you get $97.
But if someone finds your course through the Udemy Marketplace, you get $37.
In addition to this, if your courses stand out on the platform, they might be selected to join the Udemy For Business program, which is aimed at organizations.
In short, most Udemy courses are sold on a one-to-one basis. But Udemy For Business is a subscription model, allowing teams of employees to access lots of courses for one monthly fee paid by their employer.
What this means for you as a course creator is you're paid based on how much of your content is consumed each month. This starts with the Udemy Fund, which is 25% of all revenue from UFB.
The more people who join Udemy For Business, the larger this fund becomes.
You're then paid based on the level of engagement your course(s) receive that month (watch time). For example, if you receive a total engagement of 1% across all Udemy For Business students, you receive 1% of the total fund.
What Percentage Does Udemy Take From Instructors?
There are pros and cons to both Udemy for Business and their Premium Instructor programs.
Before you go any further, I encourage you to explore these more in-depth documents:
I also explore these pros and cons from an instructor perspective via the guide: Udemy vs Skillshare for Online Course Creators
How To Know the Revenue Potential For a Course Topic on Udemy?
You can have an idea of the potential revenue of your course category on Udemy by using some of their free tools.
My recommendation is you spend a little time studying Udemy's Marketplace Insights tool.

I love this tool. It's one of the best features Udemy's launched in recent years. This analytics tool allows you to explore your industry/niche and measure the type of traffic and sales you can generate.
For example, these are the results for Javascript courses in English…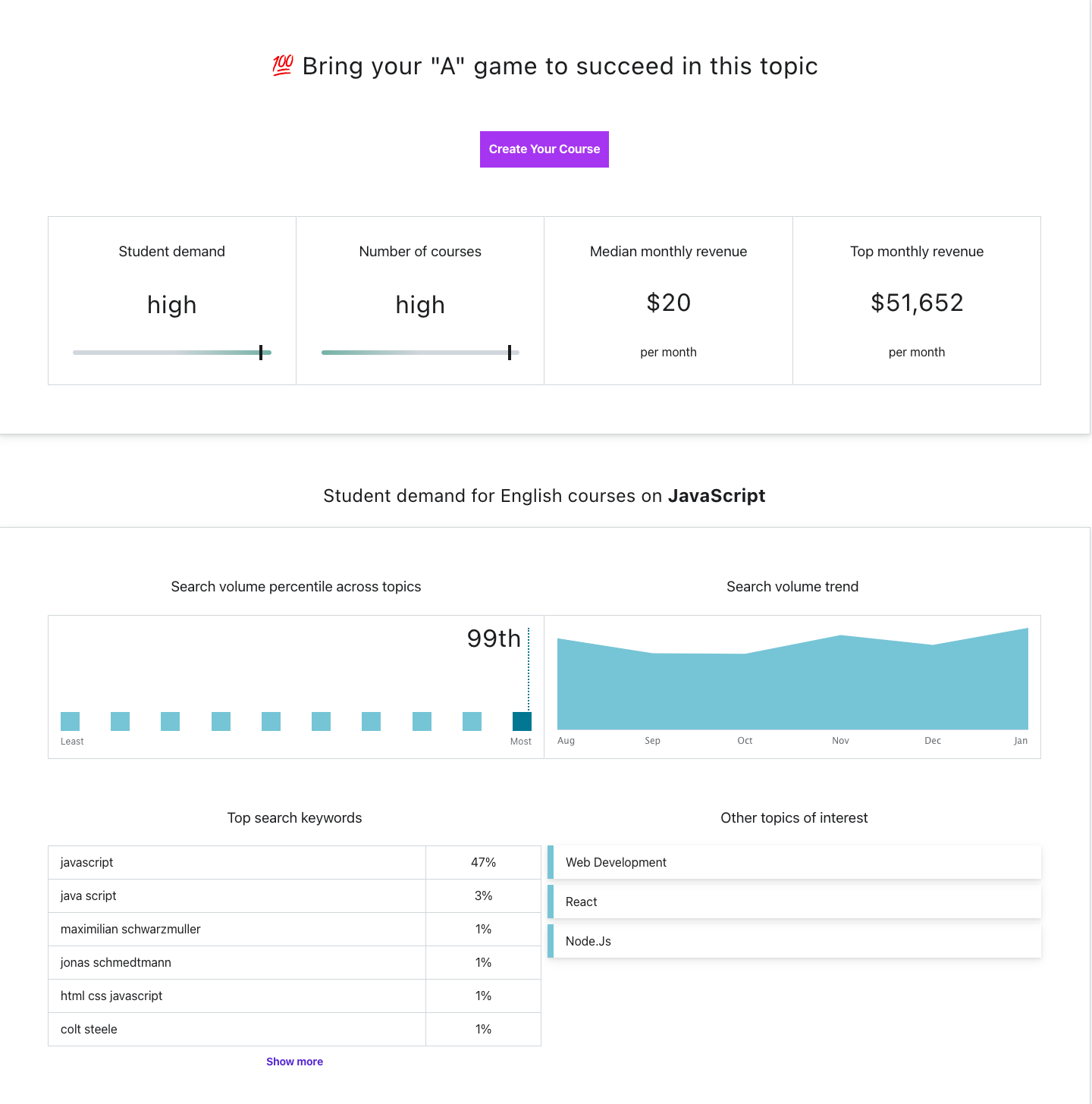 The first thing you notice is the student demand (in this instance, it's quite high…) as well as the number of courses currently published in this niche (also very high).
Beyond this, you're told what the average revenue for course creators in this industry is, as well as what the top monthly earner gets.
Notice that this revenue number includes both the platform share and the instructor share combined.
Finally, you're given some finer details, such as:
Search volume
Keywords used
Similar topics students search for
How and where students purchases course from
As well as links to some of the more popular courses available
All this allows you to measure how attractive a certain topic is!
High student demand is great, but high competition isn't so much. 😉
The key is to find a nice balance between demand and supply—as well as earnings and competition.
Here's another example, this time as we search for Python…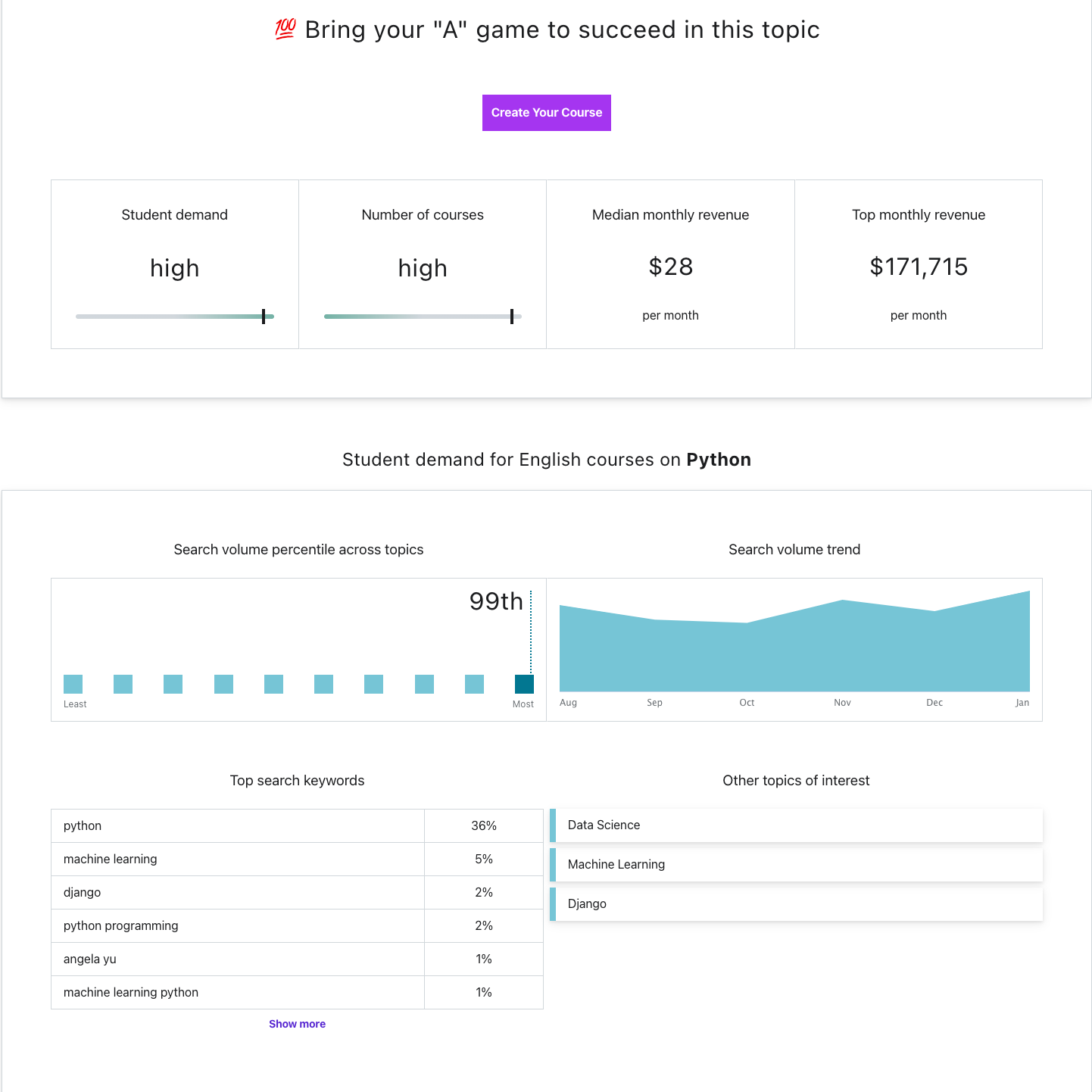 or Mindset…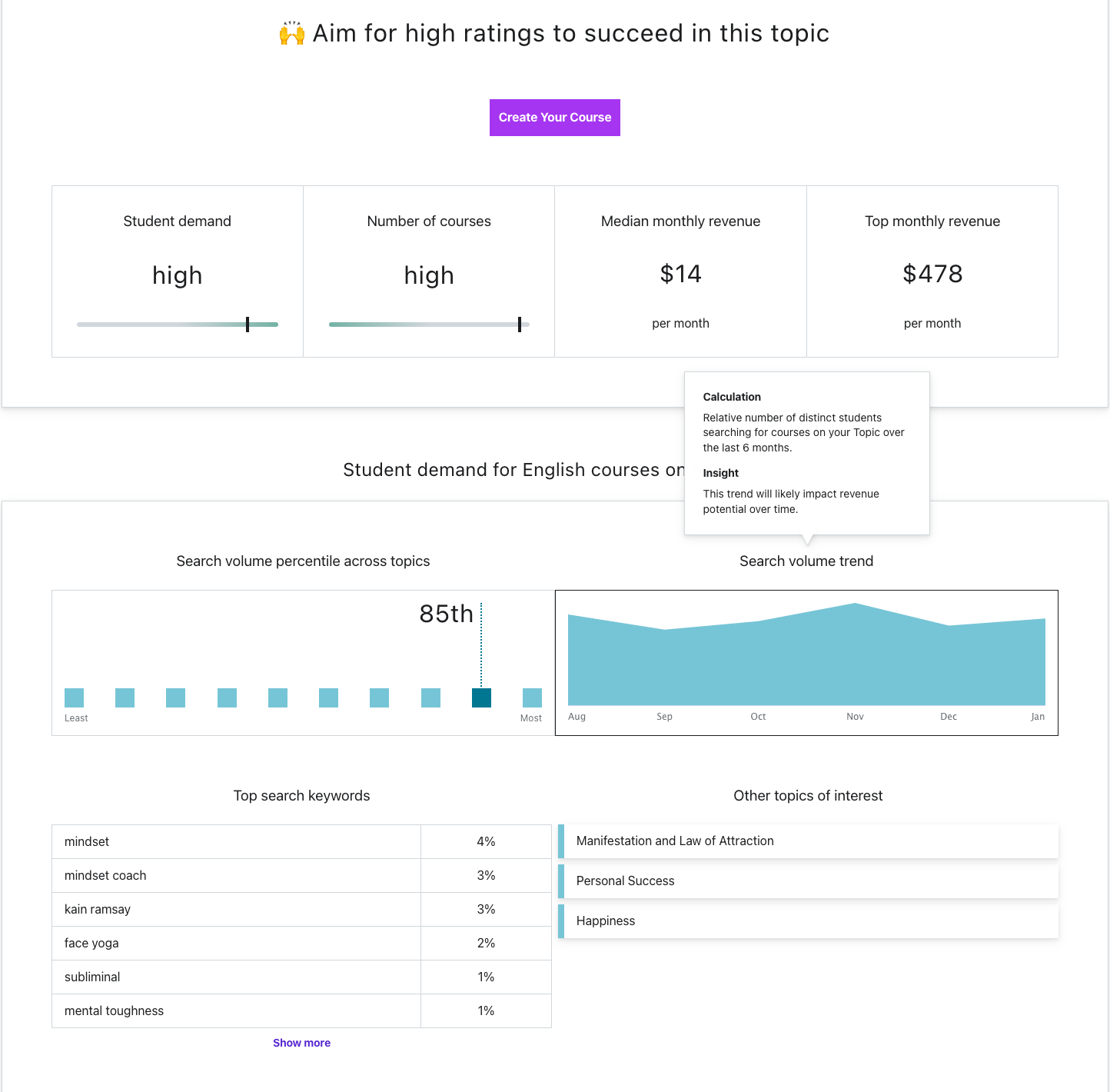 or Personal Productivity…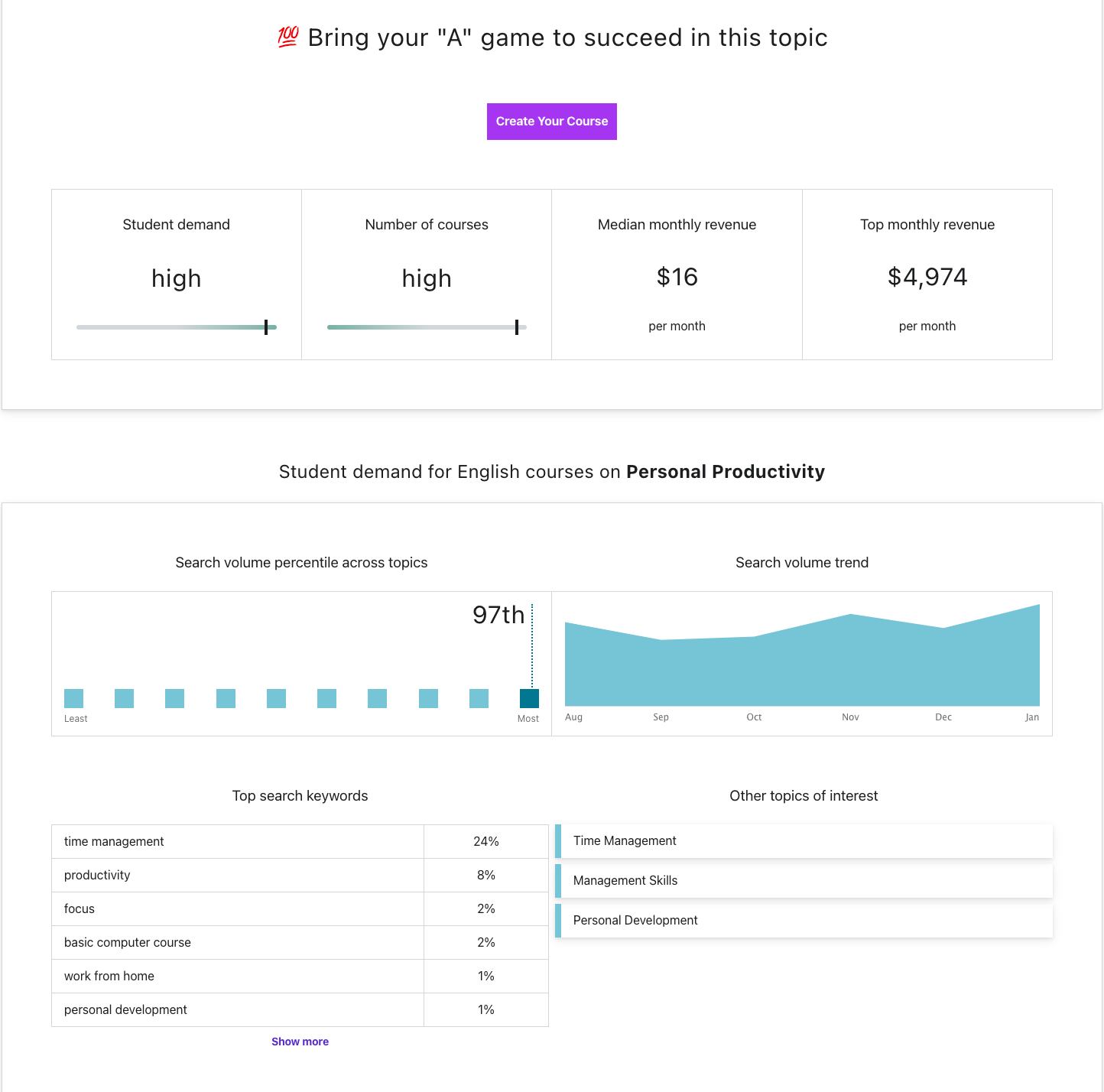 As you can see, different types of courses also can do very well on Udemy, besides programming courses.
You need to create an Udemy instructor account before you get access to this tool, but this is a free process.
This tool is great for finding gaps in the market, as well as showing you who your potential competitors are.
So, now that you know how to estimate your revenue potential for your course category, let's look at some concrete examples of Udemy instructor revenue and the actual amount that they made on the platform.
Phil Ebiner Udemy earnings
Note that the instructors are NOT ordered by revenue or anything. I recommend reading them all as each case provides unique insights and lessons to learn from, and the last instructor is going to be my own case.
Let's start with one of the most well-known instructors in the online course space: Phil Ebiner.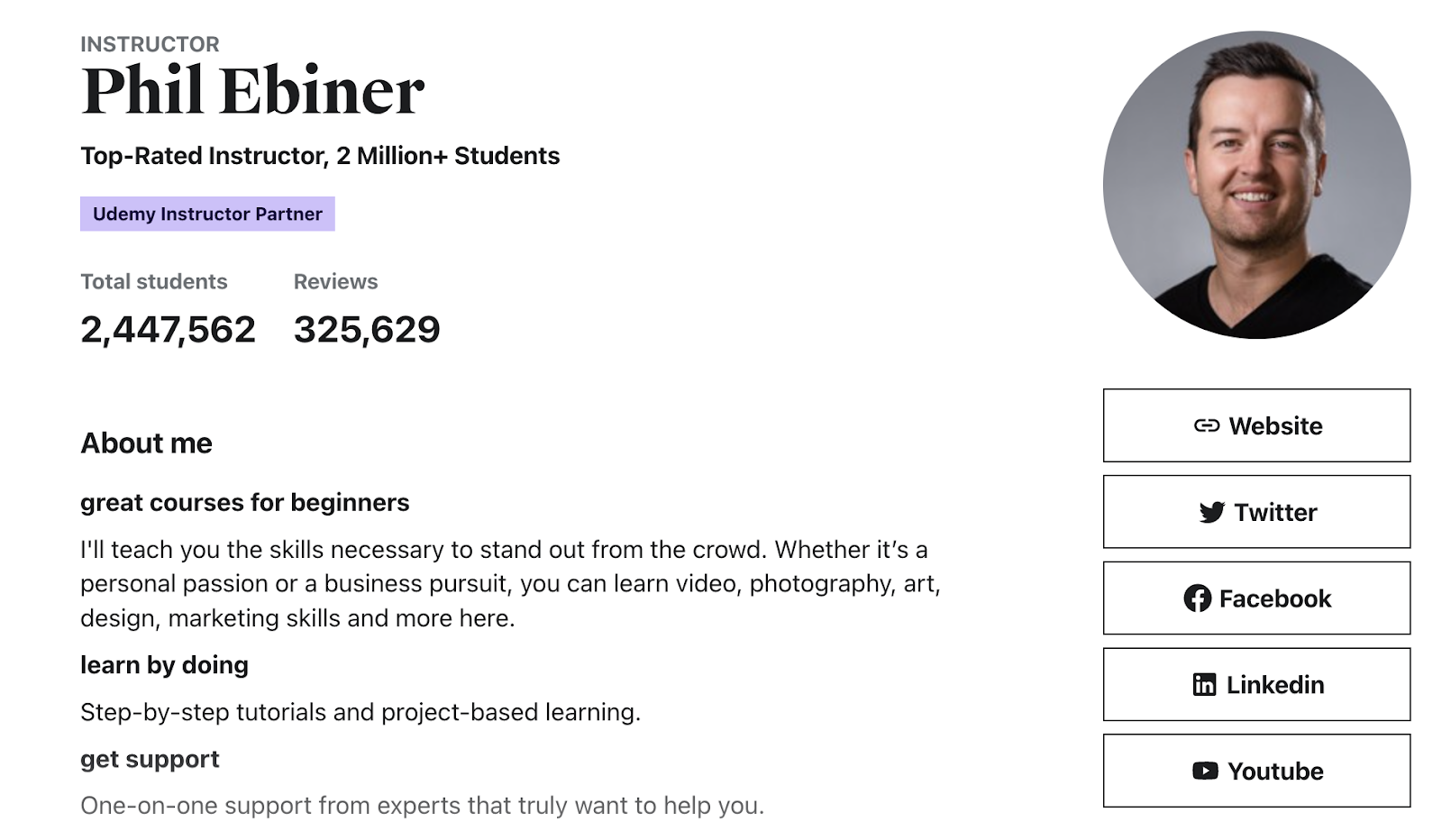 Phil's an extreme example of what success on Udemy can look like.
With almost 2.5 million students and well over 300,000 reviews, he's one of Udemy's top instructors—you can learn more about his journey and earnings via this Forbes interview.
Phil teaches a mix of all sorts of creative skills like photography, video production, Photoshop, and many other creative skills.
But he combines that with also teaching things like online course production, digital marketing, email marketing, and other online marketing skills.
With over 160 courses published, Phil has made several millions on the Udemy platform so far, and counting!
This is one of the most popular and successful instructors on Udemy, and he is an example of the best-case scenario of what could happen if you decide to start teaching on Udemy.
Joe Parys Udemy earnings
Joe Parys is another extreme example of what success on Udemy looks like, as he shares how he generated more than $500,000 since 2015.
Joe is one of the platform's success stories, but this success didn't just happen. He not only shares his earnings in the video but also a series of steps and best practices—as well as lessons he learned.
This journey took him from zero to $500,000+ sharing what he knows with an ever-growing audience.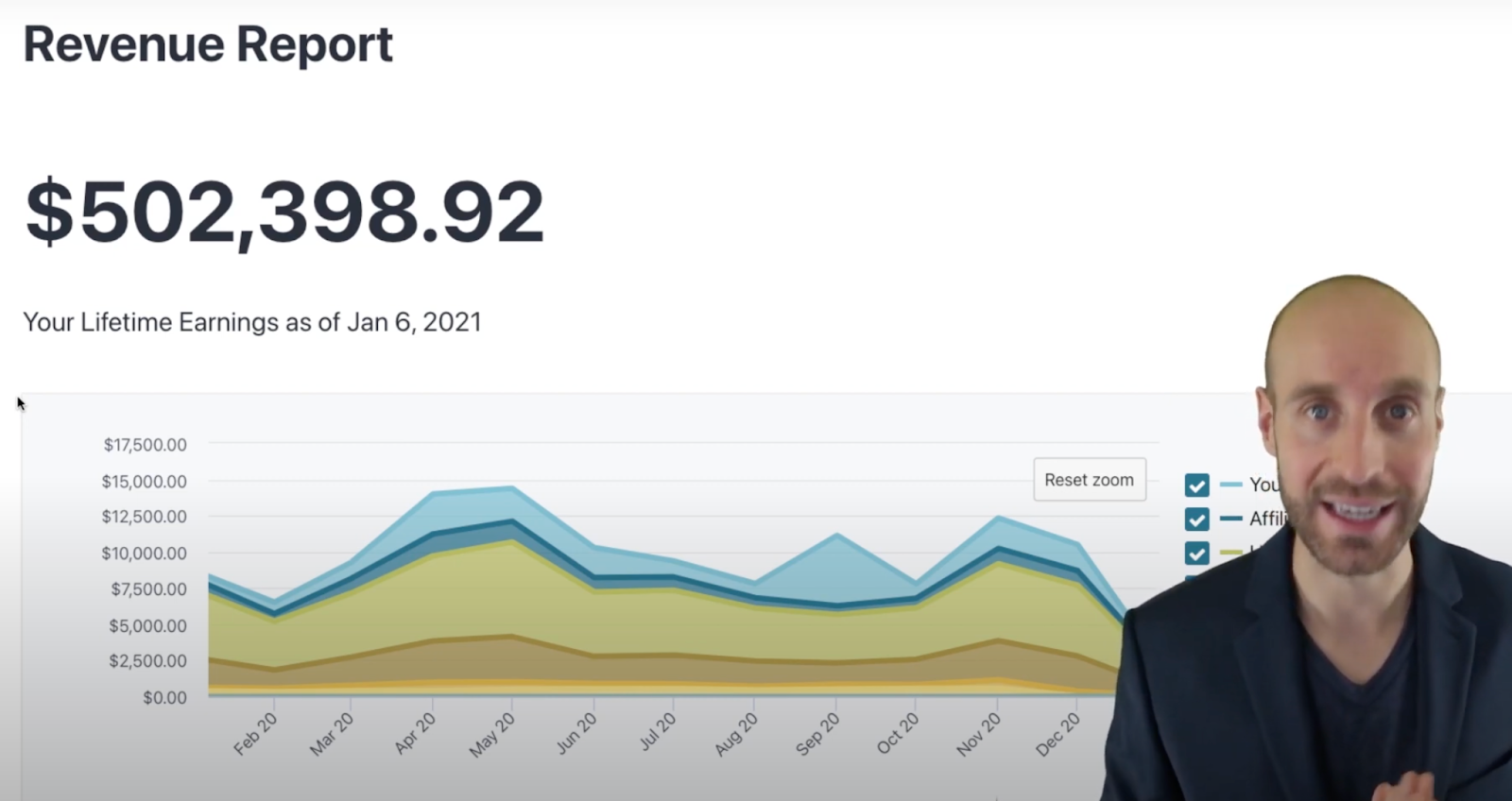 This didn't just happen, though, and, in the beginning, Joe had a few lean months…

But it didn't take long to build some momentum, and Joe attributes this to quantity as well as quality!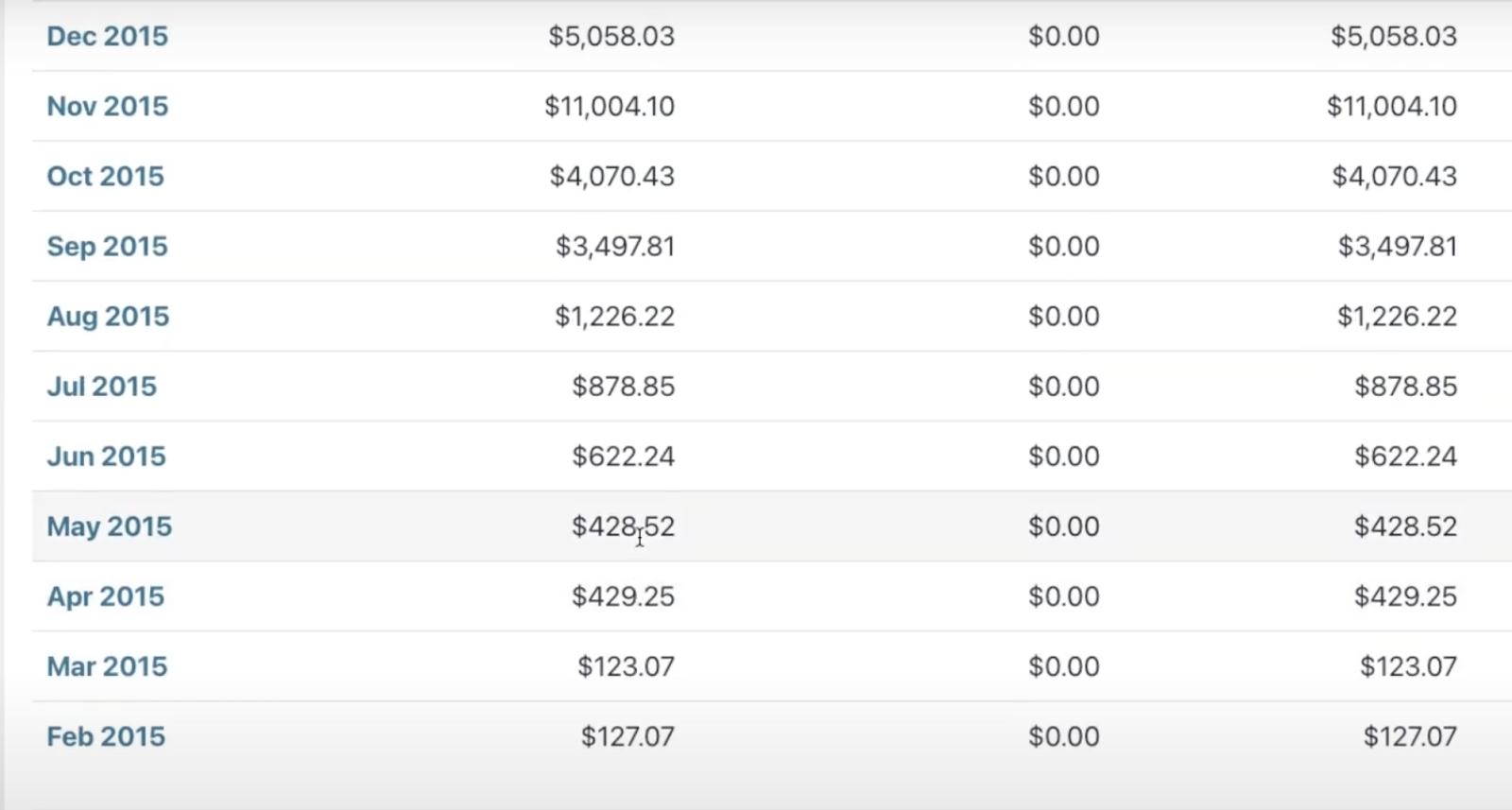 At the time of recording the video, Joe had 91 courses to his name, many of these were collaborations with other experts and influencers.
This is an interesting approach because Joe doesn't only share what he knows, but partners with those that can complement what he knows —or at least offer a different perspective.
Not only does this create a better quality course, but it provides additional social proof.
An interesting approach, and one that helped Joe build a lot of momentum that continues to grow!
Michael Hetherington Udemy earnings
Michael Hetherington first published on Udemy in 2014, and shares in this video his lifetime earnings in the years since—$34,809 since 2014.
To begin with, he shares an overview of a full year of revenue.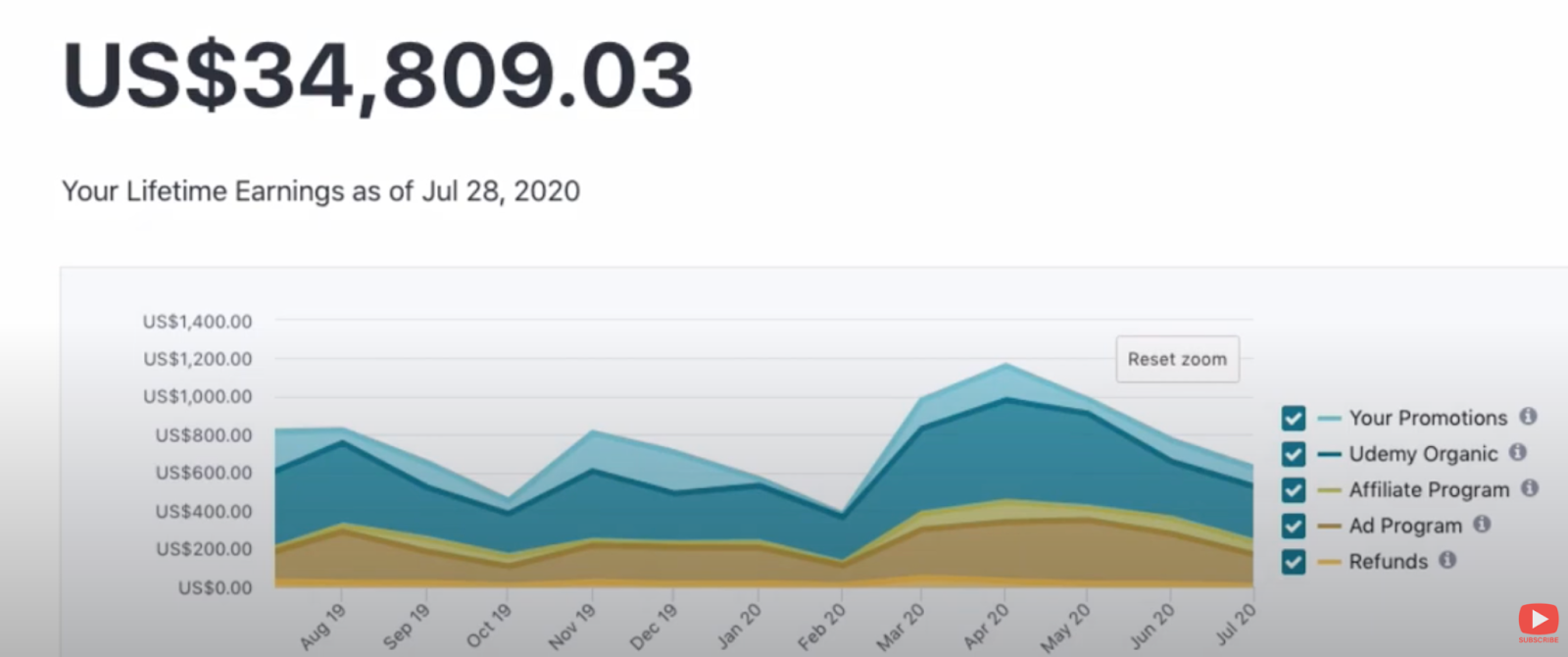 He averaged around $600 per month during this period, but what's really interesting is what happens when he zooms out and looks at the complete journey…

Michael talks about how the first year or so on Udemy generated minimal income. Yet once he started to create more courses, momentum built and built and built.
Yet the key takeaway from all this is how most of his course sales come from organic sources.
He mentions how he doesn't promote a lot of his courses—which you can see from the graph, but Michael still creates some very good income despite this.
Over time, Udemy has shared more and more of his courses with more people.
Another good case study to study, that again shows success takes time and doesn't happen overnight.
Digital Nomad Girl Udemy earnings
Louise (aka Digital Nomad Girl) is someone who's tried various forms of online businesses and shares her experiences with online courses in this video.
She shares her total earnings from her first two years on Udemy.
In total, she generates just short of $30,000 during this period…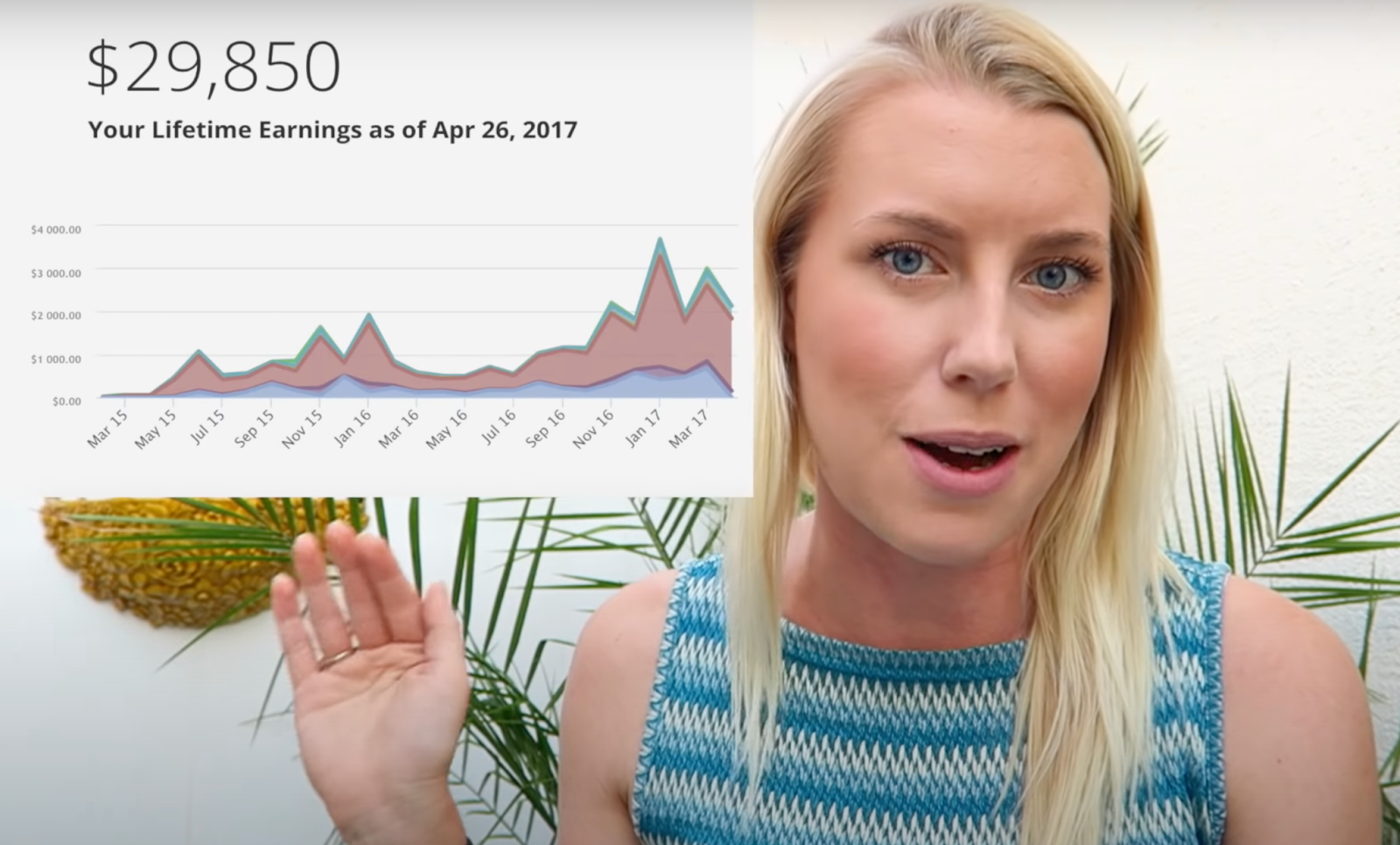 However, what's interesting in this video is how Louise walks you through her journey from the start, and how the more courses she created the more revenue—in general—she generated.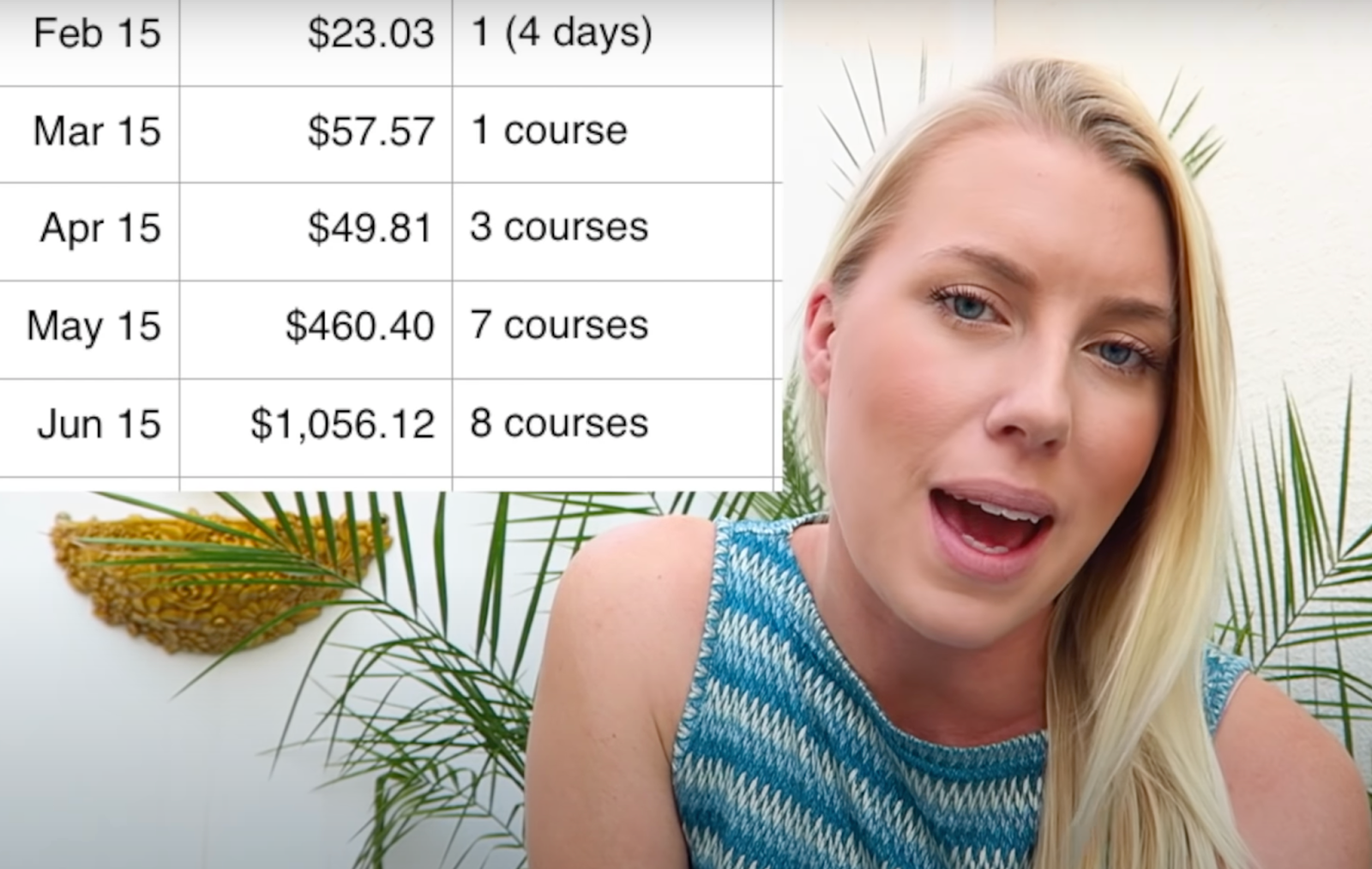 Her first few months were low, but it only took five months until she enjoyed her first $1,000+ month. However, this happened after she published her seventh and eighth courses. Louise continues to add to this, consistently creating and publishing new courses in the months ahead…
The key takeaway here is that having multiple courses matters. The more Louise created the more income she generated. This was largely organic, too, not coming from her own promotions…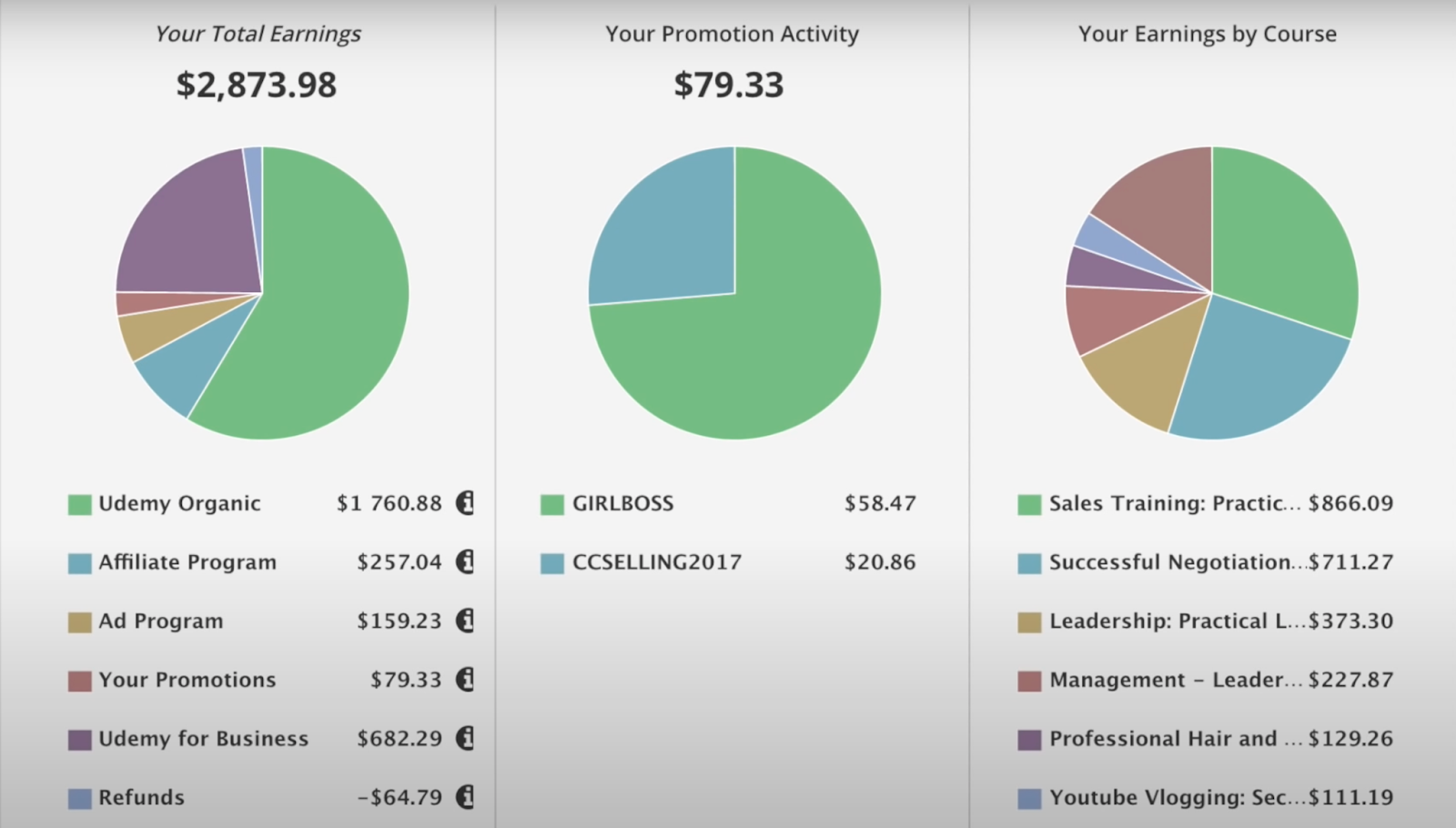 Overall, this example shows the power Udemy can have, especially if you commit to the process and create one new course after another.
Louise is another interesting example that shows what success could look like on Udemy. But also a realistic perspective on the type of commitment you need to put in.
Viking Dev Udemy earnings
This example from Viking Dev is interesting as it provides insight into a course creator's first month on Udemy. Overall, he made a very good start, earning $1,193.30 in his first year.
However, not all is as it seems, as he shares in this video:
          How Much My First Udemy Course Made in 1 Month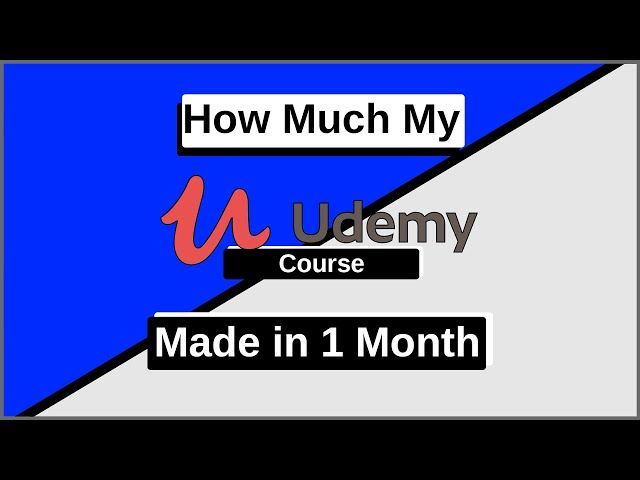 As you can see, he made most of his course sales on launch day (November was also a good month due to Black Friday)...

And as this next graph shows, most sales came from his own coupon codes/promotions…

He mentions how surprising this was because he hoped Udemy would provide a bit more organic traffic.
So the main takeaway here is that although Udemy can send a lot of organic traffic, this does take time. In the beginning, you don't have the reviews or social proof—or the rank—to build momentum.
As several examples in this list show, Udemy can provide a great source of income.
But this doesn't just happen.
That Modern Dude Udemy earnings
Nick Carter (aka That Modern Dude), offers not only an overview of his Udemy earnings in a whole year but also how why he joined the platform—and how the income he generates there is much more cost-effective compared to his YouTube Channel.
Nick talks about how he published three courses on Udemy, and that he hasn't touched these since—no further edits, tweaks, additional courses, or even promotion for years.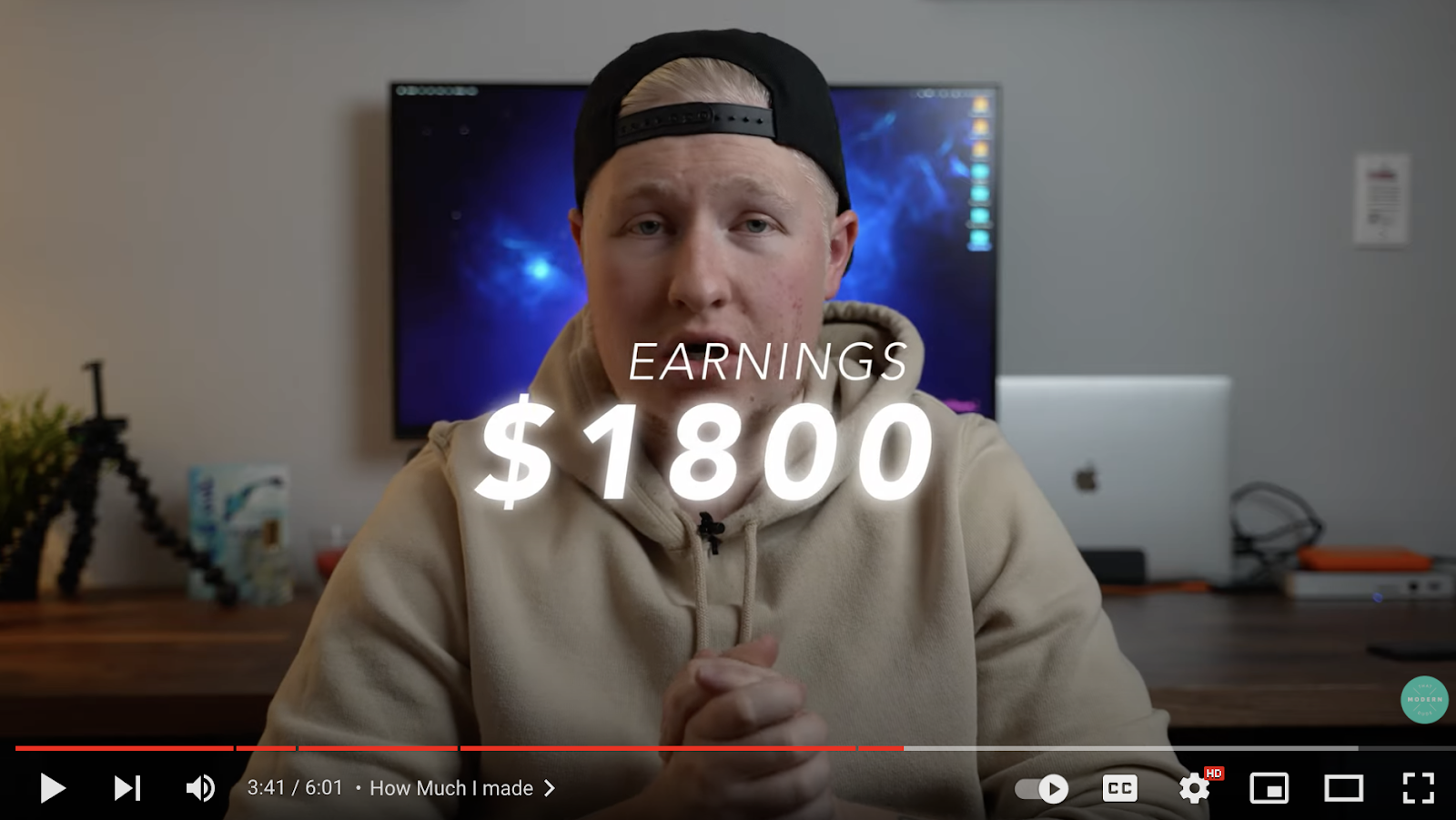 Throughout the whole year, this earned Nick $1,800 (around $150/month). He doesn't provide any detailed breakdown of this revenue, so it's hard to say whether his revenue trends are up or down.
What's clear to see from this example, though, is how possible it is to generate some extra income on Udemy.
With a bit of time and effort upfront, Nick continues to earn via his Udemy courses years later.
I'm sure if Nick spent some time making new courses, he could earn a lot more. He clearly has a good product in a solid niche.
The Wifi Academy Udemy earnings
The Wifi Academy is an interesting example to study before you commit to Udemy as he shares several detailed revenue breakdowns.
Here's his first video…
You can watch the rest of the series here →
He talks about how what he earns is mostly without any further work put into it, having not updated or worked on any of his four courses for some time.
This is another great example that it's possible to create a course and make revenue from it for years to come.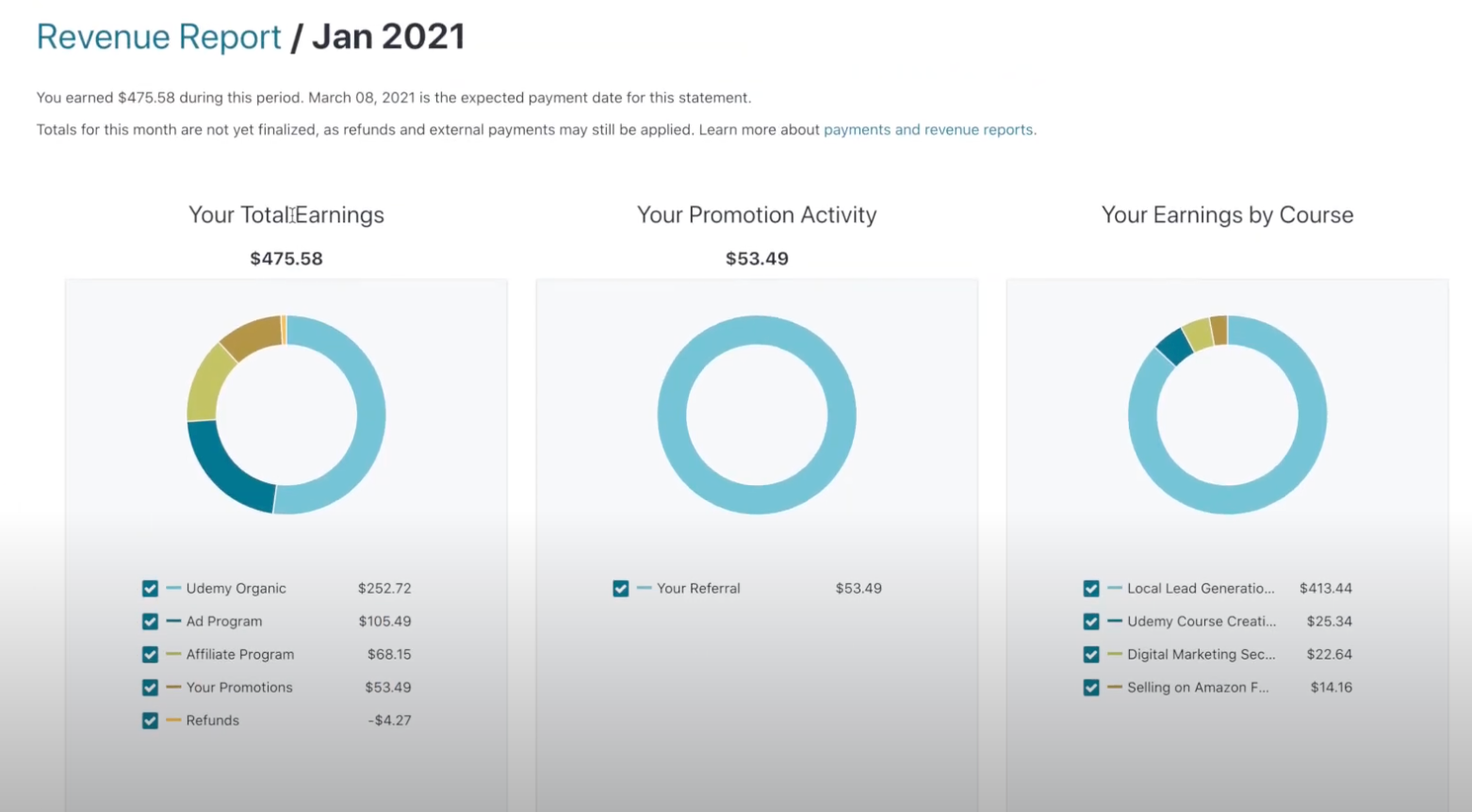 What I like about this video (and all the videos in the series) is how honest he is.
He mentions how this is a down-month for these courses, bringing in under half of what he expected.
This is important because you need to know the reality of life on Udemy.
Sometimes you over-achieve, other times you don't.
It's a journey of lessons, and this is something I've personally experienced.
Despite this, he still generated $475.58 via his four courses, offering a breakdown of each: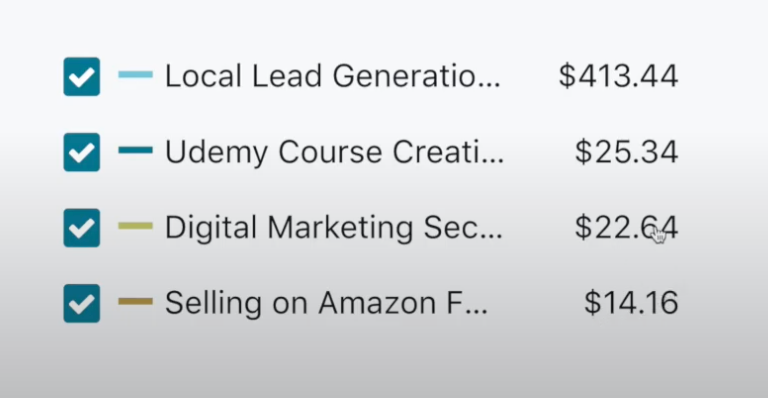 What I take from this is that although having multiple courses is often best, it's vital you know your audience. The vast majority of income comes from one course, making that the one to double down on.
Christina Ngm Udemy earnings
This video from Christina Ngm is interesting, as it shares a detailed overview of her first month on Udemy. I think this is an important example to study as it provides a realistic insight into the origins of a course.
Christina talks about how she created her first course, pricing it at $29.99 (but also providing a coupon so most people could access it for less than $15).
She then shares her monthly revenue, which came in at $42.83…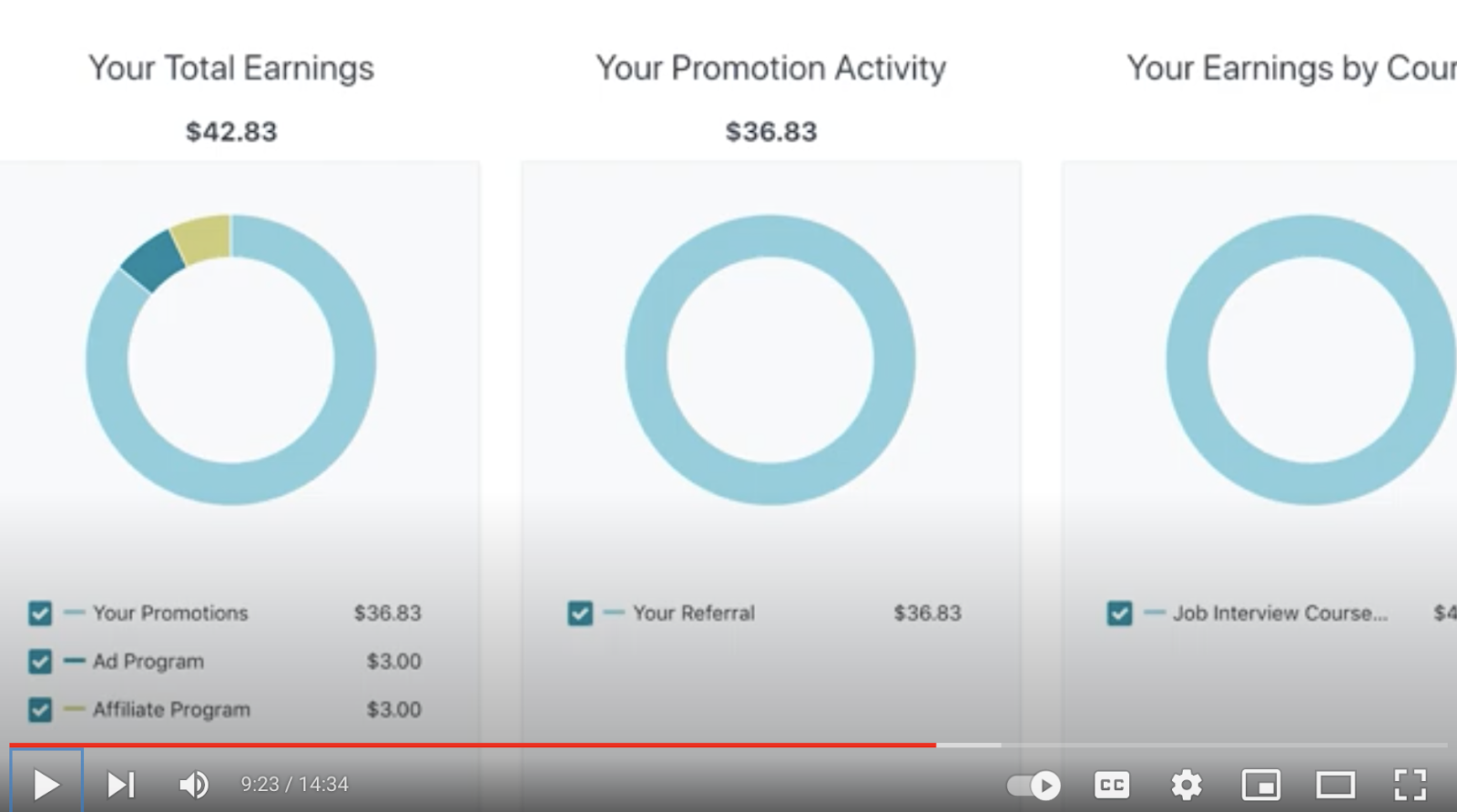 Compared to many course creators you find online, this is a lower amount than you would expect. But as Christina shares in her video, this is after one month on the platform and with only one course.
This is a strong reminder that it takes time to build momentum.
Not just on Udemy, but on most platforms and in most industries.
Another important takeaway she focuses on is where the money came from…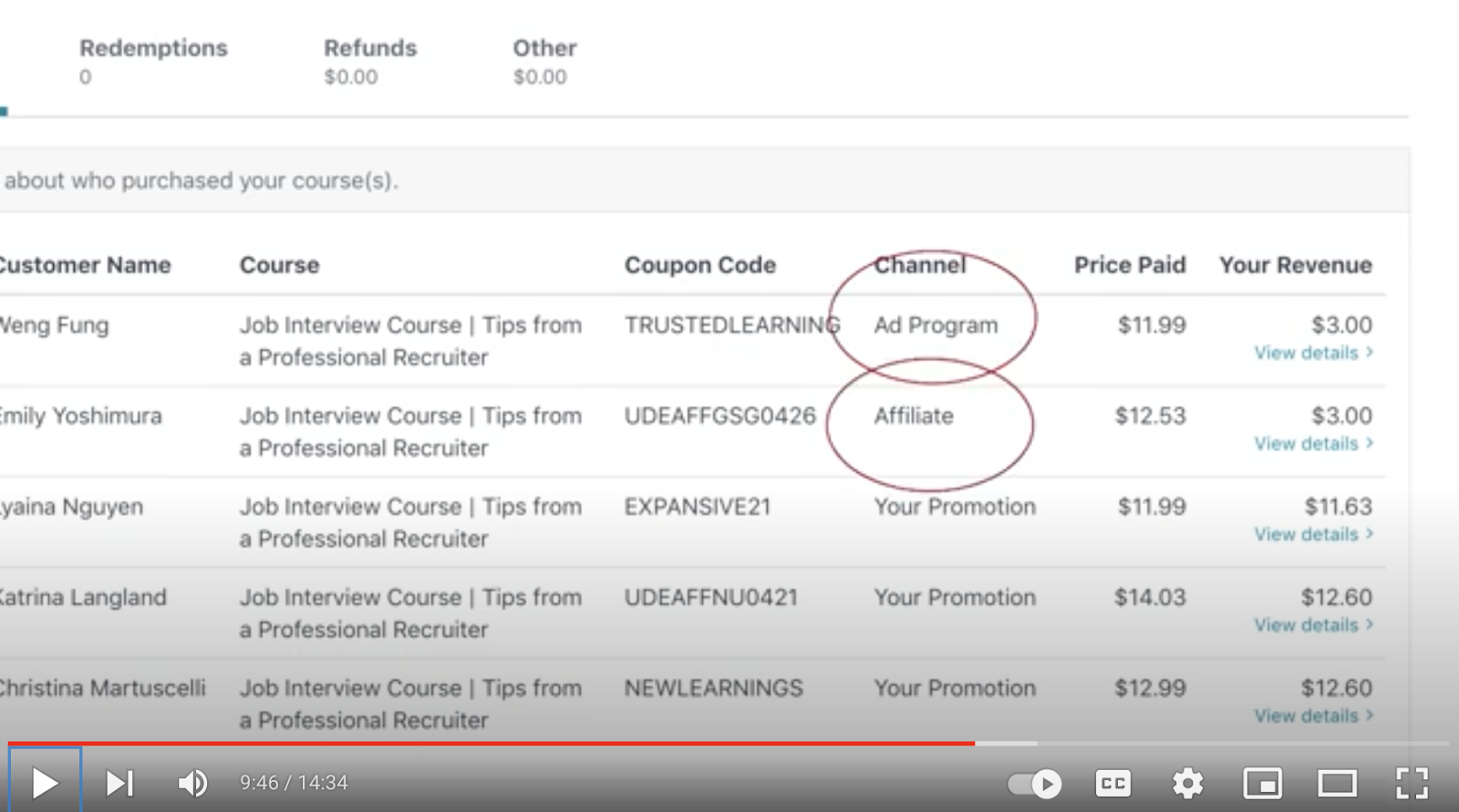 Only two sales organically came from Udemy. Again, this is important to embrace because Udemy won't advertise your course from the get-go—at least not on a large scale. You need to build momentum, gather reviews, and rise to the ranks.
Matthew Alexander Udemy earnings
Matthew Alexander provides several videos that overview his Udemy earnings at different stages. Having started in the middle of 2017, he's built and published several engineering-based courses that have worked out.
In the above video, he breaks down his earnings for multiple years on the platform.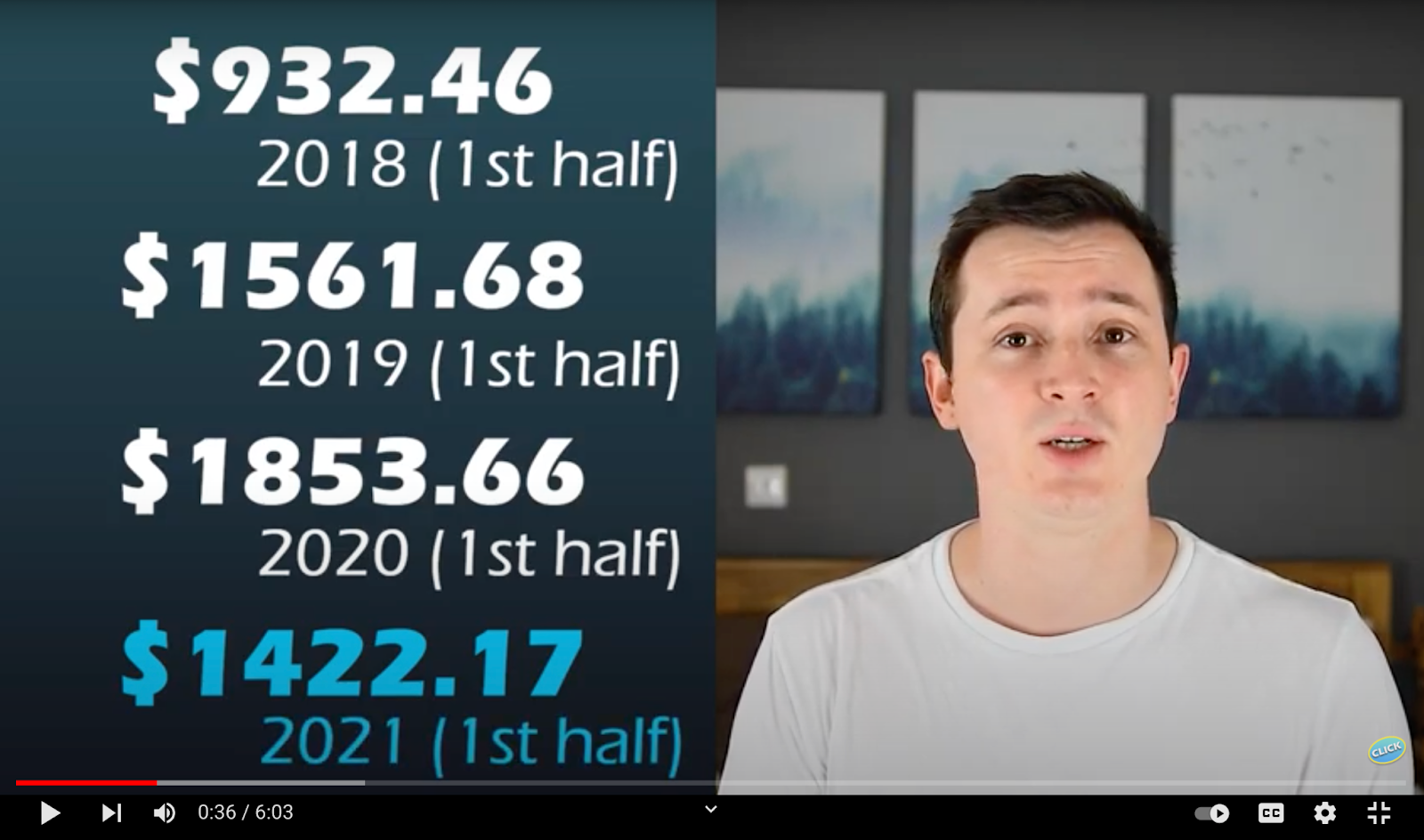 This is an interesting case study to study because Matthew dives deeper than most. He not only shows what he's earned—and the breakdown of each course—but provides good commentary around why he thinks what happened, happened.
… as well as sharing his plans for the future and how he intends to update his courses.
One of the key takeaways from this video (and Matthew's other videos on the topic, including this one and this) is that certain courses can grow stale.
Sometimes this is due to external factors—such as the ongoing impacts of the pandemic—yet often it's down to other competitors entering the marketplace and providing something different.
As Matthew mentions, it's important to track this and adapt where necessary.
The more proactive you are with your courses, the more success you'll have.
Rahul Iyer Udemy earnings
Rahul Iyer passed the personal milestone of $250,000 in Udemy lifetime earnings, as he discusses in this article on Udemy's site.

Rahul first joined Udemy in 2016, in a bid to enjoy a greater work/life balance. It took a while for Rahul to build momentum, only making a handful of dollars each month until he picked up steam in 2018.
2021 was the first year Rahul became a full-time instructor on Udemy, the period he not only passed $250,000 but also had his first $15,000+ month).
What we can take from Rahul's journey so far is that success can take quite some time, and it usually involves moving to course creation full-time.
He spent the first few years finding his feet, yet once he found an approach that worked for him, he built momentum and the future looks bright for him and his family.
Grohs Fabian Udemy earnings
This example from Fabian provides an overview of his total earnings on Udemy after being on the platform for eighteen months.
In total, he generates almost $8,500 in this period from just one course. It's a course that starts with some immediate success, too, and continues to build momentum for some time.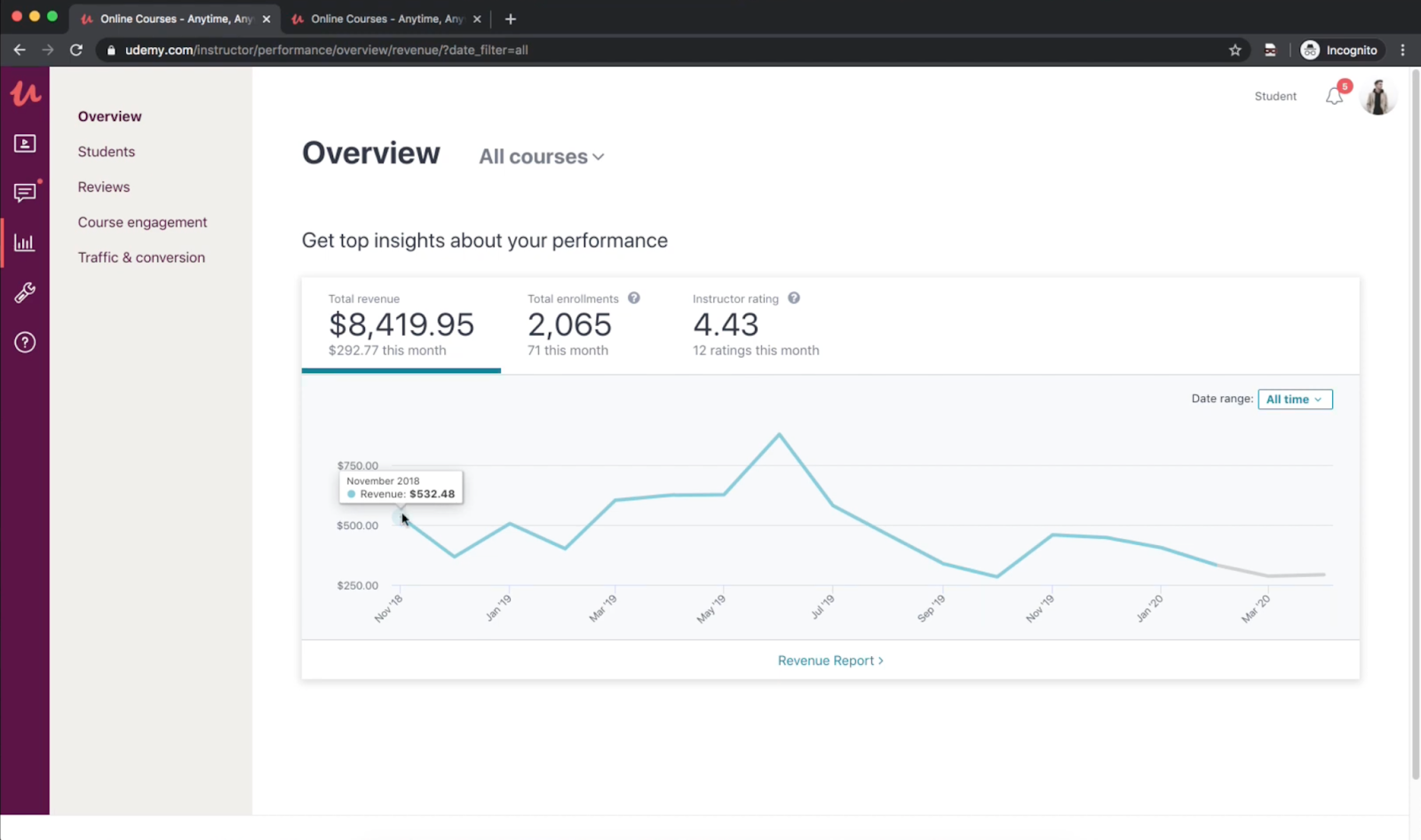 Fabian talks about how he continued to improve the course in the early months, which resulted in more sales. Yet once he stopped updating, sales began to drop.
The key takeaway here is although you can make passive income on Udemy, you do, in general, need to add new courses—or at the very least update existing ones.
Again, a proactive approach is best!
Nshuti Paulin Udemy earnings
With this example from Nshunti, he shares his experience on Udemy by revealing his lifetime earnings—after around two years on the platform. During this period, he generates $1,313.15.
What's interesting about this example is how it took him a while to build any momentum…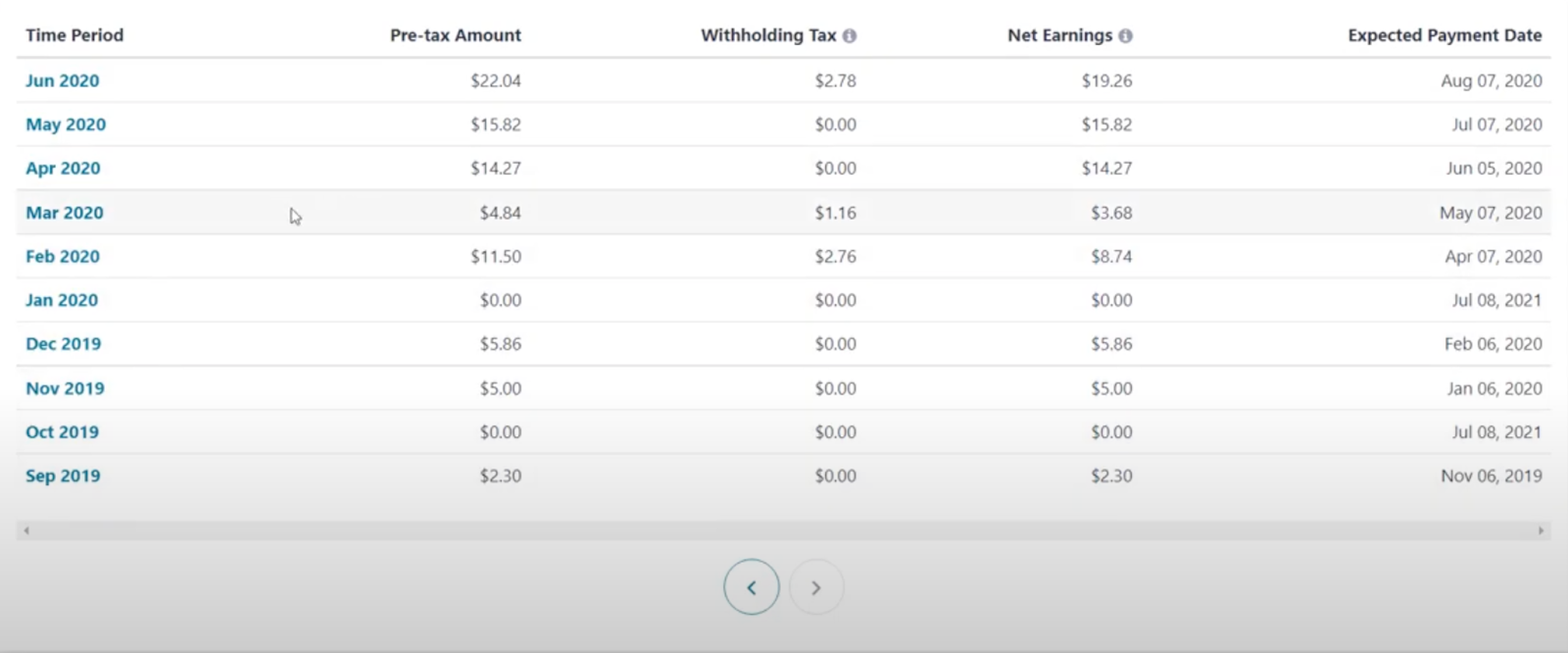 For much of this period, Nshunti explains how he only had one or two courses.
Once he began to publish more courses, his revenue increased…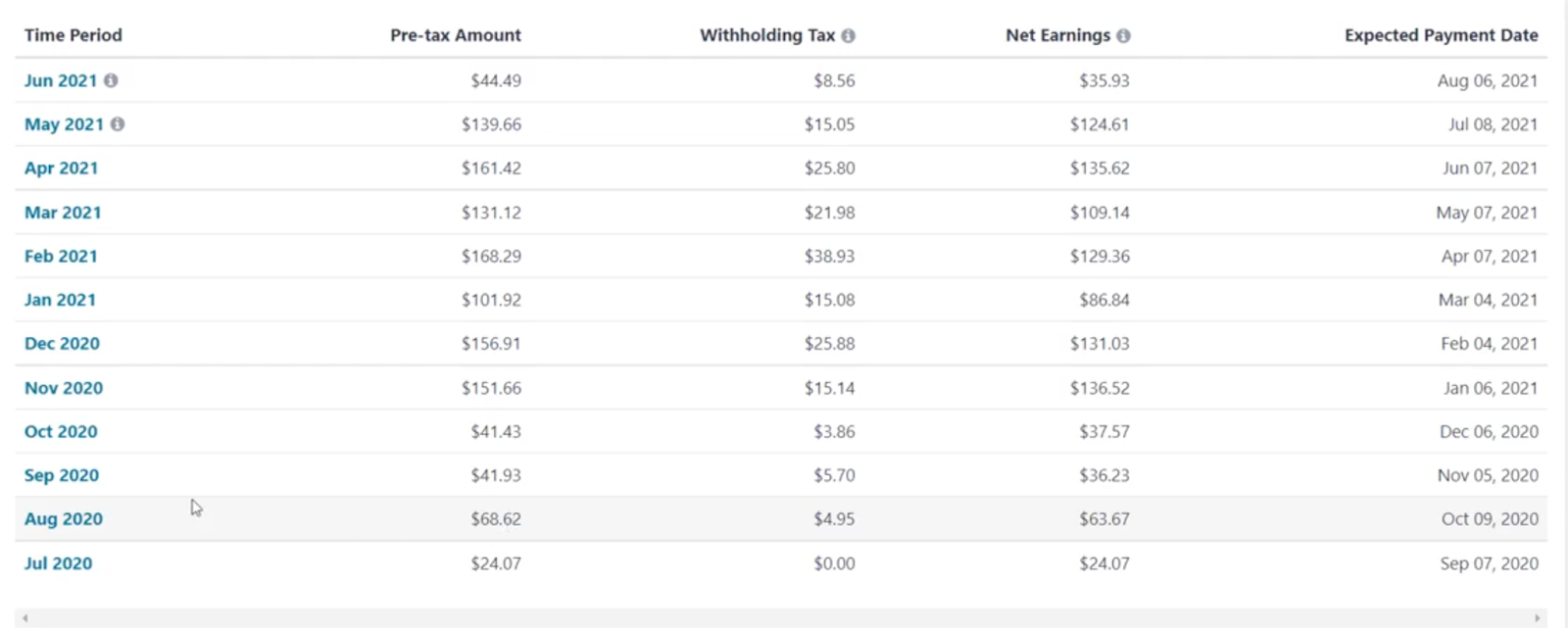 He also shows how much of this comes solely from organic Udemy traffic with minimal promotions, course updates edits, or community interaction.
Once again, what I take from this is that passive income on Udemy is possible.
But for the best results—for both you and your students—continued commitment matters!
Vasco Cavalheiro Udemy earnings
All this brings us to me and my personal experience on Udemy. 😉
I won't dive into all that here as I've written about it previously:
I encourage you to study these in full to get a clear insight into my Udemy adventure (so far).
To overview, my Udemy revenue for 2021 came in at $97,000 — slightly down in 2020.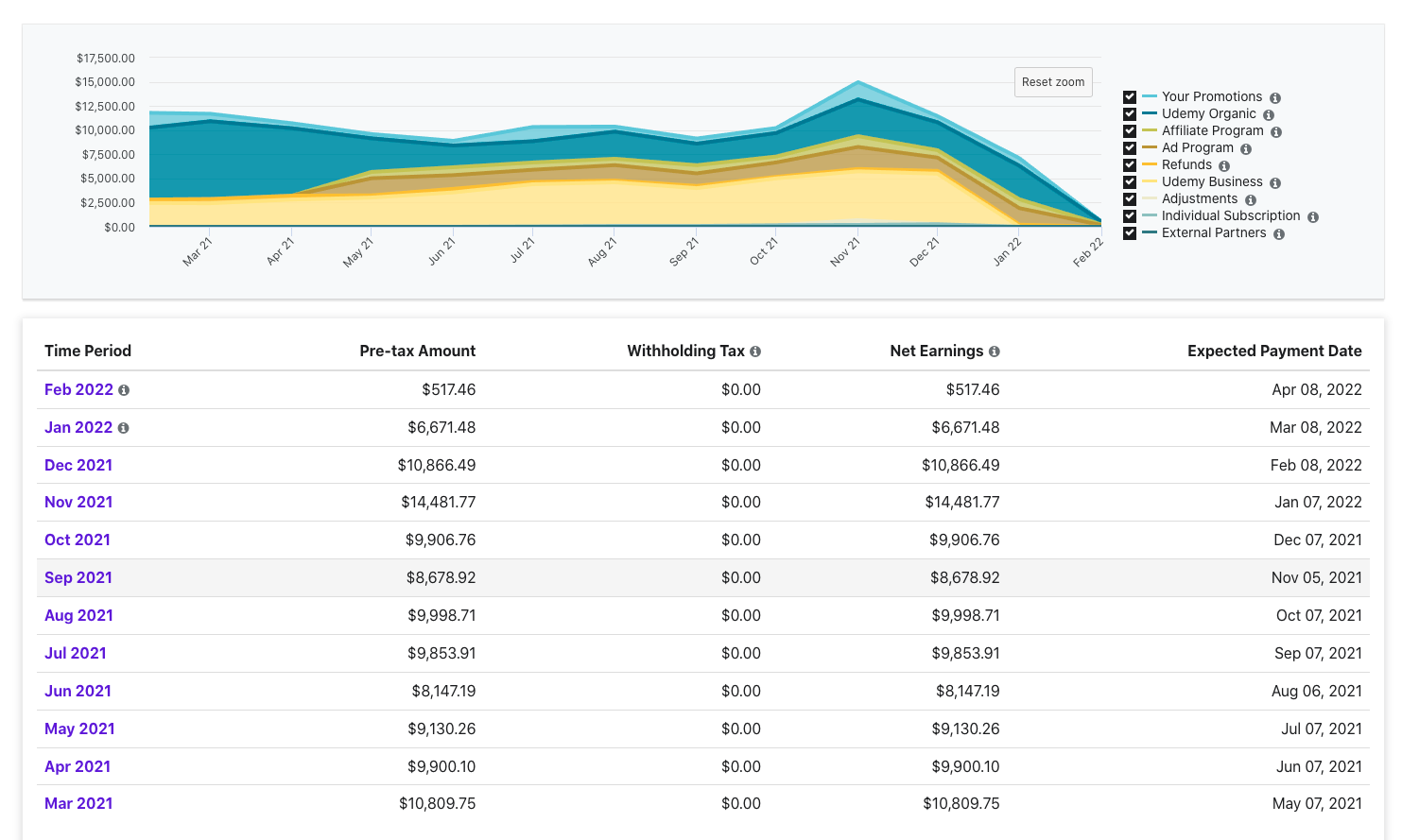 As I discuss in my annual income report, I attribute this to Udemy's recent commission change from 50% to 37%. But what's really caught my eye in 2021 is how 50% of my Udemy income now comes from Udemy For Business.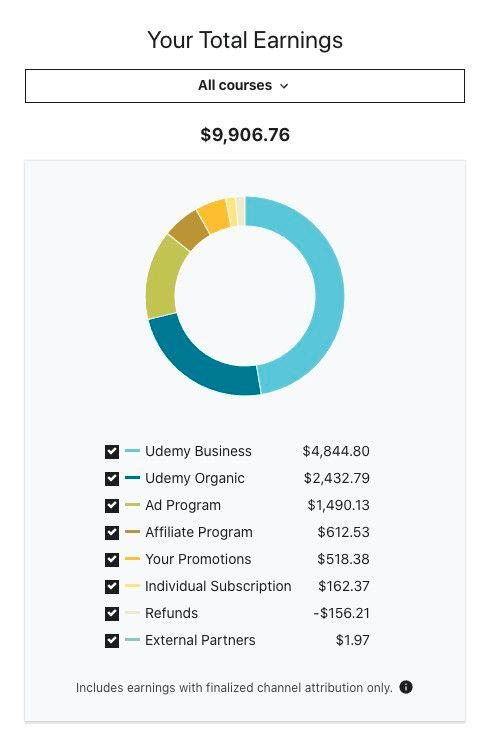 I wasn't expecting this, but it's a promising trend as Udemy pushes their subscription services more and more—not just on business, but through their upcoming personal subscription model.
So this brings us back full circle to the main question of this post. 👇 👇
Is It Worth Teaching on Udemy?
I hope these examples have given you some insight into what a Udemy instructor revenue can be like. But if you want my personal opinion on "Is Udemy worth it?" or "Is it worth teaching on Udemy?"
Yes, it's very much worth it to teach on Udemy, despite the high level of competition, maybe even more than ever.
But it does take time. As most of the examples we've covered on this list show, early success is rare.
It takes time to build momentum, as well as commitment to update your course, create new courses, and actively promote your offers (as well as commit to giving your students just a better service).
In short, you get out what you put in.
If you expect miracles, Udemy isn't for you, but if you're committed to your career as an online teacher and course creator and are excited and motivated to work for it for years, Udemy is a great place to teach.
However… it isn't the only platform, and it's rarely worth putting all your eggs in one basket.
Actually, as a course creator, I recommend everyone to consider a mixed publication model, where you publish your courses on your own website, and complete that with also publishing on marketplaces like Udemy.
The main reasons why you want to also have your own website are to be able to do value-based pricing and to be able to do higher-ticket sales like bundles, subscriptions, lifetime plans, team plans, etc.
You can also get the student's email and establish a direct relationship, allowing you to sell them other courses, as well as your other products and services.
I go over exactly why I think this mixed publication model is best in this post Where Should You Publish Your Online Course? (Self-Hosting vs Marketplaces).
Udemy is a great starting point for many course creators, but greater potential for even more success comes when you grow your personal brand and release courses on your own site—using an easy-to-use and affordable standalone online course platform like the one I founded - OnlineCourseHost.com.
I hope this guide helps you cut through the noise. More so, I hope it's given you the confidence to start your online course journey.
If you are looking to ask any questions you need on online course creation, you can reach me here on my Facebook group:
Join the Course Creator Academy Facebook Group
If you would like to get notified when other guides and useful content on online course creation is available at the Academy, then you can join us here:
You can find many other guides like this in our Free Course Creators Academy
Here are some of our other popular articles and guides:
I hope you found this post helpful, let me know in the comments below what other topics you would like me to cover, or any questions that you have?
Thanks for reading… enjoy the course creation process! 😉
---
Vasco Cavalheiro
OnlineCourseHost.com Founder & Online Course Creator
LinkedIn   Facebook Page   Facebook Group   Twitter
You are welcome to ask me any questions in the comments below: 👇👇👇👇