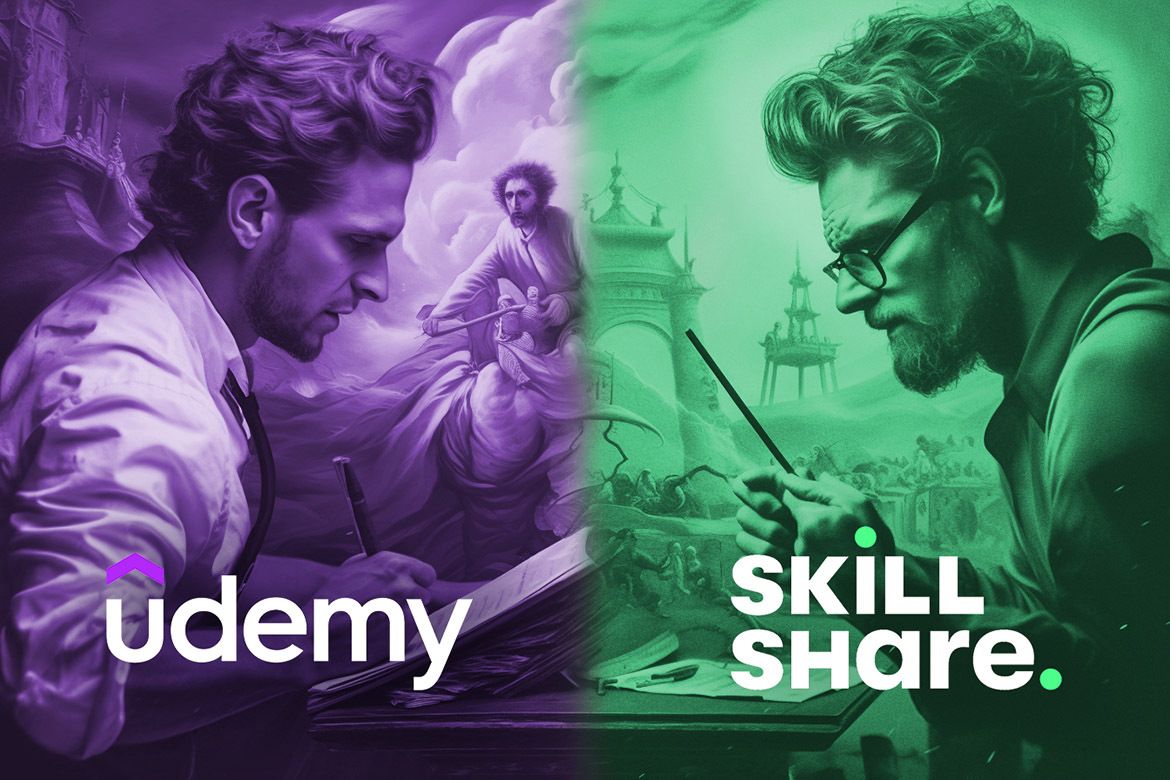 Full in-depth review of the Udemy and Skillshare online course platforms from the point of view of a course creator who published on both. Learn my revenue on each platform, and what worked for me and what didn't.
If you are an online course creator like me, and you make a living selling online courses (or are planning on doing so), this is one of those questions that you ask yourself all the time:
Where should I publish my online courses?
You probably have heard before of online course marketplaces. In this post we are going to do a comparison of the two most popular marketplaces: Udemy vs Skillshare.
I published courses on both platforms for years, and I'm going to share with you my personal experience and what I've learned, and what has worked best for me.
But which one is better for you as a course creator, should you publish on both, and is there a better alternative?
Which marketplace will bring you more traffic and therefore more revenue potential?
You don't want to miss out on some potential extra revenue for your course business, but you also don't want to spread yourself too thin either...
So, Skillshare vs Udemy, where should you publish your online courses?
You should publish your online courses on Udemy if your topic is programming, business, finance, IT and software, personal development, design, marketing, while Skillshare is ideal for more creative topics like Arts and design, animation, illustration, writing.
There are many course categories that do well in both and you should publish them in both marketplaces, like for example marketing or business courses, while other categories do well mostly on one of the two marketplaces, like programming on Udemy and Arts on Skillshare, and in that case it might not be worth your time publishing on both.
But what about all the other exact details, like platform rules, instructor eligibility, instructor revenue share, and much more?
Well, that's exactly what you will find out in this post. 😉
This post is part of a series of free in-depth guides on all topics related to online course creation.
You can always find an up-to-date index with all the free content available in the Course Creator Academy by clicking on the Academy link on the top menu bar.
This post will focus specifically on Udemy and Skillshare, but if you want a comparison between these two and many other online course platforms, I've written about it in this article: Best Online Course Platforms (Ultimate Guide).
Here are other Udemy-related posts that you might be interested in:
Udemy vs Skillshare For Instructors: Where To Publish Your Courses?
Udemy and Skillshare are both online course marketplaces that allow you to publish on an already established platform with instant access to tens of thousands or even millions of students.
You don't have to build your own audience, right?
Also, you don't have to buy a bunch of tools or software. Udemy and Skillshare provide almost everything you need to create, publish, and sell your online courses.
It's as simple as that.
Right!? Well, not really, but this is what many beginner course creators tend to think. 😉 More on this later...
Udemy and Skillshare aren't the only marketplaces like this, either—although they are probably the two biggest ones right now.
For many course creators (especially those just starting out), they're a great resource. I know this because I built a lot of momentum on them—mostly on Udemy but I also tried Skillshare for years.
See for yourself…
My revenue on Udemy as a Course Creator
This is a screenshot of my all-time earnings on Udemy so far: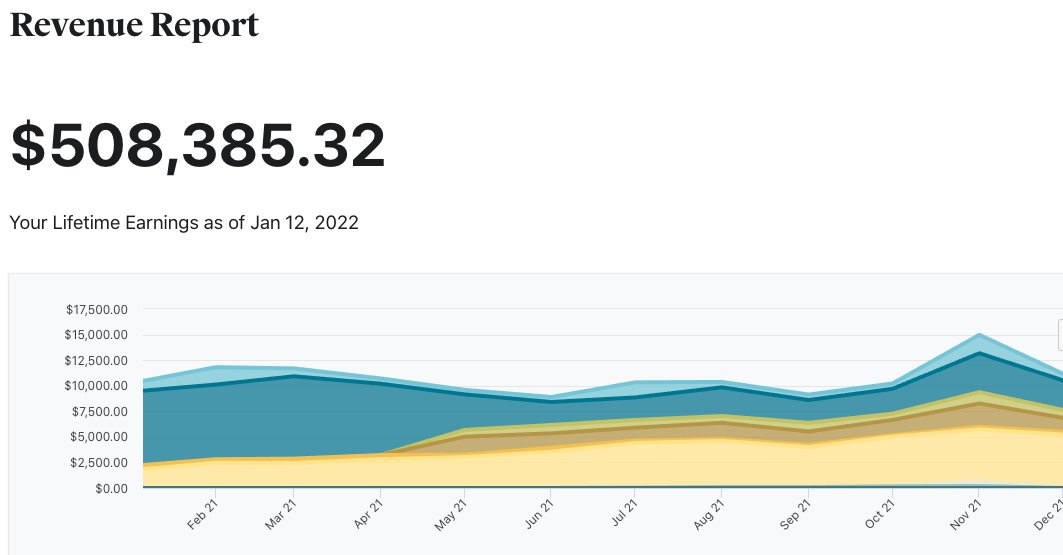 This is just Udemy, too. 😉 Most of my income actually comes from my own website.
Notice that in many cases, you can publish your courses on multiple platforms. But we're getting ahead of ourselves.
First, I'd like to take a step back and assure you that you can make a lot of money on marketplaces like Udemy vs Skillshare.
Although it isn't easy. It is not at all quick-rich scheme.
It takes a lot of hard work, as I show you in these revenue reports and guides:
However, with the right mindset—and with the right knowledge—you can build a lot of momentum on platforms like Udemy or Skillshare.
Let's dive deeper into this, starting with Udemy.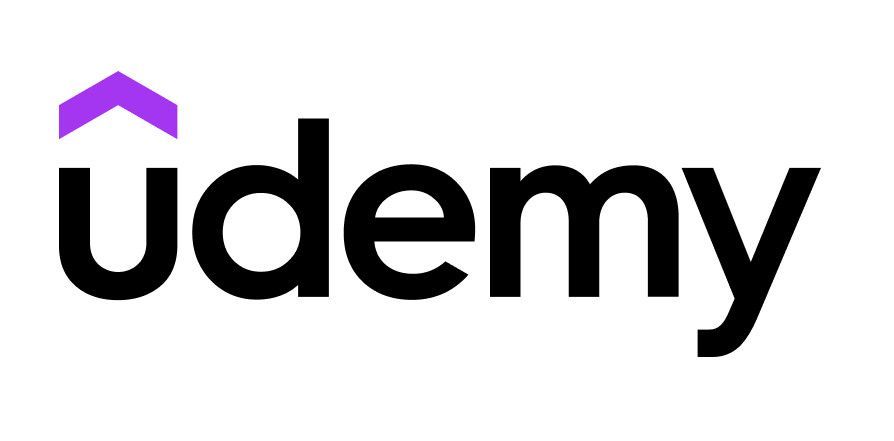 Understanding Udemy as a Student
To really understand Udemy as a course creator, you first need to know exactly how it works from the point of view of a student.
What is Udemy?
Udemy is the largest online course marketplace around with:
40 million students
480 million course enrollments
7,000+ enterprise customers
And courses shared in 65+ languages and across 180+ countries
It's the most comprehensive online course marketplace in the world, offering students access to any course they can imagine.

Who is Udemy For?
In short, Udemy is for everyone. It offers students access to dozens of categories, each one with dozens of sub-categories.
This is good news for you as a course creator because it likely makes it a relevant platform, offering potential instant access to your ideal student.
However, Udemy seems to have a greater focus on businesses these days, pushing their new Udemy For Business offer (UFB).
This specifically targets organizations that want to train their team, offering them access to 14,000+ of their best (and most popular) courses.
This is an interesting development. Individual students are still a large focus, but it does seem like Udemy wishes to target businesses a lot more moving forward.
As a course creator, this could impact you. After all, most businesses only need a select type of training: sales, marketing, operations, etc…
If this is what you teach, great news. If not, it does not mean that Udemy is the wrong place for you as you might still do very well there. This is just something that you should be aware of as a course creator.
If you head over to the udemy.com home page, you will start to understand how it works: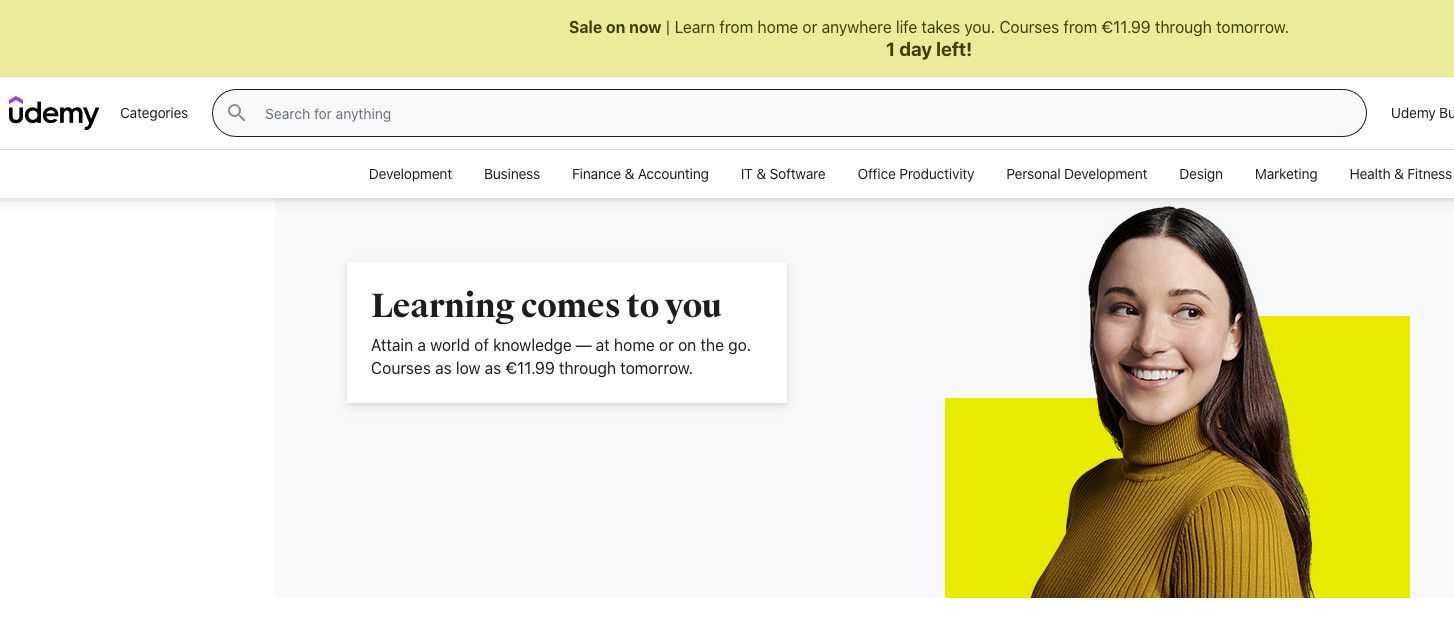 Udemy One-Time Sales
Udemy is a marketplace for premium video courses, that students can buy for a one-time fee of typically $10 to $12, depending on your local currency.
Udemy is constantly experimenting with higher prices, but this has been the typical sales price for the last couple of years.
The students pay once and get lifetime access to the course, and can watch it as many times as they want.
The courses are organized into categories like for example:
Development
Business
Finance & Accounting
IT and Software
Office Productivity
Personal Development
Design
Marketing
etc.
The courses are always listed by course creators at a much higher price like $150 or $200, but that is usually just a comparison price, that shows up in a striked through format next to the actual sales price of $10 to $12 determined by the platform.
For example, here is an example of a price of a course: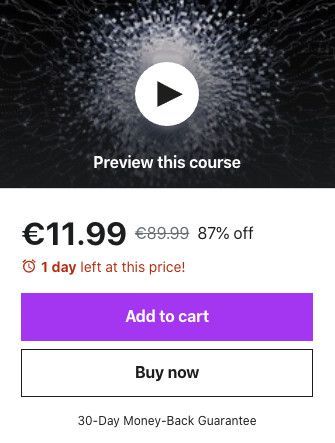 The sales price 11.99  is set by the platform, while the full price of 89.99 is set by the course creator.
It's also possible for the course creator to set a hard price for the course, as we will learn later.
Udemy runs sales very often, typically a couple of times a month. If you check the Udemy website, you will see that there is often a site-wide sale going on, like we can see on the homepage screenshot, notice that there is one day left for the end of an ongoing sale.
Udemy Subscription Program
Besides buying courses as a one-time lifetime purchase, Udemy is also providing a new subscription-based program.
This is currently known as the Udemy Personal Plan, and you can read all about it here - Udemy Personal Plan FAQs.
If you want to sign up for a Udemy subscription as a student, you can follow the instructions here - How to Sign up For a Udemy Subscription.
You should be able to see that option in your side menu, after you sign in: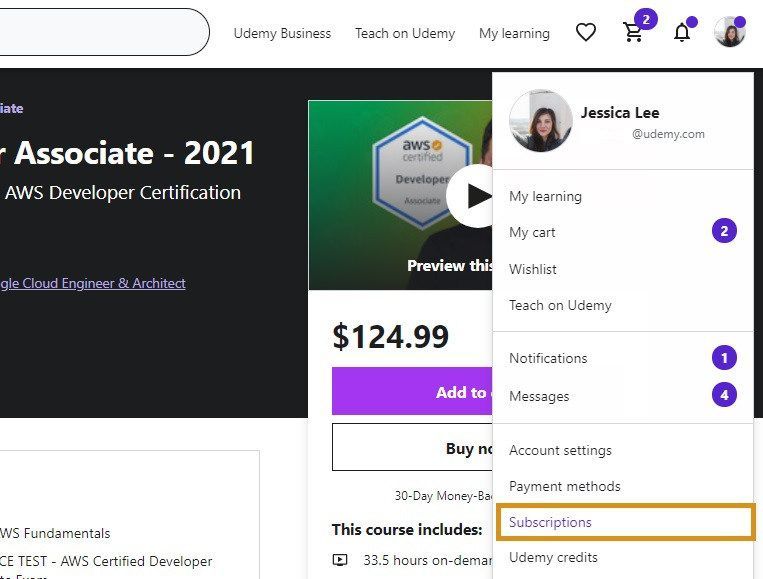 The subscription price can range anywhere from $19.99 to $29, and can vary slightly depending on the student currency.
With the subscription you get access to all the courses that are part of the personal plan catalog, which is a curated subset of all the content available in the marketplace.
Only the best courses from the best performing instructors are added to the subscription catalog by Udemy, making the course catalog a very attractive option  for students.
Udemy for Business Program
As we have mentioned, if you are lucky enough to have an employer that sponsors your training via online courses, then there is a third way that you might be able to watch courses on Udemy: Udemy For Business.
Udemy for Business is a team-based plan meant for companies only, and their employees.
A company will pay a monthly subscription to Udemy, and in exchange a certain number of their employees gets to watch the courses that are part of the Udemy For Business course catalog.
You can read all about it in the Udemy For Business FAQ.
In summary, there are 3 different ways courses that courses are being sold on Udemy:
One-time sales
Personal Plan
Udemy For Business
It's clear how they work from the point of view of the student, but what about from the point of view of the course creator?
Understanding Udemy as a Course Creator
The first thing to consider here is, are you even eligible to teach on Udemy?
Instructor Eligibility
Overall, becoming an instructor on Udemy is simple. Chances are, you're eligible. 😉
In fact, anyone on Udemy can create an instructor account, there are no prerequisites for being approved as an instructor, and the signup is free.
You simply have to sign in as an instructor, and you can start creating courses and interacting with other instructors in their internal community.
This means that with Udemy, literally anyone can become an online teacher, as long as they have the knowledge to teach others and the ability to produce video content.
This makes Udemy a super-attractive platform for beginner course creators!
Udemy Rules & Regulations
As with any platform, there are some very important rules and regulations you need to follow. Let's go over some of the most important ones:

You should always refer to the Udemy website for the latest rules, but I will give you here an overview of the most important ones.
In general, Udemy wants you to keep most of your course creation and teaching activity inside of Udemy.
Exclusivity Terms
There is no exclusivity in the sense that you can still publish your courses to other marketplaces to start with, unless your course gets approved for Udemy For Business, which does require exclusivity.
This exclusivity means that you can't publish your courses to other marketplaces other than Udemy, but you still can publish them on your own website.
Access To Student Personal Information
As a course creator, on Udemy and in all other marketplaces in general you don't get access to your student's email or other details.
You should not ask for those details either, like for example their email.
This means that once you establish a relationship with a student on Udemy, that relationship needs to remain inside Udemy.
You should not try to actively send your students to other products or services outside of Udemy, that is the surest way of getting your account striked and banned from the platform.
For example, this means that you might not be able to send emails to students sending them to your personal website, or possibly even to your YouTube channel or blog.
If in your blog you have an email capture form, or if in your YouTube channel comment section or video description you mention links to your other products or services, this is enough for your account to receive a strike.
If on the other hand you send your students to a blog page or YouTube channel where no details are asked like the user email, and the blog is purely of an informative nature with no commercial intent, then this in principle should be OK.
But you need to make sure that the material that you send is purely of an informational and educational nature, with no commercial intent behind it, and no student details are being asked.
How To Sell On Udemy
Besides the sales occurring organically in the platform via the search feature or via promotional activities carried out by Udemy, there are only two ways where you can actively sell your courses on Udemy.
You can send two promotional emails per month with links to your Udemy courses only, including Udemy discount coupons.
But you cannot link to any products or services outside of Udemy using these two promotional emails, this is very important to keep in mind.
Besides the promotional announcements, you can also mention your other courses on Udemy using the Bonus Lecture, which is a text lecture that you can add to the end of each course.
This lecture has its own set of regulations that you should be aware of, you can read all about it here - Bonus Lecture: Rules and Guidelines.
In a nutshell, you can mention there your other courses, products and services, but you can't make mention of the bonus lecture anywhere else in the Udemy platform, like on direct messages, Q&A forums, etc.
Udemy Instructor Earnings
As a Udemy instructor, you can set the price of your course between $19.99 and $199.99.
You can choose the prices from a list of different price tiers: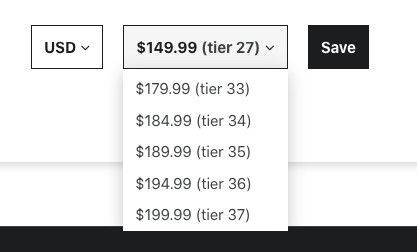 Notice that the price that you chose is not the actual sales price in most cases.
This is usually used as the full undiscounted price, which shows up as a comparison price next to the actual sales price of for example 11.99.
This will look to the student like a very large discount of 87%, which will make the purchase look like a very good deal.
From here, you'll receive a percentage per each sale—although this differs depending on where your students come from:
You receive 97% of the revenue if they come directly from your Instructor Referral Link or coupon codes you create, which is awesome. 😉
You receive 37% of the revenue if your student comes organically from inside Udemy, or via the Udemy Affiliate Program
This means that you will get 37% of the value of the purchase price for most sales, other than the ones that you managed to do via your own promotional coupons.
More concretely, because the typical sales price of a course is roughly around $11.99, this means for most course sales you will make around $4.43.
If the courses are being sold at around $9.99 like it still happens a lot for example around Black Friday, you will then make more or less $3.7 from each sale.
This organic revenue commission used to be around 50%, but has been reduced in recent years to 37%.
Can course creators set the actual sales price?
By default, Udemy will set the actual sales price, and use your price as a comparison point only on the course landing page.
But you can also opt by setting the actual sales price yourself, and for that you need to opt-out of the Udemy Deals program.
This means that your courses will be sold at the price of your choosing, but it also means that you will also opt-out of the promotions program, where Udemy will potentially promote your courses via ads or email marketing.
You can't opt-out of these two things separately, they are linked together. The reason being, it's going to be hard for Udemy to manage to create sales for your courses with ads and email marketing if they can't to set the price themselves and try out different prices to see what converts.
Notice that being part of the Udemy Deals program (which you are by default) does not mean that Udemy will for sure run ads on your courses, it just means that your course is eligible to do so, and Udemy will then decide which courses to promote or not.
So this is the current instructor earning rules for one-time sales, but for Udemy For Business this is completely different.
Instructor Earnings on Udemy For Business
If you sign up for UFB, you get paid based on student engagement (ie: how long they watch your videos). Each month, 25% of the money Udemy receives from their UFB program goes into an instructor pool.
You then get a percentage of this based on how many students you engage, meaning that the watch time of your videos will determine your revenue, compared to the total watch time on the Udemy for Business platform.
The more engagement you get, the more revenue you receive.
Likewise, the more businesses that join Udemy For Business, the larger the overall pool.
Udemy—The Verdict
Personally, I like Udemy a lot. 👍 😊
I've published my courses there for several years and found great success there.
I've made a lot of revenue from it, and I've recently passed the half-million mark in total lifetime sales, and I'm very grateful for it.
Yet I teach the kind of topic that does very well on Udemy.
My type of topic also serves the business community, which seems to be a large focus for Udemy moving forward, as Udemy For Business keeps growing.
If your course(s) serve a similar student, Udemy is a great platform for you.
Whereas if you focus on more creative/artistic topics, the next option might be for you, but it depends, some courses do great on both platforms.
Advantages of Udemy
Here are some of the big advantages of Udemy:
Instant access to a very large community of students from around the world
Access to all the tools you need to create your course (for free)
High earning potential, especially if your course caters to the business community, or to some of the most popular course categories
Is It Easy to Make a Living On Udemy?
Notice that just because there is a large audience on Udemy, this does not mean that they will see your course.
It's a search-based marketplace, so if you don't manage to make your course rank on the first page, it's going to be very difficult to make any sales at all.
If you publish a course on a brand new topic, then that is the ideal scenario, but other than that if your topic is competitive and full or highly reviewed courses, there is no reason for your course to show up next to those on the front page, if it has no reviews.
So you will have to do a lot of work in promoting your courses and sending students to them from outside of Udemy, in most cases.
Even though Udemy has a huge revenue potential, it's important to set your expectations that you won't immediately get an audience, unless the course is super new and super popular, which is rarely the case.
This is by no means a problem with the platform, it's just the reality of teaching and trying to build an audience in a marketplace with a lot of competition, and I would like you to be aware of it from the start.
Where did I publish my courses?
Personally, what I have done over the years is publish my courses also on my own website. And I recommend every course creator to do the same, and go for a mix of multiple marketplaces plus a self-hosting approach.
You can read all about the approach I recommend here on this post Where Should You Publish Your Online Course? (Self-Hosting vs Marketplaces).
In Udemy, you can always publish your courses in your own website as well, but notice that if you publish them in other marketplaces you need to make sure that your courses are not part of Udemy For Business, which requires marketplace exclusivity.
You can set this on a per-course basis on your preferences page.
Let's now talk about Udemy's biggest competitor in the online learning space: Skillshare.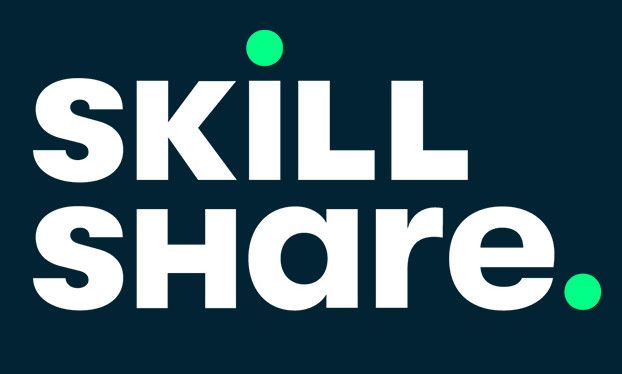 Understanding Skillshare as a Course Creator
Skillshare is another very popular online course marketplace that I'm sure you've heard of.
But is it right for you? Let's dive in and find out…
What is Skillshare?
Although Skillshare offers access to an array of courses, most of them focus on creators and creatives, and only a few on other more technical areas like data science or programming: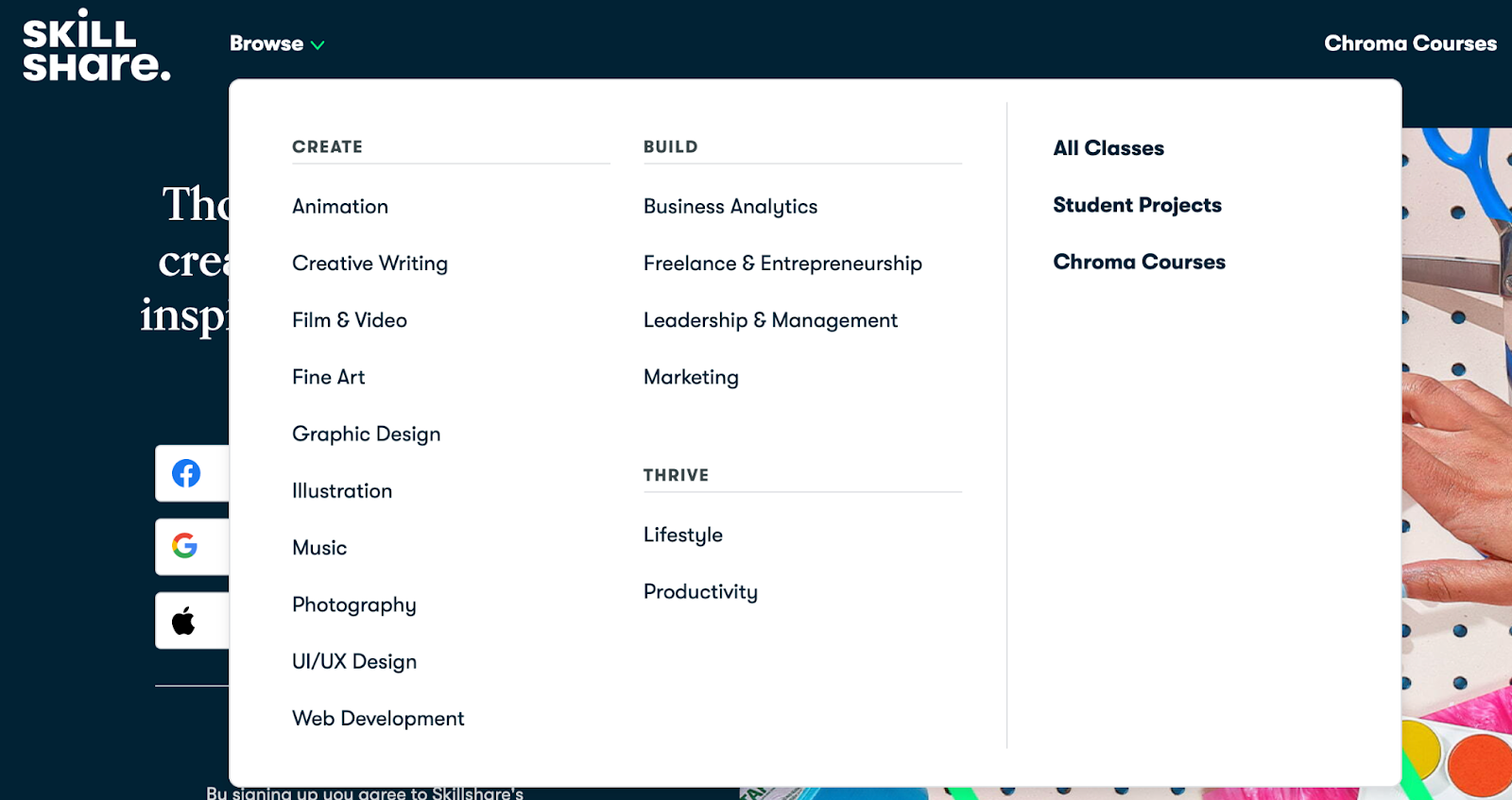 Even if course categories might exist for things like programming, the traffic in them is relatively low compared to the more creative categories.
For this reason, it feels like a more niche marketplace compared to Udemy.
It also differs from Udemy as students can only access the platform via a subscription, while on Udemy students can purchase individual courses and also choose a subscription.
Who is Skillshare For?
Overall, Skillshare caters a lot to the creative world: artists, photographers, designers, writers, etc…
There are other technical categories and business-related courses on Skillshare, but its core audience is creative.
I would know that, because for a couple of years I published my programming courses on Skillshare, and made pennies in sales. 🤣
As a course creator, Skillshare could be a huge opportunity for you.
Then again, it may put you in front of the wrong kind of student.
Like Udemy, Skillshare has also started to provide Team Plans—allowing organizations to train their workforce/members.
Finally—and this is a relatively new feature—Skillshare focuses more on group learning compared to a platform like Udemy.
Throughout their Chroma Courses, they bring small groups of students together. This is an interesting benefit for students, but also one that can help you stand out as a course creator.
Instructor Eligibility
As with Udemy, the bar is set low in terms of rules and regulations. Each class you publish gets moderated before going live, and so long as it has ten minutes of video, you're often good to go.
But, as with Udemy, you get limited access to your students' details. You cannot force them to share these or take your course outside of the platform.
They want you to remain within, which isn't ideal when building a business and brand but it's the reality of teaching on any marketplace. All marketplaces have similar rules and Skillshare is no exception.
Instructor Earnings
For many years, this was one of the biggest differences between Udemy vs Skillshare. Yet with Udemy's new UFB program and the Personal Plan subscription, they're now more similar than ever.
Each month, 30% of Skillshare's total membership revenue goes into an instructor pool.
You're then paid based on how many minutes your students watch.
(paid minutes, too… not from any free courses)
As you can imagine, this isn't ideal for most new course creators, as it gives new creators even less changes to start from scratch as most watch time will go to the top-rated courses.
Yet if you can promote your new courses outside the platform and engage your students, this model does offer a lot of potential.
Regarding promotional tools for promoting your courses, you  have the option of creating one referral link per course.
If you promote this link on social media or in a blog or YouTube channel, then you get $10 per each successful enrollment, so the platform does give you a nice  incentive for you to bring students to the platform.
Notice that the student will sign up for the platform for free, and they might end up not buying a subscription. But in that case, you still get to keep your referral bonus, which is awesome and very generous from Skillshare.
This reward is similar to the one Udemy gives you by bringing a student via a discounted promotional coupon of $10, which is the typical price.
But the difference is that on Udemy, you will only get your commission if the sale actually happens.
Skillshare Pros & Cons
As someone who's used Skillshare, here are some of the pros & cons that I found in the platform.
Pros:
Instant access to a community of creatives and engaged learners
A strong focus on group learning and more active engagement compared to Udemy
All the tools you need to get started and create quick, simple courses
Cons:
No access to student data, which limits your ability to scale outside of the platform
Difficult to earn money when you first get started
Although a more niche community compared to Udemy, competition remains quite high
Skillshare—The Verdict
Overall, Skillshare is the marketplace for creatives and creators. It isn't to say you cannot thrive with a more technical course.
But it's heavily focused on creatives, making it ideal for some creators and not for others.
Only you know if you're the type of course creator who can thrive here.
Although there is another alternative approach we'll focus on now 😎
Should I Publish Courses on My Own Site?
This question is the most important one you should ask right now!
Yes, marketplaces like Udemy and Skillshare potentially provide you access to entire communities of students, even though you will still have to do a lot of work to promote your courses and bring students to the platform.
But, as we've already covered throughout, this comes with the caveat of never knowing who they are.
You don't get access to their email.
You don't get to speak to them outside of the platform.
As such, you're completely dependent on Udemy and Skillshare's rules and regulations, which includes such important things as setting the actual sales price of your course, determining your revenue cut, and even making you eligible for certain important internal programs such as Udemy For Business or the Udemy Personal Plan subscription.
If they change their business model, you can do little about this. That's why it's important to take control of your destiny by also publishing courses on your own site.
After all, if you are going to have to do all that hard work of promoting your courses and bringing students to the platform, why not use that same work to instead bring the students to your website and build your own audience over time?
You can still publish your courses in marketplaces, and make passive revenue that way, but focus your promotional efforts in your website.
How To Self-Host Your Online Course (and Why You Should)
As I've hinted at several times already, it's often best to spread your wings as far as you can. 😉
Don't put all your eggs in Udemy or Skillshare's baskets. Publish your course(s) on other platforms.
Including, and most importantly, in your own website.
If you sell your courses on your website, you have your own brand, and a direct relationship with your students.
You can do value-based pricing and charge based on the transformation and the value that your courses will bring to their lives, and you don't have to worry about constantly being compared to another $10 course right next to yours, just one click away.
You can send a warm-up email sequence to your students with several emails a week without any problem, and can you promote your other courses, products and services.
This includes higher-ticket products like subscriptions, course bundles, Lifetime plans or Team plans. This also includes other services like coaching or consulting, which can become even your main source of revenue, if you want.
The revenue potential and the customer lifetime value is much higher in your own website than in any platform, as I've explained here in this post where I told my story as a course creator - How I Made $1.615.000 Selling Online Courses (So Far).
How To Self-Publish Your Courses?
It didn't take me long to realize that relying only on marketplaces wasn't a very good idea in the long run.
The problem was, publishing a course on your own site was either hard or expensive—often, both.
That's where the idea of building OnlineCourseHost.com sparked to life.
I wanted to help course creators like me take control of their own destinies and host their courses easily on their own website.
So my team and I built the easiest to use, most affordable online course platform in the market, that gives both you and your students a Udemy-level user experience right there on your website.
The platform has a powerful free plan to help you get started with your online course business from scratch with minimal software expenses.
Besides that, this is what I hope you take from this article.
Udemy vs Skillshare… they are great marketplaces, but they aren't your only option.
Hosting your own courses or publishing on a marketing platform…  it isn't an either/or situation!
You can have both, and should do both in my opinion. This is in the best interest of both you and the marketplaces, because it will make your online course business more sustainable, and you will be able to keep producing courses in the long run.
To help you in your online course journey, the Course Creator Academy offers several guides, tutorials, and resources that show you what to do, when, and how:
SkillShare vs Udemy for Teachers: The Verdict
After reading this guide, I hope you see that none of this is an either/or situation.
Nobody can tell you whether Udemy is better for you than Skillshare—or if another marketplace is what you need. What matters is to figure out what best suits you and your audience.
Probably Udemy will work better for most course creators, just because it's a bigger marketplace with constant sales, but that doesn't mean that that is the best place for you.
In most cases, the answer doesn't come down to just one marketplace.
Use Udemy… use Skillshare… but most of all use your own website and build your brand!
This is the approach the most successful course creators take.
In my personal case, I haven't built my online course business by placing all my eggs in either Udemy or Skillshare's basket, I think that would have been a strategic long-term mistake.
I think that with the reductions in commission rates and the low sales prices, I would have ended up stopping teaching online if I would have chosen that.
Instead, I focused on building my brand, building my website and blog, and on building my email list, and that turned out to be the best decision in the long run.
Conclusions: Udemy vs SkillShare for Instructors
I hope this article helped you understand that it's not about which marketplace is better. You can and should try out both and see what works for you and your students.
There is no downside to trying both marketplaces, and you can potentially make passive income on both.
Most of all, I hope this article helped you realize that your best chance of creating a successful online course business in the long run is to focus on creating your own online course website, with your own brand.
Helping you get started with your website is the reason I built OnlineCourseHost.com—to make this whole process much easier for you.
To give you access to a course-building platform (for free) that gives you all the tools you need.
To give you access to a full academy of free tutorials, guides, and lessons that show you how to plan, create, sell, and promote your course.
I know how overwhelming this process can be.
How there's so much information out there that it's hard to know where to start.
I hope this guide helps you cut through the noise. More so, I hope it's given you the confidence to… start.
And if you are looking to ask any question you need on online course creation, you can reach me here on my Facebook group:
Join the Course Creator Academy Facebook Group
If you would like to get notified when other guides and useful content on online course creation is available at the Academy, then you can join us here:
I hope you found this post helpful, let me know in the comments below what other topics you would like me to cover, or any questions that you have?
I've put together an FAQ below, in case you just wanted a very specific answer.
Thanks for reading… and enjoy the course creation process! 😉
---
Vasco Cavalheiro
OnlineCourseHost.com Founder & Online Course Creator
LinkedIn   Facebook Page   Facebook Group   Twitter
You are welcome to ask me any questions in the comments below, and have a look also at the FAQ: 👇👇👇👇

---
Udemy vs Skillshare FAQ
Here are some of the main questions that course creators usually ask me about Skillshare:
Can I Publish on Skillshare and Udemy?
For the most part, yes, you can publish courses on both platforms!
Although a platform like Udemy gives you access to a large number of people, they don't give you access to everyone. It's better to spread your wings and gain access to as many students as you can, in as many platforms as it makes sense. Use Udemy. Use Skillshare. Use other marketplaces that get you in front of the right kind of students!
In fact, in most cases, it's worth your time to publish on multiple platforms, as I explain in this post where I talk about the mixed publication model for course creators - Where Should You Publish Your Online Course? (Self-Hosting vs Marketplaces).
Which is Better For Instructors Udemy or Skillshare?
If your courses catter to creative professionals, you probably should be publishing in both, while if your courses is more of a technical nature like programming or finance, then Udemy is better for you.
Often, it comes down to a personal preference. As someone that's used both Udemy and Skillshare, I prefer Udemy. That isn't to say I don't like Skillshare. I do. I just find Udemy works much better for me and my students.
Whether this is the case for you… well, you will have to explore 😏
Which Pays More Skillshare or Udemy?
The revenue potential for most course creators is higher on Udemy than on Skillshare due to the still prevalent one-time sales model with continuous discounts, which usually leads to more sales than a subscription-only model.
Depending on your course topic, it might be sensible to publish on both and make passive income on both marketplaces.
In general, Udemy has a larger user base and better promotional practices (constant sales), so instructors tend to do better there for a lot of course topics.
But Skillshare might be better for you depending on your topic, I recommend publishing on both and see what works for you.