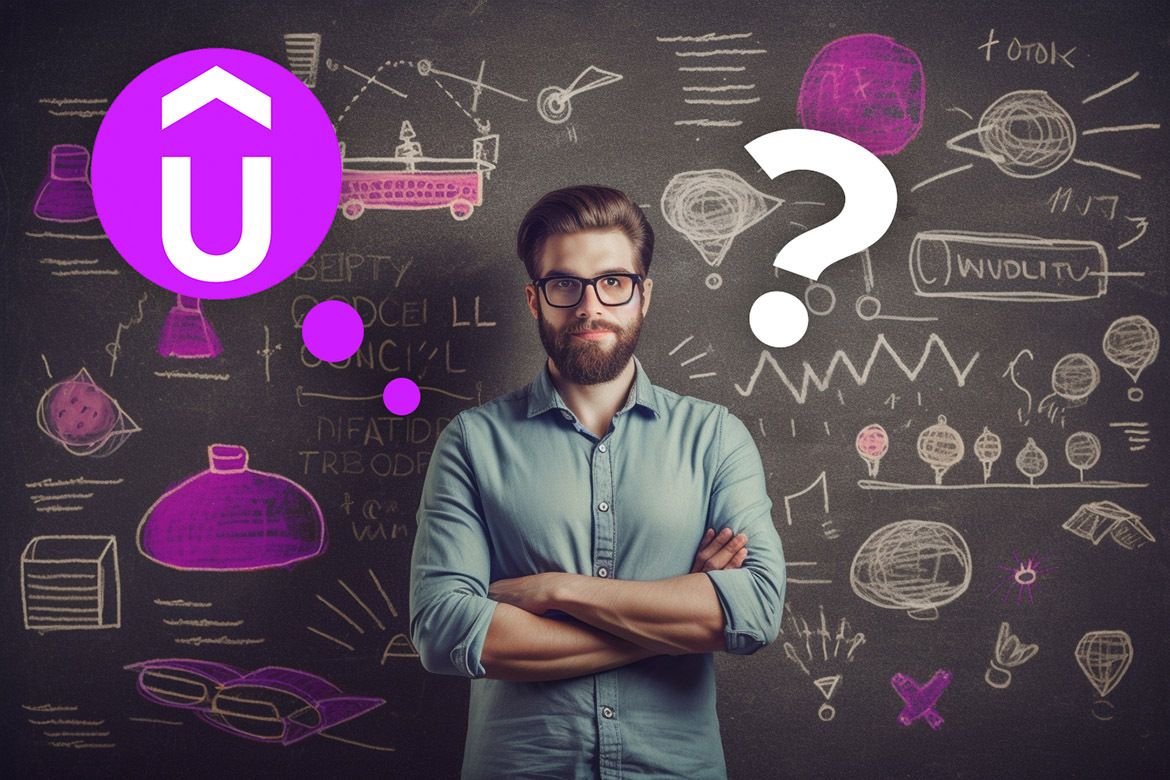 Everything that you need to know to help you determine if Udemy is the right online course platform for your online courses. Learn about my personal experience on the Udemy platform as an instructor, teaching there since 2016.
Teaching online isn't only a rewarding profession, but today it's also about living a meaningful life with more freedom, away from the traditional classroom.
Thanks to online course platforms like OnlineCourseHost.com and marketplaces like Udemy, you can teach your students from anywhere in the world.
The Udemy marketplace has stood out in this oversaturated market with various course categories and an intense marketing strategy.
But is Udemy worth it for instructors?
Teaching on Udemy is very much worth it, especially for new instructors. Not only launching courses on Udemy is free and quick, but it also gives you access to over 49 million students.  It's a great platform to learn and understand the market needs in your industry. Udemy provides incredible support resources to help you get started as an online instructor. So, it's a great idea to launch your courses on Udemy, as a complement to your own website.
I've been teaching on Udemy since 2016 and I love this platform, I think it's very much worth it teaching there.
So I've collected everything that you should know about Udemy, to help you determine if it's the right platform for you.
So if you want to know how does Udemy work for instructors, you've come to the right place. 😉
You can also check out all the free guides that you have available here at the Course Creator Academy by clicking on the Academy link on the top menu bar.
Here are other Udemy-related posts that you might be interested in:
Let's then break down the exact factors that influence if it's worth teaching on Udemy for you or not.
What is Udemy?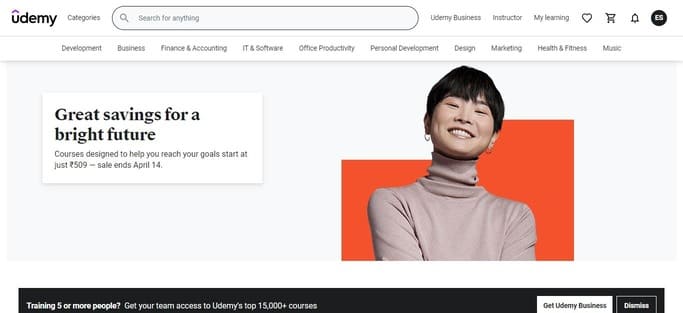 Udemy is one of the biggest online learning and teaching marketplaces with both free as well as paid online courses.
Its popularity among students and course creators is best explained by these amazing stats:
Total students - 49+ Million
Course categories - 100+
Total of courses - 183000+
Number of instructors - 70,000+
These big numbers show that teaching on Udemy is a great opportunity. For course creators, it's a chance to reach millions of students by creating courses in any of the 100+ categories. But, what made Udemy so popular?
Here are two major reasons for Udemy's popularity:
Marketplace for everyone: Udemy is very popular among course creators because of its very low barrier to entry. It's a marketplace where anyone is welcome to teach.
Affordable courses: Students love Udemy because the courses are super affordable. It might be the marketplace with the lowest-priced courses (ranging from $10 to $20 only), making it an ideal platform for students. We will discuss more on this later.
How does Udemy Sell Courses?
Udemy has both free as well as paid courses. And 90% of them are paid courses. Udemy sells these paid courses in three ways:
One-time sales: Udemy displays courses based on categories. Students can then buy courses one by one. They pay a one-time fee and get lifetime access to a particular course only.
Subscription plan: Another method is the student's subscription plan. It usually costs $29 per month and students get access (during the subscription period) to courses that are included in the subscription catalog.
Udemy for Business: This plan is for companies that invest in their employees' education. Businesses sign up for a yearly subscription for a certain number of employees and get access to a vast catalog of high-quality courses.
Udemy Payment Method for Instructors: How to get Paid?
Udemy instructors can get paid anywhere between 25% to 97% of every sale. Why the big difference?
Because your earning percentage depends on how a student discovers your course.
Organic Traffic
You get a 50% commission on the course sales price if the student found your course organically by searching through the Udemy marketplace or Google.
Udemy Promotion
Udemy also promotes courses via paid advertising and its affiliate program. So, if someone buys your course through these two channels you will get 25% off of the sale. Udemy uses the remaining 75% to commission itself and to pay the ads fee or the platform affiliate.
Self Marketing via Discount Coupons
This is where you get the biggest portion of the sale that is, 97%. Because the sale is made through your own marketing efforts and because you have potentially helped bring a new student to the platform, Udemy rewards you and keeps only 3% for itself.
Udemy for Business
It is another opportunity for instructors to get paid. Udemy allocates 25% of total earned revenue from the Udemy for Business plan each month for instructors.
From there, your commission depends on students' engagement. The more time a student spends watching your videos the better you get paid.
For example, if your total share becomes 3% after calculating then you get paid 3% of the total revenue pool.
Subscription Plan
The instructor's revenue for the student's subscription plan is calculated in the same way as the Udemy for Business plan. The more time a student spends learning from your course the bigger your revenue share.
So, there are many ways you can get paid as an instructor on Udemy. Now, do you remember when I told you that Udemy usually prices its courses between $10 to $20 only?
Let's understand why Udemy does that.
Udemy Unique Course Pricing Structure
When an instructor is launching his course he is allowed to pick a course price anywhere between $20 to $200. This pricing is by default the list price of the course. And this is the amount the students have to pay if they want to access your course.
But, if you join the Udemy Deals Program, your course becomes eligible to join the sale. Then your course pricing is the new discounted price set by Udemy.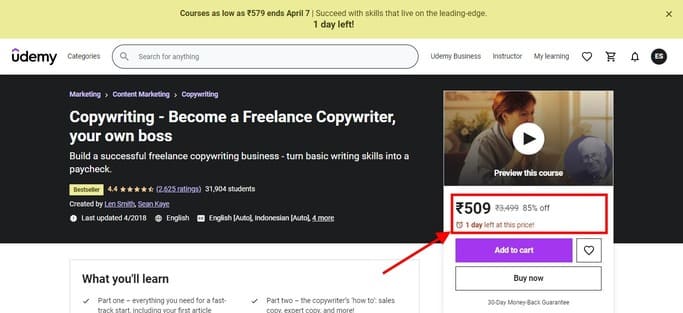 As you can see the sale price is 85% less than the listed price.
So the sales price is reduced by a big margin, but there is still a huge benefit to getting into the Udemy Deals Program. Because if you do so, your course becomes eligible to be promoted by Udemy using various advertising channels, including paid search, social media, and email marketing.
This way you can tap into a lot of sales and students.
But, getting accepted into the Udemy Deals Program does not guarantee that Udemy will promote your course in those specific channels. It just means that your course is eligible for that.
If Udemy advertises your courses or not and on which channels depends a lot on many other factors like the quality of the courses, reviews, ratings, number of students, etc.
Udemy runs these discount sales a couple of times a month. So, it's highly likely that your courses will be included in the promotion if their quality is great.
So, the Udemy Deals Program is a very good way for new instructors to get students and sales.
I am personally subscribed to it, and I can recommend it. 😉
Now, let's look at some of the pros of becoming an instructor on Udemy.
Pros of Becoming an Instructor on Udemy
Becoming an Instructor on Udemy is a wonderful opportunity for new course creators as you get immediate access to several things that might otherwise take you years to obtain.
Free Course Hosting Platform
The best part about Udemy is that you can launch as many online courses as you want, completely for free.
There are no hosting costs involved and no limits on upload or number of students. You get full access to all the features of the platform at no recurring cost.
Access to a Large Audience
Udemy has over 49 million students. By becoming an instructor on Udemy you have the potential to reach a massive audience, especially if your course category is popular on the platform.
On the other hand, if you start from scratch building an audience on your own, this could take you years. Although it would still be very much worth it and it's what I did myself.
I started my blog years before creating courses, and it worked very well for me. But if you don't have a pre-built audience, marketplaces like Udemy are your best chance of kick-starting your online course business a bit faster.
Easy to Launch Courses
Creating and launching a course on Udemy is very simple. You just have to follow a series of steps, fill in some details, record your course, and submit it for review.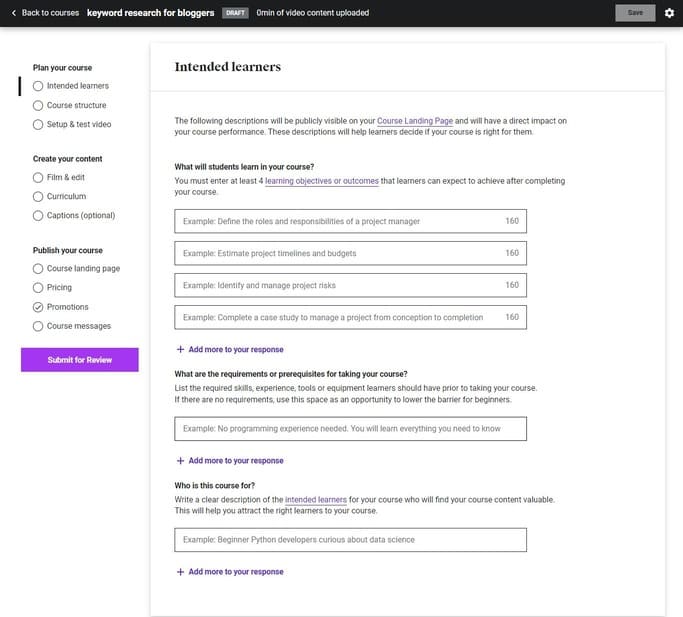 You can also get an expert review from Udemy directly on your videos by requesting to review a test video.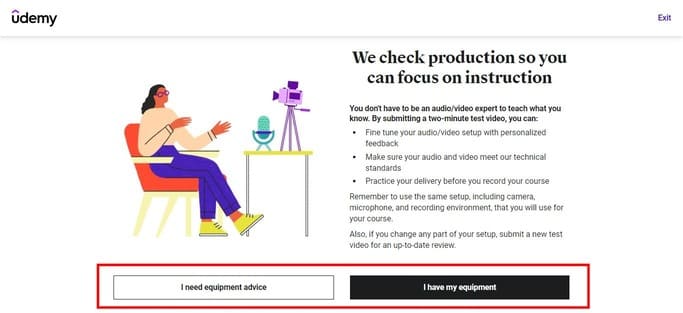 They will ask you to record a short video to check if the quality of the audio and video is good or not. Based on their feedback, they will provide you with personalized advice.
Incredible Support Resources
If you're completely new and have no idea about course creation, then Udemy is the perfect place to learn.
When you sign up for an instructor account on Udemy, it asks you to choose your expertise level - beginner, average, or pro.
Based on what you select, Udemy provides resources for learning. For example, I picked the beginner option, so on my instructor dashboard, I get these as Udemy recommendations.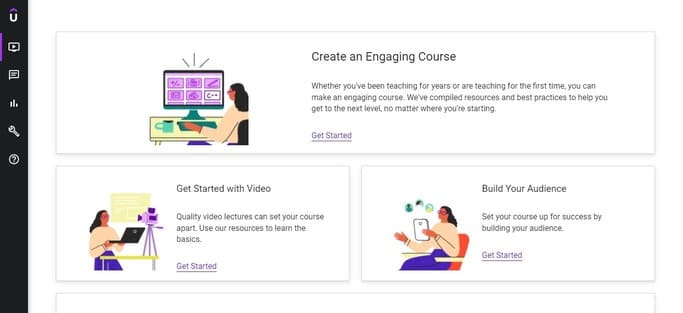 Other than that, Udemy has a teaching center where you can find everything you need to create and launch a course successfully.
Supportive Udemy Community
As an instructor on Udemy, you get to join the Udemy Instructor Community. It has more than 119510 instructors. They help each other become better course creators. You can ask questions and get answers from some of the top instructors.
Now, let's check out what are some cons of Udemy.
Cons of Becoming an Instructor on Udemy
Udemy's unique pricing structure and rules are something you should be aware of from the beginning.
It's Quite Competitive
Udemy has more than 180,000 instructors creating and launching courses. And new instructors are joining it every day. This just makes it a very competitive platform.
Another thing is that Udemy is a search engine. So, courses are ranked based on various ranking parameters like keywords, reviews, ratings, etc. As a new instructor, it's a bit difficult to get these things quickly.
So, it'll take time for your courses to show up on search results, creating a situation where it's hard for new instructors to really stand out and get some traffic when compared with more established instructors.
No Personal Branding
If you plan to be in the online course business for a long time then building a personal brand is crucial (check here how to do it).
And, I think that relying only on Udemy for the brand building would be a mistake in the long term. Because naturally, Udemy promotes itself more as a brand and not as much as each individual instructor.
By default, Udemy adds its branding to all courses, and they have strict rules for personal promotion, as they want to ensure the student experience remains great on the platform.
Therefore, if you want to build a personal brand, you should have a website along with Udemy; it's that simple. Remember that you can sell courses on both Udemy as well as on your own website.
Not all Categories Work Well
Be aware that not every course category will work well on Udemy. For example, niches like technology, programming, marketing, business, etc are extremely popular on Udemy.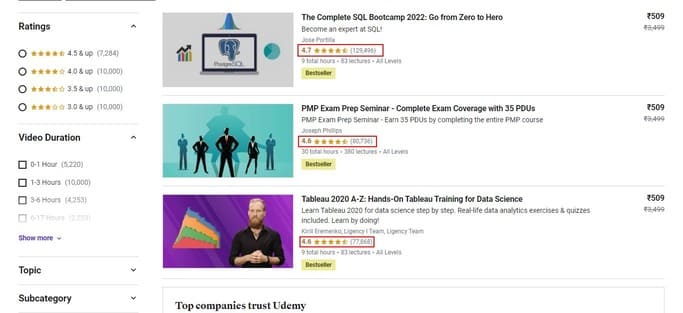 But, niches like gardening, beauty, arts, etc don't do so well on Udemy, at least not right now.
This might be because not many students want to spend money on learning a fun hobby activity when compared to learning some skills that they need for their jobs: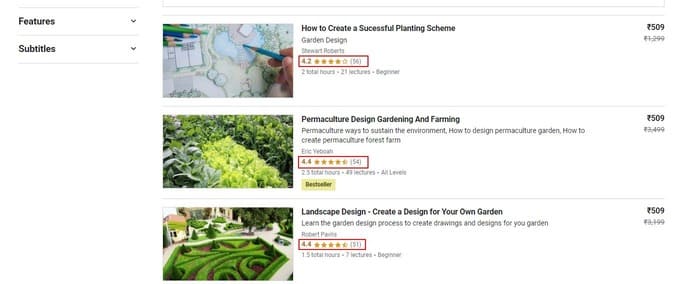 But art courses are also very popular and do great on other platforms like Skillshare. To help you decide which platform is better for you, check out this article that I wrote: Udemy vs Skillshare for Online Course Creators.
So, if you want to sell courses on hobbies or fun crafts then it's best to sell these courses both on Udemy as well as on your website, and also on other platforms.
Notice that you can then charge premium prices on your website which is not doable in practice on Udemy, because this means you would be outside of the Udemy Deals program and being listed at full price next to highly discounted courses.
You Won't Earn Much
Becoming an instructor on Udemy is not a get-rich-quick scheme at all. This is clear with the Udemy course pricing model and instructor payment structure. Normally, a course on Udemy is priced at $10, and they charge a commission on every sale.
So, you will really have to make a few thousand sales every month if you're relying only on Udemy to make a solid income.
This is not going to be easy for beginners as they will have to depend solely on their own marketing efforts, as the platform naturally prefers to promote more established course creators, with better social proof and more brand recognition.
So, Udemy is best complemented with another source of income, such as a personal online course website.
However, many Udemy instructors have been successful in making 6 figures from Udemy alone. This is because they have been teaching on Udemy for years and trying different things all the time.
So, as you keep adding courses and improving your presence on Udemy, you will be able to scale your income over time.
Now, let's look at some of the success stories of Udemy.
How Much do Udemy Instructors Make?
Udemy instructors make anywhere from $100 to $1,000,000. Notice that below you won't find success stories of 7-figure Udemy instructors who have been in the industry for years. These are just normal Udemy instructors who have been making a nice full-time income from Udemy.
So if they can do it, so can you!
Joe Parys Made $500,000 so far
Joe Parys became one of the top-rated Udemy instructors in a short time. He teaches on a variety of topics like cryptocurrency, programming languages, business tools, social media platforms, etc. In one of his Youtube videos, he shared his lifetime earnings. He also gave tips on how to become a successful instructor on Udemy.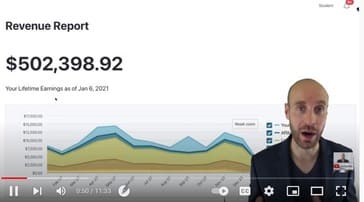 Joe Parys has published 90 courses on Udemy, and this has been a critical factor in his success. With 90 courses, he has 90 assets that bring him this income. He has more than  67,000 reviews, 900,000+ students, and 357k YouTube subscribers.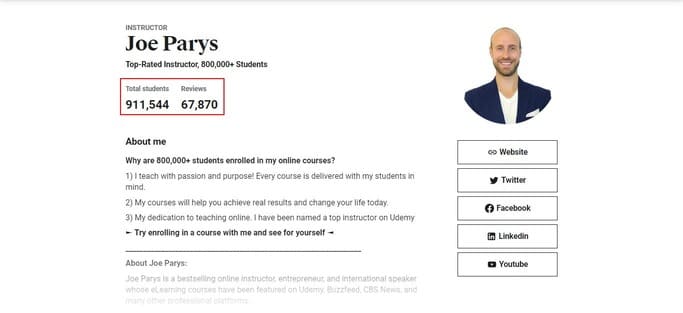 Mathew Alexander Made $10,000 so far
Mathew Alexander is a new instructor on Udemy. He only started teaching in 2017 and has earned over $10,000 with only 4 courses. He is a mechanical engineer and teaches the basics of mechanics in his courses.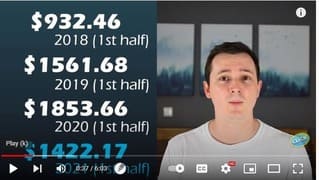 He became successful on Udemy because he was able to rank his courses on the marketplace. For example, his course on Thermodynamics ranks on the first page of Udemy for the keyword "mechanical engineering."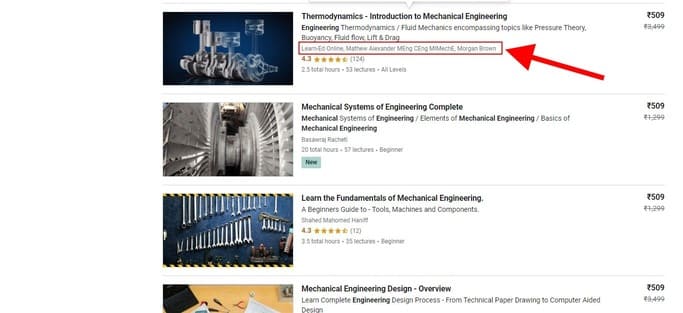 Janosch Hermann Made $1857 in 2020
Janosch Hermann is a computer science student. He focused on a sub-niche and launched courses on modern tech tools that help in automating businesses. He made $1857 in 2020 with only 5 courses on Udemy.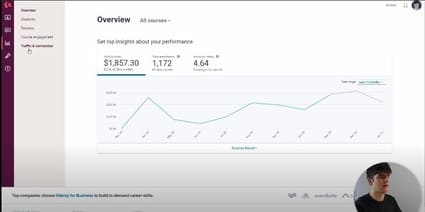 He goes deeper into his earnings each month and tells how he scaled his growth. Janosch has only 2367 students and 352 reviews, but he has been able to make a good income from Udemy.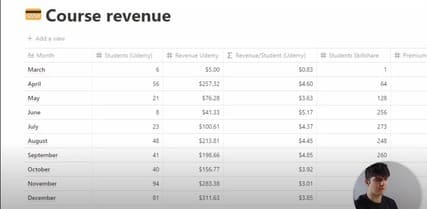 Vasco Cavalheiro Made $437,219 so far on Udemy
Note: This is me. 😉
Now you understand better why I recommend Udemy. It's because I've managed to make a nice revenue so far by focusing on a couple of niches. I create web development courses, and here is my dashboard: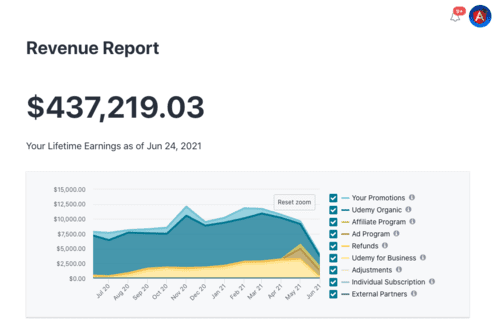 I have over 100k students and 24k+ reviews on Udemy. Remember that I've been teaching on Udemy since 2016, so it took a long time to get to these numbers. So if you start now, it will take you a few years, but you can also reach similar results: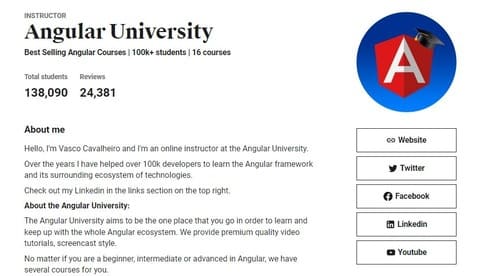 Now, let me tell you about a super cool Udemy tool that will help you a lot in your journey to becoming a successful Udemy instructor.
Udemy MarketPlace Insights Tool
The Udemy Marketplace Insights tool is only accessible by Udemy instructors. It helps in finding potential online course ideas. But this tool helps in finding other important data like earning potential, competition, keywords to target, etc.
So let me give you an overview of the Udemy marketplace insights tool.
You can find the marketplace insights tool on your instructor dashboard. Click on "Tools" and then choose "Marketplace Insights."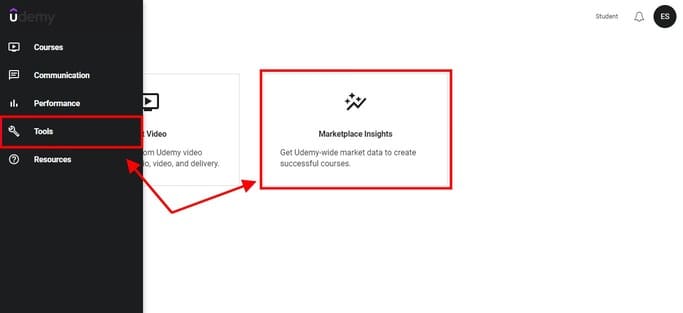 Now enter any topic you want to create a course on. You will get a detailed report on how it will perform on Udemy.
For example, if I want to create a course on Business Communication, then I'll type it on the search bar and hit "Enter." You can choose the language you wish to speak while recording your course.

Now when you scroll down, you will see this overview of our course topic on Udemy.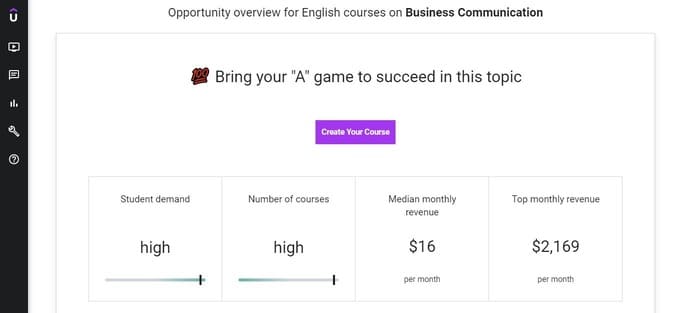 As you can see, the student demand is high. This means there are many students on Udemy who want to learn about business communication.
But, the number of courses is also high. This means the course topic is competitive, and you will have to work hard in course creation and its promotion.
The top monthly revenue is also really good. This is the amount you can earn with one high-quality course that ranks high on the search results. Notice that this includes both the Udemy share and your share.
When you scroll further, you will see a report on student demand for the course topic.

The student percentile report tells that the demand for this topic is 96% higher than other topics. This means that many unique students are searching for this topic on the platform, compared to other topics.
Then, you will see that the search volume trend is neutral. It does not have sudden ups and downs. So, this course topic has the potential to bring you a regular income if you manage to rank your course high in the results.
When you scroll a little more, you will see this report.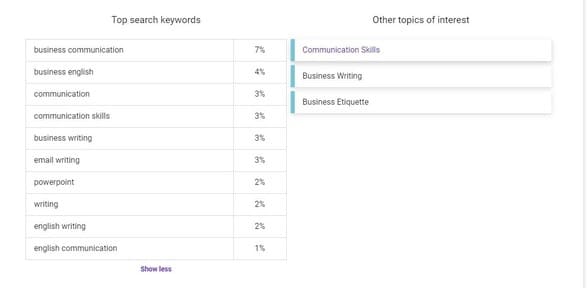 These are the top searched keywords while looking for this course. You can use these keywords when you are optimizing your course to show up on search results.
"Other topics of interest" are similar course ideas that you can consider creating. Udemy is suggesting these topics because they have similar potential to grow.
Then you see the most important report that will help you determine where you need to put your best marketing efforts.

As you can see, almost 93% of enrollments are coming from "Udemy discovery", "Udemy search," and "Outside sources." This means that students find these courses on the Udemy marketplace, Google, and by using the Udemy search bar.
So, if I want students to buy my course on Business communication, I must optimize it well to get it ranked on both Udemy as well as on Google.
Then we can see the conversion rate, which is 5.8%. This means that 5.8% of students bought the course after visiting its landing page, which is quite good in online marketing terms.
After this, you will find the stats for existing courses:

As you notice, there are 96 courses listed on Udemy already on this topic. But only 13% have 4.5 and above ratings. This is a great opportunity for you to show up on search results. If you create a valuable course and get high ratings then your chances of ranking on Udemy will increase.
At the end of the report, you will find the best-performing courses on Udemy.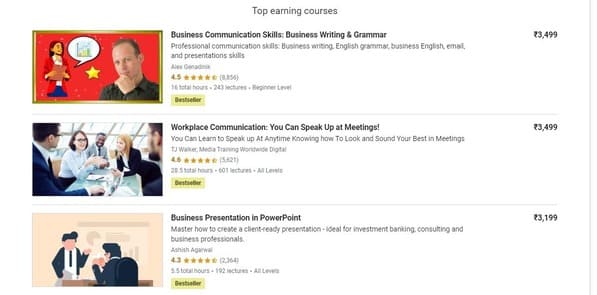 You can extract crucial information from it, such as the number of ratings required to show up on the first spot, keywords to use, pricing structure, featured image, etc. You can even click on each course and go through its structure. This will help you find out the missing gaps that you can cover in your course.
All of this information will help you create a better course and become a successful instructor on Udemy.
So, this is how you can use the Udemy marketplace Insights tool to determine the winning potential of your course. And, of course, you get to use this tool for free when you become an instructor on Udemy.
Now, let's answer the question you have been waiting for.
Is Udemy Worth It For Instructors?
For instructors, Udemy is a great opportunity to learn more about their target audience and earn a side income.
It is perfect for:
Beginners: who are just starting out teaching online and have no pre-built audience.
Part-timers: Udemy is also ideal for anyone who likes to teach as a hobby only, allowing them to create some side income with no upfront expenses.
Full-timers: who runs a full-time online course business. They can become a Udemy instructor in addition to maintaining a website. They can launch the same courses on both their website as well as on Udemy and generate revenue from the same courses by publishing them on multiple platforms.
In short, Udemy is a very good option for anyone who wants to start and grow an online business.
The growth on Udemy can be slow at first unless your topic is both popular and new, which is quite rare.
But as you master it, you will be able to make the desired income. If you start now, you will grow over time!
So don't forget to also publish your courses on your own website, I think this is also crucial for you in the long term as I have talked about here - Where Should You Publish Your Online Course? (Self-Hosting vs Marketplaces).
Now, if you've decided to become a Udemy instructor, here are some tips to skyrocket your growth on the platform.
Tips to Become a Successful Udemy Instructor
Mastering the Udemy platform will definitely take some time, but if you start with these tried and tested strategies, you'll be able to over-jump a few steps.
1. Niche Down
You know that Udemy is already crowded with beginner courses. For many categories, there's no way you'll beat those perfectly rated courses. To stand out from the crowd you should take one niche, then a sub-niche, and create high-quality courses on it.
For example, don't just take business as your target niche and launch a course on "Business basics". Because there are 10,000 courses on the topic already.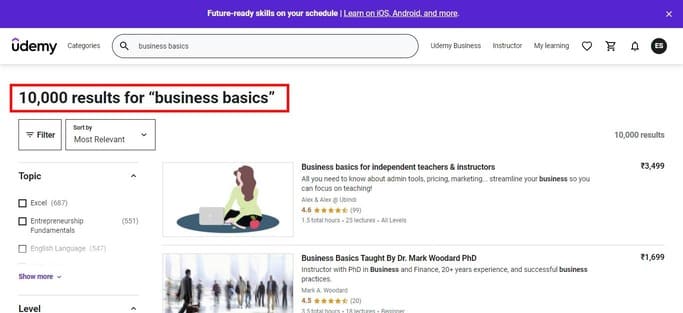 But find a sub-niche like "demand and supply" in business which is slightly less competitive and a better topic to target.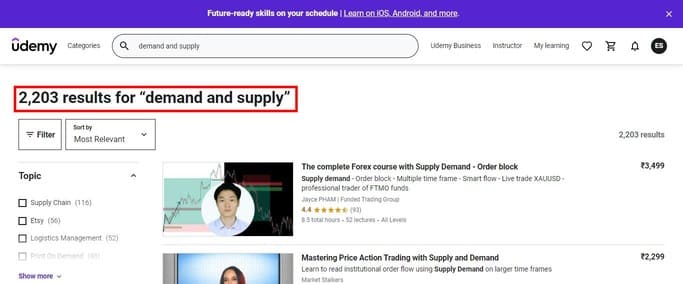 2. Find & Fill Gaps
Anyone can create an introductory course for beginners. But since you know that Udemy has many beginner courses, don't create just another. Instead, find gaps that these courses missed by targeting the intermediate to advanced segments.
Go through the course content of all top-ranking courses and find out what's missing. You can do it by going to the landing page of a course and clicking on "expand all sections" to skim each section in detail.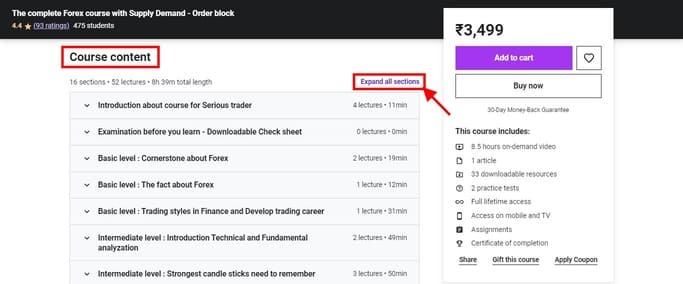 Create your course outline only after finding at least 3 to 4 gaps that you can cover.
Then go and work on creating a better version than what is available out there, and your course will succeed.
3. Use Udemy Optimization Tools
Udemy gives many options to optimize your course listing to get it ranked quickly, such as the course landing page. So, make sure you find keywords and phrases to add to your landing page.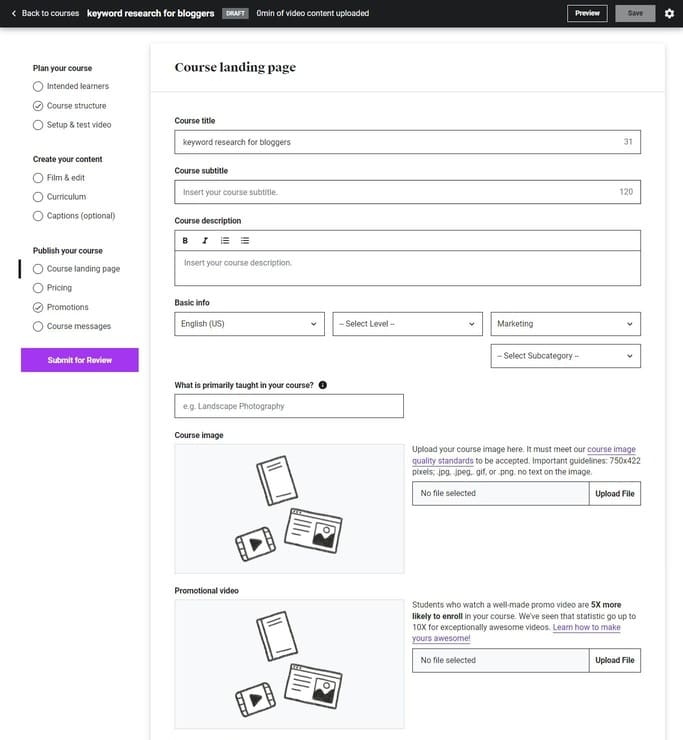 4. Market Your Courses Yourself
The biggest myth about Udemy for new course creators is that Udemy will bring you traffic automatically. But no, as a brand new course creator, it doesn't work that way. So, to get Udemy (to promote your courses) you'll have to go the extra mile.
Get your first few students through your marketing efforts. Once you have a few students, Udemy will notice that and consider your courses for upcoming sales and promotions.
Conclusion and Next Steps
So now you know that teaching on Udemy is very much worth it for you as an online course creator, and I highly recommend it as I publish courses there myself.
But you are also aware that it's not a magic bullet and that it's very time-consuming and hard to promote your courses and get new students and ratings.
You also know that there is no guarantee that the platform will promote your courses or bring you a huge audience upfront. You will need to work hard to promote your courses, as everywhere else.
I think Udemy and other marketplaces work great, and you should publish on them, but in complement to publishing also on your own website, by adopting a mixed publication strategy that I have talked about here - Where Should You Publish Your Online Course? (Self-Hosting vs Marketplaces).
Having your own course website helps not only in building your personal brand, but it also allows you to price your courses at higher values based on the value you provide (this is known as value-based pricing).
You also get the freedom to offer some high ticket options like subscriptions, bundles, enterprise plans, lifetime plans, coaching packages, etc. You can also collect your student's email addresses and get them into your sales funnel.
Having both Udemy and your own website work perfectly as a complement to each other.
For example, besides publishing in marketplaces, you can also easily self-host your courses on an online course platform like  OnlineCourseHost.com, and use your own website custom domain.
This is the most affordable online course platform on the market, and it's perfect for beginners as it's super easy to use. It comes with built-in email marketing features.
I hope this guide helped you decide if Udemy is worth it for you as a course creator!
If you've any questions about Udemy or online course creation, you can reach me here on my Facebook group:
Join the Course Creator Academy Facebook Group
Would you like to get notified when other guides and useful content on online course creation are available at the Academy? Then you can join us here:
You can find many other guides like this in our Free Course Creators Academy.
Here are some other helpful articles and blog posts for you:
I hope you found this post helpful, let me know in the comments below what other topics you would like me to cover, or any questions that you have? Tell me how did you like my Udemy review for instructors.
Thanks for reading… and enjoy the course creation process!
---
Vasco Cavalheiro
OnlineCourseHost.com Founder & Online Course Creator
LinkedIn   Facebook Page   Facebook Group   Twitter
Frequently Asked Question About Udemy
Here are a couple of questions that you might be asking yourself about Udemy.
How much does a Udemy instructor make?
An Udemy instructor can make anywhere between $100 and $1,000,000 in a lifetime, depending on the time they dedicate to creating and launching courses on Udemy. Check out the Udemy earnings of these instructors in detail.
Who can teach on Udemy?
Anyone can teach on Udemy as long as they have something valuable to share. Make sure you follow Udemy instructor guidelines, and you're eligible to become a Udemy instructor.
How to create and launch your first course on Udemy?
Udemy has many resources for new instructors to help them create and launch their first course on Udemy. You can find the step-by-step process of planning and creating a course here.
Are there any requirements that your course must meet?
Udemy has a process to review courses. Only approved courses are listed on the platform. Make sure your course follows all the points on this checklist, such as video content length, course structure, etc.