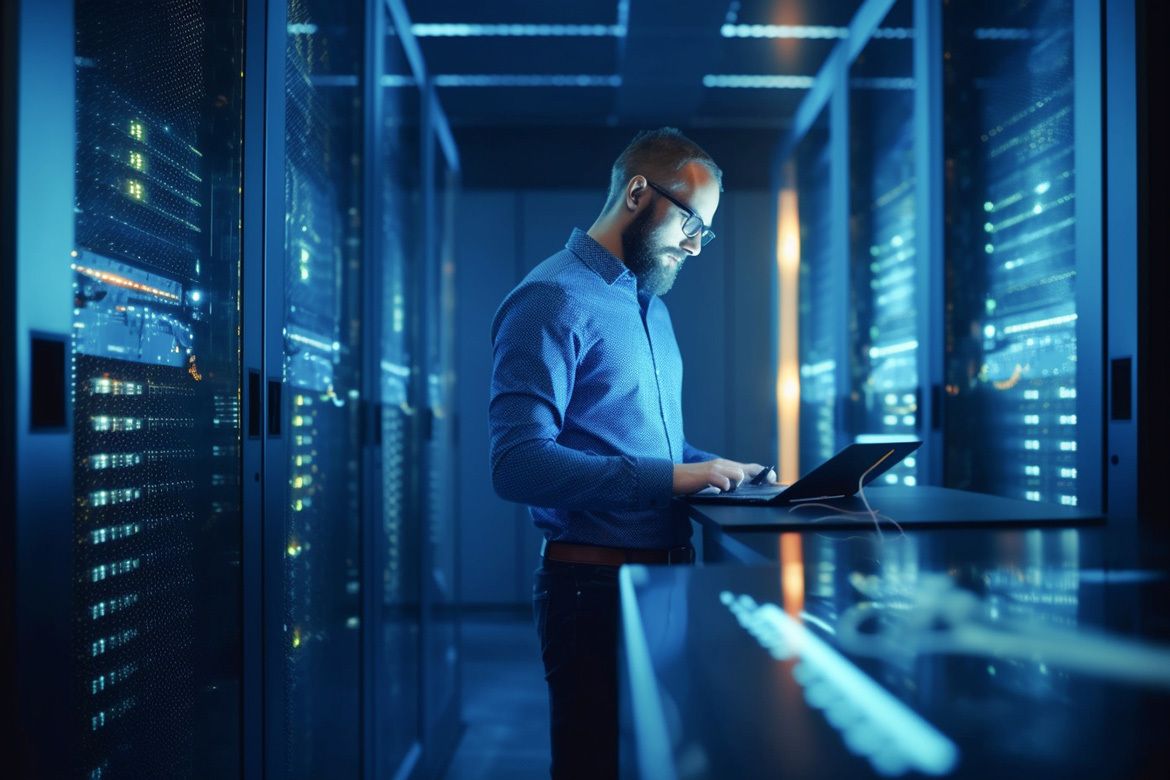 Learn why Google Meet is right now the best tool available for hosting live online classes. Learn how to host a 1h class of up to 100 students for free using Google Meet, and learn what other features it offers (like session recording, hand-raising, attendance overview, and more).
Wondering how to host an online class for free?
What if I told you that you can organize live online classes for up to 100 students  for free, and pay around $12 for much larger audiences, with attendance tracking and session recordings included?
If you need to organize live online classes and are thinking of buying some expensive product or platform, don't. 😉
I've got a much better alternative for you, that you might even already have access to without even knowing it.
So what kind of online classes am I talking about?
I'm talking about live online classes like training sessions for groups of students, online meetups, webinars, one-on-one calls, consultations, etc.
For many course creators, online classes can be their main source of revenue, even more so than pre-recorded online courses.
And in order to organize online classes, you are going to need a robust and reliable tool, that should be as affordable as possible.
So how to host online classes for free?
You can host a class online for free using Google Meet. The free version allows you to meet with 100 people for 60 minutes. This is more than good enough for most course creators. You get access to live collaboration tools and you can also record your lessons and convert them into courses later, or reuse the material on social media.
You can also check out all the free guides that you have available here at the Course Creator Academy by clicking on the Academy link on the top menu bar.
So let's get started exploring Google Meet, and see how it can be used to create online classes.
What is Google Meet?
Google Meet is a video-conferencing software from Google. It's just like Zoom, but easier to use, more reliable, and created by Google, the same company behind the YouTube streaming service, and many other popular services.
Google Meet is meant to make it super easy to host all sorts of live meetings and online video-conference sessions, and it's particularly well suited for online classes.
But, most importantly, Google Meet is the best way to host online classes for free.
Why Google Meet for Hosting Online Classes?
Google Meet is one of the collaborative tools of Google Workspace, previously known as G Suite.
Here are some of the reasons why Google Meet is a great place to host your online classes.
Forever Free Plan
For starters, Google Meet has a wonderful free plan that allows you to join 100 students! And meet for 60 minutes, which is enough for all sorts of online classes.
The best part is that you can host as many classes as you want. As you can see, the free plan alone might be more than enough to most course creators, especially if they are just getting started.
And even for established course creators, this might be all that they need if they sell one-on-one calls of less than 1 hour.
No Google Account Required To Join
Google Meet is also very convenient for students because joining classes is so simple. Most video conferencing tools ask the attendees to enter their details before joining. Google Meet doesn't even ask for a Google account. Instead, it only requires the host's permission to allow the student to join the class, and that's it.
No App Download Required
The most impressive thing about Google Meet is that it lets you organize online classes directly through the browser!
It doesn't force students to download an app and install them on their desktops or phones to join the class. All they have to do is click on the link and they can attend your class easily.
This is unlike other tools that push people to download an app before joining the live session. This can be quite inconvenient for students, and pose an extra unnecessary obstacle for them.
And even though some of the tools available also have a browser version, it's often just not as reliable as their desktop versions. This might result in failed live sessions, or in students failing to attend the live class, leading to a frustrating experience for both the course creator and the students.
How to Host Online Classes For Free Using Google Meet?
It's super simple; let me guide you through it!
You might already have a Google account so no need to sign-up. And if don't have a Google Account, you can create one for free here.
All you need to do is follow this easy step-by-step tutorial to learn how to host online meetings on Google Meet.
Let's start with the free version, and show you how to host an online class.
Step 1: Open Google Meet.
To open Google Meet, go to meet.google.com.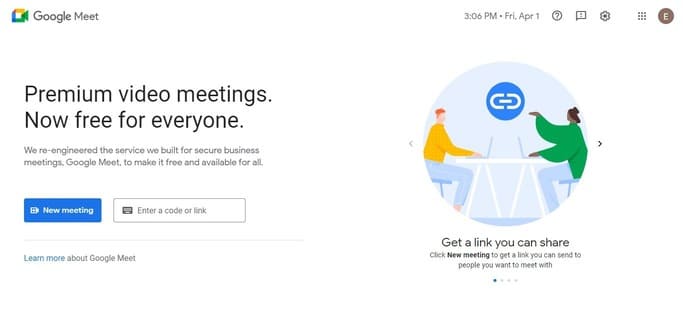 Step 2: Start a New Meeting.
You will see two buttons on the screen. The "Enter a code or link" button will allow you to join another meeting. But if you want to start a new meeting then click on the "New Meeting" button.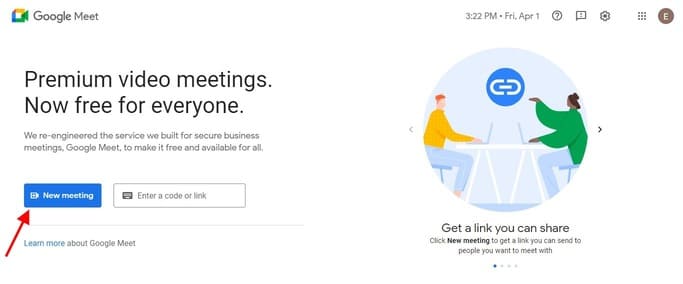 You will see three options appear.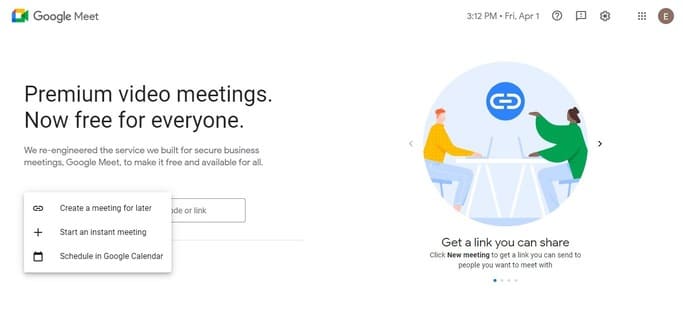 The "Create a meeting for later" option lets you create a meeting link. You can use this link to meet whenever you want. Click on the icon to copy the link and share it with your students.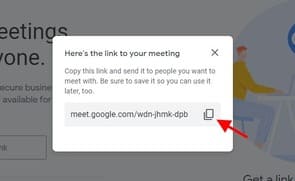 The "Start an instant meeting" option will start a meeting at the moment. After the meeting is live, you will receive a shareable link. Copy this link and send it to your students.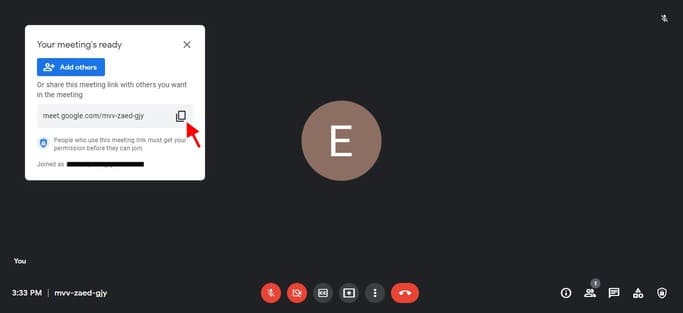 The third option "Schedule in Google Calendar" allows you to schedule a meeting in advance and save it on Google Calendar.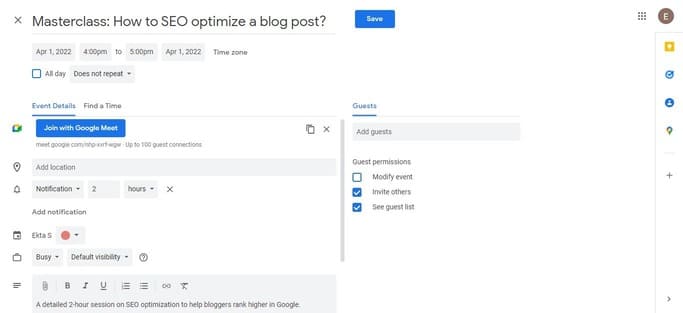 Once you enter the details and save the changes, you can copy the link. Then share it or send a personalized email to invite your students.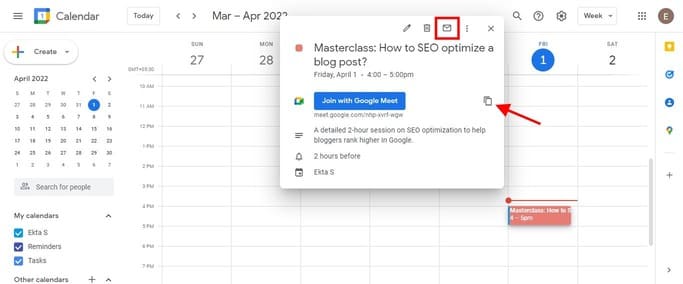 So, this is how to start a Google Meet and use it to host an online class, it's just that simple! 😉
Useful Controls in the Google Meet interface
Here's a quick walk down of all controls that you will have access to as a host during the class.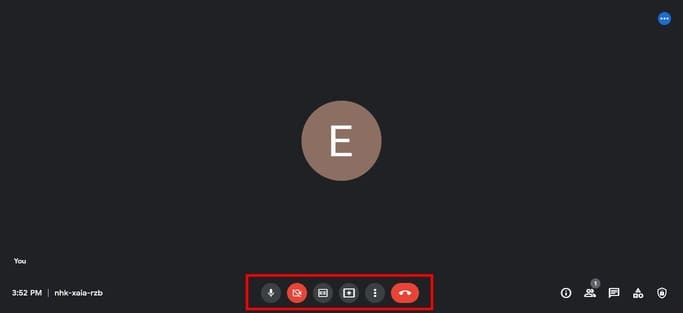 Use the microphone and video buttons to turn on/off audio and video.
The "CC" button turns on the subtitles. The smart AI generates subtitles as you speak, how cool is that? Keep the captions turned on for students who can't hear you or have difficulties understanding your accent so they can read it.
Use the next button to share the screen. So, if you want to present slides or show your students how to do something, then use this option.
The three dots are the host's settings to turn attendees' videos and audio on/off.
The last button is to end a meeting.
Now, what if you want to record this session and send it to the students who missed it? Follow the next step.
Step 3: Record a Meeting for Free in Google Meet
The free Google Meet version does not have the option to record a meeting. But, you can do it using a free plugin called VMaker, or opt for one of the very affordable plans that include this option (more on this later).
But let's start with a free solution for recording meetings.
VMaker is an awesome extension because it lets you record meetings for as long as you want. To get started, add the extension to your Chrome browser and sign up for a free account.
Now, to start recording your meeting, click on the VMaker extension.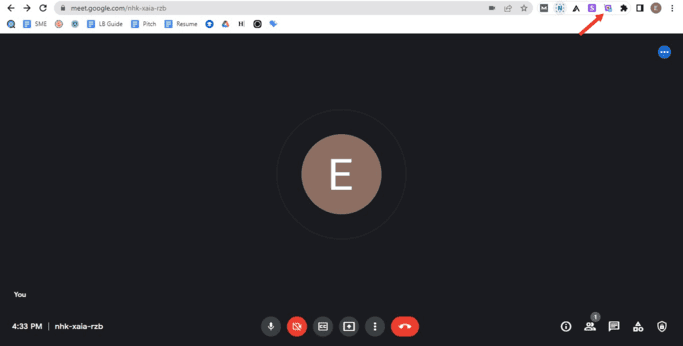 Then choose whether to record your screen or webcam or both.
If you want to capture the screen only, then choose the first option.
If you want to record yourself talking to your students then choose the "webcam" option.
And if you want both - yourself and the screen then select the third option.
After that click on "Start Recording".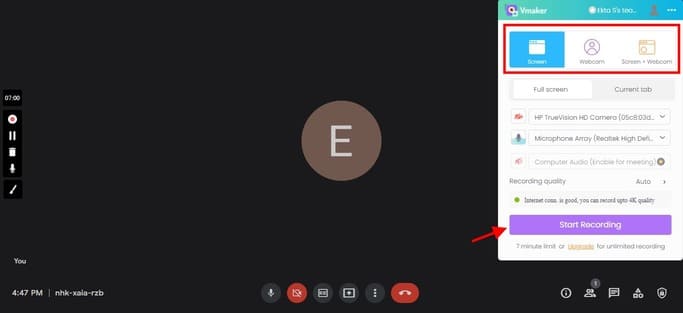 Now choose which screen you want to capture. Is it the current screen? Do you want to display your window? Or any other browser tabs? Pick what you want to do and then click on the share button.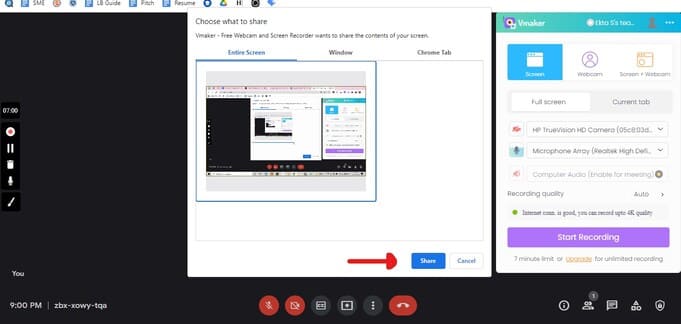 You have started recording. Now, when you want to stop recording click on the red dot on the left side of the screen. Once you end the recording, it will be downloaded automatically on your computer.
So this is how you can record your online class for free in Google Meet! 😉
But what if you want to invite more than 100 people? Or if you want to take a 2-hour long masterclass? Or if you don't want to use a plugin to record meetings?
That's when you realize that you might need Google Meet premium.
Google Meet Pricing Plans With Advanced Features
You don't need to buy Google Meet separately. Just check if you already have a Google Workspace account or not, as Google Meet is part of it.
Google Workspace is a set of tools that simplifies collaboration among team members, and this includes the very popular Gmail service.
So if you have a professional email address on Gmail with your own domain (like for example helpdesk@onlinecoursehost.com), it's possible that you already have access to a premium version of Google Meet, without even knowing it! 😉
But if you don't use Google Workspace or Gmail, and you want access to premium Google Meet features, here are some of the plans that you can choose from.
Business Starter
The Business Starter plan costs $6 per user per month. It's mostly just like the free version. The only three extra benefits are:
Custom domain email (like for example helpdesk@onlinecoursehost.com) which is essential for branding purposes
Your online class can be up to 24 hours, so the 1h limit is removed, which is quite nice for course creators
30 GB per user storage
This plan is not bad at all, and you might even already have it without knowing. But it still lacks the recording feature, which is usually important for course creators.
Business Standard
The Business Standard plan costs $12 per user per month. It's great for small and medium-size course creators as it offers everything you need to organize online classes.
You can invite up to 150 participants.
The recording option is available.
More options to make your class more interactive like hand raising, poll, and Q&A.
2 TB Drive storage to store your recordings.
You can see the option to record meetings it in the settings tab in the host panel during an online class: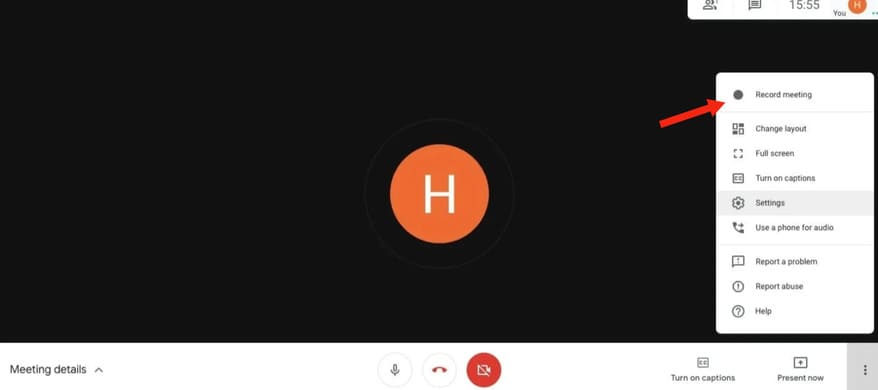 After you end the class, the recording is saved on your Google Drive, and you can then download it from there.
Business Plus
The Business Plus plan costs $18 per user per month. This plan is good for much larger course creators because you can now invite 500 students to an online class. And the Google Drive storage is now 5 TB.
You also have the option to track attendance during a live meeting. If you turn on the "Attendance Tracking" option, you will receive an attendance report in an email.
The report is a Google Sheet with the participants' basic information like names and emails.
Conclusion: How to Host Classes Online for Free?
So this is how to host a class online for free with Google Meet; it's that simple. 😉
The free version of Google Meet is wonderful for new course creators. It lets you invite your students and organize 1h classes with up to 100 participants. Which is more than enough for a lot of creators.
But what if your session accidentally goes over one hour due to some delay, or if you need an easy way to record the session, get an overview report of the attendance, or give your students more interactive options like hand-raising and other tools?
I think investing in a business plan is well worth it, to remove the 1h limit and get recordings of your classes automatically delivered to you.
Having the report with the list of students  (and their emails) is also a great feature, and well worth the premium plan.
But if you are willing to make do without these features, the free plan might be all that you need to start your online course business, and host high-quality online classes with minimum expenses.
And besides a solution for hosting live online classes, another thing that you are going to need for sure is an online course platform. You will also need a place to host and sell your courses. Haven't picked a platform yet?
Then check out OnlineCourseHost.com, the easiest to use online course platform on the market, now with built-in email marketing features.
If you are looking to ask any questions you need on online course creation, you can reach me here on my Facebook group:
Join the Course Creator Academy Facebook Group
If you would like to get notified when other guides and useful content on online course creation is available at the Academy, then you can join us here:
You can find many other guides like this in our Free Course Creators Academy
Here are some of our other popular articles and guides:
I hope you found this post helpful, let me know in the comments below what other topics you would like me to cover, or any questions that you have?
Thanks for reading… and enjoy the course creation process! 😉
---
Vasco Cavalheiro
OnlineCourseHost.com Founder & Online Course Creator
LinkedIn   Facebook Page   Facebook Group   Twitter
You are welcome to ask me any questions in the comments below: 👇👇👇👇