How to Offer Certificates of Completion in Your Online Course?

Platform Review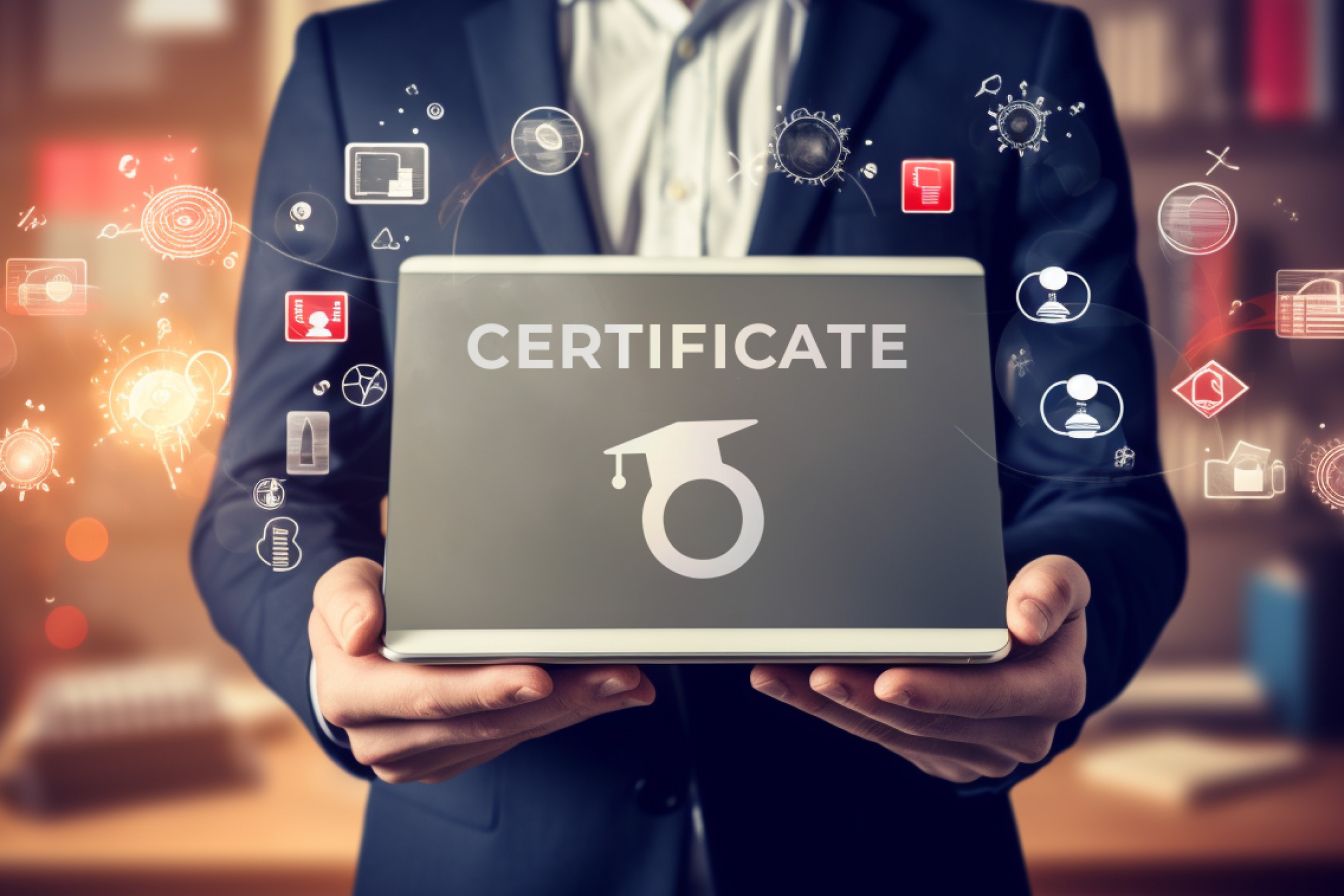 Learn the main reasons why it's essential for you as an online course creator to offer completion certificates in your online course.
If you are a course creator, and you are not offering online course completion certificates as part of your courses, you are for sure missing out on a great opportunity.
This post teaches you how to offer certificates of completion in your online course, and explains why this important to you as a course creator and to your students.
I will also show you how to create an online course completion certificate easily, towards the end of the post.
But exactly why is offering a completion certificate so important these days?
It's essential to offer your students a completion certificate together with your courses, because students want to be able to prove to their current or future employers that they actually took the course that they say they took on their curriculum, and their employers expect to have a way to validate that information.
Offering certificates of completion is a great way to solve this, and gives students an extra reason to both purchase and complete your courses. Not offering one could turn many students away, and the possibility of a certificate is a major factor that students take into account while purchasing a course.
These are just the main points, but now let's dive into the details. Let's talk about the types of certificates that you can offer, exactly how to offer a certificate of completion, and the many other benefits that both you and your students can get thanks to certificates.
You also don't want to miss out on my final recommendations, at the end of this post.
You can also check out all the free guides that we have available here at the Course Creator Academy by clicking on the Academy link on the top menu bar.
What Is An Online Course Certificate?
An online course certificate is a reward given to students upon completion of their work. This is usually under the form of a credential (a downloadable document, typically a PDF), but it may also include other elements such as a token, gift, or some other type of reward.
A certificate's main purpose is to show that a student has finished the course and all of its lessons and assignments, especially if it is a completion certificate
This type of evidence is important because it recognizes and validates the student's full participation in that course or program, and reassures the potential employer that the student has made an effort to acquire the skills taught.
Notice that as the name indicates, the certificate of completion only confirms that the student completed the course, and nothing more.
A completion certificate does not mean that the student has actually acquired the skills taught in the course.
Even though an online course completion certificate does not confirm the acquisition of competencies by the student, from the point of view of a prospective employer thinking of employing the student, it is still very interesting.
The certificate of completion acts as a proof of interest on the part of the student, and also of commitment and dedication from the part of the student, showing that they are willing to spend some of their free time continuously improving their skills.
But now, back to the main question: Should you offer a certificate for your online courses?
Completion Certificates From The Course Creator's Perspective
An online course certificate may provide several advantages to a course creator in terms of results, social proof, student performance, sales, and so on.
A completion certificate can, for example:
Help foster student engagement
Improving student engagement is always a huge goal for course creators. When students feel connected, focused and supported, and when they have some concrete goal in mind, they will learn better. Offering a certificate of completion is one way to accomplish this, as it provides additional motivation and incentive for students to remain engaged with your course. Without something to look forward to, it's easy for anyone to give up.
But a certificate can change that.
This also indirectly aids in the marketing of your course. As more students complete the course, you will have a large number of graduates to demonstrate the success of your program when marketing it. For example, claiming that "over 2000 students have graduated from my institution" can be an excellent way to market your course.
Helps facilitate referral marketing
One of the most effective methods of attracting prospects to your course is through referral marketing. This is because the 'praise' comes from a familiar face, and sometimes from a trusted individual, such as friends, family, and online followers.‌‌ Every student feels excited after achieving a major goal, such as finishing a course and receiving a certificate.
There's a good chance these students will want to proudly display their certificates on social media, helping you market your course indirectly by providing social proof.
Make Your courses stand out from the competition
In a competitive market where almost everyone is now launching an online course, it becomes essential to somehow stand out.
One way to do so is to issue certificates of completion, which a lot of course creators don't do yet.
This will help your prospects distinguish you from your competitors. If students need to choose between two different courses, one with a certificate and the other without it, most students will take the course with the certificate.
Completion Certificates From The Student's Perspective
An online course certificate can also positively impact your students in multiple ways, including:
Competitive Difference
In competitive jobs, having online courses with certificates can be the distinguishing factor that puts one candidate ahead of another. In other words, online course completion certification can help your students stay competitive in a rapidly changing job market.
Let me put it to you this way: If a company was deciding between two candidates that are equal in qualifications, the only exception being that one of the candidates had done some online course work on a subject that is relevant to that job and they have a certificate to show proof that they've done this, nine times out of ten that company will hire that person.
Improve Their Resume
When you award certificates, you are helping your students in their careers, now and in the future.
For example, a student of a copywriting course, when asked about the need for a completion certificate after completing an online course. He responded:
"To add to my resume, to feel a sense of pride," he continues, "It makes me feel like I'm doing something with my life.
A certificate demonstrates that your students not only studied, but also that they took the time and had the will to take the course to the end.
Demonstrates Student Interest and Commitment
When you take online courses to better yourself or improve your skills and you have verifiable proof via a certificate that you've gone through the content and you've done the assignments and learned the materials, at minimum, you're signaling to prospective employers that you're the type of person that tries to keep their skills up to date over time.
Your students enroll in your course for a reason. It could be to assist them in getting a promotion, a new job, or even launching a new career. Giving them a certificate proves they took the course..
Motivates Students To Complete The Course
By allowing classes to be done at any time, online learning requires an even greater commitment and discipline on the part of the student.
But if there's something at stake such as earning an online course completion certificate, people tend to be far more likely to complete a course, especially in cases where a course can be taken for free, thus reducing a learner's investment in the outcome of completion.
So, online courses with certificates end up being an extra incentive for the student to complete the classes. Certificates give students personal satisfaction and a sense of accomplishment.
How to Create an Online Course Completion Certificate?
So far we've seen how online course completion certificates can benefit both you and your students. Now, we take a look at how to offer a certificate of completion.
Ideally, you don't want to manage this manually, as it would be a huge drain on your time, that you need to create new courses.
So what you need is an online course hosting platform with integrated certificates, that the students can download after completing every lesson.
Because this is such an important feature of a platform, you will usually have to pay for a plan of over $100 per month, just to get access to certificates.
But I'm going to show you a much more affordable alternative, using the   OnlineCourseHost.com white-label online course platform.
With this platform, you don't need to do anything special to offer completion certificates. Just upload your course, publish it and your students will have automatically access to a nice-looking certificate at the end of the course.
Final Recommendations
It's now easy to see why so many course creators would prefer to offer completion certificates for their courses.
As a creator myself, I offer certificates for my courses and I recommend for you to do that as well.
There are just so many advantages for both you and your students, that it's a no-brainer for both sides.
The only issue with certificates is that sometimes it can be quite expensive to just be able to offer them, on most course platforms.
If you are looking for an affordable and super easy-to-use online course platform for publishing your courses and generate a certificate of completion, check out my platform OnlineCourseHost.com, which includes a ton of other features that you will need, including email marketing (newsletters).
More than just a platform, we want to provide you with all of the information you need to successfully grow your online course business, including how to offer certificates of completion in your online course using our platform.
That is why we created the Course Creator Academy, a free resource where you can find everything you need to become a successful online course creator.
If you'd like to be notified when new guides and useful content on online course creation become available at the Academy, you can sign up here:
‌‌If you are looking to ask any questions on online course creation, you can reach me here on my Facebook group:
Join the Course Creator Academy Facebook Group
Here are some of our other popular articles and guides:
I hope you found this post on how to offer a certificate of completion in your online course helpful, let me know in the comments below what other topics you would like me to cover, or any questions that you have?
Thanks for reading… enjoy the course creation process! 😉
---
Vasco Cavalheiro
OnlineCourseHost.com Founder & Online Course Creator