The Proven Blueprint for Selling High Ticket Courses: Step by Step Guide for 2023

Platform Review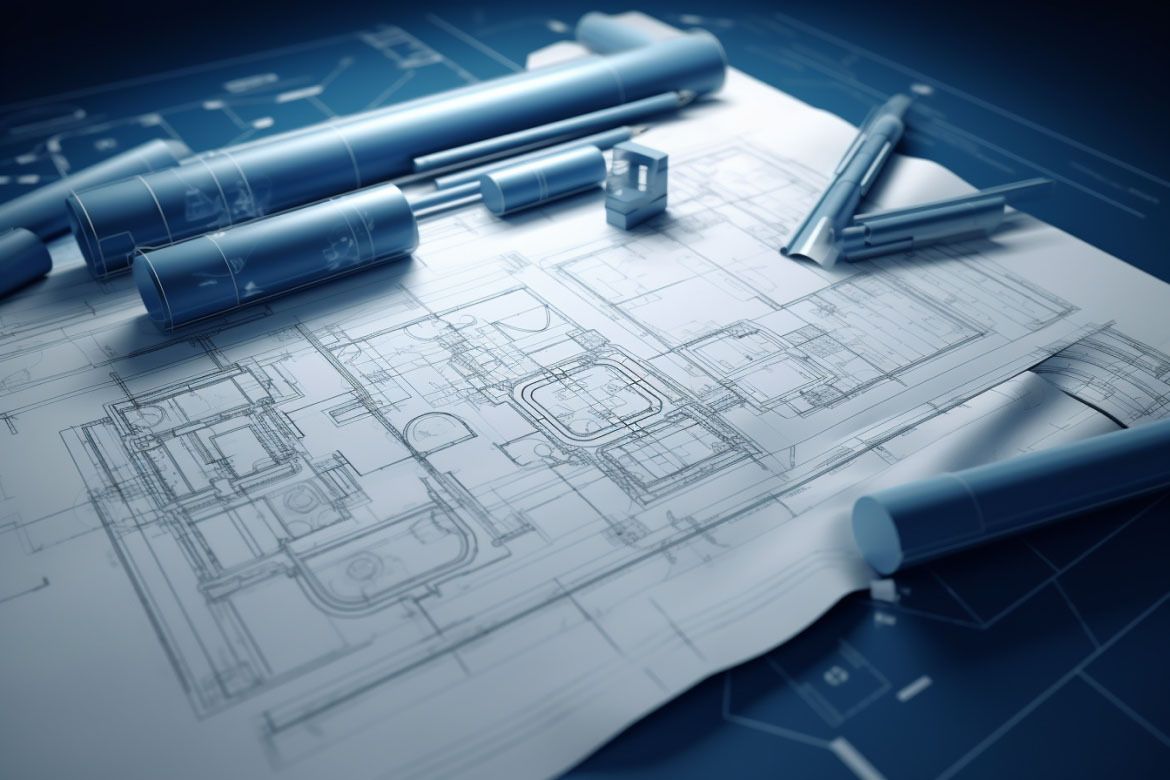 Planning to create a high ticket course? Learn when is the right time to sell a high ticket course and how to do it step by step.
If you're planning to sell high-ticket courses but are unsure how to do it, you've come to the right place. This post will teach you the entire process, including benefits and mistakes.
But if you're just getting started, probably two years or less, you should know two things:
First, what is a high-ticket course?
And should you launch one now?
A high-ticket course is an online course (generally more detailed) that includes bonuses like personalized support and generally costs four figures or less. You might have seen online courses ranging from $1000 or more - these are higher ticket courses.
And the answer to your second question is NO.
If you're a beginner still trying to establish yourself as an expert in your field - you should wait before launching your first higher-ticket course.
But not those who are already doing great in selling mid-ticket courses and looking for a career upgrade.
So this post is only for online course creators who:
are already thriving in their industry as an expert,
have been in the industry for many years,
have sold enough courses, and
have a great community of students.
So, how to sell higher-ticket courses?
One great way to sell higher-ticket courses online is to leverage your personal brand and acquire more committed students who want to learn from you in a more personal way. You will offer in-demand 1:1 coaching calls, access to your resource library, and more bonuses to help your students get results faster.
You can also check out all the free guides available at the Course Creator Academy by clicking on the Academy link on the top menu.
But first, what are the benefits of selling higher-ticket courses?
Benefits of Selling High-Ticket Courses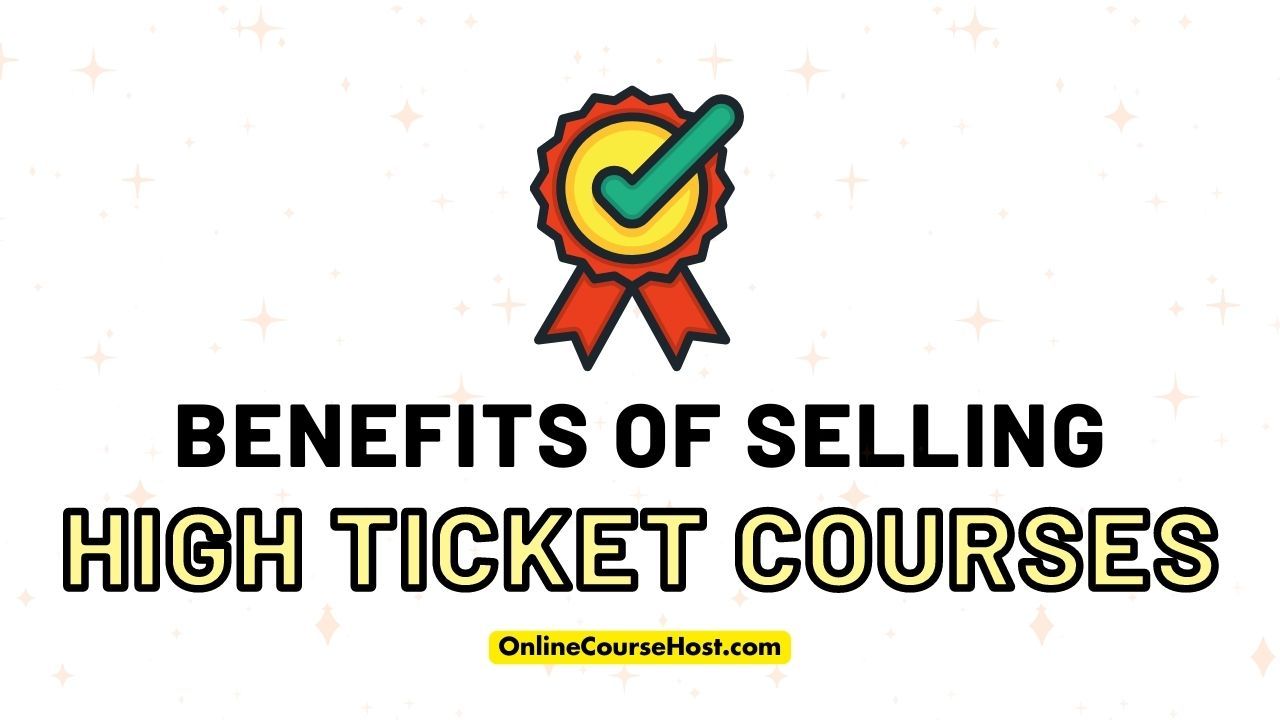 Sure, the biggest one is making 10X and more revenue with fewer students, but selling high-ticket online courses has more fulfilling benefits.
1. Your clients achieve better results
The retention rate of regular online courses is 40-80%. This means that most students drop out of courses before finishing because they can't replicate the results promised.
These courses are limited to the extent that the content is pre-recorded, and there's no way to ask for personalized support - so achieving results is difficult.
But with higher ticket programs, you generally offer on-demand 1:1 personalized calls to help students find and fix problems. These students are more likely to achieve results as you're there to help them move forward.
2. You build better relationships
Not only that your one-on-one interactions will help students reach their goals faster, but you also build better relationships with them.
The benefits of building these high-quality connections are infinite. But for your business, they can help you by sending referrals or saying positive things about you and your course.
3. No piracy
Online course piracy is common these days. Stealers purchase the course, steal the content and sell it online at lower rates.
Why? Because it's easy for them to access the entire course, make a copy and sell it. And due to its online nature, you can't do much about it.
But with your entire higher ticket course based on you selling your expertise and time, stealers have no way of replicating it. On top of that, those unethical buyers won't spend a high price or get on a call with you.
So, you can rest assured that your course belongs to only you.
4. Low refund rates
Since you're helping your students with a one-on-one approach and they're getting results faster, you'll have lower (or zero) refund rates compared to standard courses.
5. Less maintenance
And because you're working one-on-one with each student, you'll keep limited seats. It's less work to pay attention to fewer students.
Plus, you're more inclined to help a few students do better than when you have thousands to worry about.
On top of that, selling higher-ticket courses requires you to get on calls. So you can stay away from managing complex sales funnels.
I understand why most (experienced) course creators procrastinate upgrading to higher ticket programs. They're scared they can't justify the high prices to students.
But the truth is - all you need is to create a course that justifies its premium pricing.
And when you realize you get these benefits + high revenue + a more comfortable, fulfilling life, you'll be happy that you took the opportunity.
So, if you're the one procrastinating, I hope these benefits motivate you to want to give it a try.
With that said, let me show you how to create a higher ticket course that justifies its premium price.
How to Create High-Ticket Courses?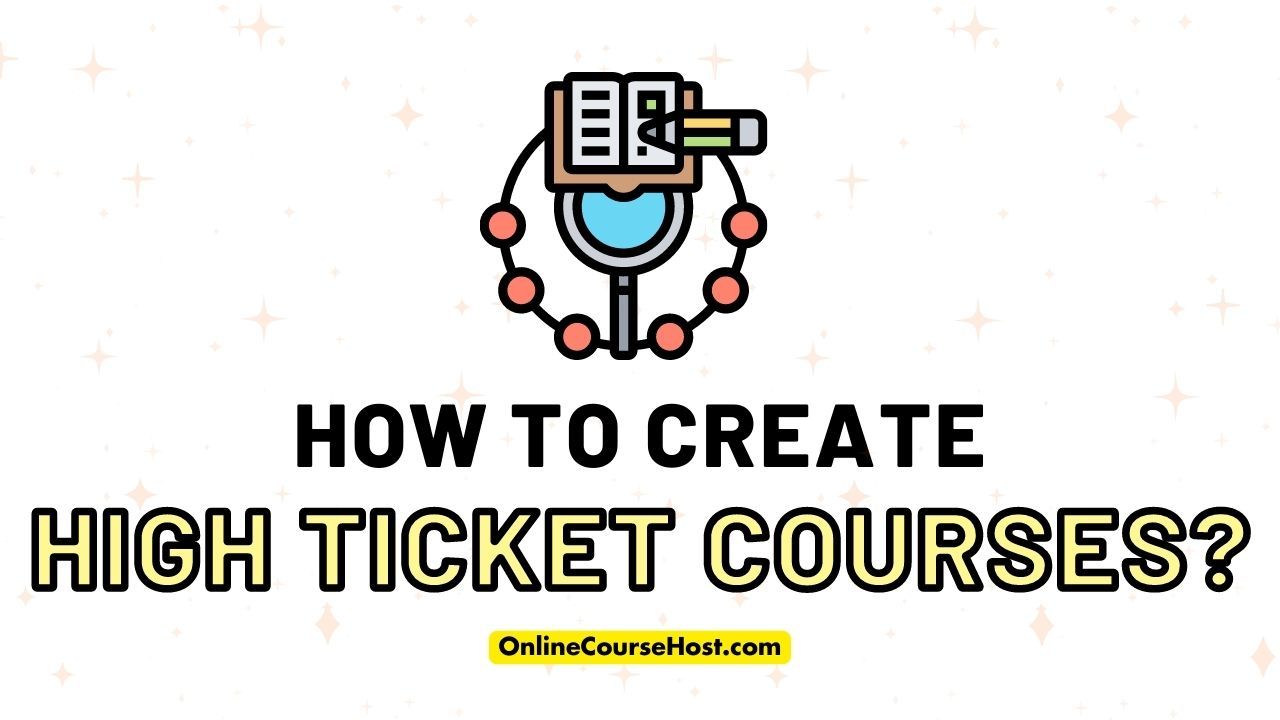 Higher ticket courses have a bad reputation for not being worth the money. Students often regret the investment as the creator fails to deliver what he promised.
That happens because the creators forget to deliver essential parts. I'll show you what these essential parts are and how to deliver to live up to the promises.
Course content
First is, of course, your course content. You obviously want to deliver the best content with your unique strategies in the most helpful and easy-to-understand manner.  
Starting from scratch can be overwhelming, so I recommend you pick one of your best-performing online courses and improve it.
Go through the entire course and find ways to improve it. You want to try these things:
Add more sections.
Improve each section by adding more details and the latest information.
Make it actionable. Give concrete steps to follow.
Create starter templates for each section (if applicable.)
Read negative reviews to find and fix mistakes in the earlier version.
Reach out to existing students for feedback and work on it.
Overall, make it much more comprehensive and actionable. You want to make it easier for your students to keep moving forward and closer to their goals.
But let's say you don't have a good existing course to improve, and you want to start from scratch.
In that case, you can follow our highly detailed, step-by-step guide on creating an online course from scratch. It also includes a fillable PDF to help you with the entire course creation process.
You might already know by now that your online course isn't the only thing you'll offer as the high ticket program. It needs a lot more to justify its premium price, which are bonuses.
Once you have a great course, package it with either one or all of these bonuses.
PRO TIP: It's a great idea to add as many bonuses as possible. Why? For a simple reason, the more, the better.
Personalized support
Do you wonder why service providers and coaches charge premium rates? Well, because they charge for two of their most important things: time and expertise.
For the same reason, you must include personalized support inside your higher ticket program. Not only it helps you justify the premium price, but it also helps you be more available for your students.
You'll interact with your students closely and help them whenever they're stuck. Your students will love your program because they can see themselves getting closer to their goals.
So what to include in personalized support?
You can include these three types of personalized support options:
Group call - a call where students can interact with you and each other.
Coaching call - you'll teach your process of doing something in this call.
Mastermind call - you'll take their questions or doubts.
Other than that, you should also give them the option to book on-demand calls.
So they don't have to wait for another mastermind call to clear doubts. They can just book a call with you and move forward.
Personal resource library
One of the most special things of an expert is his resources. You can give access to your premium resources to your students.
Your resource library can include things like
Templates
Tools
Premium tools
Access to other courses
Contacts, etc.
Mastermind community
And create a mastermind group to include all these students to increase their interaction. You can also use this group for announcements, sharing wins, giving resources, etc.
A simple Slack group is a great way to add these students to one place.
Proactive help approach
The last but most important factor is your proactive approach. Course creators show a different level of enthusiasm while onboarding new students, but as time passes, it fades away.
Never make this mistake; at any step, you want to show these students that their success is yours.
You should reach out to them regularly to ask if they need your help. This concern only can increase the value of your program.
Choose a Reliable Online Course Hosting Platform
A part of your course success depends on how easy it is for students to access the course material.
Of course, you'll give bonus resources somewhere else. Still, the primary course material needs to be available to your students so that they can track their progress easily.
OnlineCourseHost.Com is an excellent platform for hosting higher-ticket courses. It gives you the tools to upload content, market the course and build your audience.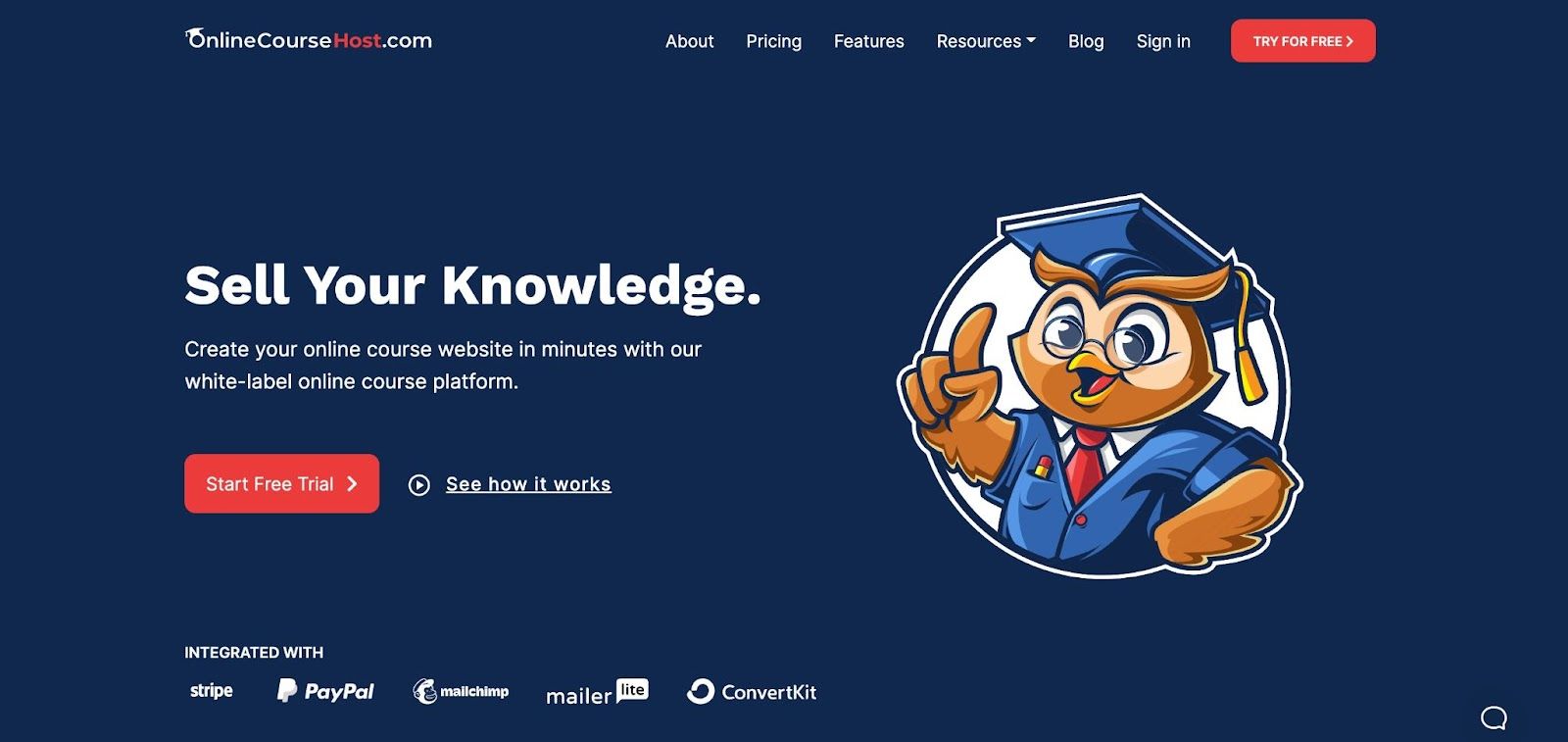 But most importantly, it has a user-friendly interface that makes it easy for students to access the course material. It motivates students to keep going forward.  
You can start a free trial of OnlineCourseHost.Com here.  
Now that you have created a high-ticket program, it's time to price it.
How to Price High-Ticket Courses?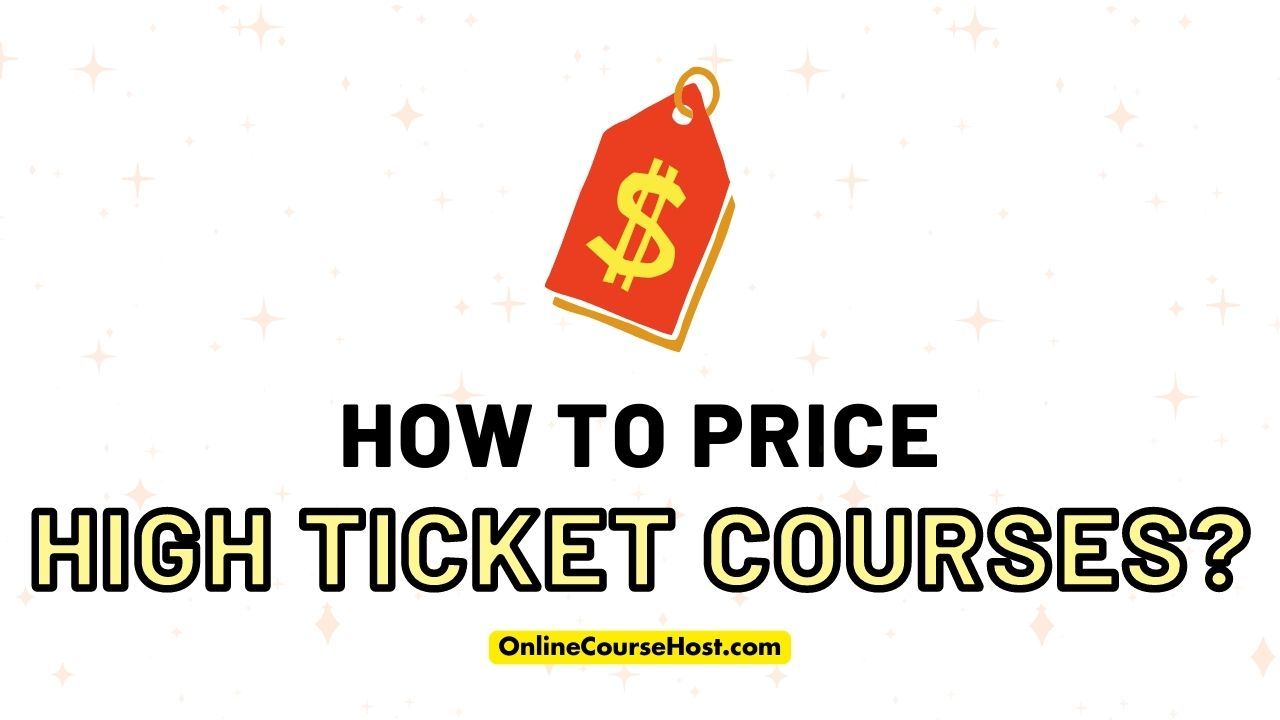 Most high-ticket courses cost $1000 and more. While pricing your course, you should consider factors like
the number of students you can take,
the amount of time you can give to each one of them,
the premium resources, and
the effort you put into packaging the information.
It's still a good idea to keep the pricing reasonable. Because each product category has its price range. Just like you shouldn't sell a $500 ebook, your course shouldn't cost $5000.
Always think about whether the students will be able to afford it. If they can't, you should offer exclusive discounts or installment options.
You can find out effective pricing strategies in our detailed guide here.
Pricing your course is the last step in the course creation process. You have done everything to create a higher-ticket course, now is the time to market it and get some students.
How to Market High-Ticket Courses?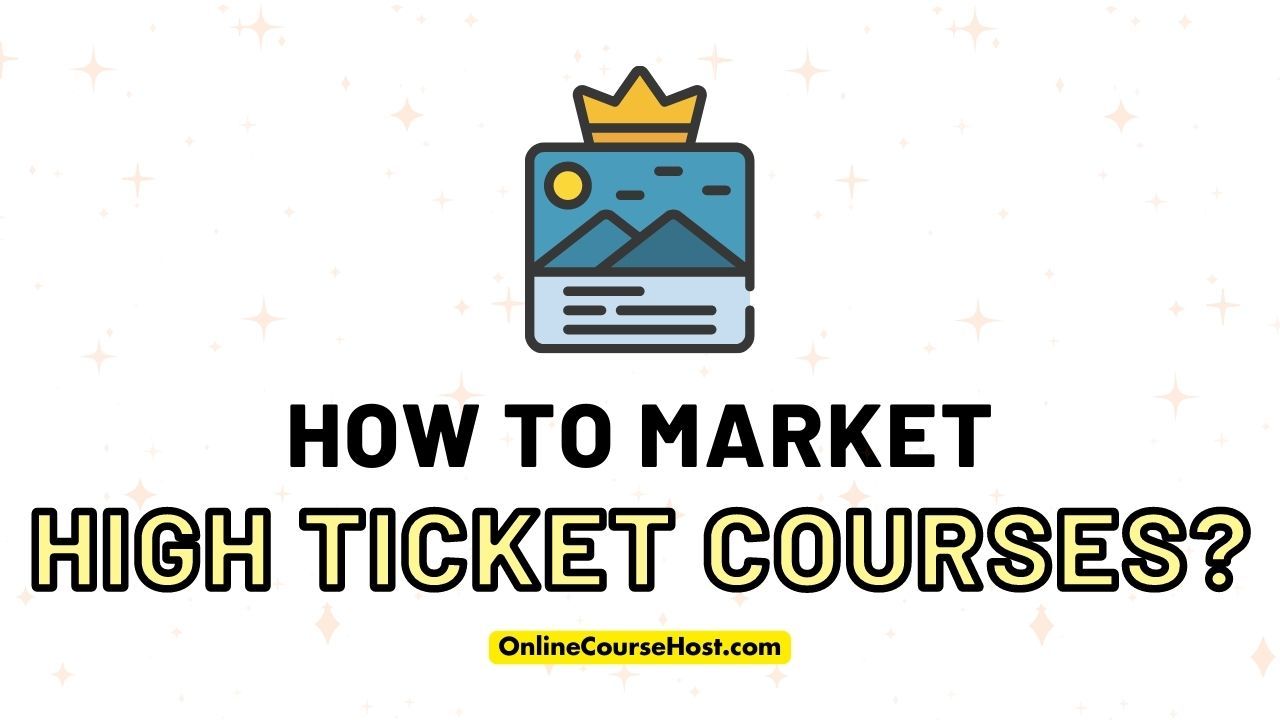 Selling high-ticket courses is different from selling regular online courses. For one reason, you're not attracting everyone. For this course, you need a few committed students.
Enroll students who will pay the premium price and take the course seriously. So, you can't go marketing this course to anyone. You will take students who are qualified to access the material.
These qualified students are not someone who doesn't know you. These are students who already know you. They either bought one or more of your courses or consumed your free content.
So, where to find these students?
In your existing community.
You might have already built a personal brand and a community of loyal customers. It is time to…
Leverage your personal brand
No one will give $1000 to any stranger. Your position as an expert will help you acquire premium students.
If you market your high-ticket course to your community that already trusts you - it is much easier to convert into students.
But let's say you don't have a pre-existing audience or that the chances of converting are very less. In that case, you should start with building an audience from scratch.
A fast way to build an audience quickly is…
Omnichannel marketing
Omnichannel marketing is the method of sharing one consistent message across all major channels where ever your audience spends time.
The idea is to appear in front of users so that trust is built quickly, which helps reduce the purchase time.
It's hard work, but it'll help you build a sizable following faster. You can then add this audience to your email list.
Once you add them to your email list, start nurturing them by sending free value, showing your expertise, and giving them hints about your high-ticket course. Check out how Alex Cattoni gives hints for successful product launches.
Of course, being an expert alone is not enough.
You still need to convey what's so special about your course, why students should invest such a large amount in it, and whether it can help them achieve their goals. For that, you need to craft a high-converting landing page.
High-converting landing page
Your high-ticket course landing page should give all the reasons for a student to buy the course. You want to clear any doubts a student might have that could prevent him from buying it.
Therefore, your landing page should have these things:
Captivating headline for attracting your audience
A problem (that your audience is currently facing)
A solution (ideally the desired state your audience wants to reach)
Course explanation of how it helps students reach there
Bonuses (to motivate your learners to purchase)
Testimonials, success stories, social proof
Instructor bio (your details about why you're qualified to teach them)
Customizable pricing details
A clear CTA - book a call
FAQ's
The goal of this landing page is not to make sales but to get them to book a call. Why book a call? I'll tell you below.
Use these effective marketing strategies to attract leads to book a call with you.  
OnlineCourseHost.Com provides its course creators a pre-made landing page templates. All you have to do is fill in your course details, which looks like this.
Sales call
The sales call is where the sales happen. No high-ticket offer can be sold without getting on a sales call because the customer is doubtful if you can help him with his specific situation.
A sales call gives you an opportunity:
to show them you're qualified to help them,
create a customized strategy for each student,
evaluate if the student is a fit for your course,
clear any objections they have, and
show them what they're missing out on by not taking action.
Of course, you can't and shouldn't try to convert every student who gets on a call. Determine each individual's position and let them know whether the course can help them.
Remember, you don't need to add as many students as possible. You just need a few dedicated people. So sell to only those who you think can best benefit from your course.
That's how you build a successful course with multiple success stories to flaunt.
Mistakes to Avoid When Selling High-Ticket Courses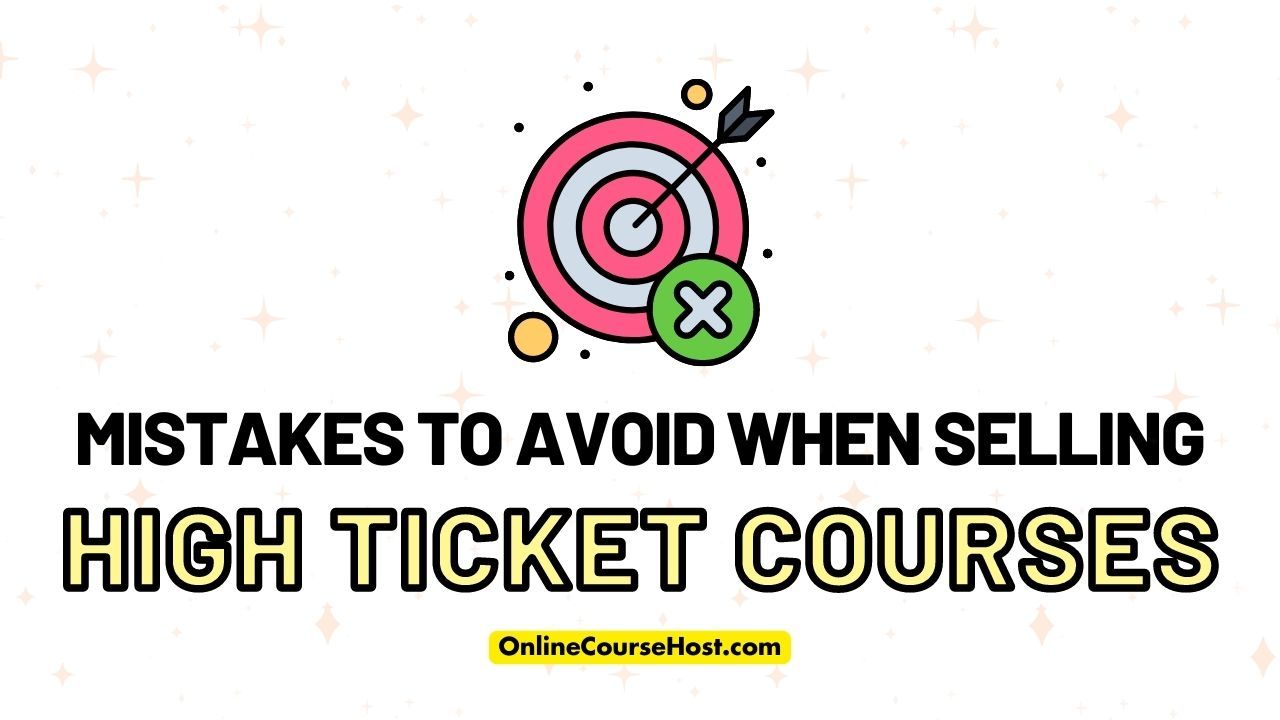 So that was all about how to sell a high-ticket course. Here are some mistakes most course creators make while launching their first high-ticket course that you should avoid.
1. Not creating a connection
The only legit way to sell premium courses is by building trust first.
Nobody buys from a stranger. And when it's about a premium price, people want to be sure. That's why you should always build a personal brand first before selling anything premium.
Remember I said beginners shouldn't sell high-ticket courses. It is for the same reason.
They're yet to position themselves as an expert. Until then, it's best to keep gaining trust and showing your audience that you're trustworthy.
2. Not getting on a sales call
Still, students can be skeptical about many things. Most course creators shy away from getting on a sales call - it just shows they're not confident about their course.
By getting on a sales call, you clear all the doubts and show your expertise to the student at a closer level. He already knows you, but talking to you puts you in a unique position as the only person that can help him.
3. Not following up
Most leads convert after three or more interactions. For a simple reason, they're busy, and things happen. So, you must remind them about your offer through follow-ups.
Of course, you should respect their choice if they're not interested. But if you don't hear anything from them, it's safe to assume they might have forgotten. So keep reminding them.
4. Not delivering what you promised
Most course creators are so good at marketing that they spend their entire time trying to add more students. They forget to deliver the promise. Well, that's a great way to destroy the reputation they've built so far.
That's why you should limit the number of seats in your program and give your entire time to help each student achieve their goals. A surefire way to have students come automatically is to have lots of success stories to showcase.
5. Trying to sell to everyone
Course creators fail to add students to their programs because they sell to everyone. And in a result, they can't convert anyone.
Remember - not everyone can afford the premium price. Only some people are a good fit for your course. And not everyone will be committed to working with you.
And that's okay. Because in the end, you only need a few serious students. So, get on calls with leads, understand their position, and sell to only those that qualify.
Conclusion: How to sell high-ticket courses?
So this is how to sell high-ticket courses. I hope these tips gave you some ideas to launch your high ticket program.
But of course, if you're a beginner, it's best to wait a few years to build your expert brand before launching your first high-ticket offer.
With all said, remember that your first launch might not be successful. And that's okay because you can always find and fix what went wrong.
You'll be successful with constant trying. And that's the key - always to keep trying.
But, naturally, you will have questions. We publish helpful guides and tutorials on our blog to ensure we're helping new course creators. Join us to become the first to know when a new post goes out.
If you are looking to ask any questions on online course creation, you can reach me on my Facebook group:
Join the Course Creator Academy Facebook Group
I hope you found this post helpful. Let me know in the comments below what other topics you would like me to cover.
Have any questions about how to sell higher ticket courses? Leave your questions below!
Thanks for reading… and enjoy the course creation process! 😉
---
Course Creators Academy, a community by OnlineCourseHost.com
Founded by Vasco Cavalheiro
Online Course Creator