How To Sell Online Courses On TikTok Like a Pro (6 Proven Strategies)

Platform Review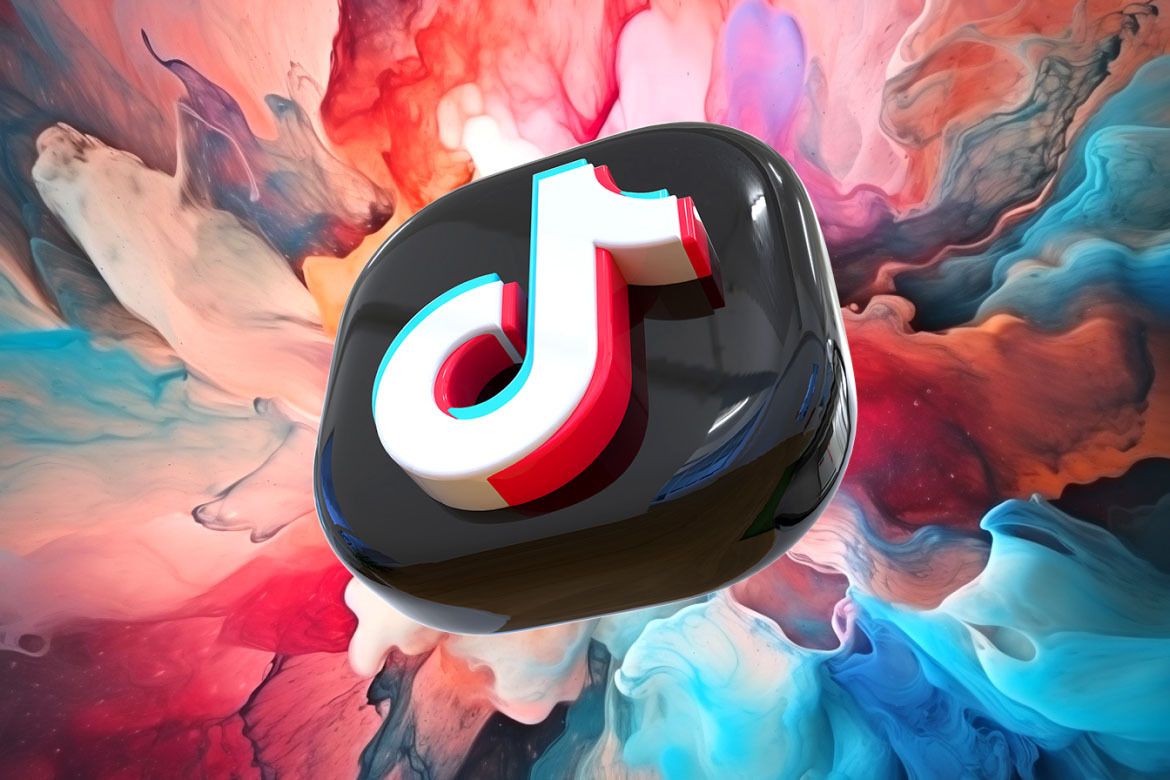 Discover how to sell your online courses on TikTok like a pro. From participating in challenges to publishing engaging content, this post covers it all.
Contrary to a lot of assumptions that TikTok is for teenagers to play around with, the platform is currently the core marketing tool for a lot of businesses.
It's the most downloaded and engaging social media platform with over one billion users.
A lot of businesses are leveraging this app to market and promote their product and services. In fact, in 2021, consumer spending on TikTok rose by a whopping 77%.
If other businesses record massive sales through TikTok, how about online course creators like you? You can also take advantage of the platform's versatility, and ease of use to reach more audiences and drive sales to your online course.
The question now is, how can online course creators promote their courses on TikTok?
Here's how to sell online courses with TikTok:
Optimize your TikTok account profile
Create and publish engaging content
Participate in trending challenges
Run paid TikTok campaigns
Partner with TikTok influencers
Engage with your followers
In this article, I'm going to explore each of the strategies above and how you can implement them to market and sell your online courses like a pro.
These strategies have been working for me and I believe that they will benefit you as well whether you're a beginner creator or you've been in the business for a while.
You'll get all the information you need to take your online course marketing to the next level. So, make sure you read to the end.
Without much ado, let's dive right in!
You can also check out all the free guides available at the Course Creator Academy by clicking on the Academy link on the top menu.
So, what are the marketing strategies to sell your courses on TikTok?
Optimize Your TikTok Account Profile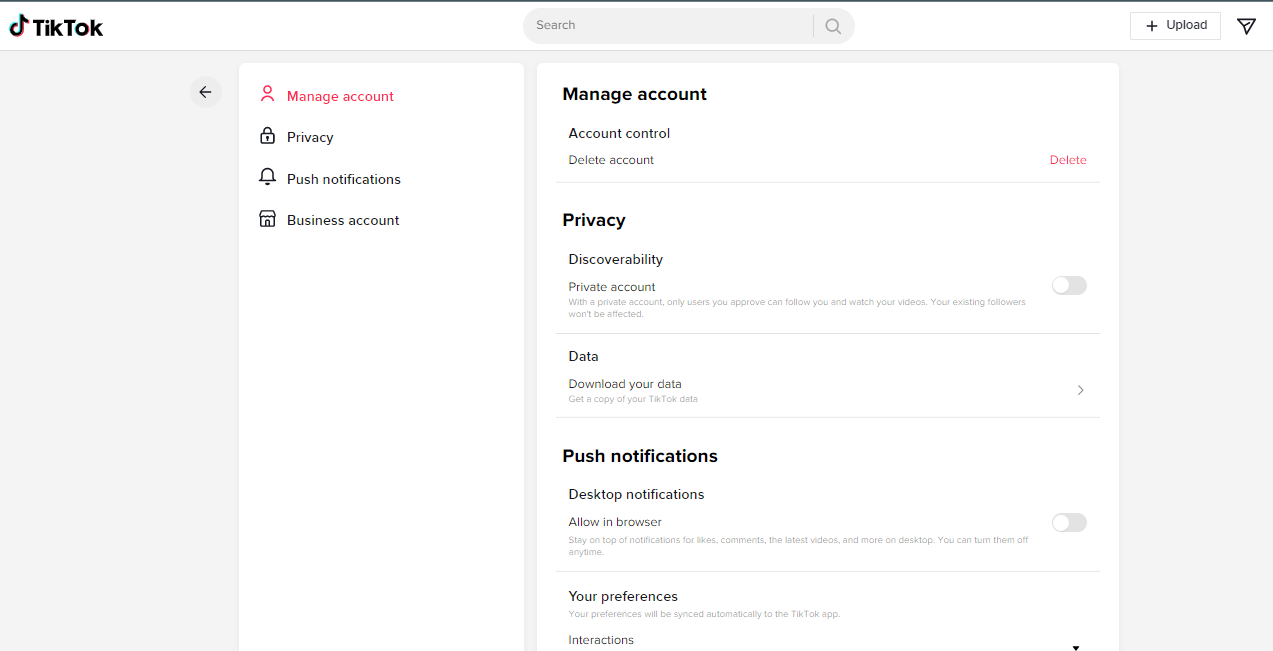 Optimizing your profile is the first and most crucial step in reaching a wider audience and selling your courses on TikTok.
A well-optimized profile not only increases your reach and visibility but also attracts students who will be interested in your courses as well as increasing your credibility as a course creator in that niche.
So, how do you optimize your TikTok profile to increase your visibility on the platform?
First, you should use a short, catchy, and memorable username. Your name should also be relevant to your online course niche or brand.
You can either use your website username or generate another name using a popular keyword in your industry.
For example, if you're teaching filmmaking, adding "Film" to your username will make it very easy for your target audience to find you on TikTok. Once they type in, "Film" on the search bar, your account will pop up.
Your industry's most popular keyword should also appear on your profile description. And most importantly, your bio should be concise.
Don't forget to include what your courses are about and what your prospective students and followers should expect from you.  
Finally, use a high-quality and attention-grabbing profile picture that also represents your brand.
When your profile is well-optimized, you can then invest in the kind of content you publish.
Create and Publish Engaging Content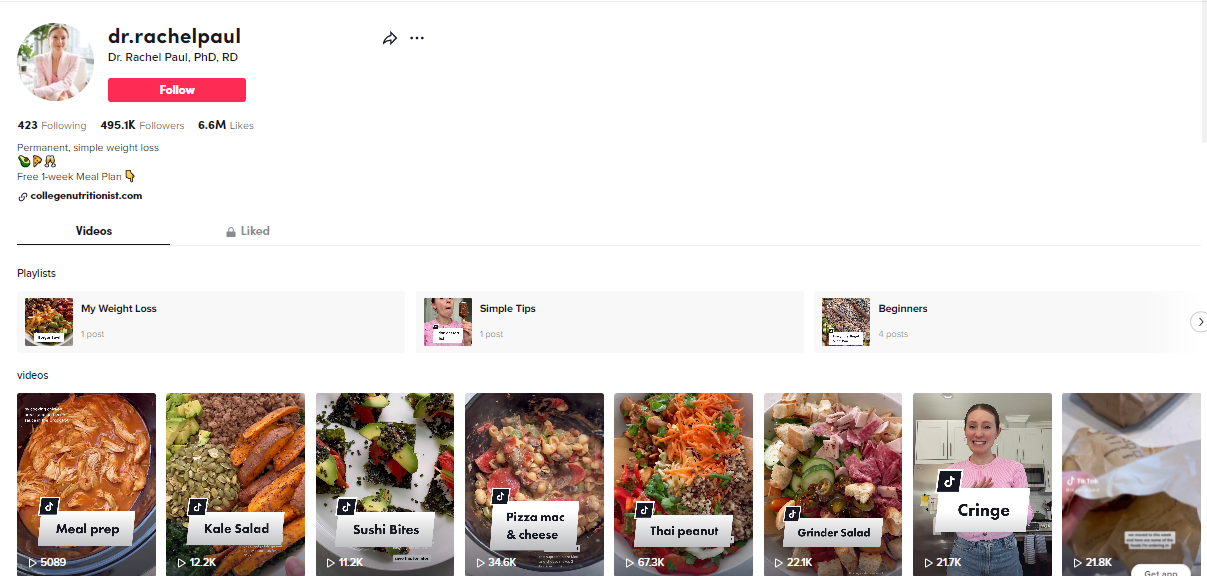 It's one thing to attract your target audience to your account but it's also another to get them to click the follow button immediately.
The first thing your prospective students will do when they arrive at your profile page is to check out the content you've published. If they are valuable and engaging enough, rest assured you've earned their follow.
Aside from retaining your audience, publishing engaging content allows you to demonstrate your niche expertise and knowledge with your target students.
It also increases your profile visibility because a lot of people will watch, share, like and comment on the posts.
Most importantly, engaging content has the potential to turn your followers into purchasing students. The more valuable your content is, the more you pique their interest to purchase your courses or even subscribe to your email updates.
Kinds of engaging content you should create to market and sell your courses on TikTok
There are several engaging contents you can use to promote your courses on TikTok and they include:
How-to tutorials: You can create short, informative, and entertaining tutorials on the topics relevant to your course niche or those you already covered in your online courses.
Behind-the-scenes videos: Your audience is eager to know what goes on behind the curtains. So, show them what your course creation process looks like. It will help them know you better and also build trust.
Q & A Sessions: TikTok has a Q & A feature that allows you to either ask or answer questions on the platform. The feature can be accessed from your profile under the "Creators Tools." Once enabled, you can see questions related to your course niche and record your answers.  
Students' reviews and testimonials: Your content can also revolve around the success stories of your past students. You can even make a before and after video highlighting a student's transformation after taking your course.
Animated explainer videos: Use fun animated graphics to break down complex topics for your followers. It makes it more fun and engaging.
Challenge videos: Come up with fun and creative challenges related to your course niche and encourage your followers to jump on the challenge. It will help to increase the buzz around your online course and make more people interested.
User-generated content: Aim to repost relevant videos from your followers either on your TikTok account or other social platforms. This shows that you value their input.
Live streams: TikTok's live stream feature allows you to interact with your followers in real-time. It's a great opportunity to provide more insights into your course and answer any questions they have.
Participate in Trending Challenges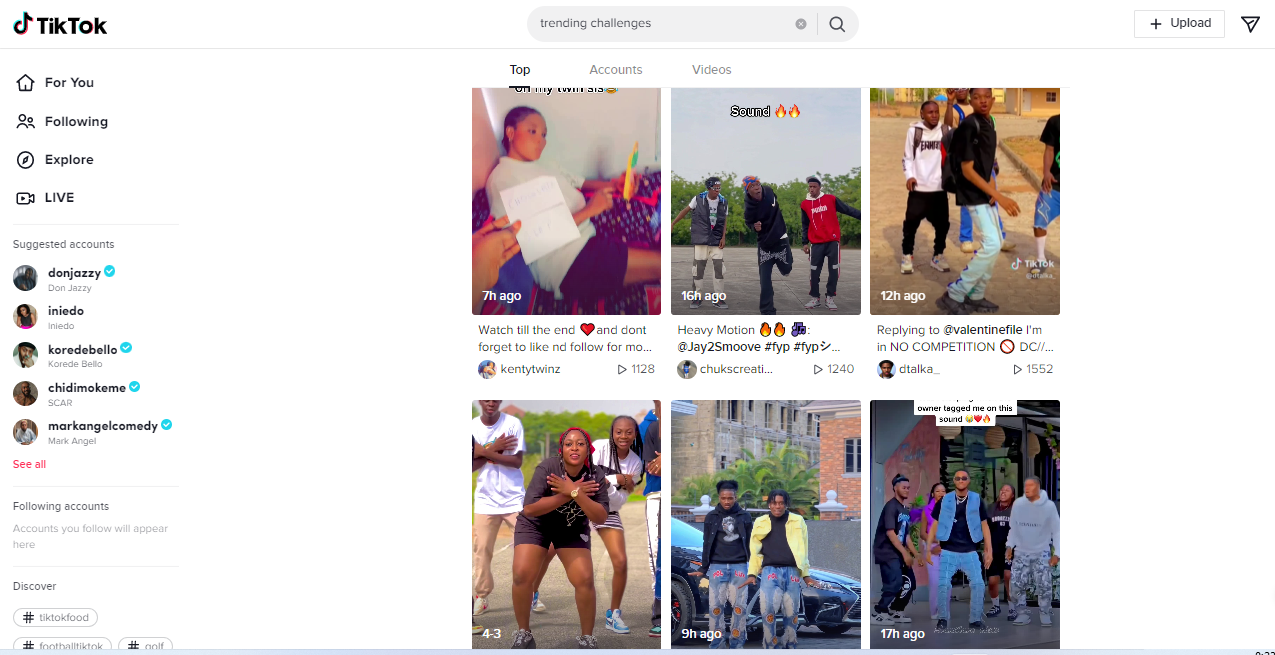 Since TikTok is all about fun, and creative challenges, participating in them is such an easy way to promote your online courses on the platform. It majorly helps you to reach more audience
To identify trends on TikTok, you simply need to search for popular hashtags, the sounds, and the challenges that follow them. Also, pay attention to the reoccurring songs on your feed.
Once you've found a trending song, create a video with it incorporating helpful tips from your online course. You can also include information about your course.
When you're done, post it with relevant hashtags and also include a call-to-action asking your audience to click the link on your bio to purchase your online course.
All in all, ensure that you're creative with your challenges. It's a good way to stand out from your competitors.
Run Paid and Targeted TikTok Campaigns
Like other social media platforms, TikTok allows users to run paid ads targeting specific demographics like gender, location, behaviors, interest, and age.
Interestingly, advertising on the platform is much more cost-effective. You can run a campaign with a low budget and still record great results.
First, you need to set up your TikTok Ads account which gives you access to the advertising features on the platform. You can create and monitor your campaigns from there.  
You'll also have to choose the perfect ad format that fits perfectly with your budget and goals before publishing the campaign.
Most importantly, ensure that your video is creative and engaging enough and also includes a call-to-action that will direct your prospective students on how to purchase your course.
You can run as many campaigns as you want while measuring their performance with the analytics tools provided.
Engage With Your Followers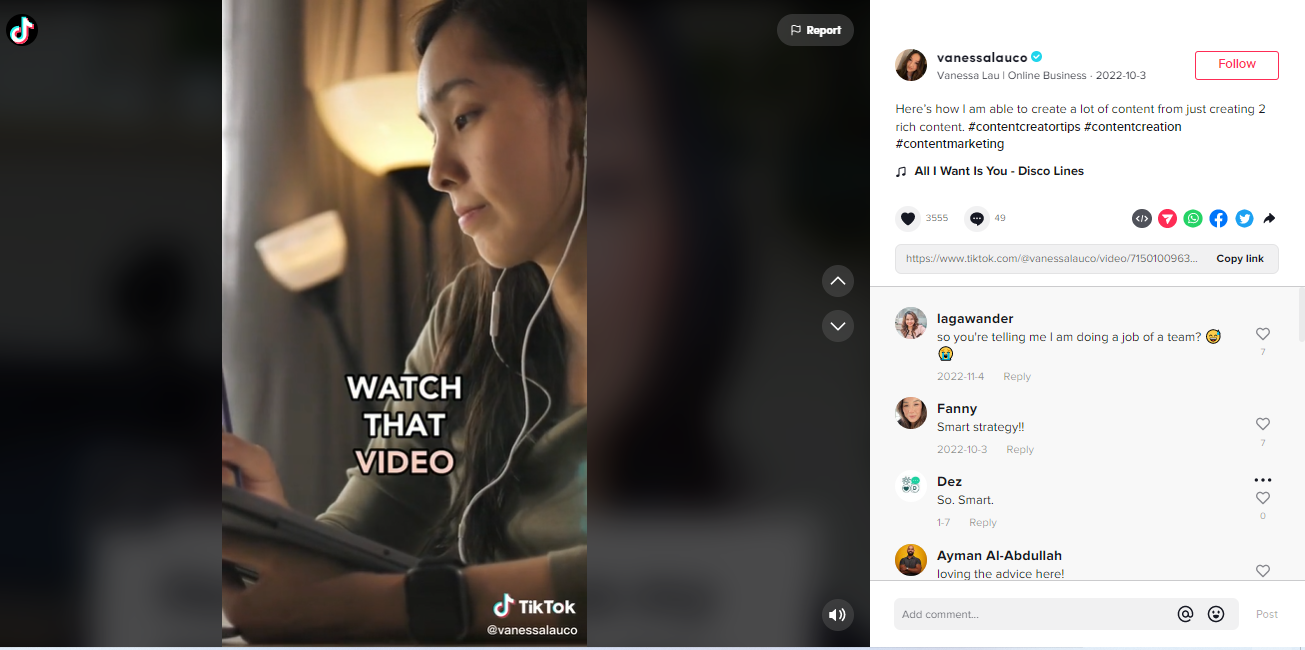 You simply can't avoid this when marketing online courses on TikTok because it's the surest way to establish a closer relationship with your students.
As much as you're pushing out great content, your followers need to know that they can connect with you anytime and that there's a face behind the account.
When you respond to comments on your posts, your followers will feel seen. This ultimately strengthens their trust and confidence to purchase your online course.
And according to TikTok's algorithm, the more engagements your contents have, the more visibility it gets. Your post will reach a wider audience, drawing more traffic and potential students to your course website.
Most importantly, by engaging with your followers, you'll easily receive feedback on your online course and find ways to improve on it and make adjustments to suit your target students.
It also helps you to better understand your target audience, their pains, and the solutions they are looking for. It will help you when crafting your marketing copies for your course promotion.
Partner with TikTok Influencers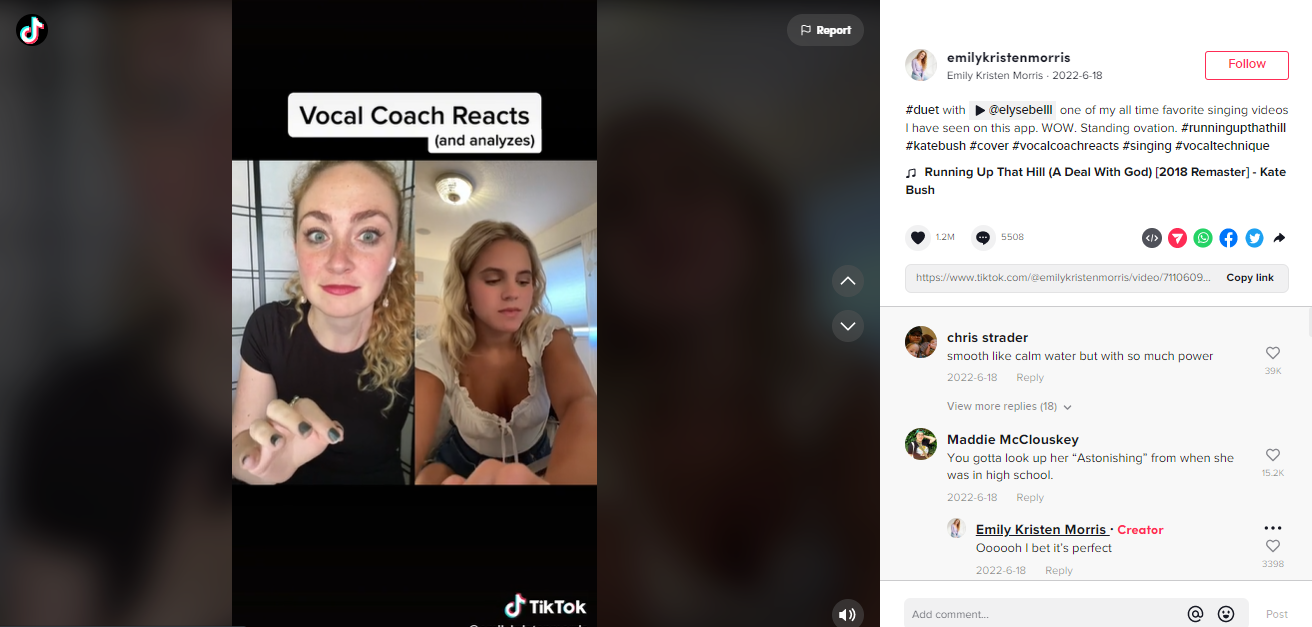 Partnering with influencers in your niche is an effective way to market and sell your online courses on TikTok. It increases your chances of getting your courses in the face of potential students.
In addition, this marketing tactic will attract more conversion rate because these influencers are reaching your target students more authentically and organically.
And since these influencers are trusted by their followers, the same trust will be extended to you and push them further to buy your online course.
Best of all, this marketing strategy is much more affordable and will deliver a high return on investment in your online course business.
Conclusion: What's Next?
I hope this post has helped you figure out how to sell online courses on TikTok. If you're not active on the platform yet, it's time to create an account.
And if you already have an account, you should revamp it and incorporate the tactics discussed above.
While you're creating engaging content, participating in challenges, running campaigns, and using relevant hashtags, don't forget to keep track of your performance with the analytics tools. You'll see what's working and where you need adjustments.  
As you're marketing your courses on TikTok, ensure that you're using the right hosting platform to sell your courses. The platform shouldn't be too complex for your students to navigate and should be affordable as well.
OnlineCourseHost.com is the perfect pick for you. The platform is currently the most cost-effective online course hosting platform in the market. It has everything you need to create and sell your courses.
If you need more information to grow your online course business successfully, you should check out the Course Creator Academy.
You will find everything you need to become a successful online course creator all in one place for free.
To get notified when new content is available here at the Academy, you can subscribe here to our weekly newsletter:
If you are looking to ask any questions on online course creation, you can reach me here on my Facebook group:
Join the Course Creator Academy Facebook Group
Ready to learn how to launch your first course on OnlineCourseHost.com? Here are the helpful guides for you to check out:
I hope you found this post helpful, let me know in the comments below what other topics you would like me to cover, or any questions that you have?
Thanks for reading… and enjoy the course creation process! 😉
---
Course Creators Academy, a community by OnlineCourseHost.com
Founded by Vasco Cavalheiro
Online Course Creator