Online Courses vs. Membership Sites: Which Is Best For You?

Platform Review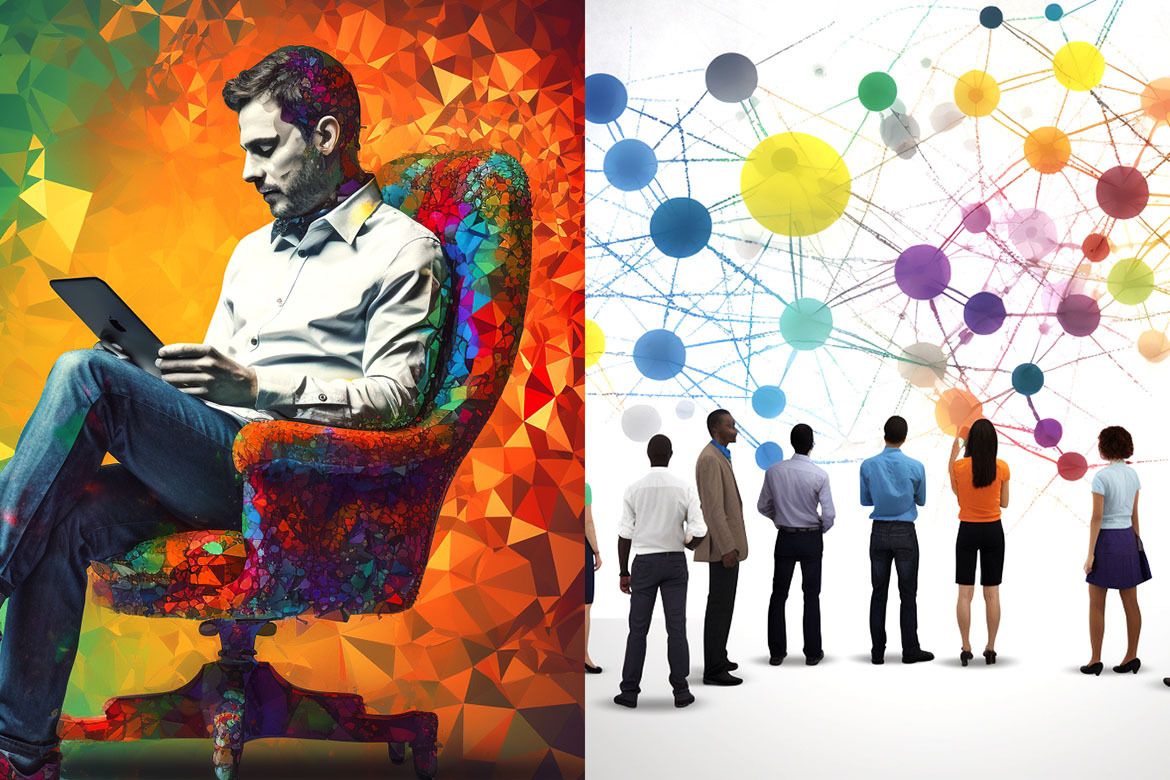 Learn how online courses compare to membership websites, and how you can combine both business models in your course offer.
Online courses and membership sites are without a doubt two of the most popular business models for monetizing knowledge and expertise in today's creator economy.
However, because people often use these terms loosely and changeably, figuring out which of these two business models is best can be a bit tricky, especially if you're just starting out as a creator or online entrepreneur.
As a result, you may find yourself wondering, "What's the difference between an online course and a membership site?"
It's no surprise that many new creators are usually torn between these two options.
And as you might expect, there are strong opinions on both ends, with people making compelling cases for either, making it a tough decision to choose between the two.
As someone who has made a living selling both since 2016, I have some opinions myself about both and how they work, which is why I want to break it down for you in this article.
So, Online courses vs Membership sites: Which one should you choose?
To begin, membership sites and online courses are not mutually exclusive. Both have their benefits and can serve different purposes. So it doesn't have to be one or the other.
In reality, having both types of offerings is a great way to build a scalable, steady, and predictable stream of income.
Ultimately, the best choice for you will depend on your individual needs and preferences.
But, in this guide, I'll take you through the main difference between online courses and membership sites, the pros and cons of each one of these models based on my experience selling both.
Namely, I will tell you how I mix both approaches in my case.
And at the end of this article, I'll share some final thoughts and offer recommendations on what you should do in your concrete case.
You can also check out all the free guides at the Course Creator Academy by clicking on the Academy link on the top menu bar.
If you are looking to learn how to sell online courses, here is my most detailed guide on it. In it, I talk in detail about all the strategies that have worked for me:
How to Sell Online Courses? The Ultimate Guide
So without further ado, let's dive right in. 😉
Online Courses vs. Membership Sites: What's The Difference?
Both online courses and membership sites work on the principle of paying for exclusive content.
The primary distinction between the two models, however, is the nature of the content and how access to that content is controlled.
With an online course the access is typically for life, meaning that you buy the course once and then you have access to all the content in the course, meaning all sections, lessons, videos and extra learning material.
But on a membership website, things usually work quite differently.
When you stop paying for a membership site, you typically lose access to the content; however, when you pay for a course, you are usually granted permanent access to the content after your payment.
The end goal is another factor that distinguishes an online course from a membership site.
While an online course aims to help the audience achieve a specific result as quickly as possible so that they do not need the course at the end of the program, a membership site aims to retain its audience and helps them achieve and maintain a result without leaving the program.
To put this in context, people who join a fitness membership site do so primarily to achieve a result (for example, losing weight or becoming healthier), but they may not stop accessing the program's content just because they have achieved their desired result, as their goal is also to remain fit and healthy, whereas if you purchase a Facebook Ads course, there is practically no reason to sign up again once you've achieved your desired result.
There is plenty of crossover between online courses and membership sites, however, it's important to note these key differences from the beginning.
Now, Let's move on to the Pros and Cons of online courses vs. membership sites.
Pros of Online Courses
There are many benefits to creating and selling just plain online courses.
Let's take a look at them.
#1. Easy To Build
One of the major pros of online courses is that they are much easier to create and sell than a membership site.
This is because they are usually focused on a single topic or achieving a single result.
This is in contrast to membership, which can cover a wider range of topics.
#2. Clearly Defined and Result-Oriented
When compared to a membership site, online courses are generally more clearly defined and result-oriented in terms of what exactly someone is getting.
They offer a clear path to success and a step-by-step system for achieving the desired outcome, which is ultimately what most students seek.
For example, if your students see clear and measurable results from your online course, they are more likely to want to purchase more from you and even share your content.
In general, this makes online courses easier to market and sell than memberships, because there are no recurring charges involved and there is a clear and specific pain point.
#3. High Price Potential
Based on the value of your online course, you can charge a high premium for it upfront, rather than having your payment dripped out over time.
Simply put, you can have a handful of people pay you $100 or $200 right now for an online course, which can be a lot more money than being paid a much smaller recurring fee over time.
In other words, selling online courses is a quick way to make money, and you get to decide how much to charge for your course.
The sky's the limit! 😉
#4. Little or No Ongoing Work
This is probably the most important Pro of online courses.
With an online course, you are not on the hook to keep adding new content regularly, or at least not as regularly.
Once you've created your course, your work is nearly complete, and the course can sell for as long as possible without doing any additional work.
You may need to update it as your knowledge and expertise evolve, or as you gather feedback from your students, but it is far less labor-intensive in terms of content creation than a membership site.
All you have to do is carefully plan your course and complete the work once, and you will reap the benefits of that one-time effort.
In other words, online courses are better for a passive income approach compared to a membership site.
Cons of Online Courses
#1.  You are just Selling a course, and nothing more
With a membership website, you are selling more than the content of a course. You are also selling access to a community, that will help keep your students accountable and focused on the goal.
With online courses on the other hand, you are usually just selling access to pre-recorded content, and that's all.
#2. You Need to Constantly Find New Leads
Because you are selling your courses just one at a time, once you sell a course to someone, the only way to make more from that customer is to create a new course.
If your entire business is based on online courses, you cannot resell the same course to the same person unless you charge for new versions, which many people are used to receiving for free.
This implies that you must have a strategy in place to drive new traffic to your site and get new people to purchase your course; otherwise, your revenue will decline over time.
#3. Risk of Piracy and Theft
It is generally easier to pirate an online course than a membership because viewers can easily record or share your videos with friends unless you only make the course available through a secure hosting platform or use other protection techniques.
You can read more on how to protect your online course from piracy in our blog.
Now, let's talk about Membership sites: the pros and cons.
Pros of Membership‌‌ Sites
#1. Recurring and Predictable Revenue
Membership sites are ideal for generating recurring revenue.
This is something that every business owner wants, which is why membership sites are considered the holy grail of online business.
With a membership you are not only paid once for your work, but students pay a monthly or yearly fee to access your content.
It's like selling again and again without having to actually sell again, and it's easier to predict your revenue to some extent.
If you prefer stability and a consistent paycheck, this system is ideal.
Aside from that, it allows you to get the most value out of each customer without having to continually invest in marketing to bring them back to your website to make a purchase.
#2. You Don't Have to Have the Whole Content Upfront
Ideally, a membership site should provide access to the entire course catalog at once, but you don't have to create the entire course catalog ready before launching a membership site; you can make them as you go.
You can start with a few videos and then update your catalog every week, depending on how much content and how frequently you produce it for your members.
To provide more context, here's what I did when I first started in 2016:
I created a few courses and set up a membership site. I then added a "coming soon" section to my website with the courses I planned to record the following year, with only the title and thumbnail of the courses, so people would know what they would be getting with the membership.
Following that, I began recording the remaining courses one by one, and it took me two years to complete the catalog.
However, even though I didn't have a full catalog of courses at the start, my membership revenue grew and converted well because people knew what to expect from me in the near future.
So, as you can see, you don't have to wait until you have a huge catalog before launching your membership website. You might have just the first course of a series, and mention that the rest of the courses are coming soon.
#3. Affordable Pricing
Another advantage of membership sites is the low cost and affordable pricing for your target audience, which is a great way to offer something more accessible to the average customer.
Instead of charging $100 for an online course, you can charge $15 or $19 for a monthly membership.
Many people will remain subscribed for months as they go through your content, ending up spending way more than $100, that they would never pay for in one go.
#4. Community Building
Membership sites are also excellent for building interactive and engaged online communities.
Although you can build a community in an online course, membership sites make it easier because you have more time to interact with your students, resulting in a stronger relationship and a higher chance of retention.‌‌
Now let's consider the downside of membership sites.
Cons of Membership Sites
#1. Require Consistent and Ongoing Commitment
The biggest con of membership sites is that they require a significant amount of ongoing work and commitment.
Since it's a content-based subscription, you must constantly deliver on providing valuable content for your audience every week or month, as the case may be.
You may also want to include other high-quality features such as discussion forums, group coaching, or private communities to increase the value of your service, which takes a lot of time and effort.
But if you don't do this, your students will have no reason to renew their subscription.
#2. Higher Resistance To Sales
If you've ever sold online courses vs. membership sites or a subscription, you'll know that subscription prices can often generate a lot of resistance because many people are unwilling to activate a recurring charge, by fear of getting their card charged in the future without them wanting to.
So one-time sales (at the right price) do convert better than an equivalent recurring sale, for the same price.
What sounds better to you: $19 as a one-time payment, or $19 per month?
You will have to offer a decent amount of proof that your content is legit before convincing someone to get a subscription from you.
But it's much easier to convince someone to purchase from you if it's just a one-time purchase, people are willing to do that much more casually.
How to Decide Which is Best For You?
There may be times when one-time course sales are a better fit for your online business than memberships and vice versa.
Online courses can be a great option if:
You're just getting started and need to build momentum and a good cash flow quickly before diversifying.
You have one single core subject you want to teach or one main goal you want to help people achieve.
On the other hand, you should go for membership sites if:
You want to cover a wide range of subjects centered on a single topic, or you intend to go both broad and deep in the subjects you cover, and you have the time and resources to do so.
You prefer the idea of having an online community where you can offer long-term coaching opportunities to people, especially if your strength or passion is working with people directly.
You want a consistent and predictable monthly cash flow that has the potential to grow over time.
Online Courses vs. Membership Sites: My Recommendation
Personally, I combine both models. I offer my courses for $50 to $100 to those who want to buy them one by one, and next to it I also offer a membership option of $15 per month.
The low price of the membership looks great next to the higher price of the individual courses, and because it provides access to a catalog of over 1000 videos, it converts very well.
Many other course creators do the same as me.
And the best part about this strategy is that your customers may switch from one to the other, which is an excellent way to incorporate upsells and cross-selling into your business.
Speaking of your online business, the good news is that all of these, both online courses and membership sites are possible on my platform OnlineCourseHost.com.
This is the ideal platform for you if you want an easy-to-use and affordable platform to build and sell your online courses or membership programs, especially for new course creators on a tight budget, but also for established professionals.
In addition, you have all of the tools you need to market your course, such as the ability to send bulk emails directly to your students, eliminating the need for a third-party email provider.
There are also no hidden platform commissions, so you receive 100% of the sale value in your bank account (except for the inevitable Paypal or Stripe fees).
But more than a platform, we want to give you all the information that you need to grow your online course business successfully.
That's why we have created the Course Creator Academy where you can find everything you need to become a successful online course creator all in one place for free.
To get notified when new content is available here at the Academy, you can subscribe here to our weekly newsletter:
If you are looking to ask any questions on online course creation, you can reach me here on my Facebook group:
Join the Course Creator Academy Facebook Group
Ready to learn how to launch your first course on OnlineCourseHost.com? Here are the helpful guides for you to check out:
I hope you found this post helpful, let me know in the comments below what other topics you would like me to cover, or any questions that you have?
Thanks for reading… and enjoy the course creation process! 😉
---
Vasco Cavalheiro
OnlineCourseHost.com Founder & Online Course Creator