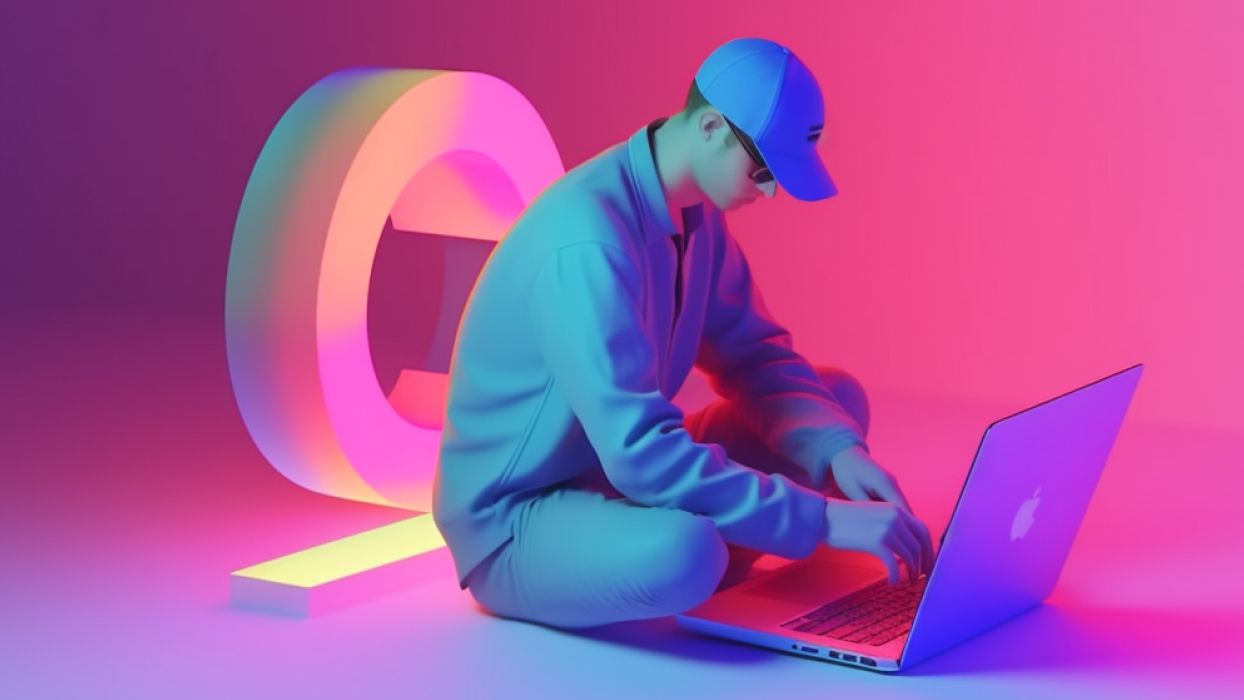 Learn from an experienced course creator the best way to create an effective course outline. A well-thought-out outline will help you tremendously in the course creation process.
So, you have chosen your course topic, validated your idea, gathered course materials, and are now ready to create an online course outline.
But how do you start?
How do you consolidate all the ideas you have in your head so you'll have a roadmap to follow when recording your course?
As a course creator myself, I know how daunting it can be to structure your course, especially when you have a ton of course material at your disposal.
But over the years and after recording many online courses, I've fine-tuned the process of creating an effective course outline, which I find an invaluable tool to help me record my courses more efficiently.
Creating an online course outline isn't just writing a summary. It's also a very important piece of marketing content, that your students will be reading carefully in order to determine if they should buy your course or not.
So I'm going to summarize everything that I've learned about course outlines here in this post, so that you don't have to go through as much trial and error as I did.
You'll also get a free online course outline template PDF at the end.
So without further ado, let's get started. 😉
What is a Course Outline and what are the Benefits?
To put it concisely, a course outline is a simple document that shows all your course contents from start to finish, in a structured way.
It's like a lesson plan or course syllabus that details how your students will move from the point they currently are to where you want them to be.
The course outline will highlight the main modules, sections, and maybe even the individual lessons. A course outline is a summary of the structure of the course. You can see it as a detailed table of contents.
The goal of a course outline is to decide what are the exact steps that you are going to ask the students to take in order to bring them to their desired outcome - your value proposition, the reason why they bought the course in the first place.
The essence of creating a course outline is to get you clear on what content your course includes, ensuring that you don't miss anything, or even worst add something unnecessary.
So, how to outline your online course step by step?
First, determine your destination, and the end goal of your online course
then succinctly describe your course
write down the major steps your students need to take to arrive at that destination
organize the steps into a logical sequence
finally break those steps down into easily digestible lessons.
Let's look at each of these steps in detail.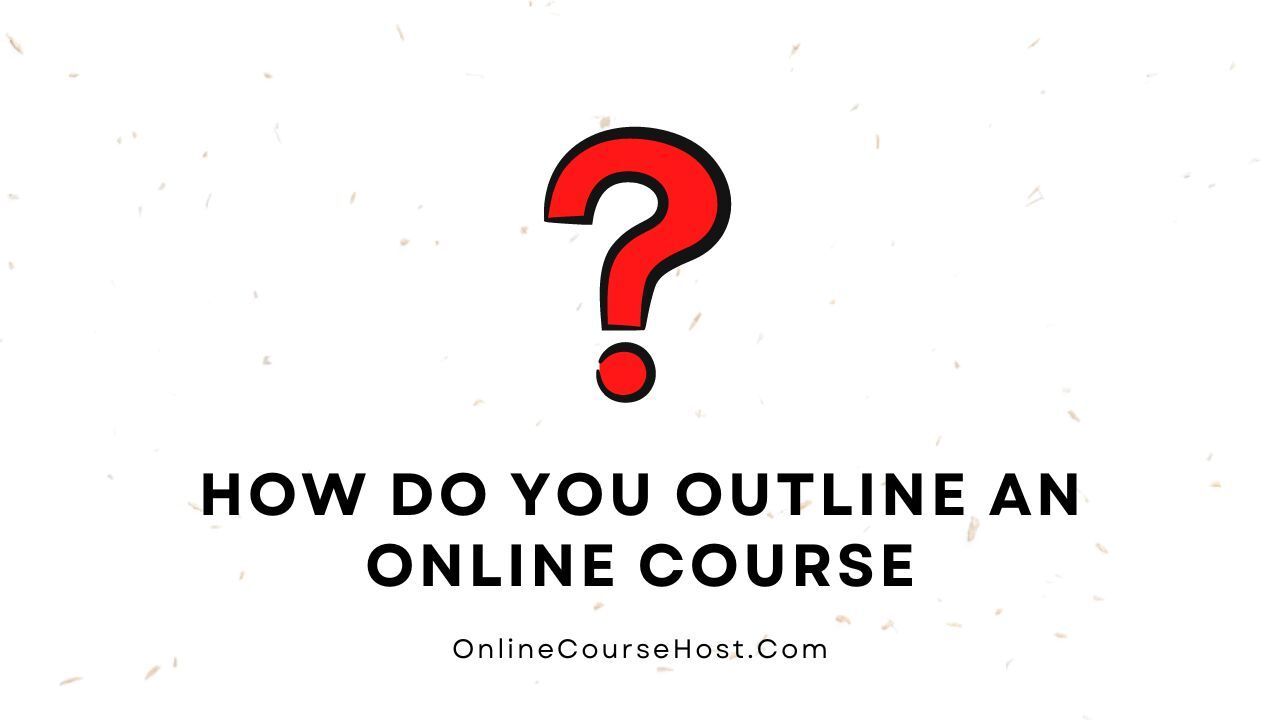 How To Outline an Online course?
Usually, there are two stages involved in creating an effective outline for online course. They are:
The Big Picture Outline
The Individual Lesson Outline
The Big Picture Outline is a summary of your end goal, that is, your main course objective. It answers the question, "What should my target audience be able to do at the end of my online course?" "What problem would my course help them solve?"
Whether it's how to how a screenplay, design websites, edit videos, or social media management. Write down this goal as it's your first stage in creating a course outline. When you know where you're going, it's easier to know the steps to take to arrive at the destination.
The Individual Lesson Outline on the other hand is where you break down your overall end goal into smaller steps - Modules, Chapters, and Lessons.
Additionally, to create an effective course outline, you need to:
Write Down the Course Description
When you have decided on the overall end goal of your course, you should then write your course description upfront.
A course description is simply a summary of the course content. It tells your students of the key content covered in the course, the skills and knowledge to be acquired, and how they will benefit from it.
A lot of course creators usually save this stage until they are done with creating their online course when in fact, it's the first thing they should do before recording their course.
Writing your course description upfront forces you to think more about your course content and how it will help your prospective students. You'll be pushed to think about the main selling points of your course and how you can communicate that to your students.
Course descriptions also help you to decide on what topics or materials to be added or excluded from your online course. When gotten right, it will be highly beneficial when you're pre-selling.
You will need a course description for your course landing page if you are pre-selling your course.
So, what is the best way to write a course description?
Generally, course descriptions should be clear, concise, and student-centered. At this stage, you don't need to worry about writing the exact sequence of your lessons.
It's your first draft, so, write exhaustively. If you haven't decided on a course title yet, don't worry about it too much. The goal here is to describe your course content to the target audience.
To make it easier for you, you can start your sentences with phrases like, "At the end of this course, you'll...", "You will learn about...", and "This class gives an overview of...". The goal is to make your course description more actionable, engaging, and exciting.
If you want to know more about this, here is a complete guide that I wrote about course descriptions: How to Write a High-Converting Online Course Description.
Break Down your Topic into Subtopics
Here, take the overall goal which you mapped out earlier and begin to write down the building blocks for it.
Let's say the end goal of your online course is to learn professional screenplay writing. In that case, ask yourself, "What lessons can my students learn to help them write a screenplay?"
They probably need to know how to write a synopsis, develop characters, craft dialogues, and most importantly write with professional screenplay software.
So, your breakdown can come out this way:
Write synopsis
Character development
Writing dialogues
Screenplay software.  
This is just the simple breakdown required of you at this stage. Nothing in-depth, just a bulleted list of topics to cover.
When you are done, organize them in a logical order. Start from the easiest topic or step and gradually build it up from Modules 1, 2, 3, and so on.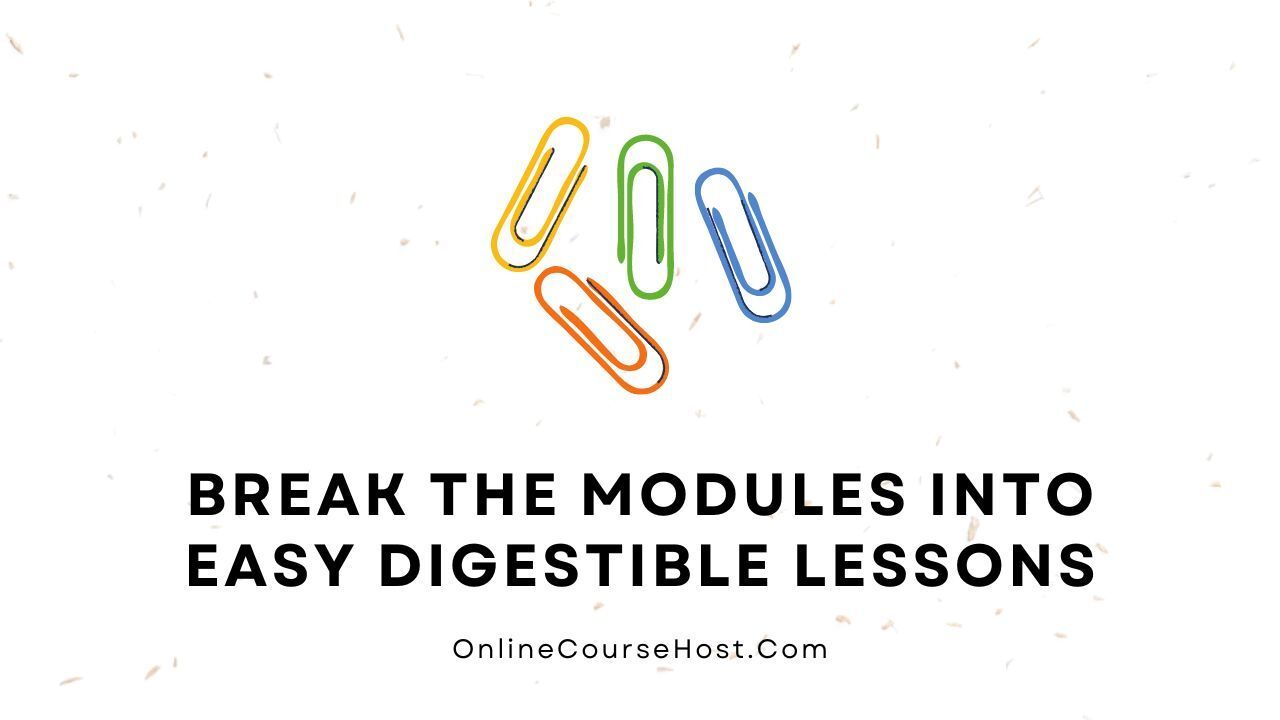 Break the Modules into Easily Digestible Lessons
This stage requires taking all the steps you listed above and breaking them down further into lessons.
The best way to do this is to figure out what your students already know about the topic, what they need to learn, the best way to deliver it, and what additional resources will be required.
For example, if the topic is "Writing Synopsis", what lessons do your prospective students need to learn to master how to write a synopsis? Write down the lessons.
So, how can I outline my lessons?
As an experienced online course creator, I have realized that it's usually counterproductive to write everything down upfront.
When you start recording your course, you will notice that you will have a tendency to change the lesson structure, change things around, split what looked like just one lesson into multiple smaller lessons, etc.
So I try not to spend too much time in this step, as a lot will change when I start recording.
To be more productive when outlining my course, I don't prepare everything in a huge level of detail. I usually bullet point, say the first three modules and their lessons,  and then start recording.
When I am done recording those lessons, I go back and break down other topics based on how the course went so far and on other ideas that came to mind while I was recording.
So, I do the preparation in batches and it has been quite helpful.
Preparing your lessons in batches helps to avoid situations where you take several weeks to prepare everything, then end up changing up a lot of it once you start recording.
I found that it's more practical and less time-consuming to just prepare the high-level structure of the course upfront, and then start recording the first few modules, and fine-tune the outline as I go.
It's usually impossible to anticipate all the lessons you are going to cover in your course anyway.
So, planning and scripting everything in detail can be very time-consuming and counterproductive.
When fleshing out your lessons, take each of them and divide it into three parts:
Introduction (Explains the importance of the lesson)
Content (Materials needed)
Conclusion (Summarizes the lesson's content)
Create an Assessment Plan
Your job while outlining your course isn't complete without making provision for student assessment. This will help you understand the degree to which your students are grasping your lessons - what they have learned so far and where they are currently struggling.
You can always improve your courses based on the feedback you get from analyzing your students' assessments. In addition, they make the class more interactive, and engaging and serve as a motivation for your students.
You should test your students on what they learned from each module or lesson. If a module has the skills or knowledge required to embark on the next one, you should create quizzes, assignments, and tasks at the end of the previous module.
It's also advisable to test your students on what they have learned so far as they move through your online course.
A good example is tasking them to write a short screenplay as their final project at the end of the course.  
When you have a website for your course, it's easy to incorporate quizzes, assignments, and other assessment modes into your online course.
Hosting platforms like onlinecoursehost.com allows you to give your students an engaging course experience with quizzes, assignments, and other interactive activities such as student discussions.
Dividing the class into groups and assigning tasks to them makes your course more interactive and fun. Your students can easily engage actively with each other directly in each lesson and even search for answers.
List the Learning Resources
As you're breaking down your topics into easy and digestible lessons, don't forget to add learning resources. You probably have a lot of course materials at your disposal. It will be impossible to cover the content of each of them in your lessons.
And if your lessons become longer than necessary, student boredom and disengagement become a factor. So, just pick out the core points in the learning materials, cover them in your lessons, and then refer your students to the resources when they are done with the module.
That way, your students will have resources to refer to when taking your online course. The resources can range from books, articles, case studies, videos, podcasts, or other support materials.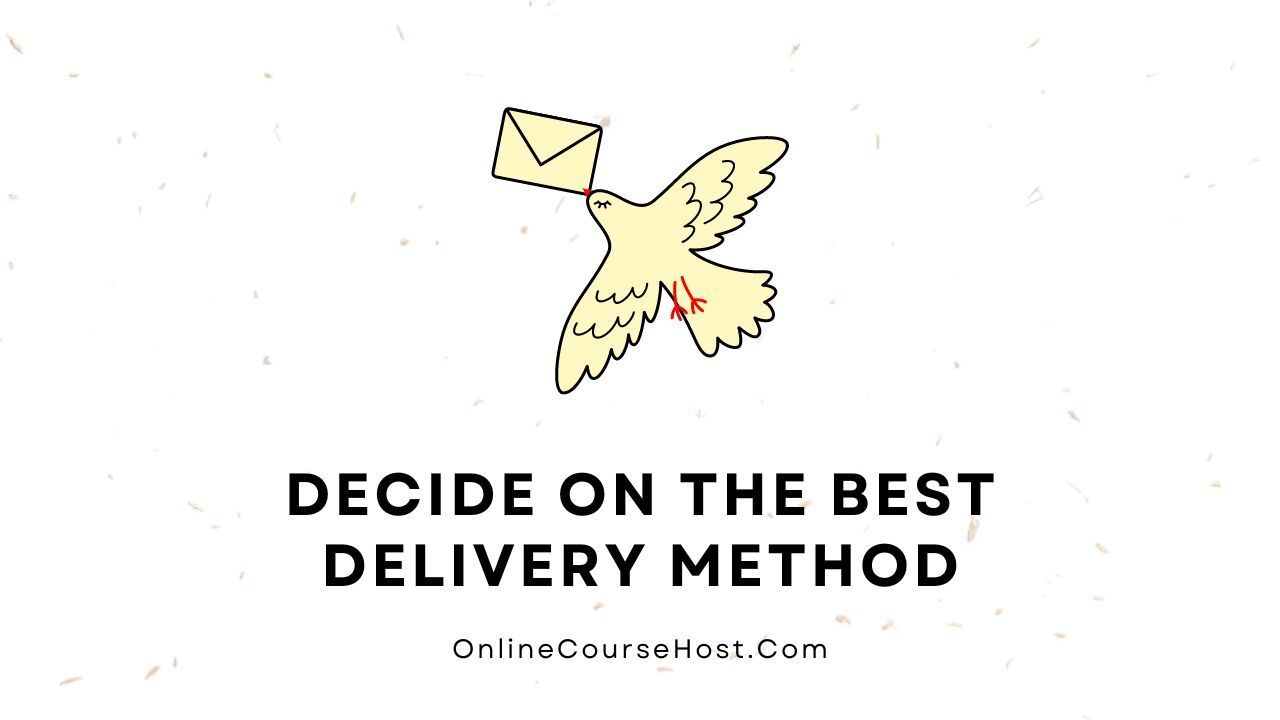 Decide on the Best Delivery Method
It's important to figure out the best delivery method for each module as you are breaking it down into lessons. Are there some demonstrations you need to show your students? Are there applications or websites you need to walk your students through?
For example, if one of your modules involves teaching students how to use screenwriting tools like Celtx or Final Draft, in that case, the best delivery method for that lesson is screencast recordings.
And if you're going to show your students yoga posses, the best method to pull that off is to get in front of the camera. So, truly, it depends on your course topic and modules.
There are lessons that will require animated videos, slides, or voice-over-screen recordings to deliver.
You can also opt-in for text lessons, animated videos, voice-over-screen recordings, or slides. However, your course delivery methods depend on the topic you are teaching.
It's okay to have different delivery methods throughout your course. The goal is to ensure that your students understand your lessons and master the skill or knowledge you are passing on to them.
To help you get started, I have prepared a FREE online course outline template to guide you through the process.
You can download here the template and use it at your convenience:
Download Free Course Outline Template
What Should a course Outline Include?
Here is the complete content of your course outline:
Course title: You should choose a powerful title that aptly captures the depth and essence of your online course. Ensure that you also use a niche keyword to help with search engine optimization when you finally publish the course.
Check out this article to help you choose the title for your course: How To Write a Killer Online Course Title.
Course description: Do a final update to the description of your course, after the course recording is completed. To write a good course description, check out this guide that I wrote: How to Write a High-Converting Online Course Description.
Learning outcomes: You should also let your students know the value they will get after they finish your course. It could be what they will be able to do after completing the course or the problem they will solve.
Getting your learning outcomes sorted out in your course outline will help you craft a marketing message around your course.
Don't forget to use actionable words to make the outcomes specific. The best formula for writing your learning outcomes is this - "After completing this course, you will be able to…" + Verb + What students will do + How they will do it"
Course requirements: From the course breakdown you have done, it's easier to map out what your prospective students will be needing to complete the course. It could be experiences they should have beforehand, tools to get, websites to subscribe to, and the amount of time to dedicate to each module.
Instructional methods: Your students need to know how they will be taught. Is it through voice-over-screen recordings? Animated videos? Powerpoint slides? Or direct video recording? Let them know. Remember that you can have different instructional methods for your online course.
Conclusion: How To Outline Your Online Course?
Now this is how to write a course outline. What to do next? It's time to get to work.
Remember to take it bit by bit, break down the first 2 or 3 topics, record the lessons, and come back and do some more preparation work.
You don't have to prepare the whole content of your course upfront. Just prepare the first few modules, record them and then prepare some more.
The online course outline template I provided above will help you get started.
Overall, creating a course outline is just the first step in the long course creation journey.
You can read all the steps that I usually take in the recommended order here - How To Create A Best-Selling Online Course (10 Easy Steps)
And when you are done creating your course, you will need a platform to publish it. In this case, you should create a website as you can easily provide additional learning materials for your students and make them downloadable. Also, you can integrate quizzes and assessments into your online course.
My online course platform onlinecoursehost.com allows you to do all these and much more. It's a super affordable and easy-to-use online course platform, that comes with built-in email marketing tools such as for example bulk email (newsletters).
But more than just a platform, here at the Academy we want to provide you with all of the information you need to successfully grow your online course business.
That's why we have created the Course Creator Academy where you can find everything you need to become a successful online course creator all in one place for free.
To get notified when new content is available here at the Academy, you can subscribe here to our weekly newsletter:
If you are looking to ask any questions on online course creation, you can reach me here on my Facebook group:
Join the Course Creator Academy Facebook Group
Ready to learn how to launch your first course on OnlineCourseHost.com? Here are the helpful guides for you to check out:
I hope you found this post helpful. Let me know in the comments below what other topics you would like me to cover.
Still not sure how to outline a course? Leave your questions below!
Thanks for reading… and enjoy the course creation process! 😉
---
Vasco Cavalheiro
OnlineCourseHost.com Founder & Online Course Creator