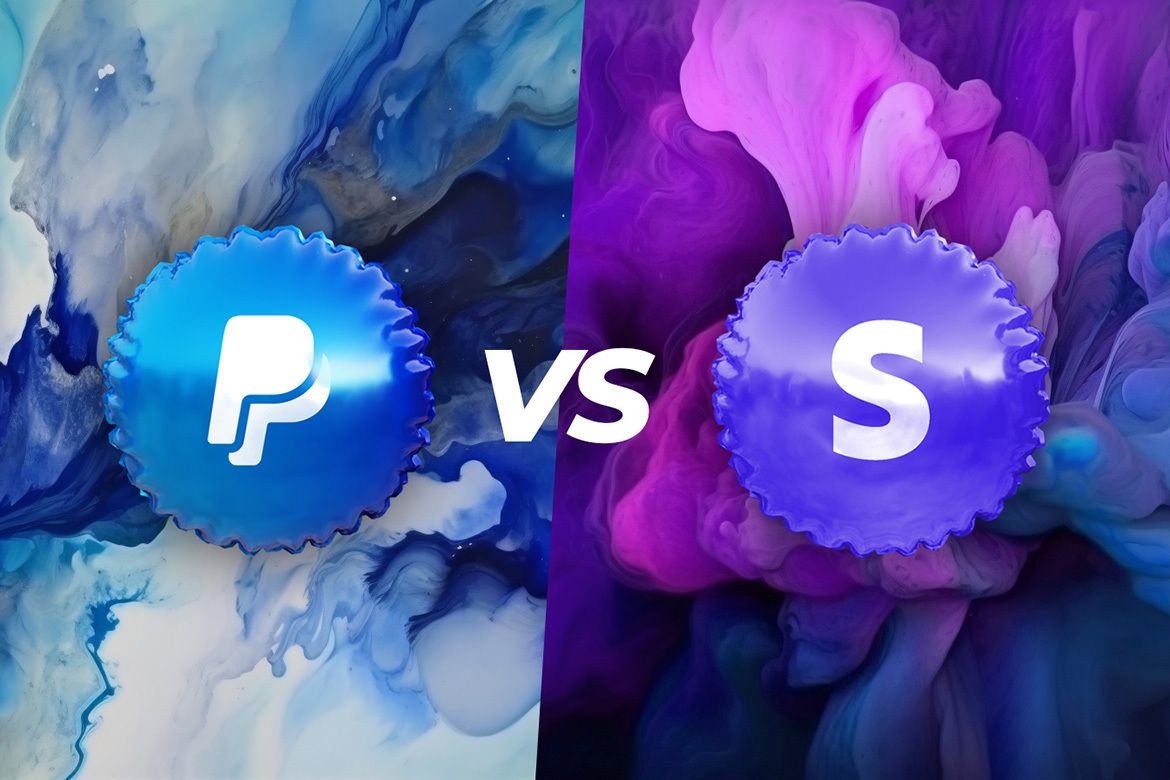 Learn what payment gateway you should be using for selling online courses. I'm going to compare two popular gateways: Stripe and Paypal.
PayPal and Stripe are two popular payment processors that are often used by individuals and businesses to accept payments online.
Both platforms offer a range of features that make it easy to sell products and services, such as online courses and memberships.
However, because each platform has its own set of unique strengths and weaknesses, it's essential for you to carefully consider which one is best for you as a course creator.
And that brings us to the question:
Should you use PayPal or Stripe for selling online courses?
Both PayPal and Stripe are well-established and widely used platforms that can provide your customers with a sense of trust and familiarity.
PayPal provides a wide range of other products and services, whereas Stripe focuses solely on payment processing, which can be an excellent choice for businesses looking to keep things simple and easy to use.
Stripe also provides competitive rates as well as a diverse set of integrations with popular e-commerce platforms and tools.
Ultimately, the choice between PayPal and Stripe will depend on your specific needs and preferences, so compare the fees, features, and integrations offered by each platform before making a decision.
Which is why in this article, I will compare PayPal and Stripe in terms of features, payment options, and overall usability to help you chose the best possible option for selling your courses.
Whether you're just starting out with online course sales or looking to switch from your current payment gateway, this article will provide you with the information you need to make the best choice for your business.
You can also check out all the free guides at the Course Creator Academy by clicking on the Academy link on the top menu bar.
If you are looking to learn how to sell online courses, here is my most detailed guide on it. In it, I talk in detail about all the strategies that have worked for me:
How to Sell Online Courses? The Ultimate Guide
Without further ado, let's get right to it.
PayPal vs Stripe For Selling Online Courses: Overview
PayPal and Stripe are widely used by individuals and businesses worldwide, including course creators, and are known for their ease of use and security.
One of the primary benefits of using these payment gateways for selling online courses is that they are highly trusted by consumers, so you can be confident that your customers will have a positive experience when they make a purchase from your website.
In addition, they both provide a variety of tools and features to help you manage and grow your business, such as the ability to create invoices, track payments, and issue refunds. You can also create custom payment forms for your website.
PayPal vs Stripe For Selling Online Courses: Payment Options
When it comes to making and receiving payments for online courses, PayPal and Stripe both provide a variety of options that are useful for both one-time courses and subscription-based courses.
These options include the following:
Credit and debit cards: Both platforms support payments made with Visa, Mastercard, American Express, and other major credit and debit cards.
Bank transfers: Customers can make payments directly from their bank accounts via bank transfer on both platforms. This can be a convenient option for customers who prefer not to use a credit or debit card.
Mobile Payments: These platforms also accept mobile payments, allowing customers to pay with their mobile devices. PayPal accepts payments through its own mobile app as well as popular mobile apps such as Google Pay and Apple Pay. Stripe accepts payments via Apple Pay, Google Pay, and its own mobile SDK.
Cryptocurrency: Stripe enables merchants to accept payments in various cryptocurrencies, including Bitcoin, Ethereum, and others. PayPal recently announced that it will now accept cryptocurrency payments, but this feature is not yet widely available.
In addition to these common payment options, PayPal also supports the following:
PayPal balance: Customers can use the balance in their PayPal account to make payments.
PayPal Credit: Customers can apply for and use PayPal Credit to make purchases and pay over time.
Pay With Rewards: Customers can redeem rewards associated with their eligible card(s) to make a purchase through PayPal's Pay with Rewards program. Rewards may include points, miles, or cash back, as well as other reward types.
Stripe, on the other hand, offers the following additional payment options:
Buy Now, Pay Later: Like PayPal Credit, this option offers customers immediate financing for online payments, typically repaid in fixed installments over time.
Cash-based vouchers: Allows customers to pay bills and online purchases in-store with cash
Alipay: Stripe supports payments made with Alipay, a popular mobile and online payment platform in China.
WeChat Pay: Stripe also supports payments made with WeChat Pay, another popular payment platform in China.
In addition to these payment methods, both platforms provide additional features and options for selling online courses on a one-time payment basis, subscriptions, and the ability to set up payment plans.
PayPal vs Stripe For Selling Online Courses: Overall Usability
While PayPal and Stripe are both excellent payment processors for selling online courses, one of the main differences between them is the way they handle transactions.
While PayPal uses a traditional merchant account model, which requires you to apply for a separate account and go through a verification process before you can begin accepting payments, Stripe takes a more streamlined approach that allows you to begin accepting payments as soon as you create an account.
This can be a big advantage for small businesses or course creators who want to get up and running quickly.
Another important difference is the fees that each service charges.
PayPal generally charges a higher percentage for each transaction, but it does offer a lower flat fee for smaller transactions. Stripe, on the other hand, charges a lower percentage but a higher flat fee.
Thus, if you have a high volume of small transactions, Stripe may be a better option, whereas PayPal may be a better choice if you have fewer but larger transactions.
One of PayPal's main advantages over Stripe is its widespread acceptance.
With more than 200 countries where it is available, almost everyone has heard of PayPal. This makes it easier for your customers to trust your business and feel confident about making a purchase.
Stripe, on the other hand, is only available in 47 countries, so it is not as well-known and may not have the same level of trust and familiarity with some consumers.
Similarly, one major advantage of using Stripe over PayPal is its simplicity and ease of use.
The Stripe dashboard is user-friendly and intuitive with more information, better-looking, and more customizable invoices, making it very easy to manage your payments and transactions.
PayPal vs Stripe For Selling Online Courses: Conclusion
Overall, PayPal and Stripe are both solid options for selling online courses, and which one you choose will be largely determined by your specific needs, preferences, and of course, your hosting platform.
Also, it may be worth taking some time to explore the features and options offered by both payment gateways to see which one is the best fit for your business.
Speaking of hosting platforms, OnlineCourseHost.com allows you to sell your online courses, coaching, memberships, and more at the most affordable pricing plans you can imagine.
With the click of a button, you can set up these payment gateways (PayPal and Stripe) in seconds and begin accepting online credit card payments from students all over the world.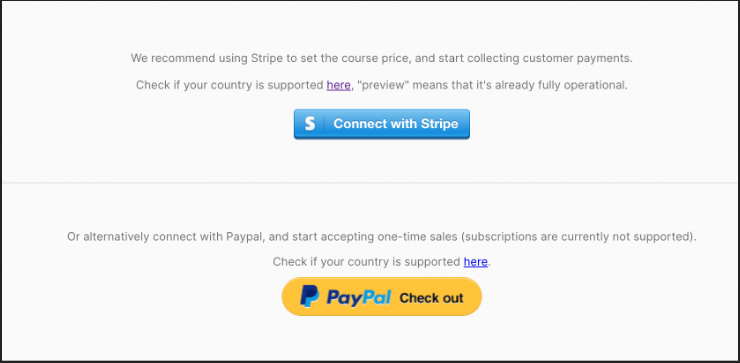 Not only that, but you can accept these payments in your currency, and each payment is immediately deposited into your Stripe or PayPal account, within seconds of the student's purchase.
What's more? There are no additional fees, and you have complete access to your funds at all times and can withdraw at any time.
If you're selling online courses on a one-time payment model, you can use either of these payment gateways. However, PayPal may be a better option since it's available in more countries.
And not only that, but it also allows customers to pay directly with their cards without having a PayPal account.
Stripe, on the other hand, is the only option if you're selling online course memberships or subscriptions because PayPal does not work well for memberships on the platform.
So, a good option is to activate PayPal for one-time payments and Stripe for subscriptions.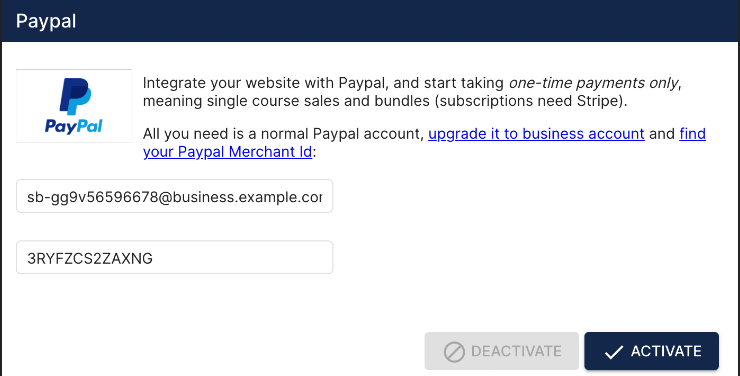 Overall, we recommend going with both, because you can use them to take payments outside of the platform if you need to. More so, it's nice to have multiple payment options for your customers to charge for extra services like coaching packages.
If you can, activate Stripe first, as this allows you to accept both one-time payments and subscriptions.
Then, for only one-time payments, activate PayPal.
The result of this double integration will look like this.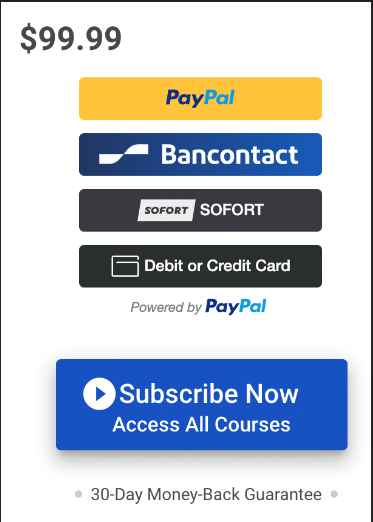 Finally, whether you're a new or an experienced course creator, your success in this industry is heavily reliant on where you choose to host your online courses.
You need an all-in-one course hosting platform that checks all the boxes and is super easy to set up.
One such platform is OnlineCourseHost.Com
It is the most affordable and beginner-friendly online course hosting platform for selling one-time courses and memberships with essential marketing features, such as email marketing and Facebook ads integration, to help you scale your online course business faster.
But, more than just a platform, we want to provide you with the information you need to grow your online course business successfully.
That is why we created the Course Creator Academy, where you can find everything you need to become a successful online course creator all in one place for free.
To get notified when new content is available here at the Academy, you can subscribe here to our weekly newsletter:
If you are looking to ask any questions on online course creation or want to be a part of a fantastic community of course creators, you can reach me here on my Facebook group:
Join the Course Creator Academy Facebook Group
Ready to learn how to launch your first course on OnlineCourseHost.com? Here are the helpful guides for you to check out:
I hope you found this post helpful. Let me know in the comments below what other topics you would like me to cover or any questions you have.
Thanks for reading… and enjoy the course creation process! 😉
---
Vasco Cavalheiro
OnlineCourseHost.com Founder & Online Course Creator