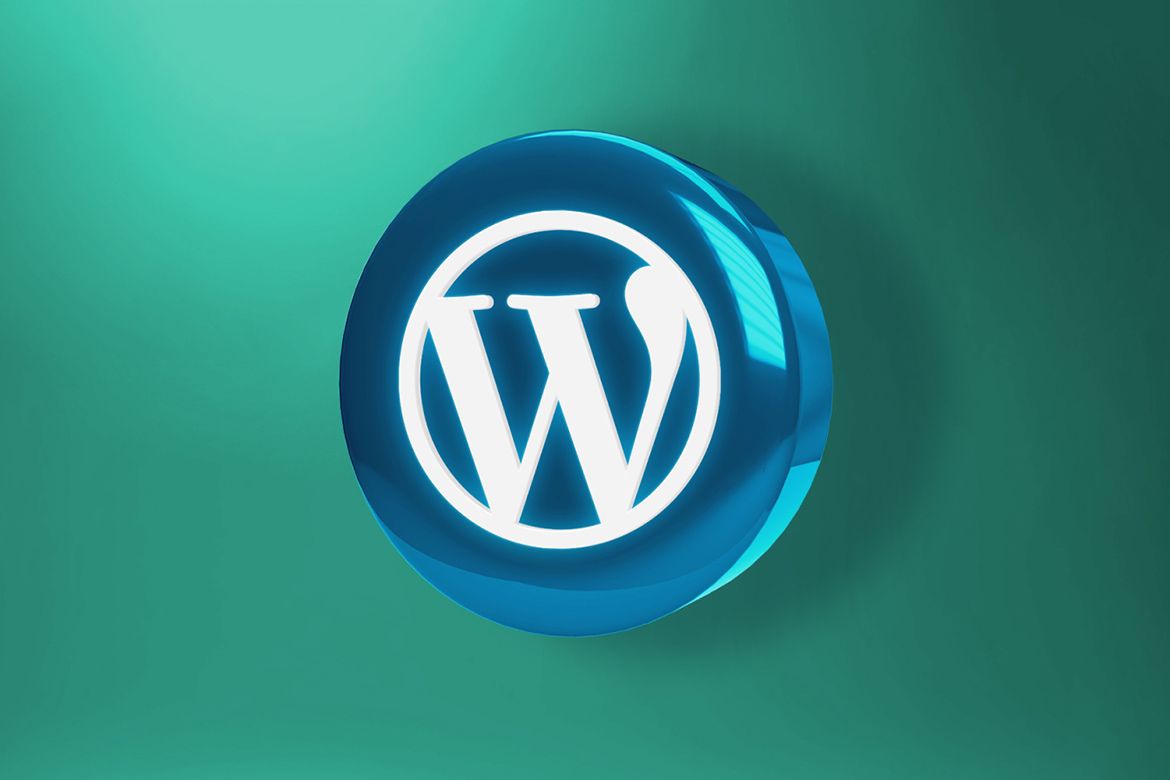 Learn if using Wordpress is a good option for hosting your online courses. Learn what Wordpress is best used for if you are running an online course business.
Yes, WordPress is great for hosting blogs and websites. But is it also a good idea to sell courses on WordPress?
I mean, can you really sell online courses on WordPress, is it practical?
The answer is yes, in the absolute, you can.
But a better question might be, is WordPress the best option available for selling online courses, or is there a better way?
Using WordPress alone for selling online courses is not the easiest way unless you're familiar with the technical side of hosting courses, taking payments, and managing members on WordPress. However, it becomes a much better option when it is paired with a specialized online course hosting platform. WordPress takes care of the content, branding, and audience engagement part, while the online course hosting platform can be used for hosting and selling courses. WordPress can also be used to host your courses directly, but you will have to jump through a few technical hoops to be able to do that.
If you're considering only WordPress to launch online courses, you might want to rethink that.
WordPress can definitively be a great help in growing your business. So instead think about dropping it altogether, keep reading and find out what WordPress can do for you as a course creator.
In this post, you will learn:
Why WordPress is perfect for building an engaging audience base that will become your students
Why WordPress fails to be an ideal solution to host online courses
What is the better option to run and grow your online course business easily
You can also check out all the free guides that you have available here at the Course Creator Academy by clicking on the Academy link on the top menu bar.
So without further ado, let's begin diving deep into how to sell courses on Wordpress.
How to Use WordPress to Promote Online Courses?
Without a doubt, content marketing is still the most effective and affordable method of marketing.
Content that ranks on Google and drives potential customers for free is still the best way to grow an audience, followed closely by a YouTube channel.
That's why almost every business maintains some sort of blog. And as an online course business owner, you should too. A blog will help you to:
Build an engaged audience
Build a personal brand
Grow an email list  
And hosting nearly 43% of the internet, WordPress presents the best option for managing blogs.
It's free, secure, and beginner-friendly. But some other features make it shine the most.
Low Maintenance Cost
If, as a beginner course creator, you want to keep your costs to a minimum, then choosing WordPress for managing your blog is an excellent decision.
After getting a domain name and setting up hosting for your site using a Wordpress hosting provider like Bluehost, you can have a blog running for way less than $5 a month.
WordPress itself is free to use, including most of its themes and plugins, so you don't have to pay for it.
But you will have to pay for premium themes, plugins, or services if you wish to customize your site and add advanced features.
SEO Friendly
Imagine that your blog already ranks for various search important search terms on Google that are related to your course category.
Many students click on those blog post links every month. Then they find your articles informative and sign up for your email list.
Your audience keeps reading your blog posts and emails, and over time they become your paying students.
Isn't it sweet? Just now, SEO helped you do free marketing for your courses!
And guess what? Besides blogging, WordPress is also the best CMS (Content Management System) for optimizing your site to rank on Google and driving organic traffic.
WordPress offers SEO plugins like Yoast SEO to optimize your blog posts for on-page SEO. The Yoast plugin helps in making sure your content is best optimized to get to the top search engine rankings.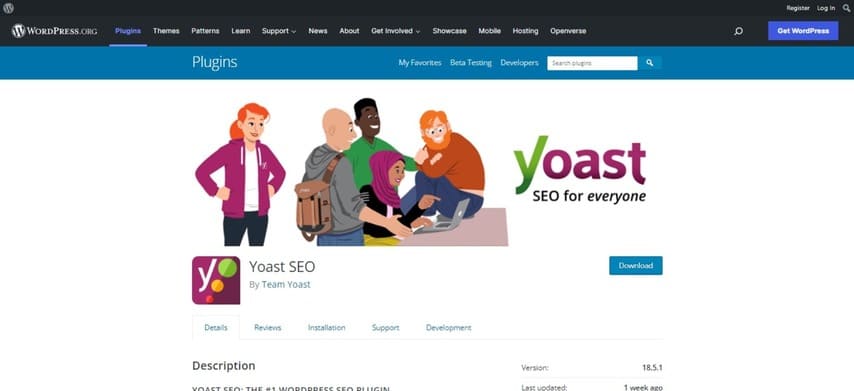 Then, it has SEO themes like Astra, so your site code is simple, lightweight, and SEO friendly. SEO themes make sure the technical SEO is working fine in all your pages.
Highly Customizable
WordPress is so popular among website owners today because of its flexibility.
It is highly customizable such that you can create a completely different website by adding a different set of plugins or changing your theme.
Whatever site you want to create, it can be done easily using more than 59,000 plugins and 9000+ themes. For example, if you want to collect your students' questions, add a Contact Form on your site.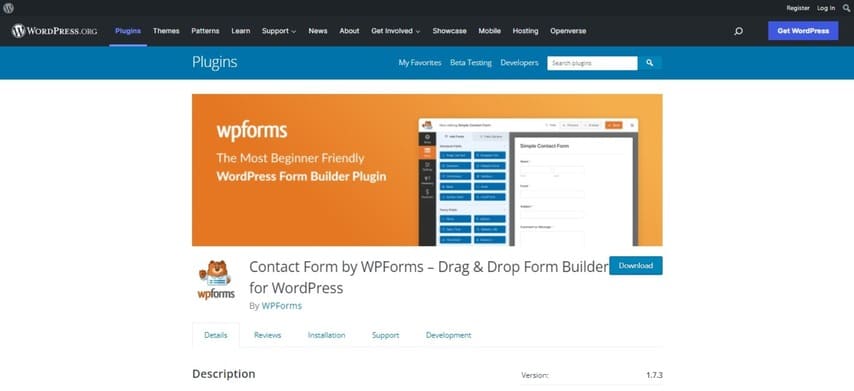 Or do you want to collect students' emails? Embed your newsletter in your blog posts using the Mailerlite plugin.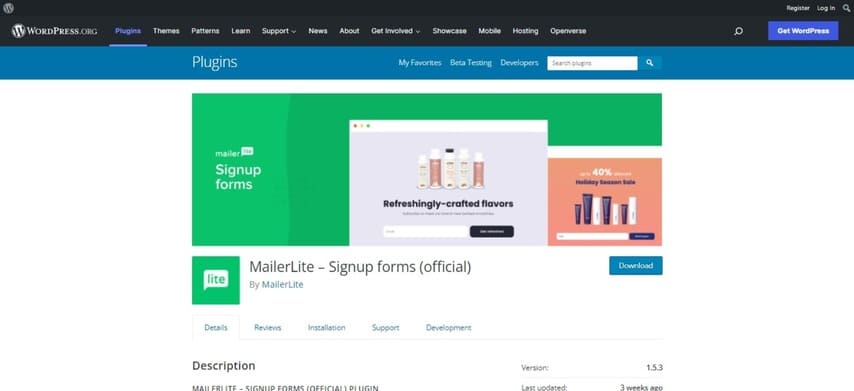 Would you like to sell ebooks or other products? The free WooCommerce plugin will allow you to set up a shop in a few steps.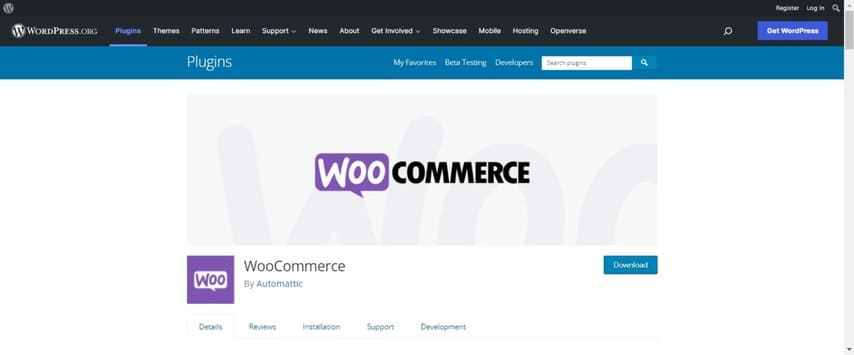 The Paid Membership pro plugin helps you create a membership site. You can add premium content and charge a monthly fee for access.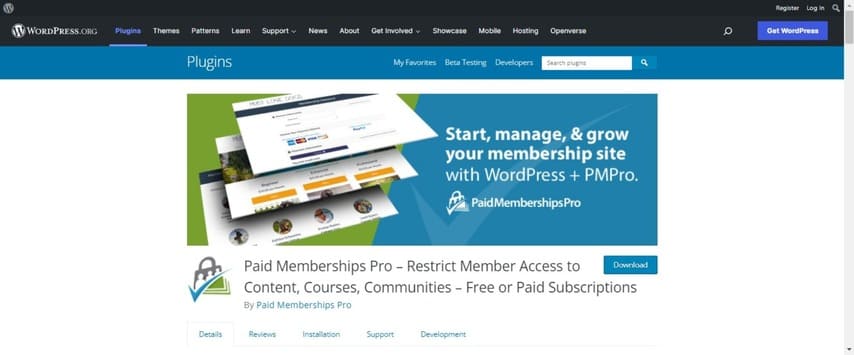 And these are just a few examples, you can literally do a lot with different plugins.
No doubt, WordPress is the best option for
Setting up a professional website,
Starting a blog to publish informative blog posts,
Driving free organic traffic,
Building a personal brand, and
Growing your student base in general.
But if WordPress is this awesome then why isn't it good for selling online courses?
Why is WordPress not the Best Option for Selling Online Courses?
Back in 2003, WordPress was created as a blogging platform, but over the years, it has been modified a lot. New features are added to make it versatile. For example, today, it can be used to create a community platform, online store, LMS, e-commerce website, personal blog, etc.
WordPress is now a multi-purpose platform. It performs many tasks well because it was designed in a certain way. But here are some major issues with WordPress that might want to make you reconsider using it for publishing your online courses.
Limited Creator Support
WordPress is an open-source software powering more than 60 million websites. So, it's impossible to provide personalized support to each one of them. If somehow, your online course website got stuck somewhere, you can only put your query on the support forums. Sure, the nice developers will answer your questions and tell you what to do.
But if you're not able to fix it by yourself, then you'll have to hire a professional to look into it. This can be costly, considering you might need help quite often.
Plugin Confusion
As WordPress was later modified into a multi-purpose CMS (Customer Management System), most of the later features were added by using plugins.
So, if you want to start an LMS (Learning Management System) website, you must install one (or a set of) LMS plugins, which are paid and usually need a recurring monthly subscription.
Unless you're ready to purchase an expensive plugin (and its add-ons), you'll have to install and manage a lot of free plugins on your WordPress. This leads to a lot of confusion and more problems such as security breaches, slow loading speed, and space issues, plus potential plugin incompatibilities.
We will discuss each of them below.
On the other hand, if, instead of using Wordpress, you use customized software for selling online courses (like OnlineCourseHost.com), you don't require any plugin or add-on installation.
You'll get all the tools that you need to sell courses all in one place, ready to use.
You don't even need to purchase any add-ons to add new features to your site. This leads us to the next issue with WordPress.
Expensive Setup Charges
Starting a blog on WordPress may be affordable, but we can't say the same for setting up an online course business.
WordPress has nearly 600 plugins for managing an online course business like LMS plugin, Academy LMS, LifterLMS, etc. But unlike WordPress, many of these plugins are not free.
Some of them have a free version that is not enough to run your online course business. The free version just allows you to do a test drive.
You will need advanced features that come at a premium price to sell courses.
For example, LifterLMS, a premium plugin to sell online courses, will cost you $360 per year. And if you want to install an add-on (that you need to!) such as Stripe payments or add forms, you'll have to pay $120 each per year. If you wish to sell ebooks, you'll have to buy the WooCommerce integration, again for $120 per year.
They do have an Infinity bundle ($1200 per year) that includes everything that a course creator will need to sell memberships, premium plans, etc. But $1200/yr is quite costly, and remember, you still have to make sure that all those plugins work well together, manage their upgrades over time, etc.
So, if you add this price to the other costs for launching an online course business, WordPress does not remain an affordable option after all.
Yes, it's super affordable if you use it to create a blog or a normal website, but if you start using it for more than that, it quickly can become quite expensive.
You might be wondering, what about the plugin support? Sure, the plugin support will gladly help you fix plugin-related problems, but they will still ignore WordPress issues simply because they don't know how you have customized your WordPress site.  
If, instead, you use specialized software like OnlineCourseHost.com, you get all features well integrated with each other, you don't have to worry about upgrades, and everything comes at a much more affordable price.
You can integrate Stripe or Paypal for free, sell ebooks for free, etc. And, of course, 24*7 support to fix any issues you might have.
When you think about it, you will be paying a lot more for a WordPress-hosted LMS than for a separate software-based online course website.
Site Loading Speed
I know adding a ton of new plugins and functionality to your site is cool but it can harm your WordPress site quite badly in the long run.
Too many plugins slow down your site, which directly affects your organic rankings. Do you know that site loading speed is also a search engine ranking factor?
Ideally, your site should load in less than two seconds! But when you have too many plugins installed, that can slow down your site load speed a lot. You can check out your site speed here.
It gets worse if the plugins aren't updated to the latest version. Many plugin creators release an update every two weeks but there are still some that aren't updated regularly. When plugins don't function well, it affects your site performance.
You will have to install those plugins manually yourself over time and make sure the versions that you have installed are all compatible.
Complex Technical Side
I said earlier that WordPress is a beginner-friendly platform. And that is true as long as you use it for basic functions like managing a blog or a normal website with a few landing pages and email capture forms.
But it gets tangly when you want to build a premium site by hosting online courses.
First of all,  you will have to find a video hosting solution for hosting your videos, like, for example, vimeo.com. That video hosting solution also comes at a price.
Then you need to decide what plugins to install and which versions and make sure everything is compatible.
If you're a programmer, you might be thinking that it's a piece of cake, but if you're not, then you might not dare to touch anything!
Because you know that you're at risk of breaking the whole website with a single false maneuver.
In that case, your only option is to hire a WordPress developer, which adds more expenses to your business.
Now when you've seen the full picture, you realize that hosting your online courses on WordPress is, in reality, expensive, unsafe, complex, and bad for the student experience.
So, how to use WordPress for your online course business then?
How to Use WordPress for Your Online Course Business?
The best use of WordPress for an online course business is to start a blog and build an engaging audience. WordPress offers some cool features to grow your audience, such as:
SEO friendliness to get free organic traffic
Newsletter embeds to grow your email lists
Contact forms to collect students' feedback, etc.
Then once you have built an engaged audience, you should use a separate software like OnlineCourseHost.com to host and sell your courses in your own subdomain.
So how does this work? Let's say that you have your blog running in your top-level domain yourwebsite.com.
You can use Wordpress to host your blog and grow your audience and email list that way. But then, you can use OnlineCourseHost.com to host your courses in courses.yourwebsite.com, under the courses subdomain, or any other domain of your choosing like academy.yourwebsite.com.
And then you just have to link the two things together, using plain Internet links. For example, you can add a "Courses" menu entry to the top menu of your Wordpress website, or you can link to a course page from an article that covers a topic related to the course, which is what I always do.
Conclusion: Should You Sell Online Courses on WordPress?
WordPress is wonderful when you want to start a blog but not so much when you really need it as a specialized platform to host your courses.
Selling courses using Wordpress means having to glue together a bunch of different plugins, pay for each one separately, install them and upgrade them over time.
You might potentially also have to purchase separate video hosting if the plugins you use don't include it.
It's not that it's impossible. It's just not very convenient and takes away your attention from your main task which is to create new courses and lessons for your students.
That's why I recommend you pair your WordPress site with a specialized platform like OnlineCourseHost.com to simplify the experience both for yourself and your students.
You can use Wordpress to grow your audience using a blog, and then you use an online course platform to host and sell your courses. You run each in its own subdomain, and you just link the two together. It's that simple.
We have created OnlineCourseHost.com to help out course creators by creating the easiest-to-use online course platform on the market that comes with built-in email marketing.
But more than a platform, we want to give you all the information that you need to grow your online course business successfully.
That's why we have created the Course Creator Academy where you can find everything you need to become a successful online course creator all in one place for free.
To get notified when new content is available here at the Academy, you can subscribe here to our weekly newsletter:
If you are looking to ask any questions on online course creation, you can reach me here on my Facebook group:
Join the Course Creator Academy Facebook Group
Ready to learn how to launch your first course on OnlineCourseHost.com? Here are the helpful guides for you to check out:
I hope you found this post helpful, let me know in the comments below what other topics you would like me to cover, or any questions that you have?
Thanks for reading… and enjoying the course creation process! 😉
---
Vasco Cavalheiro
OnlineCourseHost.com Founder & Online Course Creator