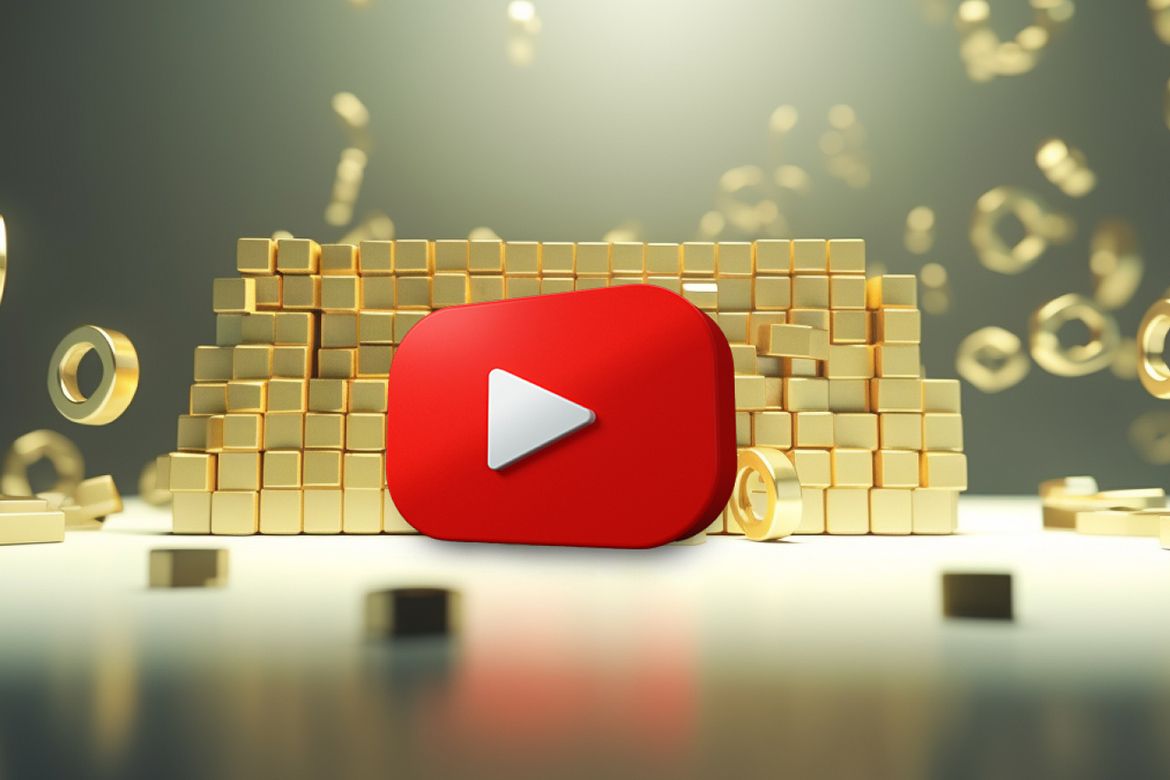 Learn why YouTube is one of the best places on the internet for promoting and selling your online courses.
When looking for ways to monetize a YouTube channel, most sources will give you the usual ideas like YouTube ads, affiliate marketing, etc.
The problem with these methods is that they're a bit overrated and not super reliable.
They might look interesting, but these methods can only get you so far...
You need a solid monetization strategy that is way more reliable if you want to build a long-term business around a YouTube channel.
The monetization method that I'm talking about works by selling online courses in a topic closely related to your YouTube channel.
I've been selling online courses since 2016, I've made $1.6 million so far, and a part of that income comes from strategically promoting my courses on YouTube.
So, what are the strategies for selling courses on YouTube effectively?
Here are the top 15 strategies for selling courses on YouTube:
Give away a premium lesson for free
Create trailer videos
Publish free mini-courses
Include an effective CTA
Leverage YouTube SEO
Seed your online course idea in advance
Don't sell on every video
Give free stuff as lead magnets
Publish students' testimonials
Up your promotional activity on special days
Livestream regularly
Use YouTube ads
Answer FAQs
Build a community
Turn YouTube videos into paid courses
You can also check out all the free guides at the Course Creator Academy by clicking on the Academy link on the top menu.
Here are proven strategies you can leverage with YouTube to grow your course sales: How to Sell Online Courses? The Ultimate Guide
So without further ado, let's dive in!
#1. Give Away A Premium Lesson For Free
The best way to show your audience the value they will find inside a course is by giving away a premium lesson for free.
I do this all the time. When I launch a new course, I publish one paid lesson for free for my YouTube audience, and send a link to my video to my newsletter subscribers.
In the description and video, I also mention that this is one of the lessons inside the course, and if they want access to the entire course, they can find the link in the description.
While this is a great way to showcase the course's value and generate buzz, it is critical to choose the lesson carefully. It must be something that works well as a standalone video, which will not always be the case for many of the videos in your course.
#2. Create Trailer Videos
Similar to the above strategy, you can create trailers or teaser videos of new courses to grab your audience interest.
This way, you're seeding the idea (more on this later) in your audience's minds of what's possible with your online course.
Remember how excited you get when a movie trailer of your favorite actor is released?
That's exactly how a trailer video will excite your audience. They are great for attracting new students and selling to existing ones. If your students value your courses, they will also want to take the new ones.
So, just like movie trailers, you should create an engaging video while not revealing too much in order to build excitement and anticipation for the course.
#3. Publish Free Mini-courses
You might ask, "why give away for free when we're planning to sell?"
Good point. But there's a valid reason behind it.
Let me explain it to you:
Creating free courses is a great way to familiarize your students with your teaching style.
You want to impress them with your free material so much that they start wondering about the value they would get with premium courses.
Free courses will also help you get more students and build better relationships with them.
Remember in #1, we discussed providing lots of free value before expecting a sale?
That's where launching a free course will help.
Publishing a free course gives you a perfect opportunity to sell naturally. You can invite your students to check out the premium course at the end of your free course.
Which leads us to the next point…
#4. Include an Effective Call To Action
Adding a compelling Call-to-Action (CTA) at the end of each video is essential.
Yes, you're giving away free value, but there's a purpose behind it. You just don't want to give free information.
You also want your subscribers to take some sort of action.
That action does not necessarily have to be to purchase your course. It can also be things like:
join your email list
join your online community
like or comment on the video
subscribe to your channel
etc.
Therefore, you must always include a CTA. And you need to learn how to use these different CTAs effectively.
For example, the best CTA in your free mini-course videos is an invite to check out your premium course. And in an informational video, the perfect CTA can be to join your email list.
You should show your audience which web page to visit at the end of your video and what actions to take after visiting the web page. Also, make sure you have a way to capture their contact information wherever you send them.
#5. Leverage YouTube SEO
Do you ever wonder why Google and YouTube are the top two search engines and why most content creators want their part of these platforms?
It's because of their potential to grow organically.
You can literally build million-dollar YouTube channels with SEO, consistency, and constant effort.
The best part is YouTube SEO (Search Engine Optimization) is easy.
You can also learn a lot about YouTube SEO, but in short, it's about using the right keywords in the video title, description, and content.
The right keywords will help your videos reach the audience that is interested in your content, which will boost your ranking significantly.
And if you successfully rank on YouTube, you can also rank on Google.
This way, you can drive traffic from both search engines.
You see, YouTube content shows up also as SERP results on Google: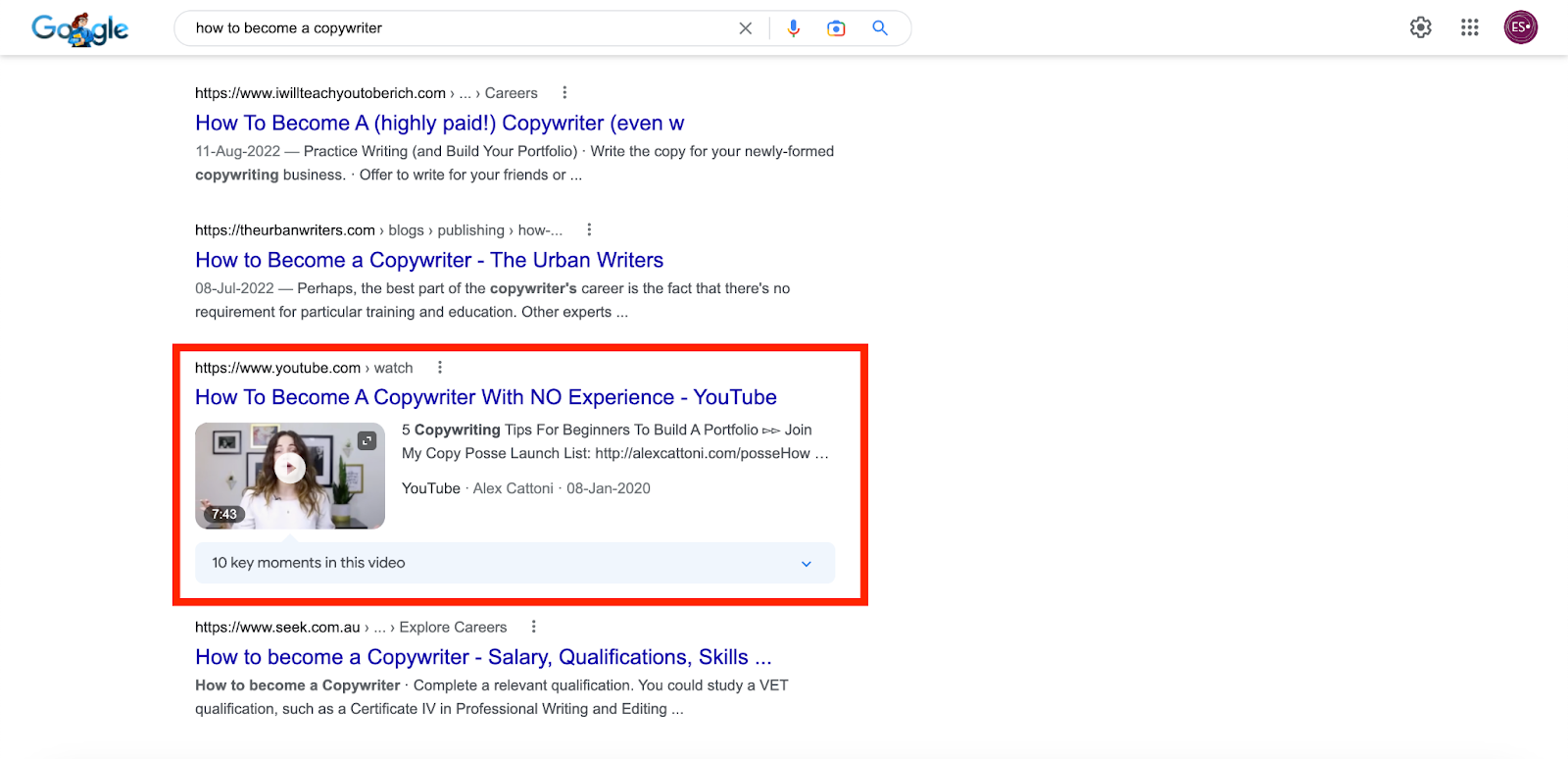 For example, I often see my own YouTube videos in the search results of long-tail search queries that my audience usually types.
#6. Seed The Need For Your Online Course in Advance
A great tip by Tim Schmoyer, a successful course creator - Seed the need for your online course idea in advance.
Seeding your online course idea is a great way to let your audience figure out what's missing and how it's impacting them.
Understand it better with this video by Alex Cattoni.
For YouTube, you strategically want to create video content that often discusses a problem, and a missing solution.
But don't mention you're creating a course as a solution. Your first few videos should be to let them know a problem exists.
Then you can leverage trailer videos to announce that something big is coming up.
And use this opportunity to launch your course. Watch the video above for examples.
#7. Don't Sell On Every Single Video
Most beginners fail to leverage YouTube to get course sales because they sell on every video.
Selling on every video isn't ideal, especially if you want to build a long-lasting relationship with your subscribers.
The thing is, you know you're on YouTube to sell courses, and, to some extent, your subscribers know it too.
But you want to show them that you're there also to add value.
You of course also want to make sales. So, the best approach is to do mix educational videos with a few sales messages here and there.
Have these three pillars in your content strategy:
Educational: Share videos that educate your audience for free. Include a CTA to like, share, subscribe, or check more videos.
Personal: Share personal stories to build deep relationships and credibility. Include a CTA to join your email list or community.
Promotional: Promote your online courses. Include a CTA to check your premium course.
#8. Give Free Stuff As Lead Magnets
Creating an email list is the best way to build an engaged audience.
Remember, you do not own your YouTube channel, and you have no control over who sees your content. YouTube owns your audience, and the algorithm may decide or not to show your content.
But you do own your email list.
You have the contact details of your subscribers, and when you send them an email, there is a good chance that they will see it.
You will generate more sales by growing an email list and nurturing it consistently than from YouTube alone.
That said, YouTube is a great channel to add subscribers to an email list.
You can create a lead magnet and give it out for free in exchange for your audience's emails.
You can include your freebie link in the description of a video like this: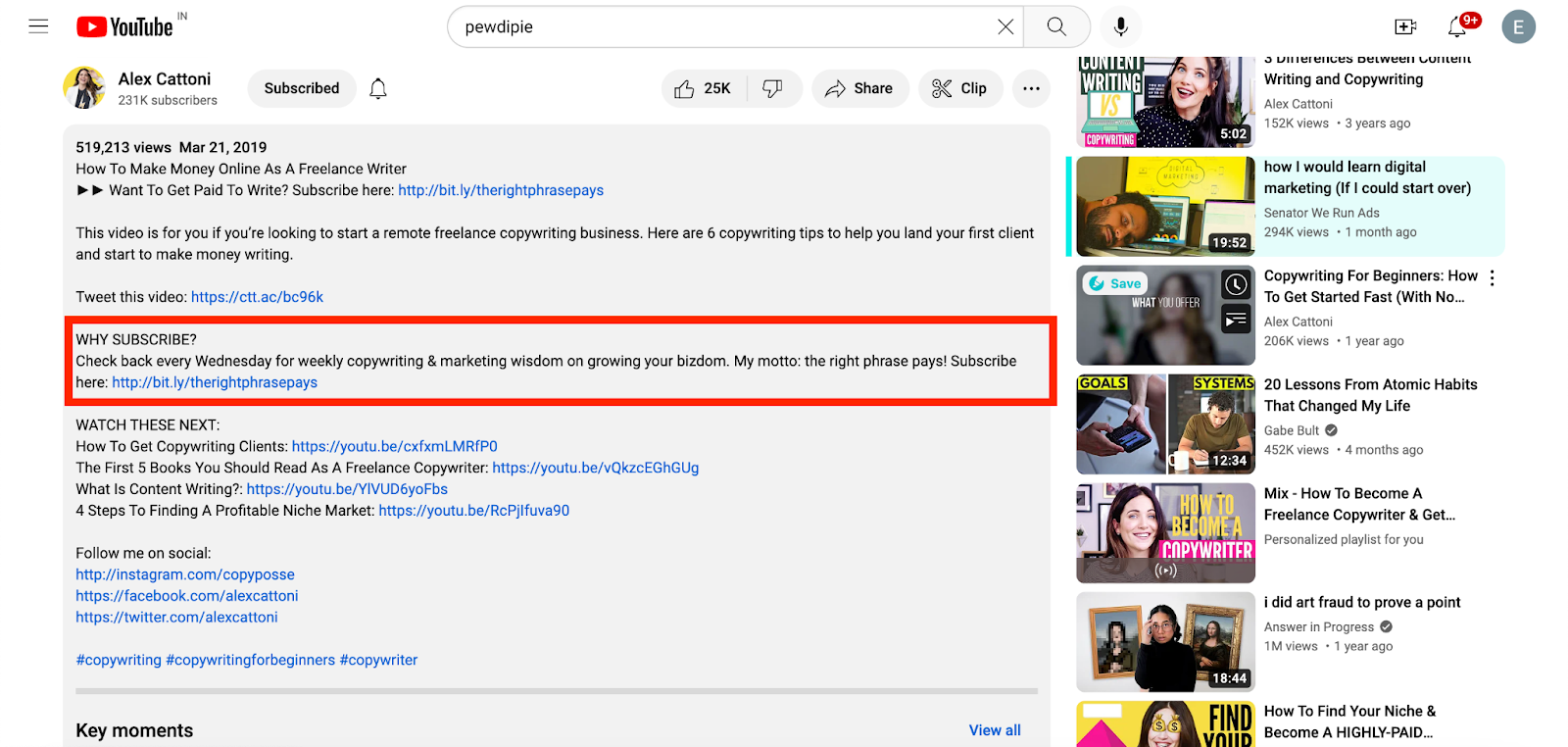 Or you can also add it in your YouTube header like this: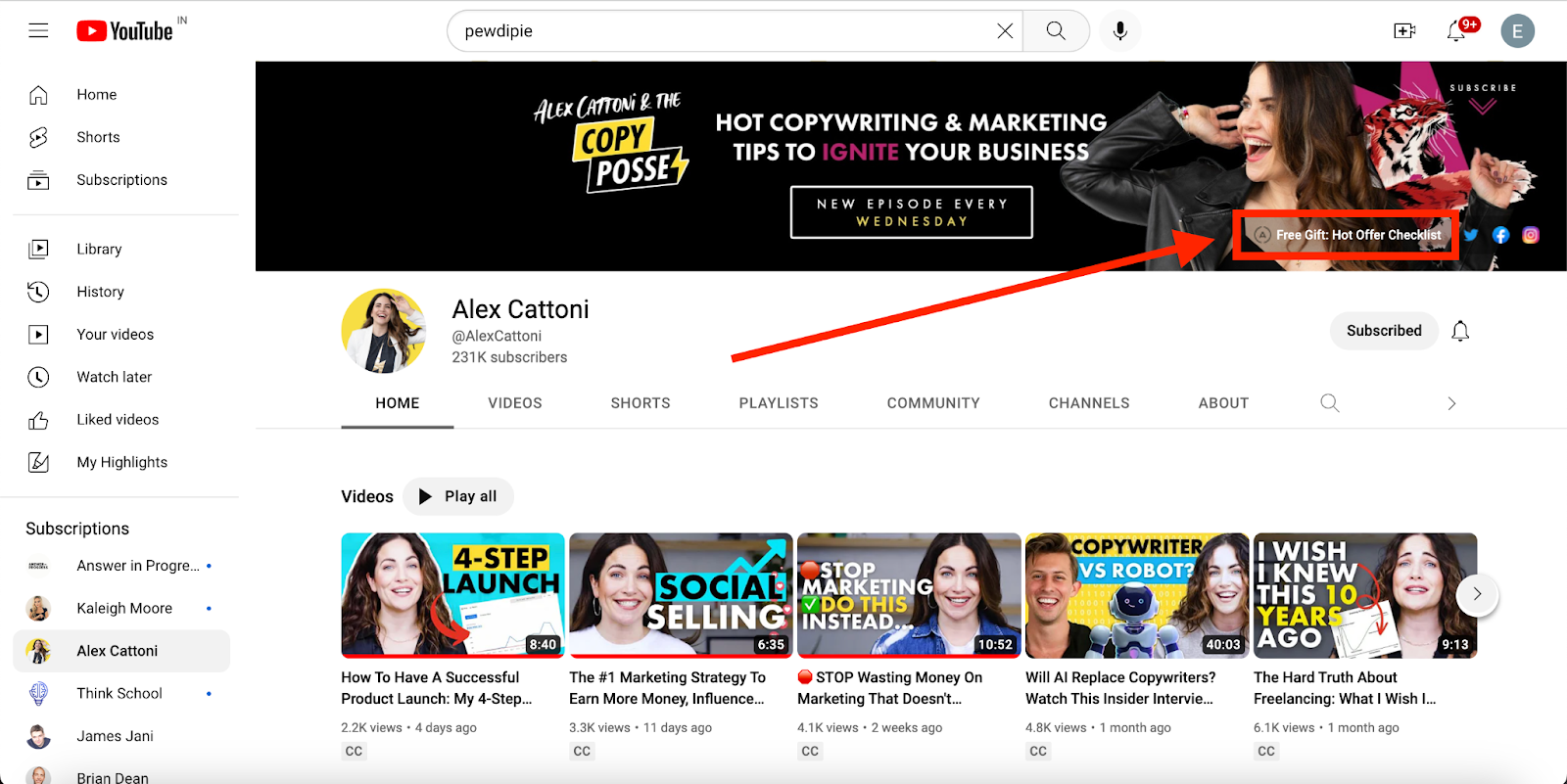 #9. Publish Students' Testimonials
In most cases, students who do not make purchases are usually skeptical of the course.
They are unsure whether the promised results will be met. And so, giving them a guarantee that the results will be the same as promised is the best way to increase sales.
And that guarantee is your students' testimonials.
Do you have students who got excellent results in the past by taking your courses?
Publish them on your channel as a success story. If you don't have a video testimonial, you can ask them for one. Most of them will be happy to give you one.
And in the description, make sure to include the course link.
Posting testimonials will also help you build credibility. New visitors will be more likely to convert as they will have something to trust you.
#10. Up Your Promotional Activity On Special Days
I make almost double sales during the sales season than at any other time. It's because I know how to use promotions smartly and leverage them to get more students.
You're in luck today because I'm sharing my strategy with you below:
It is using coupons and discount offers only on special occasions such as Black Friday, Thanksgiving, or your birthday!
I don't run a sale any other time than these days, and that's how I get the maximum results.
The whole point behind this is to keep the value of special offers. By running discount sales rarely, I let my students know that this rarely happens, and if they don't get it now, they miss out.
If you run a sale frequently, there's nothing special about your Black Friday sale. Your students already know they can get the discount later since you're always running a sale. And that day might never come.
Check out this article to learn how to run a sale on Black Friday.
#11. Livestream Regularly
They say the best way to sell to anybody is a live 1-on-1 conversation with them where you can touch the person. And the second best is a video call.
And that is so true. Talking to people helps you build a stronger bond than sending an email or posting on social media.
So, to build a stronger bond with your subscribers, you should livestream regularly. But as we've already talked about it so many times, your goal isn't to sell courses but to nurture them.
Do live streams to talk to your audience, understand their problems, answer their questions, educate them, and share stories. You should only promote your courses if it makes sense to.
Another way is the planned sale. Most course creators give free information first and then ask the subscribers to check out the course. You can try both methods.
YouTube is an excellent platform to livestream with your subscribers. You can do it weekly, monthly, or whenever your schedule fits.
#12. Use YouTube Ads
When used in combination with other strategies, YouTube ads will only help you grow your sales.
The reason is you get to target a specific audience. Using filters like age, interests, demographics, etc., you can show your courses to a highly focused target audience that you know would like them.
However, most ads don't give the expected returns and become expensive over time because they are run all the time and are not tracked regularly.
The key to running successful ads is to use them at the right time.
Run ads only when you're running a sale, on a new course launch, or when building your email list. Track your ads performance and keep only those that get returns.
#13. Answer FAQs
Remember in tip #10; publish student testimonials, I talked about how students don't complete a sale because they're in doubt?
Another common reason is that they have questions about it but can't find answers.
And yes, landing pages are great places to add FAQs, but you can also publish them on your YouTube channel and add a link to the paid course in the description.
Similarly, you can create a problem-solution video, benefits or features video, and more. The whole point is to answer common questions that stop your audience from purchasing your course.
#14. Build a Community
YouTube recently launched a great feature which allows creators to build community.
With this feature, you can make use of non-video content, such as YouTube shorts and stories to engage your audience and reach more people who might be interested in your content.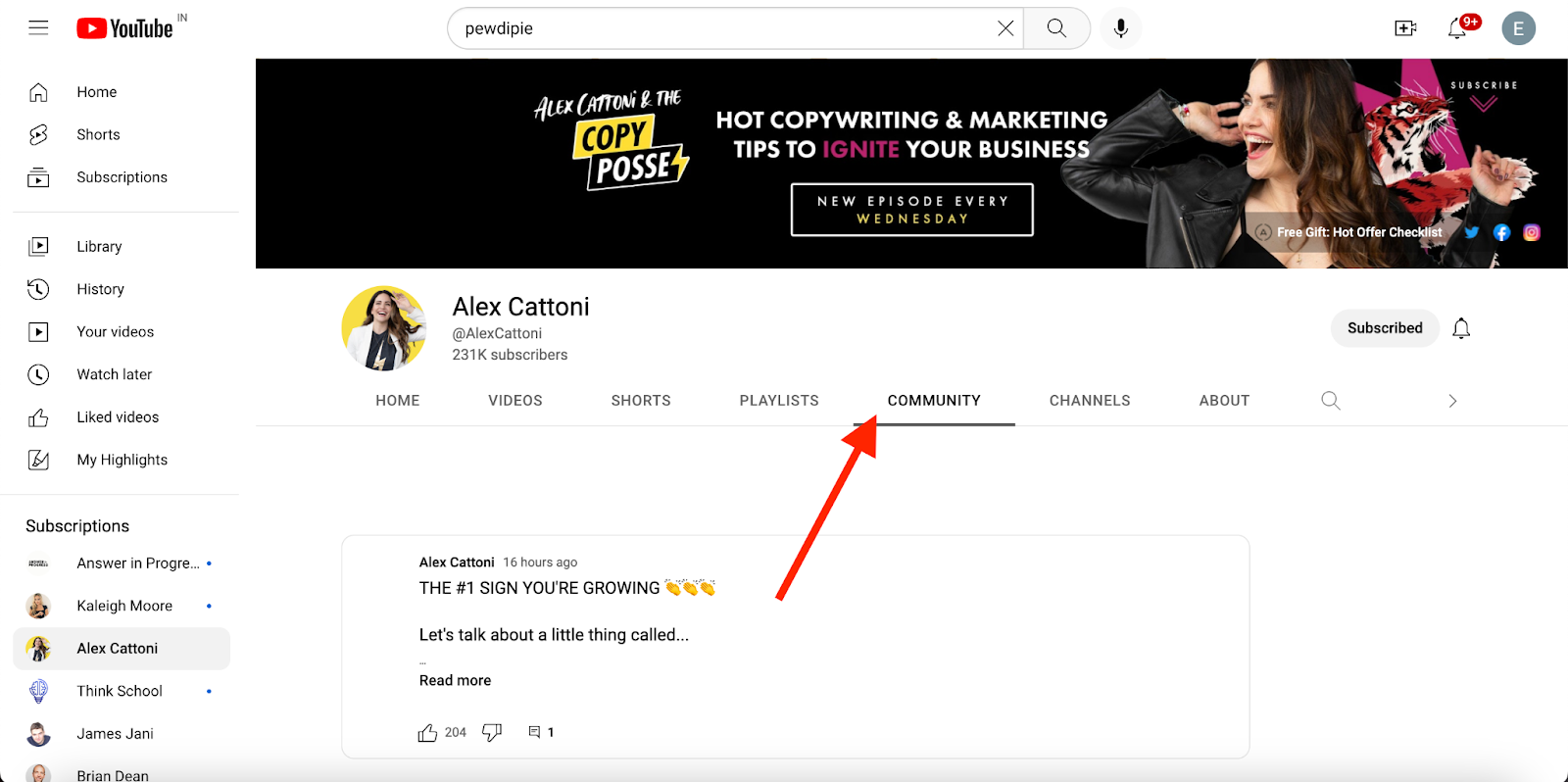 You can also post polls, text content, images, questions, etc. This is a great way to keep interacting with your audience.
Another smart way is to promote your courses in this community. Of course, you need to add constant value, but you can also mix it with promotions.
#15. Turn YouTube Videos into Paid Classes
And lastly, you can turn regular videos into paid courses.
This tip is for those who have already added immense value for free and built a highly engaged audience. You can leverage this trust to get paid for accessing your content.
The method is called Channel memberships. And only channel members who pay a monthly fee set by the owner can access the content.
Creators literally doubled their YouTube earnings by making their content accessible to a limited number of people.  
This might not be a good idea for beginners now, but it is worth considering in the future.
Conclusion: How to Monetize Your YouTube Channel with Online Courses?
So, these are the best ways to monetize your YouTube channel with online courses.
YouTube is an excellent source of high-quality leads you absolutely should not miss.
However, you need the right approach to reap the benefits.
The fastest way to get more online course sales from a YouTube channel is to build an audience first. Share free information and build credibility, which helps build trust and increase sales.
To be honest, all of this takes time. But is it worth it?
Absolutely!
YouTube, next to Google Search is one of the best places to find your ideal audience.
And as you know, for selling courses you are going to need a separate course platform other than YouTube.
You can host your course on OnlineCourseHost.com, the most affordable and beginner-friendly online course hosting platform with marketing features to drive new audiences, like email marketing and Facebook ads integration.
But, more than just a platform, we want to provide you with all the information you need to successfully grow your online course business.
That is why we created the Course Creator Academy, where you can find everything you need to become a successful online course creator all in one place for free.
To get notified when new content is available here at the Academy, you can subscribe here to our weekly newsletter:
If you are looking to ask any questions on online course creation, you can reach me here on my Facebook group:
Join the Course Creator Academy Facebook Group
Ready to learn how to launch your first course on OnlineCourseHost.com? Here are the helpful guides for you to check out:
I hope you found this post helpful; let me know in the comments below what other topics you would like me to cover or any questions you have.
Thanks for reading… and enjoy the course creation process! 😉
---
Vasco Cavalheiro
OnlineCourseHost.com Founder & Online Course Creator