5 Key Challenges Of Online Coaches And How To Overcome Them

Platform Review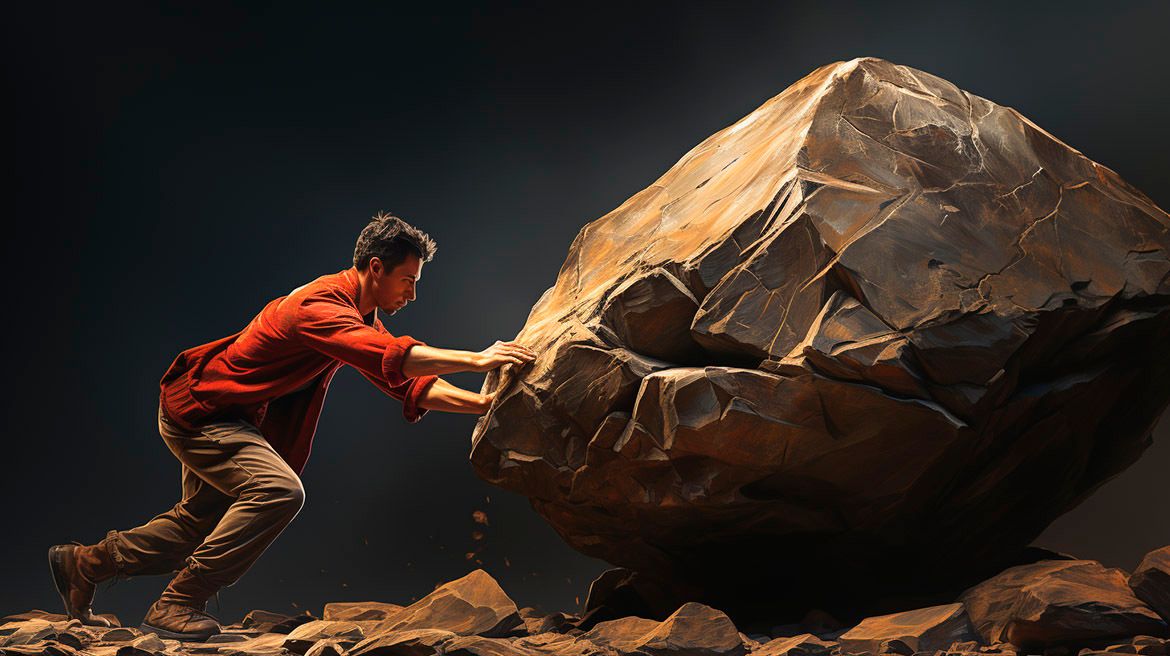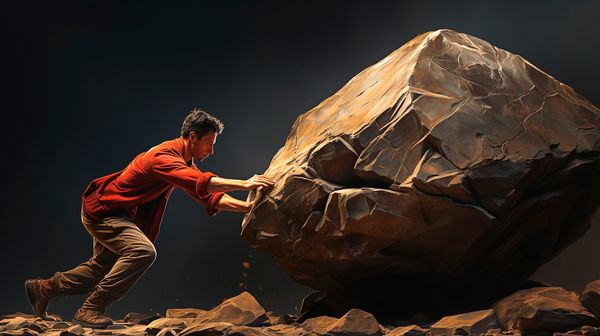 Discover the key challenges online coaches deal with and how you can overcome them and build a thriving business.
Creating coaching programs is an exciting way to reach more audiences and increase your revenue streams as an online course creator.
Even though you're not a course creator, online coaching is also a good way to share your expertise and knowledge around the world and make money while at it.
However, the process isn't without challenges. In this post, I'll discuss the different challenges that come with setting up an online coaching business and how you can overcome them.  
From the technical problems, difficulty finding clients, time management, and choosing a reliable platform to host your coaching program, I'll discuss all these and offer insights on how best to handle them.
Get ready, it's going to be a bumpy but exciting ride! 😉
So, what are the key challenges of online coaching?
Here are the 5 common problems online coaches deal with:
Marketing and finding the right clients
Timezone management
Technical problems
Adopting new technologies
Finding the right platform to host coaching programs
Now, let's go through them properly. Make sure you read to the end because I'll be recommending the best platform to launch your online coaching business.
You can also check out all the free guides available at the Course Creators Academy.
If you are looking to learn how to start an online coaching business here is my most detailed guide on it: How to Create a Successful Online Coaching Program
I also covered in detail strategies to promote and sell your online coaching program. Check it out: How to Promote Your Coaching Business to Reach a Wider Audience
So, what are the common challenges of online coaching and how can you overcome them?
#1: Marketing and finding the right clients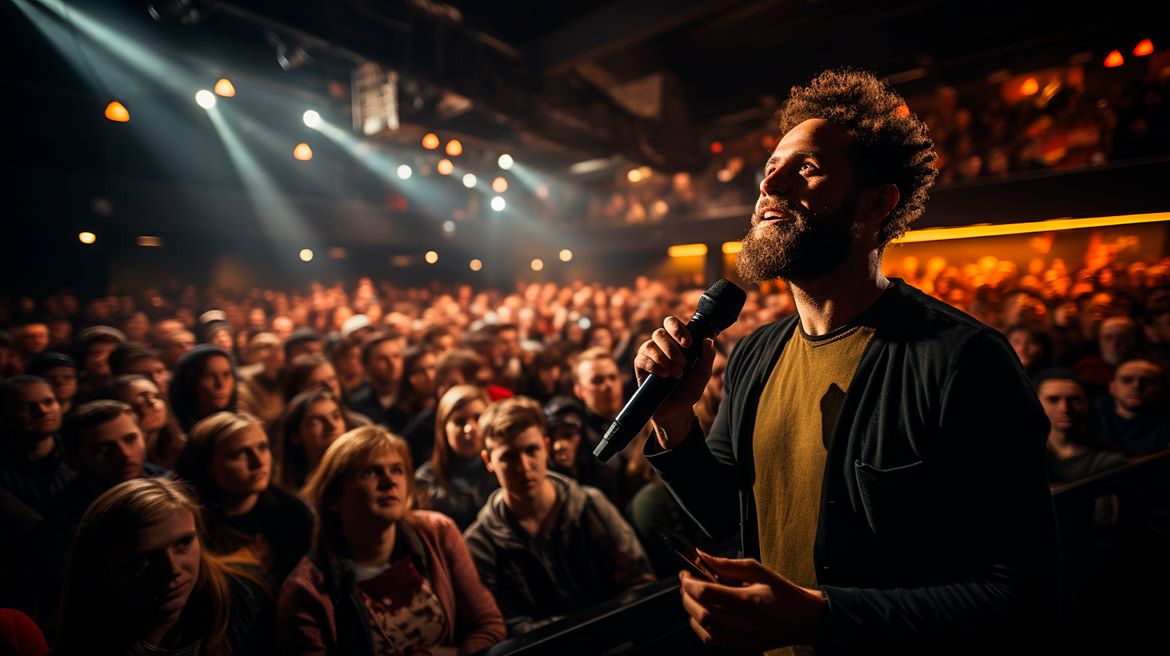 Clients are like the oxygen your business needs to survive and I know a lot of online coaches still struggling to connect with the right audience for their programs.
It can be really difficult especially if your niche is highly competitive. Plus the online coaching industry has grown significantly resulting in a saturated market. How then do you stand out?
Don't forget that the internet is flooded with information. Simply creating and publishing your coaching program is not enough. You need to go the extra mile to capture and retain the attention of potential clients.
How do you get establish trust online so that your prospective clients will readily invest in your coaching services?
Here's how to find the right clients for your online coaching programs:
Niche down and define your audience: Rather than focus on a broad audience, focus on a specific niche where you have expertise. The more specific you are, the less tedious your marketing and promotion efforts will be. Your marketing message will also be clear, helping you stand out to potential clients who are looking for specialized guidance.  
Build an authentic online presence: Set up a professional website. That's the first place your prospective clients will check out before subscribing to your coaching service. Also, keep your social media profiles active and constantly publish valuable and engaging content to showcase your expertise. Publishing personal stories will also help to humanize your brand and build trust.
Engage on social media: Join different online communities like Facebook and Linkedin groups related to your niche. Answer questions to showcase your expertise and also promote your coaching business on the platforms.
Organize free workshops/webinars: Set up free workshops or webinars and use them as a lead magnet to attract your target audience. Before they sign up for the workshop, they will provide their name and email addresses. This will be useful for your email marketing.
Build and nurture leads: Creating free short online courses or PDFs to demonstrate your expertise is also a good way to build leads. Send regular newsletters with valuable content, offers, and updates with email marketing tools like Mailerlite or Mailchimp.
Paid advertising: Set up targeted adverts on platforms like Facebook or Google Ads. This will cost you some money but at least it helps you to reach a specific audience based on demographics interests and behavior.  
In all of these, ensure that you're consistent. That's the only way to record significant progress in reaching the right audience for your coaching business.
#2: Timezone management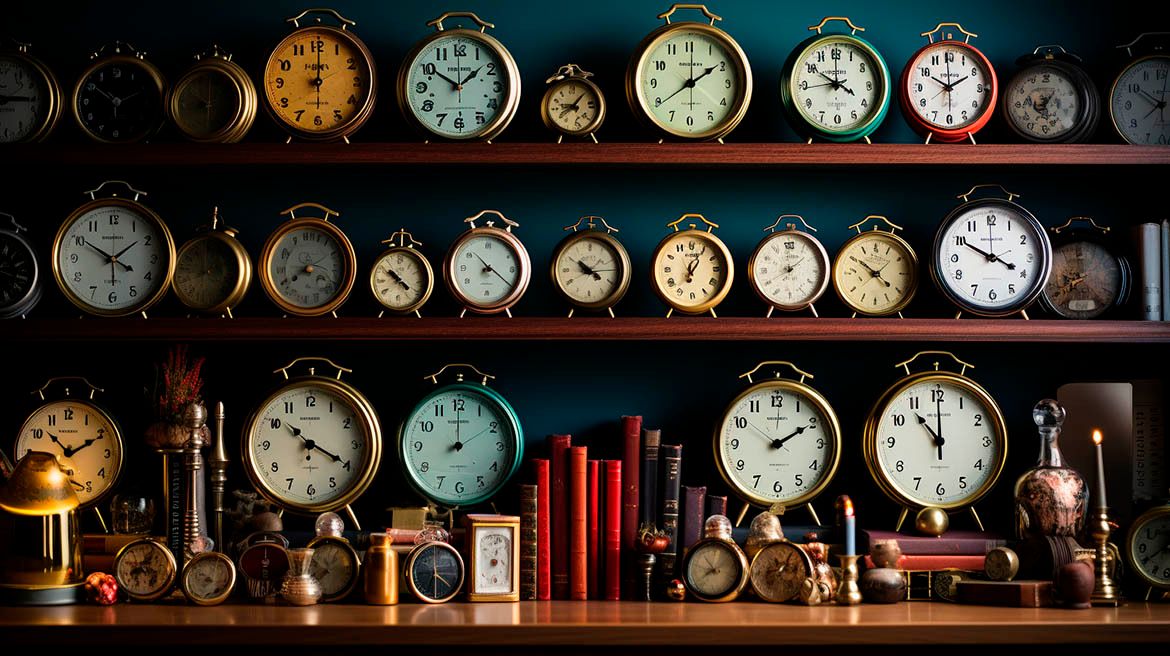 As an online coach, you'll have clients from various parts of the world. So, it will be challenging to coordinate sessions across different time zones.
How do you find suitable time slots that will work for you and the clients?
If this problem is not handled properly, you'll easily burn out because you'll be working round the clock. Aside from that, it will affect the growth of your business due to communication delays.
The best way to overcome this struggle is to first choose a specific timezone to work with and then communicate this to your clients from the outset.
Then, integrate scheduling tools like Calendly or Doodle on your coaching website for your clients to book their sessions. They already know of your availability and the slots open before booking.
Another way to handle this is to allocate specific days or times for clients in certain time zones. For instance, if you have clients in Africa, group their sessions on specific days so that you don't switch between time zones.
Alternatively, you can reach out to your clients and ask them what day or hours will be convenient for them. Don't forget to schedule your meetings with tools like Google Calendar.
For those that are unable to attend live sessions due to time zones, you can consider recording and sending the session to them. This allows them to review the session at their convenience.
All in all, as much as you need to be flexible enough to accommodate clients from different time zones, you also need to set clear boundaries, else, you'll burn out.
Your well-being is just as important as your business. So, you need to guard it as much as you can.
#3: Technical problems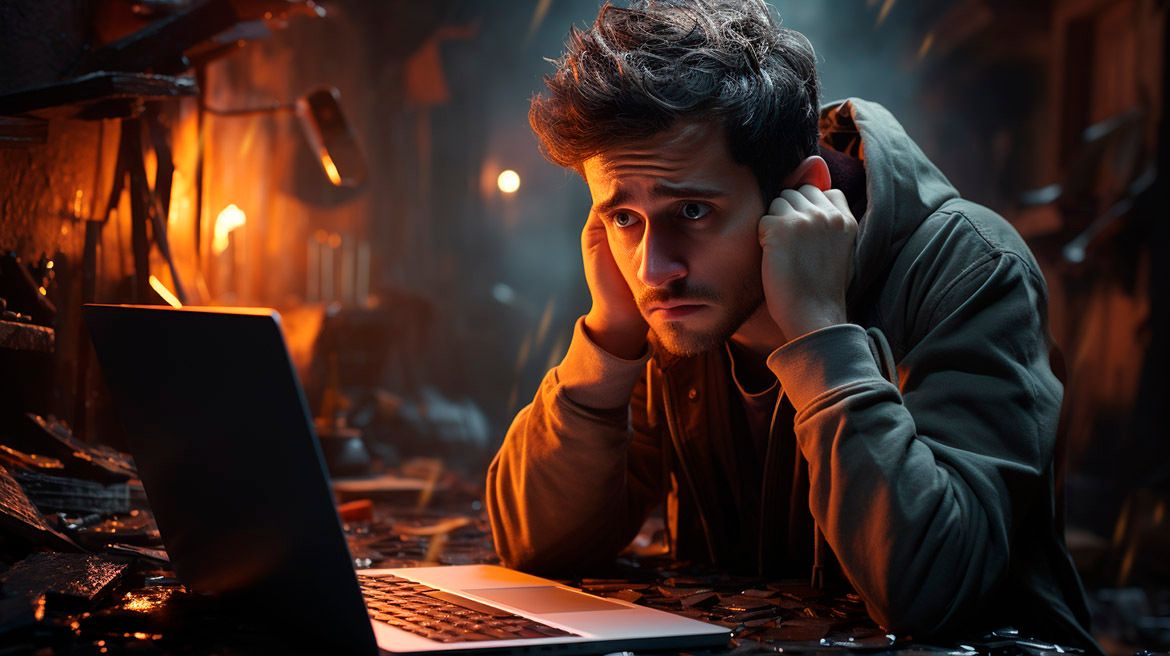 This is another challenge online coaches usually go through when running their business.
You'll face problems like unstable internet connections, and technical glitches within video conferencing platforms or coaching platforms which can be really frustrating.
Your clients may also encounter difficulties accessing or using your coaching platform. And if you have poor audio or video output, it can affect communication and lead to misunderstandings with your clients.
What is the best solution to this?
First, check your internet connection, audio, and video before every session. These checks will prevent last-minute surprises.
Also, make sure you familiarize yourself with the platform you're hosting your programs. It's even best to choose a platform that's intuitive and user-friendly. This allows you to set up your website without much technical headaches.
Additionally, you should have a backup platform and software in case the primary one encounters issues. For example, if you're using Zoom, have an alternative video conferencing tool like Google Meet.
Another option is to guide your clients on how to use the coaching platform during your onboarding process. Give them clear instructions and resources like tutorials and step-by-step guides to help them navigate the platform.
Don't forget to update every software and device you're using and if you can afford it, have a team of tech-savvy colleagues that you can turn to for assistance when needed.
In worst-case scenarios, you can always reschedule the coaching sessions.
#4: Adopting new technologies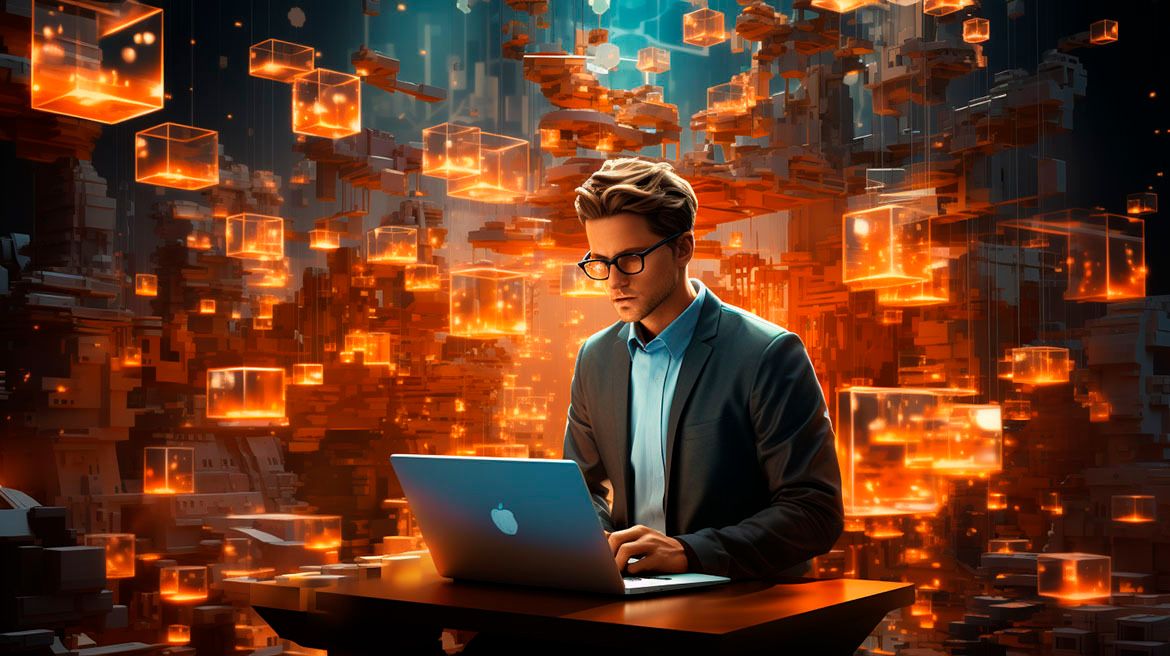 I have noticed that most online coaches are usually resistant to adopting new technologies. They get comfortable with existing tools and methods and make little or no effort to learn and introduce new technologies in their business.
You must understand that the world is ever-evolving. You need to go with the tide and adjust to current practice if you want to stay relevant in your chosen industry.
Here's how you can navigate this struggle:
First, start with integrating one technology at a time. This will allow for a smoother transition and you wouldn't be overwhelmed. It helps that most tools and platforms come with educational resources like tutorials and user guides to help you understand the platform better.
Make sure to study them before usage. If you encounter any problem, you can always reach out to the platform's tech support or check YouTube for tutorials from other users.
If you're worried about the financial implications of investing in new technologies, consider subscribing to the trial periods of new tools and software. Thankfully, most of them allow you to test and access their suitability to your business.
I'll also suggest that you develop a budget plan for the tools you'll be using. Your budget should cover subscription fees, training expenses, and any necessary upgrades.
Finally, opt for tools and platforms that are user-friendly and have intuitive interfaces. This makes the learning curve easier for you and your clients.
#5: Finding the right platform to host coaching programs
Online coaches struggle to find the right platform to host their programs and the reason is obvious.
There are a lot of platforms available, so, it gets overwhelming trying to pick the one that best aligns with your business needs.
You need different tools to run your business such as video conferencing, payment processing, engagement tracking, and email marketing. It's usually challenging finding a platform that fulfills all these needs at once.
Apart from that, you may struggle to get one that offers seamless navigation and accessible feature to you and your clients.
You may even get budget-friendly platforms but they will have limited features to effectively run your business. Some may have the best features you need but might be extremely costly for you.
So, how do you choose the best platform to host your online coaching program?
Before choosing a platform, you need to answer these questions:
How user-friendly is it?
Can I integrate external tools and software into it?
How quickly can they respond and fix any technical issues?
Are the paid plans within my budget?
Can I have more than one multimedia on my website?
Is there a transaction fee? And how long does it take before my funds will be released to my account?
Answering these questions can help you find the best coaching platform for your business.
One such platform is OnlineCourseHost.com.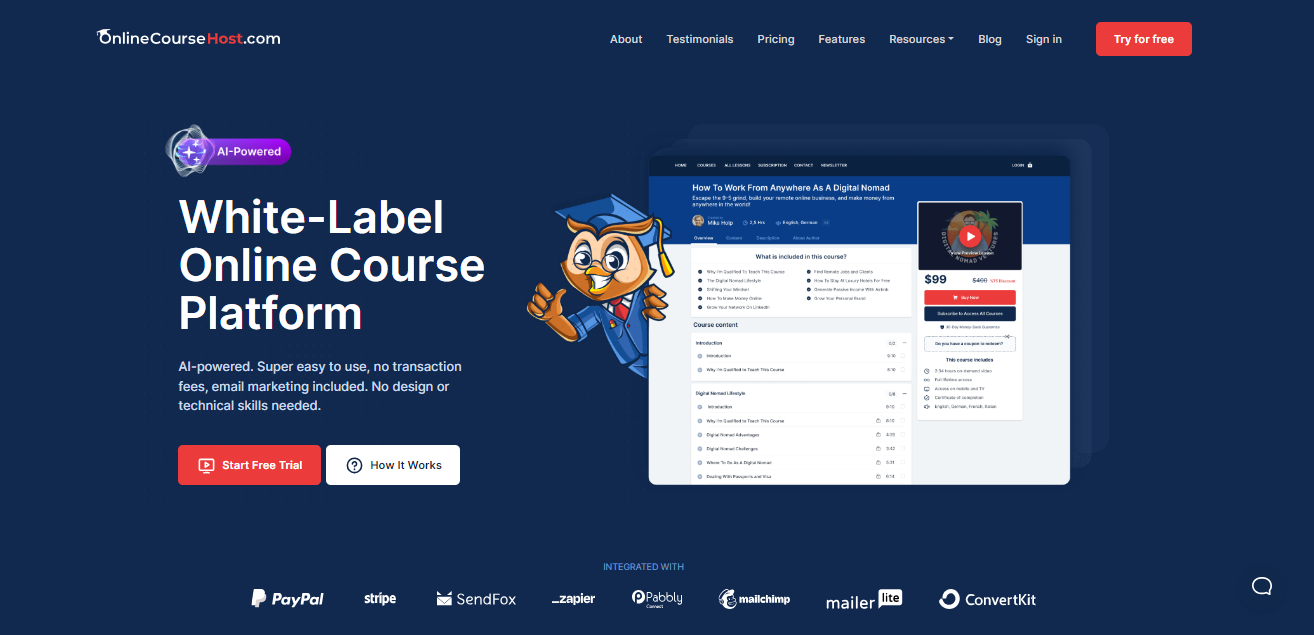 It is the most beginner-friendly coaching platform for your business. It's also powered by artificial intelligence, saving you a lot of time and making it much easier to curate your coaching programs.
Additionally, the platform comes with powerful marketing features like email marketing and Facebook ads to help you attract the right clients to your coaching business.  
Best of all, you can integrate as many tools and software as you want into your website including Zoom, Calendly, Asana, PayPal, and Stripe.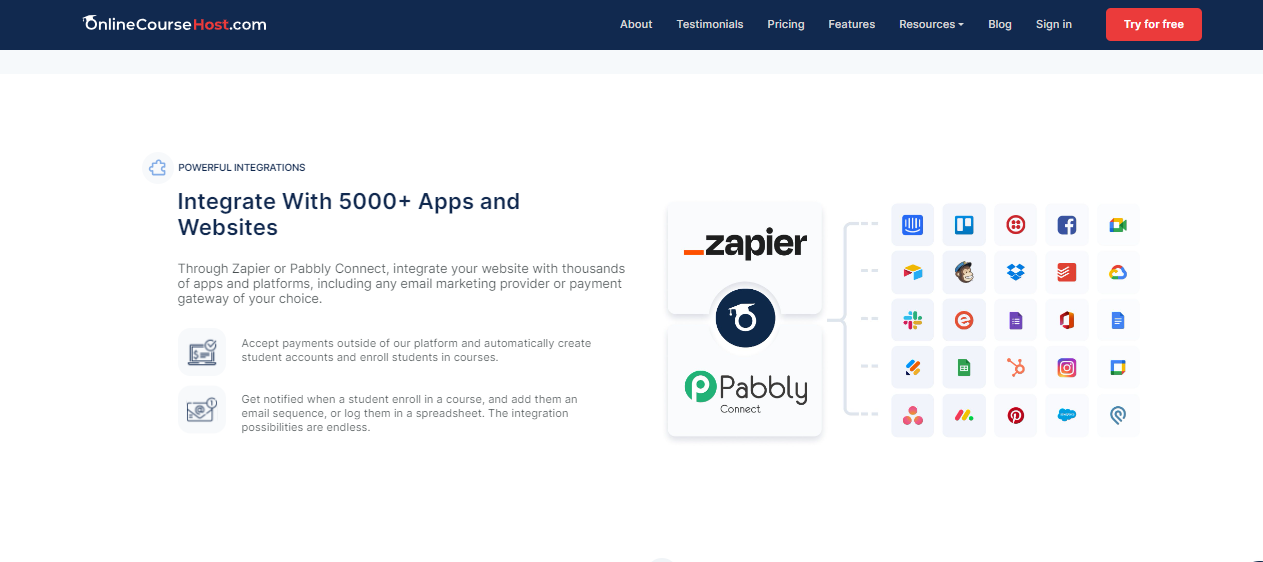 In all of these, you're not charged any transaction fee!
You're not only getting paid in your national currency but also have full access to your funds at all times and can withdraw anytime.  Each payment from a client lands immediately on your Stripe or Paypal account.
But, more than just a platform, we wanted to provide you with the information you need to grow your online coaching business successfully.
That is why we created the Course Creator Academy, where you can find everything you need to become a successful online coach all in one place for free.
To get notified when new content is available here at the Academy, you can subscribe here to our weekly newsletter:
If you are looking to ask any questions on online course creation, you can reach me here on my Facebook group:
Join the Course Creator Academy Facebook Group
Ready to learn how to launch your first course on OnlineCourseHost.com? Here are the helpful guides for you to check out:
I hope you found this post helpful; let me know in the comments below what other topics you would like me to cover or any questions that you have.
Thanks for reading… and enjoy the launch process! 😉
---
Course Creators Academy, a community by OnlineCourseHost.com
Founded by Vasco Cavalheiro
Online Course Creator