A Roadmap to Creating a Successful Online Coaching Program: Step-by-Step Guide for 2023

Platform Review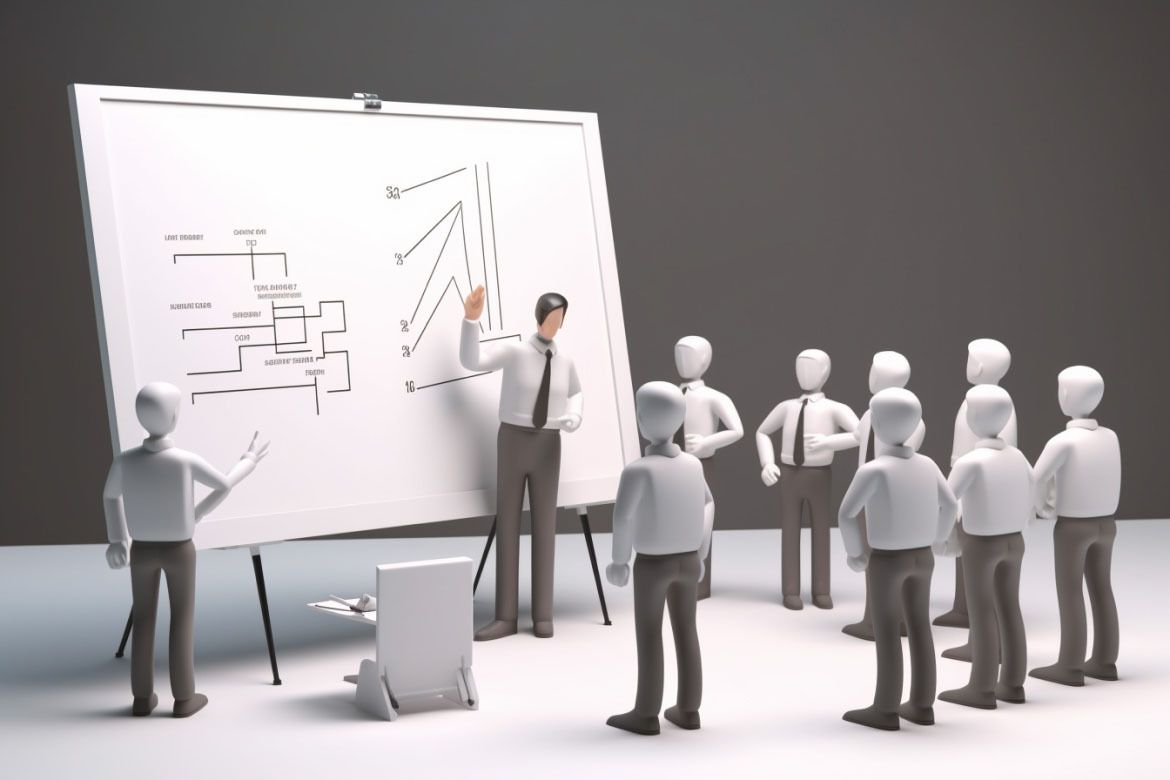 Want to launch an online coaching program? Learn how to create an online coaching program and market it to get premium clients.
Are you planning to start your online coaching program? If so, then great decision because with the online coaching industry growing at a 13% rate yearly, it's a perfect time to leverage your expertise and start coaching premium clients.
But as you know, starting an online coaching business is not easy, and yet some coaches can charge premium prices and still have a steady flow of high-paying clients, while others are struggling to get paid decent rates. Why the difference?
These premium coaches know how to leverage their brand to build a high-ticket online coaching program. They've built a program that helps their clients achieve the best results.
This post will teach you how to create a valuable online coaching program that helps you get premium clients.
So, how to create an online coaching program?
Here are the steps you need to follow to build an online coaching program:
Choose your niche & target audience
Validate your coaching program idea
Create realistic goals (USP)
Choose the type of coaching program you want to create
Create your coaching program content
Organize your course sessions
Choose a reliable hosting platform
Determine your program's pricing
Build a high-converting landing page
Market your program to drive traffic
Get on a sales call and handle objections
Create an engaging client onboarding process
Provide a fantastic coaching experience
Receive feedback and improve
Create a community
Below I'll explain each step in detail and show you how to go about it, so by the end of this post, you'll have a clear plan to launch your first online coaching program.
You can also check out all the free guides available at the Course Creator Academy by clicking the Academy link on the top menu.
Let's begin.
STEP #1: Choose your Niche & Target Audience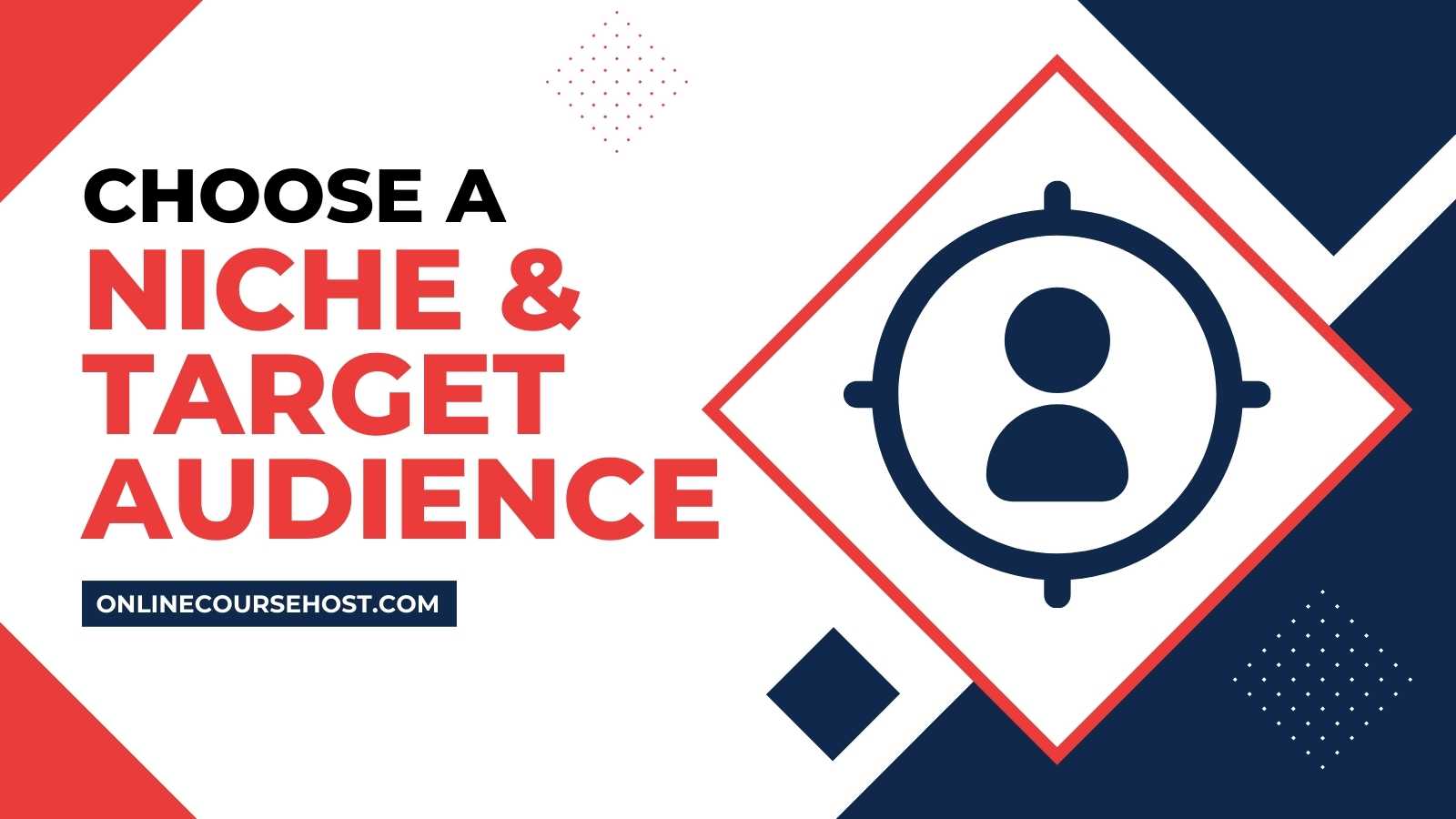 Highly paid coaches can charge premium rates because they have mastered one profitable niche. Extensive knowledge and experience working with a specific clientele give them an edge over their competitors.
If you want to launch a profitable online coaching business, you need to focus on catering to the needs of a particular target audience in one niche — for example, you only coach CEOs of SaaS companies on thought leadership. Or you help six-figure finance companies establish a smooth legal process.
If you're already selling online courses and are an established expert in a niche, you're better off continuing with the same niche and finding a profitable target audience segment.  
For example, you're selling beginner digital marketing courses to college students. To scale up, you don't need to change your niche; instead, upgrade your target audience, such as start coaching CEOs of big companies about the importance of hiring a digital marketing team.
But if you're starting from scratch, find a profitable niche in which a premium audience is interested. The best way is to keep an eye out for trends.
For example, with the online course industry booming, more and more people want to launch their online course business; if you're experienced, you can coach and help them.
Remember, the key is to focus on a target audience segment to help get better in a particular niche.
STEP #2: Validate your Coaching Program Idea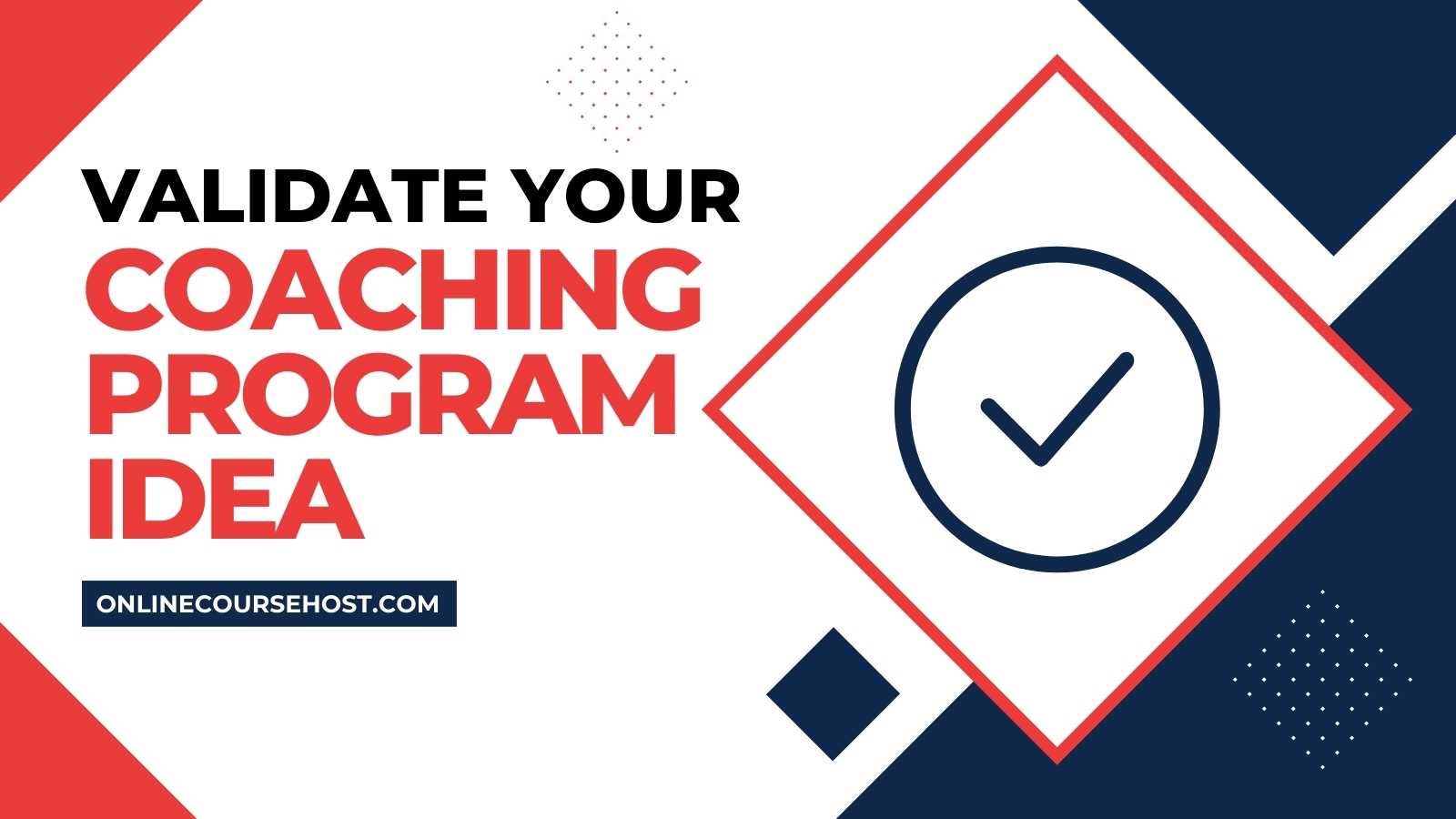 Once you've found a profitable niche and a premium target audience, it's time to find a specific problem these people are struggling with.
Take back our example of coaching CEOs about hiring digital marketing teams. These CEOs are often busy and don't have time to implement digital marketing strategies to grow their business. But they realize how important digital marketing is for their business.
These CEOs have no idea how to establish a digital marketing team. And because you're an expert, you can coach them to hire digital marketing experts. You can even upsell an advanced digital marketing strategy as an additional service.  
Similarly, in the online course creators' example, they don't know how to launch an online course. As a coach, you can help them create a step-by-step process they can follow each time they launch a course.
Once you have a big problem you can solve for your target audience, validate it to ensure it's profitable.
The best way to validate is to pre-sell your online coaching idea to an existing audience. While pre-selling, if you get some enrollments, it signals that people are interested because they invested before they could access the content.
Prepare a high-converting landing page, list all the features of your coaching program, and offer a unique discount to anyone who enrolls first.
Now, drive traffic to your landing page and motivate students to join the waitlist. Adding a few students indicates that the topic is worth pursuing.
And if nobody enrolls even after you've tried every marketing strategy, you should drop that idea and be happy that you saved all your efforts from going into vain.
STEP #3: Create Realistic Goals (USP)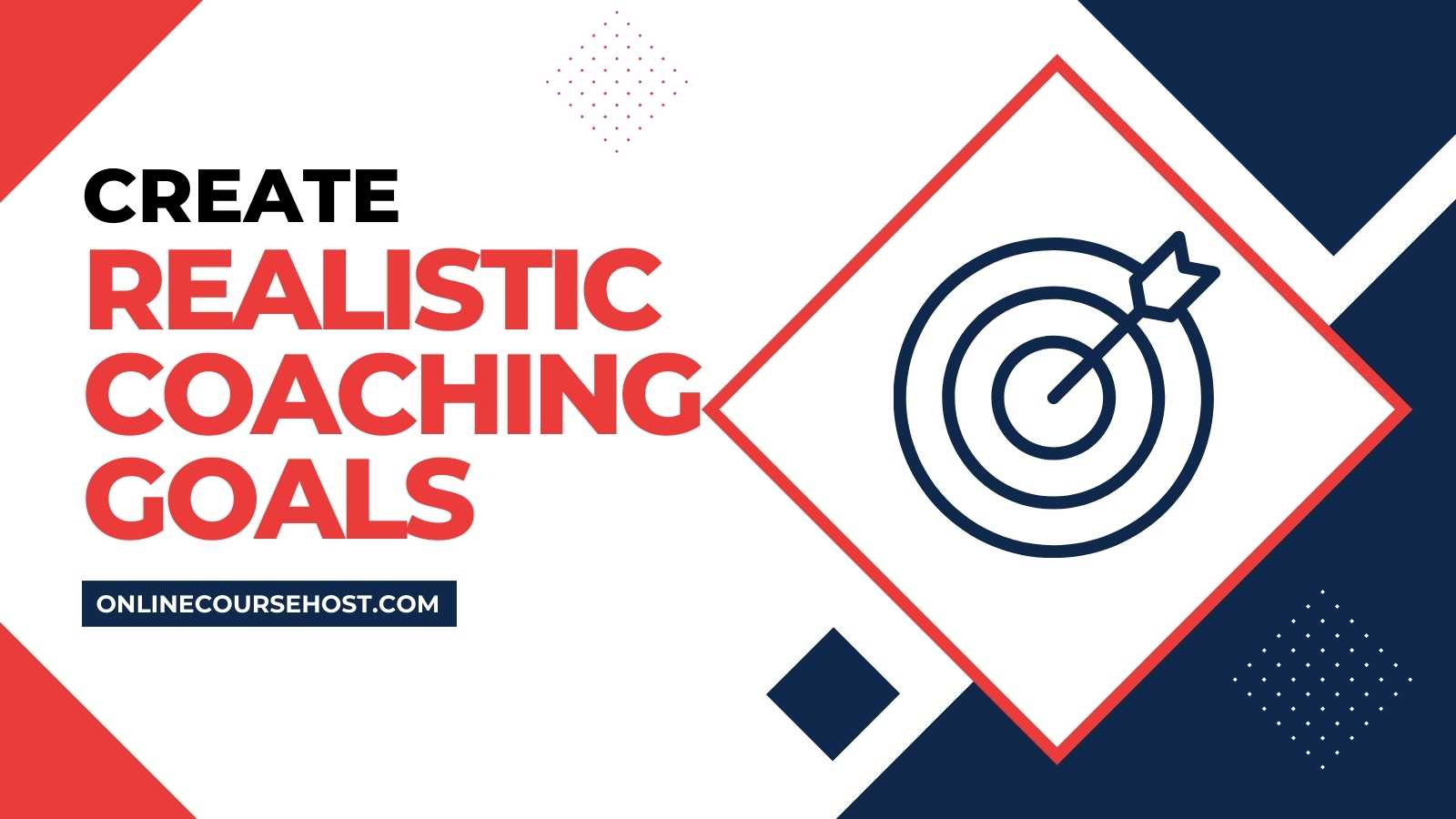 Let's say you validated an excellent online coaching program idea, and a few clients have already enrolled; then, it's time to set clear expectations.
Many coaching programs fail because coaches don't set clear expectations upfront. If you want your clients to feel they benefited from your coaching, give them realistic goals you'll help them achieve.
For example, an actionable goal for a CEO of a SaaS company would be to help him hire a digital marketing team and create a digital marketing strategy to acquire at least 200 customers per month in one year.
It's clear from this goal that after learning from you, the CEO can hire digital marketing professionals to drive at least 200 customers monthly by implementing digital marketing strategies.
Don't set vague goals; make them practically possible and push clients to want to pursue them.
Your course goals will also help you craft a unique selling point. A unique selling point (USP) is one thing that helps your offer look different (and better) than your competitors.
With many competitors, you want to stand out as an expert coach. You realize that many coaches deliver the same services, so if you want your target audience to choose you over others, your coaching needs to deliver a unique value that others don't.
Think about what your unique selling point is.
Are you giving a bonus ebook?
Is it your experience?
Do you offer done-for-you services?
Are you offering a money-back guarantee?  
It can be anything that gives you an edge over your competitors. Come up with something exciting and unique.
STEP #4: Choose the Type of Coaching Program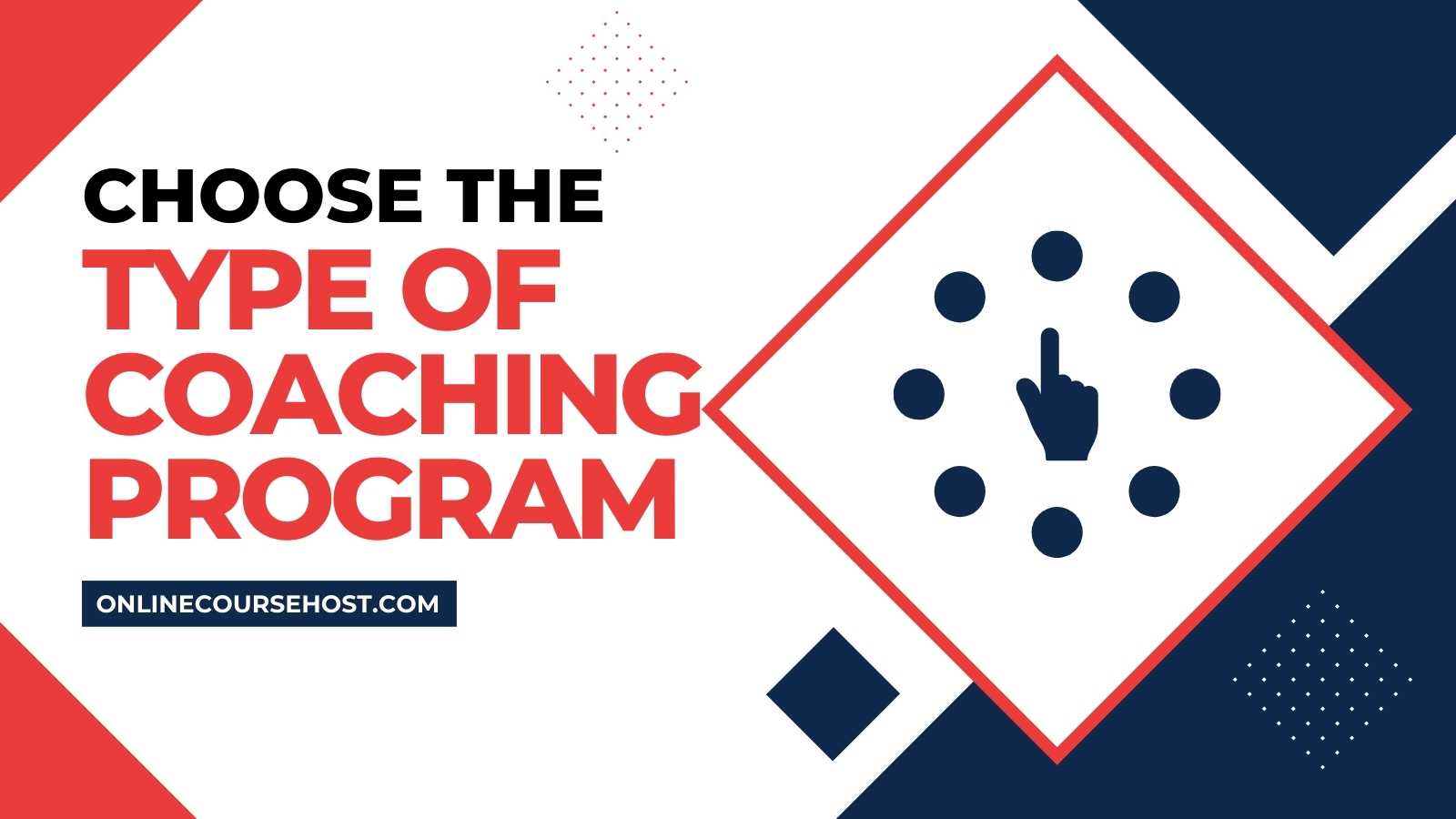 After setting realistic goals and before creating coaching content, you're yet to decide what type of coaching program you want to create.
You have many options like group coaching, private 1-1 coaching, multiple live sessions, or offering recorded content and occasional live sessions.
It depends on your availability; think about how often you can get on live calls with your clients and then package your program.
If you're coaching a group (with a similar problem) at once, the ideal scenario would be to have pre-recorded lessons and in-demand live coaching calls. In this case, your clients can learn from pre-recorded sessions and book live calls with you to clear doubts.
But if you're helping people fix different sections, offering 1-1 coaching sessions and working on fixing the problem together is better.
As a beginner, it's better to offer personalized 1-1 coaching sessions as you'll get many chances to learn about your target audience more closely.
And once you've gathered enough data to diagnose a common problem, you can create a productized version of the coaching program.
STEP #5: Create your Coaching Program Content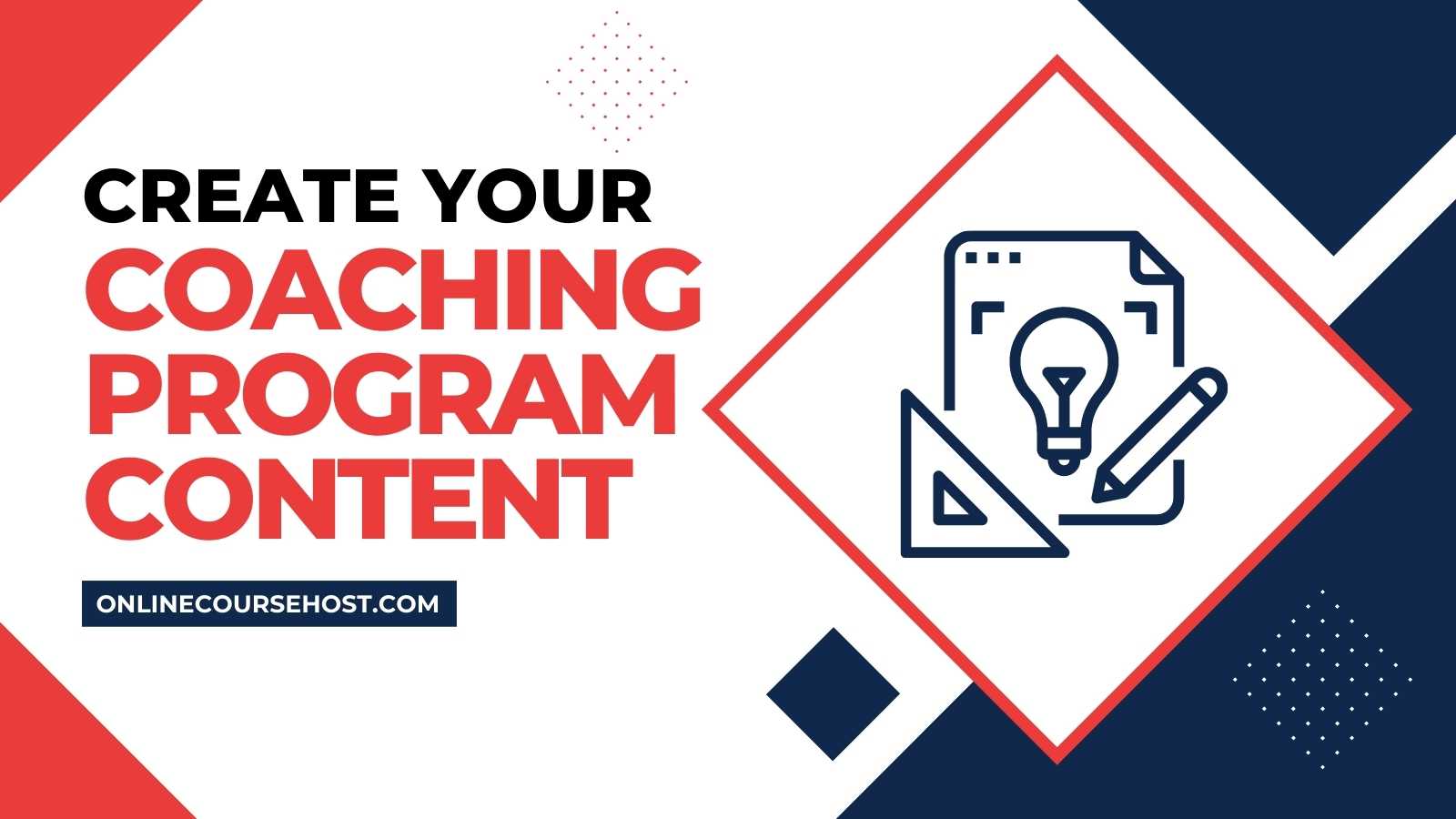 After deciding the type of coaching program, if you choose to deliver pre-recorded course lessons, you must prepare the course content first.
Start with recording a high-quality course. You can use this course's lessons as weekly training sessions for your coaching program.
Follow the steps explained in this guide to create a valuable online course.
Once you've prepared course content, it's time to bundle it up with other resources to create a full-fledged coaching program. Here are some of the things you might want to include in your offer:
Templates: If you're teaching how to do something, for example, how to create a content strategy, it's a good idea to create your branded templates and give them to your clients.
Exercises: If you're teaching something that requires regular practice, for example, if you're a fitness coach, come up with many unique exercises.
Tracking sheets, checklists, cheat sheets, workbooks, etc.: Providing all these materials with your branding will help you create a more valuable coaching program.
Personal resource library: Most coaches are experts because they have resources that help them do their tasks quickly and efficiently. Create a separate resource library where your clients can access your resources.
Bonuses: Ensure to entice clients with irresistible bonuses that add value to your offer. You can pick from your previous courses and offer them for free as a bonus.
Examples and stories: It's always a good idea to include many examples, stats, and stories to make your content more credible. So, research firsthand to avoid time lags.
Additional reading materials: Research and find resources to add value to your program. Prepare a list and find a way to deliver them somewhere in your course.
Take some time to collect this material, and once done, move to the next step.
STEP #6: Organize your Course Sessions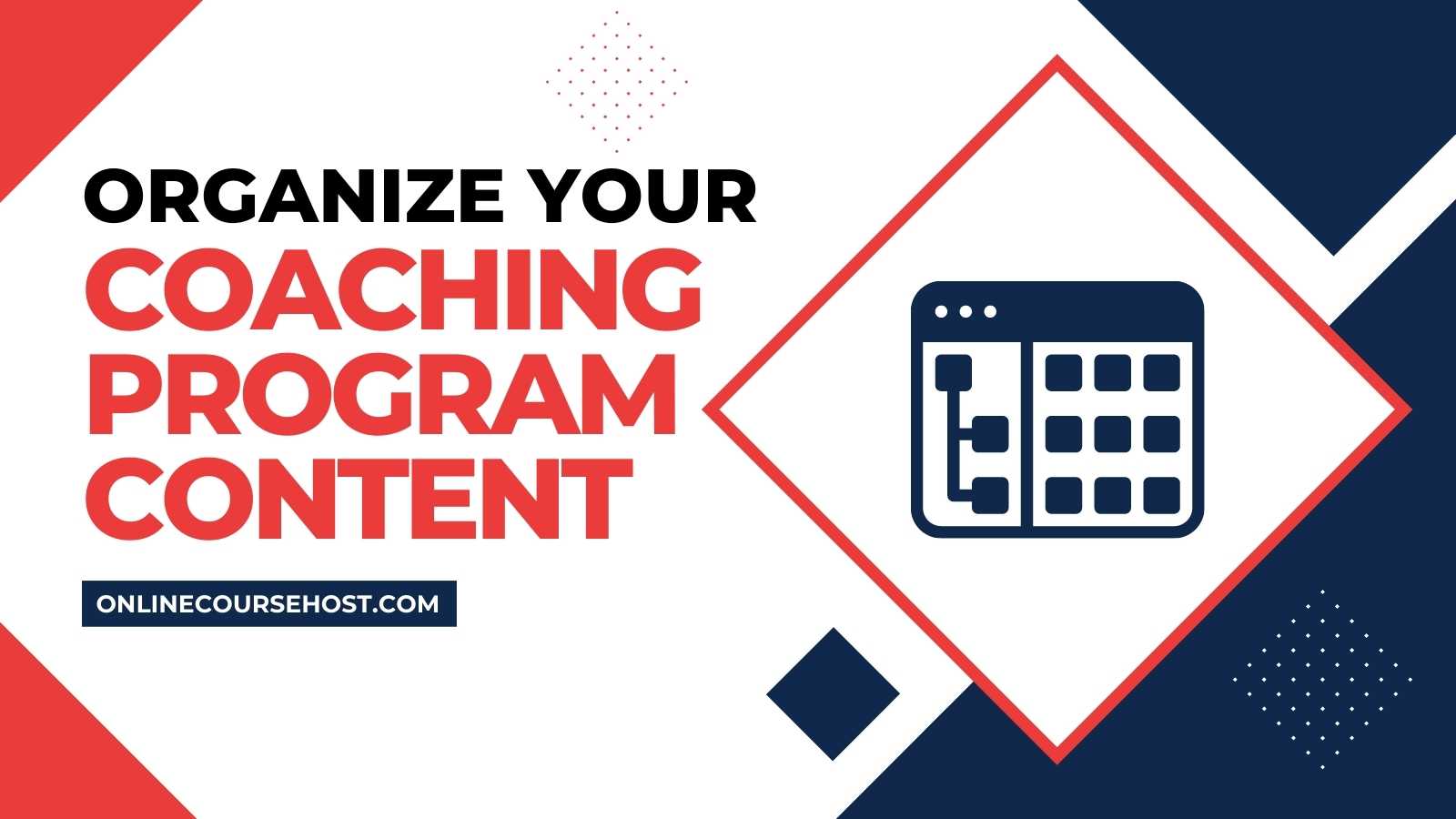 Once you feel satisfied with the content, it's time to arrange it in a logical sequence.
At this time, you want to organize the content daily, biweekly, weekly, or monthly. Decide how frequently you want to provide content to your clients. Consider their schedule to come up with a perfect timeline.
For example, most busy CEOs won't be able to take your classes every day but can make time once a week. In that case, you'd want to deliver once a week.
Also, consider delivering additional classes like 1-1 coaching calls, doubt-clearing sessions,  group calls, mastermind sessions, etc.
After deciding the timeframe, organize your course lessons and include all the additional material you prepared in the above step.
STEP #7: Choose a Reliable Hosting Platform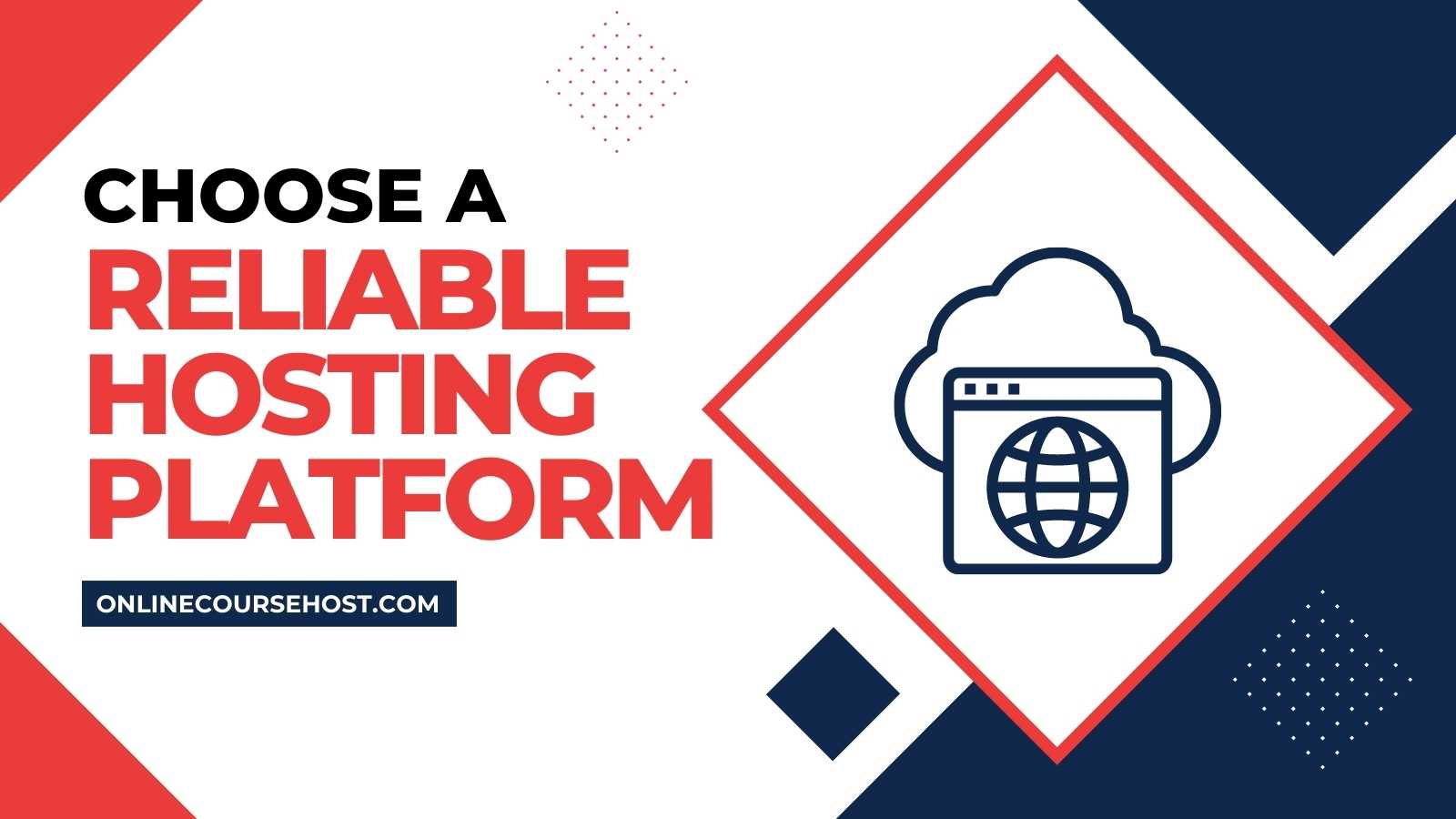 Once you have an organized coaching program, it's time to choose a course hosting platform that allows you to cater to your clients well.
A part of your coaching program's success depends on how easy it is for clients to access the course material.
Of course, you'll give bonus resources, coaching sessions, and live calls elsewhere. Still, the primary course material needs to be available to your clients so that they can track their progress easily.
OnlineCourseHost.Com is an excellent platform for hosting online courses. It gives you the tools to upload content, market the course and build your audience.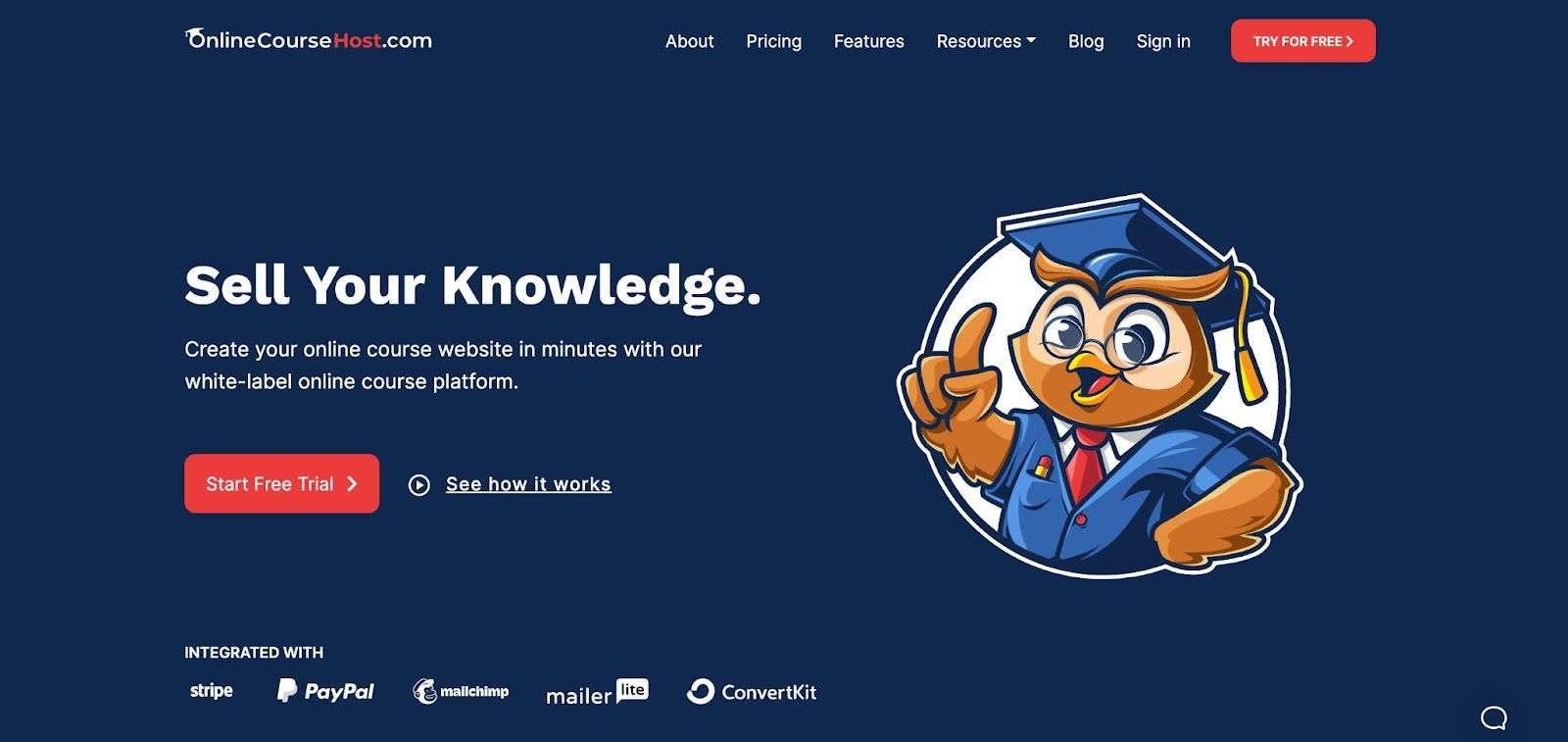 But most importantly, it has a user-friendly interface that makes it easy for clients to access the course material. It motivates clients to keep going forward.  
You can start a free trial of OnlineCourseHost.Com here.  
Now that you have uploaded the course content to a reliable hosting platform, it's time to price it.
STEP #8: Determine your Program's Pricing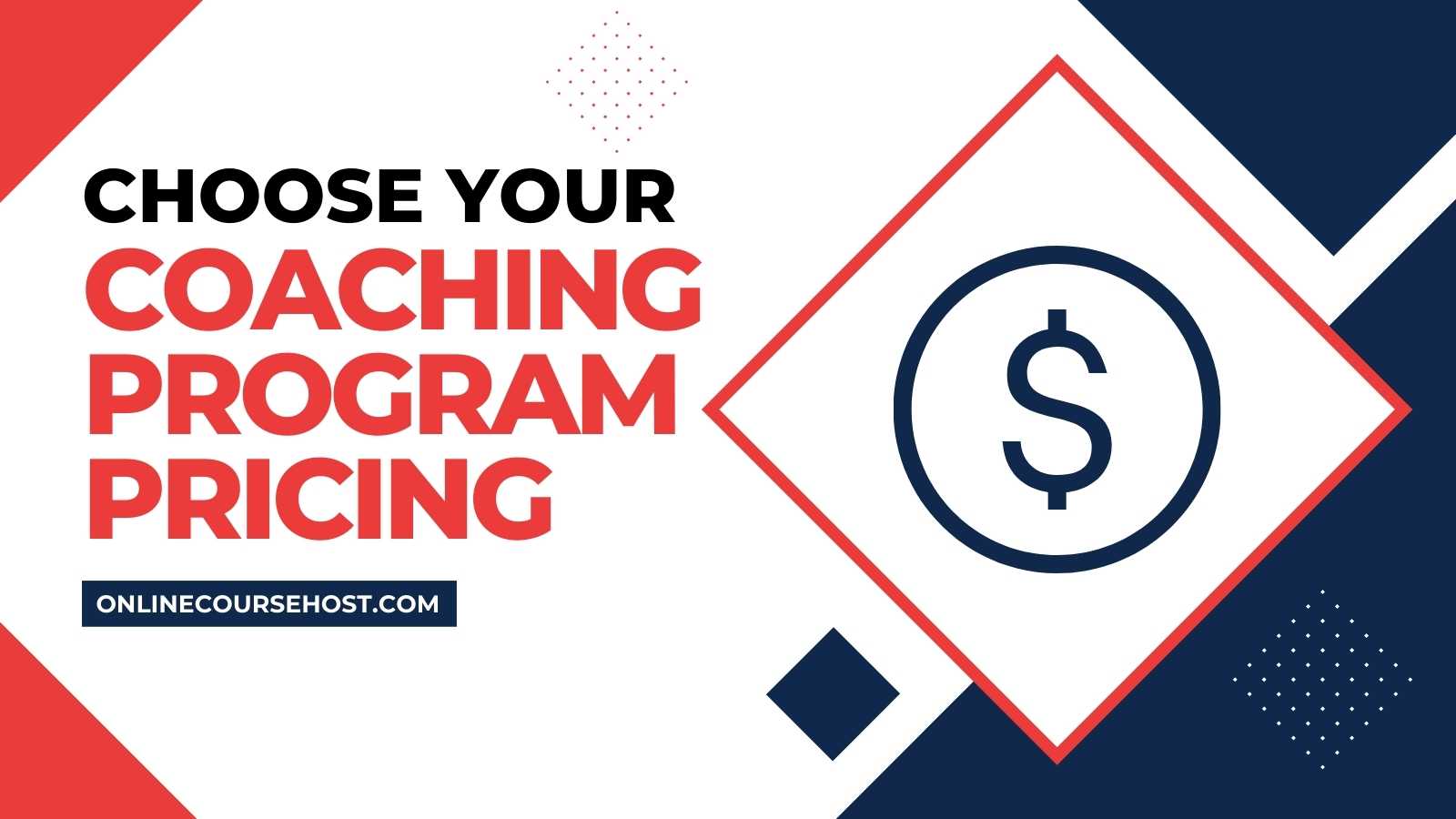 Coaching programs are generally priced higher because you're selling your expertise and time as the main product.
But it's still a good idea to keep the pricing reasonable. Your program's price should be something your target audience can afford.
To determine the correct price, consider your target audience. If they're CEOs of big companies, charging a premium price is doable. But if your target audience is a startup CEO, it's a good idea to keep it affordable.
If it's still unaffordable for some clients, you should offer exclusive discounts or installment options.
While pricing your course, you should consider factors like
the number of clients you can take,
the amount of time you can give to each one of them,
the premium resources, and
the effort you put into packaging the information.
You can find out effective pricing strategies in our detailed guide here.
STEP #9: Build a High-Converting Landing Page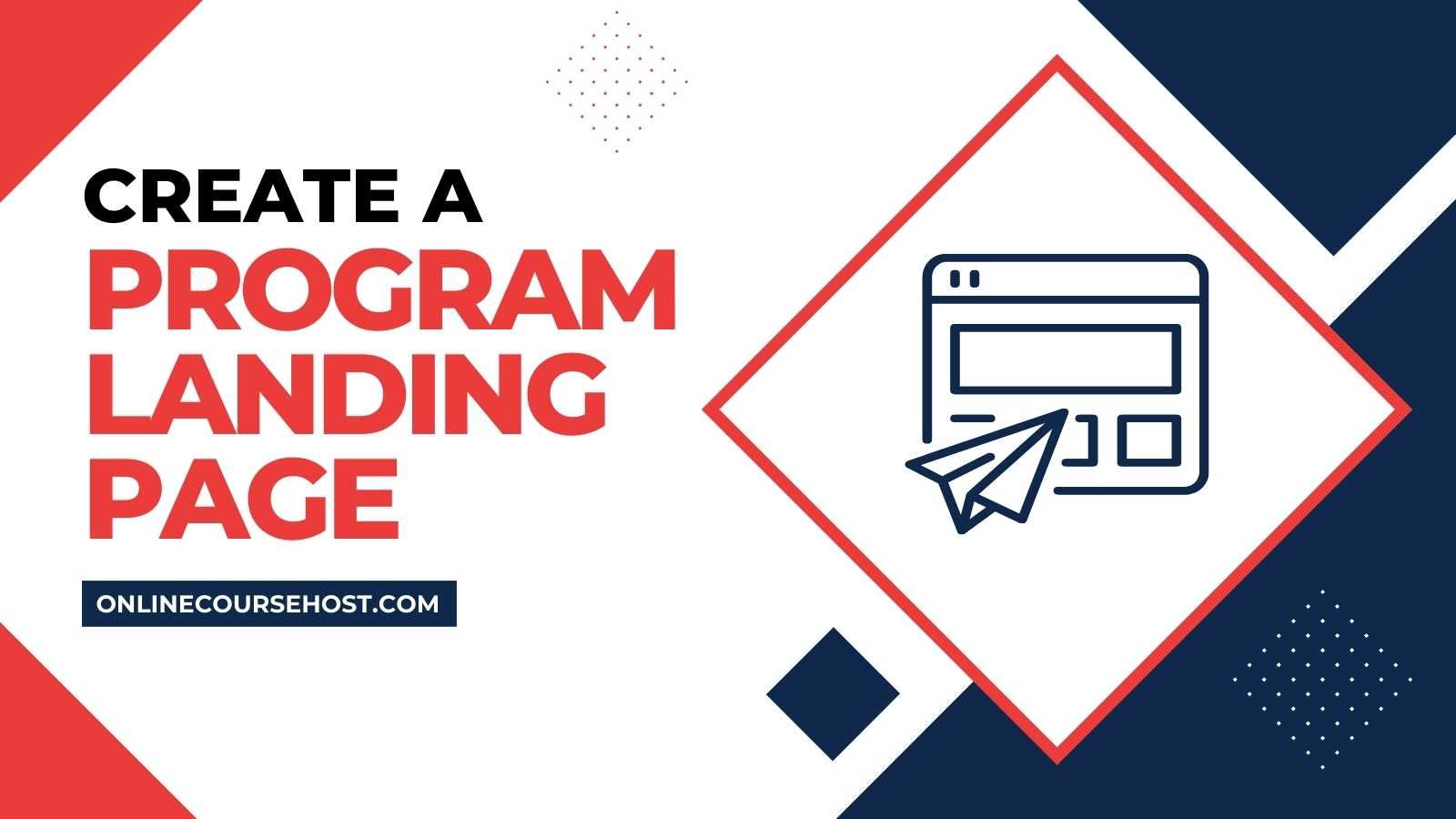 You have a coaching program but don't have a way to showcase its value to your clients. So, it's time to create an enticing landing page where you'll display all the core features of your coaching program and send all clients to learn more about your offer.
Some clients would consider taking your offer but can't do it because they don't know how to. The goal of a landing page is to clear any doubts the clients might have. The landing page will also include all the necessary information, including how to sign up for the program.
An excellent landing page should have the following elements:
A captivating headline to make them click
A professionally designed thumbnail to catch the audience's attention
Compelling online course description that draws your students in
Core features and benefits outlining the solution provided by your course
An irresistible offer
Bonuses (if you're offering)
A solid call to action (for this case, include a link to schedule a call)
Testimonials from past students (both video and text)
Social proof
Frequently asked questions to handle objections
OnlineCourseHost.Com offers a beautiful premade landing page template. All you need to do is fill out essential details, and you'll get a landing page like this: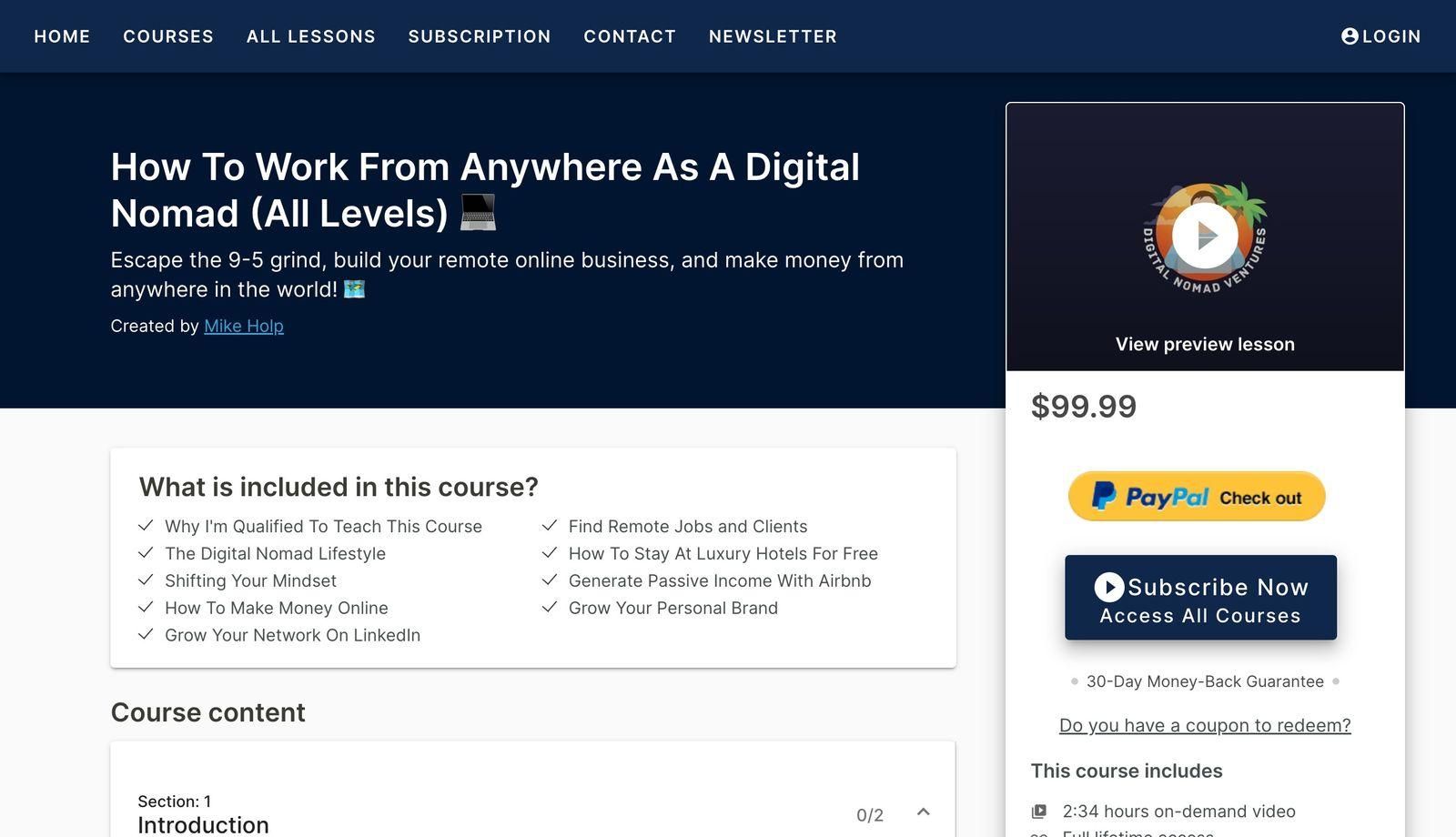 Once a high-converting sales page is ready, you can officially market it online and drive sales.
STEP #10: Market your Program to Drive Traffic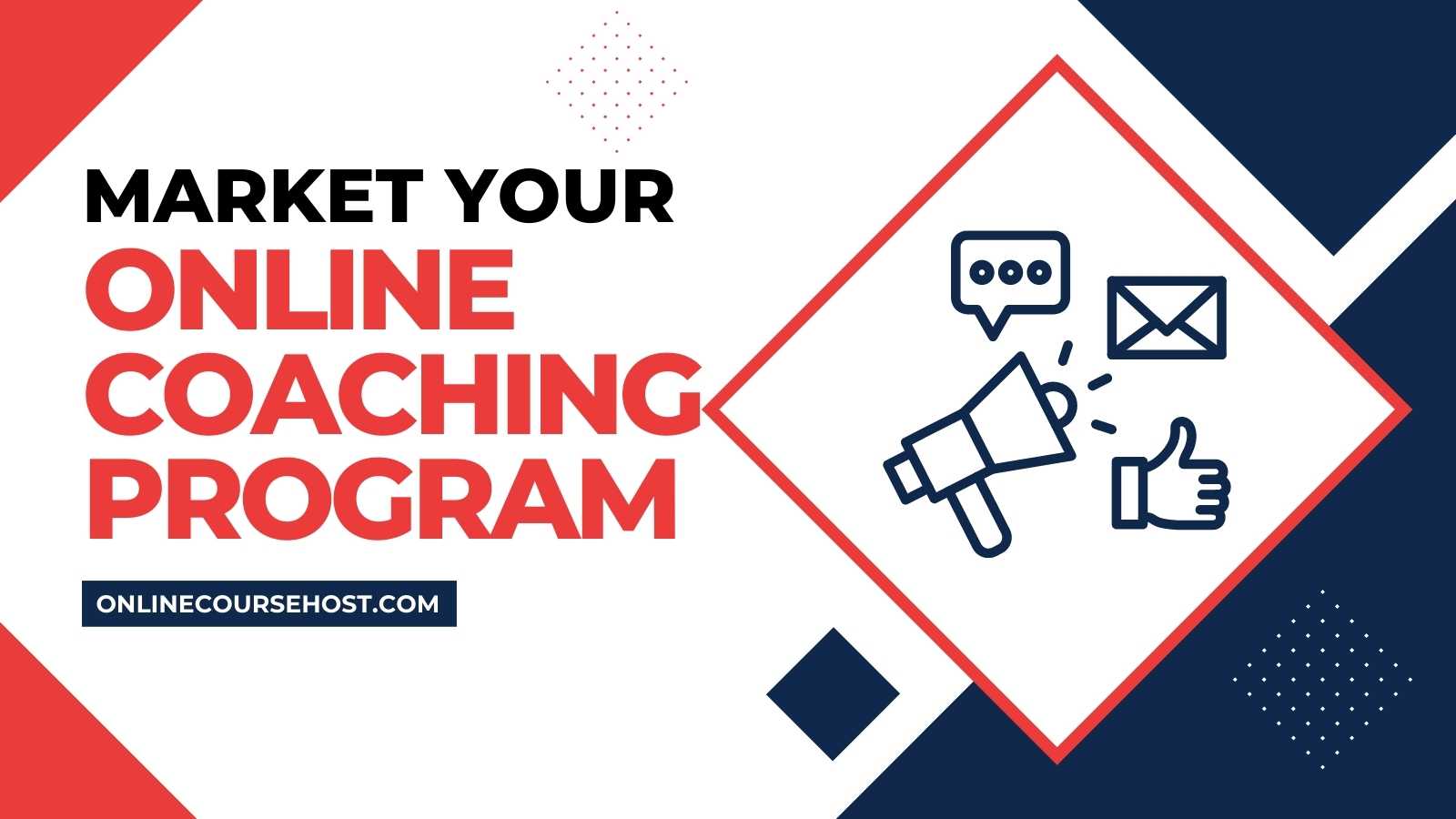 Selling a coaching program isn't like selling regular online courses. For one reason, you're not attracting a big audience. For your coaching program, you only need a few committed clients.
You need clients who will pay a premium price to learn from your expertise. So, you can't go marketing this course to anyone. You will take clients who are qualified to learn from you.
But where to find these premium clients?
The first place is to look at your existing community.
You might have already built a personal brand and a community of loyal customers. It's time to…
Leverage your personal brand
No one will pay a premium price to access course material from a stranger. Your position as an expert will help you acquire premium clients.
If you market your coaching program to your community that already trusts you - it is much easier to get enrollments since they already know you're the expert.
But what if you don't have a pre-existing audience, or the chances of converting are lower? In that case, you should start with building an audience from scratch.
A fast way to build an audience quickly is…
Omnichannel marketing
Omnichannel marketing is sharing one consistent message across all major channels wherever your audience spends time.
The idea is to appear in front of your potential clients to build trust quickly, which helps reduce the purchase time.
It's hard work, but it'll help you build a sizable following faster. You can then add this audience to your email list.
Once you add them to your email list, start nurturing them by sending free value, showing your expertise, and giving them hints about your coaching program.
Of course, being an expert alone is not enough. So you still need to market your coaching program using regular strategies.
Create a marketing action plan using various strategies. We have helpful guides with proven marketing techniques to help you craft your marketing plan.
Prepare a plan that works with your schedule and follow it consistently for three to six months. You'll start getting student enrollments in no time.
You need to divert this traffic to your landing page, where they'll schedule a call to learn more about the program.
STEP #11: Get on a Sales Call and Handle Objections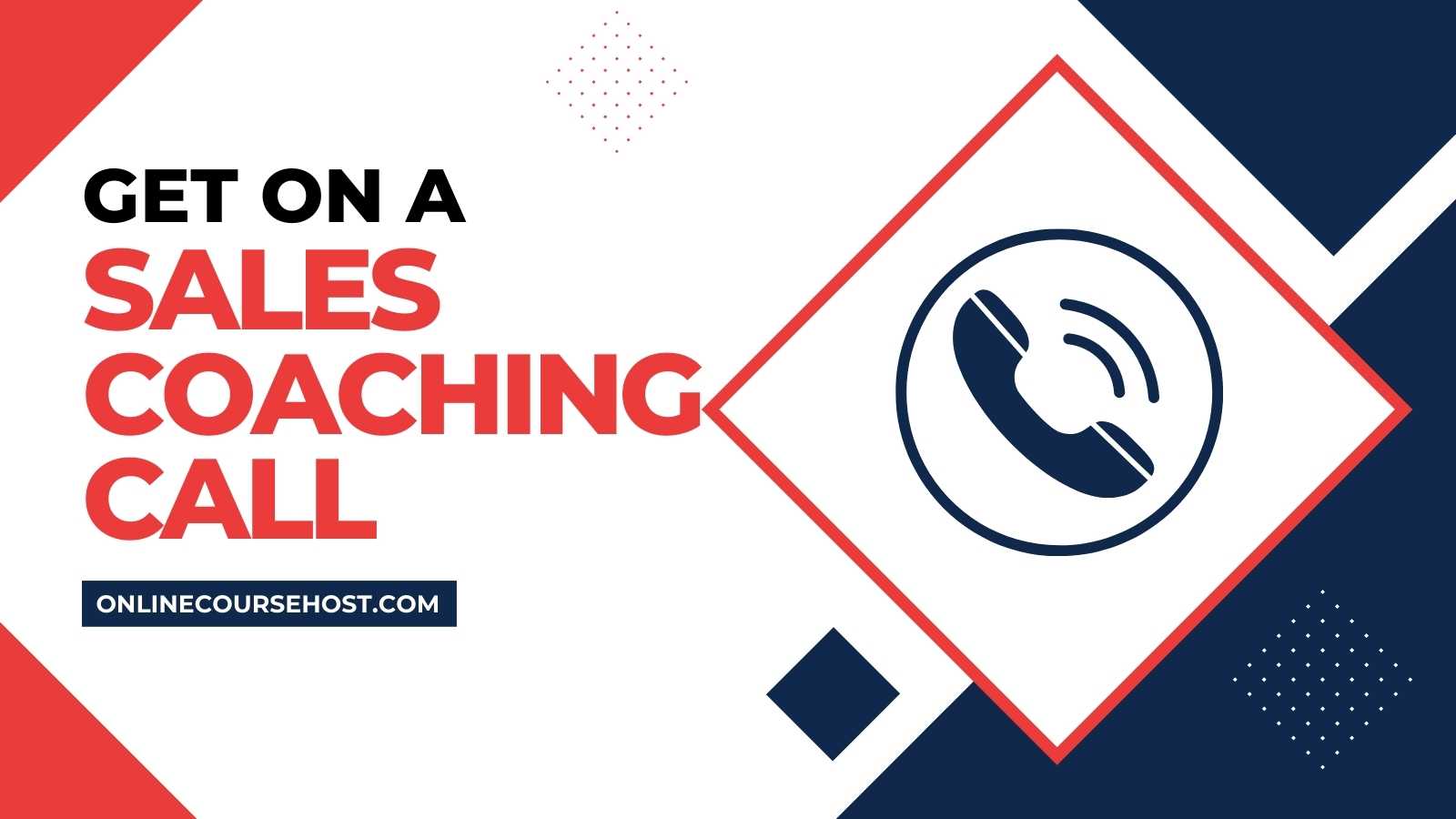 The sales call is where the sales happen. You can only sell high-ticket coaching offers by getting on a sales call because the customer is still deciding if you can help him with his specific situation.
A sales call gives you an opportunity:
to show them you're qualified to help them,
understand their concerns deeply,
create a customized strategy for each client,
evaluate if the student is a fit for your course,
clear any objections they have, and
show them what they're missing out on by not taking action.
Of course, you can't and shouldn't try to convert every person who gets on a call. Understand each individual's position and let them know whether the course can help them.
Remember, you don't need many members inside your program. You just need a few dedicated people.
So sell to only those who you think are in the best position to benefit from your program. That's how you build a thriving coaching program with multiple success stories to showcase.
STEP #12: Create an Engaging Client Onboarding Process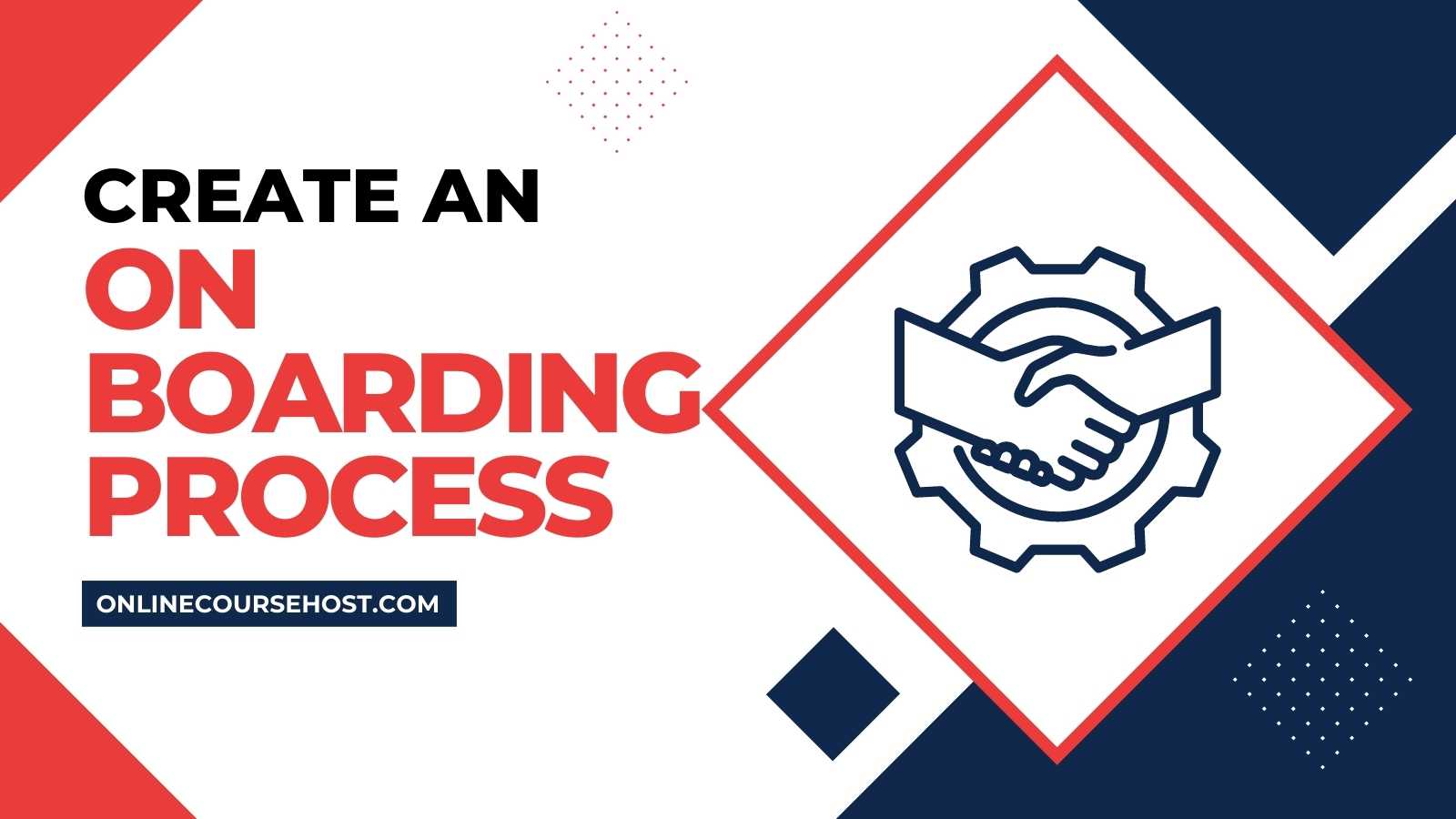 One of the most important things you need to do to ensure your clients have a wonderful experience is to develop an engaging client onboarding process.
Since onboarding is one of the first few contacts your clients have with you, they will judge the entire program with this call. If you're offering a money-back guarantee, it's also an opportunity to make them your fans.
So, you want to go in prepared. Develop an onboarding plan that includes the following:
A live call to tell them what to expect in the program.
Some reading materials
Tracking sheets, if you're providing them
Access to your personal resource library
Goal creation session (if you set goals in the first call, they'll feel excited about the possibilities)
STEP #13: Provide a Fantastic Coaching Experience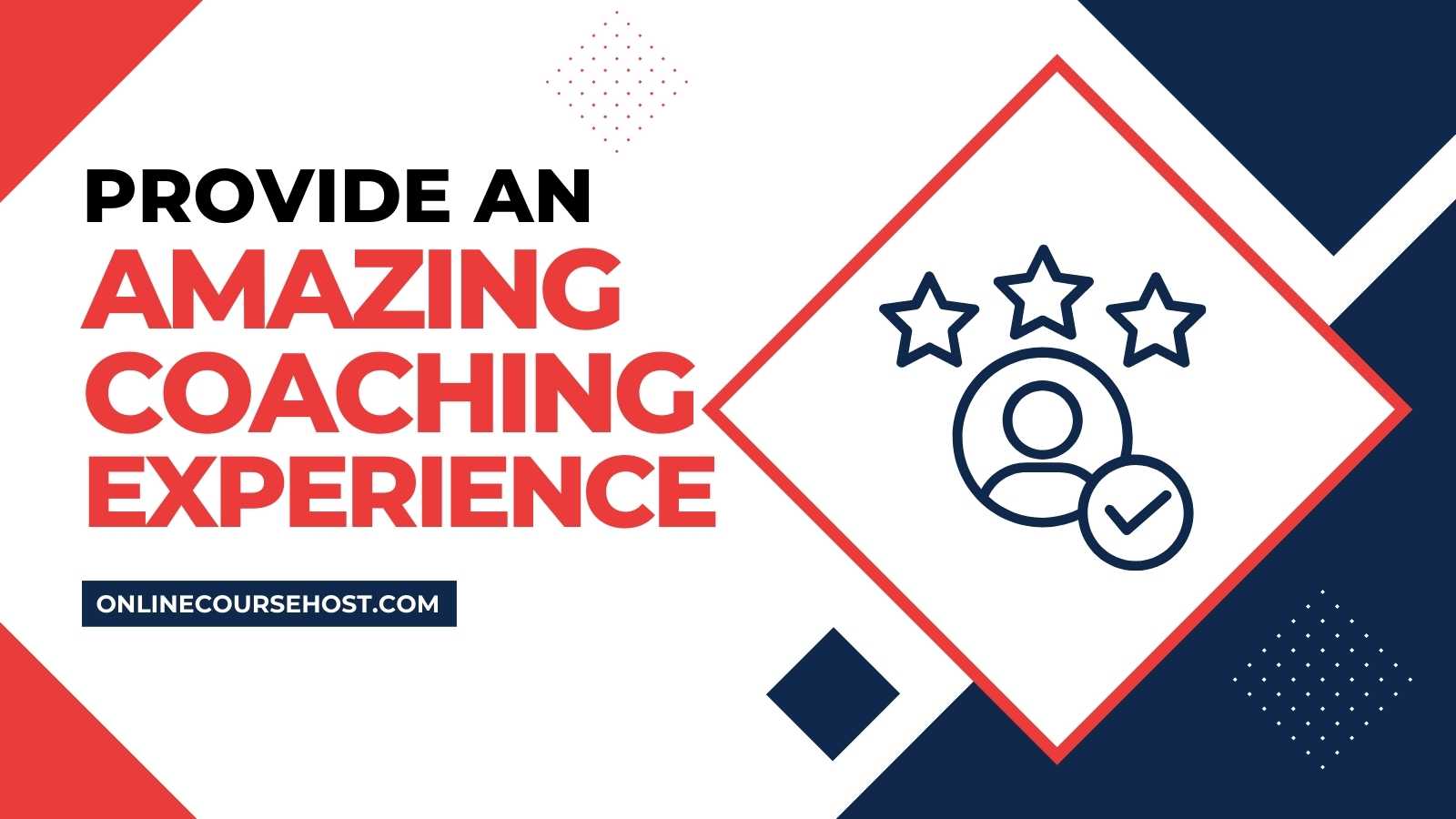 You want to ensure your clients have a wonderful experience with your coaching program. One way to do that is to call your clients frequently.
Since it's a coaching program, getting on a call, listening to their problems, and creating strategies to fix them is a great way to show your clients that you're delivering what you promised.
Most coaches focus on marketing and spend their entire time trying to add more clients. They forget to deliver the promise. Well, that's a great way to destroy the reputation they've built so far.
That's why you should limit the number of members in your program and give your entire time to help each of them achieve their goals. A surefire way to have clients come automatically is to have lots of success stories to showcase.
STEP #14: Receive Feedback and Improve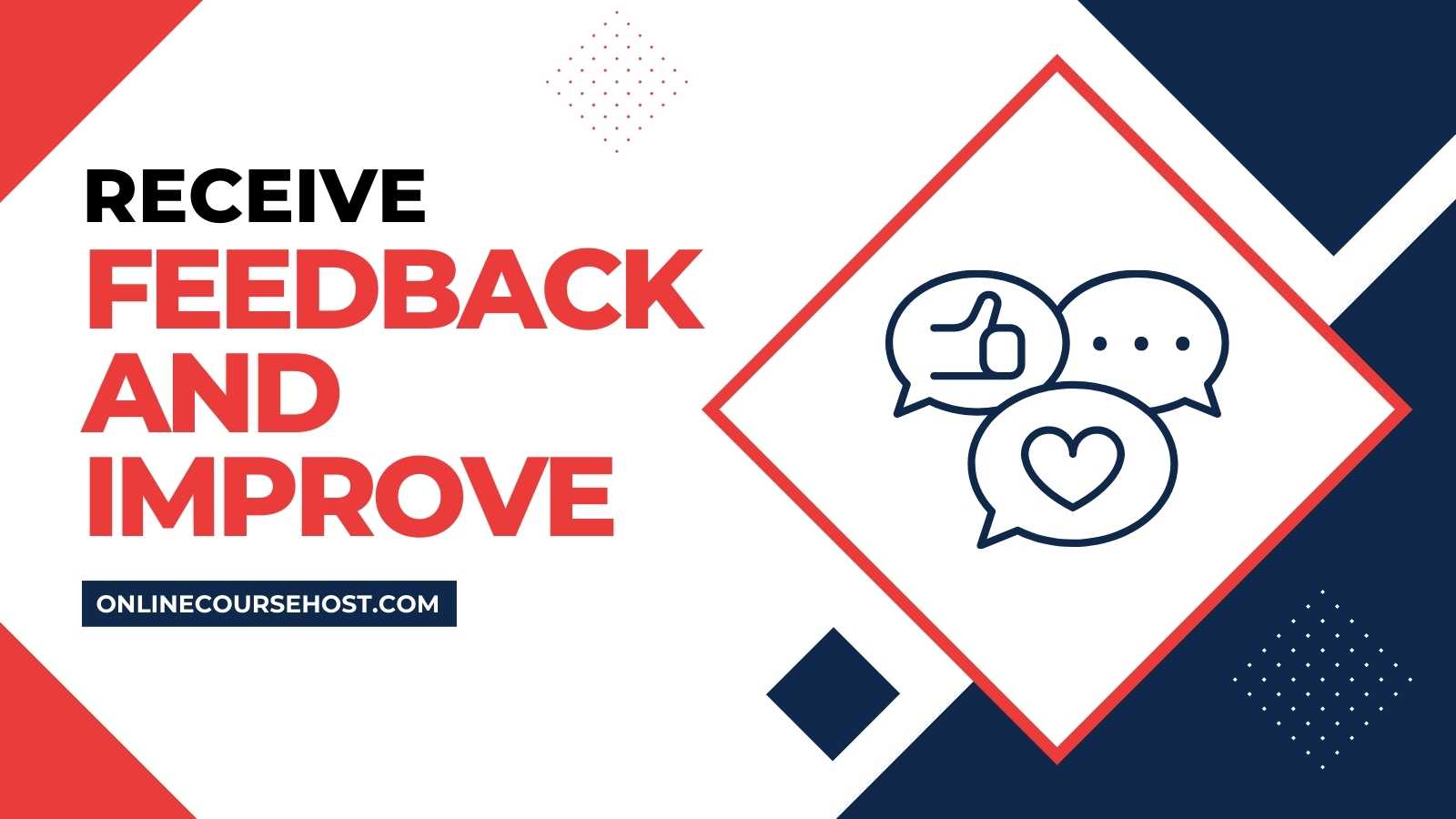 ​​Your coaching program won't be perfect on the first attempt. Constant improvements will help you get clear about the problems your audience faces and come up with the best solution.
So, like you first validated the coaching program idea to see if people are interested, you should test the entire program with a real audience to find and fix flaws.
After you coach a few clients, reach out to them and ask for honest feedback. This feedback will help you find minor mistakes.
As you keep improving your program, your clients will appreciate the effort.
STEP #15: Create a Community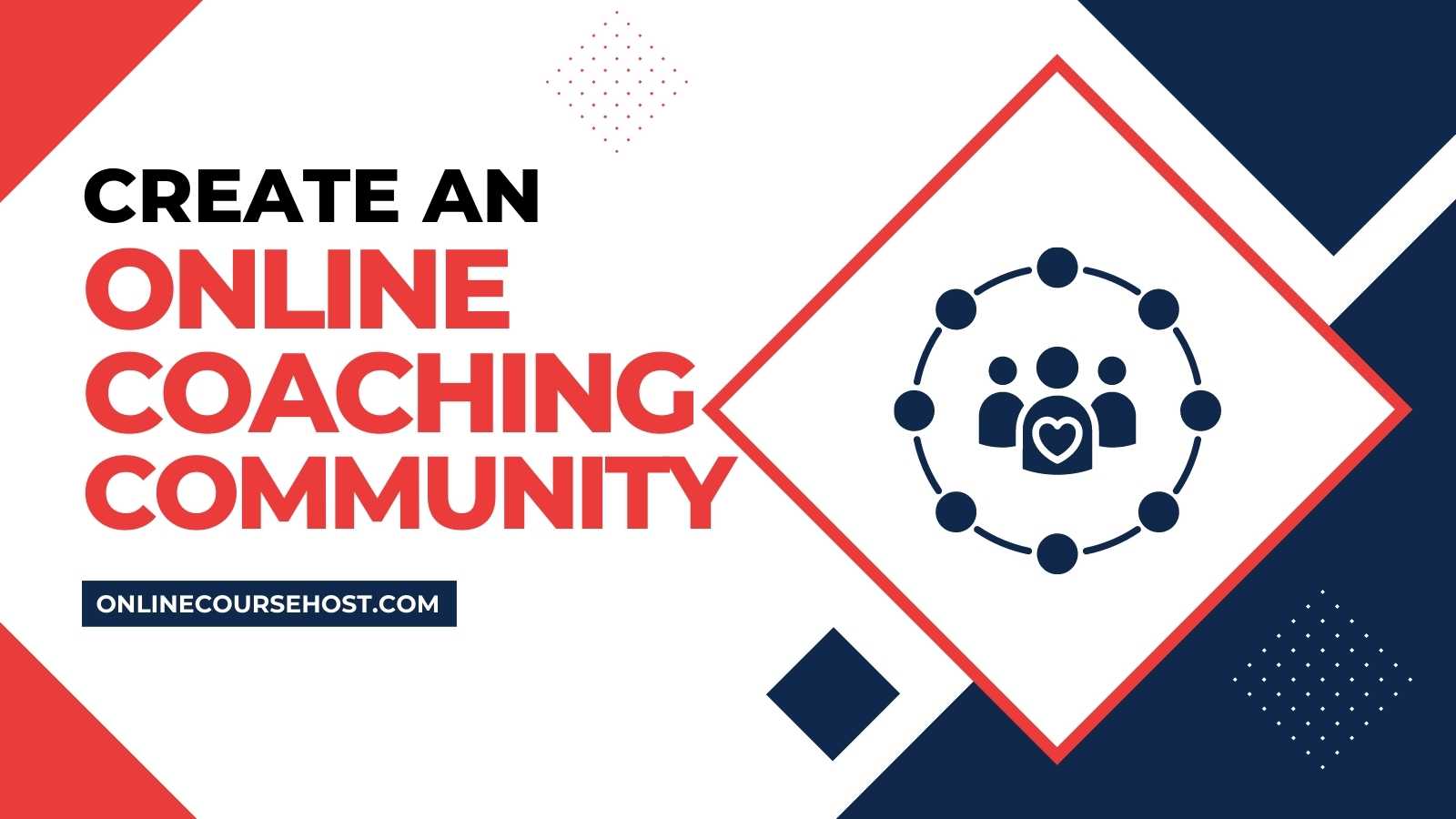 Successful coaches have one thing in common. They have an existing audience they can sell to whenever they launch a program. Many beginners don't collect their students, so they always have to start from scratch while marketing a new course.
You should create a community from day one. Even if they're not students who have bought one of your programs, you should add members interested in your content - so they can become students in the future.
Also, host weekly AMAs, contests, giveaways, etc., to keep your community engaged. It's a good idea to ask questions, make suggestions, and share wins to increase engagement and build a nurturing environment.
FAQs on Creating an Online Coaching Program
#1: How long does creating an online coaching program take?
It can take three to six months to create an online coaching program considering the research, content creation, and the type of program you're creating.
#2: How much do online coaches make?
Online coaches can charge different prices based on their expertise and brand awareness. As a new coach, you'll have to settle for low prices because few people know about you. But if you're an in-demand coach, you can charge as much as $100 per hour.
#3: How to attract new clients to join your coaching program?
Referral marketing is the best way to attract new clients to join your coaching program. You can focus on helping your current clients achieve their goals, and once they're happy with your coaching, ask for their referral.
Conclusion: How to Create an Online Coaching Program?
So this is how to create an online coaching program. I hope this step-by-step process helped you shape your strategy to launch your first online coaching business.
Remember that your first launch might fail to be successful. And that's okay because you can always reach out to your clients and ask for feedback. Most of them will be happy to provide you with honest advice and help you improve your program.
But, naturally, you will have questions. We publish helpful guides and tutorials on our blog to ensure we're helping new course creators. Join us to become the first to know when a new post goes out.
If you want to ask any questions on online course creation, you can reach us on our Facebook group:
Join the Course Creator Academy Facebook Group
I hope you found this post helpful. Let me know in the comments below what other topics you want me to cover.
Have any questions about how to create an online coaching program? Leave your questions below!
Thanks for reading… and enjoy the course creation process! 😉
---
Course Creators Academy, a community by OnlineCourseHost.com
Founded by Vasco Cavalheiro
Online Course Creator