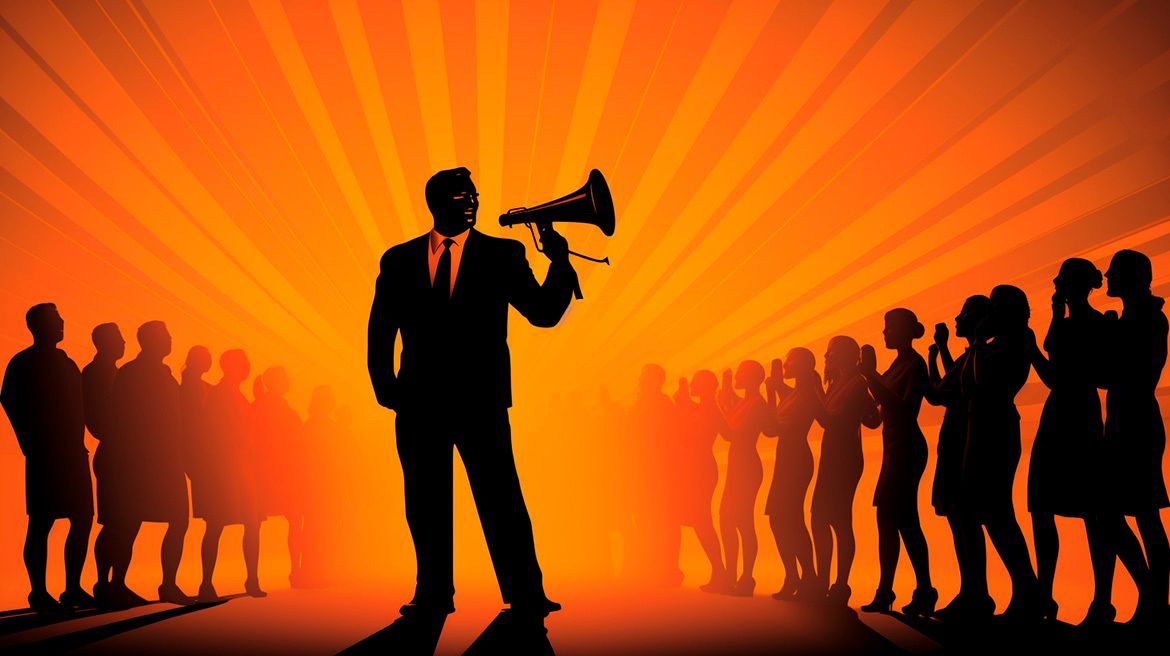 Find out the best places to sell your online coaching programs and the tactics to employ to help you draw in more potential clients.
As a passionate online coach, you have invested your time, expertise, and creativity in developing a high-value coaching program within your chosen niche to empower your clients and help them achieve their goals.
It's good to have ticked that off your list.
So, the next question that bothers your mind finding the right platform to showcase and sell your programs to these eager clients in need of your guidance.
Since I have been in this business for a while now, I understand how important it is to figure out the right platform to sell your online coaching services.
Strategically choosing a platform that aligns with your goals and resonates with your target audience will surely amplify your reach and easily convert visitors to paying clients.  
That's why I have rounded up this article explaining in detail the various avenues available to online coaches like yourself to help you effectively sell your online coaching programs and reach your target audience.
So, where can you sell your online coaching programs?
There are two places you can sell your online coaching programs. You can either sell them on your website or utilize online teaching marketplaces like Udemy, and Skillshare.
Selling your coaching programs on your website gives you a high level of control and flexibility whereas selling on online marketplaces helps you to reach more audience but leaves you with little or no control on how your business goes.
In the rest of the article, I'm going to explore how you can see your online coaching programs on these platforms. Finally, I'm going to recommend the best place to sell your programs and why.
So, make sure you read to the end! Without much ado, let's dive in and explore the most promising avenues for selling your online coaching programs.
You can also check out all the free guides available at the Course Creators Academy.
If you are looking to learn how to start an online coaching business here is my most detailed guide on it: How to Create a Successful Online Coaching Program
I also covered in detail strategies to promote and sell your online coaching program. Check it out: How to Promote Your Coaching Business to Reach a Wider Audience
So, where can I sell my online coaching programs?
Sell Your Coaching Programs On Your Own Website
Creating a professional website is one of the great ways to sell your online coaching programs. You can easily showcase your programs, give more information about your services and integrate a payment gateway to handle transactions.
Selling on your website gives you a high level of control and flexibility. However, there are two ways to approach this method. You can either;
Create a website from scratch, or
Design a website with a course platform
Creating a website from scratch entails purchasing a domain name and hosting plan from web hosting providers, then installing a website platform like WordPress, Wix, and Squarespace to design your website.
You also need to integrate an e-commerce solution into your website to facilitate online payments.
While all of these give you enough control over your coaching business, you must be technically grounded to pull it off. And if you're not, you need to hire a web designer to do the job for you.
Even after designing the website, you still need them to stick around, maintain and update your website regularly to ensure optimal performance and security.
Also, setting up and managing payment gateways requires some technical knowledge and ongoing maintenance.
So, what then happens if you're not technically strong to pull this on your own or financially buoyant enough to hire a developer?
A better way to set up a professional website for your online coaching business is to design it with a course platform. It is an all-in-one solution to selling your coaching programs.
Rather than building a website from scratch, you can easily customize the already-made template on the platform to suit your business needs. And not only do you host your courses but can also process your payments and manage clients from one place.
The best part is that you don't need to have coding skills or employ a developer to pull this off.
Most platforms have user-friendly and easily customizable course builder to set up and manage your coaching programs.
The question now is, what is the best platform to use?
The Best Platform To Sell Your Coaching Programs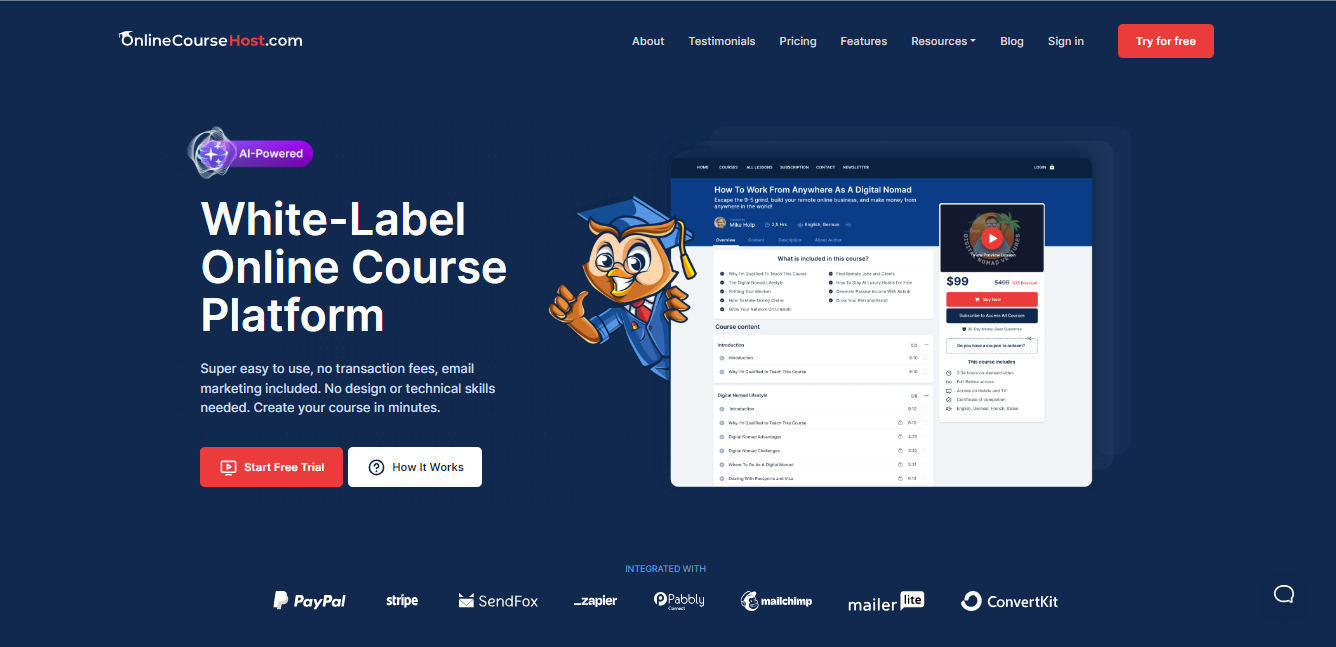 OnlineCourseHost.com is a white-label course platform that allows you to set up a professional and branded website for your coaching business and sell your programs effortlessly.
There are no transaction fees attached. All your proceeds are instantly available to you and you can take as many clients as you want.
Rathan than spending lots of money and time working with a developer to build your website, you can simply design one yourself with OnlineCourseHost.com and in just a few minutes your website is ready.
Your primary focus is on promoting and marketing your coaching programs to reach more audiences and convert them to paying clients while the platform takes care of the technical headaches.
The best part is that the platform has in-built powerful marketing features that will help you build campaigns, send newsletters, grow your email list, and optimize your ads.
Most of all, you're free to integrate your website with more than 5000 apps and platforms including payment gateways. This means that you can have multiple payment options for your client's convenience.
In designing a website for your coaching program, ensure that your sales page is visually appealing and clearly communicates the value, benefits, and outcomes of your coaching programs to attract potential clients.
As much as you can sell your coaching programs on your website, the next question that comes to mind is, how can this be achieved?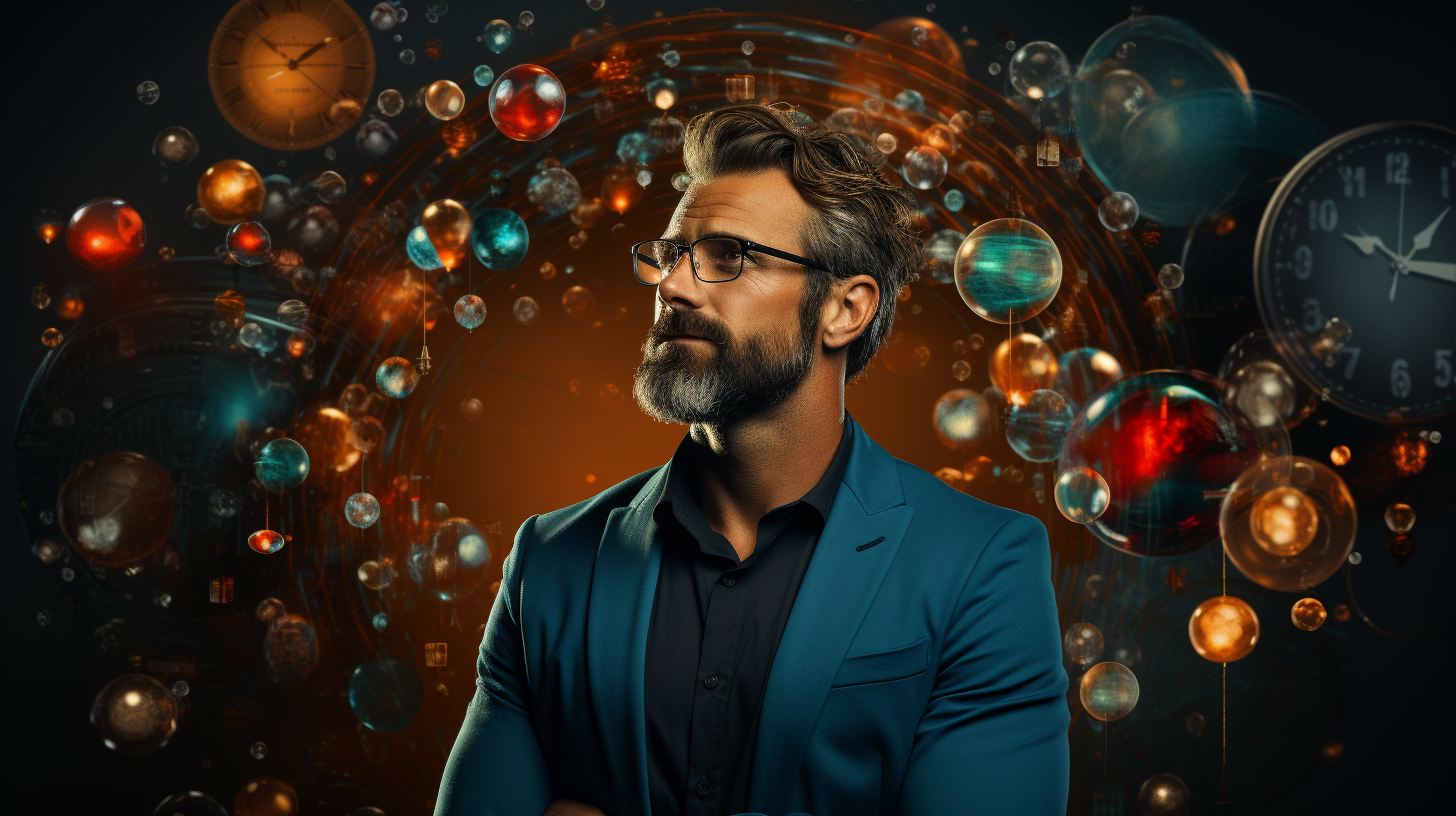 How To Sell Your Coaching Programs On Your Website
Designing a professional website for your coaching program is just one step toward selling your coaching services. There are different ways you can promote your programs and I will explain them below.
Utilize Social Media
Social media platforms when utilized effectively can be a powerful tool for selling your coaching programs on your website.
First, you need to figure out which platform your ideal clients are most active on and focus on those platforms. It could be Facebook, Instagram, LinkedIn, or Twitter.
Create profiles on these platforms and optimize them to reflect your coaching niche and expertise, then, include a link to your website. For every valuable content you share, ensure that you include a call-to-action directing your audience to your website.
You could share valuable tips, insights, testimonials, and past success stories to strengthen your credibility, build trust and draw in more potential clients.
You can also run targeted ads directing your audience to your website's coaching program pages.  
Don't forget to join relevant communities like Facebook or LinkedIn groups, provide insightful information, engage with the audience there, and direct them to your website.
Leverage blogging and build your SEO
Blogging and Search Engine Optimization (SEO) is a good way to drive organic traffic to your coaching website.
But first, you must research and find out the relevant keywords and phrases that your target audience is searching for in your niche. It's best to focus on popular keywords with moderate competition, so, it's easier to rank for them.
I use Google Keyword Planner and SEMRush for my research and it's been super helpful. You can also look at Google's "Related Searches" or "People also Ask" section.
This will give you insight into the blog topics to create. Ensure that your content is high-quality and in-depth, then incorporate your target keywords naturally into the post including the title, and meta descriptions.
Also, don't forget to include a call to action promoting your coaching program at the end of the blog post. The good thing about blogging and SEO is that it drives an organic audience to your website.
Your web visitors naturally need your services, so, it's easier to convert them to paying clients.
But how can you achieve this? It leads us to the next option which is building and nurturing an email list.
Build and nurture your email list
As you're directing your target audience to your coaching website, ensure that there's a pop-up that collects their email address.
I use Mailerlite in building and nurturing my email leads. You can give the platform a try or check out other email marketing software like MailChimp and ConvertKit.
Here is an example of an email pop-up;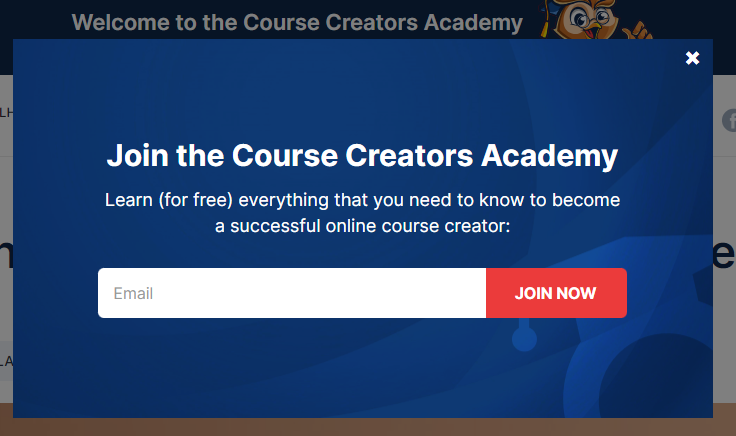 You can also create a free e-book or short online course within your niche, and use it as a lead magnet to attract potential clients.
If your audience finds your content valuable, they will subscribe to your newsletter, and from there, you can work towards building and nurturing a relationship with them.
First, you should group your subscribers based on their interests and needs. This way, you're only sending targeted and personalized emails and not spamming them.
As you publish your blog posts, you can send them to the subscribers as newsletters. Also, create automated email sequences like a welcome series that subscribers receive bit by bit when they join your email list.
The series could introduce your coaching program, highlight the benefits, and address common questions or objections. It's a good way to build trust and credibility with your subscribers.
Don't forget to always include a call-to-action in your emails encouraging them to check out your coaching services, engage with your content and provide feedback.
Finally, respond promptly to their comments or questions.
Sell Your Coaching Programs On Online Educational Marketplaces
If you're just starting your online coaching business, chances are that you don't have enough audience to sell to. In this case, you can consider showcasing and selling your coaching programs on online educational marketplaces like Udemy and Skillshare.
These platforms already have a large user base and a diverse audience, so you can easily tap into that audience and sell your programs.
You have more chances of getting discovered plus you don't need to bother yourself with marketing or promoting your programs.
Because these online educational platforms want users to sign up on their platform, they will promote the featured programs alongside it. This definitely alleviates some of the marketing burdens on your end.
Additionally, you can tap into the community and network of learners and instructors on the platform, check out their programs, and learn from them.
Now, let's look at the online educational marketplaces to sell your coaching programs.
Udemy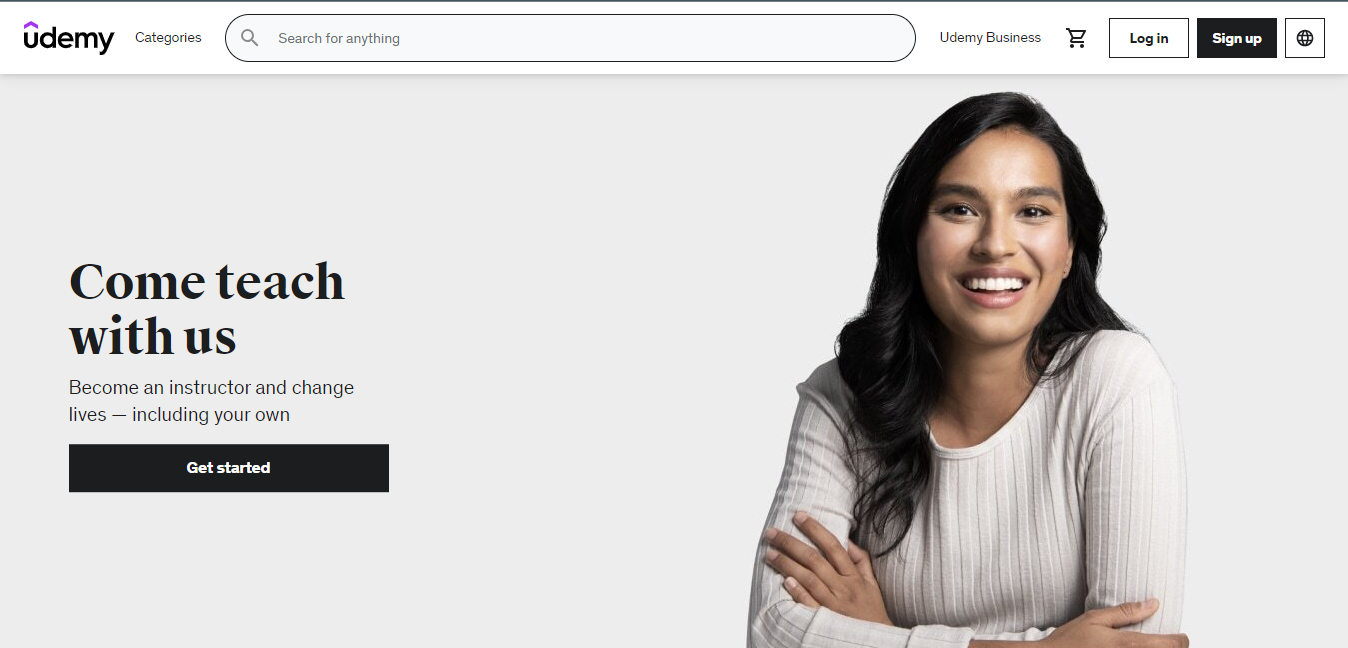 I'm sure this isn't the first time you're getting to know about Udemy. The platform is one of the most popular online teaching marketplaces because it covers a wide range of topics and niches.
So whether you're a business coach, health and fitness coach, sales coach, relationship coach, or life coach, there is a good chance it will be accepted on Udemy.
Unfortunately, you're unable to offer one-on-one coaching sessions to your potential clients since it's just a course marketplace.
The best way to sell your coaching program on Udemy is to package the program into video lessons, audio recordings, written materials, or even a combination of all the formats.
If this is your first time using the platform, you can always connect with other experienced instructors, ask questions and engage with them. Plus the platform has a Teaching Center where you learn the best practices for teaching on Udemy.
If you're not sure about the topic to work on, the Marketplace Insights section provides you with the data needed to better understand your potential clients and create courses that they will love.
You'll see the topics students are searching for, the existing courses, and the potential revenue on your topic. It's a good way to validate your course topic before packaging it.
Though you're free to set your own prices on Udemy but bear in mind that the platform usually offers discounts and promotions which you may not be able to control.
So, it's best to consider the value of your course, the competition, and market demand when setting the price.
Regarding revenue sharing on Udemy, when clients purchase your course using your coupon or referral link, you'll receive 97% of the revenue made on that sale. But if the sales didn't happen through your promotion, you'll only receive 37% of the revenue.
All in all, Udemy can be a stepping stone to your journey as an online coach. If utilized well, you can draw the audience from that platform to your personal website.
You can include your social media handle or website on your profile or even mention it during your video introduction. If students are satisfied with your program, they will definitely reach out to you for further coaching.
Skillshare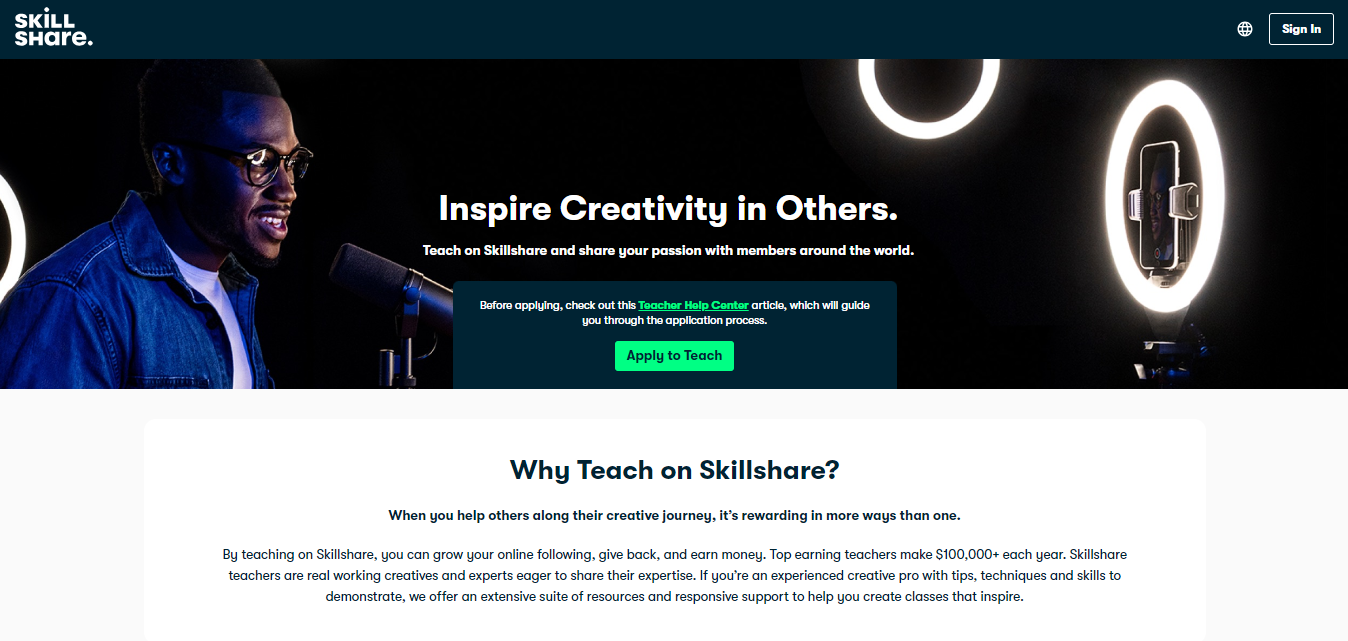 Skillshare is essentially for coaches who are also creators and eager to help their clients in their creative pursuits. Here, you'll see creative courses in areas like videography, photography, creative writing, graphics design, animation, and many more.
Just like Udemy, you can't entertain one-on-one coaching sessions with your potential clients on Skillshare. However, you can always put together your program as an online course and sell it on the platform.
To create courses on Skillshare, you need to first fill out the application form and be specific on your course topic, lesson, and project, as well as attach a 1-2 minute sample teaching video.
You'll be notified of your approval within 2 weeks of submitting the application. Good thing that you have a community of other creators and expert instructors to learn from especially if you are just starting out.
Since Skillshare operates under a subscription model where members pay an annual fee for a membership, your revenue will depend on how many views and engagements your course accumulated over the month.
Despite this restriction, you can always direct students and potential clients to your personal website where they can access your full coaching programs.
Conclusion: What is the Best Way to Sell Your Coaching Programs?
My advice to beginner course creators struggling with audience building is to package their coaching program into a smaller course, publish it on online course marketplaces like Udemy and Skillshare, then slowly draw the audience there to your professional coaching website.
You can include the website link or social media handles in your teacher bio. Alternatively, you can mention them either in the introduction or conclusion of your lesson videos.
However, make sure that your course is highly valuable. That's the only way students will be motivated to connect with you through your website or social media handles.
If you need more information to grow your online coaching business successfully, you should check out the Course Creator Academy.
You will find everything you need to become a successful online coach all in one place for free.
To get notified when new content is available here at the Academy, you can subscribe here to our weekly newsletter:
If you are looking to ask any questions on online course creation, you can reach me here on my Facebook group:
Join the Course Creator Academy Facebook Group
Ready to learn how to launch your first course on OnlineCourseHost.com? Here are the helpful guides for you to check out:
I hope you found this post helpful; let me know in the comments below what other topics you would like me to cover or any questions that you have.
Thanks for reading… and enjoy the launch process! 😉
---
Course Creators Academy, a community by OnlineCourseHost.com
Founded by Vasco Cavalheiro
Online Course Creator