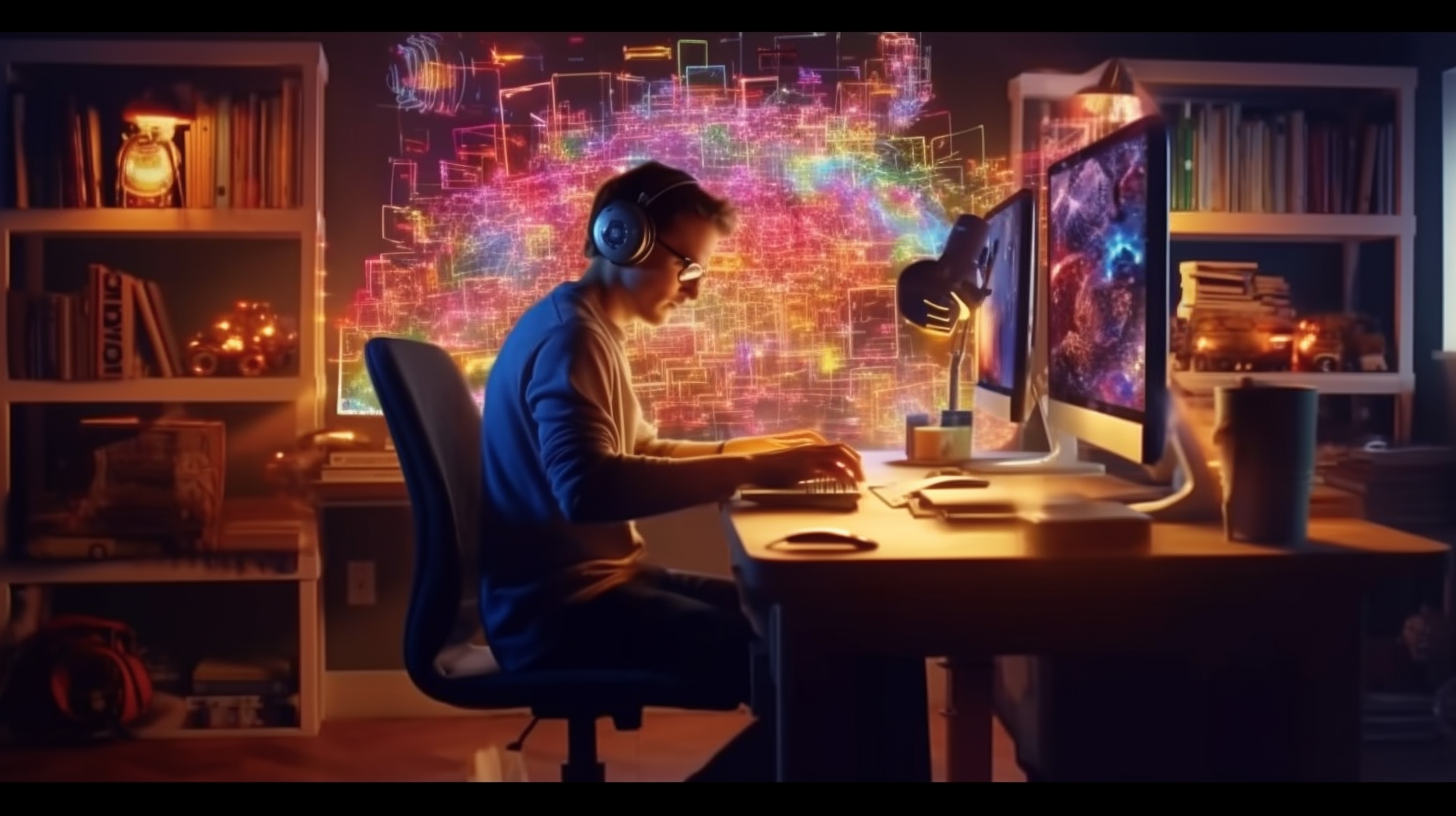 Discover the top online coaching platforms and tools and how to use them to enhance your coaching business to achieve success.
Rather than hoard your knowledge, you have chosen to share it with people and hopefully improve their lives with it. That alone is a huge step and for that, I say, congratulations!
With how digital the world is becoming, the online coaching business is slowly becoming a big deal.
Whether you're a life coach, business coach, fitness coach, or anything in between, there's no better time to tap into the business.
But before that, you need to get your house in order. That is, figure out the tools and platforms you'll be working with to deliver the best coaching experience to your clients.
So what are the platforms and tools you need for your coaching business?
The best online coaching platforms and tools include:
OnlineCourseHost.com (For hosting your business website)
Trello (For tracking tasks and notes)
Sprout Social (For managing your social media handles)
Mailerlite (To generate leads and send emails to clients)
Canva (For designing graphics and logos)
Calendly (For setting up and tracking meetings)
Zoom (Video conferencing)
In this article, I am going to explain how each of these tools will contribute to the success of your online coaching business as they have been really helpful from my end. So, make sure you read to the end.
Now, let's get to it!
You can also check out all the free guides available at the Course Creators Academy.
So, what are the best online coaching platforms and tools?
OnlineCourseHost.com - An online education platform to host your coaching business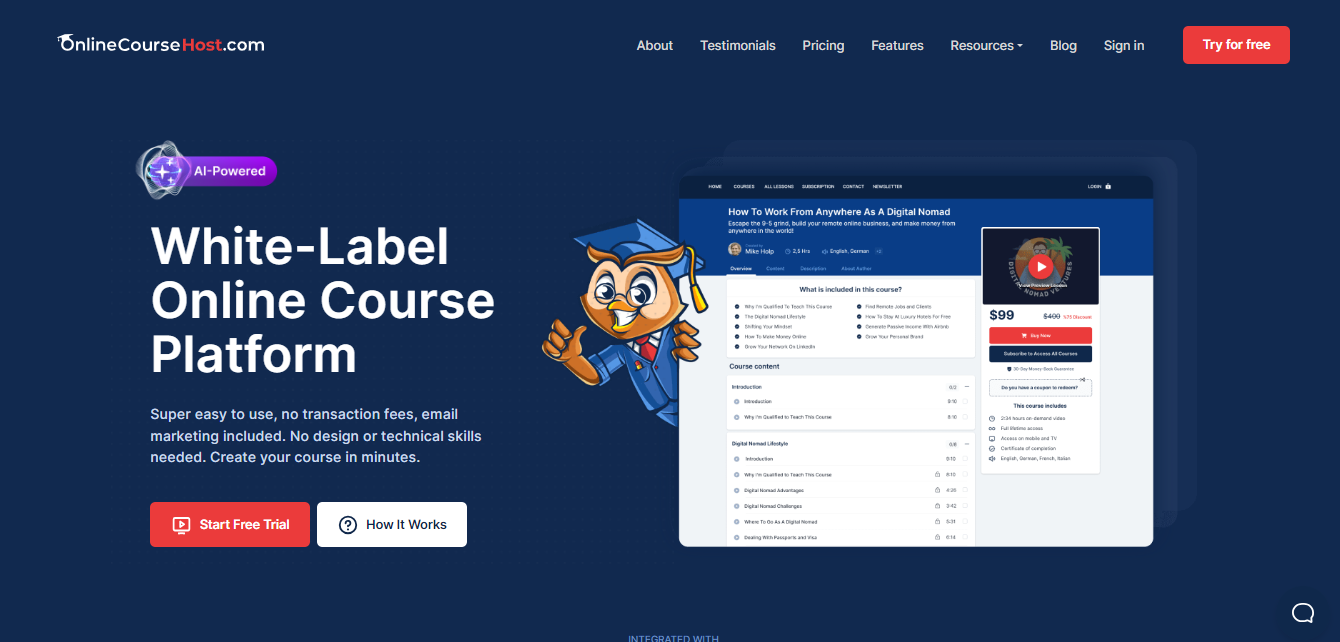 While having one-on-one coaching has been the primary focus of a lot of online coaches, it also comes with a lot of limitations especially if you want to build a full business as a coach.
First, you're limited to having one client at a time. This can limit your financial prospects and even if you raise your charges per client, it can only take you so far.
But how about catering to more than one client at a time? That way, you're generating income from multiple sources.
How can you achieve this? Simply create online courses. It's one of the surest ways to grow your coaching business and take it to the next level. It allows you to reach many clients at once as against having just one at a time.
To get started, find a course topic relevant to your niche, study your target audience and how other course creators structured the same course topic, gather your study materials and break down your topic into lessons and modules.
I wrote a detailed guide on how to create an online course from scratch. Read the posts below;
With your online courses, you have a wider audience while still reserving your personalized coaching sessions for special opportunities. This way, you're reaching more people and creating more sources of income.
OnlineCourseHost.com is a powerful platform that houses everything you need to create and sell your online courses. The platform has a super easy-to-use website and course builder. That means you don't need to be tech-savvy to set up your course website.
You can create your courses with different media formats - whether videos, documents, or audio. There are other engagement features like assignments, quizzes, and discussion forums to ensure that your students have the best course experience.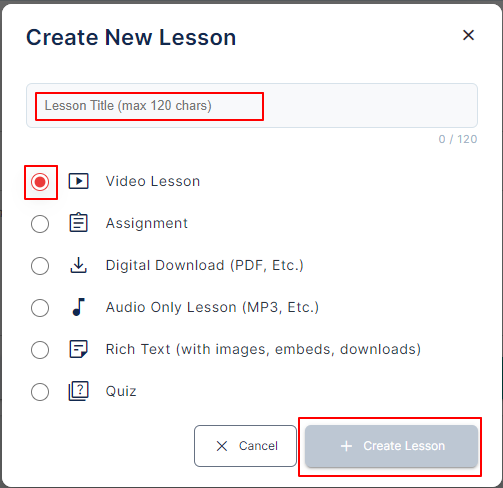 Most importantly, the platform is AI-Powered and tailored to assist you with any course creation task you need. You can ask to for course topics, an improvement on your sales page, or even tips about equipment.
Here's a summary of the platform features:
Powerful email marketing features
Easy installation of Facebook Pixel on your website to optimize your Ads for purchases and lead generation.
Zero transaction fees and instant payouts
Unlimited courses and students
Issuance of completion certificates
Multilanguage support
Easy-to-use course builder
AI-Powered (Chat GPT based)
Pricing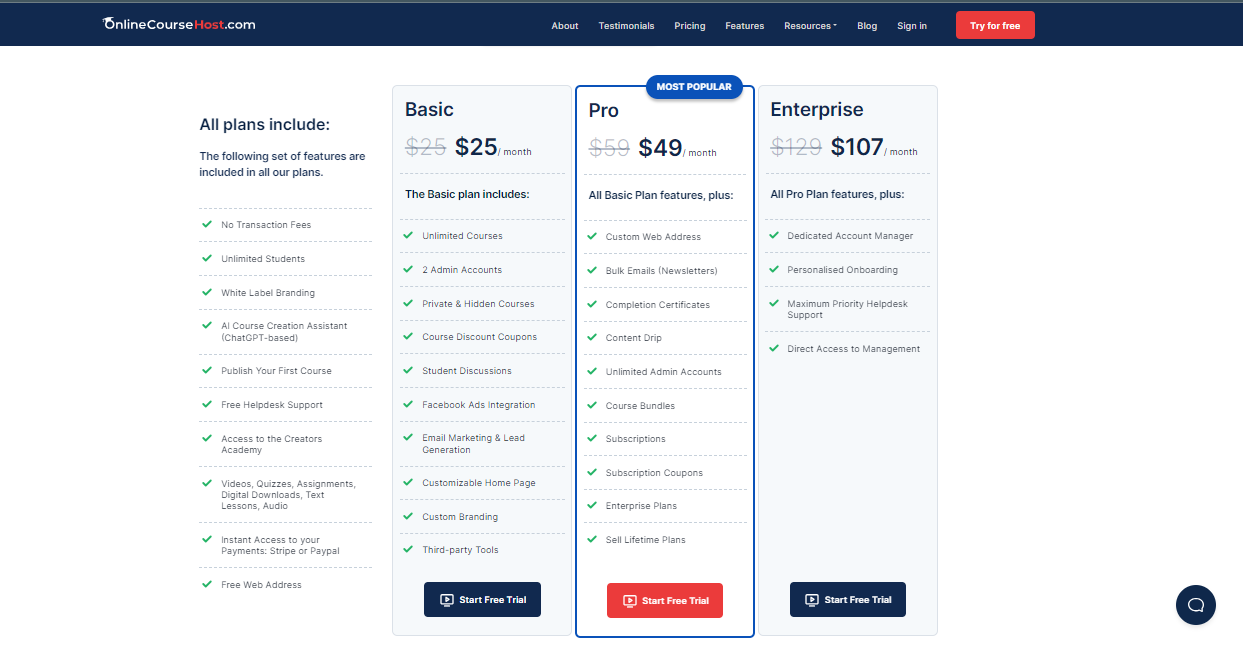 From the image above, you can see that OnlineCourseHost.com offers a free trial that lasts for 14 days. After that, you can renew your subscription.
$25/month for a Basic Plan that includes unlimited courses, Facebook Ads integration, custom branding and email marketing, and lead generation to promote your course and reach more audience.
$49/month for a Pro Plan that comes with a custom web address, content drip, unlimited admin accounts, and issuance of completion certificates.
$107/month for an Enterprise Plan gives you access to a dedicated account manager, personalized onboarding, direct access to management, and priority helpdesk support.
Trello - A project-management app to keep track of tasks and notes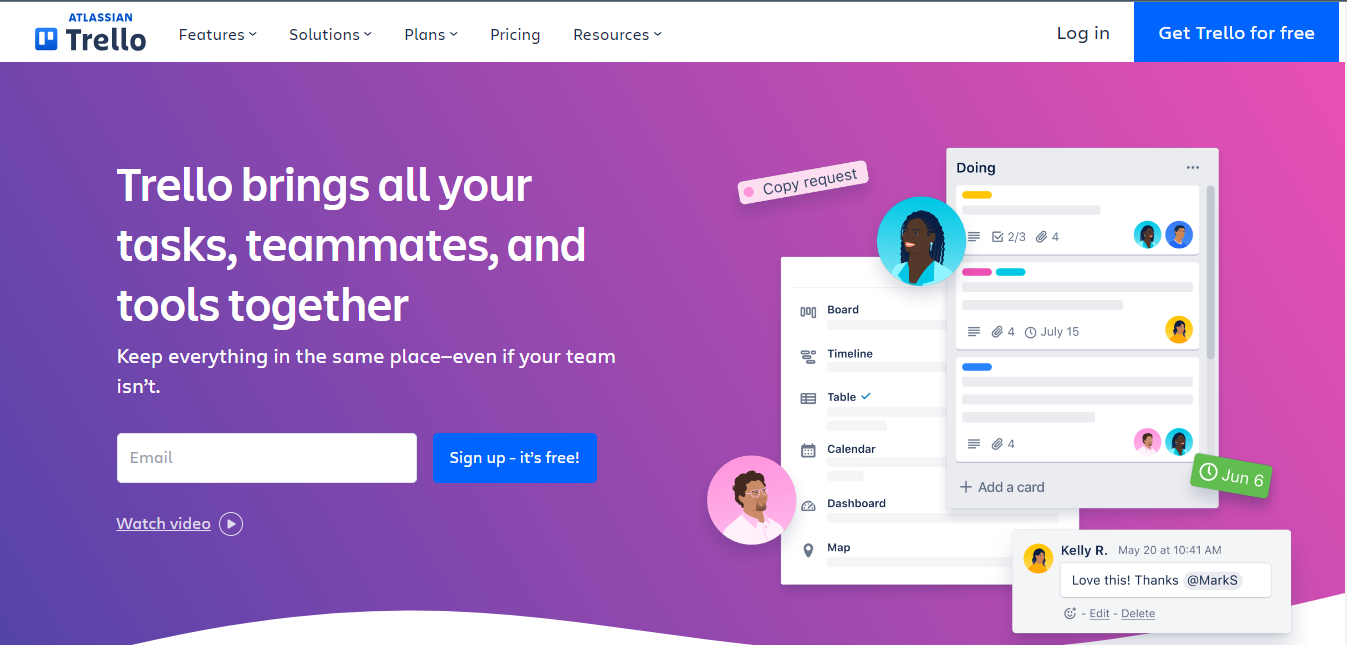 Trello is another important tool you need for your online coaching business. As a coach, be ready to shoulder a lot of projects and tasks. From managing multiple clients to creating and promoting your coaching sessions.
This is where Trello comes in. Its user-friendly and visual interface allows you to stay organized and efficient.
Before you start your day, you can create a list of the different stages of your tasks. For example, you can have lists for "To Do", "In Progress", "Pending" and "Completed."
Then under those lists, you can create boards for individual tasks or notes.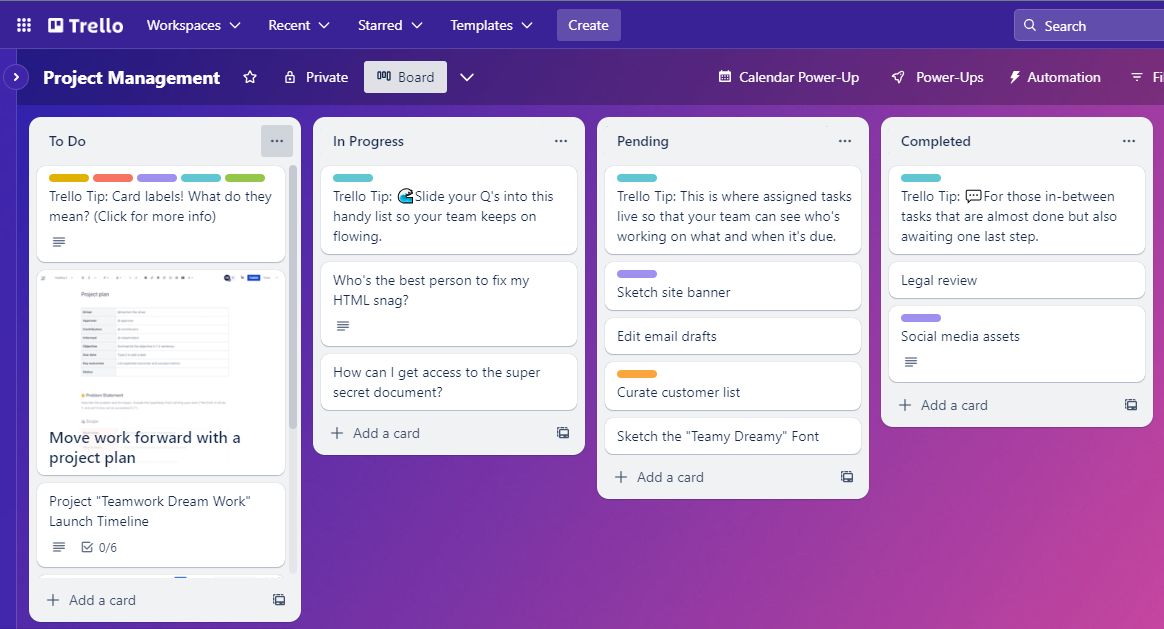 To help you stay more productive, you can even customize your cards to include information like due dates, and attachments and also assign tasks to specific team members if you're working with a team.
More so, Trello allows you to add labels and tags to your cards to categorize and prioritize your tasks. But that's not all!
As you tick off tasks from the lists, you can easily move the cards to the next list. That way, you can keep an eye on all the tasks and ensure that nothing falls through the cracks.
Pricing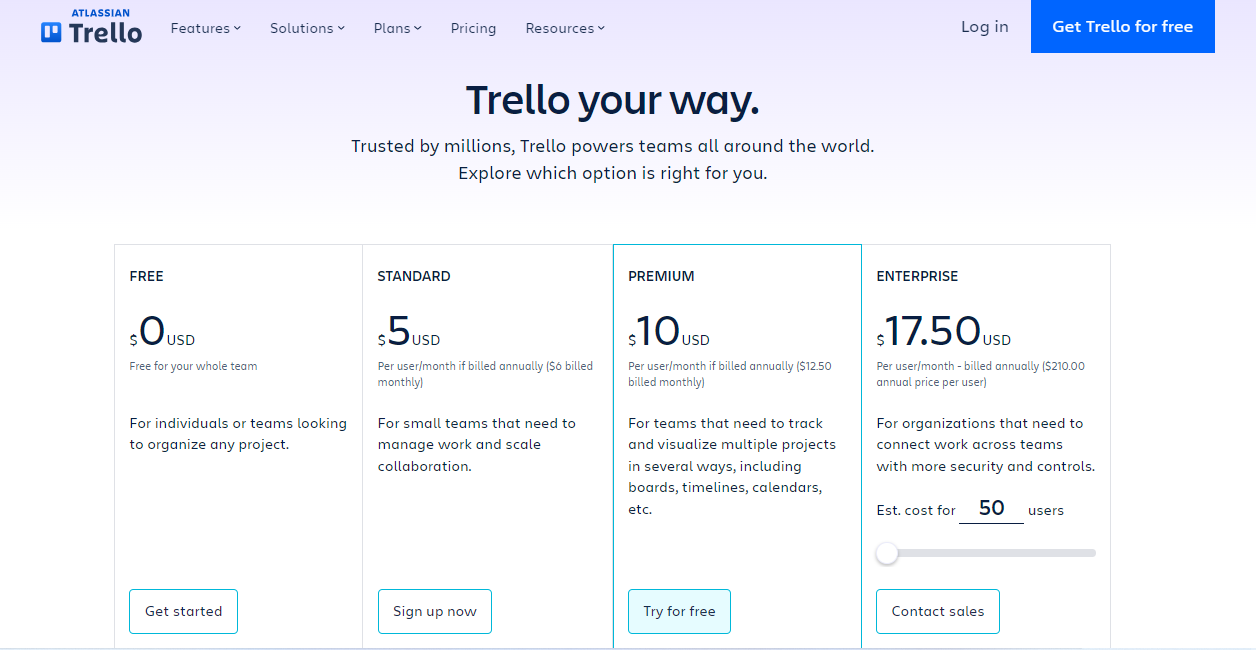 Trello surely has a free trial targeted at individuals who want to organize their projects. However, you're limited to 10 boards per workspace. The paid plans include:
$5/month for Standard Plan gives you access to unlimited boards, advanced checklists, custom fields, and unlimited storage of up to 250mMB/file.
$10/month for Premium Plan for majorly for teams that want to track and visualize different projects at once.
$17.50 for Enterprise Plan is for bigger organizations desirous to have more security and control.
Sprout Social - A social media management platform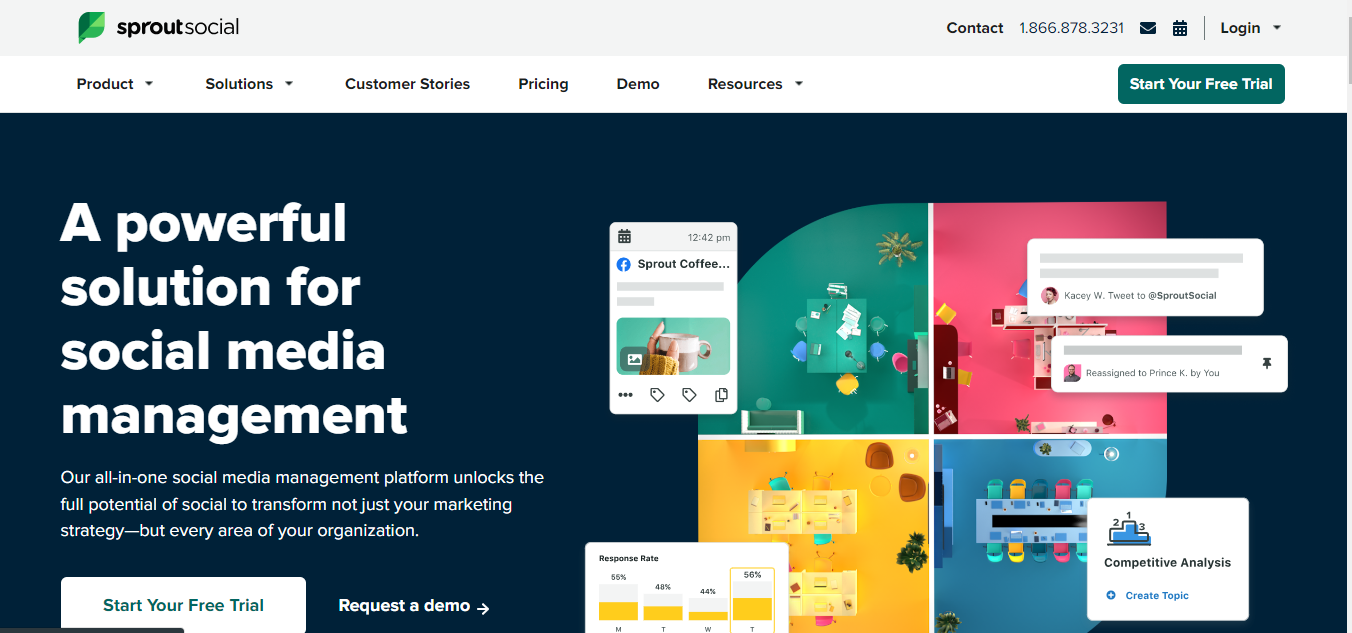 One of the primary ways to market and promote your online coaching services is through social media.
You'll likely have multiple social media accounts, and it could be overwhelming to post across these platforms often. You'll get lost trying to keep up with creating content, posting, and replying to comments and DMs.
However, Sprout Social has a wide range of features that allows you to manage and engage with your audience on all social media platforms.
First, you can connect all your social media accounts to one single platform. This way, you don't need to constantly log in and out of different platforms to post content. Whatever you post on one platform, goes to the other platforms.
Additionally, you can plan and schedule your social media posts in advance. It helps you stay consistent on your socials as well as frees up time for other important tasks in your coaching business.
Sprout Social does not just stop at managing your social media accounts but also provides valuable insights into the performance of your social media efforts.
You can measure your follower growth, engagement rates, post reach, and audience demographics.
This is my favorite feature of this platform because insights like these help you to understand your audience better and refine your social media strategy if needed.
Pricing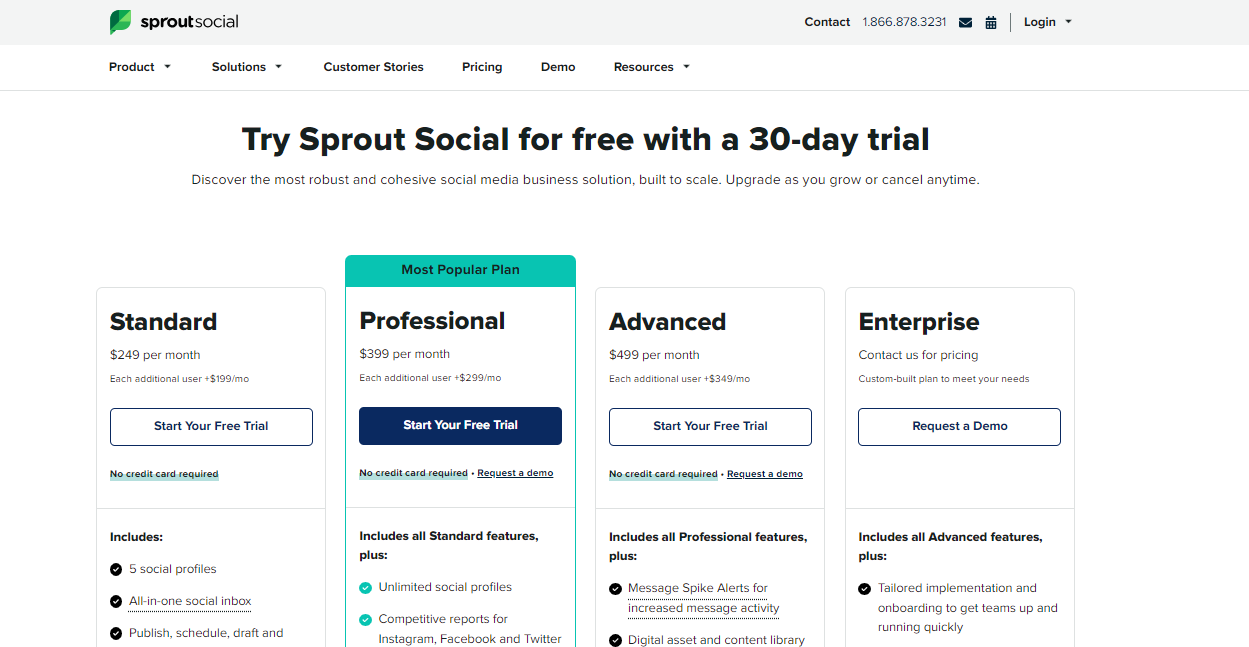 Sprout Social offers a 30-day free trial and you don't need to input your credit card details to get started! Once the trial phase is over, you can then subscribe to any of the plans below;
$249/month for the Standard Plan comes with an all-in-one social inbox, social content calendar, profiles, keywords, and location monitoring. However, you're only limited to connecting 5 social profiles.
$399/month for the Professional Plan allows you to connect as many profiles as you want.
$499 for the Advanced Plan includes digital assets and content library, chatbots with automation tools.
Mailerlite - An email marketing software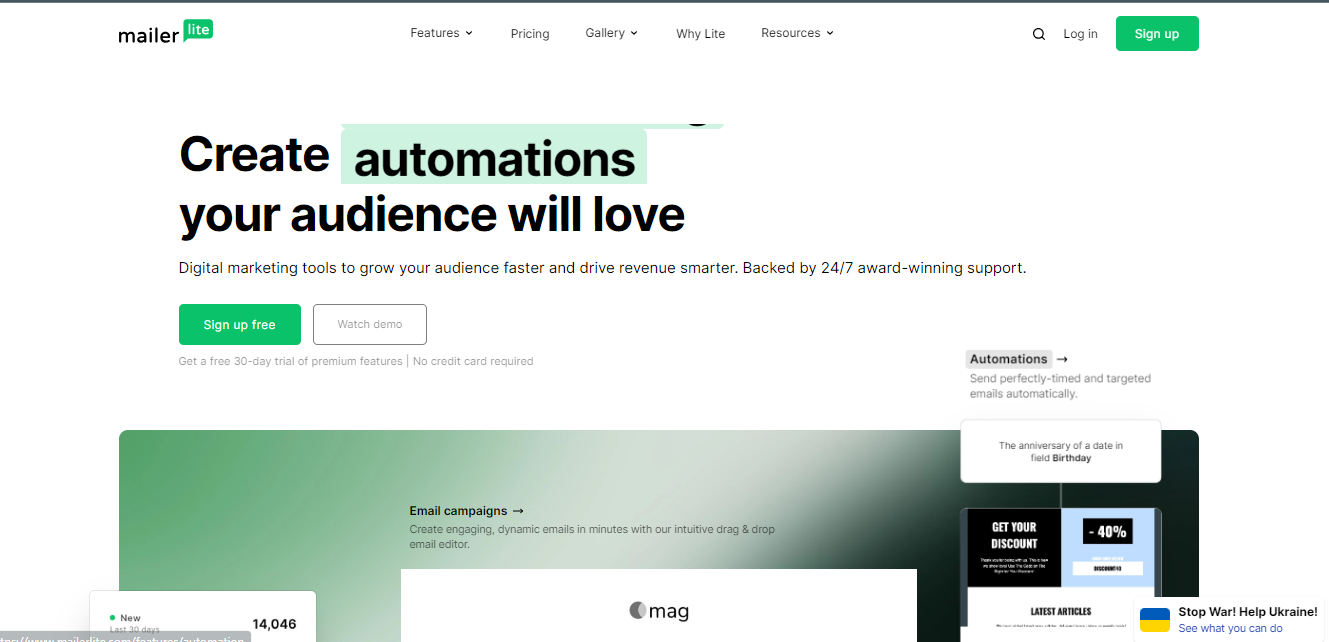 Aside from social media marketing, email marketing is also another major way to promote and market your online coaching business. What does this entail?
As prospective clients are visiting your website, lure them into leaving their email addresses and names with you. You can either create an email pop-up or prepare a lead magnet to attract them.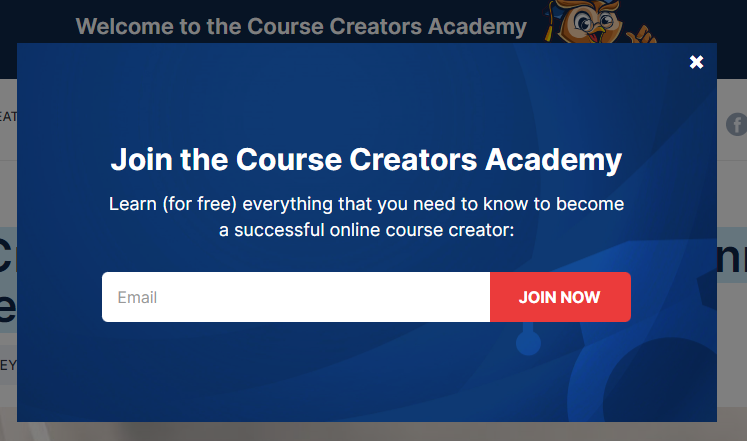 As long as you have their emails, it's easier to convert them to paying clients. It all starts with nurturing and building a relationship with them.
MailerLite helps you to achieve all these. This is my go-to email marketing software and I love the experience so far.
The platform allows you to easily create email campaigns with its user-friendly drag-and-drop email editor. There are several in-built templates you can choose from to design your newsletters and promotional emails.
You can also segment your email list according to the subscribers' demographics, interests, and engagement levels. This way, you can send targeted and personalized emails to these audiences.
Additionally, you can set up email automation to ensure consistent communication with your prospective clients.
To wrap it up, MailerLite's detailed analytics and reporting feature allows you to measure metrics such as open rates, click-through rates, conversions, and subscriber engagement.
Pricing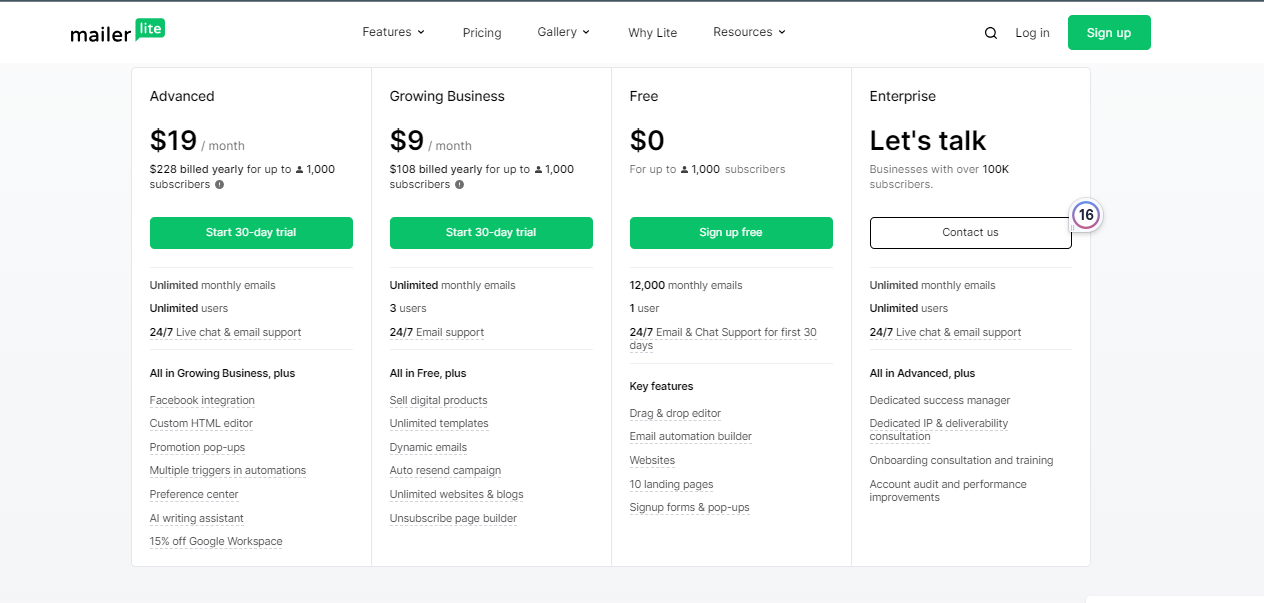 MailerLite has a free plan that allows you to have up to 1,000 subscribers and send 12,000 emails monthly. The paid plans include;
$9/month for the Growing Business plan allows you to send unlimited monthly emails but only 3 users.
$19/month for the Advanced Plan gives you access to unlimited users.
All the paid plans have a 30-day free trial period.
Canva - A Graphic design tool
Canva is one of the best tools needed for your online coaching business. Since you're still starting this journey, your finances may be limited and you may not be able to hire a graphics designer.
You can rely on Canva to create professional branded materials and visually appealing graphics and designs for your business. The best part is that you don't need design or any technical skills to pull this off.
Canva comes with a wide range of professionally designed templates specifically tailored for different purposes such as social media posts, presentations, logos, infographics, eBooks, and more.
All you need to do is to customize the templates with your brand colors, fonts and content.
Another juicy part is that the platform has an extensive library of graphics, illustrations, and stock photos that you can use to enhance your designs.
Pricing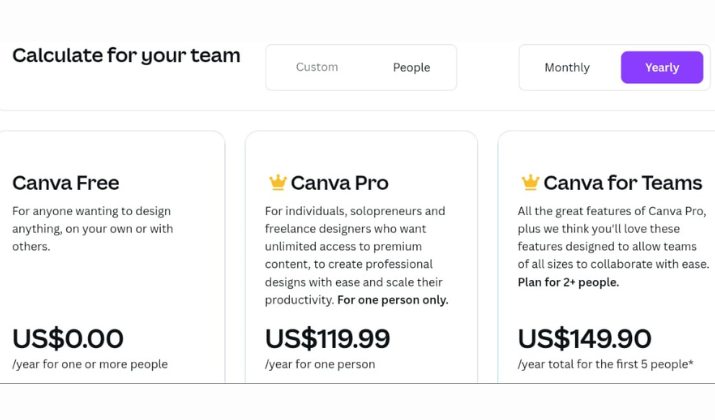 Canva has a free plan. It comes with more than 250,000 free templates and AI-Powered design tools.
The Pro Plan costs $119.99/per year and is primarily for individuals who want unlimited access to premium content.
The Canva for Teams costs $149.90/per year. As the name suggests, it is built for teams of all sizes to collaborate with ease.
The paid plans come with a 30-day free trial.
Calendly - A tool for setting up and keeping track of meetings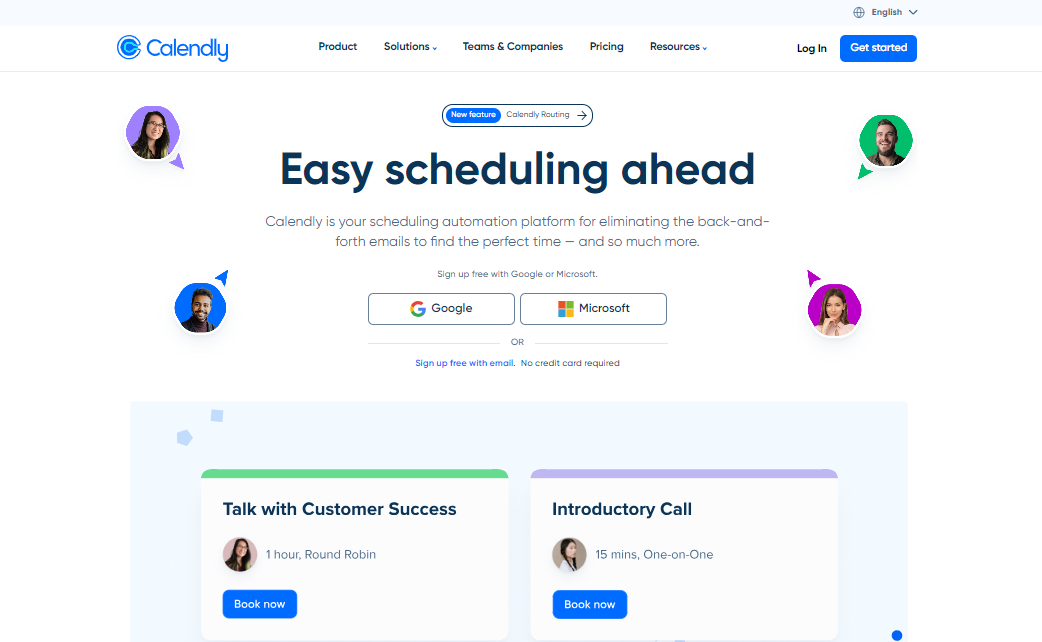 One of the crucial questions you will ask yourself as an online coach is, "How do I schedule one-on-one meetings or appointments with my clients?"
Calendly is a handy tool that will help you to schedule appointments with ease rather than going back and forth with emails to find the perfect time.
You should have this tool on your website so that your prospective clients can easily book slots for your services.
You can set your availability preferences such as the specific time, and duration of the consultation, then share a personalized link with your clients.
Your clients will then choose the time that works best for them from your available options. It's that easy!
And even if you fail to remember the appointment, Calendly is sure to send you automated reminders. That way, your chances of last-minute cancellations or missing appointments will be reduced or eliminated.
Don't worry about having to deal with clients from different time zones. Calendly automictically detects and displays available time slots in your client's local time.
Pricing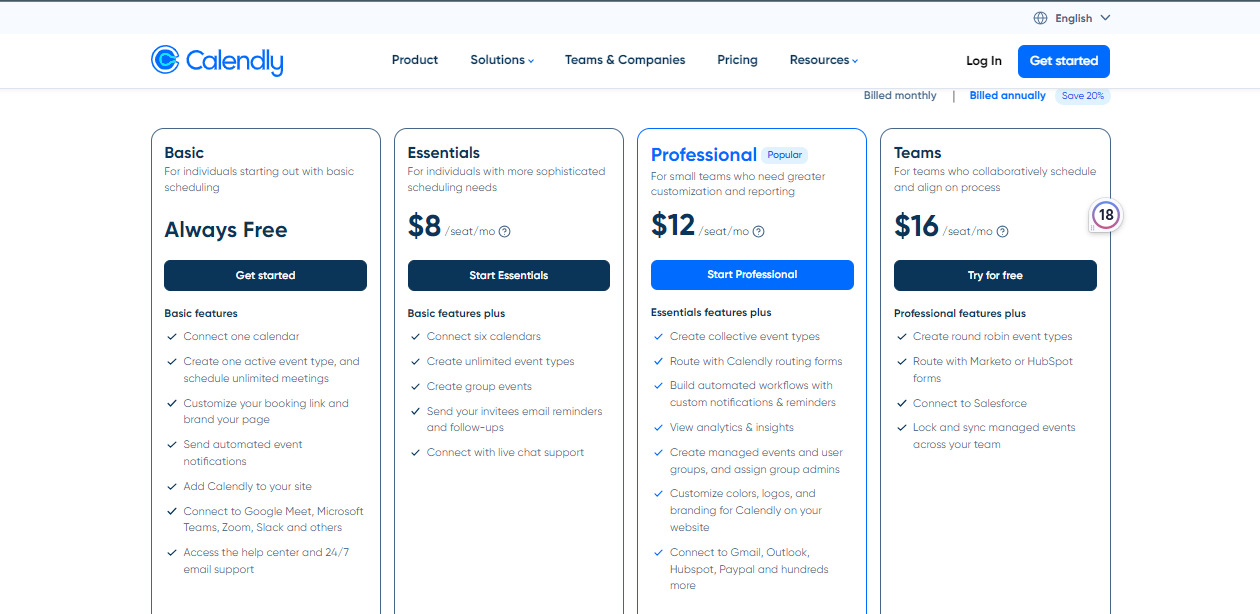 Calendly has a free plan for individuals starting with basic scheduling. However, you can only connect to one calendar. If you have more complex scheduling needs, you can go for any of the paid plans.
The Essentials Plan costs $8/month and allows you to connect up to six calendars and you get to create unlimited event types.
The Professional Plan costs $12/month. You can customize colors, logos, and branding for Calendly on your website.
The Enterprise Plan goes for $16/month and is best suited for those who collaboratively schedule events.
Zoom - A reliable video conferencing software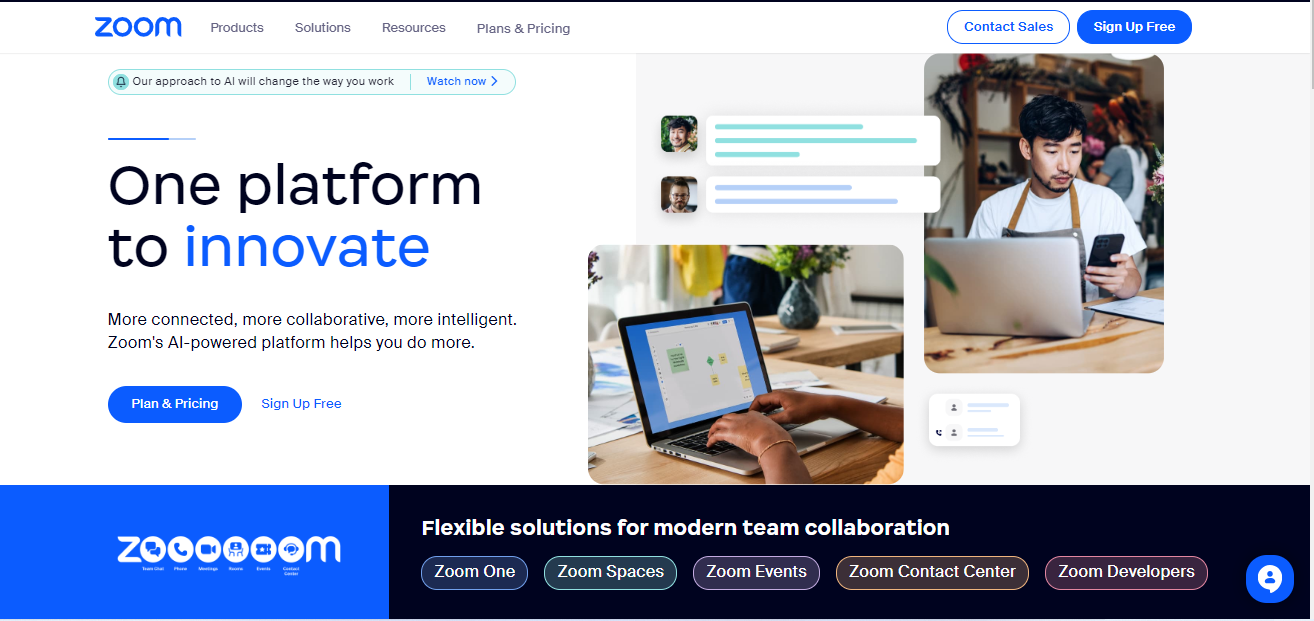 Since you're dealing with clients from different parts of the world, your appointments are going to be virtual. In this case, you need reliable video conferencing software to pull this off.
Zoom is an incredibly useful and popular tool for the smooth running of your online coaching business. I love the tool's excellent video and audio quality, plus it's quite easy to navigate.
During your sessions, you can share your screen with your clients, allowing them to access documents, presentations, and other visual materials during the coaching sessions.
Aside from the one-on-one sessions with clients, you can also deliver a webinar to more clients at once using Zoom. And for future reference and review, you can record the sessions.
It also allows absent participants to replay and watch the sessions.
Participants can mute and unmute themselves, raise their hands, and even send direct messages to the group or privately to you during the session. These features allow for a well-structured question and answer session.
Finally, Zoom comes with different kinds of backgrounds and filters that can be customized to serve as virtual backgrounds during your coaching session. It helps to present a more professional appearance.
Pricing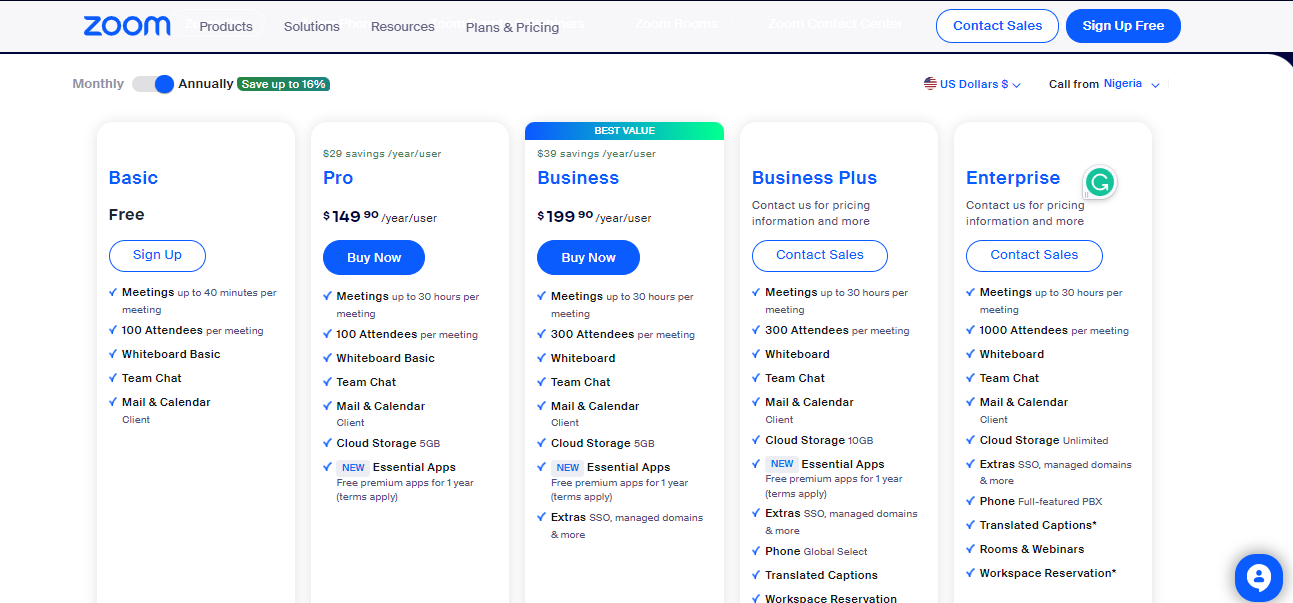 Zoom has a free plan but it can only handle meetings up to 40-minutes and accommodate 100 attendees per meeting.
$149.90 for the Pro Plan allows for meetings up to 30 hours
$199.90 for the Business Plan allows you to have up to 300 attendees per meeting.
For the Business Plus and Enterprise Plan, you have to reach out to the Sales Team for a quote.
Conclusion - What's Next?
Hopefully, this article has answered your questions and opened your eyes to the best online coaching platforms and tools to kickstart your business.
Thankfully, all the tools either have a free plan or comes with a free trial that will at least get you started.
However, rather than subscribe and use these tools individually, you can simply integrate your website into them. This way, your client's data are all in one place and you can access them with ease.
With OnlineCourseHost.com, you're sure to connect your coaching website with more than 5000 apps and platforms including Zoom, Mailerlite, Slack, Google Meet, PayPal, and a host of others.
You will easily get notified when a student enrolls in a course, you can add them to an email sequence, or log them in a spreadsheet.
You can also accept payments, automatically create student accounts and enroll them in courses. The integration possibilities are endless.
If you need more information to grow your online coaching business successfully, you should check out the Course Creator Academy.
You will find everything you need to become a successful online coach all in one place for free.
To get notified when new content is available here at the Academy, you can subscribe here to our weekly newsletter:
If you are looking to ask any questions on online course creation, you can reach me here on my Facebook group:
Join the Course Creator Academy Facebook Group
Ready to learn how to launch your first course on OnlineCourseHost.com? Here are the helpful guides for you to check out:
I hope you found this post helpful; let me know in the comments below what other topics you would like me to cover or any questions that you have.
Thanks for reading… and enjoy the coaching process! 😉
---
Course Creators Academy, a community by OnlineCourseHost.com
Founded by Vasco Cavalheiro
Online Course Creator