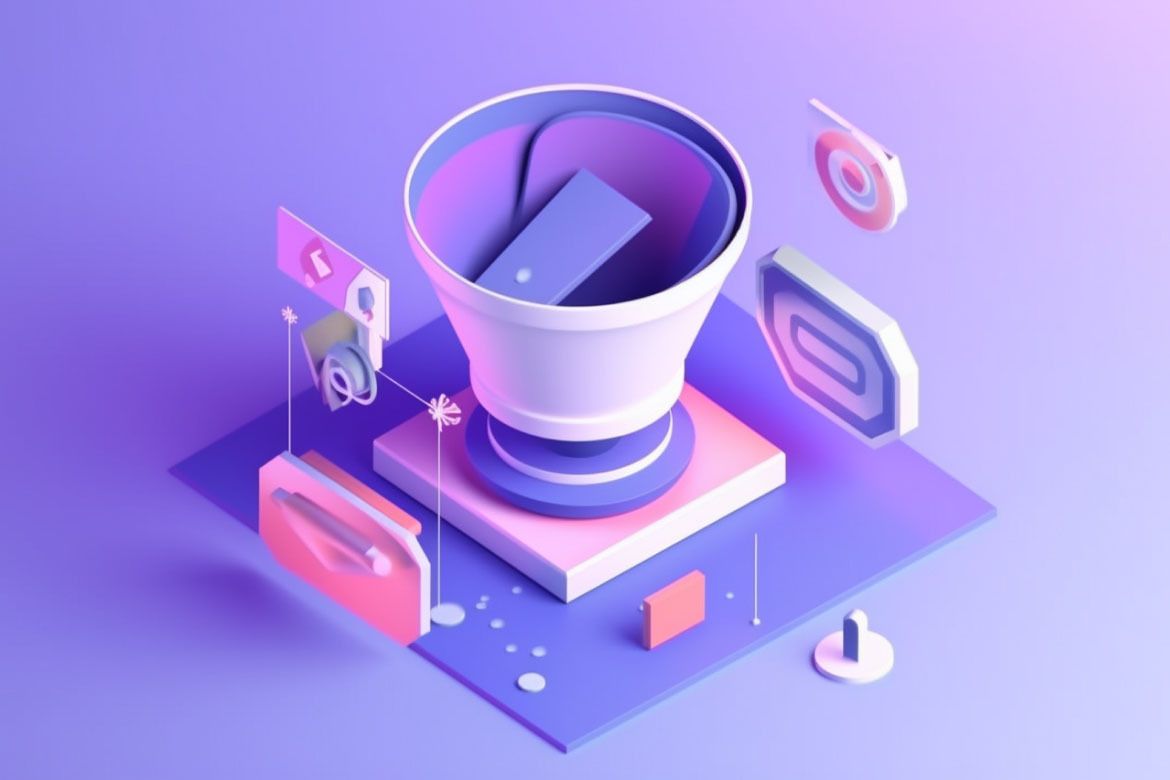 Learn how to build an effective sales funnel for your online course business from A to Z, including the phases of Awareness, Interest, Desire, Action and Loyalty.
Do you find it difficult to generate consistent revenue for your online course business? You almost certainly require a sales funnel.
This post is designed to help you build your first sales funnel to sell online courses, from the ground up. Learn how to create lead magnets, set up your website, and set up email marketing campaigns that convert visitors into leads.
Follow this proven process for building an online course sales funnel that generates consistent leads and sales.
If you want to build a successful and sustainable business from your online courses, the most important part of the process may not be what you think it is.
Most people, and I used to be one of them, assume it's just about creating great courses.
Don't get me wrong, this is an important part of the journey. But "the" most important?
Nope! 😉
That title definitively goes to your Sales Funnel.
And if you're like most course creators… you don't have one.
Or if you do, it isn't nearly as effective as it needs to be!
Surprised? You're not alone, I for example, used to be in your shoes.
But think about it for a second… your sales funnel is what finds, nurtures, and converts your audience into paying students.
So that's what I want to share with you today, I'll show you how to create a sales funnel to sell your online course. I'll show you the multiple phases of a funnel and the various stages that go into each.
I'll give you examples, practical advice, and the steps you need to take to implement everything.
So without further ado, let's start learning everything that you need to know to set up an effective sales funnel for your online courses. 😉
You can always find an up-to-date index with all the free content available in the Course Creator Academy by clicking on the Academy link on the top menu bar.
Other related posts:
What is a Sales Funnel?
So what is a sales funnel, and what goes into one? Here is what a sales funnel looks like: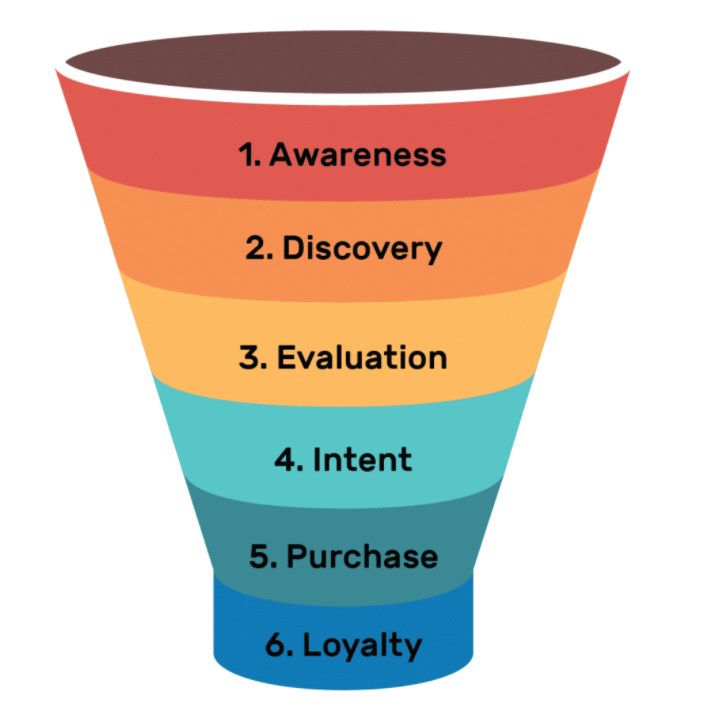 As we can see, the funnel is a sequence of steps through which your customers have to go through, before purchasing (and after, to purchase again).
It's easier to make people aware of your brand, when compared with convincing them to purchase your courses.
There are usually a ton of people aware of your courses, but only a few of those will buy them, for all sorts of different reasons.
As you move people through the process of interacting with your brand and closer to a sale, there will be less and less people on that interaction stage, so that is why the funnel gets tighter as we get close to the Purchase phase.
There are a few main stages in any marketing funnel:
Awareness: This is where much of your lead generation takes place. Your aim here is to capture your audience's attention and stand out from the crowd.
Interest: This is when you begin to nurture your audience. Your aim here is to keep their attention with more in-depth and curiosity-building content.
Desire: This is when you build their trust and establish authority, proving yourself to be the solution to their problems. Your aim here is to highlight their pain, and propose a solution for it.
Action: This is when you present your course. Your aim here is to show why your course is what they need, overcome their objections, and provide clear steps to buy.
Loyalty: This is when you turn a prospect into a loyal advocate (whether they buy your course or not). Your aim here is to build upon the trust you've built, provide various up-sell and/or cross-sell opportunities, and capture social proof.
In this article, we'll turn this seemingly complex process into a blueprint that you can apply directly to your online course business.
Let's start at the beginning, by talking about what you need to have in place before creating your funnel.
What You Need To Create an Online Course Sales Funnel
Here are the main things that you need to have in place:
1: A Completed and/or Validated Course
You don't need a fully completed course, but you should have validated it, pre-sold it, or at least have enough to get your students started.
I sometimes run into is course creators that focus on their marketing and sales way too early.
Yes, for your second and third courses you might try to pre-sell them, but for your first course, as there is just so much to learn, I recommend recording the course and then marketing it.
And this is because a good marketing funnel will not fix a poor, broken, or incomplete course.
2: Know exactly WHO your students are
One of the worst things you can do as a course creator is to say "my course can help anyone".
Even if this is true, this won't help you build momentum and success.
Unless you want your courses to go unnoticed, you need to speak to "someone".
You need to know who this student is, where they are, what their pain is (and how YOU can help them).
The better you appreciate who your students really are, the tighter your message will be.
The more specific you can be about your audience, the better. For example, let's say your courses are about civil engineering.
But are you targeting civil  engineering students, or young civil engineer graduates, or seasoned professionals looking to get continuous training on some new niche topic?
Or are you targeting multiple of these sub-groups? This is essential, because the students probably don't have any money to purchase courses, while the other two groups are much more likely to invest in their professional training.
But these groups have completely different needs and pain points; the students are trying to pass exams in the most efficient way possible, but that does not apply to the other two groups.
As you can see, really understanding who your target audience is, and what their pain points are is crucial in order to be able to know what free content and courses to produce for them.
3: An Understanding of WHERE Your Audience is
Following on from above, you need to step back and think about where your audience is (in which platforms 😉).
Different types of audiences gather on different platforms.
Changes are that your audience gathers on Facebook on certain public or private groups. Even if you don't think that is the case, go look it up, you will be surprised.
Other audiences gather on Reddit, Instagram, or on YouTube, and even on LinkedIn or Pinterest, while other audiences mostly hang out on Twitter.
You need to do some upfront research and find out where your audience hangs out, and prioritize developing those platforms.
For educational content, most of the time this means a mix of Facebook Groups, YouTube, and Blogging, but other platforms might still be important for your topic.
Once you have a course, a great understanding of who your student is, and where they usually hang out, you're ready to create your online course funnel 👇 👇
Phase 1: Awareness
The journey begins with awareness, capturing your student's attention, and enticing them to learn more through compelling content, branding, and a message that stands out.
Check out our guide on How To Create a Powerful Brand For Your Online Courses 👍
Your main aim here is to increase traffic to your site and generate new leads.
Without this, the rest of your funnel becomes kind of pointless.
Lucky for you, there are many approaches you can take. Here are just a few examples you may find valuable as a course creator.
1: Paid Ads
The big advantage of paid ads, is that they will give you results straight away, which allows you to gather early feedback on your course, sometimes  even when the recordings are still ongoing.
By far, one of the best and most effective ways to increase traffic, generate leads, and capture attention is through paid advertising:
Facebook Ads
Google Ads
Linkedln Ads
Other Social Media Platforms
Other Search Engines / Local Search
As the name suggests, this involves "paying" for the privilege of getting in front of relevant people.
Platforms like Facebook and Google are so sophisticated they can help you reach your ideal avatar no matter what course you build.
HOWEVER… the downside of this is the cost.
Although paid ads can be effective, they can also lead to a lot of waste.
Still, when it comes to experimenting with your Top of Funnel and generating awareness, paid ads are a great way to build fast momentum.
In a matter of weeks, you can drive thousands of relevant people into your funnel, for only a small cost.
It's a tactic many course creators use, here are a couple of ad examples from some of them: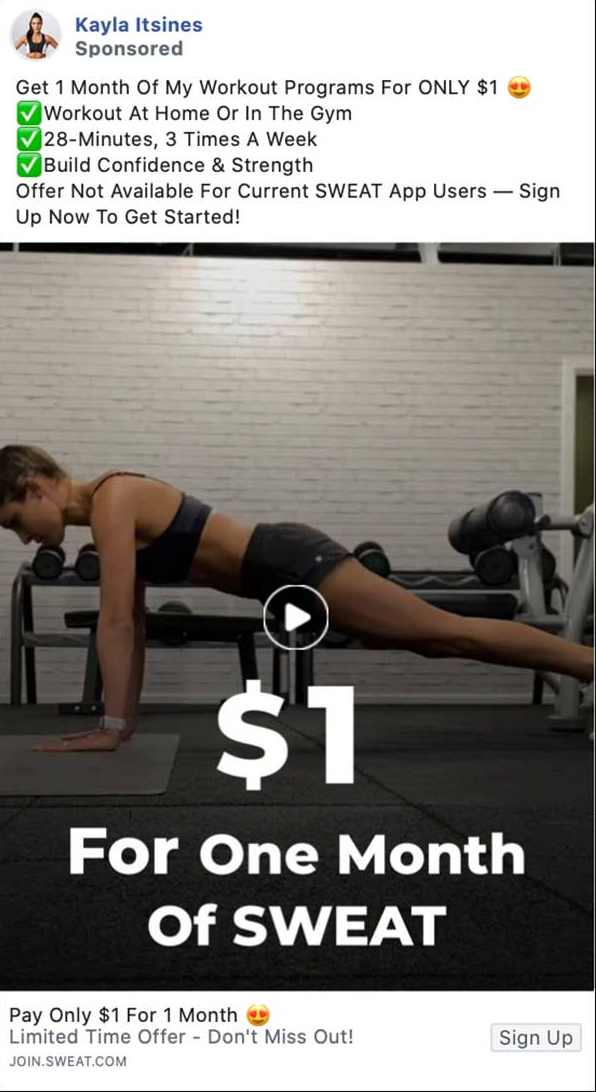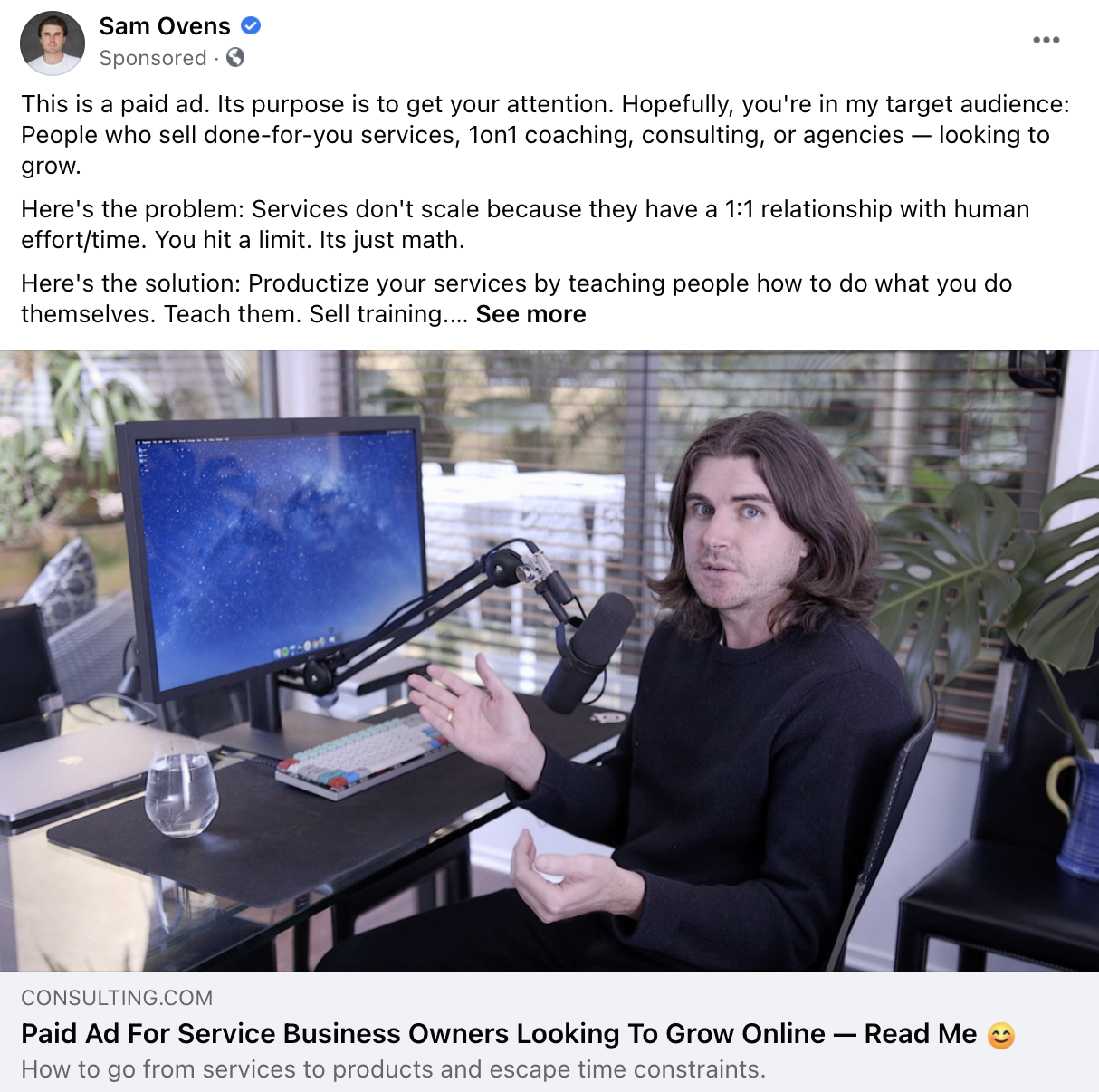 When To Use This:
Although effective, paid ads are likely NOT what you need in the very beginning.
At least, you should approach carefully and set low limits to avoid spiraling costs.
As a general rule, paid ads are usually used by course creators to optimize a course that already works, rather than to start selling a course from the offset.
2: Articles / Blog Posts
When it comes to capturing attention and providing value from the beginning, writing relevant articles is one of the best approaches.
Not only does it become an organic way to generate new traffic and leads, but can also drive much of your paid advertising.
Through articles and blog posts, you can showcase your authority, skillset, and experience, and even introduce parts of your online course.
Often, your audience will find you by searching Google and asking questions about things they need help with.
If you manage to help them out with something concrete that they had trouble with, that is going to build your authority in their eyes.
It's certainly one of the easiest and most cost-effective ways to build awareness, although the downside is often time.
It takes time and energy to plan, write, and promote an article, and it takes time to rank on search engines.
List posts are often effective, as well as in-depth comprehensive articles, like this one that you are reading.
3: Social Media Content
Whether you like it or not, social media plays a huge role in today's society.
Chances are, at least one of these platforms will allow you to reach your ideal students.
The problem is, that social media can quickly drain your energy and waste your time, as too many course creators try to be present everywhere.
This isn't what I recommend. I suggest choosing your platform wisely, but probably this is going to come down for most course topics to Facebook, Instagram, or YouTube.
The content you create is similar to what you do for your articles and blog posts.
Think about your audiences' pain, the questions they ask, and aspects of your course(s) that provide an immediate to those problems.
Based on those problems, you can produce:
simple and quick tutorials
In-depth guides
There's no such thing as "the perfect" social media strategy, it's all about identifying the right platform, persistence, and continuous trial and error.
4: Video / Audio Content
As with social media, video and audio content is a growing force that isn't going anywhere. In fact, studies suggest that 72% of people prefer to learn about a new product via video instead of text.
As a course creator, this is a big deal - although not all that surprising. 😉
In fact, much of your course likely centers around video and audio.
Whether you enjoy being on camera or not, you appreciate it's an effective way to teach your students.
The same applies at the top of your funnel when capturing attention and keeping it.
To start, you might want to avoid long, complex tutorials, and instead, first, gain some initial experience with simpler short, and sweet content that answers only one particular question.
5: Networking and Link Building
So far, the tactics we've discussed have focussed on building your own social media following: your YouTube Channel, your Podcast, your Facebook group, etc…
But, and this is especially true in the beginning, you can use other people's audiences to ignite your own, generate traffic, and create new leads.
Write guest posts for other influencer's blogs
Share content in other people's Facebook groups
Appear as a guest on another person's podcast or YouTube channel
Feature in a relevant email newsletter or collaborate on a joint venture
Whatever industry you're in or whatever type of course you create, there are other people and businesses that have already developed a platform. Their audience aligns with your own.
You can reach more of the "right" people simply by providing value that complements what they offer.
This may include reaching out to fellow course creators with a similar audience, industry publications, social media influencers, or established thought-leaders that serve the same type of customer.
You should start with the smaller content creators, and then progressively go for creators with larger audiences.
Phase 2: Interest
If the Awareness stage is when you capture your audience's attention, this is the stage you keep it.
Although studies do vary, it's suggested our attention has dropped to just 8 seconds online.
Whether this is fact or not, it's clear that in today's fast-paced and hyper-distracting world… we have a fleeting attention span. This has nothing to do with you or your message.
As a course creator, your job is to overcome this and pull your audience in with compelling content.
You've captured their attention… but how do you keep it?
1: Lead Magnets
Let's assume you have an amazing and effective funnel strategy that captures attention and helps you stand out to your ideal student.
Through blog posts, ads, social media messages, and videos, you've hooked your audience and got them wanting more.
Now what?
The problem is, all that's happened is they now know who you are.
They're still on Facebook or Google, and in a few seconds times… you've lost their attention for good.
That's where the power of a Lead Magnet comes in. A lead magnet is something valuable that you offer your potential students in exchange for their email address.
And there are A LOT of lead magnets you can choose from:
PDF
Guide/Report
free Video course
Checklist
Tutorial
Template
Newsletter
Free Trial
Free Gift
Discount/Coupon
etc.
In fact, free video courses work especially well as a lead magnet and can be created easily by extracting parts of a premium video course.
Check out how to implement this in the article What Is The Best Lead Magnet For Your Online Courses?.
Whatever you choose as a lead magnet, remember that your lead magnet needs to provide your audience with something they need.
This is how you keep their attention.
And this is because, at this stage, they still don't know or trust you yet.
They're interested to learn more about you and what you offer, so blow them away with value.
Here are a few examples of eye-catching lead magnets like this.
This one is from OnlineCourseHost.com, which offers you a chance to signup for our free newsletter...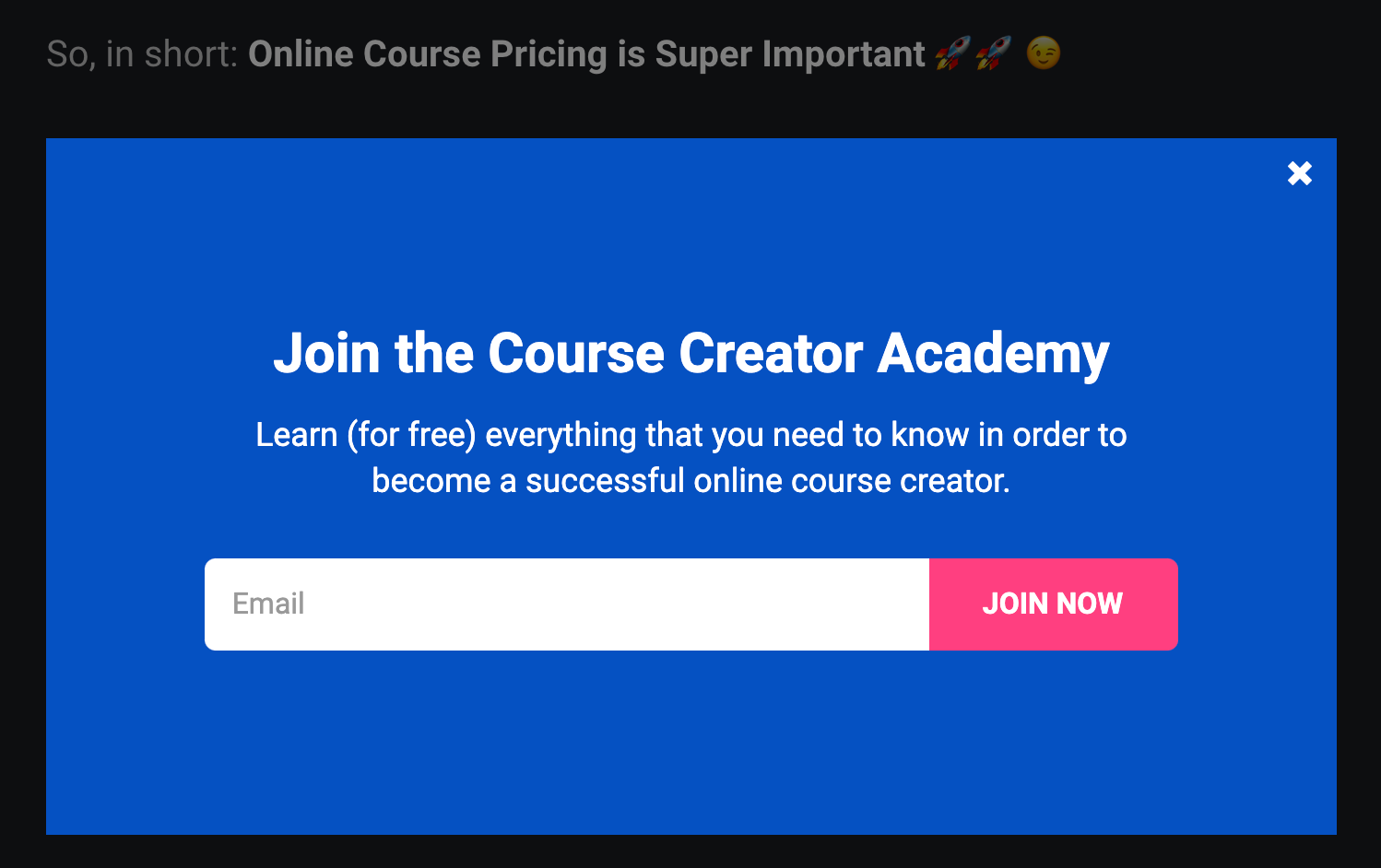 Or this one, which provides access to a free video series...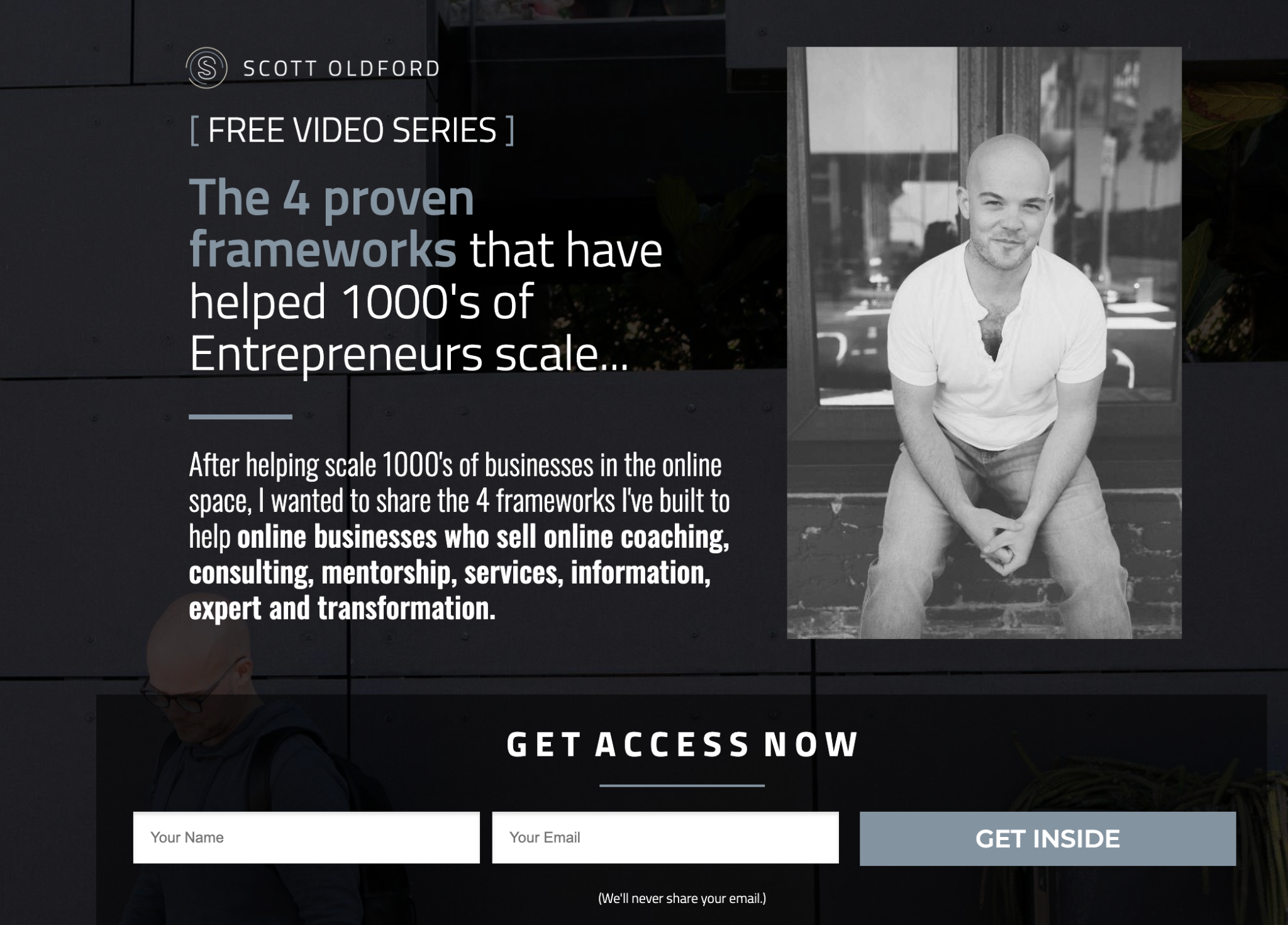 Or this one, which offers a free checklist.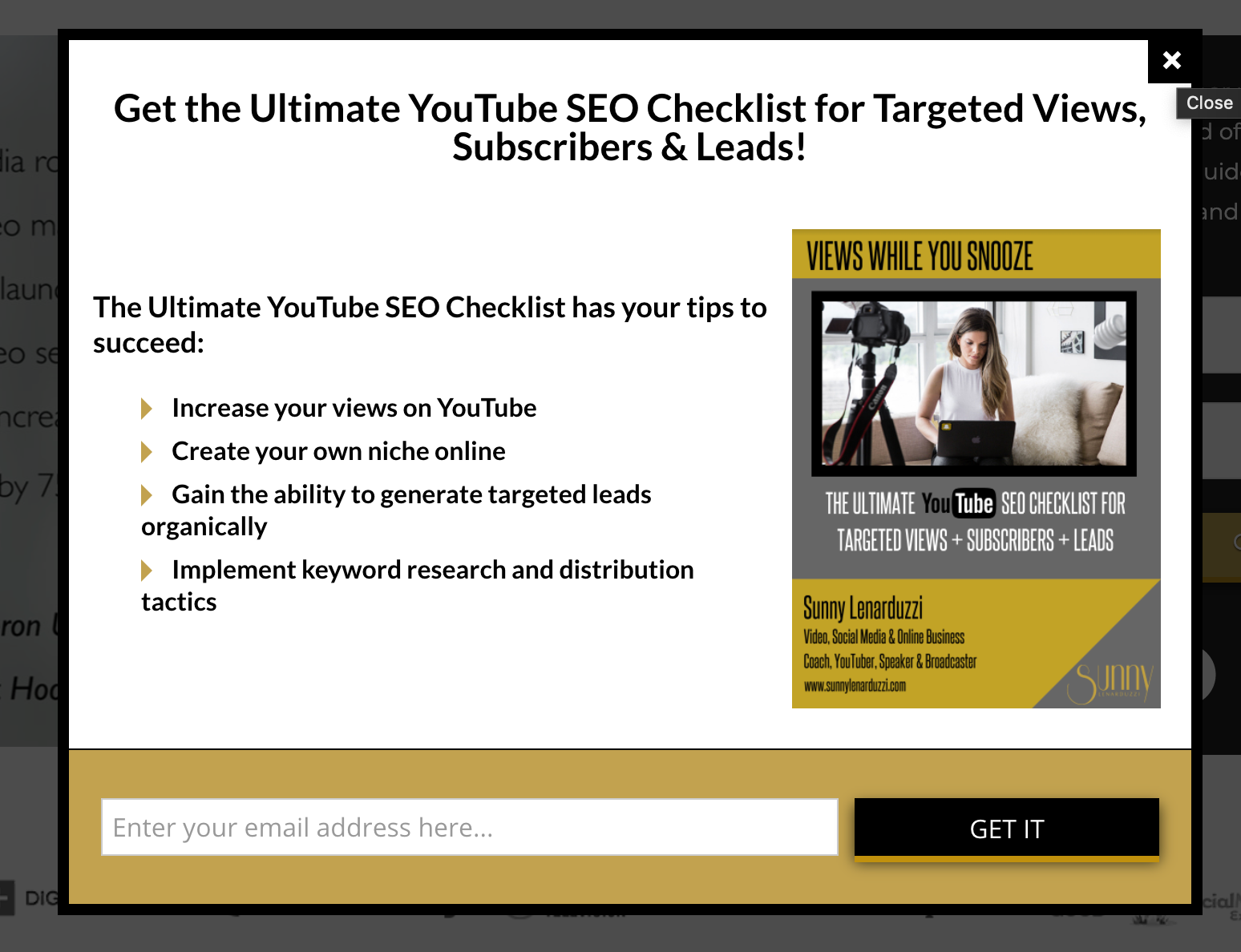 2: In-Depth Guides (Articles or Videos)
In the previous stage (Awareness), we talked about creating shorter articles and blog posts (700 - 1,500 words). Articles still play a vital role here, although you can now dive deeper into a topic and produce longer pieces.
Like the one you're reading now, for example…
It allows you to still provide valuable information, but this time go a few levels deeper.
Some examples of guides and articles like this include this one I wrote about how to sell online courses, or this one about how to create the perfect online course sales page.
In this phase, your student already knows who you are, but they are not ready to buy from you yet.
So you should keep their attention by providing as much useful information as possible, in the form of free educational content, and in-depth guides are a great way of doing that.
The more the student sticks around learning from you, the more your authority will grow in their eyes, and the more they will trust you, as they get practical and tangible results from your advice.
3: Short Webinars
An alternative to creating a video series is to produce a SHORT webinar.
Used correctly, they can be a great way to "sell" your online course - although that isn't the purpose of your webinar at this stage in the funnel.
The webinar you need here isn't a long, hour and a half version with a long pitch.
Instead, a webinar at this stage in the process should be shorter and focus on VALUE.
No sale.
No pitch.
No pressure! 😉
Your focus here is to provide value to your audience in an engaging and interactive format.
Whether this is via regular live webinars or a pre-recorded evergreen version.
When To Use This:
If you feel your audience would best engage with a video but you don't feel comfortable in front of the camera, a short webinar like this is a good alternative.
It's still engaging and visual, but it allows you to talk over a slide show and showcase your skillset and experience.
You could focus on something inside your course, or simply a relevant topic of some kind.
So long as you provide value (and don't focus on the "sale"), this could become highly effective.
5: Retargeting Ads
We've touched upon this a few times throughout… retargeting ads can be a great way to turn awareness into interest and drive people toward your lead magnet, guide, in-depth articles, or videos.
They work in a similar way to any other online advert.
Except with a retargeted ad, only certain people see it.
For example, let's say someone reads your short blog post after coming across it on Facebook.
By placing a pixel (a snippet of code) on your blog post's page, you can "retarget" this person once they leave your site.
In the coming days, you share select ads that only people that have visited certain pages on your site can see. These could be in-depth articles or guides, a link to your video series or webinar, or anything else that helps keep their attention.
Phase 3: Desire
At the top of the funnel, your focus is to initially capture your students' attention (awareness) and then keep it (interest) with more in-depth and valuable content.
If you do it correctly, they'll register for your lead magnet, give you their email, and enter the next stages of your funnel.
This is when the fun begins. 😉
It's in this stage - Desire - that you transform their interest into something more.
The likelihood is that they're only vaguely curious about what you have to offer right now. They like what they see so far, but they hardly trust you.
This is understandable. I imagine you've downloaded many lead magnets in your time.
But have you ended up buying from each one of these creators? Of course not!
And the reason you haven't is they didn't turn your interest into desire.
This is your focus here, not only in this stage but throughout the middle of your funnel.
Your aim is to establish their trust and build a rapport with your audience.
You need to SHOW them you're the real deal… that you are the expert they need, and that your solution will solve their specific problem.
There are several ways to do this, but much of the magic happens inside your Email Funnel.
The Email Funnel
The reason email is so important is that it remains the primary way to sell your digital products.
Most of your audience still opens their inbox each day. Most of them expect you to communicate with them via email.
Remember, they've just downloaded your lead magnet…
Where do they expect you to send them the file? Their inbox, of course!
This isn't about whether an email is as effective today as it used to be.
What I mean is that it still remains the easiest and most effective way to communicate with your audience, even though it's not as effective as it was say 10 years ago.
Despite this, it's still by far the best way to reach your audience and build their trust. 😉
In a nutshell, here is what you are trying to achieve with your emails:
Step 1: Establish Trust
Step 2: Build Authority
Step 3: Trigger Pain
Step 4: Provide Solution
Step 1: Establish Trust
The first phase of your email funnel centers around establishing trust and building a rapport with your audience.
This often involves:
Sharing your story, background, and experiences
Talking about your vision, mission, and core values
Framing their problem/pain as the one you used to feel
Asking them why they're here and what they hope to achieve
However, the point here is NOT to simply talk about yourself, that would be a big mistake.  
Instead, you must frame your story and the problems you faced as their own personal journey and their own problems…
Sharing your story/experience in a way that relates to them…
Talking about your mission and vision, and how it aligns with theirs (or will help them on their journey).
You see, even when you are talking about yourself,  it's really not so much about you as it is about them and their difficulties, and how you had the same difficulties that you somehow managed to solve.
One of the best ways to build trust with your audience is to share stories, namely your origin story. 😉
Beyond this, one of the most effective ways to build a rapport between you and them is to share a story that brings the two of you together.
This is NOT a time to talk about your course, but it is a time to talk about your own journey and the pain you used to feel, how you were just like them, and how you now managed to solve those issues because of the process you went through.
Here's a quick overview of what this phase of your email funnel might look like:
Email 1: Welcome & Download -- introduce yourself, thank for them registering, and link to the lead magnet/download.

Email 2: Your Story -- introduce your story and provide an overview of the journey you've been on (making it as relatable as possible and similar to the path they're currently on). Where appropriate, link to a more detailed about page, welcome video, or article.

Email 3: Your Mission and What's Next -- this is where you introduce your vision and mission (and core values), but rather than just delivering them, craft a story around all this, and tell them what type of educational content they can expect to receive in the next few weeks.
Step 2: Build Authority
At this stage, your audience begins to trust you.
They feel like they're in the right place and that you are someone that can help them.
BUT they're not sure… they still don't know if you're the real deal.
Your aim in this second phase is to prove your expertise, by teaching them what they want to learn. This often centers around:
Blog posts and articles
Educational videos
Instructional email text
Reviews and testimonials
Features and interviews
Awards and qualifications
But again, the trick here is to share all this without it coming across like you're bragging or anything.
Once more, this is really not about you… everything you share has to serve your students. 😉
Here's a quick overview of what this phase might look like:
Email 1: Relevant Articles -- share something you've written about that not only provides an interesting and valuable read but showcases you as someone who knows what they're talking about.

Email 2: Ask a Question -- turn the focus on to your audience and ask them about a common problem or pain they may have. This allows you to introduce them to someone you've helped in the next email.

Email 3: Answer The Question -- on the back of the question you ask, share a story, testimonial, or case study from one of your students that "shows" them how you helped/had an impact.
Again, this is just an example for you to use. The aim is to develop authority and prove yourself as someone who's further along the road than them.
It's also a great time to start introducing the main pain and/or problem, which takes center stage in the next phase.
Step 3: Trigger Pain
Now you've proven yourself as a credible resource, it's time to edge your audience toward the solution they need for their problem.
In fact, it's safe to presume they don't.
And it's your job to show them the way…
There's a simple process you can take to achieve this:
Meet them where they are
Acknowledge their situation
Provide a deeper insight
Show them what life could be like
What this simple process does is trigger their actual pain, hints at the solution, and builds a GAP between where they are and where they need to be.
And what fills this gap? Your course! 😉
However, you cannot go in too hard and start telling your audience what their problem is and how the problem they think they have is wrong.
Instead, you need to meet them where they are, reminding them how you were once in their shoes.
This is why sharing your story in phase one is so powerful, they already know you "get" it.
Next, you need to acknowledge their situation, which can be hard for a course creator because it may involve talking about something you *know* is wrong.
For example, let's say you help people be more productive, and you know from years of experience that their real problem tends to focus on poor habits.
You *know* this is their problem.
Yet they *think* their problem is how they don't have enough time.
You have to acknowledge this rather than push it under the carpet. Don't discredit them or say how they're wrong.
Again, step into their shoes and *show* them you're someone who understands.
Once you've done that, you can nudge them in the right direction by providing deeper insight.
Sure, they don't have enough time, but the reason for that is due to bad habits they don't realize they have.
At this point, you open their eyes and show them what life could look like if they make a few changes.
They don't know what the solution is, but they now believe there is one.
Taking them on this journey places them in The Gap. They know where they are and where they want to be, but they have no idea how to get there. That's where the fourth and final phase comes in.
But before we get to that, here's an overview of what this might look like:
Email 1: Meet Them Where They Are -- step into their shoes and reiterate how you were once where they are and that you understand what they're going through.

Email 2: Acknowledge Their Situation -- rather than discredit their feelings, acknowledge what they think their pain is but hint that there's more to it (and that you understand this because you've gone through the process already).

Email 3: Provide a Deeper Insight -- this is where you focus more on what their actual problem is (the root cause… the problem your course helps solve), explaining what's really going on and how it could get worse if they don't solve.

Email 4: Show Them What Life Could Be Like -- on the back of the last email, you need to give them hope there's a real solution that awaits that can give them access to a better life (paint a clear picture of what this life looks like, using your experiences and/or those of your students to build proof and credibility).
There's often (but not always) a disconnect between your students' perceived and actual problem. Your job is to guide them in the right direction. Sometimes a few emails will suffice.
Other times, you may need to incorporate webinars, challenges, samples from your course, or other content to get your point across.
The point is you NEED to place your audience into The Gap.
Trigger their pain. Hint at what the solution is; what life could be like.
Show them progress is possible and that it's closer than they think.
Once you get them here, you're ready for the final phase.
Step 4: Provide Solution
This final phase is when you not only hint at what their solution is but give them tangible tools to walk away with.
However, this is NOT when you launch your offer and sell your course.
But this is when you start introducing it.
For instance, there's a good chance your course includes some kind of:
Framework
Methodology
Process
System
Blueprint
or possibly several of these…
By introducing at least some of this now, you not only provide your audience with relevant value but introduce your course without placing any focus on it.
It's a subtle way of showing them how you can help and what their next steps look like without talking about your course, how much it costs, or what their next steps are -- all that comes next. 😉
The other thing at play here is it gives your audience some of what they need to make progress.
There's a fine line to giving them too much, not only because it might make your offer redundant but also overwhelm them with too many details.
But giving them something practical they can leave with IS important as it not only helps you stand out from your competitors but SHOWS them progress is possible.
You have the solution they need, and you give them some of the tools or information to go away and do it themselves.
The key to all this, of course, is how you deliver it.
A webinar… a challenge… a lesson or two from your course?
Each situation is different, but a general rule is to deliver something that provides them with an instant result.
What can you give them from your course that creates an immediate impact?
What can you teach them that allows them to make progress right now?
What tip, hack, or tactic can you produce that produces quick results?
Remember, you don't want to offer them too much right now. Doing so doesn't serve you because it makes your course redundant. But it also doesn't serve them because all you'll do is overwhelm them.
Less is often more.
Here's what this might look like:
Email 1: Reiterate Their Current Situation/Problem -- your first job is to remind them of their current situation and reiterate their pain/problem. From there, reassure them that help awaits and you have the solution they need.

Email 2: Introduce Your Mechanism -- this is where you introduce your method, framework, or blueprint that plays a huge role in your course as a whole. Don't go into too much detail, but do provide a clear overview of how it works and WHY it's powerful.

Email 3: Provide a Deeper Insight -- here is where you go deeper into your key mechanism, often focussing on one part of it so they can make instant progress.

Email 4: Offer The Bandaid -- this is where you expand on your previous email and provide something they can walk away with (an exercise, workbook, PDF, or possibly something more in-depth like a webinar or challenge).
As you can see, the point here is to SHOW them how possible progress is.
You literally give them something they can use today - something that lets them do it themselves!
This reinforces the trust you've built but also leads nicely into the next stage of this process: ACTION.
That's when you launch your course, which is the period where so many course creators fail.
The reason for that is that they don't get this stage right - they "give" too much or too little.
Once you find that balance, everything that comes next becomes easier 😎
Phase 4: Action
All good journeys come to an end, and although this stage doesn't mark the end of the process, it does represent the whole point of your sales funnel.
Your aim isn't simply to bring someone into it and nurture them.
Your aim is to take them on a journey that results in them ultimately purchasing a course from you, subscribing, etc.
There are two key players in this stage:
The Launch Sequence
Your Sales Page
These two elements work together, as this final email sequence directs people to your sales page.
We'll only touch upon the Sales Page here as I've written a separate guide that breaks down this page, how to build it, and what to do with it:
How To Create The Perfect Online Course Sales Page
Everything in this stage centers around action, the whole point is to get your audience to DO something!
That's why quality over quantity is so important in the previous stages as the only people that ACT here are the "right" people.
By now, you've taken your audience on an engaging journey that's captured and kept their attention, transformed their interest into desire, built trust and rapport, and provided various pieces of value throughout.
You've proved yourself credible, and you've even given them practical tools to walk away with.
Not everyone is the "right" fit for your course, but those still opening your emails are likely at least on the fence.
They're ready to buy from you (or at least see what you have to offer).
They *think* your solution might be the one they need…
Your job now is to show them this is the case! 😉
The Launch Sequence
You attach this launch sequence to the end of your email funnel where you Provide a Solution. In that phase of your email funnel, you gave them actionable tools to go away and solve their pain on their own.
You've given them a great deal, including the confidence to move forward.
What you need to do now is have them stop, reflect, and consider their next steps.
Sure, they could do the work themselves and figure it out…
Sure, they could try and find all the other tools and resources they need…
OR they can turn to you -- the person who's been there and done it and has the compact solution with everything they need to know 😎
That's what is at play here as you:
Re-Open The Gap
Introduce Your Offer
Reveal Core Benefits
Overcome Objections
Present Clear Next Steps
Your first step is to Re-Open The Gap and remind them that although they could figure all this out themselves, it's risky and time-consuming to do so (which it is).
You've shown them what life could look like. They're excited. They also feel confident because you've given them some of the tools they need.
They may think this is enough… you know different!
Remind them of this and their current situation, and that the pain they feel is still very much real.
If they want to make the progress they desire, it makes sense to turn to someone (and a course) that helps speed up the process.
This is when you Introduce Your Offer and break down the various features involved: the course material, community aspects, coaching calls, tools & resources, etc…
This is also when you reveal the price and explain their next steps.
Not everyone will buy at this stage. In fact, many will remain on the fence.
This is fine. Some will, and it's these early adopters you're speaking to.
Next, you turn attention away from the features and instead Reveal The Core Benefits of these features!
Too many course creators get caught up on features and create a long list of various details. Although this is what some of your audience needs to make a decision, it turns many more off.
Most people make decisions based on emotions rather than rationale.
They want to know how what you offer will help and impact them.
They need to see how all "this" makes sense to them and the specific benefits of each core feature.
This gets most people closer to making a decision, but many STILL have certain worries, fears, and objections holding them back.
This is when you Overcome Their Objections by acknowledging what they are helping them see past these with relevant stories, social proof, bonuses, and answers to the questions stuck in their minds.
All you have to do now is Present a Few Clear Next Steps on how they can get off the fence.
How you do all this depends on you and your audience. A few emails may suffice or you may have to dig deeper with videos, case studies, and detailed FAQs.
Much of this already exists on your sales page, but you may have to repurpose at least some content into fresh articles, stories, and testimonials.
Here's what an email sequence like this might look like:
Email 1: Re-Open The Gap - an email that places them at a crossroads where they *could* try to solve their problem on their own or how they *could* follow a proven process that saves time, money, stress, etc...

Email 2: Present Your Offer - this is where you break down your offer, focus on the core features involved, and reveal the price (including any early-bird discounts or bonuses...)

Email 3: Reveal Core Benefits - now they know what your offer includes (the features), you need to bring these alive by focussing on their specific benefits and the impact this has on THEIR life!

Email 4: Overcome Core Objections - the aim here is to preempt a few of their core objections/fears/questions, acknowledge these, and turn them around by providing specific answers, bonuses, case studies, and other relevant stories and/or messages.

Email 5: FAQ - following on from the last email, this one dives deeper into their objections by answering common questions, worries, fears, and anything else that keeps them on the fence.

Email 6: How To Buy - finally, you produce a "harder" sell and bring some scarcity into your message by focusing on how NOW is the time to act.

Email 7: Last Chance - with one final email, you follow up and let them know this is their last chance to act (after this, the price rises, enrollment closes, bonuses end, etc…)
You don't have to write all these emails at first.
My advice is to start small, test your launch sequence, and adapt it where you need to.
In most instances, you'll direct all these emails to your course sales page.
Phase 5: Loyalty
The course creators that last the test of time are those that create loyal students that follow them and learn from them over time.
If Someone Does Buy Your Course…
As soon as someone comes through your funnel and buys your course, they're officially a customer.
Your job now is to turn them into loyal customers, so they:
Purchase and join future courses and programs.
Become members of your future mastermind or paid community.
Beta test future projects and help you turn good into great.
Share your work with friends (and their audience), and build valuable referrals.
Provide testimonials, reviews, and successful case studies.
This is the difference between someone remaining a one-time customer that buys your course and does little with it, and one that becomes a valuable advocate of your work and has a high lifetime value.
Which would you prefer?
An easy choice, right  😏 😎
The thing is, this doesn't just happen. You need to consciously turn up for your customers and continue to provide value. This begins with your Onboarding Sequence and continues by inviting them to be part of an engaged Community.
From a simple Private Facebook Group to Slack Channels, Forums, or even a Membership Site… building a community for your students is a great way to keep them on your side.
A community allows them to:
Meet fellow students and form connections...
Collaborate with other people on a similar journey…
Stay accountable and help other people do the same…
Ask questions, share stories, and confide with each other…
A community like this also allows you to share new content, ask questions, gather testimonials, build your launch team, observe and research your audience, test new ideas, and beta test future projects.
Creating a community like this is a growing trend, but it's still something many course creators overlook.
This is an opportunity for you to not only stand out but build upon the trust and rapport you've already developed with your students.
If Someone DOES NOT Buy Your Course…
Now you know what to do with someone who becomes a new student, but what about the group of people that choose to not buy your course (for whatever reason)?
Well, you may find these become the most valuable people of all as you move forward.
If you choose to nurture this group and learn to understand them better, you can:
ASK them why they didn't buy and learn about their core objections.
Cross-sell, down-sell, or even up-sell different products that may be more relevant.
Re-promote your course a few weeks (or months) down the line.
Involve them in future giveaways, contests, and other promotional material.
AND share future ideas and hone in on how to best serve them.
Just because they don't buy now doesn't mean they won't in the future.
And just because they may never purchase one of your courses doesn't mean you can't learn A LOT from them.
Conclusions and Next Steps
As you can see, a sales funnel is not a software or a specific process, it's the combination of interactions with your brand that over time will guide potential leads to become paying customers.
This means that every single piece of content that you put out, including something as simple as a tweet or an email is going to be a part your funnel, whether you realize it or not. 😉
Really thinking about your funnel and defining a clear strategy for how you are going to implement it is crucial.
The best way to make a sales funnel work well for your online courses is to have your own website, where you can collect student emails and send them deeper into your funnel.
If you need a platform to host your courses, with integration with the most commonly used email marketing solutions, we've got you covered.
We can help you get started,  head over to OnlineCourseHost.com and create your free account.
Besides giving you all the tools you need, we also give you the information you need to become a successful course creator through our Course Creator Academy and private Course Creator Facebook Community - where you can ask questions, connect with other course creators, and learn best practices from people that have been there and done it.
OH AND...
Don't forget to sign up for my Course Creator Academy newsletter to get notified when I release new guides like this…
I hope this post helped you better understand how to create a sales funnel to sell an online course. If you've found this guide valuable, you may like to explore our Course Creator Academy for other valuable content, including articles, posts, and guides like:
Thanks for reading, and here's to your own successful online course sales funnel. 🍸
---
Vasco Cavalheiro
OnlineCourseHost.com Founder & Online Course Creator
LinkedIn   Facebook Page   Facebook Group   Twitter
You are welcome to ask me any questions in the comments below: 👇👇👇👇