How To Advertise My Online Course For Free? (Complete Guide)

Platform Review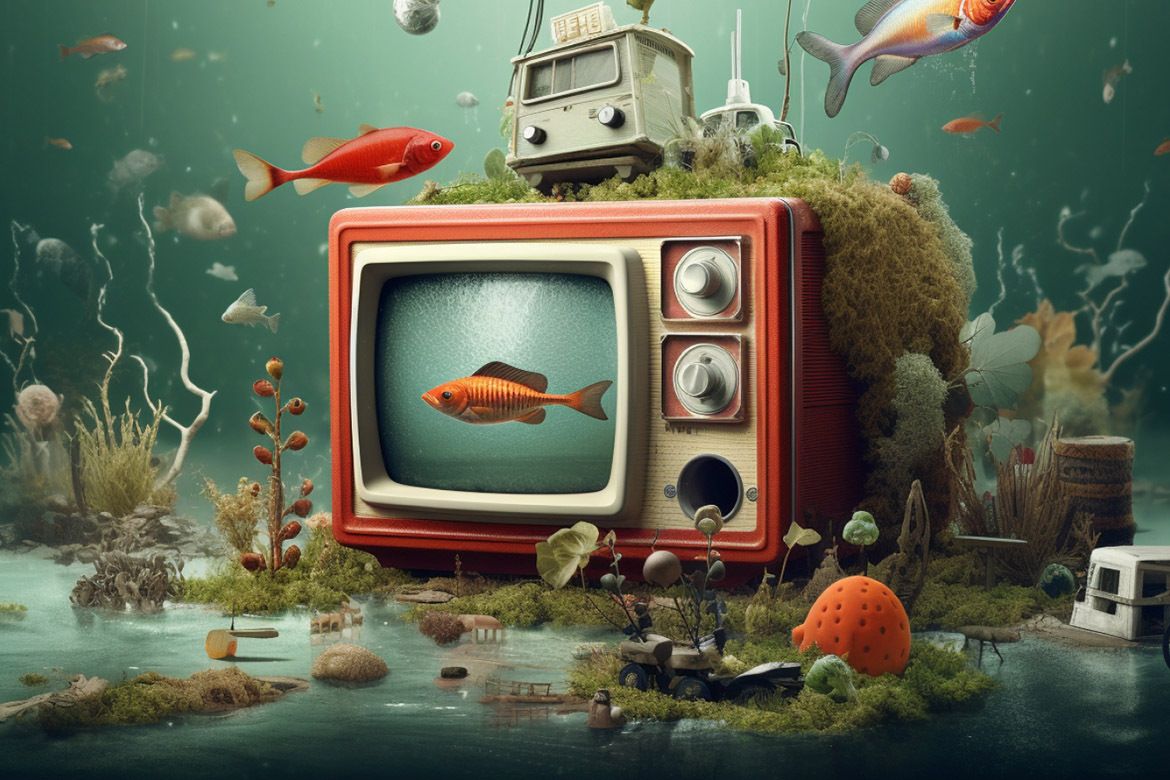 Learn from an experienced course creator what are the best ways to promote your online course to a large audience for free (without paid ads).
You are finally done creating your online course, which took you maybe weeks to months to put together.
I know what this feels because I'm a fellow course creator just like you (I've creating and selling courses since 2016).
So now you're asking yourself: how to promote my online course?
What is the best way to advertise my online course for free?
Now that your course is ready, you just need to find a way to grow an audience of engaged students that will buy your courses!
So you are looking for ways to get your course in front of the right people, but right now, you don't have a budget for paid ads just yet.
But if you can't afford paid ads and no one knows about your courses, how do you do it then?
You're back to square one, so how to market and promote a course online?
It's a bit of a chicken and egg problem, right?
If you don't have an audience, you don't get course sales, but if you don't have sales, you can't afford paid ads, and your audience doesn't grow...
Without an existing audience, there is no one to talk about your courses on social media or refer you to other people, so there is no organic growth either.
The most obvious strategy to get out of this initial state is to run some paid ads.
But how much does that cost?
For example, Facebook Ads might cost you easily over $2 per click for lots of topics or even more if you run them in most English-speaking countries.  
These costs are typically not doable for most course creators that usually don't have the required marketing knowledge to run ads effectively.
So, how to market an online courses for free?
The best way to advertise an online course for free is to leverage existing audiences in both online course marketplaces and social media.  Online course marketplaces have huge pre-built audiences, where you can publish your courses for free and even sell them. There are also large audiences available on YouTube, where you can publish educational content for free and promote your premium courses that way.  Facebook also has huge communities organized by topic where you can promote your courses, known as Facebook Groups.
We are going to explore all these strategies in detail in the rest of this post and round everything up in the final recommendations.
You can also check out all the free guides that you have available here at the Course Creator Academy by clicking on the Academy link on the top menu bar.
You can also check out these other posts on how to market your online course:
How to Promote your Course On Different Platforms?
The first thing to do to market your online course is to publish it on other platforms.
Entrepreneurs who sell on Amazon do that for one reason - Amazon is popular and has a wide customer base. They could easily set up their own e-commerce website, but they will spend a lot of money on ads and promoting their website.
The best viable option for them when just starting out is to sell on a well-known e-commerce site, use it to establish their brand, and build a customer base from there.
The same applies to online course creators like yourself. Online course marketplaces are simply platforms that house different courses from different instructors and sell them side by side on the same website.
So they are just like Amazon, but for online courses.  😉
Because these platforms are popular and already have a built-in audience, you don't need to worry about advertising your courses. Not only are you reaching a broader audience for free, but you are also building your brand and making sales in the process.
These marketplaces will, of course, charge you a large commission and put practical constraints on the price at that you can sell your courses. So remember, you will be using the marketplaces just to kick start your audience growth from scratch.
Your ultimate goal always remains to create your own website with your own brand, where you can do value-based pricing and build an email list.
Which Online Course Marketplaces To Choose?
There are many online course marketplaces you can leverage, but you must use platforms known to offer courses relevant to your subject.
For example, if your online course is on Photography, Writing, Designing, or any other creative skill, the best marketplace to sell the course is Skillshare.
Since Skillshare is known for teaching creative skills, you will reach more audiences there.
That is not to say that other platforms like Coursera do not offer creative courses.
But because the platform is more focused on professional courses, you might only have a handful of students interested in art.
If you are doing business courses, tech courses, or programming courses, then the best platform for you is Udemy, which is right now the biggest online course marketplace on the internet.
If you are looking to choose which marketplaces are best for you, check out the following related articles that I wrote:
Is Udemy Worth It For Instructors? (Instructor Opinion)
Udemy vs Skillshare for Online Course Creators
The major online course marketplaces where you can publish your courses for free are - Udemy, Skillshare, and Coursera.
Now, let us look at what is involved and the benefits and limitations of each platform.
The Udemy Online Course Marketplace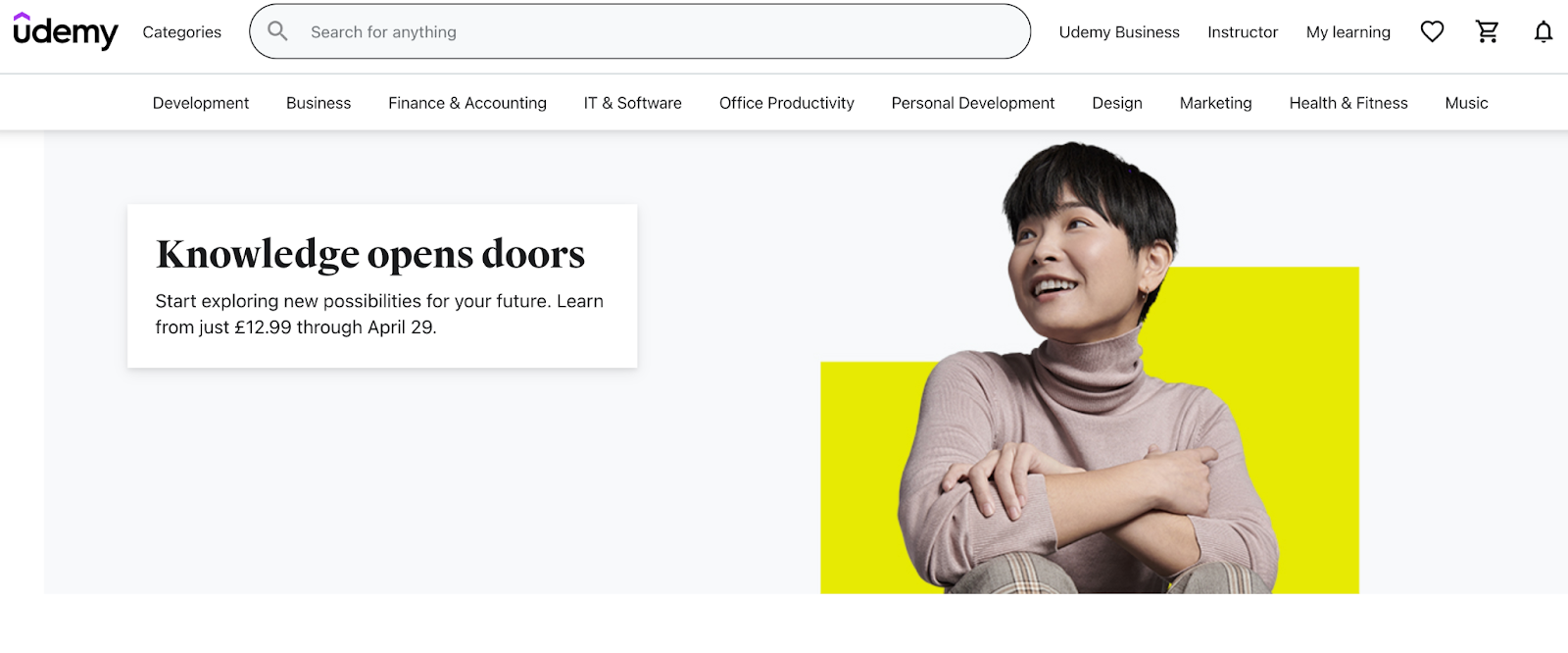 Udemy is currently the largest and most popular online course marketplace, with over 52 million students and more than 65,000 instructors. It is a great platform to develop reviews and build credibility.
I used it when I was starting out as an online course creator, and it worked great for me. Check out these articles where I talk about my experience on Udemy:
Publishing your course(s) on the platform is fast, easy, and most of all, free.
It's a general marketplace, too, focussing on dozens of different industries and niches. So it's not specialized in a narrow set of course niches.
However, if you want students to buy your courses, you need to become a premium instructor. Becoming an instructor is free, and the process is usually completed within two business days.
The good thing about Udemy is that their Marketing Insight Tool helps you search and get a report on how popular your topic is on the platform, the search volume, and related keywords.
Armed with this information, you can decide what course to create or, if you have created, the right keyword to use to boost visibility.
Upon registering on Udemy as an instructor, you automatically opt into their Deals Program. The program allows Udemy to offer your course to students at a discounted price not lower than $9.99. This is a good marketing strategy to get more students to enroll in courses.
However, the course price might be different for students in Australia, Brazil, India, Indonesia, Mexico, South Africa, and Turkey. The course prices in these courses may be lower.
What percentage does Udemy take from online course sales?
When a student purchases a course through your referral link, Udemy takes 3% of the course price and pays you 97%.
On the other hand, if the student buys the course through Udemy's advertisement or from browsing for courses on the platform, Udemy pays you 37% of your course price.
This is just a bird's eye overview of Udemy. If you want to read a whole review covering how everything works, check out this article for a full in-depth review: Udemy vs Skillshare for Online Course Creators
The Skillshare Online Course Marketplace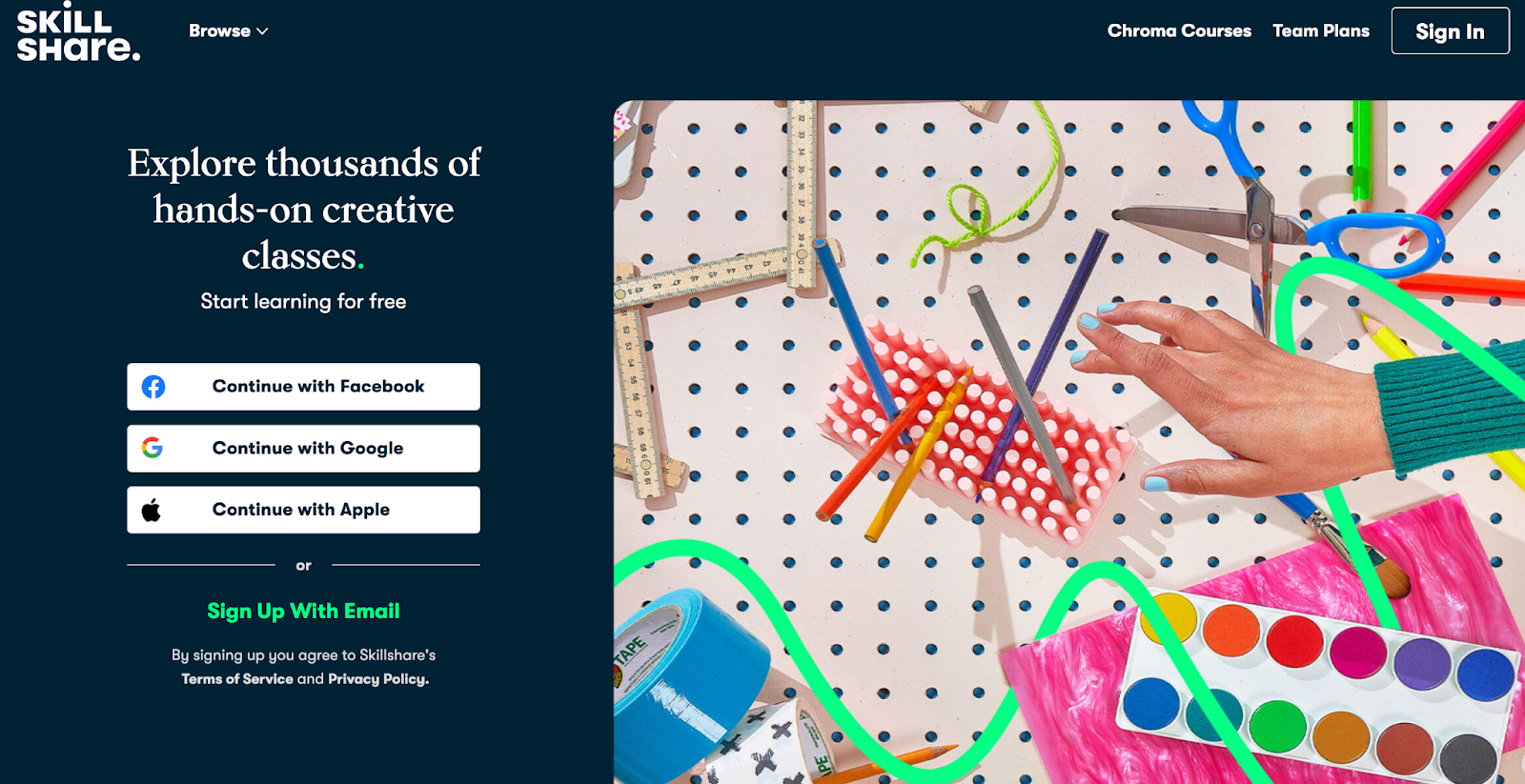 If your online course borders on a creative skill like writing, graphics design, crafting, videography or photography, then Skillshare is a good marketplace to publish your course. Imagine your course reaching over 12 million students registered on the platform.
That's huge!
However, courses on certain course categories like relationships,  fitness, medicine, beauty, mathematics, pet, politics, or spirituality cannot be published on Skillshare, as you see here in their list of restricted topics.
There is no cost attached to publishing your course on the platform. However, your course must adhere to the required guidelines, which include:
Video content must not be less than 10 minutes.
An introduction video must be included in your course.
Class projects like quizzes, assignments, or presentations must be included in your course.
Your course must be well organized, with each video having a clear title that reveals its content.
High-resolution video and clear audio
Before publishing your online courses for free on Skillshare, ensure that self-promotion is absent from your classes.
That means that in the main part of the course, you cannot discuss your brand, encourage students to follow you on social media, share your logo, or direct them to visit your website. The aim is to make sure that your students are focused on learning only.
But Skillshare understands that you are often a new online course creator who needs to build an audience. The platform then allows creators to promote their brand only in their introduction and conclusion videos.
It is easy to upload and publish your online course for free on Skillshare, and the courses will be briefly reviewed before approval.
Aside from the built-in audience that Skillshare offers, you are also permitted to grow your own following on the platform.
Students who visit your teacher profile can click the "follow" button.  They will then be notified every time you publish a new course.
Also, a good way to increase your following on Skillshare is to continually invite your students to tap the "Follow" button on your profile. Of course, this invitation can only be done in your introduction and conclusion video.  
You can also drop your social media handles and websites on your teacher profile and encourage your students to follow you there as well. Students who fall in love with your courses can always connect with your outside Skillshare.
Another beautiful thing about Skillshare is that you are allowed to publish your course on other online course marketplaces; there is no need for exclusivity.
This means that you can publish the same courses on Udemy, for example.
However, Skillshare only permits you to publish the same course on another platform if the course is not made free on the other platform.
For example, if you are selling your course for $30 on Skillshare, you cannot publish the same course and make it free on Udemy.
What percentage does Skillshare take from online course sales?
In as much as Skillshare is a good place to build a strong audience for your online course for free, you can still earn handsomely while at it. The platform pays Teachers in two ways – through royalties and referral revenue.
Skillshare pays you based on the number of minutes a student watches your course. Per-minute watch attracts between $0.05 and $10. That means that if students watch your online course for 1,000 minutes in a month, you will earn between $50 and $10k that month, which is a good start for a budding online course creator.
In addition to that, Skillshare gives you the opportunity to refer your classes to potential students and earn when any of them makes a purchase through the referral link. You are paid 60% of the students' first membership subscription fee.
Benefits Of Advertising Your Online Course For Free On Marketplaces
Publishing your courses on marketplaces is the first step toward advertising and building a strong audience for your business.
There is no additional marketing required. These platforms will take care of the marketing headaches while you focus on other areas of your business.
To boost your monthly earnings, you can have your online course on more than one platform.
Imagine that your lecture is approved on Udemy, Skillshare, and Coursera. You are reaching millions of students from around the world! And you are not spending a dime on paid ads!
This of course, does not mean that the platforms are going to email every single student and tell them about your course. But it's likely that they will, over time, put your course page in front of thousands of people that you would not be able to reach otherwise without paid ads.
How To Grow an Audience in my Website?
Publishing on marketplaces is great for building up your brand, but remember to always follow all the marketplace rules strictly, to avoid getting banned.
The platforms have rules in place regarding self-promotion that you need to be aware of. In each platform, you need to know exactly what you can and can't do and never cross that line.
For example, you can usually include your website link on your teacher profile in all the marketplaces you have published your courses.
Platforms like Skillshare or Udemy allow you to add your social media handles, YouTube, and website links to your profile, so you should do so and leverage those opportunities for audience growth.
Sometimes on certain platforms, they allow you to self-promote only in some videos, like the introduction and conclusion videos, with a link to your website and your logo.
If this is possible in the platform that you are using, make sure you do so and build your brand that way.
For example on Udemy, you can add at the end of the course add a Bonus Lecture where you can mention your products and services.
You should be aware of all the rules regarding these bonus lectures and add those lectures to all your courses.
Another place to do marketing for online courses is social media. So, how to promote online courses on social media?
Pick the best platform that favors video content format: YouTube.
How To Draw YouTube Audience To Your Online School For Free
Besides online course marketplaces, YouTube is also the perfect place to advertise your online courses for free.  It is currently the largest platform on the internet. Millions of people around the world have access to YouTube, and it's free.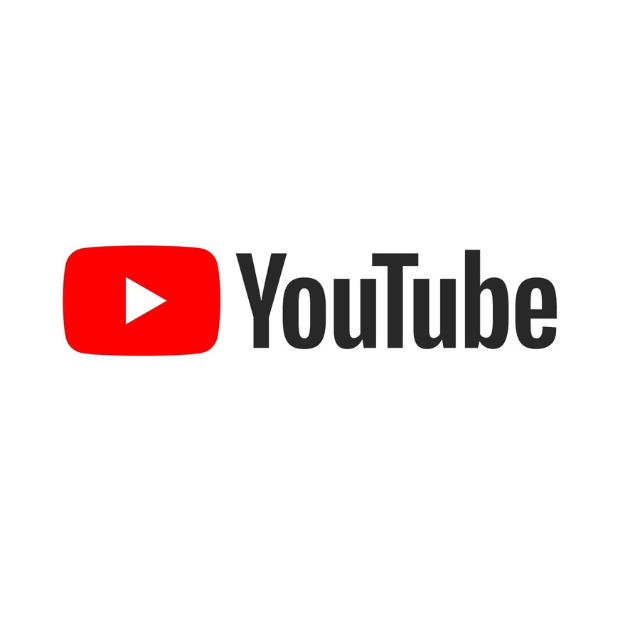 You currently can't sell your courses on YouTube, but that doesn't mean that you can't use it to grow your online course business.
People are constantly searching for tutorials on YouTube to improve their skills. As a new course creator, you can leverage the platform, create a channel and constantly upload short but valuable tutorials.
For example, let's say you created an online course on Digital Marketing. You can record a short video, say 10-12mins, summarizing the core points in your full premium course.
At the end of each video, encourage your audience to check out your website to learn more about the topic.
Ensure that you include the course link in your video description.
However, like on any platform, you should be careful not to sound too self-promotional.
You should also include your website link on your YouTube "About Page" and in the description of each video.
Students interested in taking your full premium course (with completion certificates) can always sign up on your website.
Advertising Your Online Course On Facebook And LinkedIn Groups
Facebook and LinkedIn groups are good places to connect with people who share the same interests. Advertising your online course to relevant groups is a smart move. You are doing it for free and reaching the right people.
Let's say you created an online course on "Photography" - simply log in to your Facebook and search for "Photography" under the "Groups Tab."
You will see a lot of groups on the subject. Here is a screenshot of my search: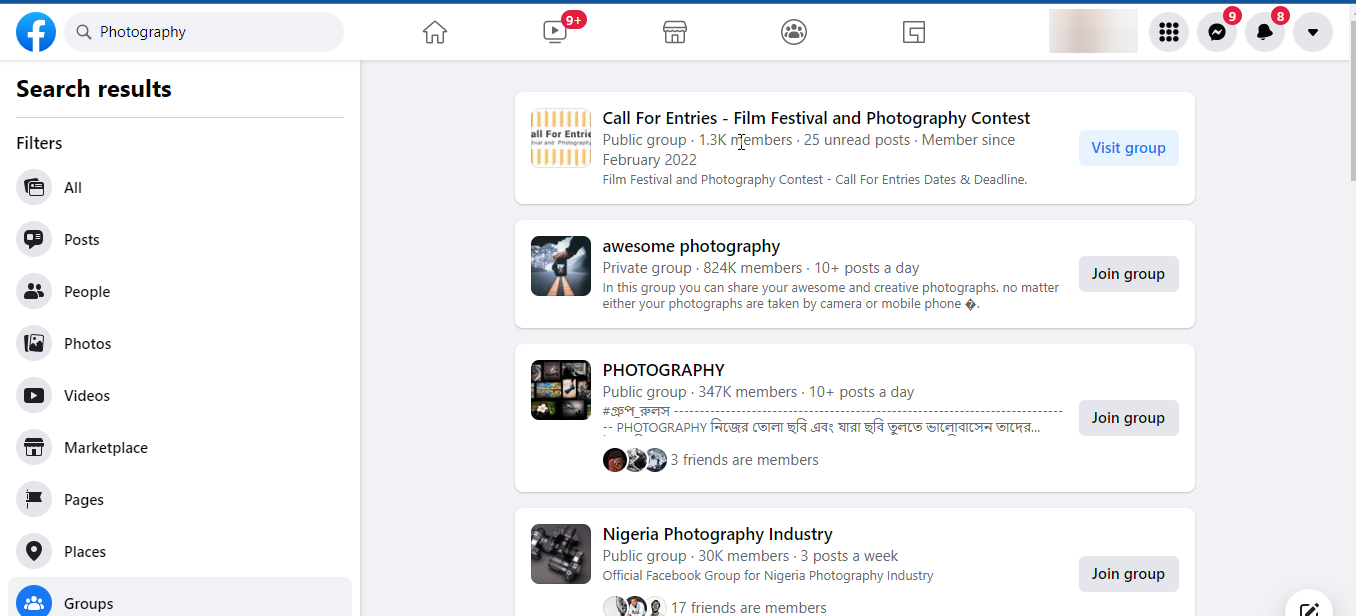 Join as many groups as you can. Some are public, and some are private. Once you have joined the necessary groups, then, you can start advertising your online course for free on those groups, but you need to be subtle.
You should not spam the groups with constant advertisements and self-promotion. Familiarize yourself with the group members, comment on their posts, and from time to time, post helpful tips.
Over time, the members will recognize you and your brand. This could work great for a lot of topics.
Notice that every group has its own rules and regulations, usually pinned on the group page.
Conclusion: How to Promote a Course Online?
As you can see, you have many practical ways to advertise your online course for free.
If you are just starting out teaching online and you need to grow an audience for your online courses from scratch, you don't need to rely on paid ads.
You can focus on marketing your online course for free by leveraging existing platforms with pre-built audiences and getting your courses in front of thousands of potential paying students.
The best way to do that is to leverage a combination of online course marketplaces and social media.
Online course marketplaces are a great way to publish and sell your courses to pre-existing audiences but remember they usually charge high commissions and constrain the price you can give to your courses.
So it's important to also publish your courses on your website if you want to create a sustainable business. I've written about this mixed publication approach here in this article: Where Should You Publish Your Online Course? (Self-Hosting vs Marketplaces)
Social media platforms are also a great way to promote your courses, but you need a separate website to sell them.
So as you can see, independently of what combination of platforms you use, a key component for your long-term success as a course creator is always going to be having your own website with your own brand.
On your own website, you can do value-based pricing and charge your students based on the value that the course is bringing them. You can also sell higher-ticket items like course bundles, subscriptions, Lifetime plans, Enterprise plans, or coaching packages.
With your own website, you can also ask for the student's email and grow your mailing list over time. This will allow you to retain your student audience and constantly bring them back to your website.
But the problem is that often having your own online course website is expensive, especially for new course creators just starting out. I get that because I'm a course creator too, and I know what it's like.
But that is why I created OnlineCourseHost.com in the first place. To help out course creators by creating the easiest to use and most affordable online course platform on the market that comes with built-in email marketing capabilities like bulk emails.
But more than a platform, we want to give you all the information that you need to grow your online course business successfully.
That's why we have created the Course Creator Academy where you can find everything you need to become a successful online course creator all in one place, for free.
To get notified when new content is available here at the Academy, you can subscribe here to our weekly newsletter:
If you are looking to ask any questions on online course creation, you can reach me here on my Facebook group:
Join the Course Creator Academy Facebook Group
Ready to learn how to launch your first course on OnlineCourseHost.com? Here are the helpful guides for you to check out:
I hope you found this post helpful; let me know in the comments below what other topics you would like me to cover.
Still not sure how to market your course or do you have any questions? Leave them below
Thanks for reading… and enjoying the course creation process! 😉
---
Vasco Cavalheiro
OnlineCourseHost.com Founder & Online Course Creator
LinkedIn   Facebook Page   Facebook Group   Twitter